This article may contain affiliate links. Clicking on or purchasing products we recommend through a link may earn a small commission. Read our disclosure and privacy policy page for details. *COVID-19 TRAVEL ALERT – Travel recommendations offered on this site are not to encourage you to travel against travel advisories.
Summer months in Ontario may seem to go by too fast, but there is so much to do and see! Are you looking for the best summer road trips in Ontario? You've come to the right place! Here is a list of the best Ontario summer getaways to help you discover this beautiful province!
Dream it.
Dream Summer Road Trip Ontario
I am fortunate to live in Toronto, which gives me access to the most beautiful places in Ontario. There are plenty of scenic drives, cities and towns to explore with a variety of great summer activities.
When planning a summer road trip in Ontario, the inspiration includes white sand beaches, quirky towns, famous Ontario attractions, and understanding what I want to do on this summer vacation. Do I want to relax, explore some fairs or partake in an adventure?
Plan it.
Depending on your interests, I have put together an extensive list of places to road trip through Ontario. When planning a road trip to Ontario, the key is to prepare for the drive, think about your budget, and where you want to stay.
Ontario Road Trip Packing List
I'll keep this list brief for this post, but a detailed road trip packing list will follow soon. When planning your trip, however, it is essential to keep the following in mind.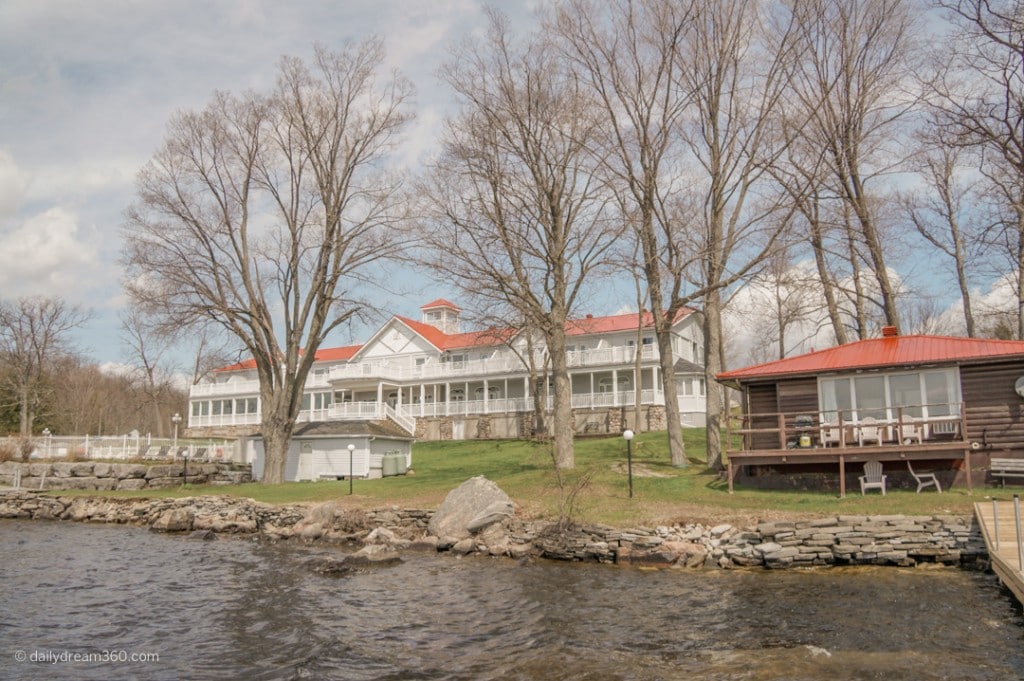 Live it.
Ontario Road Trips Through Peterborough and the Kawarthas
Viamede Resort
What's a romantic summer getaway without a cottage by the lake? Located on Stoney lake about a 35-minute drive from Peterborough Ontario, the budget-friendly no-frills resort offers hotel rooms and lakefront cottages to their guests. Activities at the resort include paddle boarding, kayaking, forest hikes, an indoor pool and more. If you travel with your pet, you'll find this resort happy to host your dogs.
Read more: Viamede Resort Summer Getaway, Ontario.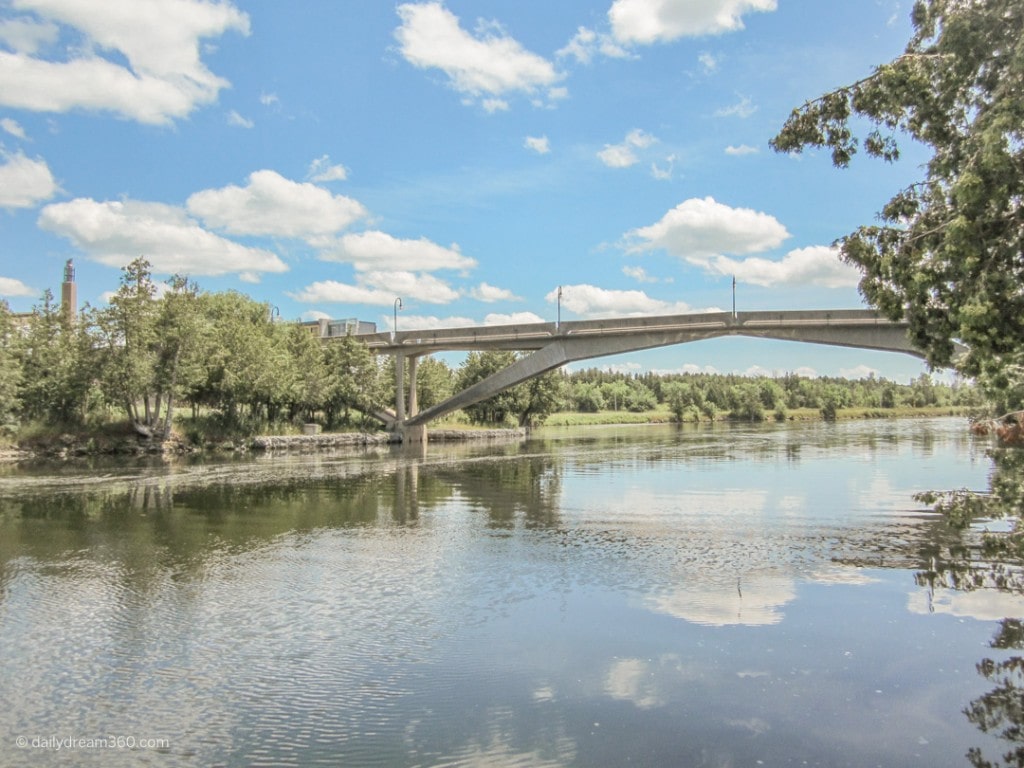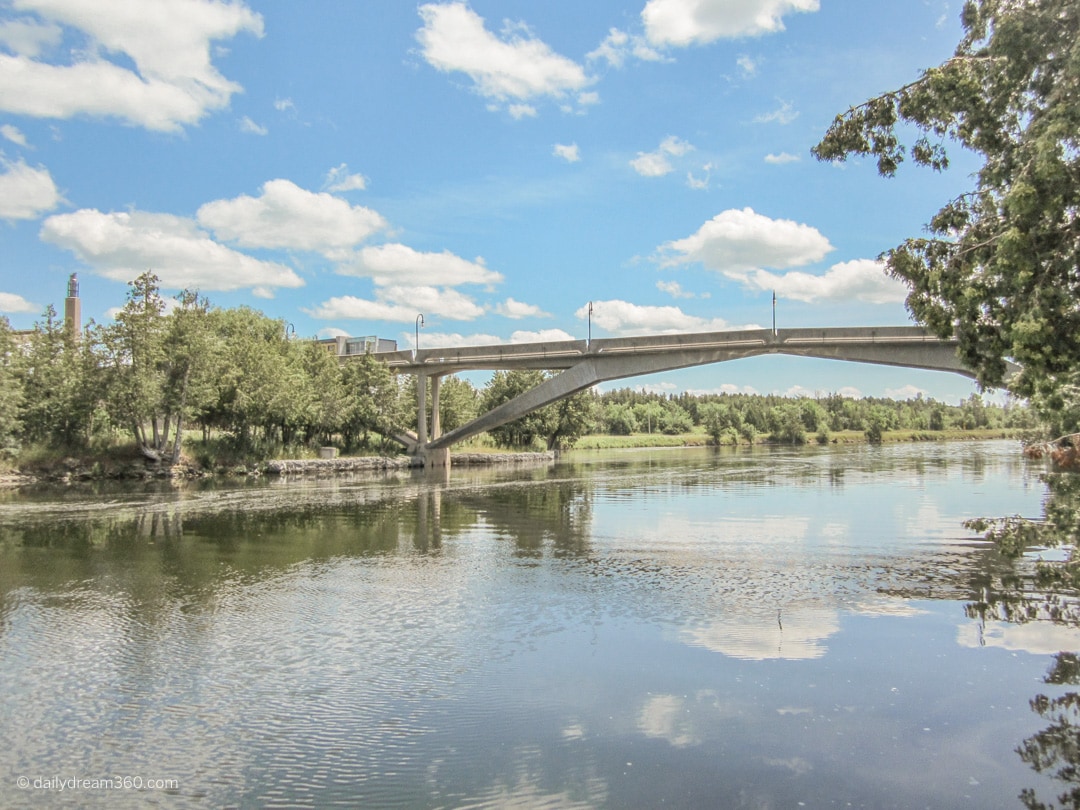 Lakefield Ontario
If you love visiting small towns with local shops and cafes, you must make a stop on Queen Street. You will find several cute stores, including The English Potter, Tragically Hipp Fashion Gallery, the Chocolate Rabbit and more than several home décor and antique shops.
Read more: Lots of Small Store Treasures to be Found in the Village of Lakefield Ontario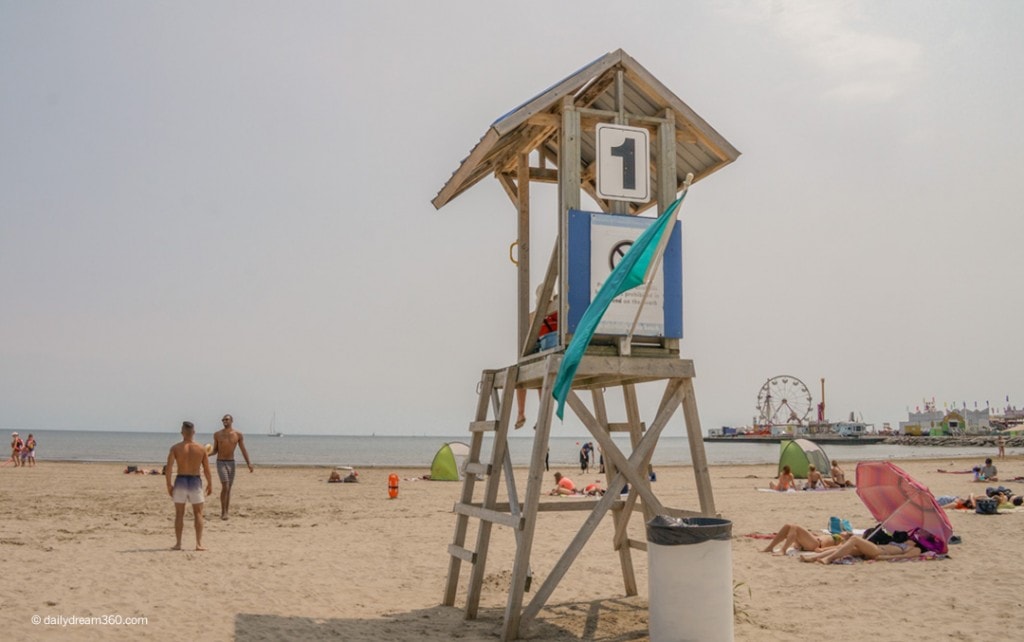 Day Trips in Ontario's Northumberland Region
Cobourg, Ontario – Hit the White Sand Beach!
It has become an annual visit for me since discovering this gem. Cobourg is a cute town with this lovely white sand beach and boardwalk. There are many summer festivals on the waterfront, and each time I go, it is just a perfect day!
If you are looking for a place to stay in Cobourg? Why not stay in the Cobourg Jail? It is known as the King George Inn and is a well-known jailhouse converted into an inn!
On the way to Cobourg, be sure to stop off at Betty's Pies and Tarts! They are quite famous and hands down one of the best local bakeries in the area! Pick up a box of goodies to bring to the beach with you!
Read more: Amazing Cobourg Beach The White Sand Beaches of Ontario.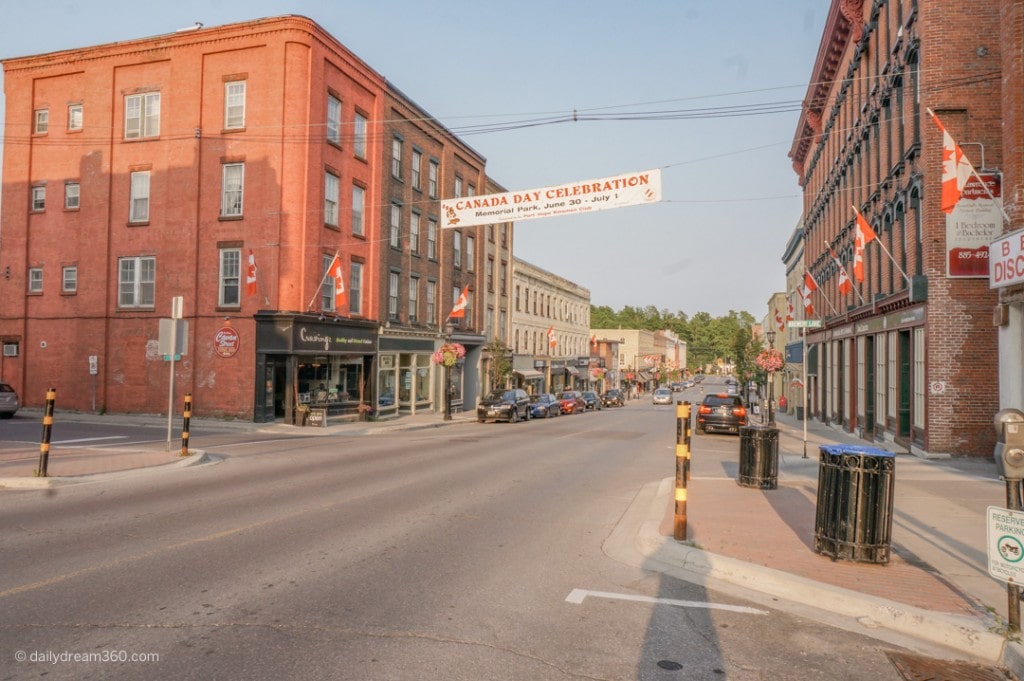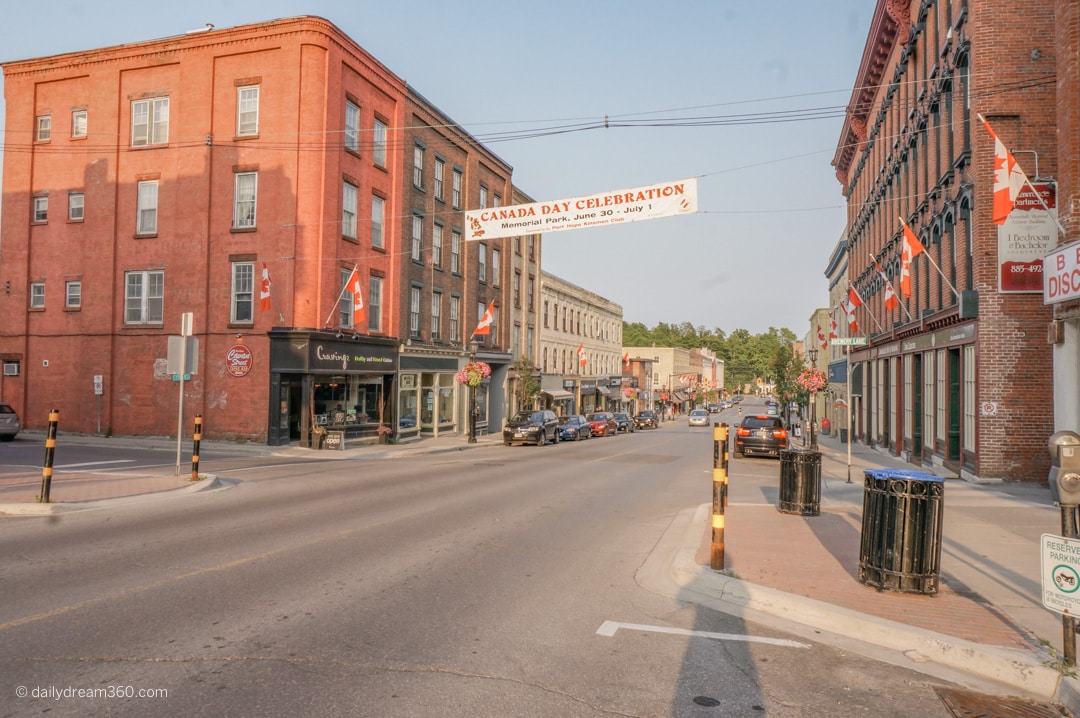 Summer Theatre Night in Port Hope, Ontario
After a day at the beach in Cobourg, love catching some local theatre! Port Hope is home to a fantastic summer theatre program in its well known Capitol theatre.
The Capitol Theatre dates back to the 1930s but has been refurbished and maintained and is well-known as the last fully restored atmospheric theatre in operation in Canada. Inside the theatre is an illusion of watching the show outdoors under a perfect starry night! Check out their summer listings here!
Summer Road Trip in Ontario Lakes Country
Orillia, Ontario – Summer on the Lake
Need a cottage country break but on a budget? Take a trip up to Orillia and enjoy a day on Lake Simcoe. Orillia has lots to do during the summer months, including their annual outdoor summer art project called Streets Alive featuring a themed project on display throughout the downtown street!
Read more: Orillia Restaurant You Don't Want to Miss Rustica Pizza Vino.
Orillia also is home to one of my favourite restaurants: Era 67, which has some of the most amazing locally sourced menus I have ever tasted! Stay in Orillia's Stone Gate Inn for a relaxing stay in a great hotel and turn your visit to Orillia into a weekend!
Read more: Orillia Ontario's Farm To Table Foodie Secret.
Where to Stay in Orillia Ontario
Stone Gate Inn: My Review | TripAdvisor | Expedia
Best Western Mariposa Inn: My Review | TripAdvisor | Expedia
Oro-Medonte, Burl's Creek Event Grounds
Home to the famous Boots and Hearts Music festival, time your Ontario Road Trip in Ontario's Lake Country with a special concert event at Burl's Creek.
Girls Getaway at Casino Rama
Suppose you are not looking to experience the outdoors but are looking for a fun getaway, which includes great food, a spa, a relaxing pool, and entertainment. In that case, you may want to book the girls' getaway package at Casino Rama.
Plan your trip to correspond with one of their concerts held in their event theatre or catch the Rama Pow Wow in August.
See these posts for more Rama planning tips: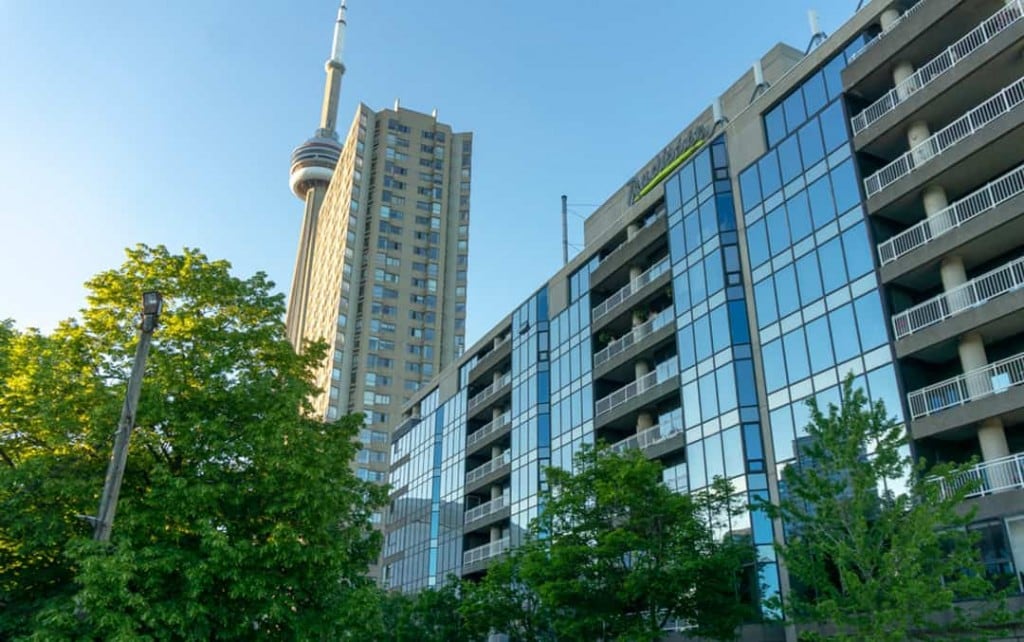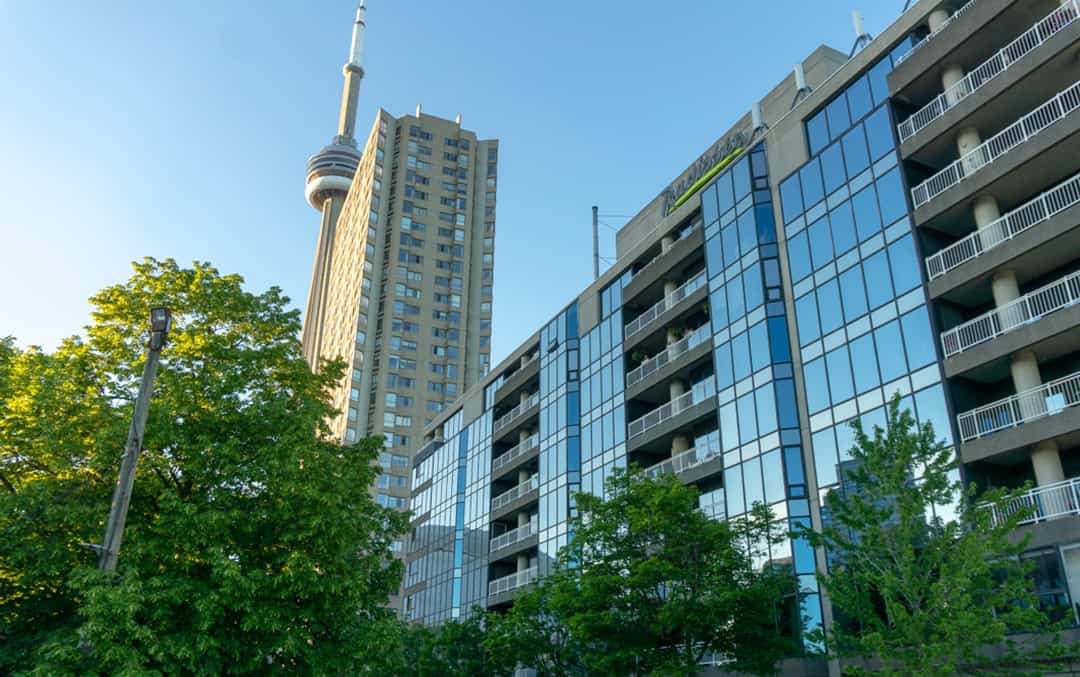 Ontario Day Trip in Toronto, Ontario
Toronto's waterfront is filled with things to do from boat tours on the lake, a ferry ride to the island, or many festivals featuring food and music in its many pavilions. Take a bike ride or walk along the boardwalk, practice Kayaking in the shallow pond or take a tour of Lake Ontario on one of many tour boats.
 Toronto has many great summer festivals, and the Harbourfront Centre is a weekly destination for numerous bands and acts appearing on one of many stages throughout the waterfront.
 More posts to help you plan a trip in Toronto
Where to Stay in Toronto
Radisson Admiral: My Review | Trip Advisor | Expedia
Intercontinental Toronto: My Review | Trip Advisor | Expedia
Hotel X: My Review | Trip Advisor | Expedia
Hamilton, Halton and Brant
Hamilton Ontario
If you haven't been to Hamilton recently, you may be surprised to learn a lot is going on there. The restaurant resurgence alone is enough to make it a destination for a summer road trip. Still, if you factor in the Friday night art crawl, beautiful waterfront, and fantastic restaurants opening up in the city – you have yourself the perfect Ontario summer road trip stop.
More posts to help you plan a trip to Hamilton:
Burlington Ontario
I love visiting Burlington during the summer. Its downtown features many pubs, restaurants, cafes and shops, just steps from the waterfront. Take a walk along the boardwalk, make your way downtown for a bite to eat, a drink on the patio, or some ice cream.
Be sure to visit the Royal Botanical Gardens, where you can walk through their Rock Garden and beautifully manicured parkland.
Read more: Royal Botanical Gardens Rock Garden.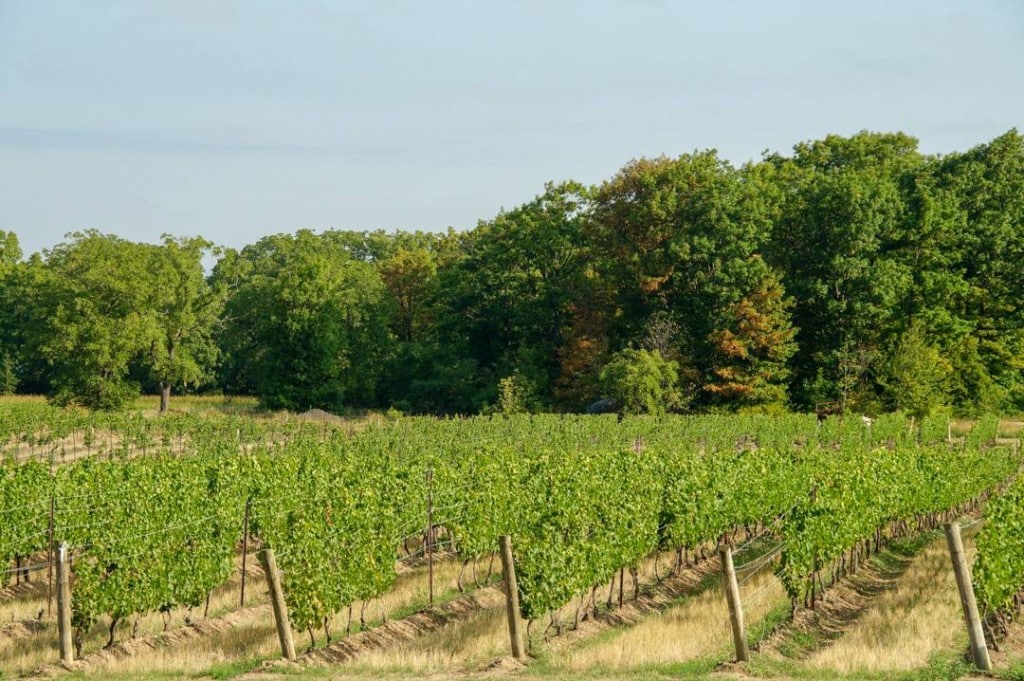 Wine Tasting Ontario Road Trips and Day Trips in the Niagara Region
Twenty Valley Wine Tasting Road Trip
If miles and miles of vineyards are what you crave, consider the lesser travelled Twenty Valley region of Ontario. The extension of Niagara on the Lake's already famous wine region, there are plenty of wineries to visit here and the town of Jordan, Ontario, which has several local shops, restaurants and bakeries.
Read more: The Search for Jordan Ontario Uncovers the Beauty of Twenty Valley.
Stay at the Inn on the Twenty
If you are planning on staying multiple days in the Twenty Valley region, I recommend the Inn on the Twenty. It's located smack dab in the middle of everything. The Inn has 27 rooms, some two-level suites and other single floor suites all with their decor and charm.
Read more: Inn on the Twenty Perfect Pairing with Twenty Valley Wine Tour.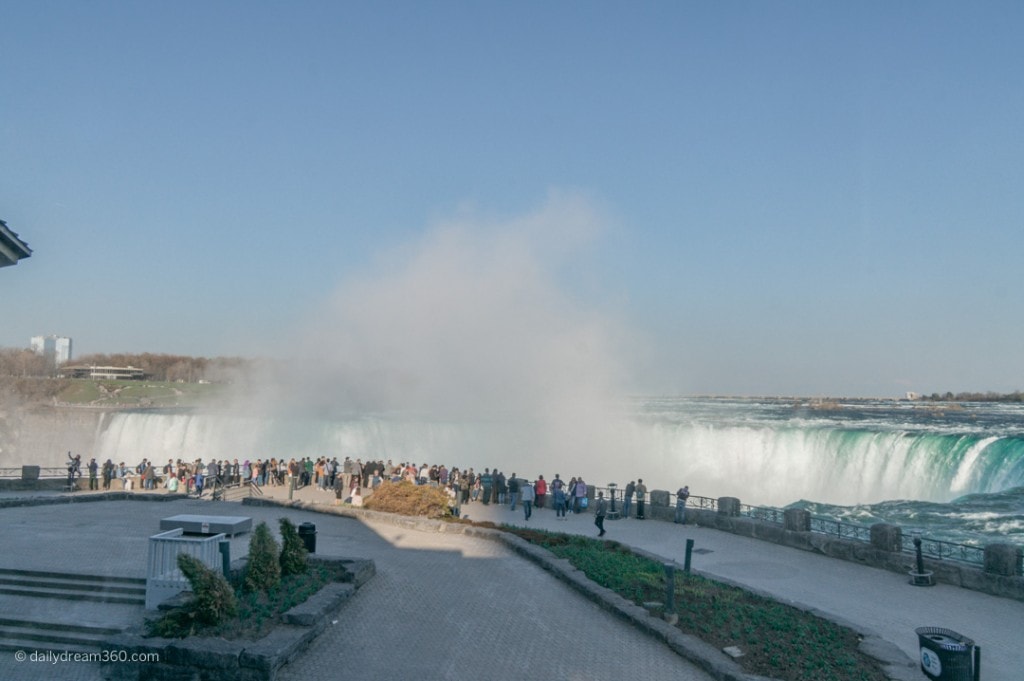 Niagara Falls Ontario Day Trip
Let's face it. Most Ontarians have taken a road trip to Niagara Falls at some point in their lives. If you haven't, it's time to start planning. I don't know how many times I've been, and it doesn't seem to matter because each time when I stand in front of that railing and see the falls, it takes my breath away.
Niagara Parks Adventure Pass
There are so many attractions, restaurants and things to see in Niagara Falls. If you plan your road trip in conjunction with a summer festival, it is a bonus. I love the Niagara Parks attractions like White Water Walk and Journey Behind the Falls. They get you up close to the awesomeness that is the falls.
Read more: Niagara Parks Adventure Pass the Best things to do in Niagara Falls.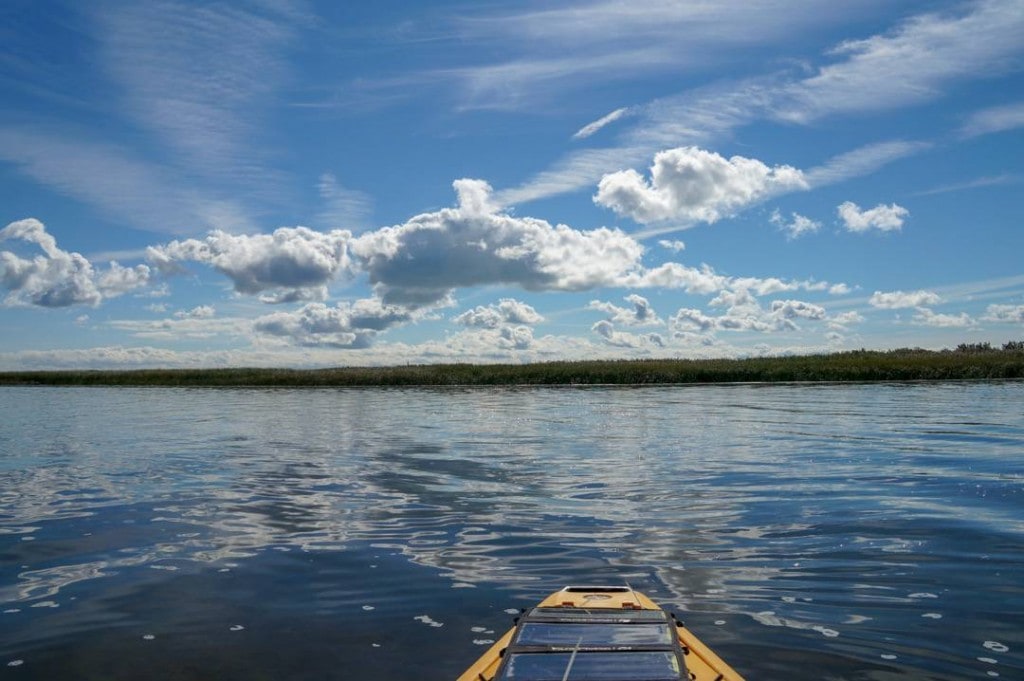 Road Trip Ideas In Ontario's Southwest
Norfolk, Ontario and Area
I have a new summer must do – it's kayaking! One of the most memorable experiences was this fantastic Kayak adventure on Lake Erie. I've been kayaking in several Ontario spots on lakes and rivers, and there is nothing more relaxing than watching the reflection of trees or clouds on a flat lake or river.
Read more: Savour Norfolk Ontario Farm Fresh Markets and Wineries.
While in Norfolk, be sure to visit Port Dover's beach and visit Ontario's palm trees! These trees only come out during the summer months and certainly add a bit of the tropics to this Ontario destination.
If you happen to need something to eat during your visit, check out The Combine and Schofield's Bistro from some pretty amazing locally sourced fine dining.
Here are some more articles to inspire a road trip to Norfolk County.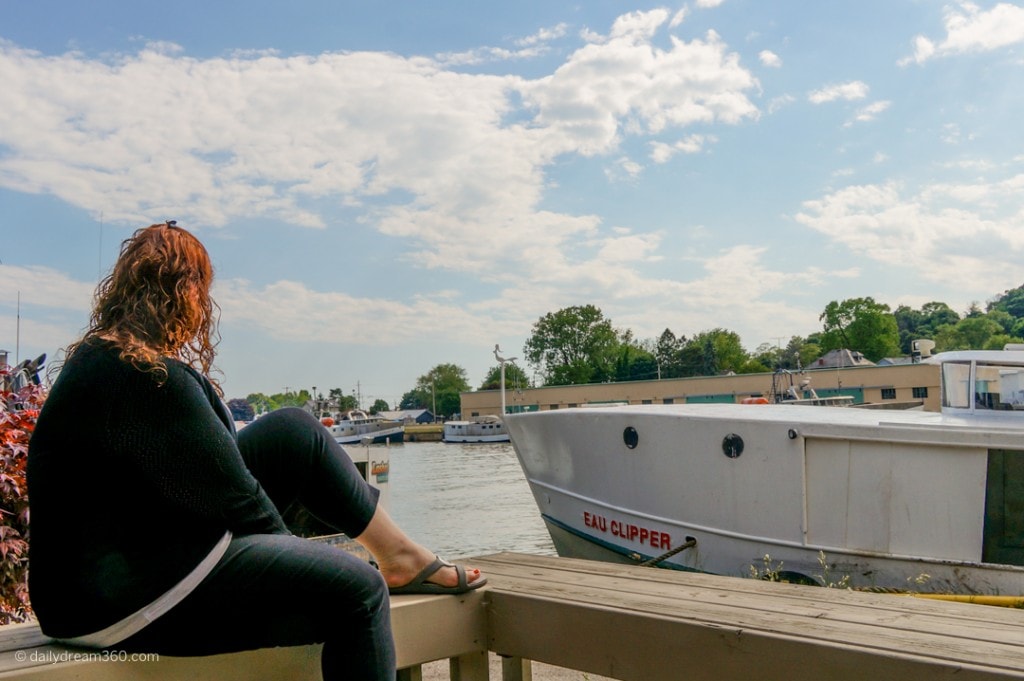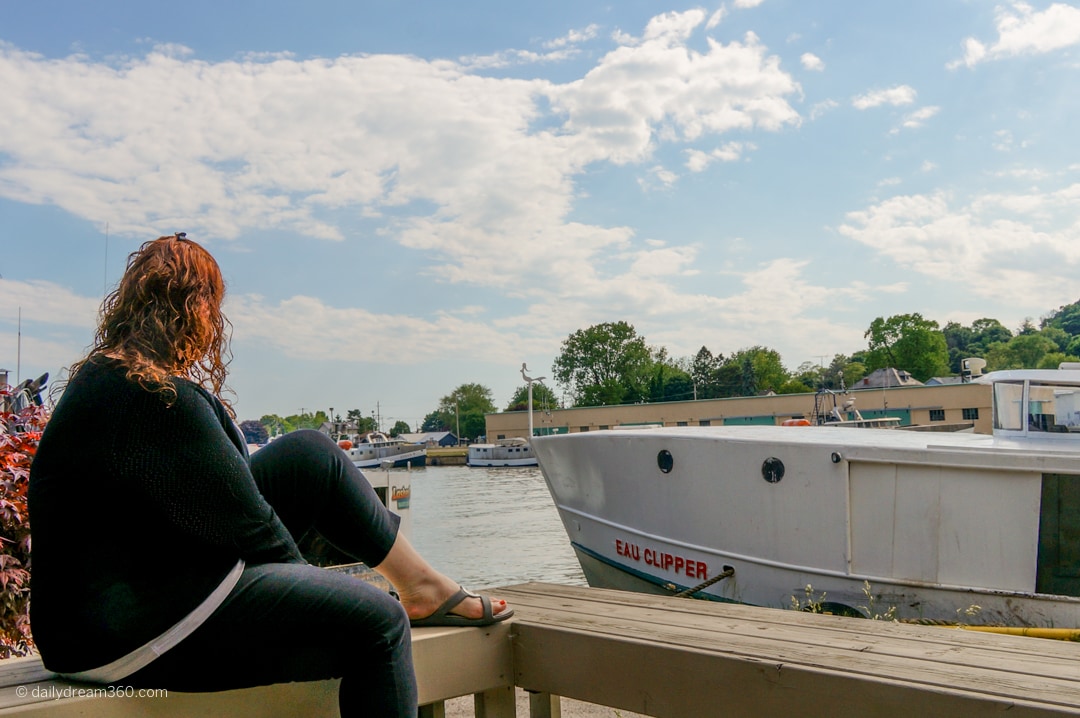 Summer Ontario Road Trip to Port Stanley Ontario
This little fishing village is a popular Ontario Summer Getaway spot. Its small inns and B&Bs fill up fast as people come to explore its theatre, shops, train and, of course, its fabulous beach.
Port Stanley is a popular place to visit in Ontario for the weekend. With nearby Sparta and Quai Du Vin winery, you'll find plenty to do during your summer road trip to Port Stanley.
 London Ontario Road Trip
Farmers' markets, historical museums and a small city filled with shops and restaurants is the best way I can describe London Ontario. At the heart of its downtown core is the fabulous Covent Farmer's Market filled with local vendors and farmers.
Plan your road trip during Culture Days and explore it as it opens its doors to popular attractions like Banting House, Eldon House and the London theatre.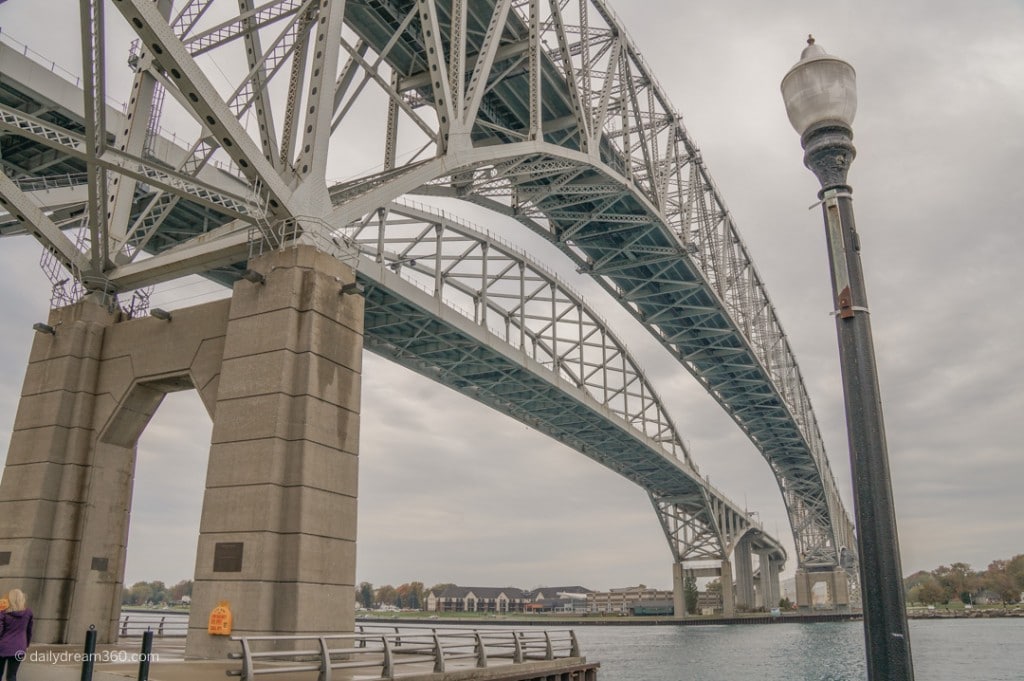 Sarnia Ontario Road Trip
Many of us drive through Sarnia on the way to Michigan. Home to the famous twin bridge the Blue Water Bridge (pictured above), Sarnia plays a critical part in linking us to our US neighbours and has a few attractions to discover. From beautiful waterfront walks, great museums and galleries, you'll love exploring Ontario's Blue Coast.
Read more: Discovering Sarnia-Lambton Ontario a 2-day Road Trip.
Discovering the Farm Life in Chatham-Kent
You may be wondering why I put a farming region on the list? Sometimes a girl just needs to explore and experience new things. Chatham is a small town surrounded by beautiful farms and barns, and I couldn't help getting lost on the side roads to snap photos.
Then upon returning to Chatham, you will see local shops, eateries and the best hotel ever! I entered my hotel with my jaw dropped. I didn't understand how such a quirky and cute boutique hotel would find itself in this little town.
Must Stay – Retro Suites Hotel
I've honestly now returned to Chatham and planned Ontario road trips to stay in one of the rooms at the Retro Suites Hotel. This funky hotel filled with collectables like the toy soldiers from FAO Schwarz in NYC. Each room decorated with its unique theme like the Harley Davidson room seen above.
Read more: Retro Suites Hotel is Chatham Ontario's Funky Themed Secret.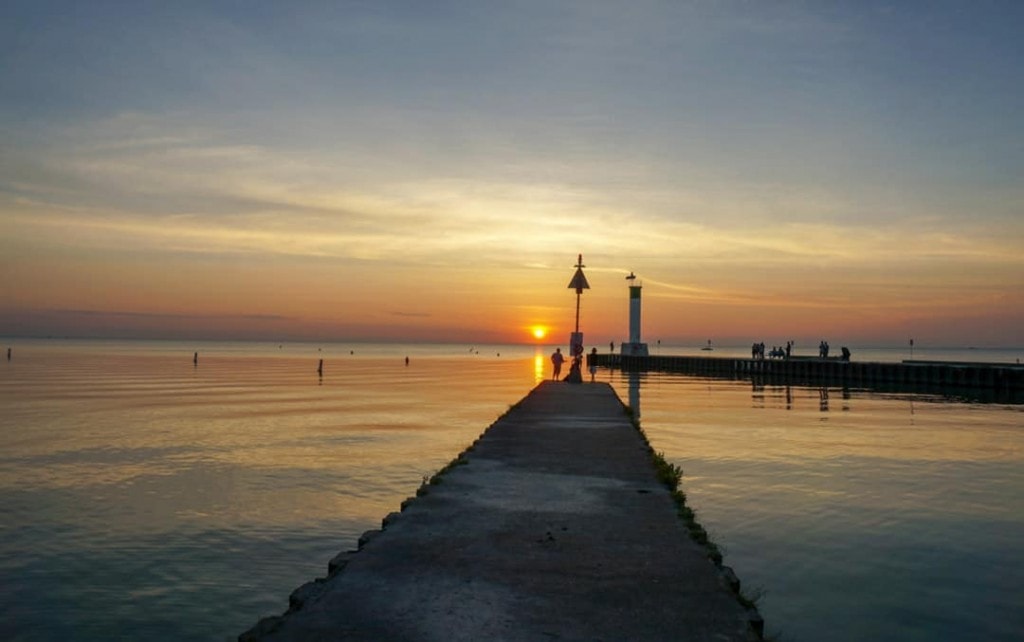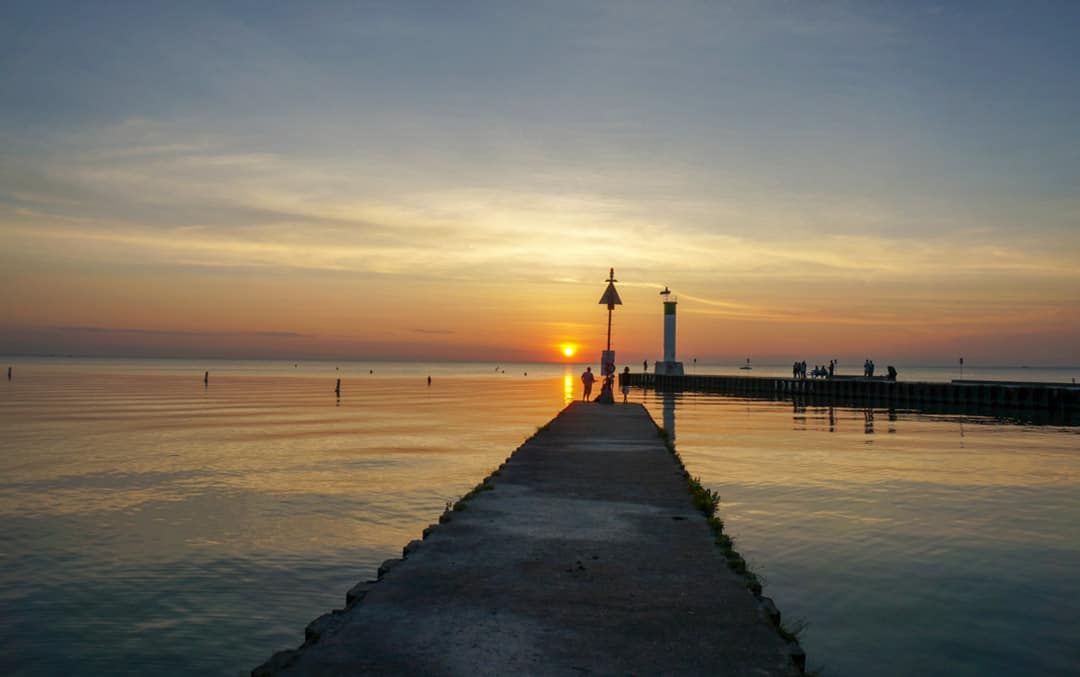 Discover the Beautiful Sunsets of Ontario's West Coast
Summer Getaway in Grand Bend Ontario
At some point, you have to add Grand Bend to your Ontario summer road trip list. Grand Bend is not a luxury destination, but if you love beach towns and great beaches, I'm confident you'll love exploring this region.
The sunsets alone are spectacular and repeat almost daily. There are plenty of beaches to discover, including Grand Bend Beach and the many beaches at Pinery Provincial Park. Accommodations in the area range from inns, lodges and campsites.
See these Grand Bend Articles for more inspiration for your Ontario Summer Getaway.
Do you have a favourite Summer Road Trip, Ontario? Share it in the comments below! I'm always looking for new local spots to visit!
This post is the result of many trips, some hosted press trips and some personal summer getaways in Ontario.