This article may contain affiliate links. Clicking on or purchasing products we recommend through a link may earn a small commission. Read our disclosure and privacy policy page for details. *COVID-19 TRAVEL ALERT – Travel recommendations offered on this site are not to encourage you to travel against travel advisories.
I love getting invitations to visit regions in Ontario that I haven't been to. Hamilton Ontario has been on my list for some time now as a city close to home that I must discover more of. It is just an hour drive from Toronto and I don't know why I haven't made more of an effort to discover it more throughly. Recently I was invited by my friends at tripcentral.ca to attend a mini food tour of Hamilton Ontario Restaurants to get a feel for the growing food scene in the area, and I jumped at the opportunity.
Hamilton Ontario Restaurant Tour Stops
NaRoma Pizza Bar
Our first stop on the tour was NaRoma Pizza Bar on Lock Street in Hamilton. They serve some amazing flat bread pizza which is created as a fusion of Naploi and Roma pizza styles (as their name suggests). The dough for this pizza is a 72 hour creation process. Yes you read that correctly it takes 3 days to create the dough.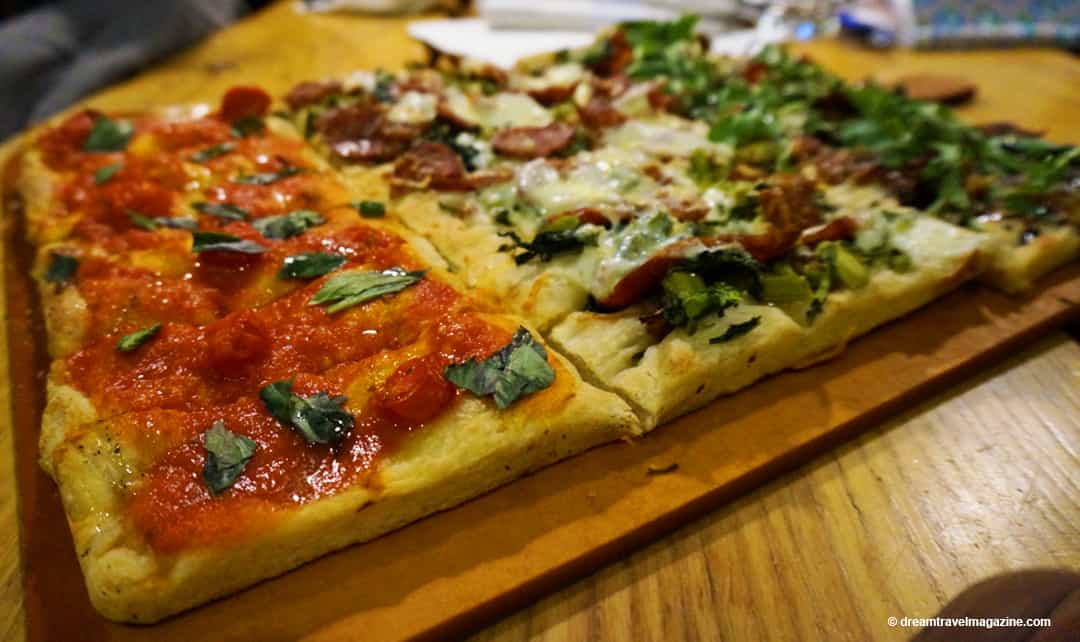 The restaurant is also very accommodating to those with food allergies and is happy to prepare gluten free, vegan and other variations of its dishes.
Read more: A Fun Day Painting Uncorked with the Art Gallery of Hamilton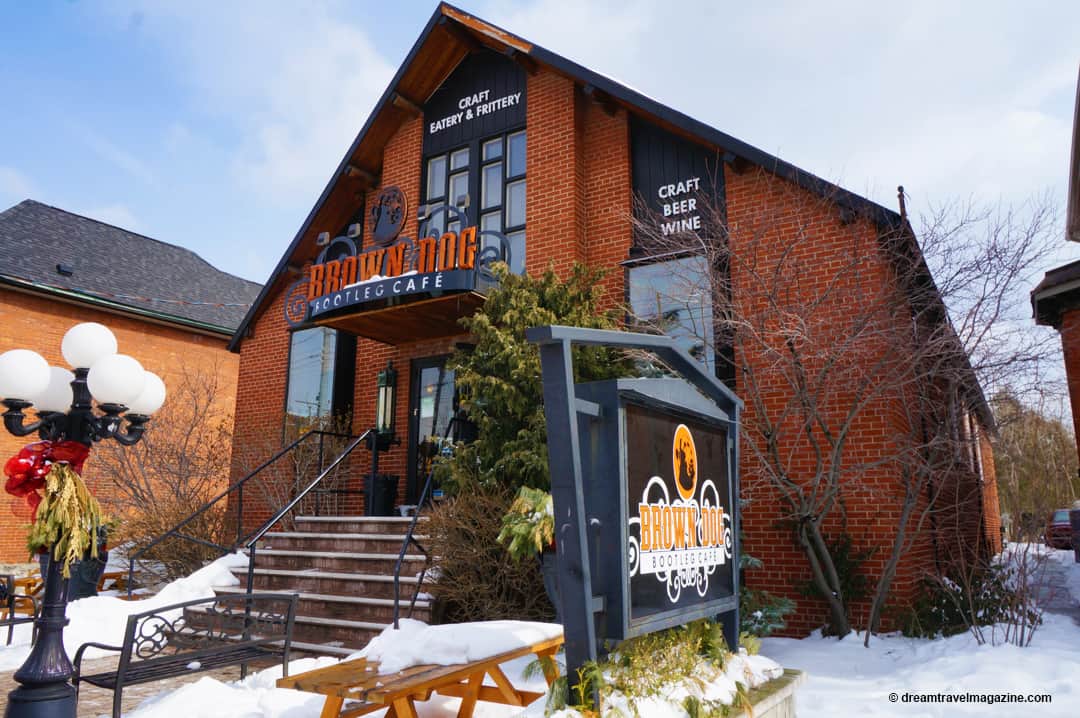 Brown Dog Bootleg Cafe
Located next door to Naroma the Brown Dog Cafe is located in a refurbished church. The high ceilings with beautiful chandeliers are impressive but as soon as you walk in there is a lovely aroma of fresh ground coffee mixed with freshly made apple fritters.
Locke street is definitely worth the stop for foodies visiting the city and for coffee lovers the Brown Dog is definitely a must stop.
Wild Orchid
We left Lock Street for James Street and the Wild Orchid Restaurant which is very well-known for its Portuguese cuisine. They have won numerous awards for their seafood dishes and we had a sampling of some of their most popular dishes.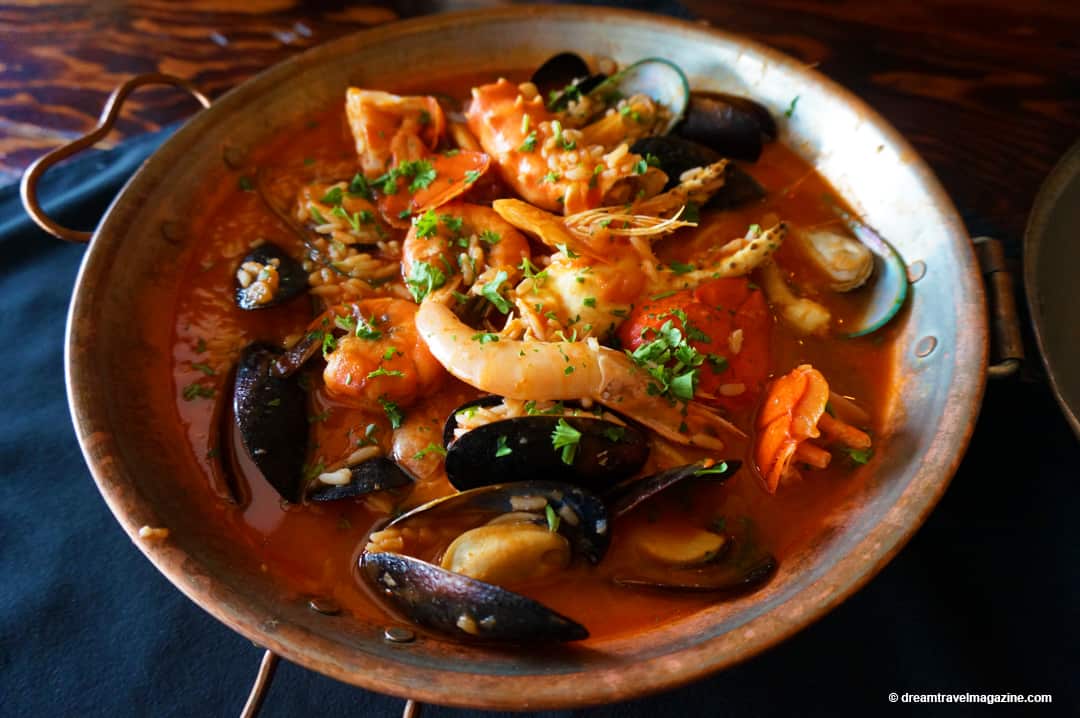 If you are in the city and would like an authentic Portuguese food experience this is the place for you.
Except for Kenneth
Located on Ottawa Street we had a quick stop at Except for Kenneth restaurant and bar. It's an interesting spot with a split personality. Inspired by its owners love for travel it has many little knick knacks on the walls representing souvenirs from all their journies. My kind of place!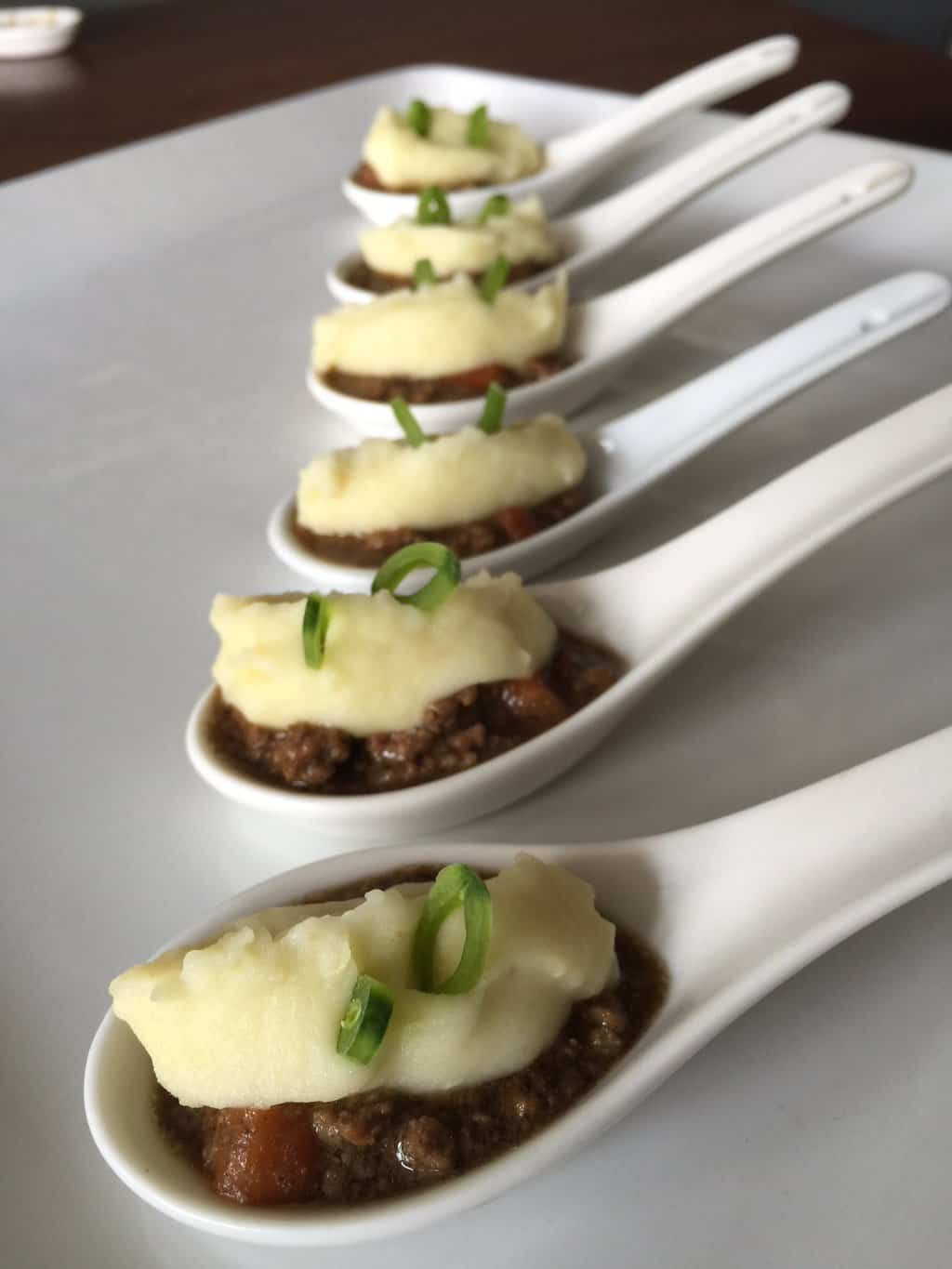 But what you really want to know is how was the food? The restaurant features and English spin on comfort food favourites. There are sandwiches, sheppard's pie and other delicious comfort food samplings in this no fuss low key casual spot.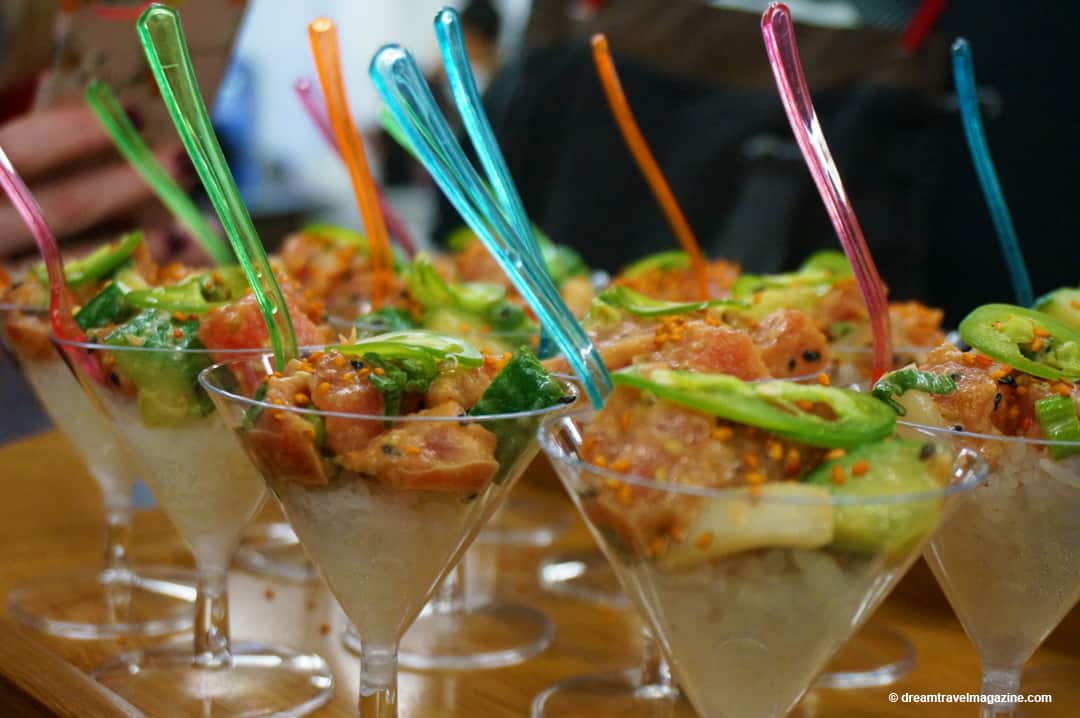 Hamilton Farmer's Market
First I have to say a few words about the Hamilton Farmer's Market. A tradition in Hamilton since 1837 this amazing building has over 70 vendors from grocery, flowers, specialty foods and some great eatery stands. It is located in downtown Hamilton and is a must visit if you are in the area.
Pokeh Stand
Ok so in my opinion the fact that Hamilton is the city with Canada's first ever Poke bar should tell you a lot about it's up and coming food scene. Poke is my new favourite food. A Hawaiian influenced bowl of fresh seafood which is a lot like Sushi in a bowl.
The amazing part of this dish is the sauces that the seafood is mixed with. This bowl was by far the best thing I ate all day in Hamilton and I have decided that we need a Poke food stand in Toronto ASAP.
Eat Ramen
Across from the Pokeh stand is a delicious Ramen noodle stand and for a second seated up on the counter with my bowl of noodles in front of me, I imagined travel life in Japan. Eat Ramen makes Ramen with broth made from scratch and they use locally sourced meat and produce in their dishes.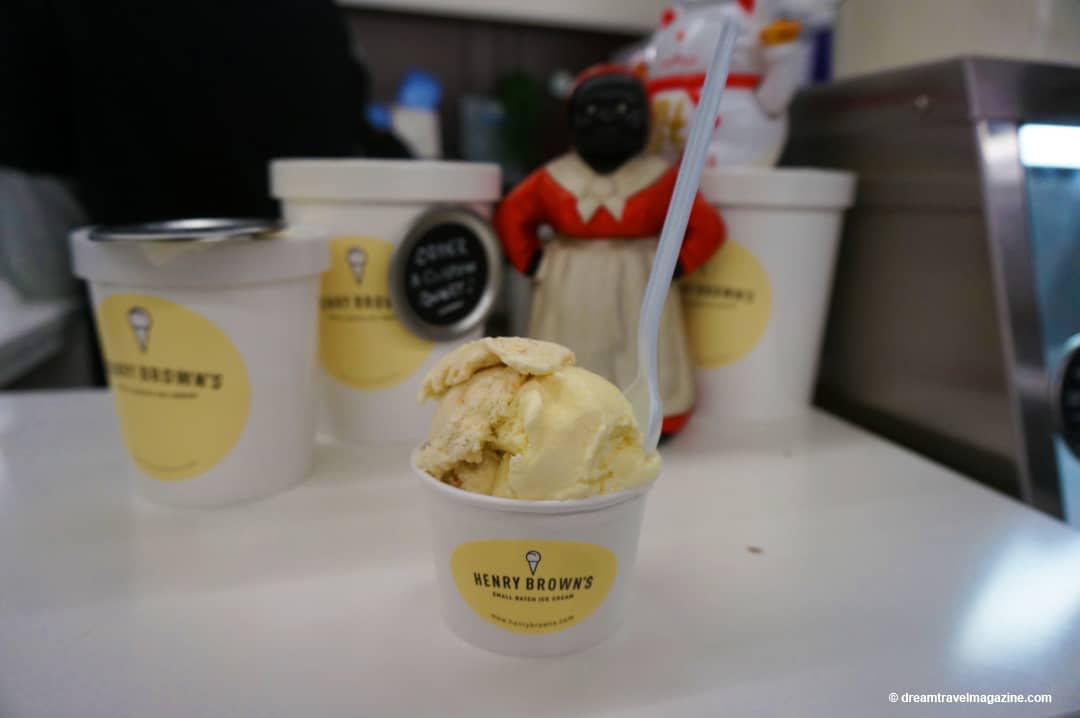 Henry Brown's Ice Cream
My last stop in the Hamilton Farmer's Market was not on the original tour itinerary. We will call this the bonus stop a little ice cream stand located right next to Pokeh and Eat Ramen. As we stood around the market, I kept watching the lines of people coming to get ice cream on a cold winter day.
Henry Brown's makes all its ice cream in small batches using natural, organic and local ingredients. With unique flavours like caramel corn and chunky Churros… well how could I resist. I won't be missing this on my next trip to Hamilton. In fact, I think I may have to stop by every time I visit the city. Sooooo good!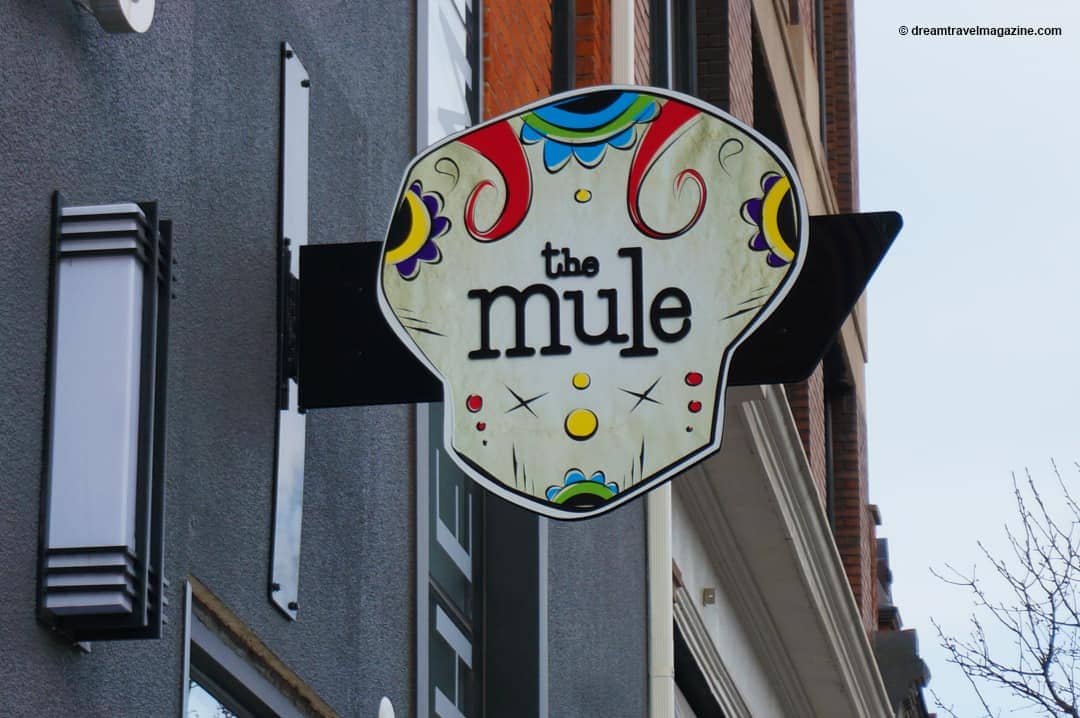 The Mule
The Mule's motto is Tacos, Tequila, Bourbon and fun. This Mexican inspired restaurant is a funky and casual place with interesting artwork, painted tables and some delicious tacos.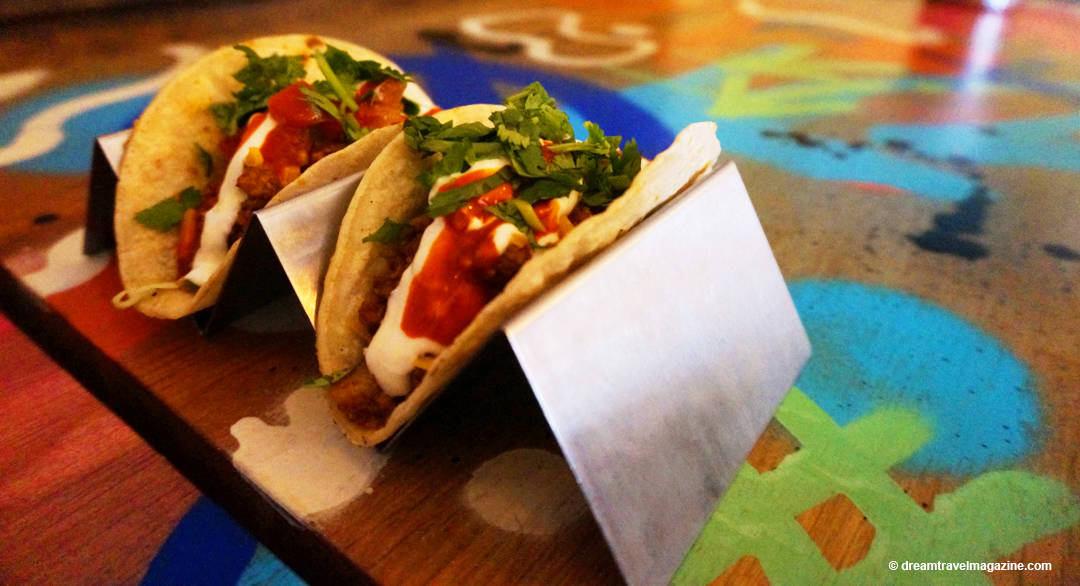 If you are looking for a casual join to grab some drinks and some casual eats this restaurant is definitely for you. I loved the vibe and atmosphere here and the staff was super friendly.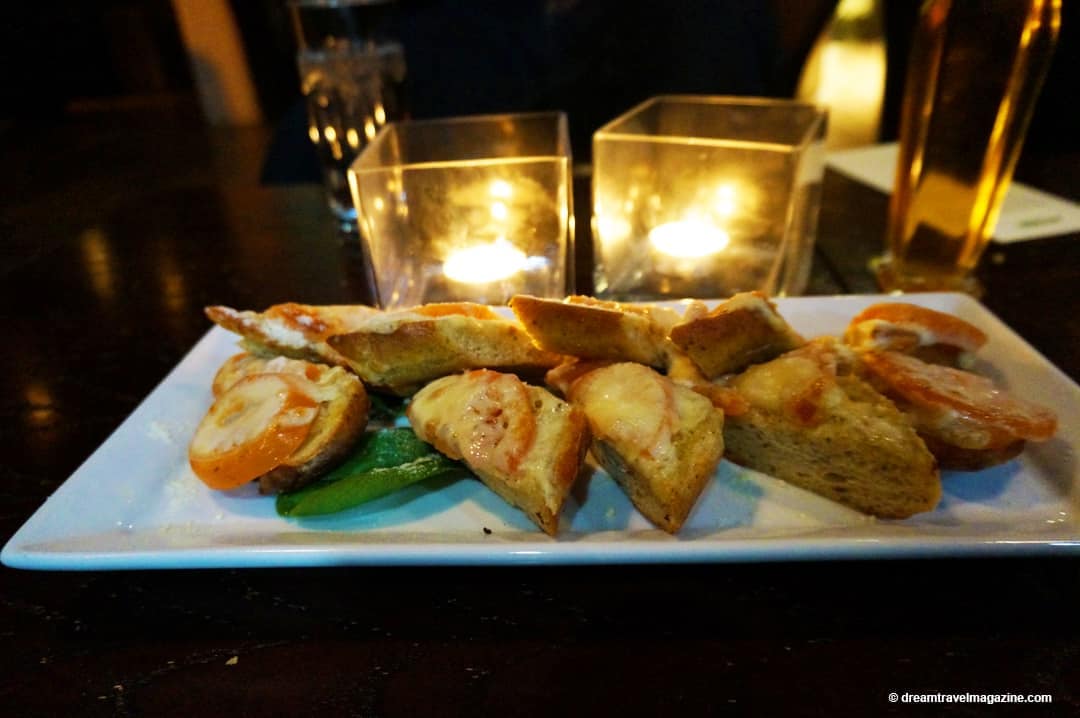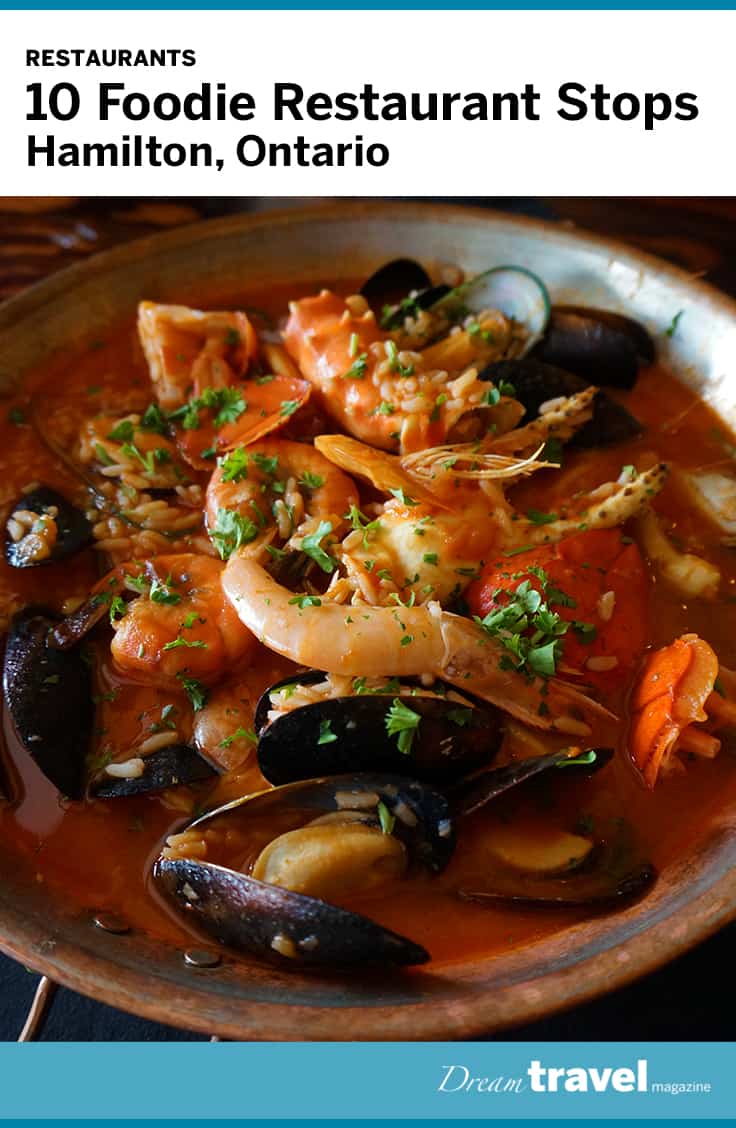 La Piazza Allegra
Every now and then we all need a fancy fine dining type restaurant on our travels and as our tour entered into the evening hours we were treated to some very popular Hamilton restaurant spots. The first was La Piazza, which may not look like much from the outside but as soon as I walked in I knew I was in for some amazing Italian food.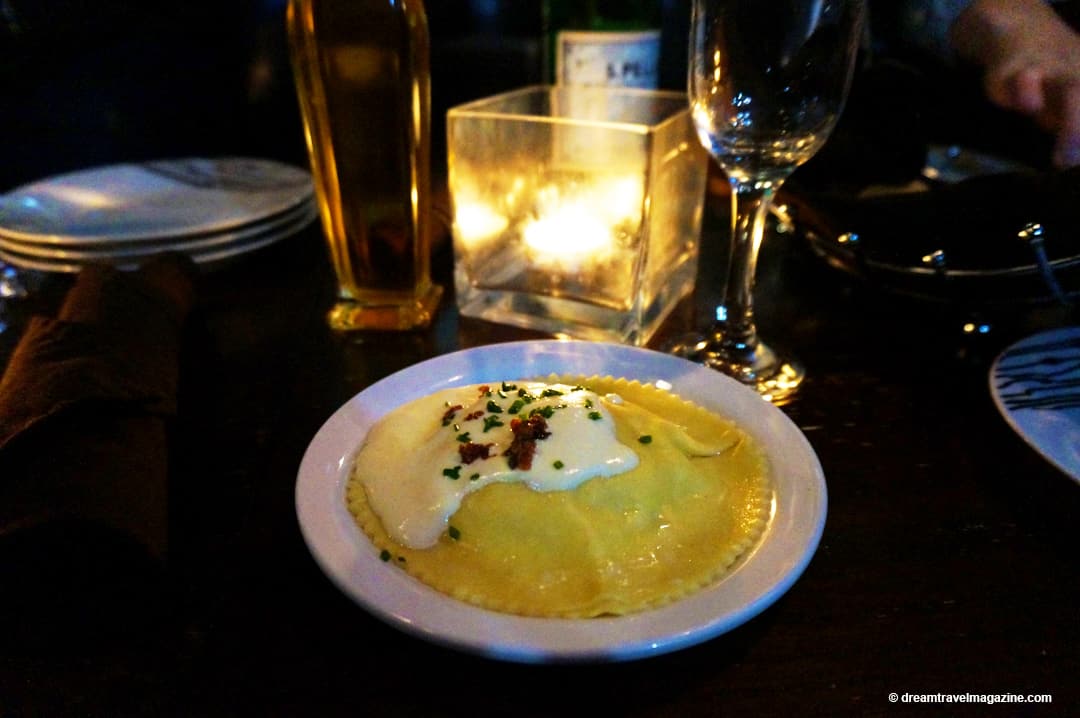 We were treated to a few off the menu special creations by the chef including this incredible homemade Ravioli. Every bite was a food explosion of mouthwatering flavour and goodness. This restaurant is now on my hit list for a return visit.
Mezcal
On a Saturday night Mezcal is a Mexican lounge bar with a line of people willing to brave the cold temperatures to wait for a seat in the small crowded space. The creation of Chef Manny Ferreira a Chopped Canada winner the food is fresh and locally sourced and delicious.
That said this lounge sort of baffled me. The food has this light Caribbean taste, with citrus and exotic flavours but, you are sitting in a lounge playing loud hip hop music in a dark Mexican themed interior decor.
Aberdeen Tavern
Another fine dining restaurant where reservations are a must. We were treated to a few special dessert samplings but Aberdeen Tavern is a splurge you must consider when visiting Hamilton Ontario. Based inside an old Bank building the decor in this neighbourhood fine dining restaurant screams luxury.
Aberdeen Tavern is well-known for its Sunday Brunch and its dinner menu which I snuck a peek at, was filled with mouth-watering creations. I'm putting this on my list of must splurge restaurants the next time I visit Hamilton.
Read more: Phenomenal Downton Location A Look at the Sheraton Hamilton Hotel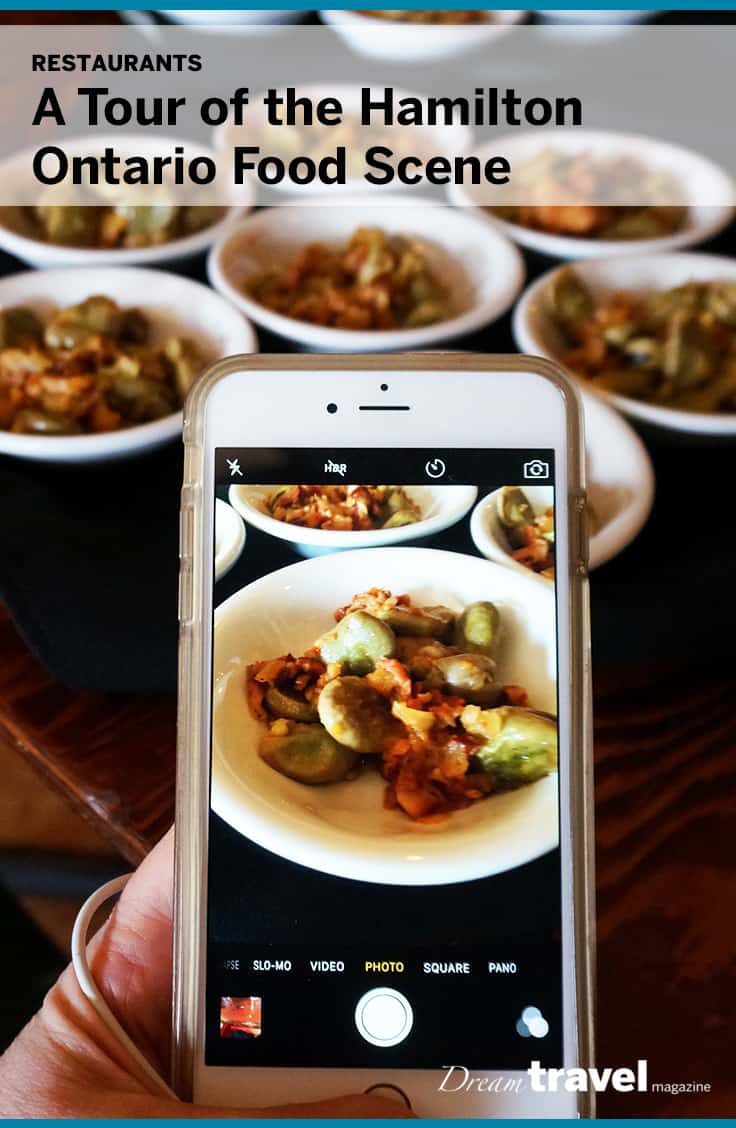 Hamilton's food scene is quite impressive and I know on this one day tour I only got a very small taste. I can't wait to visit the city again and learn more about what it has to offer for those vacations close to home.
This food tour was made possible by the Hamilton Economic Development Office and tripcentral.ca. All Opinions in this post are my own.