This article may contain affiliate links. Clicking on or purchasing products we recommend through a link may earn a small commission. Read our disclosure and privacy policy page for details. *COVID-19 TRAVEL ALERT – Travel recommendations offered on this site are not to encourage you to travel against travel advisories.
As someone who travels often my travel companions often rely on me to do all my travel checking before we book our vacations. Recently one of my friends was shocked to learn just how in-depth my dream trip planning research is. Most travellers visit Tripadvisor to read reviews of their hotel or resort but my searches will always include at least one stop to each of the following before I commit to any dream vacation booking. Here is a list of my must visit travel websites before you book your next vacation.
10 Must Visit Travel Websites before you Book
1. Trip Advisor and Other Reviews
This has become the norm today when booking a vacation. Checking the reviews of your hotel or resort can give you a really great idea as to what amenities the hotel has, how happy people who visited it were, any common issues or complaints and whether it is a good fit for you.
I often read through a few pages of reviews to get a good sense of the average feeling of the resort. How well is it rated by travellers, I take the really bad reviews and really good reviews lightly and pay close attention to the mid-high range reviews. If the majority of the reviews swing negatively it's a turn off for me, if the majority of the reviews are positive then it is a hotel worth considering. (www.tripadvisor.com)
Do a google search as well and look for travel bloggers or writers who have written a review of the hotel, often they are happy to respond to questions about the hotel in their comments and give you suggestions based on their own travel booking experiences.

2. Canada Travel Advisories – Travel.gc.ca
This is an important check because your travel health insurance coverage may not cover an area where there is a high warning or alert for travellers to that country. Mexico and Egypt for example (at the time of this posting) have warnings. While Mexico is for certain areas that tourists may not wander too it is still important to see where your resort is in relation to the warnings. (Travel.gc.ca)
If you are not Canadian then check out the travel advisory board of your country (U.S here, U.K. here). This is usually a quick check to ensure there are no travel warnings for the country you are considering for your dream vacation.
3. Publichealth.gc.ca
Similar to Travel Advisories Public health agencies in your country provide you with important health advisories like Malaria, Cholera and Dange Fever. At the time of this posting for example – the Zinka virus has spread through the Caribbean. These are popular vacation spots for Canadians during the winter break and many will travel there without knowing the details and risks. (Publichealth.gc.ca)

4. Google Maps
I also love to check out the hotels location at google maps, especially when travelling to the small Caribbean islands. I will also locate the hotel and see which side of the island is it on? How close to the airport? What else is near the hotel? I may even check out the location of hotels near the resort and compare their grounds using the Satellite view. Another important feature for me is how long is the beach? I love long walks on the beach so seeing where I will be able to walk is a plus when choosing the right resort. These are all things you can explore using google maps street and satellite views. (maps.google.com)
5. Tourism Sites
Many countries and cities offer some great resources online. They are worth a gander at for researching some of the excursions you may be interested in taking while on your vacation.
Many tourism boards now offer apps you can download to your phone which is an excellent source for information, they offer online brochures, itineraries and other useful tools to help you plan your vacation to their country. Some of these apps may require an internet connection to run so make sure you are not relying on these apps after you've landed with no internet data plan. Download the information you need just in case your caught without internet.
6. Travel Portholes
If you are looking for some general travel information then visits to Frommers.com and Lonely Planet.com can help you with weather, currencies, tipping policies and other useful travel tips.
Once you have decided where you are travelling and are ready to book your trip these sites are great resources:
7. Hotel/Resort main website
Check out events, amenities, maps and schedules at the resort you are staying at. You may also find email or phone numbers to call to book a la carte restaurant reservations or spa services before you arrive. Often the hotel staff are happy to hear from you and will reassure you that they are there to help make your trip fantastic.
8. SeatGuru.com
If you are like me and like to pick your seats on the plane in advance, then this is a great site for viewing the plane's seating plan in advance. Which seats are near the bathrooms? Where the wing is on the seating plan? Emergency doors? Seats with extra leg room? This site is a great place to help you pick out the best seats on the plane. (seatguru.com)
9. Airline Website Baggage Policy Page
Every airline has a baggage policy and many are different from one another. Check for weight restrictions, extra costs, baggage requirements, size restrictions and any information with regards to your allowable baggage on your flight.
10. Travel Insurance
Many of us has travel credit cards which feature Travel rewards and Travel Insurance but have you read the fine print? Not all activities you may be including in your dream vacation are included regular travel insurance policies. For more adventurous activities like scuba diving, extreme hiking/climbing expeditions, horseback riding and even skiing consider reviewing or purchasing extreme sport insurance vs a regular travel insurance policy.
So that's my checklist of websites to check out before I book a dream vacation. I hope you all will find them helpful when planning your next trip.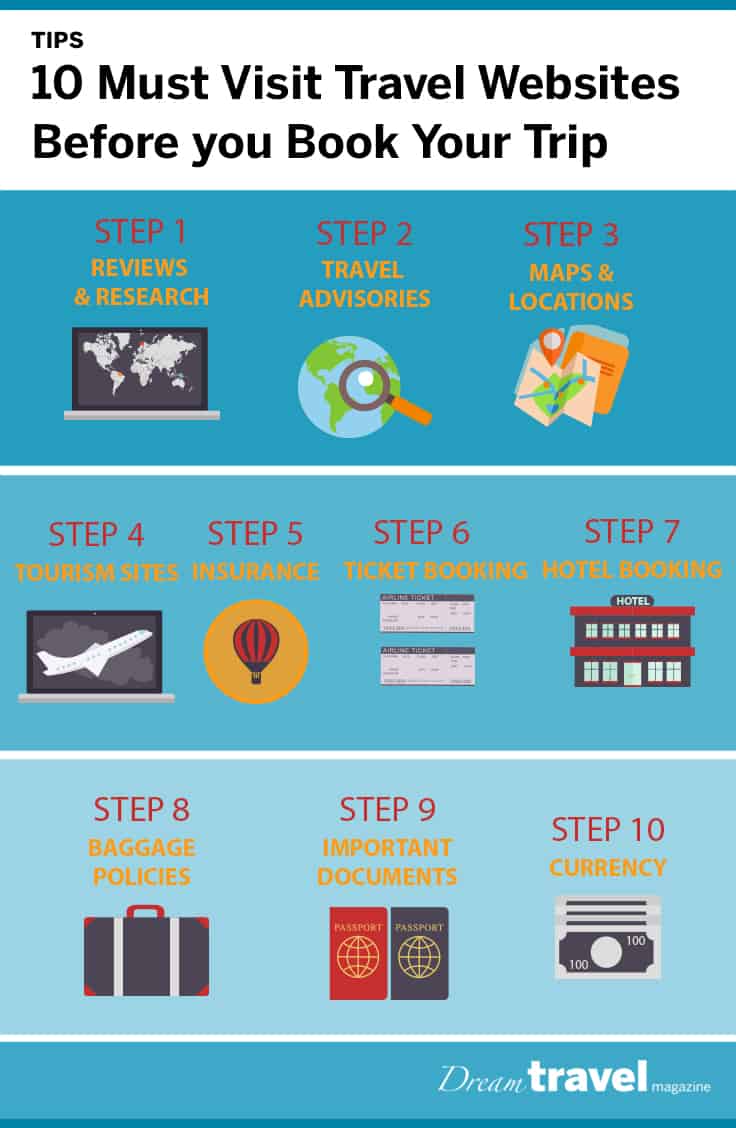 I would love to hear what your travel rituals are when you are planning/booking your vacations. Share them in the comments below.