About Sharon Mendelaoui
Founder and Creative Director
Here's My Story
Hello! I'm Sharon Mendelaoui. I am a graphic designer who worked on the marketing teams of some of the biggest companies in Canada. Through my 15+ years in a corporate cubicle, I dreamt about places I wanted to see and things I wanted to do with my life (as a skinny person).
As markets rose and fell and the stress got too much to bear, I dreamt about leaving and starting my own business. I imagined a self-employed life a lot – but releasing myself from that corporate paycheque was just too hard.
In my last few jobs I found myself in a desperate situation. Single, with a large mortgage and 100% dependent on that paycheque. I lived to the penny of every single paycheque – something every financial advisor or success coach will tell you never to do. To make matters worse the environments I worked in were toxic and wearing me down. I had no purpose or meaning to my work. The love and passion I had for creating was killed by corporate politics.
It got so bad that I would wake up in the morning and start crying before I even hit the bathroom. The idea of going to work was so emotionally overwhelming I'd end up having a "Gladiator at the feet of his family" cry before I even had my first cup of coffee. This happened more than I want to admit to you. Each day it did, I pulled myself together and somehow put my head down and try to get through the day without having a meltdown. 
The Moment I Stopped Hiding Behind the Camera
It was during a travel blogger conference in 2013 that I decided to take matters into my own life. I realized at that conference that I needed to think bigger. That my dream of travel writing and building a blog business was doable. I started to believe this was possible. When you actually believe your dream – OMG the magic that follows is great. 
At the conference, we attended many tours and events. Until then I hid behind the pretty places I was visiting. I was too ashamed of my weight to take photos of myself. I was over 240 pounds and not feeling great about myself – no surprise with a job I hated and a body I hated too.
This moment on the Segway was me realizing that my dream to be a writer and a travel blogger was actually possible. When you believe in your dream it is truly a powerful moment because it will motivate you to pursue it, to make a plan and take action. I call this my "Origin" photo. The moment my dream turned into something more.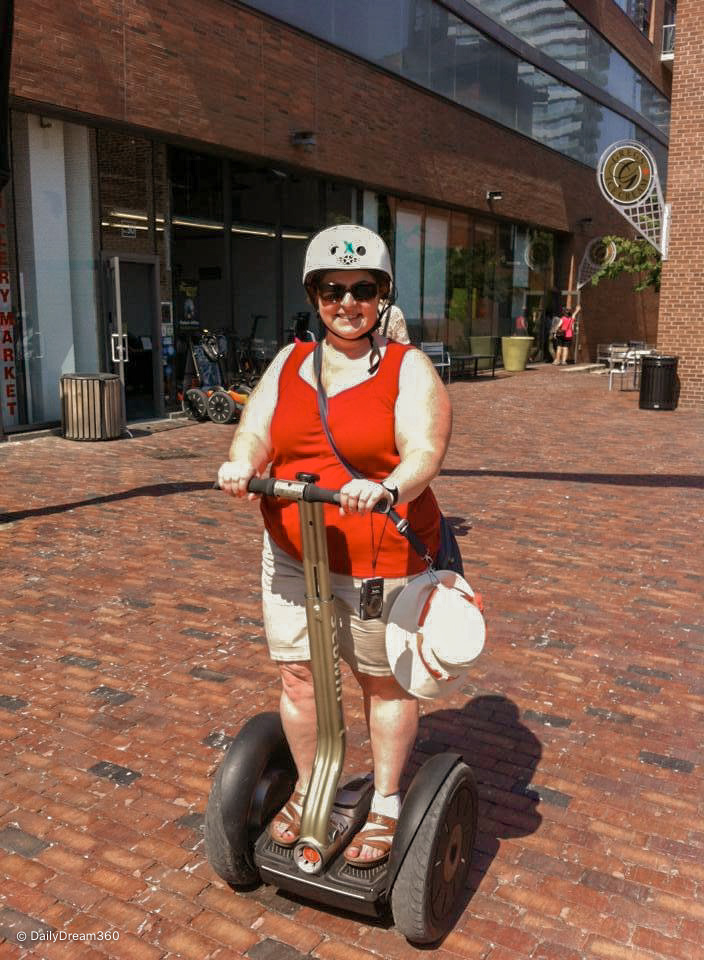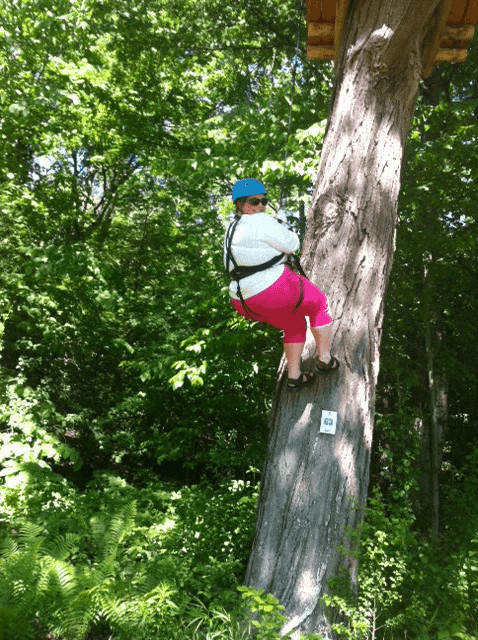 Fear can motivate extraordinary change
I attended my first press trip during that conference and found myself in one of those horrible "fat-girl" moments. I was tree-top trekking and I couldn't finish the course. I thought they would bring a ladder and I'd just climb down out of it. Instead, they prepped for a high-angle rescue. A little skinny girl was going to hoist me down as I repelled down the side of the tree. 
I held back the humiliation of a. not being able to complete the basic first round of the course, b. feeling like a total failure and c. the fear of having to slip off that platform and trust the harness was going to hold me. I was having all those horrible fat-shaming thoughts and then I let go and just slowly leaned back and allowed the harness to hold me.
About halfway down while the people below me laughed and took photos of my "rescue" I realized something. I was the only blogger on this trip with this story. I had insight into a situation that no one else had. They took this very flattering "Bridget Jones moment" of my big ass coming down the tree. This moment was one of the most intense moments of my life. Behind this smile is the pain of feeling like I failed because of my weight but also that pure joy of knowing this is what I was meant to be doing. Telling the story, sharing the reality of adventures sometimes they are great and sometimes they don't go so well. 
Making the Decision to Change My Life
That day, I came home and decided it was time to stop dreaming about travel and my dream life and start doing something about it. I started a clean eating lifestyle and switched the focus of my blog from a hobby blog to a business. I realized that everything begins with a dream, but you have to plan and take actionable steps towards that life. Oh, and most importantly, you have to live it.
This "Dream it, Plan it, Live it," methodology is something I'm passionate about and sharing here on this website and my social media channels. I want to inspire you to grow and succeed in the things you are dreaming about. It doesn't matter how old you are I'm 51 and I'm committed to bettering my life.
After being downsized from corporate life, I decided it was time to run my own graphic design business and use my blog to share my adventures. I write about weight losses (and gains), travel adventures and my life experiences as I dream, plan and live my best life.
My Life in 2021
So where am I at with my own personal journey?
Health: 
I put my health goals first now above everything else. It is something I realized as a self-employed person that has to be a priority in my life. I've lost 50+ pounds so far and made it back to "One-derland." For those of you who don't know that's the magic number for obese people when they finally get out of the 200-pound zone and hit that 199 lb mark. I am not sure what my ultimate goal weight is but I imagine it will be another 30-50 pounds from where I am as I write this note.
Business: 
The pandemic did give me a bit of anxiety, however, with a freelance graphic design business I was determined not to fail. I am always looking for new contracts and clients to keep me busy and earning. Selling is a constant challenge for me and I push myself to do it. My hope is that as remote work becomes the norm I will continue to crush it.
Love: 
A big thing I have been working on (even in the pandemic) is finding my perfect person. I would love a partner in this life adventure. Pandemic dating was interesting, but also made it a lot easier to find those real men who were interested in making a friendship or connection vs just the quick hook-ups. 
Writing: 
I do have a lot of pressure on myself to keep writing and sharing stories on this website. I also try to keep all the posts up to date with relevant information. 2021 I will have to start going through the more than 300 travel posts to make sure they are all up-to-date and relevant. I also have new trips being planned as I write this.
One thing many of you may not know about me is that I have a few other writing dreams that I'm working towards. I have already written the first draft of a Novel which I'm finding a challenge to finish and I'm in the middle of writing a screenplay. I'm trying to see which comes more natural for me screenwriting or novel writing. Because I have a lot of ideas and stories I want to tell.
My Daily Dream 360 Mission 
My mission is to inspire you to take action towards your dreams. I want you to find that moment when your dream is something you actually believe in. That moment when you say I'm going for this! Whatever your dream, whatever progress you want to make – my goal is to help you get there!
That's the mission behind Daily Dream 360, and to help you out, I also founded Dream Living 360, a Facebook group where you can ask me questions, participate in fun challenges and set goals to fulfill your health, life, career, business or blogging dreams.
Ready to stop dreaming and take action? Join me! We can do it together!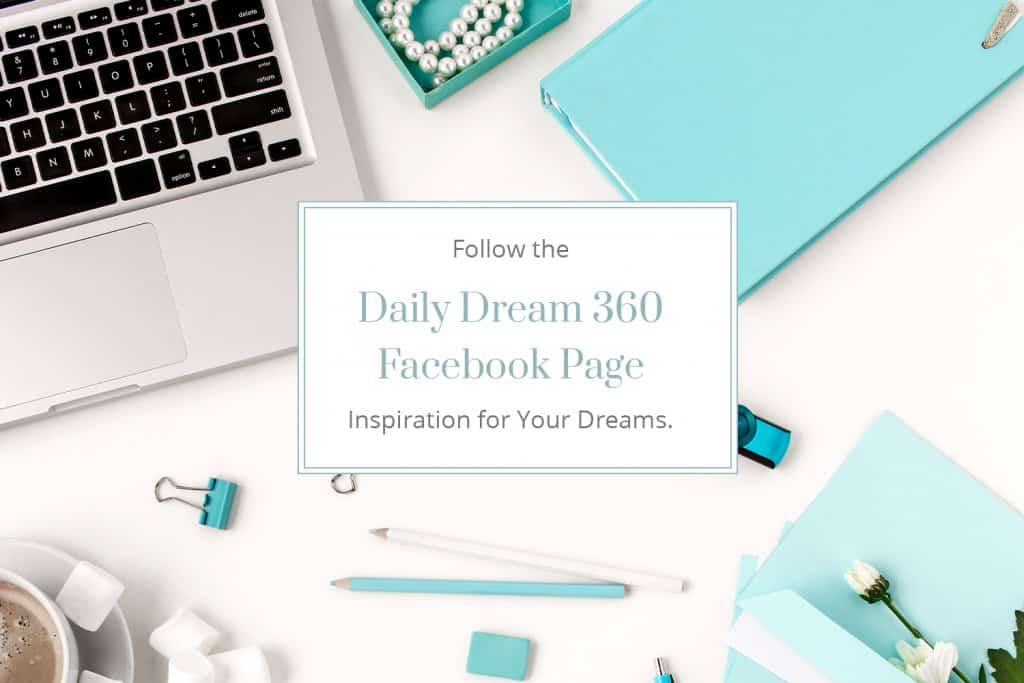 Follow Our Facebook Page
Stay in the loop with the latest posts and inspirational messages posted on our Facebook Page. Follow behind the scenes with Sharon at home or during trips with Facebook Stories. Have a question? Ask Sharon by commenting on one of the posts on our page!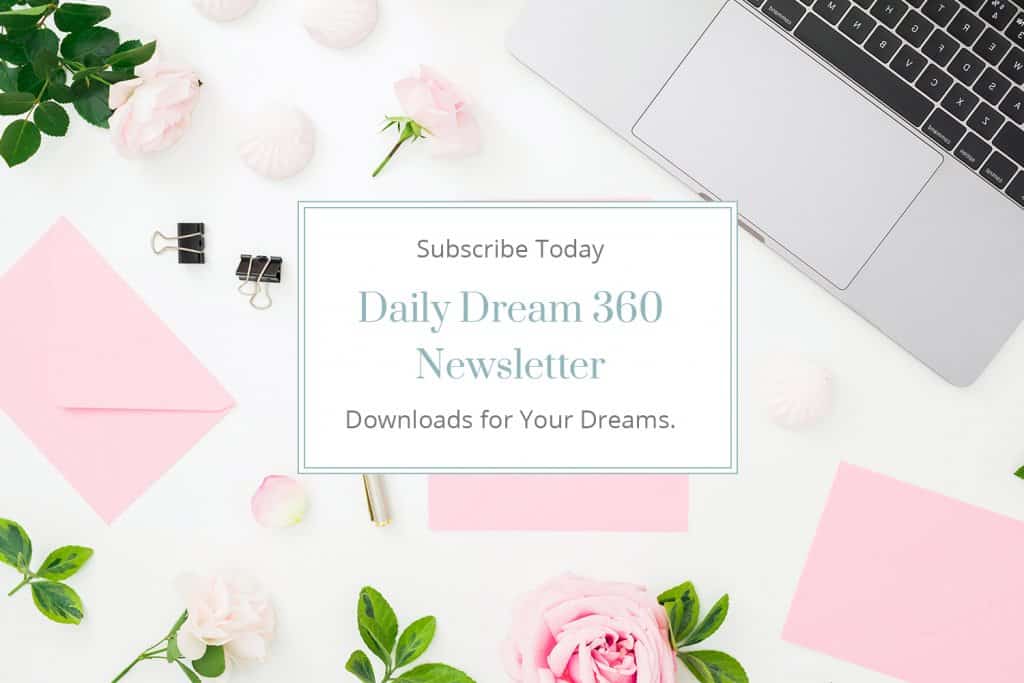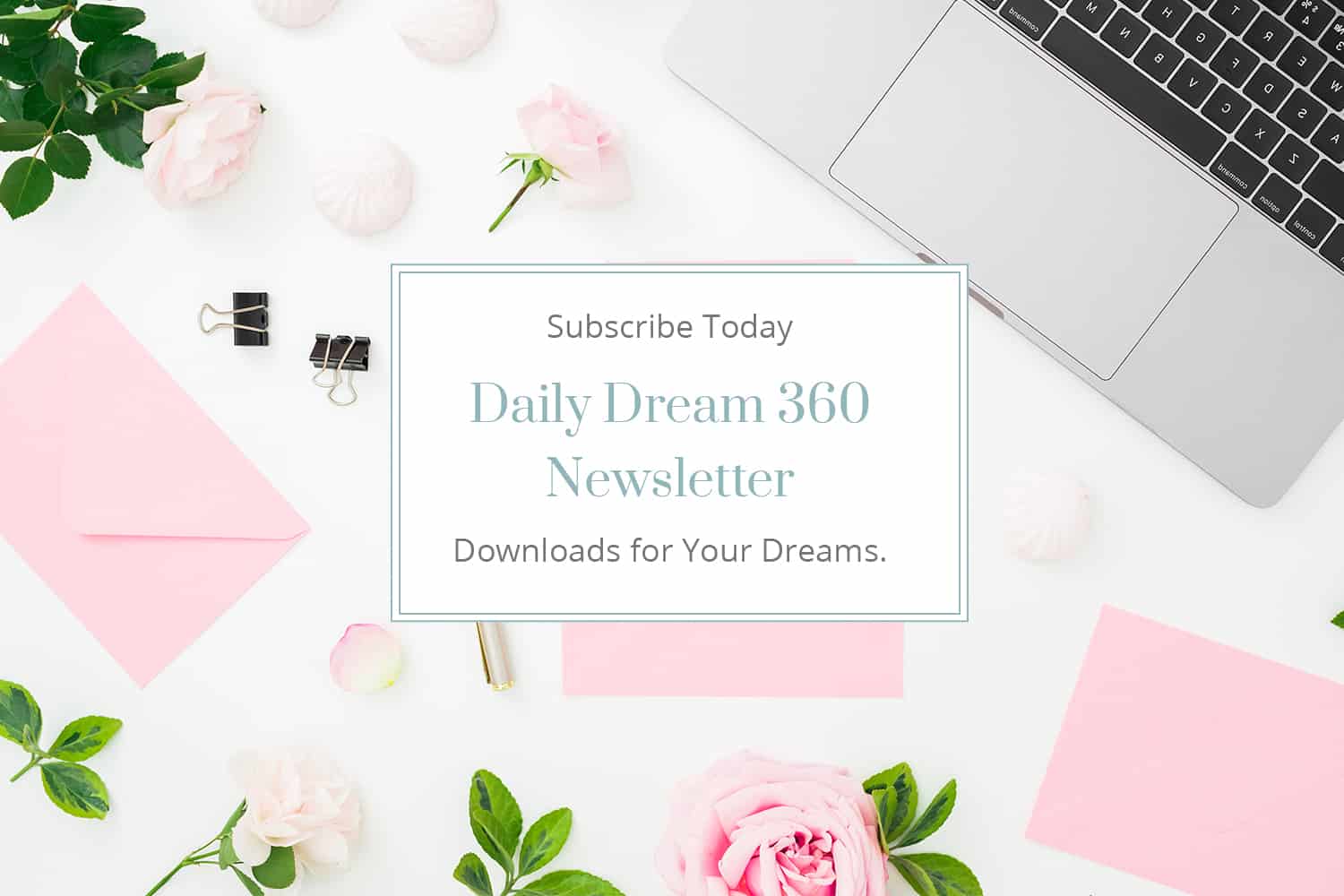 Subscribe For Exclusive Content
Get access to our exclusive content where you can download checklists, printables and guides.
A Selection of My Freelance Writing