This article may contain affiliate links. Clicking on or purchasing products we recommend through a link may earn a small commission. Read our disclosure and privacy policy page for details. *COVID-19 TRAVEL ALERT – Travel recommendations offered on this site are not to encourage you to travel against travel advisories.
In front of me was a blank canvas, a paper plate with blobs of paint and a photocopy of a masterwork painting by William Percival Weston. I didn't know much about this Canadian artist but let's just say his beautiful art looked far too difficult for a non-painter like me to master in one afternoon.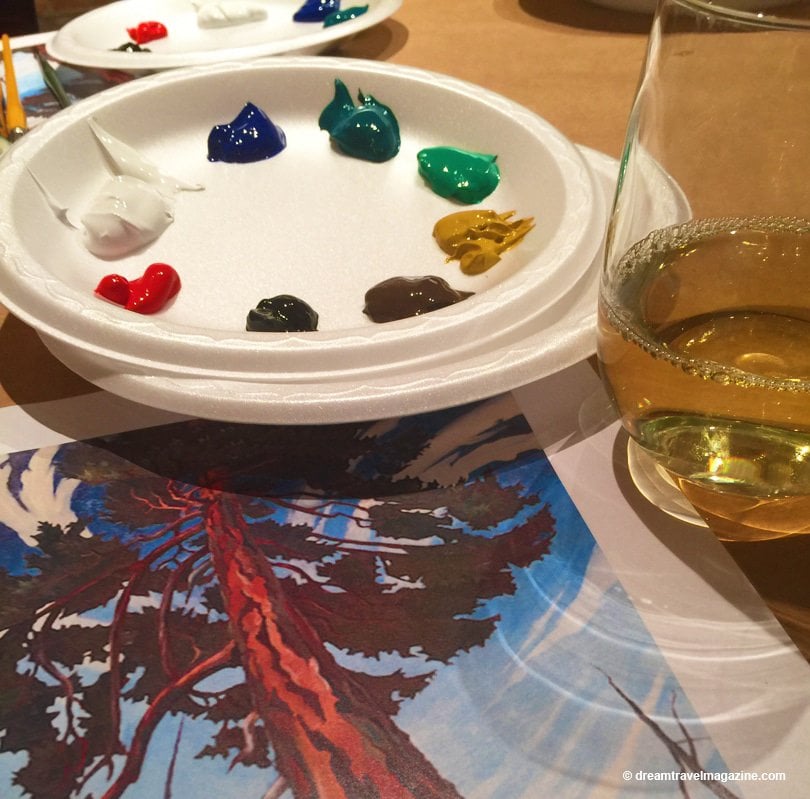 Painting Uncorked Art Gallery of Hamilton
I got my tickets to this event during my visit to Hamilton's famous super crawl event. As luck would have it, the paint workshop kept me from a nasty rain storm. Each month, the AGH has a Painting Uncorked session scheduled with a new masterwork painting to challenge you.
No painting experience required.
The best part, no experience is necessary. Drinks and snacks are served, and all the materials are included in the cost of admission. If you buy early, prices are members $45, non-members $55 and if you miss their early bird date price jumps $5 to members $50 and non-members $60. As you can imagine these events are very popular so book early.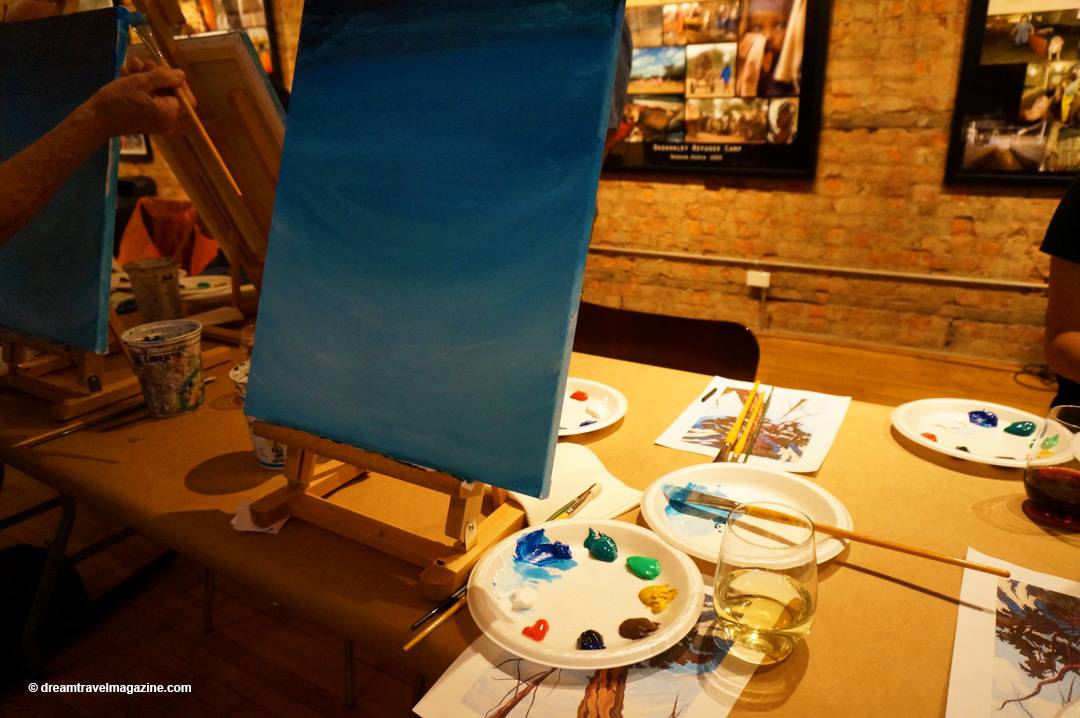 The AGH Paint Workshop
Maybe it was the immediate surroundings that were adding to my anxiety. Around me hung many professionally done paintings by well-known Canadian artists and here I was the travel writer with one paint workshop under my belt. To compare, during my last paint workshop I did a very basic painting, and some of the elements were hand drawn in pencil for me.
In Hamilton, there was no pencil markings, just a blank canvas and this group of seven looking painting. I made my way to the bar for a glass of white wine (included in the price of admission) and had a nervous conversation with the bartender on how this wine was going to help me not paint like a toddler in front of all these other workshop attendees.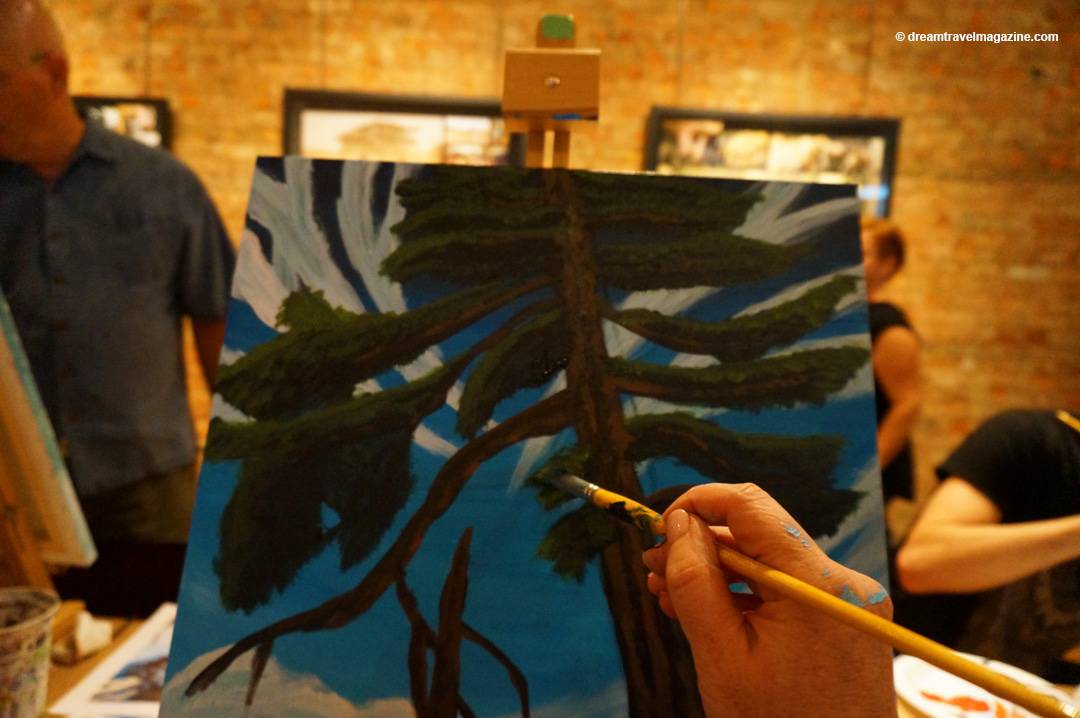 Step by Step Instructions
Our instructor Leslie introduced herself and shared some important rules, which I now know to be the funny paint workshop rules. Don't mistake your paint cup for your wine cup being the most important. Every workshop I've done (3 now) someone always puts their paintbrush in their wine glass or drinks out of the paint cup.
We started with the blue sky which seemed easy enough, and Leslie walked us easily through each step. Whispy clouds, tree trunks and then bark highlights and lastly leaves on the tree.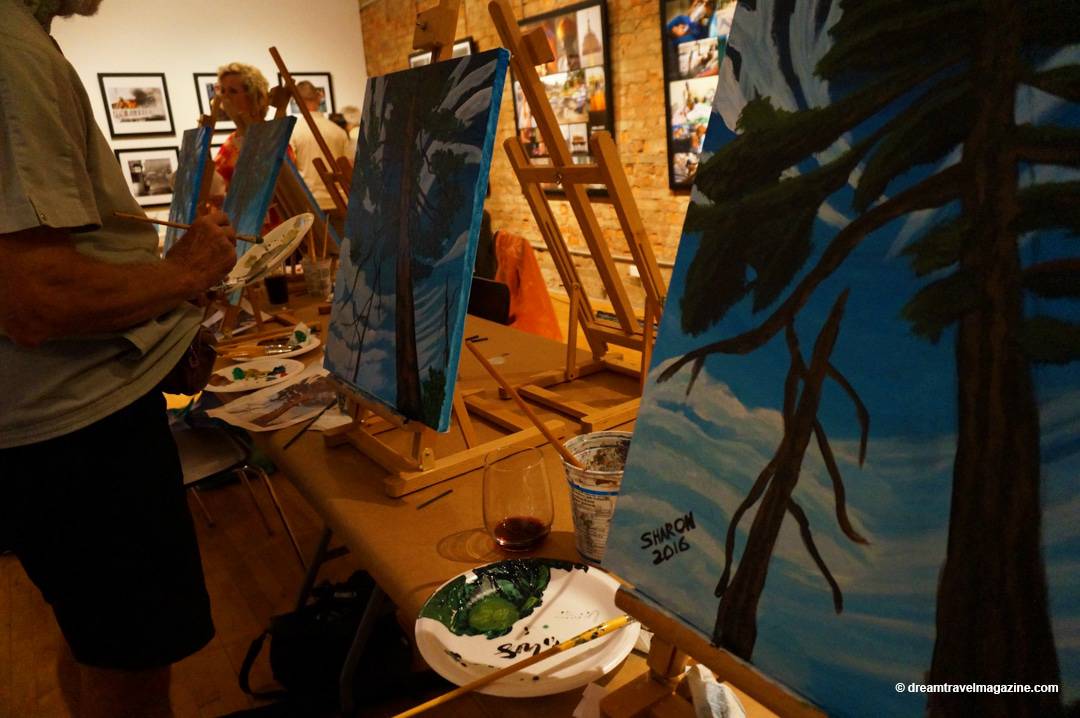 All my anxiety over a blank canvas was gone now. Most of the people in the class were just like me, newbies looking to try their hand at a new creative outlet who haven't picked up a paint brush in a long time. It was fun to walk around and see all the different variations of the painting.
In the end, I was standing in front of a beautiful painting that I still can't believe I painted myself. I can't wait to return to Hamilton, and I hope that my next visit will coincide with another AGH painting workshop, I think I've uncorked a new creative passion.
For more travel ideas in Hamilton Ontario, check out these posts.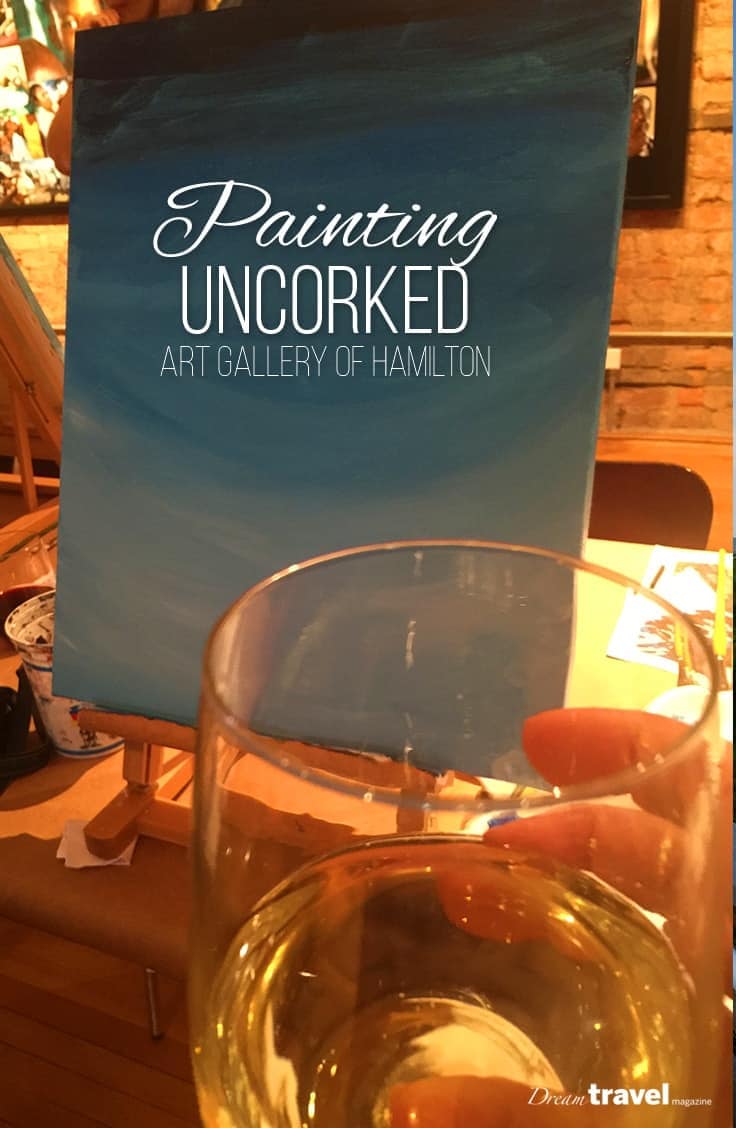 Travel assistance provided by Tourism Hamilton and Hamilton Supercrawl, however, the opinions expressed in this post are my own.