This article may contain affiliate links. Clicking on or purchasing products we recommend through a link may earn a small commission. Read our disclosure and privacy policy page for details. *COVID-19 TRAVEL ALERT – Travel recommendations offered on this site are not to encourage you to travel against travel advisories.
Planning a trip to Niagara Falls? You'll want to know all about the best attractions in Niagara Falls Canada and how to save money with the Niagara Parks Adventure Pass.
Dream it.
If you're planning a trip that involves a pool, lake, or beach of any kind and you don't want to buy a special waterproof camera or action camera, then a waterproof pouch for your phone could just be the solution you are looking for. Most of us have replaced our cameras and choose to travel with our phones and while there are some water-resistant models out there, protecting your phone with a waterproof pouch could save you a costly repair or replacement.
There is more to the Canadian side of Niagara Falls than a look at the falls themselves. When visiting the falls, the dream for me is to experience a new attraction and have a great meal at some of the best restaurants in Niagara Falls.
I've done this year-round in the heart of winter to celebrate New Year's Eve in Niagara Falls for summer day trips and romantic weekend getaways. Luckily they are constantly adding new things to see and do.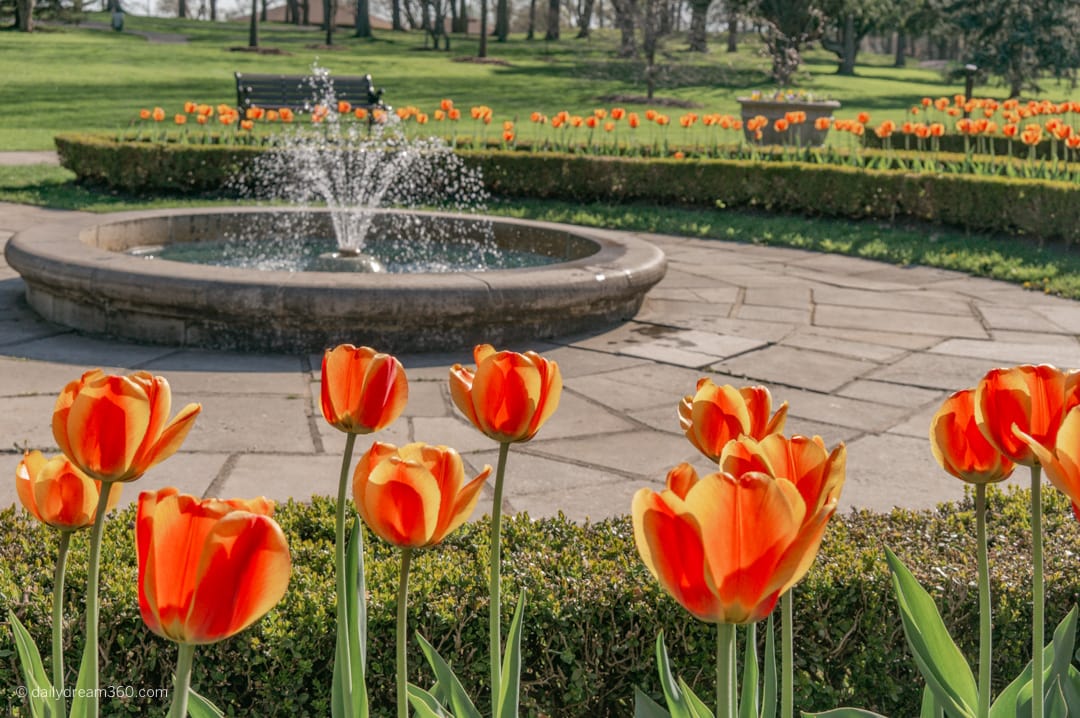 Plan it.
Planning a trip to Niagara Falls can be pretty straightforward. There are many ways to get there, including flights, trains and driving. For the latest health and safety information, visit the Niagara Parks website here.
Getting To Niagara Falls from Toronto
Weekend Go Train Service from Toronto
It is now super easy to get to Niagara Falls from Toronto. The Go Train travels from Union Station in downtown Toronto to Niagara Falls Station. They have some great weekend packages, which include a train ticket and Niagara WEGO bus pass.
Drive From Toronto
Of course, if you choose to drive, take the QEW and follow the signs towards downtown Niagara Falls. However, parking can be expensive, so you may want to park your car in one of the day lots and use the transit passes available in one of the Niagara adventure passes.
Save With One of the Niagara Parks Adventure Passes
The Niagara Parks Commission was established to protect the lands and buildings along a corridor known as Queen Victoria Park, which runs from Fort Erie to Niagara on the Lake. They are responsible for many popular Niagara Falls Attractions and restaurants in the area.
You can purchase tickets to attractions individually at each location or buy one of the bundled Niagara Parks passes outlined here. I've also included details on all the Niagara Parks attractions and Restaurants I have experienced below.
Niagara Parks Power Pass
Two attractions included in the Power Pass are the new Power Station and Journey Behind the Falls walk. Both these attractions are located near the Table Rock Centre and Funicular and can be done in one day.
Niagara Parks Power Station
Journey Behind the Falls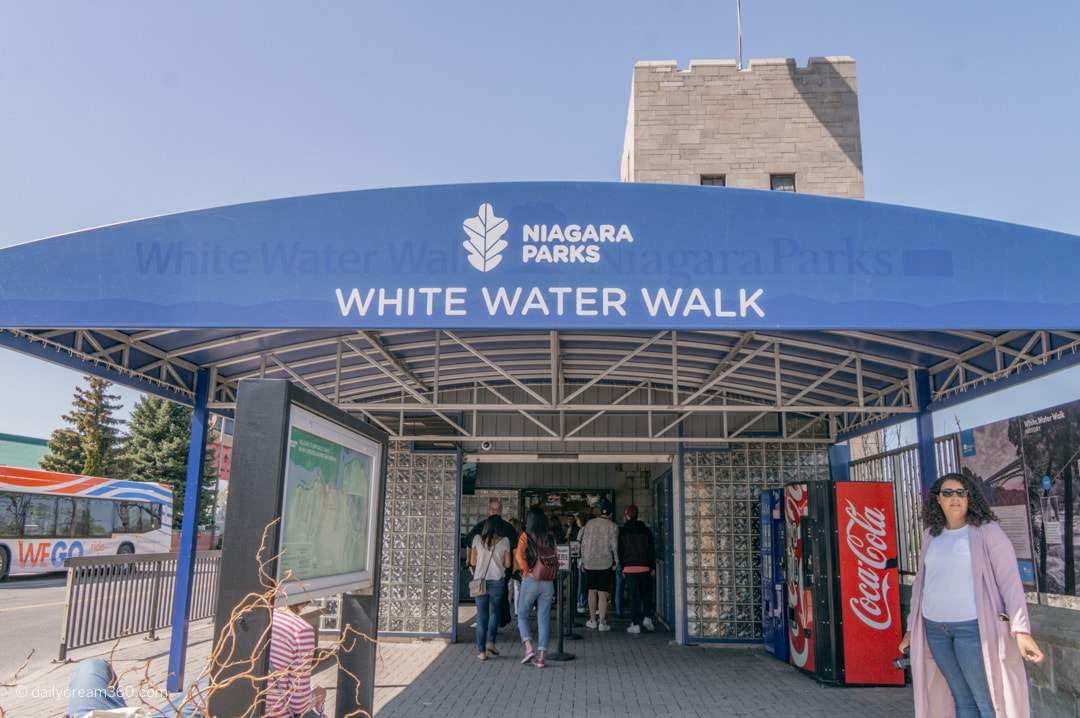 Niagara Falls Adventure Pass – Essential Niagara Falls Attractions
I recommend this pass for 1-day trips. The key features many of the most popular Niagara Parks Attractions, including:
Journey Behind the Falls
White Water Walk
Niagara's Fury
2-day access to hop-on, hop-off bus transportation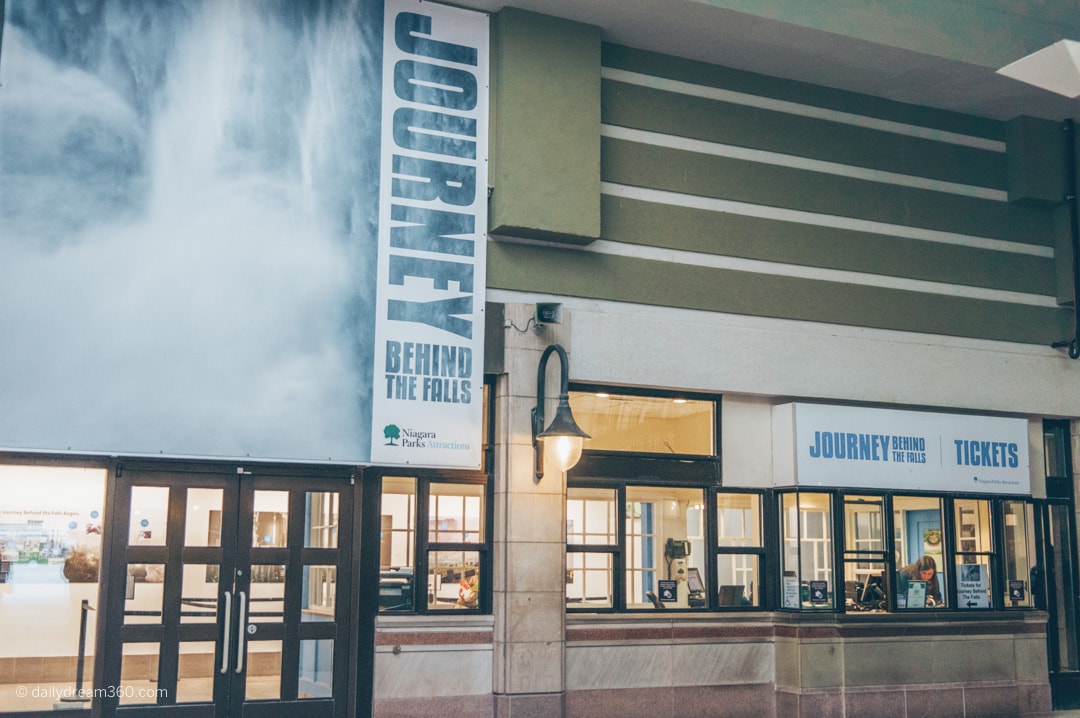 Niagara Falls Pass – Best Value
Suppose you are planning a weekend getaway in Niagara Falls. In that case, you will likely want to consider this pass as it includes five popular Niagara Parks attractions and 2-day access to the incline railway. If you are staying at one of the Fallsview hotels, the funicular pass will be precious!
Journey Behind the Falls
Whirlpool Aero Car
White Water Walk
Floral Showhouse
Butterfly Conservatory
2-day access to the Falls Incline Railway
2-day pass to hop-on, hop-off bus transportation
There is also Niagara Parks Parking Passes if you are driving, which will give you access to numerous parking lots next to their attractions.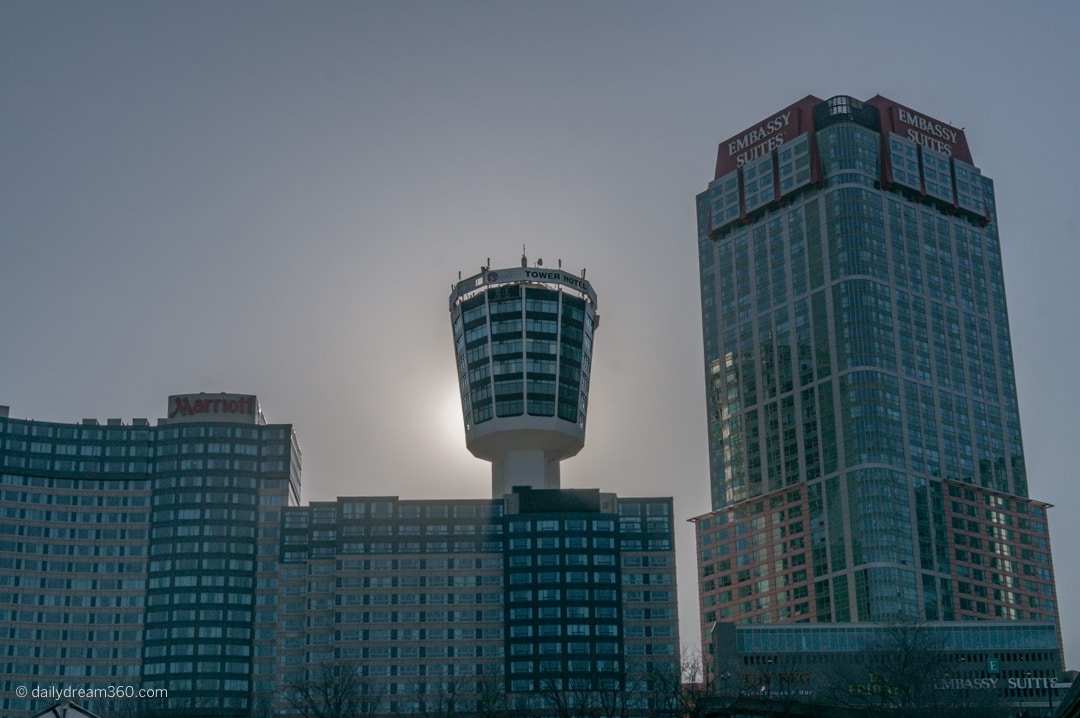 What to Pack for Niagara Falls
I will focus the packing list on things you'll need for the attractions below.
Good Walking Shoes: Plan to do a lot of walking in the city, down to the falls, up Clifton Hill and on trails of these attractions.
Raincoat: You will want a waterproof layer between you and the flimsy poncho provided for the Niagara City Cruise tour. There are also some spots along the falls where it gets misty so that you might want a light, packable rain jacket on hand.
Small backpack: I like anti-theft purses or bags like the Travelon Classic Backpack. It is compact enough to store your camera and anything else you'll be lugging around and has anti-theft locks which will keep your stuff safe in the crowds.
Live it.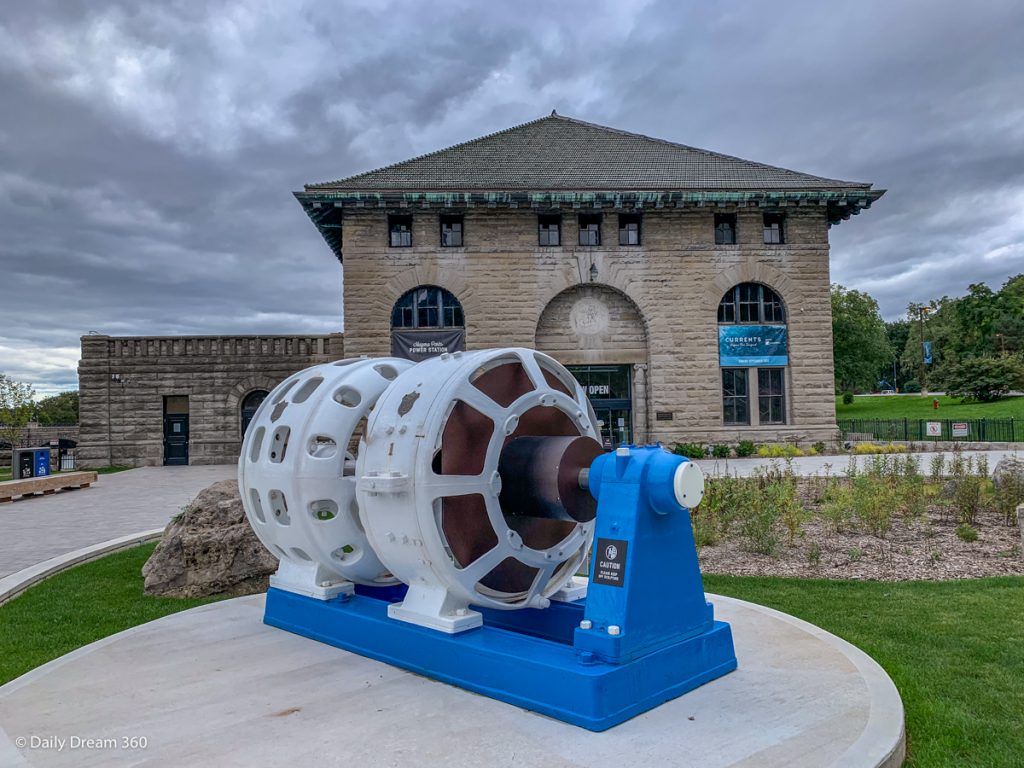 Niagara Parks Attractions Best Things to Do in Niagara Falls Canada
Niagara Parks Power Station
Tickets are available separately for day tours and the Currents Interactive Light experience. However, I recommend the combo pass as there is value in seeing both sides of the station.
Niagara Power Station Day Tour
A guided tour covers the Power Plant's history and mechanical operations. In addition, there are several interactive displays, and the tour guides explained how the first major power plant on the Canadian side operated.
Niagara Power Station Currents Night Show
This incredible projected light show features 3D projection. In these interactive moments, lights follow your every move as it tells the story through the history of how water inspired the building of the powerplant and its incredible record in operation. This light show is a must-experience attraction in Niagara Falls.
Discover the transformational shift of water to electricity with Currents: Niagara's Power Transformed. This immersive, family-friendly experience features incredible 3D projection, interactive moments of wonder, and a breathtaking musical score in the heart of the power station.
Tips for Viewing Currents Light Show
Move around. Watch the floor for interactive moments where the lights will follow you – it was pretty amazing to see all the people walking in the light bubbles that were following them around.
Most of the viewing is on the main back wall but don't be afraid to walk around and experience different show angles.
Photography is allowed with no flash. I took all these photos with iPhone XR, and smartphones with low light settings should capture the moments.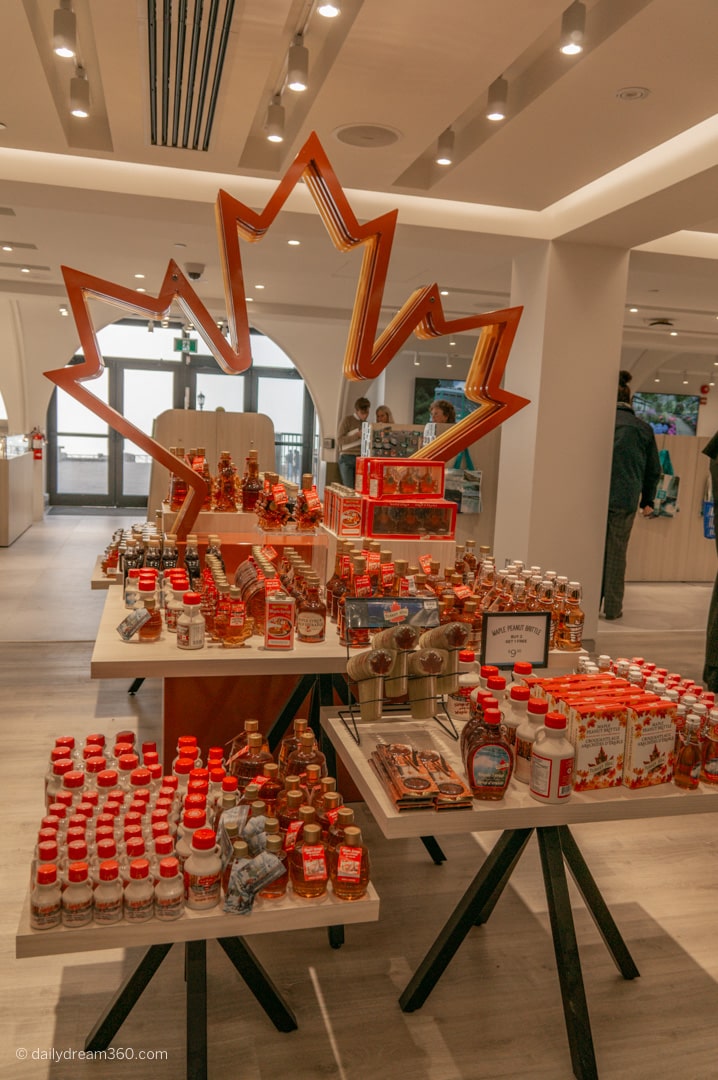 Shopping at Table Rock Centre
Be sure to stop by the Table Rock Centre, which has undergone a massive renovation. This building houses the Table Rock Restaurant (described below) and entrance to the Journey Behind the Falls attractions but also has many eateries and a huge souvenir shop filled with great Canadian clothing, treats and more.
Journey Behind the Falls
I had no idea what to expect of this attraction but was fascinated by the long tunnels which led directly underneath the roaring falls. The portholes are blocked off to avoid you walking too far, but even standing at the gate, I couldn't believe the force of the water as it roared in front of me.
The Journey Behind the Falls attraction has a covered and open deck at the ground below the falls where you can get some extraordinary views of the falls from below.
White Water Walk
After my first visit to the White Water Walk, I was hooked. It is a beautiful wood boardwalk that snakes the side of the Niagara River as it rushes beside you. There are some lookouts along the 1KM walk with little educational boards explaining the geography of the river. The rapids swirl around you, and you may even see a few birds or animals along the route. This is a low exertion walk through nature fun for any age.
Niagara City Cruises (Maid of the Mist/Hornblower)
I can't believe it has taken me this long to finally experience the famous Maid of the mist ride to the falls. It felt longer than a 20-minute tour next to the American Falls, Bridal Veil Valls and sitting right in front of the Horseshoe Falls. You feel the intensity of both falls as you drive past it with the boat bobbing along and the splash and wind gusts from the falls are exhilarating.
Bring a raincoat, ponchos are supplied, but you'll want an extra waterproof layer if you head to the front of the boat as I did!
Niagara Falls Zip Line to the Falls
The Falls Zipline takes you on a seated ride down 670 metres (2,200 feet) down to an observation deck in front of the Horseshoe Falls.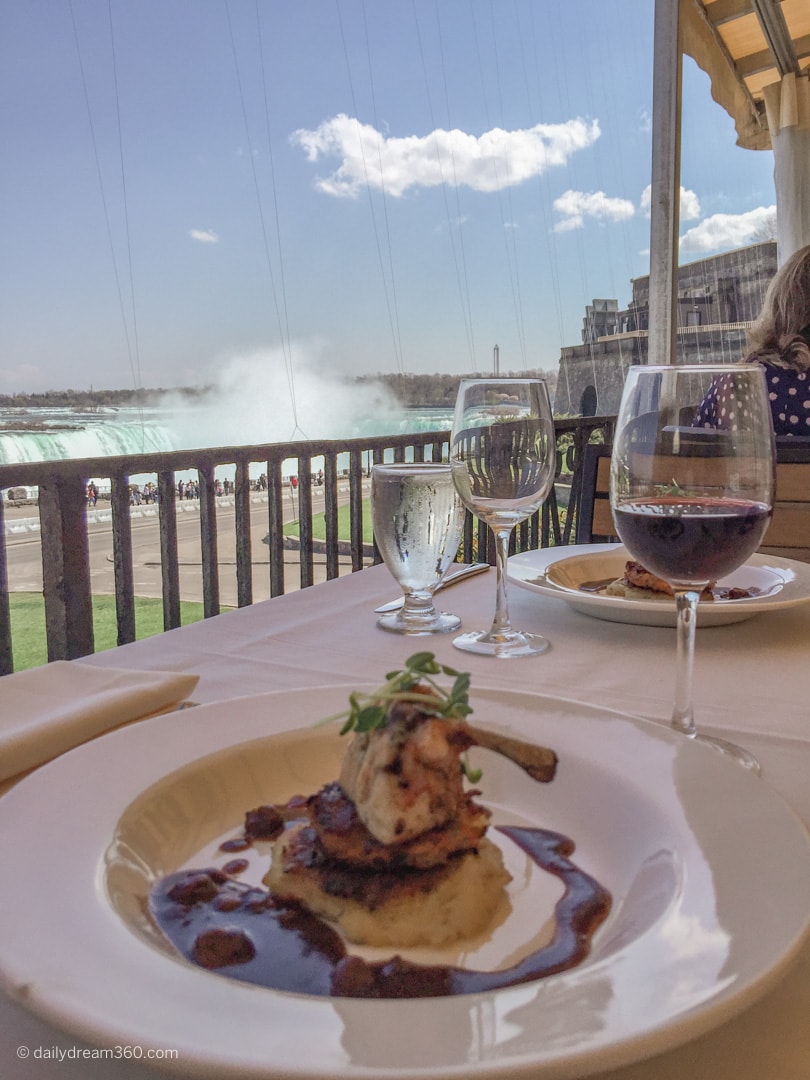 Where to Eat? Niagara Parks Restaurants
Queen Victoria Place Restaurant
I used to think that the restaurants with great views of the falls were impossible to get seating. However, aside from the ability to make a reservation ahead of time, the terrace at the Queen Victoria Place Restaurant is enormous, and chances are you won't have to wait as long as you think.
It sits across the street from the falls, and the view is pretty spectacular nonetheless. The food was also quite memorable. I had a bit of a dream moment dining on this stuffed chicken supreme while sipping on wine and looking over at the falls.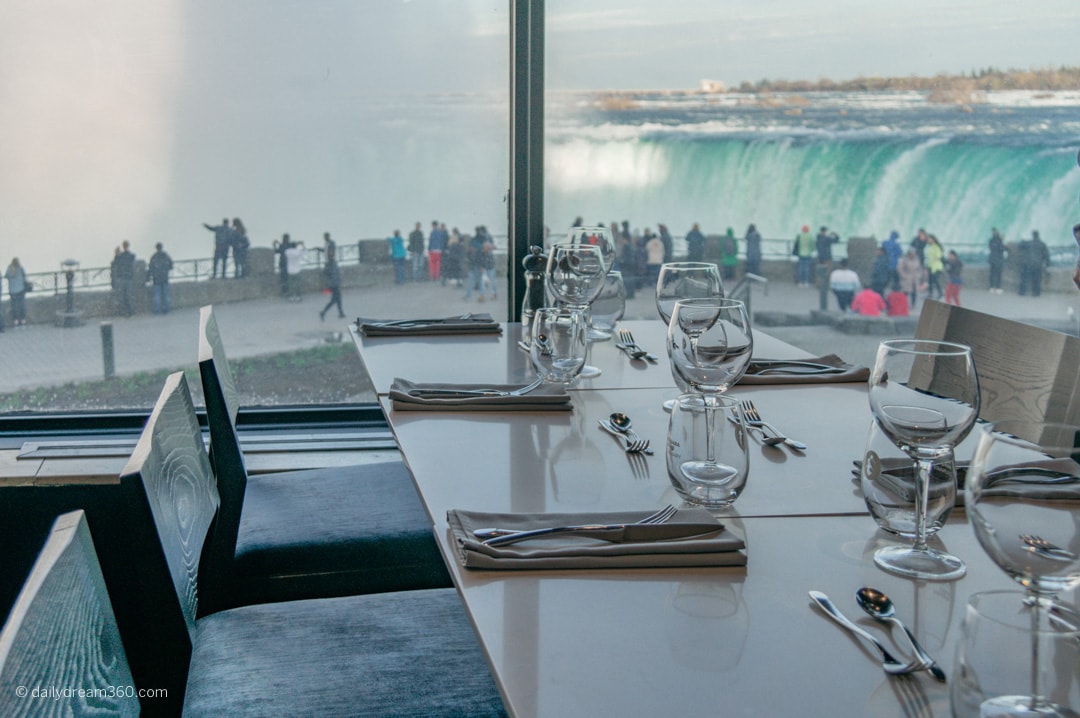 Table Rock Restaurant (formerly Elements on the Falls)
By far, the only place to sit and eat right next to Horseshoe Falls has to be Table Rock. Although sitting at this window table watching the people straddle the railing by the falls was more than a bit distracting. Once your food arrives, you may forget you are sitting right next to the falls.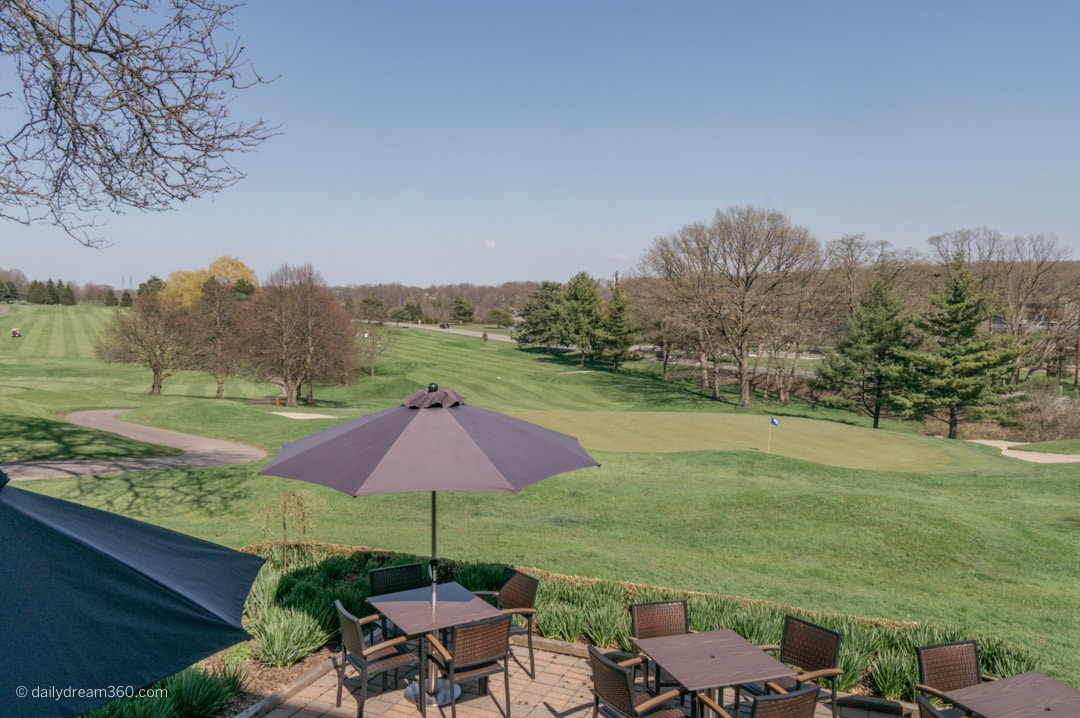 Whirlpool Restaurant
Located next to the 18-hole Whirpool Golf Course, the Whirlpool Restaurant offered beautiful views of the greens. They have both an indoor restaurant and a patio. This restaurant is open during the golf season.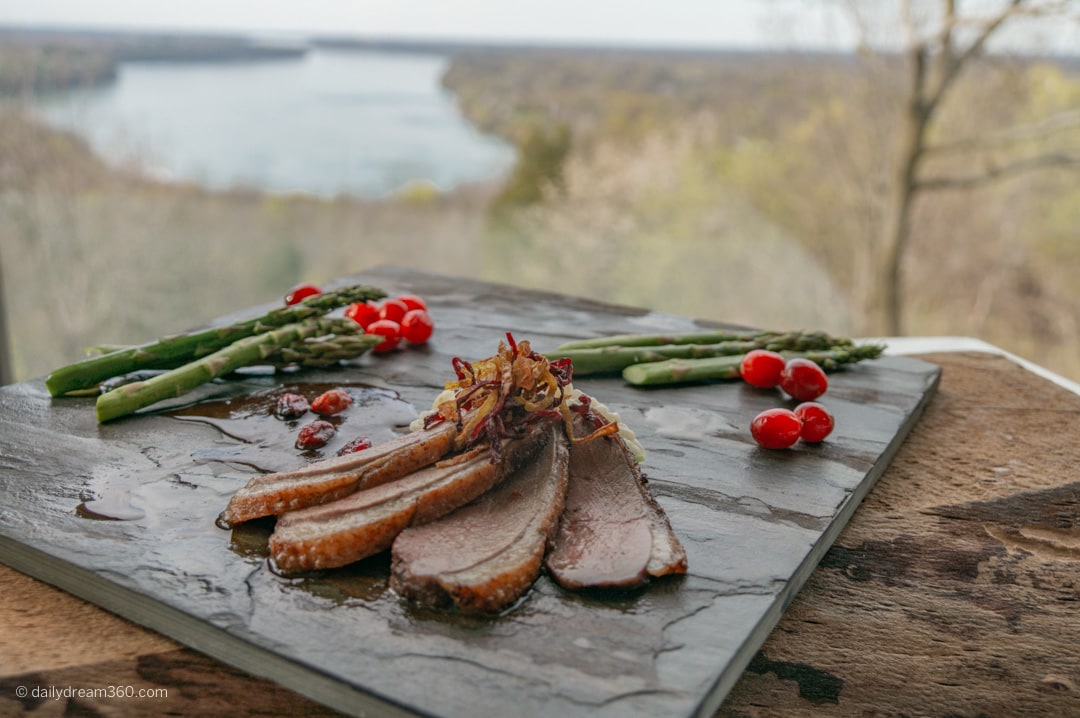 Queenston Heights Restaurant
Near the Queenston-Lewiston Bridge and just the famous Flower Clock park, you will find this hidden gem. The Queenston Heights restaurant not only offers a delicious menu, but they also have a spectacular view of the Niagara River.
The chef prepared a particular dish for us, including slow-roasted Ontario Beef short rib with mashed potatoes and asparagus spears. It was delicious, and the view was just fantastic. They have both indoor seating and a lovely patio.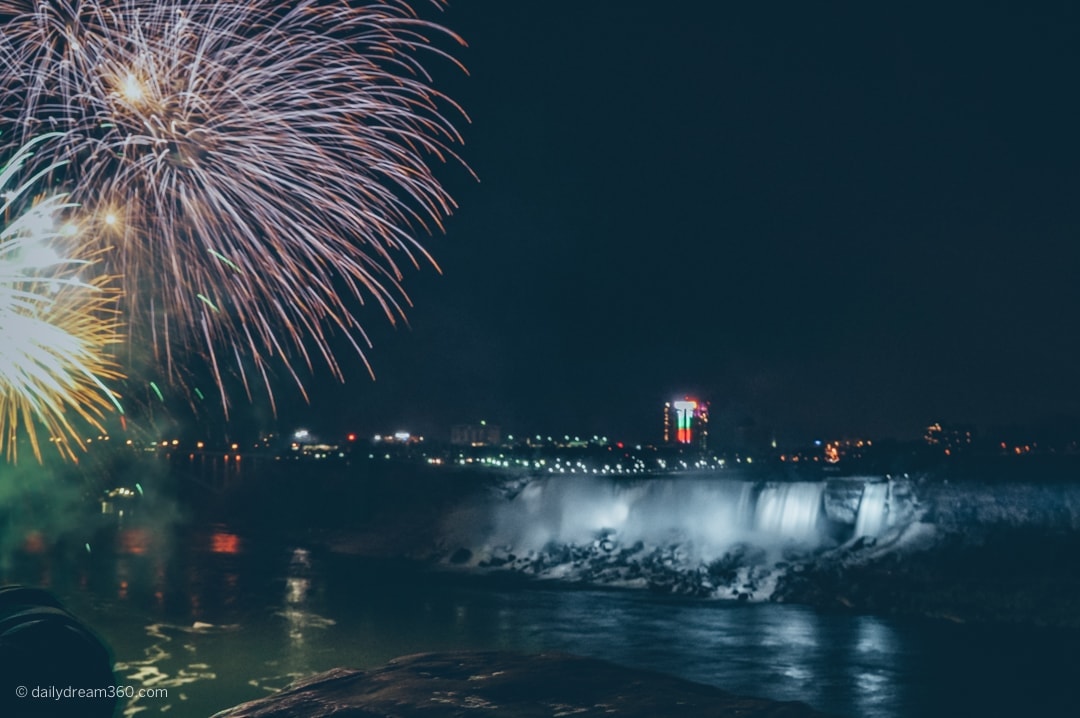 Niagara Falls Illumination
The Niagara Falls Fireworks series was still on hold as of the publishing of this article. If you would like more information on the latest COVID-19 protocols or updates, visit the Niagara Parks health information page.
Read More: What You Need to Know About Spending New Year's Eve in Niagara Falls
Where to Stay in Niagara Falls
Splurge: Marriott Fallsview Hotel and Spa
Located on Fallsview Avenue, steps from the Fallsview Casino and right above the Niagara Incline Railway, the Marriott Fallsview Hotel and Spa is my first choice.  It is steps from everything you want to see or do in the city.
Situated directly over the falls, their Fallsview Rooms are pretty spectacular. You may get lucky enough to score a great deal on one of these rooms.
Check the Marriott Fallsview Reviews and Rates: Tripadvisor | Expedia
What I love most about the Marriott Fallsview are the location and amenities. It truly has everything you need for an adult getaway to Niagara Falls. Amenities at the hotel include a fitness center, pool, spa and Morton's Restaurant, which has breathtaking views overlooking the falls.
Mid-Range Four Points by Sheraton Niagara Falls Fallsview
If you want to be in the heart of it all but at a hotel with a more moderate price point, you may score a deal at the Four Points by Sheraton Niagara Falls. The hotel has many room options, including Fallsview, City View or no view with King, double, Jacuzzi and suite-style rooms available.
Access Fallsview Casino and the many shops and restaurants in the area with a covered walkway and direct access to Fallsview Avenue. This hotel is steps from the falls themselves and a short 20-minute walk to Clifton Hill.
Check Four Points by Sheraton Niagara Falls reviews and rates: Tripadvisor | Expedia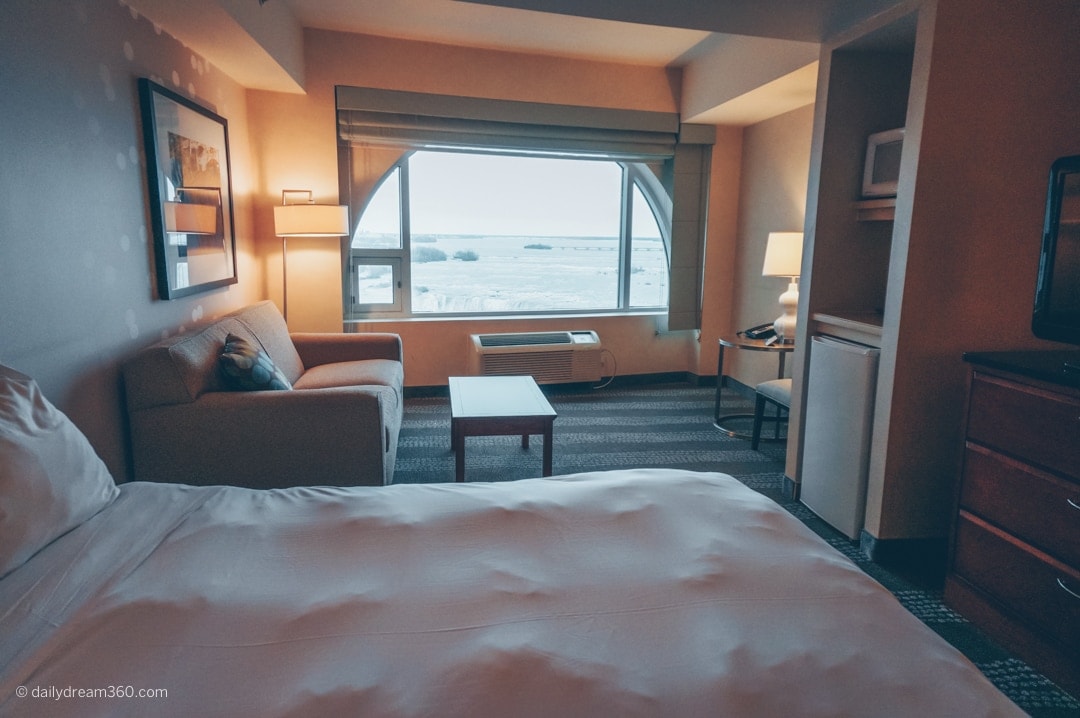 On a Budget: Radisson Hotel Fallsview
I have stayed at the Radisson resort in Niagara Falls, an excellent location for accessing the restaurants up on Cliffton Hill and getting down to the Falls. There are a select number of rooms here with views looking over to Horseshoe Falls.
We stayed at the Radisson for a New Years Getaway, which offered rooms at more affordable rates than many other Fallsview hotels. Radisson hotels are known for their comfortable accommodations at great price points. This hotel may provide the perfect price point for a more budget-friendly adult trip to Niagara Falls.
Check Radisson Hotel Fallsview reviews and rates: Tripadvisor | Expedia
Intimate Boutique: Old Stone Inn
I had a lovely lunch at the Old Stone Inn and wanted to include it in my places to stay because it truly is an excellent hotel for those looking for a more intimate boutique hotel experience. Also, it is a few blocks over from the Fallsview main strip, which some may prefer.
Niagara Falls Tourism and Niagara Parks provided travel assistance during many media visits. Other information included was a result of personal trips to the region. All opinions in this post are my own.