This article may contain affiliate links. Clicking on or purchasing products we recommend through a link may earn a small commission. Read our disclosure and privacy policy page for details. *COVID-19 TRAVEL ALERT – Travel recommendations offered on this site are not to encourage you to travel against travel advisories.
There is no shortage of things to do and see when visiting Niagara Falls, Ontario. When planning a trip to Niagara Falls Ontario, you may want to consider purchasing a Niagara Parks Adventure Pass an attractions pass with many of the best things to do in Niagara Falls. In this post, we share details on some of our favourite attractions and restaurants in Niagara Falls, Canada.
Dream it.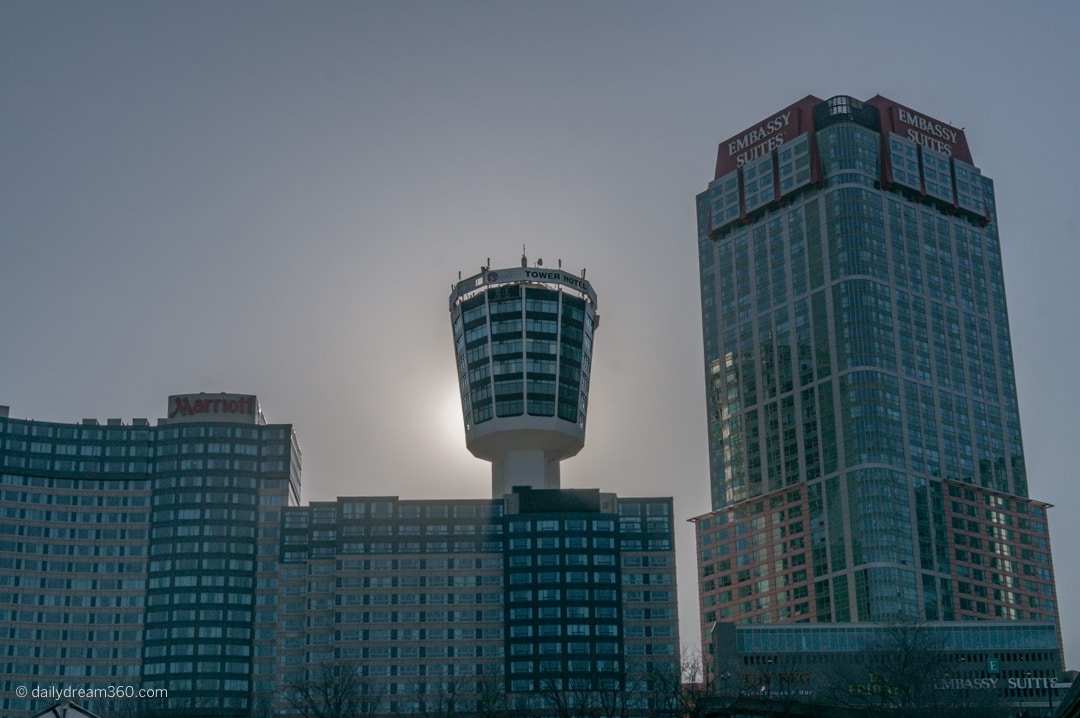 The Inspiration Behind Niagara Falls – The Canadian Side
There is more to the Canadian side of Niagara Falls than a look at the falls themselves. The dream for me when visiting the falls is to experience a new attraction and have a great meal at some of the best restaurants in Niagara Falls.
I've done this year round in the heart of winter to celebrate New Year's Eve in Niagara Falls and for a summer getaway. Luckily they are always adding new things to see and do.
Plan it.
Planning a trip to Niagara Falls can be quite straightforward. There are many ways to get there, including flights, trains and driving.
Getting To Niagara Falls from Toronto
Seasonal Go Train Service from Toronto
It is now super easy to get to Niagara Falls from Toronto. The Go Train travels from Union Station in downtown Toronto to Niagara Falls Station. Niagara Parks has teamed up with Go Transit to provide the following package:
Round-trip train ticket Union to Niagara Falls
2-day access to Niagara's WEGO bus
2-day access to Niagara-on-the-Lake with the WEGO bus extension
For more information or to purchase tickets visit NiagaraParks.com/GO
Make it a weekend and visit Niagara-on-the-Lake too!
You must purchase your train tickets from Niagara Parks to get the add-on of unlimited rides on Niagara's Transit. This is new this summer and means you can plan a weekend escape or a one-day trip to Niagara Falls and Niagara-on-the-Lake easily.
Drive From Toronto
Of course, if you choose to drive take the QEW and follow the signs towards downtown Niagara Falls. Parking can be expensive, so you may want to park your car in one of the day lots and use the transit passes available in one of the Niagara adventure passes.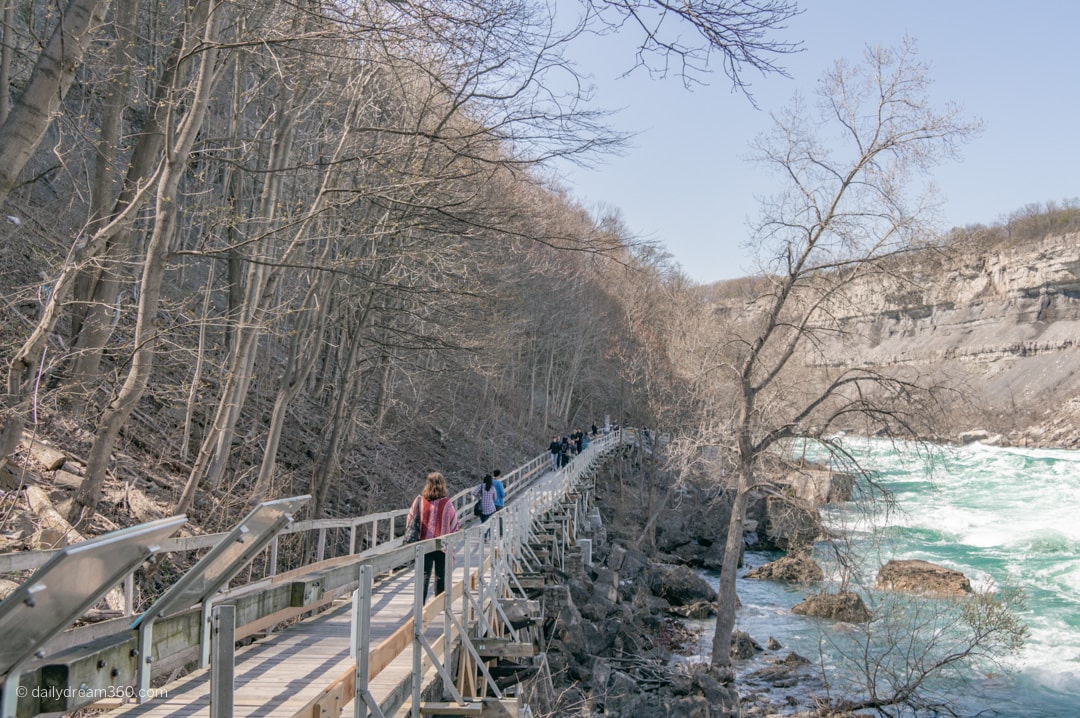 See the Best Niagara Falls Attractions with the Niagara Parks Adventure Pass
If you want to get the most out of your day or weekend in Niagara Falls check out the Niagara Falls Adventure Pass which includes access to most of the Niagara Parks attractions and experiences you will want to discover.
There are three types of Adventure passes based on the number and types of Niagara parks attractions you want to see. Be mindful of how much time you have to explore the area before choosing your pass.
The good thing about these attractions is that public transportation is included and Niagara's WEGO has stops at all these popular Niagara Falls attractions. Even if you drive down, you can park your car once and head out and discover the region.
Classic Niagara Falls Adventure Pass
I recommend this pass for 1-day trips. The Classic pass features many of the most popular Niagara Falls Attractions including:
Hornblower Niagara Cruises (Maid of the Mist)
Journey Behind the Falls
Niagara's Fury
White Water Walk
2-day WEGO Pass
$100 coupon booklet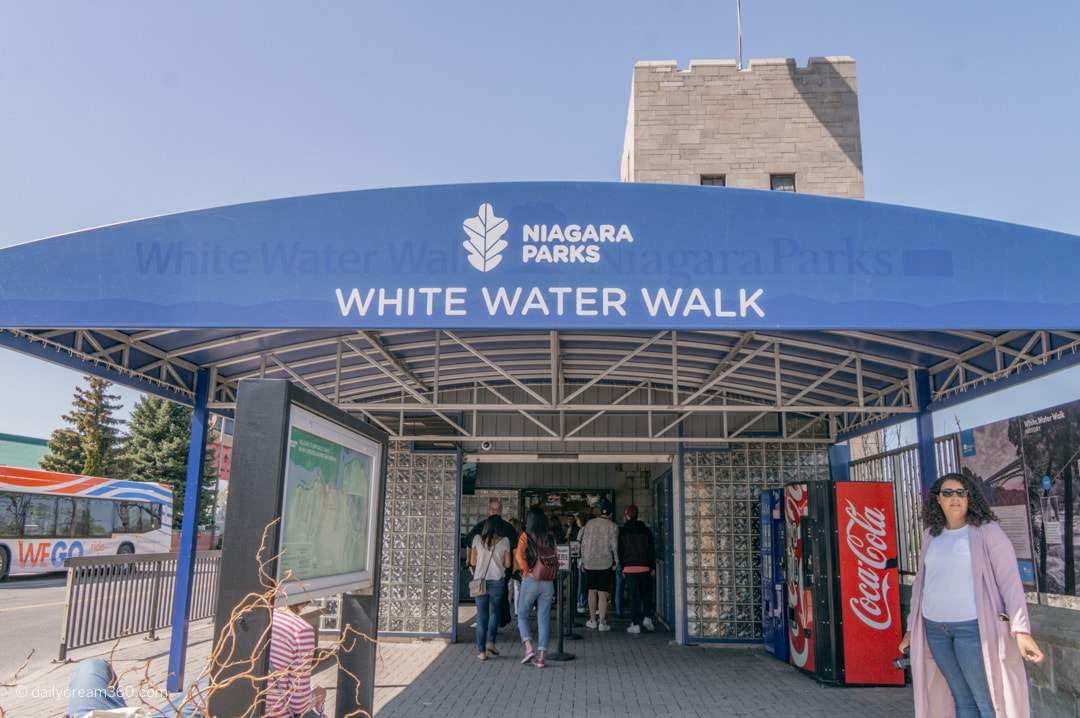 Plus Niagara Falls Adventure Pass
I recommend this pass when you are visiting the region for more than one day as you will have a lot to cover. Attractions included in this pass are:
Hornblower Niagara Cruises (Maid of the Mist)
Journey Behind the Falls
Niagara's Fury
White Water Walk
Whirlpool Aero Car
Floral Showcase
Butterfly Conservatory
2-day WEGO Pass with Niagara-on-the-Lake Extension
Falls Incline Access
Bonus: 4 Heritage Sites and coupon booklet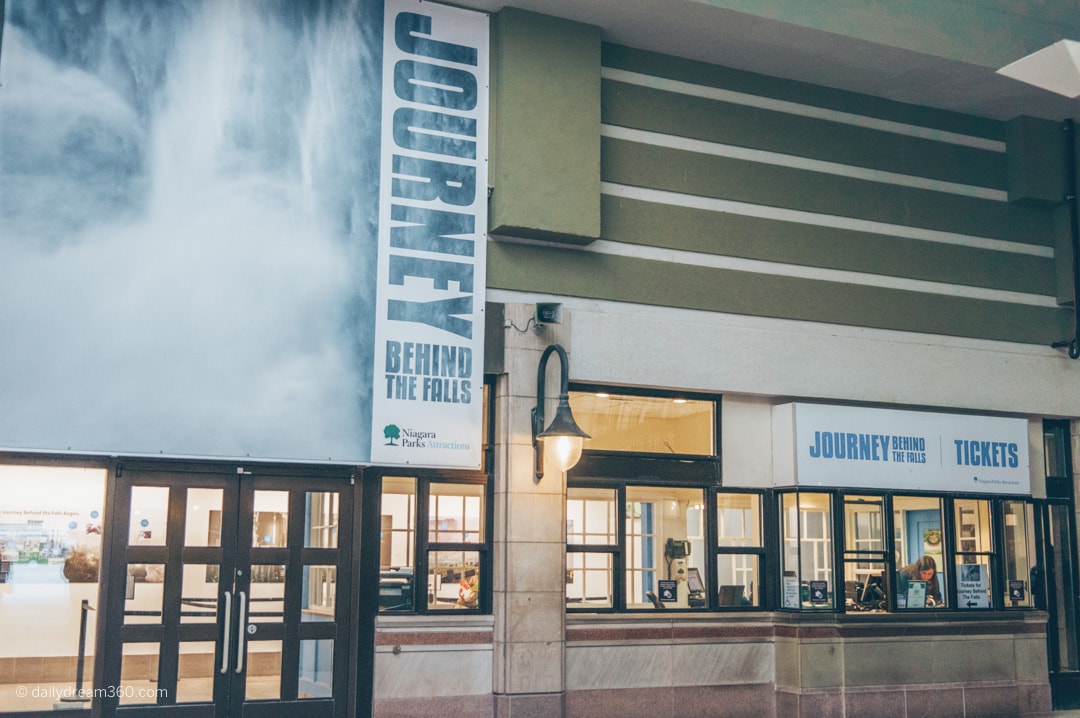 Nature Niagara Falls Adventure Pass
I prefer the Classic pass, but if you are looking to do different attractions and the Butterfly Conservatory this one might appeal to you too.
Hornblower Niagara Cruises (Maid of the Mist)
Whirlpool Aero Car
Floral Showcase
Butterfly Conservatory
2-day WEGO Pass
$100 coupon booklet
Live it.
Things to do in Niagara Falls Canada
Explore the Town
Take a walk in downtown Niagara Falls or up on Clifton Hill. There you will find many attractions, including the Skylon Tower, Museums like Ripley's Museum, scary attractions like the Fear Factory and plenty of souvenir shops.

Niagara Falls Sky Wheel
If you'd like to get a phenomenal view of the falls and the city try a ride up on the Niagara Sky Wheel. Sit in a comfortable pod as you revolve around for 8-12 minutes catching the sights of the city.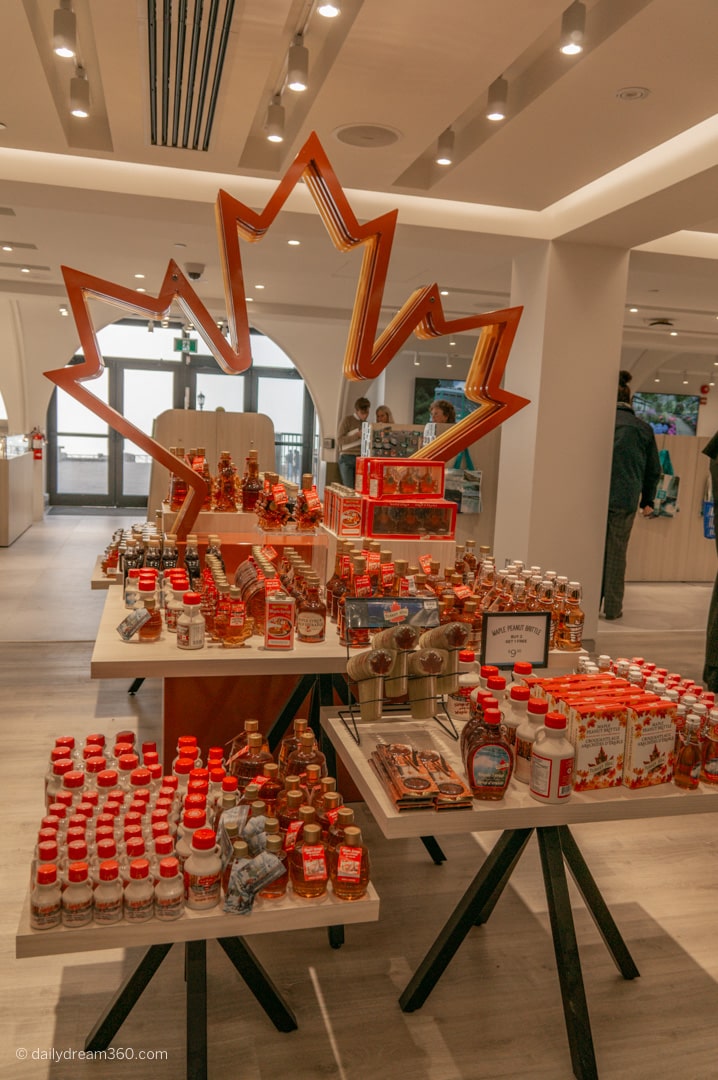 Shopping at Table Rock Centre
Be sure to stop by the Table Rock Centre which has just undergone a massive renovation. This building house the Table Rock Restaurant and entrance to the Journey Behind the Falls attractions but also has a number of eateries and a huge souvenir shop filled with great Canadian clothing, treats and more.
Journey Behind the Falls
I had no idea what to expect of this attraction but was fascinated by the long tunnels which led directly underneath the roaring falls. The portholes are blocked off to avoid you walking too far, but even standing at the gate, I couldn't believe the force of the water as it roared in front of me.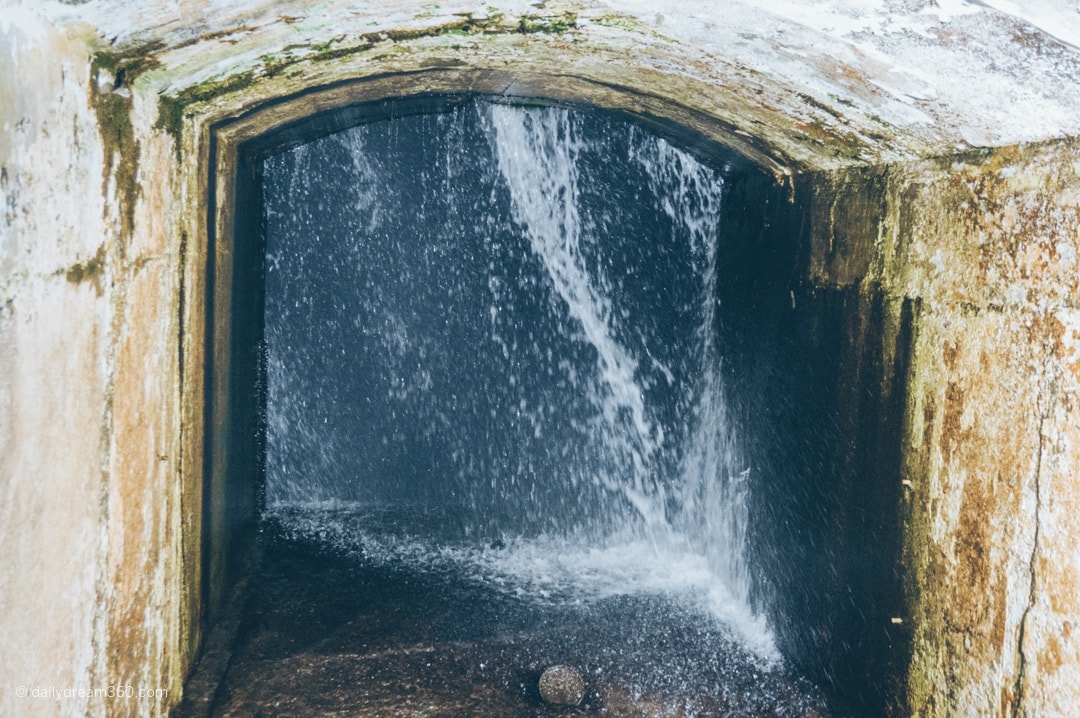 The Journey Behind the Falls attraction also has a covered and open deck at the ground below the falls where you can get some extraordinary views of the falls from below.
White Water Walk
On my recent trip, I visited the White Water Walk for the first time. It is a beautiful wood boardwalk that snakes the side of the Niagara River as it rushes beside you. There are some lookouts along the 1KM walk with little educational boards explaining the geography of the river.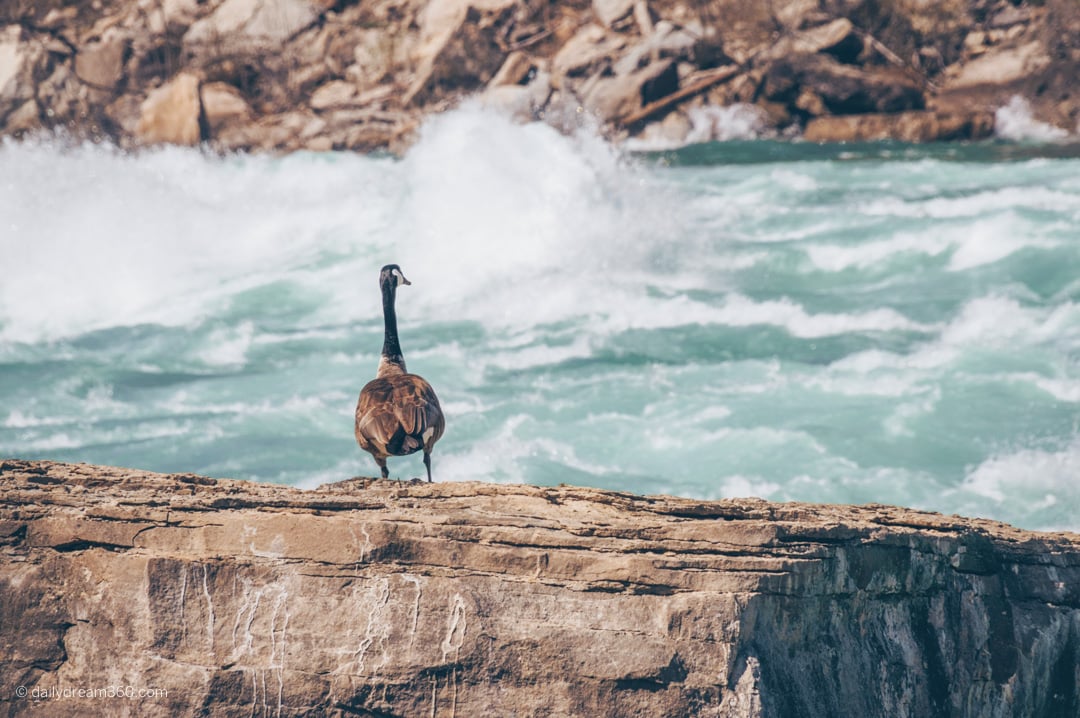 The rapids swirl around you, and you may even see a few birds or animals along the route.
Looking for Niagara Falls Canada Tours?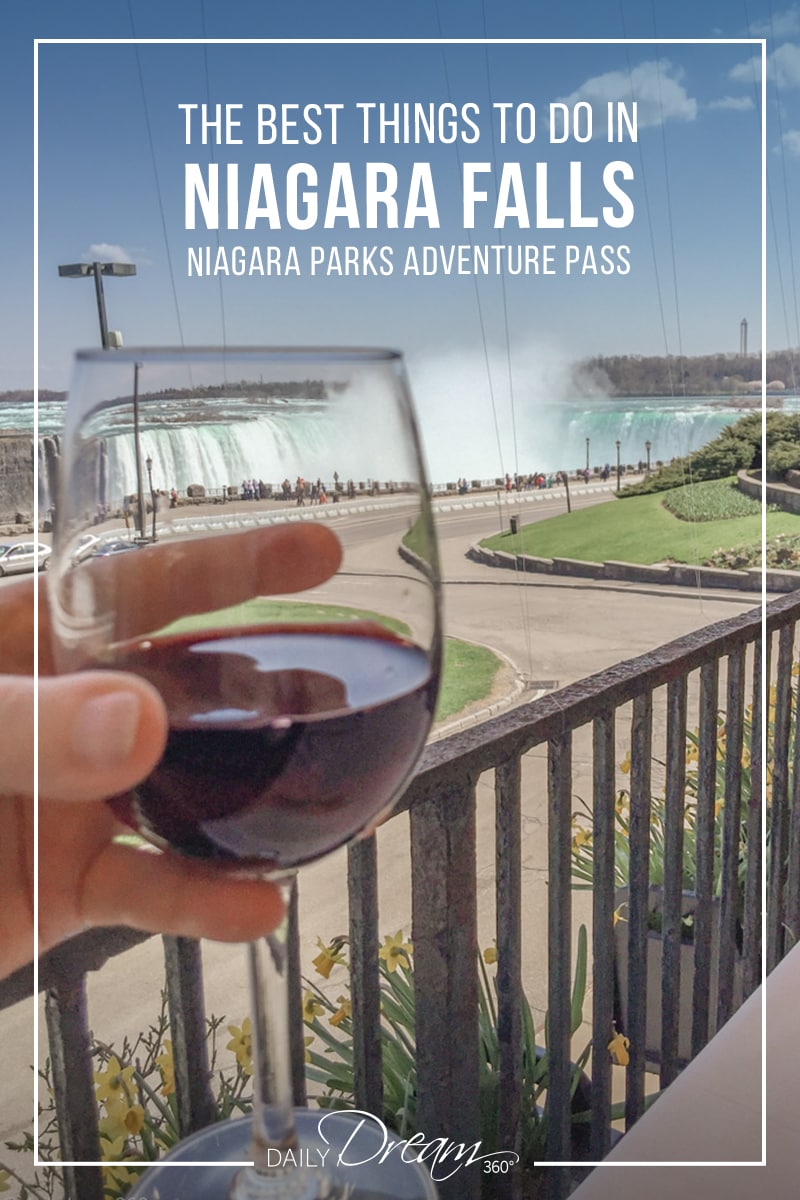 Where to Eat? Restaurants in Niagara Falls Canada
Queen Victoria Place Restaurant
I used to think that these restaurants are impossible to get into. Especially the ones with a direct view of the falls. However, aside from the ability to make a reservation ahead of time, the terrace at the Queen Victoria Place Restaurant is enormous, and chances are you won't have to wait as long as you think.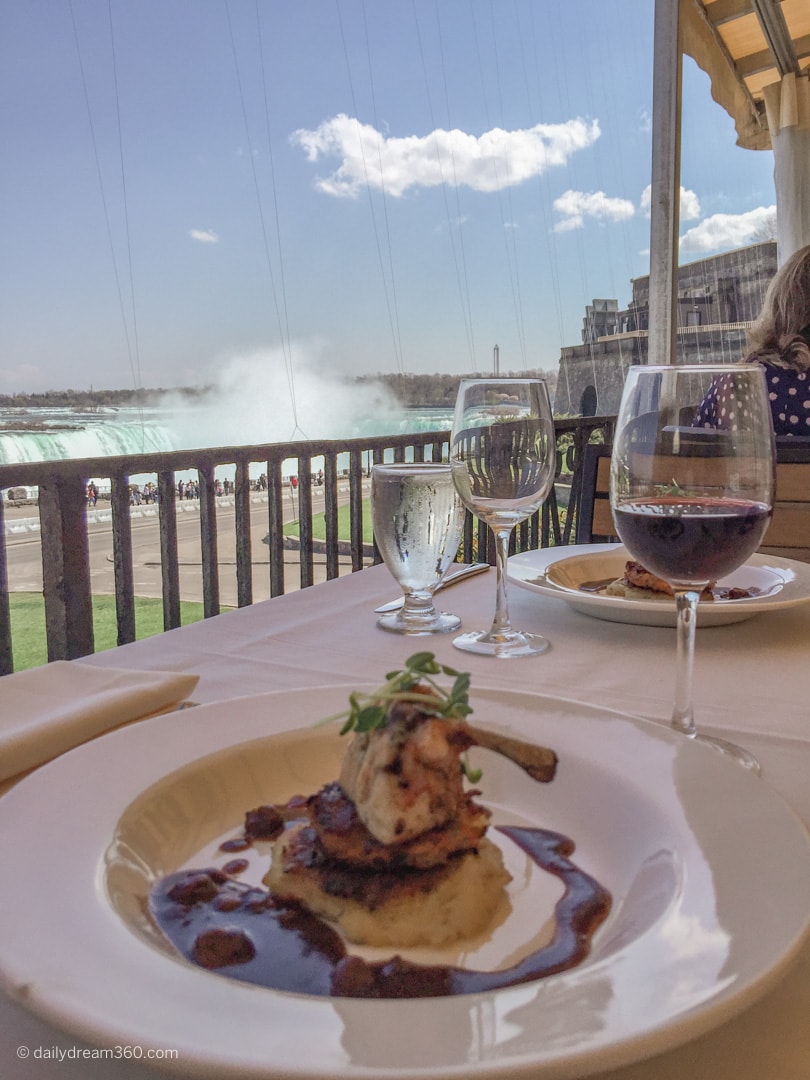 It sits across the street from the falls, but the view was pretty fantastic none the less. The food was also quite memorable. I had a bit of a dream moment dining on this stuffed chicken supreme while sipping on wine and looking over at the falls.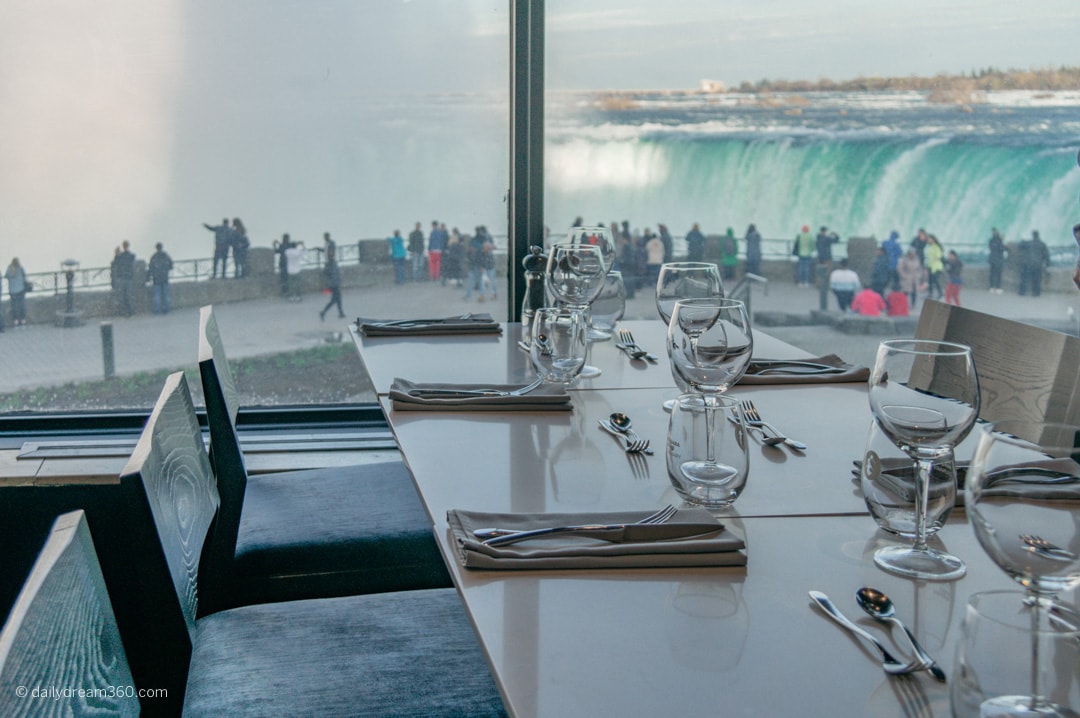 Table Rock Restaurant (formerly Elements on the Falls)
By far the only place to sit and eat right next to the Horseshoe Falls has to be Table Rock. Although sitting at this window table watching the people straddle the railing by the falls was more than a bit distracting.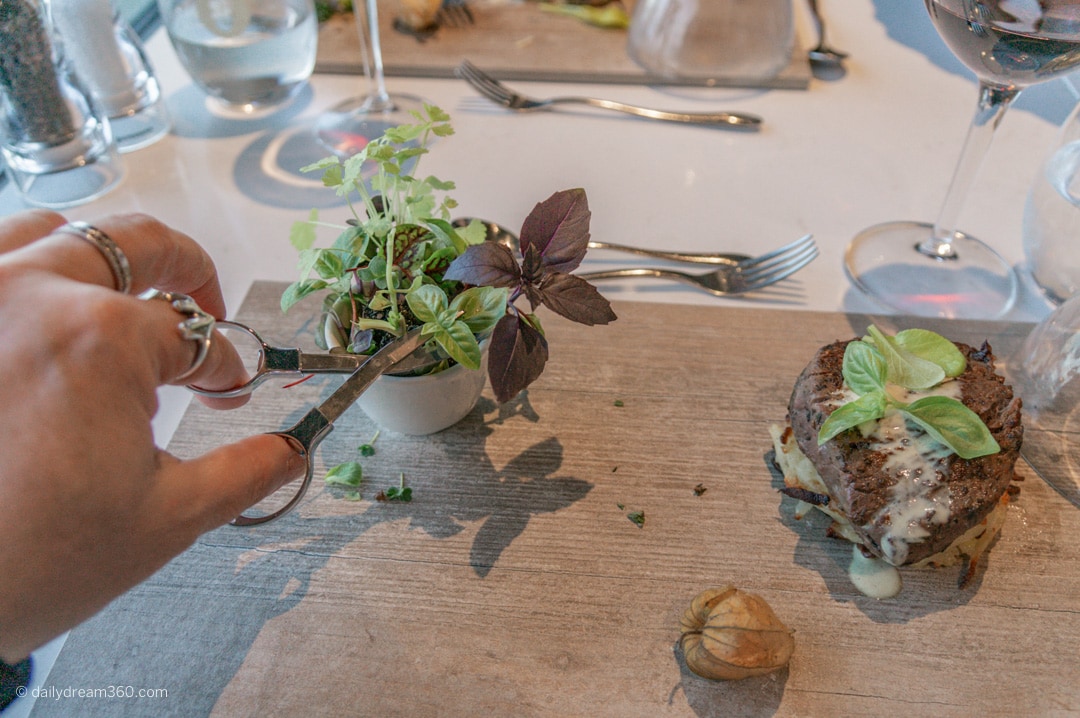 Once your food arrives, you may forget you are sitting right next to the falls. The menu is filled with culinary delights sure to amuse you.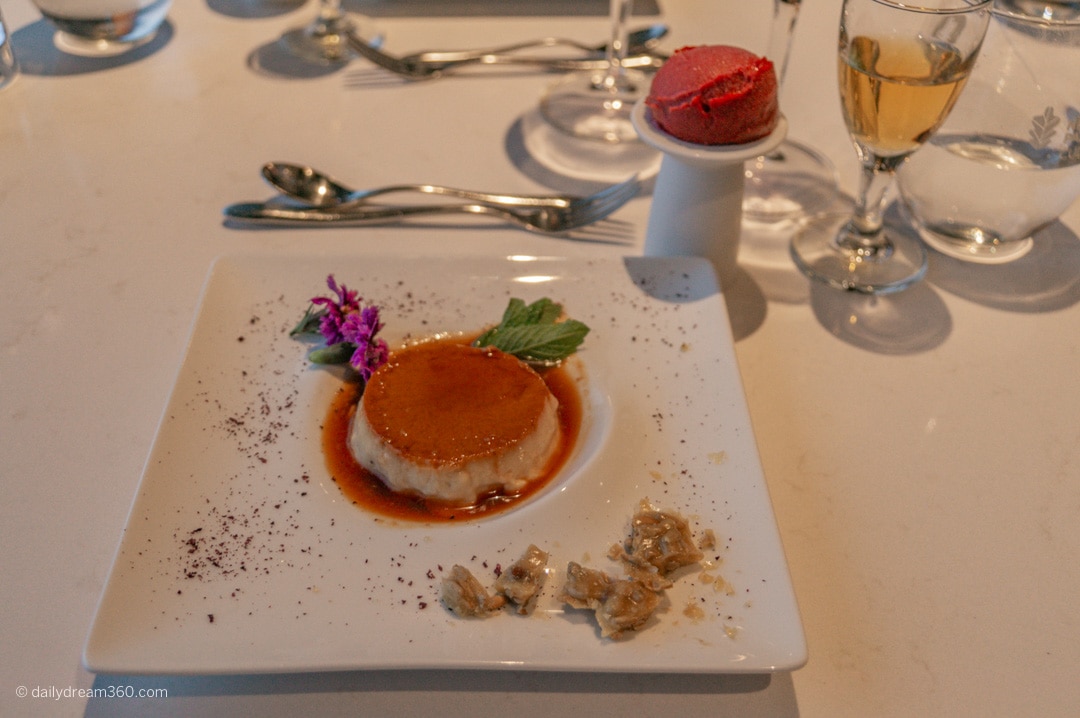 Be sure to leave room for dessert, as these are just as creative as the main course.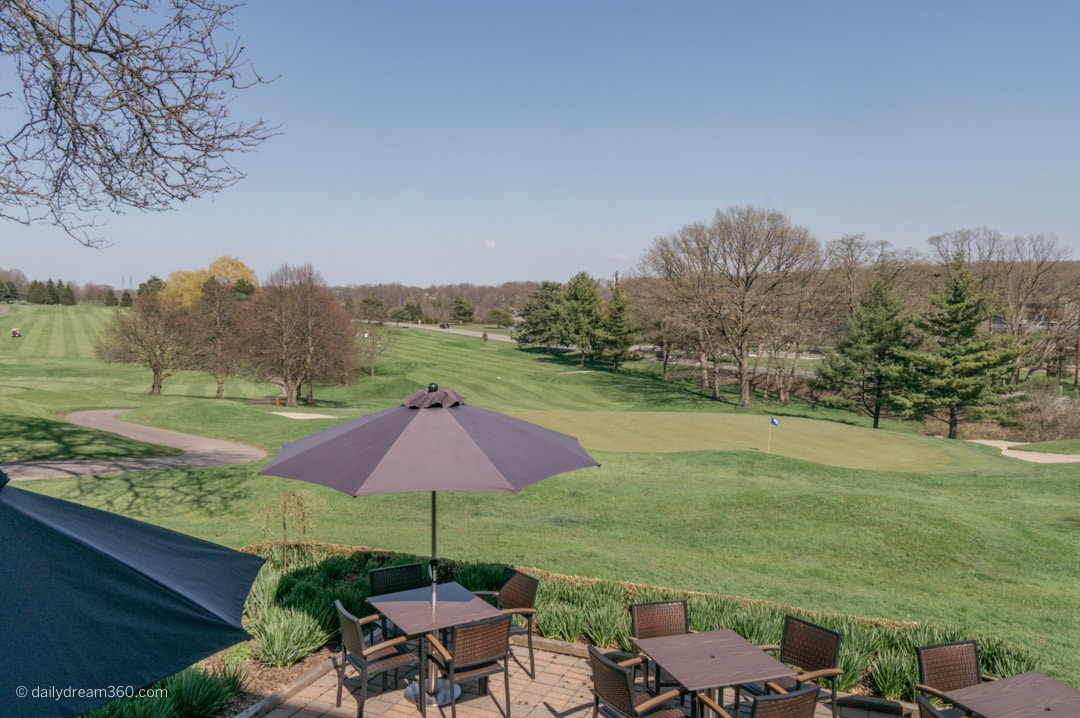 Whirlpool Restaurant
Located on the 18-hole Whirpool Golf Course, the Whirlpool Restaurant offered beautiful views of the greens. They have both an indoor restaurant and patio. This restaurant is open during the golf season.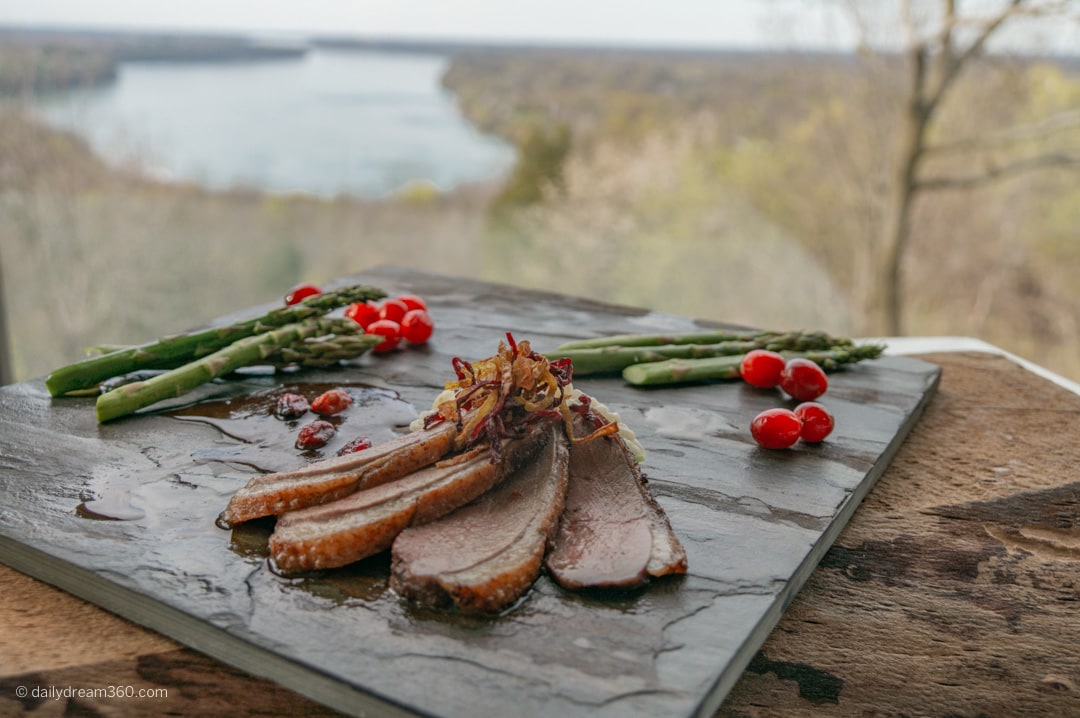 Queenston Heights Restaurant
Near the Queenston-Lewiston Bridge to the USA and just past the famous Flower Clock park, you will find this hidden gem. The Queenston Heights restaurant not only offers a delicious menu, but they also have a spectacular view of the Niagara River.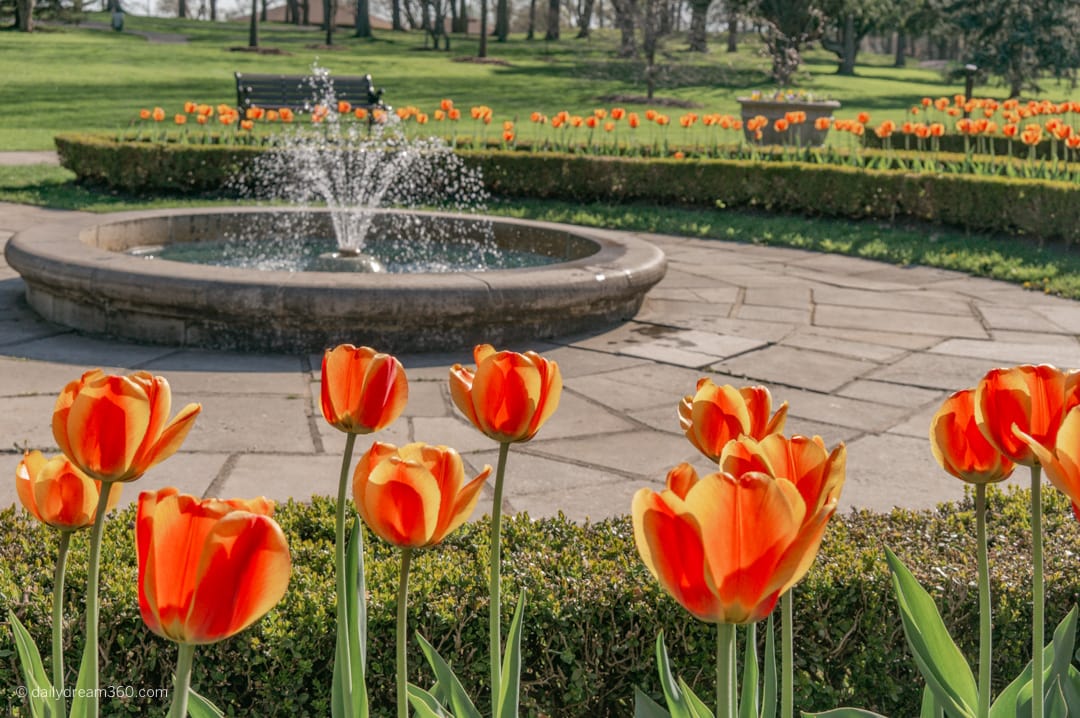 The chef prepared a particular dish for us, which included slow roasted Ontario Beef short rib with mashed potatoes and asparagus spears. It was delicious, and the view was just fantastic. They have both indoor seating and a lovely patio.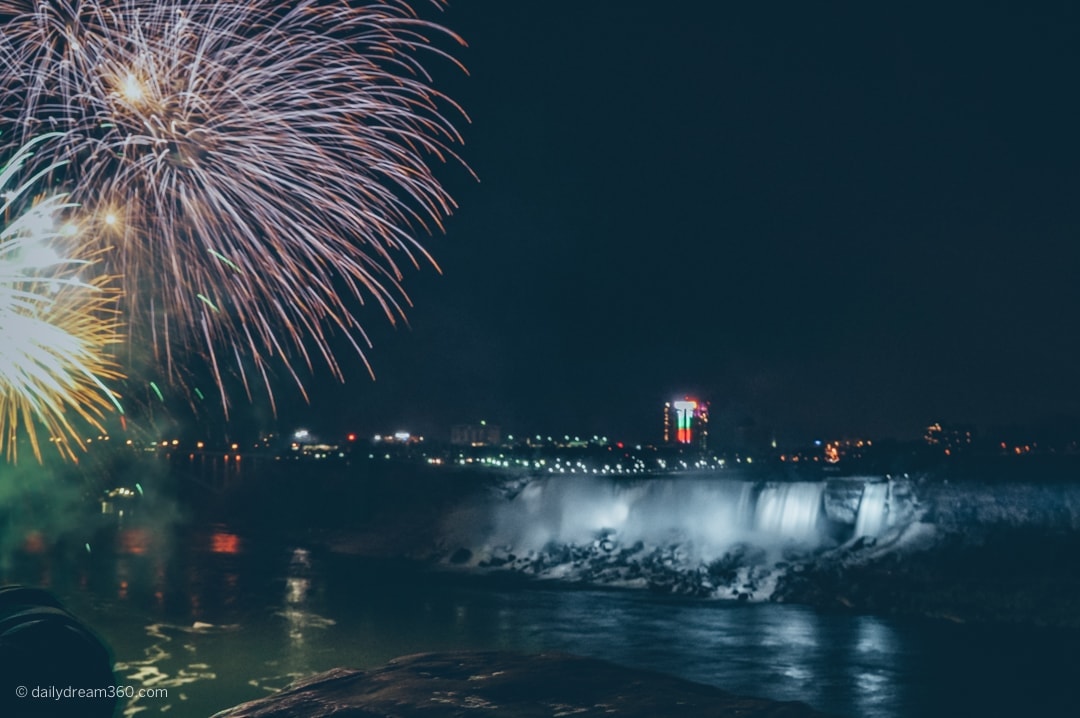 Niagara Falls Fireworks Shows
The Falls Summer Fireworks series runs from May – October. The Fireworks run at 10 PM with nightly shows during the summer months. Here is the 2019 schedule:
May 17 – June 16: Weekends only (Friday, Saturday, Sunday and Holiday Mondays)
June 17 – September 2: Nightly shows
September 2 – October 14: Weekends only (Friday, Saturday, Sunday and Holiday Mondays)
For more things to do in Niagara Falls see: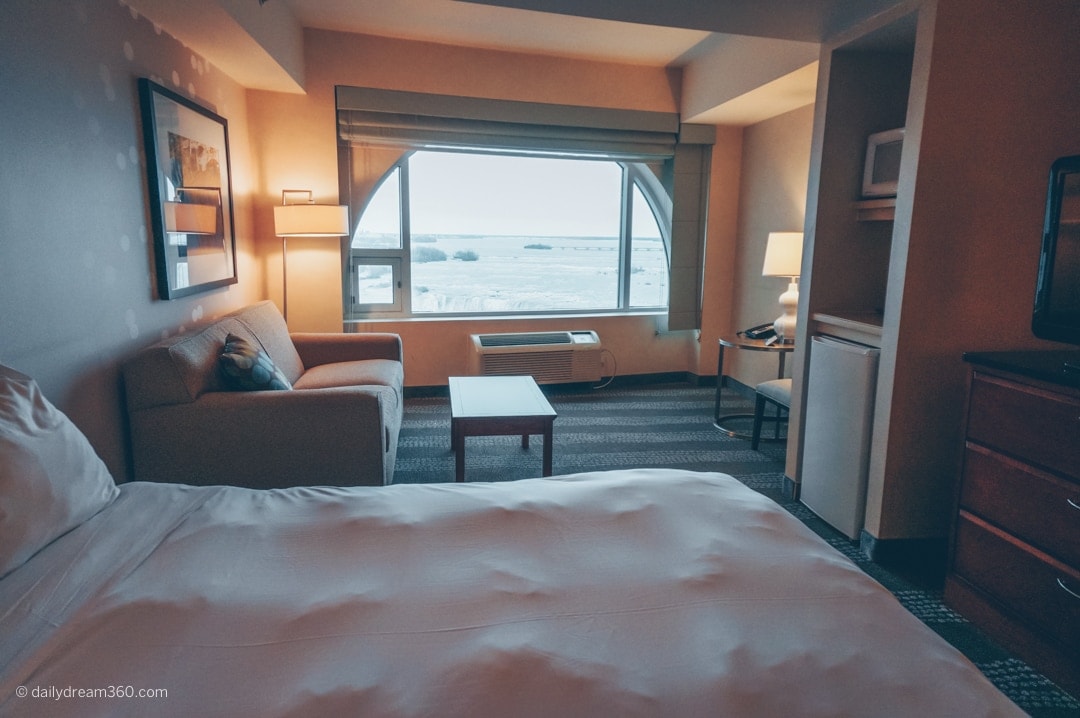 Where to Stay in Niagara Falls
Radisson Hotel Fallsview
I have stayed at the Radisson resort in Niagara Falls which was in an excellent location for accessing the restaurants up on Cliffton Hill and getting down to the Falls. Read Our Review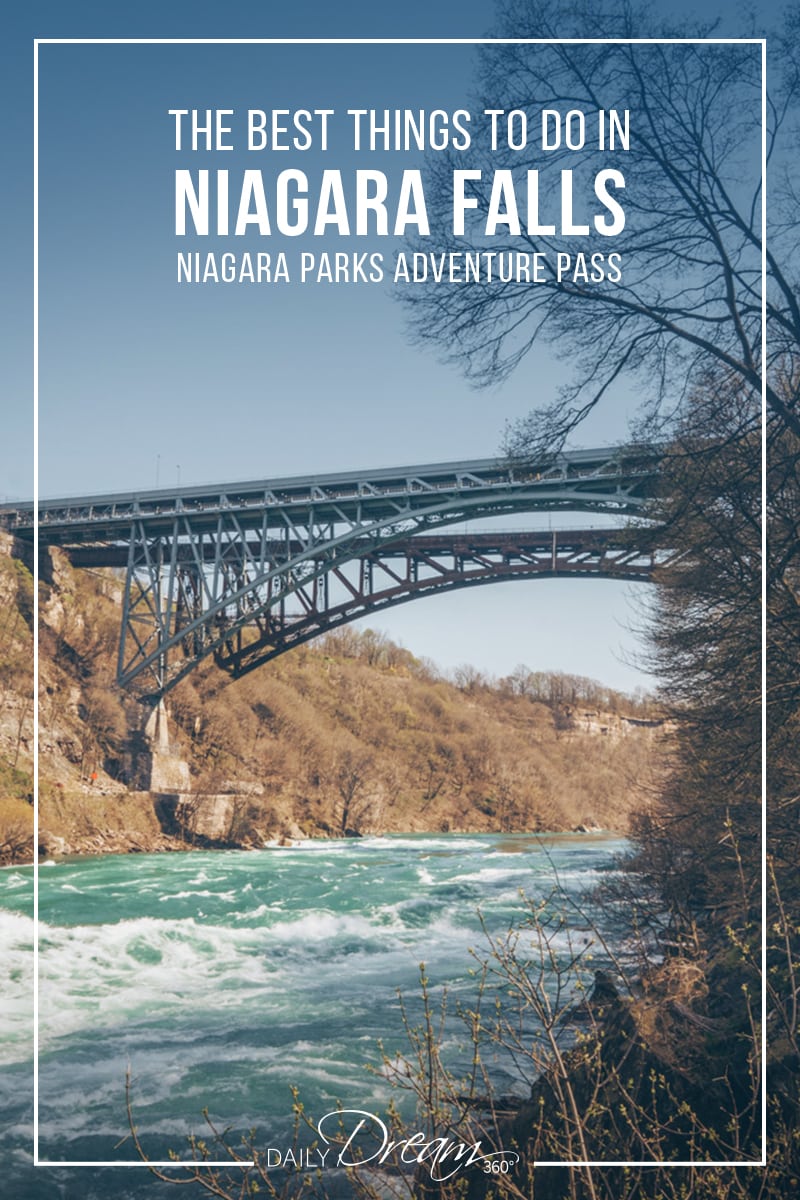 Planning on doing some cross-border shopping? Check out these posts for some trip ideas:
Some travel assistance provided by Niagara Parks during a Culinary Press Trip. Other information included as a result of personal trips to the region. All opinions in this post are my own.