This article may contain affiliate links. Clicking on or purchasing products we recommend through a link may earn a small commission. Read our disclosure and privacy policy page for details. *COVID-19 TRAVEL ALERT – Travel recommendations offered on this site are not to encourage you to travel against travel advisories.
I bought a waterproof phone pouch on a whim while placing an online order at Eddie Bauer one day. It made sense since I was heading out on a beach vacay and a waterproof cell phone bag seemed like a good idea. I couldn't wait to come back and share the details with all of you. So in this post, I'm going to talk about how to protect your phone on the beach a with a waterproof smartphone bag.
Dream it.
Plan it.
How to Protect Your Phone at the Beach
1. Use a Phone Pouch with a Good Waterproof Seal
At no point did water leak into the bag. My phone was completely dry regardless of hanging by the pool or at the beach. It was also great for keeping my phone free of sand. I wasn't worried about smearing sunscreen, it falling into the sand or getting splashed with water.
2. Make sure your waterproof phone pouch can float
I'm not sure if I couldn't figure out how to properly vacuum seal the bag or because I was afraid to immerse the phone for too long underwater, the floating feature was not working for me but I'm determined to make it work. I think I will add a floating wrist strap to it on my next adventure.
3. Can you Use the Smartphone While it's in the Waterproof Pouch?
For me, this was the most significant selling feature. I was skeptical as to how this was going to work. While in the sun the screen was hard to see (as it would have been outside the bag too), but I could efficiently use the features in my iPhone 6+ while inside the bag.
Live it.
Travelon Smartphone Waterproof Bag
As many of you know, Travelon has become my new favourite travel gear brand. In Canada, you can now find them almost anywhere even in the travel section at Winners and Marshalls or at luggage stores like Bentley.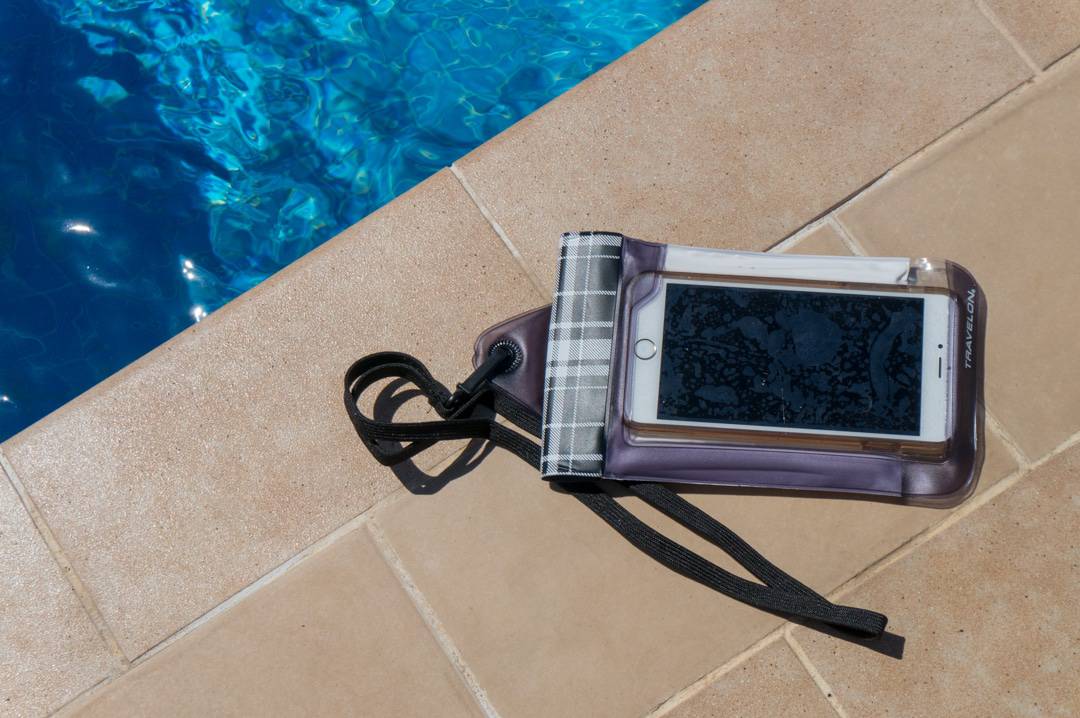 This Travelon waterproof bag came with a few claims which include:
Floats
Keeps phone dry
Submersible to 65ft (20M) for 30 minutes
Removable strap
Comes in an assortment of colours and designs

A Waterproof Pouch can accommodate large Smartphones. My phone is an iPhoneXR, and there was no issue as far as the size of the waterproof pouch. Be sure to purchase one that
Two Models Waist Pouch or Hanging on Lanyard
Depending on your preference there are two models of Travel smartphone pouches. The waist pouch is like a fanny pack you can clip around your waist.
I preferred the hanging lanyard personally because it gave me access to my phone and I could just turn it on, punch in my passcode, slide up the camera feature and start shooting.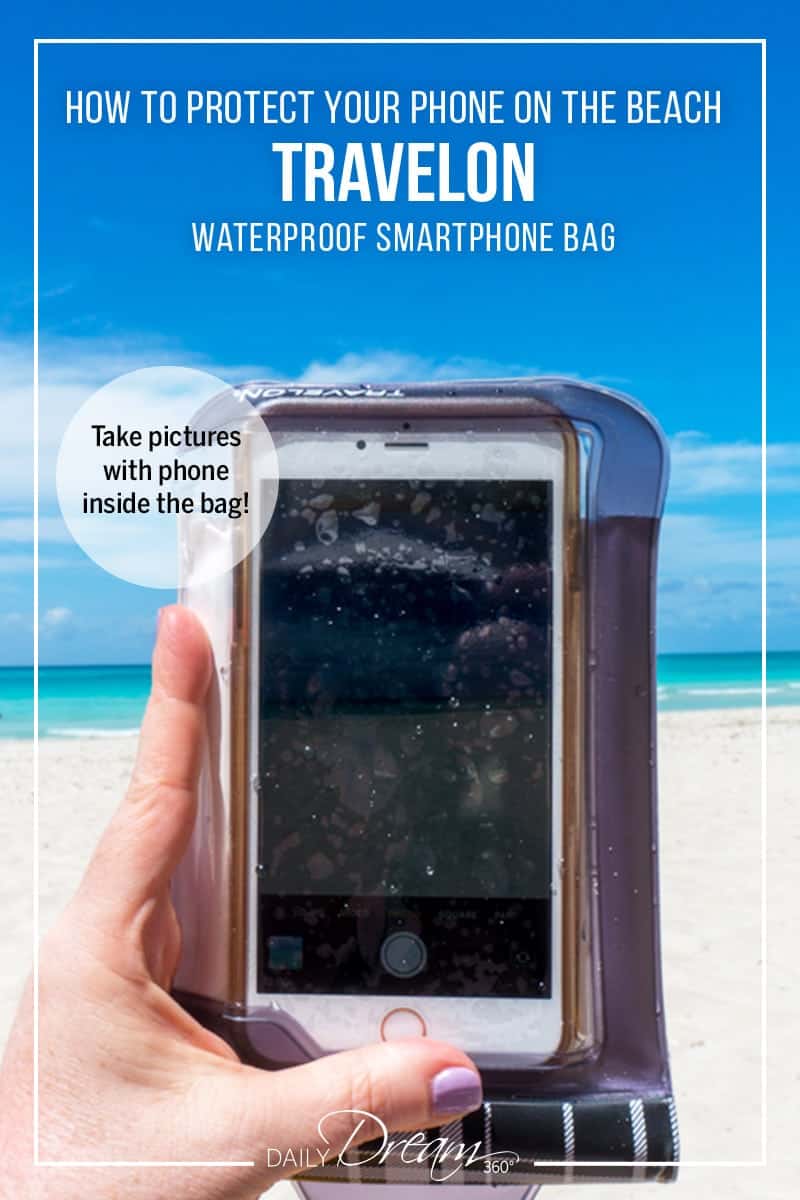 Touch Screen Works inside the Travelon Waterproof Bag
The touch ID did not work, but I was able to punch in my passcode to unlock the phone and flip to the camera quickly.
Taking pictures was also easy, I wish I had my remote control with me. However, I was able to switch between phone and video modes on the iPhone camera. I was also able to zoom in and out.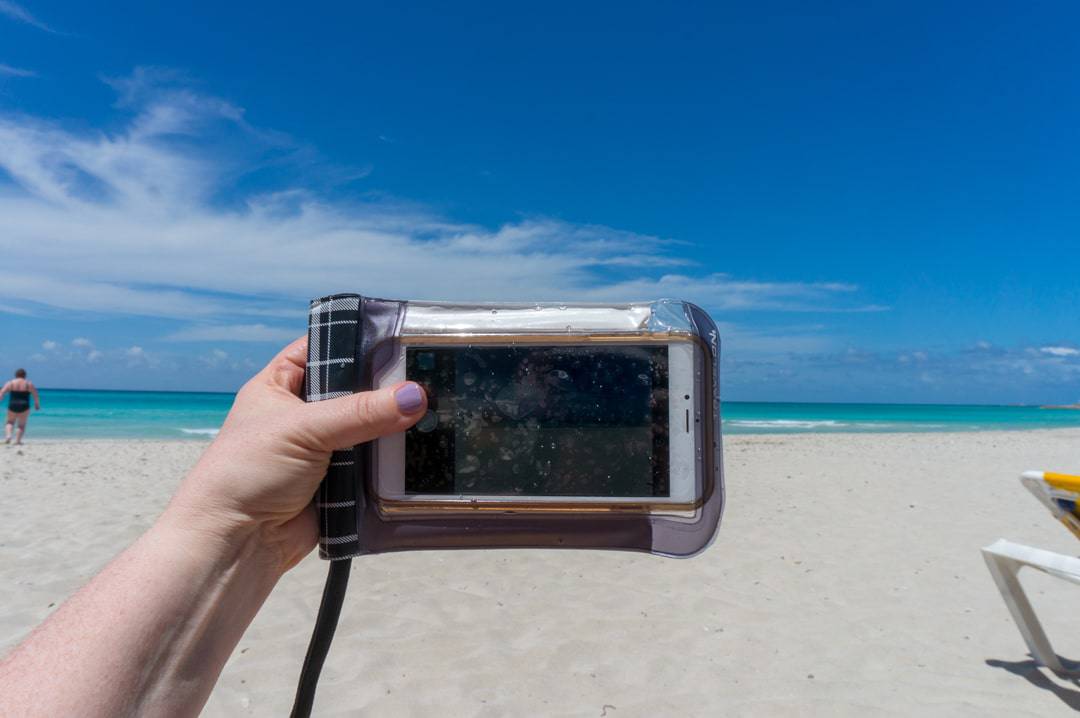 Quality of Photos and Videos Taken inside the Waterproof Phone Bag
I was surprised by how well the photos and videos came out inside the bag. This is where I was most skeptical, but even when inside a waterfall, the camera took some pretty cool shots and video. From inside the spa pools waterfall feature, I captured this shot.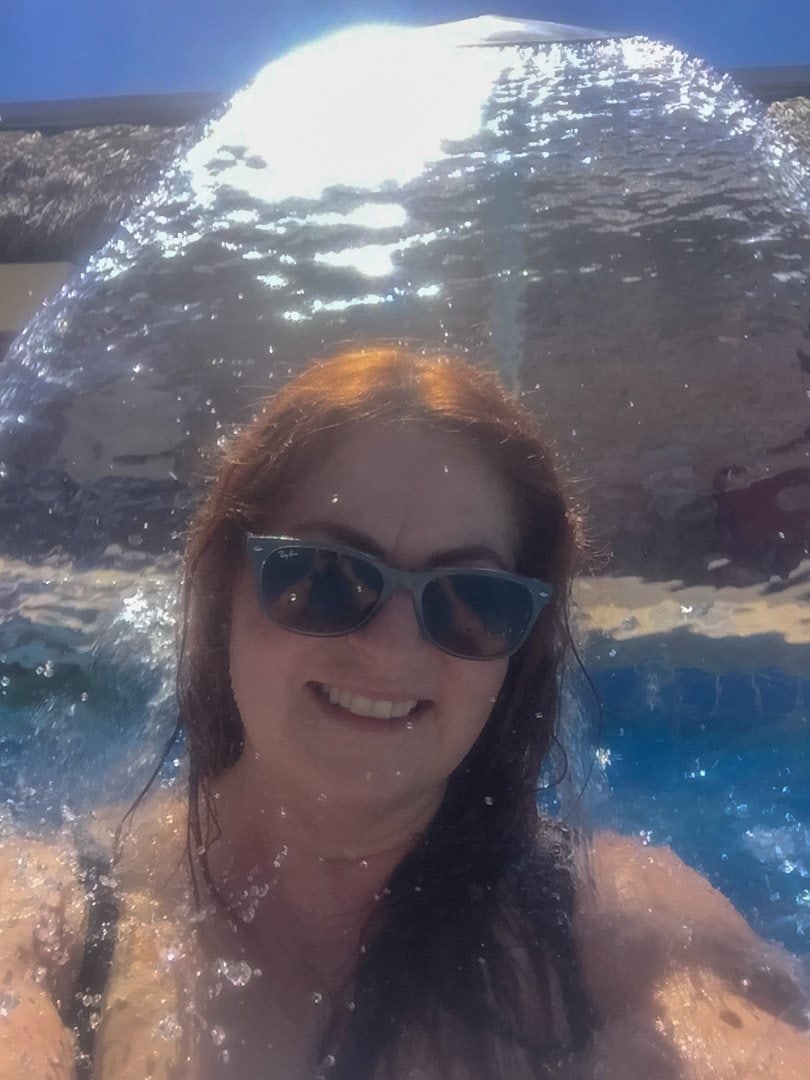 While floating in the Caribbean Sea, I captured this video.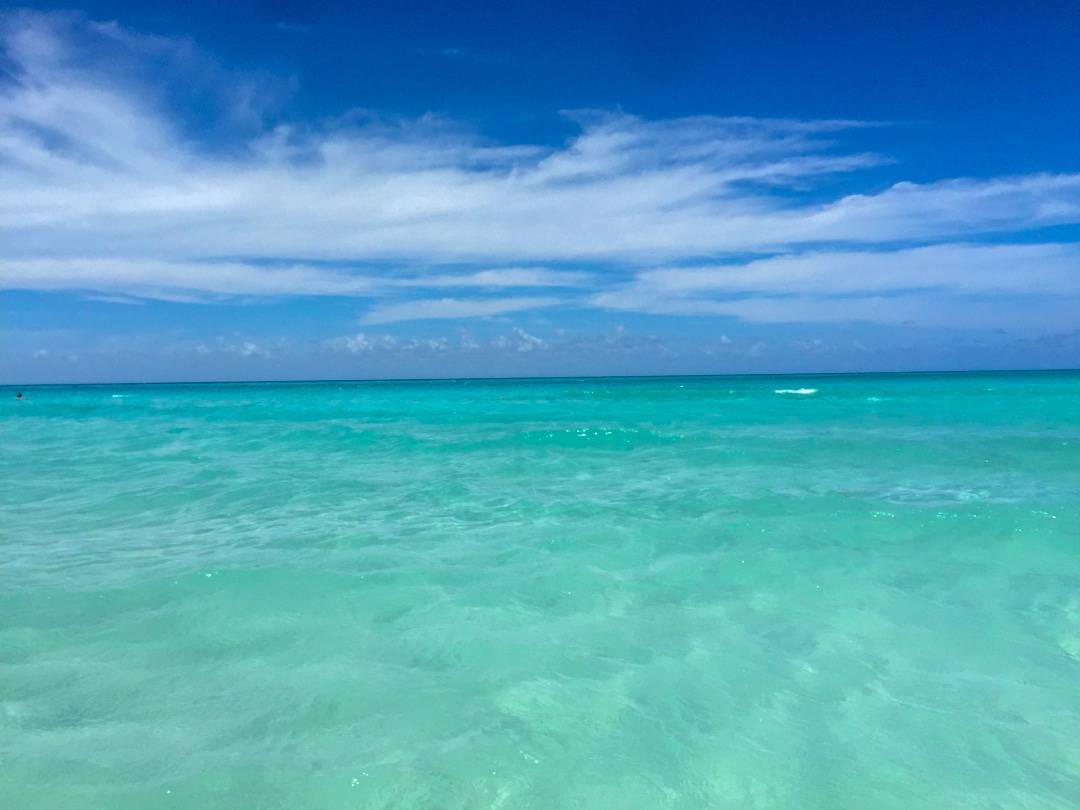 Travelon Waterproof Pouch is a Winner
In my eyes, I can't wait to take this pouch with me on my next adventure. I used to be afraid to use my phone around water and especially at the beach. Now with this affordable Travelon waterproof pouch, I feel like I can take my phone anywhere.
How to Use the Travelon Smartphone Pouch
Slide phone into the bag.
Firmly smooth out air in the bag.
Repeat the evacuation process and make sure seal is tight.
Wait 5 minutes.
Roll the top of the bag and attach the velcro closure.
Looking for more great beach friendly gear? Check out these posts: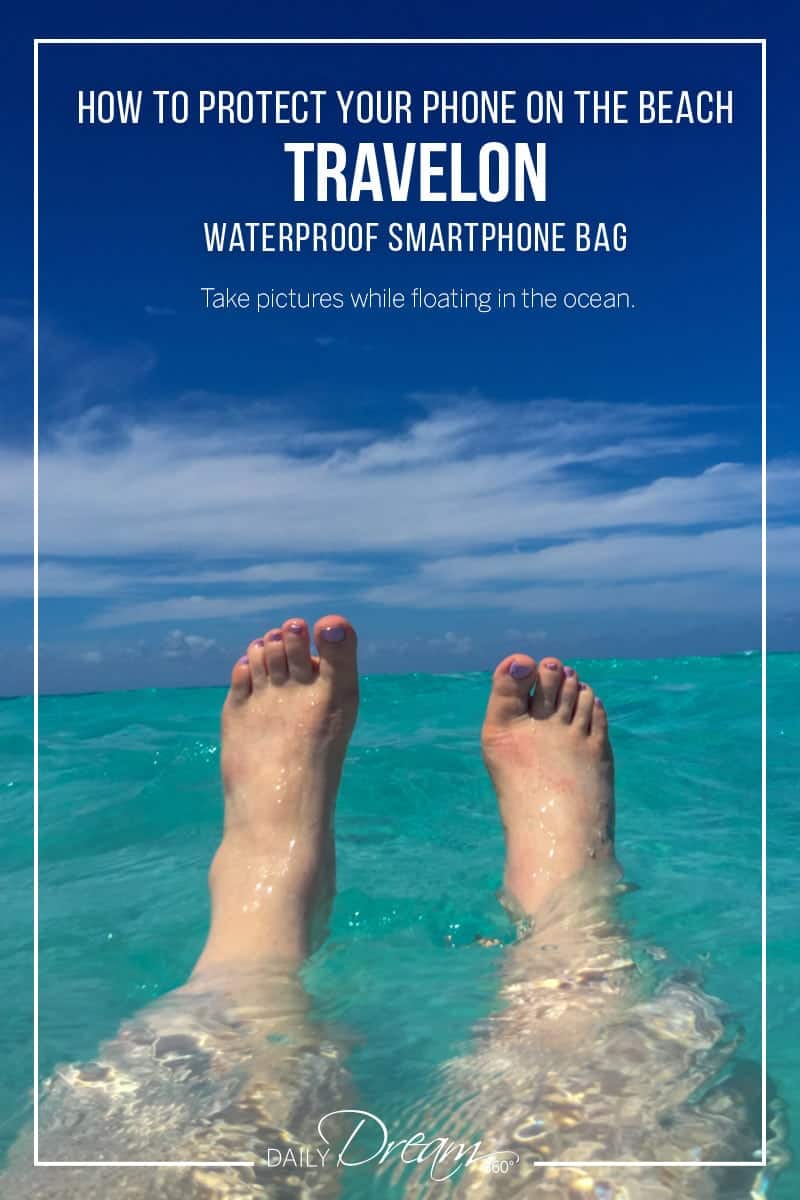 Disclosure: I did not receive compensation for this post, I purchased a Travelon Waterproof Phone Pouch and am sharing my feedback on it because I love it!