This article may contain affiliate links. Clicking on or purchasing products we recommend through a link may earn a small commission. Read our disclosure and privacy policy page for details. *COVID-19 TRAVEL ALERT – Travel recommendations offered on this site are not to encourage you to travel against travel advisories.
When I was younger, my shoe style was about fashion and as I got older and began to have some feet problems, I learned to let go of high heels. What I found is that I can still be stylish but support my feet. Here is a selection of the most comfortable summer shoes and sandals.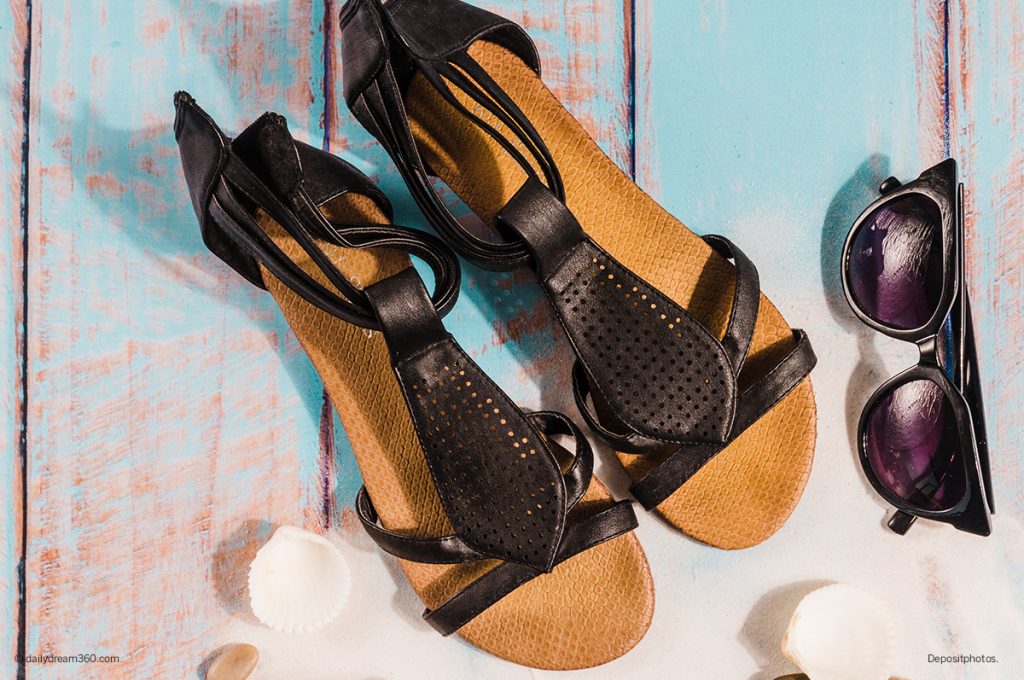 Dream it.
Living in the city and travelling a lot has taught me to respect my feet. An old foot injury and the advice of orthopedic therapists forced me to give up the heels and focus on shoes that offer proper support.
Comfortable shoes however have come a long way and there are many brands out there making sure that comfort and support also come in fashionable style. Here is a guide to help you choose the best comfortable shoes for summer.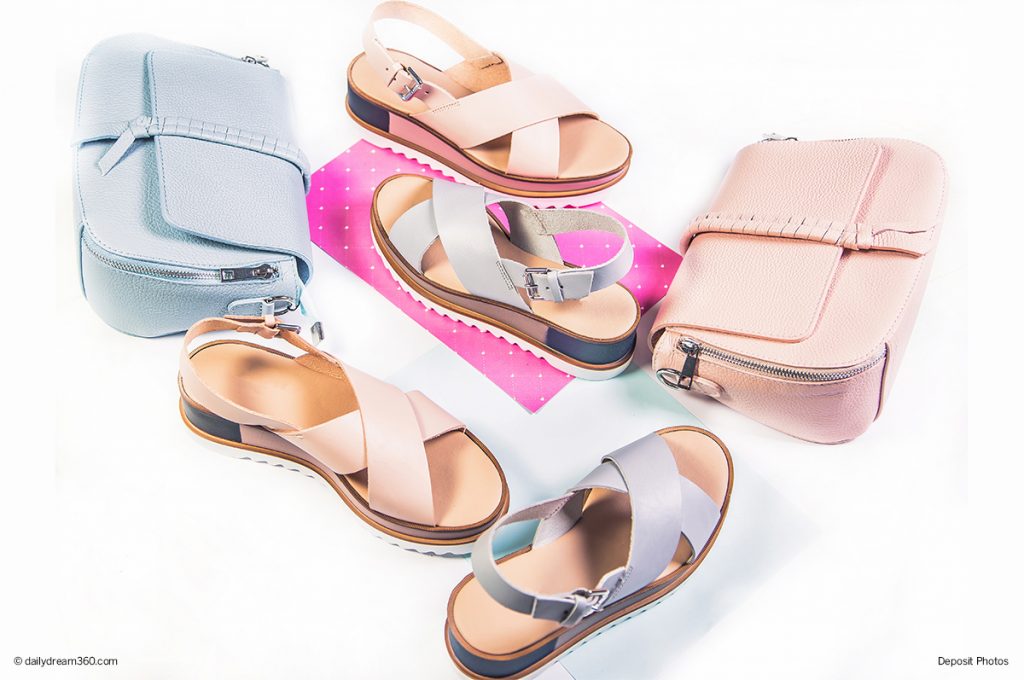 Plan it.
How to Choose Comfortable Summer Shoes
Shoe Material: In summer you will want lightweight breathable fabrics like canvas but also sturdy and resilient leather.
Shoe Construction: Make sure the shoe is constructed well. Even a flip-flop should offer support with its minimal straps. Choose brands known for their quality shoe construction.
Shoe Breathability: In summer you don't want to sweat inside your shoe. Avoid plastics and pick materials that allow airflow into the shoe.
Weight of the Shoe: Avoid clunky wooden soles that will weigh down your shoe. You want a lightweight shoe that offers support. 
Insole Fit and Support: We are talking about comfort here, so insoles that offer excellent arch support are recommended. In addition, if you can find a style that moulds to your feet or can house an orthopedic insole you'll find great benefits later.
Strap Support: We all love the strappy sandal, but make sure that the shoe doesn't slip or lift when you walk. You'll want the straps to stabilize the shoes to your foot.
Sole of the Shoe: Avoid very slippery soles with no tread. Even in summer you'll want a little support when walking on all surfaces. Some summer shoes have very slippery soles that on hot tiles or smooth surfaces can be slippery.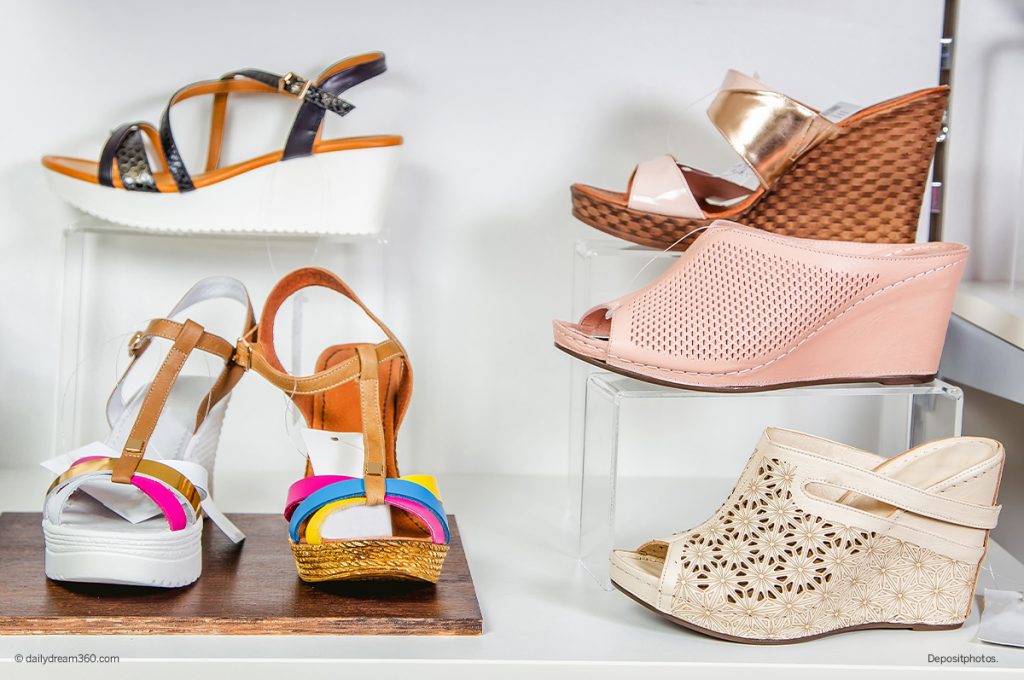 Live it.
Types of Comfortable Summer Shoe Styles
There are so many types of shoes you can choose from. Here is a selection of the most popular comfortable shoe styles for summer.
Strappy Sandals: Drop the heel and find a sandal with an ankle strap and a comfortable supportive insole.
Toe ring: Like a flip flop however these summer shoes have one loop around the big toe. Toe ring shoes have a strappy sandal feel to their style.
Wedges: Choose lower wedges which give you a the lift of a heel with the support  of the chunkier wedge. 
Platform Sandals: Like a wedge shoe however the height of the wedge extends to the front of the shoe, elevating you off the ground.
Double Strap Slip-on: These comfortable slip-on shoes often have insoles that mould to your foot and include popular brands like Birkenstocks and Naot.
Ballerina Slippers: flat shoes styled like a ballerina slipper offer comfort of walking in a slipper, however for long periods of walking these may not provide enough support.
Mules: These shoes do not have a back strap and slip onto the foot. They come in various heel heights but the flat slipper style is most popular.
Loafers: When you didn't get your pedicure done in time, these closed-toe shoes can offer great comfort and style in the summer. Look for Loafers from brands like Clarks, Cole Haan, Sketchers and Dr. Scholl's.
Gladiator Flats: Named as they look like the leather straps of a gladiator. Some popular comfort models include moulded soles that make great stylish walking shoes. Look for Gladiator flats from brands like Naot, Dr. Martins, Clarks.
Sneakers: You may be thinking about athletic sneakers, however, there are many fashionable summer shoes with laces that are great for walking in style. Great brands for summer sneakers include Sketchers, Vans, Keds and Clarks.
Sporty/Hiking Sandals: These sandals have soles with deep treads and straps that are long-wearing and sweat resistant. Popular brands in this style include Teva, Keen, Merrell and Columbia.
Read More: Reasons to Travel with a Good Pair of Flip Flops