This article may contain affiliate links. Clicking on or purchasing products we recommend through a link may earn a small commission. Read our disclosure and privacy policy page for details. *COVID-19 TRAVEL ALERT – Travel recommendations offered on this site are not to encourage you to travel against travel advisories.
I'm always searching for Ontario Spas that are a short drive from Toronto. As well, some spas offer accommodations that provide a lovely retreat from the city. For that reason, I was very intrigued to learn more about the Muskoka Beer Spa. The moment people hear the words Beer and Spa in the title, it follows many questions. So let's discuss everything you want to know about the Muskoka Beer Spa, its cozy cabin rentals and outdoor spa.
Dream it.
If you're planning a trip that involves a pool, lake, or beach of any kind and you don't want to buy a special waterproof camera or action camera, then a waterproof pouch for your phone could just be the solution you are looking for. Most of us have replaced our cameras and choose to travel with our phones and while there are some water-resistant models out there, protecting your phone with a waterproof pouch could save you a costly repair or replacement.
What is the Muskoka Beer Spa?
The Muskoka Beer Spa is a four-season resort offering cabin rentals, a spa and a brewery. It is a family-friendly resort that offers a daily supervised kids program for kids five and up. The resort has a few amenities, including a beach on the Clear Lake with water activities like kayaking, paddle boarding and canoeing, an outdoor spa area, a pool, and a Brewery with a beer garden offering beers and food. On the property, you will also find The Cottage, which features Cottage Springs Vodka beverages for sale and great pizza.
Plan it.
Getting To the Muskoka Beer Spa
From Toronto, drive north on Highway 400 to Highway 11 into Gravenhurst. In Gravenhurst on Hwy 11, you'll take the Muskoka District Road 169 exit and go to Clear Lake Rd in Torrance.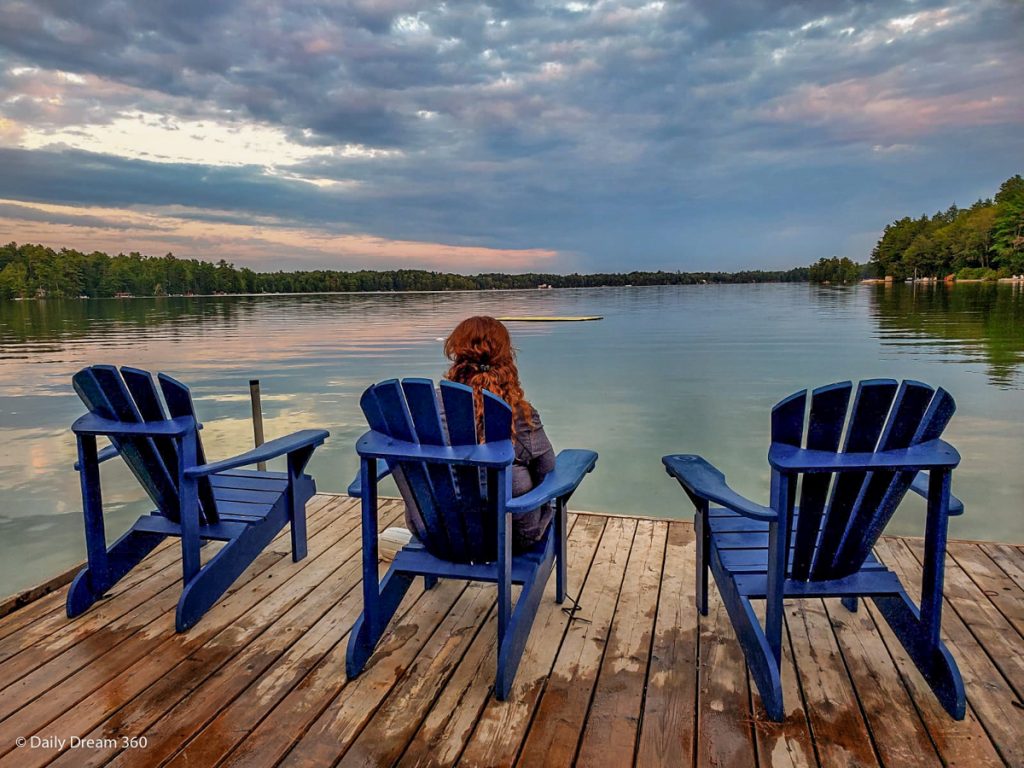 What to Expect at the Muskoka Beer Spa
For the latest Covid-19 and health and safety information, visit their website here.
One thing to note I visited the Muskoka Beer Spa early in its opening, and it is growing every day with new additions and features. For more  information, you can visit their website here.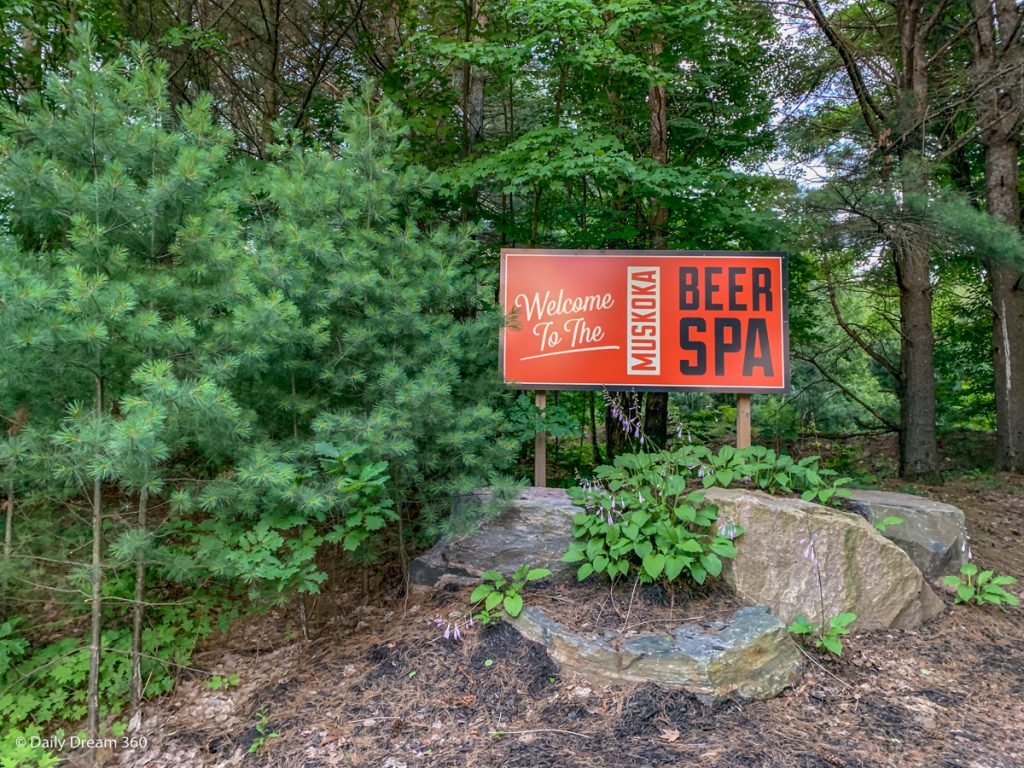 Packing for a Trip to the Muskoka Beer Spa
You'll likely want to bring a few things with you when visiting the Muskoka Spa.
Bottled Water/Water Container: The water inside the cabins is lake water and is unsafe for drinking. I recommend you bring up some water with you to keep in the cabin. Otherwise, you can fill up water bottles at the brewery.
Beach towel: There are towels inside the cabins, but you are asked not to use them at the beach/dock area. Bring a beach towel for lounging on the sun chairs by the water.
Reusable cups/camp dishes: The cabin had paper coffee cups and plastic cups available. However, I recommend bringing along some camp dishes or reusable dishes and cups with you. Paper plates might also be a good idea for laying out snacks or having a small bite to eat.
Foldable camp chairs: There was plenty of seating around the property. However, the beach area did get busy. So while you can grab an Adirondack chair or lounger if available, you might find having a foldable chair handy.
Beach Shade: If you need a little shelter from the sun you might want to pack a portable beach shade with you. Check out this post on the best portable beach shades you should bring on any road trip!
It goes without saying that if you are travelling to cottage country, you are going to need the following: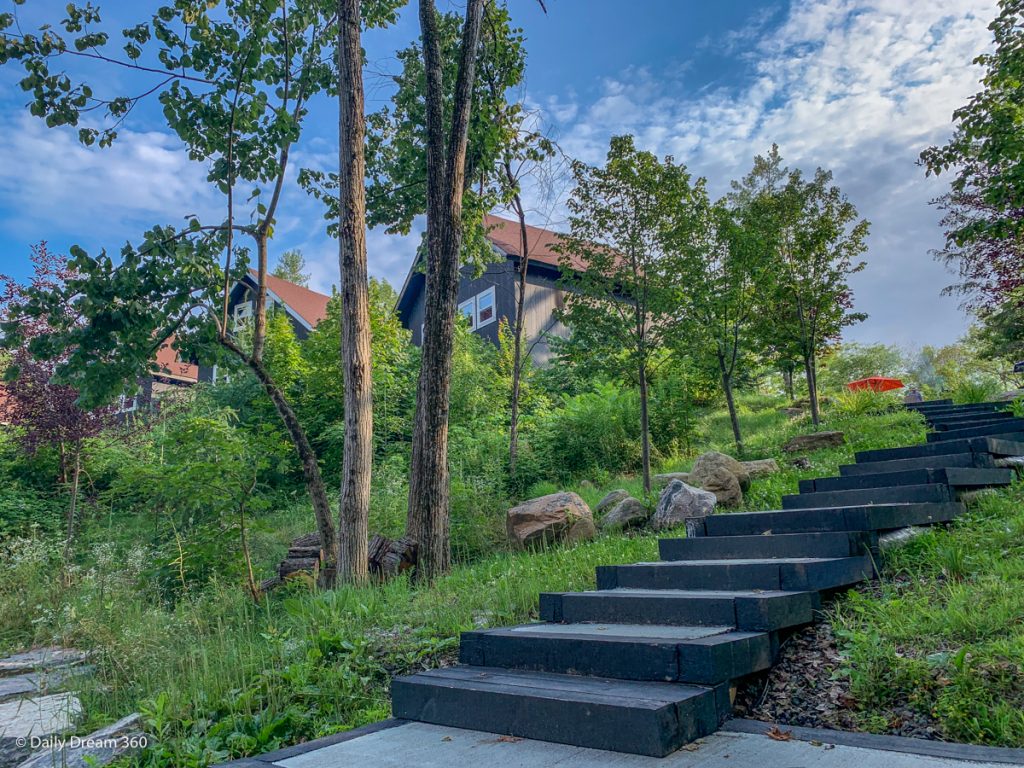 Live it.
Muskoka Beer Spa Location
Situated on Clear Lake in Muskoka between Gravenhurst and Bala, Ontario. The resort is open year-round as cabins are equipped with heaters and fans.
Muskoka Cabin Rentals and Scandinavian Spa
I loved the easy, no-frills vibe at the Muskoka Beer Spa. It is a place you can check into and explore and relax on your own. The important details are taken care of inside the cabin, and around the resort these include:
Cleaning supplies in the cabin
Complimentary snacks
Cut wood, Firepits, lighter
Flashlight (the resort respects the dark sky reserve). 
There are 15 cabins at the Muskoka Beer Spa with one, two or three bedrooms. You will have to plan which cottage will be best suited for you depending on the number of guests in your group. Plus, I believe it will be a popular Muskoka Resort destination as it grows and opens new amenities.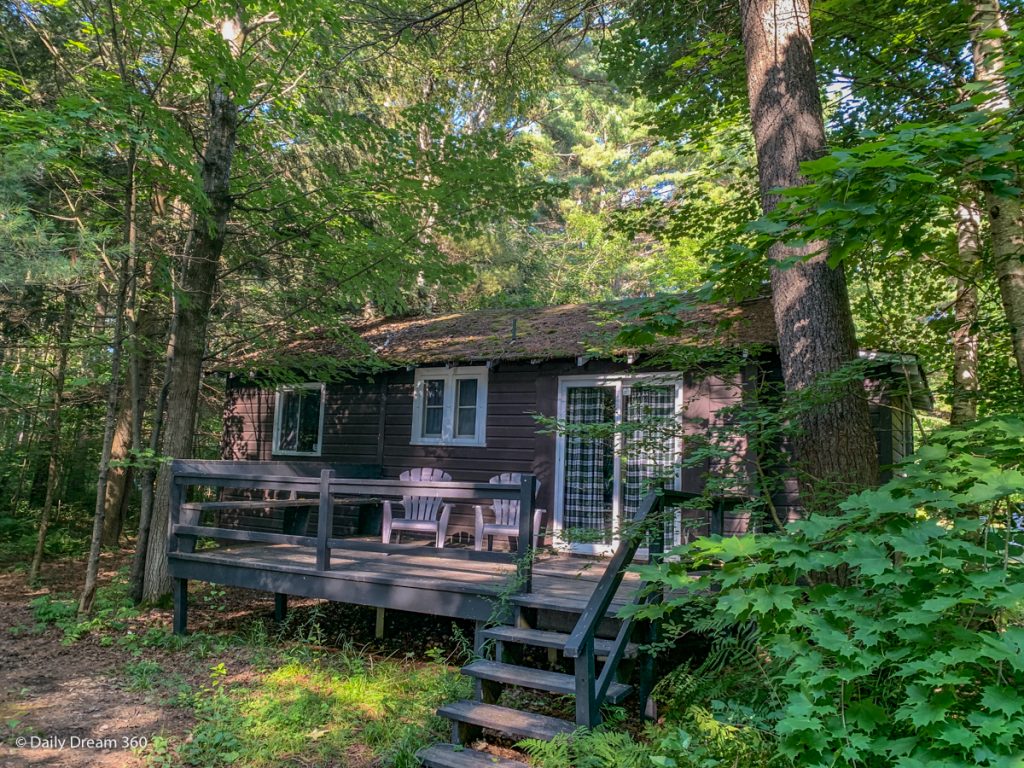 Muskoka Beer Spa Review – Cabin 7
We stayed in Cabin 7, which was a lovely 2-bedroom cabin nestled amongst the trees. Perfect cottage for two couples or a family of 4. Each room had a Queen bed, and the living room had a cozy sectional sofa that everyone could easily sit on together. There was a small dining table that seats four people in the kitchen area. The kitchen had a full-sized refrigerator, microwave oven, kettle, French press and paper cups.
The rooms were cozy and rustic and included a ceiling fan, closet and double bed. The bathroom had a shower and sink and included hand soap, but you must bring your toiletries. One thing of note is there is a train track close by, and when trains passed, it was rather loud, and at one point, the cabin shook, and we felt the train's vibration.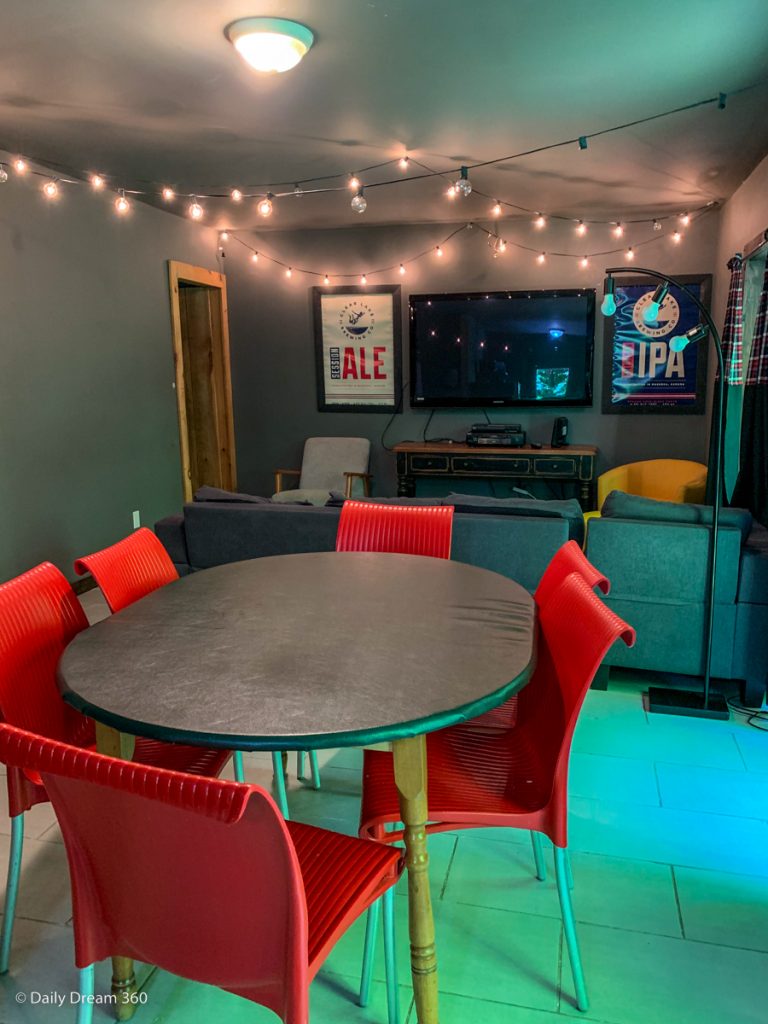 Muskoka Beer Spa Review – Cabin 5
During my second stay at the Muskoka Beer Spa we stayed in a three-bedroom cabin. The set up was very similar to cabin 7 with the same amenties except we had a bathtub/shower and 3 bedrooms.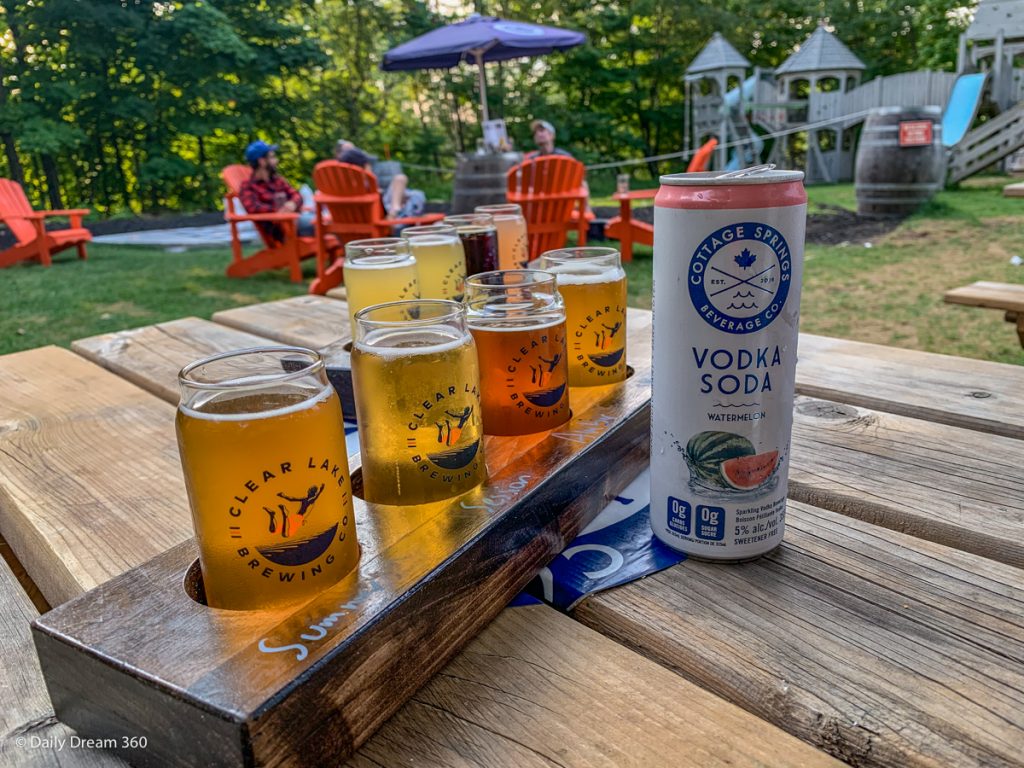 What to Eat (and drink) at Muskoka Beer Spa
Muskoka Beer Spa In-Cabin Kegs
Order an in-room Keg of your favourite Clearlake Brewing Company beer, and they will install it in the cabin's refrigerator. There are beer taps installed on the kitchen countertop for convenience. We felt a keg would be too much. However, there were plenty of cans and growlers available at the brewery bottle shop.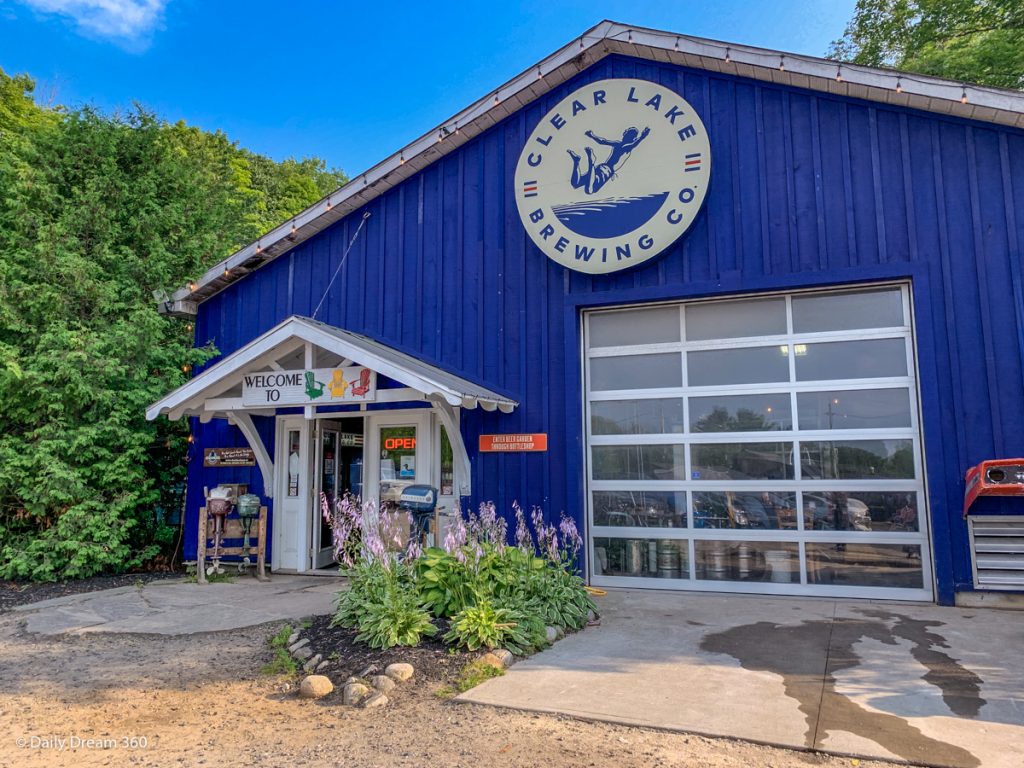 The Clearlake Brewing Company
Of course, you'll want to grab a flight of beers to sample in the beer garden. The brewery also has a small kitchen which had a variety of pub food to choose from, including nachos, burgers, sandwiches and more.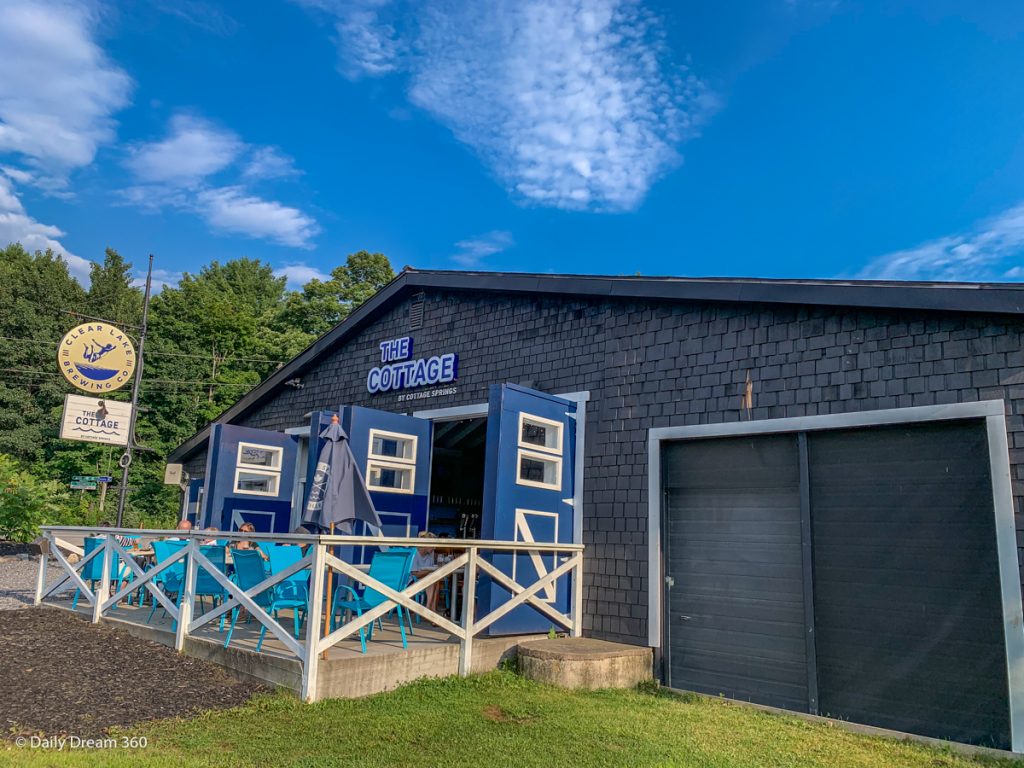 Cottage Springs Beverage Company – The Cottage
If you are not a beer drinker, then grab some vodka soda beverages also available at the Muskoka Beer Spa. Their flavour vodka soda, water and lemonade beverages are low carb and my favourite new summer drink.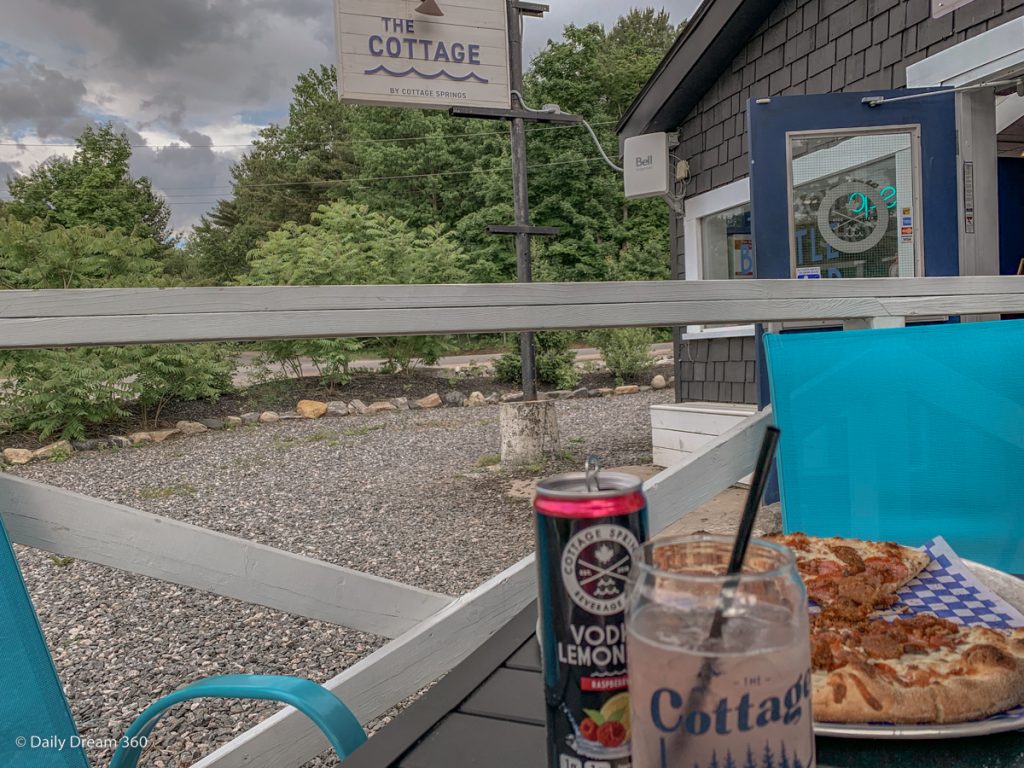 Home of the Cottage Springs Beverage Company bottle shop, The Cottage is known for its signature pizzas. The restaurant and bar are great places to grab a drink, bite to eat, and enjoy live music.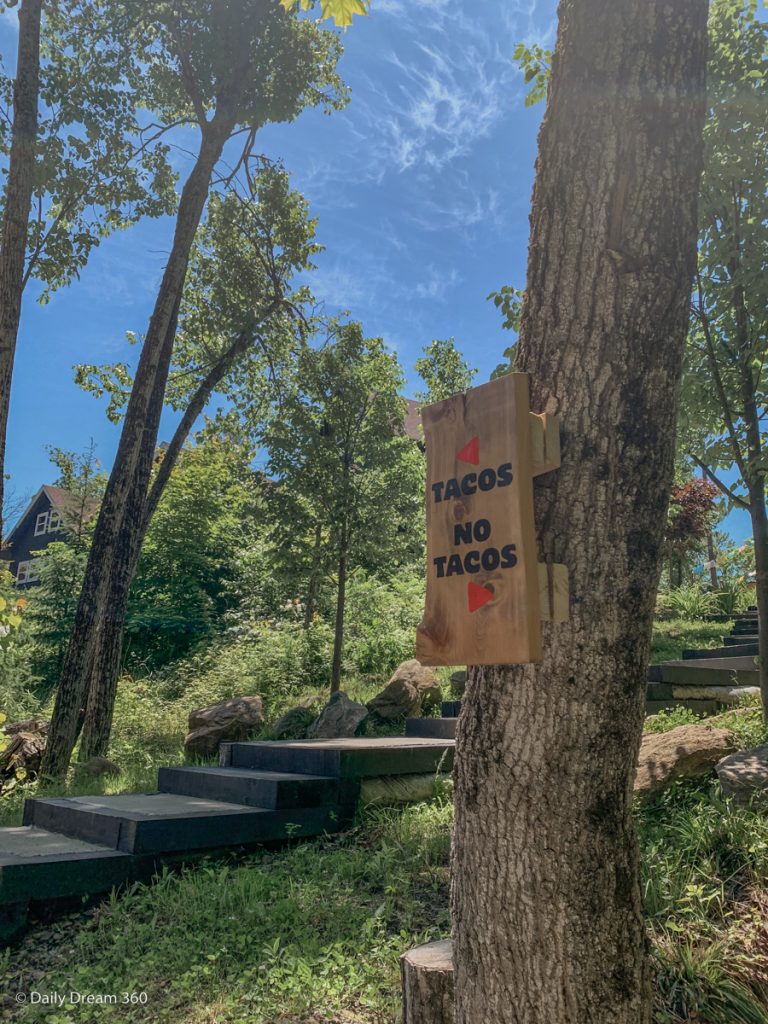 El Gringo's Taco Truck
Follow the steps up towards the upper cabins and you will find the El Gringos Cantina taco truck. There are a number of tables and a bar where you can hang out for lunch. It was a quick pick me up and quick pool break as we just had to head up the stairs for these tasty tacos.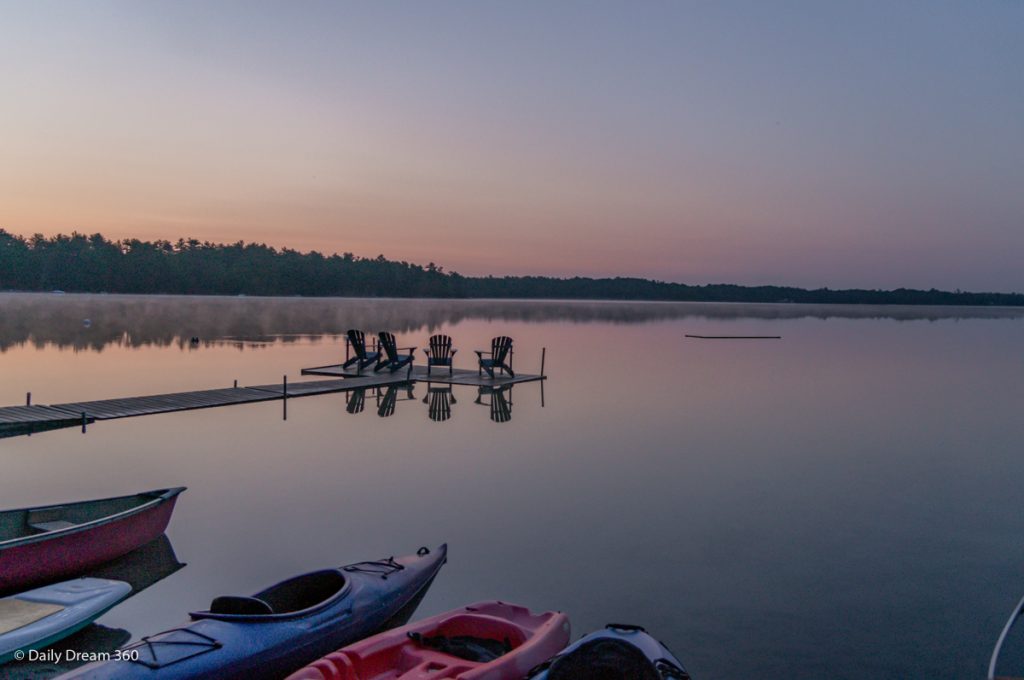 What to do at Muskoka Beer Spa
Beach Area and Dock
You can lounge by the lake or the floating dock, with several beach loungers and Adirondack chairs. The sandy beach was popular with the kids as they built sandcastles and played in the shallow lake water. There are several watercrafts free to use for guests, including kayaks, canoes and paddleboards. Life vests are provided for use as well.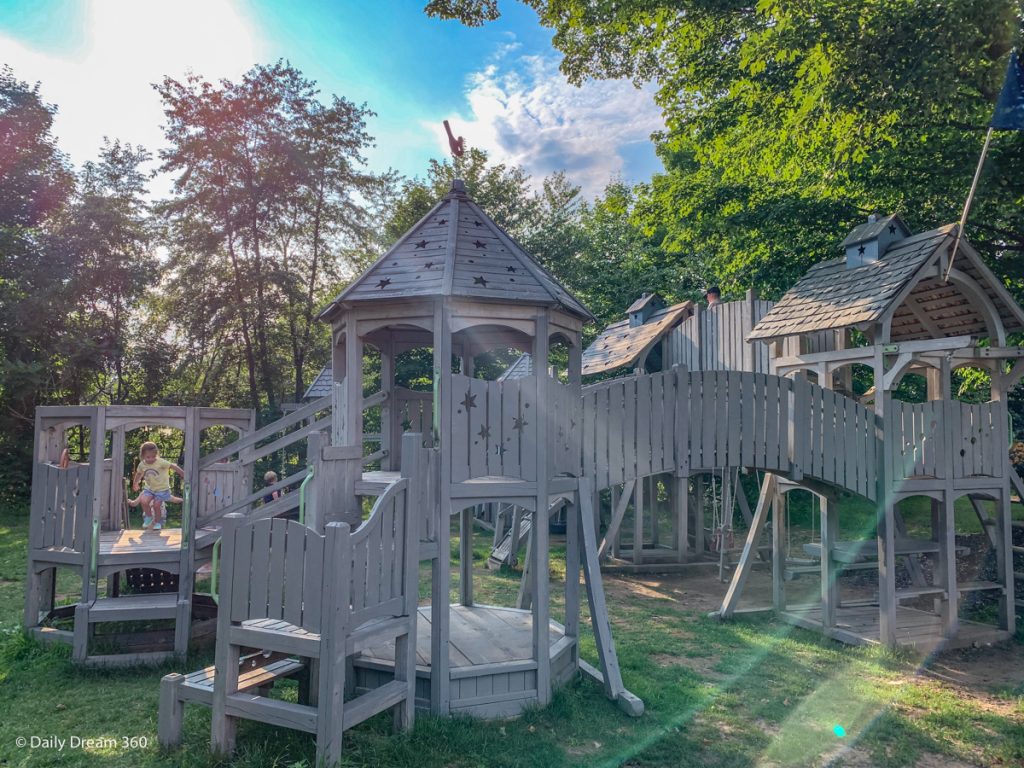 Children's Playground
Also, a big favourite amongst the kids staying at the resort is the massive playground near the beer garden. It had little bridges, ladders, slides, and the kids were playing there for a long time as their parents sat and enjoyed a beer.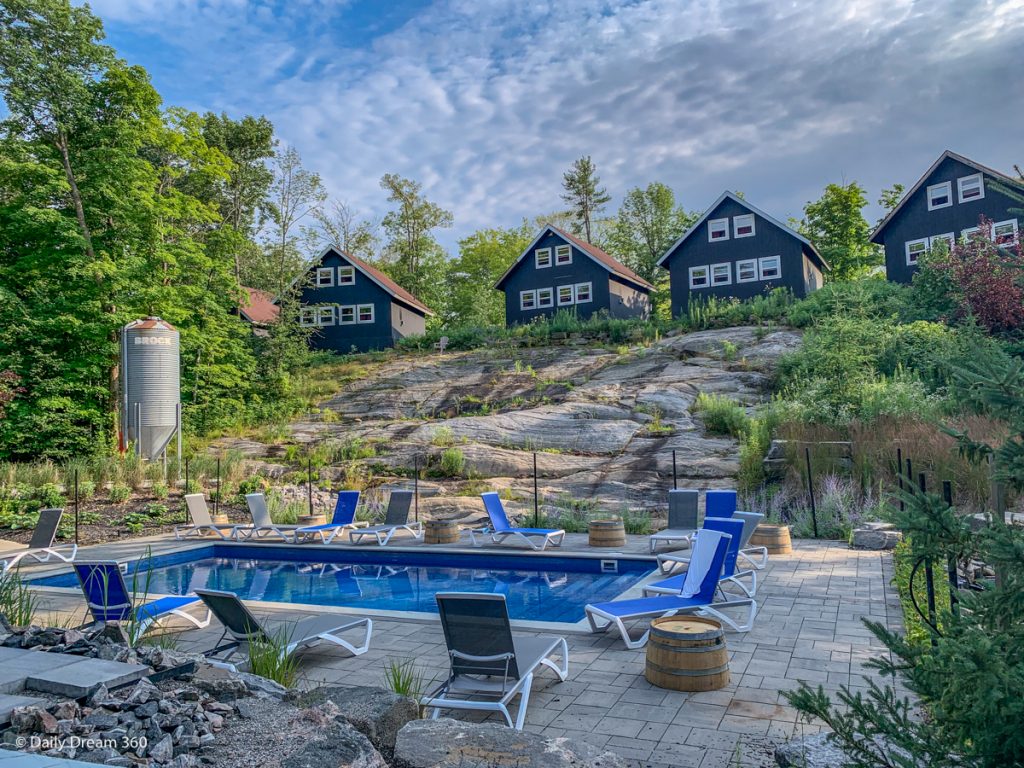 Muskoka Beer Spa Scandinavian Spa and Pool
I'm excited for the Muskoka Spa just a short 2-hour drive from the city. The Scandinavian style spa has an infrared, hot and cold saunas, a steam room and hot pool. There is also a swimming pool located in the spa area which we spent much of the weekend lounging at.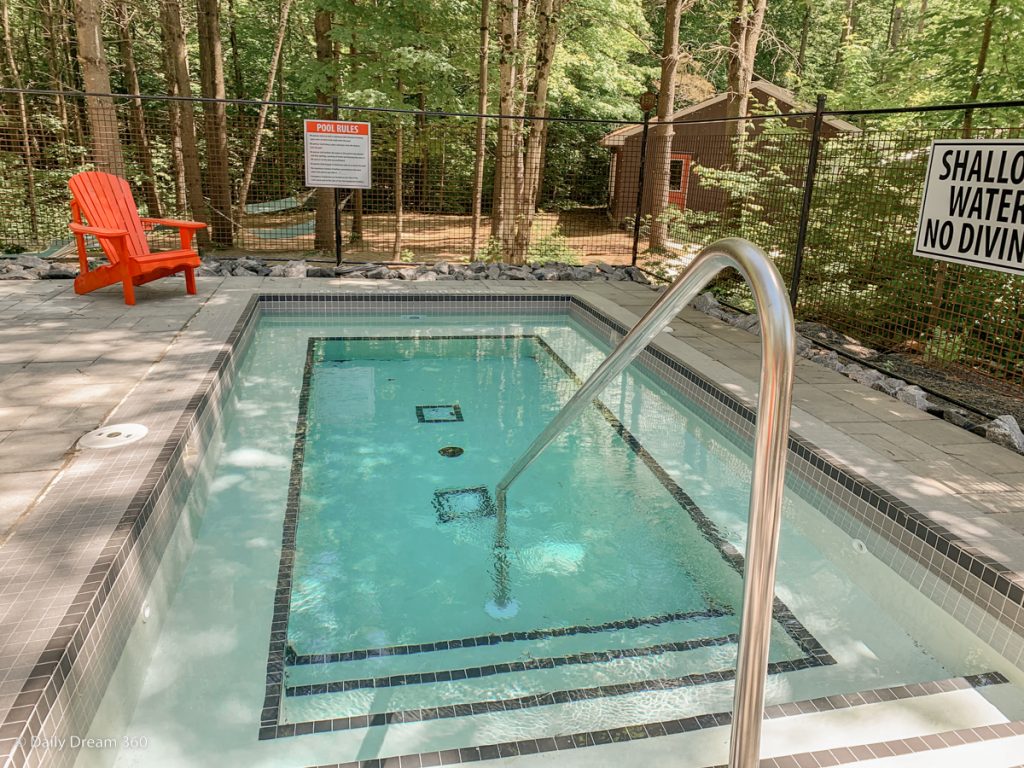 Trails and Parks near Muskoka Beer Spa
For nature lovers, you have two options for trail hiking near the spa.
Torrence Barrens: This is a conservation area designated as the world's first Dark Sky Reserve. The site is a must for stargazers looking to get some fantastic shots of the night sky, or for those with telescopes; you're going to get a great view. There are also numerous hiking and mountain biking trails here. Visit website.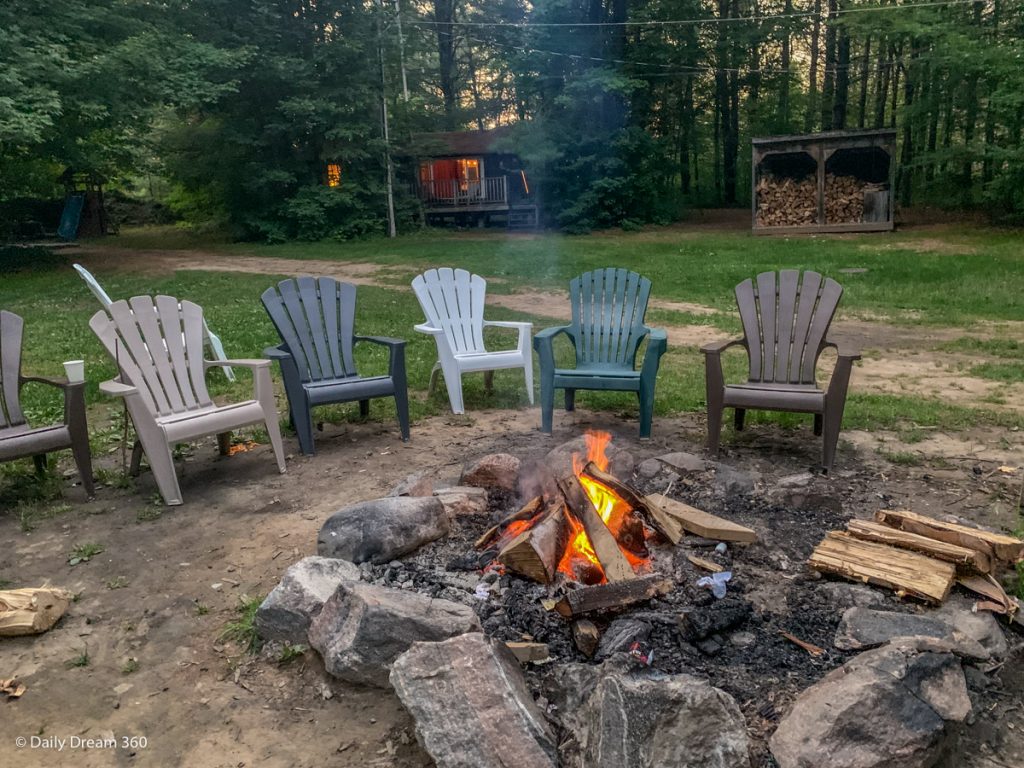 Hardy Lake Provincial Park & Trail Loop: A short 5-minute drive between Gravenhurst and the spa, you'll find the Hardy Lake Provincial Park. There is a moderate-level trail loop here for serious hikers. The park has parking but no facilities.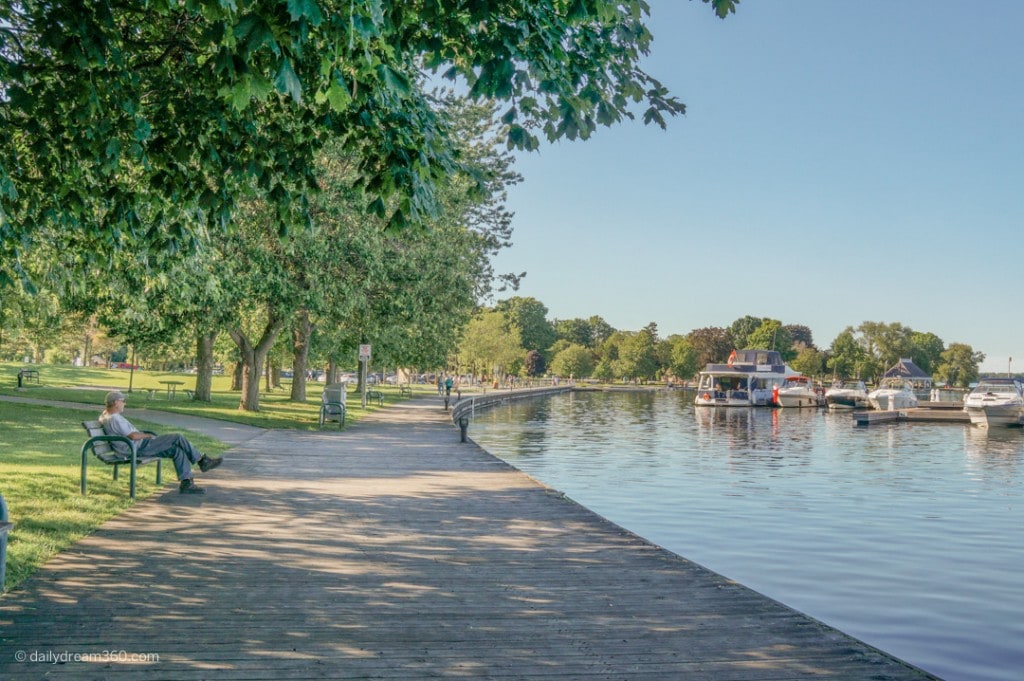 Other Places to Visit Near the Muskoka Beer Spa
If you are planning a little summer road trip around your stay at the Muskoka Beer Spa, here are a few spots you may want to consider for your adventure.
Orillia Ontario
Orillia, located just before you hit the Muskoka region in Ontario, is a picturesque waterfront town situated on the northern tip of Lake Simcoe. Enjoy a walk along its waterfront or walk up to its main street and enjoy browsing its many shops, restaurants and cafes.
A popular stop in Orillia is its well-known Mariposa Bakery Café and Apple Annies, which is worth the detour from the highway to stock up on some excellent baked goods or grab a bite to eat.
Read more: Orillia Ontario's Farm To Table Foodie Secret and Hotel Review: Stone Gate Inn, Orillia Ontario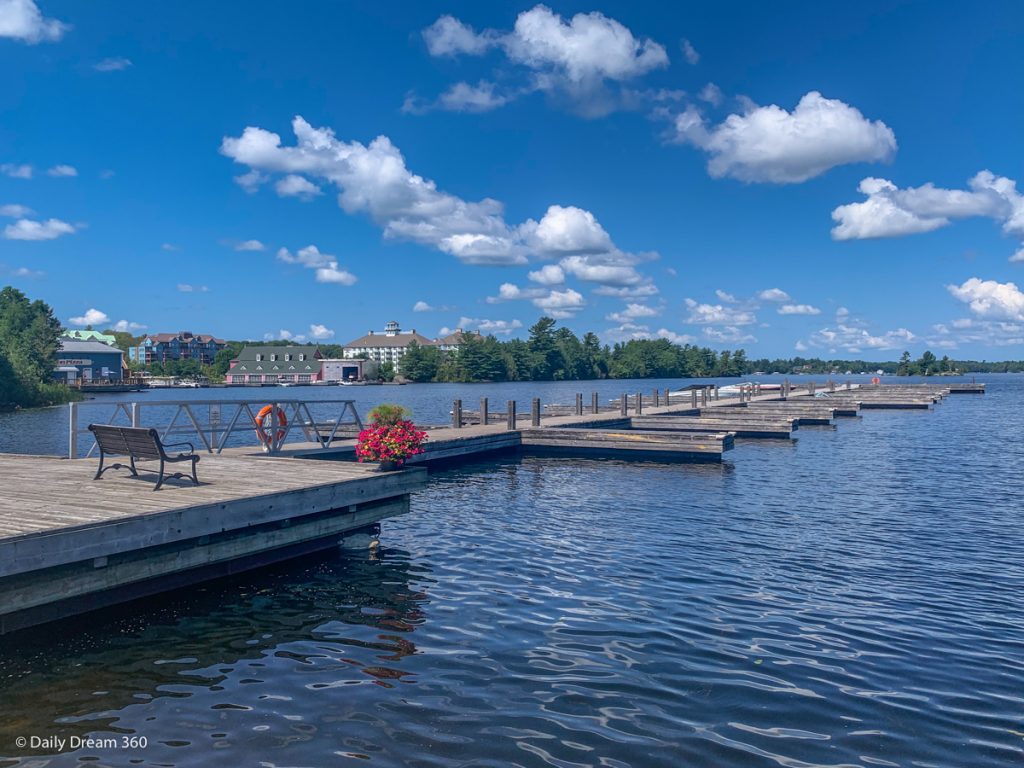 Gravenhurst Ontario
You will pass through Gravenhurst on your way up to the Muskoka Beer Spa as the highway runs through the town's centre. The town centre has several shops and galleries; however, one of the most popular sports in the city is The Bakery. They are famous for their Chelsea buns but also have a lot of donuts and other baked goods.
As you continue down Muskoka District Road 169, you will pass the Gravenhurst waterfront. There you will find some lovely shops and places to grab a bite to eat situated right on the waterfront.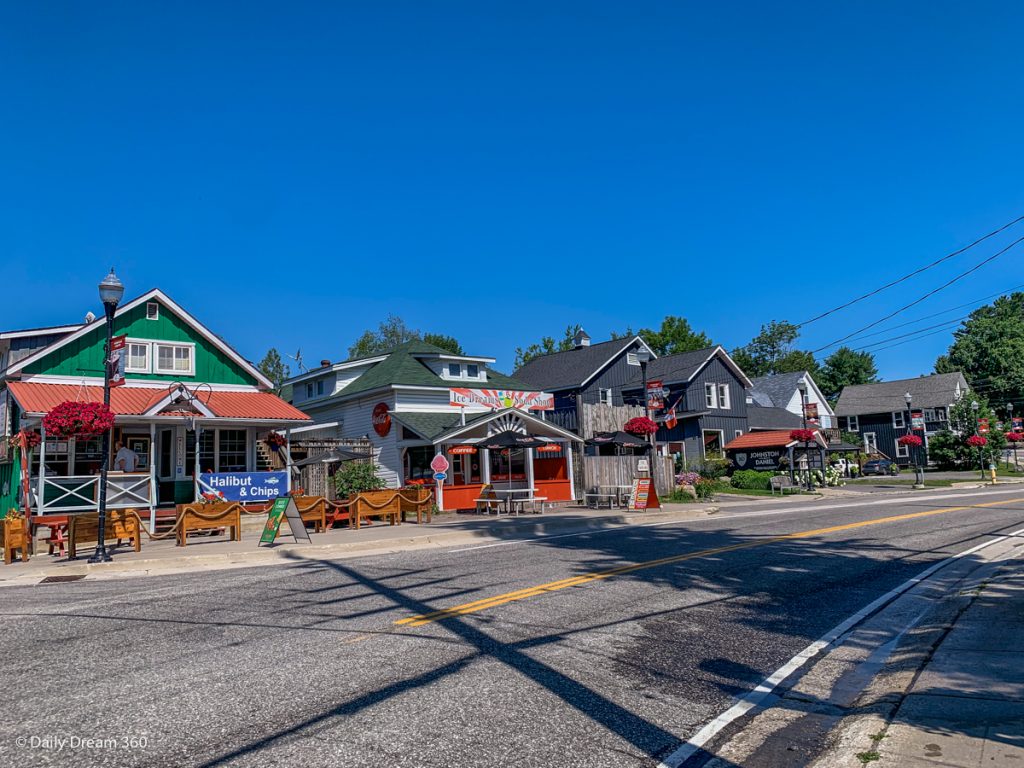 Bala Ontario
A quick five-minute drive North on Muskoka District Road 169 from Torrence, you'll find the small town of Bala, Ontario. Well-known in Bala is Don's Bakery, but you'll find many little shops and breweries in town to explore. Bala is famous for its annual Cranberry festival and music festival called the Kee to Bala. Nature lovers will want to search for Bala Falls, the source of the Moon River, which flows from Lake Muskoka to the Georgian Bay.
Disclosure: We were invited my Muskoka Beer Spa to review the property.