This article may contain affiliate links. Clicking on or purchasing products we recommend through a link may earn a small commission. Read our disclosure and privacy policy page for details. *COVID-19 TRAVEL ALERT – Travel recommendations offered on this site are not to encourage you to travel against travel advisories.
For those of you that are hanging on to your paperback books on the beach, more power to you! I have always been a die-hard book vs. e-reader person, so packing a few titles is something I often did on a beach vacation. Now I have a Kobo Clara HD filled with books that I can lug around always. If you are ready to make the switch here is a detailed look at the best ebook readers for outdoor reading in sunlight.
Dream it.
If you're planning a trip that involves a pool, lake, or beach of any kind and you don't want to buy a special waterproof camera or action camera, then a waterproof pouch for your phone could just be the solution you are looking for. Most of us have replaced our cameras and choose to travel with our phones and while there are some water-resistant models out there, protecting your phone with a waterproof pouch could save you a costly repair or replacement.
Best Ebook Readers Canada Kobo vs. Kindle
As a Canadian, my pick for the best E-readers for the beach is the new Kobo Forma. The main reason is that as of the time of publishing this post, Kindle did not have access to Canadian Libraries through Overdrive.
For Canadian Libraries and Easy In Device Syncing – Choose Kobo
The newer Kobo devices make it very easy to borrow books from libraries and download them straight to your device by syncing over WIF with Overdrive. Kindles, you will have to download your library book to your desktop and sync the device manually.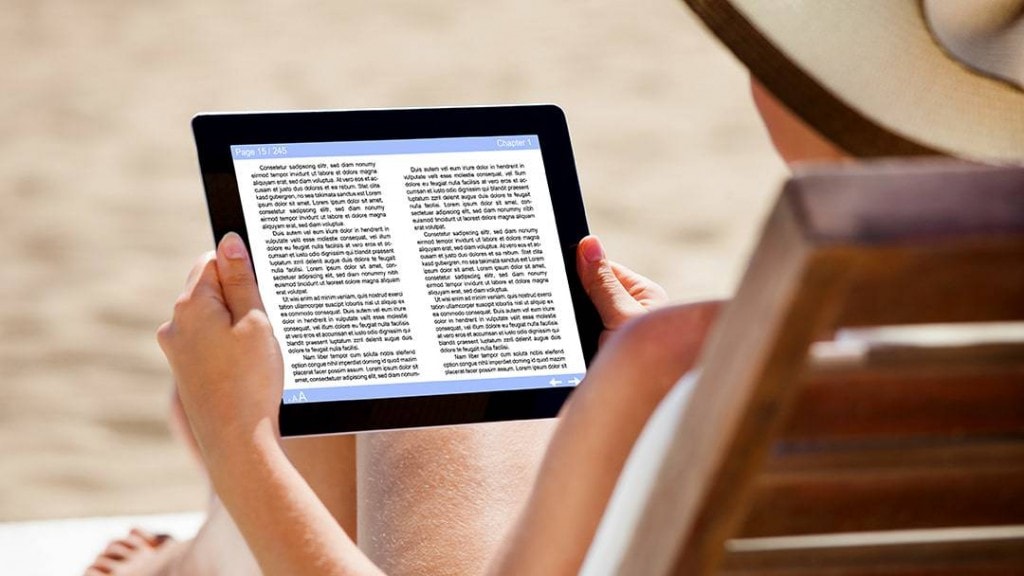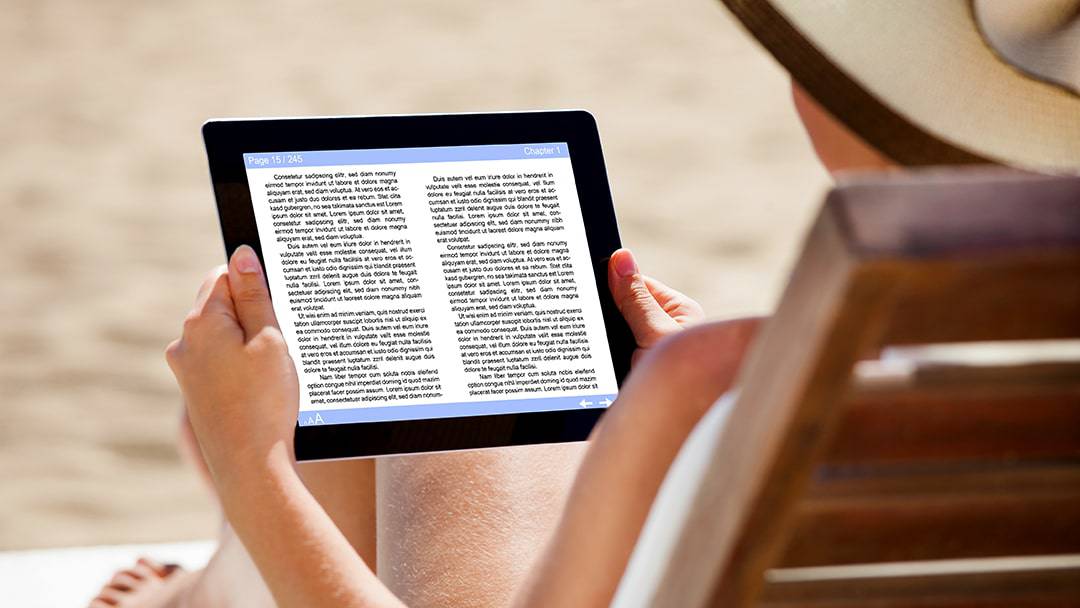 What are the Best e-readers for reading in Sunlight?
Choosing Between Kindle vs. Kobo Best Beach-Friendly Models
For those of you researching which e-readers are the best e-reader for the outdoors, here are some details on the latest models out there and which bells and whistles you may not want to pay the extra cost.
To make this easier, here is a handy chart comparing the best for the beach Kindle with Kobo models; if you would like to see details on each company's model, then scroll down.
| | |
| --- | --- |
| Best Kindle for Reading in Sunlight | Best Ereader for Canadians! |
| Kindle Oasis | Kobo Forma |
| Size similar to Kobo. Harder to read other book formats with the Kindle models which focus on .mobie. Book Prices are lower. Good battery life. New light and brightness controls. | Size similar to Kindle. Can purchase books at more places as it supports more formats. Easier to read other book formats. Good battery life. Front light and auto-brightness for low light reading. |
| Best for Amazon Book Buyers. | Best for access to Canadian Libraries and people who get books from multiple sources. |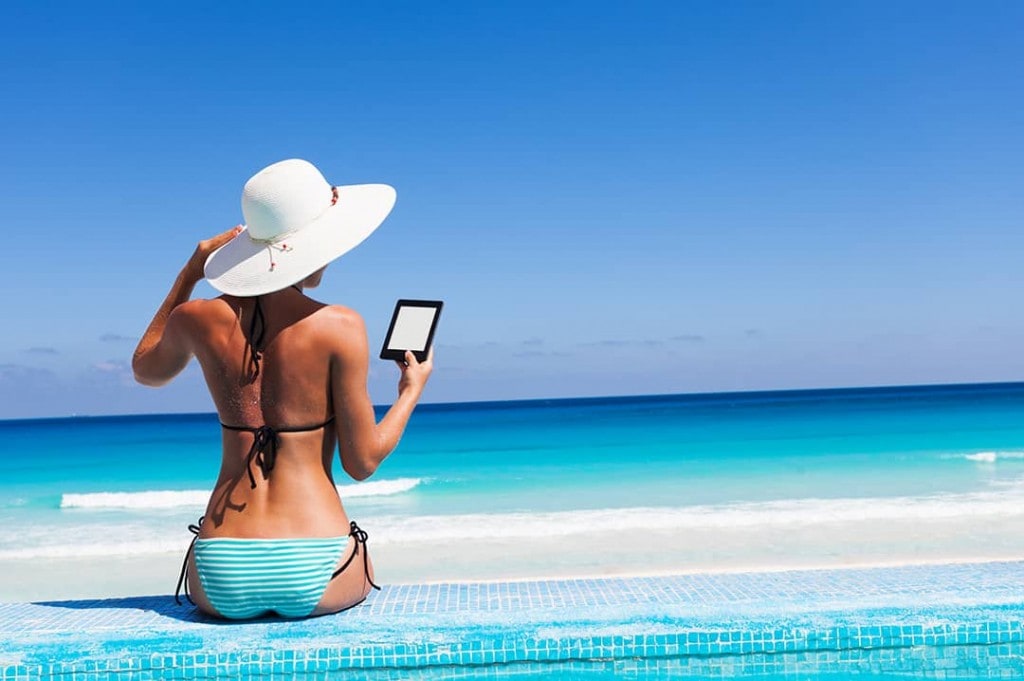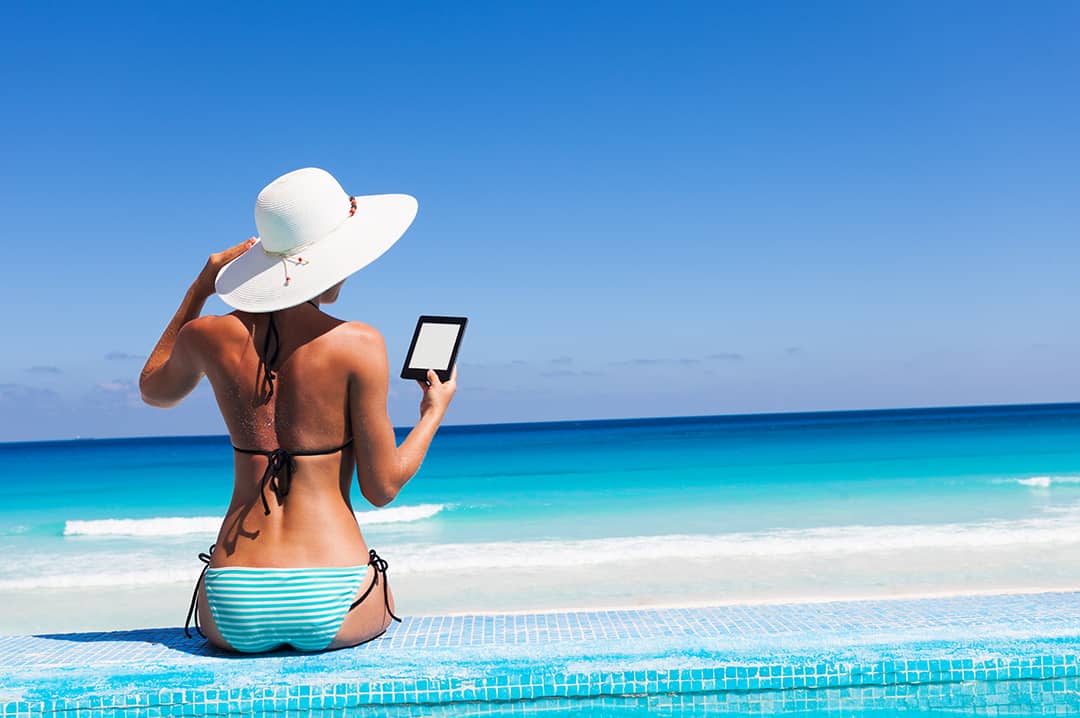 Live it.
Best Kindle Devices for Outdoor Reading in Sunlight (2023 Descriptions)
Here I outline all the current models of e-readers best for outdoor reading. I will start by comparing the best Kindle for beach reading.
If you would like to jump down to Kobo models, click here.
2023 Kindle Ereader Options
I have a library of epub books, so researching a Kindle is not the best option as its e-reader doesn't read epub files easily. If you are looking for the best Kindle for reading outside, there are a few models to choose from at various price points. If you are a die-hard Amazon shopper then consider these models for outdoor reading: 
| | | | | |
| --- | --- | --- | --- | --- |
|   | Affordable Kindle for reading in the sun. | Best Affordable Kindle for reading at the beach. | Best High-end Kindle for the beach! | Newest Model |
| Model | Kindle | Kindle Paperwhite | Kindle Oasis | Kindle Scribe |
| Price | $ | $$ | $$$ | $$$ |
| Screen Display | 6″167 PPI | 6″300 PPI | 7"300 PPI | 10″ 300ppi |
| Weight | 174 g (6 oz) | 182 g (6.4 oz) | 188 g (6.6 oz) | 433g (15.3 oz) |
| Light | YES | YES | YES | YES |
| Storage Capacity | 4 GB | 8 or 32 GB | 8 or 32 GB | 16 GB, 32 GB or 64bGB |
| Waterproof | NO | YES | YES | NO |
Supported Formats: Kindle Format 8 (AZW3), Kindle (AZW), TXT, PDF, unprotected MOBI, PRC natively; HTML, DOC, DOCX, JPEG, GIF, PNG, BMP through conversion. NOTE DOES NOT SUPPORT EPUB!!
Read more: Gift Guide of Best Devices for Creating a Smart Home.
Kindle (basic model)
The latest generation basic Kindle has added a few improvements, which include it is lighter weight and has the addition of a front light for low light reading. It will store thousands of books, and when WiFi is off, the battery will last about four weeks. This model is also the most affordable Kindle readers.
Kindle Paperwhite (mid-range model)
The latest generation Kindle Paperwhite is the mid-range model of Kindle also stores 1000 books. However, it has a bit better resolution and front light for reading in the dark. In 2020, the Kindle Paperwhite introduced the waterproof model. So for those looking to take it with you on a beach vacation, or to read while taking a long bath this is a great model. I can run for eight weeks when the WiFi is turned off. The Paperwhite is an affordable option for a waterproof e-reader.
Kindle Oasis (waterproof, high-range model)
If you are an avid reader and looking for more advanced features and you have a budget of over $300 for an e-reader, then you can consider the Kindle Voyage and Kindle Oasis models. These eReaders have ergonomic handgrips that move the centre of gravity to your palm, making them more comfortable to hold. They are ideal for one-hand reading, and you can turn the page with either a touch display or using the turn buttons located on the handgrip. The difference between the two models is in their led lights, and the Oasis comes with a leather charging case.
Kindle Scribe
Kindle has now shared its read-and-write model the Kindle Scribe. Now you can read books or take notes on this glare-free paperwhite display outside while you enjoy the outdoors. Note this model is not waterproof for those wishing to take it with you to the pool or in the bathtub. Create notebooks, sketches or lists with the pen provided.
Accessories for your Kindle
If you invest in a Kindle eReader, here are some favorite accessories to consider. I would recommend a good case to protect your investment. They range in style from plastic smart covers to high-end leather covers. These also make great gifts for travel lovers.
Kindle Unlimited – Netflix for Book Lovers
One of the perks of buying a Kindle is its Kindle Unlimited program. You'll have an unlimited reading from a selection of over 1 million ebooks and unlimited listening to thousands of audiobooks. You can read and access your Kindle Unlimited books on any device.
Best Ebook Devices for Canadians – Kobo e-Readers Canada
2023 Kobo E-Reader Options
I think Kobo has edged out Kindle to produce the most models at different price points. Also, their Kobo Forma and Kobo Libra are super lightweight, waterproof and have rotating screens making it hands down the best eReader on the market. In the past year especially, kobo has added many new ebook devices to their list including the Kobo Elipsa, Sage and an updated version of the Kobo Libra.
| | | | | | | |
| --- | --- | --- | --- | --- | --- | --- |
|   | New in 2022 | 2023 PICK | | Popular Model | Affordable Waterproof Model | Not many left! |
| Model | Kobo Elipsa Pack | Kobo Sage | Kobo Nia | Kobo Clara 2E |  Kobo Libra 2 H20 |  Kobo Forma |
| Price | $$$$$ | $$$$ | $ | $$ | $$$ | $$$ |
| Screen Display | 10.3″ E Ink Carta 1200 touchscreen | 8″ HD flush E Ink Carta 1200 screen | 6″ Carta E Ink 221 PPI | 6″Carta E Ink300 PPI | 7.0″Carta E Ink300 dpi | 8.0″Carta E Ink300 dpi |
| Weight | 383g | 240.8 g | 172 g | 166 g | 192 g | 197 g |
| Back Light | ComfortLight | ComfortLight PRO | ComfortLight | ComfortLight PRO | ComfortLight PRO | ComfortLight PRO |
| Storage Capacity | 32GB | 32GB | 8GB | 8 GB | 8 GB | 8 GB – 32 GB |
| Waterproof | No | Yes | No | NO | YES | YES |
Kobo vs. Kindle Canada
Kobo e-readers can process a variety of ebook formats:
eBooks: EPUB, PDF, and MOBI
Images: JPEG, GIF, PNG, and TIFF.
Text: TXT, HTML, XHTML, and RTF.
Comic Books: CBZ and CBR.
Note Re: Kobo Model Battery Life: An interesting note about Kobo e-readers is they no longer have detailed descriptions of battery life. They all say "weeks of battery life" now with a disclaimer that states "depends on individual usage." My older model did not have a great battery life, but these newer models, which include backlighting and other bells and whistles, will drain depending on if you keep the WiFi on, use the backlight a lot, etc. 
Kobo Elipsa Pack
With its latest models, Kobo has now pushed its e-readers into the tablet zone. Think of the Kobo Elipsa as a tablet without a shiny screen that you can read in the sun. You don't have all the fancy apps, but if you need to mark up PDFs and create notes and notebooks then this ebook reader might be something to consider. The Elipsa comes with a stylus and cover giving you everything you need out of the box.
Dropbox support allows you to easily import and export your documents and notebooks to store in the cloud and share with anyone when needed. Like all the Kobo readers you have all the great features including a light for night reading, storing thousands of books, longer battery life and if you like a larger screen you can rotate and read vertically and horizontally on this one.
Kobo Sage – 2023 PICK
If Elipsa's price point is too steep for you then the Kobo Sage might be a better option. It is a more basic ebook reader but it does support the Kobo stylus, is waterproof, and also includes Dropbox support. You can capture notes, highlight text in your books, and store notebooks in Dropbox-like the Elipsa pack. The Sage is also smaller making it more comfortable in my opinion for use as an e-reader and because I love reading outdoors at the pool or the beach having a waterproof reader makes this the Kobo of choice for 2023!
Kobo Nia
Kobo added another budget-friendly model called the Kobo Nia making owning an electronic book device more affordable again. If you are looking for a no-frills ebook reader then this model is great for you. It has all the important features which include a comfort light for reading at night or in the dark, e-ink technology for glare-free reading outdoors, and plenty of storage. Finally, an affordable basic model which connects to Overdrive for easy library book borrowing.
Kobo Clara 2E
Added to the Kobo lineup late in 2018, is the compact baseline model the Kobo Clara 2E. It is just an upgrade to the Kobo Aura baseline model. This model is smaller, with a 6″ screen, and more lightweight at 166g. The Clara HD is a more affordable option and includes the ComfortLightPro for more comfortable reading in the dark.
I now own this model and take it with me for all my travels. It is compact and lightweight, and while it is not waterproof, it is an excellent ereader for sunlight and outdoor reading. You can also use the Overdrive app directly with the reader, which means you can now download library books directly to your ereader without having to download and sync like older models.
Kobo Libra 2 H20
This year Kobo introduces the Kobo Libra 2 a lower-end model of the desired Kobo Forma. This new model comes with a lot of bells and whistles but at a more affordable price.
Kobo Forma
The Kobo Forma promises to be the most comfortable eReader in their lineup. It has an ergonomic curved design and the option to read in both portrait and landscape modes. If you prefer holding the device in your left or right hand – well switch it around, and the pages will adjust accordingly.
The new Kobo Forma also integrates with Overdrive to help borrow books from your local library directly onto your Kobo. This new feature is a big deal and massive improvement for those of us who have to download books from the library and then upload them to our Kobo devices.
Add in the fact that this eReader is also waterproof and includes the ComfortLight PRO, which adjusts to colour temperature based on the lighting, and you can see why this is now our pick for the best eReader for the beach.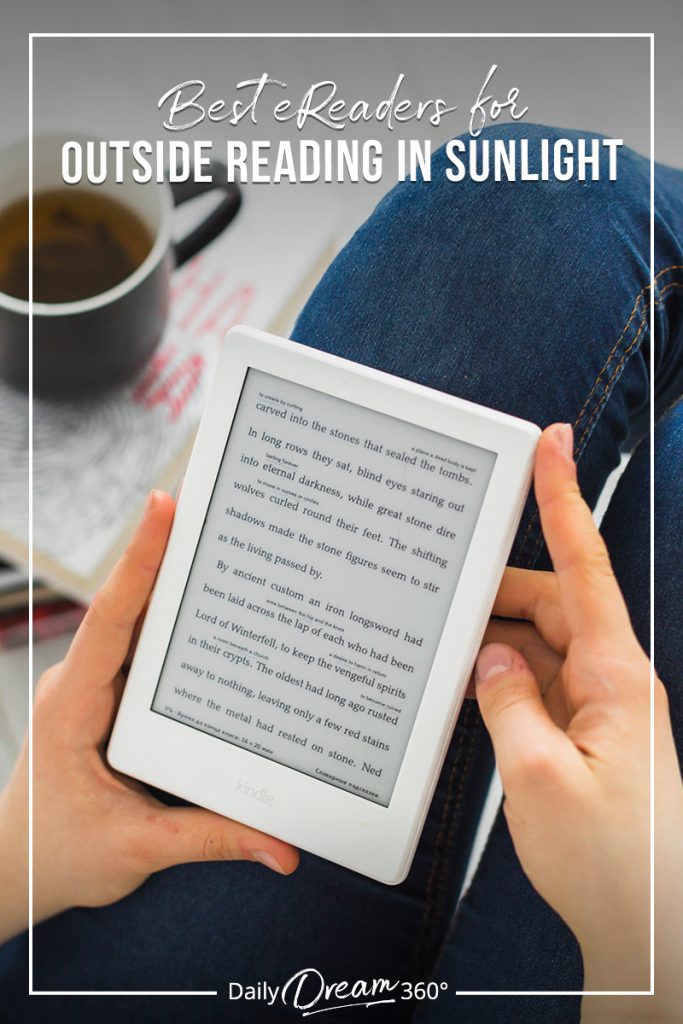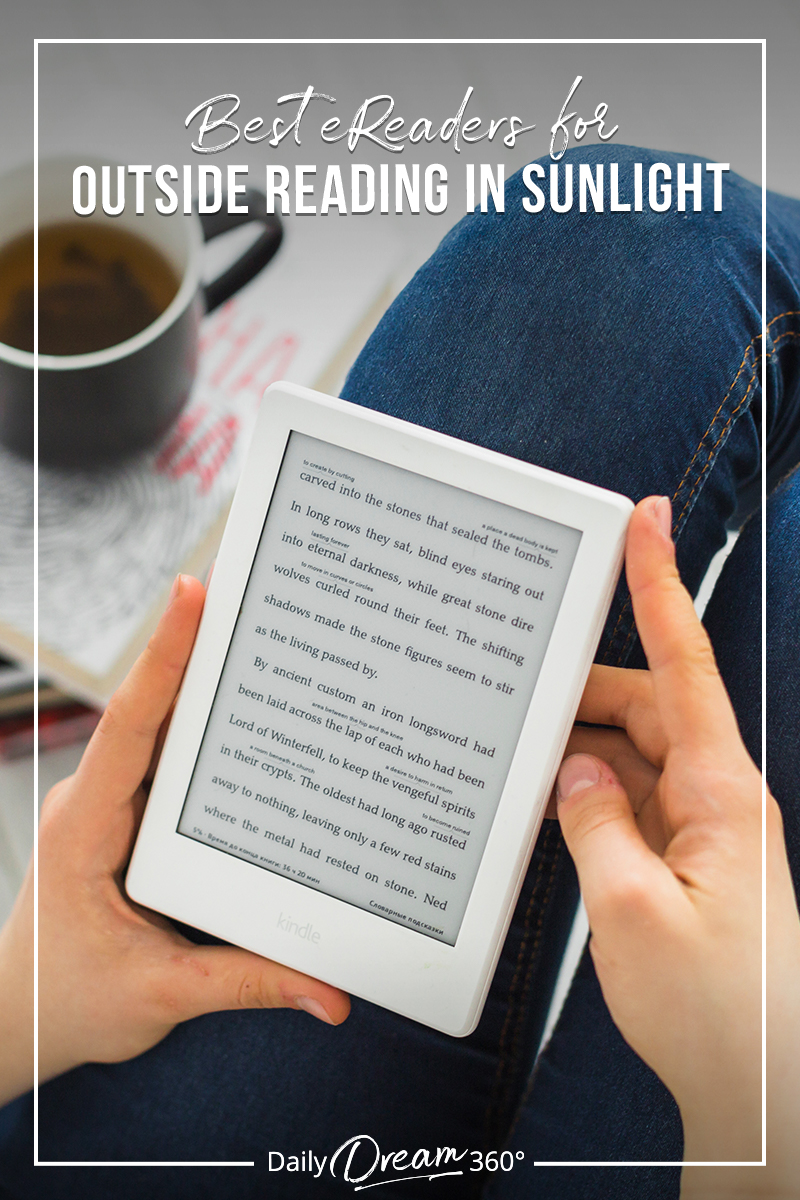 Tips for Buying an EReader for the Beach and the Outdoors
What you Need to Know about ereaders for Reading in the Sun
Lightweight Store Loads of Books
The pros of packing an e-reader are simple. They are small and thin, and they store hundreds of books. So if you are like me and don't know which books to take from your collection and sometimes go through more than one book on a vacation, then an e-reader is a great option. It takes up no room in your suitcase, and you will never run out of reading material or lug around books that you don't get to read.
Easy Access to More Books and Easy Technology
On the beach, you only need one hand and a tap of a finger to turn the page, leaving your other hand available for a drink! If you have a 3G or data-enabled reader, then you can download a new book right off the beach (the con of which would be the roaming charges you will incur). Most e-readers come with WiFi, so you can download books using that connection.
Check if your e-reader model has access to Overdrive and the Libraries in your Country. The newer Kobo models now have a direct connection with your Overdrive account, which allows you to connect to your public library without having to use a desktop. Simply link your account, and books you check out from the library will automatically sync with your Kobo.
Canadians should note that the current Kindle models (at the time of this publication) did not have access to Canadian libraries.
Don't worry if you get it, Wet.
There are now waterproof e-reader models on the market, which make them the obvious choice for beach reading! So you can take your ebook with you into the tub or pool! If you have an old e-reader, the solution to this problem is covering it with a waterproof case or zip-lock bag, but if you travel to water often like me and love taking your e-reader with you, then you may want to upgrade.
Beware of the glossy colour tablet.
My only advice here is the obvious do not buy an LCD tablet or e-reader, thinking it is going to be ideal for the beach. Sure tablets and LCD e-readers are great as they have internet access, and store music, and some games which make them great for vacations, but on the beach or out in the sun, they fail miserably.
Here are a few models you should take off your list if you are considering an e-reader for outside reading. Kindle Fire, Nook Color Tablet, Samsung Galaxy, Kobo Arc, iPad, or smartphones like iPhone or Samsung Galaxy.
Read more: Ultimate List of Best Travel Gifts for Men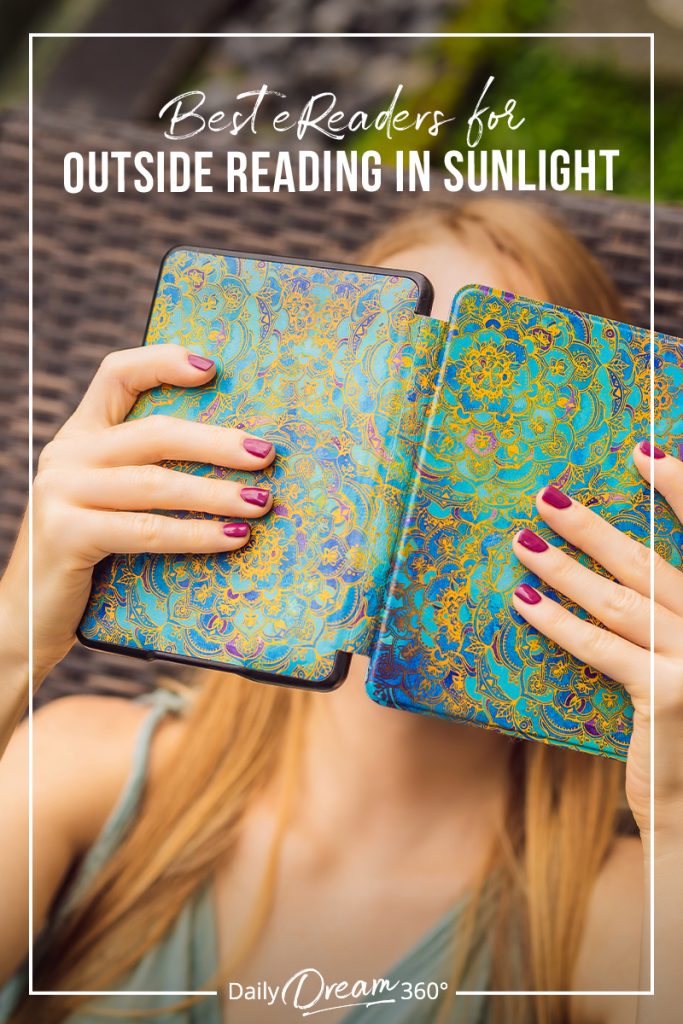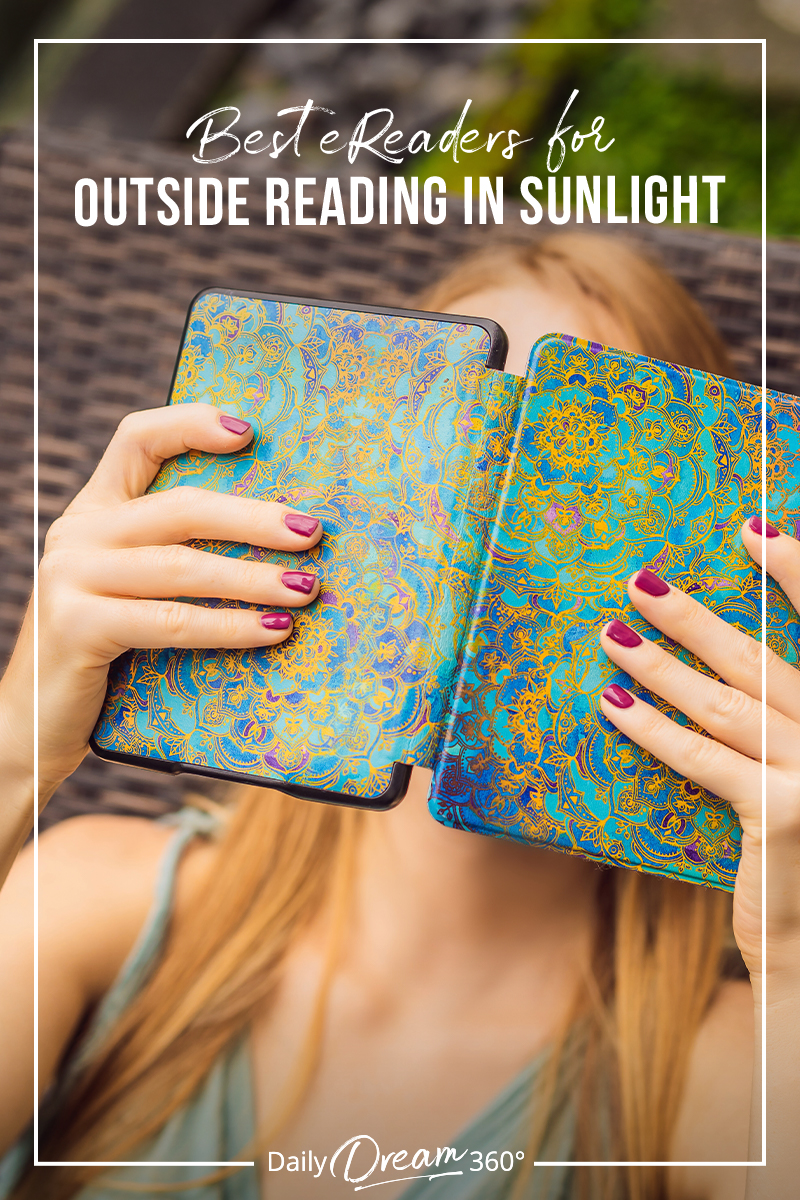 What You Need to Consider When Buying an E-reader for Outdoor Reading at the Beach
Make Sure it has E-ink Technology.
The best ereader for the beach starts with the right technology. If you are planning on reading outdoors (on the train, in the car, in the backyard or by the pool or beach), the first and most important thing on your list should be, does the e-reader have e-ink technology?
What is e-ink technology? Well, the simple explanation is that it is a digital format of a paper. It displays words on the screen, but it looks like words typed on paper. Since these screens don't have a glare and are matte finish, they are easy to read under many different shades of light. This technology is excellent at mimicking your book, and once you start to appreciate the added benefits of an e-reader, the die-hards who say they like to hold a book or read from paper will be swayed.
Also, I recommend the newer models of e-ink technology, which offer a "glow" or backlight. Backlit readers allow you to read in the dark or when you have limited lighting. When the power goes out or you are in a dimly lit room, you just turn on the glow and read on!
Know which E-book Formats it can read
If you are a die-hard Amazon shopper, then obviously the Kindle is for you. The catch is that if you want to buy or borrow e-books from your library, you may run into problems.
Amazon has its format for e-books known as the Mobi format, while other e-readers use epub as their format. You want an e-reader that can read multiple formats so you can get material from other sources other than the store you bought the e-reader.
For the average user, this means it should read epub, pdf, HTML, jpg, and png. If you get a Kindle, it doesn't read epub the most standard book format, and if you get a different model of e-reader, it likely won't read Mobi files, and we all know that Amazon has the best prices on books. Hopefully, this will change in the future, and e-readers will eventually have a standard format that wins out.
Review its Battery Life
Your next concern should be the unit's battery life. With most e-ink readers, this is not a problem, your battery will likely last up to a month on one charge. Since they don't display colour or play music, their batteries last much longer. Unlike your tablet, you can take your reader to the beach and not be concerned with the charger or run out of power mid-day.
Read more: Ultimate List of Best Travel Gifts for Women.
Do you have a favourite e-reader that you take with you on your travels? Let us know what you recommend in the comments below.