Updated Aug 2018. For those of you that are hanging on to your paperback books on the beach, more power to you! I have always been a die-hard book vs. e-reader person so packing a few titles is something I always did on a beach vacation. Now I have a Kobo Touch filled with books that I can lug around always.
For those of you researching which e-readers are the best ones for a beach vacation here are some details on the latest models out there and which bells and whistles you may not want to pay the extra cost for.
My pick for the best E-reader for the beach is The Aura H20. It's front light and brightness adjustments are just far superior to Kindle models in my opinion. See why below. 
Best E-Readers for the Beach Vacation Traveller
The Pros and cons of taking an e-reader to the beach
Lightweight Store Loads of Books
The pros for packing an e-reader is simple. They are small and lightweight, and they store hundreds of books. So if you are like me and don't know which books to take from your collection and sometimes go through more than one book on a vacation, then an e-reader is a great option. It takes up no room in your suitcase, and you will never run out of reading material or lug around books that you don't get to read.
Easy Access to More Books and Easy Technology
On the beach, you only need one hand and a tap of a finger to turn the page leaving your other hand available for a drink! If you have a 3G or data-enabled reader then you can download a new book right off the beach (the con of which would be the roaming charges you will incur). Most e-readers come with wi-fi, so you can download books using that connection.
Don't Worry if you get it Wet
There are now waterproof e-reader models on the market! So you can take your ebook with you into the tub or pool! If you have an old e-reader, the solution to this problem is covering it with a waterproof case or zip-lock bag, but if you travel to water often like me and love taking your e-reader with you, then you may want to upgrade.
Beware the glossy colour tablet
My only advice here is the obvious one do not buy an LCD tablet or e-reader thinking it is going to be ideal for the beach. Sure the tablets and LCD e-readers are great as they have internet access, store music, and some games which make them great for vacations, but on the beach or out in the sun they fail miserably.
Here are a few models you should take off your list if you are considering an e-reader for outdoor reading.
Kindle Fire, Nook Color Tablet, Samsung Galaxy, Kobo Arc, iPad or smartphones like iPhone or Samsung Galaxy.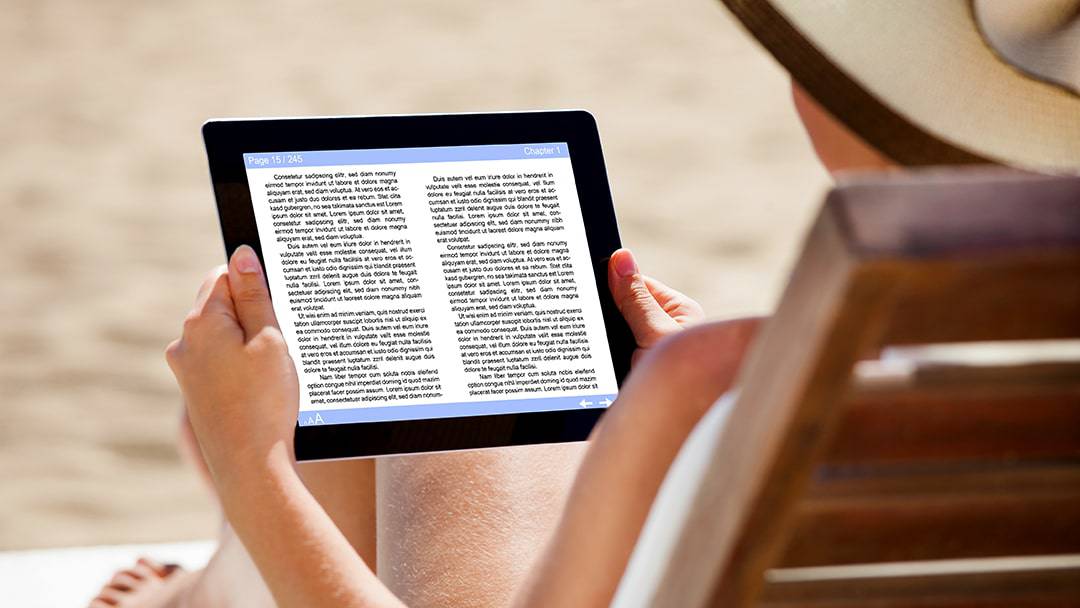 What You Need to Consider When Buying an E-reader for Outdoor Reading at the Beach
E-ink Technology
If you are planning on reading outdoors (on the train, in the car, in the backyard or by the pool or beach) the first and most important thing on your list should be, does the e-reader have e-ink technology? What is e-ink technology? Well, the simple explanation is that it is a digital format of paper. It displays words on the screen, but it looks like words typed on paper. Since these screens don't have a glare and are matte finish, they are easy to read under many different shades of light. This technology is excellent at mimicking your book and once you start to appreciate the added benefits of an e-reader the die-hards who say they like to hold a book or read from paper will be swayed.
Also, I recommend the newer models of e-ink technology which offer a "glow" or backlight. Backlit readers allow you to read in the dark or when you have limited lighting. When the power goes out, or you are in a dimly lit room you just turn on the glow and read on!
E-book Formats
If you are a die-hard Amazon shopper then obviously the Kindle is for you. The catch is that if you want to buy or borrow e-books from your library, you may run into problems.
Amazon has it's own format for e-books know as the azw or the mobi format while other e-readers use epub as their format. At the end of the day, you want an e-reader that can read multiple formats so you can get material from other sources other than the store you bought the e-reader from. For the average user, this means it should read epub, pdf, HTML, jpg, and png. If you get a Kindle it doesn't read epub the most standard book format, and if you get a different model of e-reader it likely won't read mobi files, and we all know that Amazon has the best prices on books. Hopefully, this will change in the future, and e-readers will eventually have a standard format that wins out.
Battery Life
Your next concern should be the unit's battery life. With most e-ink readers this is not a problem, your battery will likely last up to a month on one charge. Since they don't display colour or play music, their batteries last much longer. Unlike your tablet, you can take your reader to the beach and not be concerned with the charger or run out of power mid-day.
What are the Best e-readers for the Beach?
Kindle vs. Kobo
To make this easier, here is a handy chart comparing Kindle with Kobo, if you would like to see details on each companies models then scroll down.


Kindle Oasis
Kobo Aura H20

Size similar to Kobo
Harder to read other book formats with the Kindle models which focus on .mobi
e-Book Prices are lower
Good battery life
No light or advanced brightness controls

Size similar Kindle
Can purchase books at more places
Easier to read other book formats.
Good battery life
Front light and auto-brightness for low light reading
Kindle E-reader Options
I have a library of epub books so researching a
Kindle is not the best option as it's e-reader doesn't read epub files easily. Kindle, however, has four models of e-readers all at various price points.  If you are a die-hard Amazon shopper then consider these models:
New Kindle
This is the oldest and simplest model of Kindle reader, but it has been updated. This model does not have paperwhite or backlight features. It will store thousands of books, and when wifi is off, the battery will last about four weeks. This model is also the most affordable of the Kindle readers.
Kindle Paperwhite
The mid-range model of Kindle also stores 1000 books. However, it has a bit better resolution and a backlight for reading in the dark. The Kindle Paperwhite will also run eight weeks when WiFi is turned off. This is an affordable and good option for an outdoor e-reader at the beach.
Kindle Voyage and Kindle Oasis
If you are an avid reader and looking for more advanced features and you have a budget of over $300 for an e-reader, then you can consider the Kindle Voyage and Kindle Oasis models. These ereaders have ergonomic handgrips which move the centre of gravity to your palm making them more comfortable to hold. They are ideal for one hand reading, and you can turn the page with either a touch display or using the turn buttons located on the hand grip. The difference between the two models are in their led lights, and the Oasis comes with a leather charging case.
Accessories for your Kindle
If you are an avid reader and looking for accessories, consider buying a case to protect your investment. They range in style from plastic smart covers to high-end leather covers. These also make great gifts for travel lovers.
Kobo E-reader Options
Kobo e-readers can process a variety of ebook formats:
eBooks: EPUB, PDF, and MOBI
Images: JPEG, GIF, PNG, and TIFF.
Text: TXT, HTML, XHTML, and RTF.
Comic Books: CBZ and CBR.
This allows you to stock up not just in books but magazines, images and comic books as well. Here are some of the models that Kobo has to offer today. Shop at Kobo
Products from Amazon.com
‹
›
Note Re: Kobo Model Battery Life
An interesting note about Kobo's e-readers is they no longer have detailed descriptions on battery life. They all say "weeks of battery life" now with a disclaimer that states "depends on individual usage". My older model did not have great battery life, but these newer models which include backlighting and other bells and whistles will drain depending on if you keep the wi-fi on, use the backlight a lot etc. Kobo Discount List.
New! KOBO Clara HD
Just added to the Kobo lineup is the compact baseline model the Kobo Clara HD. It really is just an upgrade to the Kobo Aura baseline model. This model is smaller with a 6″ screen and more lightweight at 166g. This is a more affordable option and includes the ComfortLightPro for easier reading in the dark. Shop Clara HD at Kobo.
KOBO AURA
This is the most basic Kobo model on the market. The Kobo Aura has a more advanced 6 inch Carta e-ink touchscreen. The Aura does come with a backlight and has 4GB of storage. The product also has great discounts which put it closer to the price point of the Kobo Touch.  Shop Aura at Kobo.
KOBO AURA H20 Waterproof
The second edition waterproof model. This model is the newer Kobo model. Kobo Aura One, however, comes with a much higher price tag than the Kobo Aura H2O. This model is 6.8″ Carta E Ink screen with 265dpi and 8GB of storage. We have all been waiting for a waterproof e-reader, this model takes it to the next level! The claim is waterproof for 30 minutes in 1M of water so unless you are reading underwater. I think this is going to be perfect for the beach, pool or tub!  Shop Aura H2O at Kobo.
KOBO AURA ONE
The premium Kobo Aura One, model is also waterproof. It is basically like the new Aura H20 but it has a larger 7.8″ Carta E Ink touchscreen with 300dpi and a higher price point. The Aura One also included 8GB memory and the Comfort light pro. Shop Aura One at Kobo.
Looking for a gift for your travel lover – check out our article Best Gift Ideas for Travel Lovers.
Do you have a favourite e-reader that you take with you on your travels? Let us know what you recommend in the comments below.