This article may contain affiliate links. Clicking on or purchasing products we recommend through a link may earn a small commission. Read our disclosure and privacy policy page for details. *COVID-19 TRAVEL ALERT – Travel recommendations offered on this site are not to encourage you to travel against travel advisories.
Ever wondered what it's like to celebrate New Year's Eve in Niagara Falls? It is not too early to start planning your New Year's Eve in Canada. I have spent two New Year's Eve's in the city and thought I'd share what you need to know about spending New Year's Eve in Niagara Falls.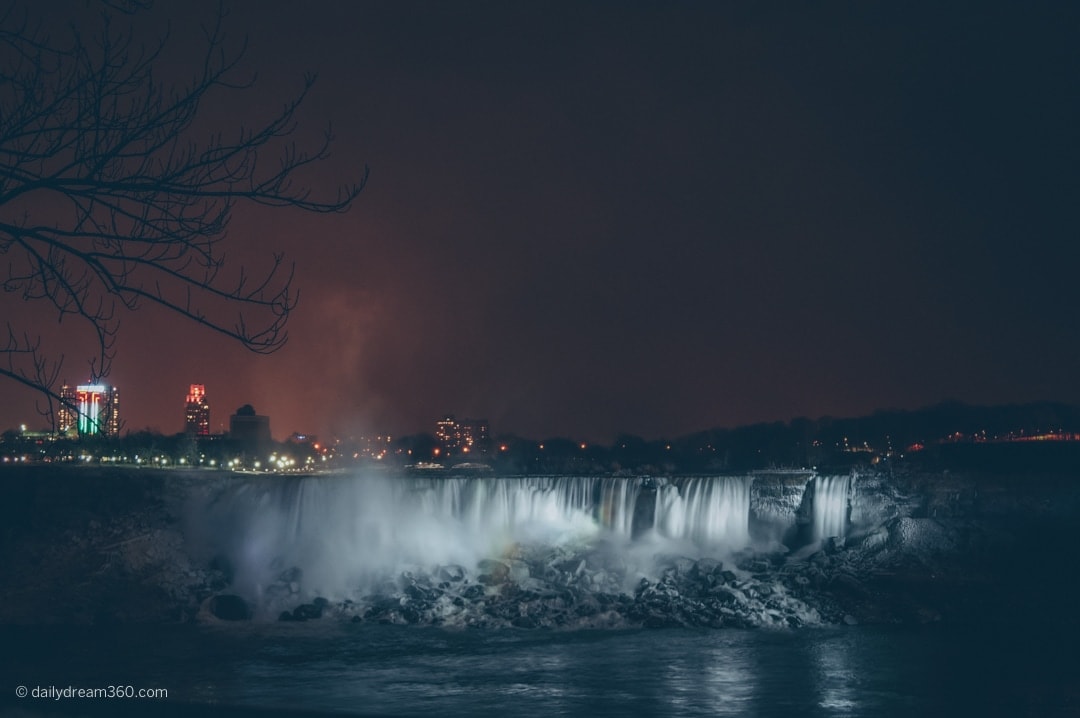 The falls are just spectacular during the winter as the ice starts to form at the base. They are also lit up during the season which makes for some spectacular shots.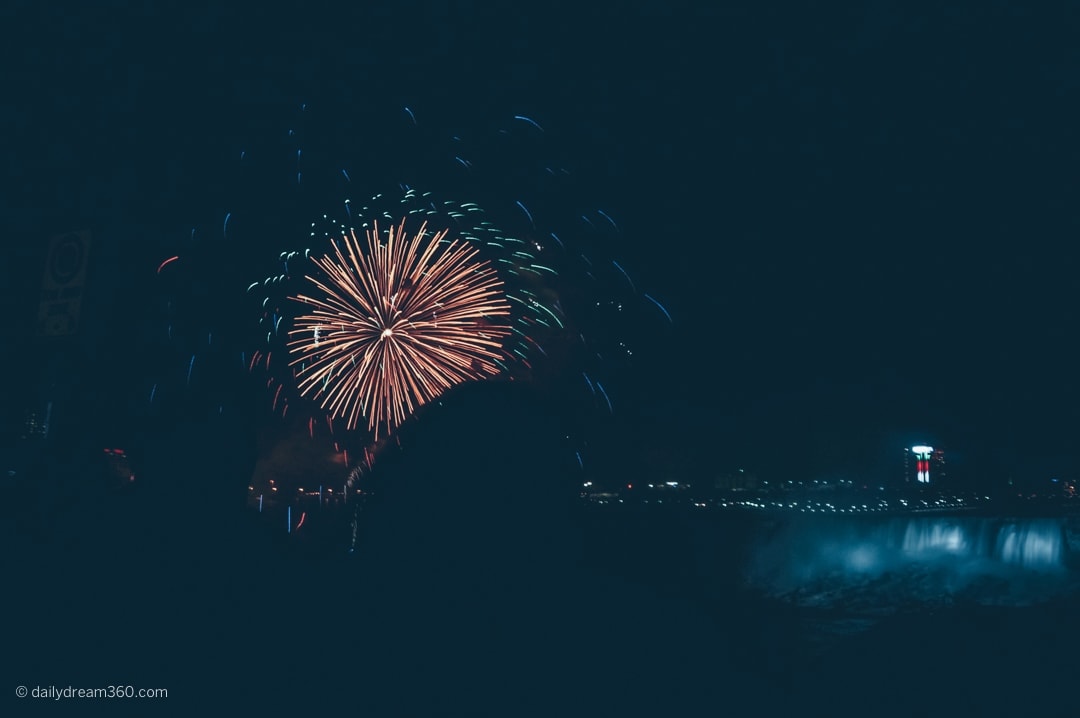 New Year's Eve Niagara Falls
There is a lot to do and see in Niagara Falls, however, on New Year's Eve everything is magnified. It is a busy night in this Canadian city so be prepared for crowds. I put together some tips on what to do in Niagara Falls during New Year's Eve.
Read more: Last Minute New Years Eve in Niagara Falls on the cheap

Niagara Falls Sky Wheel
If you want some breathtaking views of the falls all lit up at night be sure to take a ride on the sky wheel. The little pods on the gigantic Ferris wheel are heated and will keep you warm for the 10-minute ride.
Winter Festival of Lights
Each year Niagara Falls showcases light installations in the park across from the American Falls. These light displays feature Disney characters, fun themes and are fun for the whole family.
Read more: Cross-Border Shopping Tips: Fashion Outlets of Niagara Area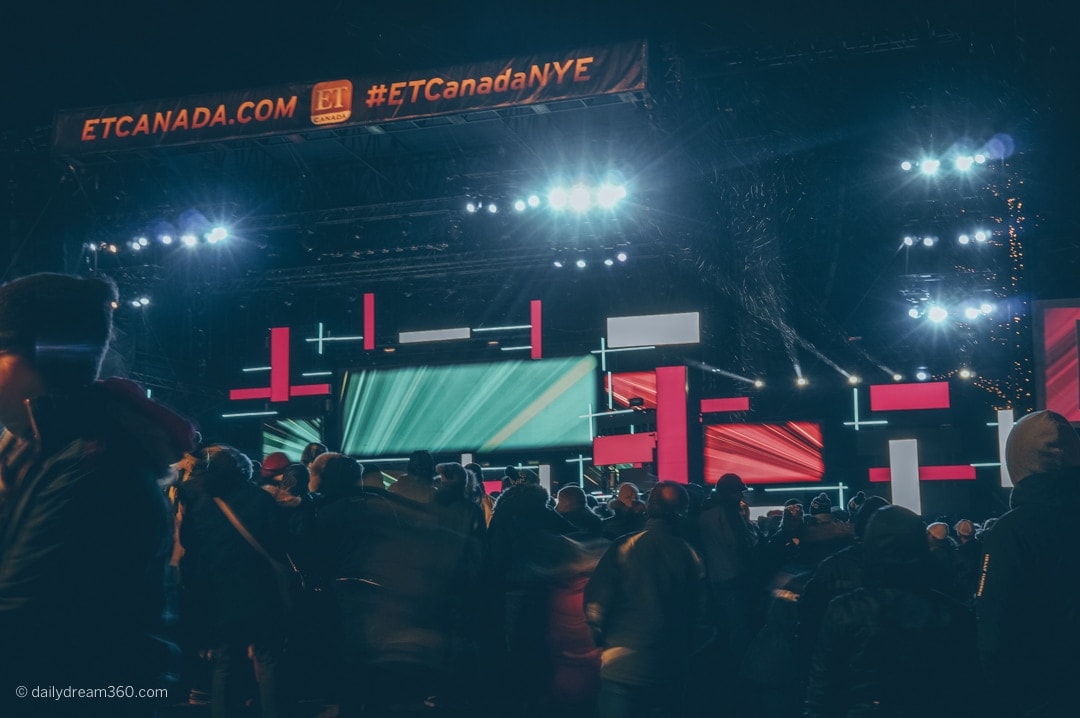 Niagara Falls New Year's Eve Party
If you have warm winter gear, and you want to brave the possibility of a frigid night to enjoy some great music then jump into the crowd at the New Year's Eve party. Each year the party brings in some big musicians like Kieth Urban, Tom Cochran and Serena Ryder.
Read more: Visiting Niagara Falls with a Niagara Parks Adventure Pass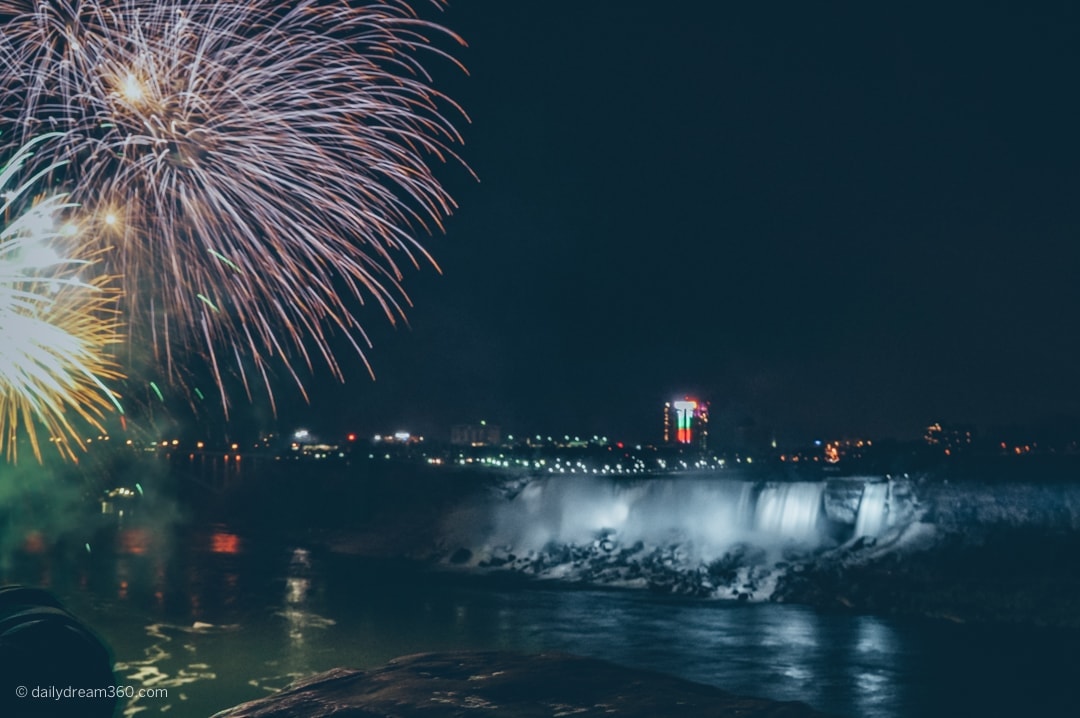 Niagara Falls Fireworks Displays
On New Year's Eve, there are two fireworks displays. One is at 9 PM and the second is at midnight. If you are looking to get a great view of the fireworks, then this will be helpful advice. The first show is mainly over the American falls and is relatively short.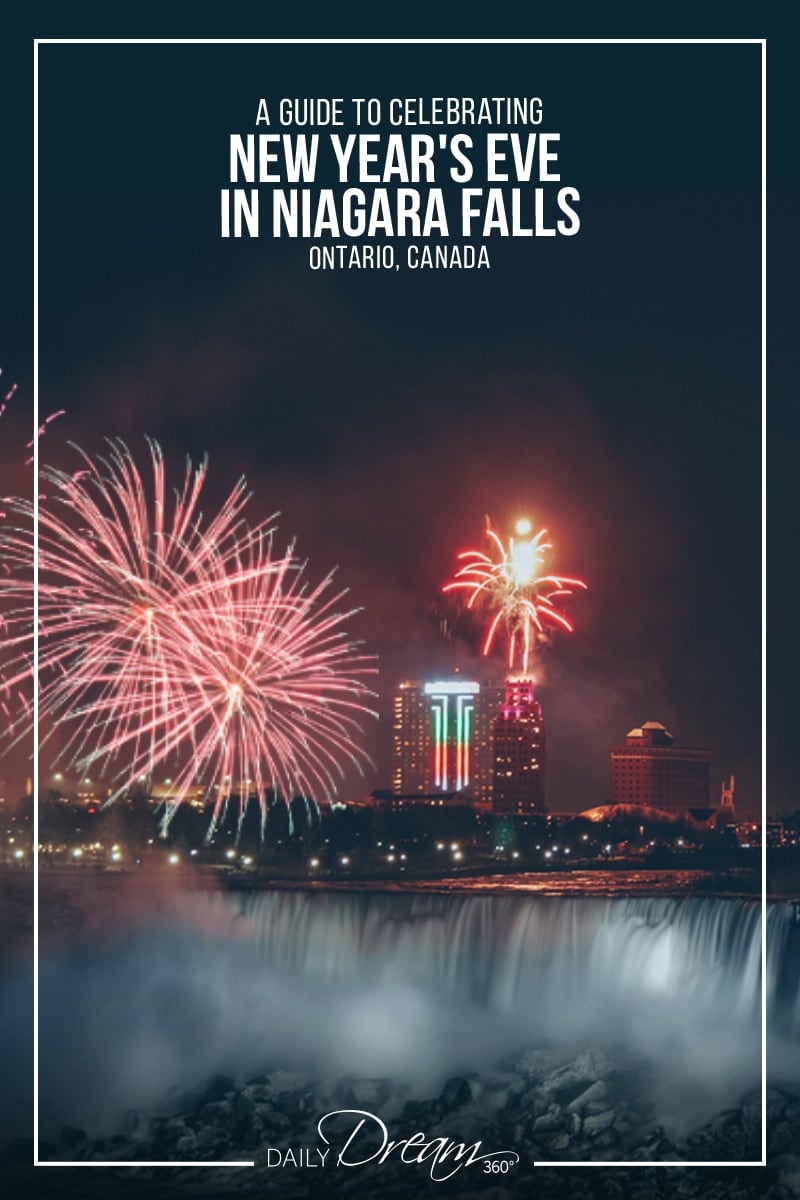 My first year attending the NYE in Niagara Falls, the midnight show was longer and appeared both over the American and Canadian falls. However, recently the second show was the same as the first show at 9 PM which was very disappointing when you are waiting out in the cold.
Read more: Last Minute New Years Eve Niagara Falls – on the cheap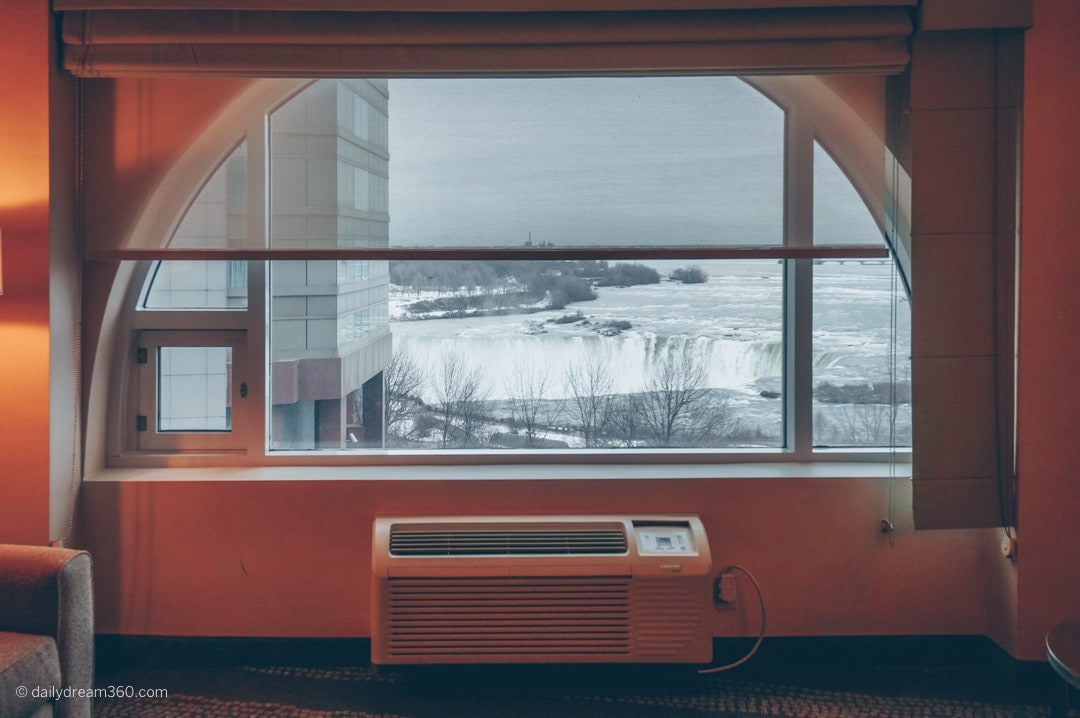 Where to Stay in Niagara Falls
If you choose your hotel wisely, you can stay toasty warm inside your hotel room and watch the fireworks. The Radisson Fallsview hotel offers a breathtaking view of the Canadian falls, but views are limited due to its location.
Read more reviews: | Our Review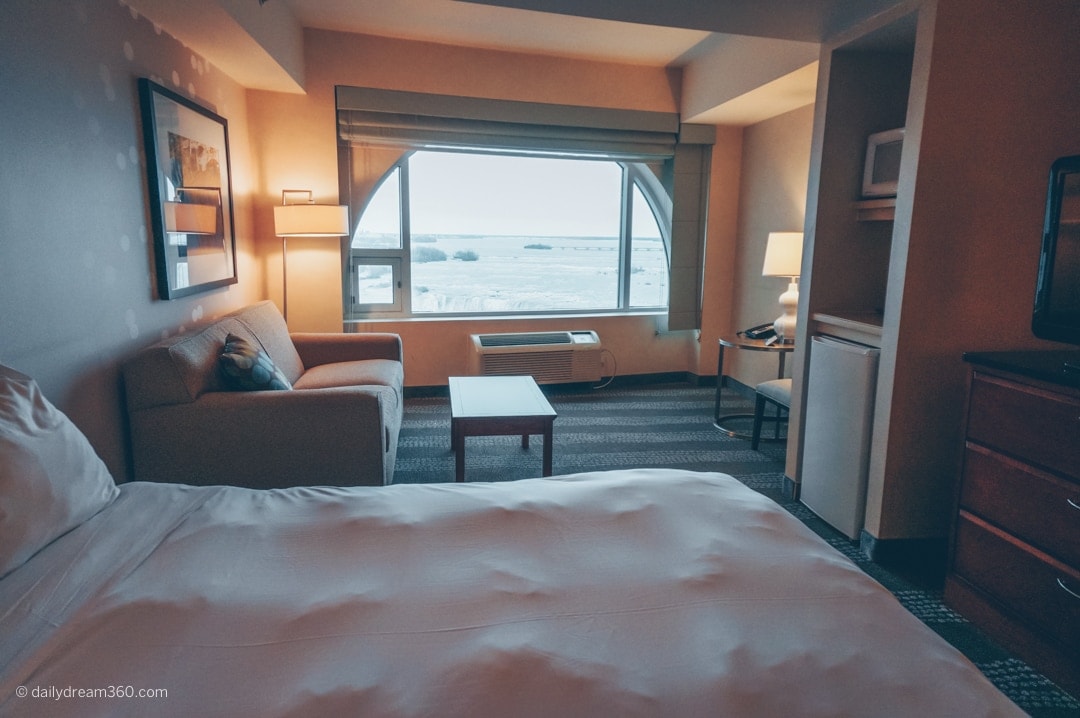 We loved having a room overlooking the falls, as it was a short walk to view the fireworks, which meant we had a place to warm up at in between shows. It was also great not to fight with traffic as everyone tried to get out of the city at the same time.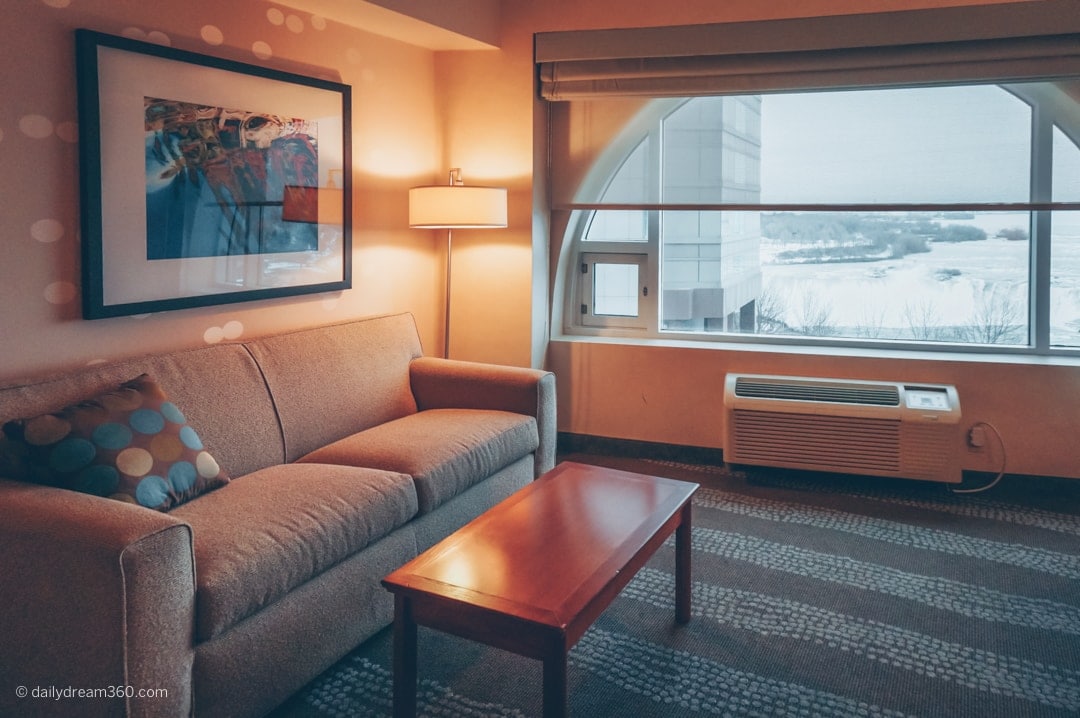 Booking early is important when making New Year's plans as the hotel prices on that night (especially for Fallsview rooms) will rise to $300-$500 per night. Take advantage of early booking to avoid disappointment.
Tips for Planning a Visit to Niagara Falls for New Years Eve
Accommodations
Plan ahead, this is one of the most expensive nights of the year to stay in the city.
Consider hotels in outlying areas like Welland, St. Catherines and Grimsby, or across the border to save money.
Many hotels offer Fallsview rooms – but expect to pay a premium for this.
Getting to and From Niagara Falls
Get into the city early. Some streets are closed off as the evening progresses.
Expect to pay at least $20 for parking. The lot by the iMax/Skylon tower is very big and close to the Falls.
Expect traffic to be gridlocked, especially after the fireworks show, there is limited access out of parking lots towards the highways. Also, note there may be Ride checks as you try to get out of the area.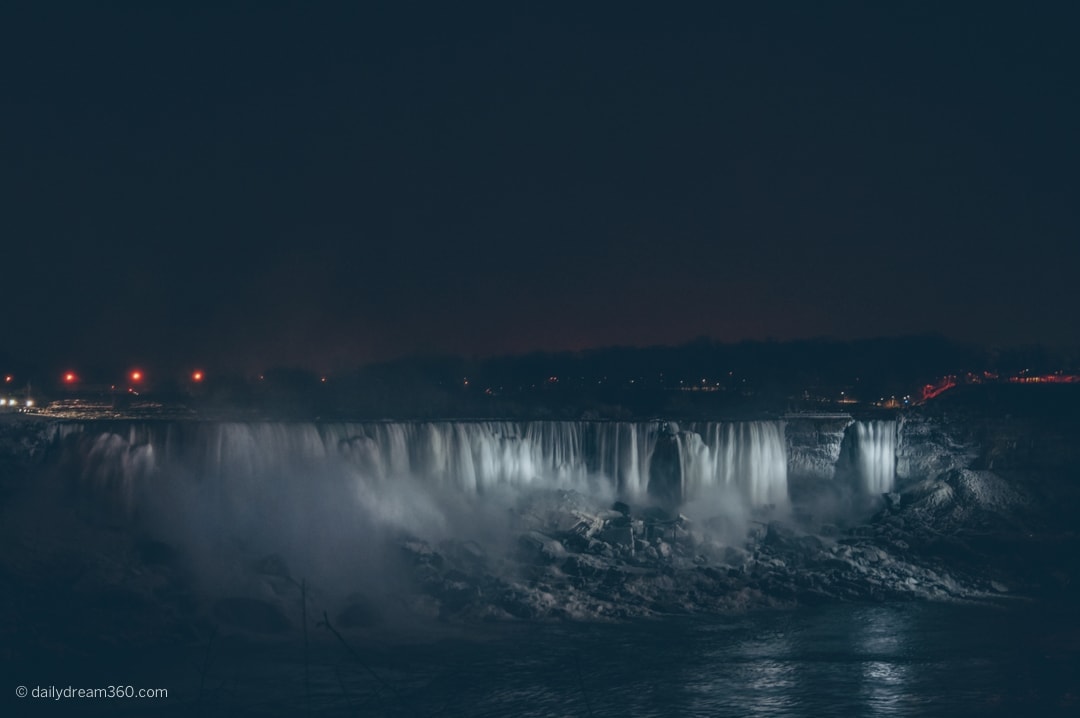 Be Prepared for the Weather
Expect it to be cold, colder by the falls. Dress in layers especially for toes and fingers.
By the falls the Tim Hortons and neighbouring gift shop are the only places to warm up and there are often lineups to get in. Above there is a food court near the casino where you can also warm up.
Fireworks shows are at 9 PM and Midnight
Fireworks shoot off near the American Falls so find a spot in front and you should be ok.
Consider watching the Fireworks from the Rainbow Bridge