This article may contain affiliate links. Clicking on or purchasing products we recommend through a link may earn a small commission. Read our disclosure and privacy policy page for details. *COVID-19 TRAVEL ALERT – Travel recommendations offered on this site are not to encourage you to travel against travel advisories.
For a long time, I've wanted to fly to Europe on Turkish Airlines. After all, they are the go-to airline for Bruce Wayne and Dr. Oz, so they must be outstanding right? Recently I travelled to Istanbul for a press trip on a business class flight with the airline, and I'm happy to report – yes they are an excellent airline! In this post, I share how Turkish Airlines elevates the air travel experience and why you should consider it for your next flight to Europe and beyond!
What You Need to Know About Turkish Airlines
What sets Turkish Airlines apart from other airlines is their commitment to providing a quality travel experience to all its customers. With a range of services for both business and economy class customers the key deliverables include:
A comfortable flight
Best in-flight catering
Quality entertainment system
I break down these services by class below, but by far from a long-haul flight experience, they offer more comfort in the form of chairs that recline, with more legroom, better in-flight meals and extras you won't get on other flights.
Turkish Airlines Connects to the Most Cities
Currently, Turkish Airlines connects to over 110 cities from Istanbul. This city's central location on the border of Europe and Asia makes it the best stopover city in the world.
Turkish Airline Stopover Program
As a Turkish Airlines customer, if you are an international passenger and have a layover over 7 hours, they will provide you with city tours and hotel accommodation free of charge. To see if your flight and stopover are eligible for the program check their website.
My press trip included a stay at a Turkish Airlines approved hotel and two days touring Istanbul to experience some of their Tour Istanbul offerings.
Read more: Istanbul 2-day Itinerary The Old and New Istanbul — Coming soon!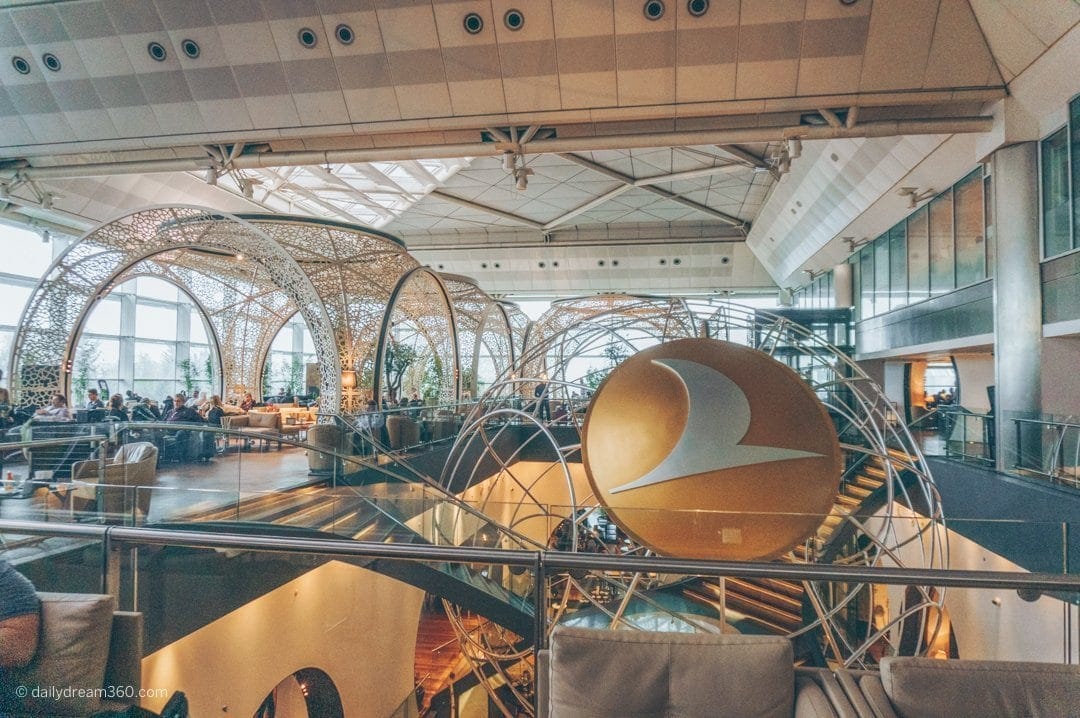 Turkish Airlines Business Class Review
If you live within 35 miles from your home airport, you may start your journey with a private, chauffeured limo ride. Turkish Airline's Exclusive Drive program gives business class passengers a promo code which they can use to schedule an Airport Transfer. This service is available at Pearson Airport.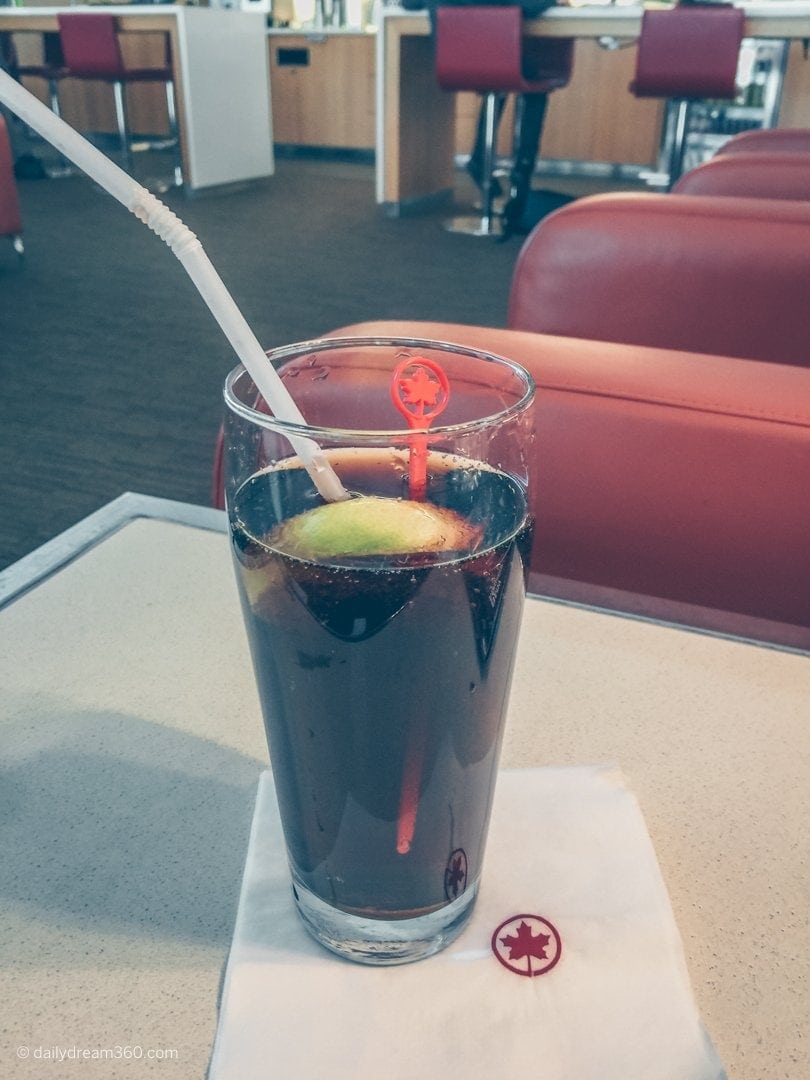 Access to Star Alliance Lounges
Once I arrived at Pearson, I made my way to the Turkish Airlines Business Class check-in area. Just a note, this is not a separated area like Air Canada's business class check-in. However I was seen immediately with no wait, and able to confirm my online registration and drop off checked baggage.
At Pearson, Turkish Airlines business class passengers have access to the Air Canada Maple Leaf Lounge. So I made my way over to grab a bite and relax in the comfy chairs before heading to the gate for boarding. Note that Turkish Airlines is a Star Alliance partner so if there is a star alliance lounge as a business customer you have access to it.
I loved that the TK flight to Istanbul is an overnight flight from Toronto. The flight left at 10:30 PM and arrived the next day in Istanbul at 4:30 PM. The timing was perfect from a jetlag perspective, as I was able to get sorted in about a day.

Turkish Airlines Business Class Seats
The business class seats are very comfortable. However, I preferred an Aisle chair as these seats recline completely blocking the middle and window passengers from easily getting out of their chairs to go to the washroom.
I have to mention the washroom. The Business Class restroom was a bit more spacious than a standard airline washroom, had a live plant, hand soap and cream and was cleaned regularly. Every time I went in, it was fresh smelling and not gross … you know what I'm talking about.
The business class seat had a little open pocket in the hand rest which had a lovely toiletry kit with an eye mask, earplugs and other comfort amenities. The toiletry kit was a different style bag on the way home but included the same comfort kit items.
This little pocket was also the location of the power plugs and had enough room to stash my phone and iPad air. In Business Class we were also given fancy noise-cancelling headphones (which are returned at the end of the flight). I found them to be bulky but effective as they do drown out the airplane noise around you.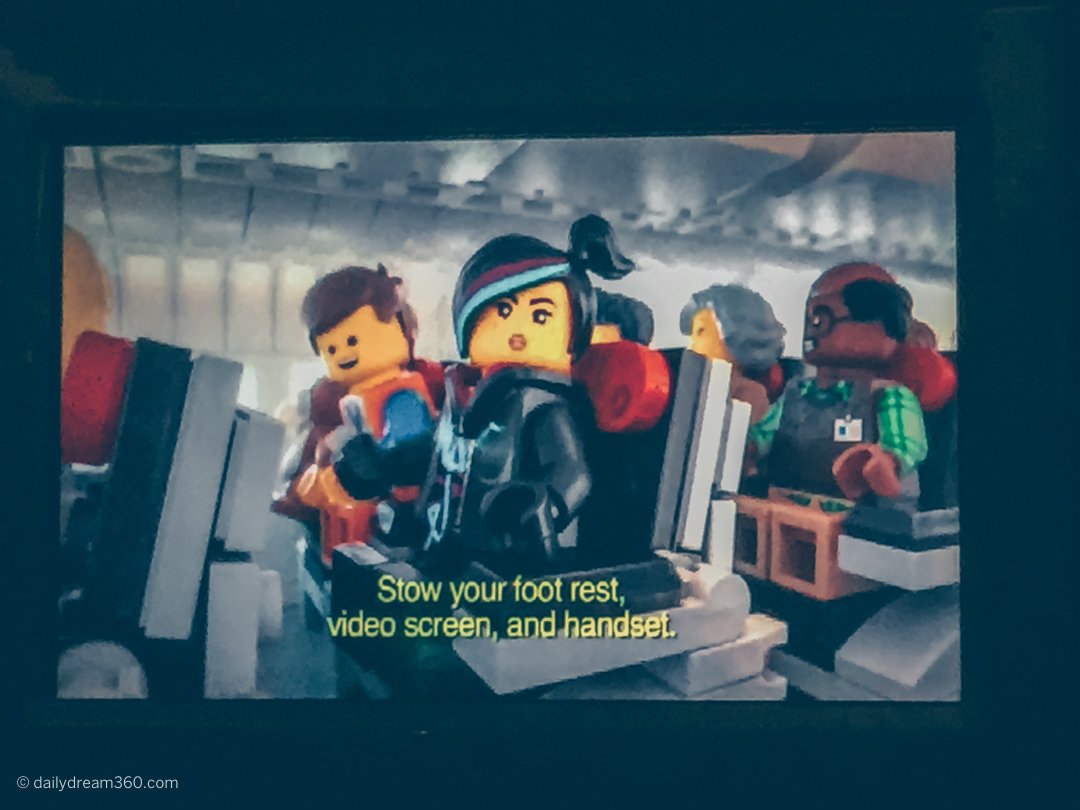 Best Airline Safety Video
I've never had so much fun watching an airline safety video in my entire life, and I have seen a lot of them.
Turkish Airlines Inflight Chef Program
After sitting down and putting my little Business class slippers on, I was served a tasty welcome drink buy the Business Class attendants. I loved the personal introductions, the non-judgement approach to explaining how to use this complicated chair (I was a newbie) and their general happy to help disposition.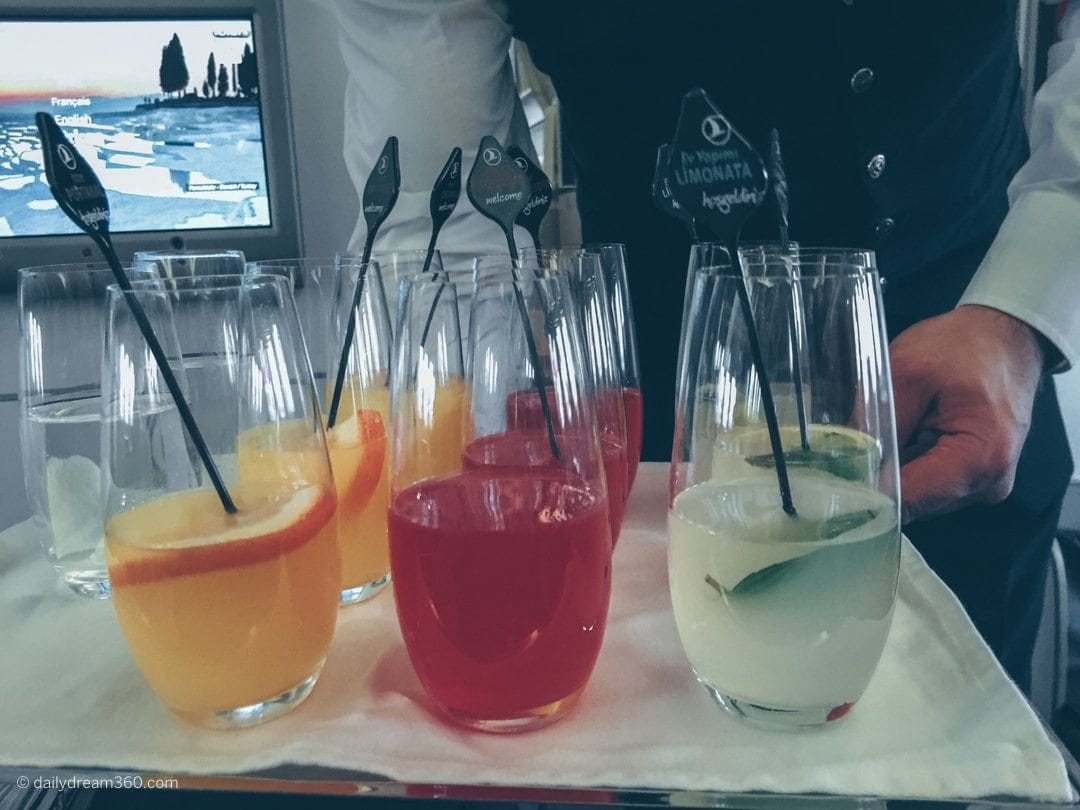 The in-flight chefs came around as I sipped my welcome drink with the menus for the flight. As my Toronto to Istanbul flight was at 10:30 PM I wasn't really hungry, but curiosity made me order from the dinner menu and make my selections for the breakfast meal.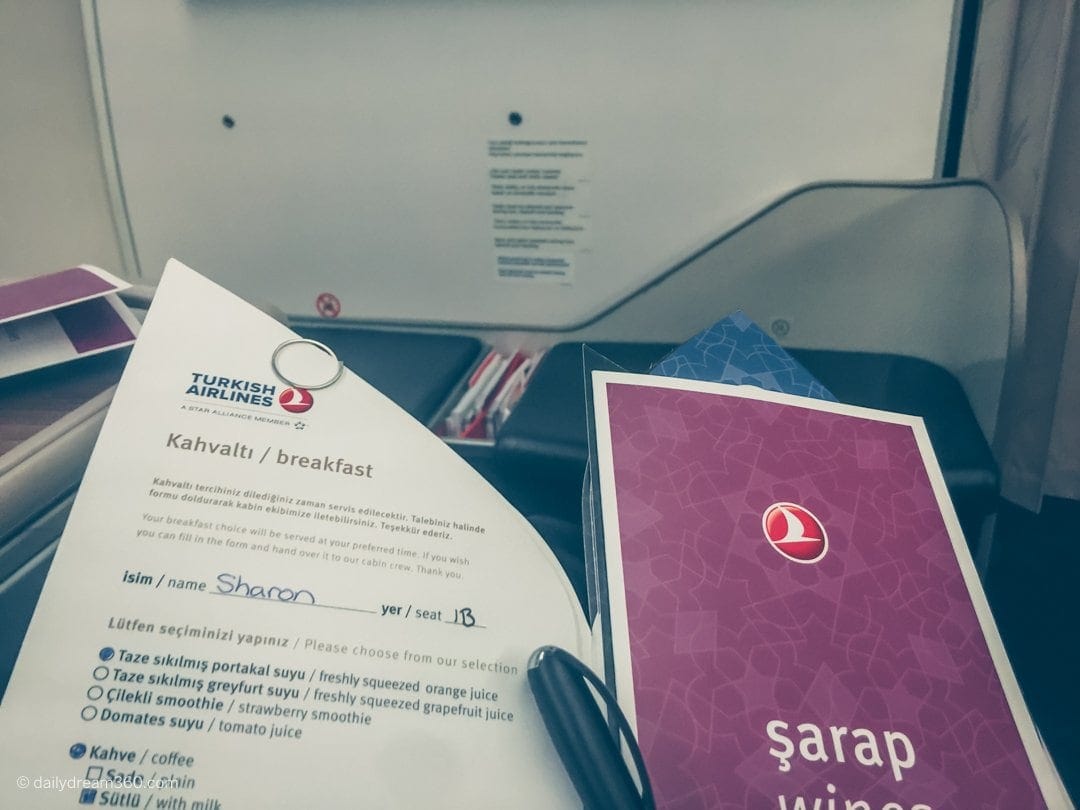 Candlelight Meals on Turkish Airlines
Business Class meals include an amuse-bouche, appetizer, main course and dessert. They have a very extensive wine and drink list available as well.
The attendants set up your tray with little candle lights and cloth table covers. They are just small electronic flickering candles, but it does add a little extra touch when enjoying your meals.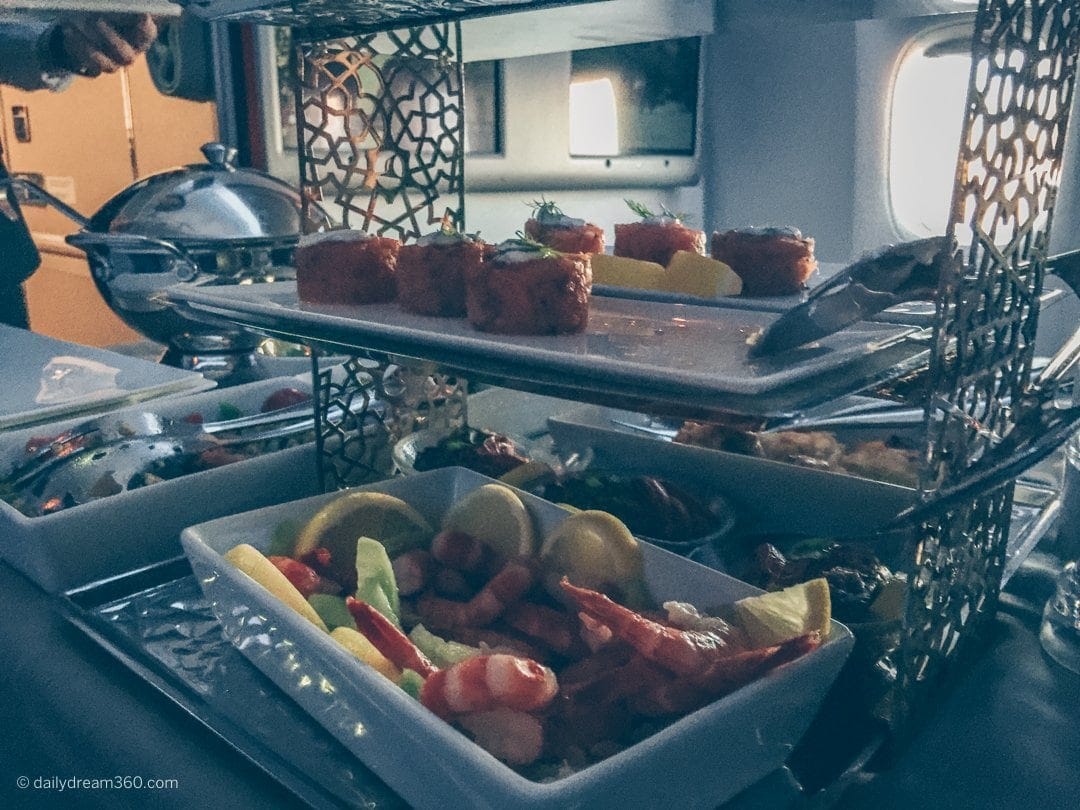 On the flight back from Istanbul to Toronto, the catering program is further elevated as the appetizer and dessert courses are served on trollies where you can make your selections as the chefs pass by.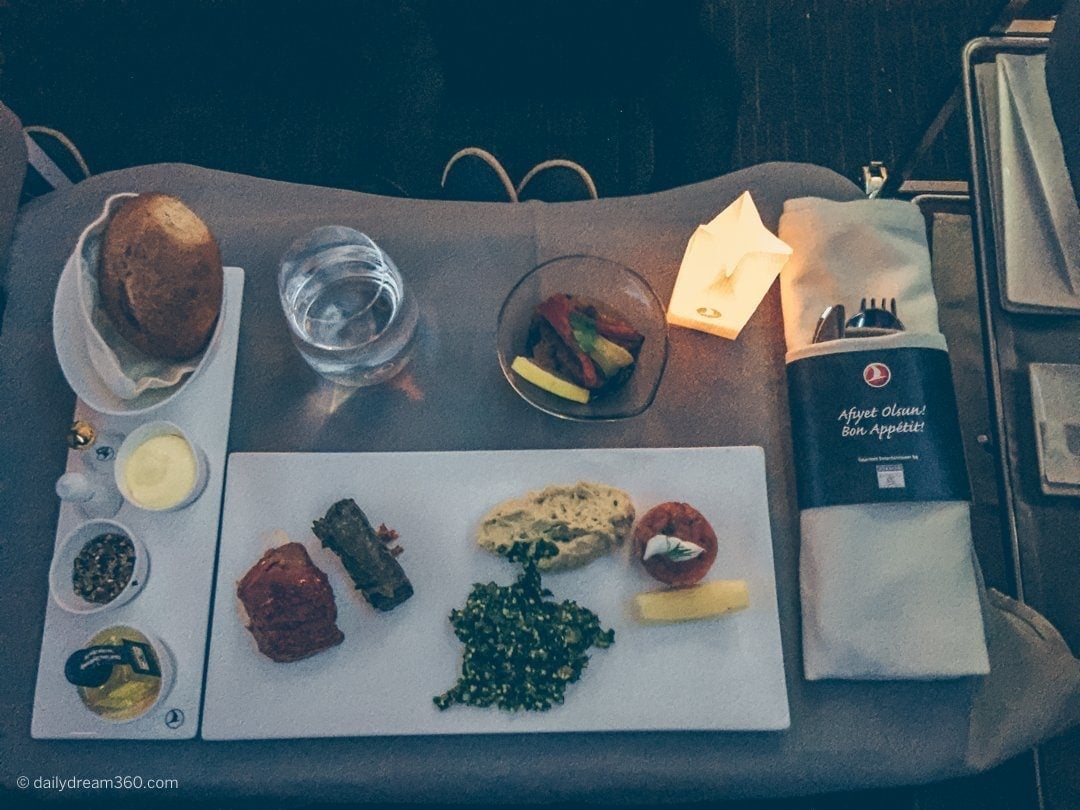 Turkish Airlines In-Flight Dining in Business Class
I had a tour of the in-flight catering company in Istanbul, so I experienced firsthand as chefs prepared items for all the Turkish Airline flights leaving Istanbul's airport that day.
Cheese, vegetables and fresh fruit were all prepared by hand and assembled into perfect trays. I could not believe that they were serving fresh food on each flight flying out of Istanbul, that offered an in-flight meal.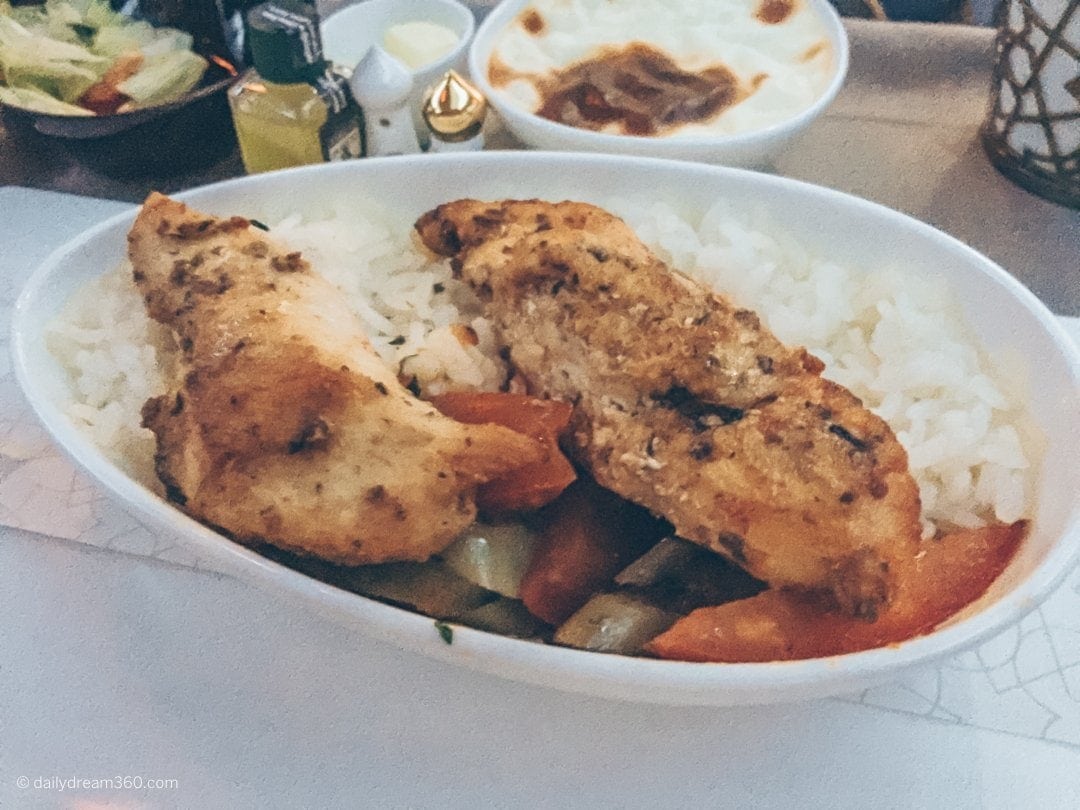 On board, the plane the specialty trained in-flight chefs ensure that this catering meets the standard as they oversee the food delivery onboard. They also ensure that special requests and specialty menus are being appropriately served.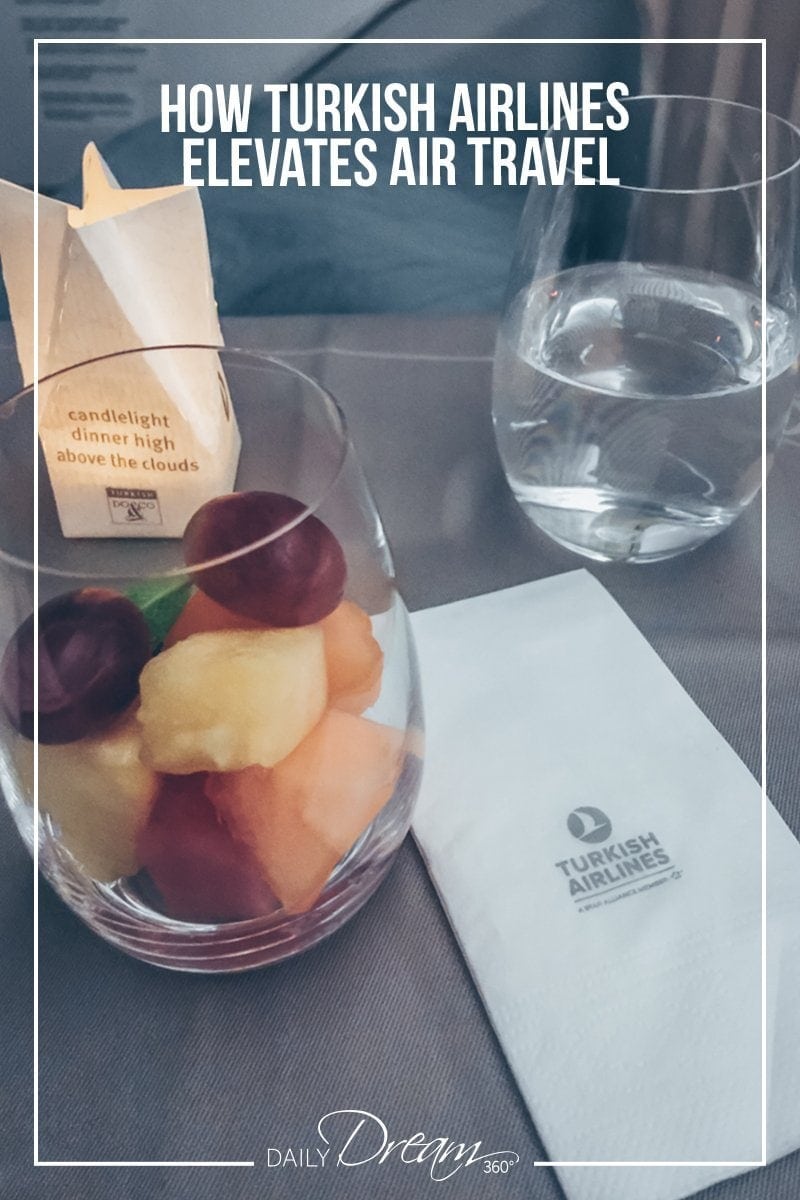 Turkish Airlines In-Flight Specialty Menus
This is where Turkish Airlines blew me away. They have 20 different specialty menus you can order for your long-haul flight which include Vegan, Vegetarian, Raw Vegetable, Kosher, Low Calorie, Low Fat and Diabetic to name a few. These menus have a 4-week rotation so they change regularly, that way passengers that fly a lot will not be eating the same meals. For the full list of specialty, menus see the Turkish Airlines website here.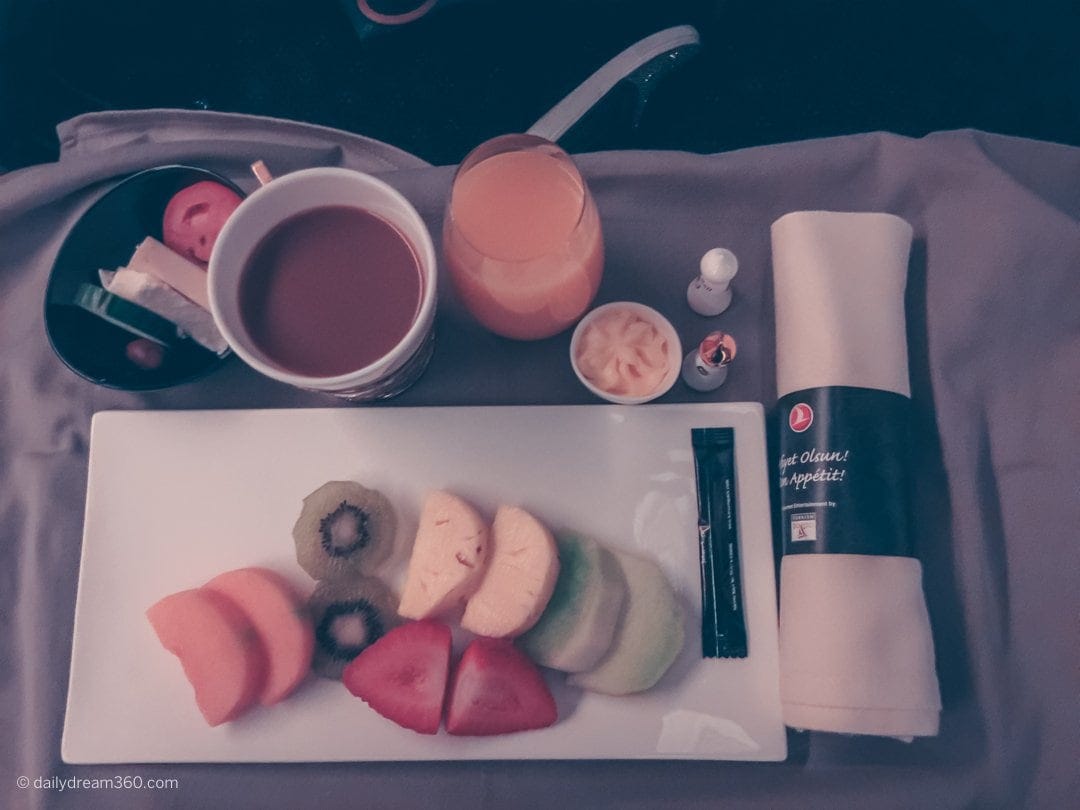 Being as healthy as possible while I travel is a priority for me, so being served fresh fruit, and food prepared with fresh ingredients was a real benefit for me. Turkish Airlines makes flying better by providing these healthy eating options. I still can't believe they make everything fresh the day of the flight.
Read more: Travel Healthy in Istanbul – Coming Soon!!
Turkish Airlines Business Class Lie-Flat Beds
When ready for sleep I asked my Business Class Attendant to set up my chair. He placed a sheet on the chair which covered the chair from headrest to footrest and provided a thick comforter and pillow. He was also happy to explain the chair's functions which include: massage, raising the footrest and reclining the chair to a lie-flat position.
Before landing lighting in the cabin changed, signalling it was time to get up. Once I adjusted my seat back to a sitting position, the attendant asked me if I was ready for breakfast.
In-Flight Entertainment System on Turkish Airline
When I wasn't sleeping, the touch screen TV's (which included a remote control on Business class) were filled with programming and content to keep you busy during long-haul flights. I listened to music, watched the latest movies and even got some healthy travel pointers from Dr. Oz. They also had options to watch live TV on the Flight.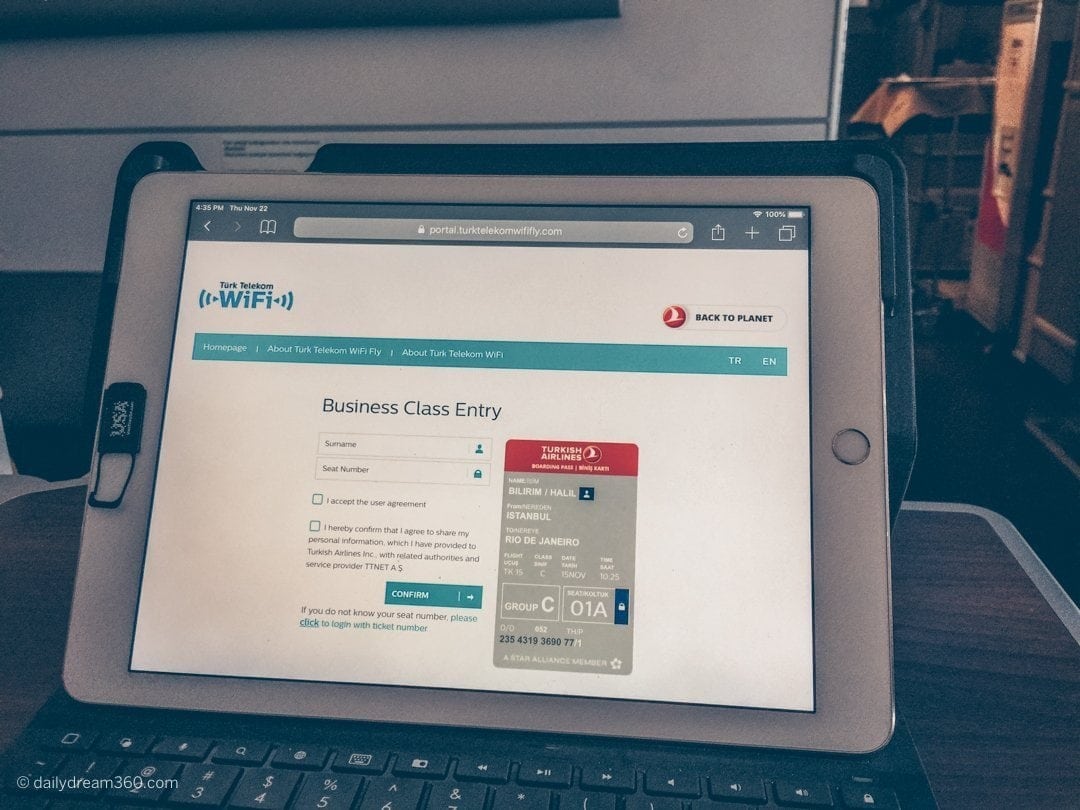 Turkish Airlines Roam and WiFi on Board
This brings me to another great perk of flying with Turkish Airlines, in-flight Wi-Fi and roaming. The wi-fi service is offered free of charge to Business Class passengers, and in Economy, you can purchase it for $9.99 per hour, or $14.99 for a 24-hour package.
Don't want to pay for wi-fi? They also have a data roaming option on their flight. Check with your local carrier with regards how this is billed.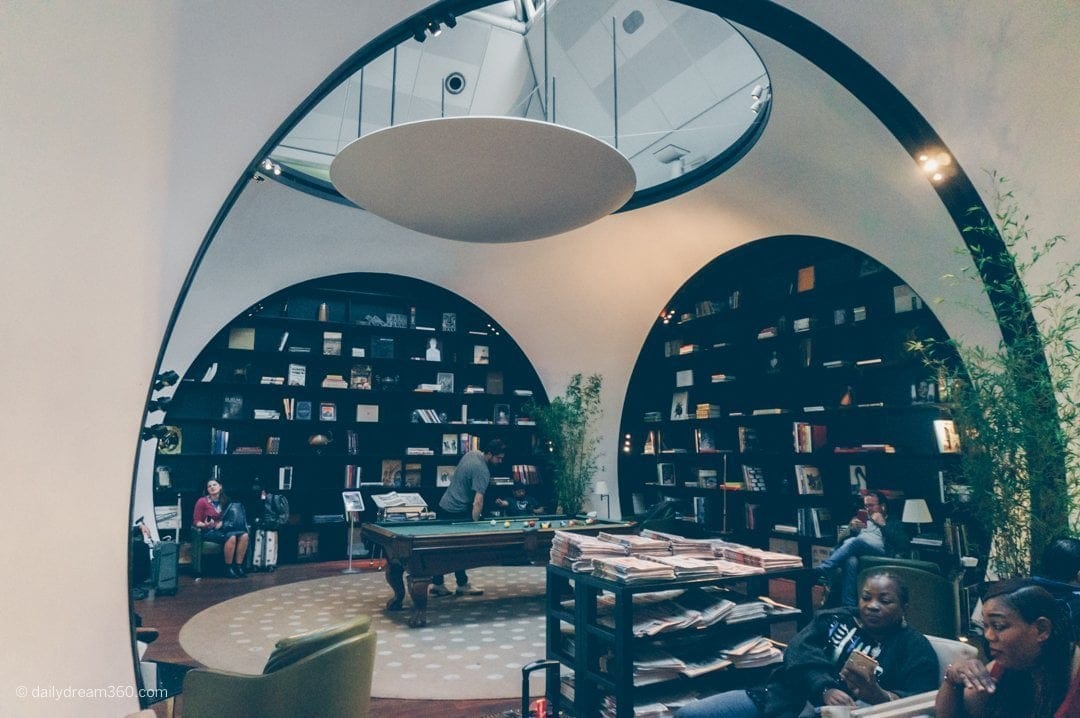 Istanbul Business Class Lounge
Note in January 2019 Turkish Airlines will be flying out of the new Istanbul Airport – the award-winning Turkish Airlines Business Class Lounge will be even bigger.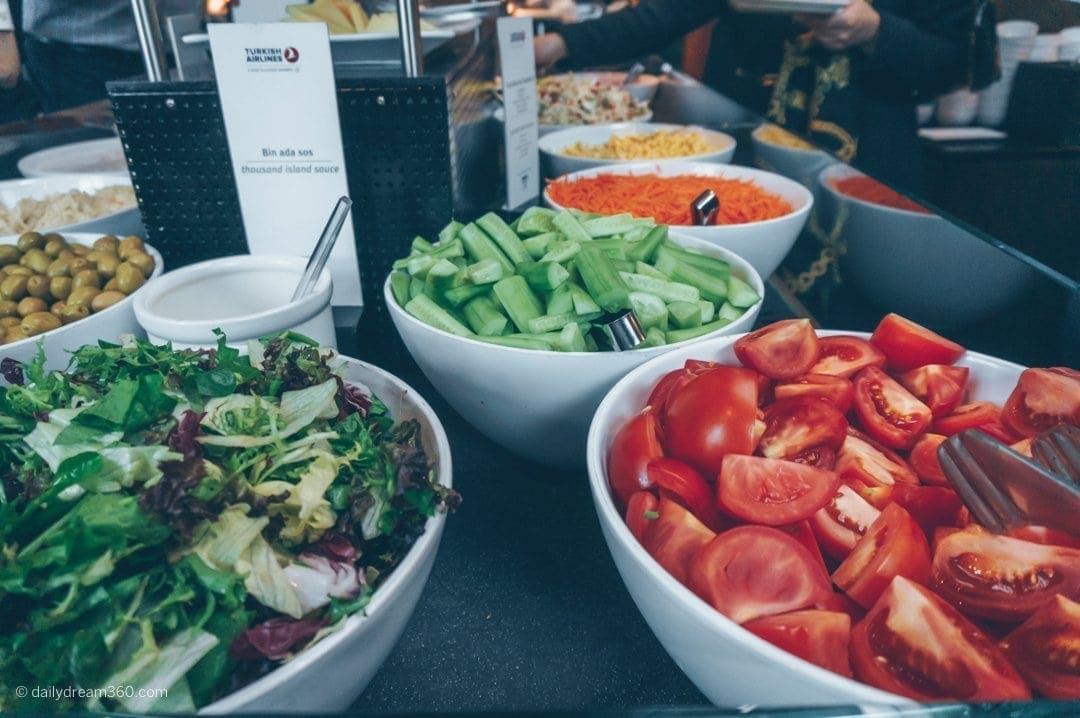 One of the perks of travelling through Istanbul on Turkish Airlines is access to the famous and award-winning business class lounge. I have heard many stories, but could not believe my eyes when experiencing it myself.
There is a security check-in just for Business Class passengers entering into the lounge, and once inside you can stow your carry-on luggage in one of the lockers available.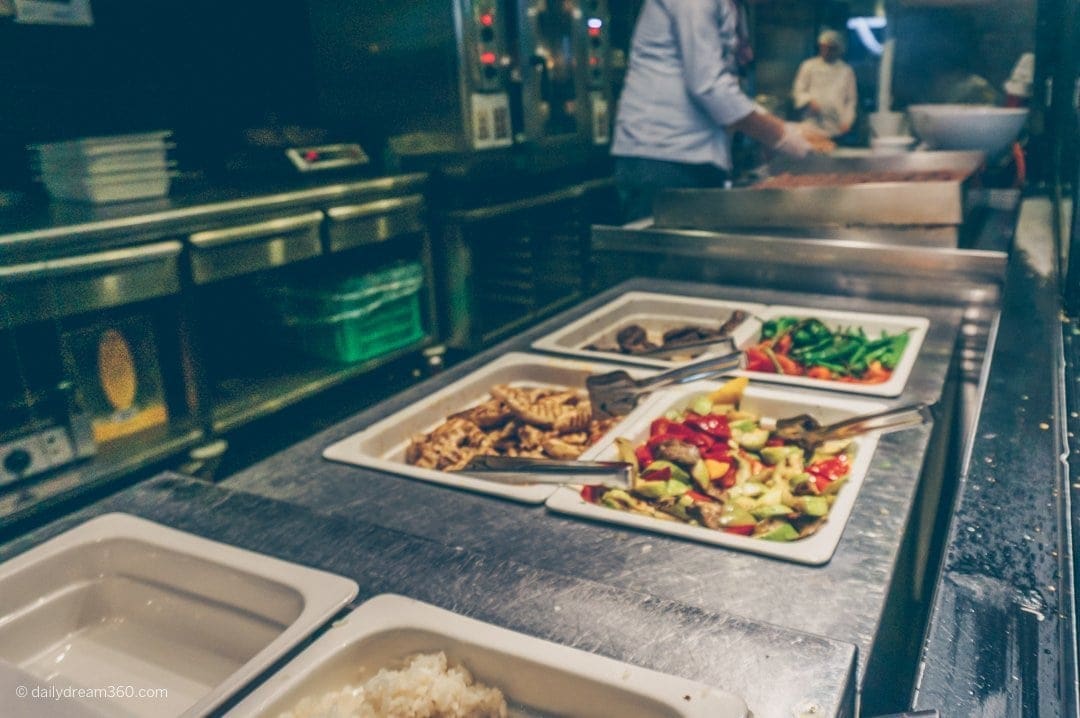 Then it is off to discover one of the many features of the lounge which include plenty of dining options which include specialty food stations that offer Indian, Thai and other World cuisines.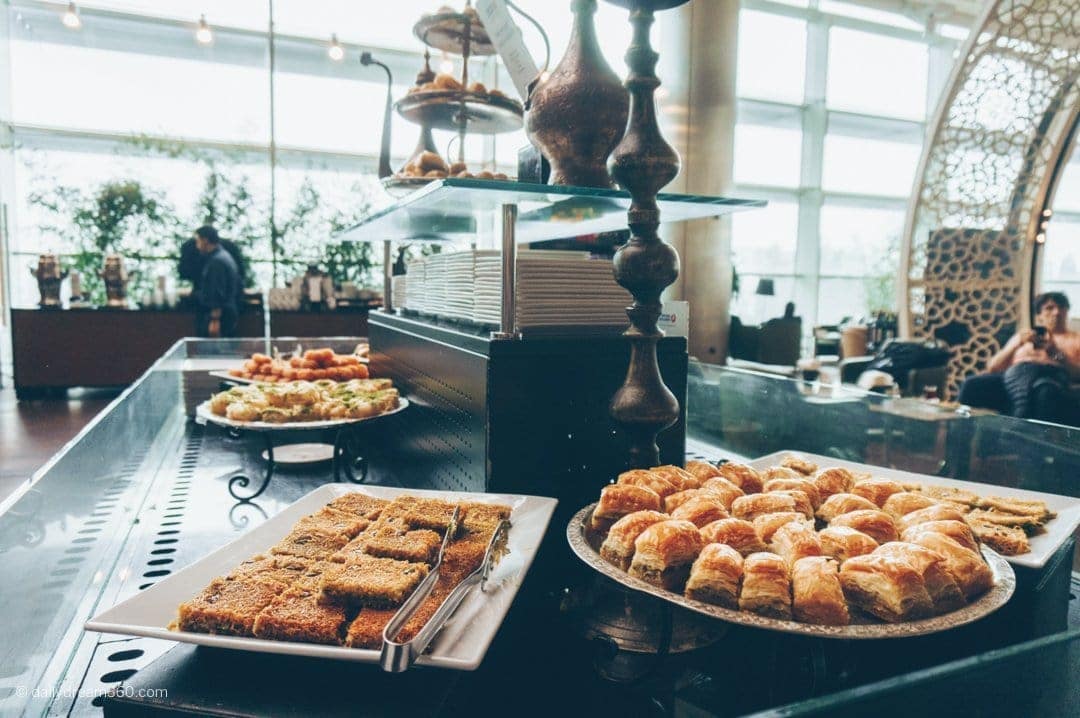 Turkish delicacies are also offered in several stations including their famous bagels and baklava.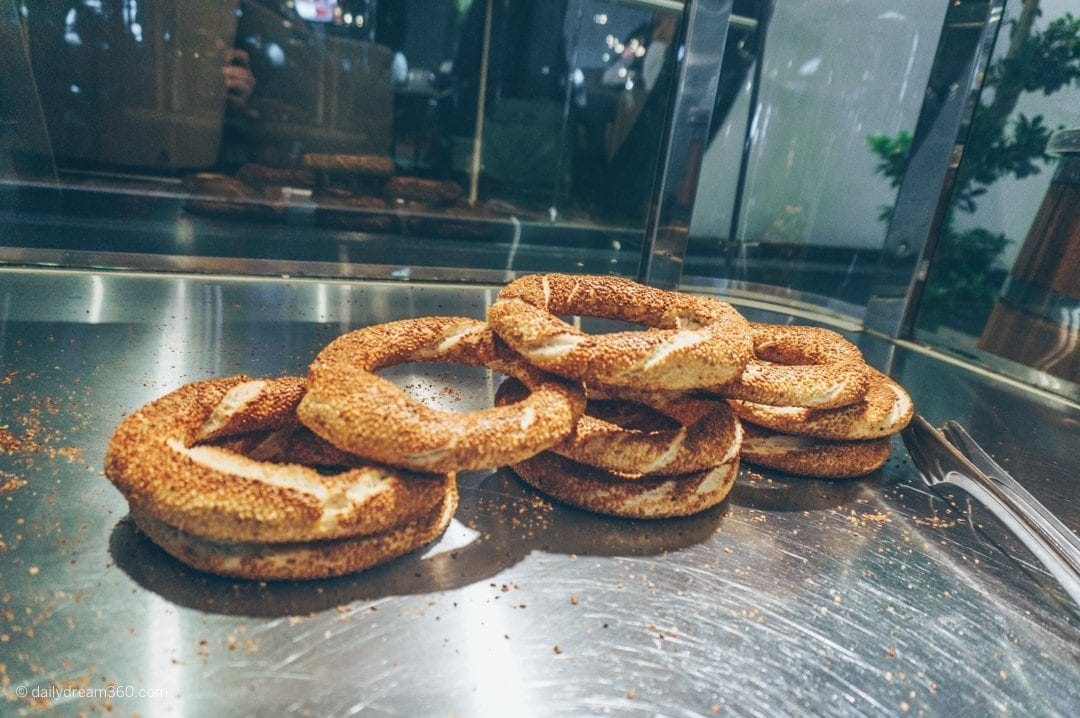 There are plenty of activities to participate in at the lounge including car racing, video games, a library and a movie theatre.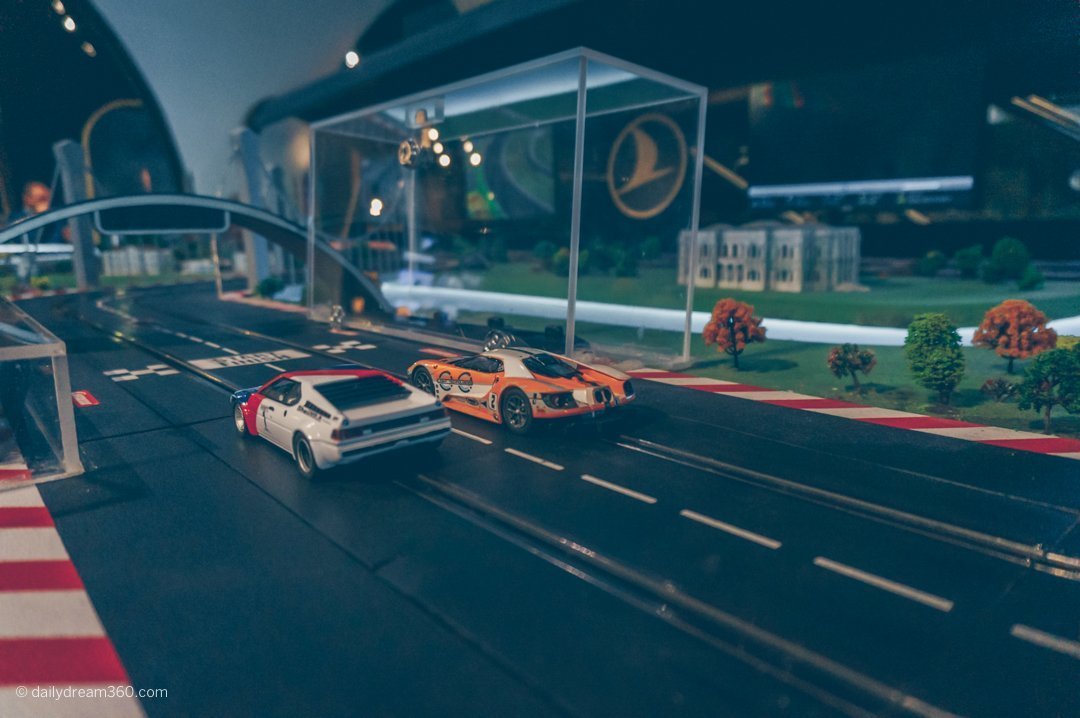 Turkish Airlines Economy Experience
I'm curious now about the service in Economy class, and on my next trip to Europe, I think I might explore it to verify. That said the commitment to comfort and fresh food does continue in Economy class as well.
You can expect the Economy Seats to include:
78 cm legroom
Recline up to 15 cm and slide forward up to 3.5 cm
Adjust the headrest up to 12.7 cm
Adjustable footrest
Power Socket
USB and ethernet socket
Amenity kit (selected routes)
While you won't be served a 4-course meal by an in-flight chef in Economy, the in-flight catering program extends to the back of the plane, with a variety of menus available including specialty menus for those with dietary restrictions, all made with fresh, seasonal ingredients.
Honestly, I don't know how I'm going to fly another airline after this experience, let alone in economy class.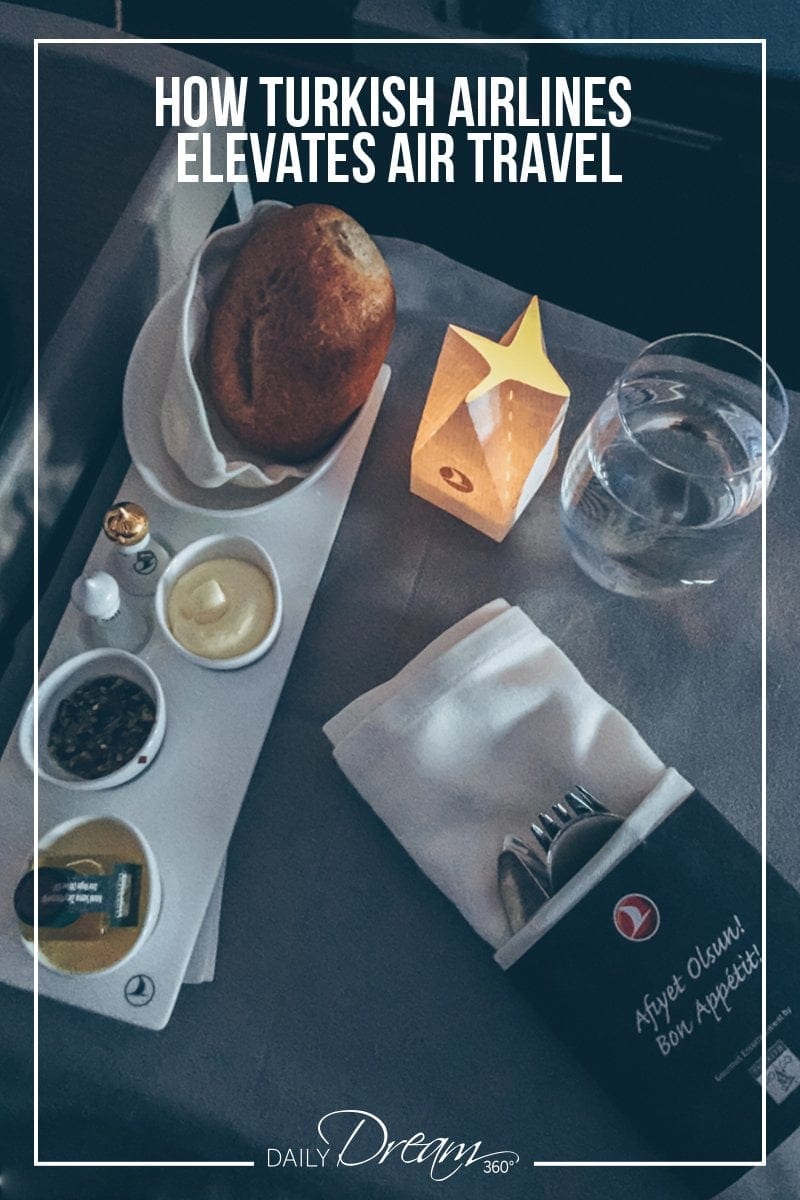 Travel assistance provided by Turkish Airlines on a media FAM trip, all opinions expressed in this post are my own.