"What are we doing for New Year's?" It was a week before New Year's Eve and when my friend asked me I had no idea what to say. Toronto's New Year's Party was not very impressive and the idea of finding a bar or restaurant to go to did not appeal. This year we did not want to stay in, we wanted to start 2015 in a more exciting way. So Niagara Falls came up in conversation, but when I looked up hotels in the city we were looking at $200-$350 per night for a room. The thought of driving from Toronto to Niagara Falls for the party and returning on the same night just seemed exhausting so we let the idea go. But a few days before New Year's I decided to take a look at hotels just outside the Niagara Falls area. What if we didn't have to drive back to Toronto but just stopped somewhere near Niagara for a cheap sleep? Before I knew it, I realized it was indeed possible to plan a last minute New Years Eve Niagara Falls trip for under $100.
Affordable Last Minute Accommodations at Choice Hotels
So I went to my go to cheap but clean and decent hotel option, the Choice Hotels website
and did a search. To my surprise just two days before New Year's Eve I found a Comfort hotel in Welland Ontario for $99 a night. I love these hotels, because they offer clean, comfortable rooms, free wifi and a complimentary breakfast
. The drive to the falls from the hotel according to Google maps would be a mere 20-25 minutes. Between the two of us we were looking at $55 for the hotel, $10 for parking and approximately $10 for gas and we had New Year's Eve in Niagara Falls for under $100 each.
New Year's Eve in Niagara Falls, Ontario, Canada
We got into Niagara Falls by 5:30PM which as I learned later was very lucky as traffic into the city became impossible as the night drew on. The traffic reports stated that the QEW was backed up and that police closed off many roads into the city in the hours after we arrived. Getting an affordable hotel was our first break, the easy drive into the city our second and being in the city early our third lucky break of the night! My go to parking lot in Niagara Falls is the Skylon Tower/Imax Theatre parking lot which on event nights is usually $20. Since we arrived early that was the price to my glee, however the attendant told us the price may go up as the night went on. Arriving early meant we could park by one of the parking lot's exits which helps get you out of the lot and Niagara Falls after the events end.
The Niagara Falls Sky Wheel
I had no idea that Niagara Falls had a sky wheel, but as we drove in it caught both our eyes. My friend and I both are not big fans of heights but we knew that starting the year facing our fear and doing something we've never done before was top on our list. So we walked toward it and wondered how much is this going to cost? When we got there it was a mere $12.99 for a ride and I got my camera gear ready and we held our breathe as we waited to board our glass pod.
For me this was the best $13 I've spent on a ride. The views were breathtaking and as I faced my fear of heights and leaned my camera against the window to avoid the glare I got some amazing photos of the city at night.
Niagara Falls at Night
We were surprised at how quiet it was as we walked from the main strip in Niagara Falls towards the falls. There didn't seem to be many people around, especially on the boardwalk in front of the Falls.
As we walked towards the Canadian Falls and the Skylon Tower we started to hear the crowds.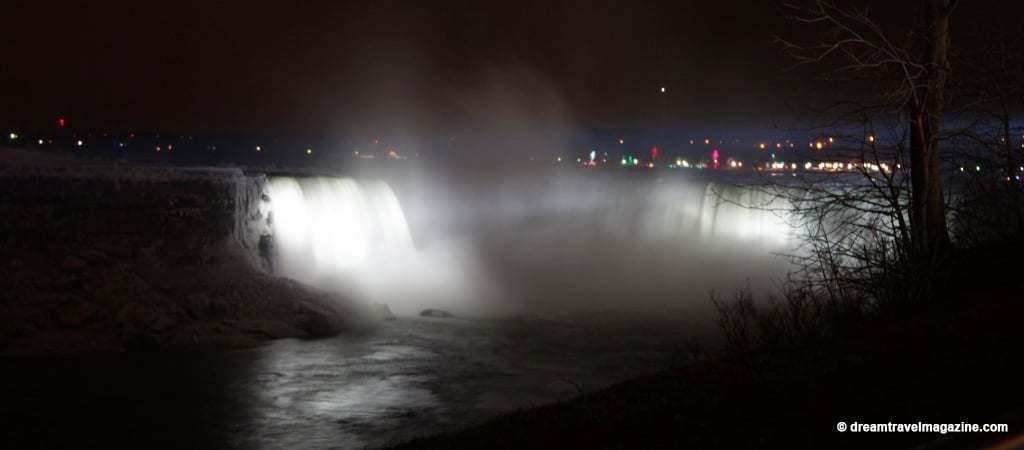 ET Canada Niagara Falls New Years Eve Party
It was still early in the night and the first act had yet to hit the stage, but in front of the stage was a huge crowd of people that grew as the night went on. We did not head into the middle of this crowd near the stage, but even on the outskirts we had a great view of the stage and were able to enjoy all the bands.
At 8:00 PM a number of warm-up bands came on to entertain the crowds but the real show began at 10:00 PM with the live broadcast and there were regular breaks during commercial breaks, but the performances were brilliant considering it was freezing outside. Personally I don't know how they played instruments in the cold as I could barely keep my gloves off to take photos!
Across the street from the stage was a Tim Hortons where we went to warm up throughout the night. There were line ups to get into the restaurant and to order coffee or get a bite to eat. There were also washrooms in this building that were remarkably clean despite the number of people using them throughout the night. On the street outside were also a number of portable toilets. I don't know how many times we stood in line to get into this Tim Hortons but I can say it was the only way to stay warm and to keep from frost bitten fingers and toes! Note to self – dress warmer next time!
Two Fireworks Displays over Niagara Falls
There was some confusion as to where the fireworks would appear and at what time. Which for me made finding the right spot to set up my tripod for the perfect shot difficult. The first fireworks display according to the Niagara Falls website was supposed to be at 8:30PM (although some heard 8:00PM and others 8:45PM) they actually went off at 9:00PM and only in front of the American Falls.
The midnight fireworks show was much bigger. Quick but bigger! Fireworks lasted less than 10 minutes on the Canadian side and went on a little longer over the Casino on the American Side. However, during the second fireworks display there were fireworks in front of both the Canadian and American Falls and behind me on the Skylon Tower. Which I failed to capture as I tried to get the shots in front of me.
The Canadian fireworks display ended, but we were still treated to the American fireworks display on the other side!
A Few Notes About the Night in Niagara Falls
IT WAS COLD! That night was very cold and although we dressed in many layers, standing at the concert stage it was hard to stay warm. If I am ever to do this (or another winter night like it) again I would definitely recommend dressing for the cold. I had on many layers, 2 pairs warm wool socks, thermal underwear under my jeans and even two pairs of gloves but the cold still got the best of me. Next time I will probably pack snow pants, warmer boots and a few more layers!
TRAFFIC! We were very lucky that we got into the city early. Something to note if you are coming into the area make sure you get in earlier rather than later. Also when leaving the city prepare for delays. It took us a long time, even though we got out of the parking lot quickly to get out of the downtown core. Traffic is grid locked after the event so prepare to sit in the car as you try to get out of the city. It took us at least 30 minutes to just get out of the downtown area and then a mere 20 minutes to get to the hotel, but if you are driving back to Toronto the same night prepare for a 30 minute – 1 hour delay just getting back to the QEW.
Plan Ahead! Had I looked into Niagara Falls a little earlier we likely could have found a hotel closer to the city or in the city at an affordable rate. Our hotel in Welland for example was actually $89 a few days before we actually made the decision to book it. There are other affordable hotels in the area that likely would have been great options, including the hotels on Lundy's Lane! We noticed Niagara Transit was running buses from the falls up Lundy's Lane well past midnight!
On a Personal Note
I have always wanted to celebrate New Years in Niagara Falls and I can't tell you how thrilled I was to finally do it. For me 2014 ended on rather a stressful note as I was laid off my full-time job, but I was determined to start 2015 on a positive note and checking off a bucket list moment was the perfect way to do it! I'm looking forward to the new opportunities that will come along as I start a new chapter in my own life this year. I am so grateful to all of you for following me on my journeys and look forward to sharing more of them with you this year! Happy New Year everyone!
Do you have any tips to share about Niagara Falls? Did you ring in the New Year at the Falls? I would love to hear your stories and suggestions in the comments below!