This article may contain affiliate links. Clicking on or purchasing products we recommend through a link may earn a small commission. Read our disclosure and privacy policy page for details. *COVID-19 TRAVEL ALERT – Travel recommendations offered on this site are not to encourage you to travel against travel advisories.
No doubt you've seen a photo of the breathtaking views of Toronto's Skyline from one of the windows at the Hotel X. If you haven't, I have a few in this Hotel X Toronto review.
About The Hotel X Toronto
Located across from Exhibition Place just outside downtown Toronto, the Hotel X's location may seem a bit out of the way at first until you start to look around.
Just steps from Toronto's Exhibition Place, this hotel is ideally located for those attending conferences and events in the area. It is also steps from Billy Bishop Airport making it an excellent hotel for business travellers coming into the city centre's airport.
There are complimentary shuttles to bring you out to the Exhibition grounds from the city centre, and an Uber ride won't set you back too much.
Perhaps it is this out of the way escape that makes it so popular with celebrities, but now that I stayed here, I know it is the luxury amenities and commitment to service that set it apart from other Toronto luxury hotels.
Library Hotel X Toronto Rooms
The room I paid for at a conference in Toronto was a bit disappointing. No luxury view, no turndown service and it made me sad that I was spending a luxury hotel price but not getting a basic thing like turndown service. I don't want to be a diva but if you are staying at a 5-star luxury hotel isn't turndown service an apparent touch?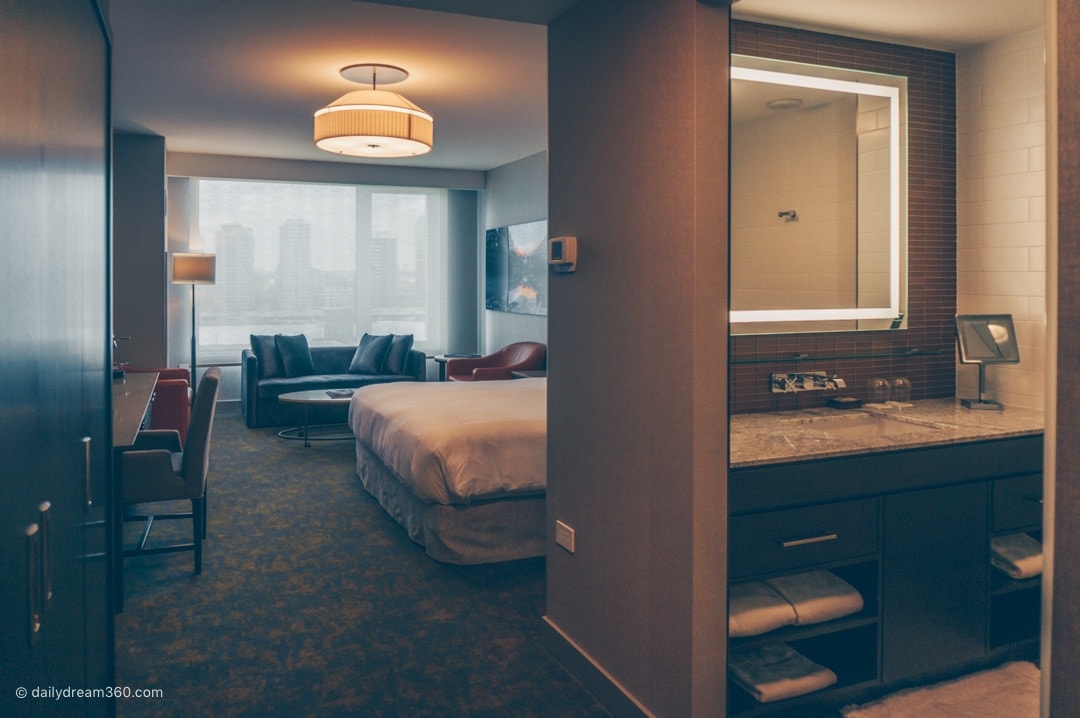 Toronto Hotel X Signature King with a Sofabed
I'm not going to say the room or the hotel was a disappointment. It wasn't; it was the perfect size for me, had a great bed, a sitting space and a Nespresso machine. The major luxuries I've grown to love about any hotel.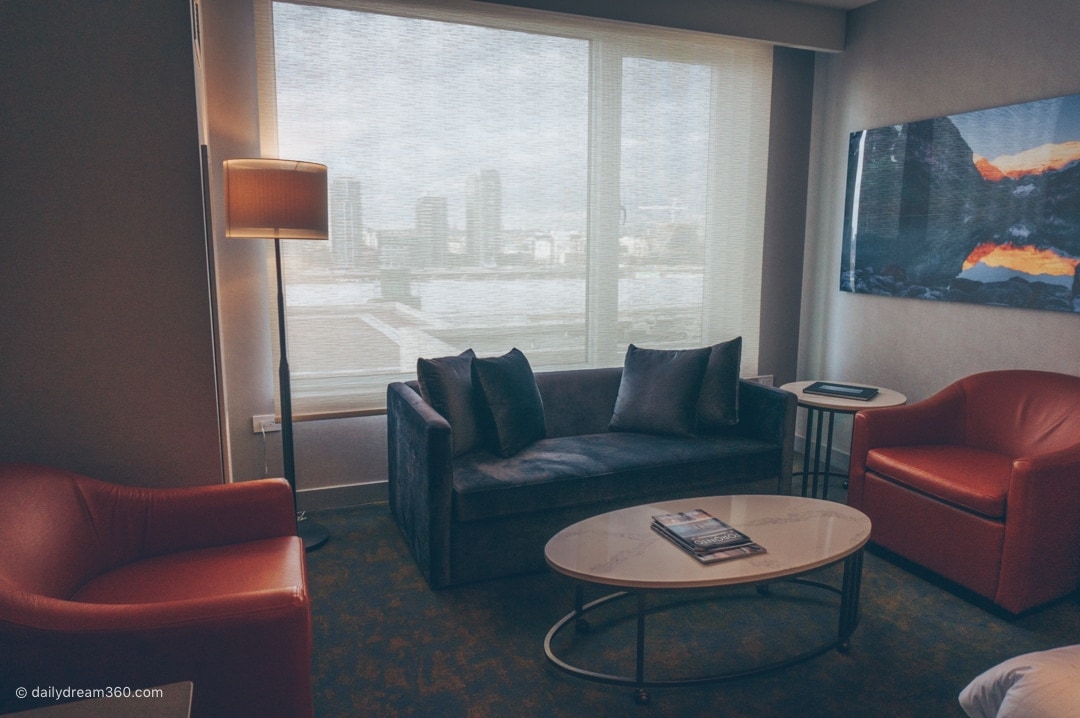 As a conference guest, the space to lounge and sit and catch up on notes/work, the long desk, and the huge bed, it was the perfect escape each night and during little breaks I had during the day.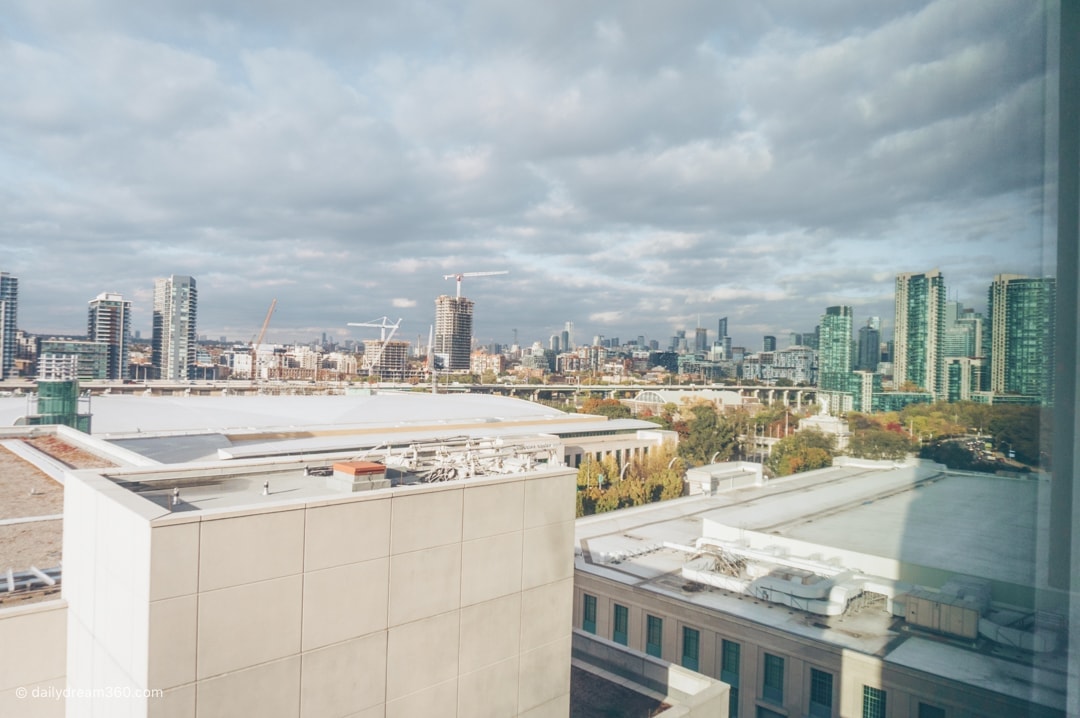 Hotel Room View
The view was north of the hotel and didn't offer much excitement as their website described, but there are plenty of spots around the hotel to enjoy the views.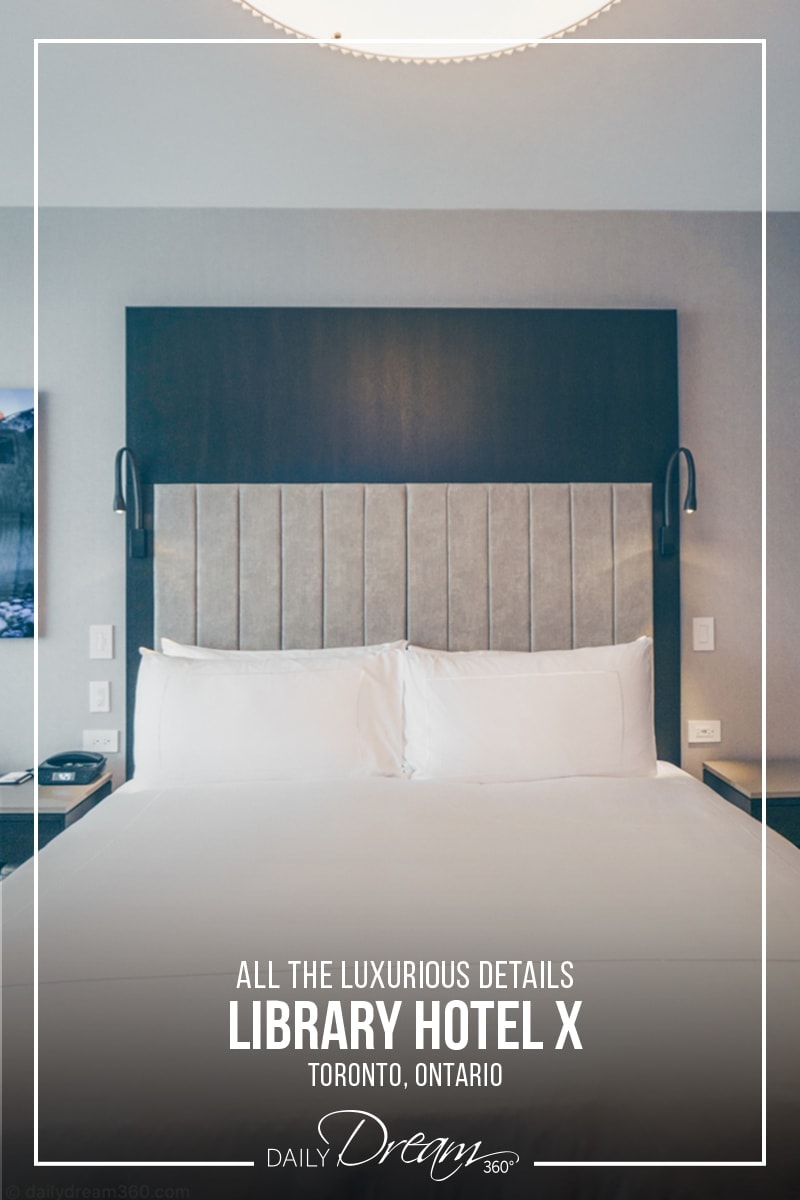 Signature Room Bathroom
The bed was extremely comfortable and had a pillow top mattress and comfy pillows that made it hard to get out of in the morning.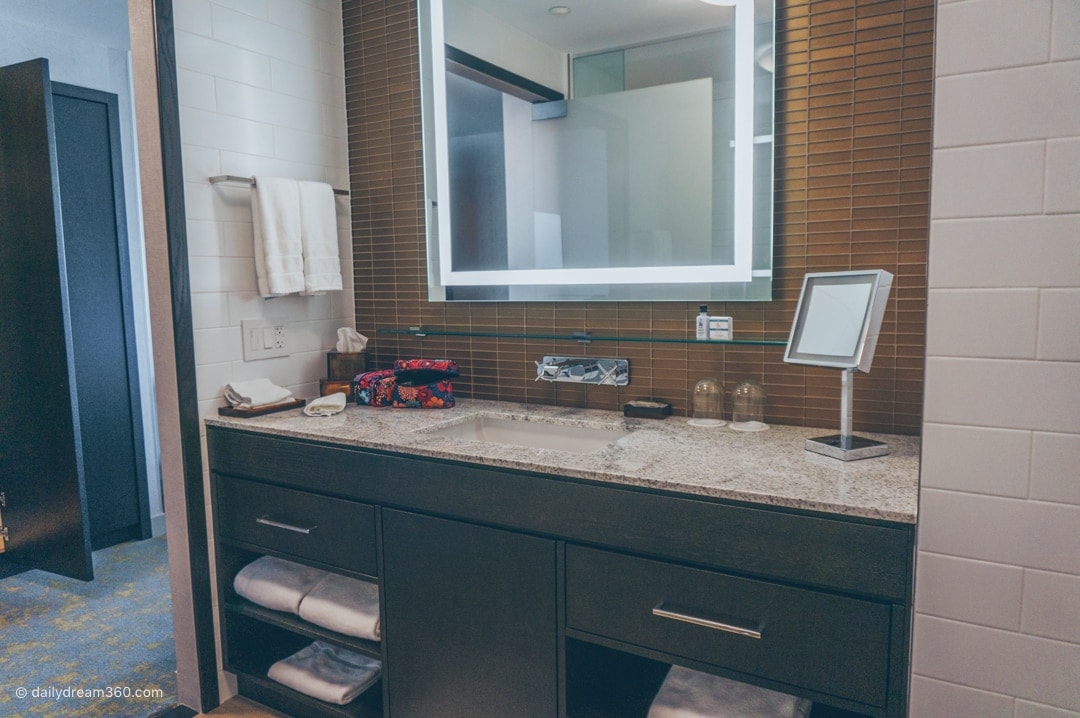 The bathroom featured a granite countertop and luxurious L'Occitane bath products.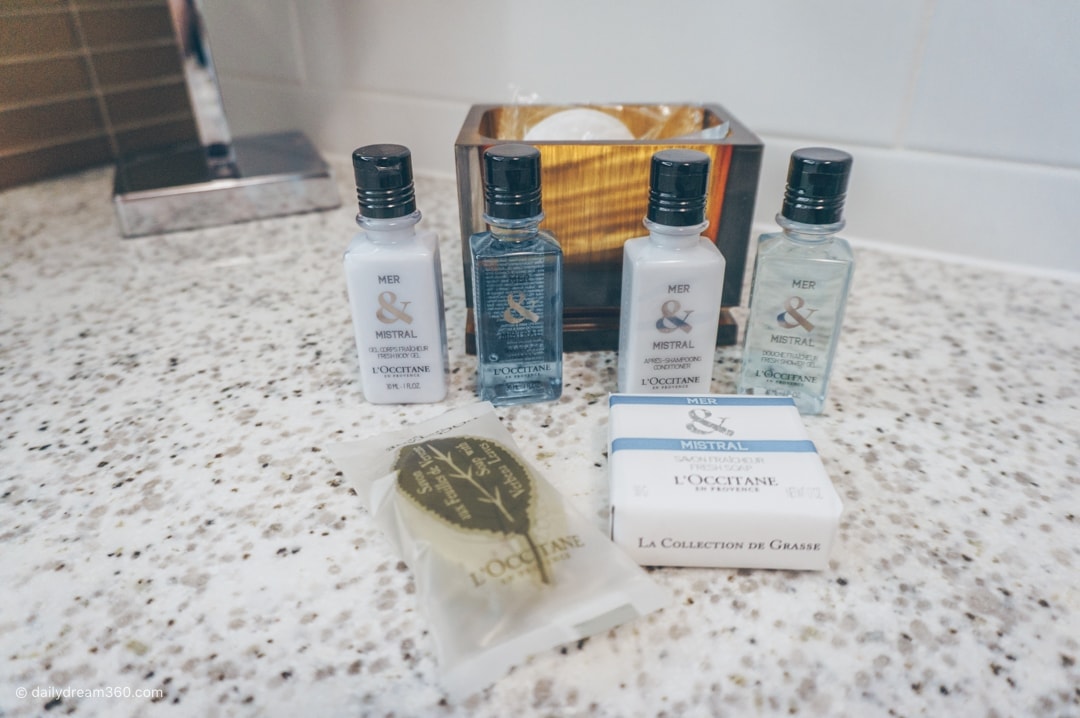 Funny story I had left a note for my housekeeper to provide me with a shower cap – there is a small drawer under the sink with three additional items hiding away. An emery board, shower cap and sanitary bag. Not sure why some of the toiletries, cotton pads, elastic etc. were on the counter, and these three things hidden. I didn't even know there was a drawer there, but she pointed it out in a note back to me.
The staff was terrific, and any request handled as you'd expect from a luxury hotel, but no turndown service? This baffled me as I know people who have stayed in the business suites did get this service. Why not set the standard from your basic rooms to your luxury loft suites?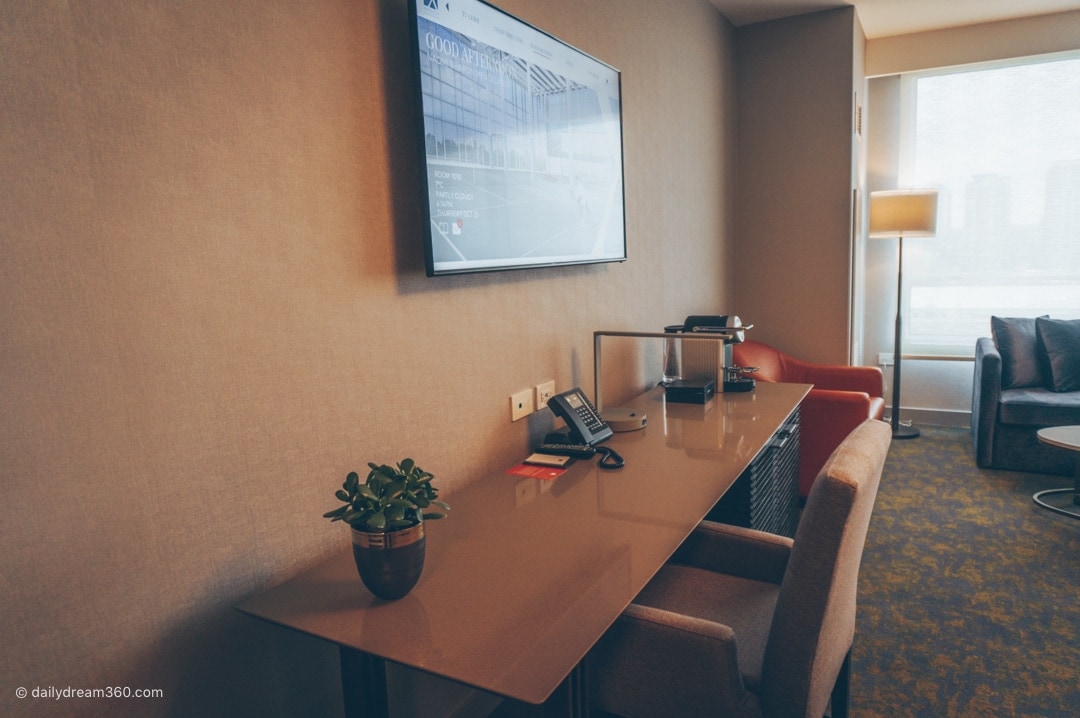 The following are a list of features for the signature king room.
Nespresso Zenius Pro
Complimentary Bottled Water
Mini Refrigerator
Moveable Magnifying Makeup Mirror
Hair Dryer
Bathrobe and Slippers
Iron and Board
Reading lights on both sides of the bed
Alarm clock radio with charging cables for every type of device.
Plugs at both bedsides for plugging in additional devices
High-tech Room Features
For first-time guests, I recommend you have a bell person walk you to your room. Mine walked me around and thankfully explained how to use the control panels located around the room which activated the lights, dimmers and the two window shades (one is a blackout shade and the other provides privacy with light passing through).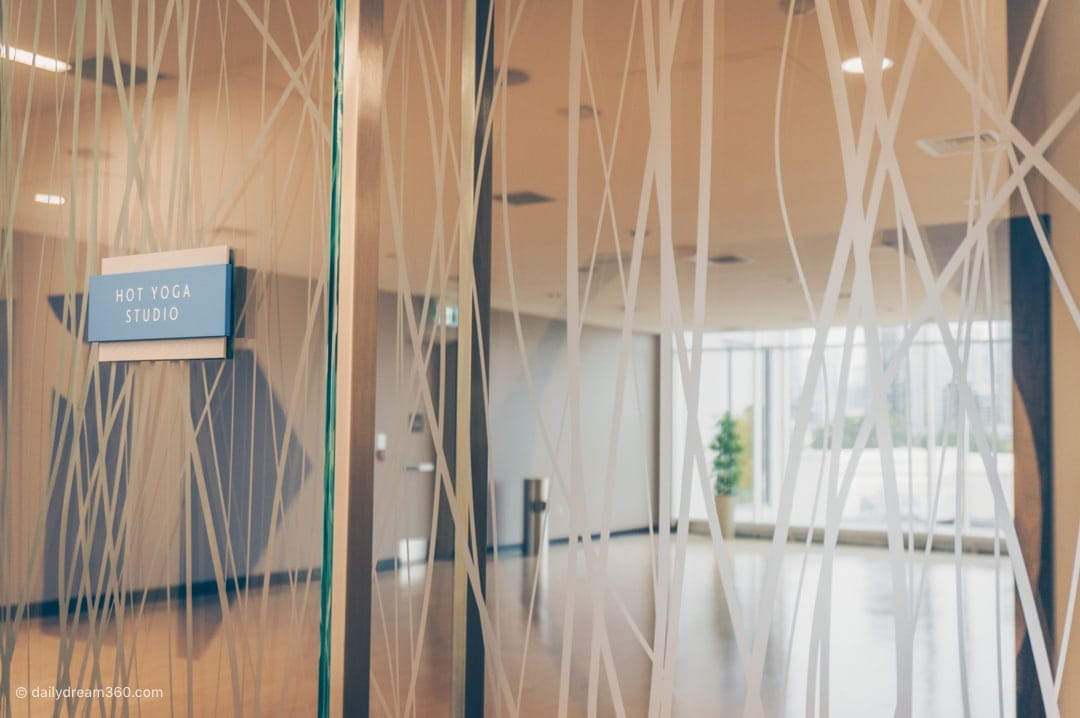 The signature Room is nice but is it worth it?
If I am paying for a hotel room in Toronto, I will choose a hotel located in the city centre vs this room if I had the choice again. It was nice to be at the same hotel the conference, but the room was far too basic for the price I paid.
Hotel X Toronto Gym
TEN X Toronto is not just a gym but a full-on Athletic training facility. The best part is that guests at Hotel X have access to many of these facilities free of charge, and other services are purchased for an additional fee. For those enthusiastic about their fitness regiments while travelling this is a great perk.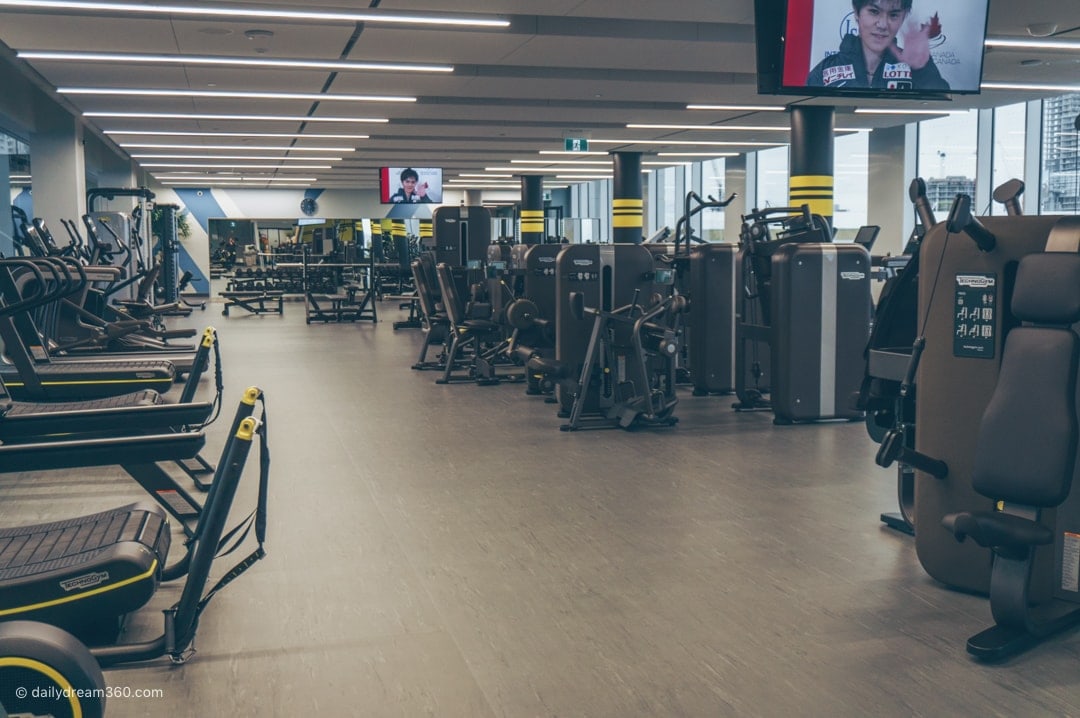 TEN X – The Primary Gym
I promise you; you'll get the best workout possible during your stay at this hotel. The gym is packed with any equipment you might need and even a few machines I've never heard of. Don't be surprised if you find yourself working out next to a famous athlete.
I found this gym a bit intimidating actually, but as soon as you speak to the staff, they are so helpful and will help you with any machine in the facility. They were also very informative about classes you can join for a small fee. I would have loved to do a morning yoga class, but it never fit in with my conference schedule.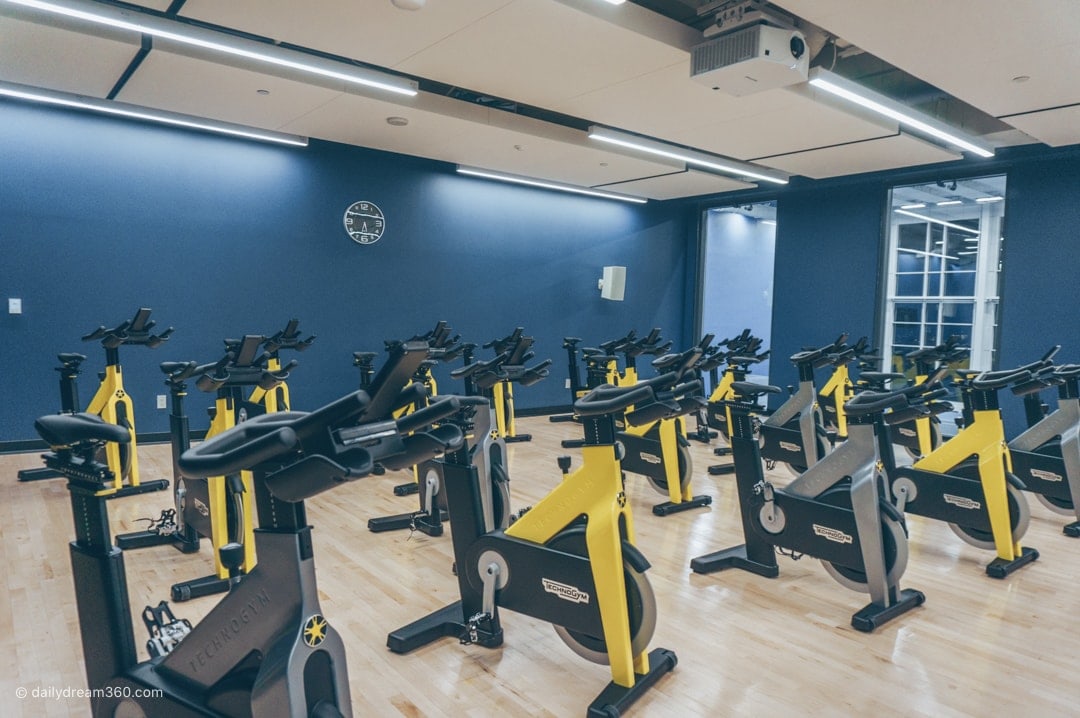 Here are some of the major facilities available in TEN X Toronto.
9 Squash Glass-Back Courts
4 Indoor Tennis Courts
Group Fitness Options including Pilates, spin cycles and yoga
Pilates Room
Spinning Room
Hot Yoga Room
TechnoGym Cardiovascular Equipment
Indoor Golf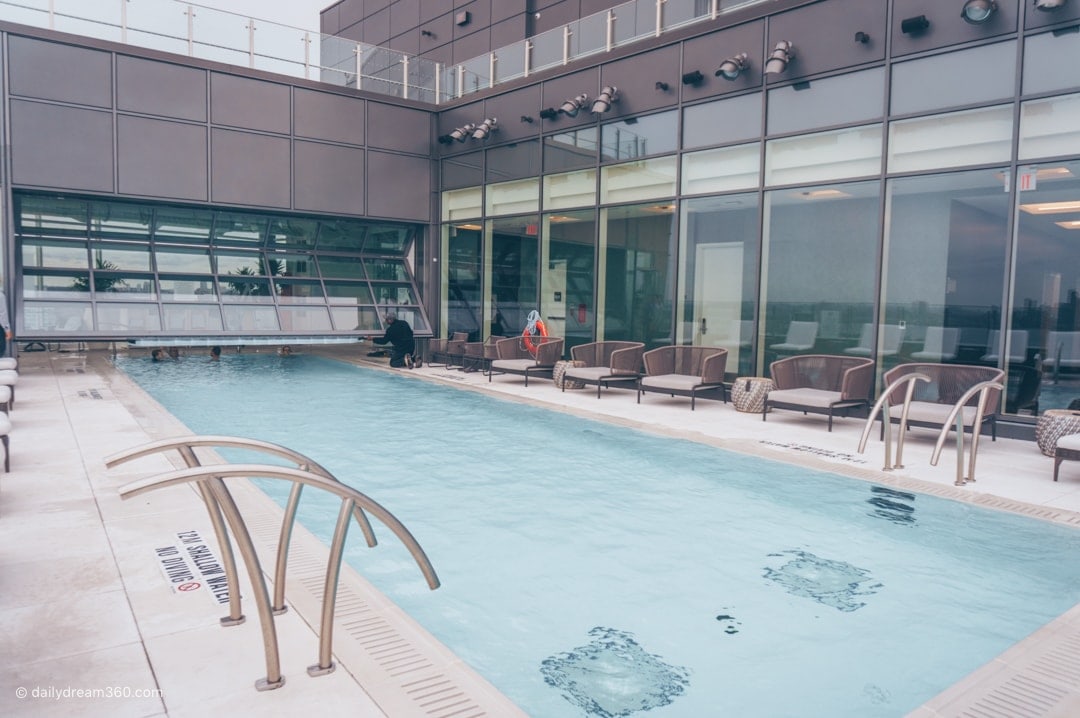 Hotel X Rooftop Pool
Fear, not the rooftop pool is heated, and yes it is open during the winter. While you may not want to lounge on the pool patio in winter, in summer, it offers breathtaking views of Lake Ontario.
Read more: Middle Eastern Luxury at Miraj Hammam Spa by Caudalie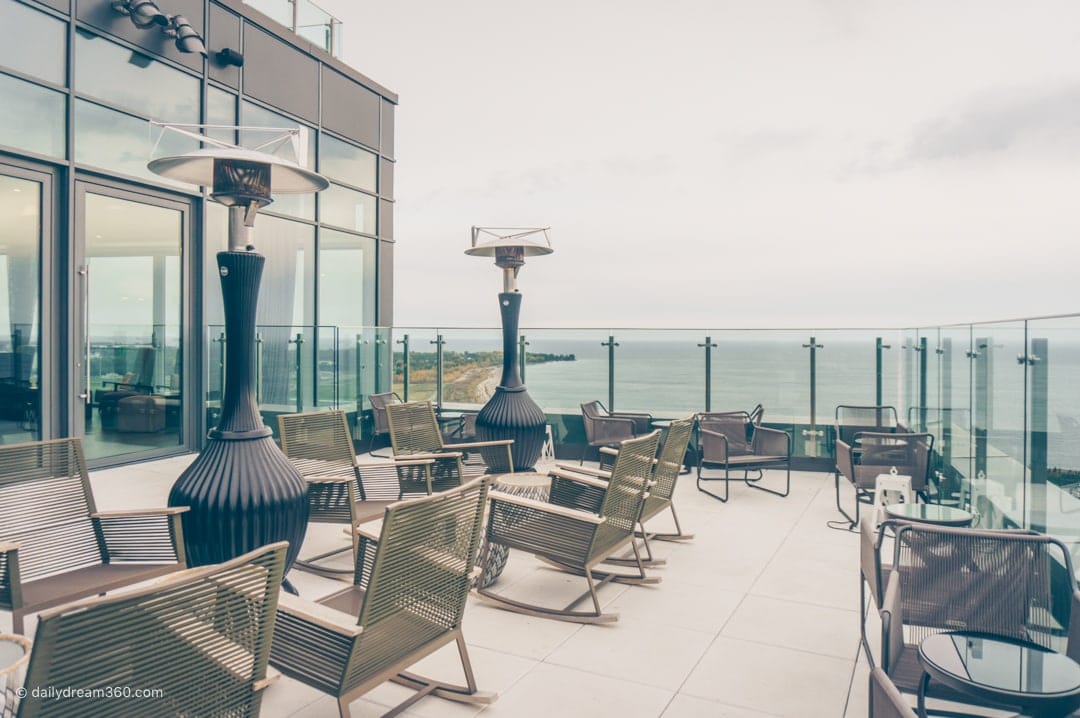 Dining, Bars and Cafés at Hotel X Toronto
There are some spaces in the hotel where you can get a bite to eat. A new restaurant is planned in the future, an expansion of Pétros 82 Lobby Bar.
Maxx's Kitchen
As I attended a conference most of the food I ate was through catered breakfasts and lunches in the conference spaces. That said I did manage to sit for dinner at Maxx's Kitchen.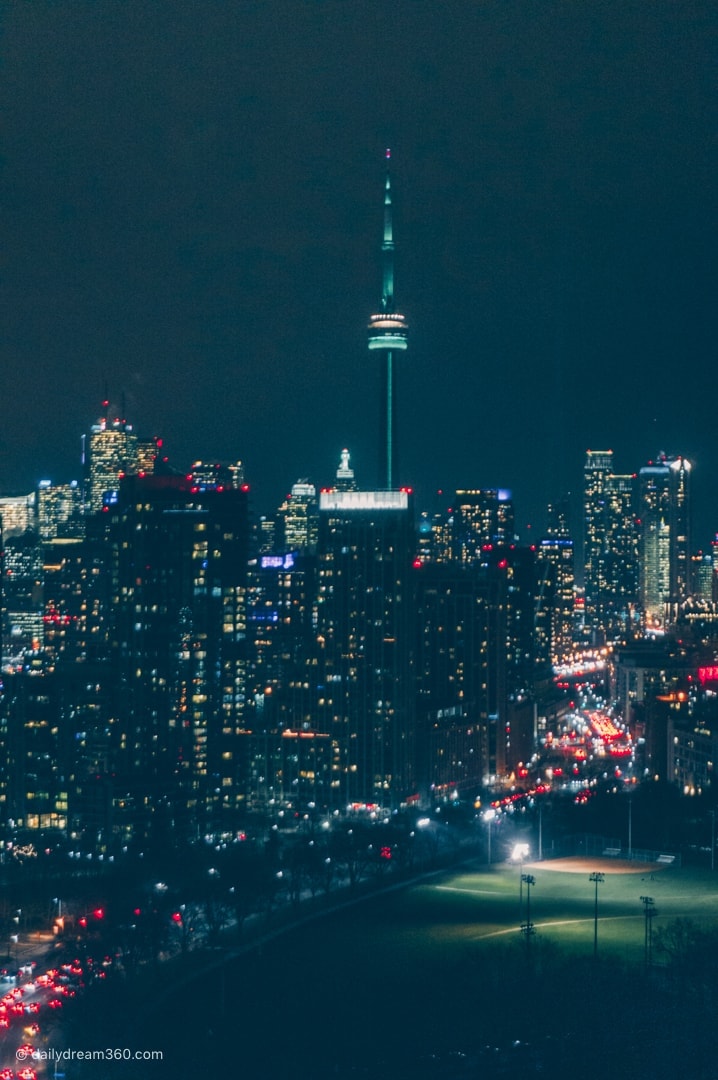 I would have liked to see a few more healthy options on Maxx's menu. I chose a turkey sandwich and swapped the side with a salad. However, I did struggle with this menu a bit and would have like to see a better balance of healthy things to eat across the appetizers, salads and main dishes.
Read more: Sassafraz Restaurant's Fresh look and Locally Sourced Menu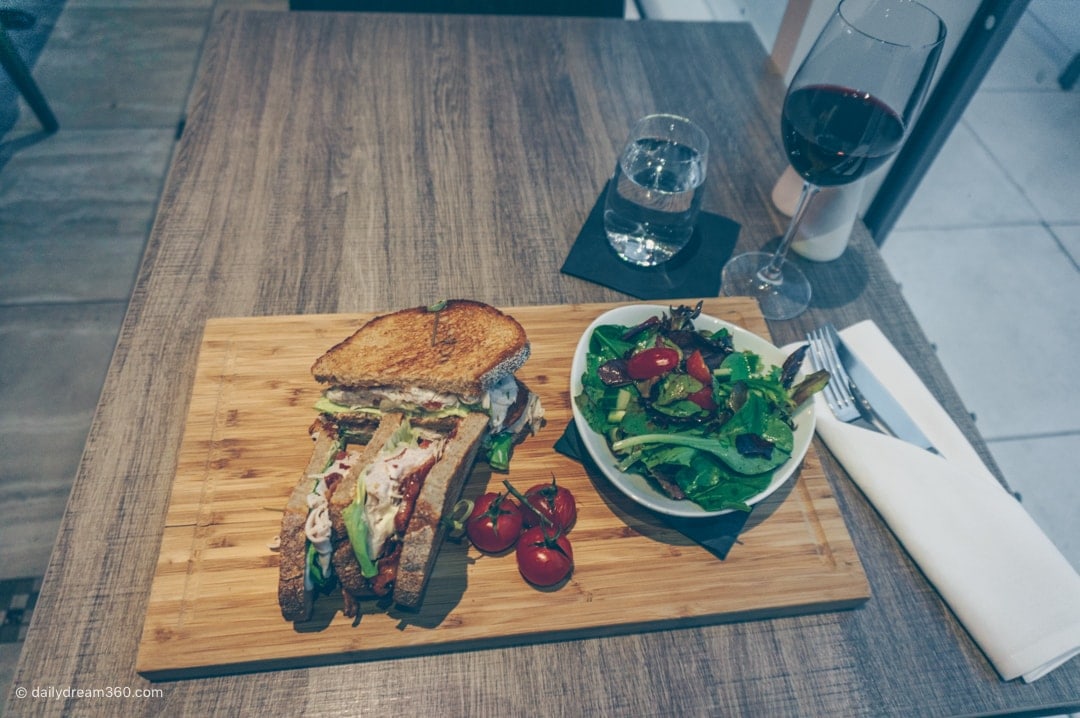 Falcon Sky Bar
The views from the Falcon Sky Bar are pretty spectacular. In fact, as a hotel, guest this was one of my favourite spaces at the hotel.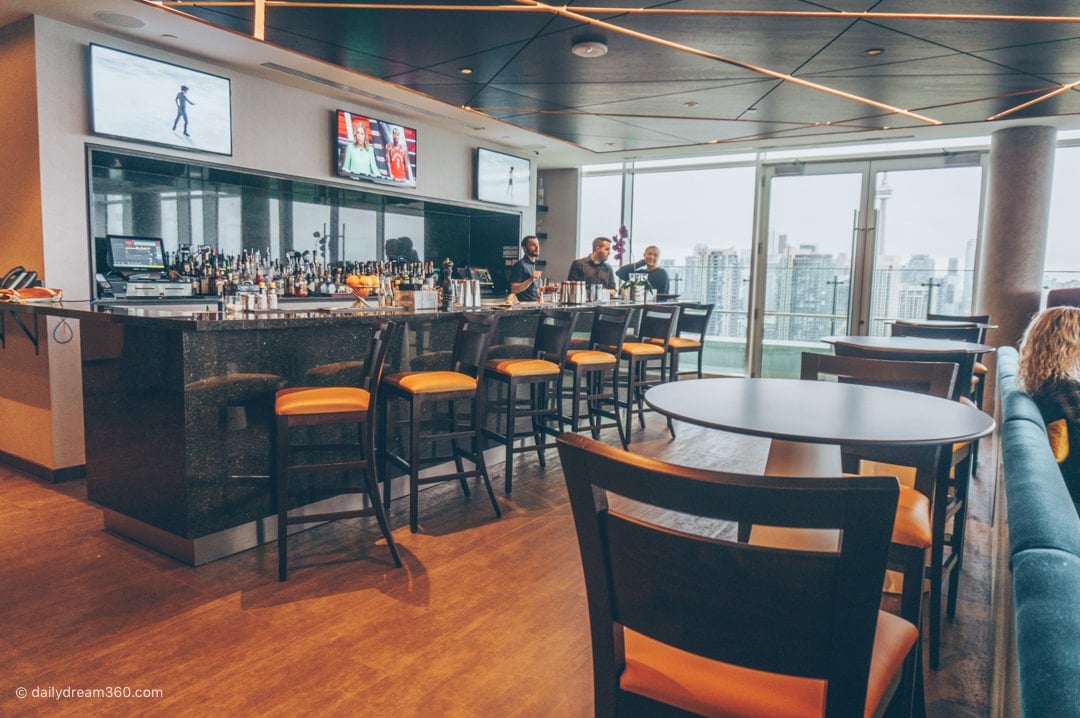 Staff at the Falcon Bar were very friendly, both when I visited as a guest of the hotel or was there for meetings.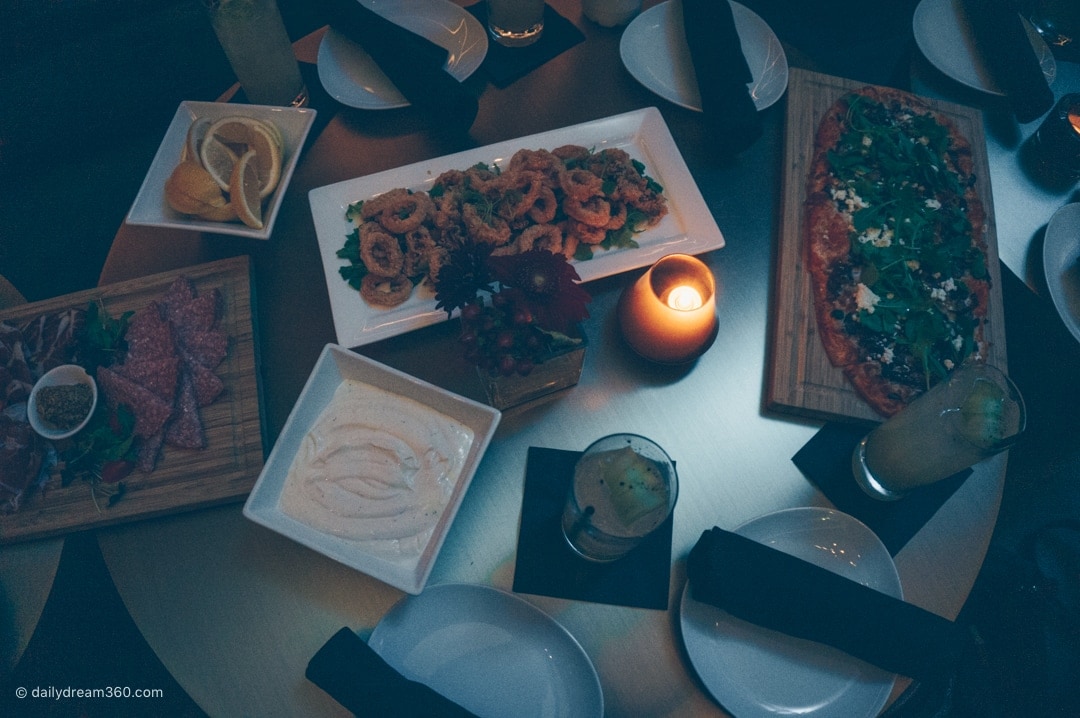 I have to say if you are looking for nibbles and another place to eat at the Hotel X, the Falcon Skybar should not be overlooked. There are some great crafted cocktails, delicious food from charcuterie boards to flatbread pizza.
Read more: Ripleys Aquarium of Canada An Underwater Paradise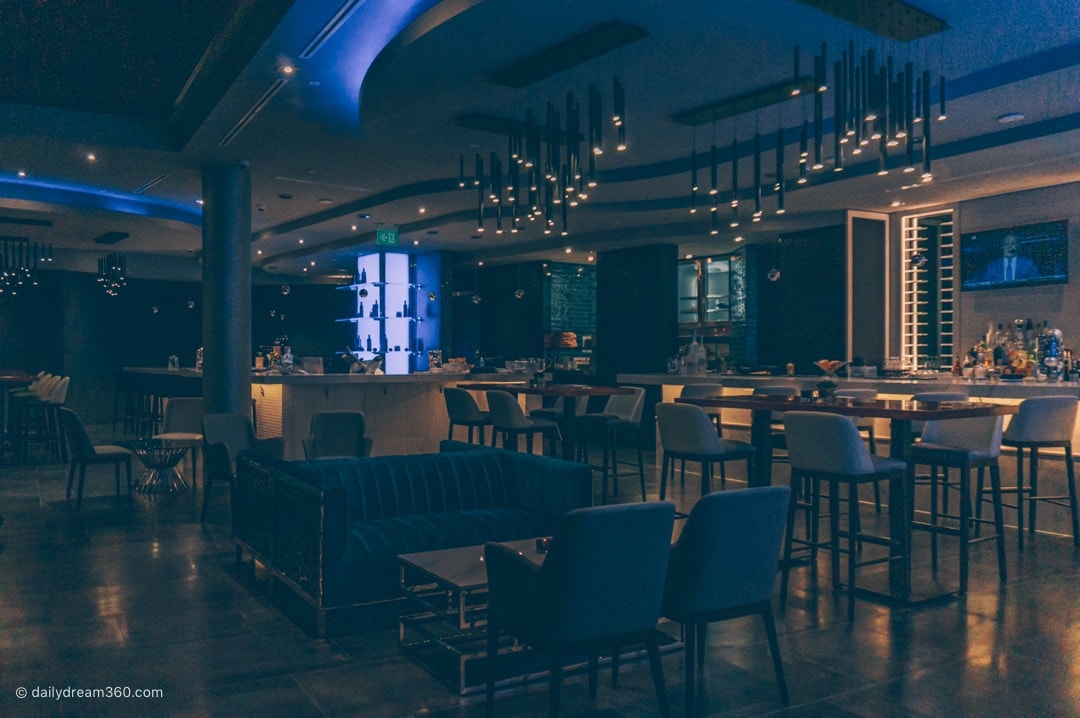 Pétros 82 Lobby Bar
For now, Pétros is the hotel's lobby bar, but an expansion is expected in the future. I did not spend any time here so I can't report on the food or drinks served.
Nespresso and Starbucks
If I had more time, I know I would have spent some time here at the Nespresso cafe to do some work. Even though there was a Nespresso machine in my room, it is nice to have the option to grab a coffee and lounge in either of the hotel's 2 cafes.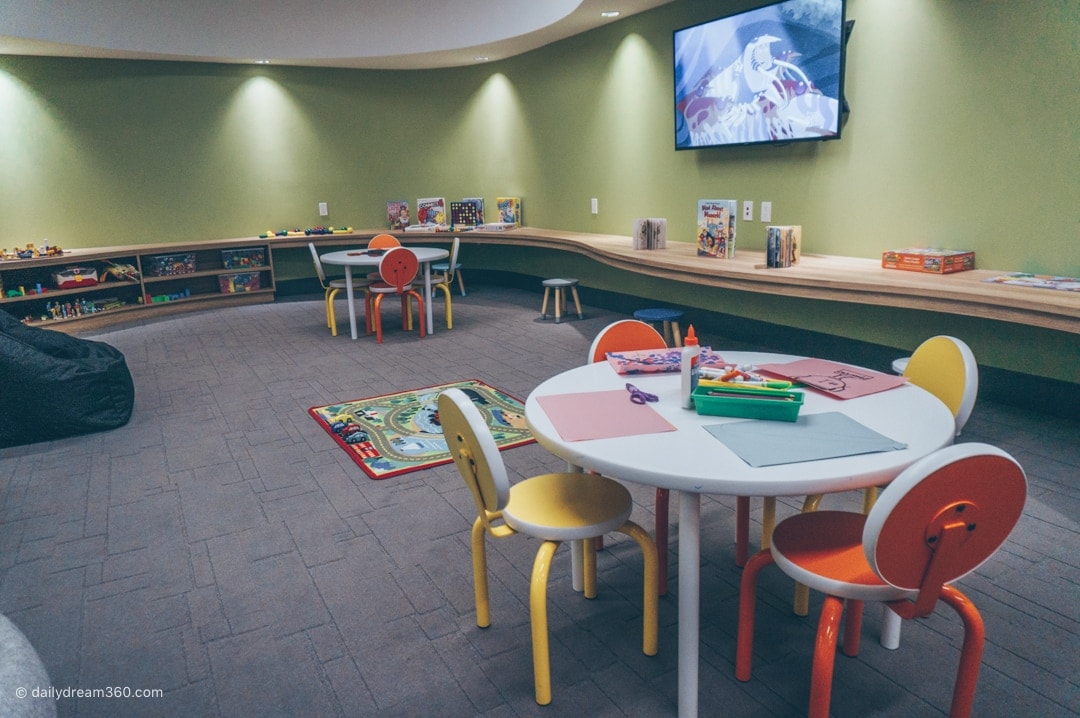 Hotel X Toronto Family-Friendly Amenities
Kids Play Centre
Also located in the gym area of the hotel is a wonderful kids play centre filled with toys, and video games for kids of all ages. I am not talking about a little room with a few toys but a 3,000 square foot play space, with trained caregivers, an indoor sport court and arts and crafts area.
Play centre includes:
4 video game consoles
Indoor floor hockey court
Big screen TV,
Arts & Crafts stations
Books
Toys for multiple ages
Movie Theatre and Screening Rooms
Hotel X Toronto has a 250 Seat Cinema and a smaller Screening Room with 56 seats. Be sure to check the hotel's calendar for movie showtimes which include family-friendly films for small children.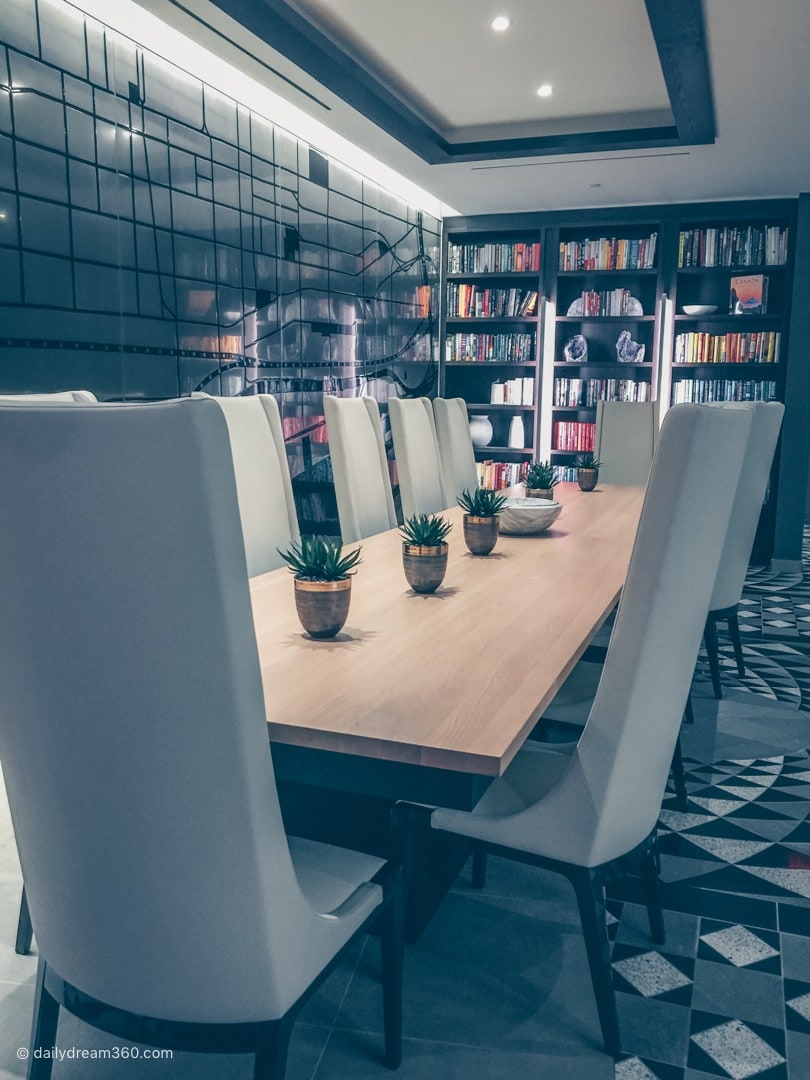 Other Things to do at Hotel X Toronto
The Library
If you need to kill some time, or are looking for a good book to read, be sure to head to the library located just outside the lobby. There you will find a huge bookshelf which you can help yourself to a book or just sit and work at the large library table.
Kandy Gallery
Down the hall from the library be sure to take a walk through the Kandy Gallery. There you will see the many works of Neil Dankoff whose works you may recognize around the hotel too.
Coming Soon Hotel X Toronto Spa
At the moment there is no spa at the hotel. However space is allocated and construction is underway, so you can expect to see these services soon.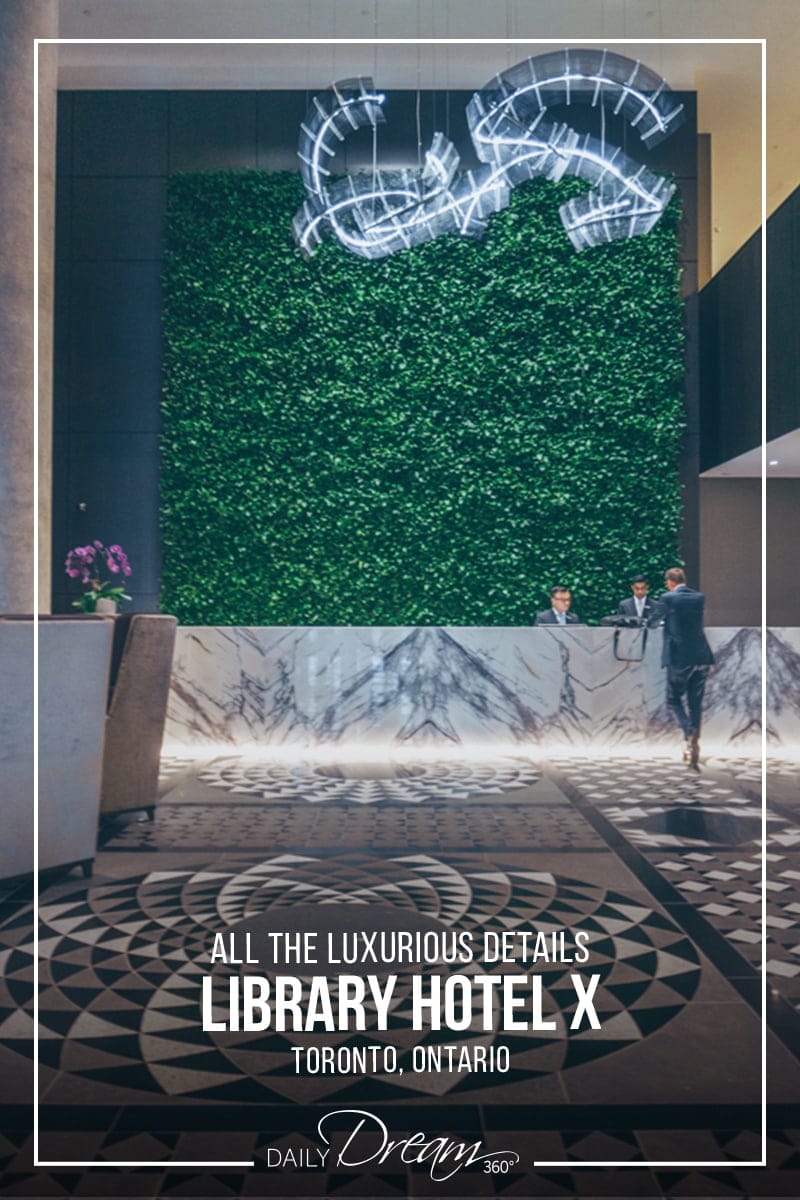 I paid a conference rate for my stay at the Hotel X Toronto.