This article may contain affiliate links. Clicking on or purchasing products we recommend through a link may earn a small commission. Read our disclosure and privacy policy page for details. *COVID-19 TRAVEL ALERT – Travel recommendations offered on this site are not to encourage you to travel against travel advisories.
I remember the days I used to sit on Lettieri Café's patio with my notepad dreaming about my life as a writer. Across the street, many other Lettieri customers and I scanned the outdoor tables at Sassafraz restaurant looking to spot a celebrity. Every time I grabbed my coffee, I'd look across the street and think one day when I'm rich and famous I'll go to that restaurant too.
Sassafraz Restaurant Toronto
Today, as the Yorkville neighbourhood evolves, Sassafraz is changing too. They moved past their reputation of celebrity hotspot, they recovered from a devastating fire, and in October 2018 they completed a significant renovation and unveiled their new look.
This new look starts with updating the building façade. The bright yellow little house has a modern new look with a yellow door being the only reminder of its historic look.
Inside Sassafraz's Redesign
The moment you step inside the restaurant, it is hard not to notice how bright and modern it looks. The colours are light and sun streams in through the front windows and a spotlight window in the ceiling.
In the back of the restaurant is a fantastic green wall that transports you outdoors and compliments the fresh features of the restaurant's new menu.
For more information visit Sassafraz's website.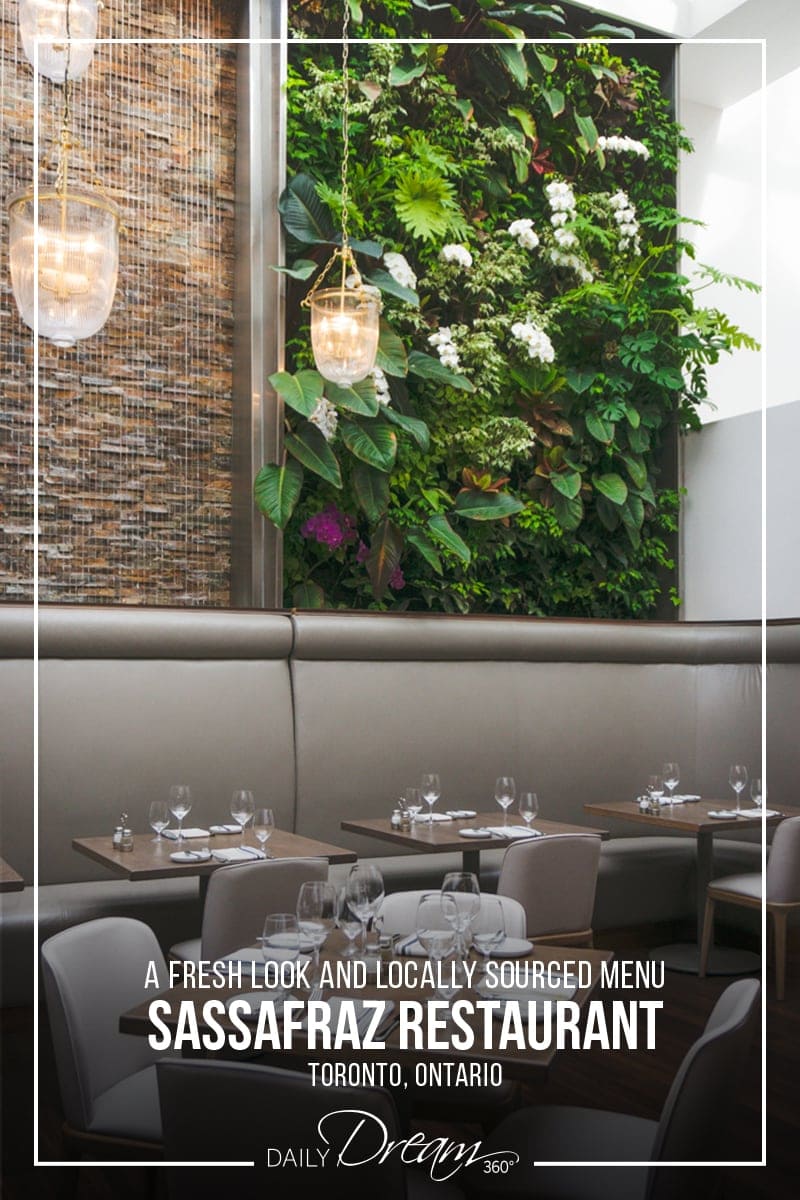 Meet Sassafraz Executive Chef Geoff Webb
For a chef to say he's worked at a restaurant for 13 years means something big. Chef Webb worked his way up in the Sassafraz kitchen and has been the restaurant's executive chef for 6 years.
Sassafraz's Locally Sourced Priority
What I loved most about meeting Chef Webb was his commitment to locally sourced ingredients. Finding fresh ingredients in a big city like Toronto is no easy task and when a chef can name the farmer, he got each ingredient from on a dish this truly impresses me.
It shows a commitment to locally grown ingredients from across the country. Like his Nova Scotia Cape D'or Salmon, or the one specialty mushroom farmer he found for his Mushroom salad.
Read more: All the Luxurious Details About Hotel X Toronto Review
With this commitment to a locally sourced and fresh ingredient menu, you can expect this menu to change with the season. I don't think I will ever get tired or discovering new things on Chef Webb's menus.
I also love that no diet restriction (serious or fad) phases him or his team. If you have a dietary request, don't be shy they will make it happen for you.
Read more: Winterlicious Getaway at Intercontinental Toronto Centre Hotel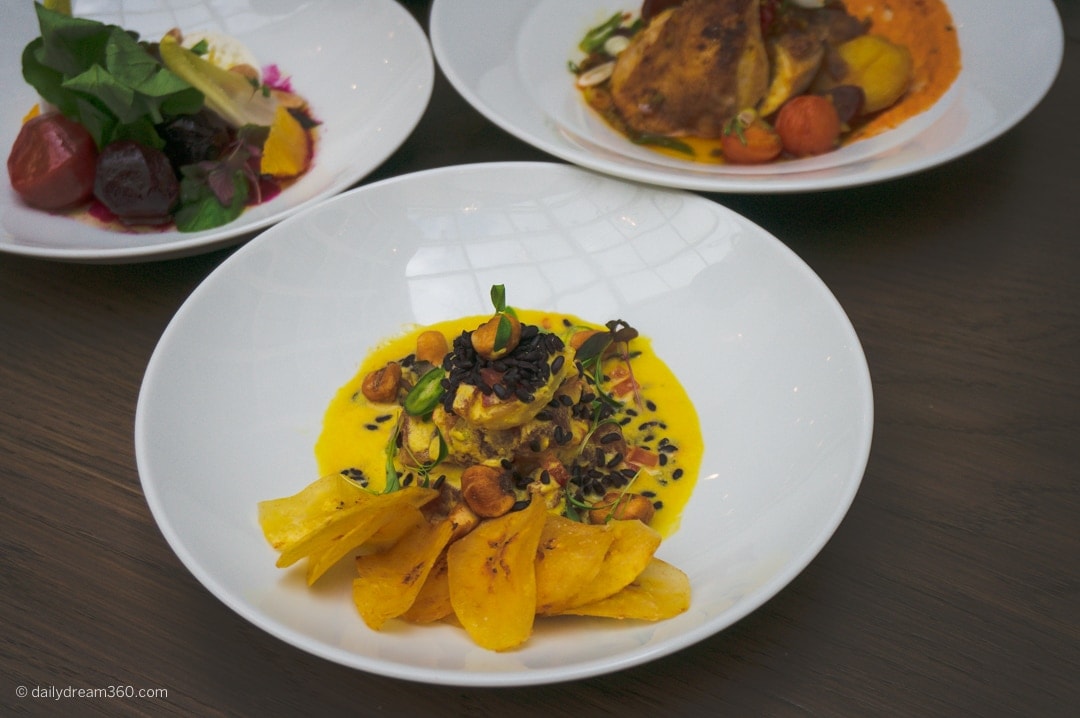 Lunch at Sassafraz Toronto
So now I get to the amazing dishes brought to our table. Here are just some of the amazing things we ate during our lunch at Sassafraz.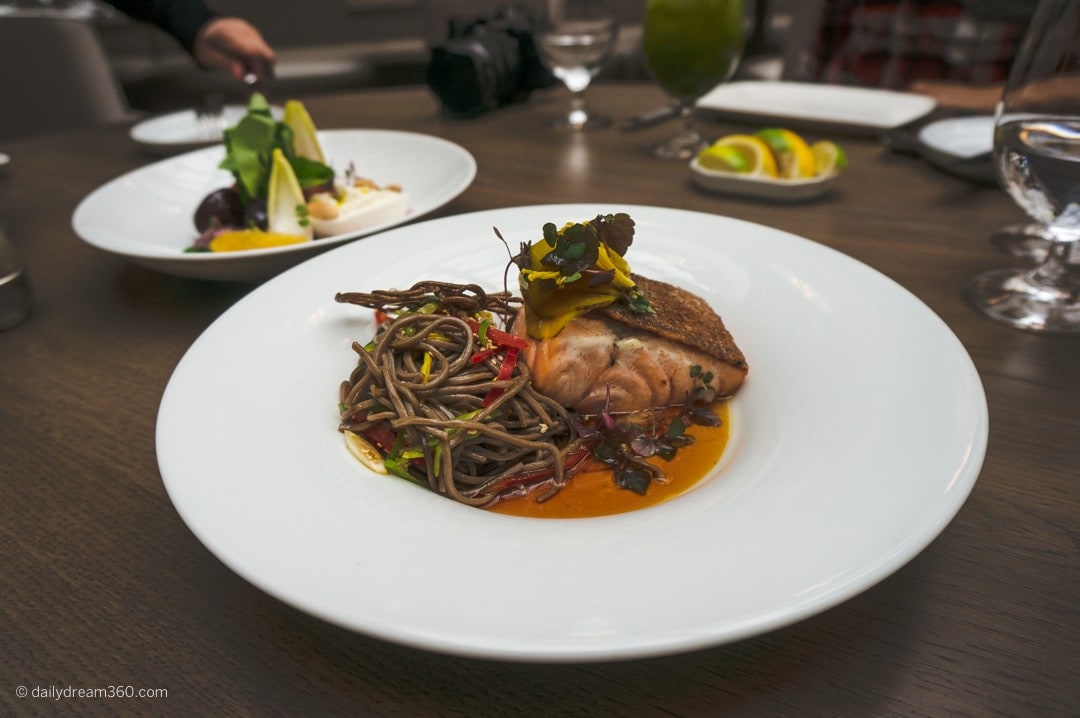 With each dish Chef brought to our table, we were told a story about his inspiration for the dish, where he sourced the ingredients and why.
I have to admit I've been to the restaurant a few times now since the menu was launched and this Cape D'or Salmon with soba noodles has been my choice each time. There is something light and magical about the Ginger ponzu dressing which compliments the entire dish.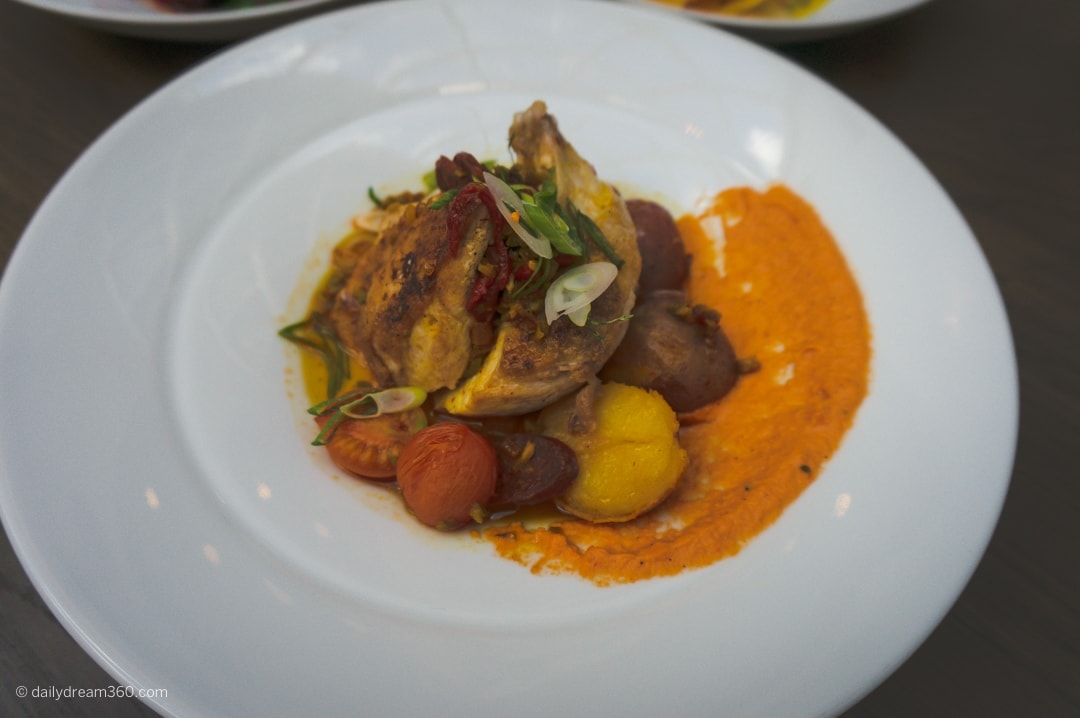 Another favourite on this menu is the Harrison Co-op Roast Chicken breast. Served with roasted potatoes and a Spanish Chorizo this dish came in the perfect portion. As I am always looking for healthy options when I'm eating out, it was so great to see so many choices for me on this menu.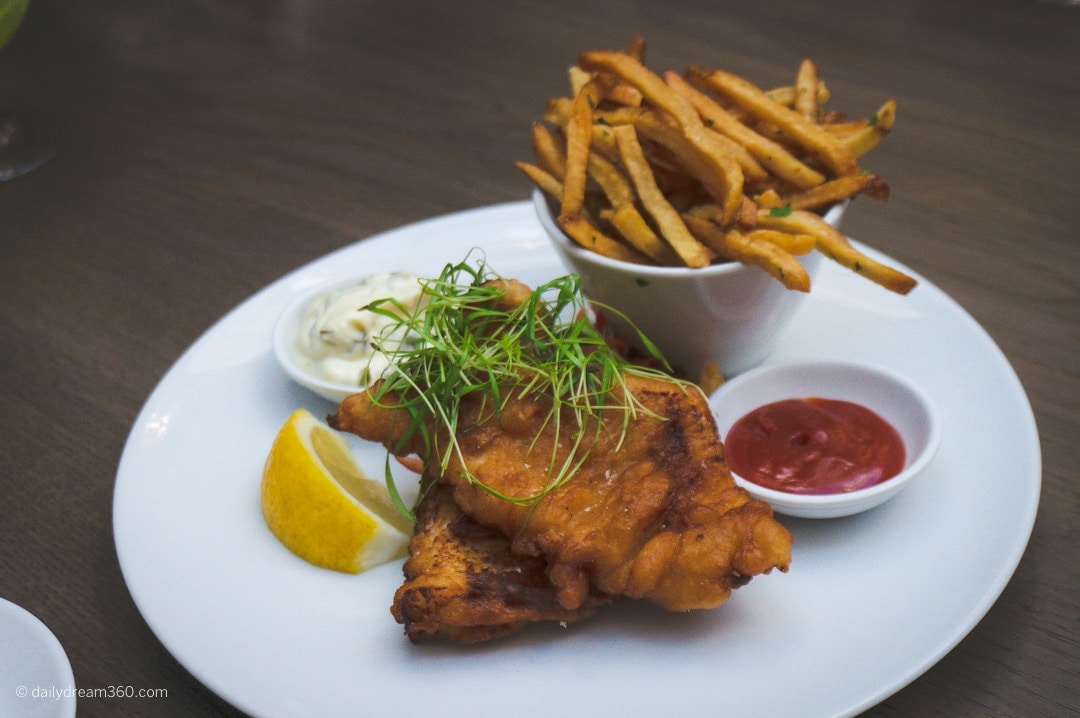 If you want to splurge and enjoy something a little more indulgent, the Fogo Island cod n' chips was something we all wished we had ordered. Again, the portion size seemed reasonable I don't think I would feel so guilty about this splurge.
Leave Room for Dessert at Sassafraz Yorkville
Since I was there for a media lunch, it was impossible to stop dessert entrees from hitting our table.
The sweet Caramelized Banana dessert is a lovely balance of sweet and tart. Served with passion fruit sorbet, a slice of pineapple and phyllo crisp this dessert treat is worth a try.
The crème caramel came covered with a grapefruit orange salad to balance the sweetness of the crème caramel.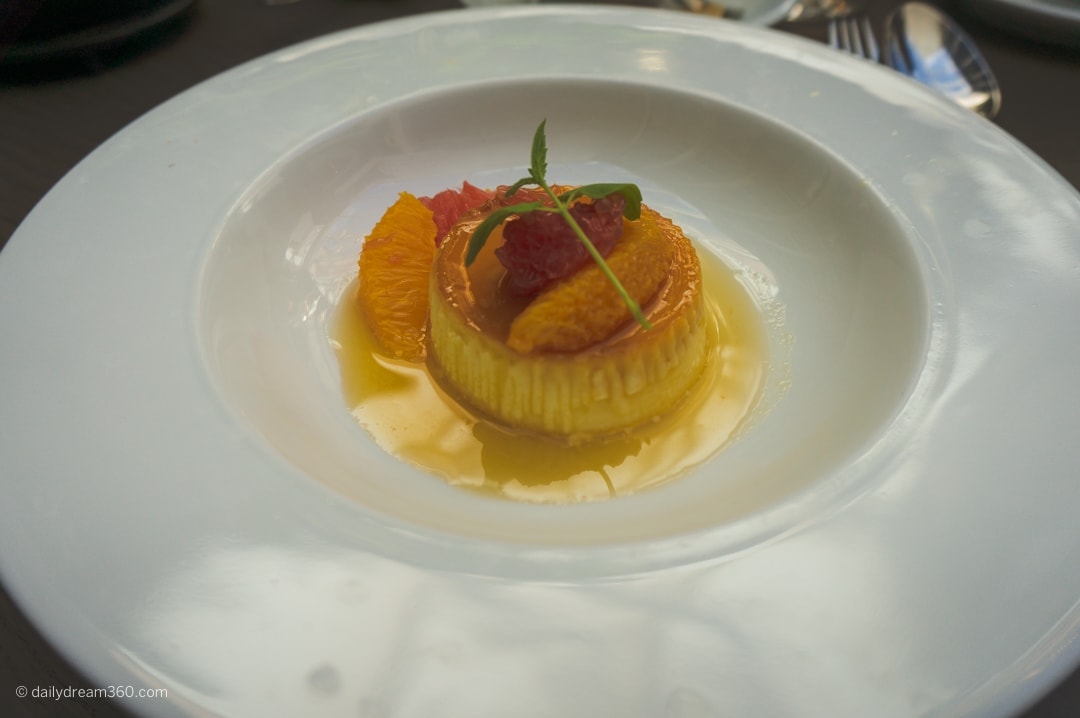 I'm a sucker for anything chocolate. I ordered the flourless chocolate bar served with vanilla ice cream and a little almond candy, laid over a smear of crème fraîche. It is a pretty rich and sweet chocolate bar, so I recommend sharing with someone.
Other Things to do in Yorkville
Since you are already in the neighbourhood for lunch why not take a stroll and discover one of Toronto's favourite neighbourhoods. Browse the many high-end fashion boutiques like Chanel, Christian Louboutin, Holt Renfrew and the Yorkville Village shops.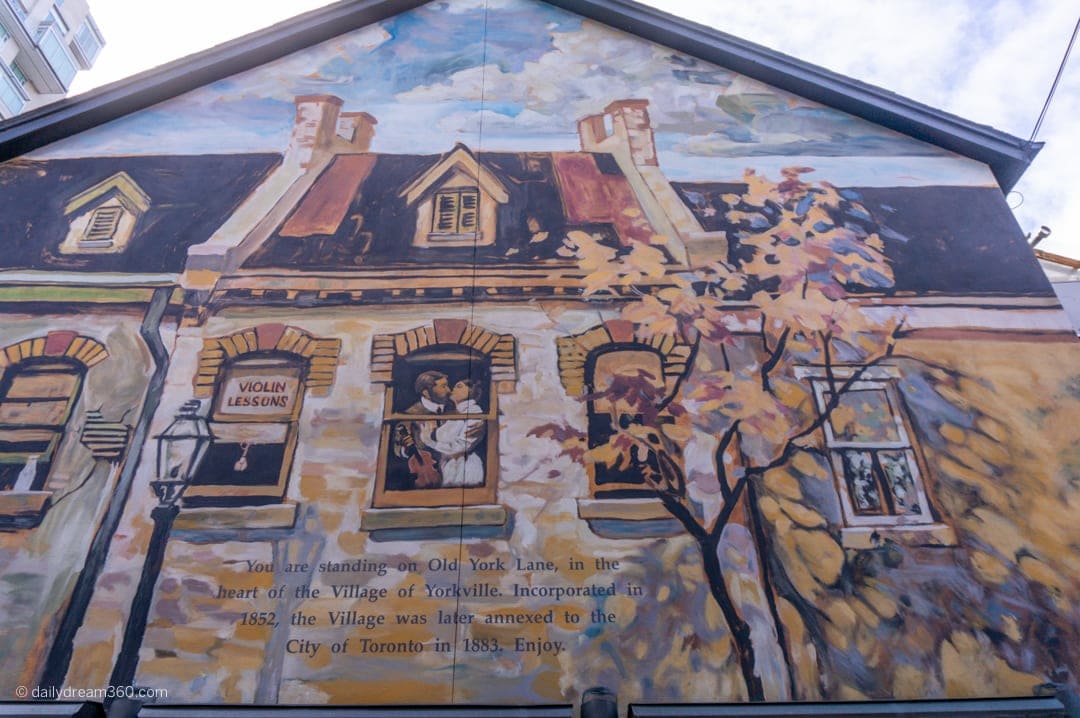 Take a Walking Tour of Yorkville
Learn about the history of this iconic neighbourhood with On the Town Tours. I had a lovely walk with Jane Herman our tour guide who shared some interesting insights into the architecture and history of the neighbourhood. Did you know Yorkville was incorporated back in 1852?
Save 36% on combined attraction passes with a Toronto CityPass. Popular Toronto attractions included are the CN Tower, Ripley's Aquarium of Canada, Casa Loma, Royal Ontario Museum, Toronto Zoo or Ontario Science Centre.
Yorkville Hotels
Complete your visit to Yorkville with a stay at one of the many luxury hotels in the neighbourhood. I recommend the Hazelton Hotel and Four Seasons Hotel Toronto.
| | |
| --- | --- |
| | |
| Hazelton Hotel | Four Seasons Hotel Toronto |
|   |   |
|   |   |
|   |   |
I attended a media lunch at Sassafraz Restaurant and took part in a complimentary walking tour with On the Town tours however, the opinions in this post are my own.