This article may contain affiliate links. Clicking on or purchasing products we recommend through a link may earn a small commission. Read our disclosure and privacy policy page for details. *COVID-19 TRAVEL ALERT – Travel recommendations offered on this site are not to encourage you to travel against travel advisories.
"Where the hell is Jordan Ontario?" That was what I thought as I heard their pitch on why I should visit Ontario's Twenty Valley region. As they described their location, I thought about all the trips I've taken to Niagara Falls or Buffalo and figured that I must have passed right by it at least a hundred times. Let's be honest here; it is not hard to convince me to explore a shopping village, wineries and great food in Ontario. When you add historic sites and nature trails as an option, well, I'm getting in my car and heading right over.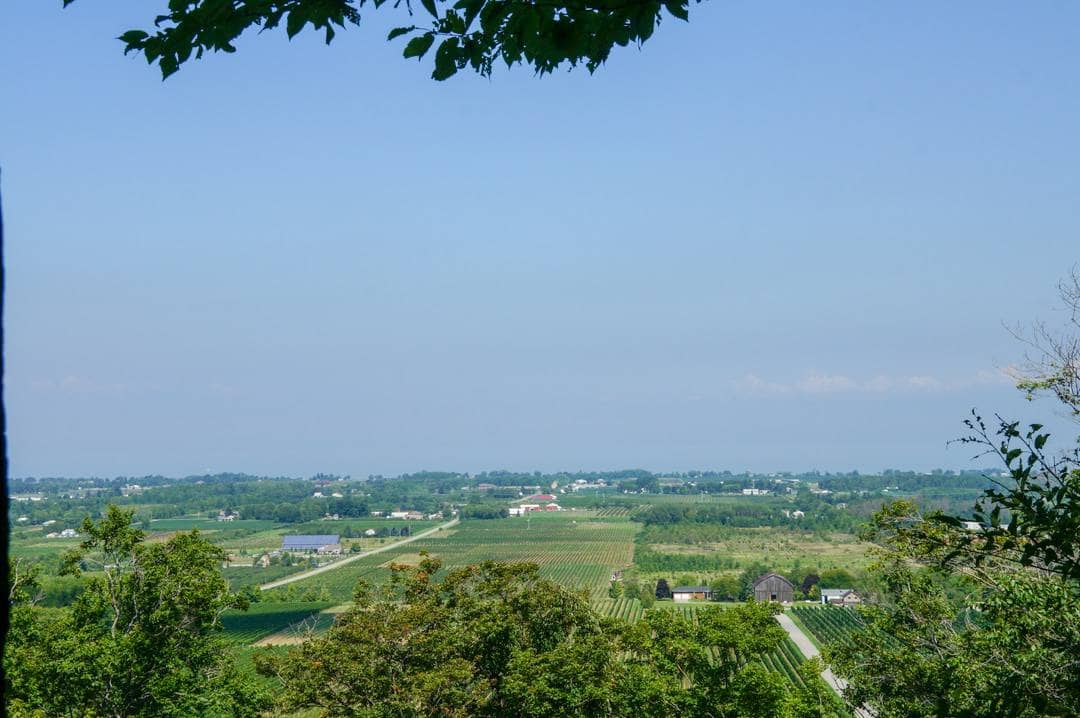 Ontario's Twenty Valley Region
I know I've passed by the sign for Ontario's Twenty Valley many times. Other than wineries, I didn't know what to expect. I'm ashamed to say this, but I didn't know there were so many Niagara wineries outside of Niagara-on-the-Lake area.
Twenty Valley is located just over an hour drive from Toronto and neighbours St. Catherine Ontario. Some people refer to it as "Niagara Above the Lake" or the "other Niagara Wine region." What I learned is that behind that Twenty Valley sign on the QEW on route to Niagara Falls is a cute shopping village, some great wineries, yummy bakeries and lots of little farmers markets.
The Search for Jordan Ontario
Nestled secretly in the Twenty Valley region is the Jordan Village a cute little shopping village very similar to that of Niagara on the Lake. Our journey to find it brought us to many wineries, bakeries, farmers markets, historical sites and even some nature trails. The result was a two-day trip filled with everything the region had to showcase.
I've grouped all our stops by category so those of you who want the winery information can go straight down below!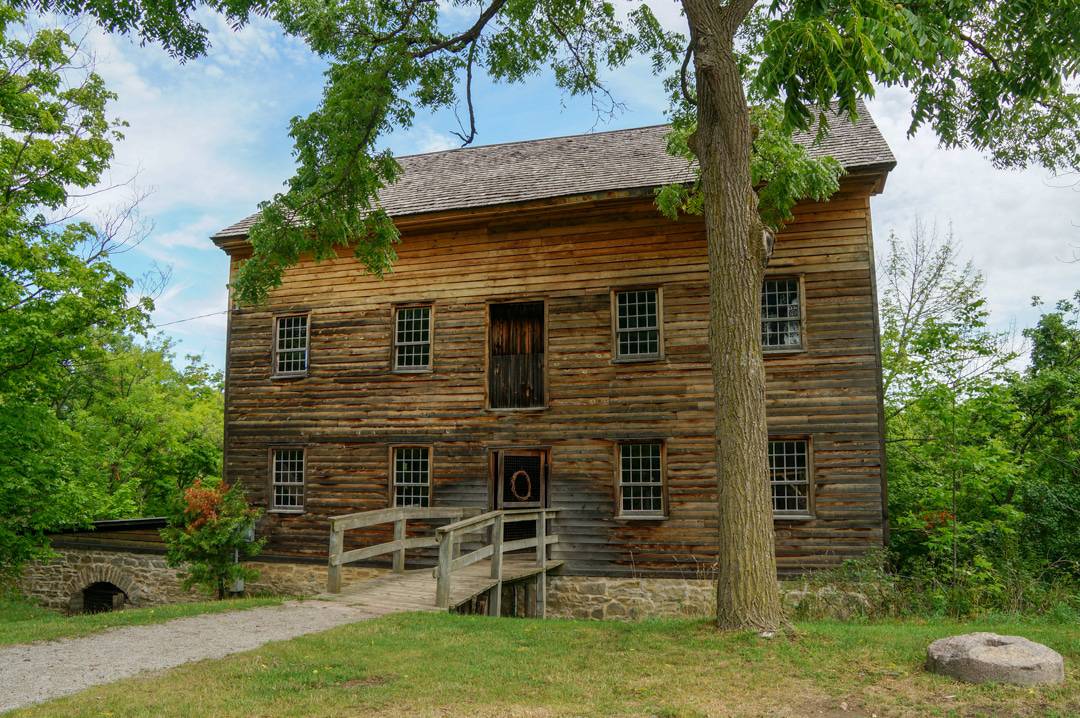 Twenty Valley Nature Trails and Historic Sites
One of the historical sites we visited was Ball's Falls Conservation Area, a mid-19th-century hamlet that has been maintained, with many of the buildings and structures still standing. The highlight is the wooden flour mill which one of the oldest operating wooden mills in the world.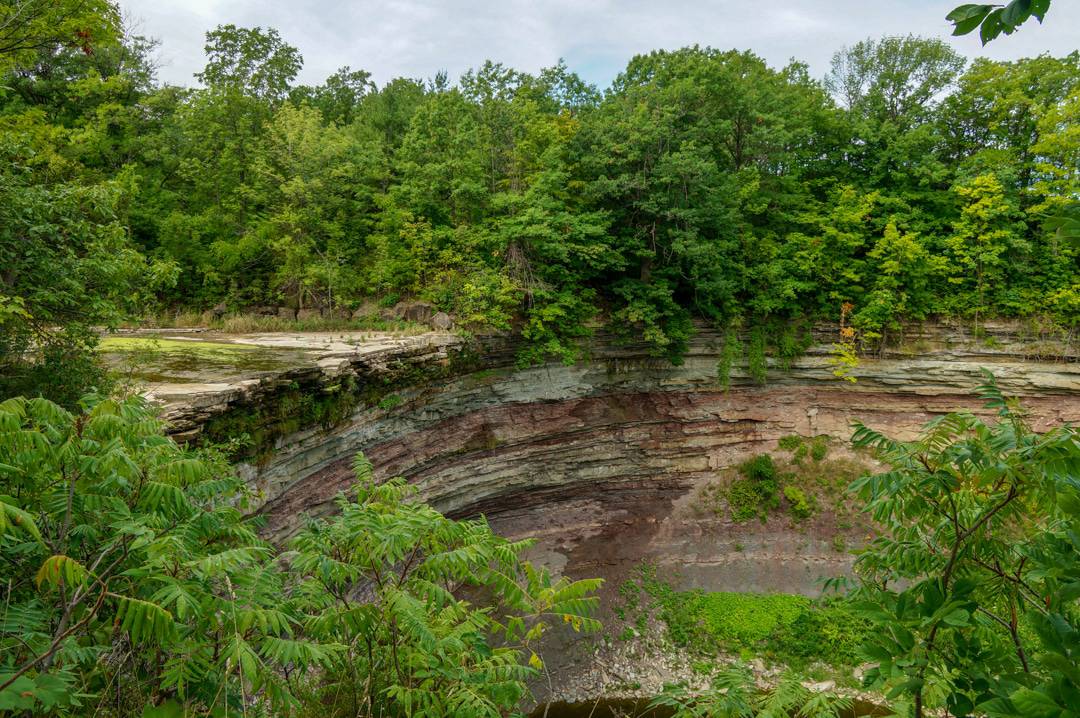 For those of you hikers and nature lovers, there are many trails in the area including the main path towards the bowl that is supposed to be Ball's, Falls. After a dry summer here in Ontario, there was barely a trickle of water into the large bowl as the Twenty Mile Creek had gone dry. A perfect time to see the falls, however, is spring, right after the snow melts.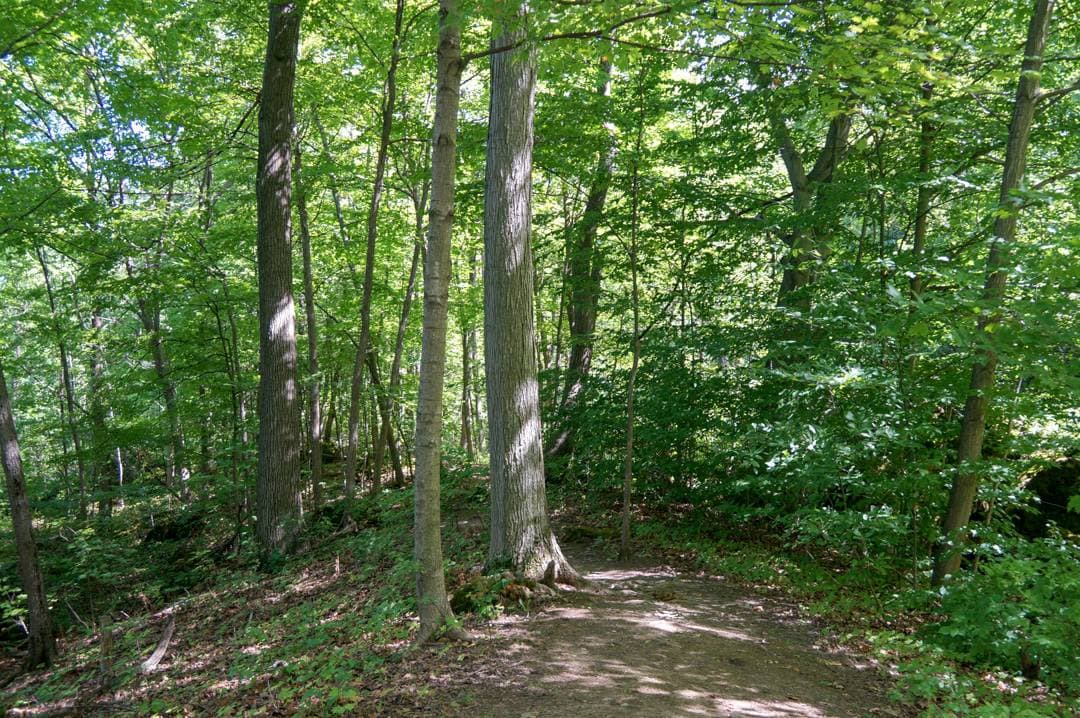 I must mention my hike up the side of the Niagara Escarpment. Thanks to the team at Niagara Nature Tours, we had a modest hike past the famous Niagara White Witch's house and up to the top where we had a breathtaking view of Twenty Valley.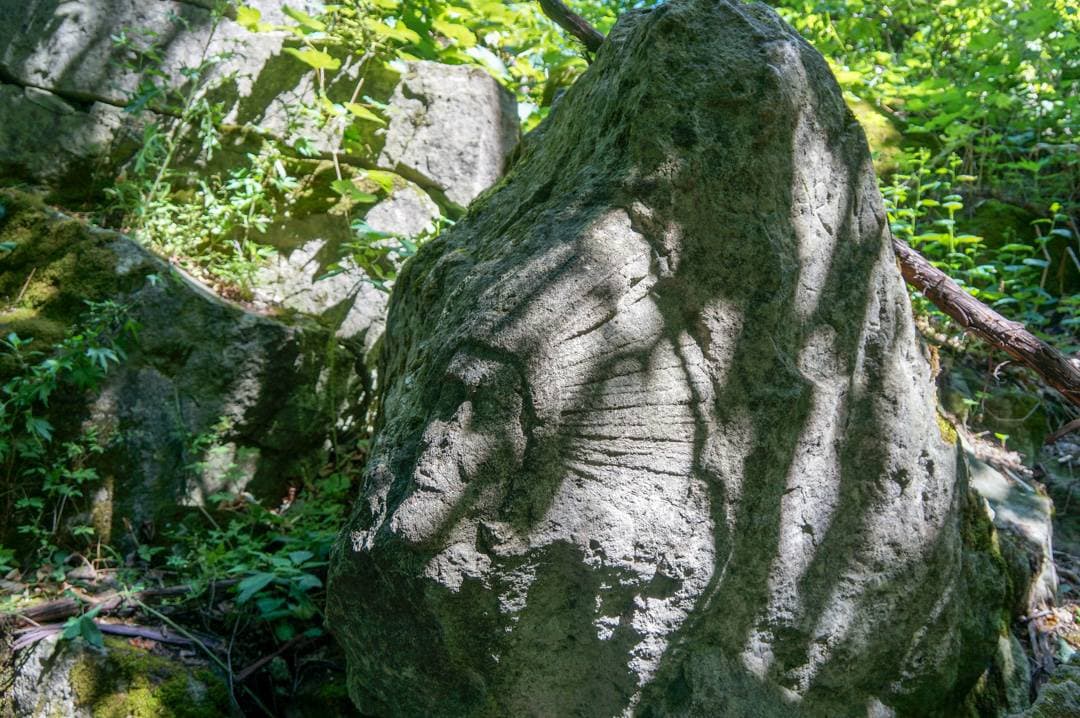 We learned about the history of the region, spotted some caves and old native rock carvings.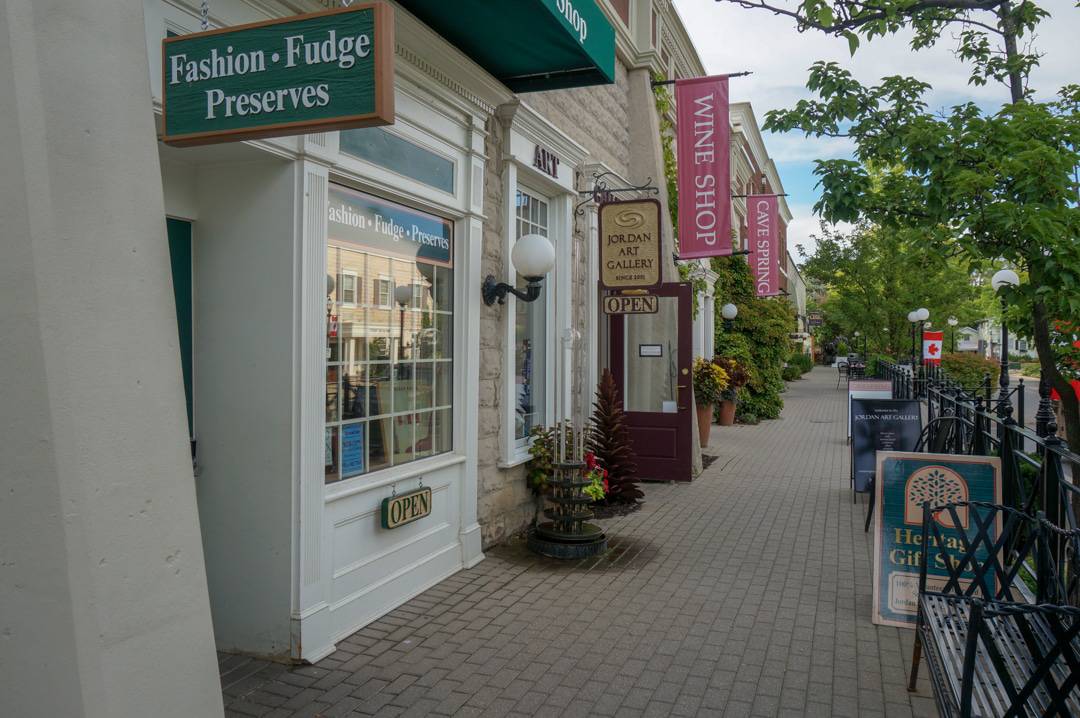 Jordan Village and other Shops of Interest
After many stops during day one of our trip through Twenty Valley, we finally found Jordan. Jordan Village filled with small boutiques, local shops and art galleries is lined with cobblestone sidewalks, lots of flower planters and housed in old small town buildings.
Inn on the Twenty
If you are planning on staying multiple days in the Twenty Valley region, I highly recommend the Inn on the Twenty. It's located smack dab in the middle of everything. The Inn has 27 rooms some two-level suites and other single floor suites all with their decor and charm.
Read more: Inn on the Twenty Perfect Pairing with Twenty Valley Wine Tour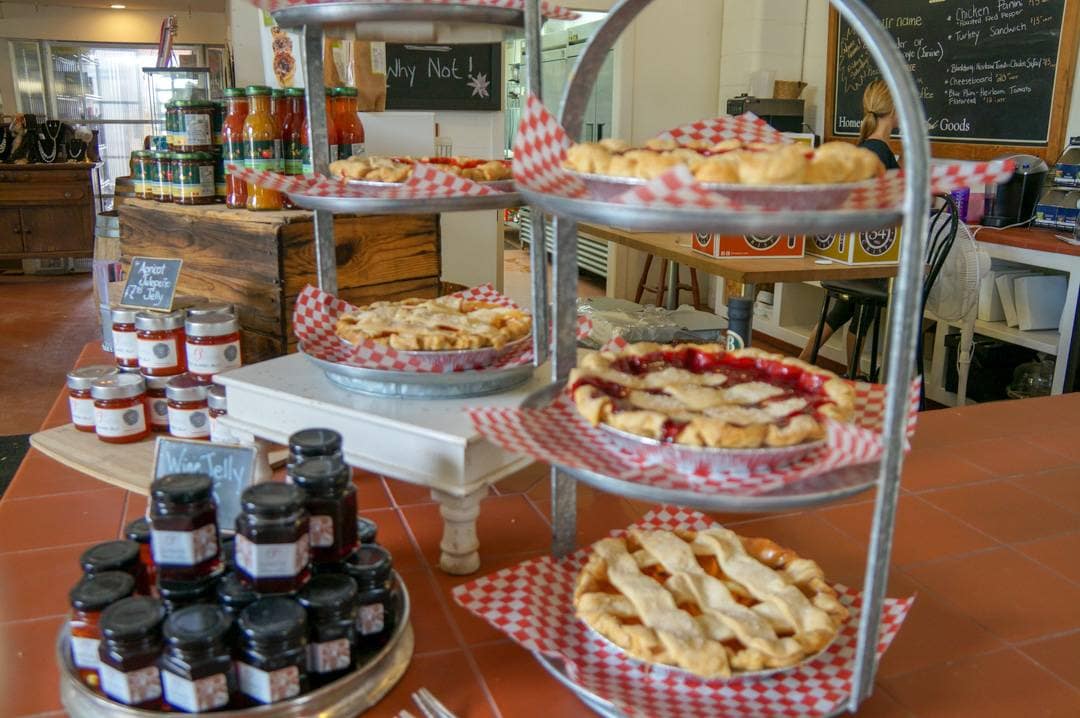 13th Street Bakery
Although the 13th Street Bakery is part of the 13th Street Winery (outlined below) I had to mention it as a must stop shop! From fresh baked pies, tarts and brownies, to jams and other local yummy goodness this bakery is just minutes from Jordan Village. It doesn't hurt that it sits on the same property as a fabulous winery with delicious food!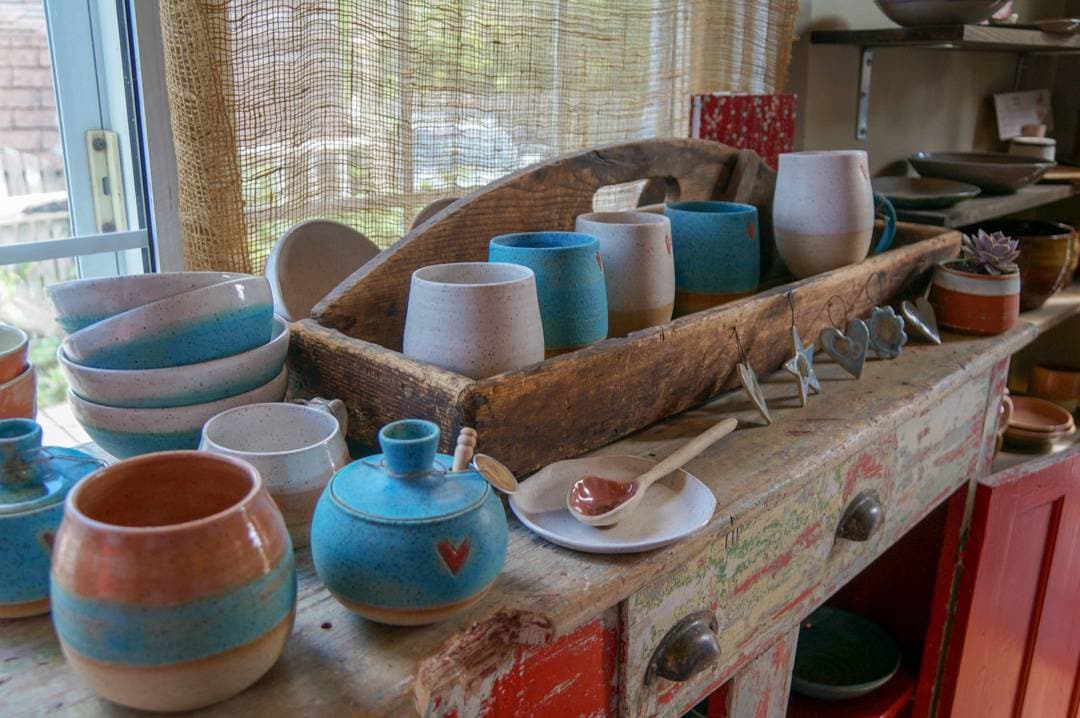 Shed Pottery
After my brief experience making pottery in Ontario's Highlands with Earth and Fire Pottery, I have a new found love and appreciation for all things pottery. The amount of work that goes into each piece and the personal touches of each potter gives to their projects is truly inspiring. Johann Munro's Shed Pottery shop sat inside her country home and filled with unique handcrafted pieces. If you love pottery, I recommend a stop.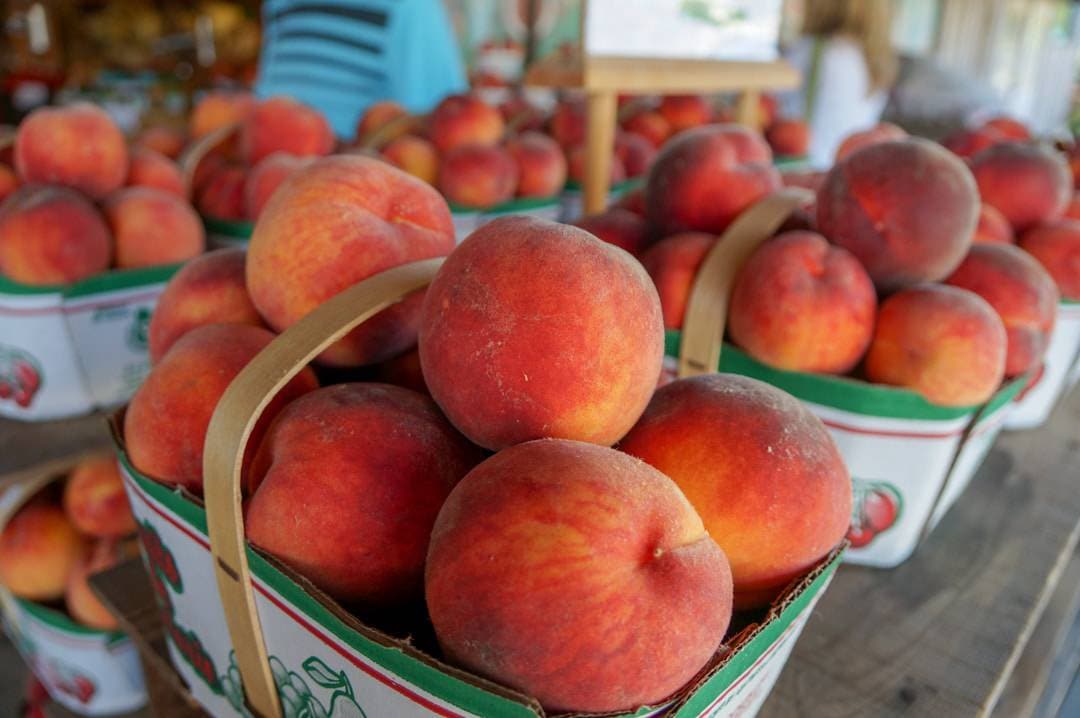 Peach Country Farm Market
I feel like I know more about peaches now than I have ever known before. I did know to put them in the refrigerator but had no idea they needed time to rest on the counter at room temperature before I dug into them. I always thought I was a loser and couldn't open a peach properly, but now I know certain varieties come off the stone easily, and it also depends on the ripeness of the fruit.
These and many other tips are all part of the expertise of family run Peach Country Farm Market, which I have to tell you to visit not just in Peach season, but throughout Ontario's harvest season.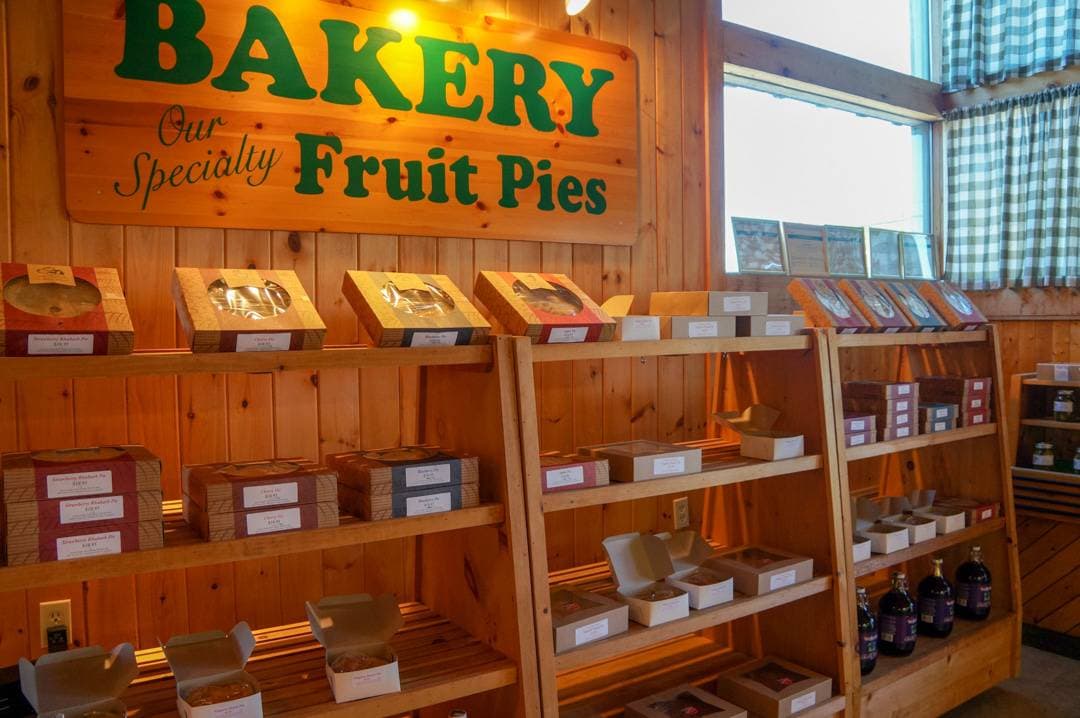 Owned by the Kowalik family for over forty years, they have an impressive display of antique refurbished farm vehicles and many stories to tell about how they run their orchard. It's not just peaches at this farmers market but cherries, apricots, plums, apples and raspberries too. Of course, they also feature a large bakery with pies, tarts, cookies and more.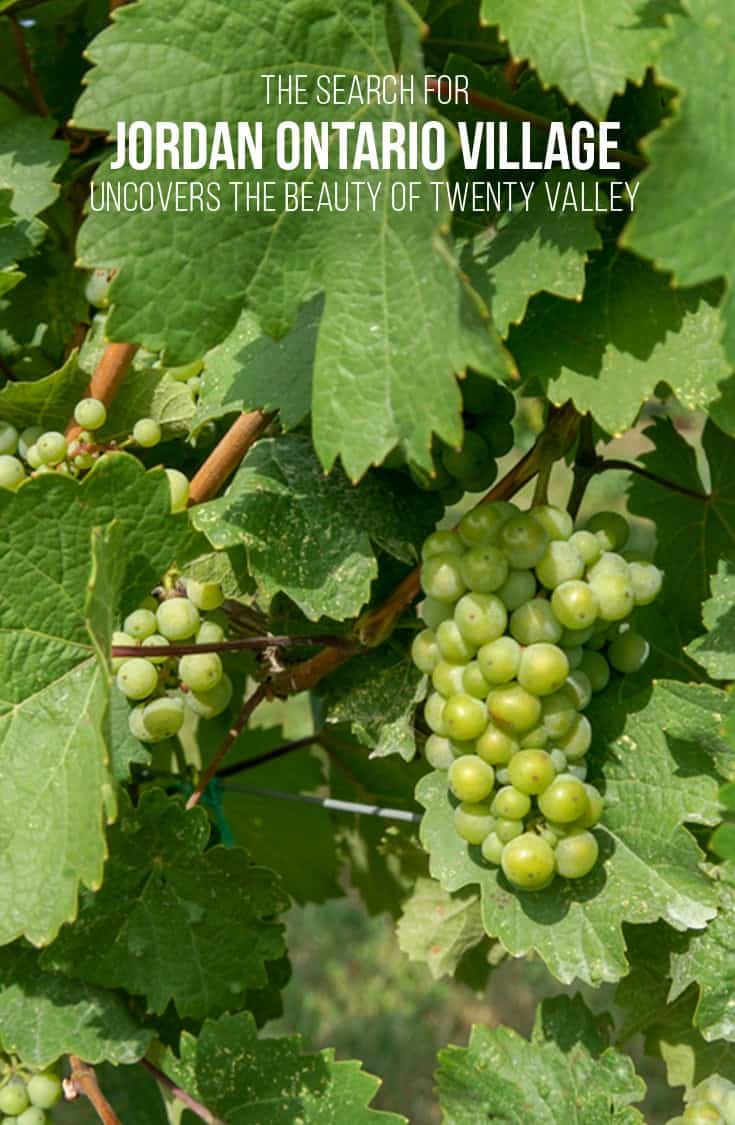 Twenty Valley Region Winery Visits
OK, let's get talking about Ontario wine! I visited five wineries during my two-day road trip in Twenty Valley, and I was so delighted to meet all the owners and winemakers and learn more about Ontario wines. I don't consider myself a connoisseur, but I am learning a lot about my pallet and discovering a few favourites along with my journies.
Featherstone Estate Winery
The lambs in the image above work the fields at Featherstone Estate Winery and Amadeus the Hawk (pictured below) flys above keeping the birds from getting at the grapes. These were just a few awesome surprises during my visit to Featherstone. I'm going to write about it all in more detail in a future post featuring this incredible winery.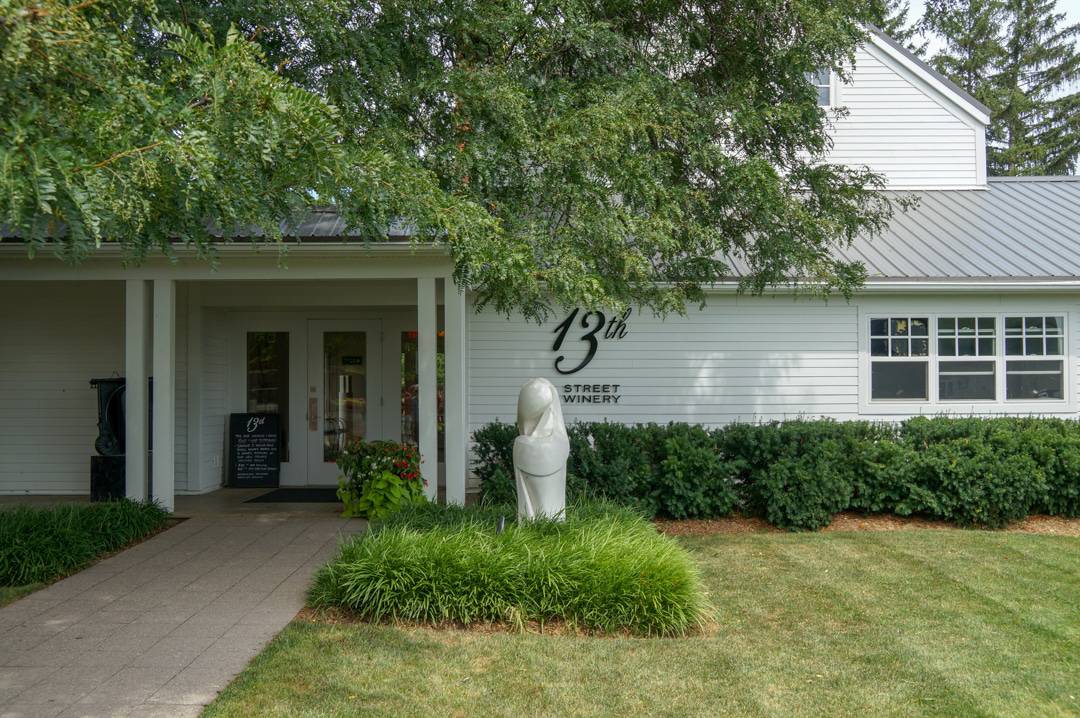 13th Street Winery and Bakery
Another winery I put on my must visit list for this region is the 13th Street Winery. In addition to some phenomenal wine, fabulous food and an impressive art collection they have the bakery I mentioned above, filled with yummy goodies. Too much to share in this post. I will feature the winery, bakery and delicious food in a future post.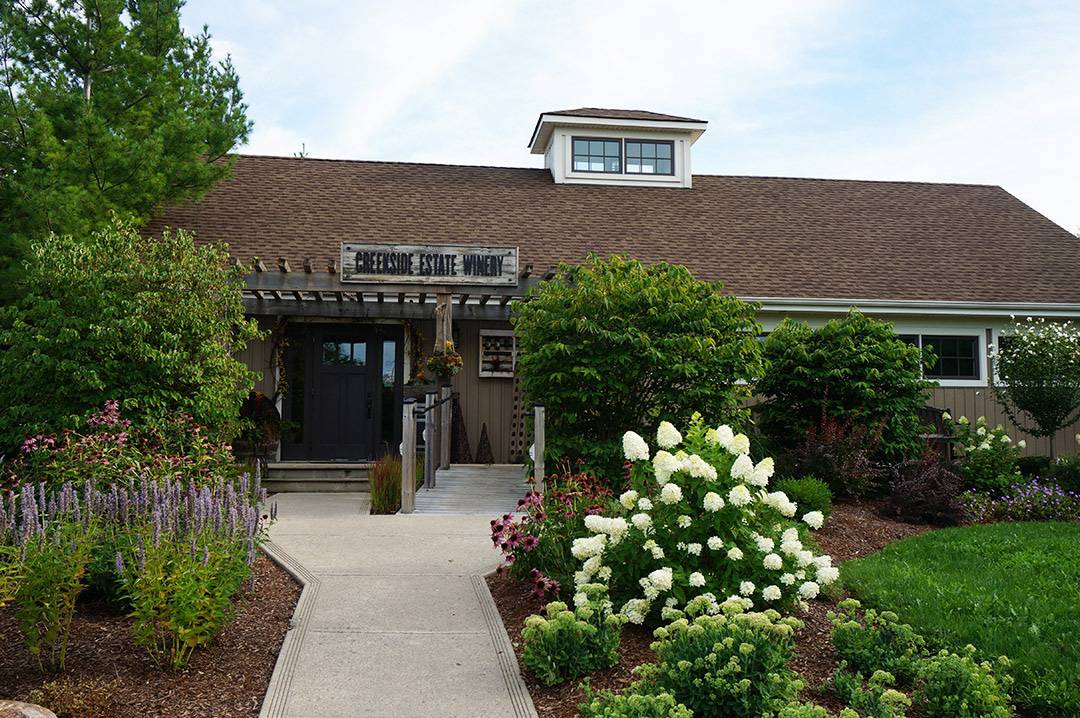 Creekside Estate Winery
The team at the Creekside Estate Winery were keen to make sure we sampled lots of wine. We had a tour of their vineyards with winemaker Rob Power, and I think in total (including a special press dinner) I had seven or eight different wines. Sorry, I lost count.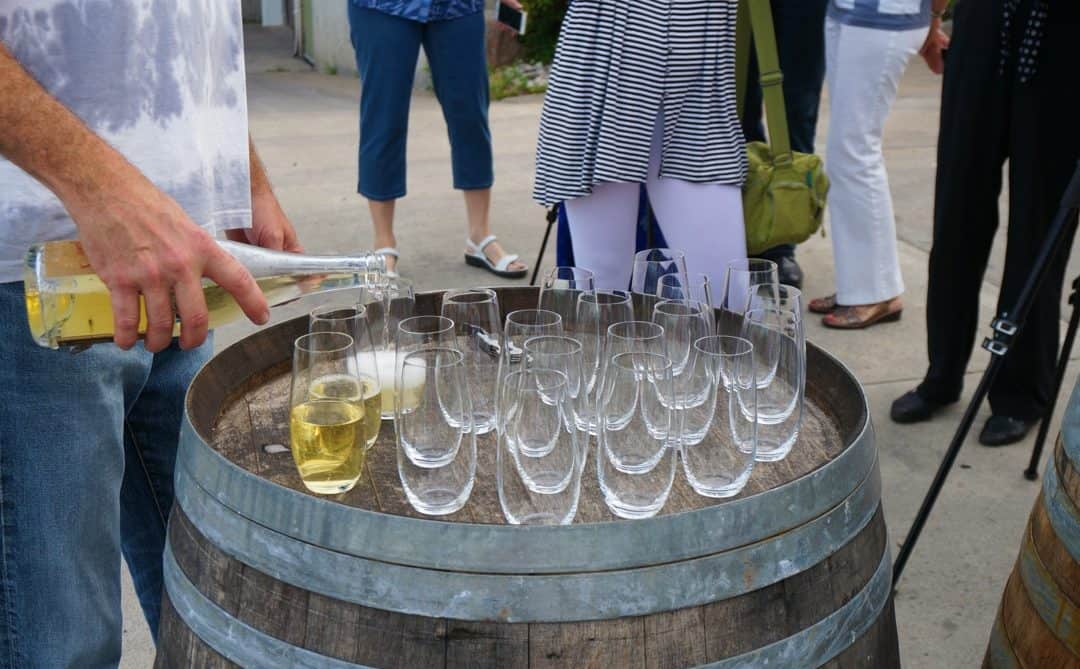 It was a great evening with an inside look at one of the oldest and largest barrel cellars in the Niagara Region. Inside the cellar, we were treated to a barrel tasting and then we made our way outside to their covered patio for dinner. Dinner featured the region's local ingredients mixed with the genius of Chef Nathan Young from the Smoke Cookery.
While ours was a special after-hours dinner, his yummy eats are available on the patio during tasting hours.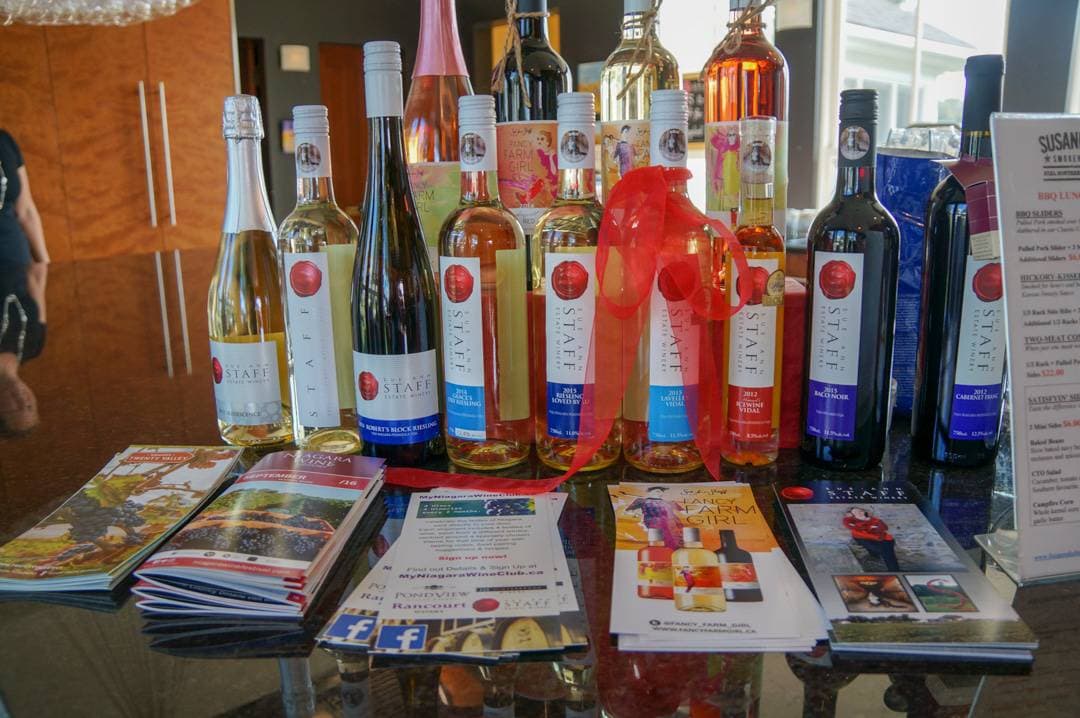 Sue-Ann Staff Winery
I was so inspired by Fancy Farm Girl Sue-Ann Staff during our visit to her winery. She's an amazing entrepreneur and talented wine maker all in one inspirational package.  The wine assortment at
Sue-Ann Staff Winery
was pretty impressive too. From sparkling wines like Fancy Farm Girl's Flirty Bubbles to newly released wine and red blends, we had a fabulous early morning tasting.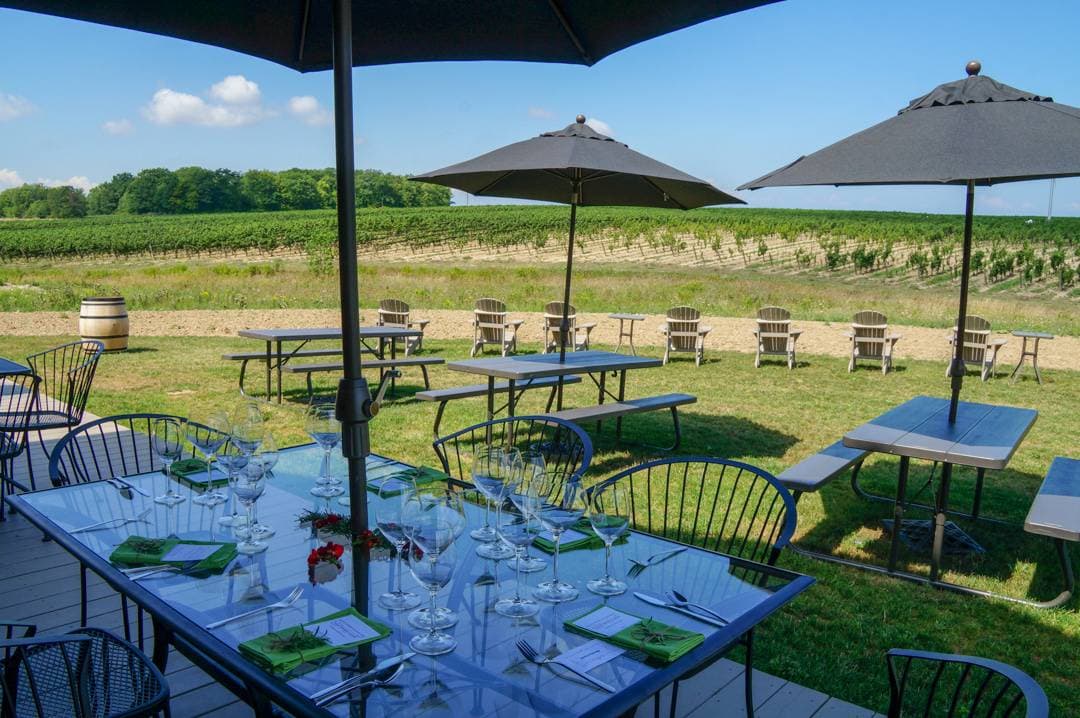 Wescott Vineyards
My last winery visit in Twenty Valley (for now) was Wescott Vineyards. Grant and Carolyn Westcott followed their dreams and built their wine store in a 200-year-old Mennonite barn. Their wines include Violetta, Temperance and Delphine named after some inspirational and influential women.
Enjoy a tasting, a tour of their cellar and grab a bite to eat at Zooma where you can enjoy a lobster grilled cheese while sipping wine in your Adirondack chair facing the winery.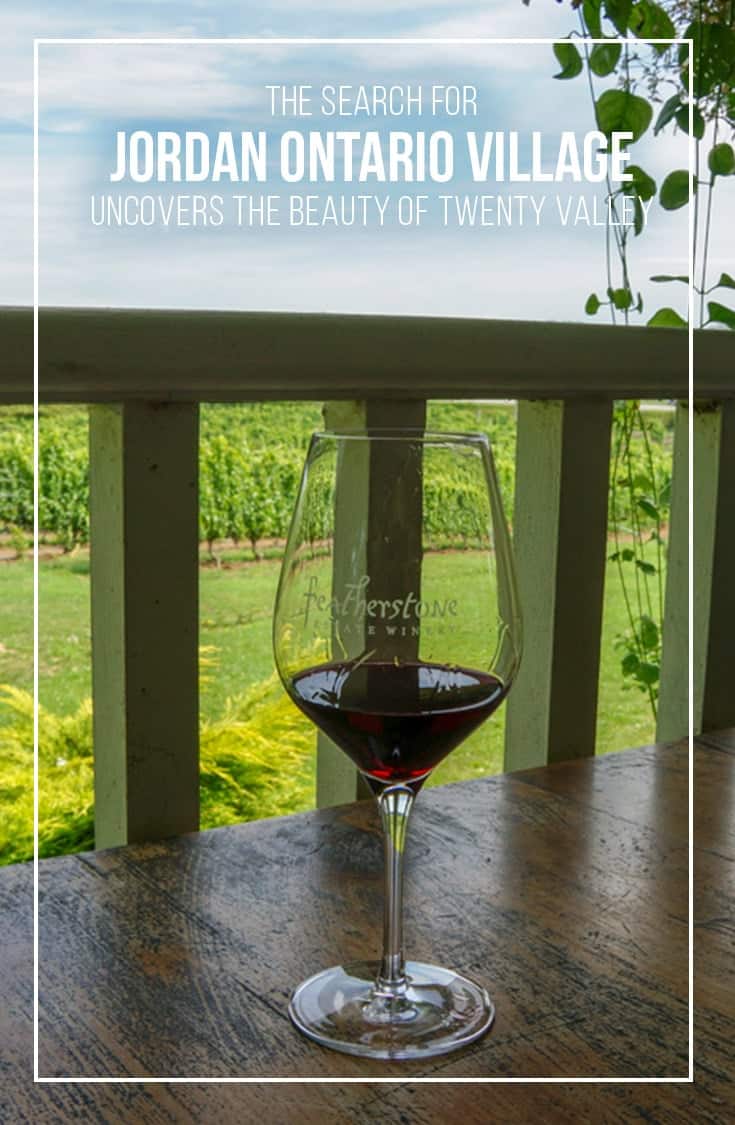 Where the Hell is Jordan Ontario
So "where the hell is Jordan Ontario?" well it's located smack dab in the centre of Ontario's Niagara wine region in Twenty Valley. There is no shortage of things to do and see. In fact, I know I will be returning to investigate some more very soon.
Travel Assistance provided by at Twenty Valley Tourism Association and Ontario Travel as part of the Society of American Travel Writer's #WheretheHellisJordan press trip to the region.