This article may contain affiliate links. Clicking on or purchasing products we recommend through a link may earn a small commission. Read our disclosure and privacy policy page for details. *COVID-19 TRAVEL ALERT – Travel recommendations offered on this site are not to encourage you to travel against travel advisories.
As I press down on the pedal and wheel spins in front of me, I feel the clay between my hands start to change shape. I add some water with a sponge and continue to try to push the clay into some recognizable object. I'm feeling part giddy and part anxious as I experience the pottery wheel for the first time. It looks so natural when the professionals do it, but every movement with your hands, every deliberately placed finger produces a result on the pottery wheel. Just the beginning of my Play with Clay Workshop of the Earth and Fire Pottery, courtesy of my favourite Ontario excursion outfitter Yours Outdoors.
Yours Outdoors – Haliburton Ontario Excursions and Experiences
I have always been one to sit at the computer and dream of places to go and things to do, but I have a confession, I'm not big on planning all the little details. I often prefer taking part in tours and excursions that think about all the little details and whose mission is to make sure you have a fantastic time.
Customized Haliburton Ontario Excursions
Yours Outdoors is the perfect outfitter for my dreams! I love new experiences, to challenge myself and do out of the comfort zone activities and to visit new places. A few winters ago I came up to Haliburton and participated in a customized Yours Outdoors winter girls getaway which featured: the art of Glass Blowing, a folk music festival and a snowshoeing excursion that I will never forget. Since then I have been dying to come back and take on another Yours Outdoor adventure.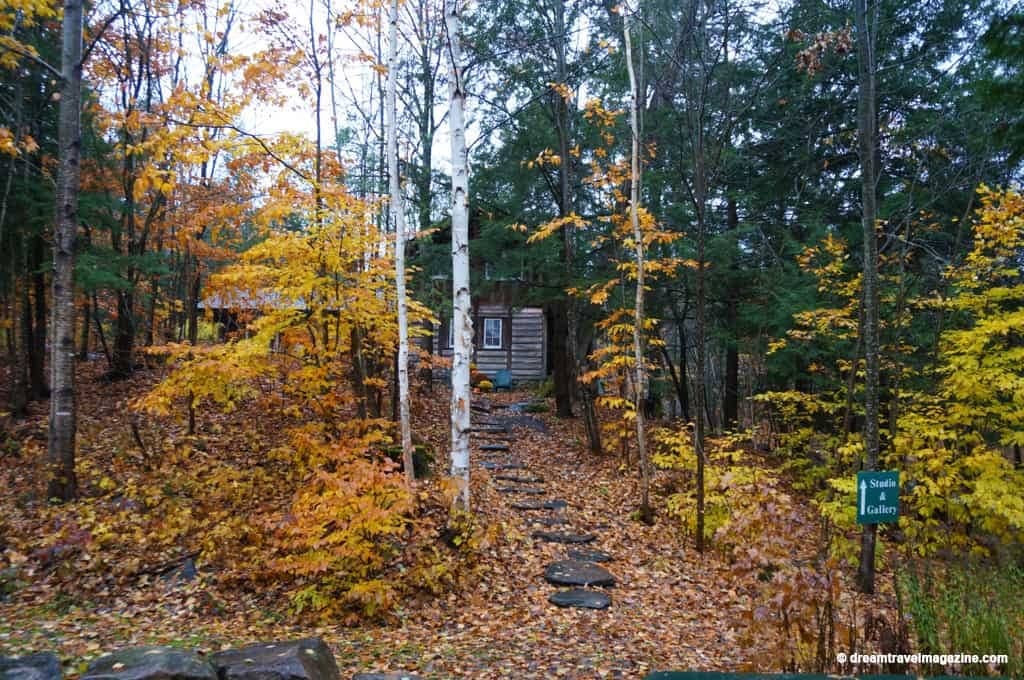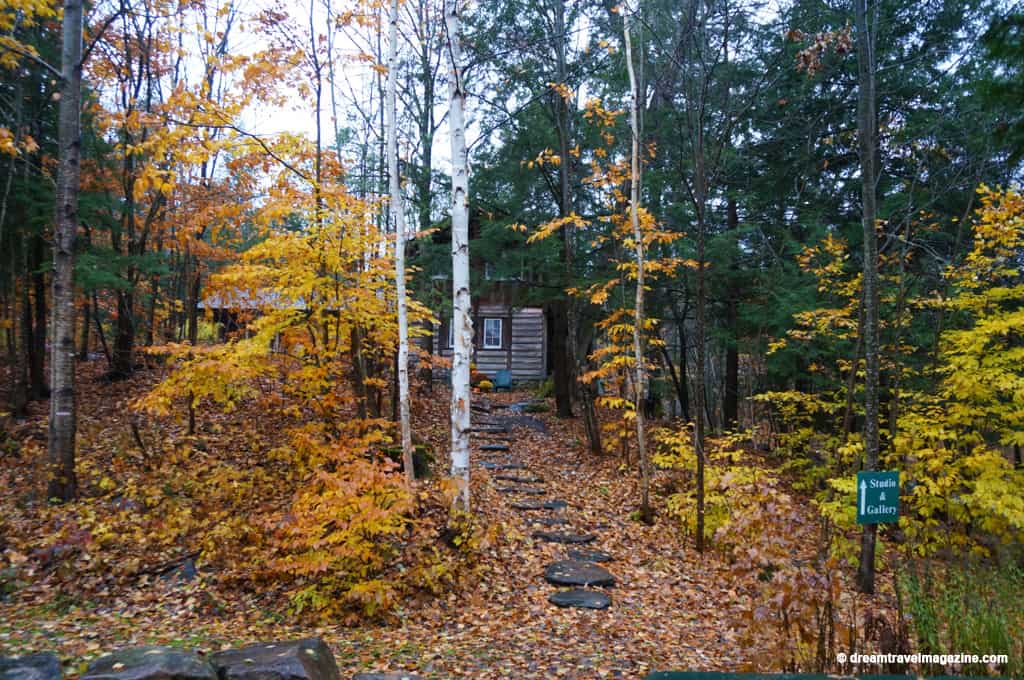 Play with Clay Workshop at Earth and Fire Pottery
The "Gone to Pot" pottery excursions have been on my dream list for a long time! So this past fall, when I knew I would be driving through the region I was happy to connect with Yours Outdoors again. On the agenda a Pottery Workshop at the Earth and Fire Pottery Studio in Haliburton.
Our hosts on our adventure were Grahame (who is also known as The "Hairy" Potter) and Debbie Wales from Earth and Fire Pottery, who in one afternoon had the impossible challenge of teaching my friend and I the art of Pottery. On the agenda were two types of pottery, wheel thrown and creation by hand.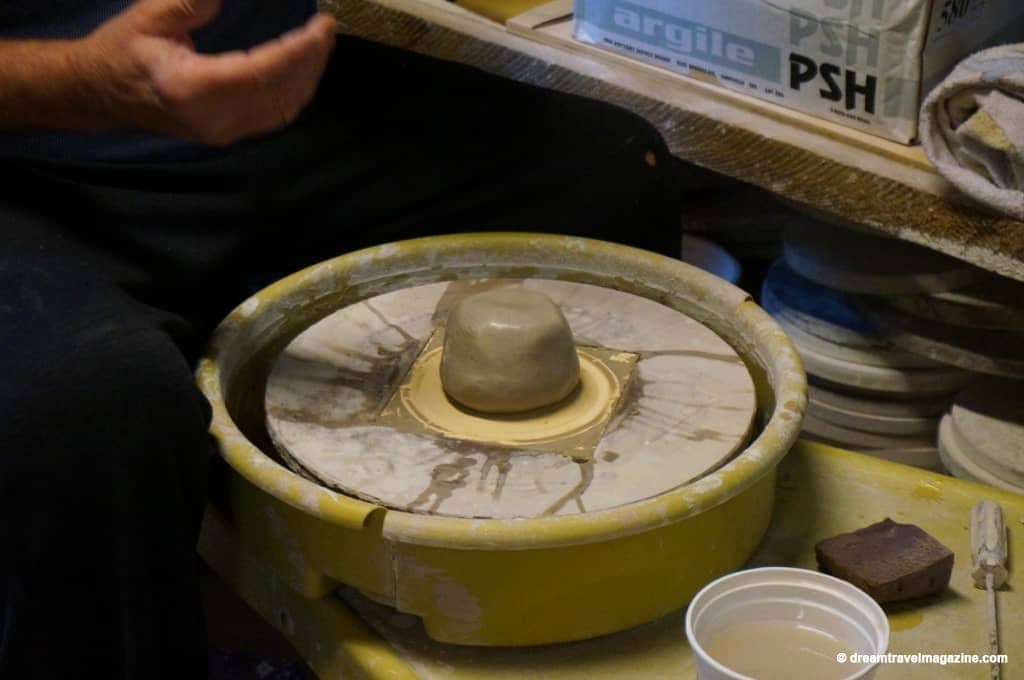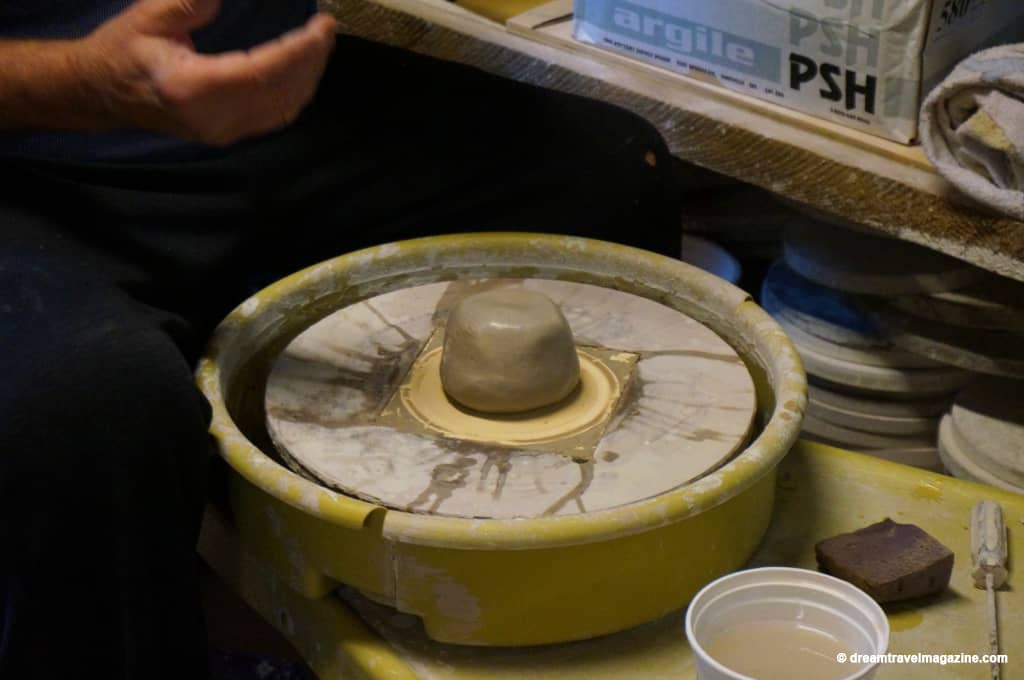 Wheel Thrown Pottery Dreams
It started with a quick demonstration about the pottery wheel, how to operate it and before I knew it he had a bowl in his hand, and I was sitting in front of the machine with a hunk of clay. Honestly, I tried to pay attention, but I was so excited I could hardly contain my emotion.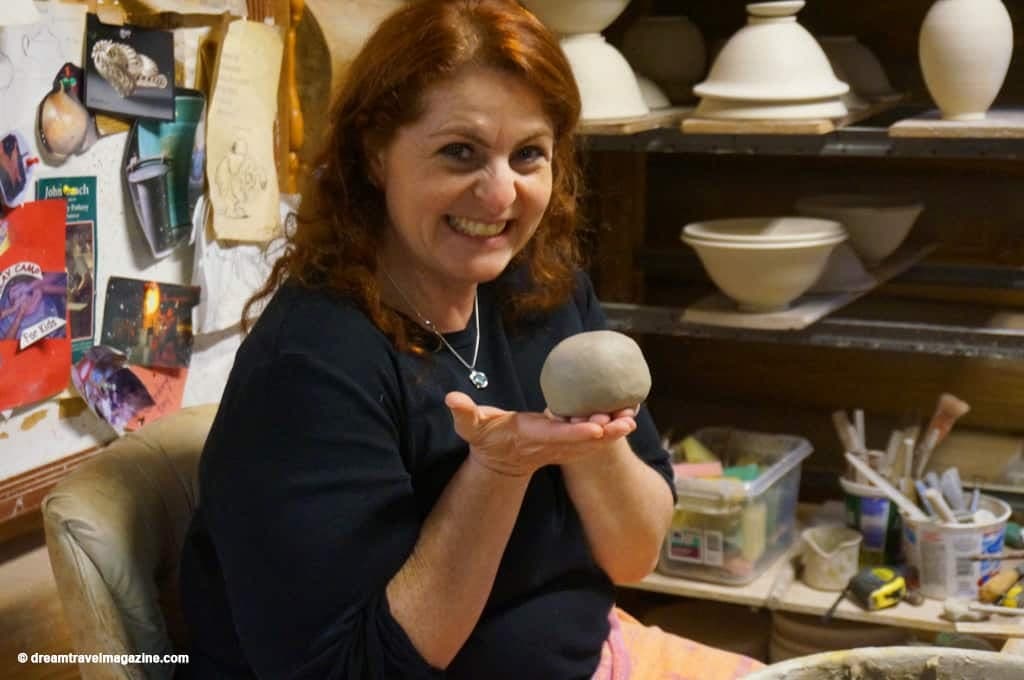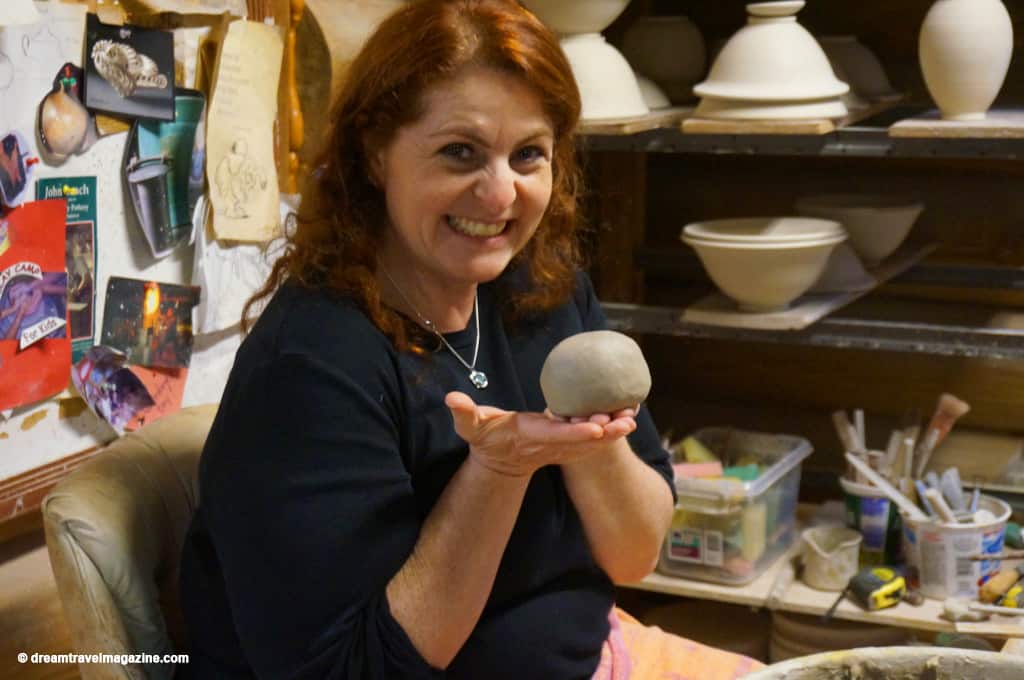 So with Grahame and Debbie's help, I started to shape my clay as the wheel spun in front of me.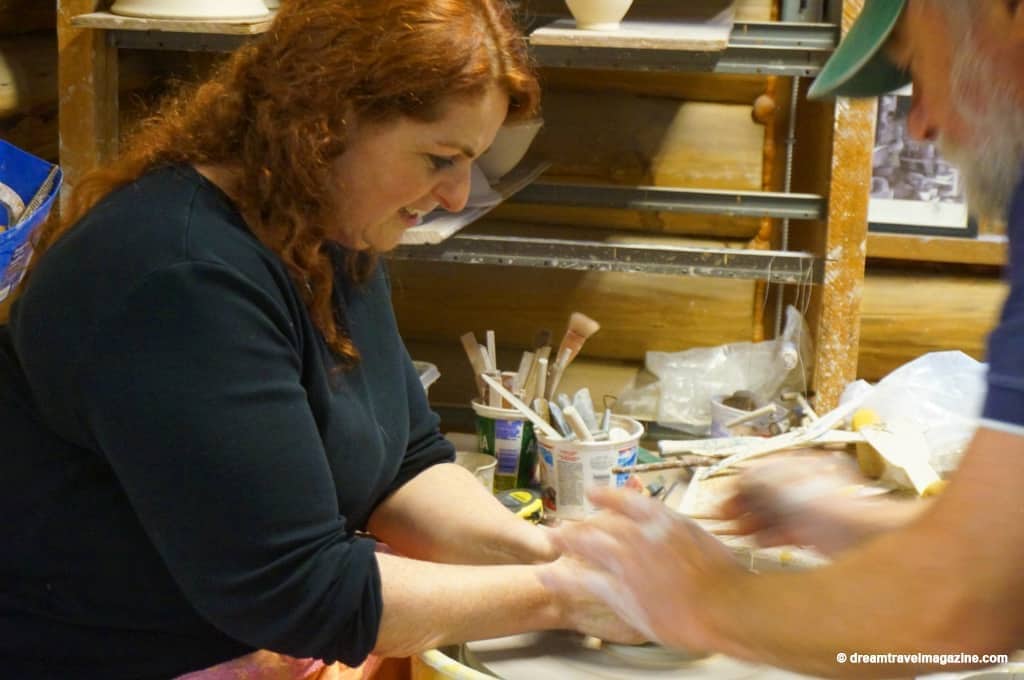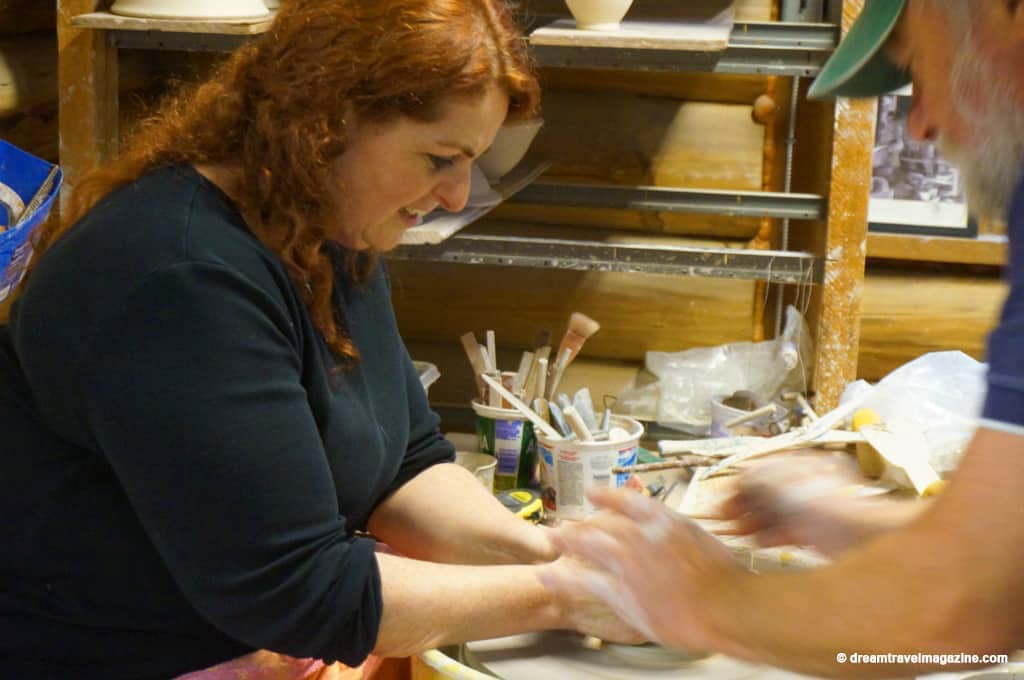 The goal: a little clay bowl. With Grahame's guidance, I learned how to shape the clay and then with the precision placing of my fingers opening the hole for my bowl and making sure its walls were sturdy. Apparently, I build sound walls (I am not sure what that means, it's a good thing that I know!)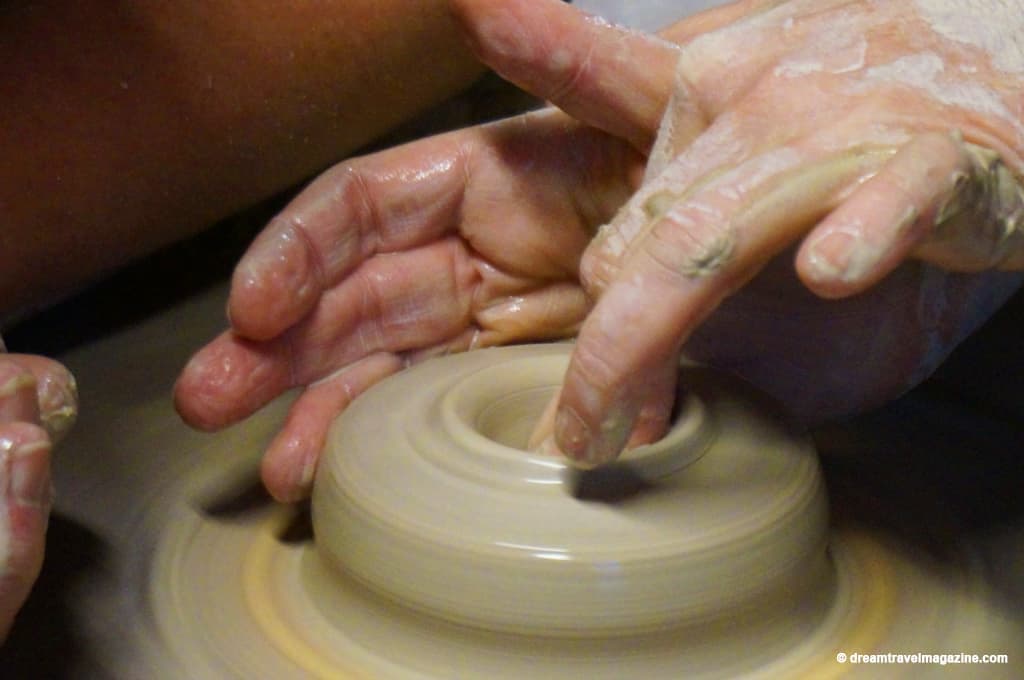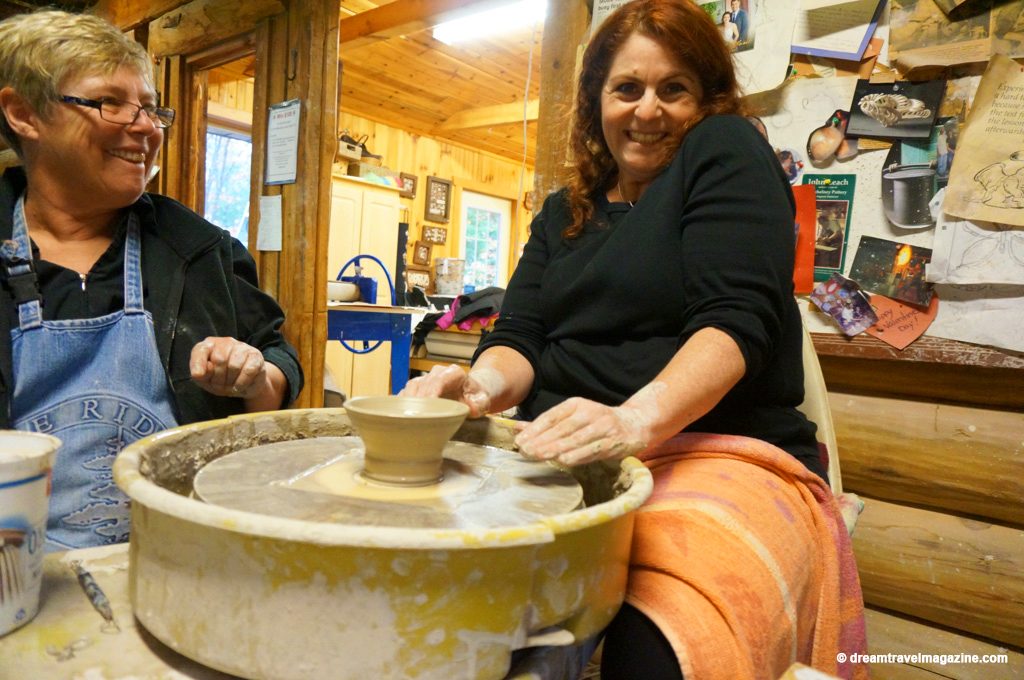 With my first piece of pottery completed it was time to go at it again, this time, to create a cup. I pressed the pedal, added water to the clay as the wheel spun in front of me and tried to open the hole for my cup. I watched as my clay turned into a very short and wide cup…ok it was another bowl.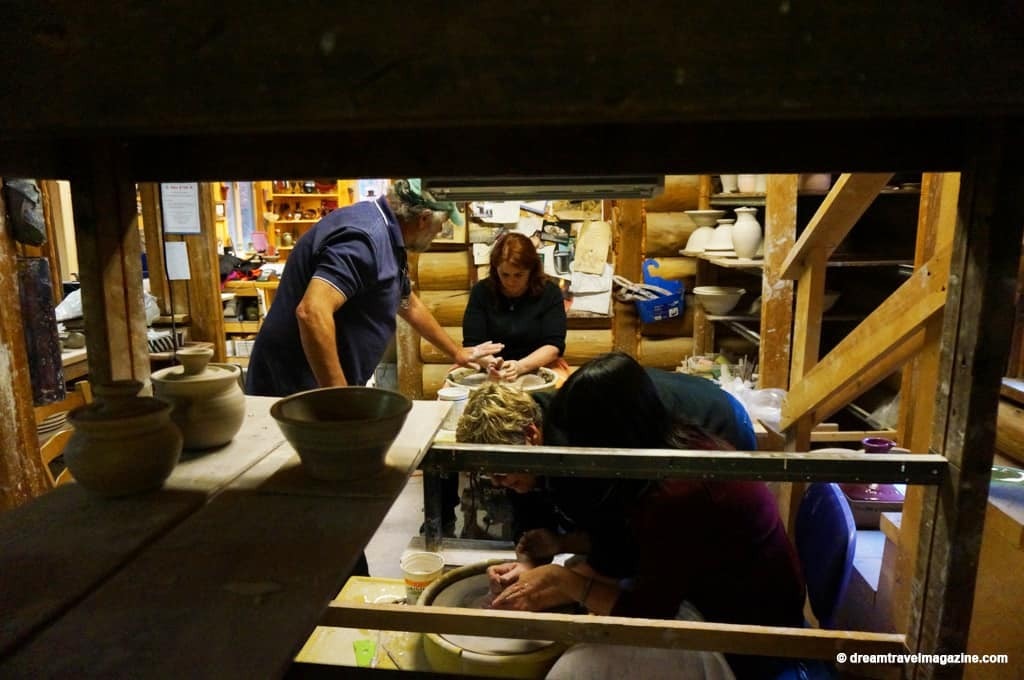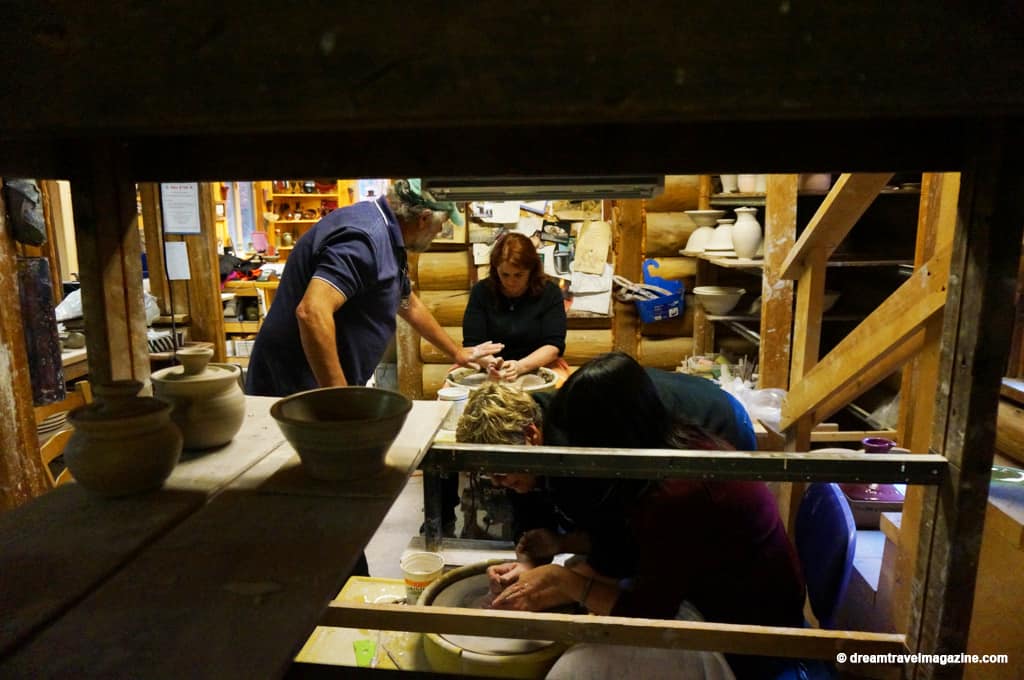 Not to worry Grahame to the rescue as he showed me to push and raise the walls of my glass. I think this was my favourite thing to do on the pottery wheel. Watch the clay rise in front of me between my hands and fingers.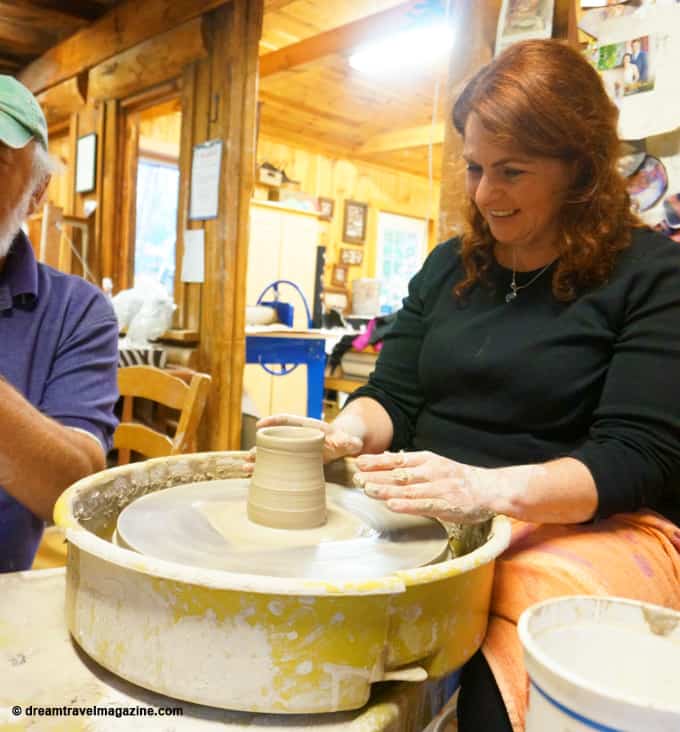 Lot's of Time to Experience the Pottery Wheel
Two pieces down and one more to go. I decided to move away from perfection; I wanted a "funky cup" this time. This time with more confidence I went to work strategically trying to shape the cup, open the hole and raise the walls.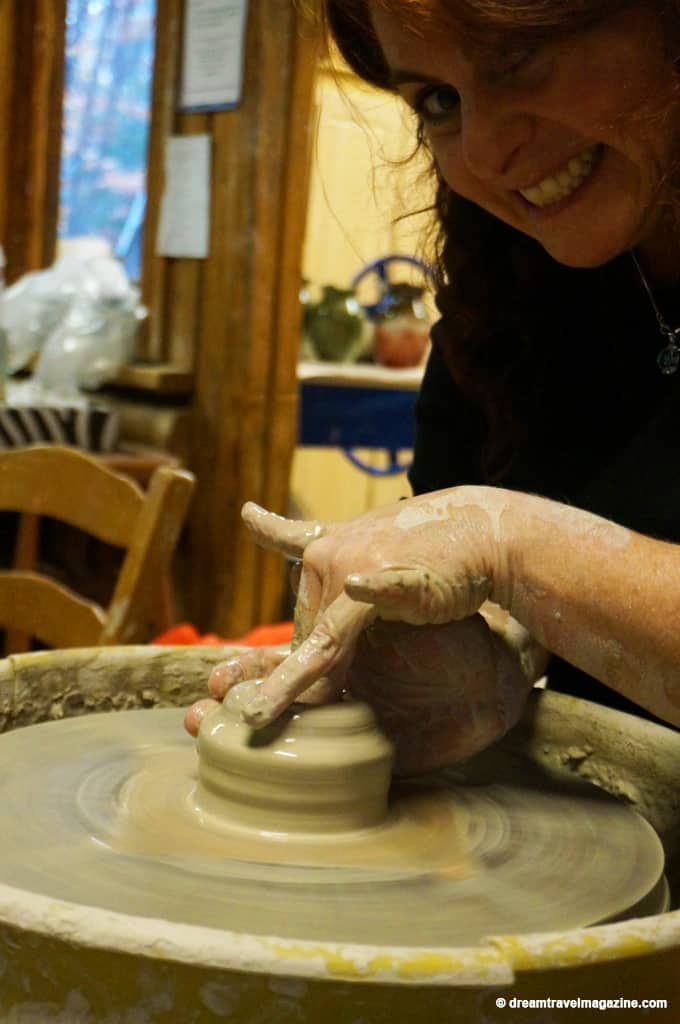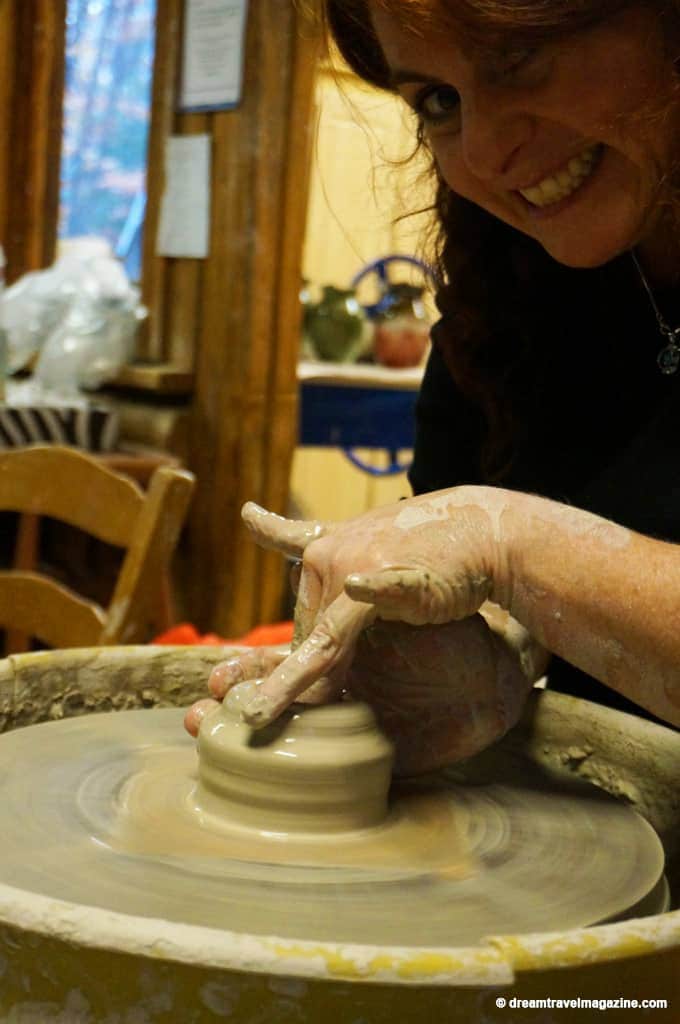 Before I knew it (with just a little more help), I had a cup in front of me (with sound walls), and it was time to get funky. I pinched the clay to form a wonky cup opening and my third and final piece of pottery on the wheel was complete.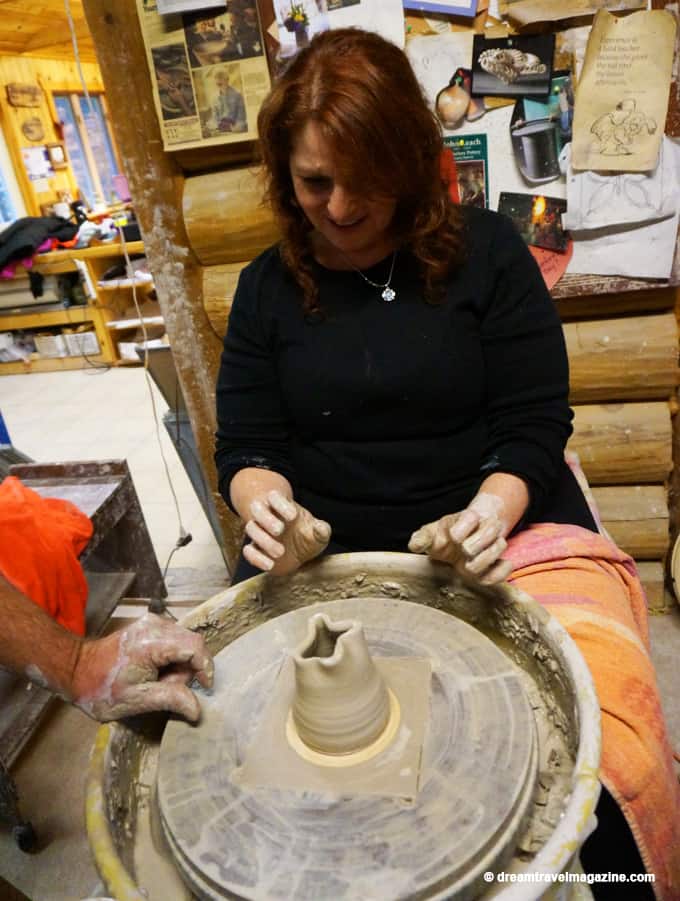 Just like that, I had three pieces of pottery completed!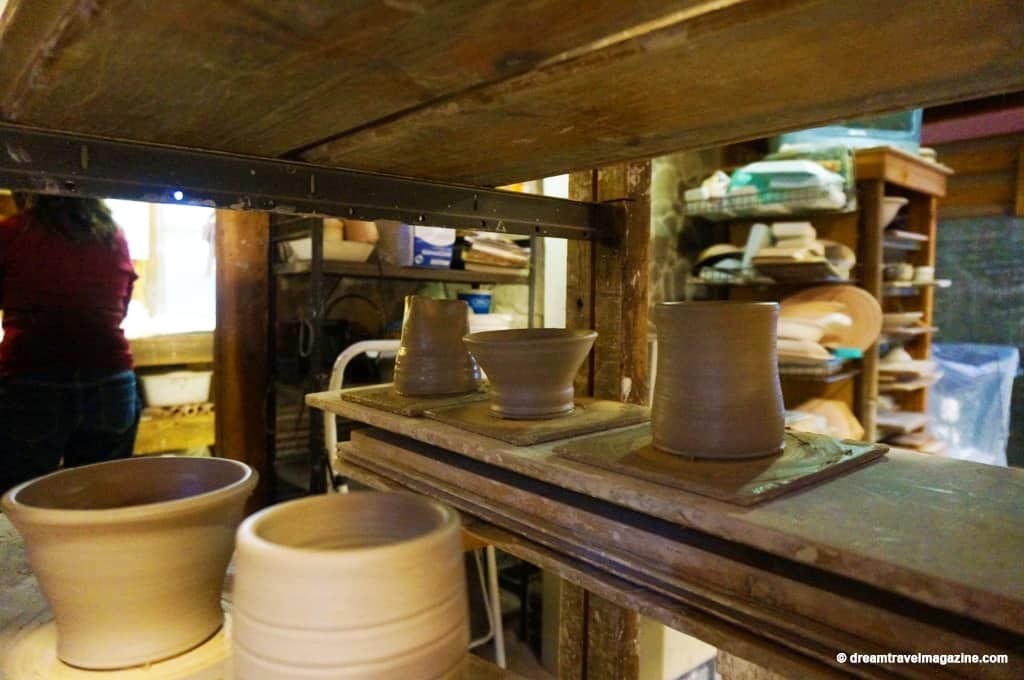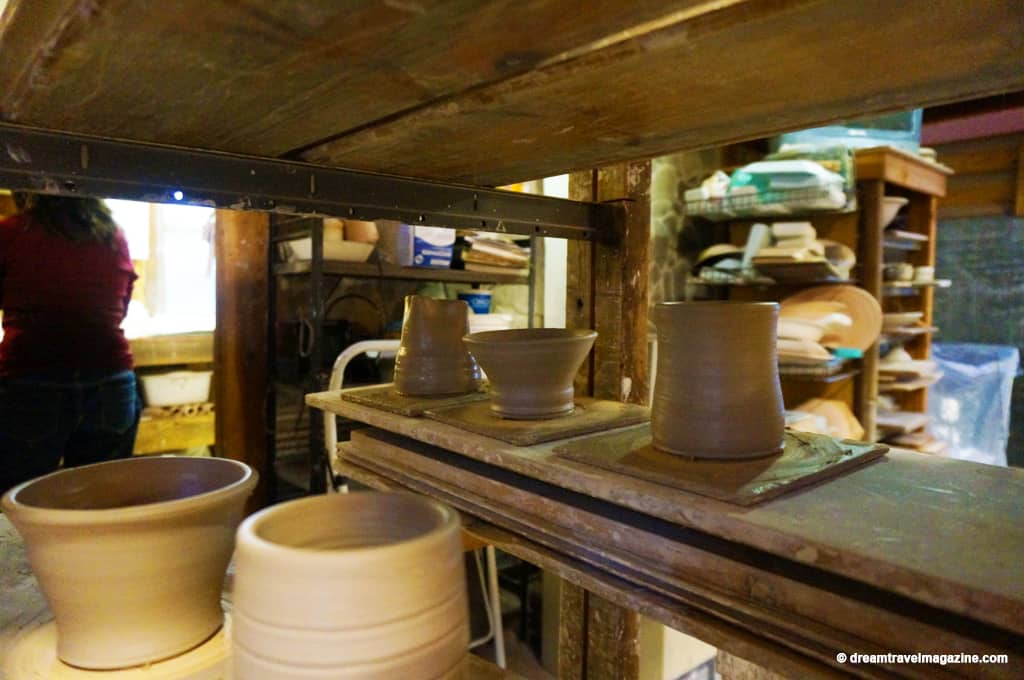 Making Clay Pottery by Hand
Our workshop moved into the front room of the studio, where we received thick, flat clay that was rolled out for us in a slab roller.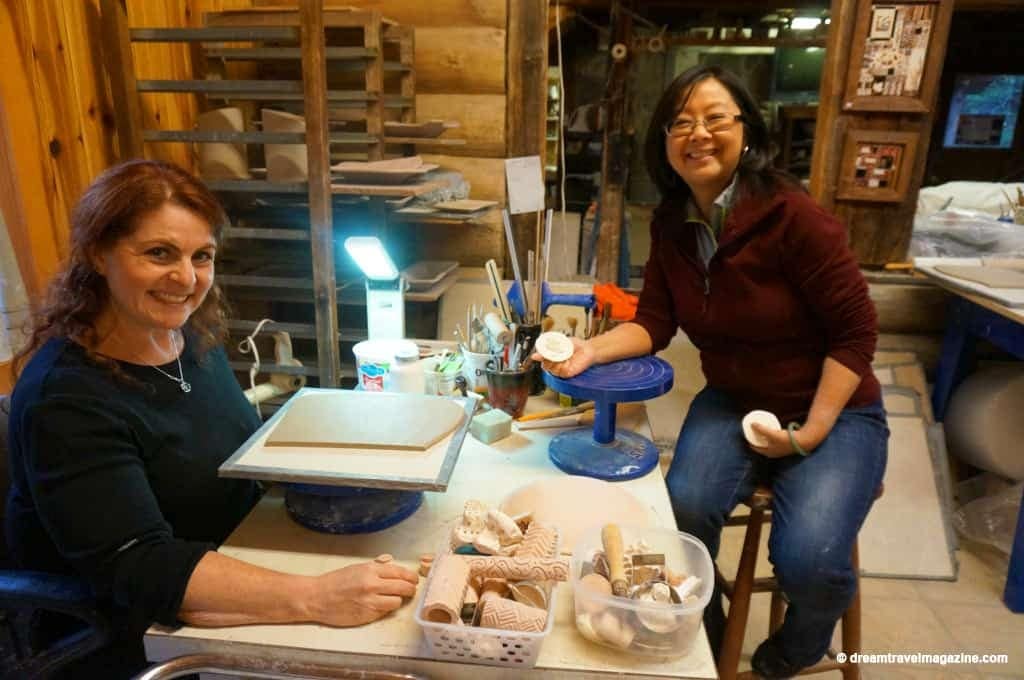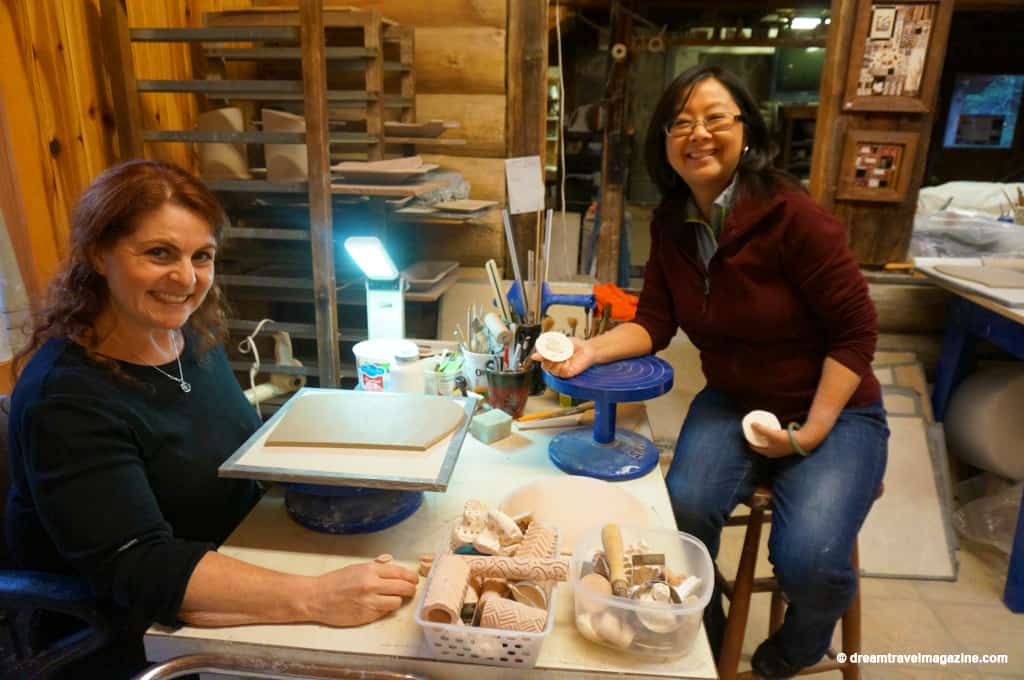 The goal was to create two plates. The process a totally fun and creative one. Take cut outs, patterned shapes, and other stamps to punch patterns on the flat clay.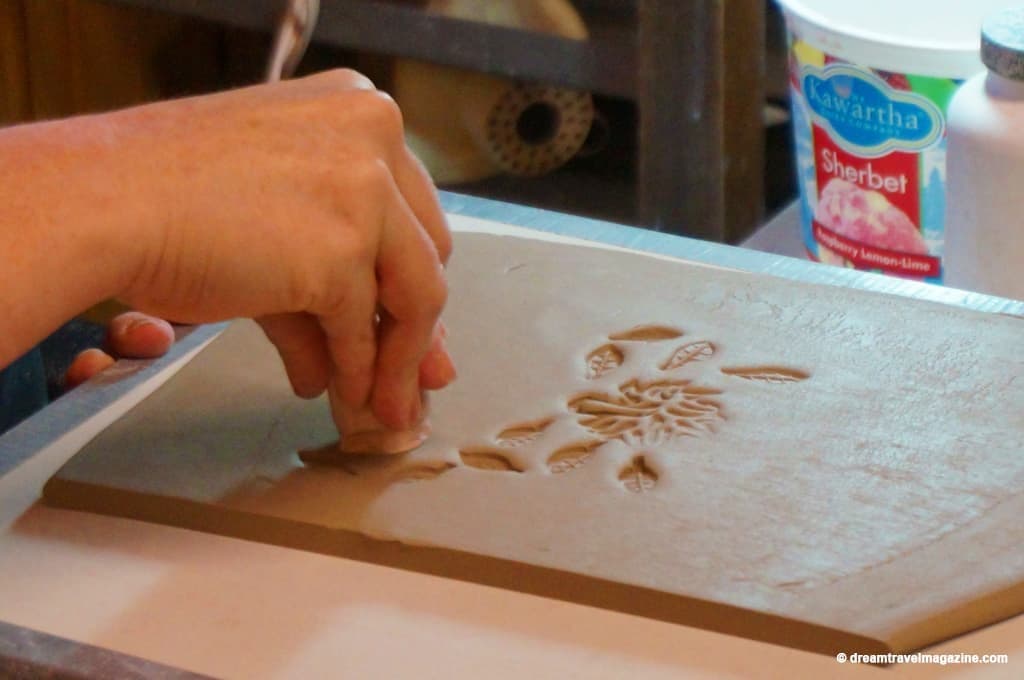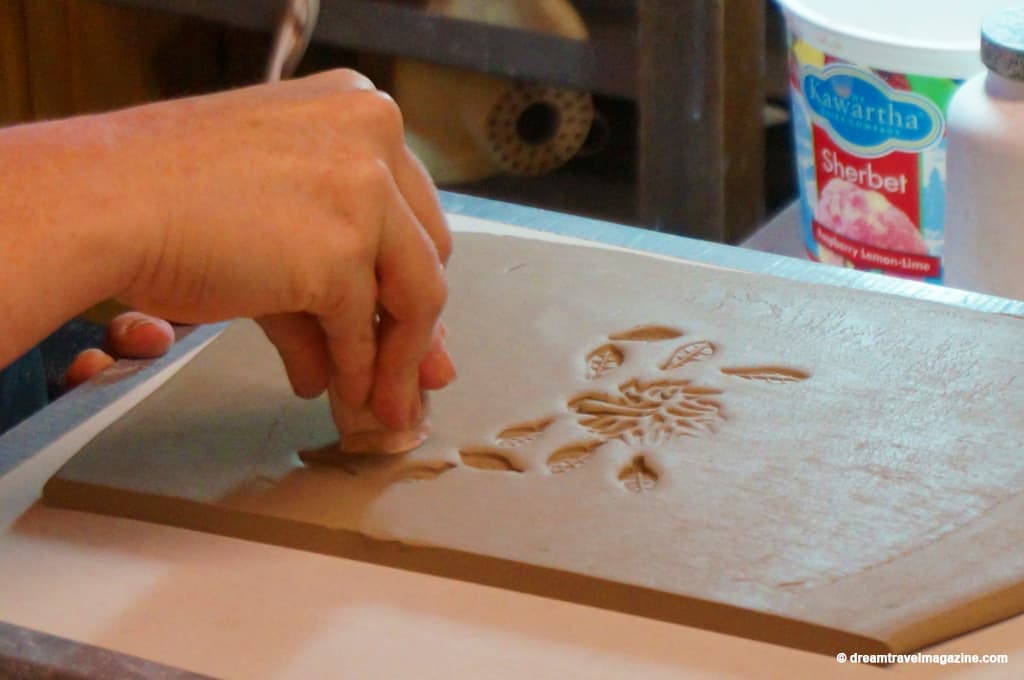 Then to give our plates some shape, we placed them over a mold and had to flip them upside down where we could work on it some more.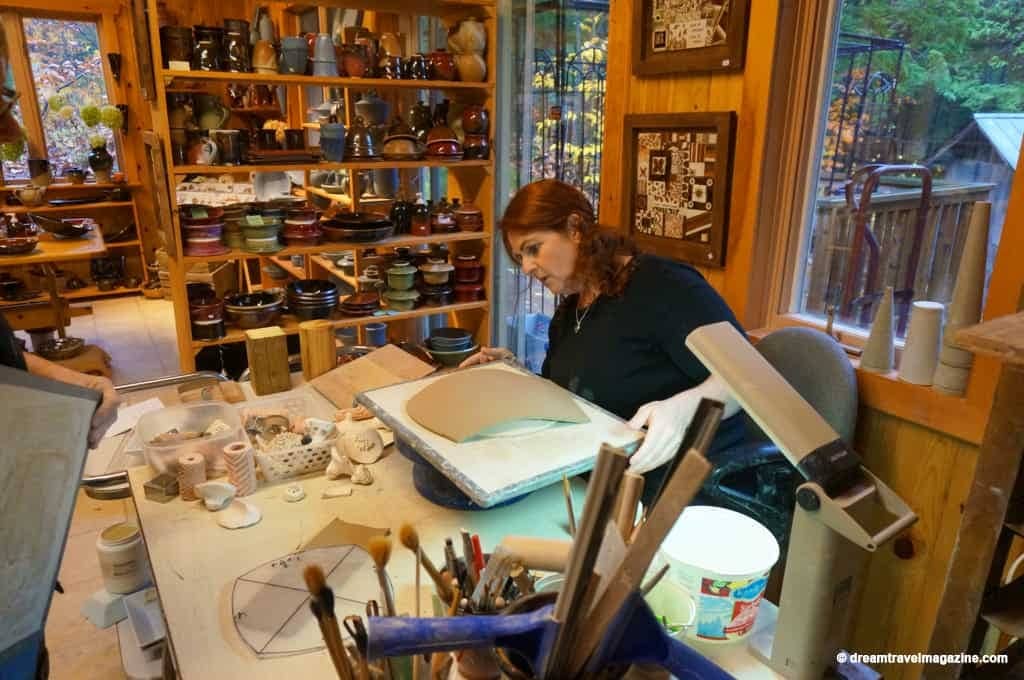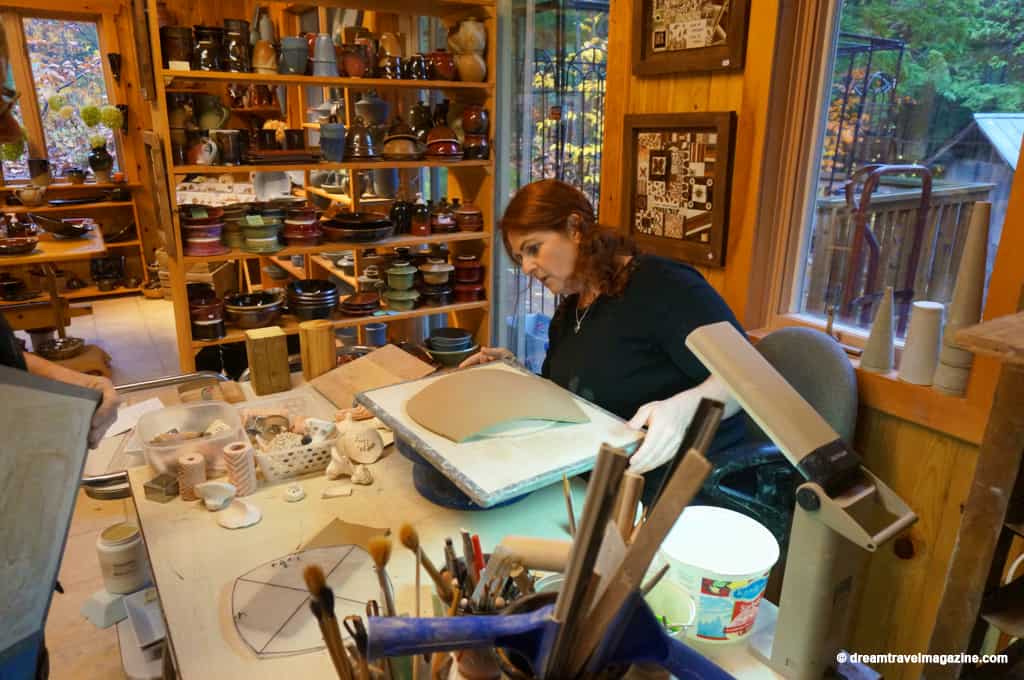 Using fancy paper templates, we cut the plates shape and watched it form with the help of the mold below it.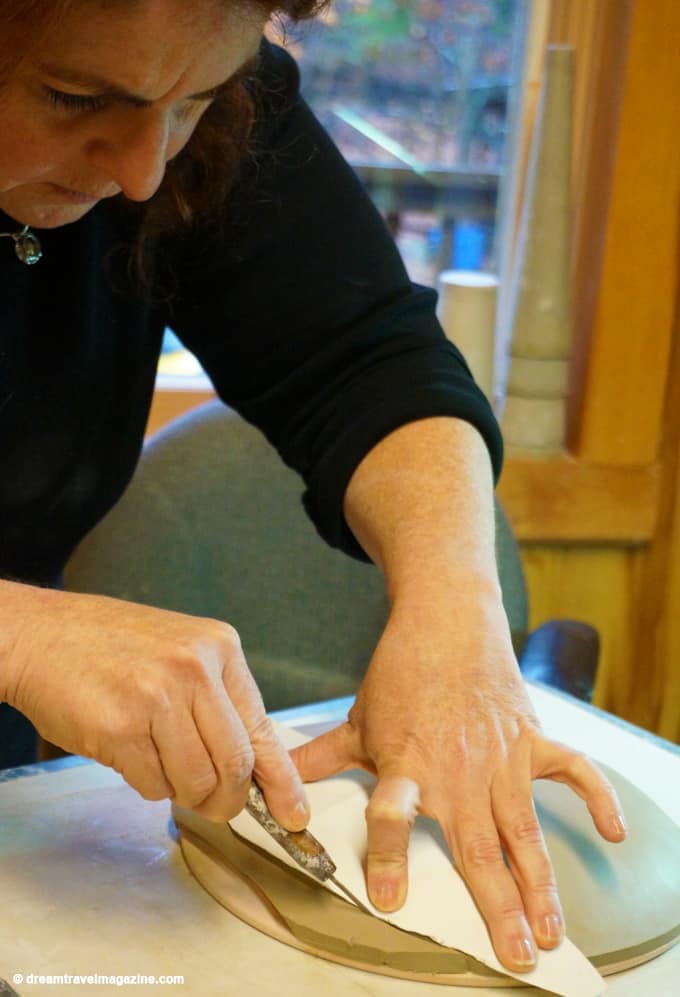 The last step was to apply the little feet which Debbie helped us place to ensure our plates would be stable and to sign our names on the bottom.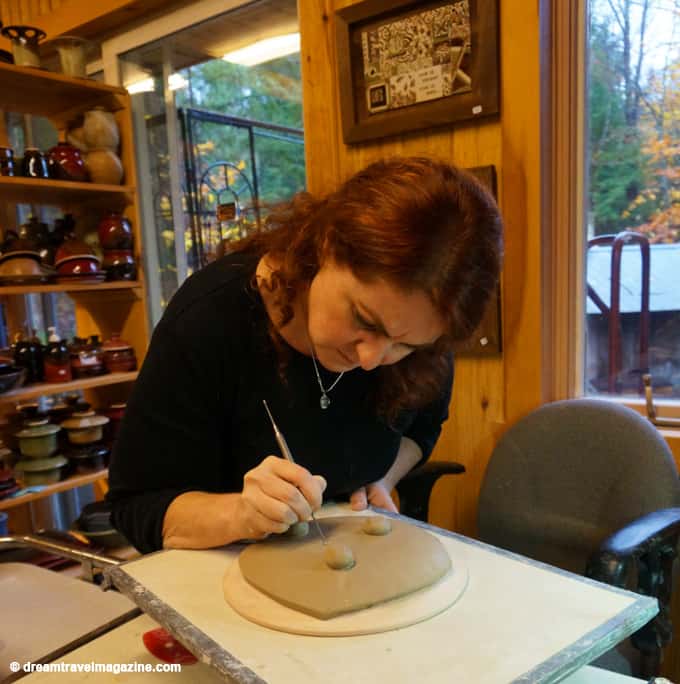 We got a little demonstration on rolling our clay through the slabber; it involved picking up and throwing the clay down a few times to loosen it up ( a job I was not good at which involved more strength and precision as you threw the clay down than I could handle). But after rolling it through the slab roller a few times we had another piece of clay to work with to make another plate.
Perfect activity on a rainy day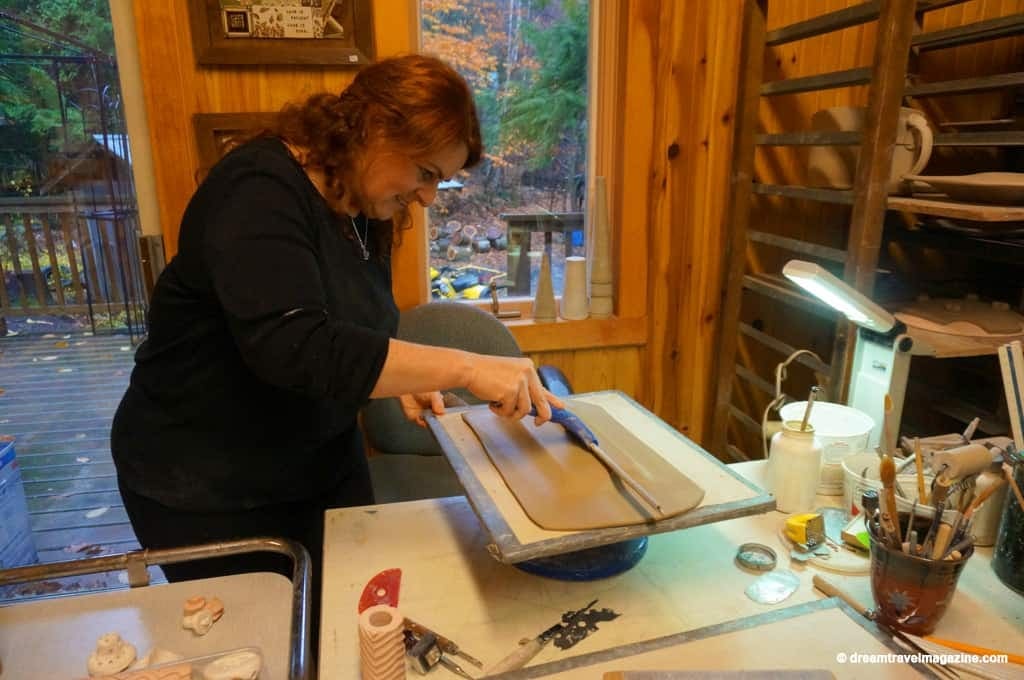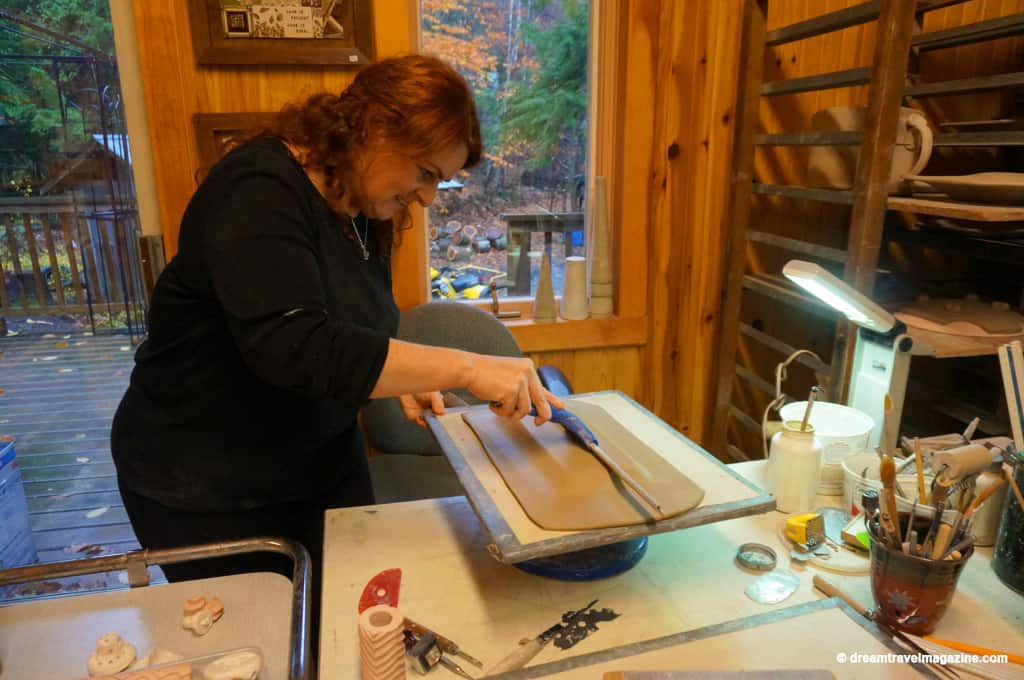 As time ran out, we decided to make a long, rectangular plate, with no feet. I applied the patterns, flipped the clay over on its mold like a pro and signed my name again.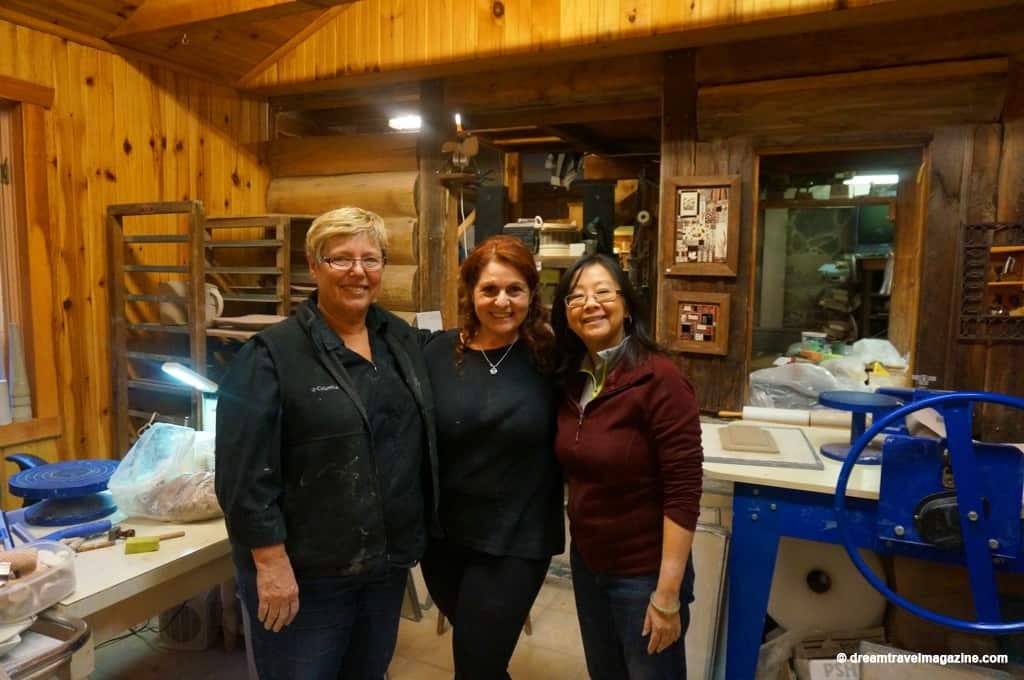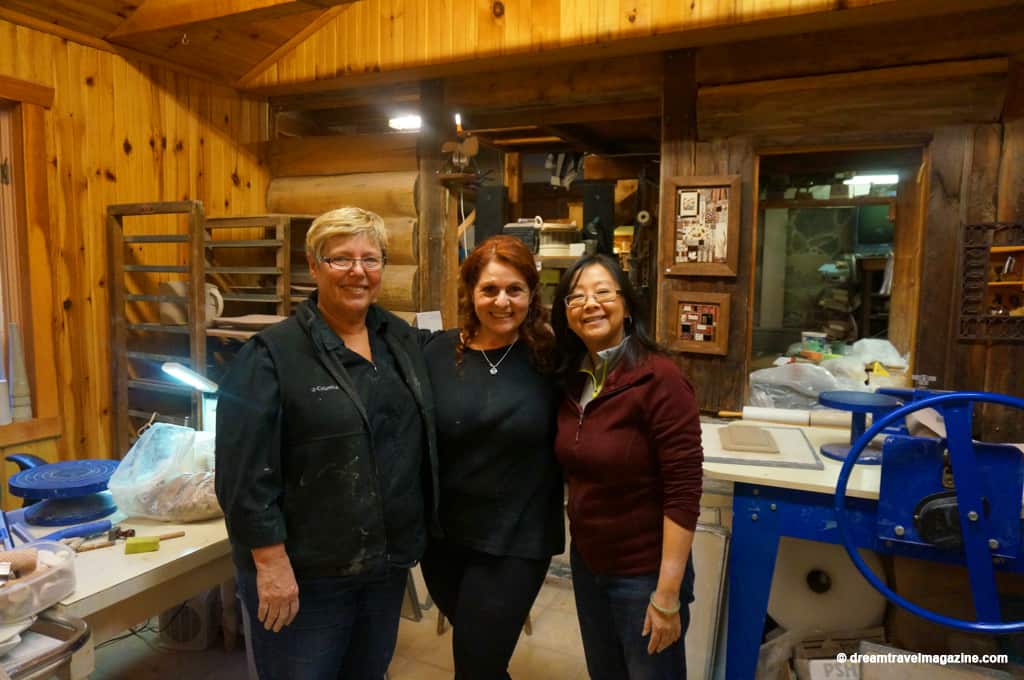 The last step was choosing which colour glaze to use on our pottery, and I wanted a light blue glaze for my wheel made pottery and a lovely green glaze for my plates. This process of glazing and cooking our pottery was done by Grahame and Debbie after we left. They fire the Kiln only when it completely filled with pottery and then Yours Outdoors helps to arrange the delivery of your pieces when they are complete.
Special thank you to our tour guide Maria with Yours Outdoors for taking photos of us during the entire afternoon! 
After all the pottery work ended and our hands washed, we went into Grahame and Debbie's house for a warm cup of tea before our ride home.
Tips for Attending this Yours Outdoors Pottery Excursion
Wear comfortable and old clothes – you will get dirty while attending this workshop.
Talk to Yours Outdoors about delivery options ahead of time to make sure you can ship your finished pieces safely to your home.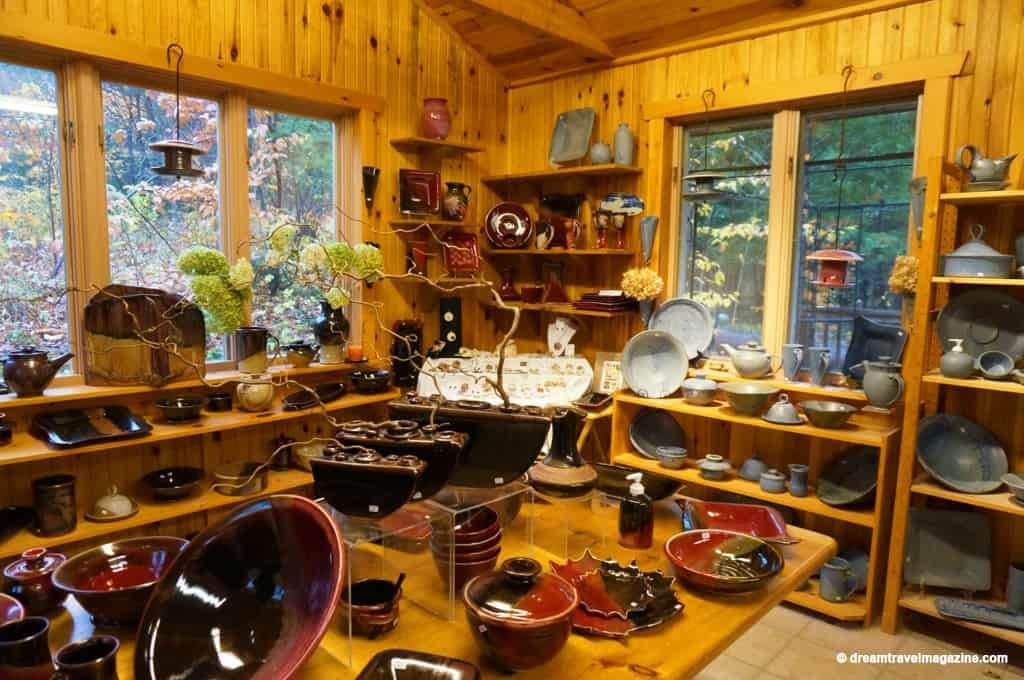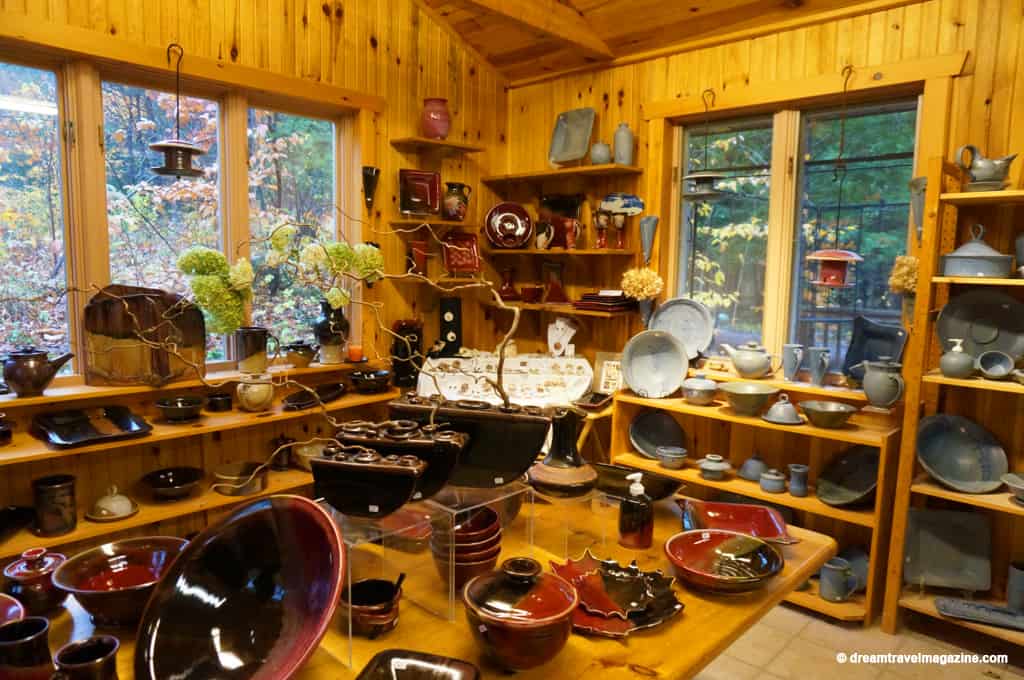 Don't Want to Get Your Hands Dirty?
You can visit the Pottery Studio if you are in the area and choose from a large selection of glasses, plates, jewelry and much more. The studio is located near Little Boshkung Lake, Carnarvon in Haliburton County, Ontario.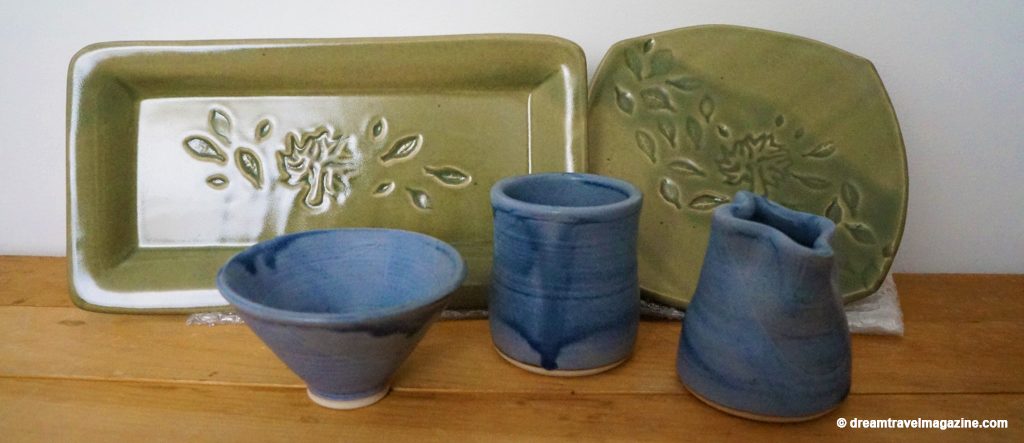 The Final Product Arrives
It is a long wait to get your pieces delivered after you participate in this excursion, but so rewarding. I am now the proud owner of a bowl, glass, some wonky thing and two beautiful plates. An extraordinary day, and if you are planning a trip to Haliburton I recommend giving the team at Yours Outdoors a call!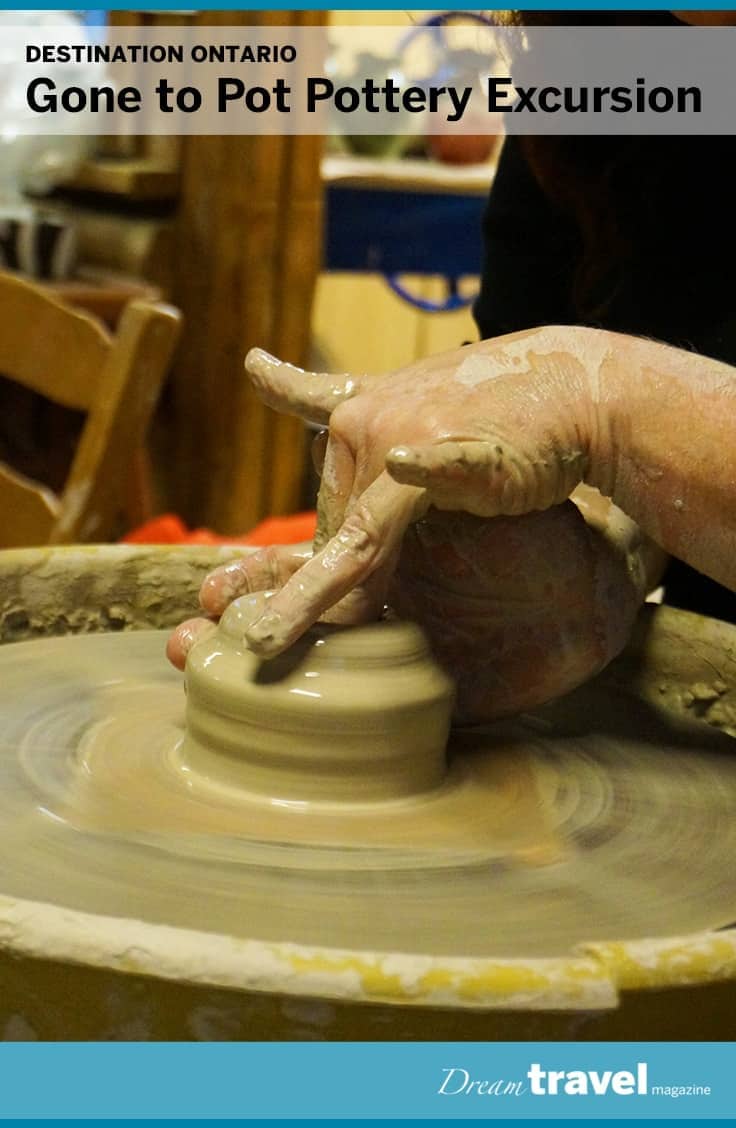 Travel Assistance provided by the team at Yours Outdoors and the Ontario's Highlands Tourism Organization, however, the opinions expressed in this post are my own.