I've always wanted to experience . That fill in the blank sentence has taken me on many adventures since I started this website. I've experienced many things but, none as unique and diverse as the tours arranged by Yours Outdoors on a recent trip through the Haliburton Highlands in Ontario. Bottom line: if you are looking to visit the Haliburton area and don't know what to do, call Barrie Martin and the crew at Yours Outdoors. Why? They are connected and known to just about everyone in the region.
Whatever you've always wanted to do and it doesn't have to be high flying adventure, Yours Outdoors can customize the right experience for you. Our epic adventure tested are creative side, gave us a taste of winter adventure and even introduced us to new musical genres.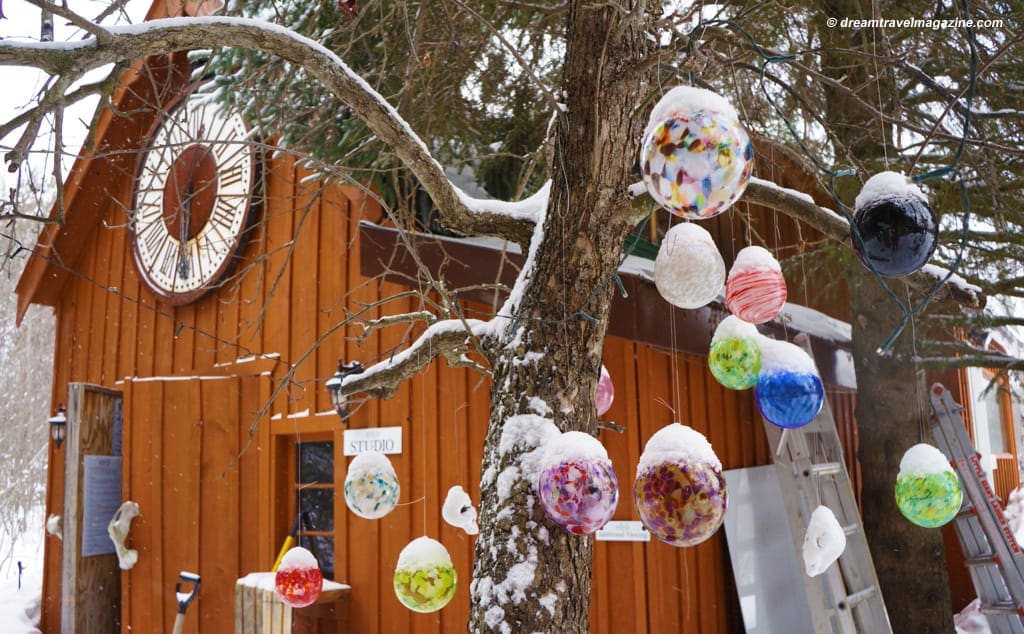 Smooth as Glass – Challenging Creativity in the Face of the Furnace – Glass Blowing with Artech Glass
Before my trip to Haliburton, I didn't even know you could participate in hands-on glass blowing workshop. It was the furthest thing from my mind actually, but there I was standing in front of a blazing hot furnace filled with molten glass. Our mission: complete three pieces of art (with the help of Terry Craig) including a glass blob (paperweight), a glass snowball (hanging glass ball) and a bowl.
So the first task was to take the rod and dip it into the molten glass in the furnace. As soon as the door to the furnace opened, I felt the heat on my face and hands. Gently turning the rod, my first glob of glass was gathered.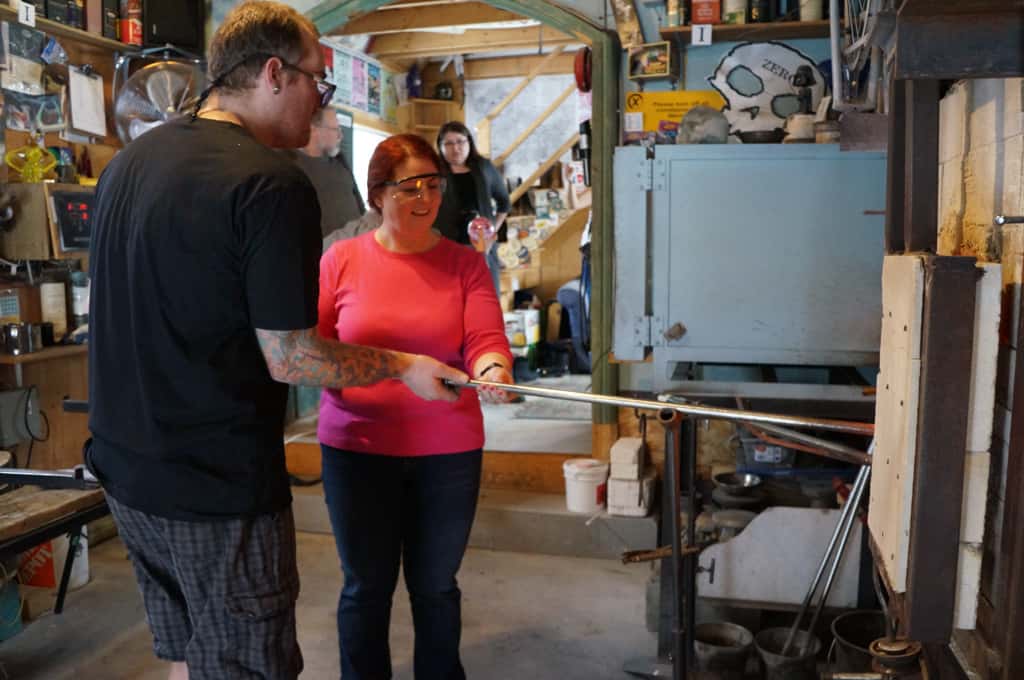 I went back to the bench and did everything in my power not to touch the fire hot steel rod with my right hand. I held the shaping tool with my right and while rolling the rod with my left hand (on the cool end of the rod) and watched the blob transform. Then back to the furnace to heat the glass blob. We added some colour glass pieces to the blob, reheated again and continued shaping. Just when I had it all smooth and round, Terry had me grab the pinchy tools (a very sophisticated glass blowing tool) and start pulling the glass into ribbon like pieces.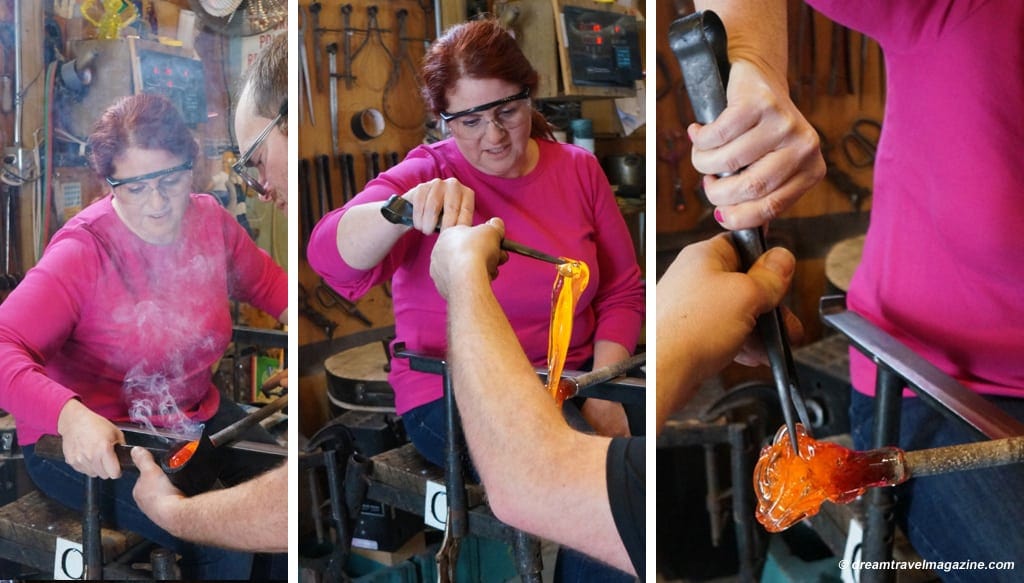 The steps repeated again, we went back to the furnace, gathered more molten glass, brought it back to the bench and smoothed my blob again. That created my paperweight. To make the glass ball we repeated all these steps, but this time the steel rod was different. It had a mouth piece on it where I had to blow air through it to get an air bubble in my blob.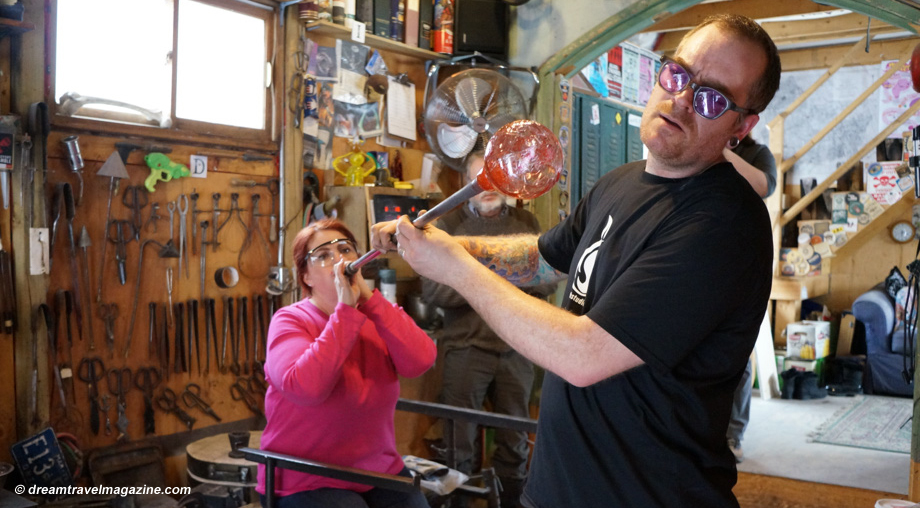 The fear of burning myself started to subside with each piece I worked on. In just a few hours we each had three pieces of glass blown art completed. They had to stay overnight at the studio to cool but this is what I got to take home.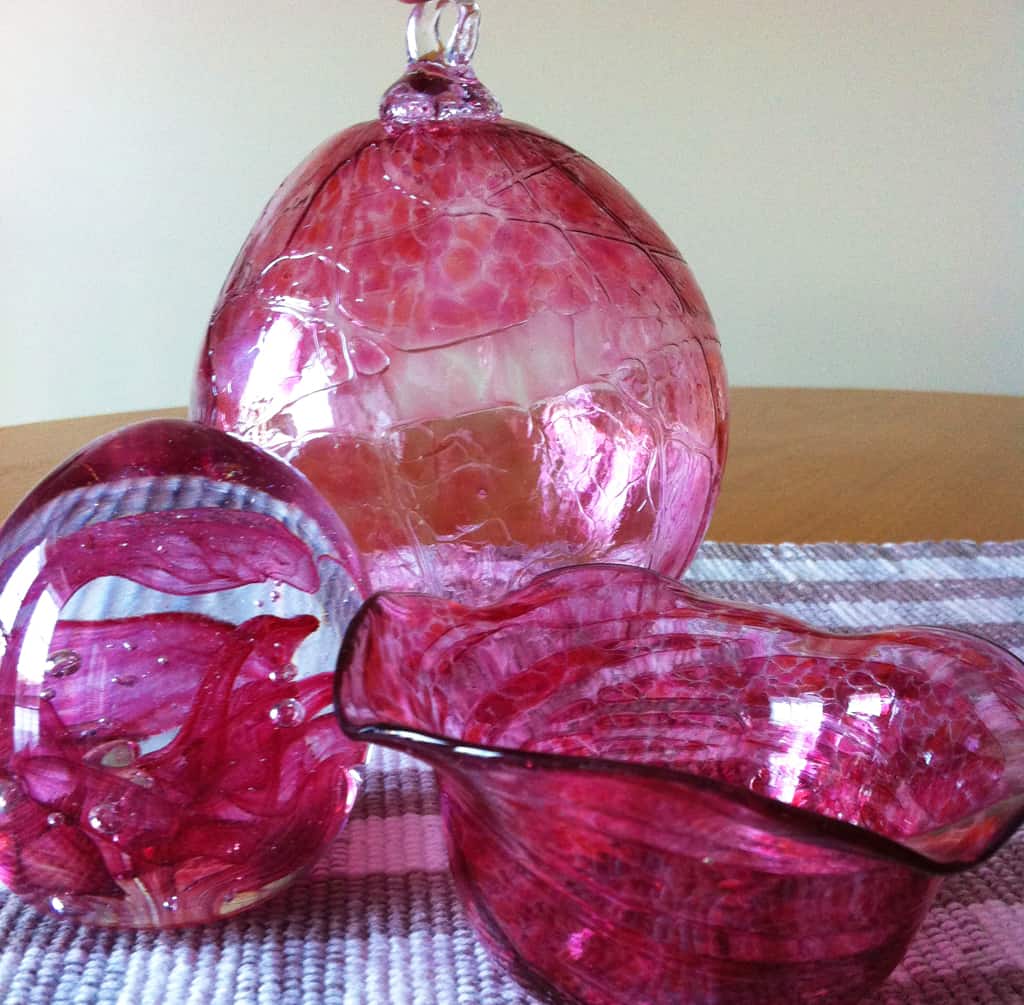 The Artech Glass Blowing Studios
Owners Terry Craig and Jennifer Wanless-Craig are well known for their hand blown beer glasses and stemware which they design themselves in their studio. They live in an old refurbished Church filled with collectables and can be seen attending an art show or two where you can buy some of their creations. For a list of shows you will find them at visit the Artech Glass Blowing Studios website. To book your glass blowing experience visit the folks at Yours Outdoors .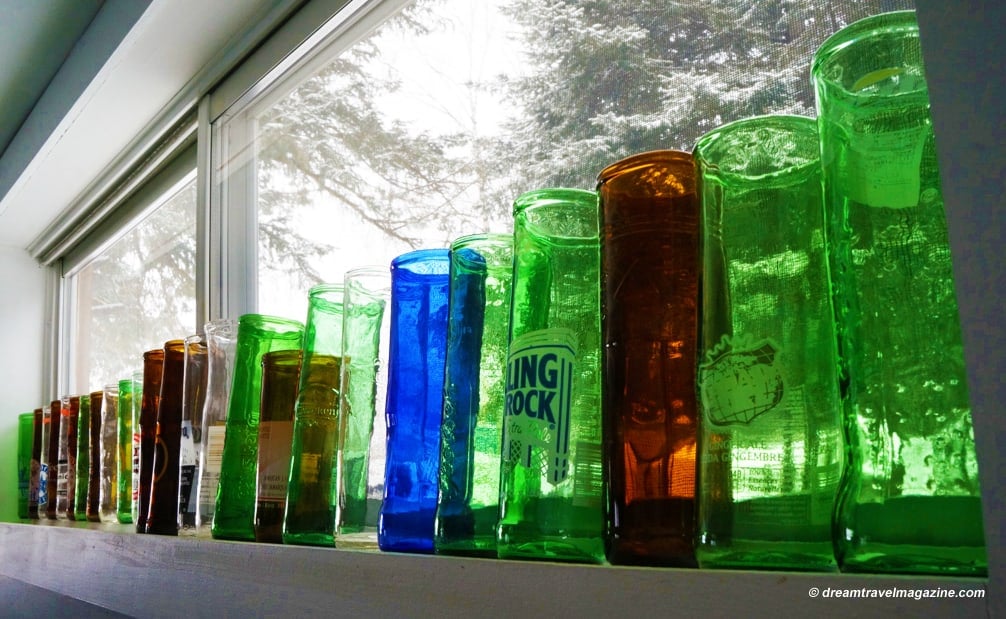 Up Close and Personal at the Haliburton Winter Folk Camp 2014
I love it when my travels bring me to places where I can experience some great music. How fortunate we were to be invited to an evening at the Haliburton Winter Folk Camp. This annual event held by the Haliburton County Folk Society brings top musicians to participate in a number of sessions and song circles with camp attendees who want to improve their music skills.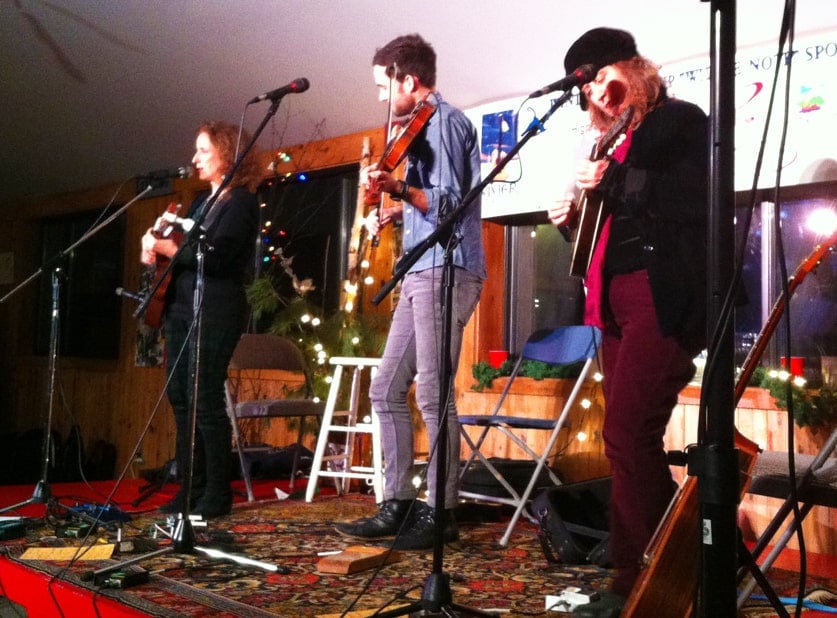 Barrie from Yours Outdoors drove us to the event where we were treated to an intimate performance by Tim Chaisson, October Browne and Teresa Doyle. It's not every day when Canada's Juno award winning best cross your paths and share an intimate performance with you. I'm happy to report that I have now added Folk Music to my iTunes library!
A Walk in the Woods – Snowshoeing at the Minden Wild Water Preserve
With fresh snow on the ground on a beautiful Sunday morning in Haliburton we were greeted by our Yours Outdoors tour guide Maria for an "easy" snow shoe walk at the Minden Wild Water Preserve. There was a little concern at the start, I'm not going to lie, about how physical an activity snow shoeing actually is, but it turns out, snow shoeing is rather fun. There are a few awkward moments at first as you learn to walk with metal board like object strapped to your boot, but then it just becomes more natural.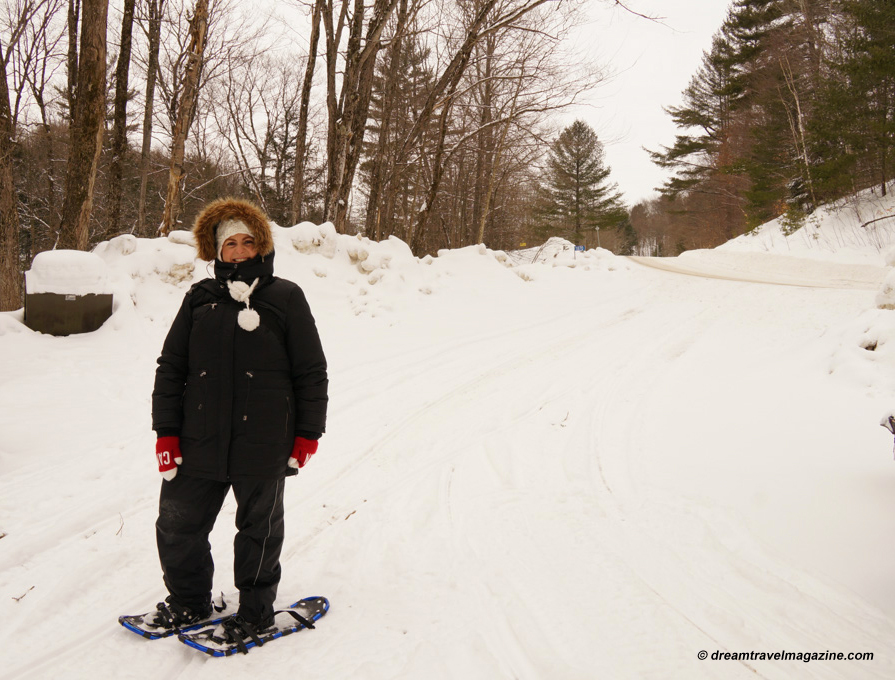 The Minden Wild Water Preserve was the perfect backdrop for our hike. With each step I was more and more confident that I wasn't going to fall through the deep snow. Beside us the waters of the Gull river laid the perfect soundtrack, for a beautiful sunny day.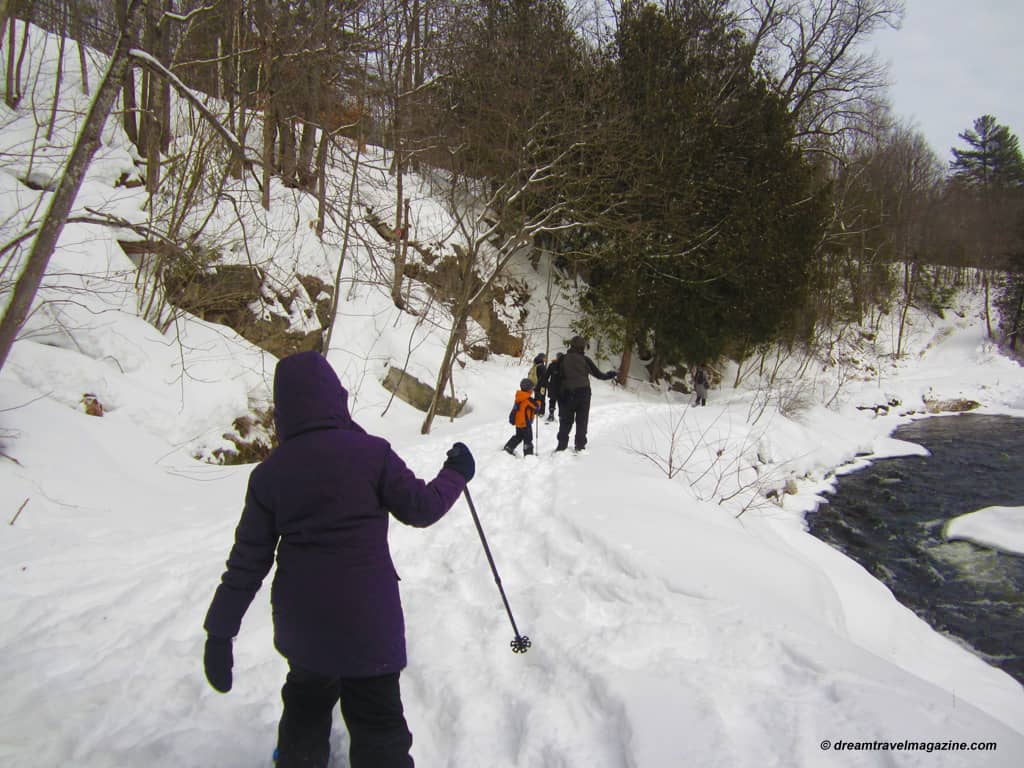 The Minden Wilde Water Preserve is a natural canoeing and kayaking slalom facility in Minden,Ontario, that will be used for the 2015 Pan American Games canoe slalom events.
Yours Outdoors – A Final Word
There is something really amazing about planning a trip somewhere and knowing that you are in good hands. The team at Yours Outdoors made sure all the arrangements were taken care of, that we arrived safely in bad winter weather and that we enjoyed our experiences to the max. The group offers many year-round activities in the Haliburton region for you to choose from when you are creating your custom experience!
Thank you so much to everyone at Ontario Highlands Tourism and Yours Outdoors for this amazing adventure! Look forward to seeing you all this summer!
These experiences were arranged by team at Yours Outdoors and sponsored by the Ontario's Highlands Tourism Organization, however the opinions expressed in this post are my own.