This article may contain affiliate links. Clicking on or purchasing products we recommend through a link may earn a small commission. Read our disclosure and privacy policy page for details. *COVID-19 TRAVEL ALERT – Travel recommendations offered on this site are not to encourage you to travel against travel advisories.
I feel lucky that I stayed on the second floor of the Delta London Armouries hotel. As I walked towards the stairway, I saw all the beautiful pictures marking the history of the historic building. Aside from the Grand Lobby and the apparent castle like enclosure on the outside, I had no idea what hidden secrets this hotel was hiding.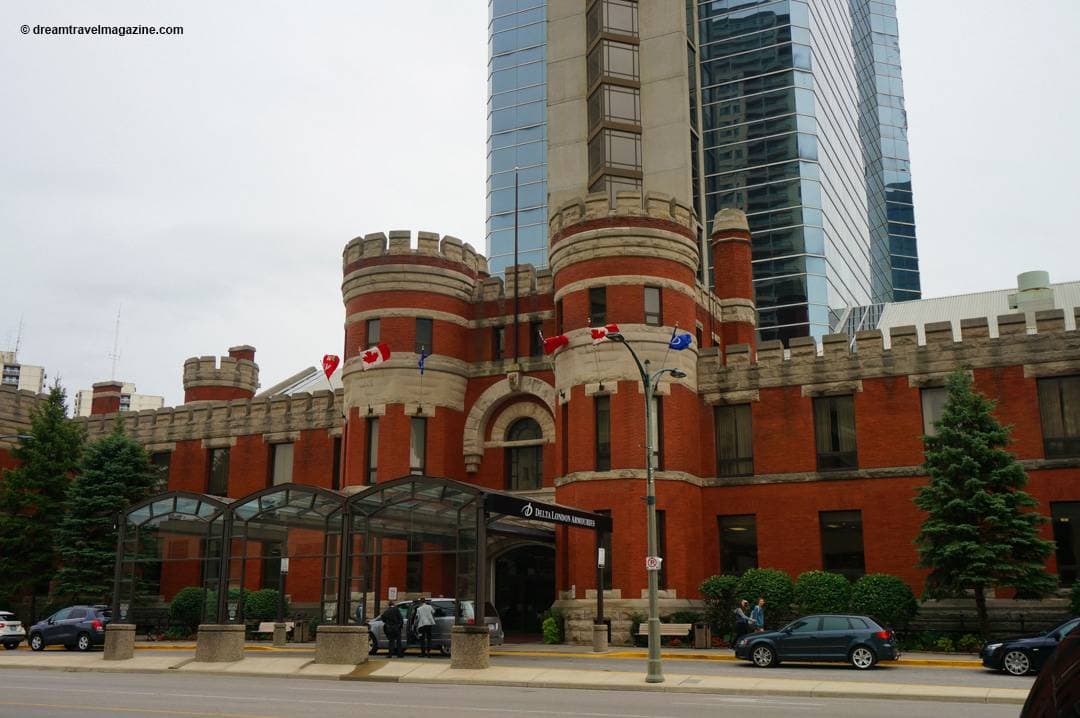 Delta London Armouries Hotel
Located just steps from Downtown London Ontario, don't let the historic facade of the hotel fool you. The Delta London Armouries is filled with all the modern luxuries we guests need and a few great extras for business travellers.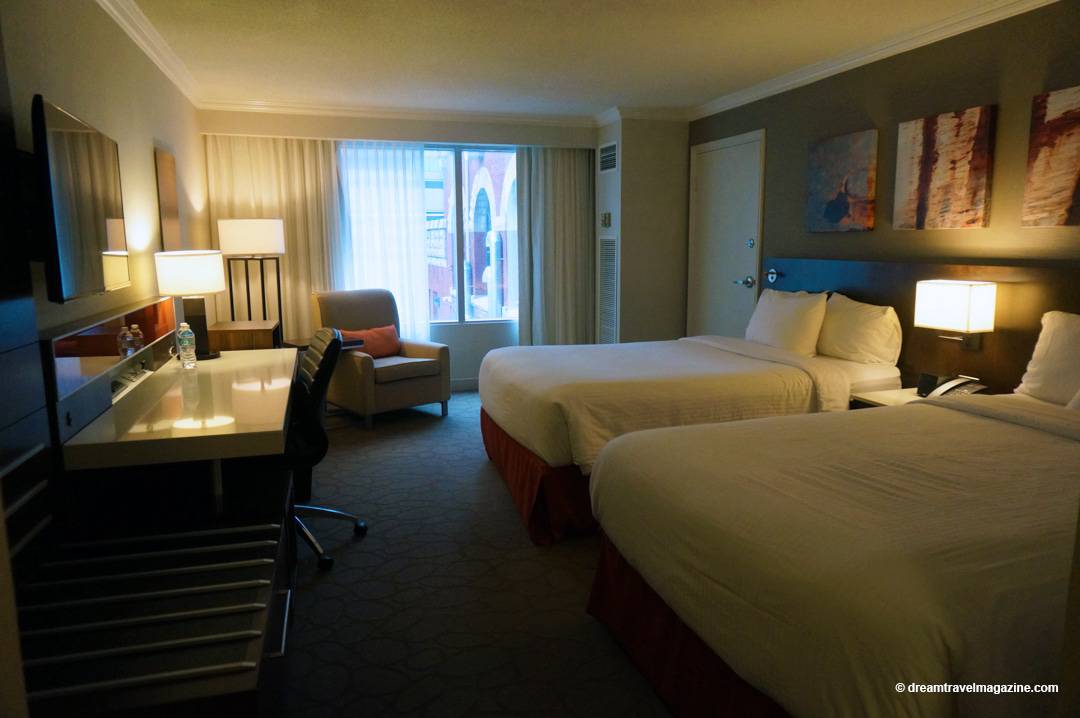 City Facing Room at Delta London Armouries
Unfortunately, my city view turned out to be more of a dumpster back alley view of London Ontario, but the room was perfect for this trip. I was here to discover London Ontario, but I also had some work that I had to get done, and fortunately my room was equipped with a perfect desk for this task, complete with all the hookups a business traveller needs.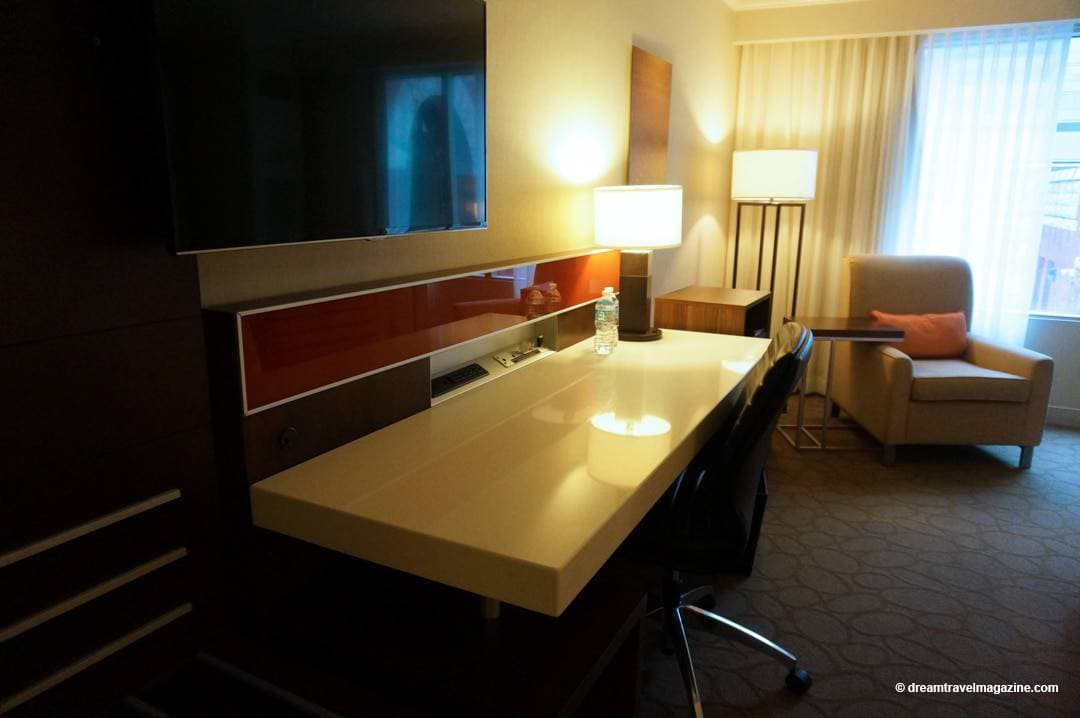 I had a few moments of downtime during my weekend and having a little corner to sit and lounge was great.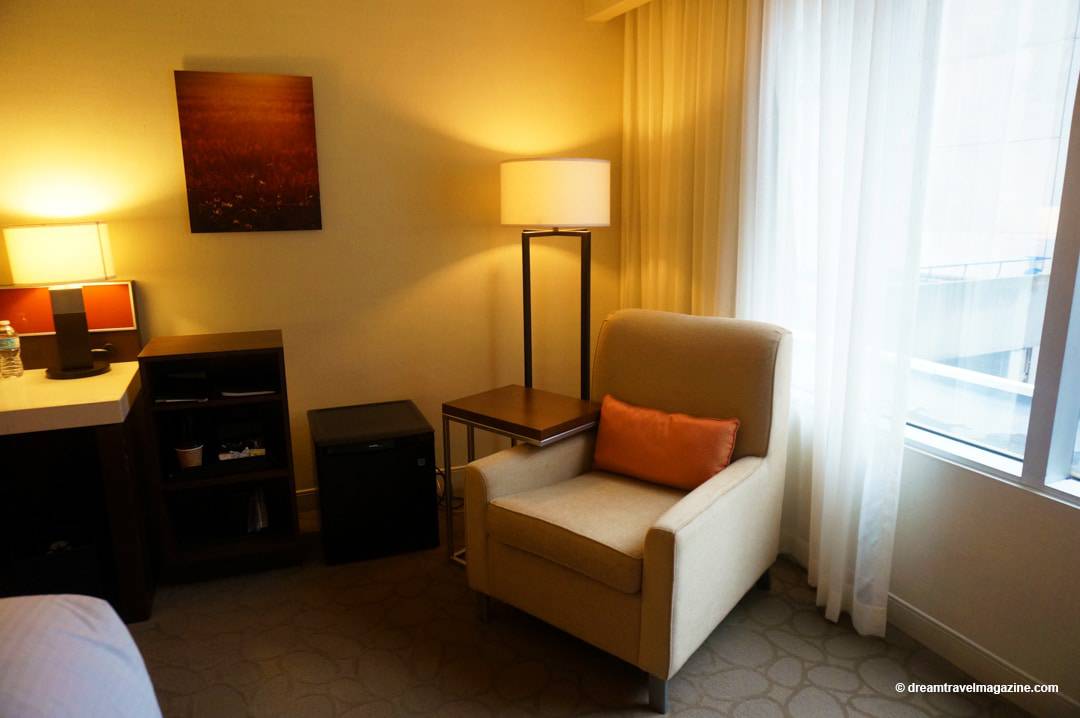 For those of you like me who are interested in knowing what toiletries are available. There were shampoo, conditioner and body lotion from Apothia. I didn't care for them and had trouble with the bottles which didn't seem to want to let the product out.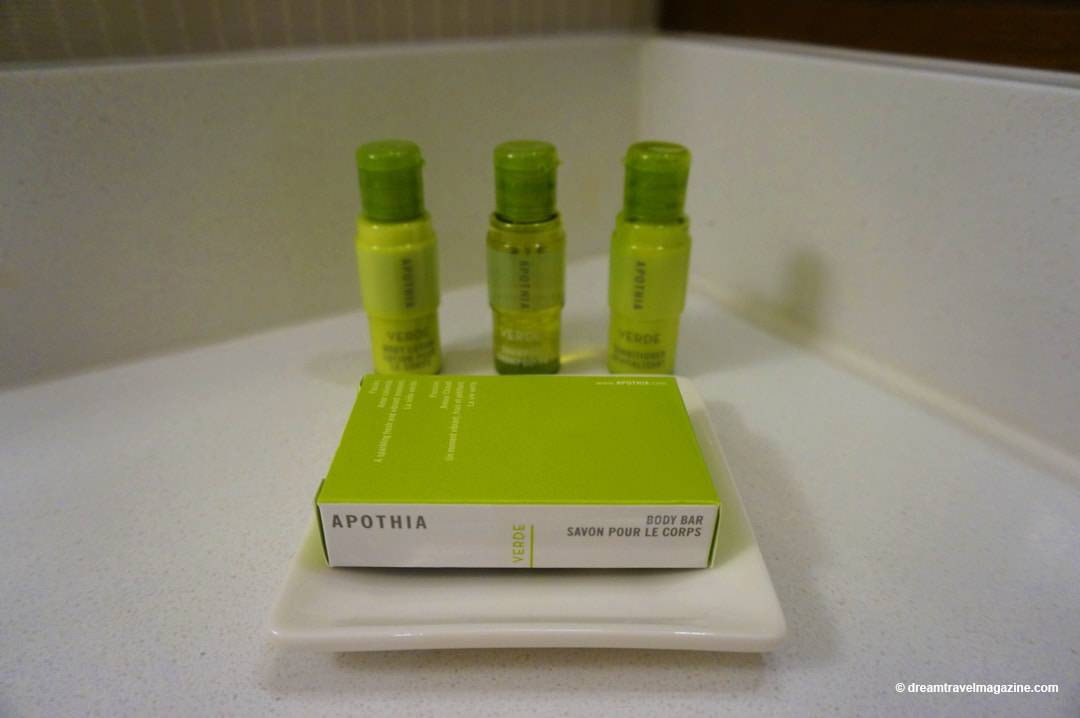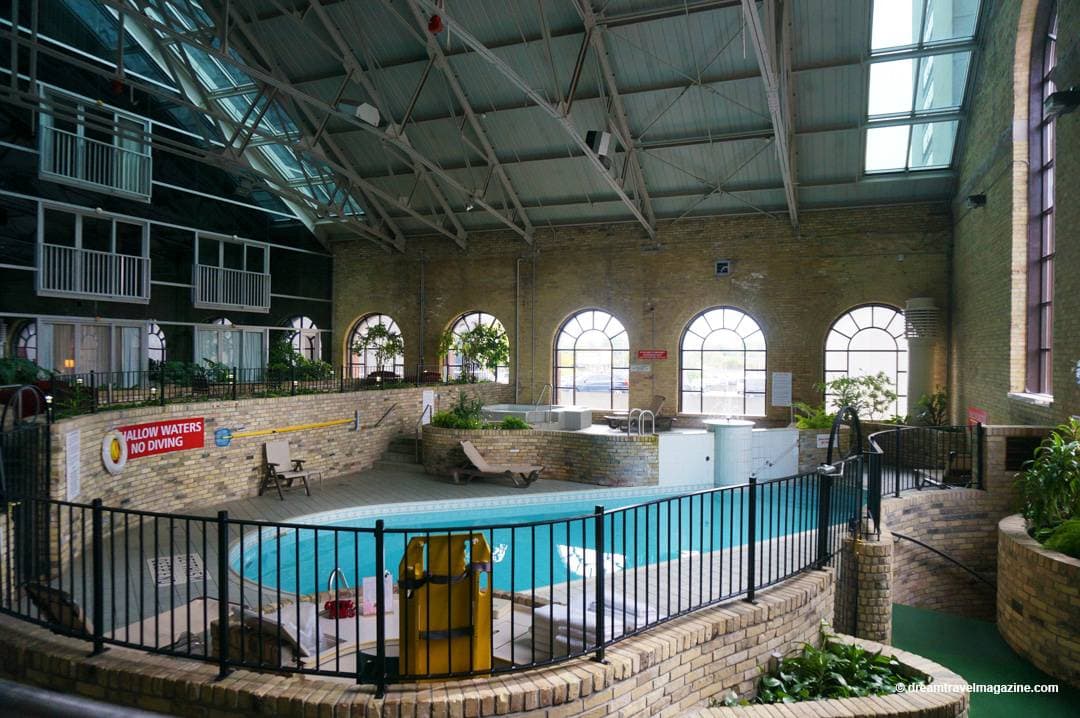 Pool and Fitness Room
The pool area in the building is quite beautiful. Like a little tropical escape but surrounded by the stone walls of the London Armouries building. The fitness room, however, I had a bit of trouble finding. Thankfully one of the valets saw me wondering in the Lobby and sent me in the right direction. It is located in the basement of the building and has a couple of cardio machines and some free weights.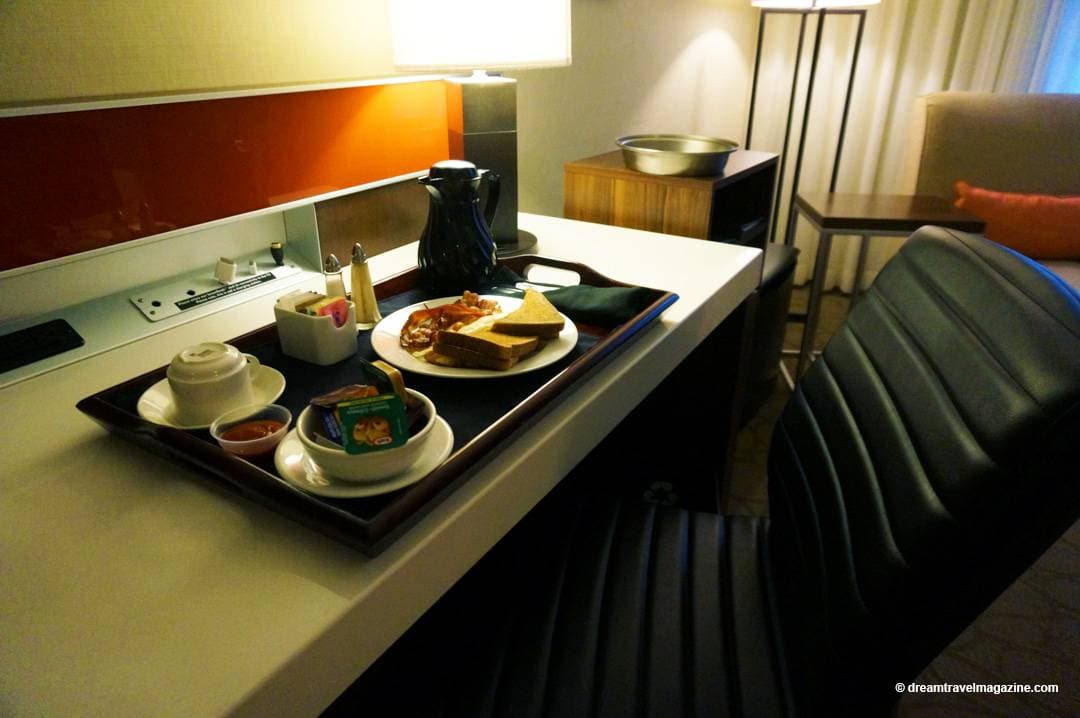 In Suite Services
It's not every day that I get to order room service, but when I do have the time I have to admit it's awesome. The catering staff was prompt with my meal and even when I realised I forgot to order milk for my coffee the had it up to me in a flash.
There is a restaurant in the lobby, but I did not get to dine there as my weekend was filled with scheduled stops.
Hotel Museum and Historic Points of Interest
If you are staying here be sure to check out the second floor of the hotel, as there are some great little artefacts and pictures which tell the story of the original structure. There are a few points of interest in the lobby as well which include a life-size canon sitting atop of the front door.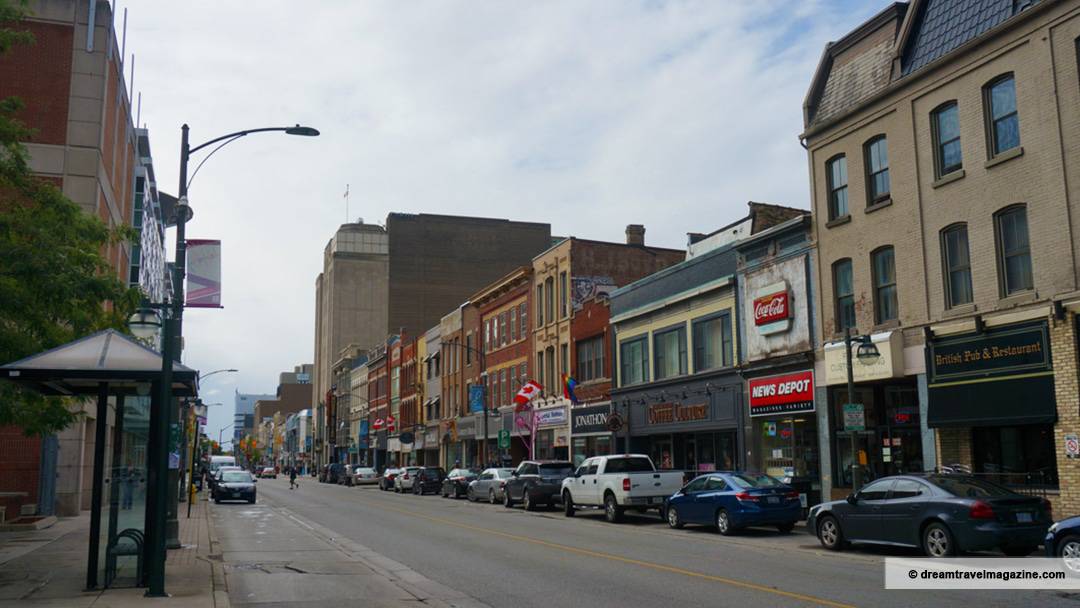 My only hiccup at the hotel was upon checking in. The person who registered me seemed perplexed by all my questions.  I think it is important to note that people arriving at the hotel do not all book the hotel rooms themselves. As business travellers we don't always know what is included in our bookings, or are given anything more than a confirmation number – so we arrive at the hotel blind. The receptionist could have been more helpful with information to help get my stay started.
You can read more reviews on the Delta London Armouries on TripAdvisor.
Lots to do and See near the Hotel
Check out these posts for what to do and see in London Ontario.
Downtown London Ontario Opens its Doors During Culture Days
Dinner and Theatre Night in London Ontario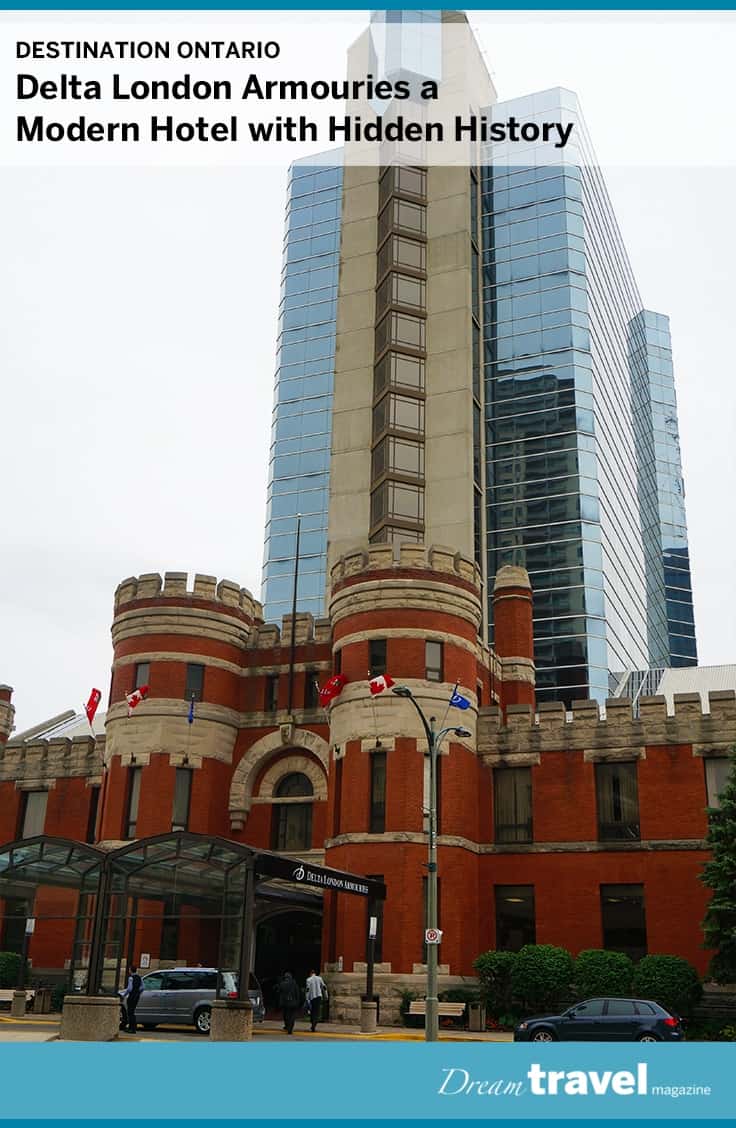 Travel assistance provided by Ontario's Southwest Tourism, Tourism London Ontario and CK Table. As always the opinions in this post are my own.