This article may contain affiliate links. Clicking on or purchasing products we recommend through a link may earn a small commission. Read our disclosure and privacy policy page for details. *COVID-19 TRAVEL ALERT – Travel recommendations offered on this site are not to encourage you to travel against travel advisories.
It was 8 degrees outside, not exactly ideal camping weather for a city girl with a penchant for luxury accommodations. However, I think I may have found the most luxurious way to camp. A 5-star high-end luxury resort with glamping lodgings, soft adventure and even fine dining. I share with you all my dream luxury glamping experience at Long Point Eco-Adventures.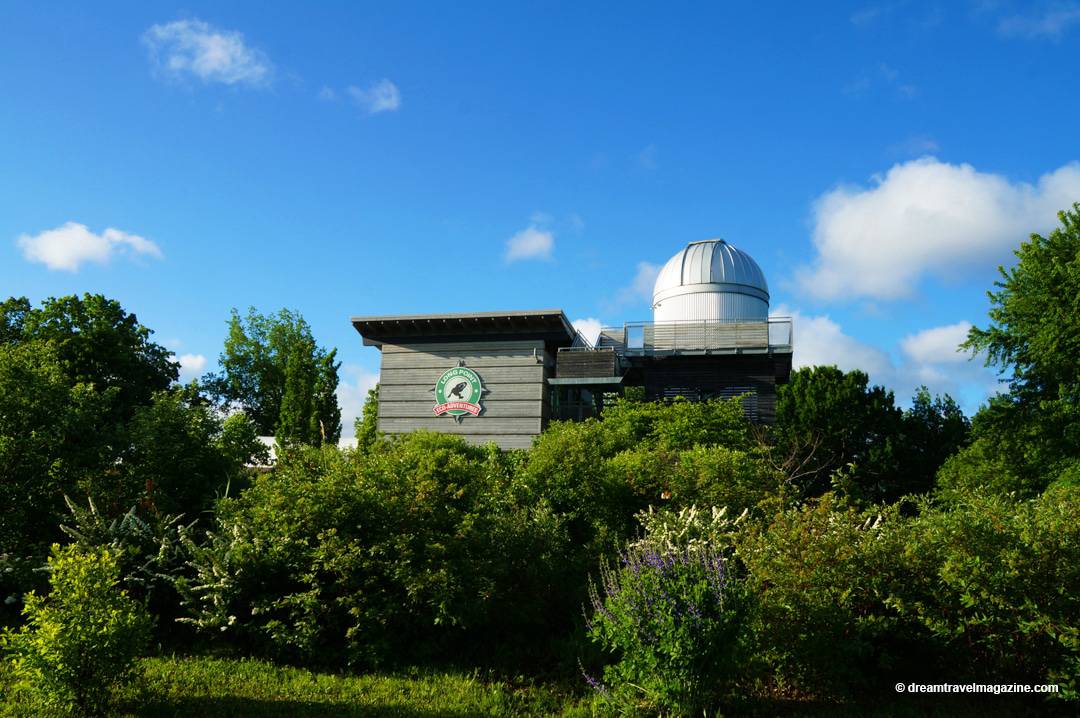 Long Point Eco-Adventures, Turkey Point, Ontario
Long Point Eco-Adventures is an outdoor hotel committed to an environmentally protective mission, offering outdoor adventure and accommodations that leave a smaller carbon footprint. This EcoStay certified facility delivers on this task, but they don't compromise on ensuring a girl has everything she needs.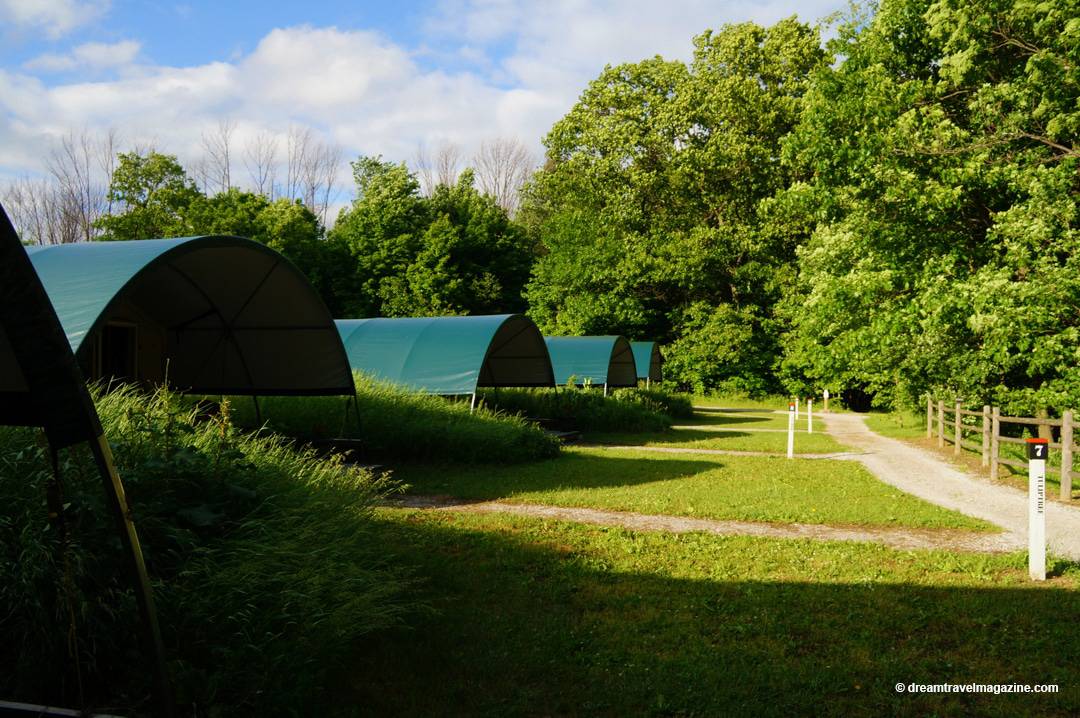 Luxury Glamping in a Wilderness Suite
My first sign that I was not just staying in just a simple tent was the sliding glass door entrance. Inside I felt like I had just walked into a hotel suite complete with lighting, a fridge, heat and more.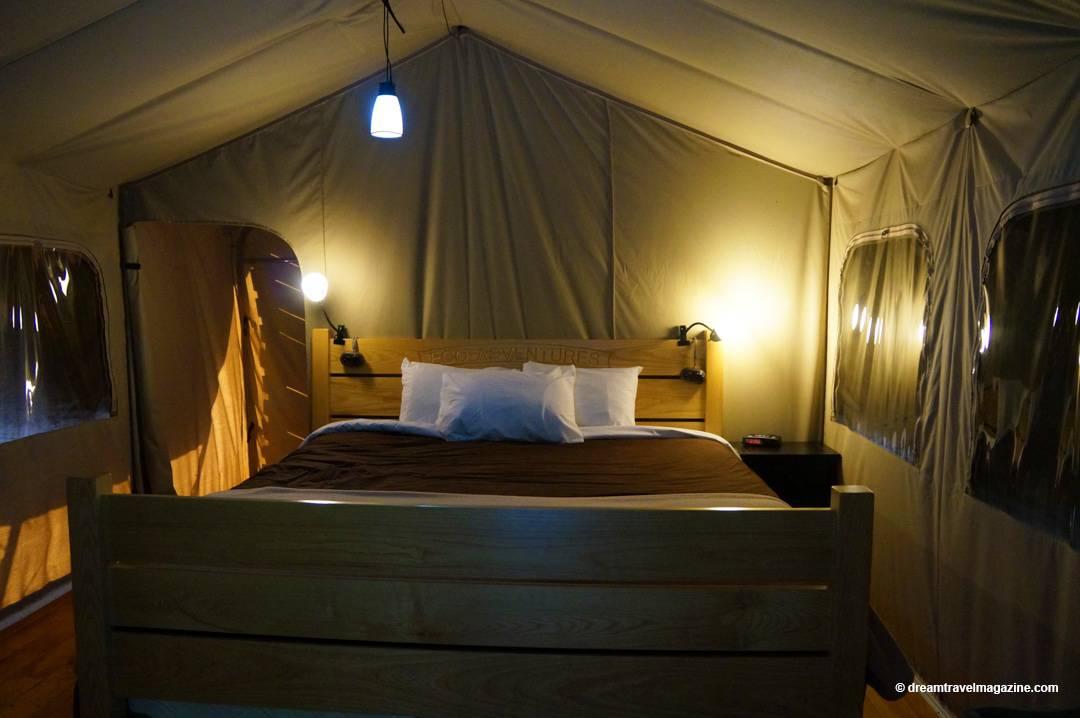 The main room inside the wilderness tent had a small refrigerator, a space heater, table and chairs set and hooks to hang your things. There were both solar lights and electrical lights inside and even a station where you can plug in your phone for charging.
I have to mention that my huge bed had two heating blankets under the comforter. So if sharing the bed with someone you can each adjust your side of the bed to your comfort. I had the toasty bed all to myself, and it was heaven.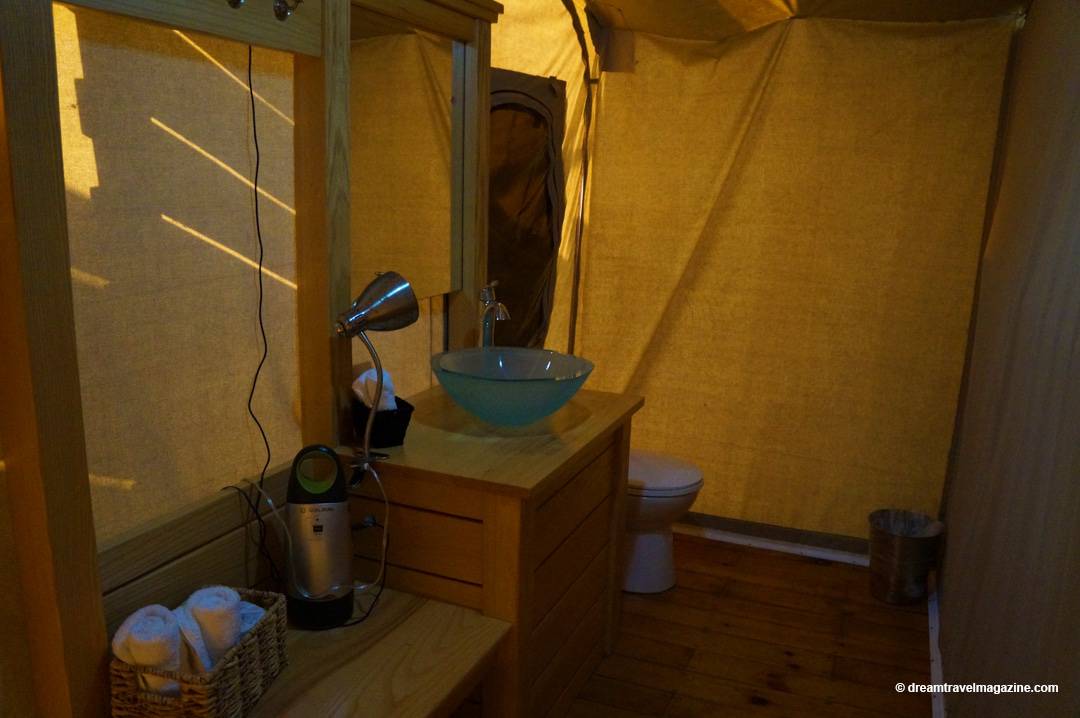 Then I walked around the bed into another room inside the tent. Here was a bathroom complete with a mirror, electricity, towels, a flushable toilet, hanging lamp and a sink with running water.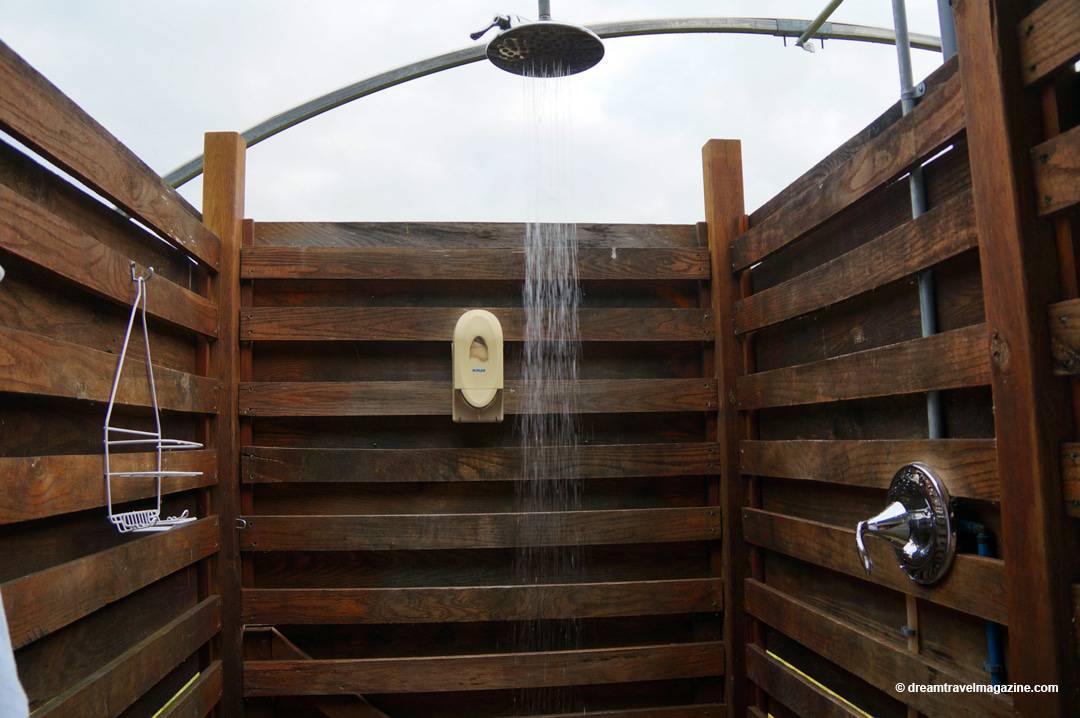 There was also a zippered door which led to an outdoor shower stall. I have dreamed about showering in an outdoor shower stall like this. Not the ones with cold water that you pour on your head, no this one featured a 7-minute heated water supply.
I am pretty sure this was the quickest shower I have ever taken. It was 8 degrees outside so I prepped the towels and robe inside the warm heated tent, set the bed thermal blankets to high and then unzipped the bathroom shower door.
I turned the water on and made my way to the stream of hot water. I wish I had set a timer. But I spun under the water, lathered, twirled again and jumped back inside the tent. Bucket list item to shower outdoors: COMPLETED!
Wilderness Pods at Long Point Eco-Adventures
For those looking for more budget friendly accommodations, there are also Wilderness Pods. These are wooden structures with mainly a bed or two beds inside and no electricity or running water.
There are showers and a bathroom available in the main building if needed, and the resort will be adding a washroom facility closer to the pods in the future. Not a full on luxury glamping experience, however, you are still sleeping in a stable structure in a comfortable bed.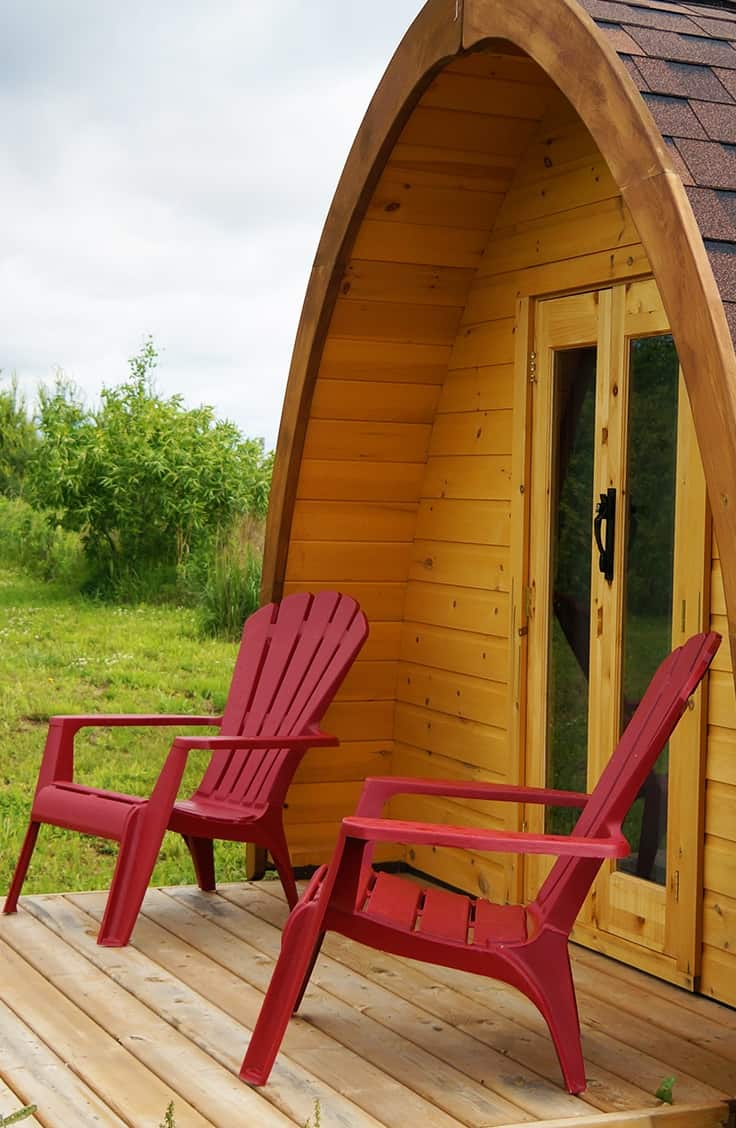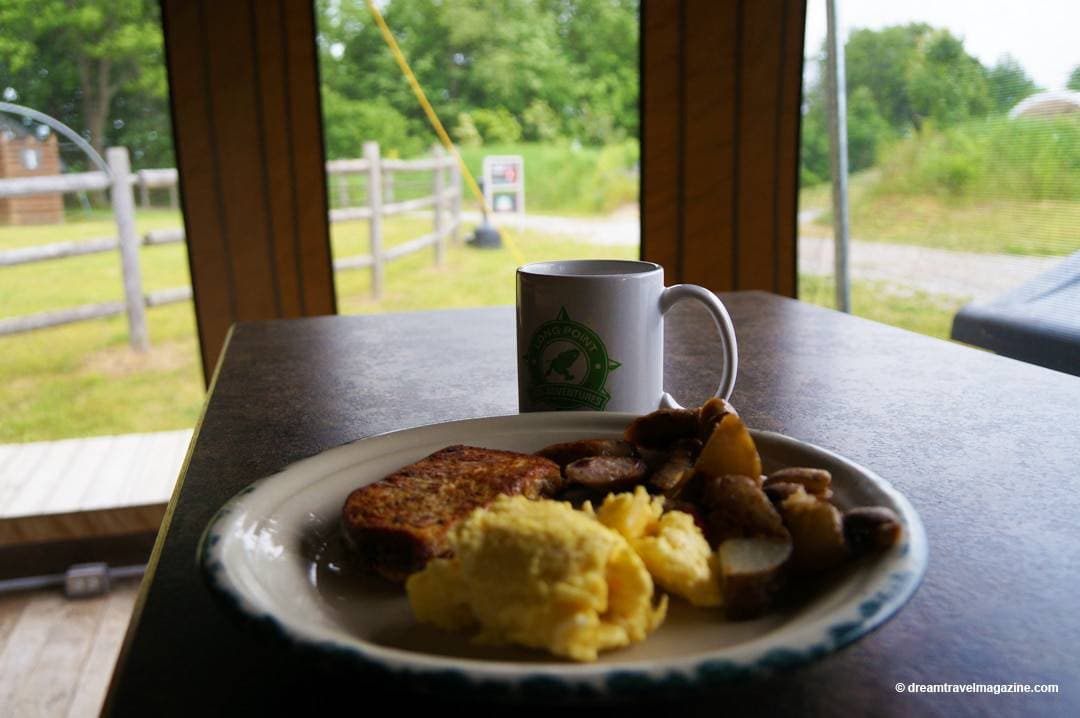 Breakfast at Long Point
We were served a full breakfast buffet in the dining cabin near the entrance to the resort. This breakfast buffet included eggs, bread, cereal, yoghurt, fresh juices, hot coffee and more. All inside the warm cabin with lots of tables and chairs for guests.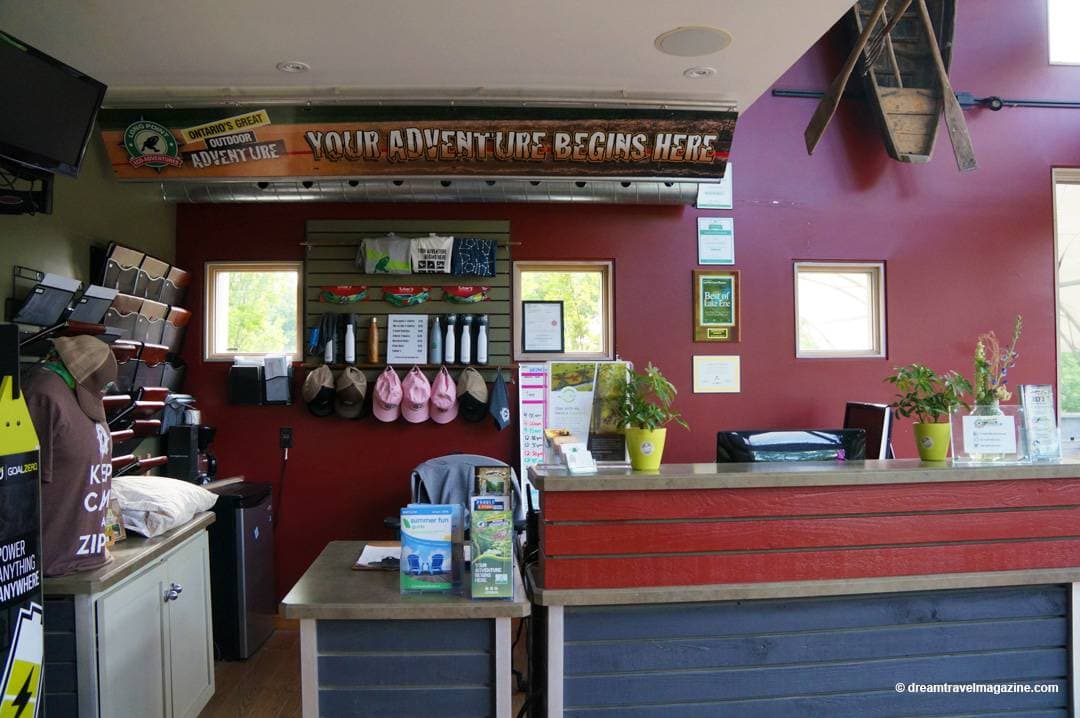 The reception area had a shop with some essentials including, water bottles, hats and other camping supplies you may have missed.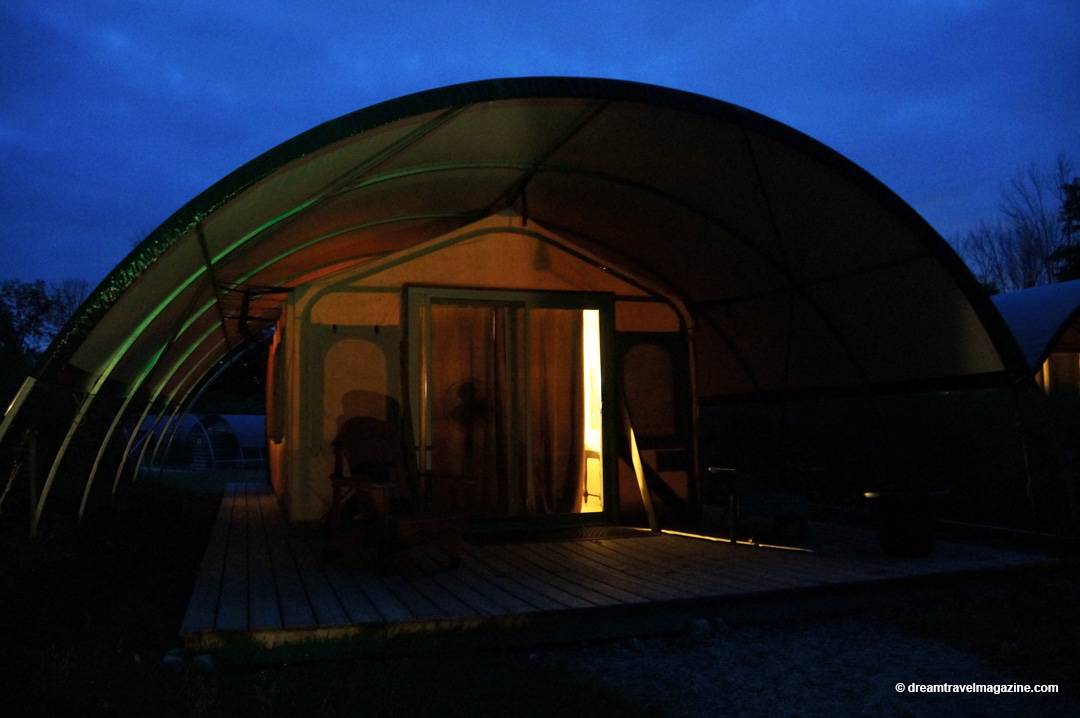 Evening Activities at Long Point Eco-Adventures
There were many activities and experiences available during my stay at the resort. At night, I wondered what I was going to do to amuse myself. I mean there is no kitchen inside the tent, and I did not have my camping cookware with me (OK I don't own any camping equipment let's face it). So what to do for dinner?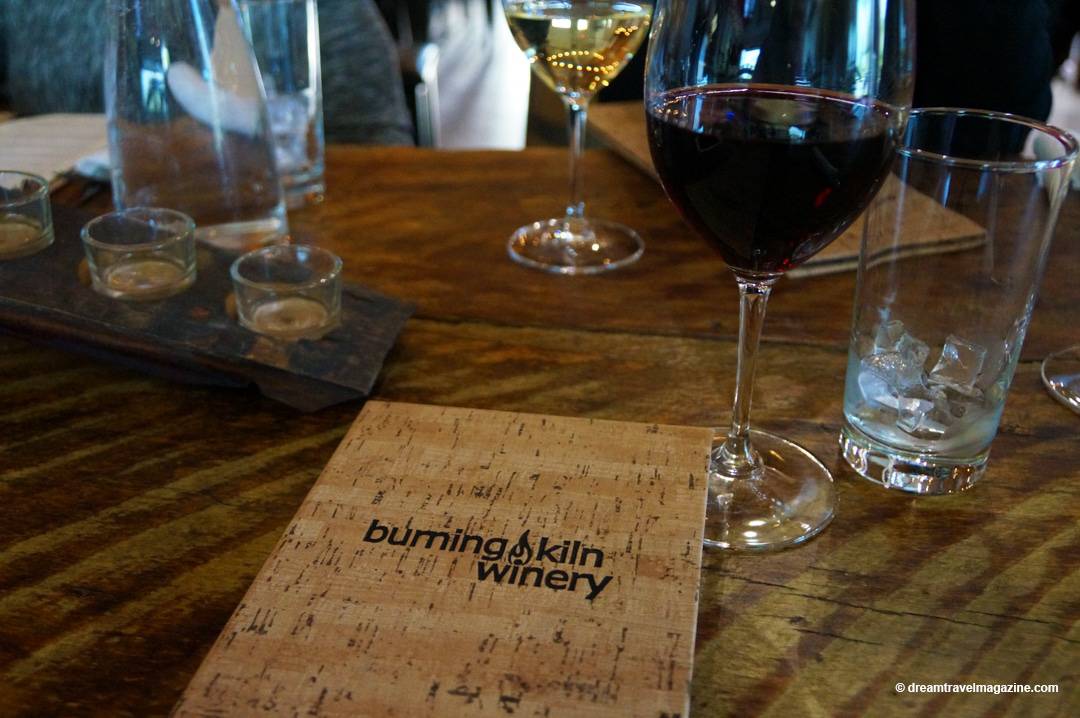 Dinner at Burning Kiln Winery
A city girl with a preference for luxury things doesn't want to eat hot dogs by a fire. Although this was an option, I chose to get a lift by the staff at the Long Point Eco-Adventures resort across the street to the Burning Kiln Winery.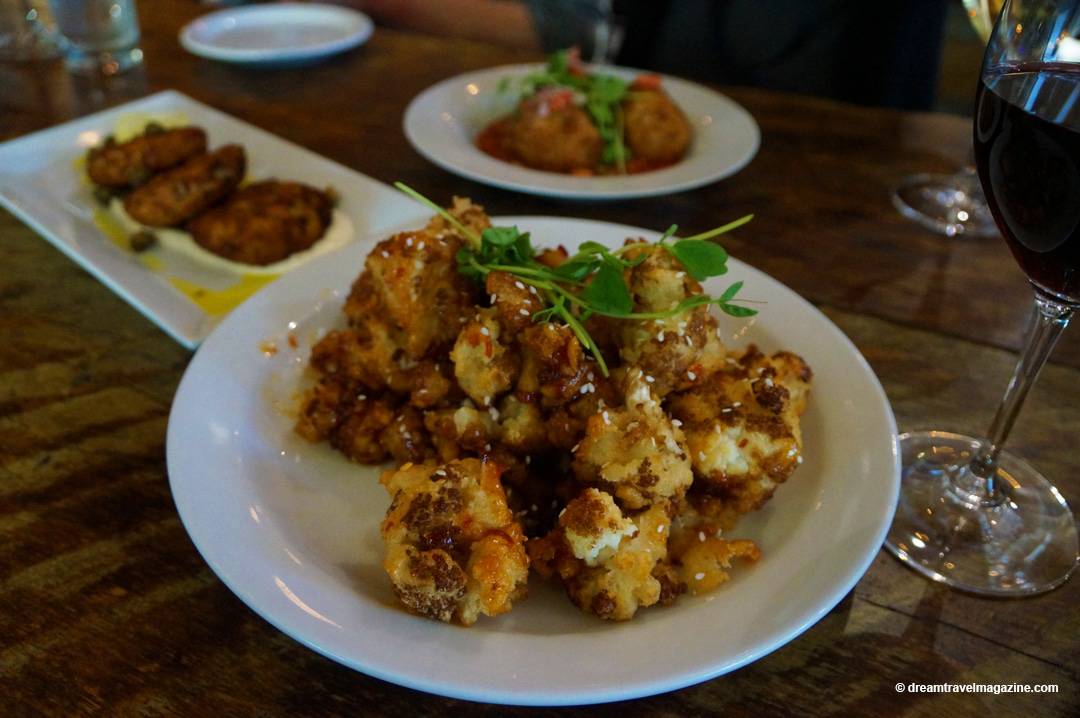 There with my friends I feasted on a fine dining meal prepared by Chef Scott McRae of David's restaurant. For appetisers, we feasted on Lake Erie Perch & Pickerel Fish Cakes, Korean Fried Cauliflower and Arancini with Marinara and Parmesan Regianno.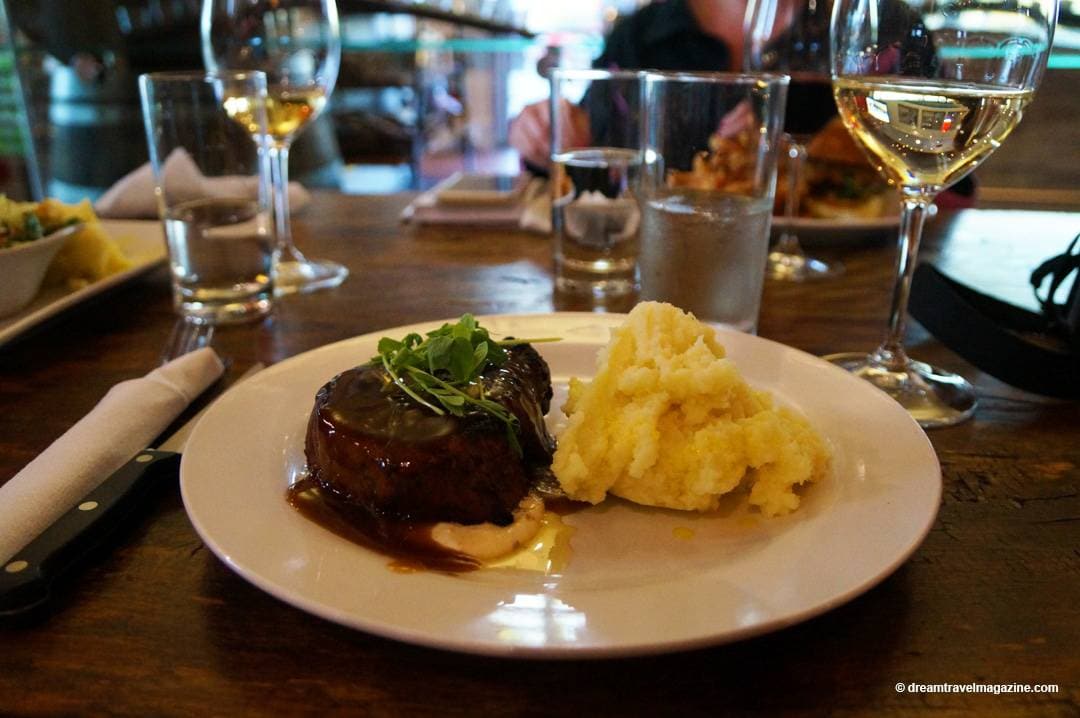 In a million years I don't think I would have dreamed of ordering a steak dinner during a camping trip. Here we were glamping and feasting on Beef Tenderloin with Horseradish Mayo and Local Berry Butter.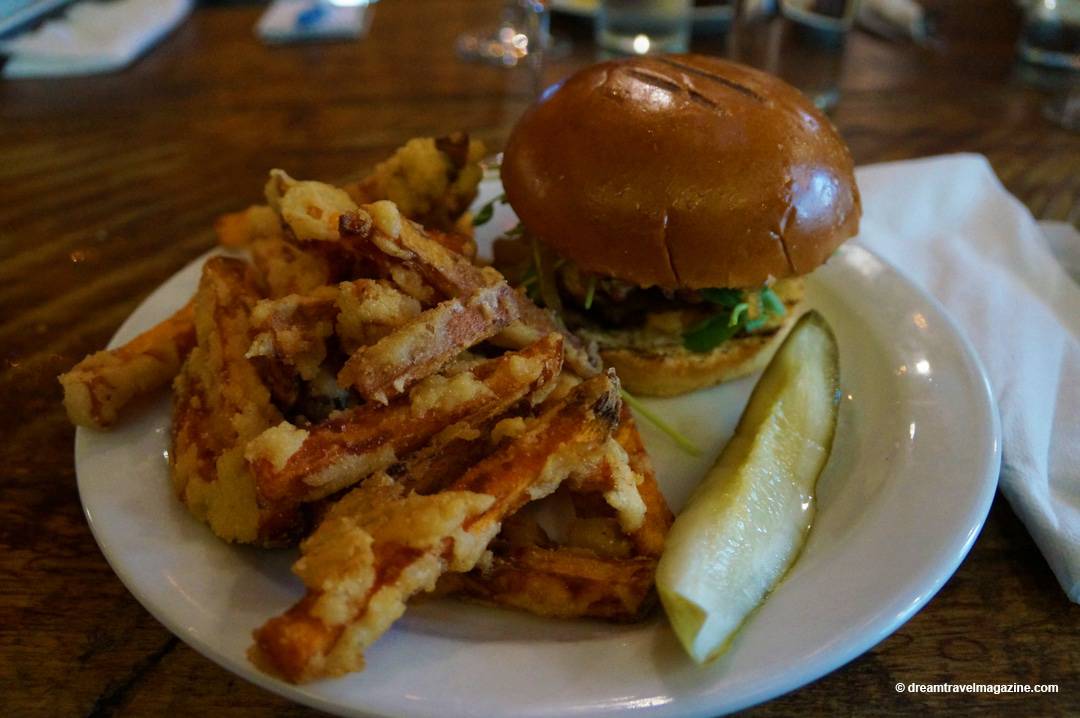 Even the Cheese Burger came with fancy Yam Frites. The best part about having dinner at a winery is you get to sample their wine while dining. Then the Long Point staff show up in the little golf cart, and you get a ride back to your wilderness suite.

Campfire and Observatory
Back at the resort, it was not the time for bed. We made our way to the main building where a roaring fire was starting, and staff were sharing marshmallows for roasting. The main building was dimly lit so that staff in the observatory can take us through a star gazing tour through their supermassive telescope. For the first time, I saw both Jupiter and Saturn, but then pesky cloud cover cut our star watching experience short. These tours are available for an additional fee weather permitting.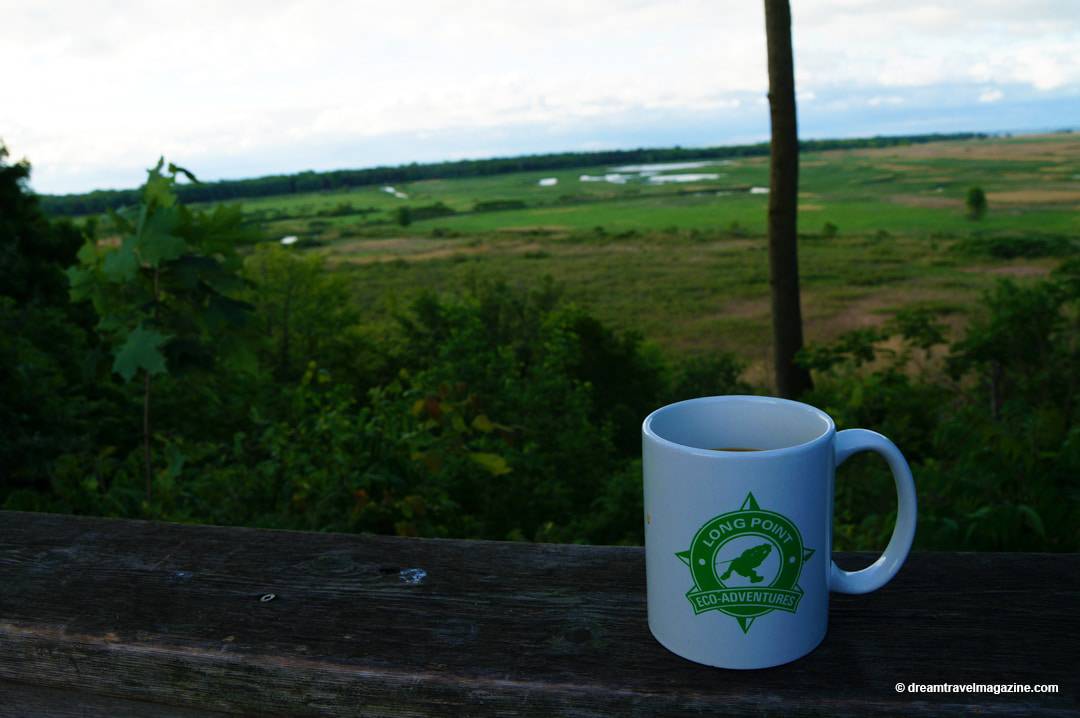 Daytime Activities at Long Point Eco-Adventures
Trails
Waking up in the morning, post super refreshing outdoor shower, I made my way to the breakfast buffet for a cup of coffee and then went on a little hike on the trails around the resort. There are many trails of various difficulty, and some are even ideal for mountain biking.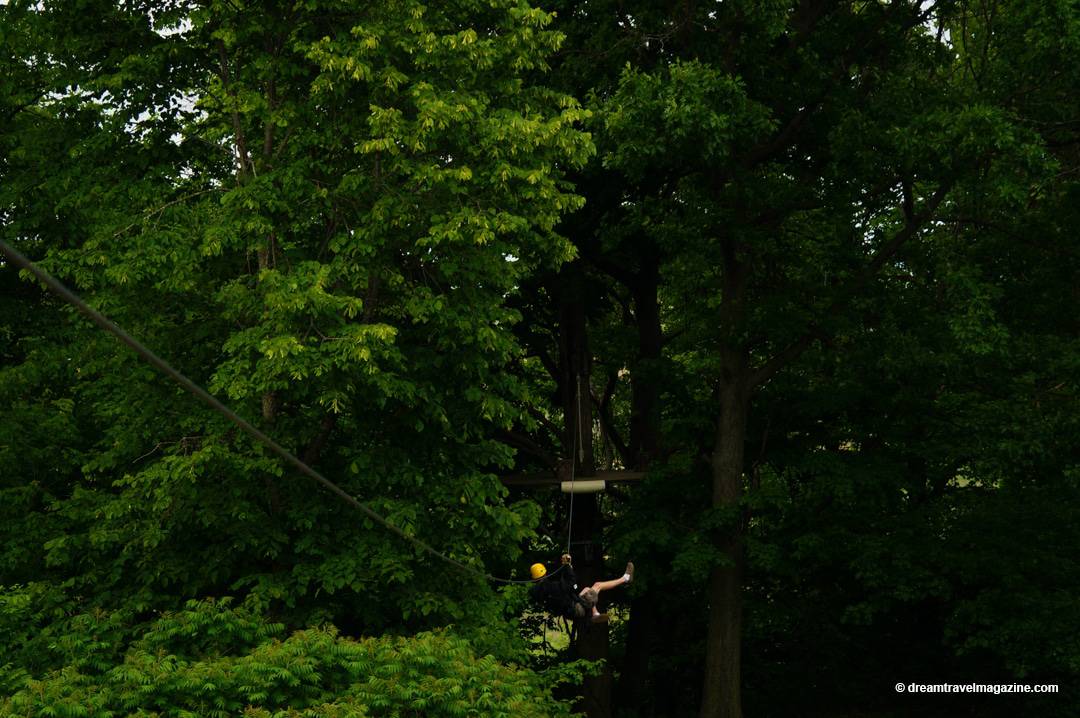 Zip Lining and Canopy Tours
Zip lining is available at the resort both to guests (for an additional fee) and to people just coming to the resort for daytime activities. The 2-hour zip line and canopy tour include eight zip lines, two suspension bridges, 14 platforms and a 40-foot rappel.
Other activities available at the resort include fishing, kayaking and boat tours. See post on Kayaking in Norfolk County Ontario here.
You can read more reviews on Long Point Eco Adventures at Tripadvisor.
Luxury Glamping Worth the Splurge
I don't mind spending a little more on luxury hotels and I certainly see the value in this fantastic dream glamping escape. A warm, comfortable bed, super friendly staff, the beauty of nature, some unusual activities like stargazing and a fine dining meal with great locally made Ontario wine! Just the perfect dream escape for me!
For more information on Long Point Eco-Adventures go to their website here. For more information on Burning Kiln Winery visit their website here.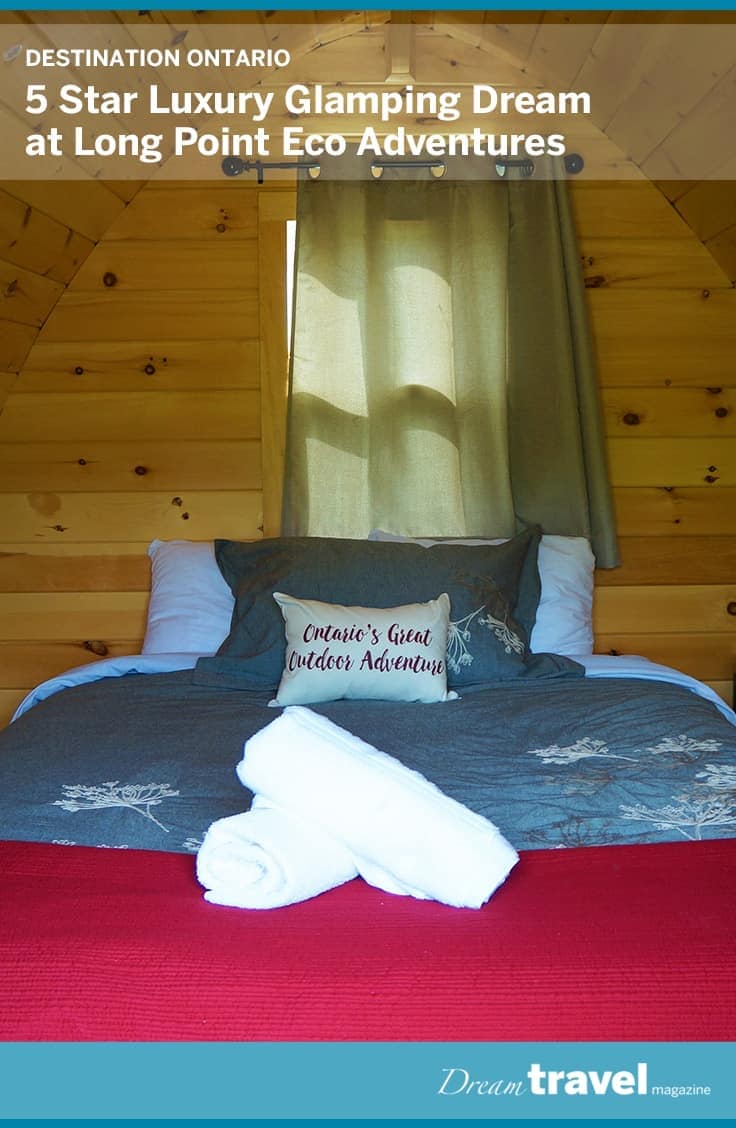 Travel assistance provided by Norfolk County Tourism and Ontario's Southwest, however, as always the opinions in this post are my own.