This article may contain affiliate links. Clicking on or purchasing products we recommend through a link may earn a small commission. Read our disclosure and privacy policy page for details. *COVID-19 TRAVEL ALERT – Travel recommendations offered on this site are not to encourage you to travel against travel advisories.
I always seem to have a whirlwind adventure when visiting Norfolk County. There is so much to do, and see I find myself zipping through it while making several stops along the way. In this post, I share a list of things to do in Norfolk Country Ontario which you can enjoy when taking a day trip from Toronto.
Dream it.
If you're planning a trip that involves a pool, lake, or beach of any kind and you don't want to buy a special waterproof camera or action camera, then a waterproof pouch for your phone could just be the solution you are looking for. Most of us have replaced our cameras and choose to travel with our phones and while there are some water-resistant models out there, protecting your phone with a waterproof pouch could save you a costly repair or replacement.
Where is Norfolk County Ontario
Located on the north shore of Lake Erie in Southwestern Ontario, Norfolk County is well-known for its small towns, which include Port Dover, Simcoe, Port Rowan, Long Point and Turkey Point, to name a few. There are many things to do and see in the region, including wineries, breweries, hiking, camping, great restaurants, and small local shops.
Norfolk is the Perfect Day Trip from Toronto
In Norfolk County, Ontario, the little towns make for a great day trip from Toronto, Burlington or Hamilton. It is a short drive, and you can lounge on one of the many beaches in the region, shop in the farm-fresh markets or enjoy some wine tastings.
Plan it.
Southwestern Ontario Health and Safety Information
For updates related to COVID-19, visit the Ontario Southwest Tourism health and safety updates page. There you will find all the essential links from Ontario Tourism and local partners.
Best Time to Visit Norfolk County Ontario
I love visiting in the summer months for a beach day or glamping getaway. If you love local farm-fresh food, then you will want to plan a visit to the region in early fall to enjoy the fall harvest. If you are a fan of lavender, then in late spring/early summer, you might want to consider a visit to coincide with the lavender plant blooms. Details on Apple Hill Lavender and Bonnieheath Lavender farms are below.
Looking for more Ontario summer road trip ideas? Check out Destinations for Summer Road Trips in Ontario.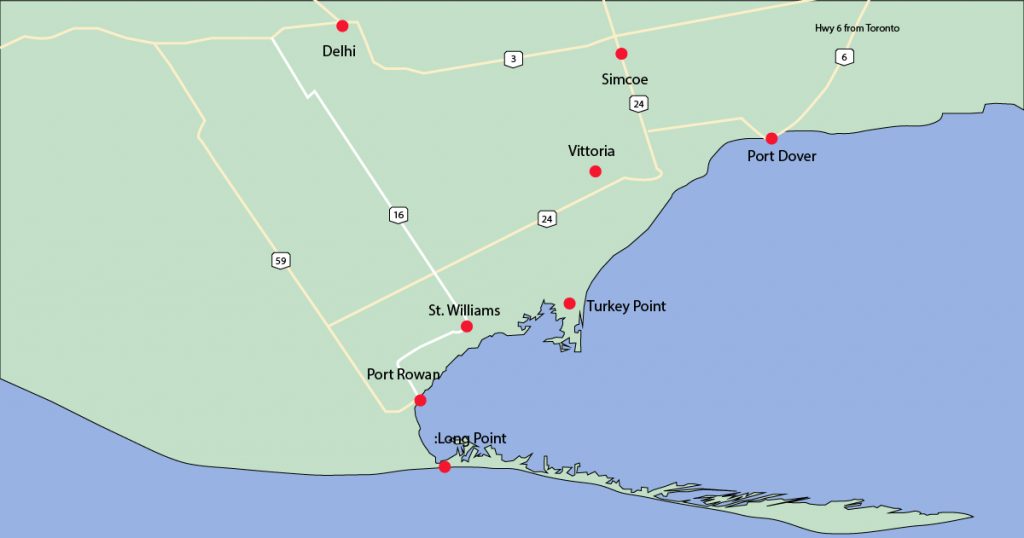 Driving To Norfolk County Ontario
From Toronto, take Highway 401 West to Highway 403. Follow the 403 West to Highway 6 in Hamilton. Take the ON-6 S towards Port Dover and Simcoe.
Where to Stay in Norfolk County Ontario
If you'd like to make your trip a weekend getaway, you'll find hotels like Hampton Inn Suites in Brantford, Ontario, or you can choose to stay at a local B&B in the region. There are also several camping sites and cottage rentals available throughout Norfolk County.
Long Point Eco-Adventures
One of the most popular places to stay in the region is Long Point Eco-Adventures, which offers various Glamping accommodations, including small pods and luxury glamping tents.  
Read More: Glamping at Long Point Eco-Adventures: Easy Vacations From Toronto
Some of the Towns to Discover in Norfolk County
Port Dover: A Beach Town with a lovely beach area, small shops and restaurants. I've highlighted a few spots below.
Simcoe: Location of many shops, great restaurants and wineries in the region featured below.
Vittoria: Quiet hamlet in the region which has some great farm shops and bakeries.
Turkey Point: Home to the Turkey Point Provincial Park and great beaches and cottage rentals along the water. Are you looking for a bite to eat in the area? Stop at Sandbar on the Beach for a drink and some excellent pub fare. Their patio sits right next to the waterfront.
St. Williams: Glamping enthusiasts will know this region well as the location of Long Point Eco-Adventures and Burning Kiln Winery, which I discuss in greater detail below.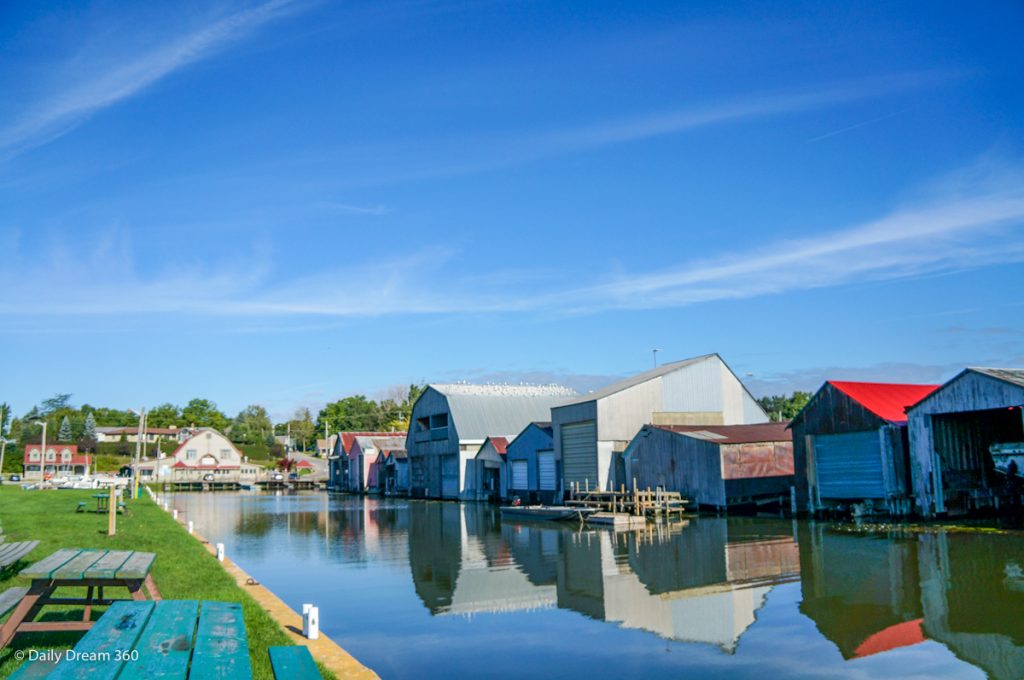 Port Rowan: A beautiful coastal town that sits on the shores of Lake Erie. You'll find a selection of shops on its main street and marvel at the beautiful boathouses stacked next to each other on the water.
Long Point: Home of Long Point Provincial Park and the 40KM long sand spit. The area is great for nature enthusiasts, boaters, fishing and water activities like kayaking.
Live it.
Things to do in Norfolk County, Ontario
Kayak Tour with Baer Fishing Adventures
If you are looking for something to do in the region, plan a fishing adventure with the team at Baer Fishing Adventures. However, you don't have to fish to enjoy a kayak ride on one of their Hobie paddle kayaks. We kayaked through rivers right out to Lake Erie, and it was a dream adventure. Visit their website for details on their many adventure packages.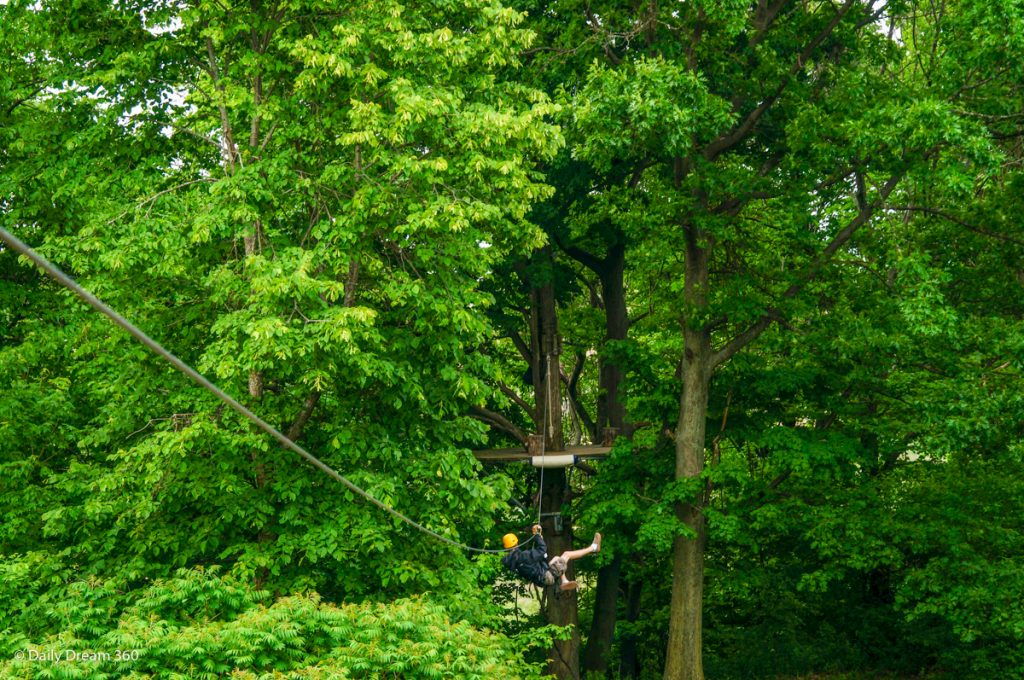 Outdoor Activities at Long Point Eco-Adventures
You may not have the opportunity to glamp at the camping site, but that doesn't mean you can't enjoy the many activities available at the site. From Axe throwing, bike and nature tours to ziplining, paddling and kayaking, there are plenty of daily activities to delight you. Visit their website for details and booking options. For more activities at Long Point Eco-Adventures see my post: Glamping at Long Point Eco-Adventures: Easy Vacations From Toronto.
Visit Long Point Provincial Park
Long Point Provincial Park is an excellent place to camp and has many activities available, including canoeing, biking, fishing, and swimming. For details on activities and availability, see the Long Point Provincial Park website here.
Discover Norfolk Ontario's Farm Fresh Markets and Shops
Good Bread Company, Vittoria, ON
The Good Bread Company is a bakery you are bound to spot even if you don't visit their Vittoria store location. Their products made an appearance at my breakfast during my glamping adventure in Long Point Eco-Adventures, and I saw their logo throughout our road trip.
The store serves baked goods made daily from scratch using local ingredients. In addition, there is an assortment of bread, fruit bread, cereal, granola, cookies and pastries available each day. For more information, visit the Good Bread Company website here.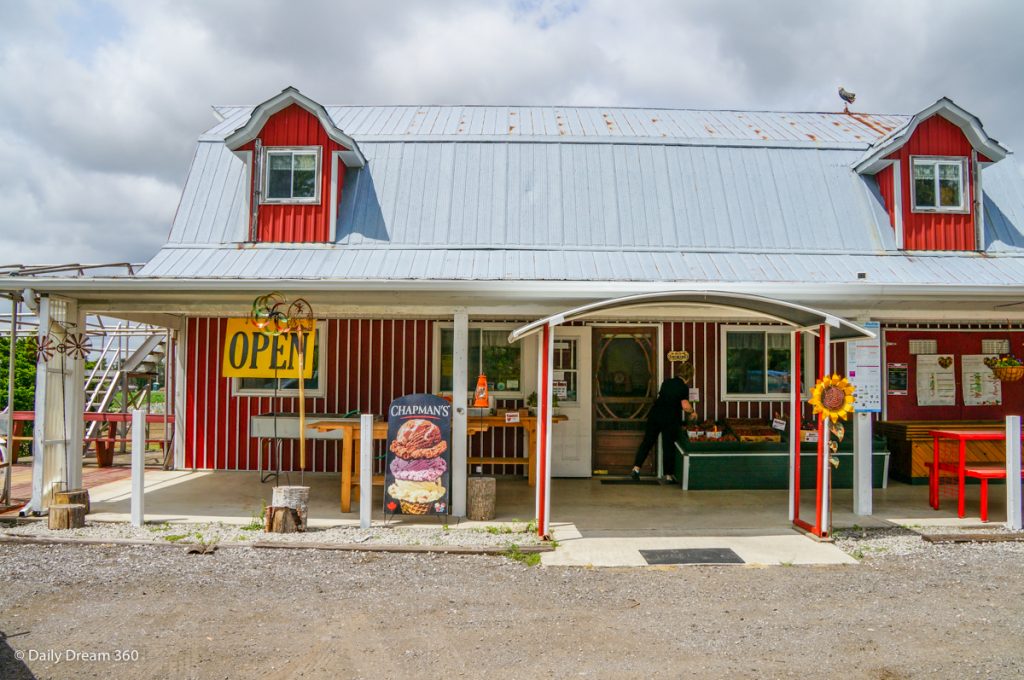 Cider Keg, Vittoria, ON
This one-stop local shop has it all, from the latest fresh produce, baked goods to their blend of non-alcoholic sparkling cider. There is even a gift shop should you be in the mood for some local shopping. The Cider Keg is a must-stop if you happen to be driving through Norfolk County. For more information and some yummy recipes, visit the Cider Keg website here. 
Four Seasons Farm Shop, Simcoe, ON
The Four Season Farm Shop is owned and operated by a Dutch couple who immigrated to Canada and shared some of their farm techniques here in Ontario. This shop has various herbs and specialty vegetables grown on their farm, including purple potatoes and purple cauliflower. For more information, visit the Four Season Farm Shop website here. 
Second Mouse Cheesetique, Delhi, ON
If you are a cheese lover, then the first cheese shop I recommend is located on the main street in Delhi. The Cheesetique has a selection of cheese, olive oils and balsamic vinegar.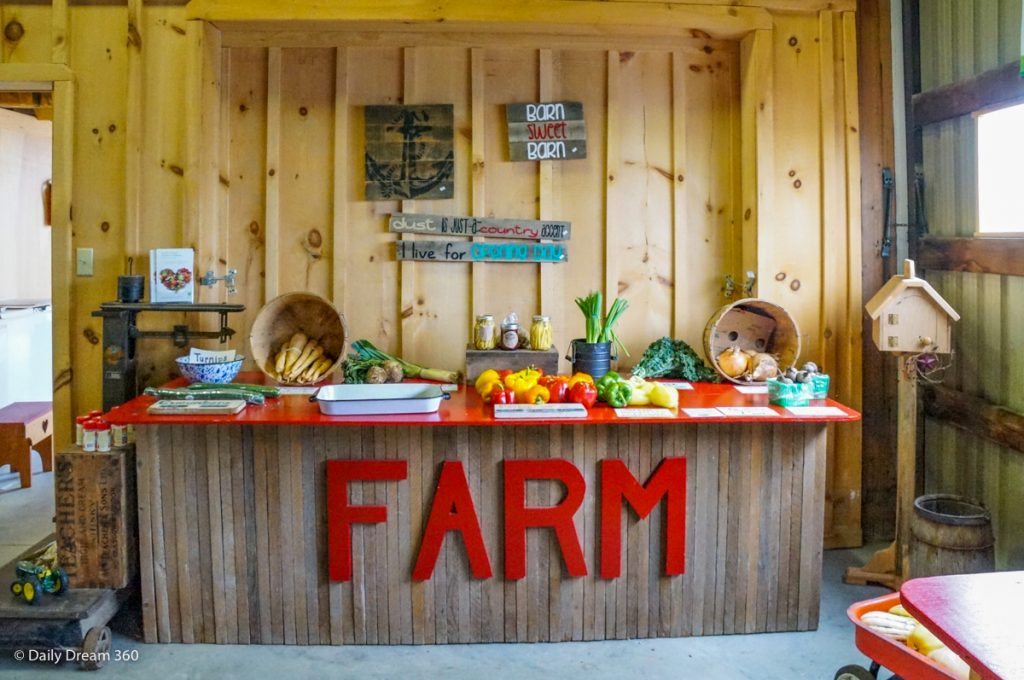 Wholesome Pickins Farm Shop, Delhi, ON
This farmer's market and bakery is a lovely market and strawberry farm. If you are looking for family baked treats or locally picked vegetables and fruits, this is your spot.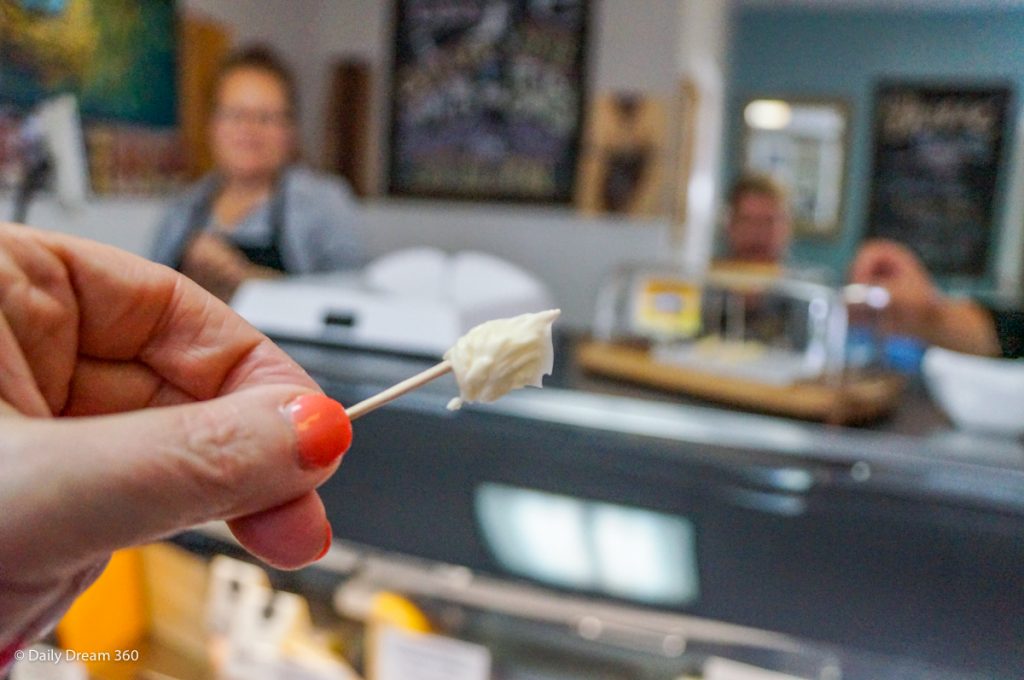 The Dover Cheese Shop, Port Dover, ON
If you want to meet someone that took their love for cheese and packed a store filled with her most loved cheese selection, you have to meet Jenny Ball. The Dover Cheese Shop is filled with cheese and even features local cheese producers with a unique local cheese cooler filled with options.
Even if you know nothing about cheese, fear not. Jenny will walk you through her selection and ask you what types of flavours you like. Every sample she presented me was perfect. For more information on The Dover Cheese Shop, visit their website here.
Apple Hill Lavender Shop, Windham
Apple Hill is a great stop with its superb pottery and soap and bath products. The shop continues to develop new and exciting products made from the lavender they grow on their farm. For more information on Apple Hill Lavender, visit their website here.
Grab a Bite at the Combine Restaurant in Simcoe
I have a couple of favourite places to eat in Norfolk County, and a must-stop for me is The Combine Restaurant. We enjoyed a delicious lunch in this unique property which is the family home, garden and restaurant. It's a true local favourite featuring homegrown and locally sourced ingredients, and there is always something new on the menu to discover. Visit the Combine website here.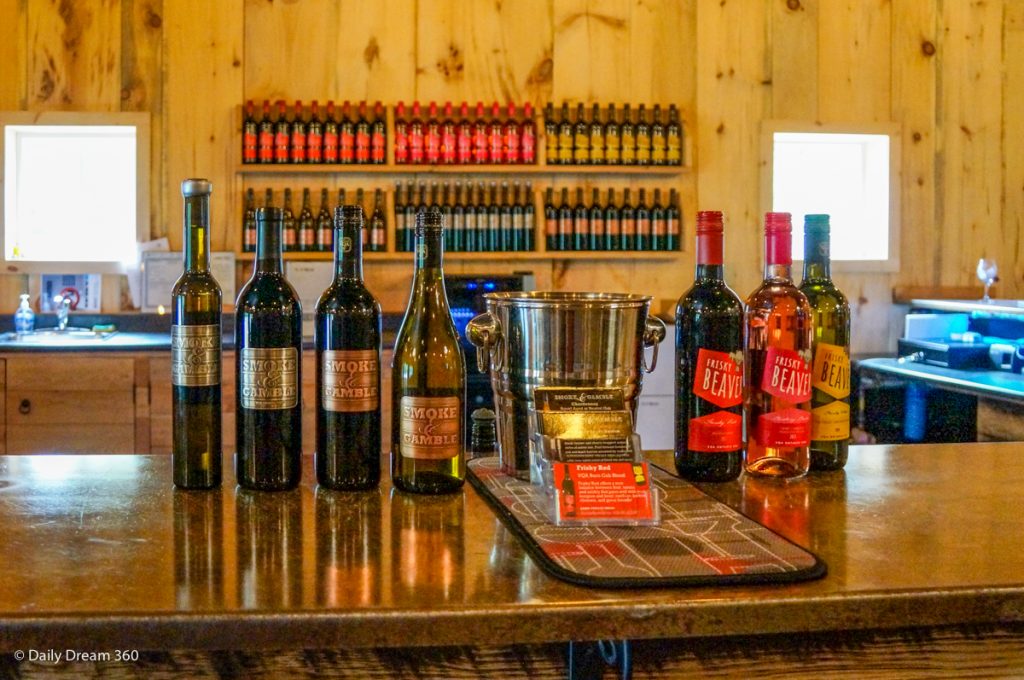 Wine Tastings at Norfolk Ontario Wineries
I love discovering the new wineries in the region and check-in, and see those I have previously visited. There are many wineries to visit in Norfolk, Ontario and the following are my favourites.
Frisky Beaver and Smoke and Gamble, Simcoe Ontario
The Frisky Beaver and Smoke and Gamble winery is an unusual combination of two wine brands. First, Frisky Beaver for those who want a 100% Canadian grape wine with a light flare. Second, Smoke and Gamble for a more discerning and bold wine pallet. Located in the same shop, you can sample both brands together in the same tasting. For more information, visit Frisky Beaver and Smoke and Gamble websites.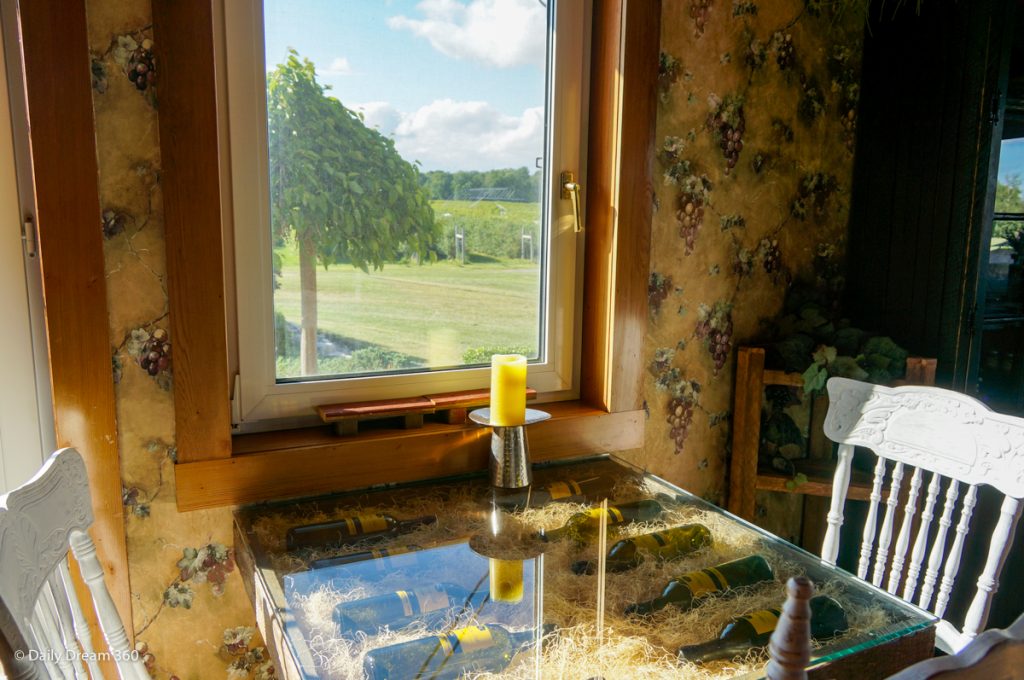 Front Road Cellars, Blueberry Hill, St Williams, ON
If you love blueberries, you can visit Blueberry Hill, a combination of farmers' market and winery. You can pick your blueberries in late July and early August and sample some wine too. New to the winery is their Cider products, which they are having trouble keeping on their shelves, so it will be exciting to see what they produce in the coming years. Website
Burning Kiln Winery, St. Williams ON
I am a big fan of Burning Kiln wines, and no trip to Norfolk County would be complete without a wine tasting here. There is much to do here, including wine tastings, enjoy a drink on the patio or a fine dining meal experience. Plan your patio visit when they have local musicians playing and a local food truck serving snacks.
During my glamping experience at Long Point Eco-Adventures, I enjoyed a fine dining dinner at the Burning Kiln Winery while sampling their newest bottles. This is a great place to stop for a bite to eat or an afternoon glass of wine. For event, details visit the Burning Kiln website here.
Bonnieheath Estate Lavender and Winery, Waterford, ON
It is always great to revisit old friends, and that is what I feel every time I visit with Steve and Anita at Bonnieheath Estate Winery. During my tour of the winery, I saw the expanded buildings producing more and more wine. But, of course, they are still growing lavender and featuring locally made lavender products in their shop.
Also, new at Bonnieheath is Cider. They have apples growing on the farm, and they have several varieties of their Folkin' Hard Cider, which was delicious. I came home with four bottles and can't wait to go back and get more. For more information on Bonnieheath Estate Winery, visit their website here.
Looking for more Ontario summer road trip ideas? Check out Destinations for Summer Road Trips in Ontario.
Travel assistance provided by Norfolk County Tourism and Ontario's Southwest on a media press trip, however, the opinions in this post are my own.