This article may contain affiliate links. Clicking on or purchasing products we recommend through a link may earn a small commission. Read our disclosure and privacy policy page for details. *COVID-19 TRAVEL ALERT – Travel recommendations offered on this site are not to encourage you to travel against travel advisories.
Each year the Chippewas of Rama First Nation host their annual powwow. The event is open to everyone and this year they will be celebrating 31 years. Last year I sat inspired and amazed by the dancing, drumming and singing celebrating the Rama First Nation people and I highly recommend a visit to the Orillia, Ontario region to take it all in.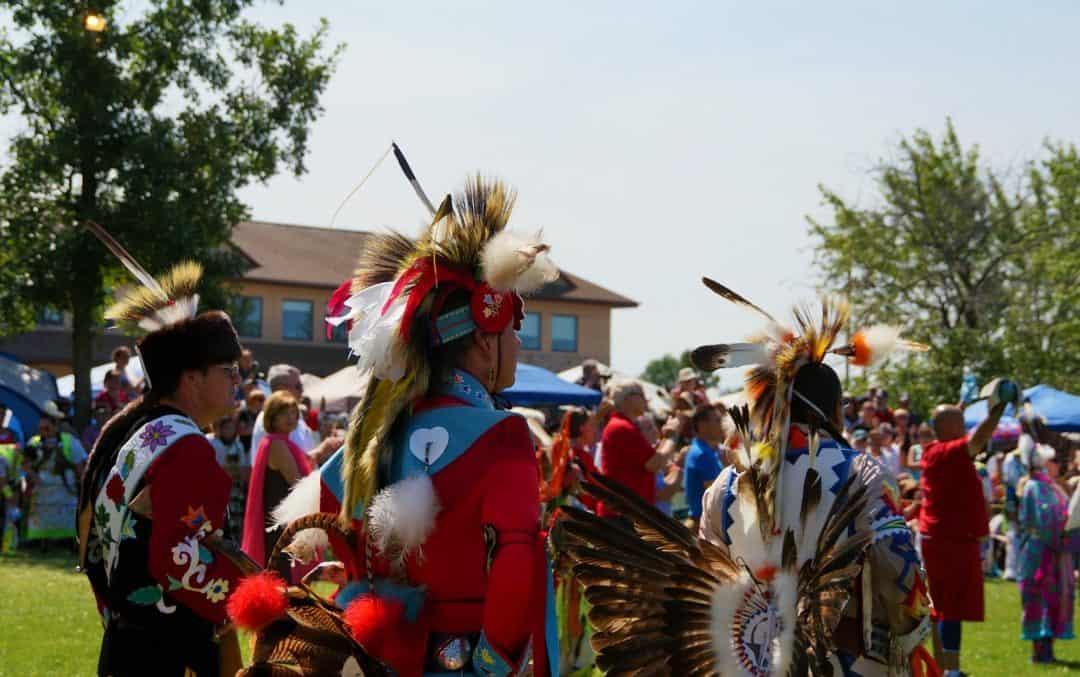 The Chippewas of Rama First Nation Pow Wow
in 2015 I attended my first Chippewas of Rama First Nation Powwow event. A cultural celebration which included traditional dancing, drumming and singing.
The event runs for two days, but I recommend you don't miss the Grand Entry. This parade signals the opening of the Pow-wow. Dancers enter the arena one by one in a line and dance in a big circle around the field as drummers and singers play music.
If you miss one of the grand entry events, fear not, there are some dance competitions scheduled throughout the weekend.

New Location
This year the Rama Powwow has moved to a larger location. They promise more seating and an even bigger event. Be sure to pack your blanket or lawn chair in case the general seating fills up. There are no pets allowed on the site.
2016 Rama Powwow Details
Cost: $10/day or $15/weekend
Grand Entry: Saturday 1PM & 6:30PM, Sunday 12:30PM
Tips for Attending the Rama Pow Wow
Get there early: Powwows are popular events and packed with people. To get a good view be sure to arrive early.
Bring blankets and lawn chairs: in case seating is filled up it's not a bad idea to bring a blanket or chair.
Don't miss the Grand Entry: this is where all the dancers, princesses, elders and guests enter the pow-wow. It is a parade-like event where they walk in a circle and dance together.
Bring a camera. You are allowed to take pictures but be mindful some of the performers may not want to have their pictures taken. It is always a good idea to ask.
Be prepared for the weather, on hot sunny days especially be sure you are prepared for a long time outdoors, bring water and stay hydrated.
Mind the dancer areas; some areas are reserved seating for the dancers and special guest so be sure to ask where general seating is and where you can set up your chair or blanket.
More special events in the Orillia area:
Travel assistance provided by Ontario's Lake Country. Ontario's Lake Country is located within the tourism region of Bruce Grey Simcoe, and is known as Orillia and area's four-season playground, for more information visit their website.