This article may contain affiliate links. Clicking on or purchasing products we recommend through a link may earn a small commission. Read our disclosure and privacy policy page for details. *COVID-19 TRAVEL ALERT – Travel recommendations offered on this site are not to encourage you to travel against travel advisories.
In 2017, the Couchiching Conservancy partnered with the Orillia Museum of Art and History to merge nature with art installations. Since nature is often the inspiration behind creatives like writers and artists it made for the perfect compliment. I had the opportunity to walk the Couchiching Conservancy Art Trail with two of the artists and had to share my experience. While I don't know yet what 2018's season brings as far as special events, the trails are beautiful and filled with surprises.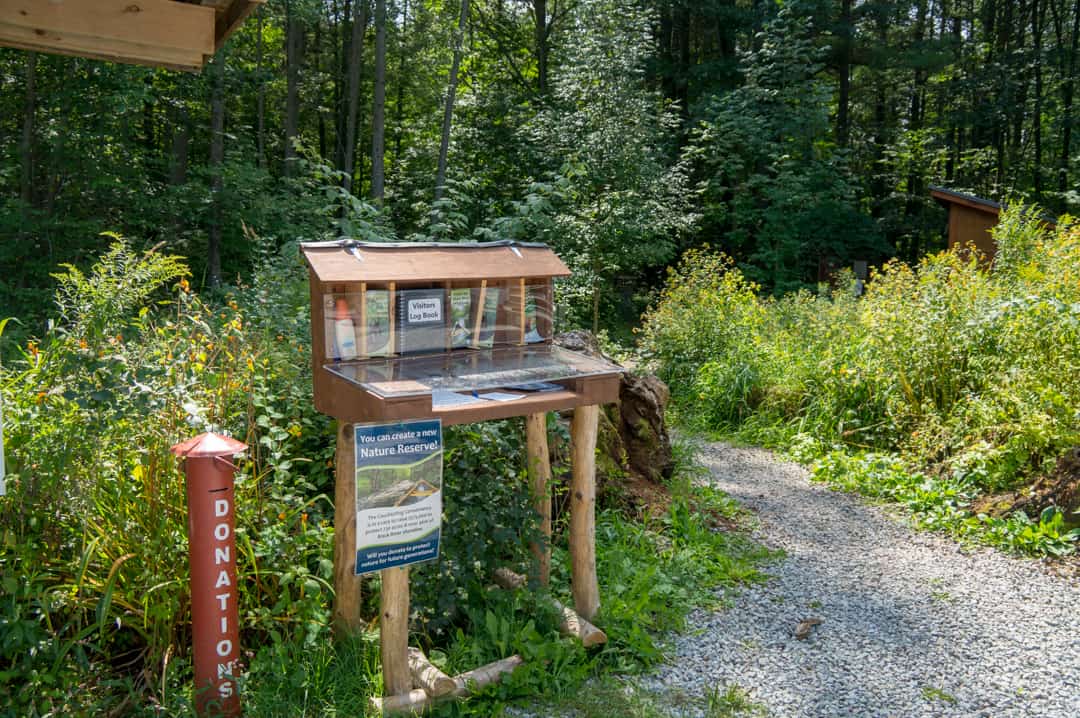 About Grant's Woods Trail
The art trail was held at the Grant's Woods trail which is located in Severn Township on Division Road which is just outside the City of Orillia.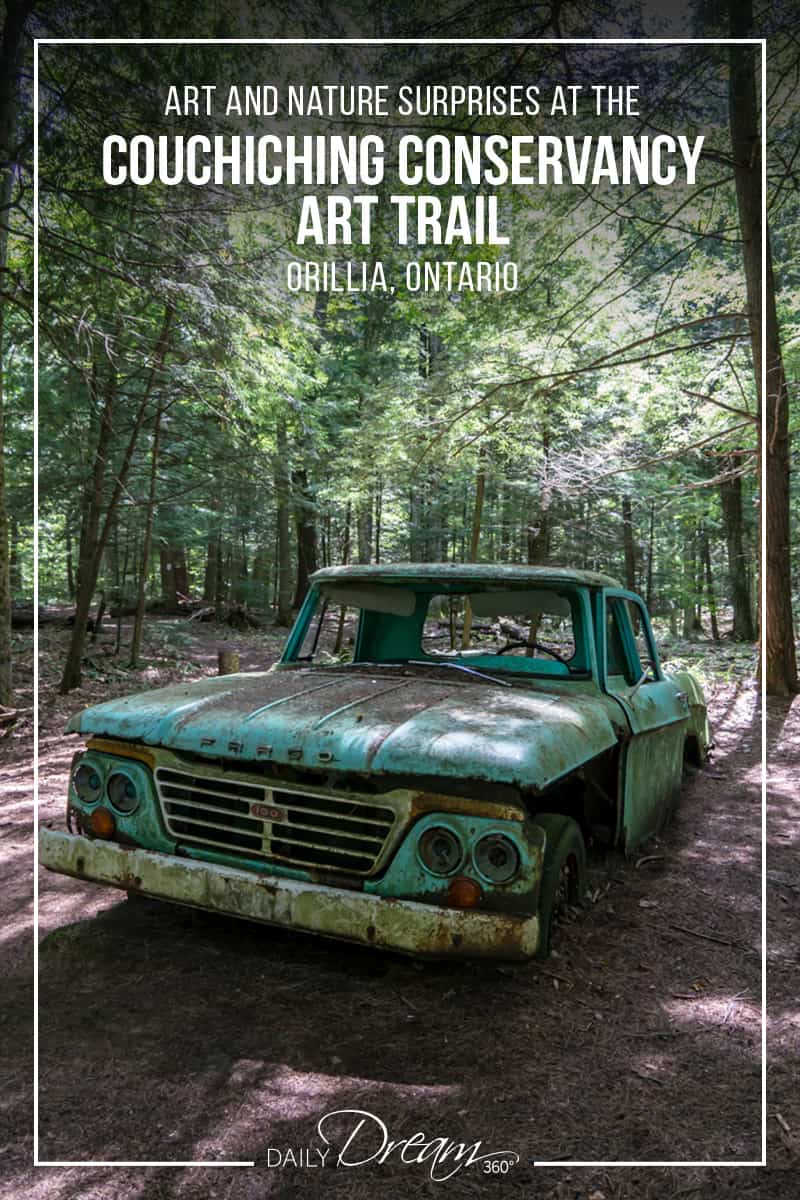 The property was donated to the Couchiching Conservancy by the Grant family. A former house on the property now serves as the visitor's centre and office.
There are a number of trail loops to take on the Grant's Woods Trails:
Periwinkle Trail 0.15 km (blue)
Trillium Trail 1.5 km (white)
Three Sisters Trail 0.3 km (yellow)
Hemlock Trail 0.5 km (yellow)
Fern Trail 1.1 km (orange)
Hardwood Trail 0.8km (blue)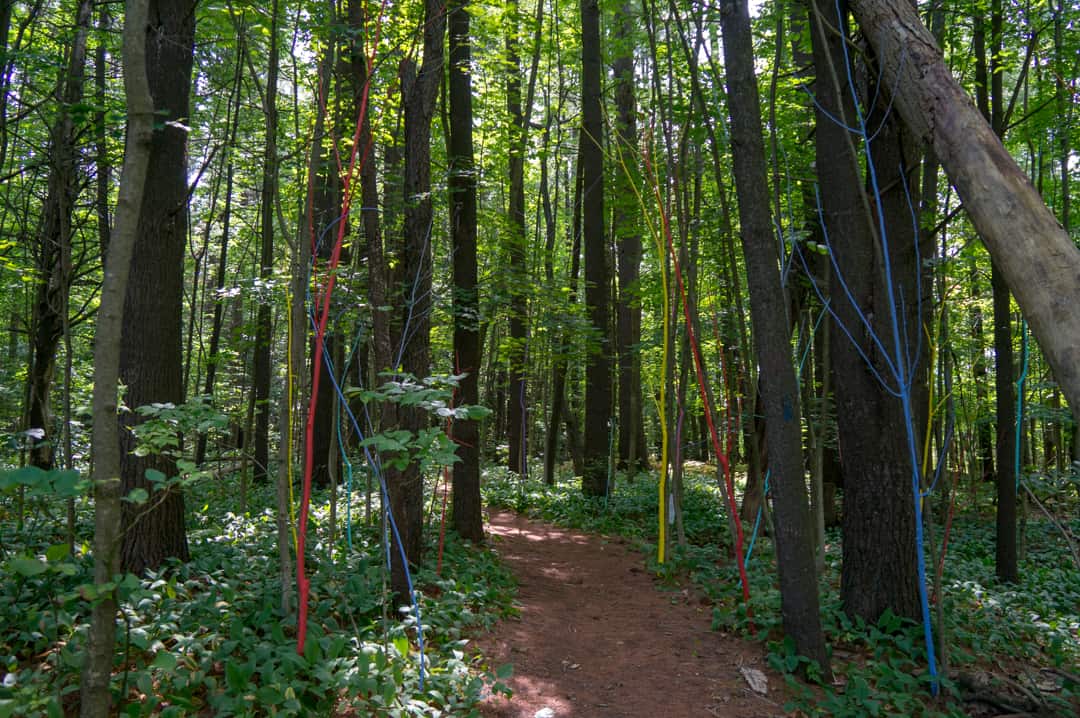 Couchiching Conservancy Art Trail 2017
In celebration of Ontario 150, artists came and merged their creative spirits with the trails in Grant's Woods. There were subtle additions like painted branches inserted amongst the forest above and more apparent installations like the stethoscope checking in on Nature's heartbeat.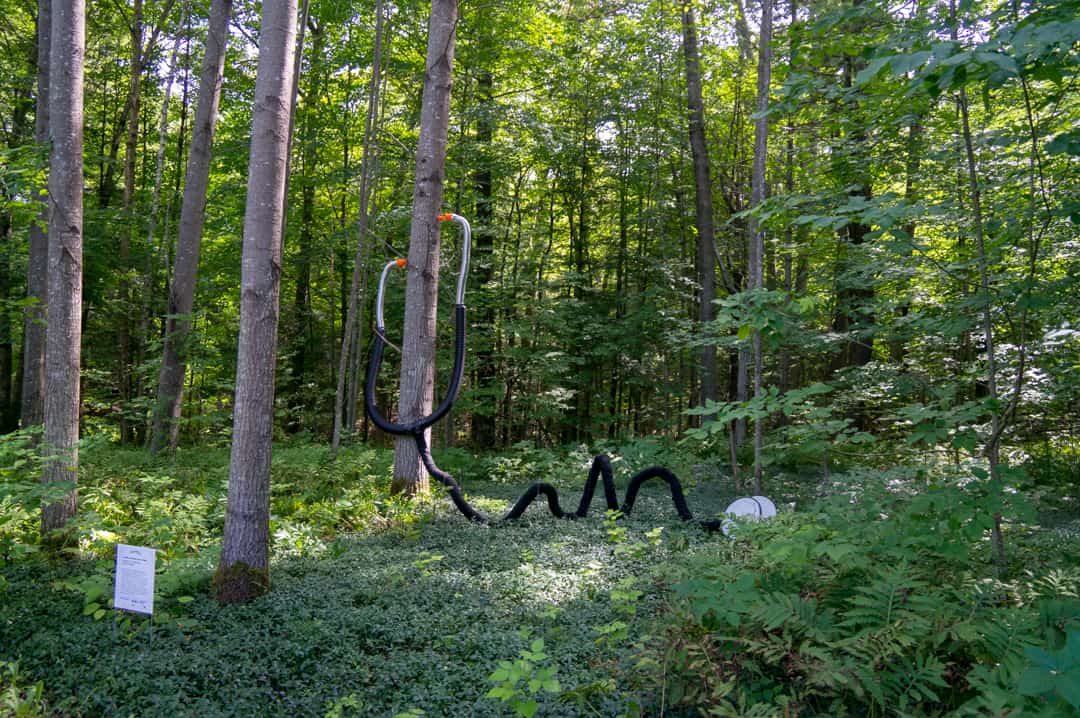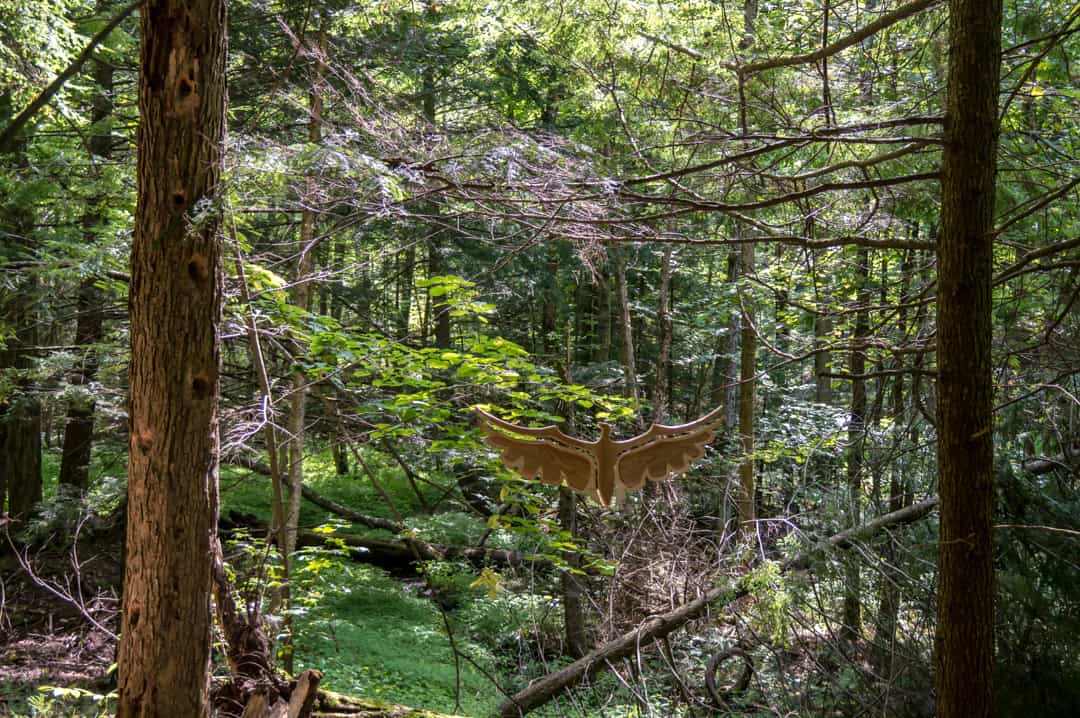 Some of the artists used fallen twigs and dead trees to sculpture new art.
I just loved the humour of this artist who created a little village of forest folks who dwell in the woods.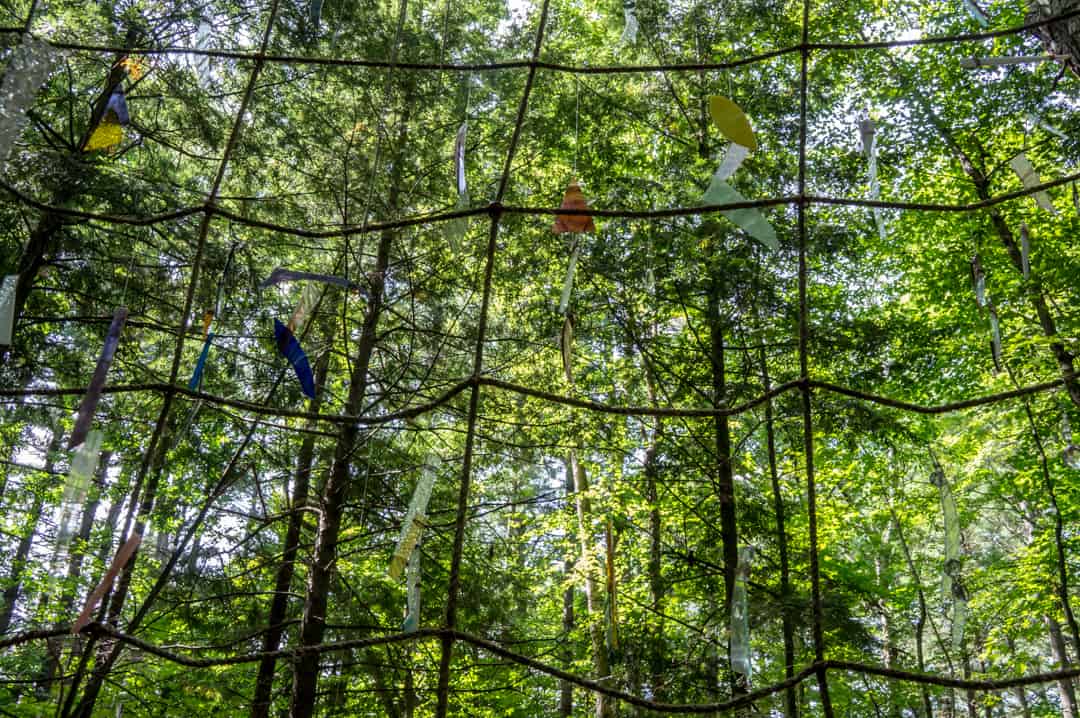 The trails were beautiful in mid-day with the sun peeking in from amongst the trees and these artists based their design on catching the sun rays with this sun catcher.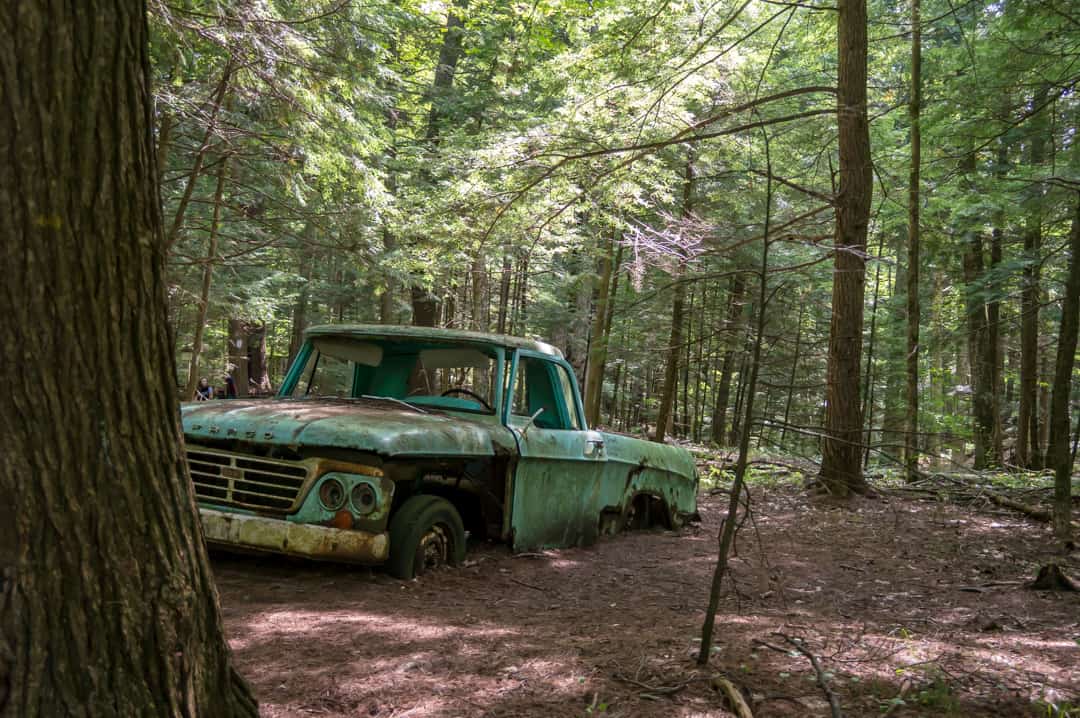 If you are a photography lover keep an eye out for this permanent installation in Grant's Woods, a beat up old Ford truck has become part of the forest and id great for pictures.
I just couldn't stop taking photos as the shadows and lights of the forest highlighted how it contrasted with the beautiful forest around it.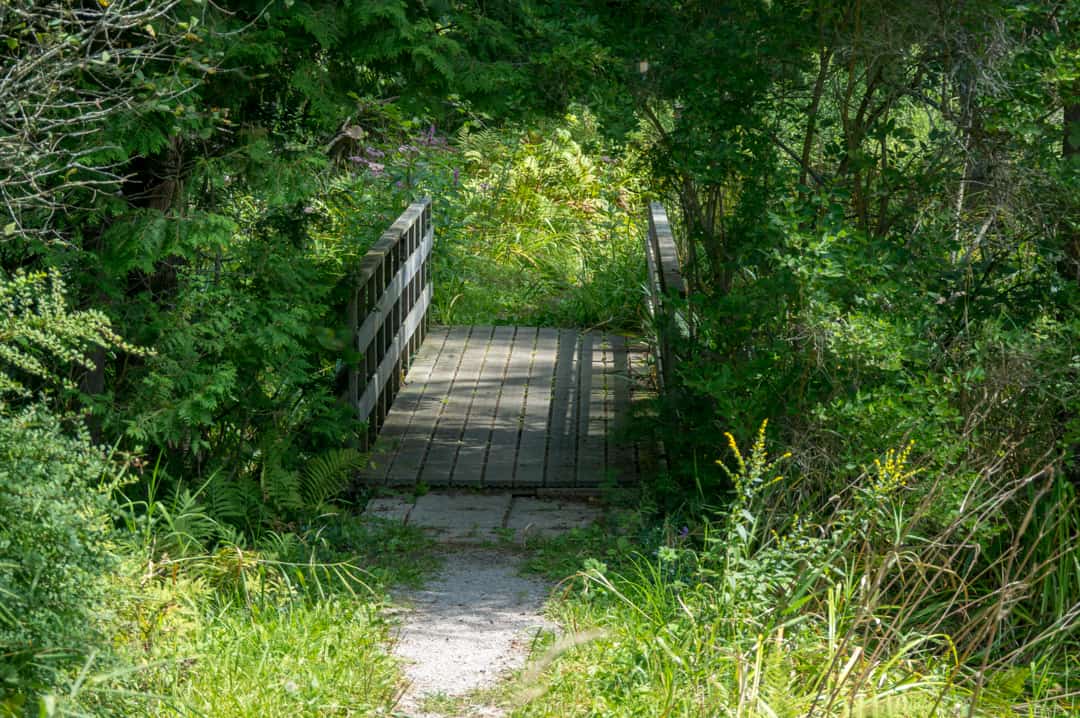 Tips for Walking Grant's Woods Trails
The trails are relatively easy to walk and not too long, and the Periwinkle trail is wheelchair accessible, which makes these trails great for beginners.
Bring bug spray
Wear comfortable shoes
Bring a hat
Carry water with you
If you are looking for a little escape from the city and would like a nice easy forest hike, I recommend a visit to the Couchiching Conservancy Grant's Woods Trail. You will never know what surprises await you.
More to explore in Orillia Ontario
Looking for more things to do in Orillia Ontario? Check out these posts:
Where to Stay in Orillia
Travel assistance provided by Ontario's Lake Country. Ontario's Lake Country is located within the tourism region of Bruce Grey Simcoe.