This article may contain affiliate links. Clicking on or purchasing products we recommend through a link may earn a small commission. Read our disclosure and privacy policy page for details. *COVID-19 TRAVEL ALERT – Travel recommendations offered on this site are not to encourage you to travel against travel advisories.
I know a great place to recommend to you all by the number of OMG moments I have during a meal. Here I was sitting at an outdoor table on Era 67's patio in Orillia Ontario, and I was having a foodgasm over the complimentary chips and dip! That's a sign, right? So it is with great pleasure I review the Era 67 Restaurant and Lounge in Orillia Ontario.
Era 67 Restaurant and Lounge Orillia Ontario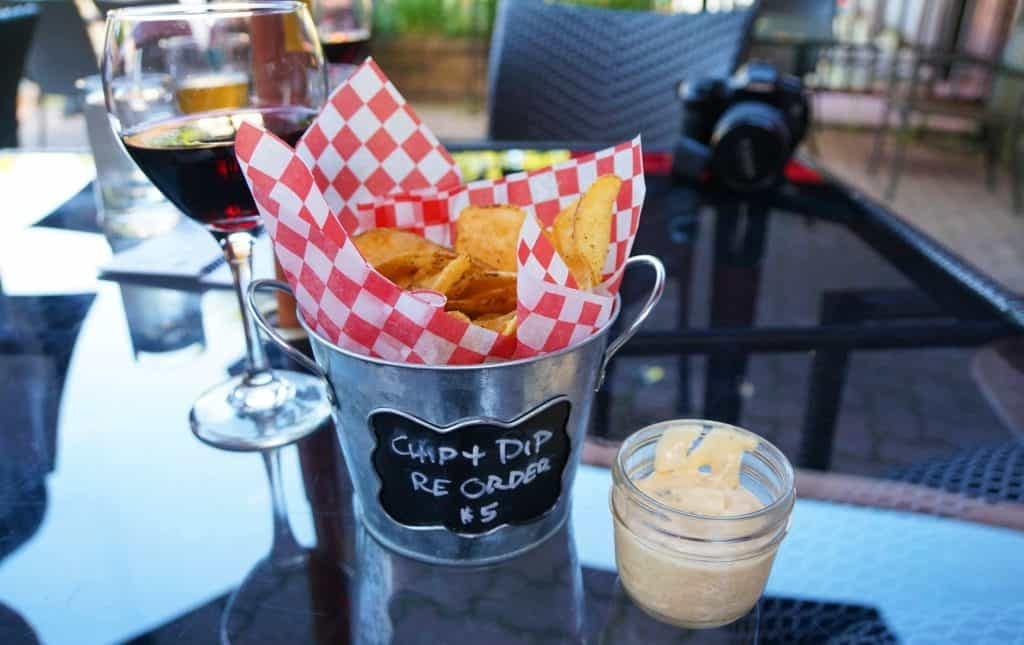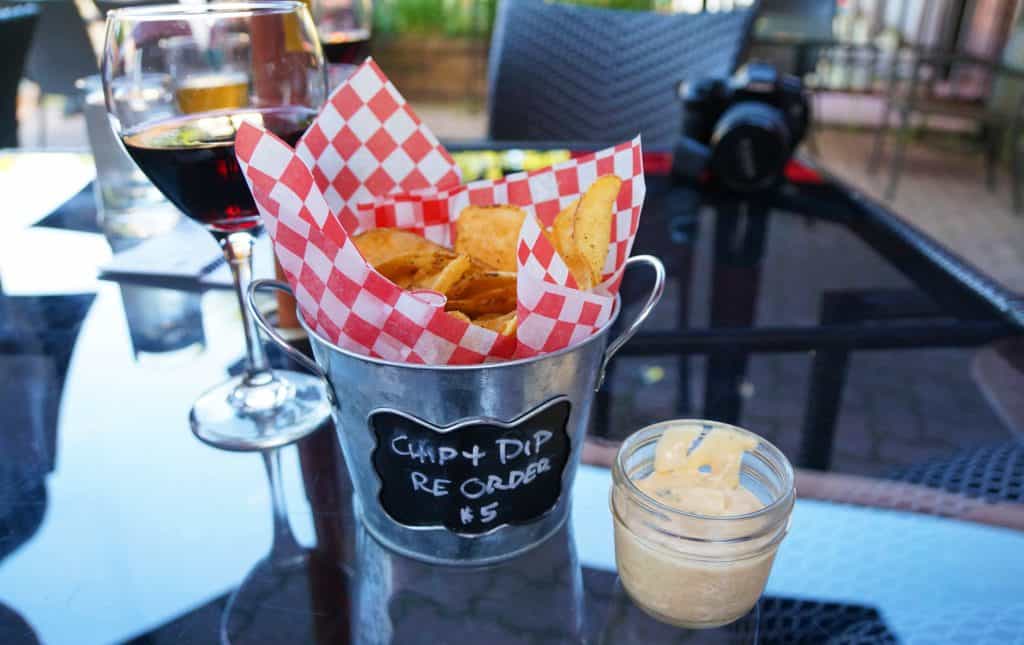 There is only one thing I can think of to start this review – if you are in Orillia Ontario, you MUST eat at Era 67 restaurant. I don't make this claim often, but I know that when I'm in Orillia Ontario, I will do whatever I can to make sure I get a reservation at this fantastic spot. The great plus is that Executive Chef Ian Thompson is always coming up with something great and the menu changes with the seasons. It's like a new fine dining experience every time!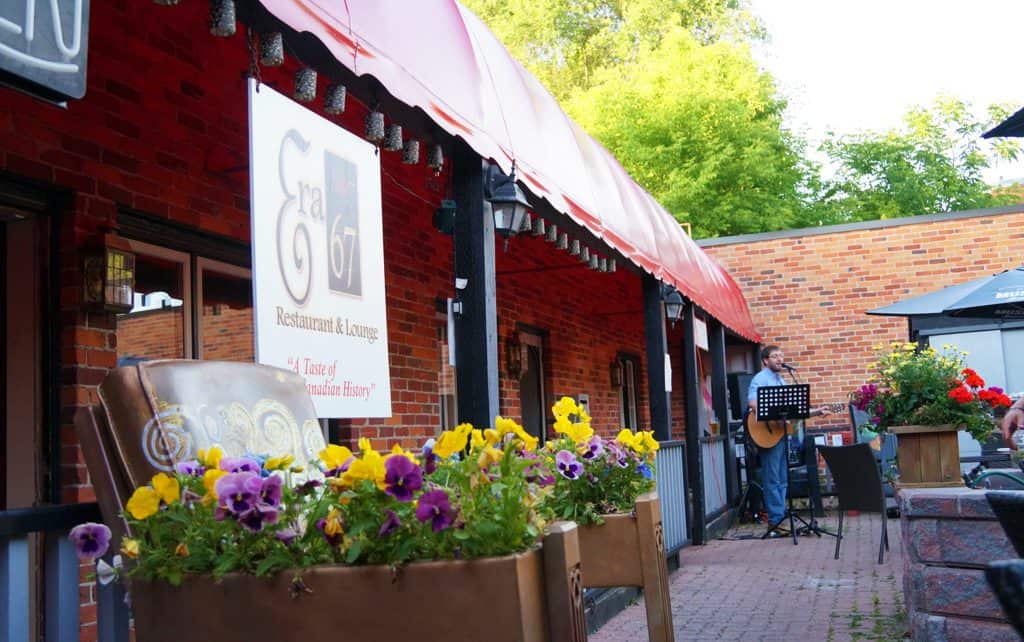 One thing Era 67 restaurant and lounge does with national pride is source ingredients from local producers. They believe that local food helps build and maintain a strong community and they do this by highlighting Canada's beauty with the highest quality food prepared with passion. When you enter, you will see the map and a list of farms they have sourced ingredients. It doesn't matter what the season they will offer an exciting menu.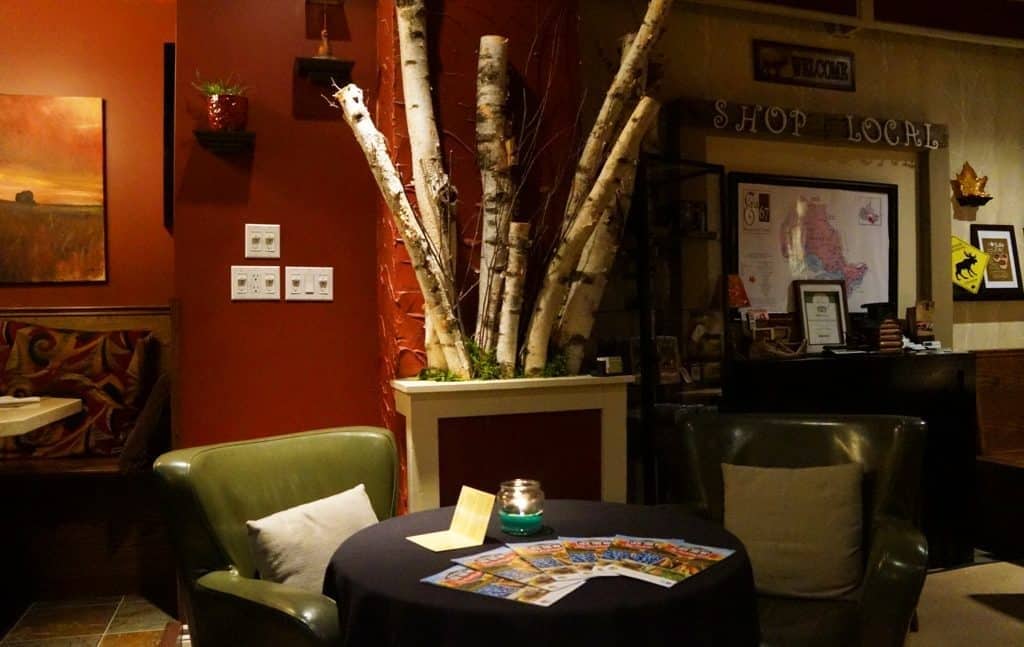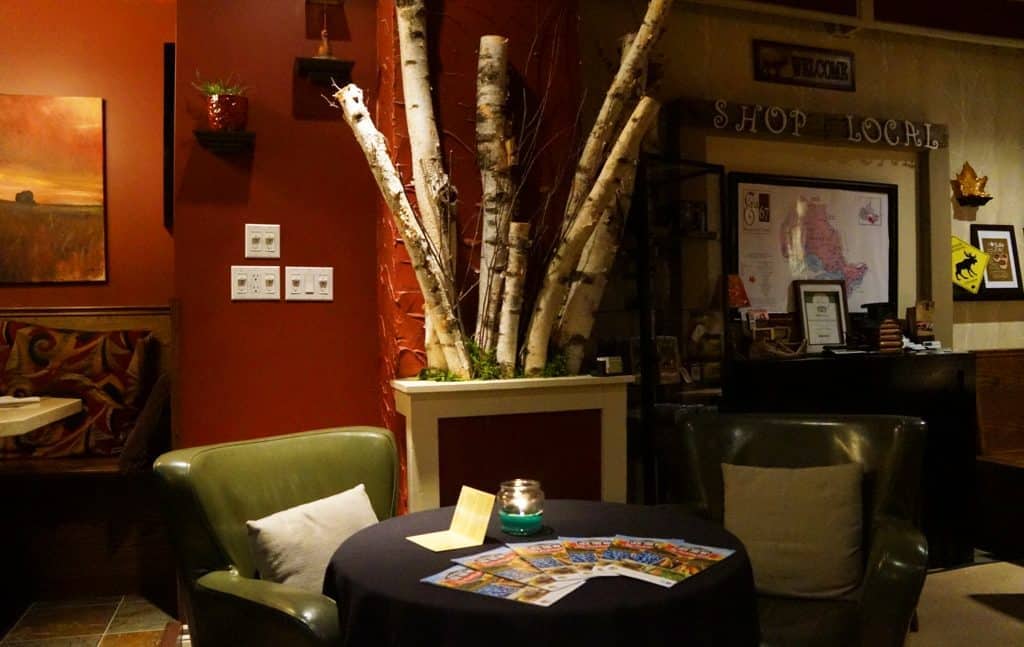 Era 67 – Sets the mood for tranquillity
Inside the restaurant sets the tone for a comfortable, tranquil Canadian adventure. Tree branches and stones with messages like faith and love can be found throughout, and cosy chairs and wood tables provide little private spots to enjoy your delicious food. Outside local musicians play tunes as you enjoy the summer season on the Era 67 patio.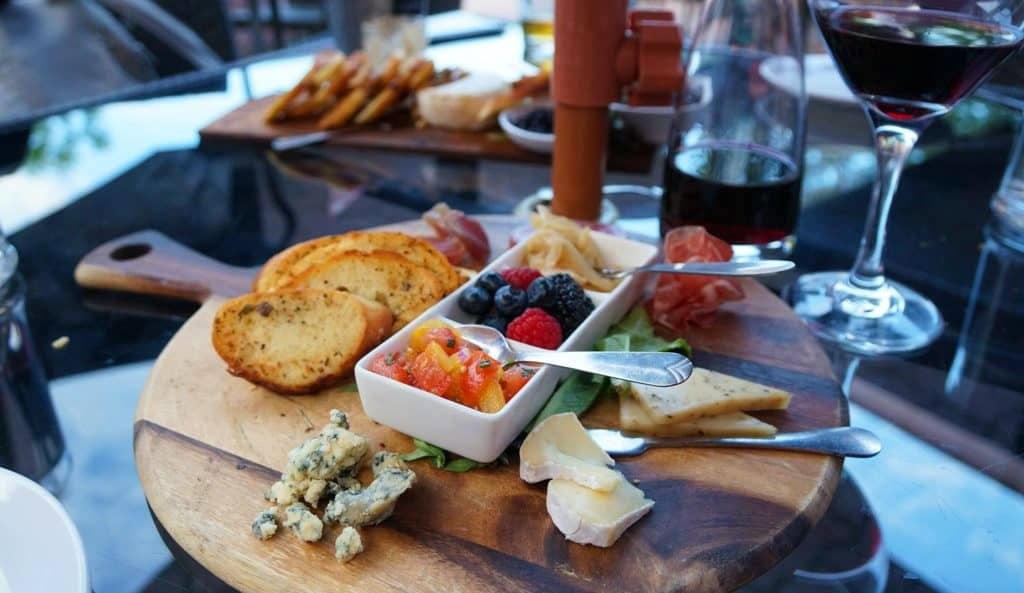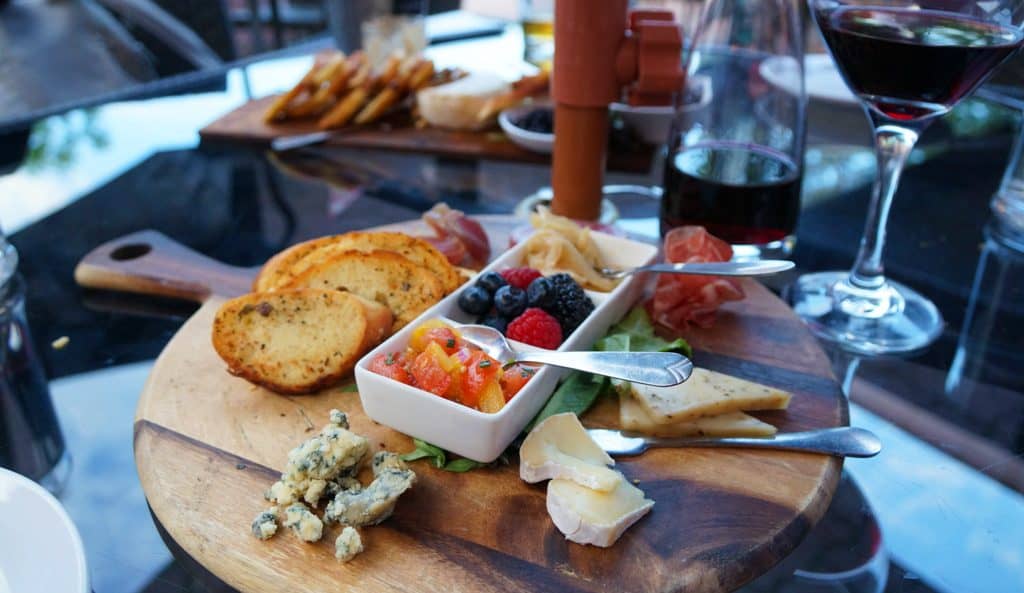 Era 67 – The Food
What you want to know is "Sharon how was the food?" So I can say this knowing that you are browsing the photos and probably not even reading my words Chef Ian Thompson is clearly inspired by all the local ingredients he sources when coming up with his excellent menu. For those interested in a fine dining experience, this restaurant will not disappoint. Let's start with the appetisers.
Above is a photo of the farmer's board which changes based on food sourced from local farms. Our board featured triple cream brie, Devils Rock blue cheese, Monterey Jack Habanera, Truffle Salami, Cured Tomato, Wild Boar Prosciutto, fresh summer berries, Caramelized onions, summer salsa and garlic crostinis.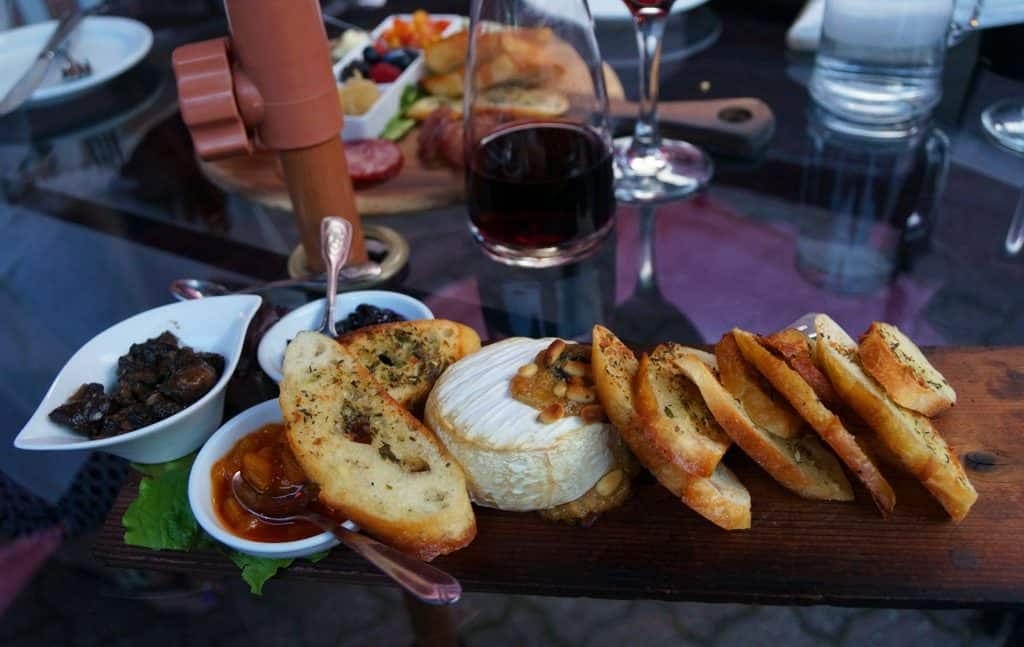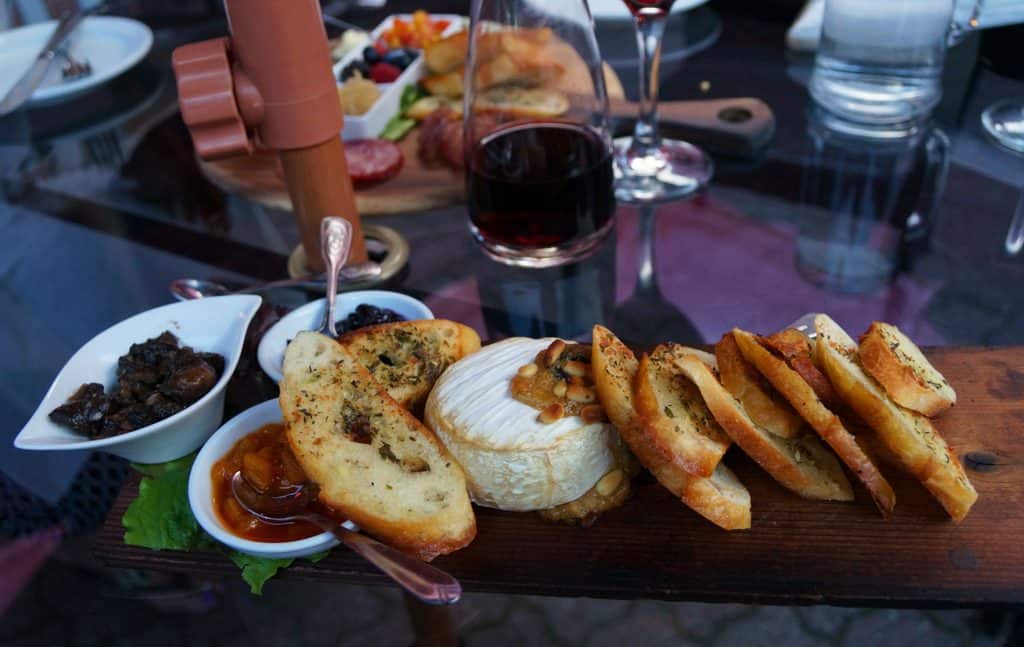 The Maple Plank brie was a double cream brie topped with roasted garlic compote, paired with some spreads and a line of garlic crostinis.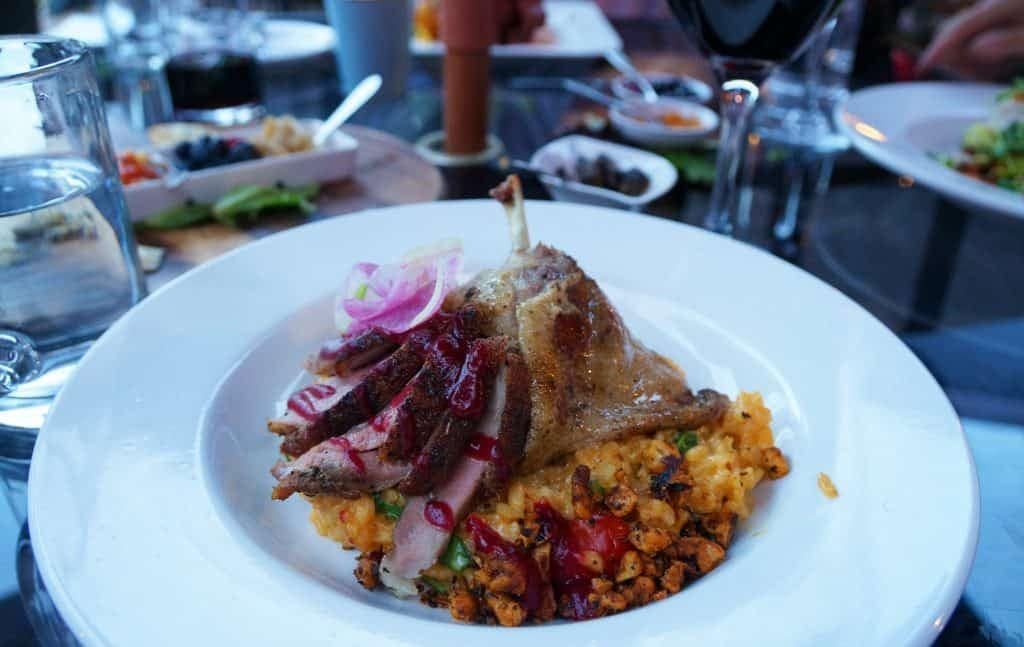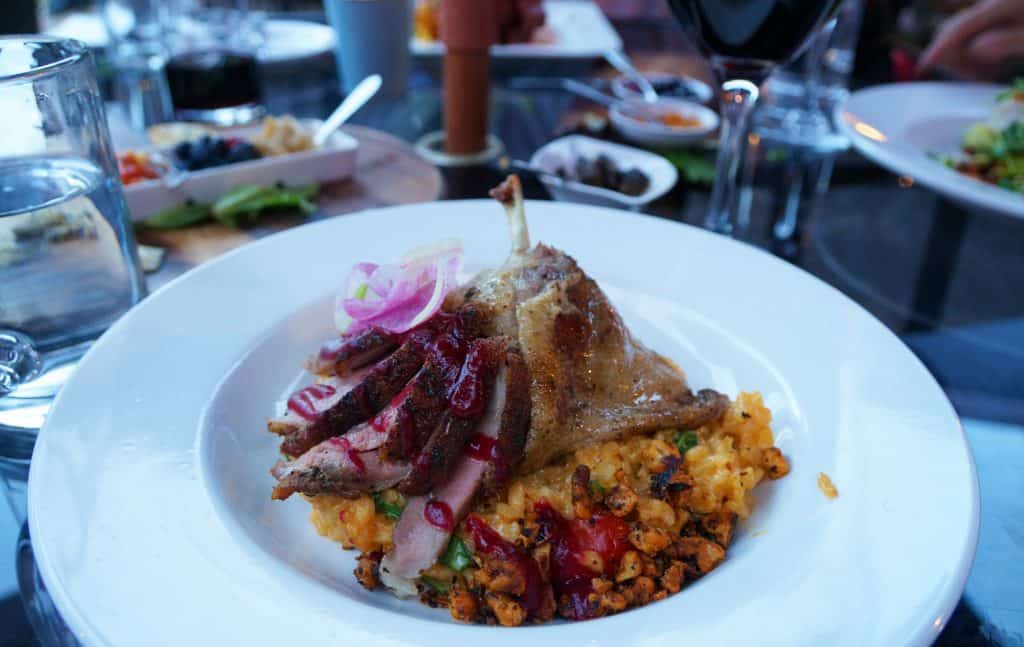 I normally let other people order the risotto, and I watch them in awe as I eat my healthy fish and vegetables. But not this time! I feasted on this amazing duck risotto dish, and I don't feel guilty about it at all. This organic free range duck breast was laid over a scrumptious bed of Balderson cheddar, white wine duck stock with oyster mushrooms and grape tomato infused risotto and drizzled with a cranberry coulis.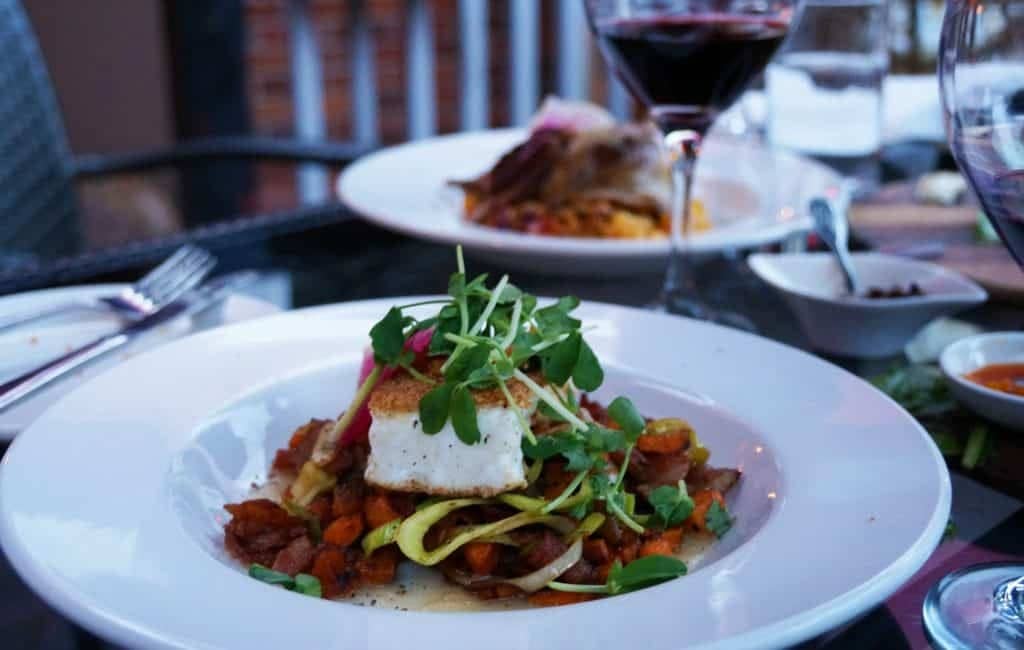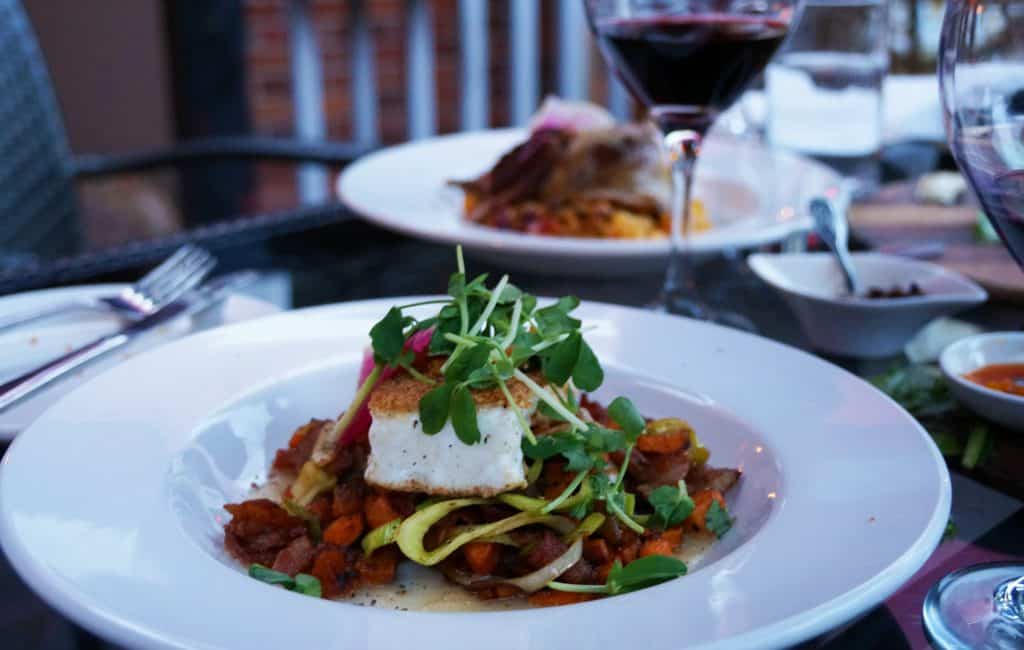 Fish lovers will not be disappointed. Our menu included this Almond Crusted Halibut served over a bed of caramelized maple onions, garlic, crisp bacon and bell pepper compote.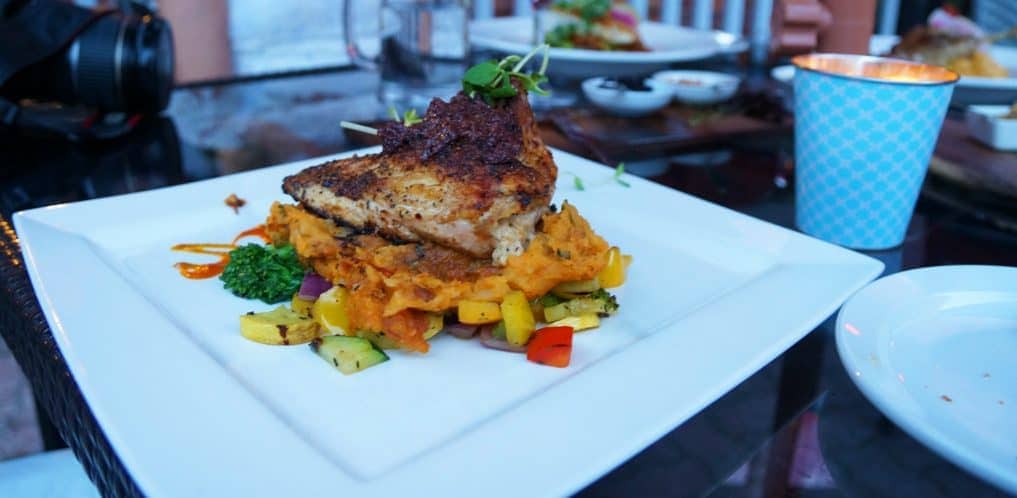 Served on a bed of bell paper coulis this chicken is stuffed with spiced walnuts, wild rice, double smoked bacon, maple caramelized onions and goats
Era 67 Restaurant Orillia Leave Room for Dessert
Honestly, by the time we finished our meals, and the mosquitos started buzzing around us, we had to make a decision about dessert. The restaurant was happy to invite us inside to the lounge to finish off our meal, but our stomachs were full of great wine and extraordinary food. However, I can't imagine doing a review of such an amazing restaurant without completing it with a fine selection of desserts! Can I?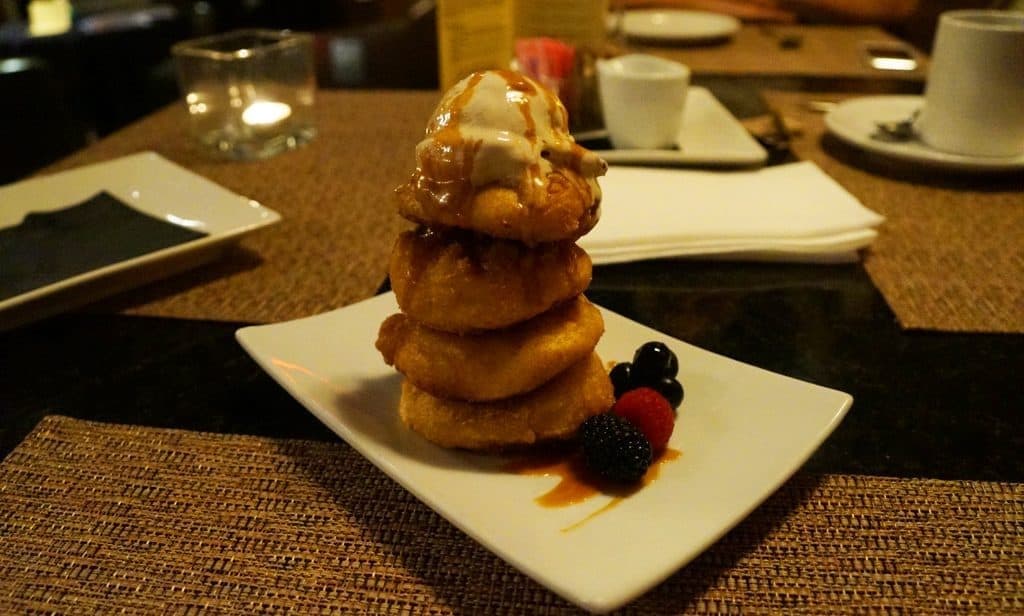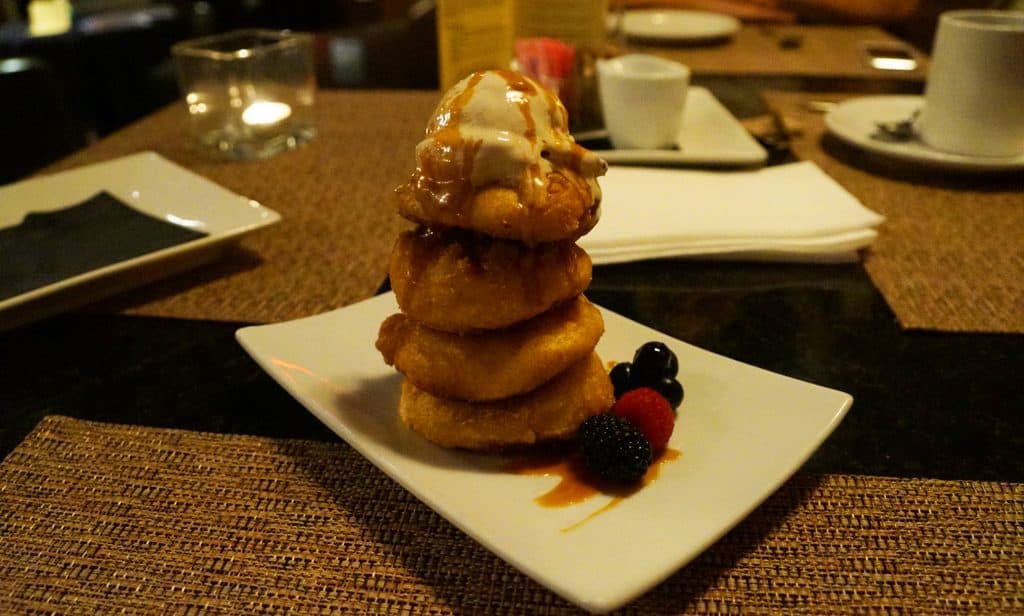 We ended our meal with this decadent dessert featuring these Beignets or fritters made with honey brown beer batter and Macintosh apples, tossed in cinnamon sugar and if that wasn't enough then drizzled with a whisky caramel sauce and topped with maple walnut ice cream.
So that was our feast during my recent summer stay in Orillia Ontario! It was my second meal at Era 67 (the first was a stop on the Tap into Maple tour back in March), and I honestly can't imagine a trip to Orillia without stopping here. Thanks again to Chef Ian and the friendly staff at Era 67 for making our dinner so enjoyable! I Look forward to seeing you all again soon!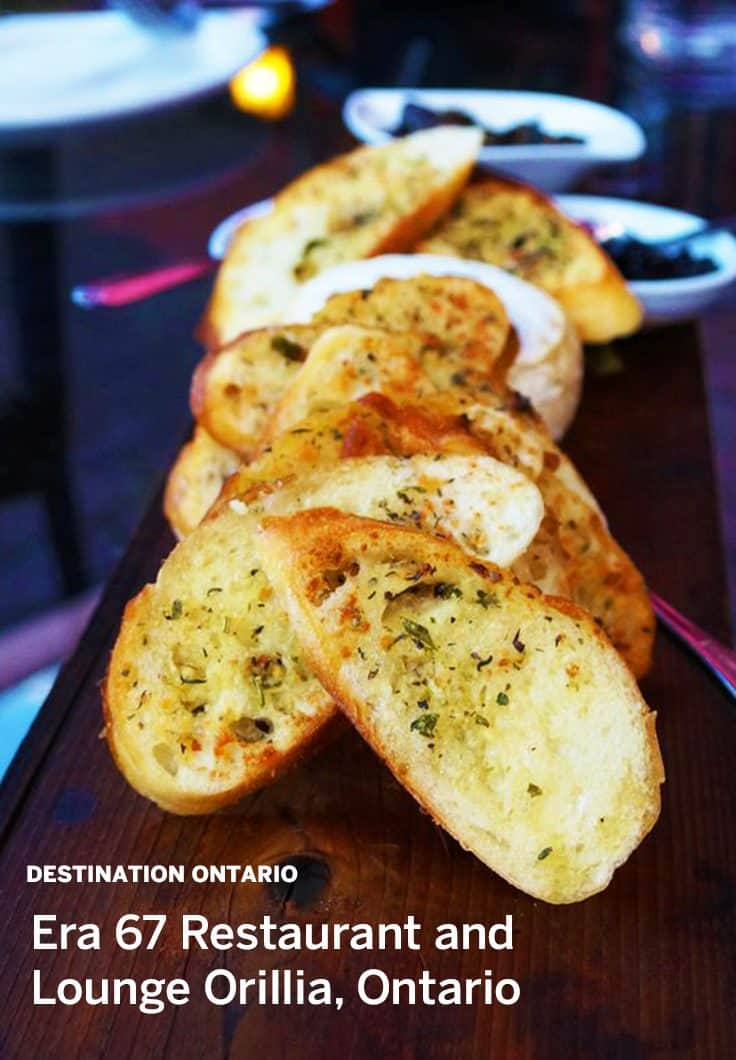 For more to see and do in Orillia, see these posts:
Travel assistance provided by Ontario's Lake Country. Ontario's Lake Country is located within the tourism region of Bruce Grey Simcoe, and is known as Orillia and area's four-season playground, for more information visit their website.