This article may contain affiliate links. Clicking on or purchasing products we recommend through a link may earn a small commission. Read our disclosure and privacy policy page for details. *COVID-19 TRAVEL ALERT – Travel recommendations offered on this site are not to encourage you to travel against travel advisories.
My first experience in Ontario's Lake Country was a visit to Downtown Orillia where I was surprised by their Street Art Exhibition and cool stores. So I was excited to return to the region to participate in a Tap into Maple road trip on now until May.
Located in Central Ontario near Lake Simcoe. Ontario Lakes Country's local maple syrup producers and businesses are all on board to celebrate everything maple in the region. The best part is you can plan your Tap into Maple road trip by visiting their website and choosing as many of the attractions on the route that you want to visit. Pick up a Tap into Maple passport and get stamped at each location – many are offering Tap into Maple deals on products and services!
Tap Into Maple Road Trip Ontario's Lake Country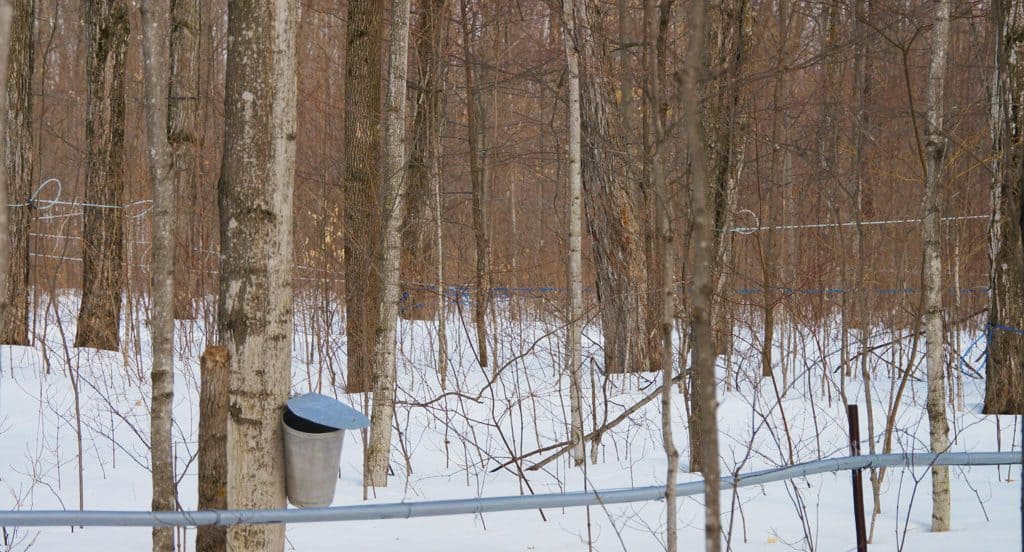 Breakfast at Shaw's Maple and Sugar Bush
We started our tour with breakfast at Shaw's Maple Sugar Bush. They served up some fluffy pancakes with their Maple Syrup, sausages and hot coffee. We learned about the evolution of Maple Syrup collecting – it's not like when we were kids! Sure the familiar buckets are hanging on the trees – but that is just for tourists! There is a network of blue tubing and metal tubing all running syrup right from the trees and into a big vat. Then there is specialized equipment for boiling the sap and turning it into Syrup!


Tap into Maple Stop at Concord Candle
We had a quick stop at Concord Candles factory and gift shop. Their shop had a whole lot more than just candles! It was fun to watch through the glass windows as the staff were making candles and also browsing through the many variations of candles in the store. With our Tap into Maple Passport, we got a free Maple candle.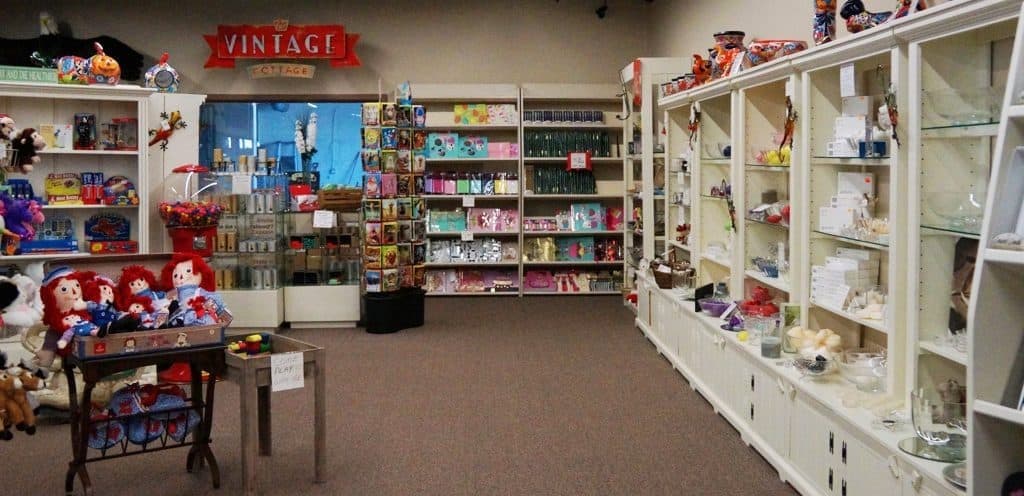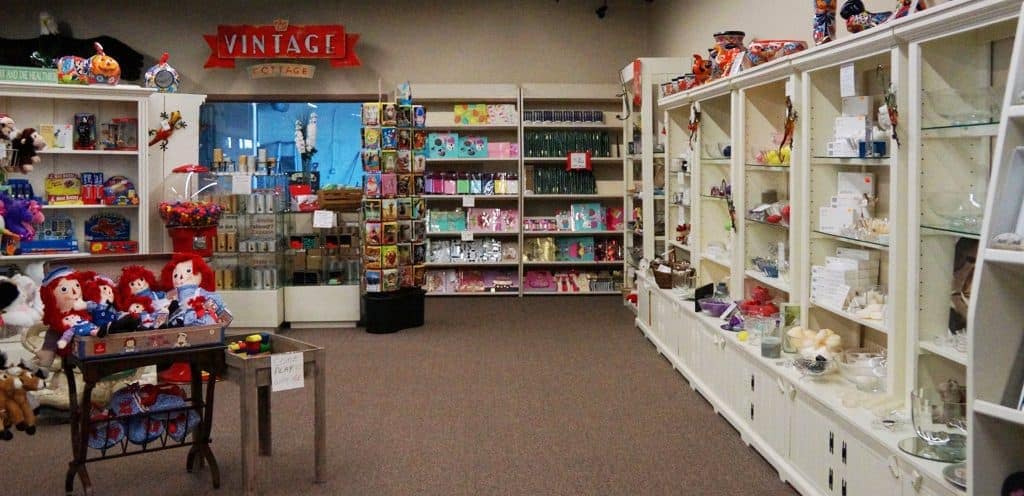 Apple Annies & Mariposa Market
If you are driving near Orillia, you have to stop in and visit Mariposa Market. This fantastic bakery and gift shop has some incredible food and baked goods and makes a great stop for a meal or a snack.
There were some maple-inspired treats available at the Market Bakery including these maple pecan mini cakes.
Apple Annies are located in the basement of the market and are famous for its fudge! They have maple fudge of course and many many other varieties all made fresh on site in their kitchens.
For more things to do and see in Orillia Ontario see these posts:
Orillia Museum of Art & History
The Orillia Museum of Art and History is also a passport stop on the Tap into Maple tour. This museum and art gallery is committed to local artists and showcases their talents through historical pieces or art exhibitions. The current "Eye to Eye" exhibit is a must see. On Sundays they are also holding some fun events for the family which include maple pressing art and their gift shop even has some maple-inspired items for purchase.
Lunch at Era 67 Restaurant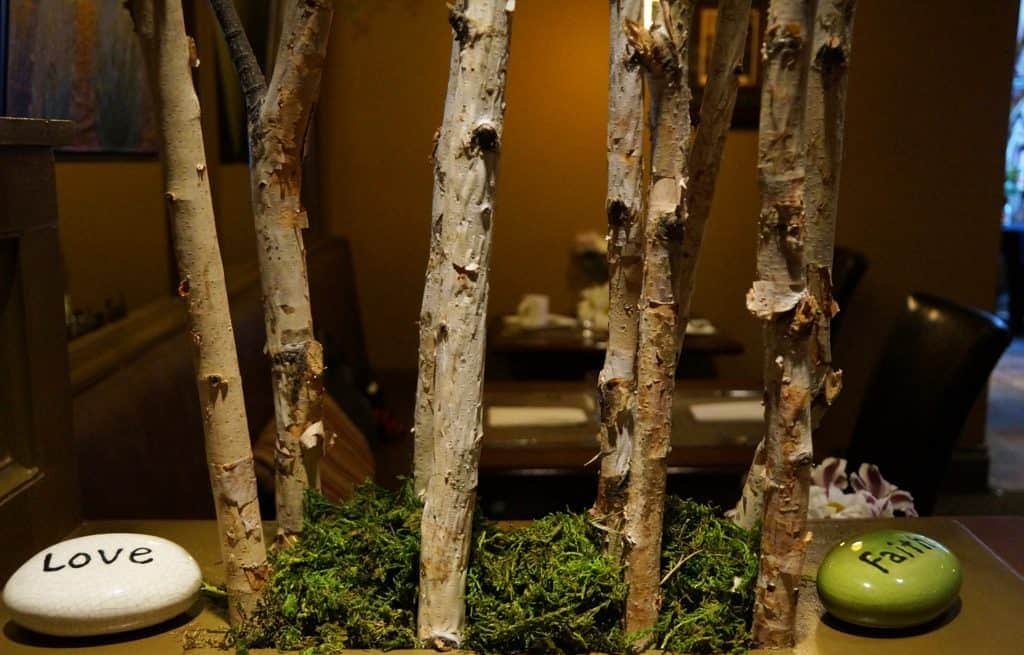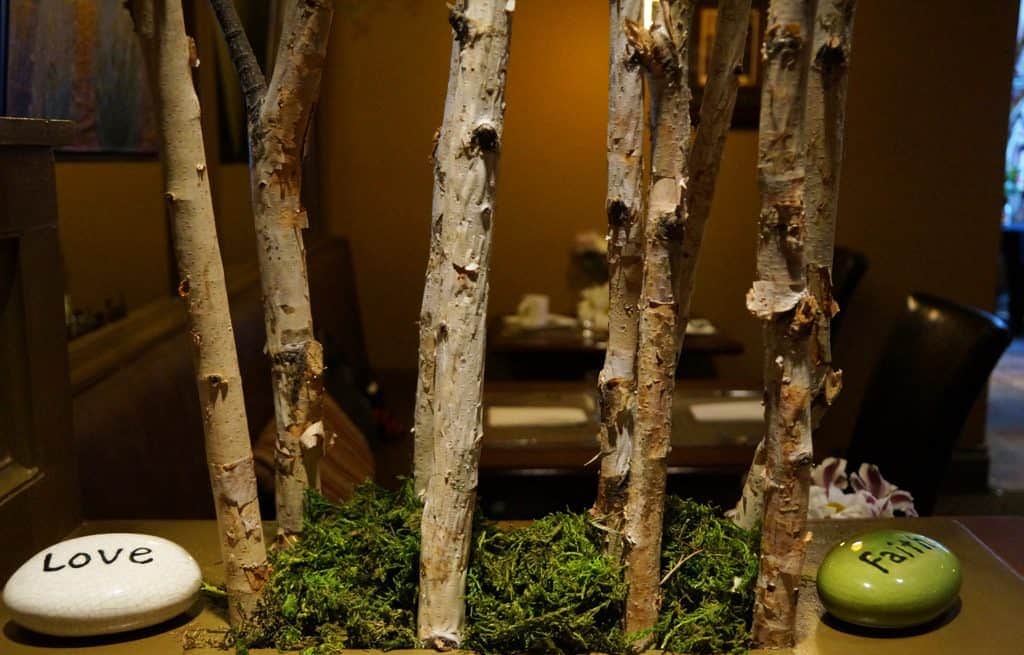 Gordon Lightfoot music was playing in the background, and the moment I walked into this restaurant I started to relax. The entire restaurant had a nature-themed decor and a local inspiration. Their unique menu included dishes made with local ingredients and maple syrup. For more on Era67 in Orillia see our restaurant review.
After an incredible spoonful from a maple-inspired amuse bouche, we had this Maple Sweet Potato Soup.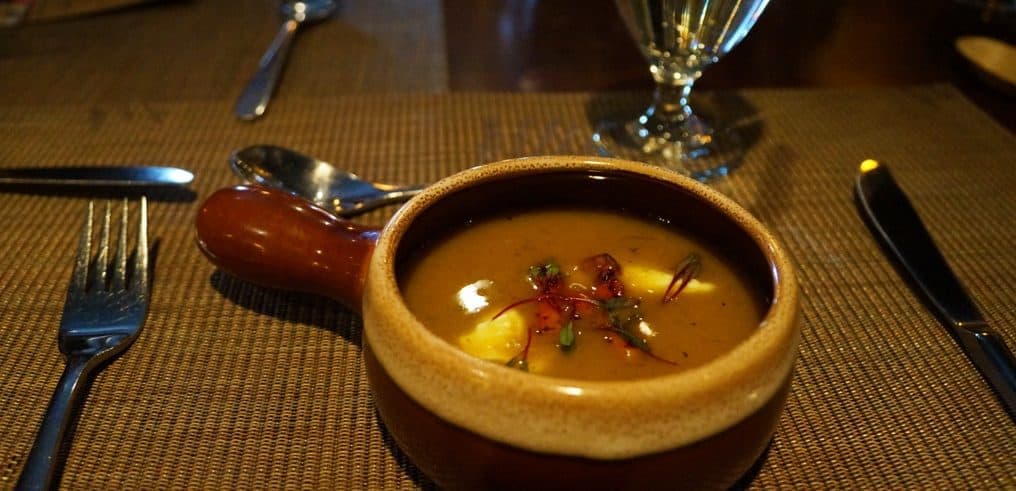 Our main course was this impressive Ceder Plank Maple Pommery Glazed Whitefish. The fish sat atop tri-coloured spaghettini with grape tomatoes and bell peppers.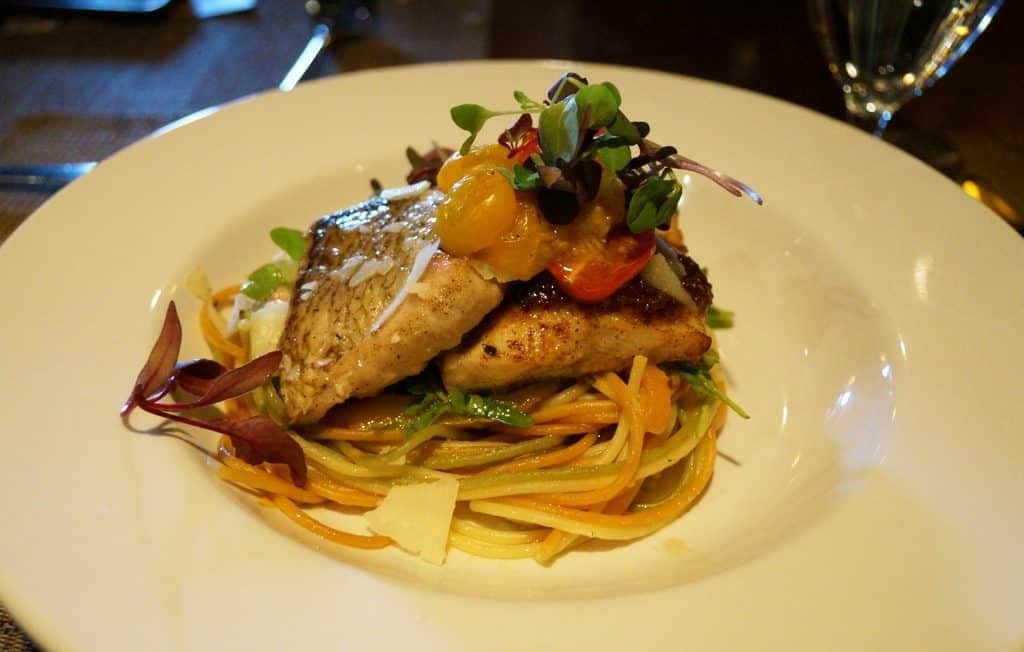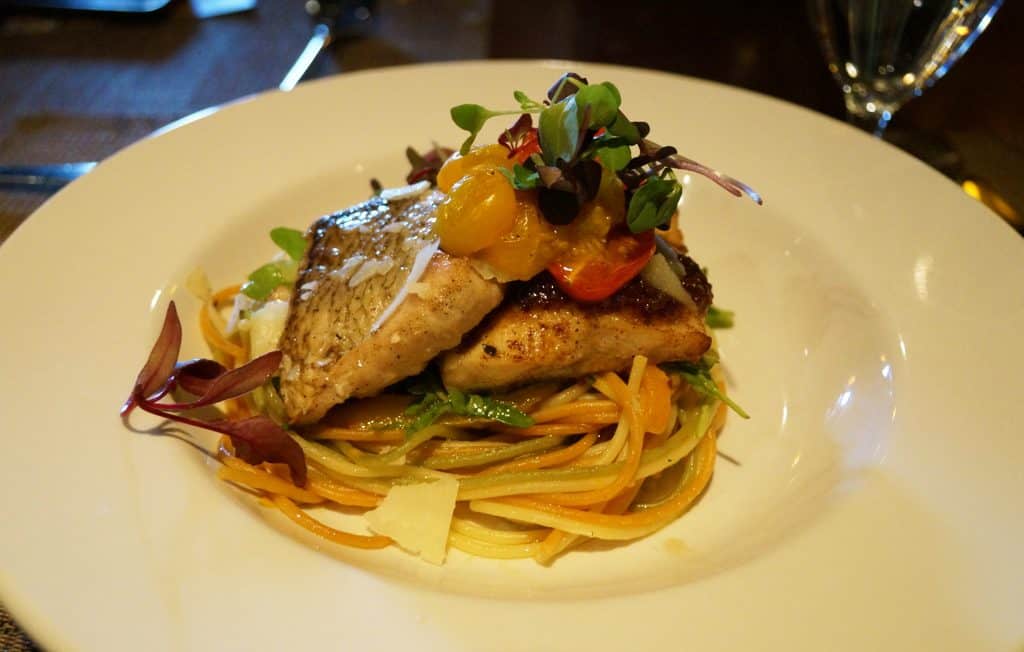 The clock was ticking, and we had many more stops to make that afternoon, but that wasn't stopping anyone from partaking in this fantastic Maple Duck Egg Creme Brule. For more on Era 67 see our post Era 67 Restaurant and Lounge Orillia Ontario Local Cuisine at its best!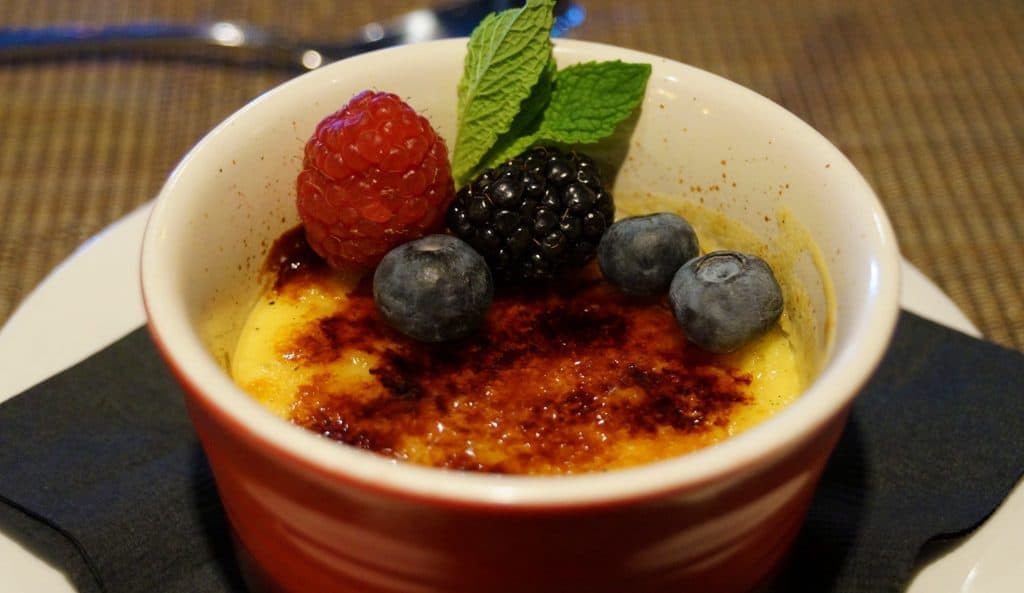 Hewitt's Farm Market & Bakery
With full bellies, we made our way to Hewitt's Farm Market & Bakery. Show them your passport, and they will give you a delicious butter tart from their bakery. I saved mine for later and noted that this is a market I want to come back to in the summer. The bakery was filled with fresh-baked items, but there will be fresh farm produce for sale in this market during the summer and into fall.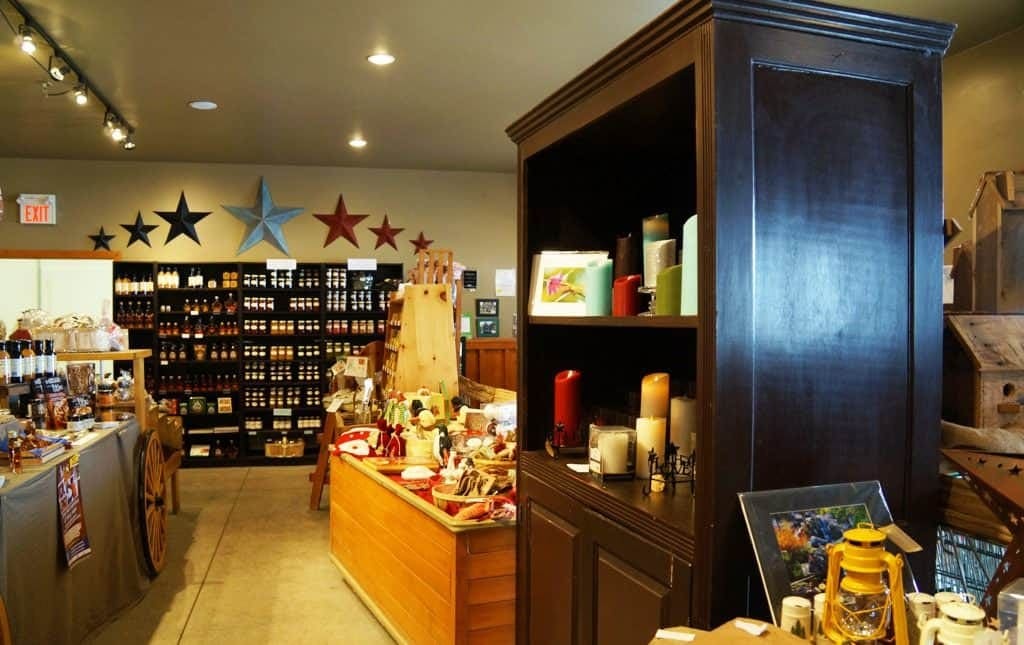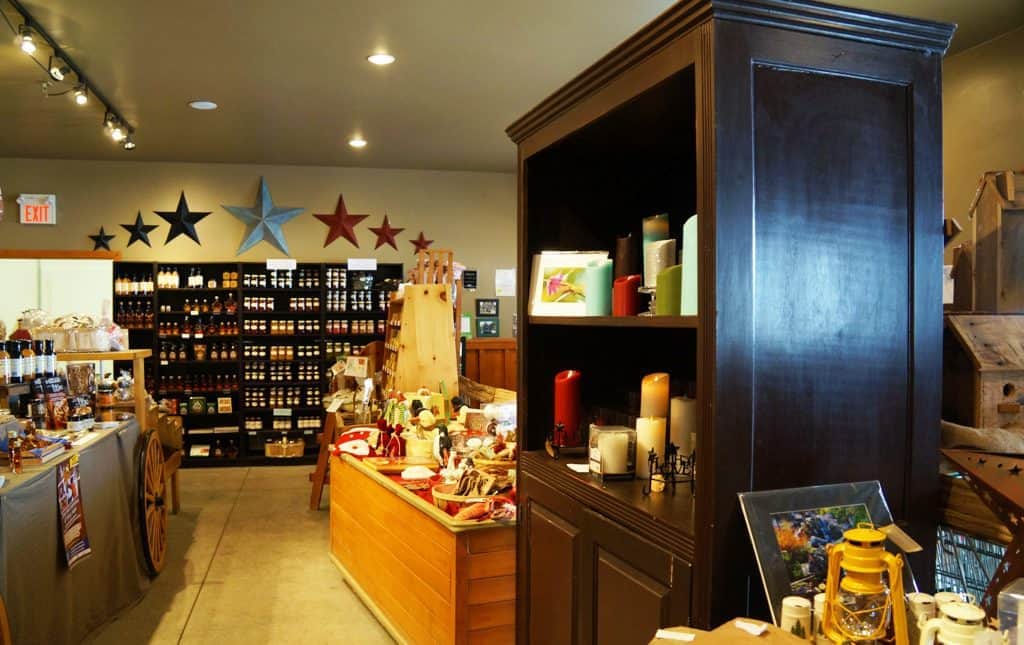 Hewitt had an impressive collection of locally produced maple syrup on display. You can visit their sugar shack and bakery during your visit, and like me, you won't leave the store empty-handed! There are collectables, maple syrup, barbecue sauces, candles, fudge and much more available in the store.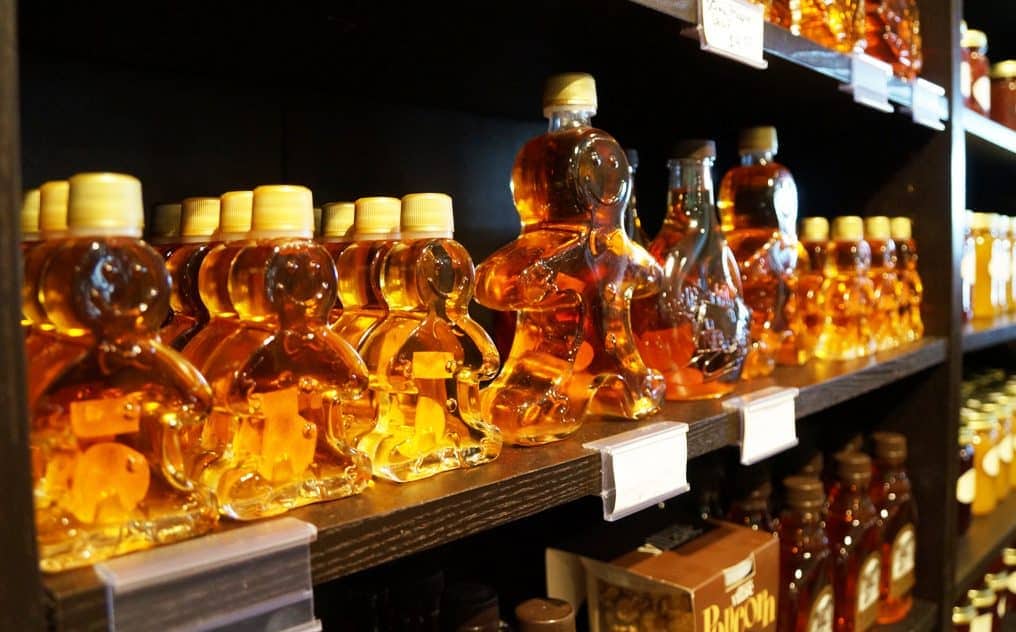 Christmas Villager
If you love Christmas stores, then you have to add the Christmas Villager in Coldwater Mill to your road trip. This cute little store was filled with ornaments and fun Christmas gifts. The Coldwater Village had some small antique shops and local clothing stores for those of you like me who love visiting small Ontario towns and villages on your road trips.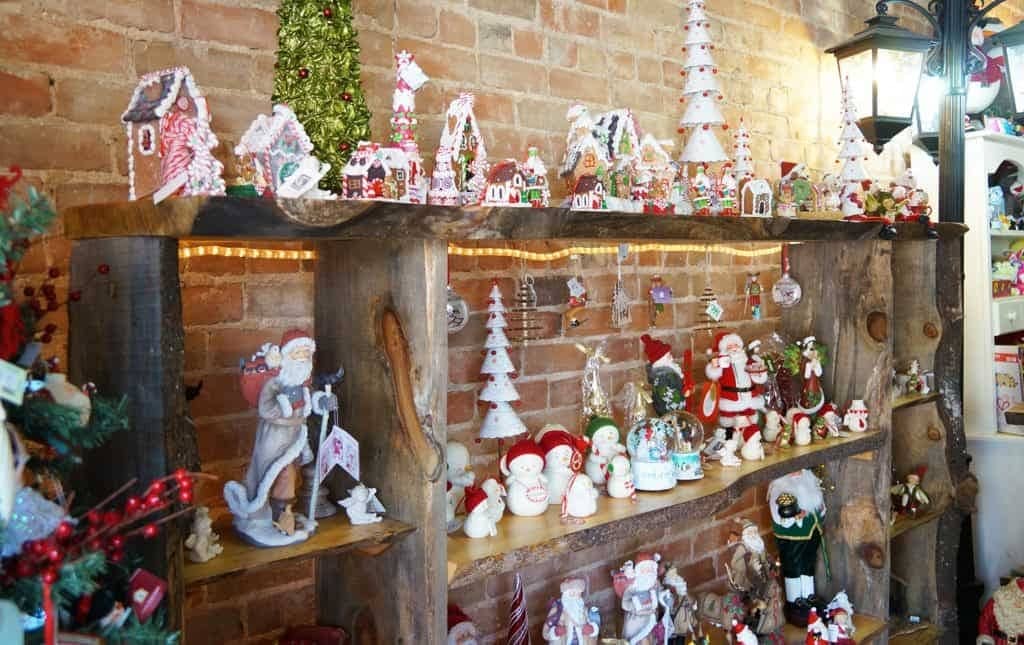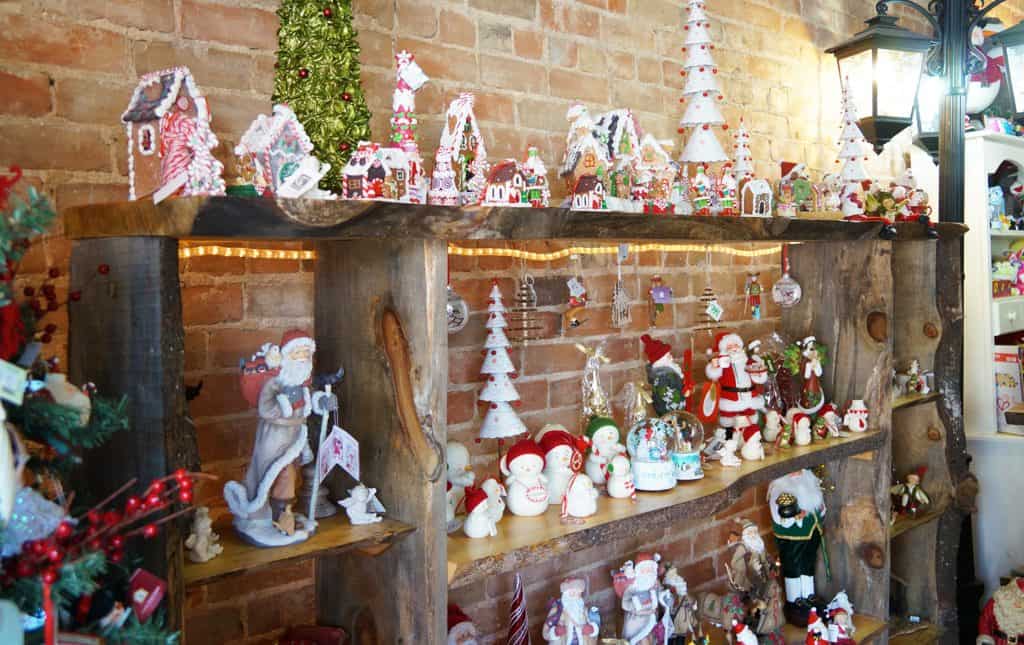 Chelsea Chocolates
I can't seem to go on a road trip in Ontario without hitting a chocolate store. The team at Chelsea's Chocolates was making Easter bunnies when we stopped in for a visit, but they're famous for their fresh Belgian Truffles. The little shop is filled with delicious chocolate treats which make it impossible to choose what to get.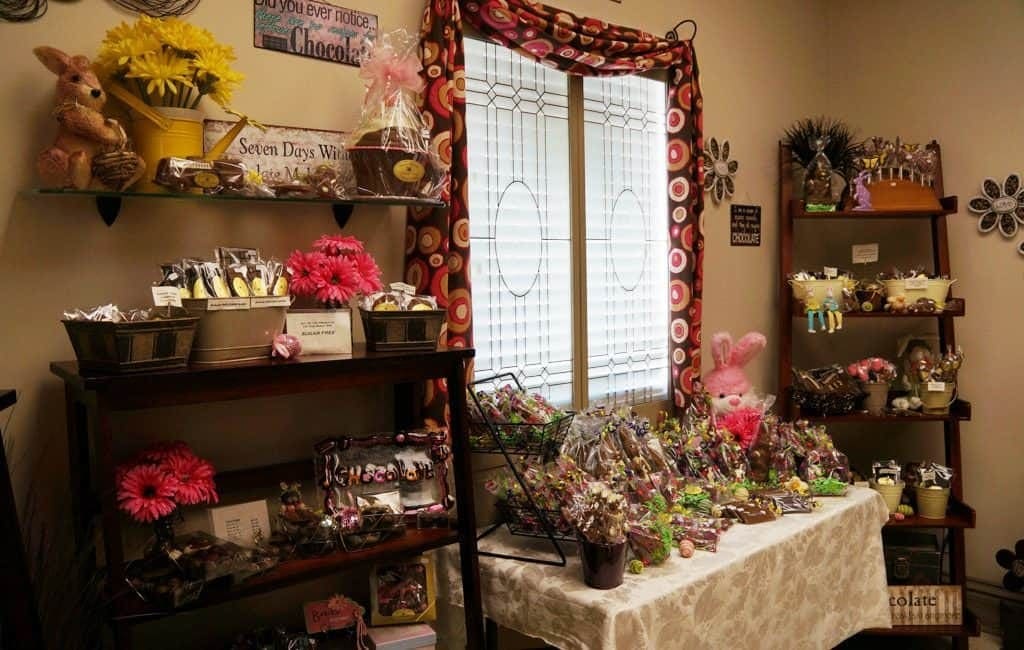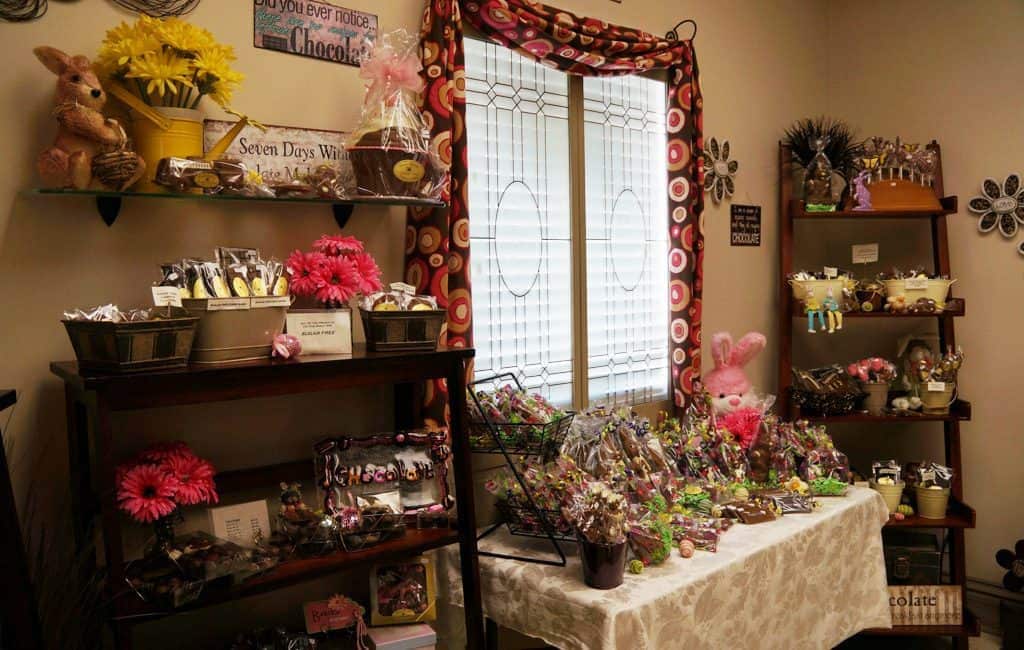 We sampled some of these Maple Butter Cream filled chocolates for showing our Tap into Maple passports. They also have maple truffles if you are wondering – made with local maple syrup.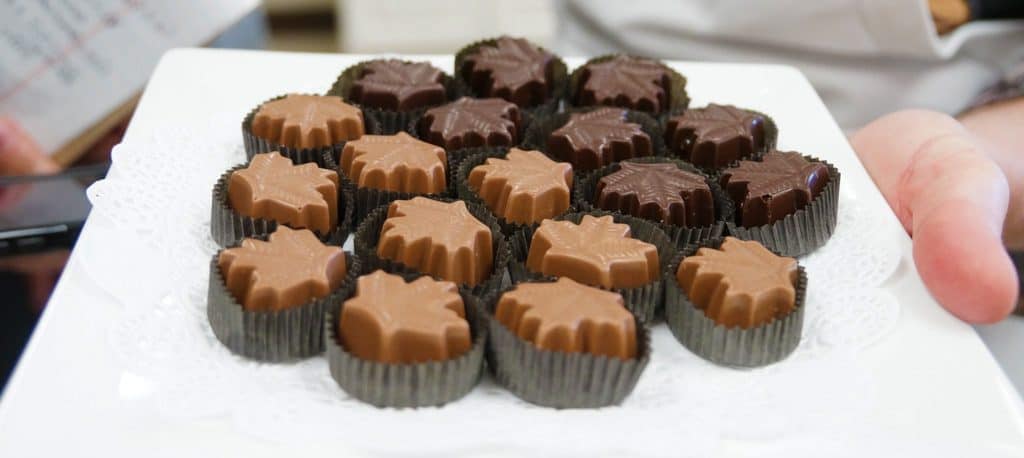 Nicholyn Farms
I can not believe that I have never heard of Nicholyn Farms store before now! Filled with local organic and traditionally raised foods. Inside are freezers filled with meats and racks and racks of natural and organic products. With my current clean eating lifestyle, this is a store I know I will be visiting again soon! Passport holders will get a free sample of delicious maple granola, but you will be leaving this store with a whole lot more. Can't wait to visit again! Summer road trip anyone?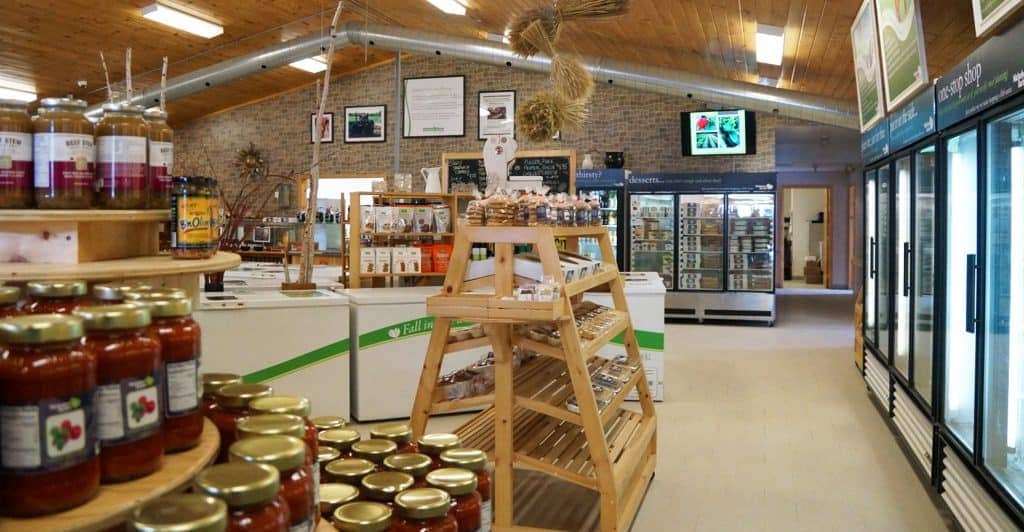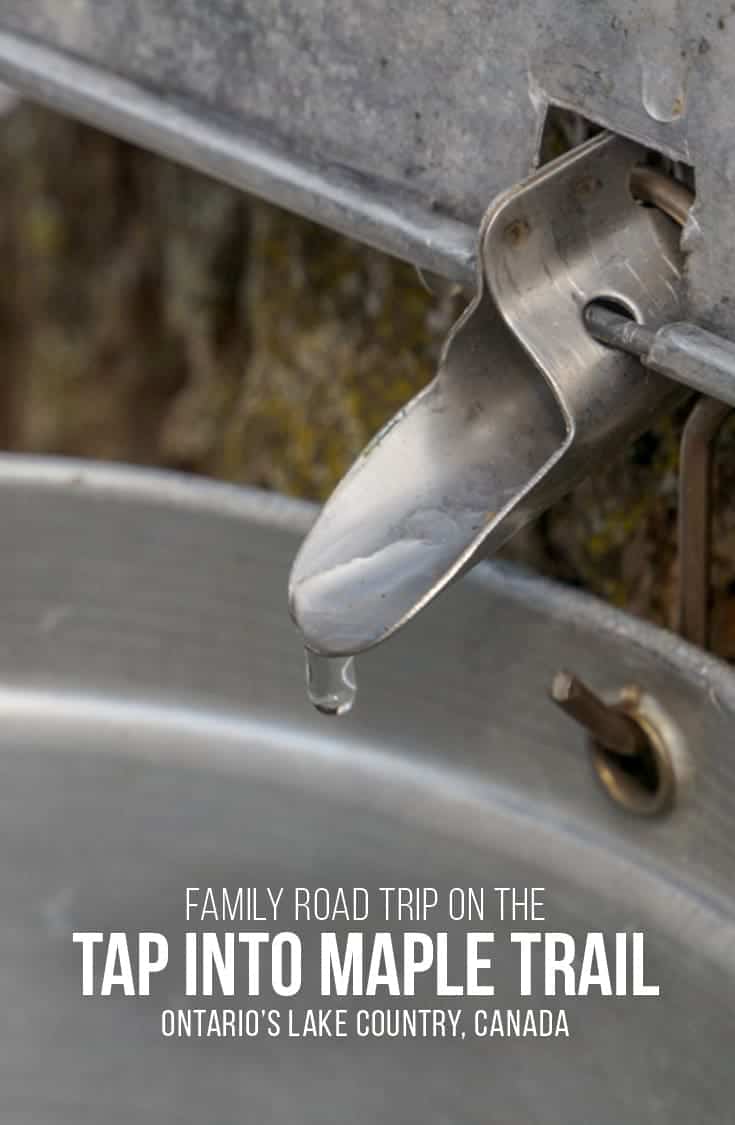 Lalonde Sugar Bush
While Lalonde Sugar Bush has also moved to the high-tech style of making Maple Syrup they still treated us to an old-fashioned tree tapping.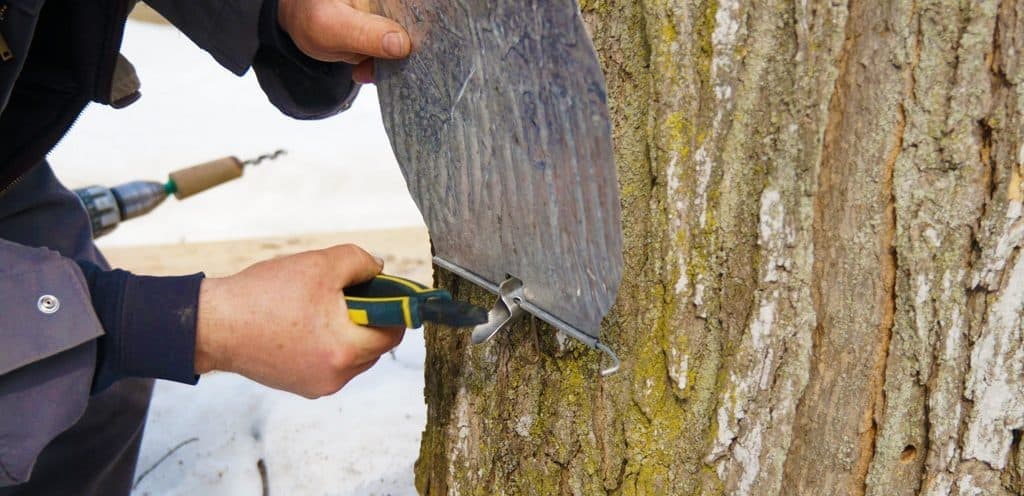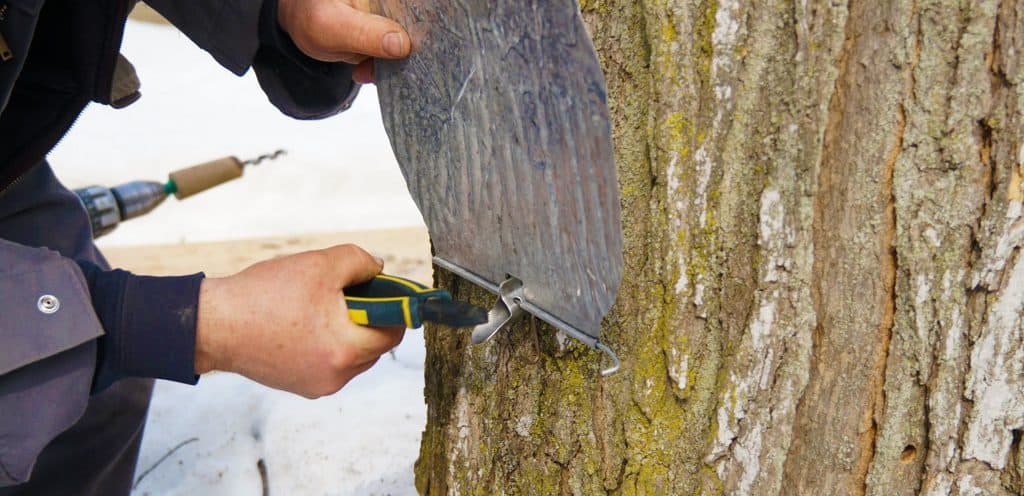 Within seconds of drilling the hole in the tree, the clear liquid started dripping out. Now at the start of the maple syrup season, the syrup produced is light coloured and pricey. Did you know there is a quality grade of maple syrup? The darker syrup is best used for cooking and usually produced from the end of the season sap and bottom of the sap collected in the giant vat.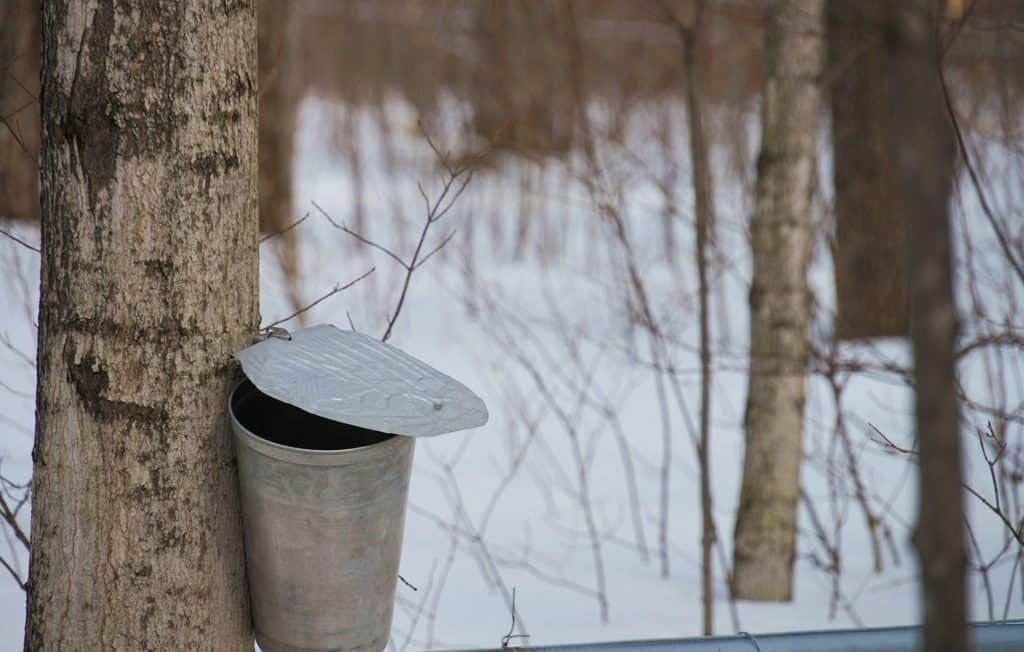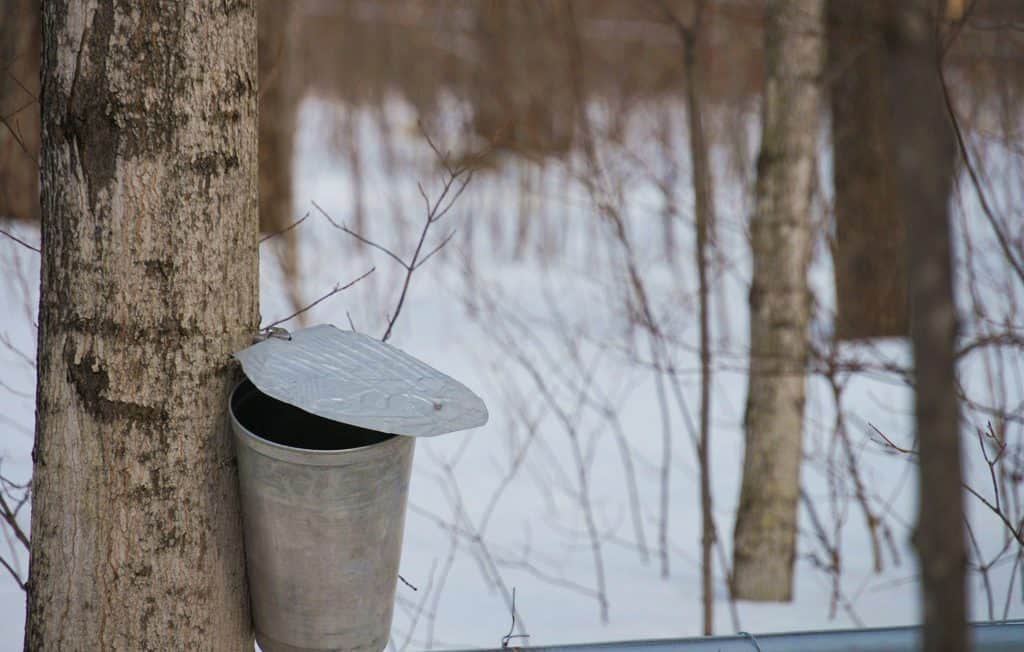 Lalonde also has Maple Cotton Candy – I have never heard of such a thing. It was awesome by the way, and I highly recommend you add Lalondes Sugar Bush to your Tap into Maple Tour.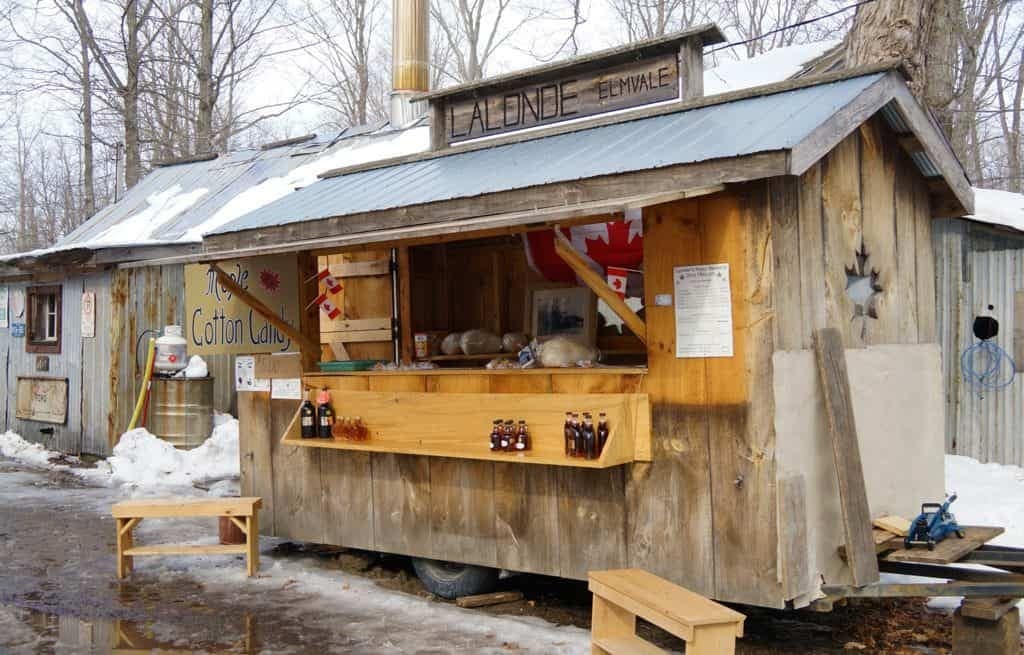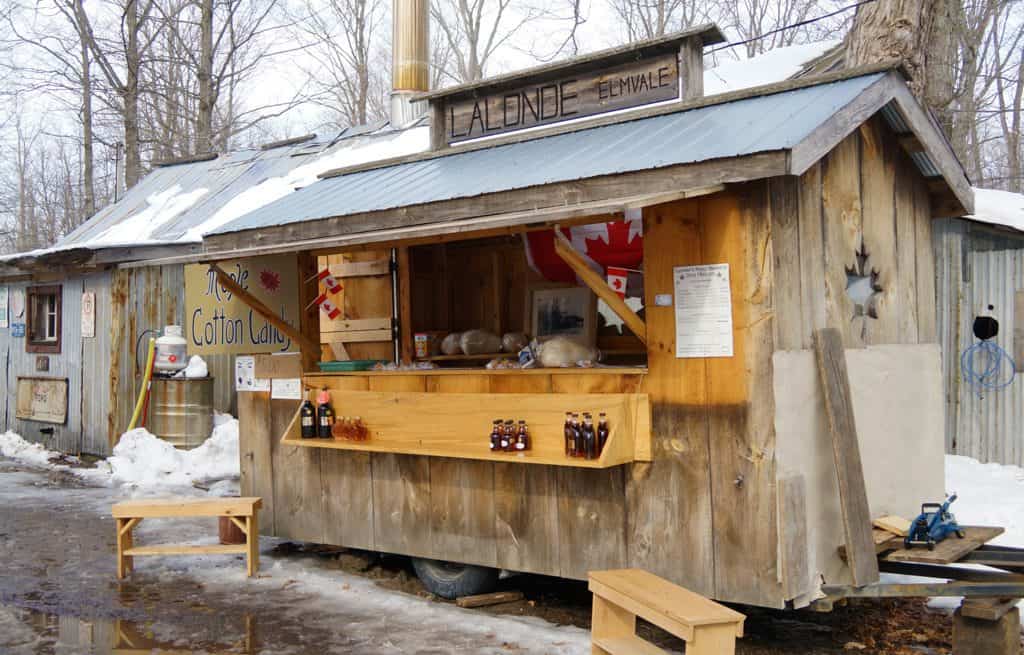 What's a maple syrup tour without a little-frozen maple syrup toffee? While they didn't lay it out over the frozen snow for us, but the little cup of gooey semi-frozen syrup was still just as yummy as I remember.
Don't miss the annual Elmvale Maple Syrup Festival featuring many of these maple producers and a full weekend of fun maple activiteis for the whole family!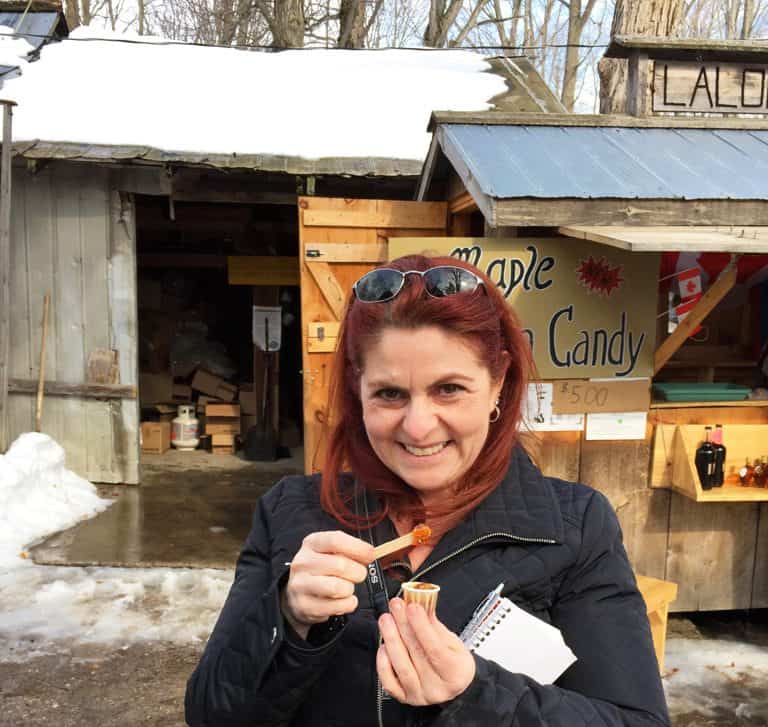 Simcoe County Museum
Our last stop on our Tap into Maple tour was the Simcoe County Museum. This museum is dedicated to the history of Simcoe County and has many fun, interactive displays and activities to do this. I loved taking a walk through downtown Barrie's main street. An exhibit depicting what the stores looked like in the late 1800 and early 1900s.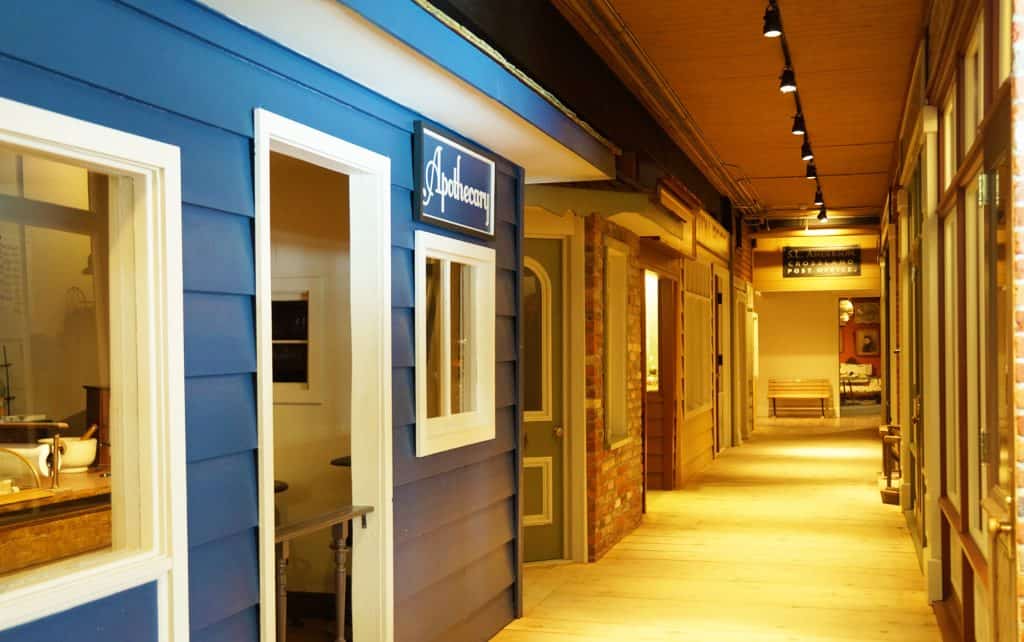 This museum has so many unique displays and exhibits including outdoor heritage buildings, the living and working gallery which will take you down memory lane as you see some old familiar appliances and toys you may have encountered in your youth.
Casino Rama Resort
My road trip package included a two-night stay at the beautiful Casino Rama Resort. A full review of my visit can be found here, but I thought I'd share their Tap into Maple feature: A Maple Pedicure at the Balance in Life Spa. See TripAdvisor reviews for the Casino Rama Resort and Spa here.
See: Hotel Review: Casino Rama Resort – Make it a Girls Getaway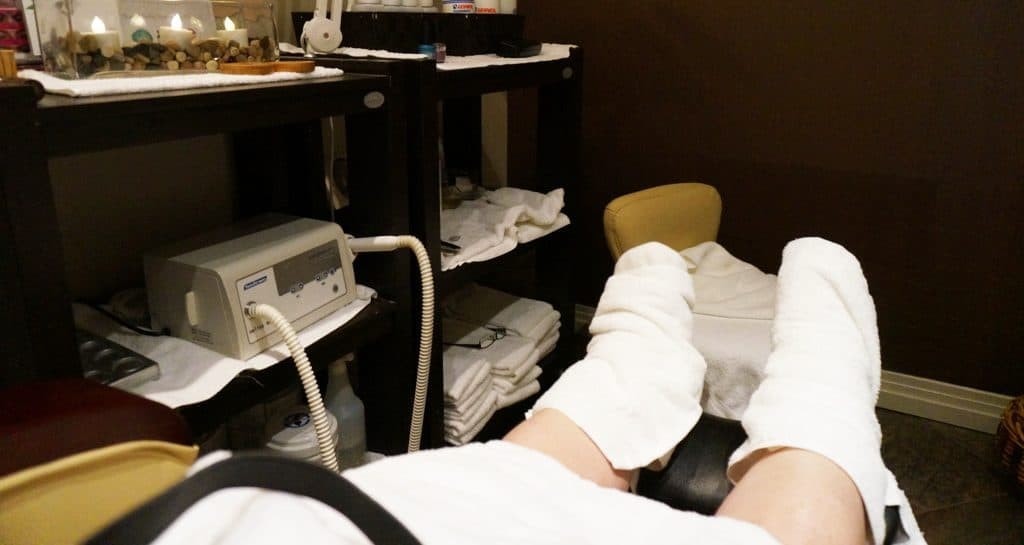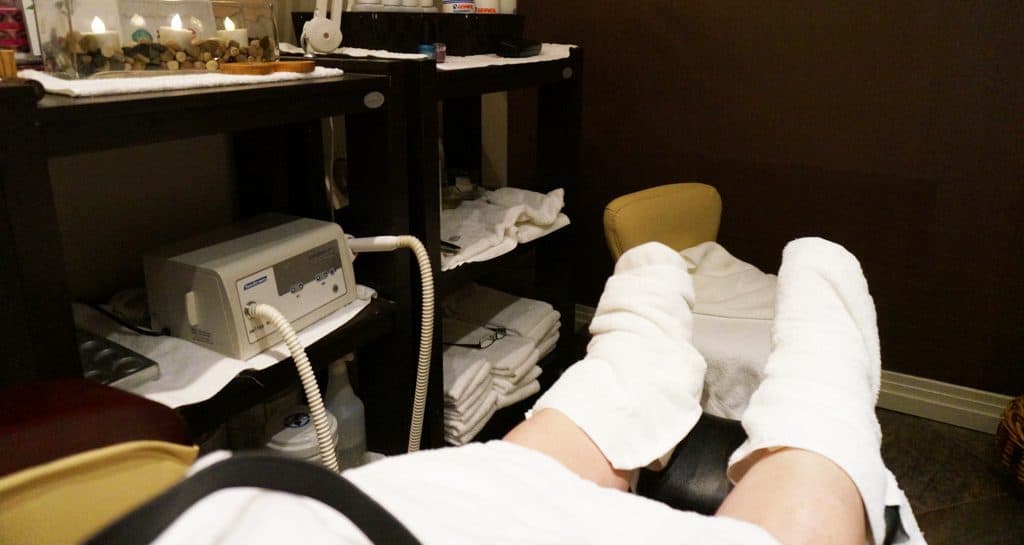 The luxurious pedicure lasted over an hour and included the usual feet pampering but then a maple scrub and hot towel soak, followed by a paraffin heat treatment. I had the softest feet ever! The resort was such a great way to end my Tap into Maple road trip!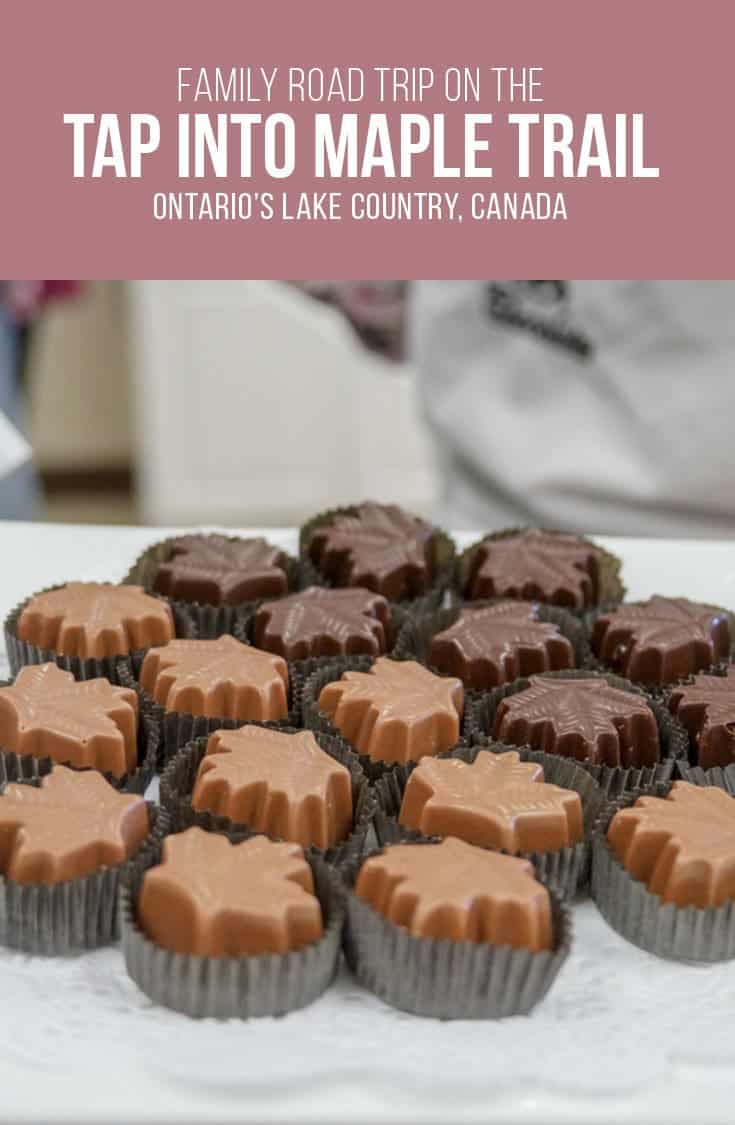 Will you be heading out to Discover Ontario? Tell me about your favourite Ontario's Lake Country destinations in the comments below!
Travel assistance provided by Bruce Grey Simcoe, Ontario's Lake Country and Casino Rama Resort on a media press trip.