This article may contain affiliate links. Clicking on or purchasing products we recommend through a link may earn a small commission. Read our disclosure and privacy policy page for details. *COVID-19 TRAVEL ALERT – Travel recommendations offered on this site are not to encourage you to travel against travel advisories.
It is that time of the summer! We see those famous Let's Go to the Ex ads, and we know it's almost over. It is time to celebrate the Canadian National Exhibition, and in this post, I have a list of things to do at the CNE.
Things to Do at the Canadian National Exhibition – CNE Toronto
Famous for the midway and the crazy food items only available at the CNE, there is so much to do and see at the Toronto Exhibition. I've divided everything up by the famous CNE Buildings, Exhibits, popular shows and of course the CNE Midway.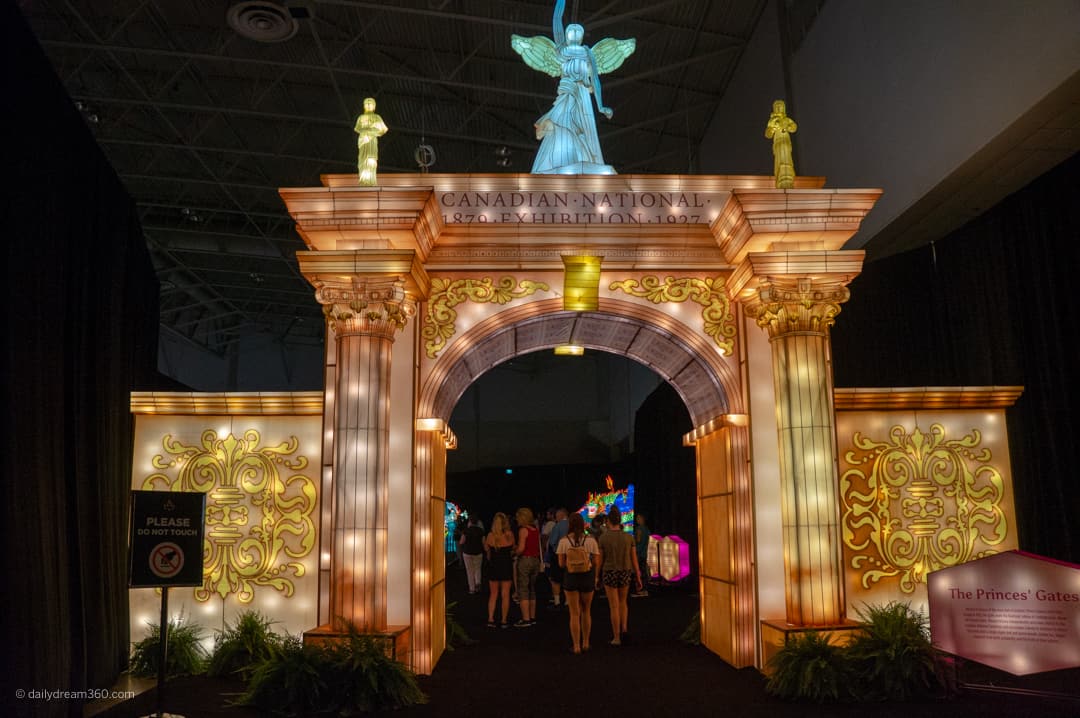 Browse the CNE Exhibits and Buildings
Each year the CNE has a number of exquisit exhibits only available during that year. In 2019, there are a number of photography exhibits that might appeal to photography buffs.
National Geographic's 50 greatest photos
About Time Harry Enchin Photography
2018 Silk Road Indoor Lantern Festival
I happened to find this by accident when I went to investigate the Warehouse shopping area. I am so glad I did because it was by far one of the favourite exhibits that I saw at this year's CNE.
The silk lanterns depicted dragons and famous nursery stories and glowed magically in the darkened room. There are so many beautiful lanterns to see and admire.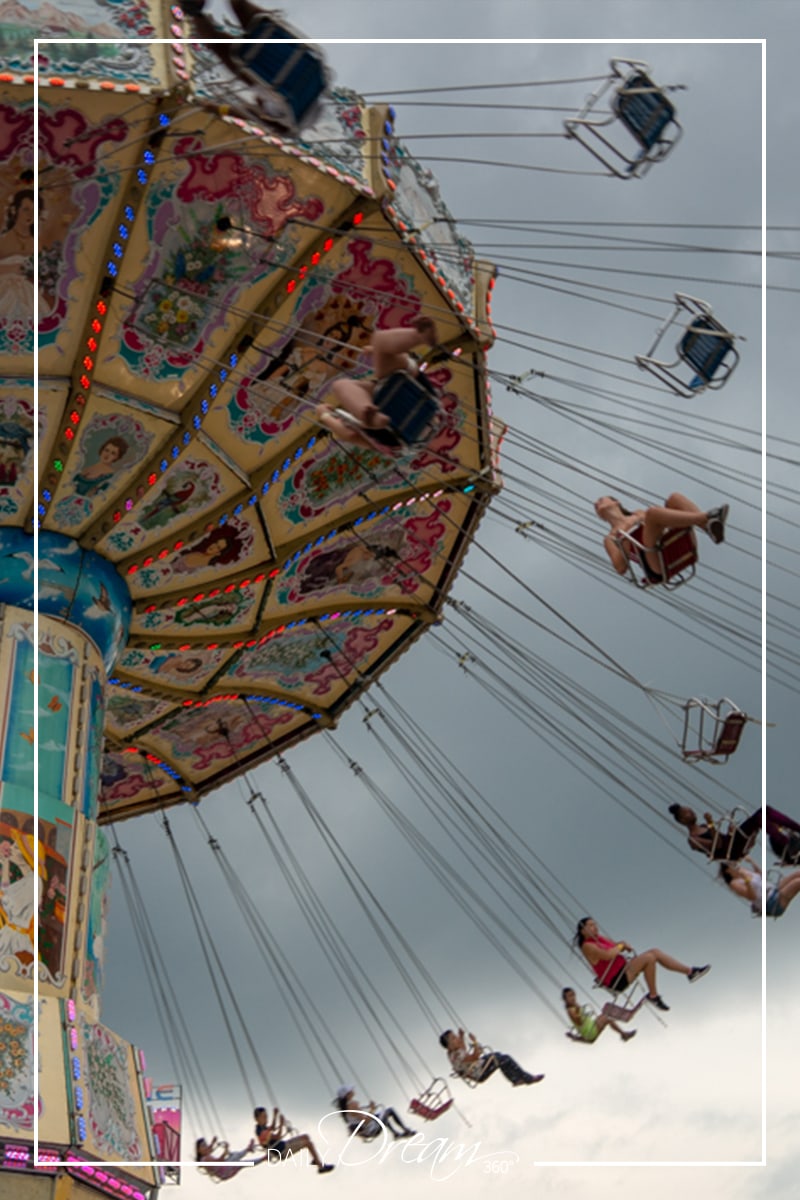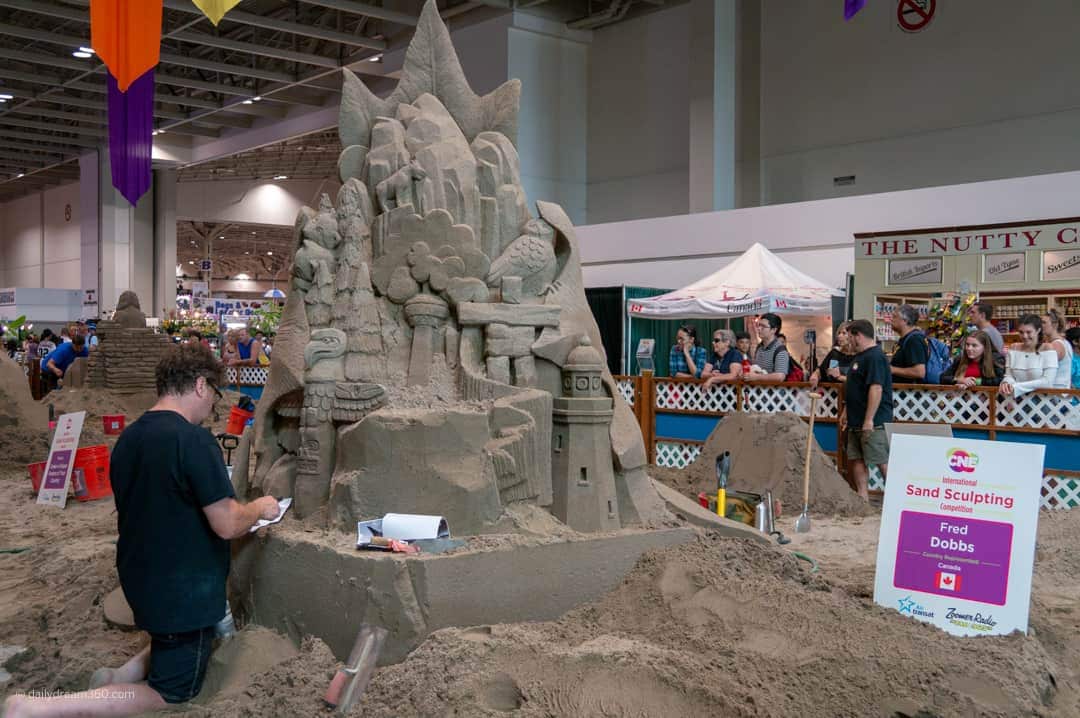 2018 Sand Sculpting Exhibit
I have to admit I spent a little while sitting and admiring the sand artists who were busy creating massive sand sculptures that were just jaw-dropping.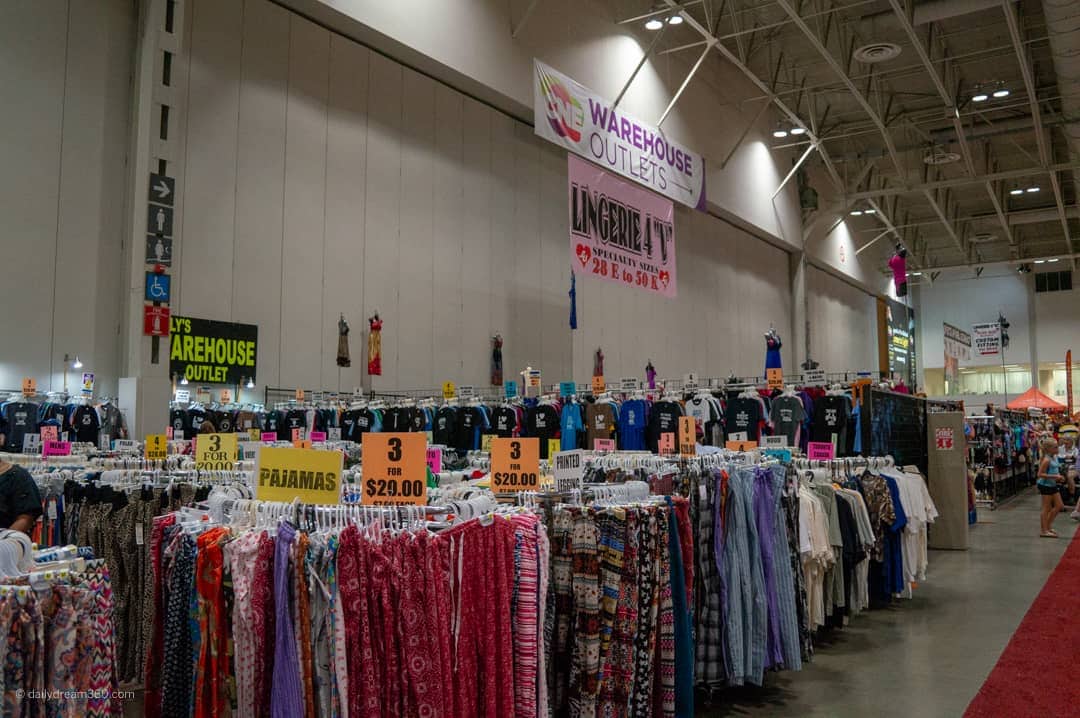 The Main Exhibit Hall at the Enercare Centre
This is the most significant building and will take the most time to walk through. For me, I revisited the building a few times throughout the day as it was also the coldest spot to go and get out of the heat. I also found benches in the air conditioning were easier to get here.
The CNE main Exhibit Hall is filled with things to see including:
• At Home Pavilion
• Shopper's Market
• International Pavilion
• Warehouse Outlet Shopping
• CNE Innovation Garage
• CNE Gaming Garage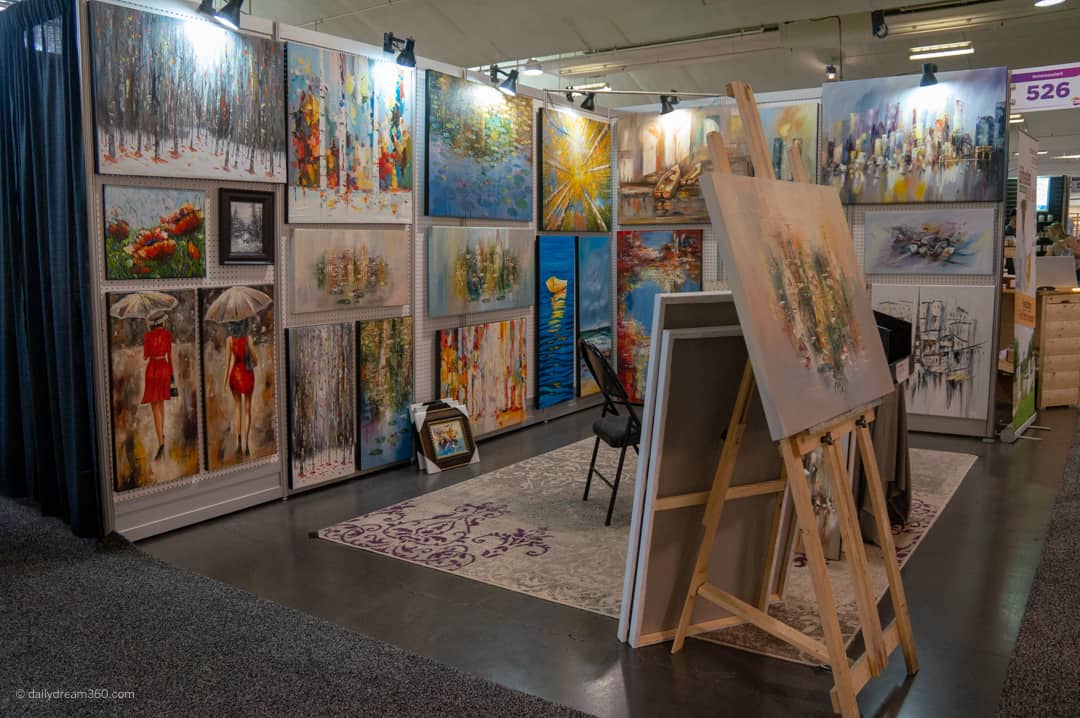 Arts & Crafts Building
If you are looking to see some great gift ideas from artisans featuring their unique products, then you'll love the arts & crafts building at the EX. There were painters, jewellers, bakers and many exciting products on display here.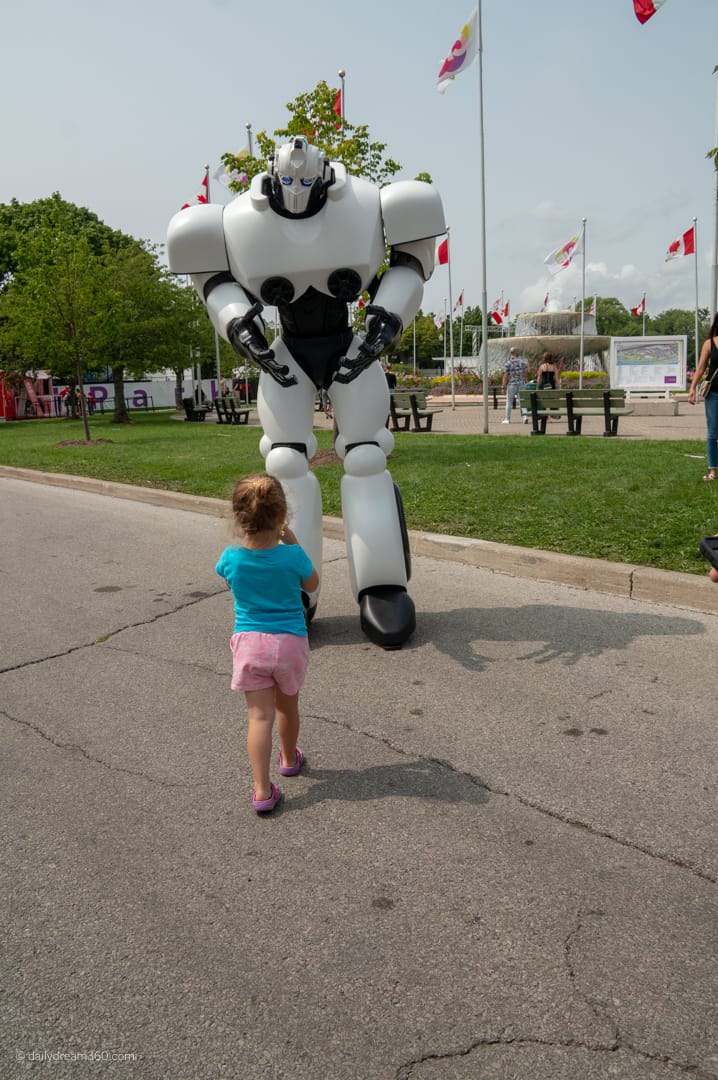 The Farm Building
I was expecting more from this building; it is more like a big petting zoo for kids now. I guess since we have the Royal Agricultural Winter Fair in the Fall it is not that big a deal, but since this fair was built as a Farm Festival and Exhibition, it was a bit sad for me to see it so small and sparse.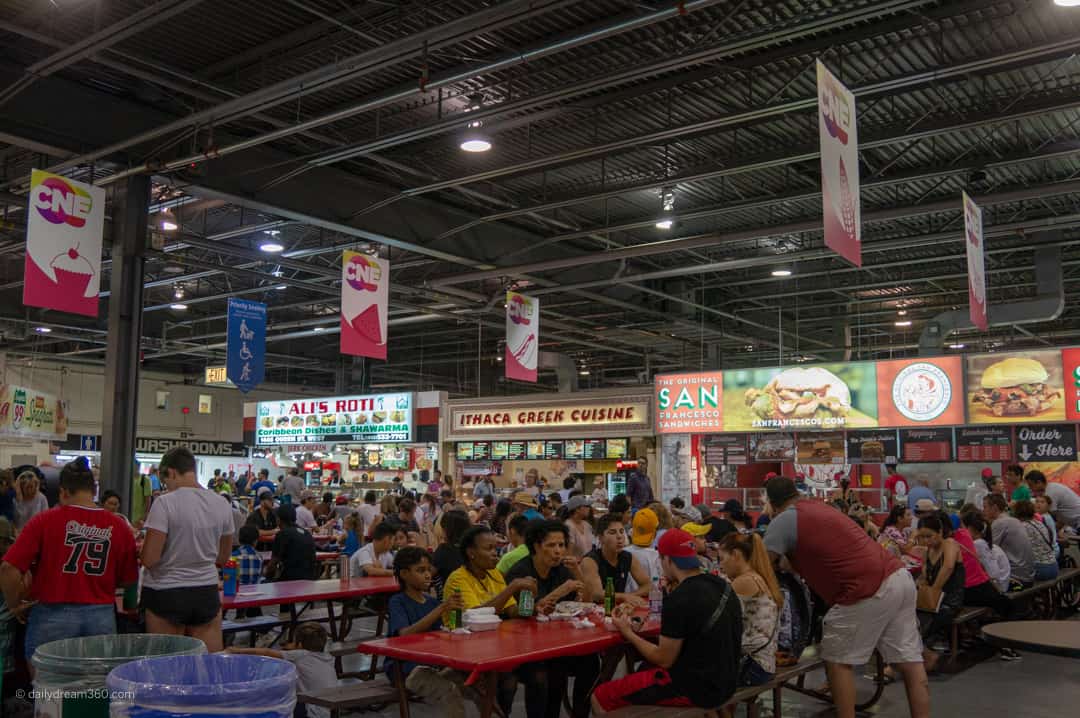 Find Something Healthy to Eat at the Food Building
Yes, you read that right. While much focus is given to the crazy food items, the Food Building does have some healthy alternatives. Keep an eye out for food vendors who offer a "bowl" version of their main dishes.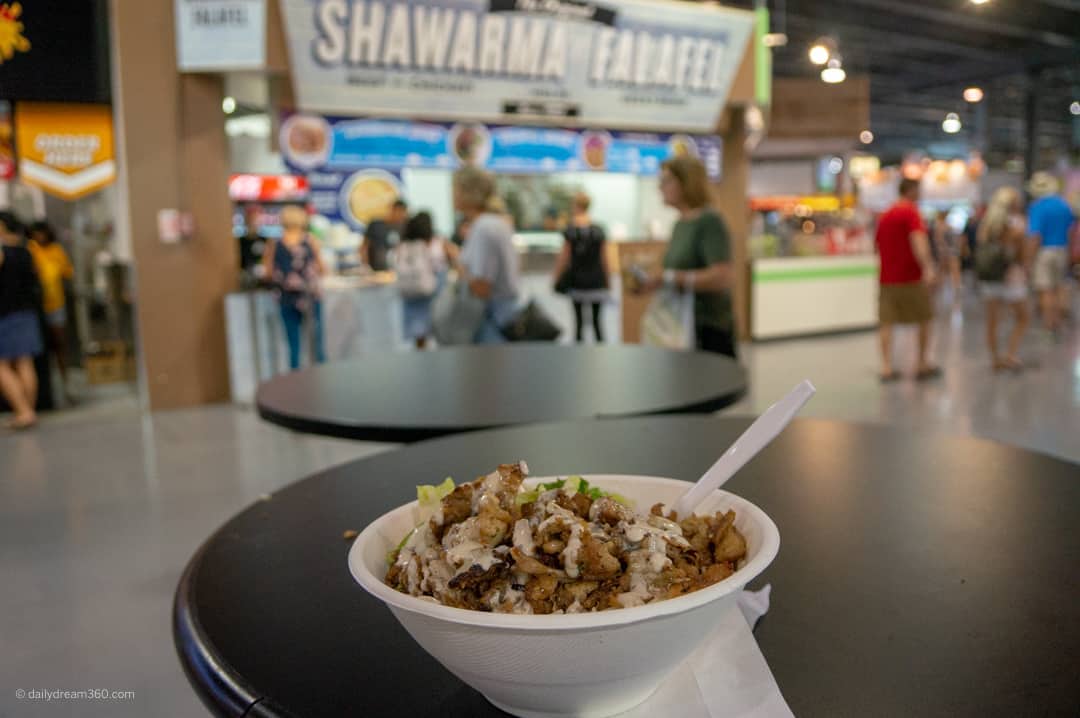 Shawarma Falafel, for example, had a yummy Chicken Shawarma salad bowl which is what I ended up having.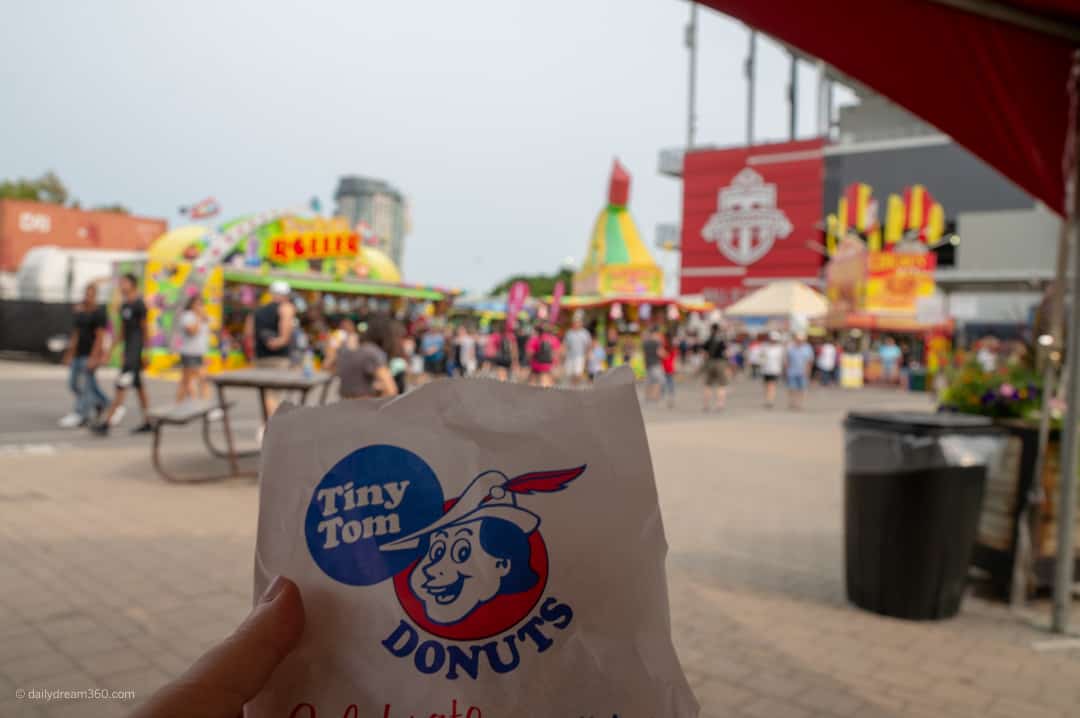 Grab a Favourite CNE Treat
Those of us that visited as kids all have our favourite CNE foods. Mine is Tiny Tom donuts, but there are plenty of fun foods to try including, waffle and ice cream sandwiches, corn dogs, cotton candy, ice cream and more.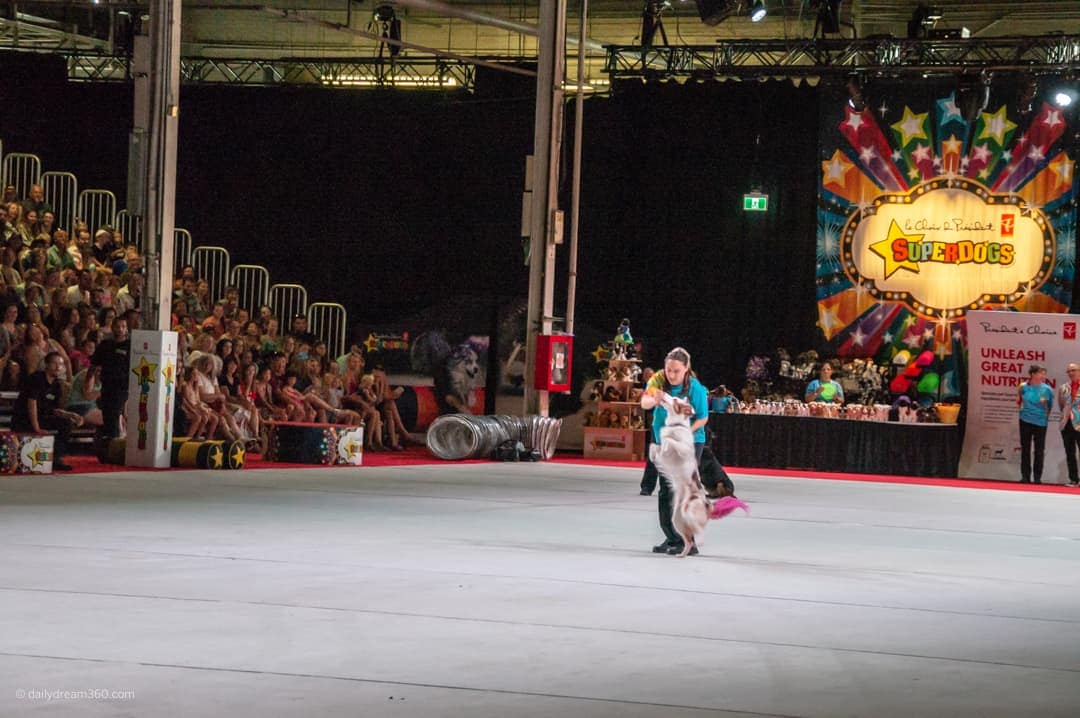 Check Out the Shows
SuperDogs
The super dogs are celebrating their 40th birthday this year with their Happy Barkday show. This is very popular amongst families, so if you are bringing the kids to The EX be sure to check the schedule for show times. I also recommend getting there early as this show tends to fill up even during weekdays.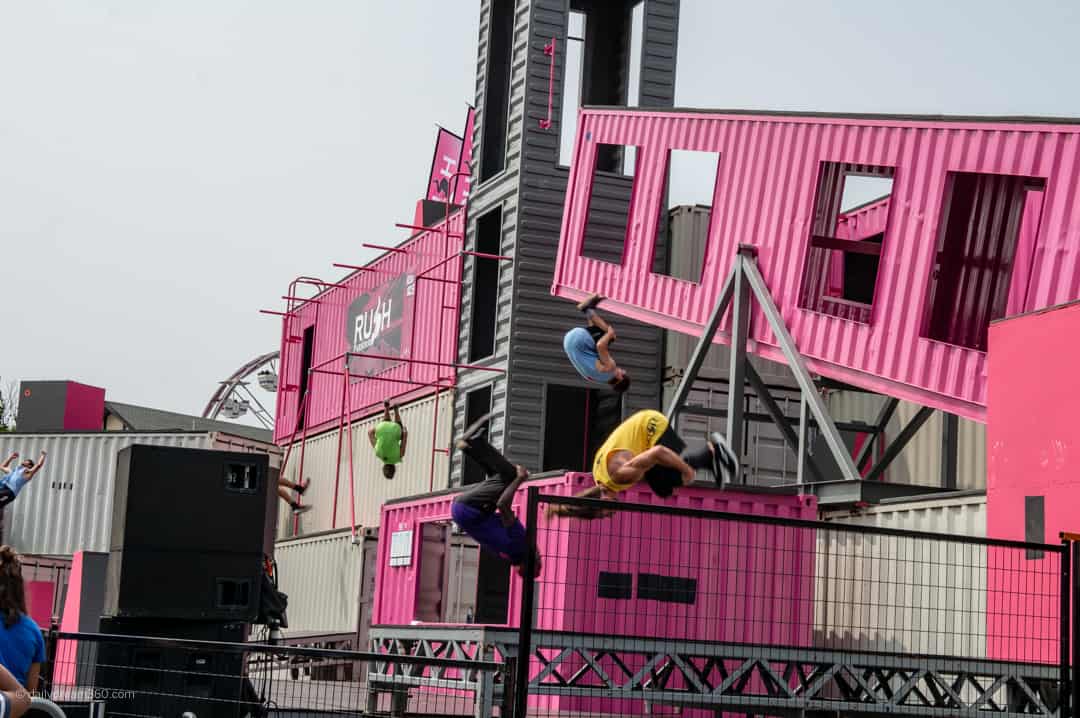 Ex Race Competition
Watch these daredevils compete on a crazy obstacle course. Expect high flying entertainment, and some close calls as they race to the finish.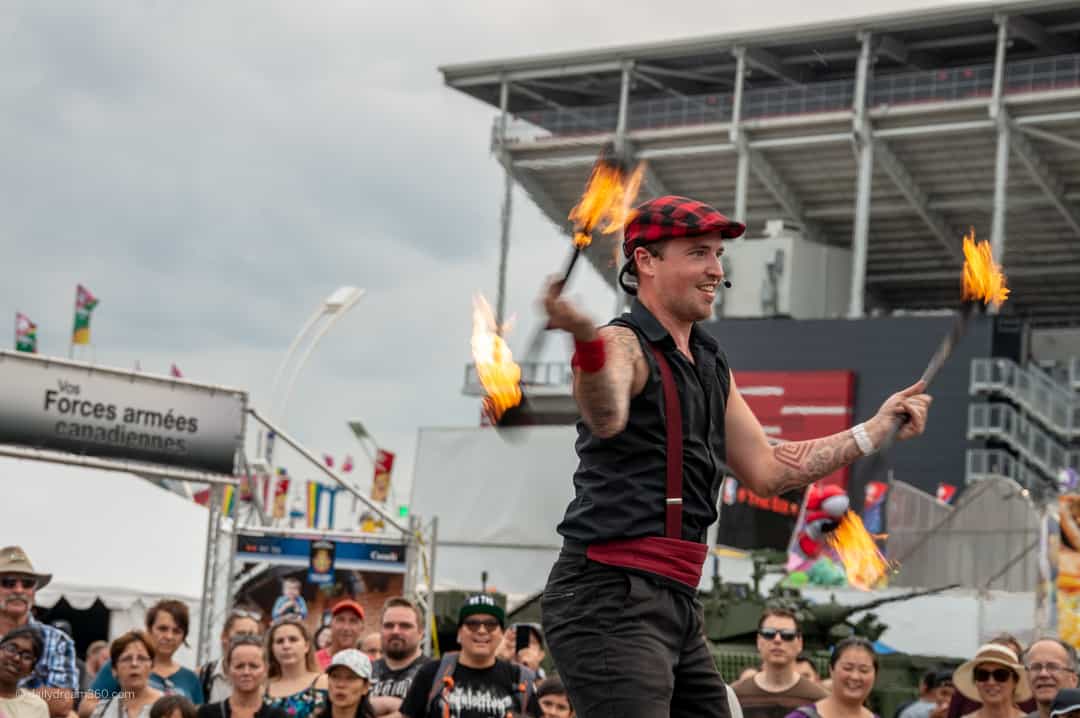 Busker Stage
Located outside the Coca-Cola Coliseum building is a round stage which features many Busker performances throughout the day. They draw a big crowd which gathers around the circular stage as they entertain doing a variety of things including magic, juggling and more.
Other shows I missed included Quatro: Arial Acrobatics and Ice Skating Show and CNE Auarama waterfront show. A word about the waterfront, it is quite a walk and signage was not very clear. You have to walk across a bridge to get to it and then keep walking down to the actual seating area. By the time I found the bridge and saw how much more I had to walk I gave up on that show.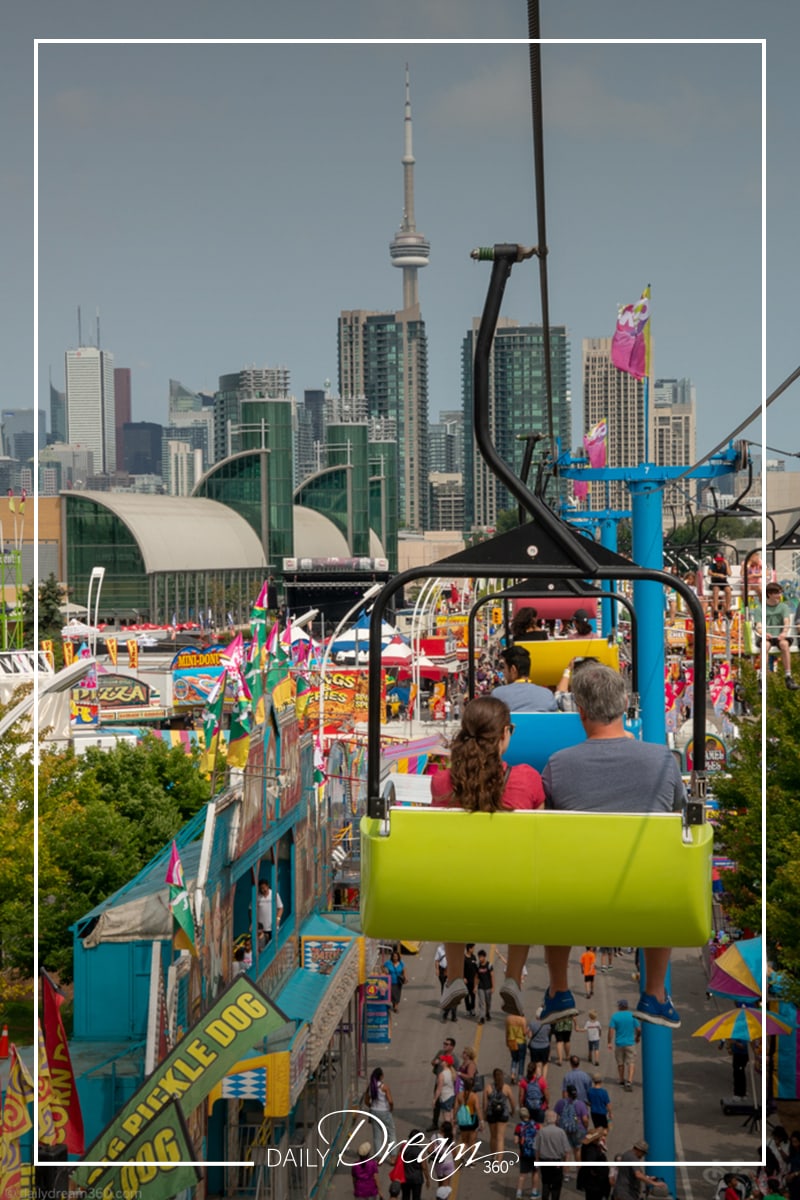 Ride the Sky Ride
Images of the famous sky ride chairs floating effortlessly across the CNE midway are iconic to the Canadian National Exhibition. The chairlift type ride takes you on a slow and relaxing trip across the Toronto Exhibition grounds with great views of all the action below.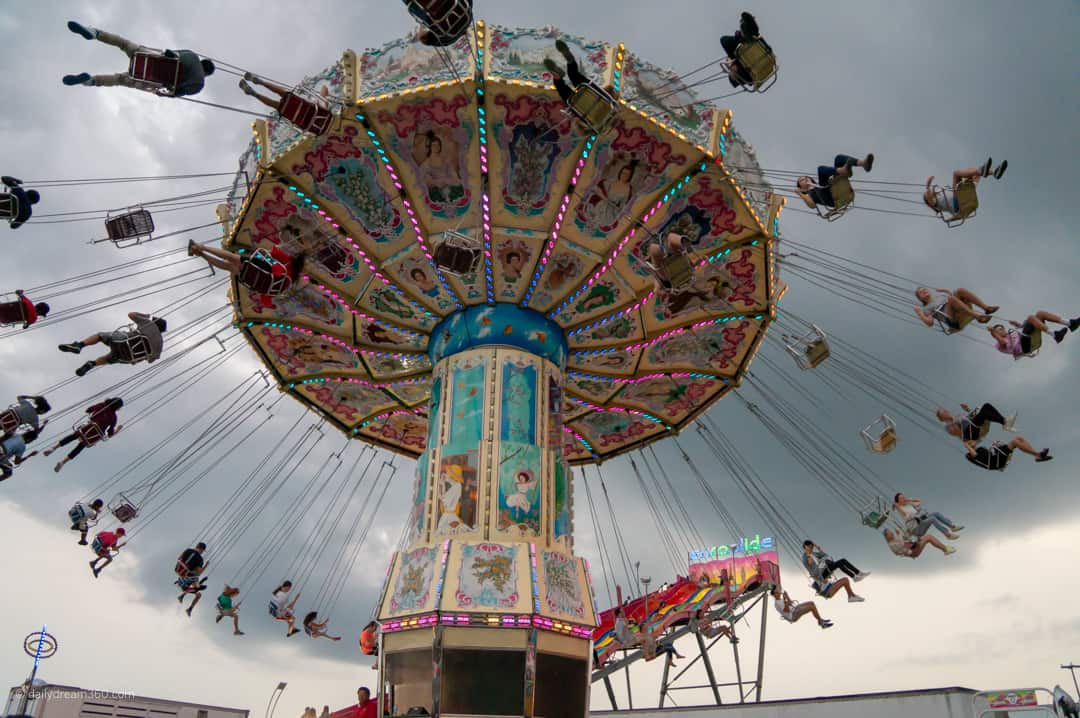 Enjoy the CNE Midway
Games
Of course, what is a midway without carnival games? The CNE is filled with them, from water gun shooting, ball throwing, plate breaking to guessing your age or weight, there are lots of prizes to be won at the CNE.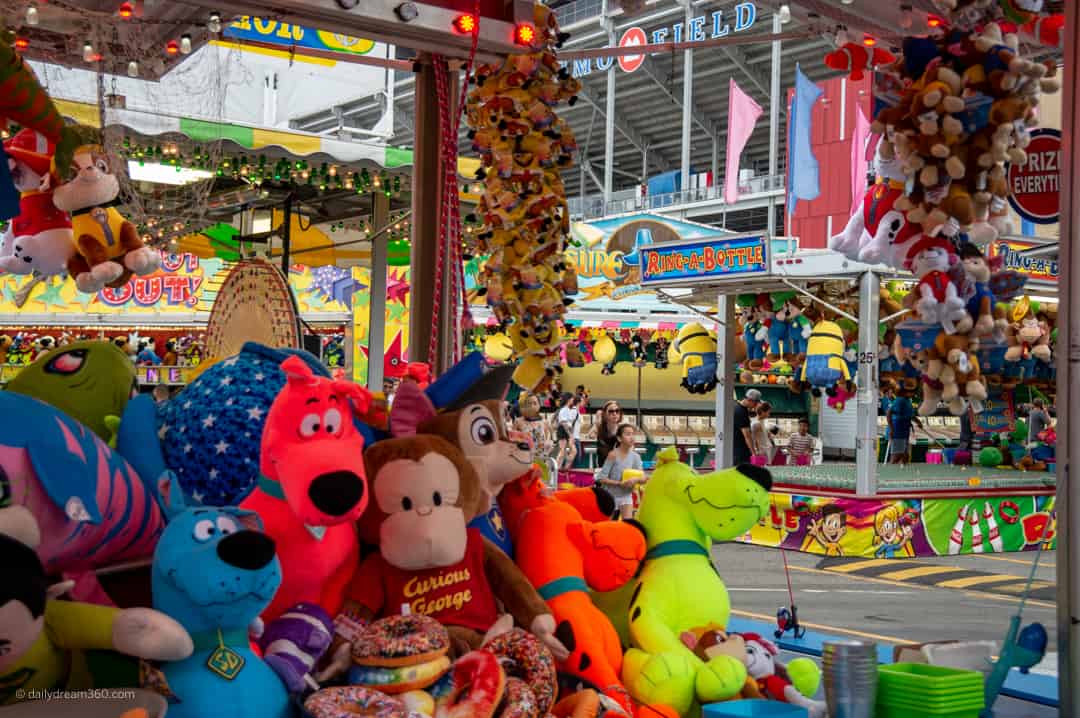 More Food
The CNE Midway is also home to even more crazy food opportunities. If you are not looking for the healthy eats, you'll find all the favourite carnival treats here.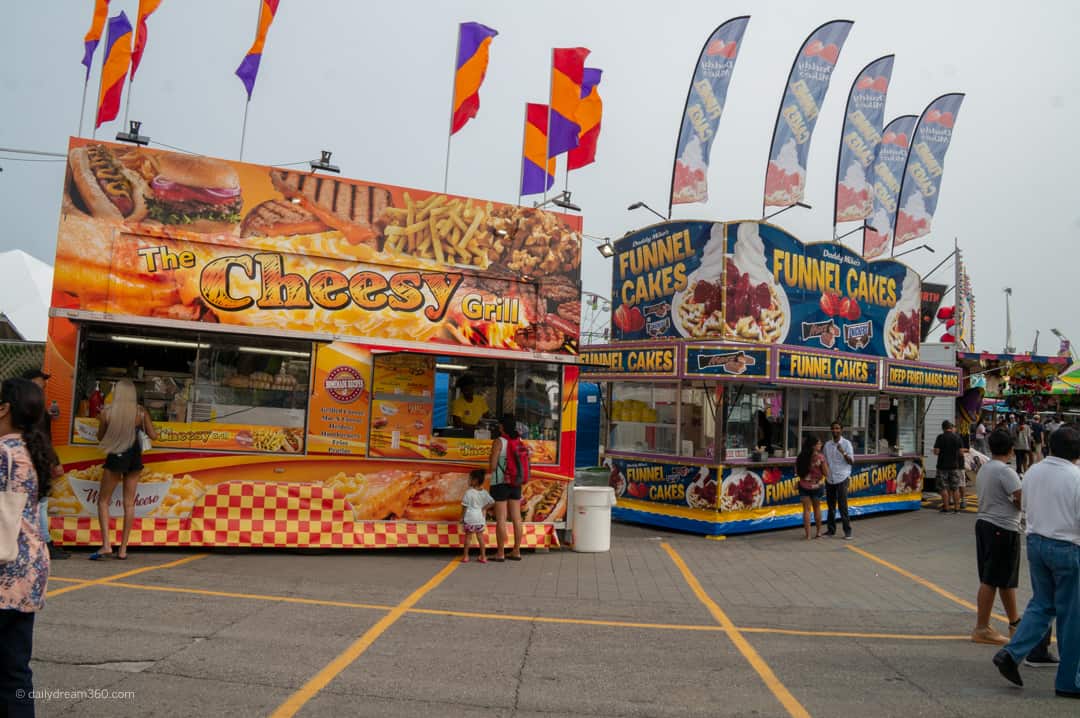 From cheesy creations, funnel cakes, corn dogs, cotton candy to ice cream and waffle ice cream sandwiches there is no shortage of yummy treats.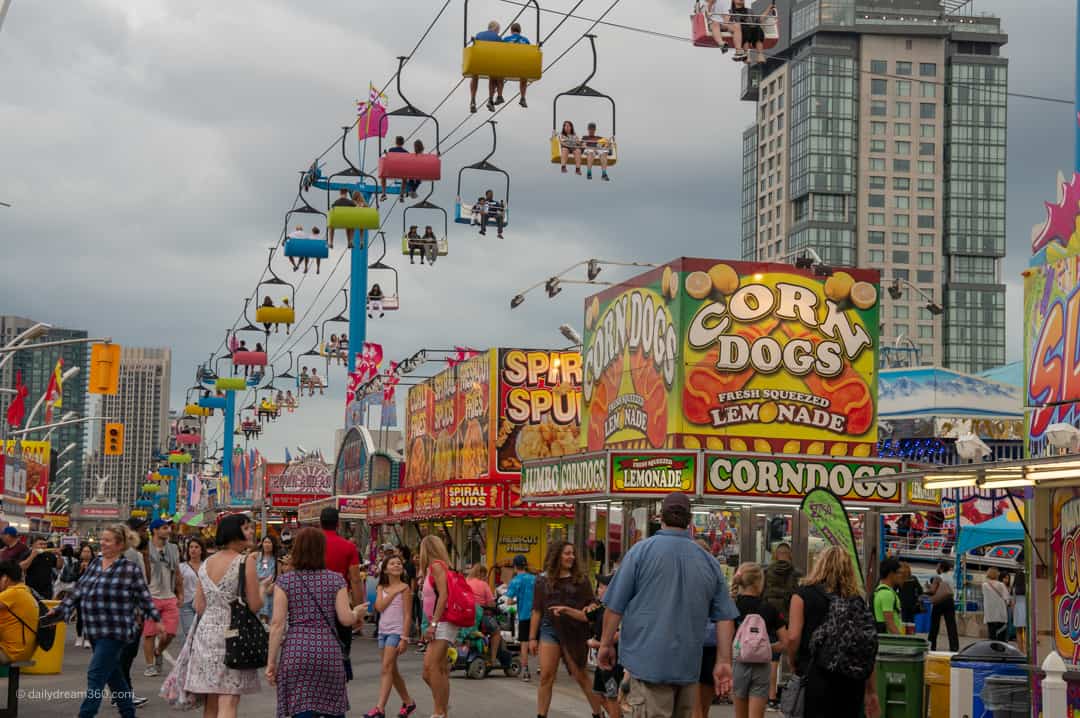 Rides
The rides are not for everyone, but they are a significant draw none the less. I loved walking around to photograph them especially as it got dark later at night. Even if you don't want to take a spin on one of the many crazy ride options, walking through the midway is a must when visiting the CNE.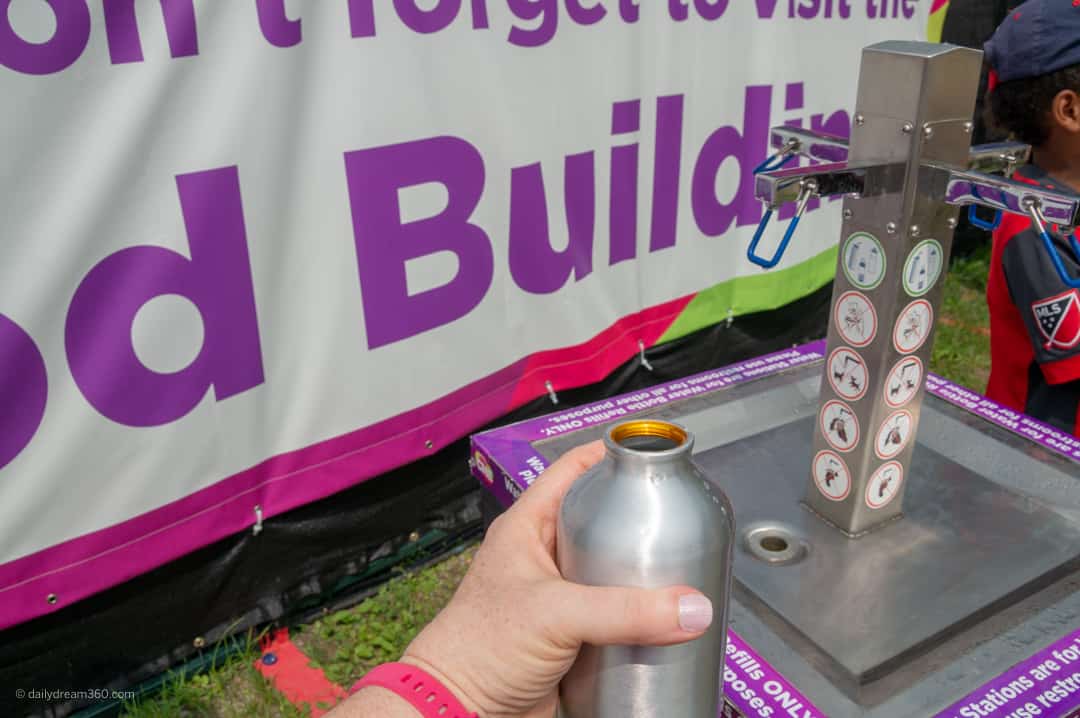 Tips for Attending the Canadian National Exhibition
Take the TTC, parking lots are expensive, and far away both the Bathurst and Harbourfront streetcars are running right into exhibition loop inside the park
Dress appropriately – wear comfortable shoes as you will be doing a lot of walking, also dress for the weather – hat, sunglasses, sunscreen and rain gear if needed
Visit during the weekday, the Toronto Exhibition is less busy on weekdays, after 5:00 when reduced pricing comes into effect the park gets busier
Plan ahead – check out the CNE website for showtimes and exhibit schedules and plan your day accordingly
Carry an [amazon_textlink asin='B00COE5AM8|B00COE5AM8′ text='anti-theft bag or backpack' template='ProductLink' store='ddtravelon-20|ddtravelonca-20′ marketplace='US|CA' link_id='3978afb9-a574-11e8-9a9c-9d17a47789ef'], it gets crowded in the exhibition, and this makes it easier for pickpocketers don't bring open bucket bags to the CNE
Bring a water bottle! There are water filling stations all over the park.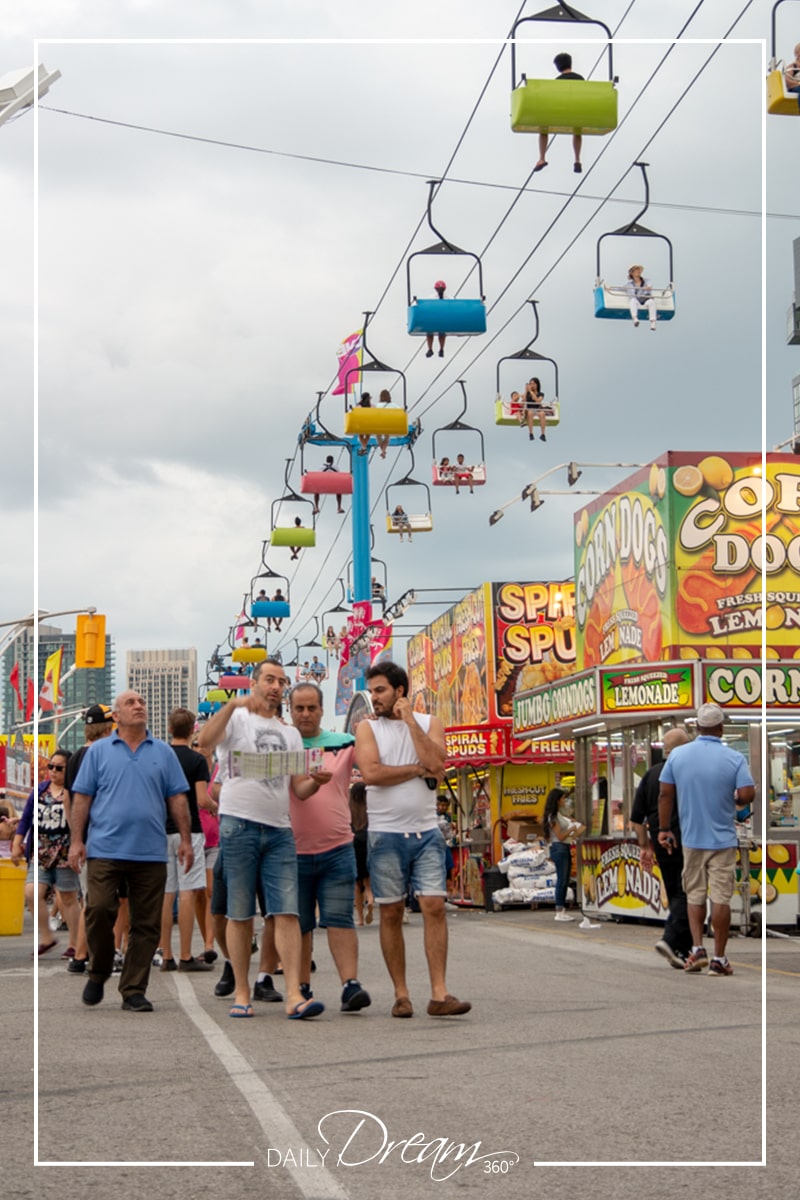 Disclosure: I received a one-day media pass to attend the CNE.