This article may contain affiliate links. Clicking on or purchasing products we recommend through a link may earn a small commission. Read our disclosure and privacy policy page for details. *COVID-19 TRAVEL ALERT – Travel recommendations offered on this site are not to encourage you to travel against travel advisories.
I have been dreaming about California for some time. When I started this website years ago, California began its "Dream Big" campaign, and I began to see it as a state with all my travel needs and challenges. From hikes in the mountain, beautiful beaches, kayak rides, fresh farm food and healthy eating, it seemed like it had it all. I finally lived that dream with a coastal road trip through the San Luis Obispo region (SLOCAL) and our first stop was Pismo Beach California.
Dream it.
A coastal road trip through California would not be complete without a stop at the beach. I feel like every trip I plan will have one beach town in it. Even if you are not a sun worshipper and don't like just lounging around on a beach, you'll find Pismo Beach and area have plenty of activities.
During this trip, I did not have one lay around the beach day. Instead, we filled the day with things to do, from dune buggy riding, sunset bonfires and exploring the town, here is a list of things to do in Pismo Beach California.
Plan it.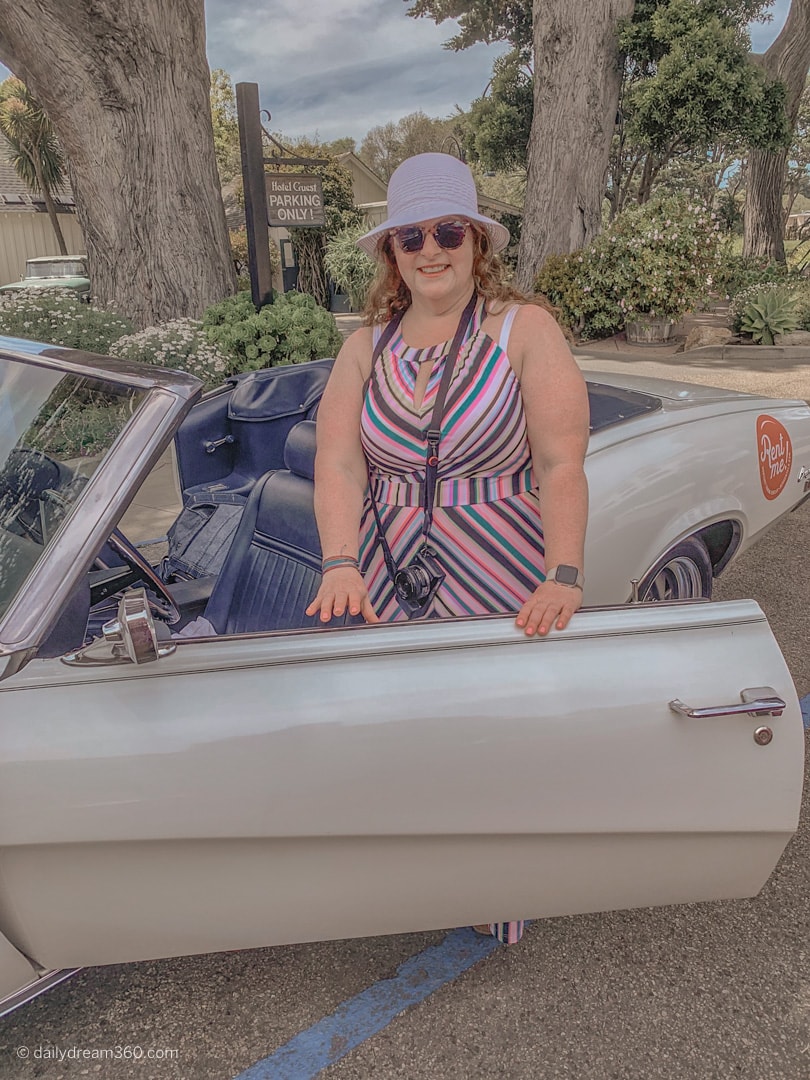 Getting to Pismo Beach CA
We flew Air Canada to LAX. I found Air Canada was the easiest airline to work with as we flew into LAX and out of SFO. From Toronto, it appeared Air Canada was the only one able to offer these direct multi-destination flights.
Rent a car from either airport and plan the stops you plan to make when driving through the region. If you want to explore wine country, you'll stick to Highway 101 if you prefer the coast you'll take longer drives but see the beautiful California coast.
Drive from Anaheim
A lot of my friends told me that I was planning my road trip backwards. However, I had a conference in Anaheim, so we made our way to Pismo Beach through the San Luis Obispo region up to Monterey. We followed Highway 101 – there are two routes on this highway one will take approximately 4 hours from Anaheim and the other six but it is a beautiful drive up the coast.
Drive from San Francisco
The drive down from San Francisco puts the shore directly to your right as you drive. The long coastal journey is along Highway 1 which will take you through Monterey, Big Sur, Morro Bay and into Pismo Beach. If you want to save some time and explore wine country, you can make your way on Highway 101 through Paso Robles.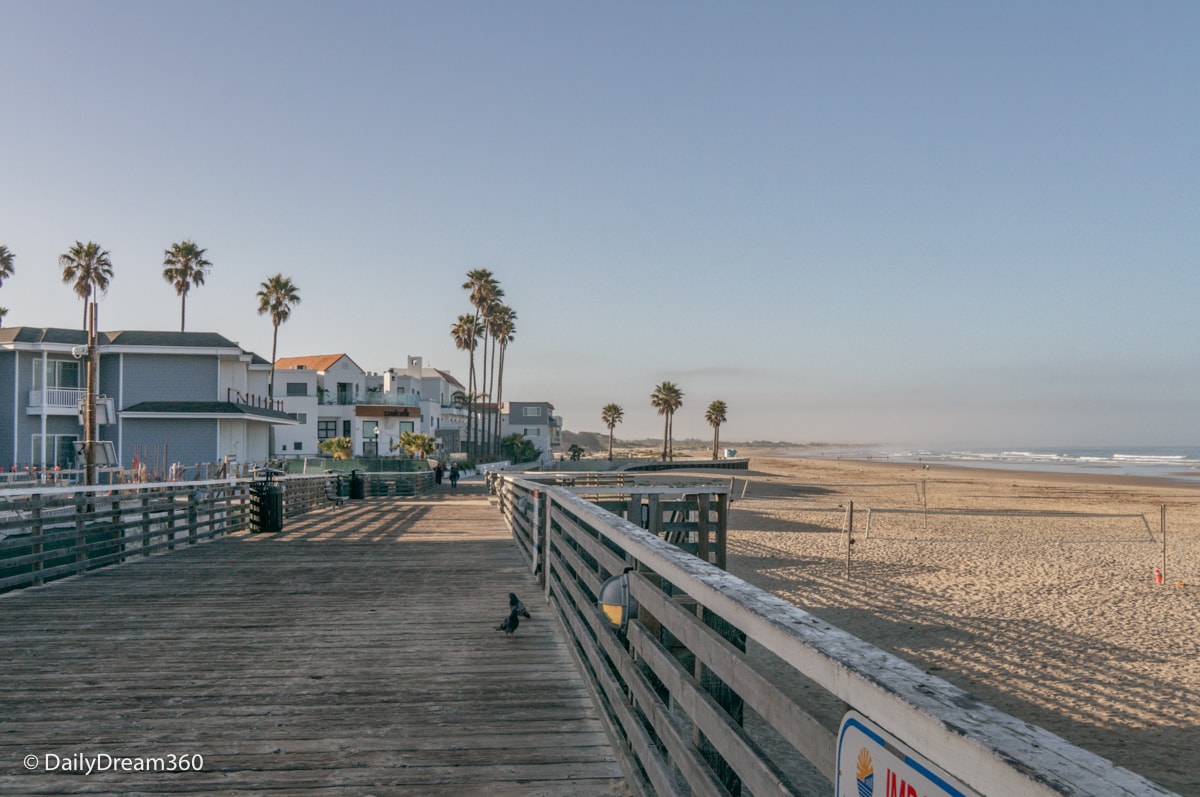 Hotels in Pismo Beach California
Most of the hotels are lined up behind the boardwalk which has stairways leading down to the beach. There are many hotels to choose from, but the ones right along the beach seem to be higher-end boutique hotels.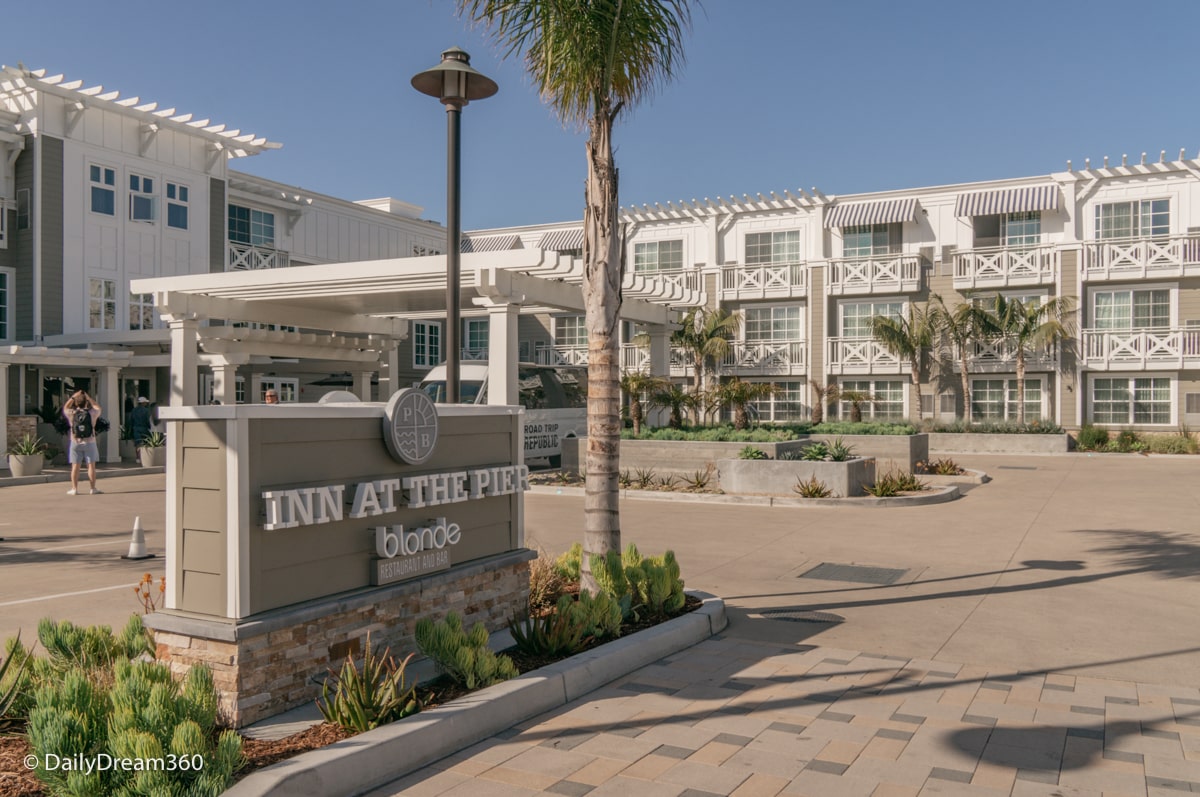 Inn at the Pier Hotel
We stayed at the Inn at the Pier Hotel in Pismo Beach. This boutique hotel has 104 rooms on three levels. Some of these rooms are on the inside streets of Pismo Beach, and others face over the parking lot located right before the massive Pismo Beach Pier.
I had a standard room which faced one of the downtown streets. At night I did hear some noise from people walking down the street, the closer your window is to any of the bars open later, the more noise you will hear — pack earplugs.
Other than a little street noise, the room was brilliant. Very modern, with a super comfy bed and all the amenities you will need. The hotel had a lobby bar and restaurant, a very nice fitness room and a beautiful rooftop pool and bar.
| | |
| --- | --- |
| | |
| Inn at the Pier | Sandcastle |
| My Review | TripAdvisor Reviews | TripAdvisor Reviews |
| See availability and pricing. |  See availability and pricing. |
| TripAdvisor | Hotels.com | Booking.com | Expedia | TripAdvisor | Hotels.com | Booking.com | Expedia |
Live it.

Best Things to do in Pismo Beach
Walk The Pismo Beach Pier
I loved hitting the boardwalk in the morning. The pier at Pismo Beach is 1,370 feet long and connects to the promenade which runs along the massive beach area. This pier is the 16th longest in California and offers a great view of the entire beach area.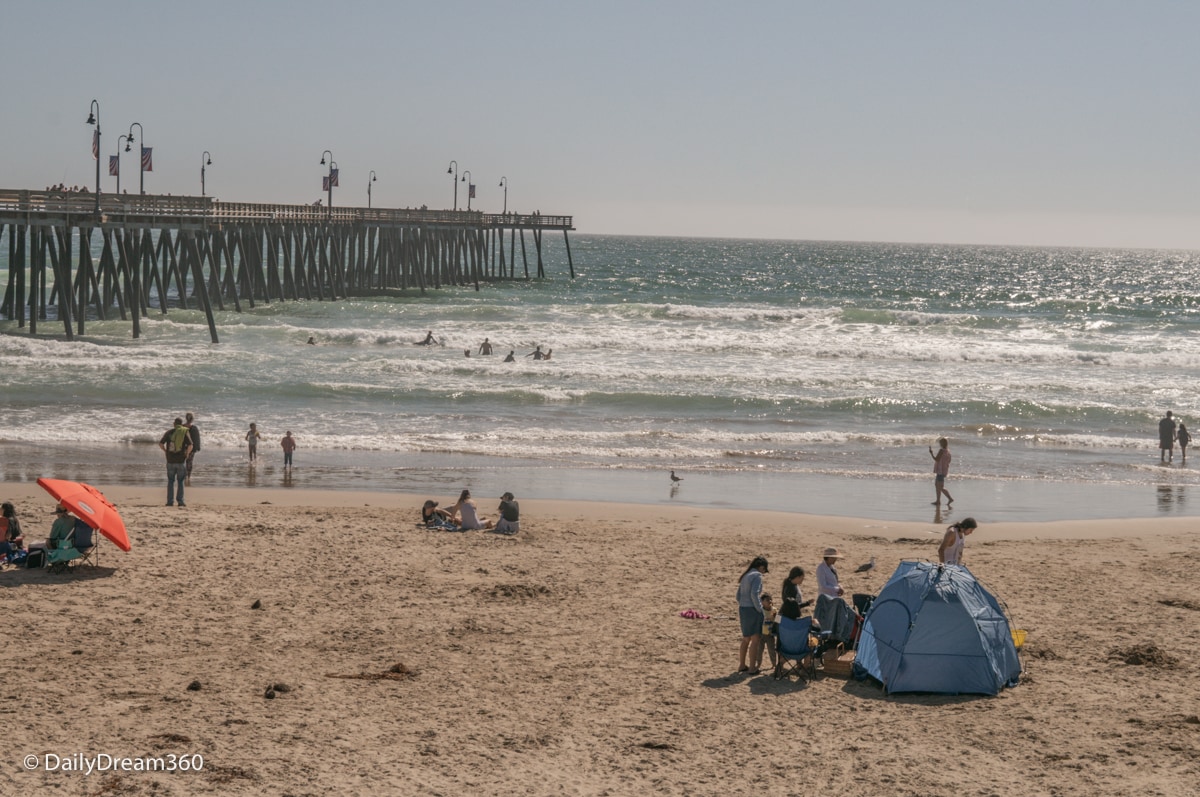 The Beach at Pismo Beach
There is no shortage of space on this vast and long beach. You can have a nice long walk up and down the beach any time of day. Sunsets on the beach are pretty spectacular, so be sure to plan to be around to see that.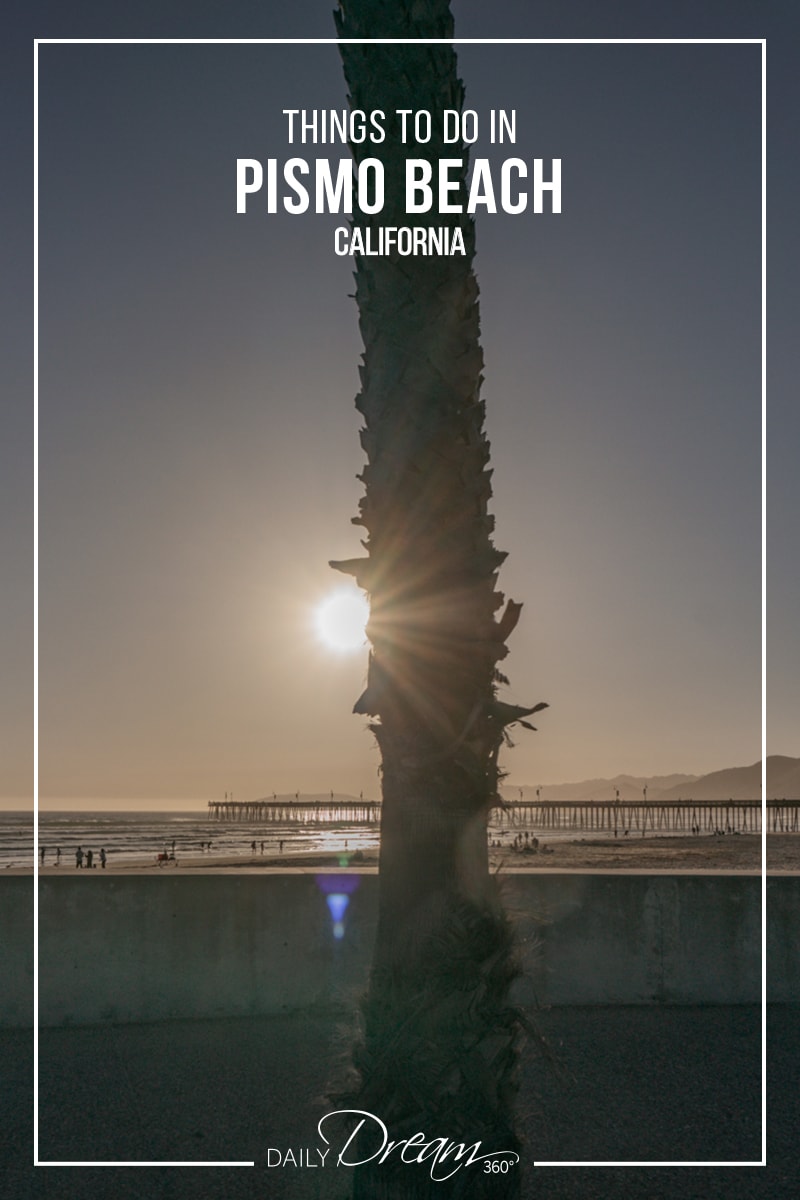 City of Pismo Beach
There is no shortage of shops along the streets in Pismo Beach. It is a typical beach town with surf, souvenir and candy shops. There are several restaurants scattered along the roads as well.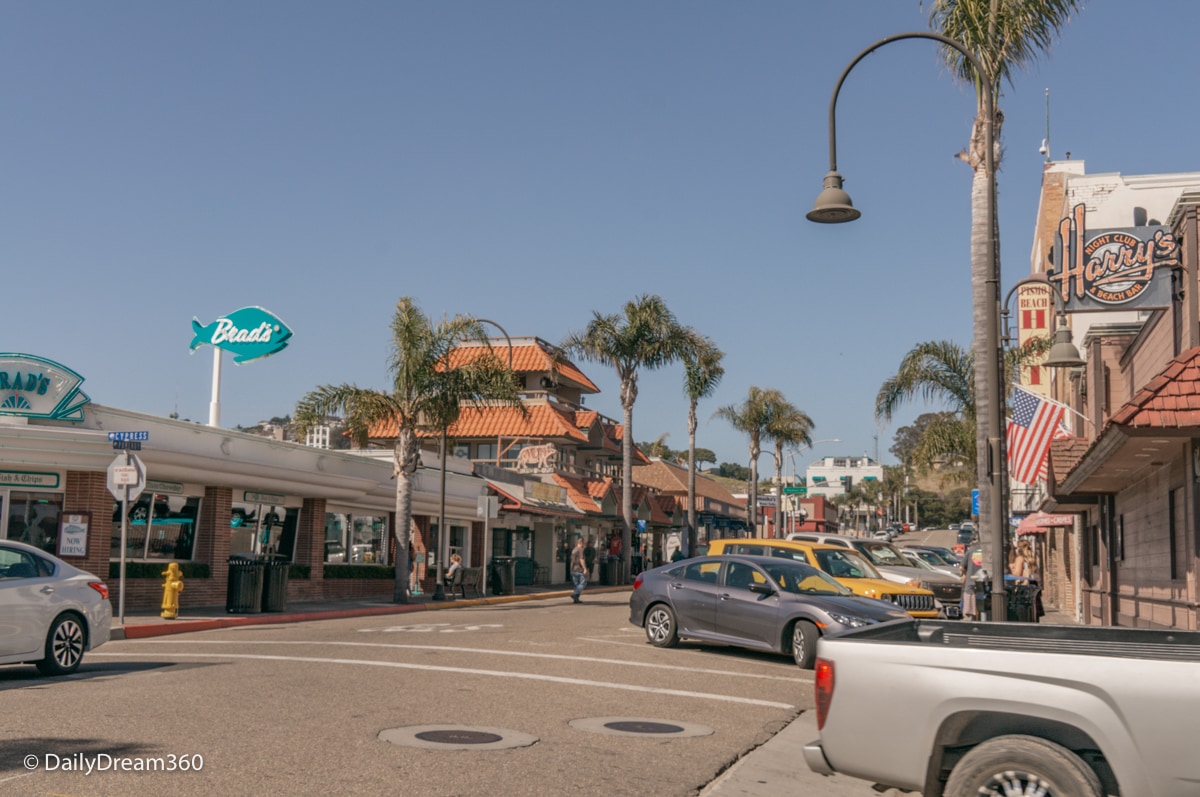 Pismo Beach Outlets
Those looking to do a little outlet shopping will be happy to know that the Pismo Beach Outlet Mall is located minutes away from the downtown area. The mall is filled with favourites including: Coach, Kate Spade, Nike, Sketchers, and Ralph Lauren.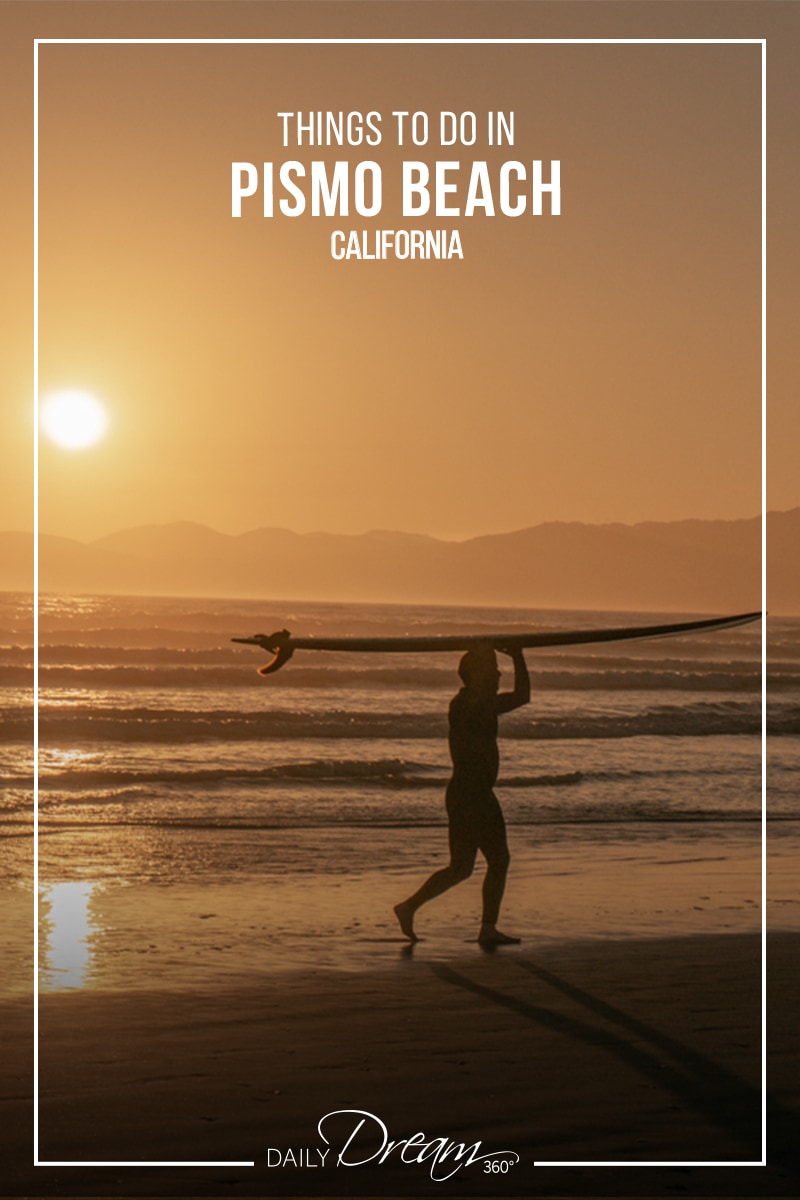 Visit Oceano Dunes Natural Preserve
Located just 5 km (3 miles) from Pismo Beach Oceano Dunes Preserve has an impressive coastal dune area. From the wide streches of flat beach to the ever changing slopes of the many sand dunes, it is a beautiful park to visit.
Camping is permitted on the beach, and there are many activities including horseback riding, ATV riding and Dune Buggy riding. The sunsets on Oceano Dunes beach are absolutely spectacular.
Oceano is the only California State Park which allows vehicles to drive up the beach. There are regulations and fees to get into the park, but this is a great option for those who like to camp on during their road trips.
Dune Buggie with Sun Buggy Rentals
At first, the thought of riding up sandhills sounded crazy. Something for thrill-seekers looking for a dangerous ride. I was terrified, but those who read this site know that Face the Fear and Do it Anyway is my motto.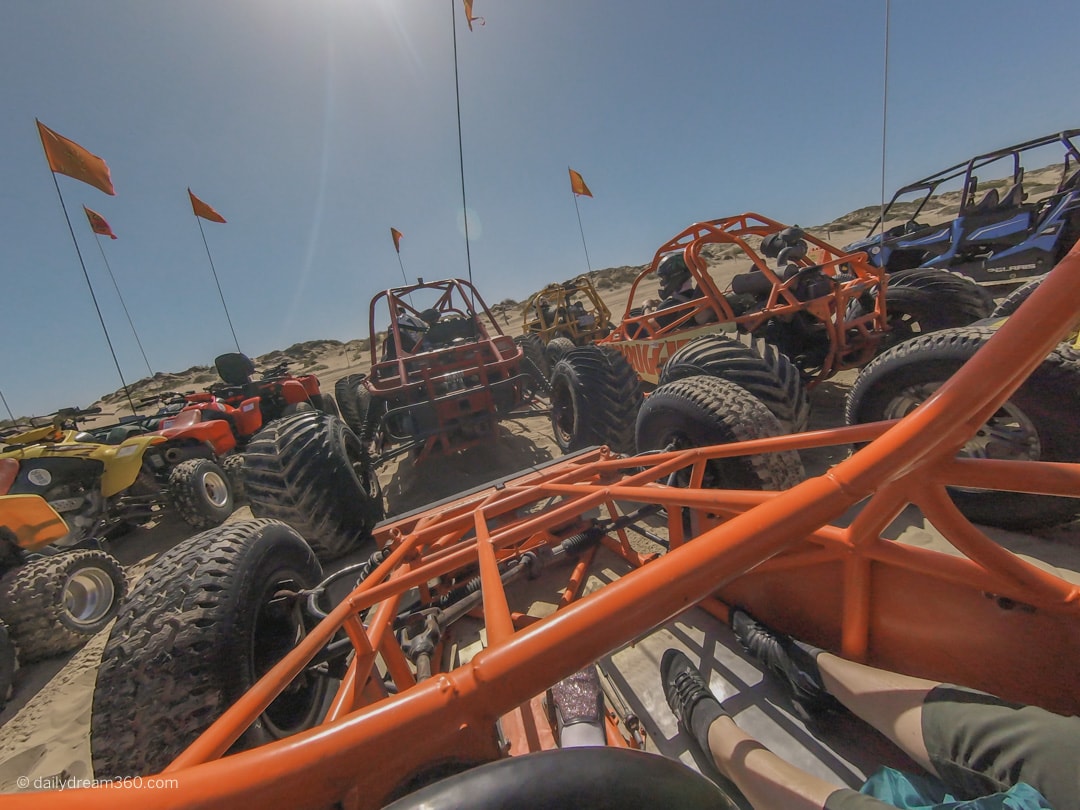 We had an extensive orientation with the team at Sun Buggy both at the rental office and at the beach. We watched safety videos and got a further orientation with staff at the beach. They provided maps and told us where we were allowed to drive.
The important thing here is you can choose your level of thrill; it doesn't have to be crazy dune buggy riding, where you soar in the air and go up and down sand hills at insane speeds.
There are many that prefer this, but getting this heavy vehicle out of a dune was not of interest to me. Many people on our trip got trapped in the sand some for hours. We did ride up and down a few dunes but really like riding along the ocean.
These vehicles are not permitted to ride too fast due to the limitations set by the nature preserve, but it was a fun activity and I can't wait to do it again. I can honestly say you must put Sun Buggies on your things to do in Pismo Beach California list!
Lunch in Morro Bay
If you prefer sightseeing and visiting the entire region, then no Pismo things to-do list would miss a trip to Morro Bay. It was a short 30-40 minute drive from Oceano Dunes and the perfect way to spend an afternoon. Grab lunch at Tognazzini's Dockside, where you can enjoy some fresh seafood on their patio facing the bay.
Be sure to leave time to browse the small town which has many little shops and attractions, including the skateboard museum and maritime museum. Keep your eyes focused on the waters by the docks as you will likely spot the famous Morro Bay otters who love to cuddle as they float in the water.
I am excited to share all the details from our trip through the San Luis Obispo region. There is so much to do and see it has me yearning for a return trip already. From great wine, amazing eats to community gatherings and of course the scenery you'll find there is plenty to do in Pismo Beach California.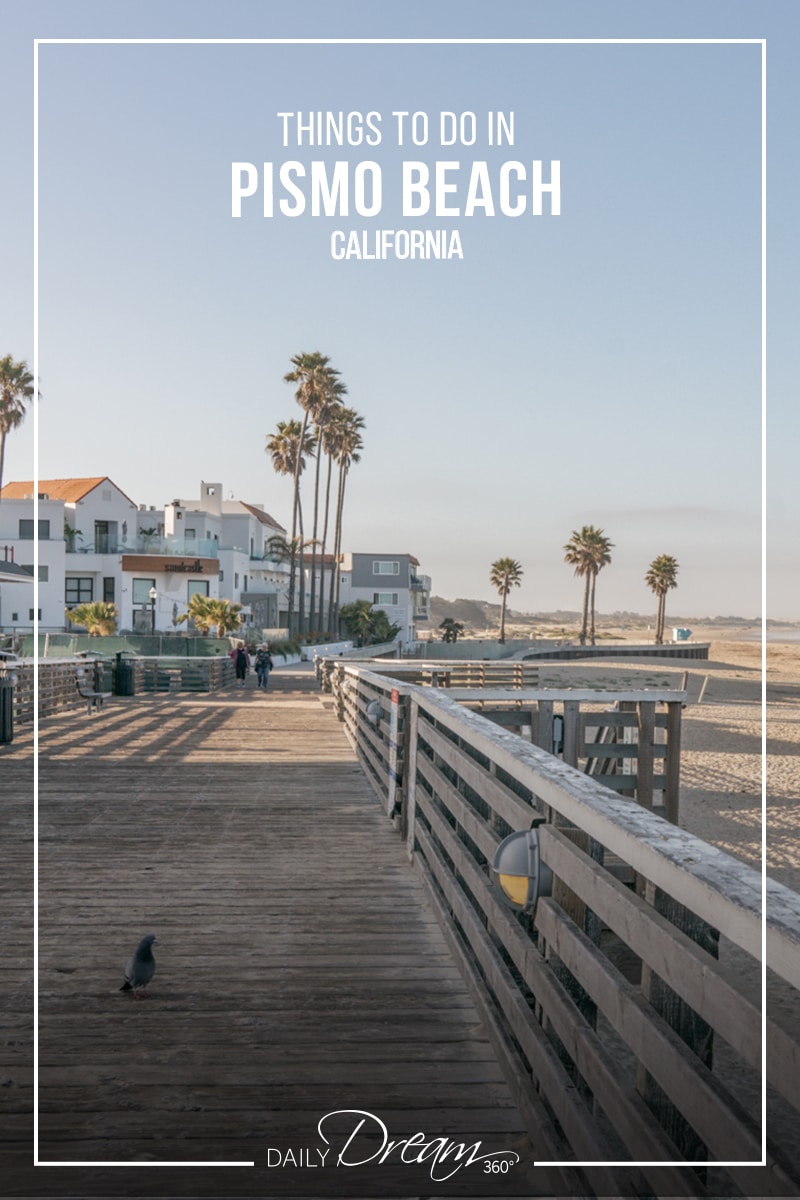 Travel assistance provided by Visit SLO CAL and Visit California on a media press trip, held during the IPW conference, however, as always the opinions in this post are my own.