This article may contain affiliate links. Clicking on or purchasing products we recommend through a link may earn a small commission. Read our disclosure and privacy policy page for details. *COVID-19 TRAVEL ALERT – Travel recommendations offered on this site are not to encourage you to travel against travel advisories.
I don't know what I was expecting when I hurried through the park towards the Star Wars-themed area. When I found myself walking the streets of Batuu the words, OMG kept repeating in my head, and I know my mouth was hanging open. But Star Wars Galaxy's Edge Disneyland was just one of the immersive lands during my trip to Disneyland in Anaheim California.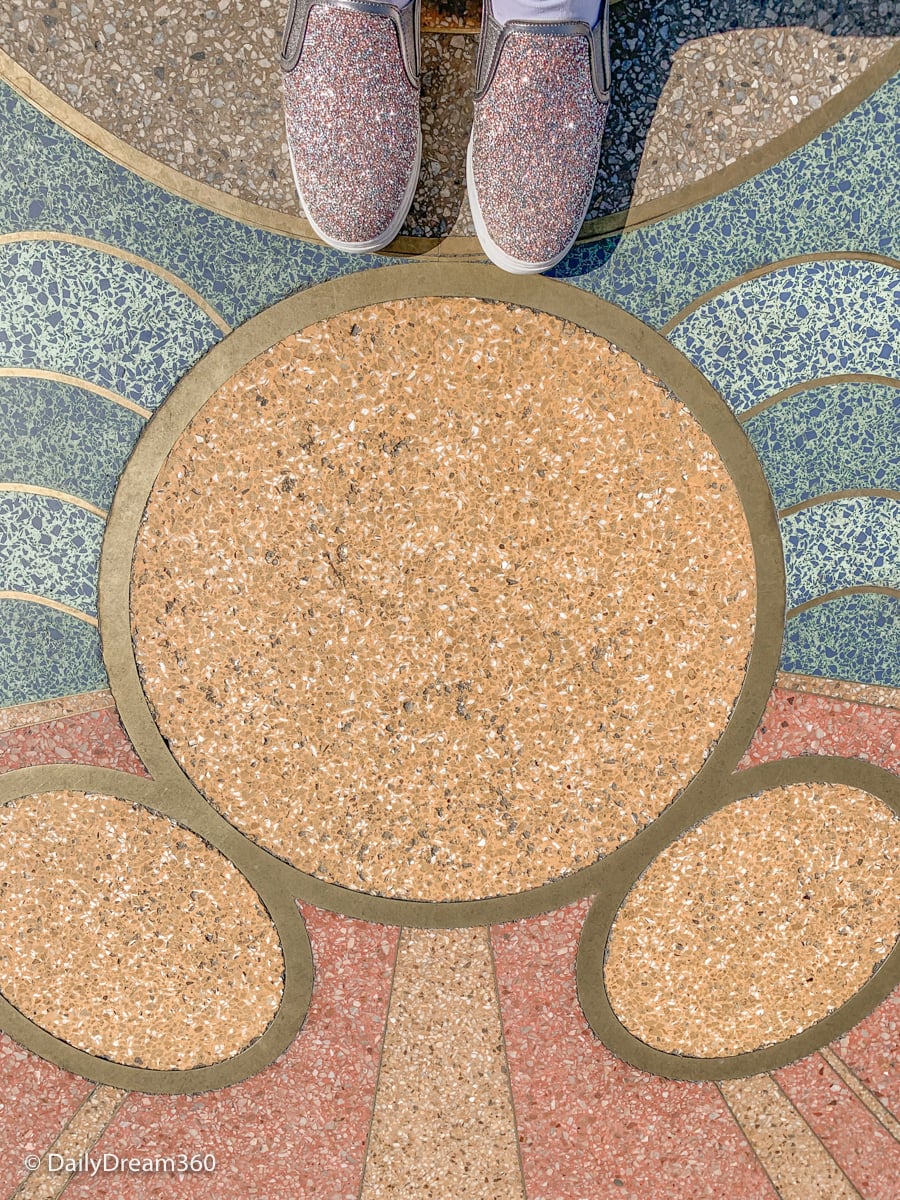 Dream it.
Disney dreaming is not just for kids, especially now. While the Star Wars-themed area focuses on the new Disney Star Wars Movies, I found myself living out childhood dreams. That moment when you find yourself standing under the Millennium Falcon is just one of those moments you will never forget.
No one immerses you in a land better than Disney and if you are a fan of the Star Wars movie you'll love this Star Wars Galaxy's Edge Adventure. While you are at it, map out some time to hit Disneyland's California Adventure to see Cars Land – it was also pretty amazing.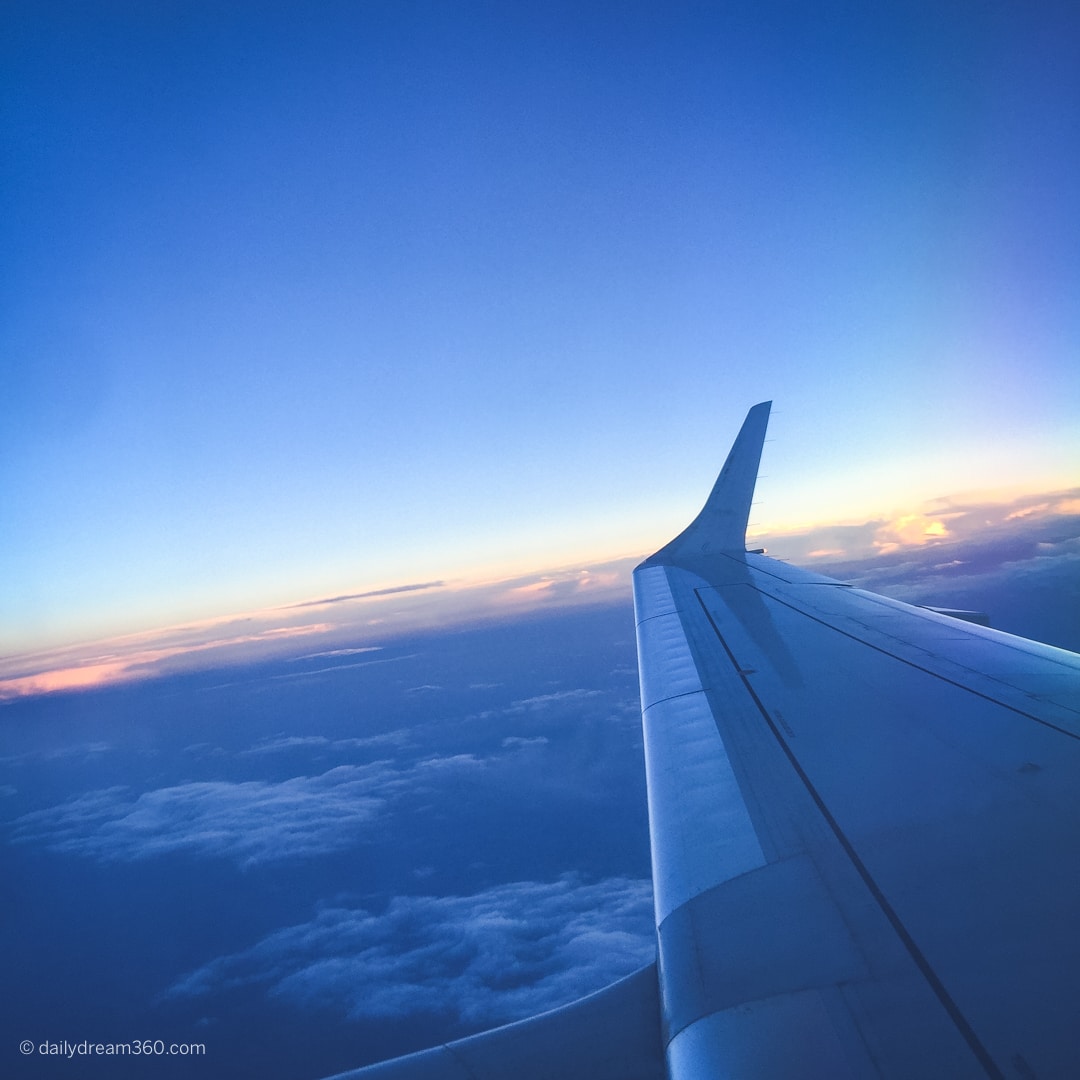 Plan it.
Getting to Anaheim California
Fly to Los Angeles International (LAX) or John Wayne Orange County Airport (SNA) airport. From Canada, you'll find Air Canada flys direct to LAX and West Jet to SNA. From the airports, you can take an Uber, Taxi, Rent a Car or take a bus.
The Disneyland Express will run you approximately $30 for one way or $48 for a round trip from LAX to Disneyland resorts in Anaheim. Disneyland Express also runs from SNA. There are also several airport shuttles you can take from either airport.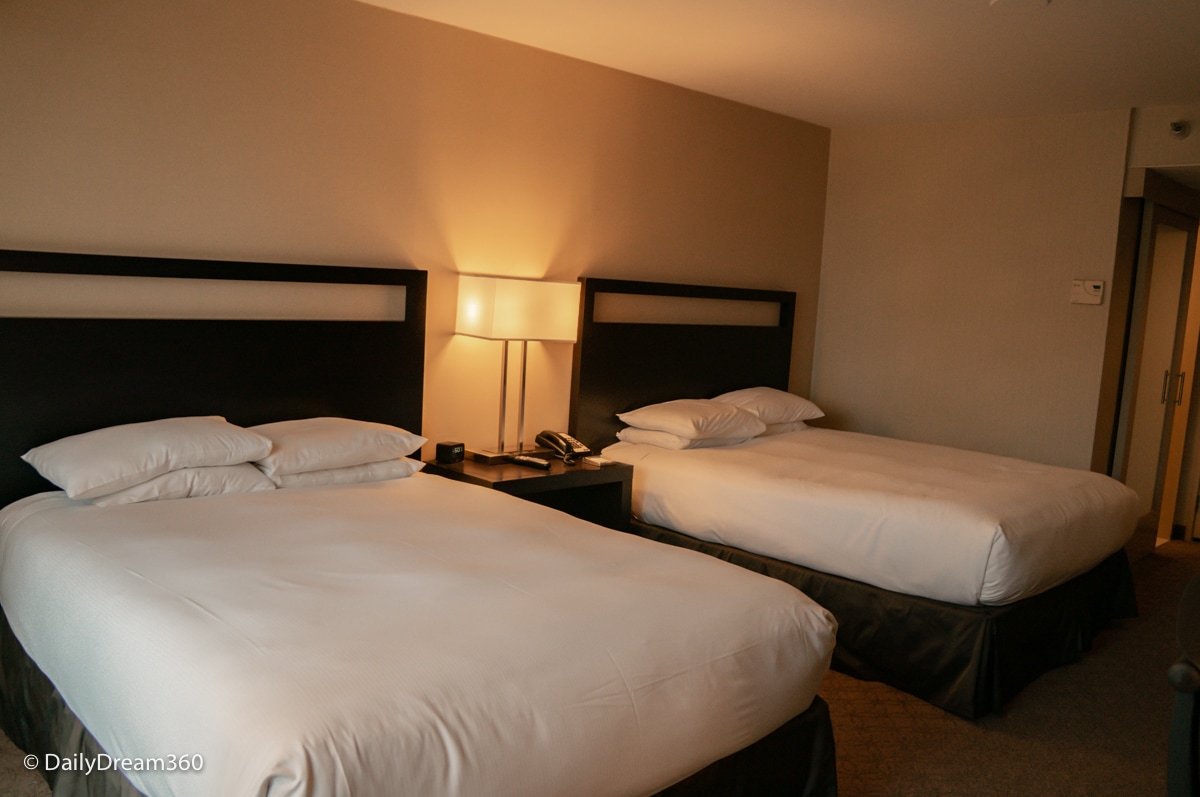 Where to Stay in Anaheim
Hilton Anaheim
We stayed at the Hilton Anaheim hotel as did many other Disney goers. This is a large hotel adjacent to the Anaheim Convention Centre, so it has no shortage of rooms. However, there are too many hotels in Anaheim to discuss here, so I will share my experience with this one and let you decide the best hotel for your trip.
The hotel was in a perfect location. However, I was not a fan of how everything seemed to cost extra. The Starbucks inside the lobby had even higher prices than usual, the fitness facilities also appeared to have additional charges. If you plan to deliver a package to the hotel – there were holding and receiving fees on this as well. Wifi is available for Hilton Honours members otherwise it too had fees.
Otherwise, the hotel rooms were great, it wasn't too noisy, and there was a lovely pool to cool off at after we hit the parks. Some of the rooms also have a view of the Disneyland nightly fireworks show.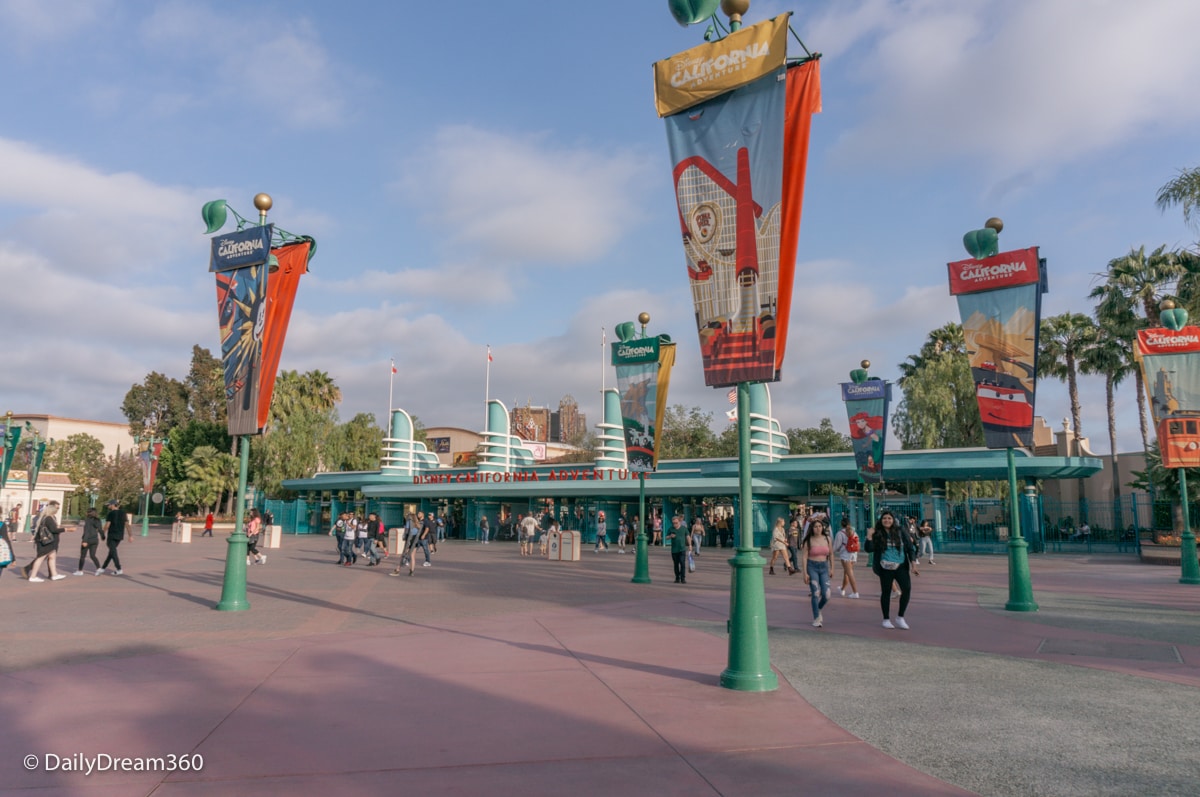 Getting to Disneyland Parks
There are Hotel Shuttles which cost $10 for a round trip. Depending on which hotel you end up choosing you may be able to walk into the park. From the Hilton, we were two blocks from the Toy Story parking lot where we were able to take the Disney buses to the park entrance.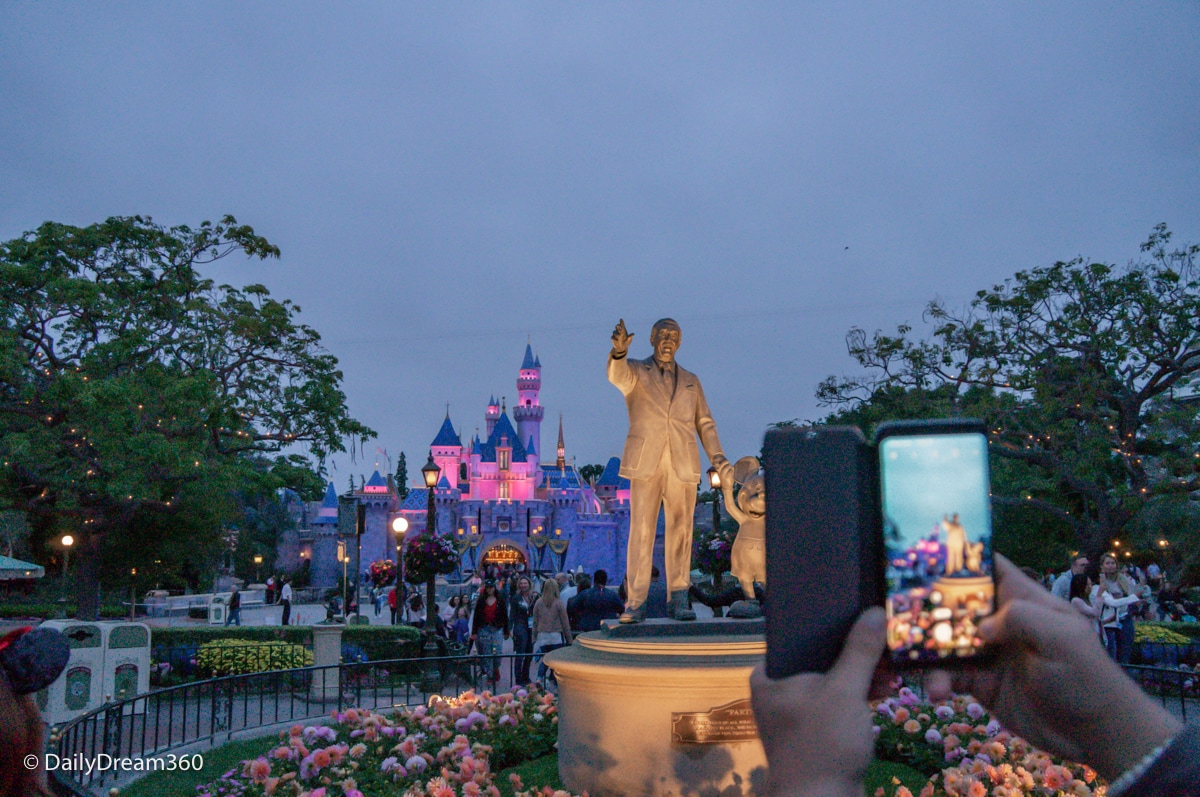 Things to Know About Disneyland California
There are two parks to visit in Disney California: Disneyland and Disney California Adventure. Disneyland features the new Star Wars Galaxy's Edge, Fantasy Land and classic rides including It's a Small World, Pirates of the Caribbean, Haunted House and Thunder Mountain.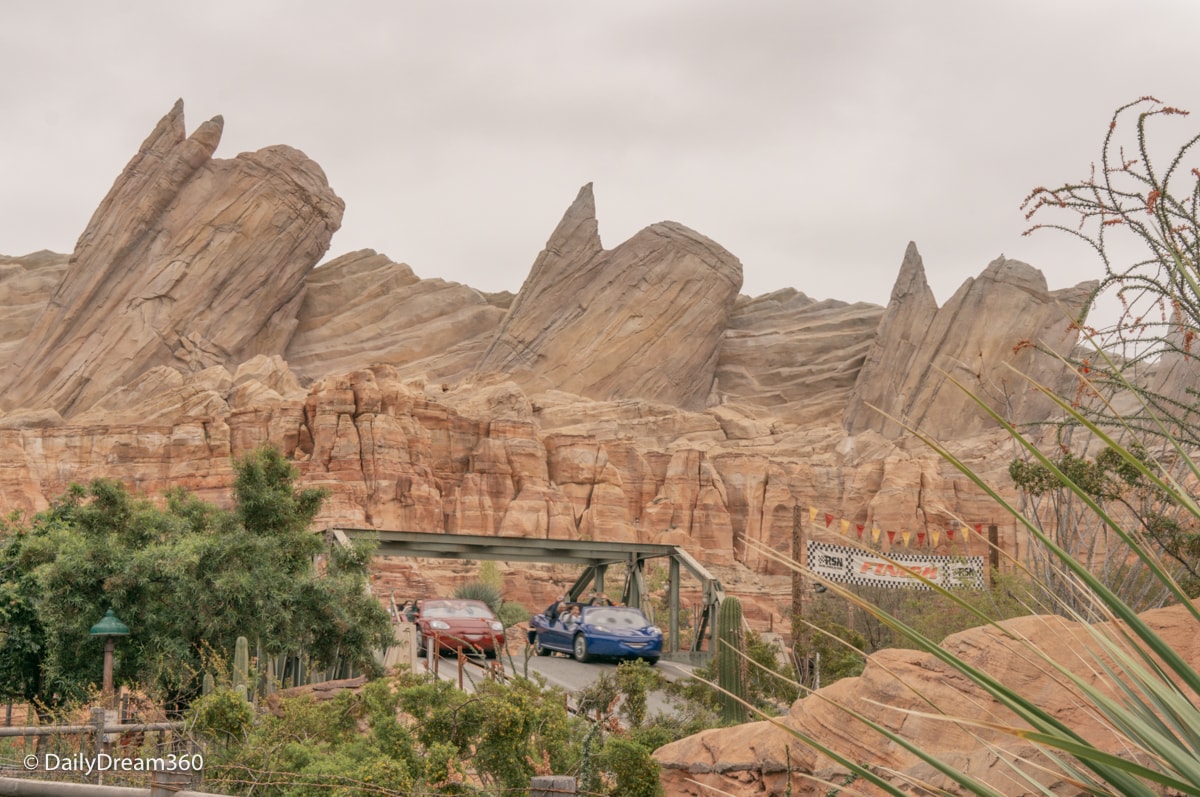 Disney California Adventure is more of a traditional amusement park which you will find in Pixar Pier a land filled with roller coasters, a huge Ferris Wheel and lots of carnival-like games. The highlight of this park is Cars Land where you can explore Radiator Springs and immerse yourself in your own live-action area of the movie.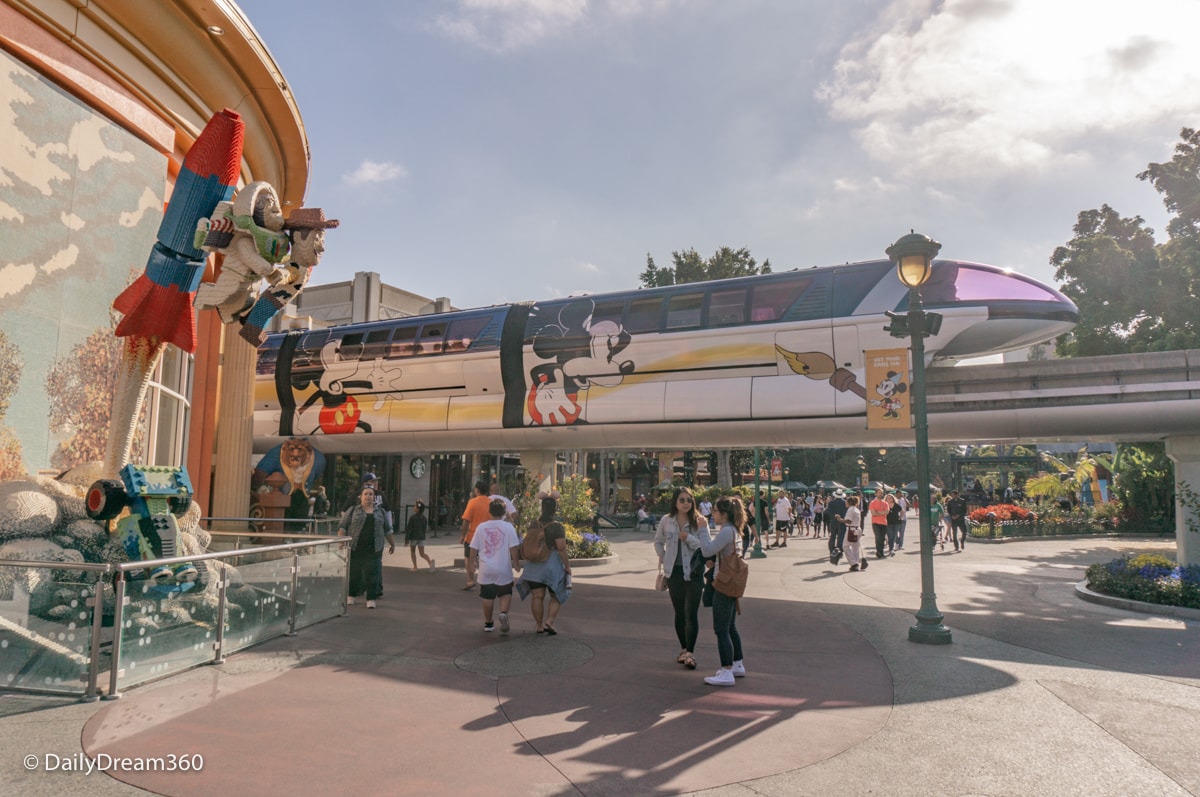 Shops and Eateries of Downtown Disney
The third area in Disneyland park is the outdoor shopping mall. Downtown Disney features plenty of stores for shopping, eateries, bars, bakeries and restaurants.
Live it.
Things to Do in Star Wars Galaxy's Edge Disneyland
Only Disney can have you pass under a bridge and come out the other end in an entirely different world. The moment we walked through the underpass, we entered the Star Wars Movie. On a media preview of this amazing Star Wars Galaxy's Edge Disneyland, we had a limited time to explore this new world.
Our mission was to get to the Millennium Falcon Smuggler's Run ride as quickly as possible; we figured that would be a long wait and there was no way I was missing a chance to take this ride.
We walked through Batuu noting Droid shops, the Canteen and it was so hard not to stop and take it all in. After a few nosy Storm Troopers harassed us and asked us what we were doing with our "Data Pads" we continued on our way.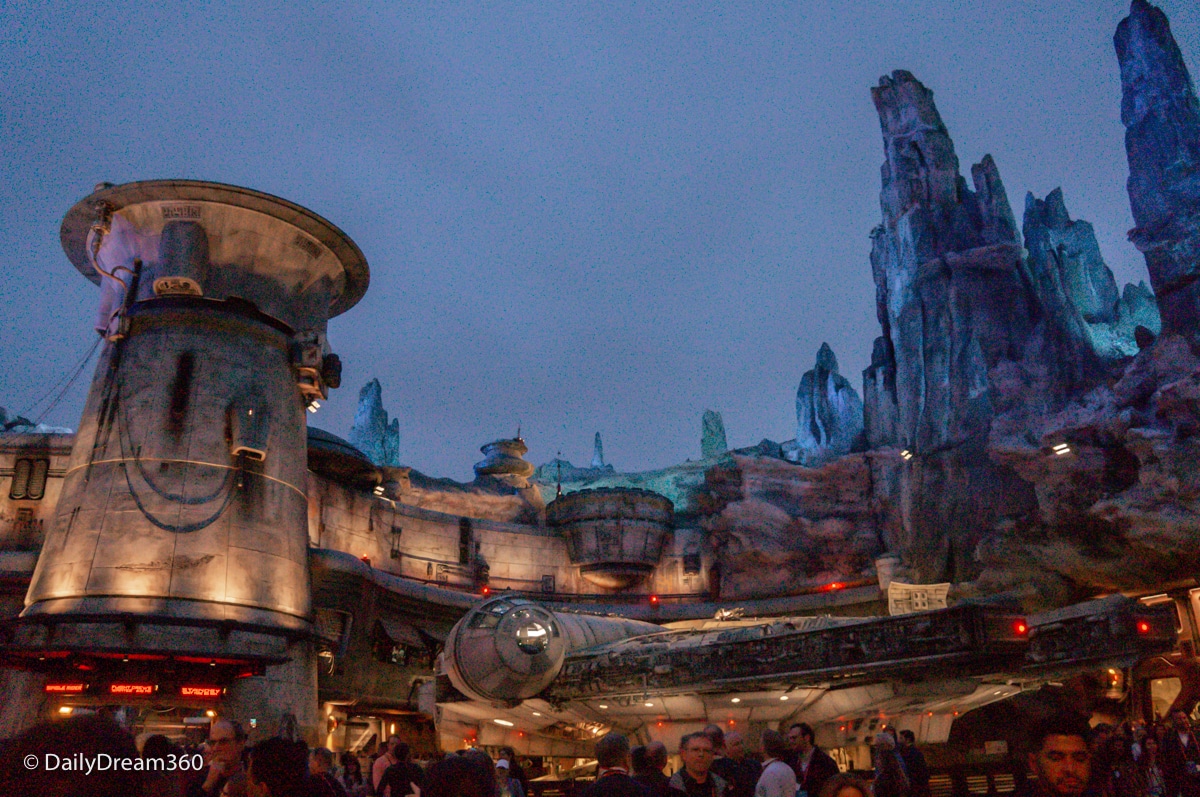 Galaxy's Edge Millennium Falcon Docking Bay
I walked up the stairs, and before I knew it there, it was the Millennium Falcon docked right in front of me. I was utterly engrossed in this world. I was standing in the middle of the Star Wars movie.
The line for Galaxy's Edge winded through an open area. From here we could still view the Falcon from underneath. Boxes and supplies beneath it as it waited for repairs. We even saw some of the signs of battle on its hull.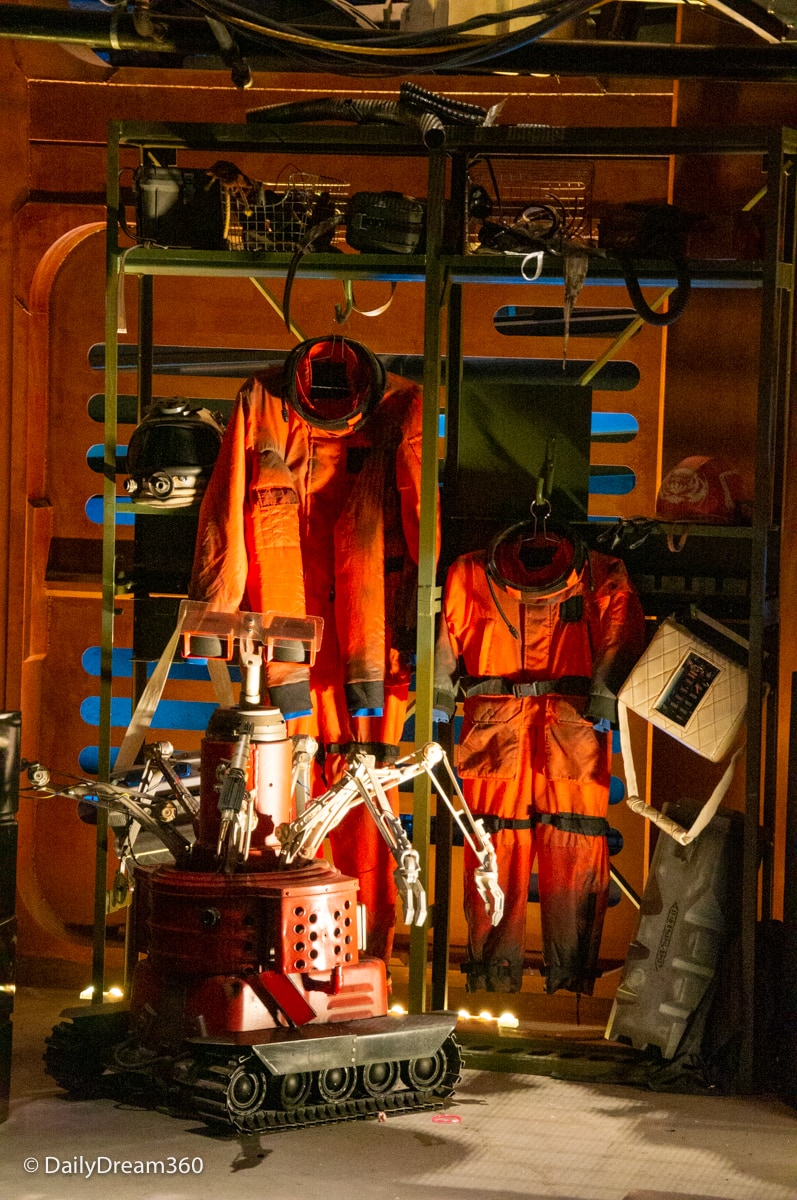 Millennium Falcon Smuggler's Run Ride
Eventually, we found ourselves inside a soldiers paddock of some sort. There were robots, weapons and a lot of space junk lying around.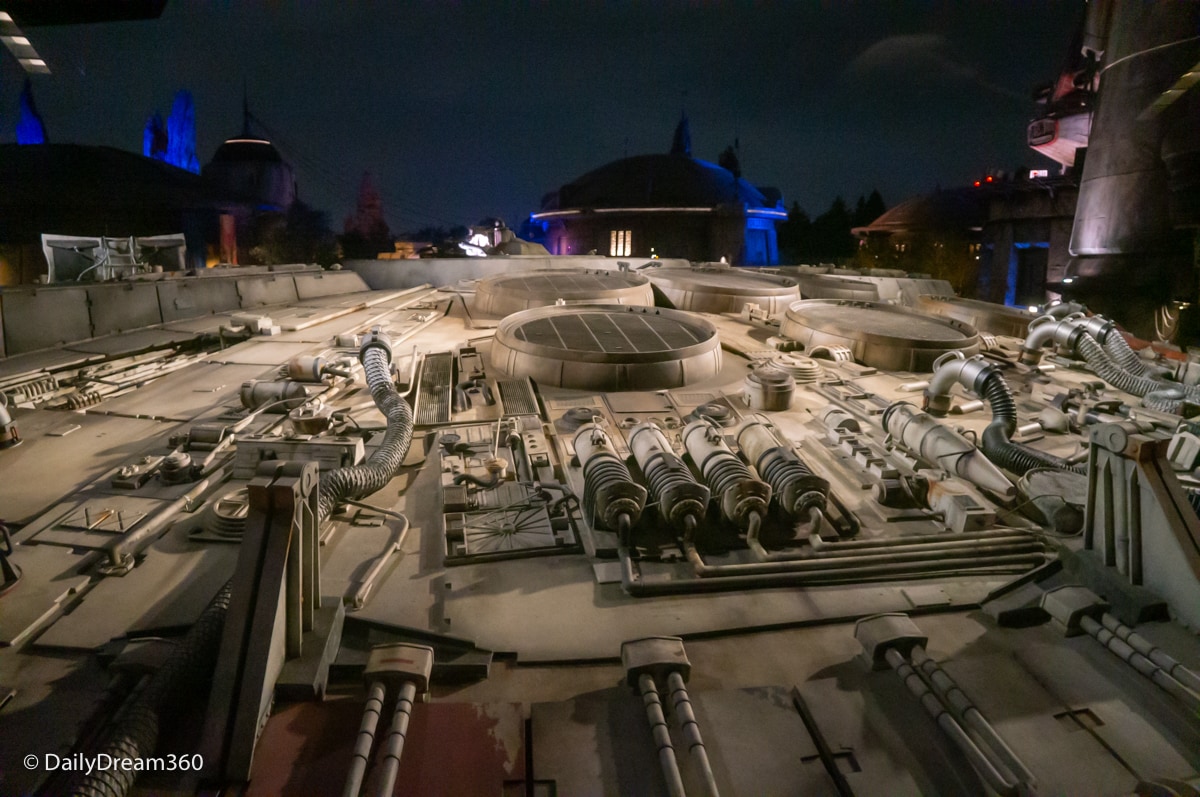 Then we found ourselves looking out windows over the top of the Millennium Falcon. No detail spared. Pipes inserted carefully into the roof of the ship, and I was still dazed about the whole experience.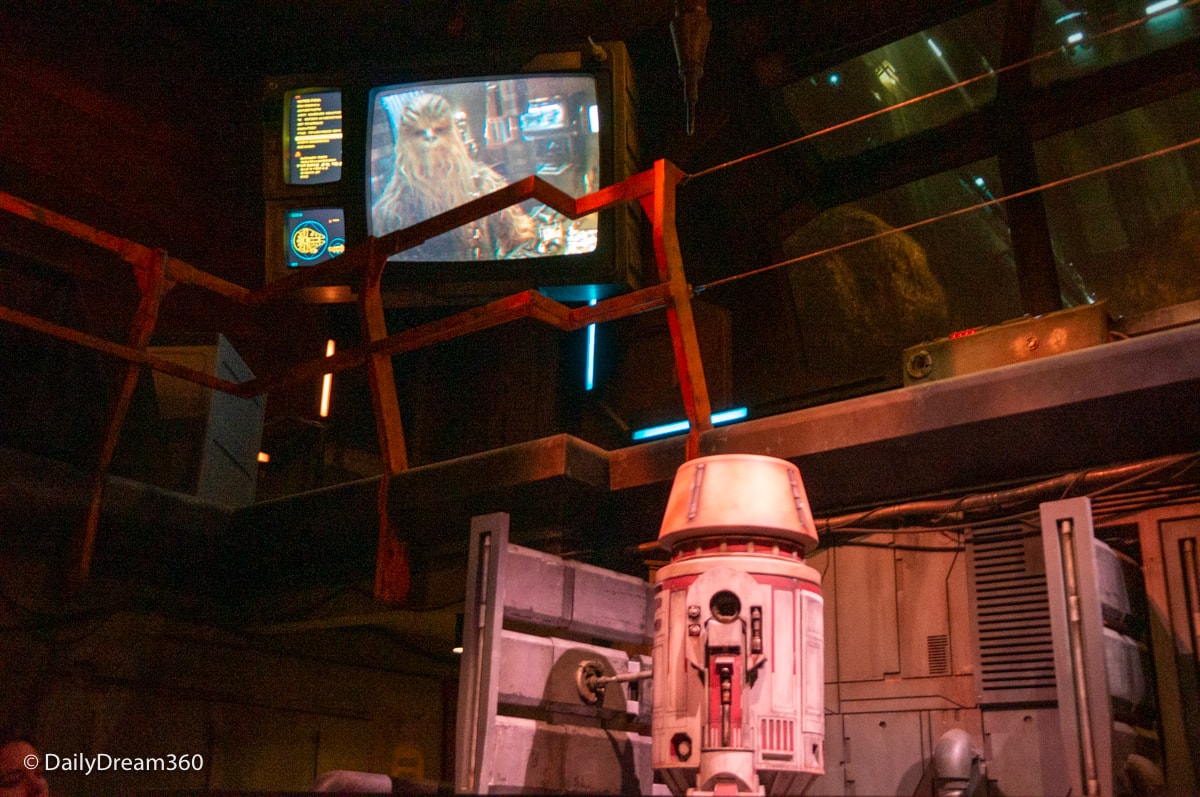 After a briefing, we started to get excited. The line was divided, and we found ourselves walking through more narrow passages. Before I knew what was happening, I was given a card with my position Gunner.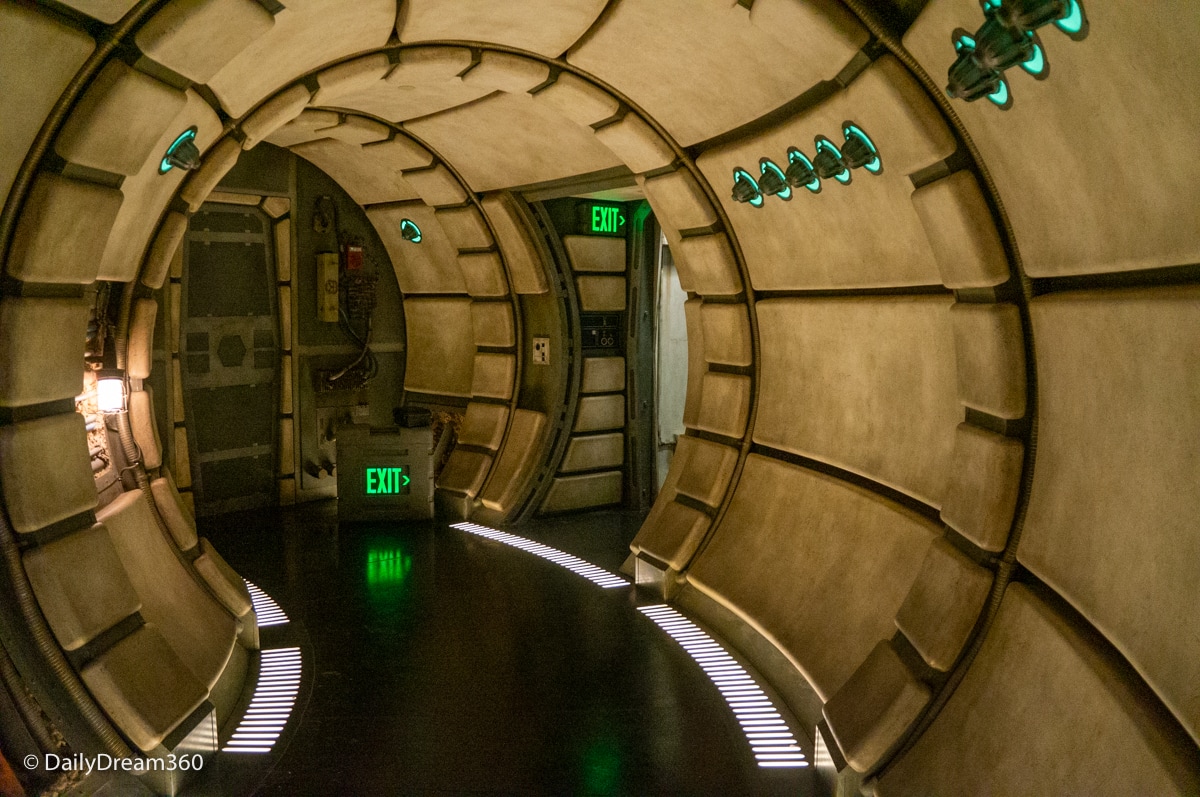 Take a Flight Inside the Millennium Falcon
Then we entered the Millennium Falcon. I stood in front of the chess table, walked around its quarters in awe. Then I was called to stand on my mark. There were two pilots, two gunners and two engineers in each mission.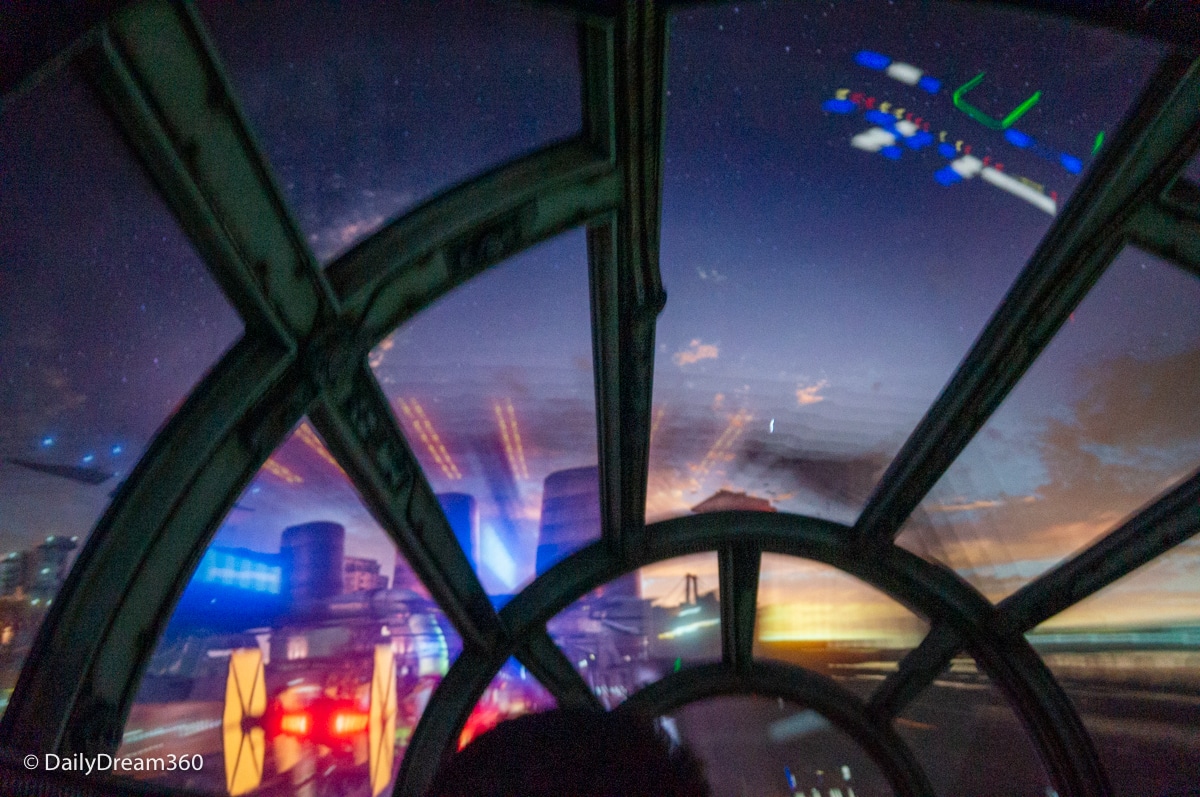 We took our seats and strapped in. Then we were flying in the Millennium Falcon. I was trying to shoot as many Tie Fighters as I could, and our pilot was trying his best not to crash. I'm not sure what the information officers behind me were doing, but there was a lot of screaming at the pilot like 5 Chewbaccas yelling at Han to keep the ship under control.
Explore Star Wars Galaxy's Edge Disneyland
Known as the Black Spire Outpost on the Planet Batuu there are so many stores and activities here we struggled to take it all in on this visit.
Drinks in Oga's Cantina
After our flight on the Millenium Falcon, we decided to head into the Cantina for a drink. Inside the DJ was rocking some beats, and several exciting characters sat around the bar.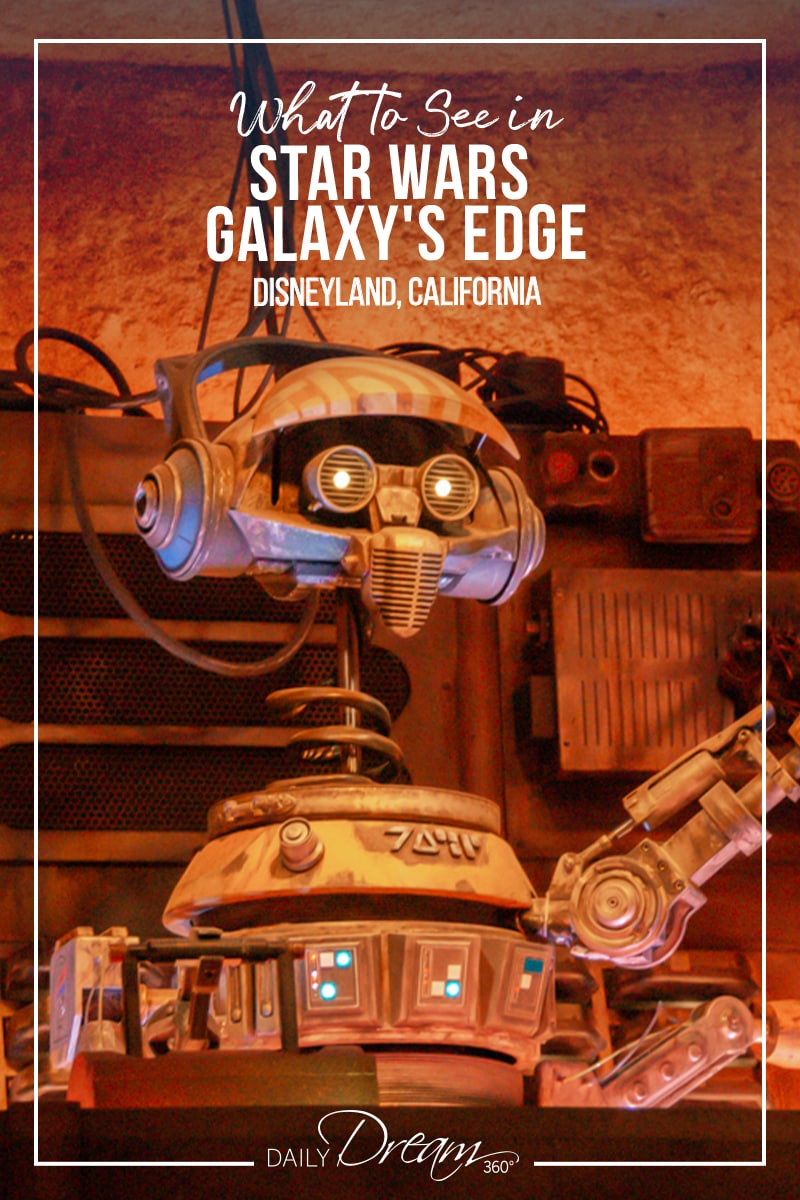 The bartenders served up some interesting neon beverages, and we took it all in. We were in the Cantina.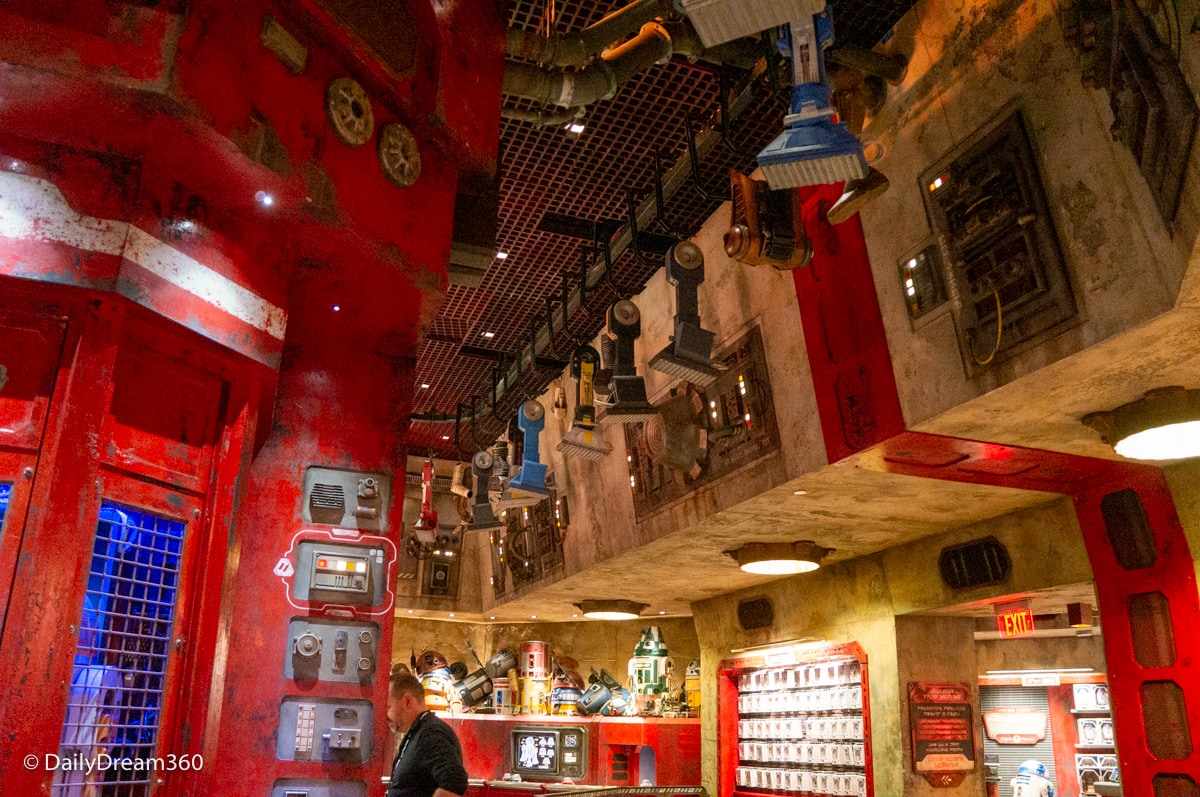 Make Your Own Star Wars Droid in the Droid Depot
For about $100US you can build a droid in the Droid Depot. When you walk in there parts floating above you and conveyor belts filled with droid parts. You will be given schematics for how to build your droid, either a BB or R2 style.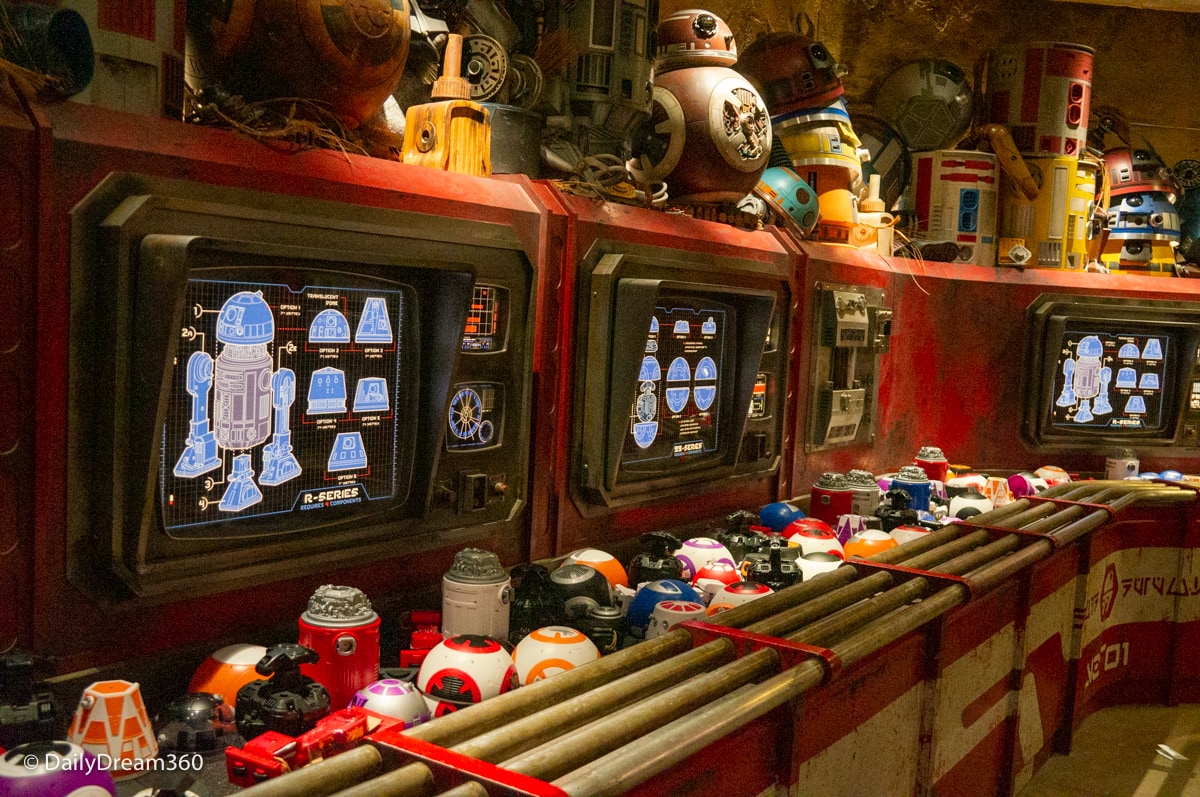 Once your parts are collected, you head to a building station where you can assemble your interactive droid. You'll get a little box to carry it out and a souvenir you will never forget.
Watch Kylo Ren Plot his Next Move
There is no shortage of interactions with Star Wars characters throughout the land.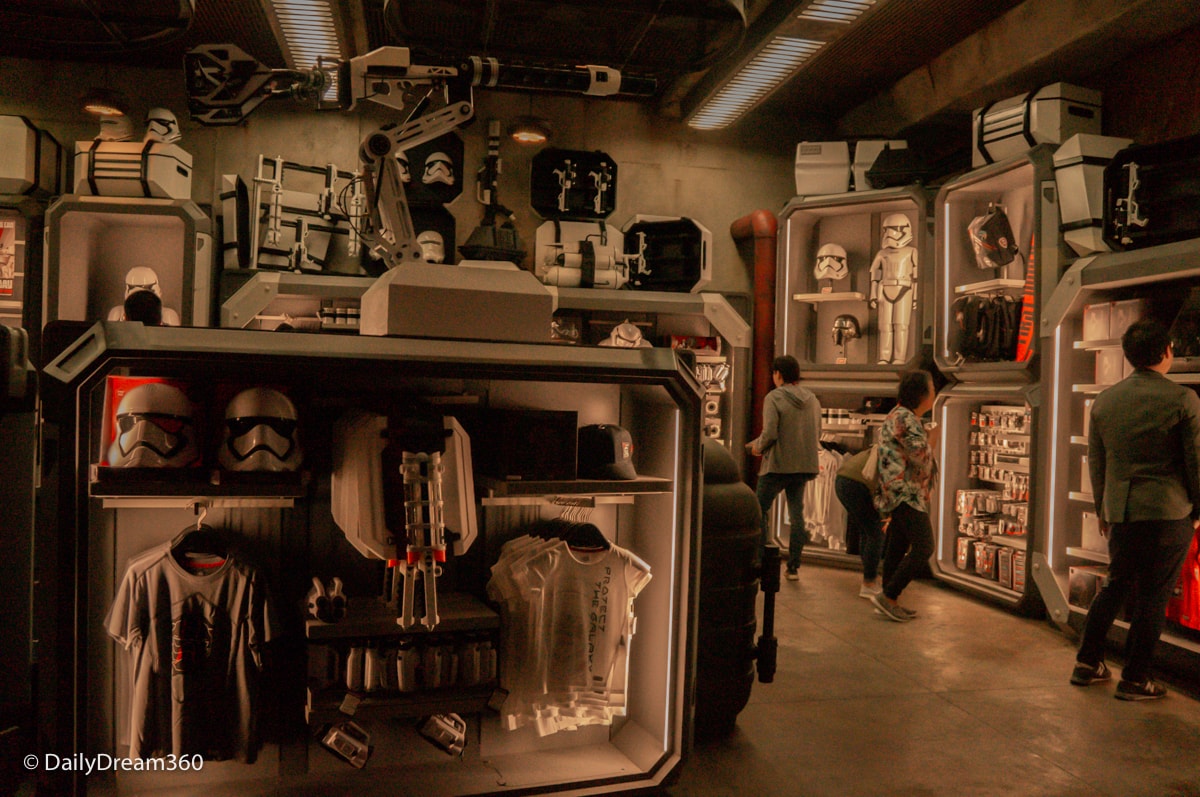 Shop for Star Wars Merchandise
If you are in the mood to shop you will have plenty of options. From building a lightsaber, buying a creature to stores filled with every type of merchandise you can possibly dream up.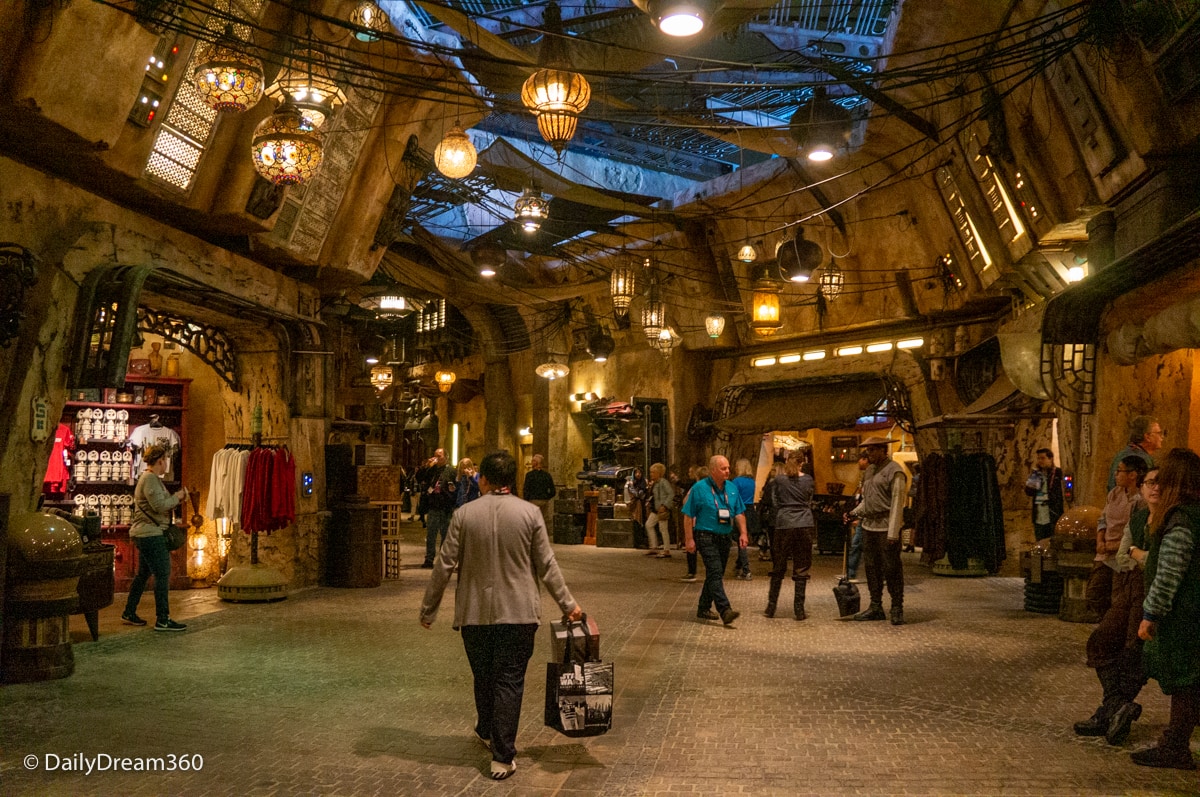 As you walk through Star Wars land, you'll also see several displays of ships, droids and more to photograph. I know I covered a lot here, but I don't think I saw it all!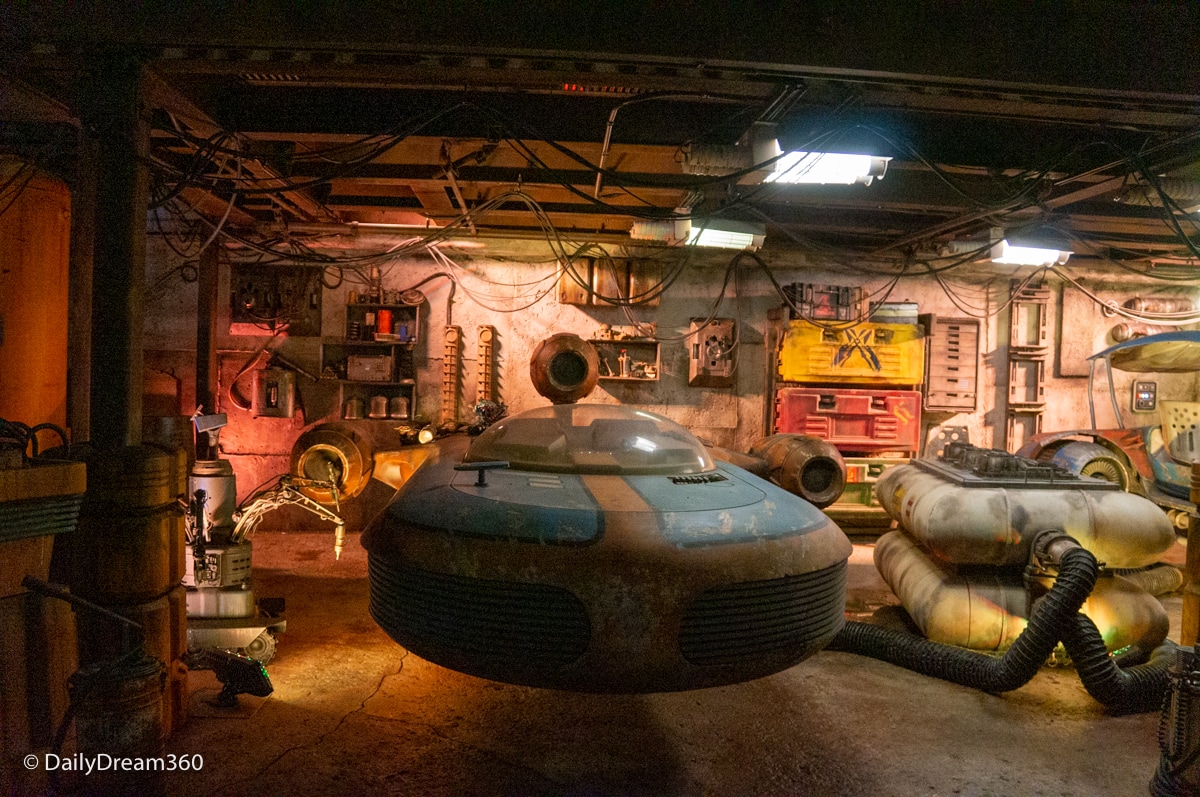 I do hope you make it to Star Wars: Galaxy's Edge in either Disneyland or Disney World soon. There are several upcoming additions to the Star Wars theme park, including a Star Wars Themed resort. It is only going to get better and better for Star Wars fans.
I visited Star Wars Galaxy's Edge during a Media Preview at Disneyland California. Special thanks to Visit Anaheim, Visit California and Disneyland for the experience.