This article may contain affiliate links. Clicking on or purchasing products we recommend through a link may earn a small commission. Read our disclosure and privacy policy page for details. *COVID-19 TRAVEL ALERT – Travel recommendations offered on this site are not to encourage you to travel against travel advisories.
I am learning to love and embrace winter in Canada. I've planned a few fun getaways in Ontario and Quebec which challenged me to try new experiences, get out into the snow and experience some of the fantastic winter activities and festivals in the process. In this post, I have a round-up of tips on planning a dream Canadian winter getaway. So grab your family, a few girlfriends or escape on your own and discover winter in Canada.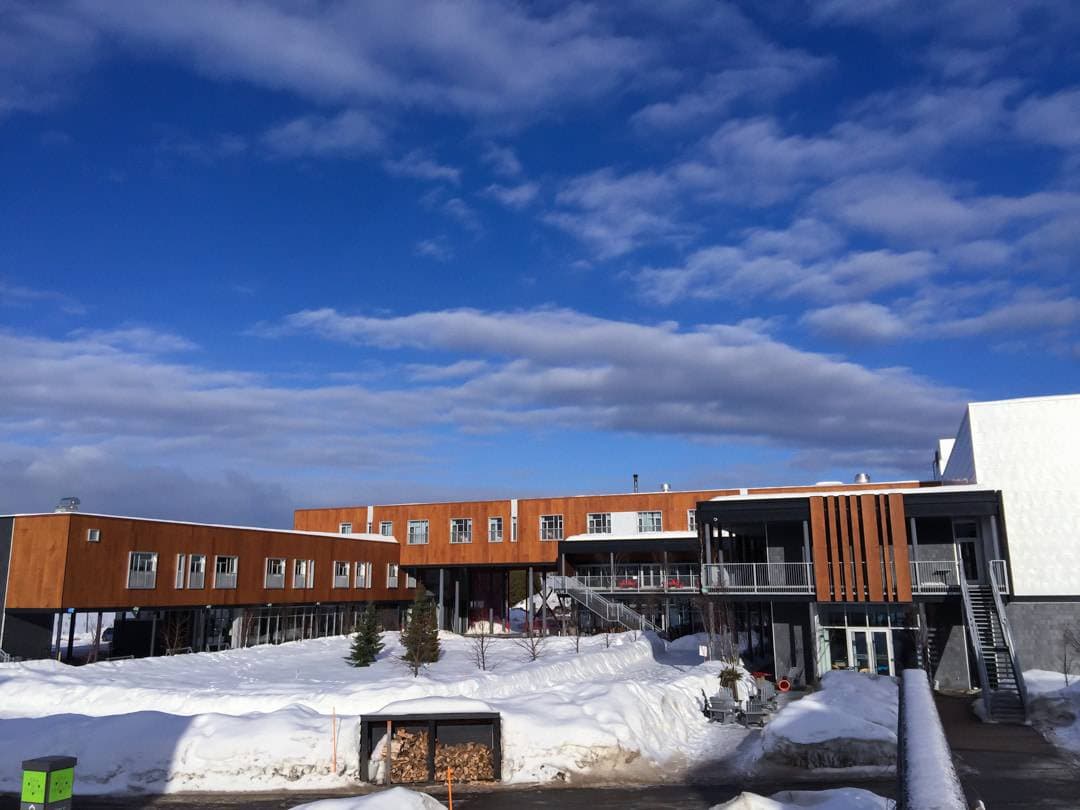 Choosing Accommodations
Don't know where to start when planning a winter trip? Sometimes the best vacations begin with the best places to stay. Your accommodations can determine the tone of your escape. For example, renting a cottage could lead to a quiet relaxing winter escape, choosing a full-service resort can include an outdoor Scandinavian spa or access to cross-country skiing. Try narrowing down your choice by selecting your hotel or rental property first. There are many listings for luxury vacation rentals in Canada. If you are planning a trip to Ontario or Quebec, check out these winter hotels.
Quebec Hotels and Resorts
Fairmont Le Chateau Frontenac | Fairmont Richelieu | Le Germain Charlevoix | Hilton Quebec City | Esterel Resort Laurentians | Ice Hotel
For a look at the most popular hotels in Quebec see TripAdvisor here.
Ontario Hotels and Resorts
Briars Resort and Spa | Pinestone Resort Haliburton | Stonegate Inn Orillia | Casino Rama Resort Orillia | Kettle Creek Inn, Port Stanley | Idlewyld Inn and Spa London | Retro Suites Hotel Chatham | Sheraton Hamilton Hotel | Radisson Admiral Hotel Toronto

Winter Festivals and Events
There are many family-friendly and fun winter activities to do in Canada. Winter carnivals and small-town winter festivals are filled with fun things to do, see and taste. Canada's largest winter festival The Quebec Winter Carnival, for example, runs for three weeks annually at the end of January and start of February in Quebec City.
There are plenty of dream list moments to participate in during the festival, from tobogganing down Quebec's famous run, engaging in carnival games to meeting Bonhomme Carnival inside his ice palace.
See these posts for more winter event planning ideas: Quebec Winter Carnival | Quebec City Toboggan Ride | Charlevoix Ice Canoe Races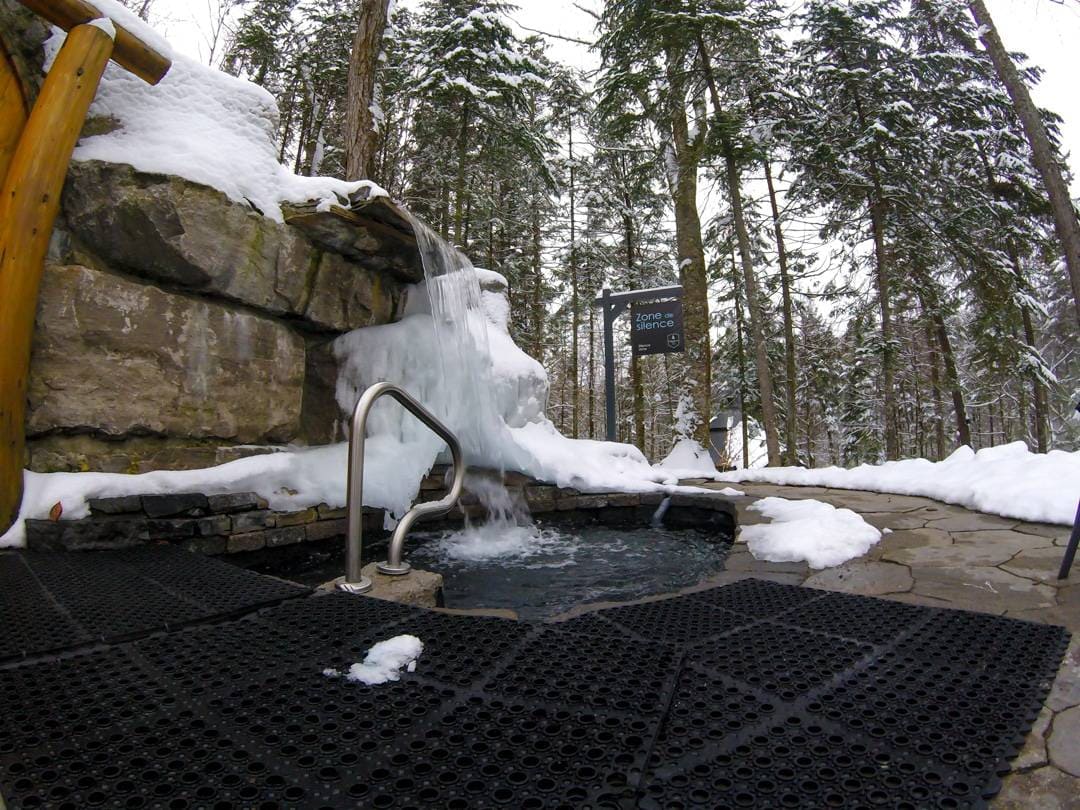 Outdoor Winter Activities
I am not a skier, so I used to spend most of my time hibernating in the winter. However, these past few years I've found a few fun winter activities I can't wait to do again and again. You don't need any skill to sit on an inflated tire tube and be pushed off of a small ski hill. It sounds terrifying but once that tube starts making its way down the mountain it is pure exhilaration!
Snow Tubing in Ontario | Skiing in Banff | Skiing in Charlevoix Quebec
Hit an Outdoor Spa
Another favourite new winter must for me is a visit to a Scandinavian Spa. I prefer the hot whirlpools and warm saunas to the cool ice dips. But there is something magical about sitting in a hot tub, while snow falls around you and bonus apparently this is healthy too!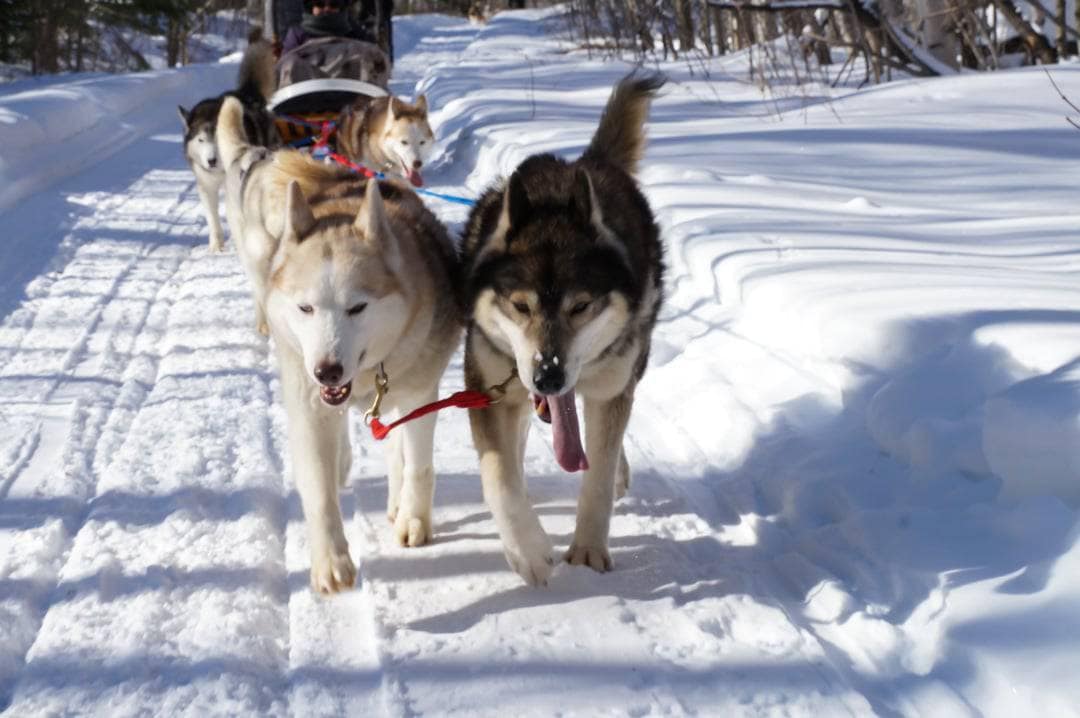 Try Dog Sledding
My favourite and most memorable winter activity has to be Dog Sledding. The number one tip is finding an operator who takes care of its dogs. If they show you the tour of their kennels, and how they train the dogs for real competition, you are probably going to have a memorable experience. There are, however, operators who do not take care of their dogs and this can ruin the experience. I recommend Winterdance Dog Sled tours in Ontario (link below) they have nothing to hide, and those dogs were so happy to see me and play in the snow it was hard not to smile all day long.
Quebec: Ski Charlevoix | Scandinavian Spa (Quebec) | Tour the Ice Hotel |
Ontario: Dog Sledding | Snow Tubing | Snowshoeing | Explore Port Stanley
Indoor Winter Activities
Let's face it, during our winter trip we all need to get inside and warm up. While enjoying an outdoor winter spa is a unique experience, staying indoors and enjoying a spa service is just as relaxing. This past year I tried my first Hammam spa experience at the Ritz Carlton in Toronto, their Miraj Hammam spa is a great place to escape winter and indulge in some Morrocan spa treatments.
Warm-up Inside a Museum or Gallery
Of course whichever region you visit to be on the lookout for museums and art galleries. In the smallest of communities in Charlevoix, I enjoyed a few hours learning about the history of the region in one of their local museums.
Don't forget some unique experiences that run year-round, but provide a little warmth during a winter escape. One of the hottest experiences for me had to be my glass blowing workshop with art-tech glass during a winter escape in the Ontario' Highlands. We spend the day in their studio, and I now am the owner of 4 unique glass blown art pieces I created myself.
Ontario: Miraj Hammam Spa | Art Gallery of Ontario | Glass Blowing Haliburton | Catch Dinner and a Show
Packing for Winter
The most important thing to remember about planning a winter getaway is dress warm. This advice may seem obvious, but since I invested in a good ski jacket, snow pants and winter boots, it changed my life and my opinion about winter travel. If you are warm and toasty even during a winter freeze in Northern Quebec nothing can stop you.
Columbia Winter Gear | Stylish Winter Packing List | Carry-on Only Winter Escape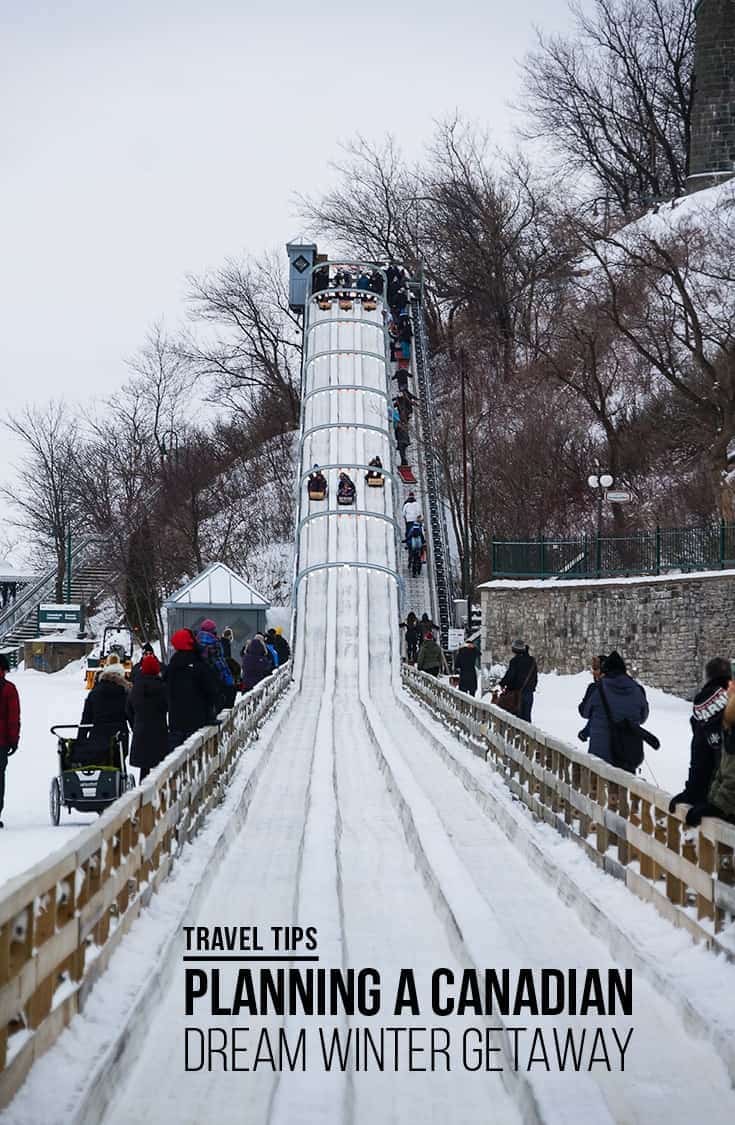 Disclosure: This page may contain affiliate links. Clicking through for additional information or to make a purchase may result in a small commission. For more information read our disclaimer.