This article may contain affiliate links. Clicking on or purchasing products we recommend through a link may earn a small commission. Read our disclosure and privacy policy page for details. *COVID-19 TRAVEL ALERT – Travel recommendations offered on this site are not to encourage you to travel against travel advisories.
Travelling in the winter months can produce some packing challenges. When visiting winter destinations where you are required to have a little style mixed with winter activities and sightseeing, a varied mix and match wardrobe is best. In this post, we outline some excellent winter travel packing tips and 7 outfits for 7 days in a winter packing list.
Dream it.
Winter travel can be fun when you remember to pack your winter travel essentials. Winter clothing can be big and cumbersome, but there is no reason you have to compromise on style. After several trips to the province of Quebec in winter and a few winter girls getaways, I've learned that having the right gear for a winter trip is most important. Winter gear, however, can also be fun, stylish and functional at the same time.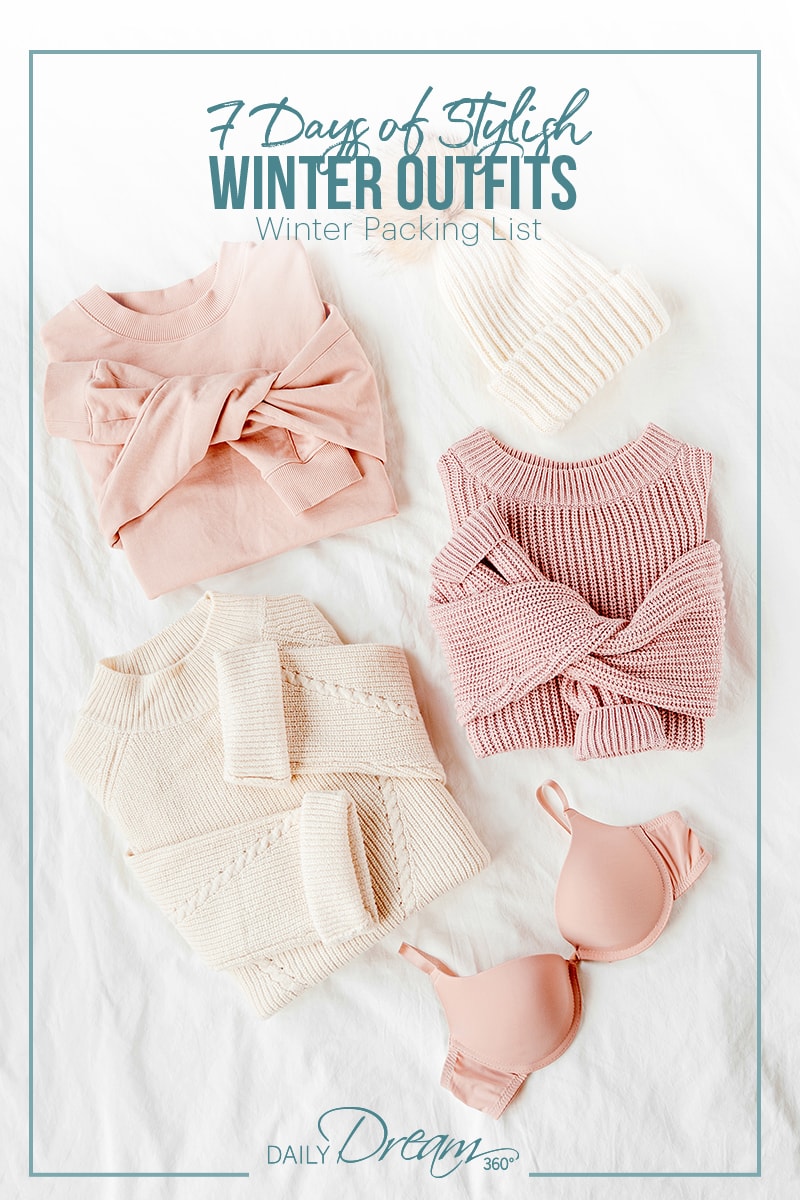 Plan it.
Packing Tips for Winter Travel
The most important thing to remember about packing for a winter trip is to focus on your three layers. In extreme cold situations, the three layers are imperative for a safe and fun winter vacation.
First Layer – Intimates and thermal layer
Second Layer – Winter Clothing
Third Layer – Outwear Protection from the Elements
Packing Winter Travel Outfits for the Weather and Activities
Of course, your packing list must take into account how cold the temperatures are going to be and what activities will you be doing. For ski trips, you need comfortable clothing and fabulous outerwear. For sightseeing in a moderate climate, you may not need extreme cold parkas or heavy winter boots.
Add Some Style to your Winter Vacation Outfits
Don't be afraid to add colour to your winter style your outerwear and accessories can all add a sense of style. Puffer coats with belts, stylish winter hats and scarves are all great ways to liven up your winter style.
How to Pack Winter Clothes in Your Luggage
Wear more substantial and bulkier items of clothing on the plane.
Pack scarves to dress up your outfit. Soft infinity scarves can be worn in many ways and spruce up any outfit.
Think about layering items in your wardrobe; long sleeve t-shirts can be worn with sweaters and leggings can double for thermal underwear.
Pack boots vs shoes when possible. Even for special events or evening attire, knee-high boots are better than shoes.
Wear the knee-highs on the plane and pack a smaller pair of waterproof boots for day-to-day walking activities.
You may also like our: Carry-on Only Packing List for a Weekend Winter Escape
Shop this list and more at our Amazon Store!
Canada Store | US Store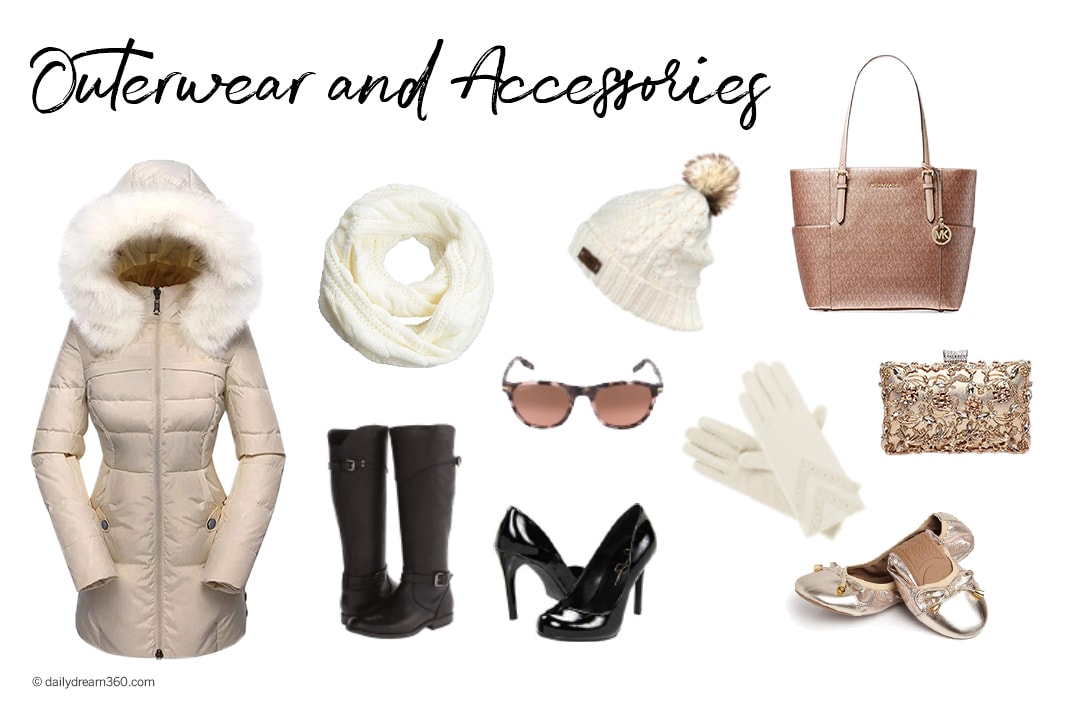 Live it.
Shopping for Your 7-day Winter Packing List
When mixing and matching your clothes, you don't have to compromise on style and colour. Choose complimentary winter tones and items you can comfortably dress up or down.
Winter Outerwear and Accessories
Winter Outerwear to Pack
Packing the right outerwear goes without saying, but you need a warm coat, scarf, mittens or gloves and a hat. Your shoes and boots are likely to take up most of your luggage space, so choose wisely. I suggest a pair of waterproof day-to-day boots, a more elegant (but still comfortable) pair of knee-high boots that you can wear with skirts and dresses and for special events pack a pair of heels. You can always take off your boots and wear the heels to a club or dinner.
Winter Outerwear Check List
Coat
Shoes & Boots
Hats, Gloves & Scarves
Purses & Bags
Sunglasses
Women's Puffer Coat
For sightseeing, city adventures and trips where you want to be warm but look stylish, I recommend longer coats like this puffer, which has a faux fur lined hood, comes in many colours and is tapered to show off your body contours.
Find coats on Amazon: USA | Canada | UK
Shop at JC Penny: Puffer Coat Selection
Find great coats at Target: Puffer Coat Selection
Winter Travel Shoes for your Winter Packing List
When packing for winter we often forget our indoor activities. Pack a packable ballet slipper-like Tieks or an indoor shoe that doesn't take a lot of room in your closet. There will be times when you can keep your boots in the coat check and walk around inside with a  comfy and stylish pair of shoes.
Have fun with accessories!
Where you can be more creative with your fashion without compromising on keeping warm are your accessories like scarves, hats, gloves. Remember that mittens will keep your fingers warm during icy conditions.
Pack Gloves & Mittens: Tech-savvy people who want to access their phones or cameras will love Gloves with smart touch features. I use these things as a liner in extreme cold situations under mittens.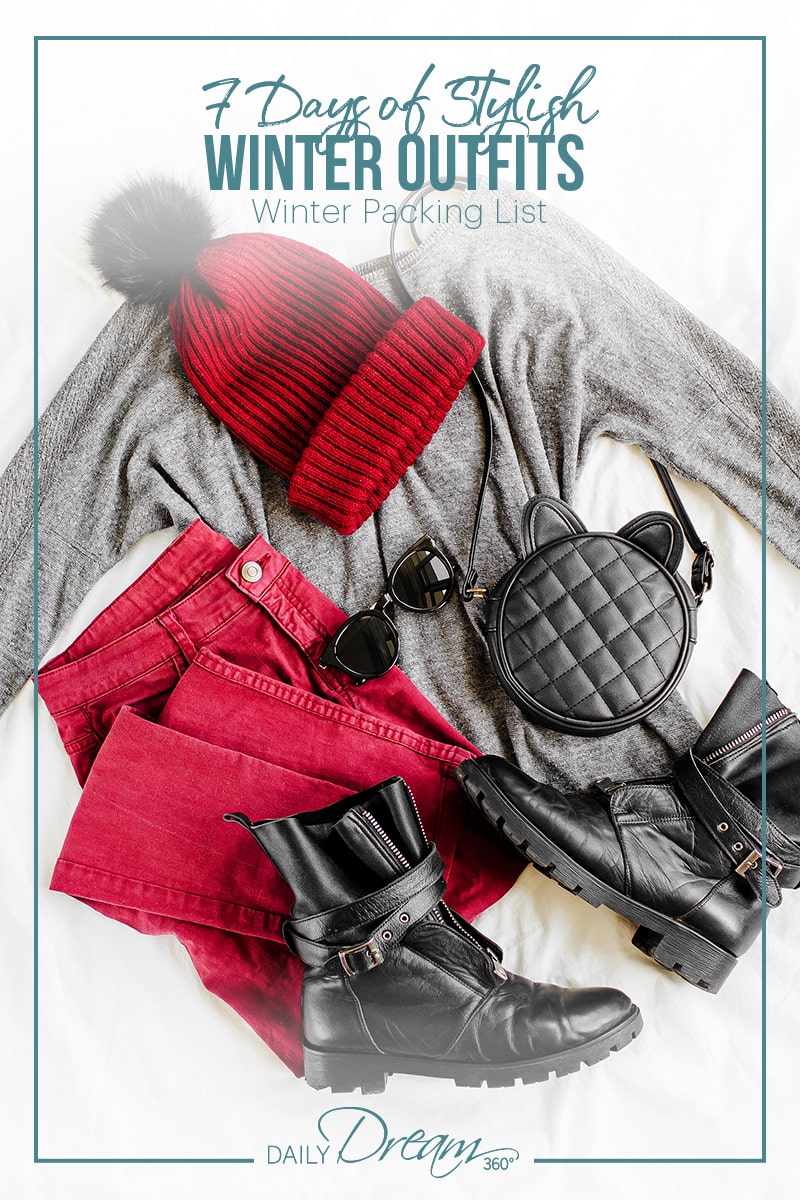 See all the items on our list at our Amazon Store!
Canada Store | US Store
The Essentials
Pack warm socks and don't forget a pair of tights. The hose can be worn with dresses and skirts but can also be an added layer on extra cold days. Make sure your lingerie items work with both your casual and evening wear.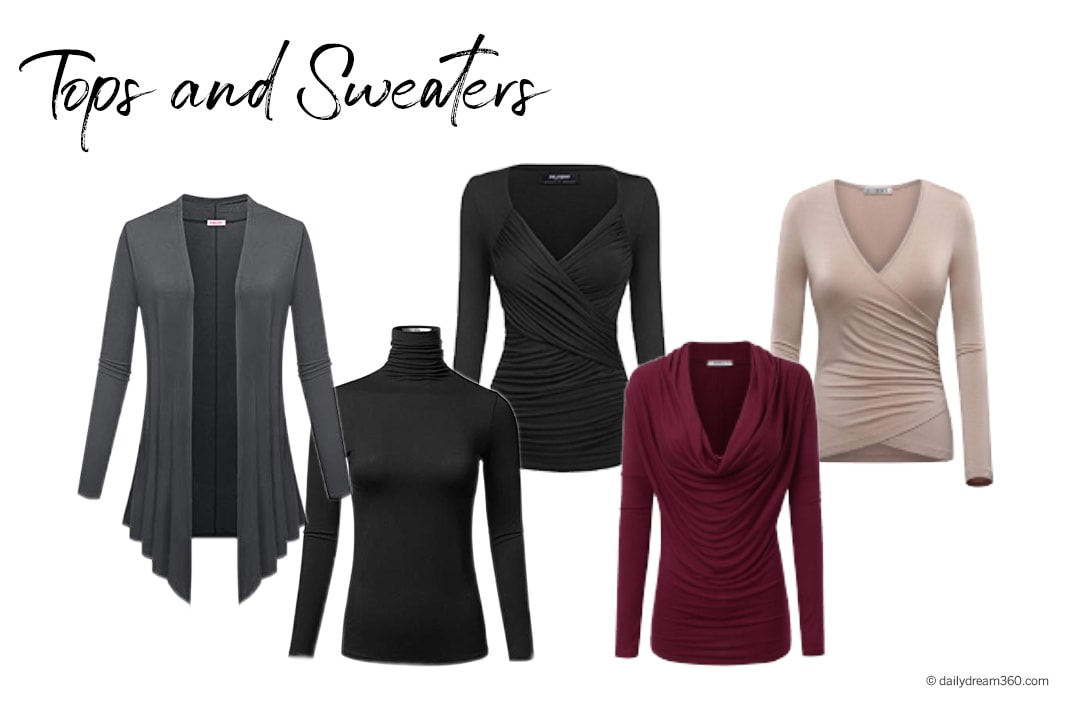 Tops
The shirts on your winter packing list can be made up of long sleeve t-shirts and sweaters, and these items are where you can play with colours. Pick complementary colours that can be worn both with your jeans and your black pants or dress skirts. Add in one stylish top and consider a dress for special occasions or business meetings.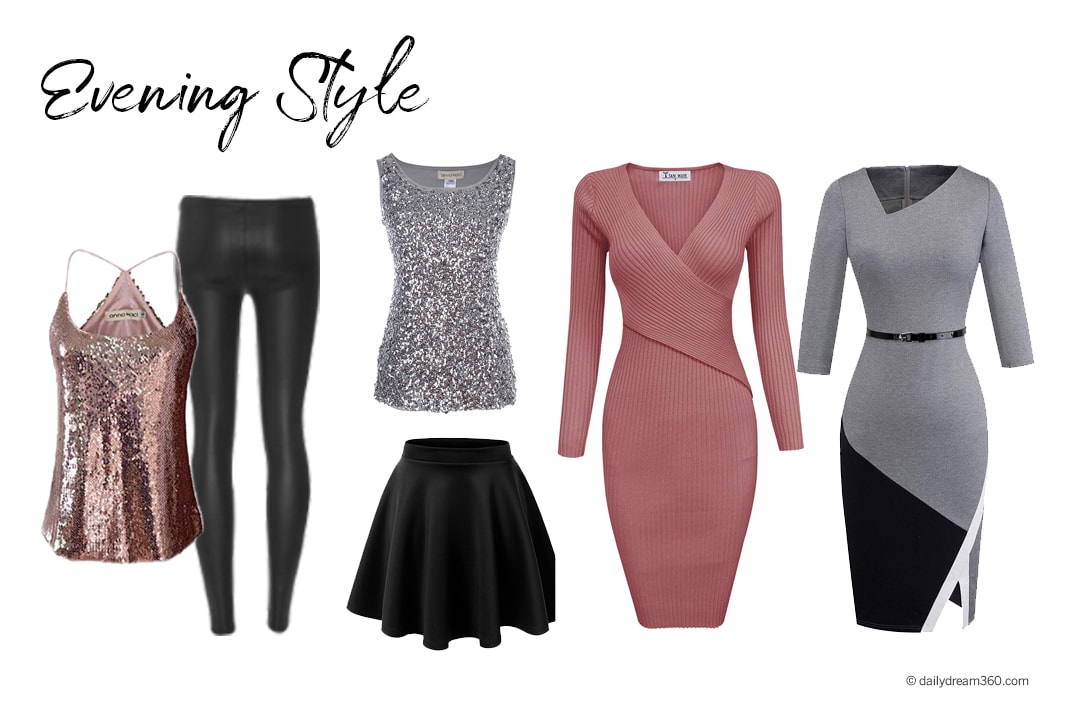 The Right Bottoms for Your Winter Packing List
One pair of jeans and one pair of black pants should cover it, mix with a couple of leggings or yoga pants and mix and match with your tops. If the leggings or yoga pants are thin, enough you can also use these as thermal underwear on frigid days.
7 Outfits for 7 Days Winter Clothing Guide
The list we put together this year is to cover a sightseeing trip to a very cold destination. Day outfits will vary as will evening wear depending on the activities you are participating in.
 Day 1: Travel
Day 2: Winter Fun
Day 3: Winter Fun
Day 4: Special Event

Bulkiest boots
Jeans
Cardigan
Long Sleeve

Thermal underwear
Cotton Pants
Long Sleeve T
Comfortable winter boots.

Be casual again during the day.
Mix up your wardrobe with different tops and layers.
Dinner dresses up pants with a fancy top.

Where the stylish outfit you planned.
This could be a dress, sequin top with pants or a fun skirt.

Day 5: Indoor Lounging
Day 6: Last-minute Siteseeing
Day 7: Travel
 

A sweater dress can keep you toasty and stylish.
Hit the spa or the indoor pool and make the most of a warm day inside the hotel.

Be casual again during the day.
Mix up your wardrobe with different tops and layers.
Dinner dresses up pants with a fancy top.

Pack as much as you can and be prepared to wear some bulkier items on the plane.
 
Be sure to see all our packing list posts here. For access to all our packing list downloads and other exclusive resources, sign up today!