This article may contain affiliate links. Clicking on or purchasing products we recommend through a link may earn a small commission. Read our disclosure and privacy policy page for details. *COVID-19 TRAVEL ALERT – Travel recommendations offered on this site are not to encourage you to travel against travel advisories.
Are you planning a weekend winter vacation? First time to a winter destination? I have some tips on how to pack light for winter travel. Use this winter clothing list and tips on how to pack your winter clothes into a carry-on bag. Download my free carry-on winter packing list to make sure you don't forget anything!
Dream it.
If you're planning a trip that involves a pool, lake, or beach of any kind and you don't want to buy a special waterproof camera or action camera, then a waterproof pouch for your phone could just be the solution you are looking for. Most of us have replaced our cameras and choose to travel with our phones and while there are some water-resistant models out there, protecting your phone with a waterproof pouch could save you a costly repair or replacement.
I wasn't always a winter travel person. Travelling in winter is all about the right clothing. From a great winter coat, proper layering and the right boots, you'll find that once you have all the right winter gear – you'll be excited to travel to winter destinations.
Plan it.
The Challenge: Winter Clothing Takes Up More Space
Packing for a winter getaway can be challenging as the clothes you need are bulkier and take up more room. Winter escapes often have a couple of elements, including outdoor activities in frigid temperatures, sometimes with snow and ice, and indoor activities like spas, cozying up by the fire or dining in a fancy restaurant.
Tips to Build Your Winter Clothing List
The most common rule for packing for any winter vacation is to dress in layers. Three layers to be exact which will ensure you keep your body warm. So I have divided up your necessities into these three layers.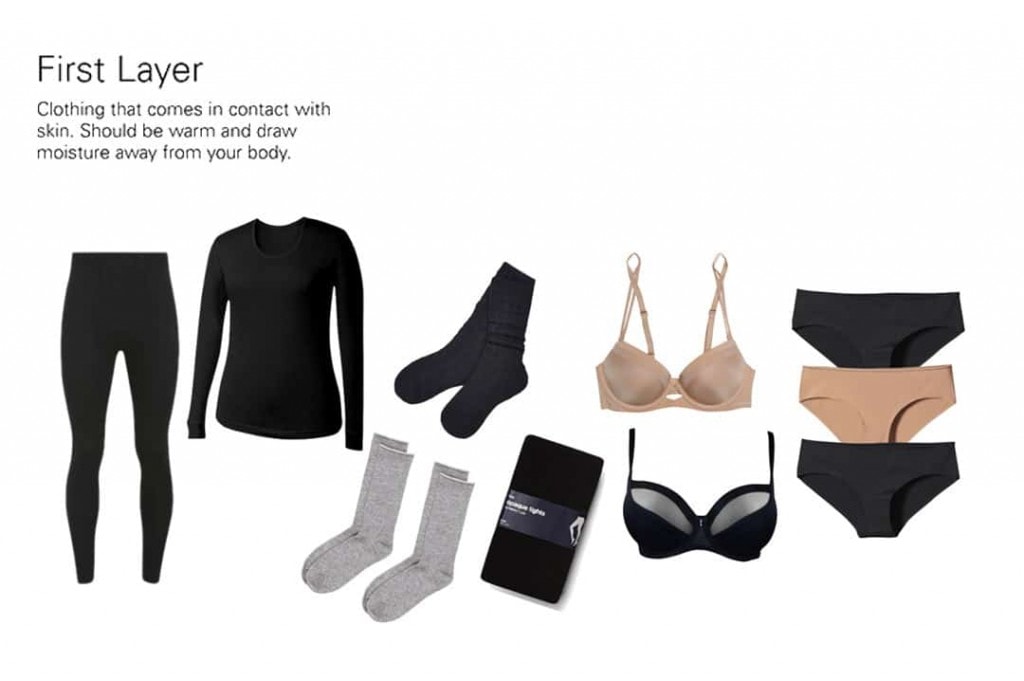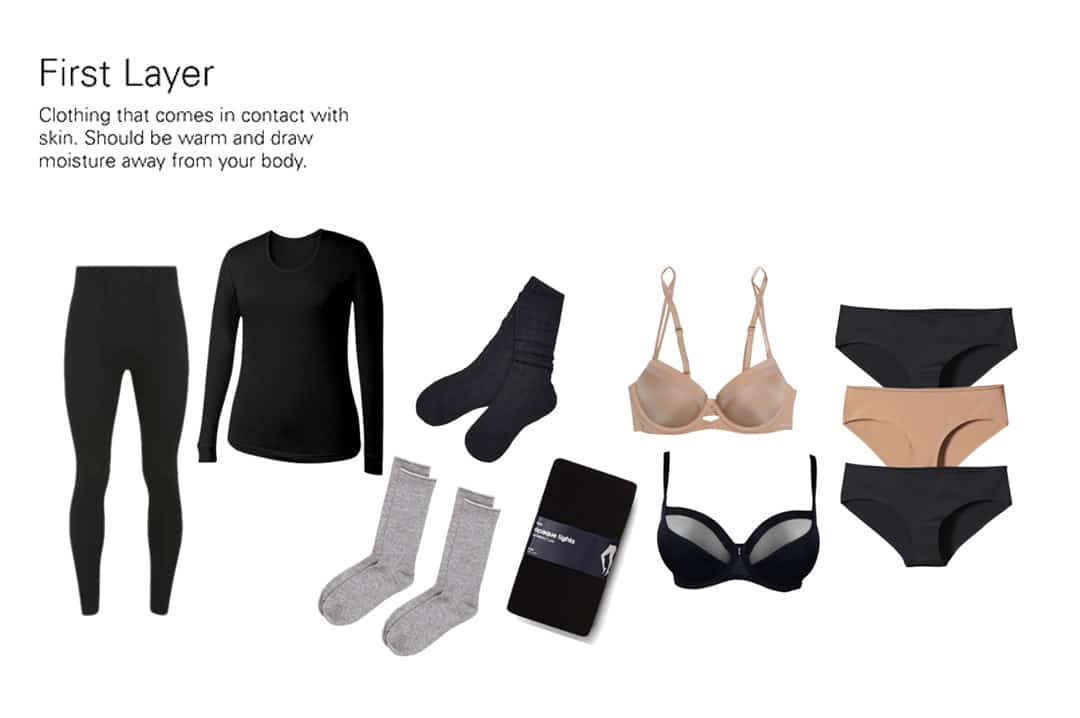 First Layer – Insulation and Intimates
This first layer consists of your delicates and thermal wear, or the clothing that comes in direct contact with your skin. It is essential, especially if you are participating in winter sports, having the right thermal gear type to keep you dry and warm.
Your base layer should include thermal underwear, which insulates and keeps your body dry if you are sweating during activities like skiing, hiking, snowshoeing and ice skating, for example. For escapes where you will be going indoors and out, where your body temperature will change frequently, staying dry is even more critical. Pack extra socks as you don't want to wear wet socks under any circumstance. Layering socks will also help keep your toes from getting frostbitten.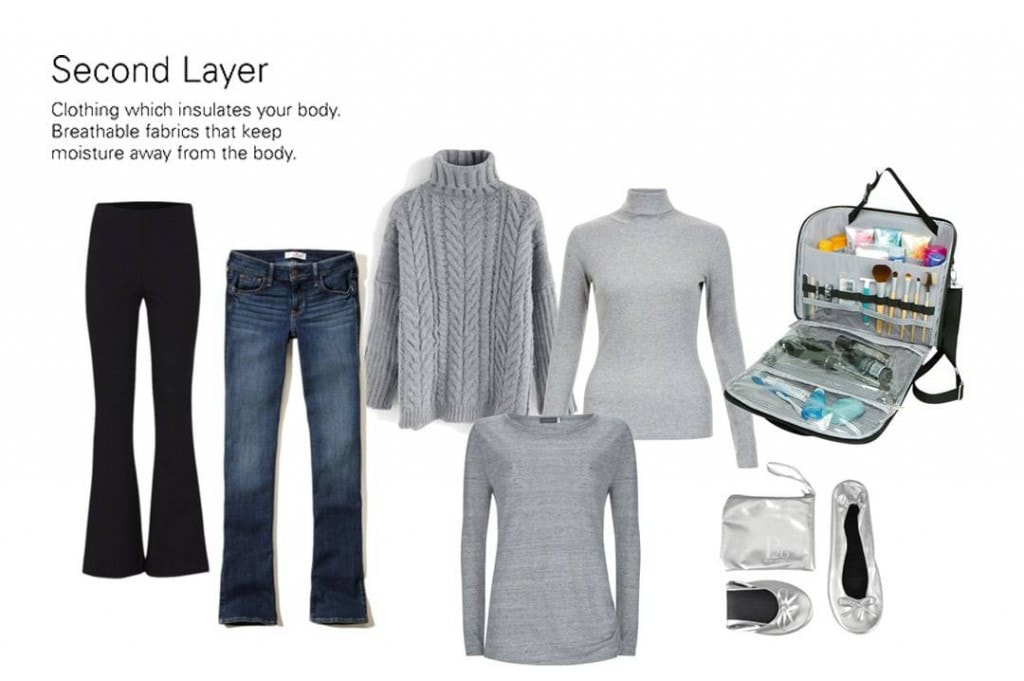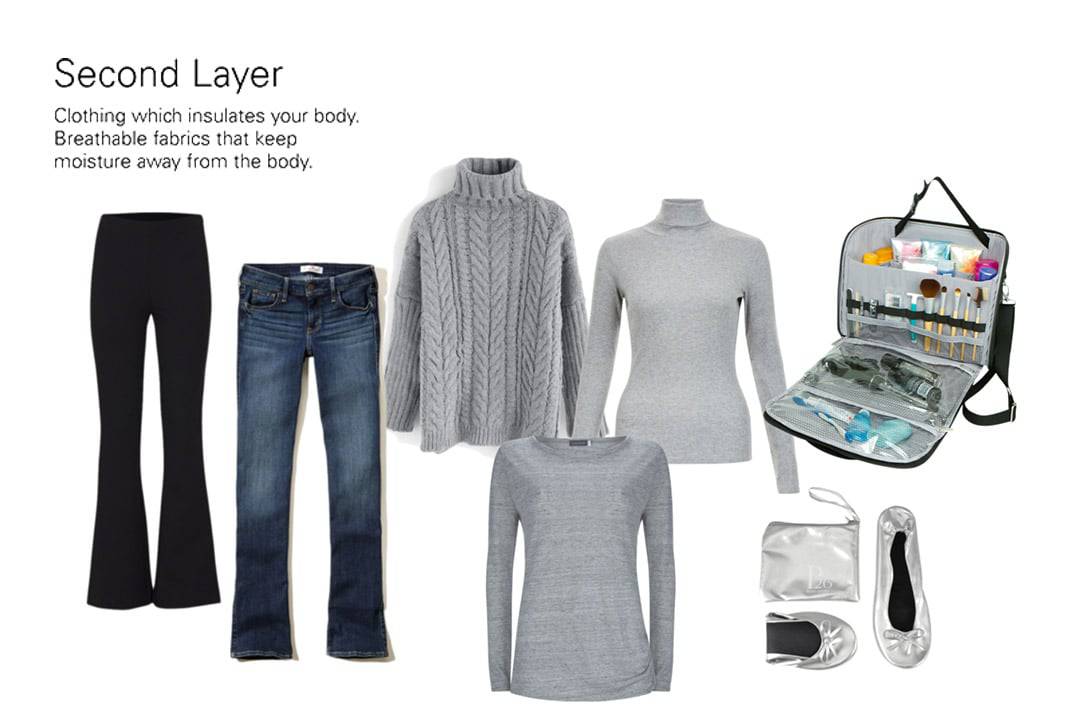 Second Layer – Fashion and Warmth
The second layer is the one people will see when you remove your coat or are indoors warming up. Like your first layer, it must also insulate and keep you dry. Winter packing should be about moving moisture away from your body. Water freezes, and we want to keep ourselves warm and toasty, not wet and freezing.
Consider your weekend and make sure the items in your second layer can work for active outdoor activities or stylish dinners at the hotel. Pack like colours that you can mix and match.
For indoor activities, consider packing a foldable pair of travel shoes, which won't take up too much room in your luggage and will be great for wandering inside the hotel.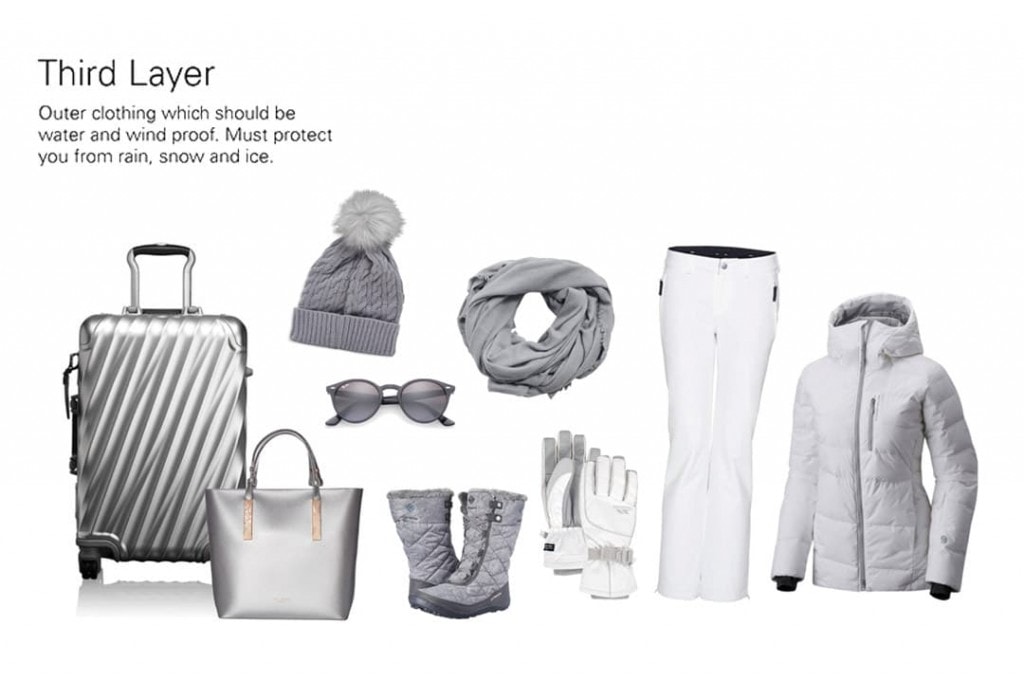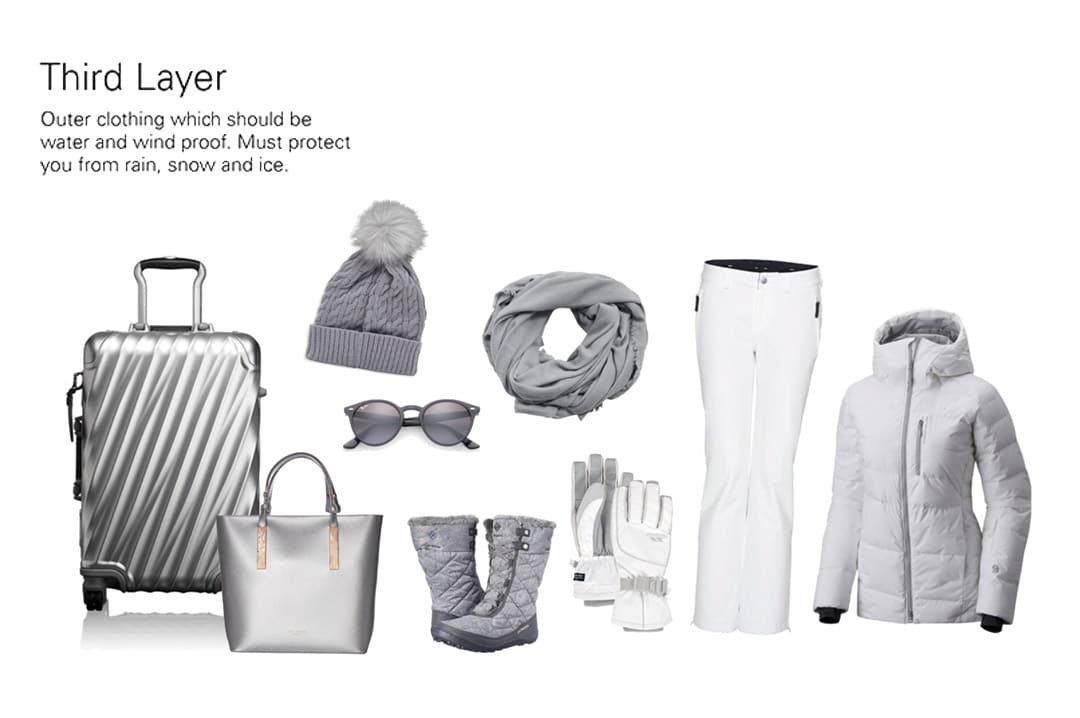 Third Layer – Outerwear and Accessories
The third layer consists of your winter coat, snow pants and other accessories which protect you from wind, rain and snow. You can style up this layer by choosing a winter coat with some colour or a fun pattern and match with a fun hat, scarf and gloves.
Make sure that all your accessories can protect you from wind, rain and snow. Go to a ski shop or sporting good store for a great selection of gear designed to keep your warm and dry. Keeping your hands warm is especially important.
Gloves separate your fingers and make your hands feel colder faster, while mittens keep your fingers together, allowing for body heat to keep your hands warm longer. If you are handling a camera where you need your fingers to be accessible, try a pair of thermal gloves (with a touch finger to allow you to access your smartphone) and pair it with a ski mitten overtop for warmth.
Snow pants and Winter Boots are a Fashion Statement during a winter escape. On ski getaways, your snow pants are a fashion standard worn by everyone. I've found that even on luxury winter escapes, everyone is wearing their ski pants and clunky winter boots everywhere. So don't think you need to pack your stylish boots for a winter getaway. Think chalet chic!
Live it.
Tips on How to Pack Winter Gear into a Carry-on Only Bag
Need some tips for fitting your winter essentials into your carry-on luggage? Here are some recommendations.
1. Don't Over Pack – Especially on Outerwear
You won't need three different coats, boots and a variety of winter scarfs and gloves. Pick one winter coat that will cover all your winter activities on the trip. Most winter destinations that involve activities like skiing, skating and other winter activities are very Ski Chic or casual.
Style up your winter outerwear with a colourful ski jacket and accessories to match. Don't worry about having the perfect boots for each outfit.
Read More: Staying Warm and Stylish with Columbia Omni Heat Technology
2. Wear the Bulkier Clothing on the Plane or During Travel
Don't fill your carry-on bag with oversized bulky sweaters, coats etc. Ensure your accessories, heaviest boots, and clothing are on you, leaving space in your carry-on for other items from your winter clothing list.
3. Build a Winter Capsule Wardrobe
Having clothing that will mix and match into many outfits will help you pack light for winter trips. Use long sleeve shirts to dress up or down for various things you will be doing on your winter vacation.
Use colours that work well together, and you'll find that even though you are wearing the same clothes, your outfits will be different every day.
Read More: Winter Capsule Wardrobe 7 Days of Stylish Winter Outfits + Packing List
4. Use packing cubes to compress bulky items in your luggage.
The debate of roll vs folding your clothes in your luggage will go on forever. However, if you use packing cubes, you will organize and compress more items quickly.
5. Pack shoes and boots in bags
Keep your clothes from getting dirty by packing your shoes in bags or special packing cubes. I recommend wearing your boots for most activities; however, you may require a foldable pair of shoes or a second boot depending on your trip – so pack a few bags for wet and or dirty items.
Read More: Best Travel Toiletry Bags, Toiletry Organizers and Cosmetic Sets
6. Travel Size Hygiene Items Only
When it comes to your toiletry bag, and makeup makes sure you are only packing what you need. I once weighed my makeup bag and was shocked to see how much it weighed. When flying, your toiletry items can be the thing that put your bag overweight – so pack only what you need and use travel-friendly products to make them fit.
Read More: A Look at the Weight of our Makeup: Travel Tips for Women
7. Don't Forget Your Flip Flops
I can't tell you how many times I've forgotten to pack a pair of flip flops for a winter vacation. They really should be a tip essential for any time of the year. You never know when you will be visiting the hotel pool or visiting a spa that requires footwear.
Be sure to see all our packing list posts here. For access to all our packing list downloads and other exclusive resources, sign up today!