This article may contain affiliate links. Clicking on or purchasing products we recommend through a link may earn a small commission. Read our disclosure and privacy policy page for details. *COVID-19 TRAVEL ALERT – Travel recommendations offered on this site are not to encourage you to travel against travel advisories.
Travel can be challenging at times, but with a little preparation and organization, the travel life can be more relaxed. As a travel writer, I go on many types of trips, but more and more, I had to learn to pack lighter and, in many cases, pack for carry-on only travel. My biggest challenge has always been my makeup and toiletries, and I have almost as many toiletry bags as I have shoes. So what is the best travel toiletry bag? Well, it depends on the type of trip.
Dream it. Plan it. Live it.
The Many Different Types of Travel Toiletry Bags
There are various models of hanging toiletry bags to consider. Some are hybrid bags that are meant to work as a counter bag or hanging bag, others are intended to store larger toiletry items, and many are designed to be compact and take up minimal luggage space.
See the entire list at our Amazon store: United States | Canada
Toiletry bags come in a variety of styles. Some like counter top bags are geared towards men, while others are geared to women. From toiletry bags that hang, sit on the counter, pack slim or meet security guidelines for carry-on only travel, here are a few models I have been testing out.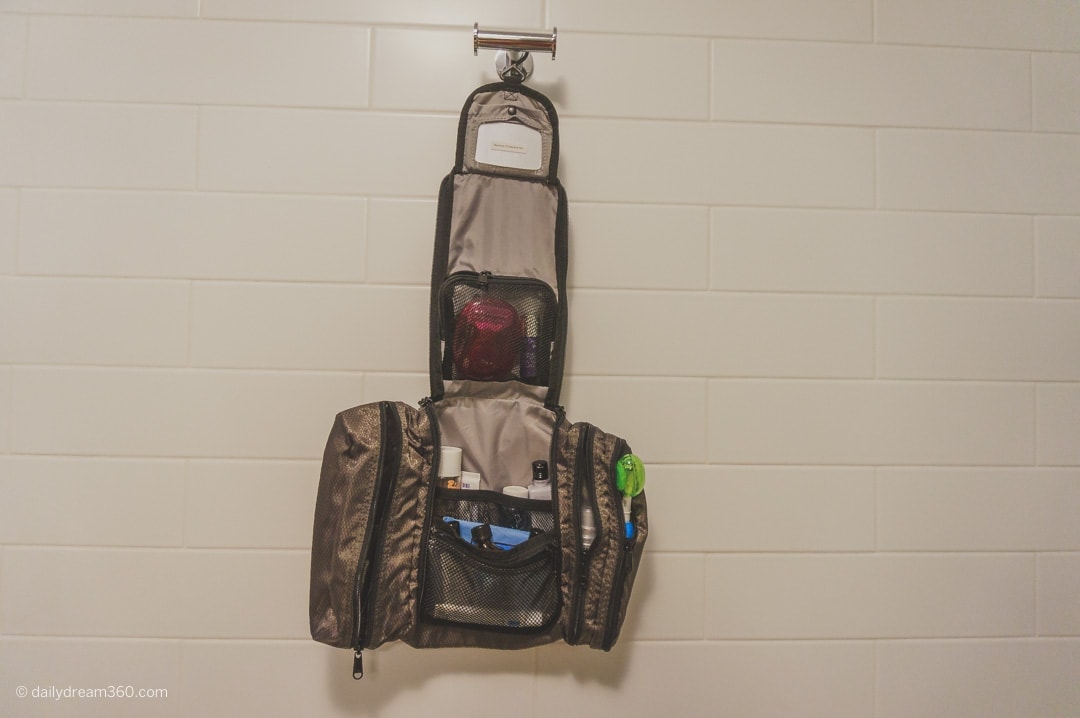 The Best Hanging Toiletry Bags
Hanging toiletry bags are popular as they often have space for everything in one place. For hotels with limited counter space hanging your toiletry bag on a provided hook or towel rod can keep you organized and save space in smaller bathrooms. When visiting multiple-destinations on a trip, these open up and pack up easily, keeping your toiletries easily accessible.
Ebags Slim Pack-it-Flat Toiletry Kit
Hands down, the Ebags Slim Pack-it Flat hanging bag is the most popular with travellers. When I travel on long trips and want to bring full-size toiletry bottles with me, this is my go-to bag.
This is a standard model of a pack-flat hanging toiletry bag and includes compartments for full-size bottles, mesh organizers where you can arrange everything you need quickly.
Vera Bradley 
Hanging Travel Organizer
If you like to be fashionable, you may like the many colours and patterns in Vera Bradley's popular hanging travel organizer. The bag has a metal hook 1 quilted zip compartment, 2 lined clear plastic compartments and one wider plastic-lined compartment at the bottom.
It measures 29.25 inches high, 11.5 inches wide, and 1.5 inches in diameter with a 5-inch handle drop and a hook for hanging. The challenge I have with this bag is that it is quite thick when rolled up and can take up a lot of space in my luggage. I recommend this one for longer trips or multi-destination trips where you travel with larger luggage and have space for it.
Best Counter Top Toiletry Bags For Women
Lug Parasail Cosmetics Case – MY PICK!
I love my Lug cosmetics case so much. I've had it for over 5 years, and it still looks brand new. It is one of my go-to cosmetics cases because even when full, it takes up limited space. It gives me one counter bag where I can put most of my toiletries.
This waterproof polyester twill cosmetics case is plastic lined and keeps liquids inside the bag. It includes the main zippered pocket and a side pocket. It measures 6 inches high, 9.5 inches long with a depth of 4 inches. 
eBags Toiletry Cube
I'm still unsure if the eBags Toiletry Cube should be a counter bag or a hanging bag. I found it a bit awkward to use personally, but its slim and flexible design makes it really easy to pack, so I had to include it. The bag comes in two sizes rectangle or cube.
I find its lack of structure a bit annoying; I like to know that my toiletries are not moving around or squished in my luggage. The best way I can describe this bag is a shaving kit, with the ability to hang on a wall. The pockets inside are also a bit loose. This bag is about preference. If you want something small and slim that fits comfortably in your luggage, you might like it.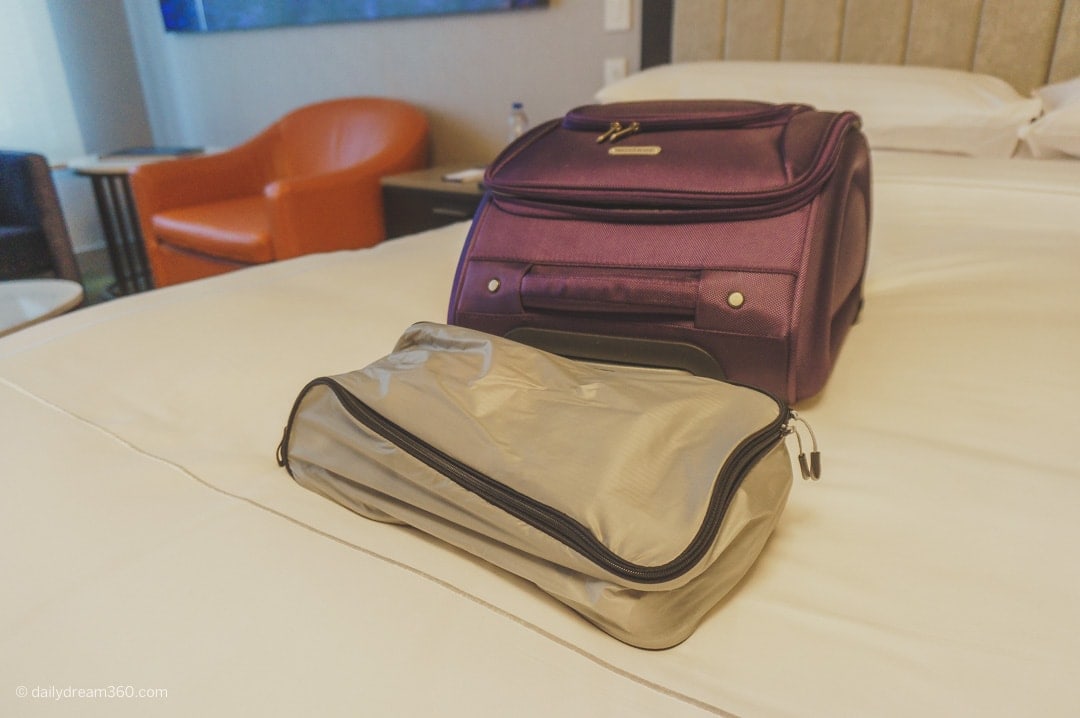 Best Shave Kits and Men's Toiletry Bags
I don't know how men can travel with just one toiletry organizer bag, especially a slim countertop model, but they do, which means more room for our own bags when we travel with our partners. Technically
IQ Travels Travel Shaving Bag
This bag could work for both men and women, which is why I included it on this list. For me, the best toiletry bags are about being waterproof and providing great organization.
This bag has it all. There are three compartments, including two outer compartments with elastic bands that hold electric shavers, toothbrushes and other longer travel toiletry items. Then in the middle, you have a large compartment for bulky items.
The Best Clear Toiletry Organizers
Lug Clearview Envelopes
I know these are narrow and not for bulky toiletry items, but I love these see-through envelopes as they take up a little space and are great for packing hair accessories, feminine hygiene products and other essentials.
They come in kits with four bags in different sizes, and I love that I can see what is inside and squeeze them in between packing cubes because they don't take up a lot of space.
Other Multi-size Clear Toiletry Bags
There are several clear toiletry bags available on the market. The benefits of having a clear bag include that most are waterproof, and you can see what is in the various containers.
The kits come with different sized clear bags, which I like to use all or pick the sizes I need depending on the trip.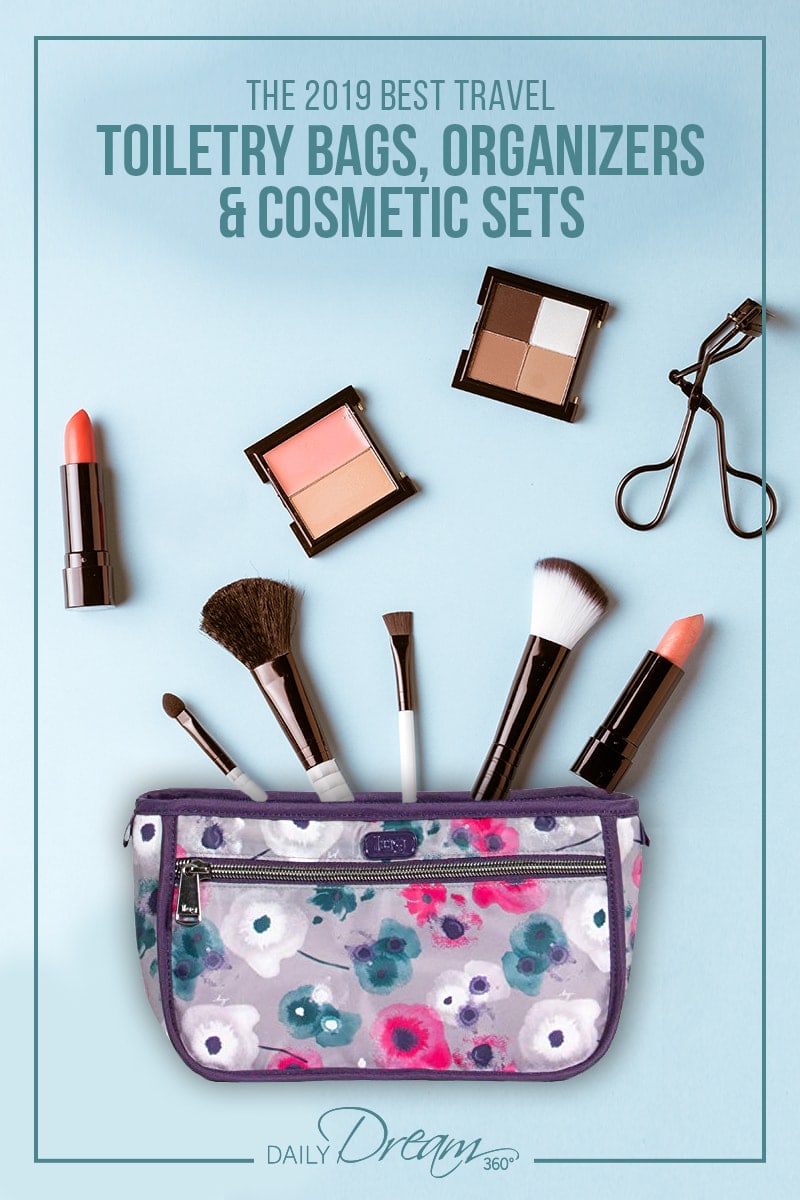 Best Toiletry Organizers and Cosmetic Sets
Vera Bradley Iconic 4 Pc. Cosmetic Set – WHY I LOVE IT!
I love this cosmetic set the most because of the various sized bags included. The clear plastic outer bag is excellent for beach vacations as it has a handle, keeps items dry and provides a large transparent compartment for sunscreen, lip balm, a water bottle and other things I need access to at the beach.
The three smaller cotton bags have a plastic lining and are great for cosmetics, cosmetic brushes and fit between my other packing cubes easily. I don't think I have gone on a trip since buying this set without packing at least one of these bags.
See the entire list at our Amazon store: United States | Canada
Drawstring Travel Cosmetic Storage Bags
If you want to dump everything in one bag and don't care for organization and multiple pockets, you may want to try a budget-friendly drawstring Cometic storage bag.

Toiletry Bags Best for Carry-on Travel
When travelling Carry-on only, it is best to choose compact travel toiletry bags. There are many clear and 1-litre size models making them perfect for passing through security easily. Personally, I love my [amazon_textlink asin='B07N57F1WZ|B07LH5FRMZ|B075FM4RM2′ text='Vera Bradley 4 pc set' template='ProductLink' store='ddtravelgear-20|ddtravelgearca-20|ukdd360travelgear-21′ marketplace='US|CA|UK' link_id='465bed67-e7d1-4761-a425-3d500d6488f5′] you can see in the pic above how easy they are to pack amongst packing cubes. The various sizes allow you to pack toiletries, makeup and brushes and separate everything easily.
Travelon 
Wet/Dry 1 Quart Toiletry Bag
A great clear travel organizer I also love using is the Travelon Wet/Dry 1 Quart Bag. This bag is clear, a hanging travel toiletry bag, and folds shut to take limited space in your luggage.
It is actually a great bag for carry-on travel, and it even includes several bottles and jars. The hanging hook actually swivels, making it adaptable to different hotel spaces. If you can travel with limited toiletries, you are going to love this bag. I love taking it for carry-on only travel. It passes through security easily.
See the entire list at our Amazon store: United States | Canada
More Travel Accessories for your Toiletry Bags
A good toiletry bag is not all you need to make travelling easier. I recommend some silicone tubes and jars to minimize the space when packing toiletries.
Read more: stojo Collapsible Cup Review. Spill-proof travel coffee cup.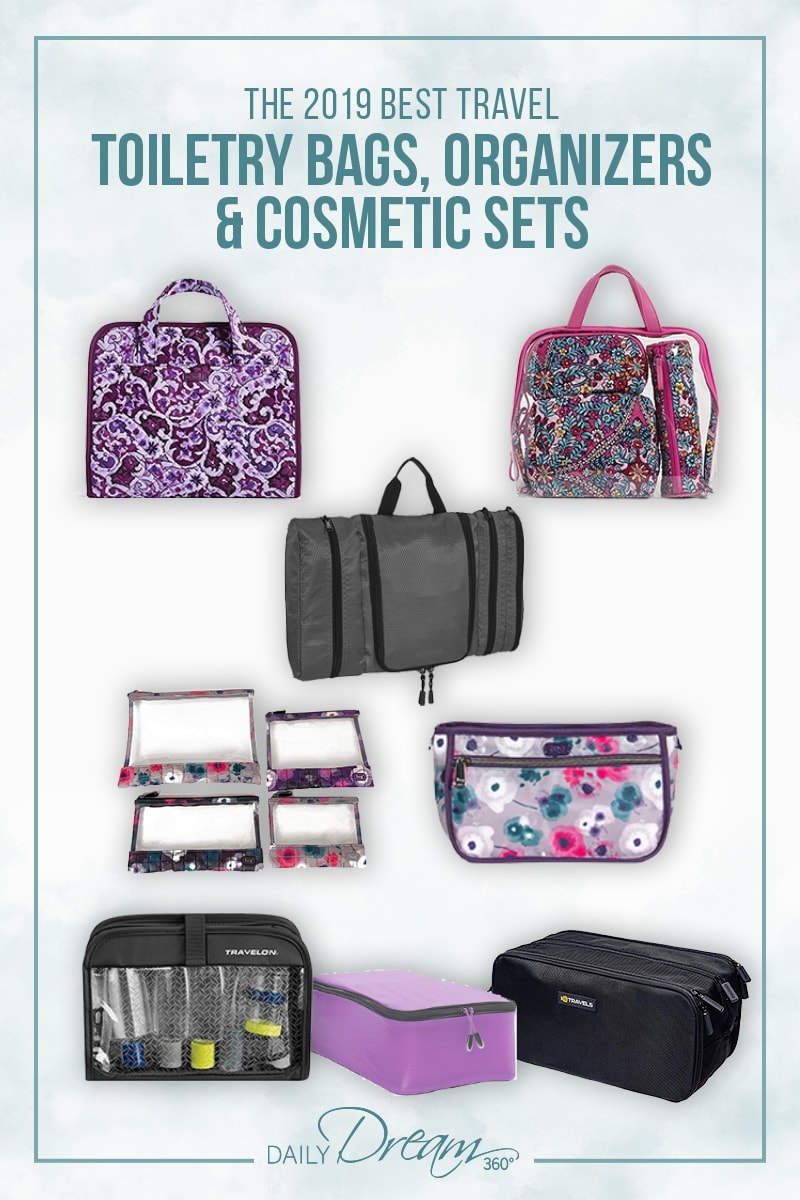 This is not a sponsored post. I own many of the items mentioned above, which I purchased or received fora product review.