This article may contain affiliate links. Clicking on or purchasing products we recommend through a link may earn a small commission. Read our disclosure and privacy policy page for details. *COVID-19 TRAVEL ALERT – Travel recommendations offered on this site are not to encourage you to travel against travel advisories.
For me carrying around a bulky travel mug all day that leaks into my backpack or camera bag are super annoying. I have been on the lookout for the right solution and present my stojo cup review. I think I've found the best collapsible coffee cup.
Dream it.
I wanted a sustainable solution to drinking coffee on the go. More importantly, I wanted to carry this solution with me on business trips. The problem I had with other travel mugs if there were a few drops left inside, they would leak in my bag. They also took up too much space.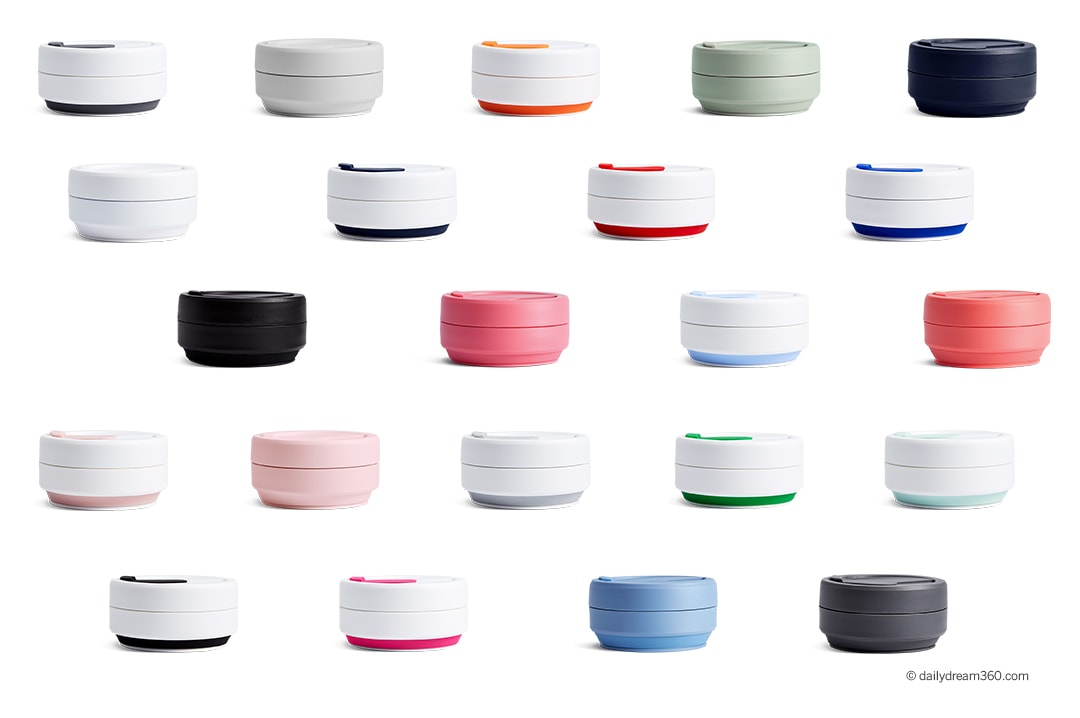 Why a Collapsible Coffee Cup?
There are many reasons to go with a collapsible cup, but the most important are:
Easy to use
Compact
Made from safe materials
Leak-proof
Easy to clean
Good for the environment
One important thing to note is this is not a thermal cup meant to keep your coffee hot or your cold drinks cold. This is about having a cup with you in your pocket or purse wherever you may go. I've had my first cup for over two years and bring it with me wherever I go.
Read more: Gift Giving Guide of Best Gifts for Travel Lovers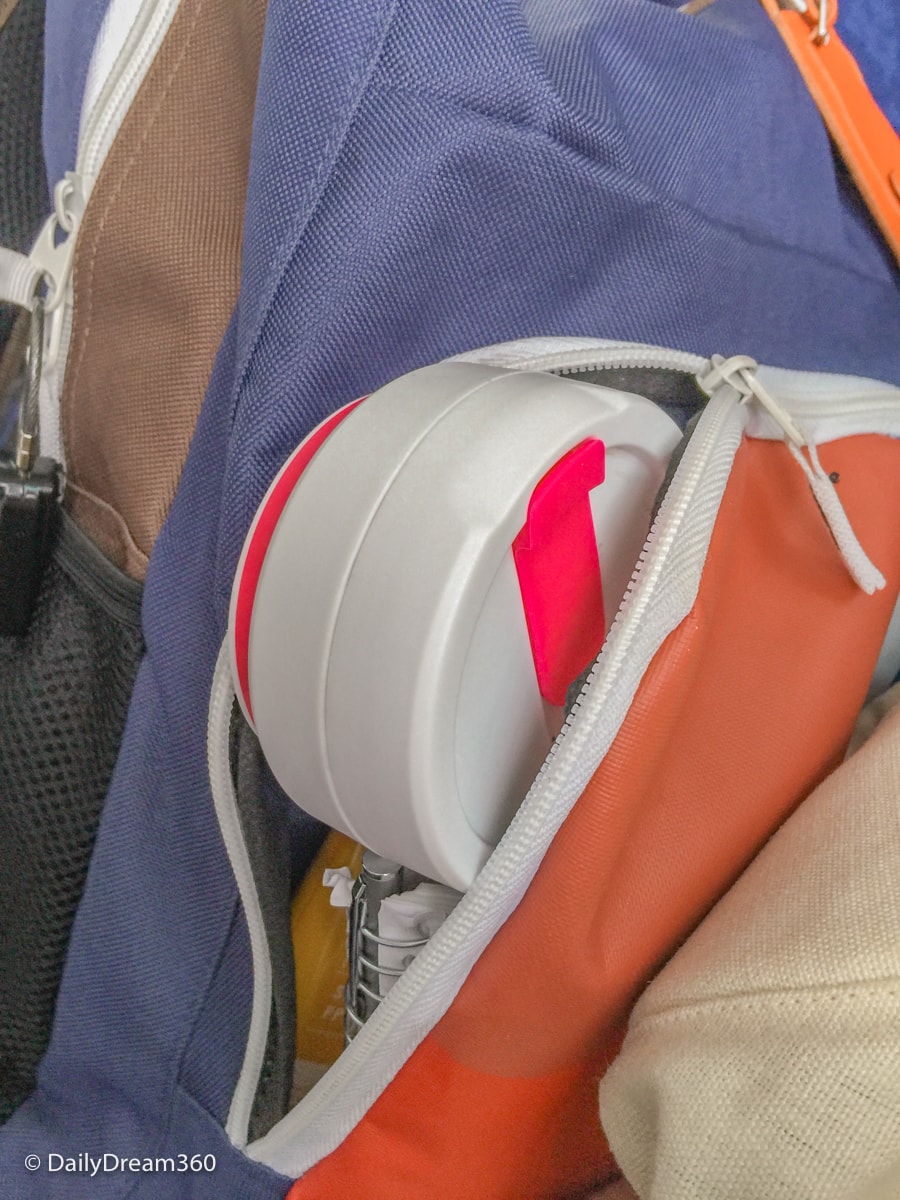 Plan it.
What makes the Stojo Cup the Best Collapsible Coffee Cup
When I first bought my stojo cup, there was just one size and five colours. The stojo cup has evolved now, and those of us wanting more than a 12 oz cup got what we wished for. Now you can find the cup available in 4 sizes.
Mini – 8 oz
Original Pocket Cup – 12 oz
Biggie – 16 oz
Titan – 24 oz
There is a size for everyone and colour for everyone, all with the collapsible features making them super compact, easy to clean and reuse again and again.
Read more: The 2019 Best Travel Toiletry Bags, Toiletry Organizers and Cosmetic Sets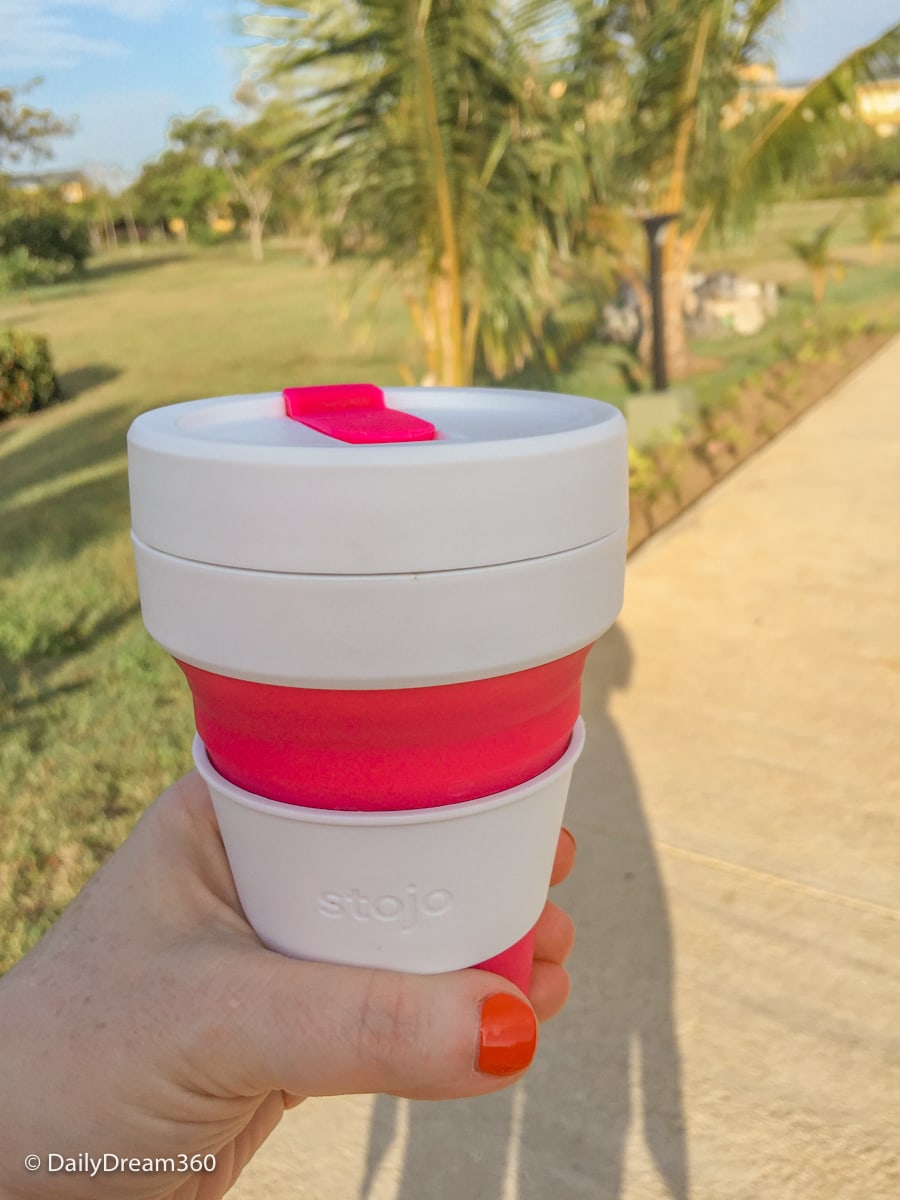 Stojo Cup Features
Available in 4 sizes
dishwasher safe
food-grade silicone cup
Stabilizing temperature-resistant heat sleeve
made from recyclable material
I have to say when I filled my first cup of coffee, I was a bit concerned. The silicone bottom is squishy and takes getting used to, especially when closing the lid after you have filled the cup. Making sure the lid is sealed shut without squishing the cup too hard was a bit tricky at first.
It's a short learning curve and using the sleeve stabilizes the cup. Once you get used to this, then it is smooth sailing. The jacket secures the cup, so it doesn't squish in your hand, but you may find when the cup is sitting on a table, the sleeve drops.
Read more: Travelon has the Right Anti-Theft Bags in Styles you Want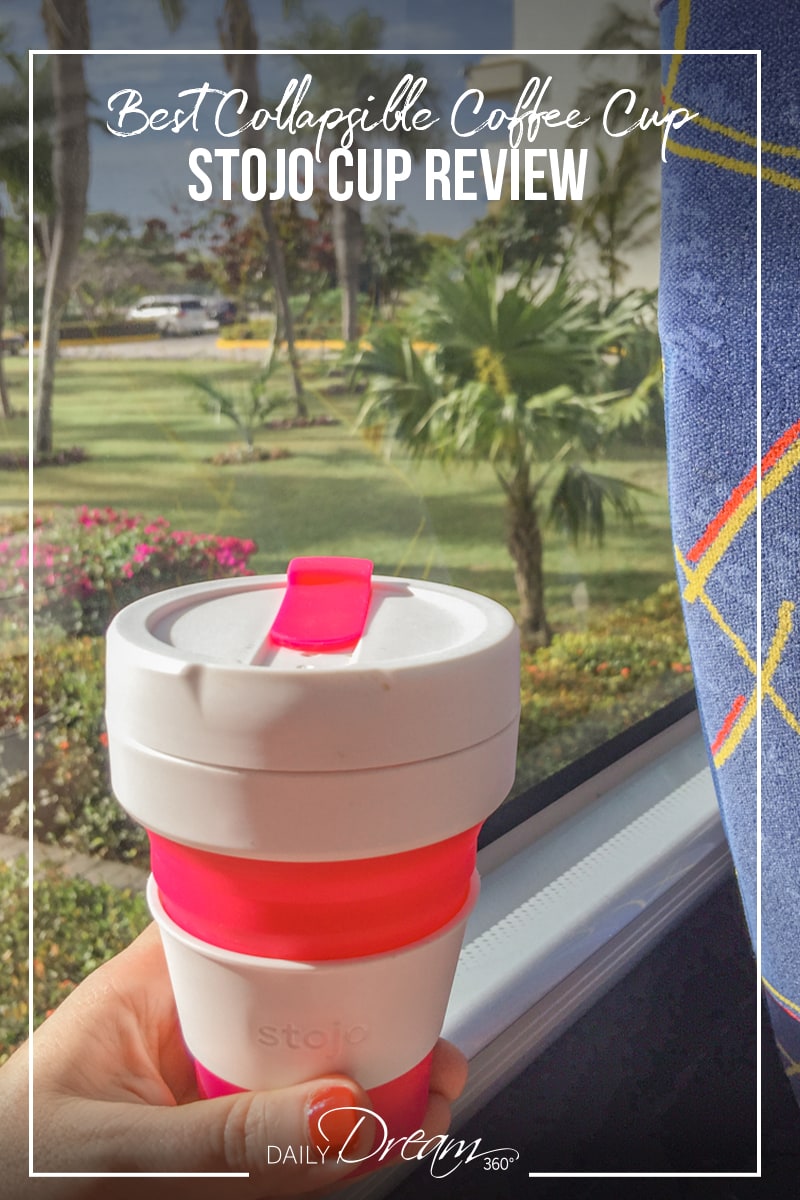 The stojo Coffee Cup Pros
Variety of colours to choose from
Very compact
Good seal making it leak-proof both when expanded and collapsed
The stojo Coffee Cup Cons
The sleeve slips off if not held
Silicone is soft if the cup is squeezed liquid will spill out
Squishy feeling takes getting used to
Closing the lid is a bit of a learning curve making sure the seal is intact
Where to Buy the stojo Cup
You will find the stojo cups are now available on Amazon, at bed bath and beyond, well.ca, Indigo Books and Music and Linen Chest, to name a few stores. You can also buy them on the stojo website.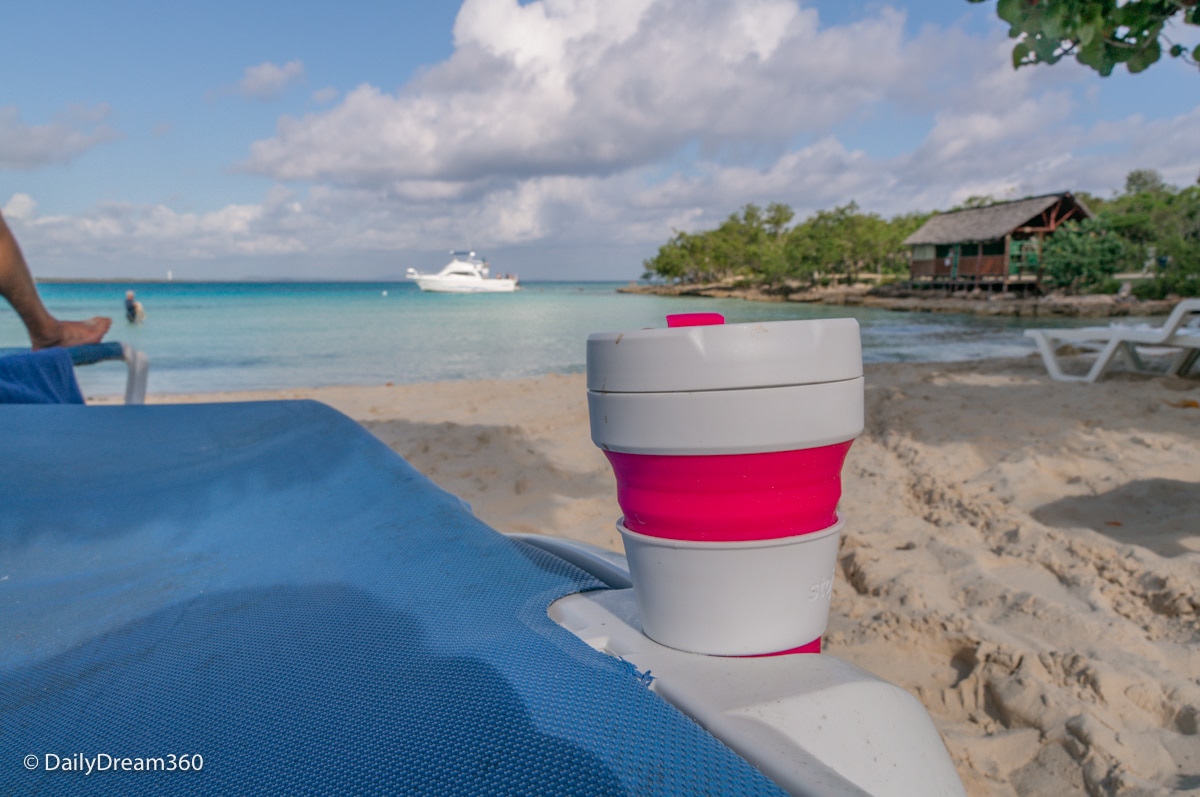 Live it.
stojo Cup Best Collapsible Coffee Cup
I'm going to start with the pocket cup because it was the first collapsible mug I purchased. I have been using it for two years now and love the looks I get at Starbucks when I pull it out of my purse.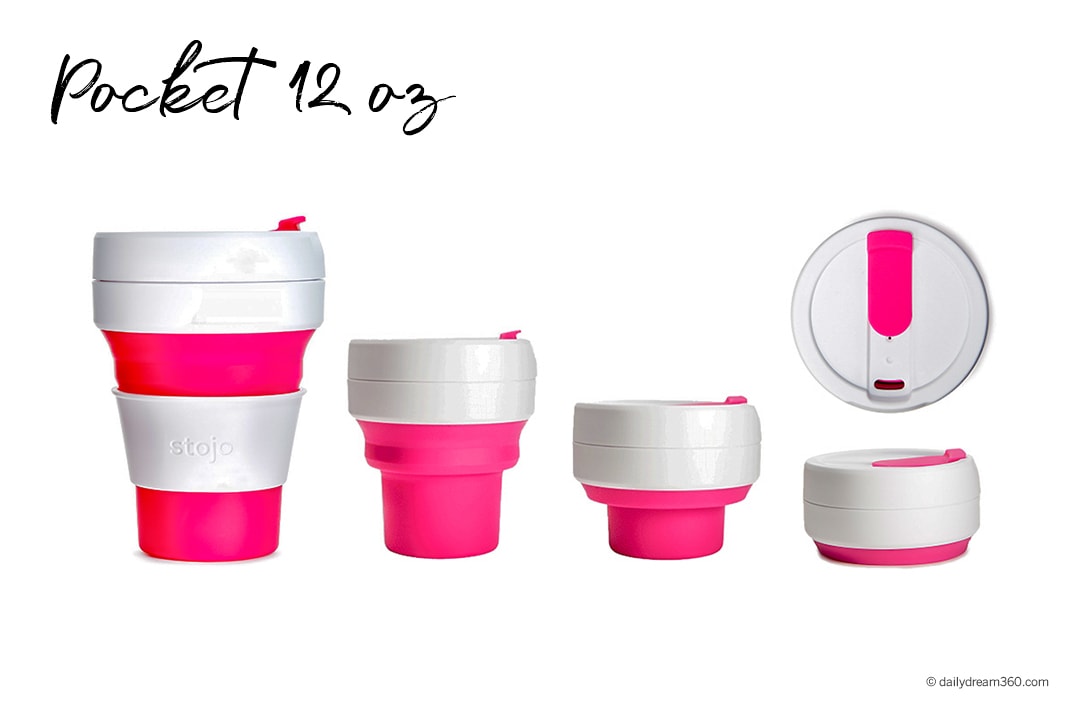 stojo pocket 12 oz Cup
The collapsible stojo pocket cup takes up no room at all. It flattens out and can fit into most small purses, backpacks or laptop bags. Just close the silicone lid shut and there are no drips.
stojo Pocket Cup Dimensions
capacity: 12 ounces / 355 ml
diameter: 3.5″ / 9 cm
expanded height: 5″ / 12.7 cm
collapsed height: 2″ / 5.08
weight: 4 ounces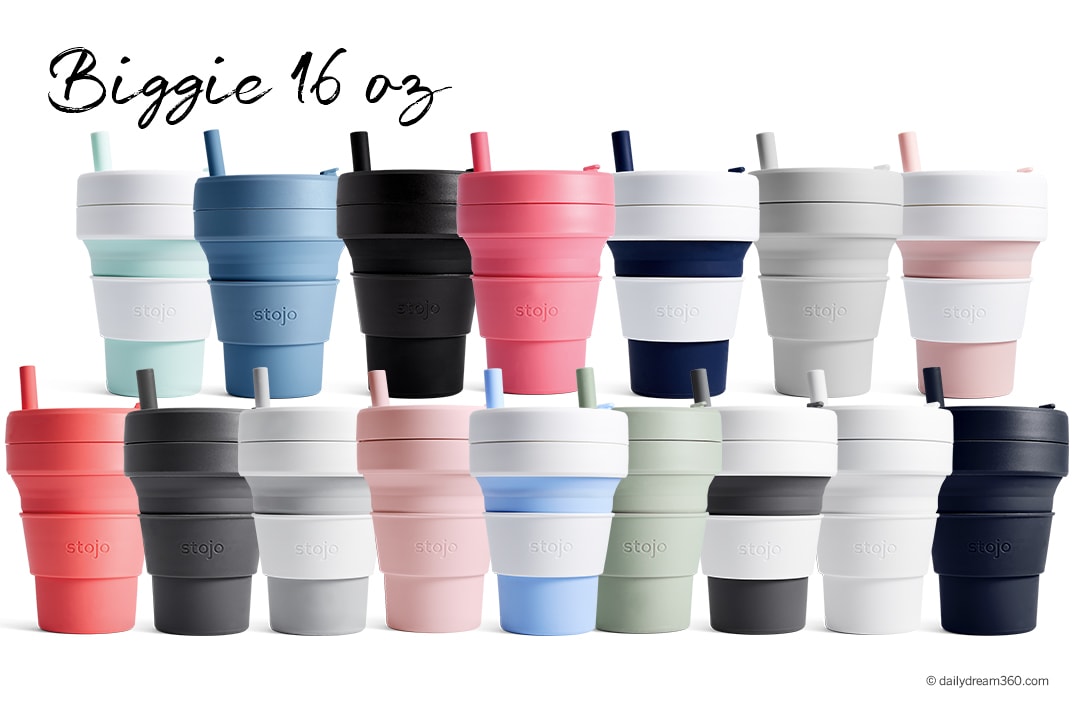 stojo Biggie 16 oz Cup
One of the first things I thought when I got my stojo was it would be great if there was a bigger cup. Like a miracle, it appeared in the form of the Biggie cup. I have to be honest I am still carrying around the pocket version (so that I don't overdrink coffee and ruin vacations by finding bathrooms all the time) as it is most convenient, but I have my eye on this one!
stojo Biggie Dimensions
capacity: 16 ounces / 473 ml
diameter: 4″ / 10 cm
expanded height: 5.5″ / 14 cm
collapsed height: 2″ / 5 cm
straw diameter: 0.5" / 1.2 cm
straw length: 6.2" / 16 cm
weight: 7 ounces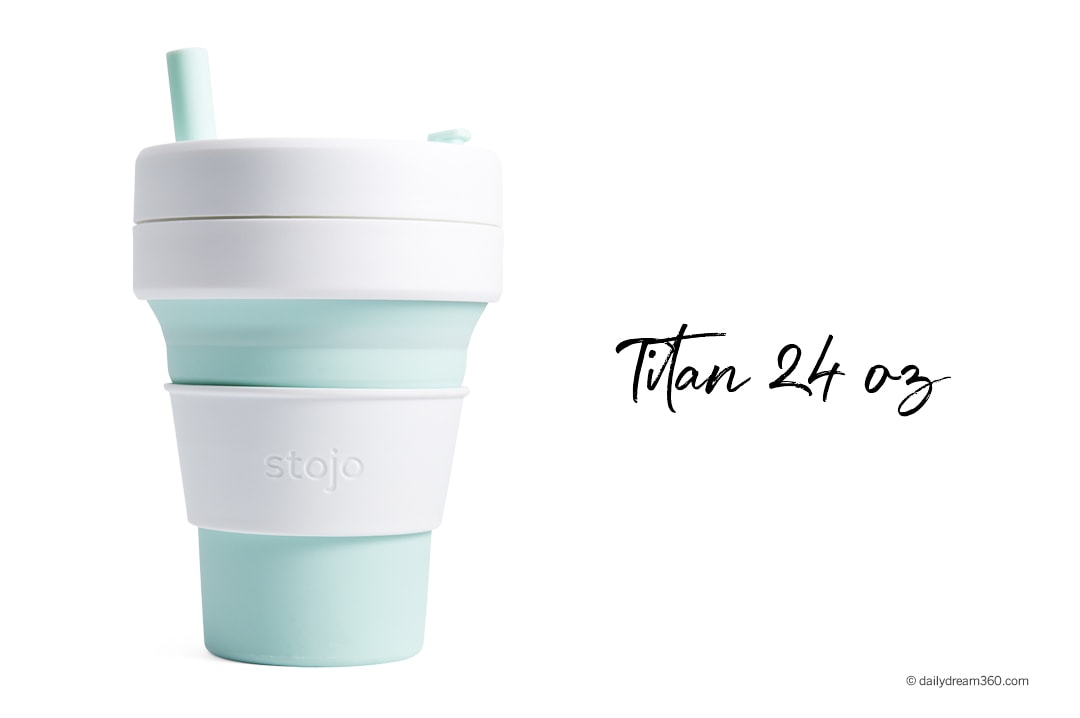 stojo Titan 24 oz Cup
For you, venti or extra large coffee cup lovers, worry not, stojo has thought of you too. They introduced the Titan, a 24 oz cup expanding on their biggie design, which has a removable plastic straw.
stojo Titan Dimensions
capacity: 24 ounces / 709 ml
diameter: 4.5″ / 11.4 cm
expanded height: 6.13″ / 15.6 cm
collapsed height: 2.5″ / 6.35 cm
straw diameter: 0.5" / 1.2 cm
straw length: 7.38" / 18.7 cm
weight:  10.3 ounces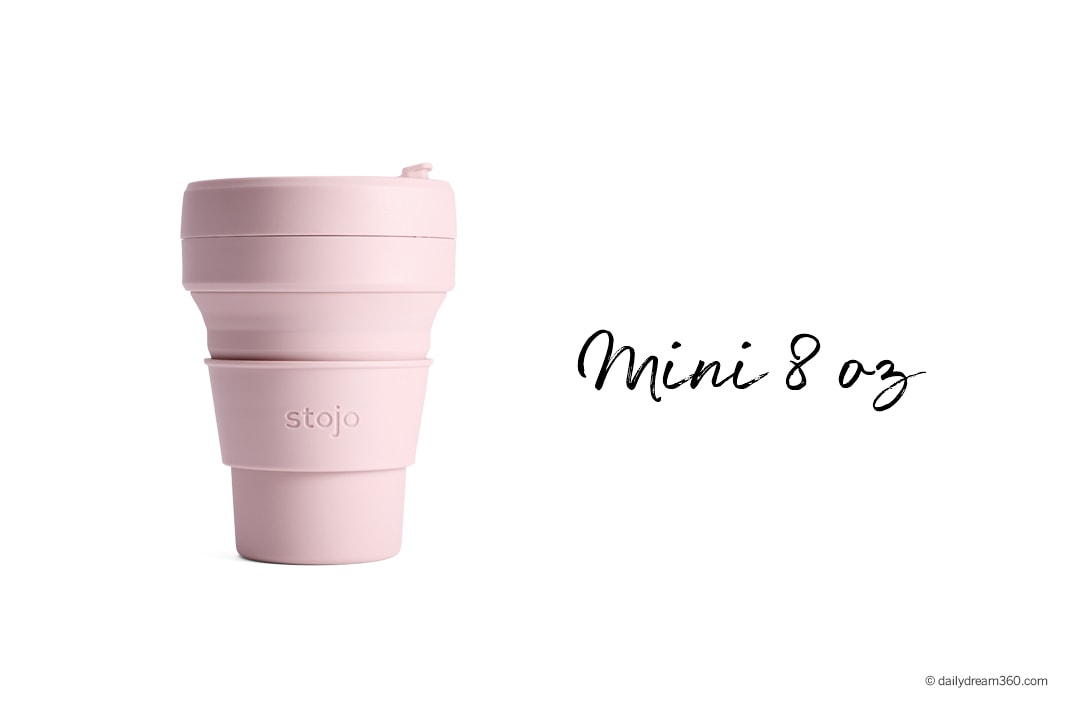 stojo Mini 8 oz Cup
If you are a lover espresso type drinks or have a little one that would like the same cup as you, then you may fall in love with stojo mini. This 8 oz cup has a few colours to choose from, and I am guessing more will arrive soon.
stojo Mini Dimensions
capacity: 8 ounces / 236 ml
diameter: 3.13″ / 7.9 cm
expanded height: 4.25″ / 10.8 cm
collapsed height: 1.88″ / 4.77 cm
weight:  3.6 ounces
Now I use my stojo travel cup all the time. I replaced my bulky Starbucks reusable cup with this one as I can always keep it in my purse.
Read more: A Look at the Many Styles of the Lug Puddle Jumper Bag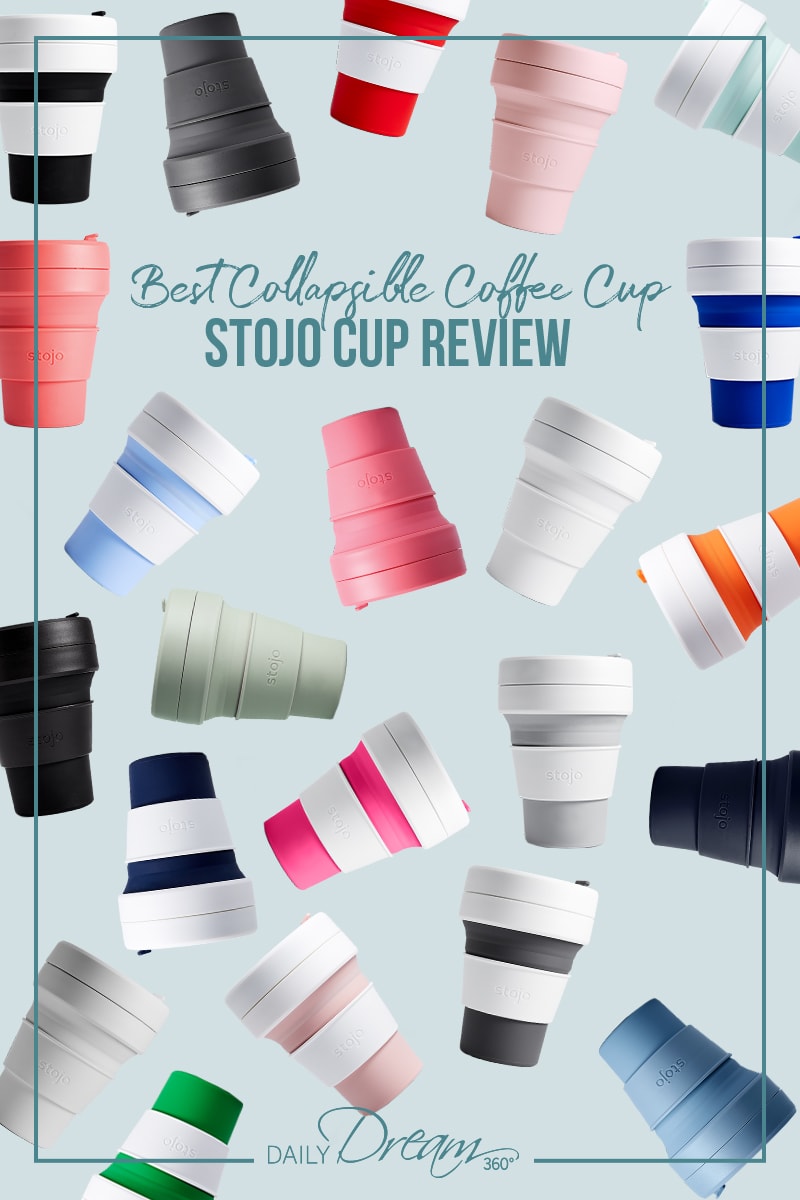 For more information, visit the stojo website here. I was not financially compensated for this post. I purchased my stojo cup.