This article may contain affiliate links. Clicking on or purchasing products we recommend through a link may earn a small commission. Read our disclosure and privacy policy page for details. *COVID-19 TRAVEL ALERT – Travel recommendations offered on this site are not to encourage you to travel against travel advisories.
It all started a long time ago when my Mom gave me the first generation Lug Puddle Jumper Wheelie bag. My obsession with the Lug brand continued after that. I have no affiliation with Lug and have not received compensation for this post. I just want to share all the styles of the Lug Puddle Jumper bag as it evolved into so many variations.
Dream it.
The Lug Puddle Jumper Wheelie Review
The dream is finding a bag that is fashionable but also functional. The first edition Lug Puddle Jumper Wheelie was an amazing multi-use bag. From its front zipper, pockets, to its inside compartment this was not only a great carry-on bag but perfect for the gym too.
Read more: The 2019 Best Travel Toiletry Bags, Toiletry Organizers and Cosmetic Sets
This style of Lug bag has evolved now, with newer models of the wheelie, a backpack, a mini handbag version, several cross-body styles and two packable bags.
Plan it.
Where to Buy Lug Bags
There is no shortage of Lug Bag retailers out there. Most luggage shops, Canadian souvenir stores and even the Shopping Channel (TSC) and QVC regularly feature Lug bags. Keep an eye out for showstopper deals on TSC and QVC you'll get great deals on Lug products from travel accessories, cross body bags to the Puddle Jumper.
Read more: Lug Skipper Shoulder Pouch: Don't Let Its Small Size Fool You
Live it.
In this post, I'm going to expand on my original Lug Puddle Jumper Wheelie review and tell you what's new with this model and all about the other Puddle Jumper versions available.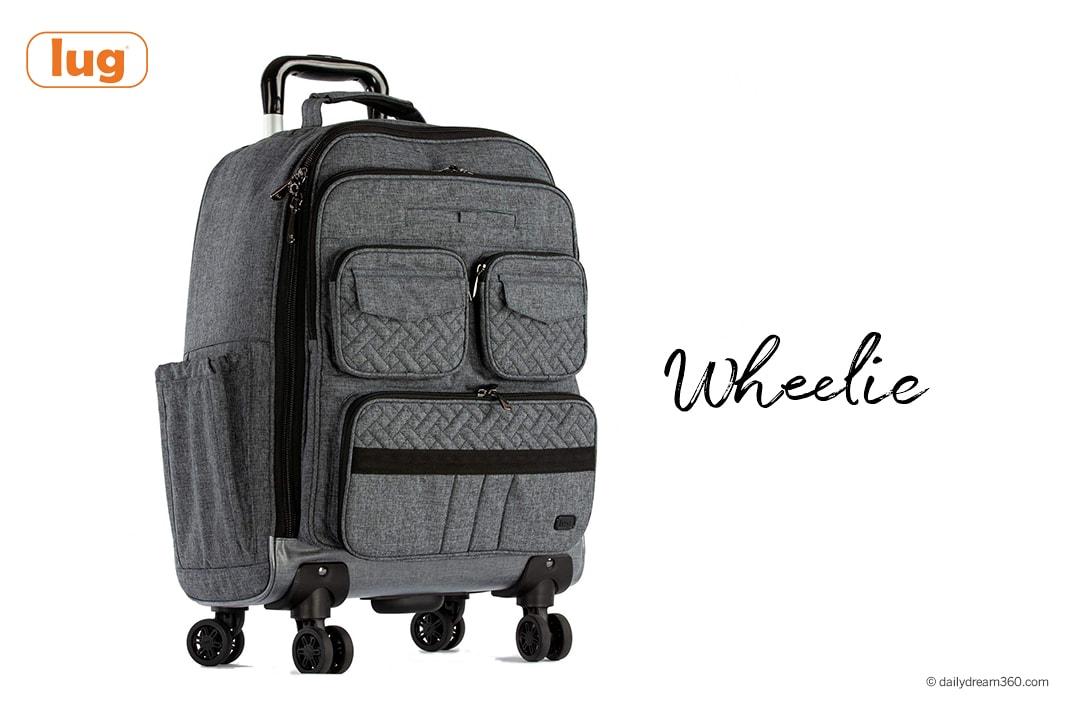 Puddle Jumper Wheelie 2
The bag that started it all, has evolved. This bag is the perfect carry-on, weekend, gym, business or diaper bag. Now with spinner wheels, a retractable handle and enough compartments for everything you will need when you travel, this bag just keeps getting better and better. The only downside is that it weighs 5.9 lbs which for a fabric carry-on bag is very heavy.
Lug Puddle Jumper Wheele 2 Features:
Hidden soft lined cellphone pocket
5 exterior zippered pockets
Two magnetic closure pockets
Two side pockets
Clear cosmetic pouch and removable mirror in front compartment
Padded interior compartment
Two cargo pockets in main compartment
Dimensions: 12″ (top) to 15.5″ (bottom) x 19″H x 8″
Weight: 5.9 lb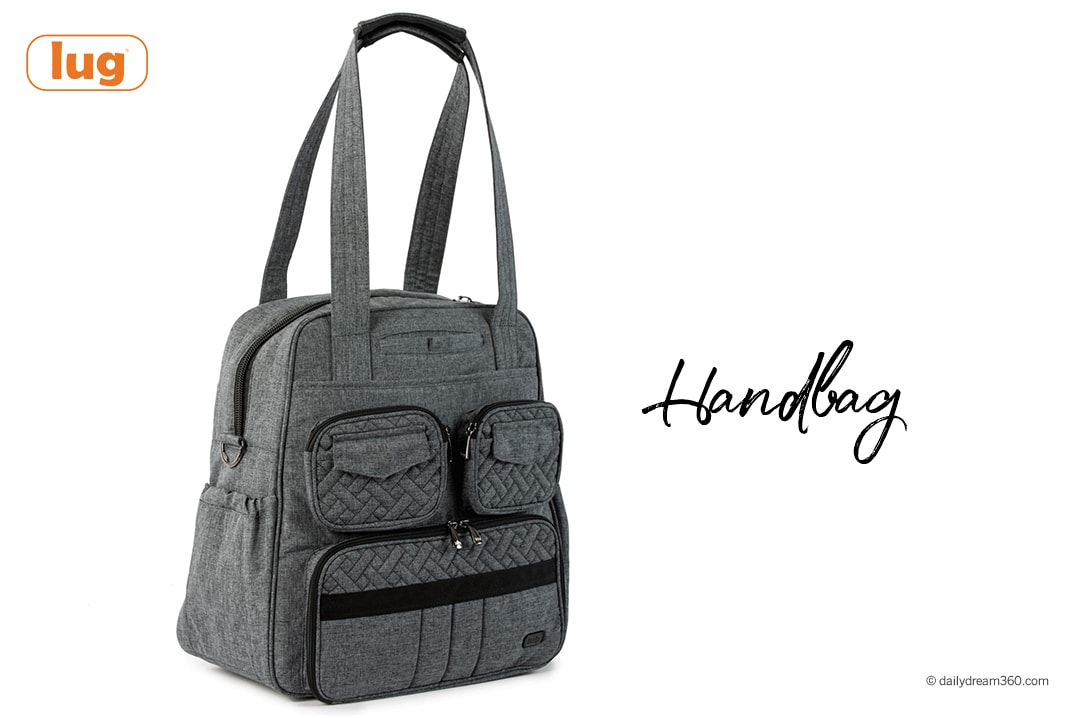 Puddle Jumper SE Handbag
If you don't want the wheels and retractable handle then perhaps you'll appreciate this handbag style of the Lug Puddle Jumper. With a very long 12″ drop on its two handles to its adjustable shoulder strap you now have a cross body version of the organized Puddle Jumper.
Puddle Jumper Cross Body Features:
3 front zippered pockets
Hidden soft-lined cellphone pocket
Back zippered slip pocket
Back zip pocket with window
2 side pockets
Removable and adjustable cross body strap
Dimensions: 14.5″W x 15.25″H x 7.5″D
Weight: 2.25 lb
Strap Length: 30″ to 54″
Shoulder/Strap Drop: 10″ to 23″
Handle Drop: 12″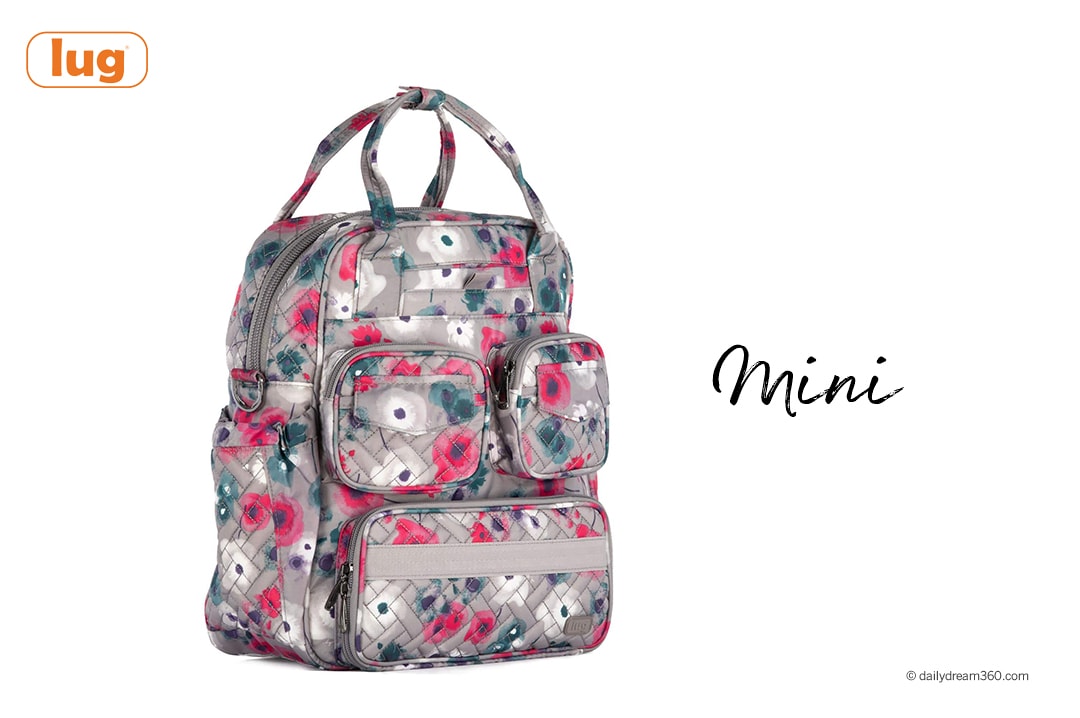 Mini Puddle Jumper 2
If you want a smaller version of the Puddle Jumper then the Mini might be what you are looking for. Personally, I don't think this bag is small enough compared to the original and the short handles make it a little more difficult to carry on your shoulder.
<script type="text/javascript">
amzn_assoc_tracking_id = "travelgeardd360-20";
amzn_assoc_ad_mode = "manual";
amzn_assoc_ad_type = "smart";
amzn_assoc_marketplace = "amazon";
amzn_assoc_region = "US";
amzn_assoc_design = "enhanced_links";
amzn_assoc_asins = "B07F1DZ2TK";
amzn_assoc_placement = "adunit";
amzn_assoc_linkid = "a9b03dbbfeb5c6c6d2e32594d768efb2″;
</script>
<script src="//z-na.amazon-adsystem.com/widgets/onejs?MarketPlace=US"></script>
Lug Mini Puddle Jumper features:
Front soft-lined cell phone pocket
3 zippered pockets
2 magnetic pockets
Removable shoulder strap
Two hands with a 4.5″ inch drop
2 side pockets
Large interior pocket
Luggage strap on the back
Dimensions: 12.5″W x 12.5″H x 5″D
Weight: 1.6 lb
Strap Length: 28″ to 60″
Shoulder/Strap Drop: 11″ to 26″
Handle Drop: 4.5″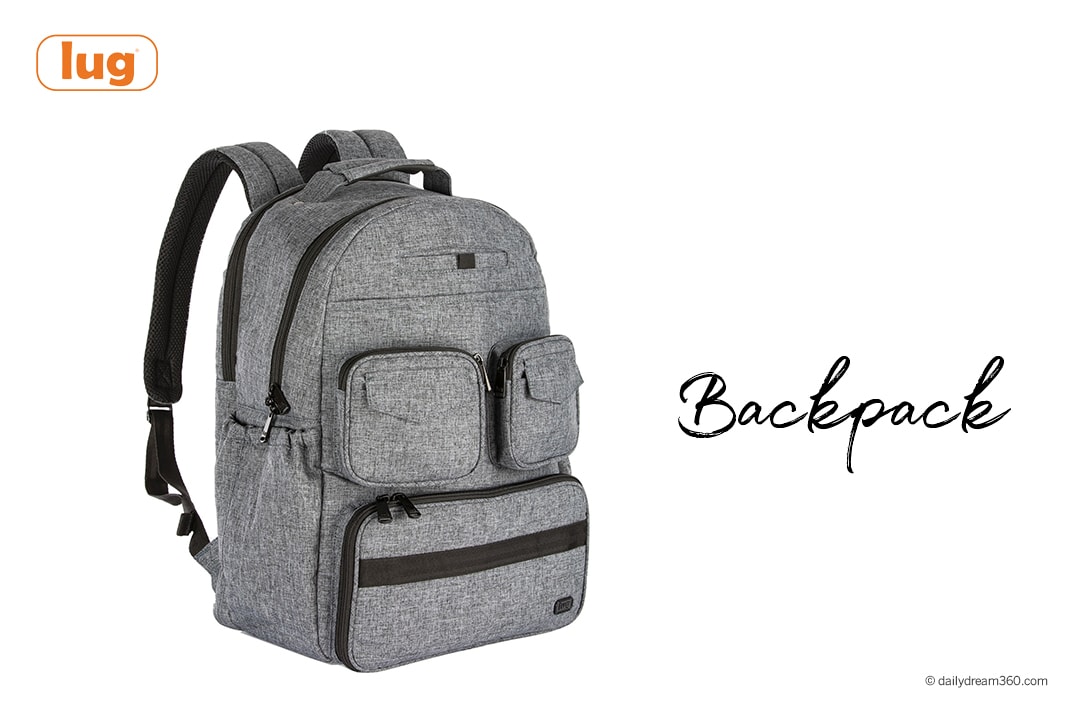 Puddle Jumper Backpack SE
The famous Puddle Jumper is transformed into a backpack. With the same organized compartments and pockets you love in the larger wheeled model, but with straps to carry on your back.
Lug Puddle Jumper Backpack Features:
5 zippered pockets
soft-lined cellphone pocket
larger front slip pocket with a magnetic closure (perfect for small laptops or tablets)
2 side slip pockets (great for water bottle or umbrellas)
Adjustable padded straps
5 interior cargo pockets
2 interior zipper pockets
Padded laptop compartment
Fabric: Made with water-repellent material.
Dimensions: 12″W x 16.5″H x 5.5″D (top) to 7.5″D (bottom)
Weight: 2.05 lb
Strap Length: 19″ to 32″
Backpack Strap Drop: 8″ to 14″
Handle Drop: 1″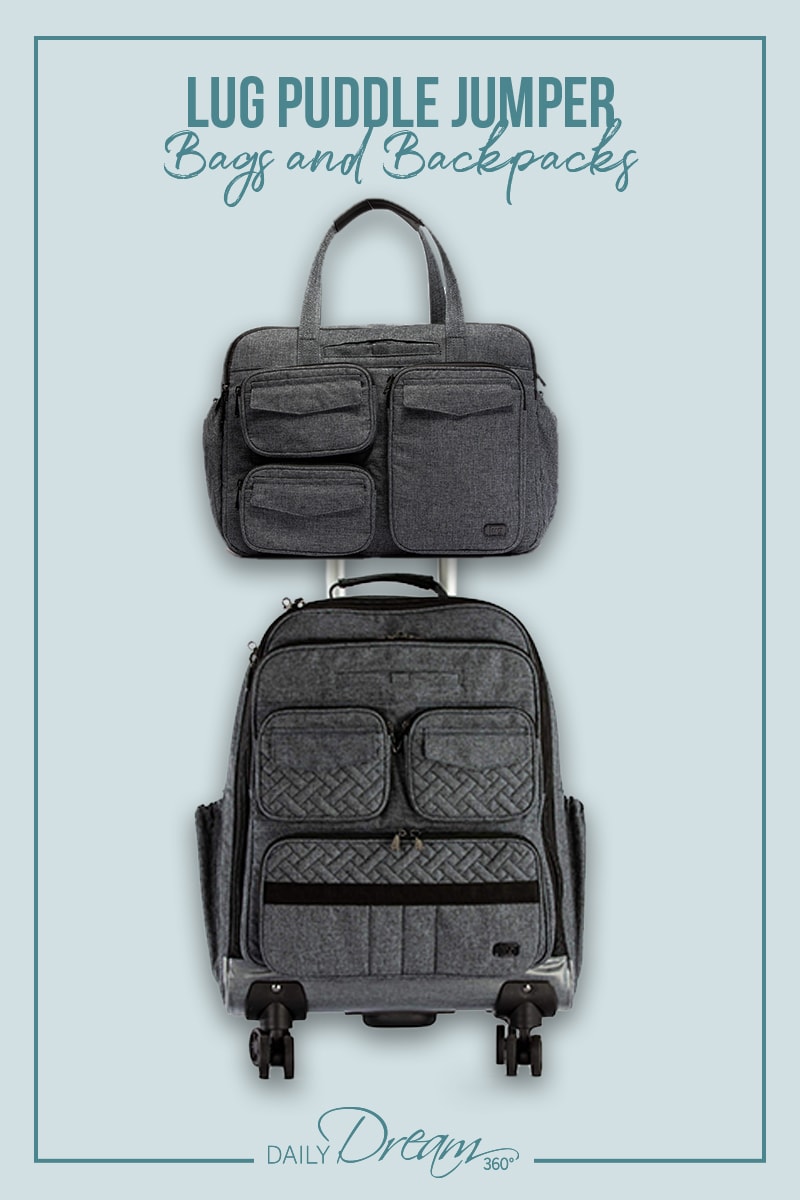 Puddle Jumper Duffel
This new version of the Puddle Jumper Duffel really caught my eye. It's a half-size version of the Puddle Jumper when you don't want a deep pocket bag. Outside you'll love the zippered pockets but inside they have added more pockets for extra organization. This is a great carry-on tote bag and slips easily over any luggage handle.
Puddle Jumper Duffel features:
• 3 front storage zippered pockets
• 1 back zippered slip pocket
• Three front magnetic pockets
• Soft-lined cellphone pocket
• Padded laptop compartments (fits 15″ laptop)
• One interior zipper pocket
• Two interior clear view zipper pockets
• 2 side cargo pockets
• Two tote handle with a 7.5-inch drop
• Padded removable shoulder strap
Dimensions: 15″W x 11″H x 6.25″D with 7.5″
Weight: 2 lb
Strap Length: 29″ to 55″
Shoulder/Strap Drop: 12″ to 26″
Handle Drop: 7.5″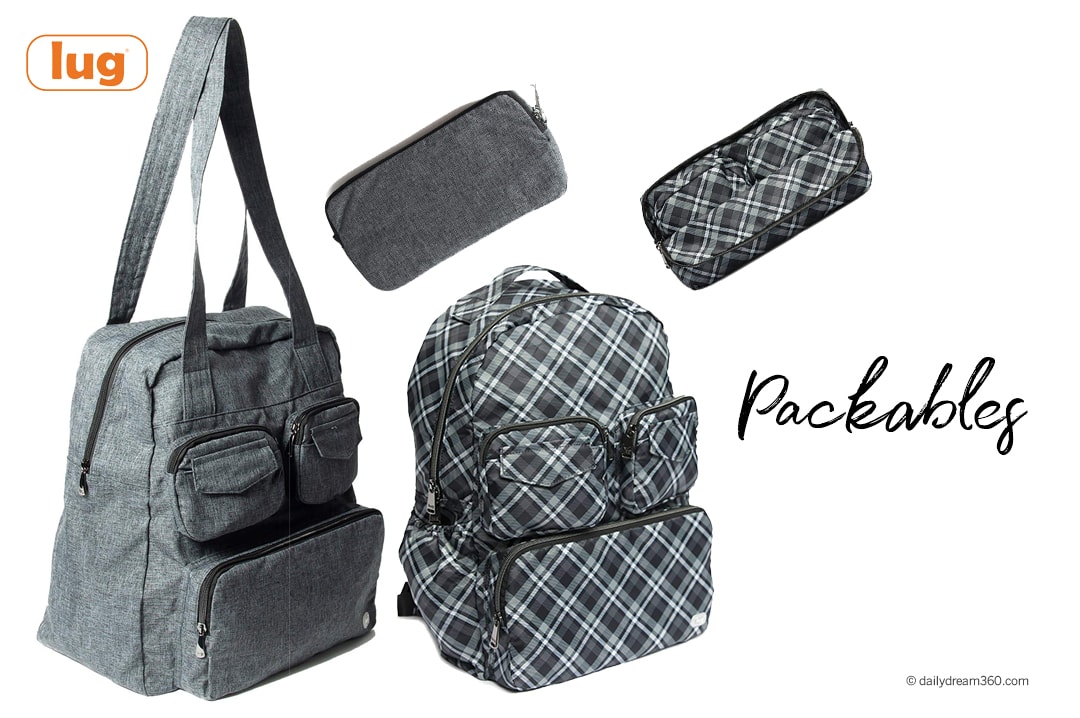 Puddle Jumper Backpack Packable
Now you can travel with a packable Puddle Jumper bag. When you don't have space for a full-sized backpack this model is very lightweight and folds into the front pocket to make a great compact backpack that still has padded straps.
Lug Puddle Jumper Backpack (packable) Features:
3 front zippered pockets
Two pockets with velcro closure
One main compartment with a double zipper
Two side pockets (perfect for water bottle and umbrella)
Adjustable padded backpack straps
Dimensions: 14″W x 17″H x 7″D
Weight: 0.64 lb
Strap Length: 17″ to 30.5″
Backpack Strap Drop: 7.5″ to 16″
Handle Drop: 1″
Puddle Jumper Packable
When you need an extra bag during your travels this packable version of the Lug Puddle Jumper is great for those who don't want a backpack. It folds down into the front pocket, comes in a variety of colours and includes all the functionality of the Puddle Jumper but in a travel-friendly packable version. Great for a beach bag, weekend bag or as an extra bag when you need it during your travels.
Packable Puddle Jumper Features:
Folds to size of the wide front pocket
3 front zippered pockets
Back luggage strap sleeve
Large open interior compartment
Dimensions: 14″W x 15.5″H x 7″D
Weight: 0.56 lb
Shoulder/Strap Drop: 11″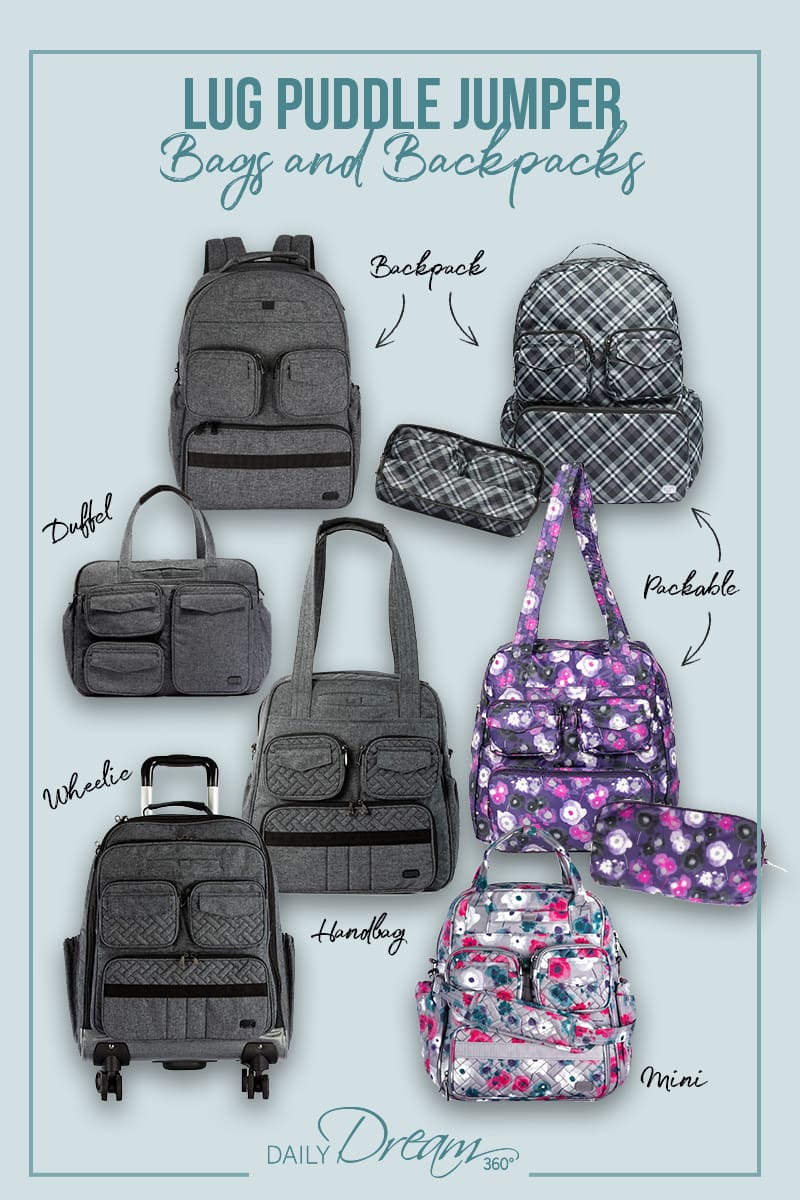 Images used in this post are property of Lug®
I DID NOT receive compensation for this post. This is a discussion of bags I own and love.