OK, I have a new Lug bag, and it may change my life! I go on many different types of vacations from long-haul flights to short drives. Every trip I go on, I think I need a different type of bag to get me to my destination. Here's the problem. I am an organized traveller. My friends refer to me as "anal," "obsessed" or "neurotic." I just like everything to have a place, and sometimes I like to take out my label maker and label things in my luggage. That's normal, right?
So when this beautiful purple Lug bag came into my hands (thanks, Mom!), with all its compartments including wheels and a retractable handle I was in heaven. Like my pink Lug Carry-all backpack, the Puddle Jumper has many uses. It meets standard Carry-on size regulations for most airlines and fits in the overhead bin! It has a padded spot for your laptop or tablet making it a great business bag! It even has a breathable compartment for stinky shoes and clothes if you want to use it as a gym bag!
Lug Puddle Jumper Wheelie – Organised Carry-on Bag
Most carry-on luggage includes one big cavity in the middle and maybe an outside pocket. Which makes opening your bag for one thing pretty awkward. What I love about this Lug bag is that you have all the convenience of a rolling bag but with many compartments and pockets inside the bag and out. So if you are looking to reach for your candy, it's in a small pocket on the outside. Same for the magazine, or e-reader, it's snug in a side pocket. Need to charge your phone, there's a spot to put your cable, so you don't have to dig through the entire thing. It's easy to grab your laptop out for security check-ins too!
Lug Puddle Jumper Wheelie – Business Bag
Like the Carry-All bag, it has lots of compartments for books, pens, laptop wires and other supplies you may need for a business meeting. The laptop storage area is padded and keeps your computer from getting banged around. If you have a long way to walk, wheeling the business bag around may be preferable than carrying it, but with this bag, you can choose either way. For me, this bag is a bit bulky as a business only bag, but when combined with an overnight stay – I love it!
Lug Puddle Jumper Wheelie – Overnight or Weekend
I just took this bag with me for a weekend at the cottage. It was fully loaded with two packing cubes, a packing folder, my toiletry bag; my makeup bag, spare shoes and my flat iron. Frequently weekend bags are either too small, or too big, but the Lug Puddle Jumper is excellent at staying organized for a short getaway.
Other Pros: The awesome handles lets you carry the bag like a tote over your shoulder when you are not able to wheel it around. I'm also going to mention (because I had my doubts when I first got this bag) that the retractable handle even though it is not in its own protected space in the bag (it sits behind the laptop padded compartment) and even when the bag is filled to its max, will retract easily and smoothly. I thought that it would get stuck when trying to move it up or down in a fully packed bag, but surprisingly it functioned beautifully. Apparently, the folks at Lug know what they are doing!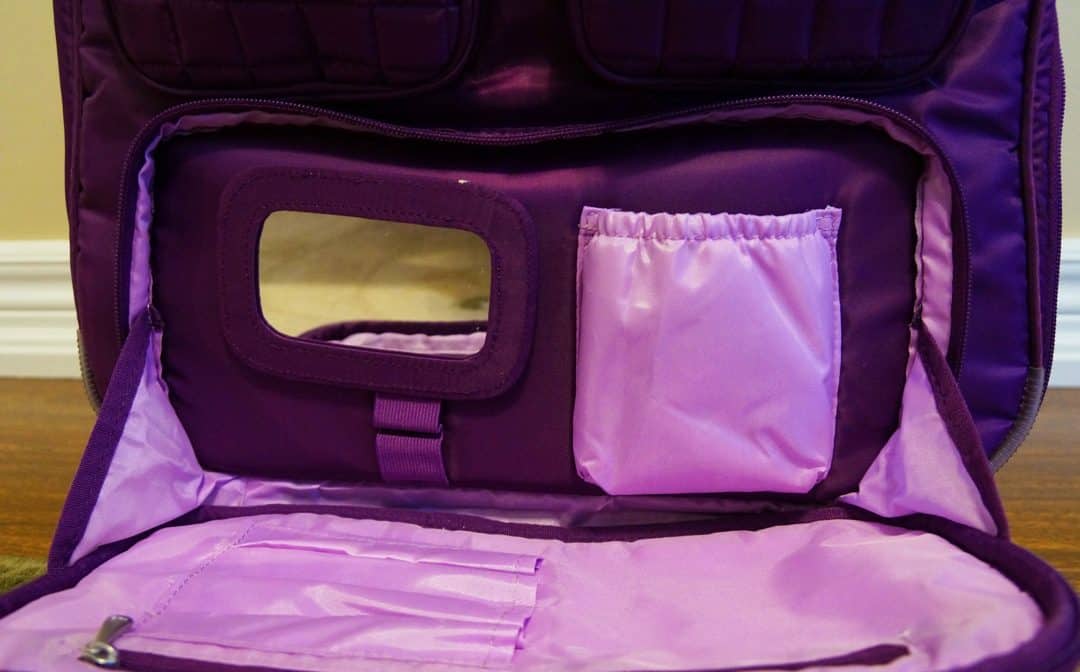 Which brings me to the cons. Nothing to get excited about, just a few recommendations for a 2.0 version of this bag!
Wheels – the wheels are not spinner wheels! Why? In my opinion, any new luggage created today should have spinner wheels. It just makes wheeling through the airport or the plane easier as you can shift the bag from straight on to its side for tight spots. It also lets you easily roll your luggage next to you when you are juggling many bags, kids and documents at once.
Laptop Compartment – Currently the laptop area is within the main compartment of the bag. It is a suitable, padded pocket for the laptop, but when you fill that compartment with clothes, and other stuff getting into the laptop compartment is tricky. If it were my design, I would have provided the laptop it's own zipped compartment so I can easily reach in, pull out the laptop for airport security (or at a business meeting) and stuff it back in just as quickly. No messing around with what's in the main compartment.
Overall the theme for the Lug Puddle Jumper is organized luggage (but with style)! Something I am very passionate about. When everything has a place, and I can find it quickly as I'm wheeling through the airport, or trying to get my laptop out at security or when I just need a bag that I can take for a short weekend getaway – this is the bag for me! Oh, and it comes in an assortment of colours – so it matches my purple luggage!
More great travel gear:
I did not receive compensation for this post. I purchased all items mentioned in this post, and I only recommend things I use.