This article may contain affiliate links. Clicking on or purchasing products we recommend through a link may earn a small commission. Read our disclosure and privacy policy page for details. *COVID-19 TRAVEL ALERT – Travel recommendations offered on this site are not to encourage you to travel against travel advisories.
As I sat on the mat and closed my eyes, I feel the cool breeze on my face, listen to the sounds of crickets chirping and then feel his tongue softly, licking my toes. I open my eyes and see the goat in front of me — the start of goat yoga at ZiegenVine Homestead just outside Corning New York.
Dream it
I have to admit when I first heard about goat yoga, I thought it was a crazy gimmick. The more photos and videos I saw, the more I wanted to experience it myself. I was excited to learn when planning a trip to Corning, NY, that there was a place I could experience it for the first time.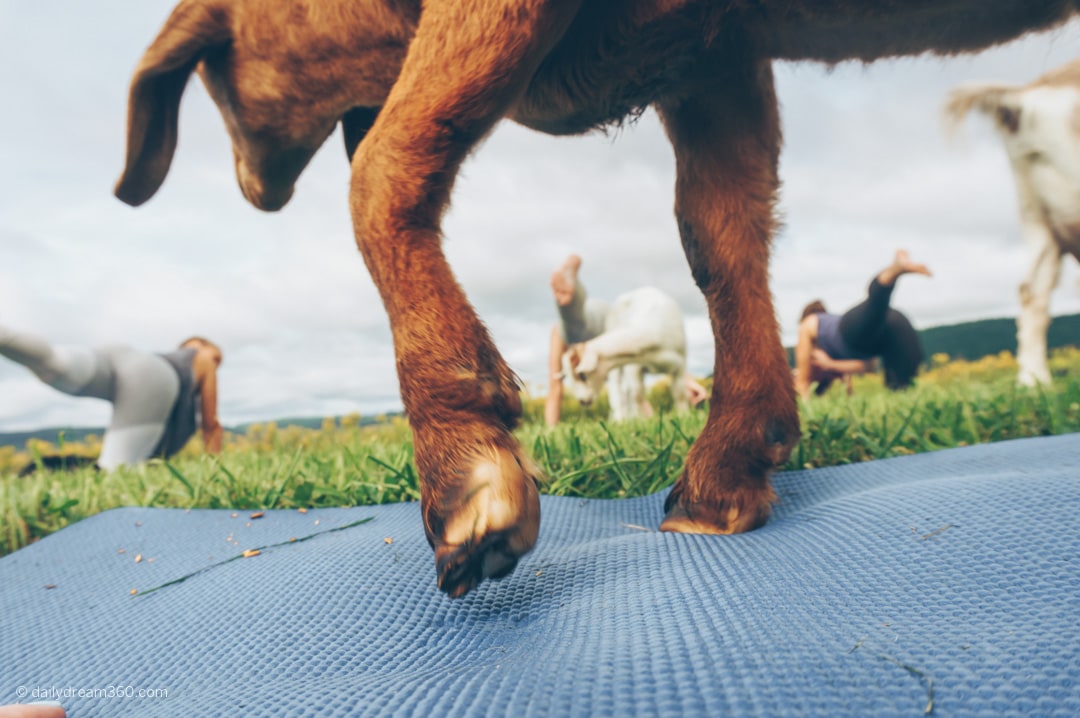 Yoga has been a great addition to my health and lifestyle goals. It is a time to be still, clear my mind while strengthening my body whether I practice at home alone or with a group I love that hour to myself away from business calls, staring at bank statements or worrying about the many stresses of my life.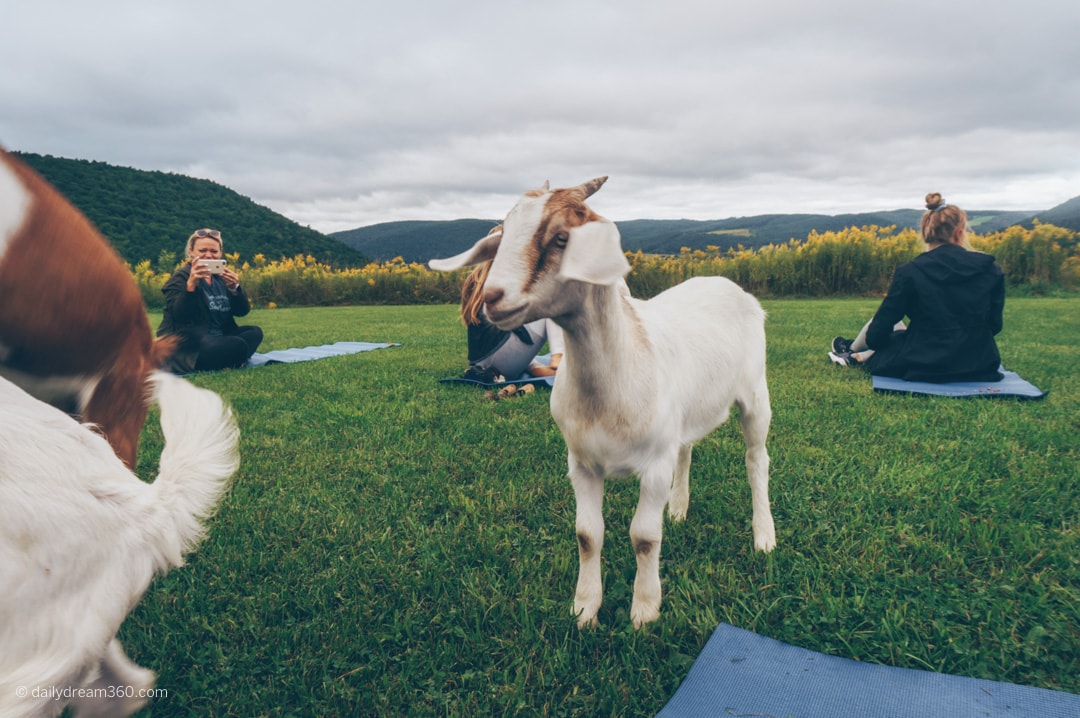 In dreaming about goat yoga, I had a romantic idea of being outdoors as goats nuzzled or walked around me as I stood proudly in warrior. When I started telling people, I was about to experience it. Finally, they told me about their realities.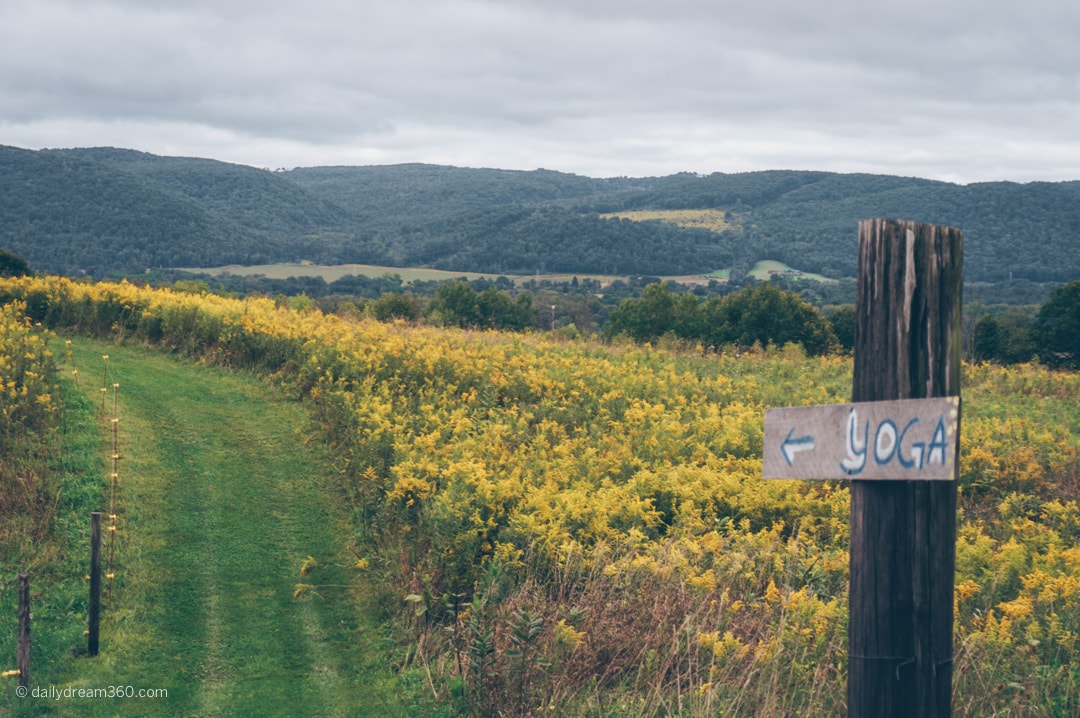 Things You Should Know About A Goat Yoga Experience
I've heard horror stories of people bringing their mats to goat yoga farms and laying them down on dirty fields covered in poop. But at ZiegenVine, we were escorted up to an open field as the goats followed us up to the hill from their usual resting location.
The mats were provided so no worries about "lemonade and raisins" fouling up one of my own. It wasn't until owner Allison mentioned the goat traits during yoga that I started to see the "reality" of goat yoga.
Things the goats will do during yoga:
Nibble on your clothes, hair and toes
The goats may buck and play with one another around you
Goats may cuddle with you, rest on your mat or nuzzle you
They may put their hooves up on you or walk on you during certain poses
Plan it
Location and Getting to Ziegenvine Homestead
It was just a short 20-minute drive from Corning New York to get to the farm. Surrounded by beautiful tree-covered hills, the scenic drive to the farm was the perfect start to this wellness escape.
About ZiegenVine Homestead
Randy and Allison wanted to explore farming in 2010, but their town zoning laws didn't allow them to house animals. Undeterred, they found and purchased their farm and started to live their dream. It started with pigs and chickens and soon after they discovered goats.
Now they host several goat yoga experiences on their farm to share their passion of nature and animals with those lucky enough to be in the region.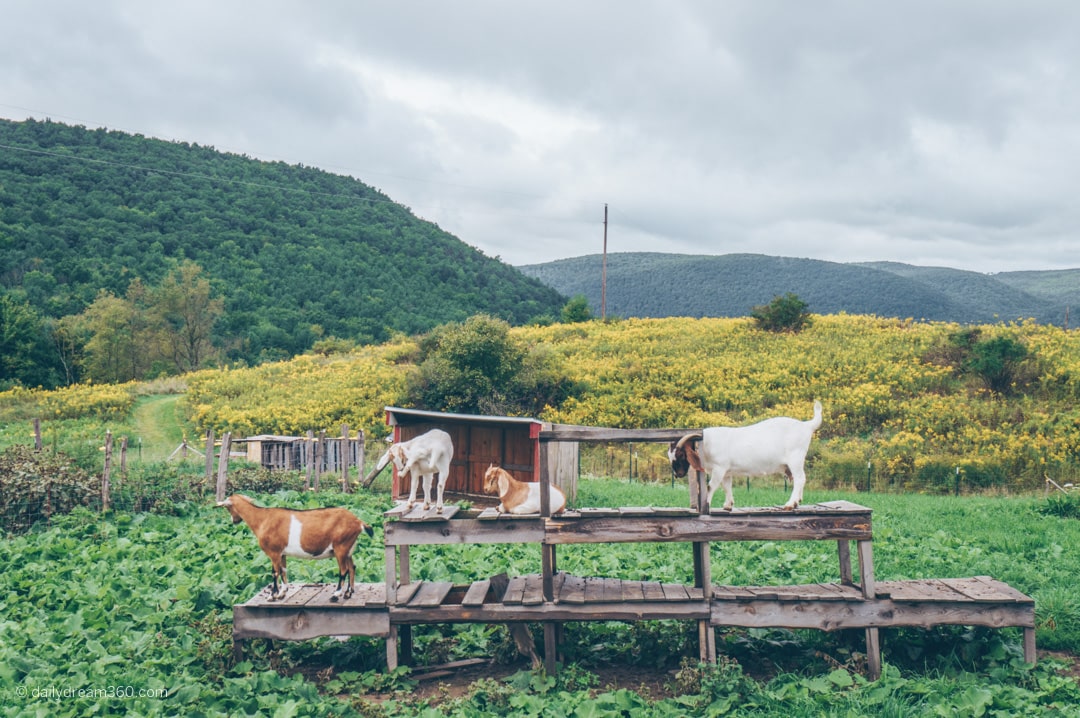 Planning a Wellness Escape at ZiegenVine Homestead
There are ten public sessions of Goat Yoga scheduled this season at the farm. They can also arrange private classes for groups if needed. When planning your trip to Corning NY be sure to check ZiegenVine's Eventbrite page for dates, times and availability of their Yoga Classes.
The ZiegenVine Homestead Store
The farm also has a store where you can purchase goat milk soap, farm fresh chicken eggs, pioneer chairs made from Ash Trees.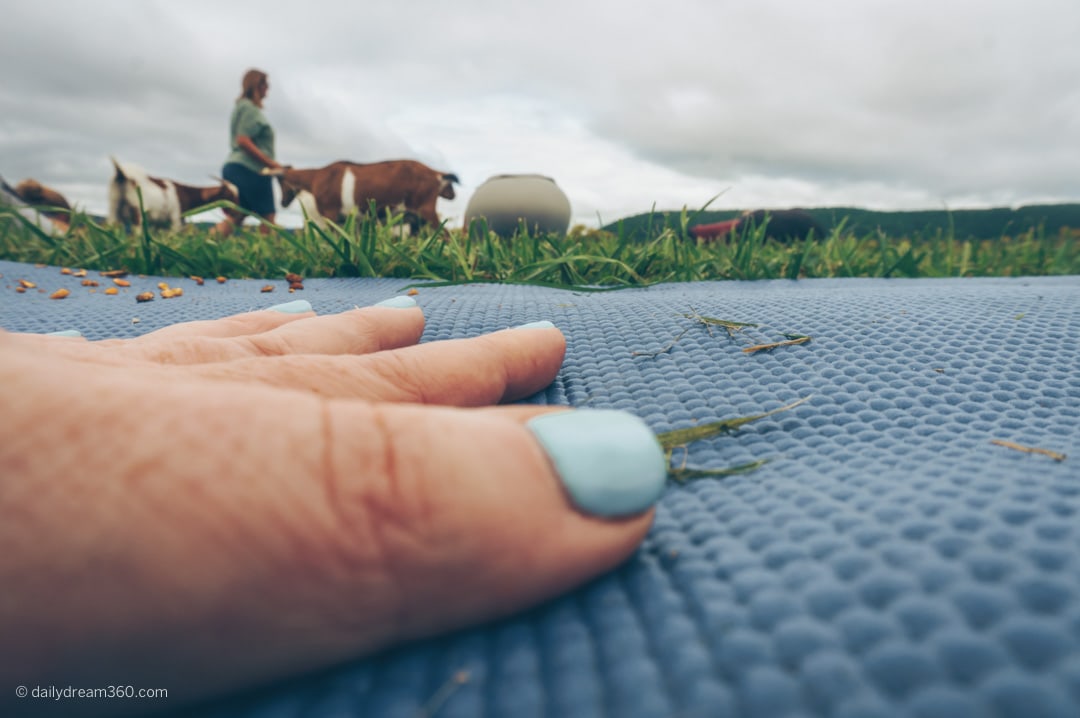 Tips for Attending a Goat Yoga Class
Wear clothing you won't care smells like farm or goats or may get dirty with mud and grass
Ask about the yoga location and cleanliness of the area
Check if they include mats, if not bring one that you won't mind getting dirty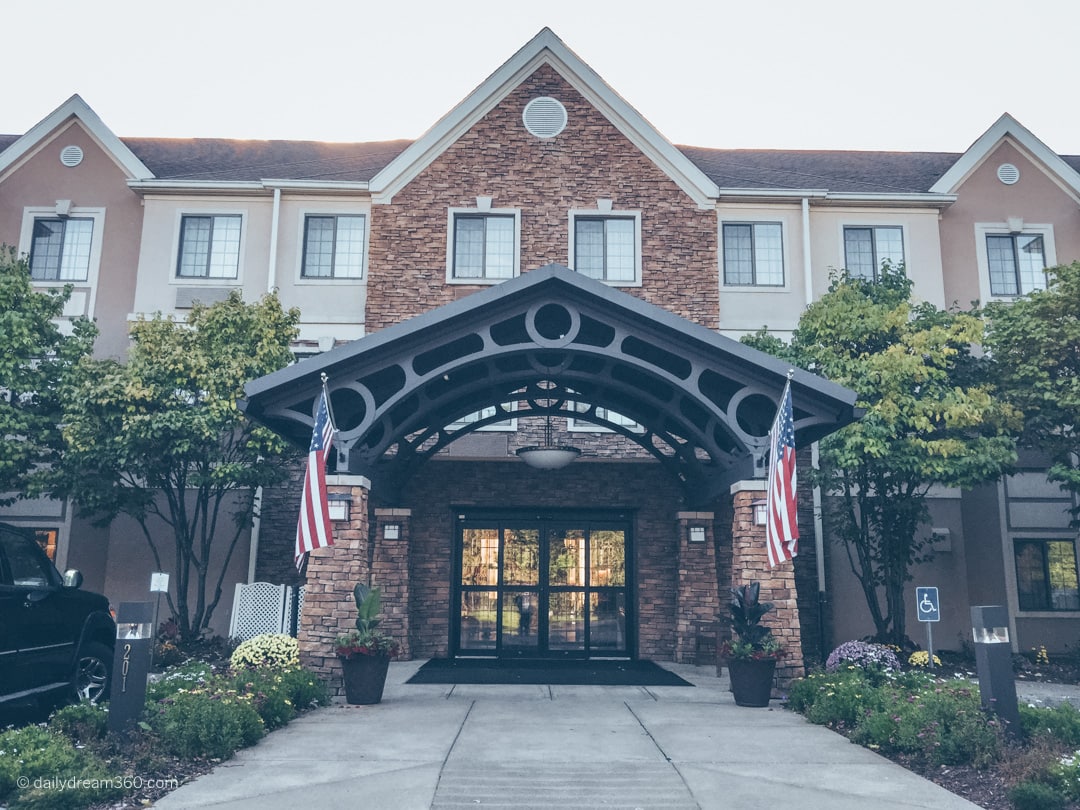 Where to Stay in Corning NY
If you are looking for a rustic experience, ZiegenVine has some tent sites available which can be booked through Hipcamp. If camping is not your thing, check out their cabin with a full-size bed and a wood stove!
We stayed at the Staybridge Suites in Corning, New York. It was the perfect location as it was steps from the Corning Museum and the town of Corning, which was the ideal place for a weekend getaway.
Live it
What I liked about the farm was that they did not remove the goat's horns. They let them be in their natural state. It was also lovely that the field where the yoga took place was separate from where the goats usually hang out.
The view of the tree-covered hills and mountains around us was quite spectacular. On a cloudy day, with peeks of sun, there was plenty of drama on the skies and the landscape around us.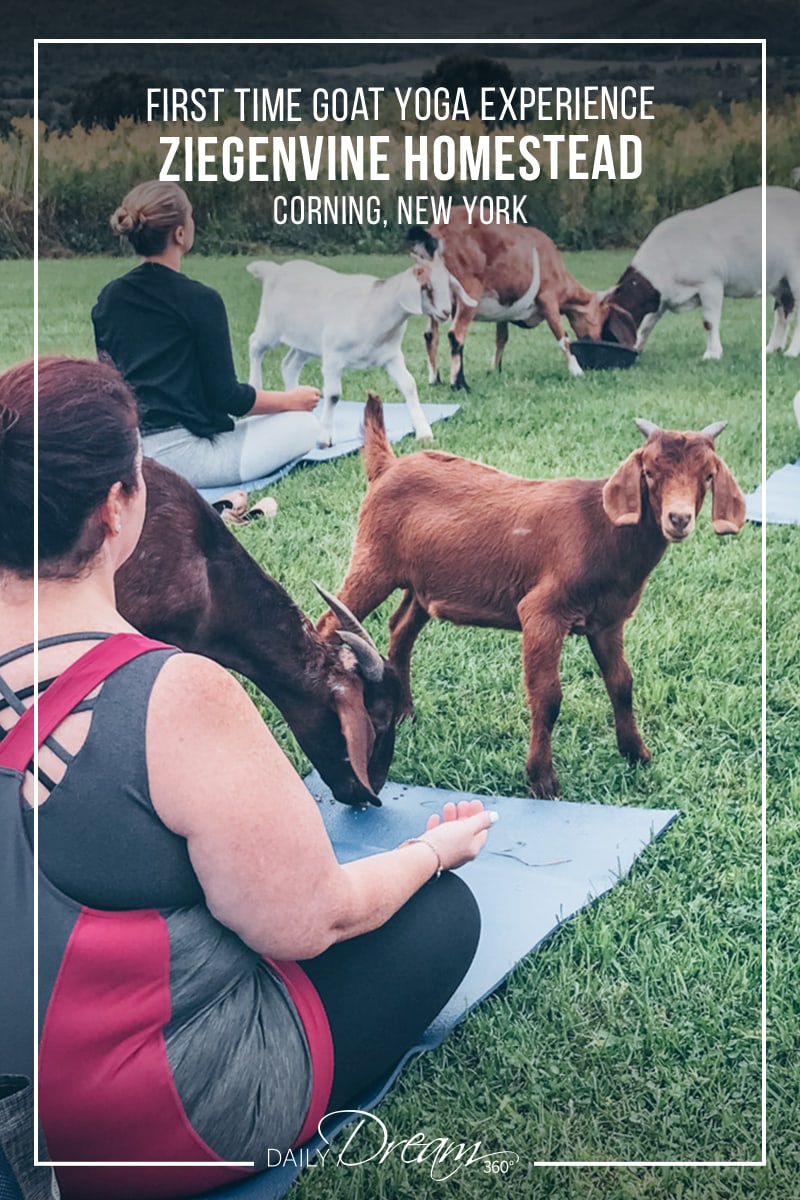 Yoga Practice with Goats
With the mat on the ground and my friendly goat at my feet, I tried to get into my zen meditative start of the class. I closed my eyes again and tried to follow our instructor Elizabeth's cues.
We did some breathing and twisting poses while Allison filled buckets on the field with feed. Then she went around and put some feed on each of our mats, but truthfully the goat was interacting with me even without the feed on the corner of the mat.
We moved from our seated position into tabletop and giggled as goats walked around us. It was hard to stay focused on the yoga positions and breathing while keeping your peripheral vision on a goat that might pass around you.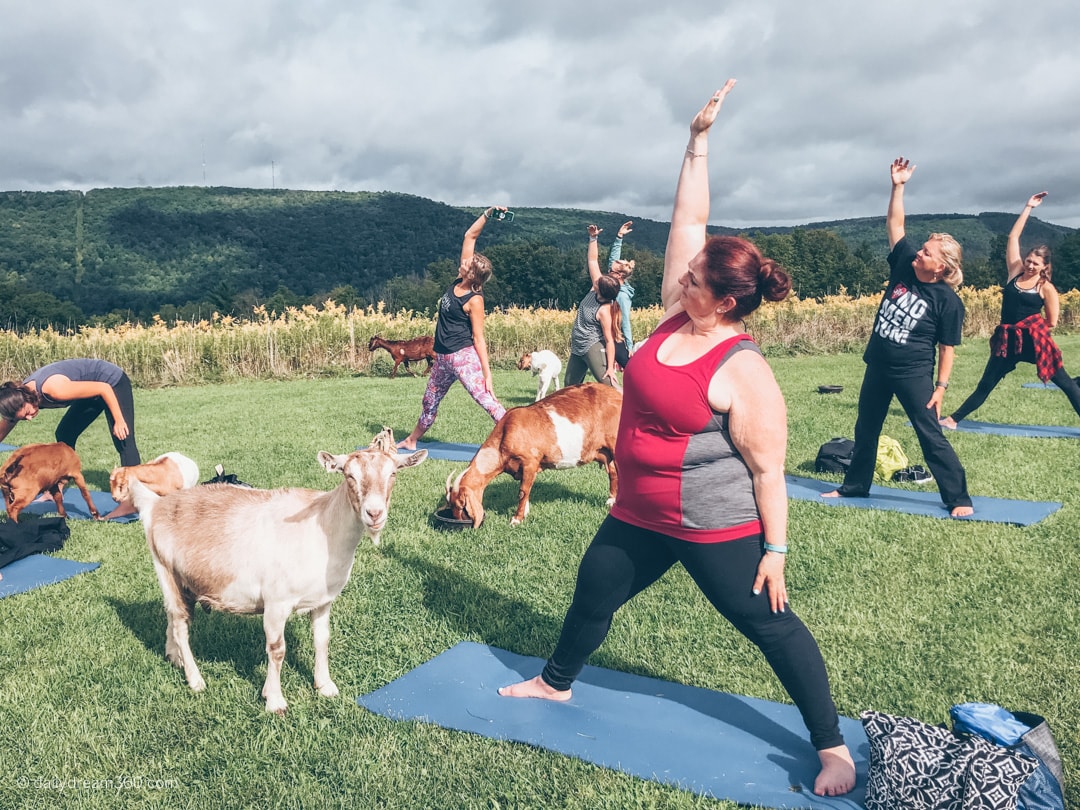 By the time we got to standing positions and salutations, the goats were even more active and walking under me, around me and getting in the way of some of the positions. Eventually, one of the goats just rested on the back end of my mat and had a little nap while I tried to maneuver around her.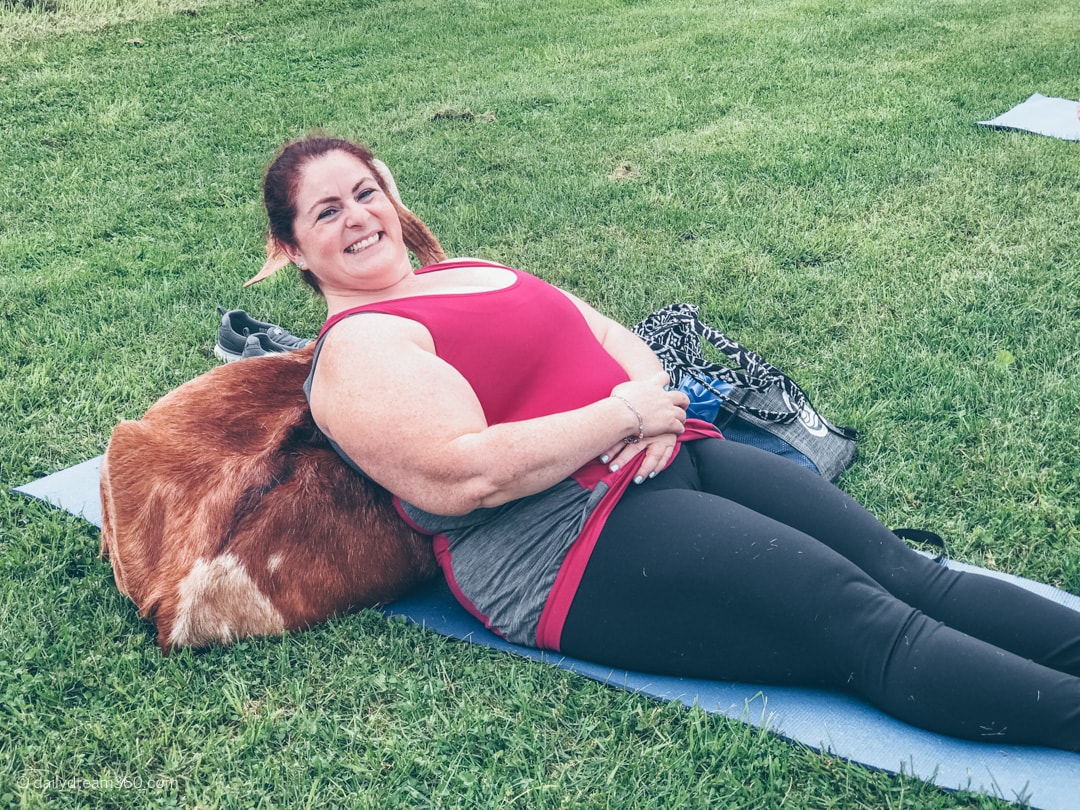 When we got back to seated poses, I was completely swarmed by the goats. I didn't even know what was going on in the class. I couldn't do Shavasana very well because one of the goats was having her nap on my mat.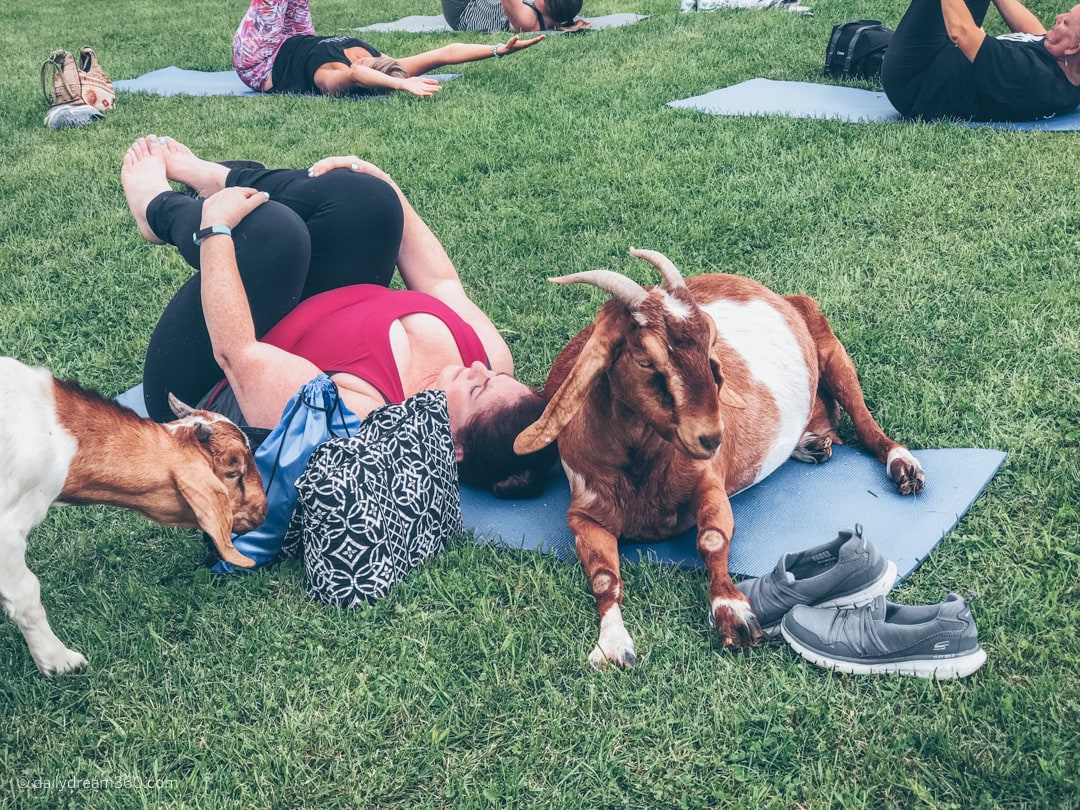 Our Yoga instructor Elizabeth rescued me with a second mat, but it wasn't long after that, the goats swarmed me again. What can I say I guess they liked me.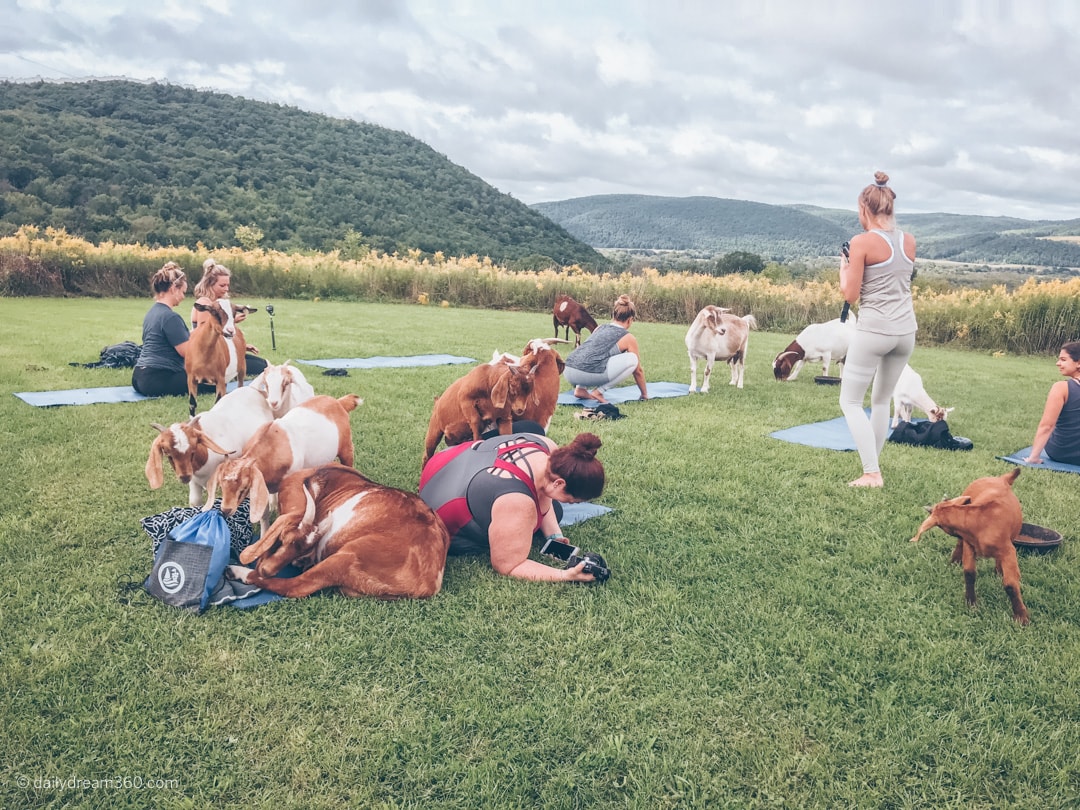 Things to Know about Goat Yoga at ZiegenVine Homestead
If the goats pee or drop pellets on the mat, M was there in seconds to clean it up with sanitizer. She was watching us the entire time and making sure we had a clean and pleasant experience.
Don't expect to have a perfect yoga class while participating in goat yoga. The practice here is about the bonding with the animals, and I have to say I just loved it and was beaming with happiness the entire time.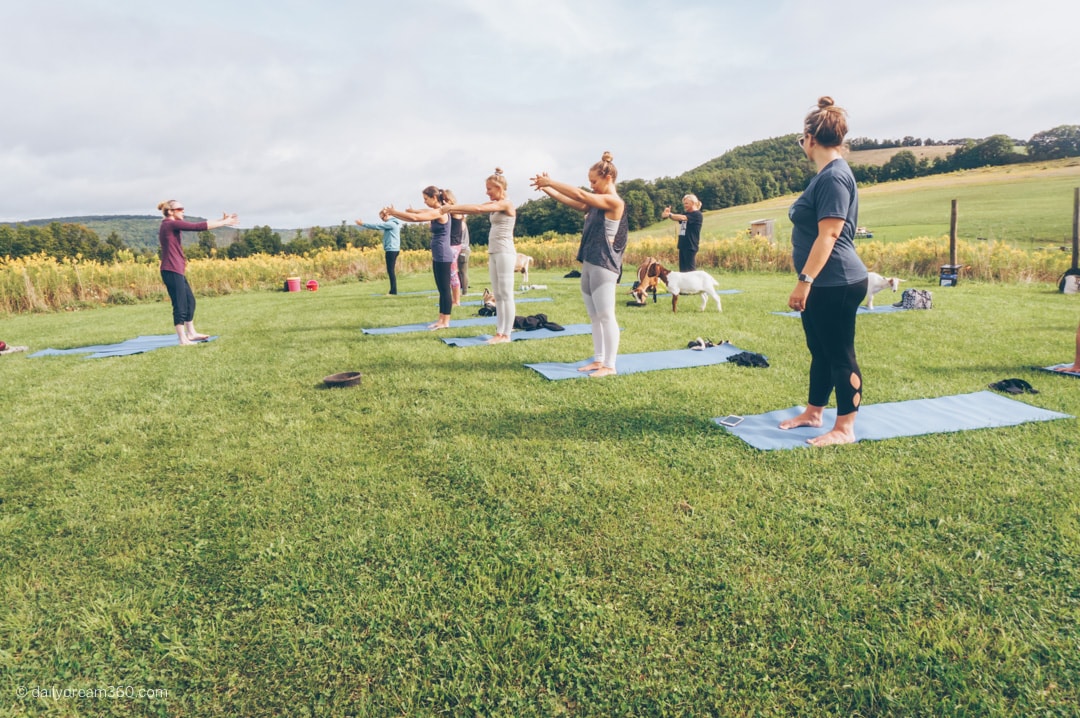 Goat yoga is an excellent compliment to my now reintroduction of yoga in my life. It doesn't replace a yoga practice, but I have to say I loved being outside in the fresh air with a Matt on soft grass it was less harsh on my knees and wrists. I think I will try and find more outdoor yoga experiences like this.
Consider some gear for your Yoga Class
Thank you to ZiegenVine Homestead for hosting this experience during a travel conference in Corning NY. Thank you, Allison, for sharing some photos of me as I tried to do yoga!