This article may contain affiliate links. Clicking on or purchasing products we recommend through a link may earn a small commission. Read our disclosure and privacy policy page for details. *COVID-19 TRAVEL ALERT – Travel recommendations offered on this site are not to encourage you to travel against travel advisories.
During a spring road trip through southern Colorado, I knew I had to soak in a hot spring. With its location right on route to Mesa Verde National Park and Durango Colorado, Pagosa Springs was included in our road trip itinerary. In this post, we put together a detailed Pagosa Springs CO guide with suggestions on where to stay and things to do in Pagosa Springs, Colorado.
Dream it.
About Pagosa Springs Colorado
The idea of sitting in a hot spring surrounded by mountains was the inspiration behind this trip.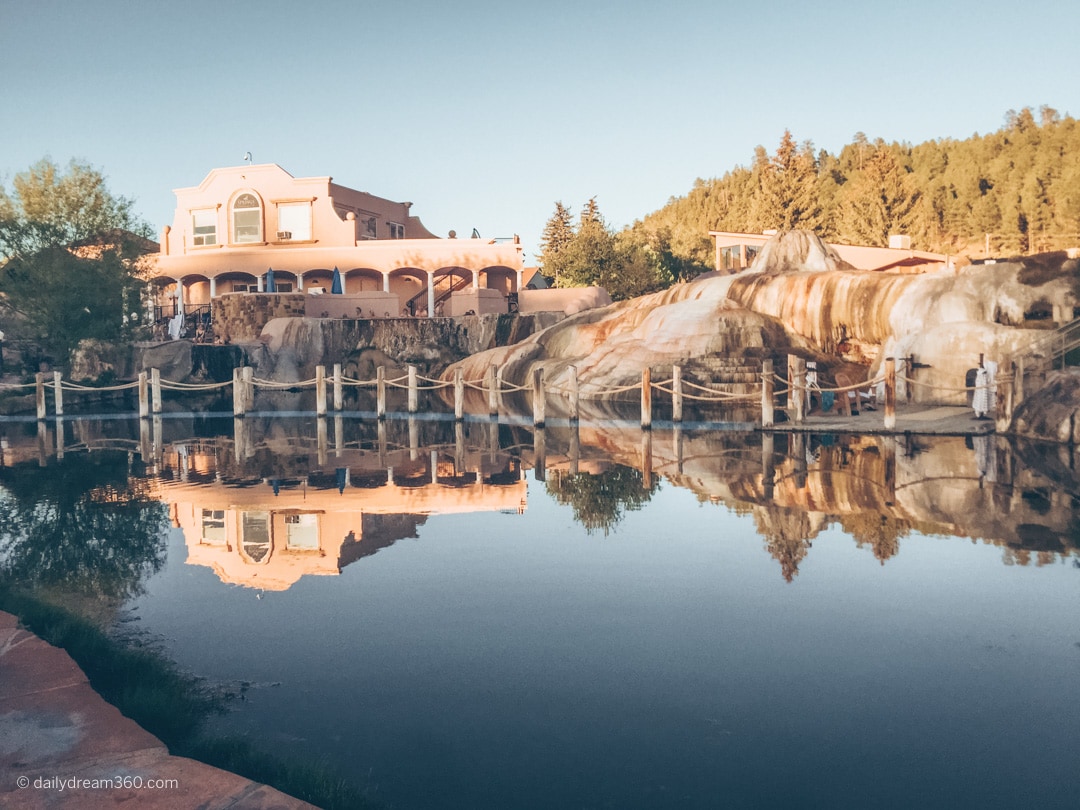 Known as the home of the deepest hot springs in the world, this scenic town in Colorado provided us with the opportunity to explore some hiking and outdoor activities while enjoying the comforts of The Springs Resort and Spa and its many mineral hot spring pools.
Plan it.
Getting To Pagosa Springs Colorado
International Flights to Colorado
International travellers will likely fly into Denver International Airport. From Toronto, I flew Air Canada direct to Denver. Air Canada was also convenient as we drove down to Southern Colorado and flew United from Durango back to Denver for our route home. Since they are both Star Alliance airlines, this made the transition simple.
Driving to Pagosa Springs by Car
From Denver, you will drive down Highway 285 and Highway 160. It was a beautiful scenic drive through Colorado's fantastic landscape. We saw mountains, creeks, dunes and more along the way. It was the perfect stop before heading to Mesa Verde National Park.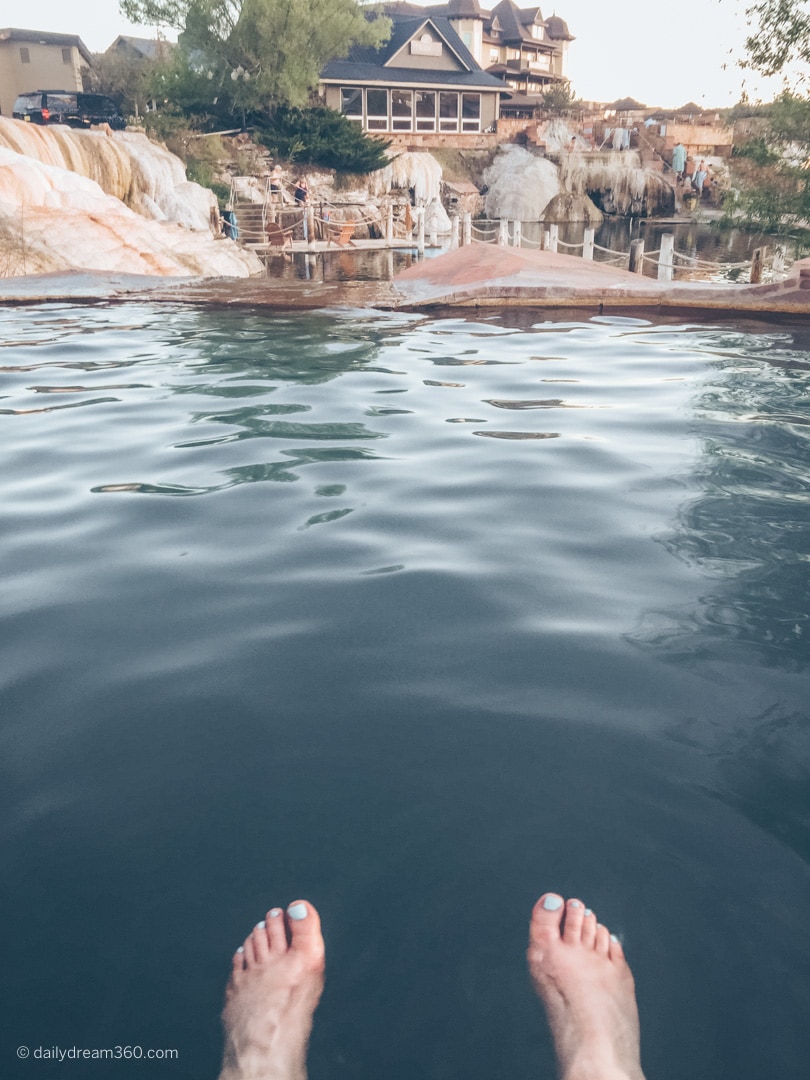 Colorado Travel Tips
I realize now that altitude does affect me. In Denver, with an elevation of 1,988 meters (5500 ft), I felt the impact soon after our arrival. I had a few days to adjust to the altitude before we started driving down to Southern corner of Colorado.
Read more: Discover Denver's Best Neighbourhoods with an eTuk Ride Tour
Pagosa Springs Colorado elevation sits a bit higher at 2,172 meters (7100 ft). I'm so glad that we were warned numerous times on how to prepare for the altitude when visiting Denver. At these elevations, the air is thinner and drier so they can cause a few side effects for those not used to the altitude.
High Altitude Travel Tips
Symptoms are similar to having a hangover: headaches, fatigue and nausea. There were a few moments where I'd be walking across a room and suddenly feel out of breath. I also lost my appetite a few times but otherwise enjoyed my trip without issue.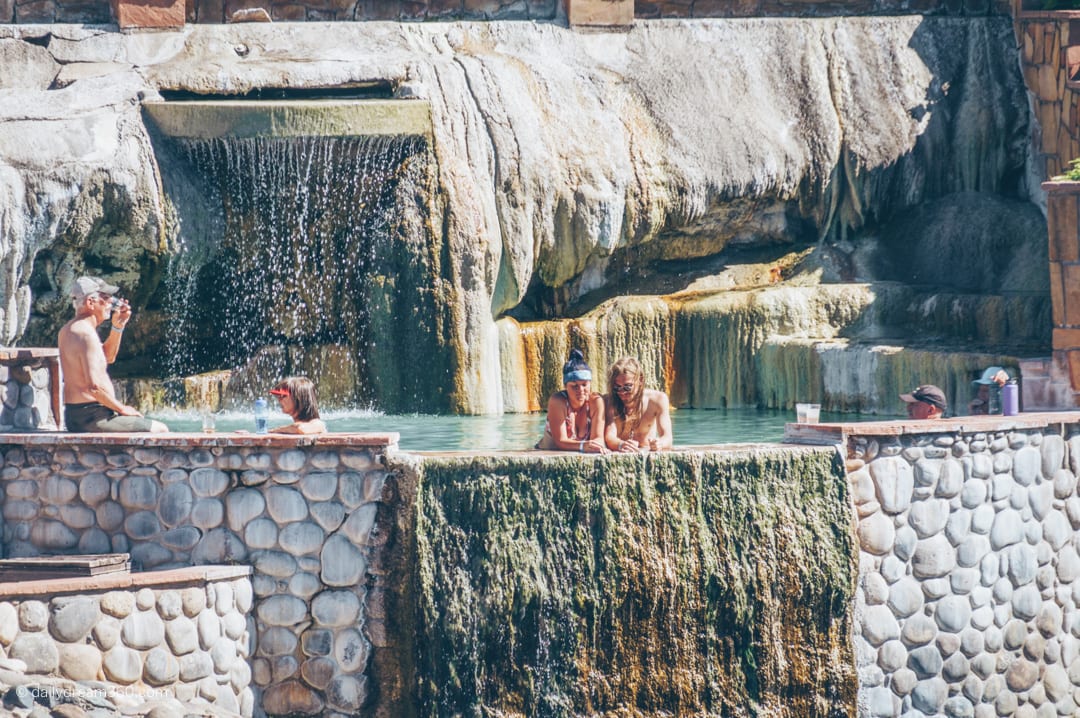 Here are some tips for dealing with the altitude.
Drink Plenty of Water: start increasing water consumption before your trip and continue to do do so during your travels. It helped a lot with the symptoms of altitude sickness. Bring a bottle with you as many places had water refill stations.
Prepare for Sun: Colorado is known as the state with over 300 days of sunshine. Be sure to pack lots of sunscreen, hats, sunscreen and sunglasses with maximum UV ray protection.
Use Body Lotion/Lip Balm: The air in Colorado is dry, so make sure to pack good moisturizing lotion and lip balm.
Watch Alcohol Consumption: since altitude sickness is much like a hangover, the effects of drinking alcohol are exacerbated by the elevations.
Eat High Potassium foods: to help replenish electrolytes in your system eat foods high in potassium including broccoli, bananas, avocado, cantaloupe, celery, greens, bran, chocolate, granola, dates, dried fruit, potatoes and tomatoes.
Colorado Packing Tips
The state of Colorado has a great commitment to the environment. I loved the availability of water bottle filling stations and other environmental initiatives. I recommend packing packable water bottles or drinking cups for your trip.
Read more: stojo Collapsible Cup Review. Spill-proof travel coffee cup.
When packing for a trip to Pagosa Springs think layers. During the day it is hot in the sun, but then in the evening, it got colder, in the mountains the temperature variation was extreme.
Read more: Reasons to Travel with a Good Pair of Flip Flops
I recommend packing the following:
Packable Jacket
Fleece jacket or hoodie
Hiking shoes
Collapsible water bottle and/or cup
Flip flops (for mineral pools)
Packable backpack for hiking
Read more: Columbia Titanium Waterproof Hiking Shoes offer Style and Comfort!
About The Hot Springs in Pagosa Springs Colorado
The Mother Spring (pictured below) is located in front of the new hotel building at The Springs Resort and Spa and feeds all 23 mineral soaking pools. It set the Guinness Book of World Records as the World's Deepest Geothermal hot spring. The bottom has yet to be found, and no one knows how deep it is.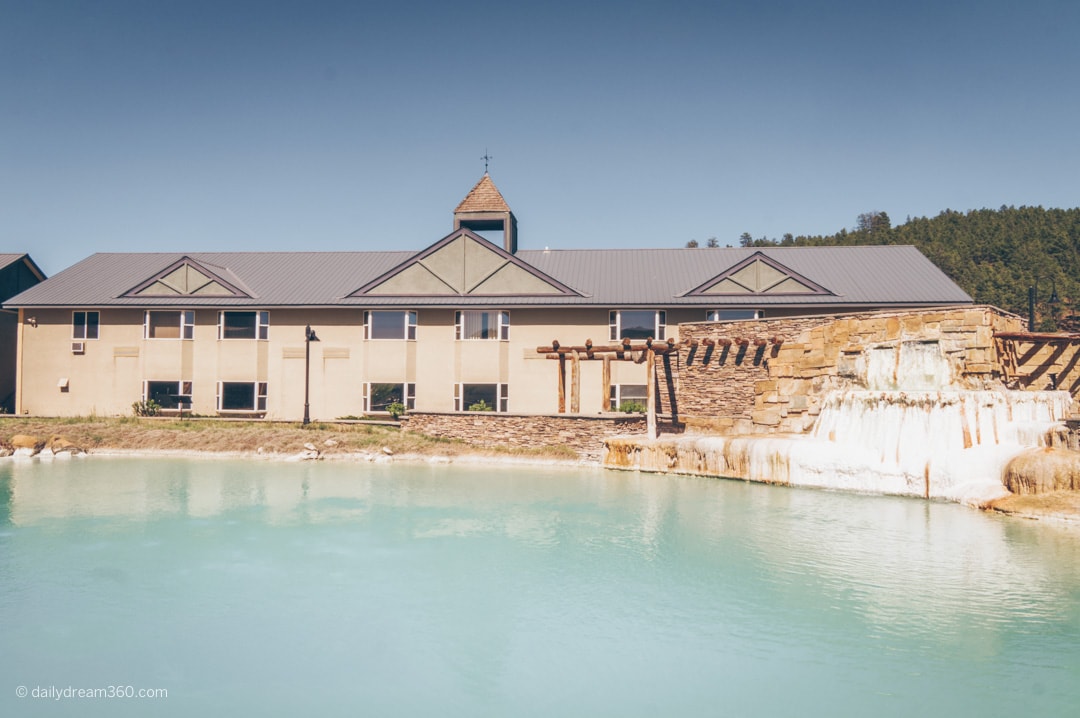 The mineral pools are known for their healing benefits. Here are just a few of the essential minerals found here:
Sodium: Salt soaks are known to relieve arthritis symptoms.
Silica: Strengthens bones, boosts the immune system, promotes healthy hair and nails.
Boron: Boosts brain activity, builds muscle mass and strengthens bones.
Sulphate: Rids the body of toxins and promotes the health of bones, hair and nails.
Zinc: Antioxidant nutrient that promotes the healing of wounds.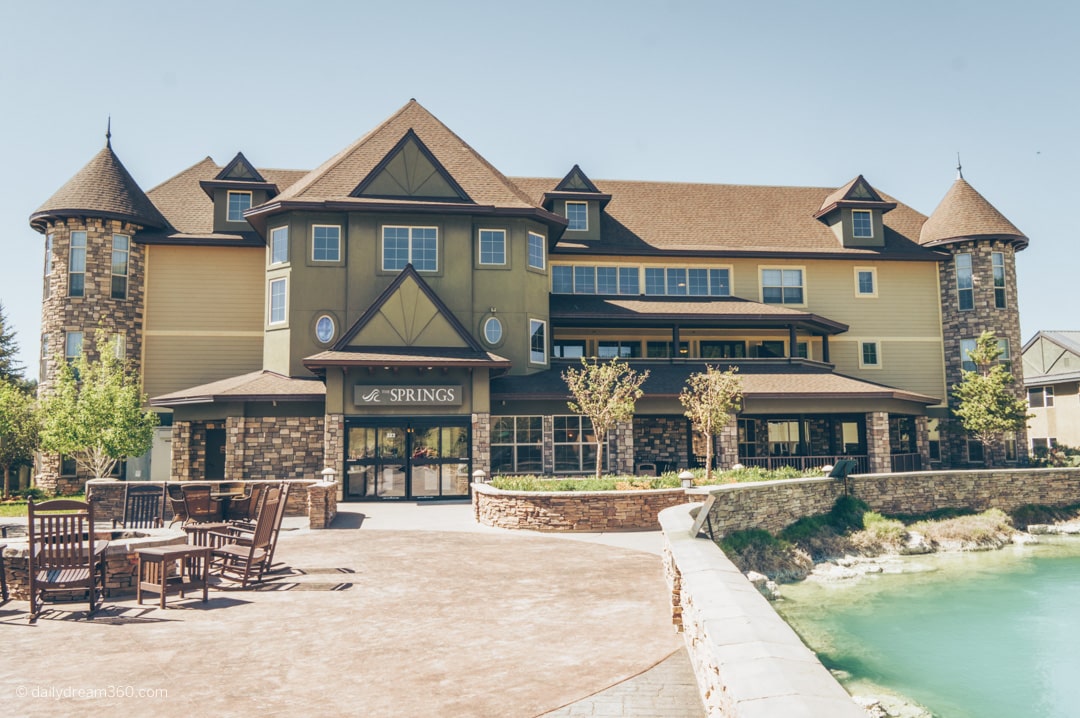 Hotels in Pagosa Springs with Hot Springs
The Springs Resort and Spa Pagosa Springs CO
We stayed at The Springs Resort and Spa where the mother spring sits and because of its direct access to the Pagosa Springs mineral pools.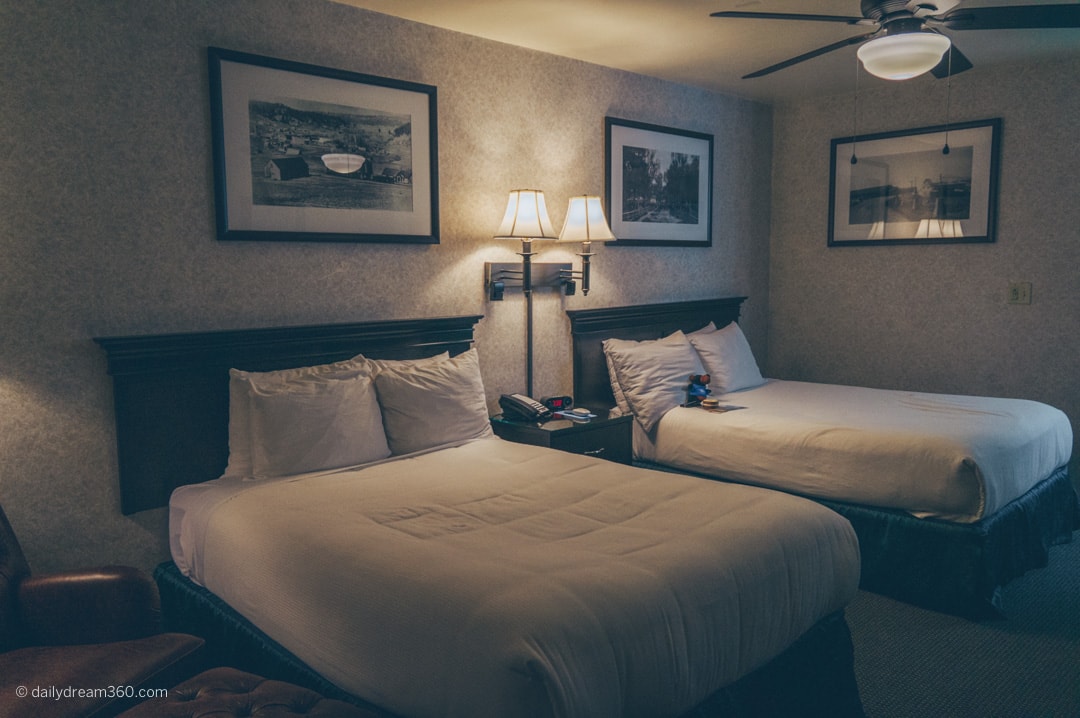 Room in Classic Accommodations Section
My room was located in the classic accommodation section. It was a standard no-frills room with two beds, a nightstand, leather chair, wardrobe with a refrigerator and TV. Of course, towels and spa robes were provided. The toiletries in the room were hanging on the wall in the shower. They had separate shampoo and conditioner, and my hair was not frizzy the next day; however, I recommend bringing your toiletries.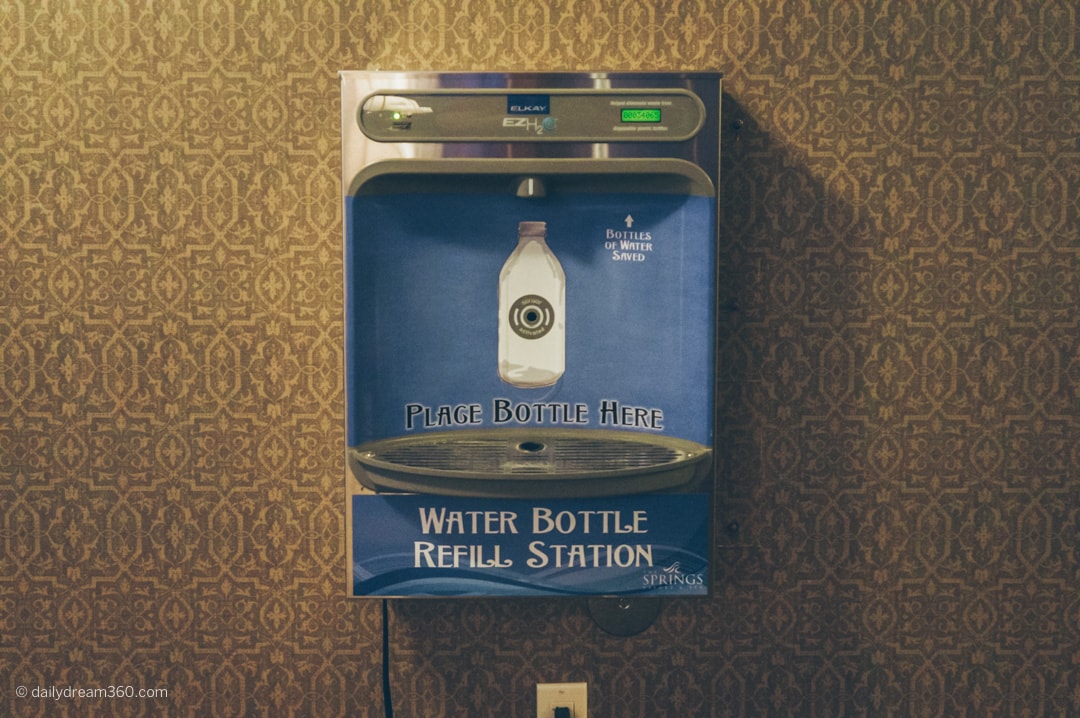 Eco-Friendly Approach at The Springs Resort and Spa
The newest building on the resort is LEED (Leadership in Energy and Environmental Design) Gold Certified. It uses 31% less energy than a conventional hotel through geothermal heating techniques. The main building also houses the resort's larger hotel suites. I loved that there were bottle water filling stations located throughout the property.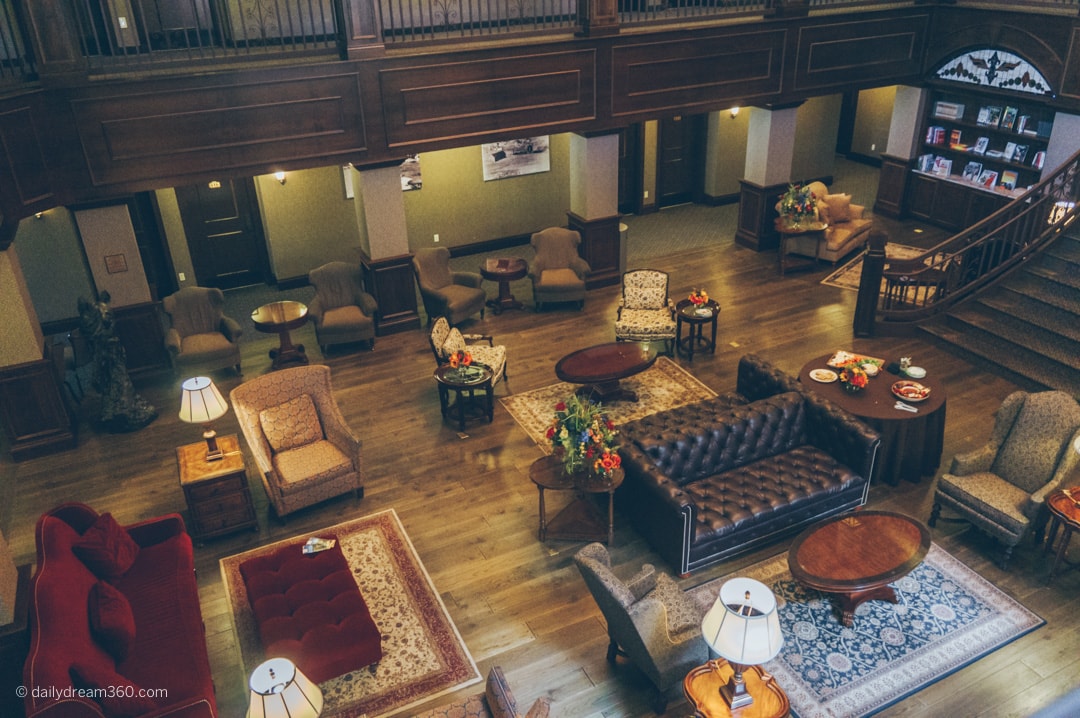 Inside the main building was a large sitting area where coffee was served, and you can buy drinks at the bar.
Live it.
Enjoying Pagosa Springs Hot Springs
Access to the Mineral Pools
The general public can purchase tickets at the Bath House, and guests of the Springs Resort and Spa can access the 23 mineral pools from a private gate located near the hotel room buildings.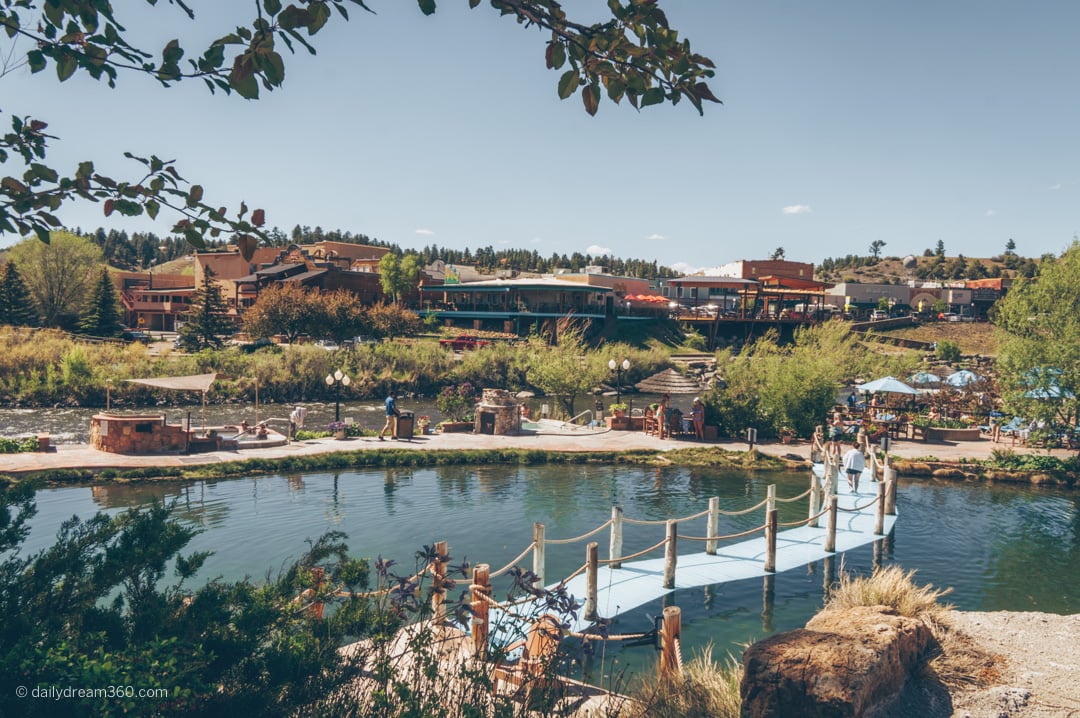 Every pool had a different temperature reading, which was measured multiple times throughout the day. These temperatures were promptly displayed, allowing you to gauge which pools you would be more comfortable bathing. I didn't like the scorching hot ones; I tended to stay in the mildly hot mineral pools. With 23 different pools to choose from, there was plenty of variety.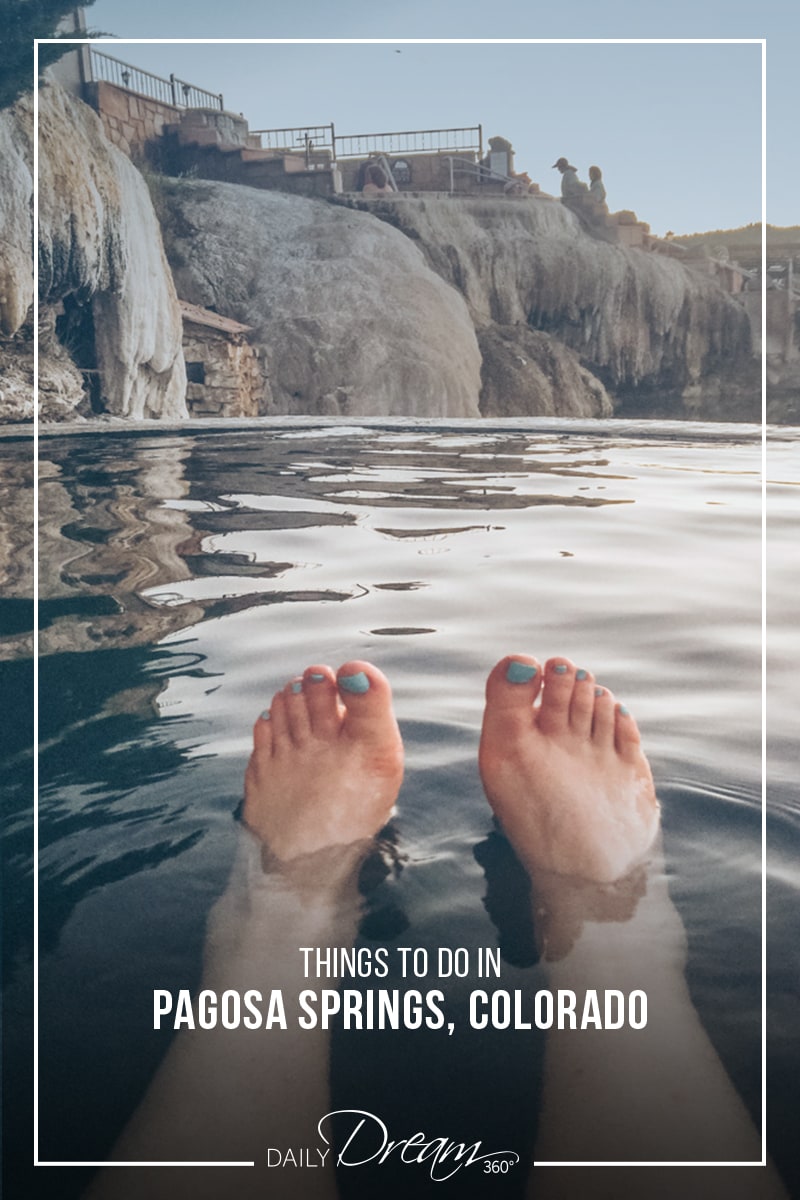 Essential Tips For Visiting a Hot Spring
Note the water temperature on the signs next to each mineral pool before entering.
Remove any silver jewelry as it will tarnish
Drink lots of water (there are bottle filling stations available at the Bath House)
Limit soaking in the pools to 10 minutes at a time.
Do not soak while under the influence of drugs or alcohol as it will exacerbate the effect.
After soaking be sure to wash your bathing suit with soap and water
When returning home, do not wash the bathing suit with other clothes to avoid transferring the sulphuric smell. Add some vinegar and baking soda to the laundry detergent and wash the suit separately.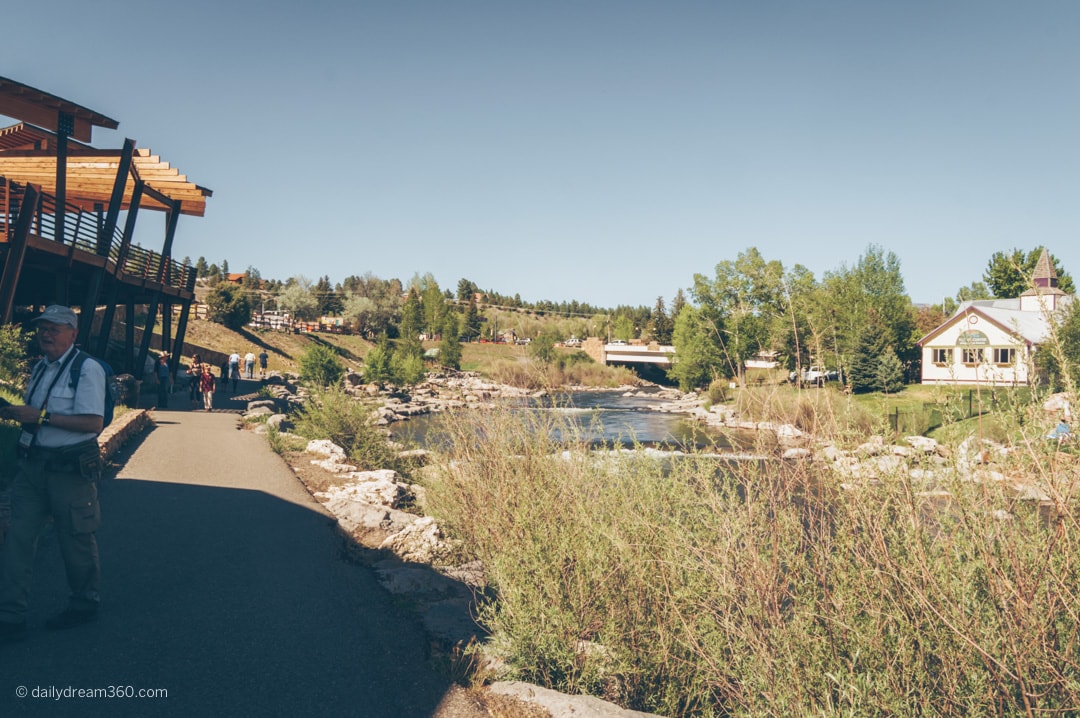 Other Things to Do in Pagosa Springs Colorado
Pagosa Springs River Walk Loop
I am a big fan of walking, especially when there is a beautiful path to follow. For soft adventure seekers, there was a lovely river walk loop that was accessible from The Springs Resort and Spa. It was a very lovely scenic walk on a paved path along the river.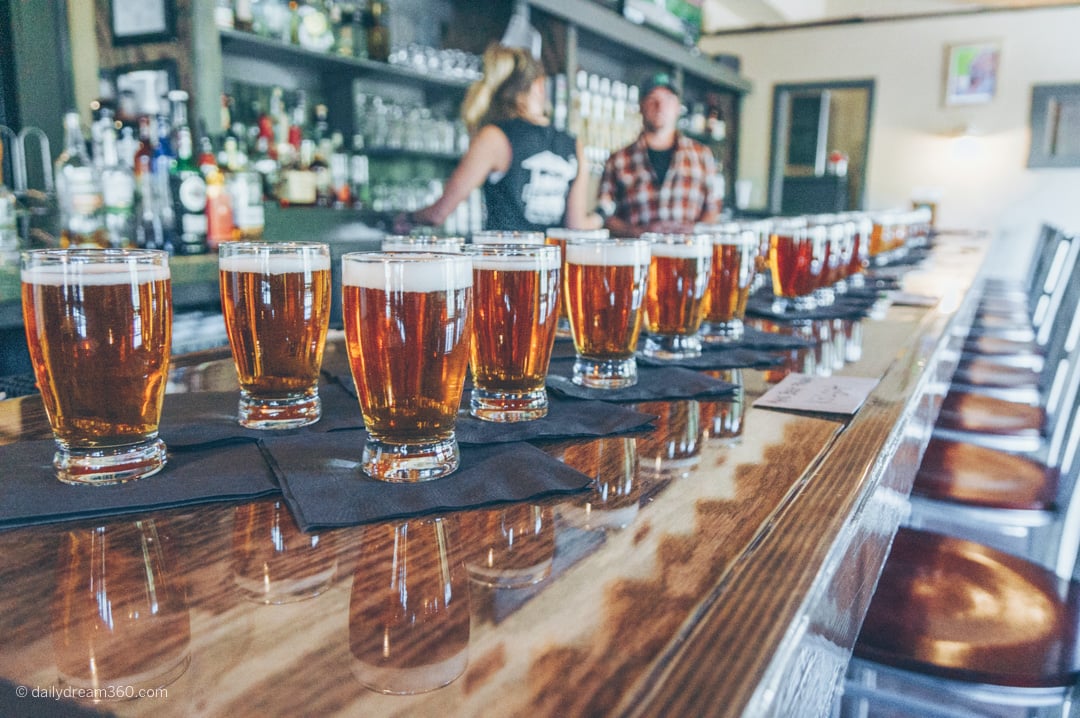 Downtown Pagosa Springs
I did not do much shopping during my visit to Pagosa Springs however we did stop into Rif Raf Brewing for a tasting and a bite to eat. With a lovely patio overlooking the river and a selection of craft brews, I recommend it if you are looking for a break from the hot springs.
Outdoor Activities
There is no shortage of outdoor activities available during the spring and summer months in Pagosa Springs. From hiking trails, kayaking, tubing and rafting, you will find several tour operators offering many activities.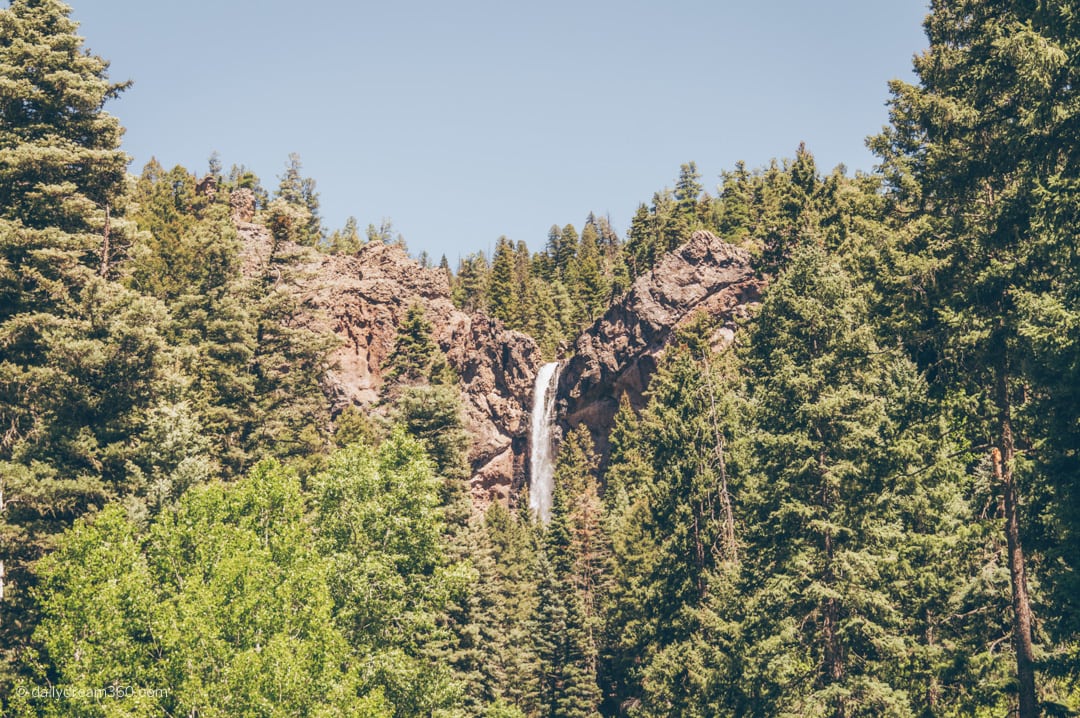 Treasure Falls
We stopped at treasure falls on our drive into Pagosa Springs. There you will find it easy to get great views of the 105 ft waterfall. For those not wishing to do a walk up, you can view the falls from below easily.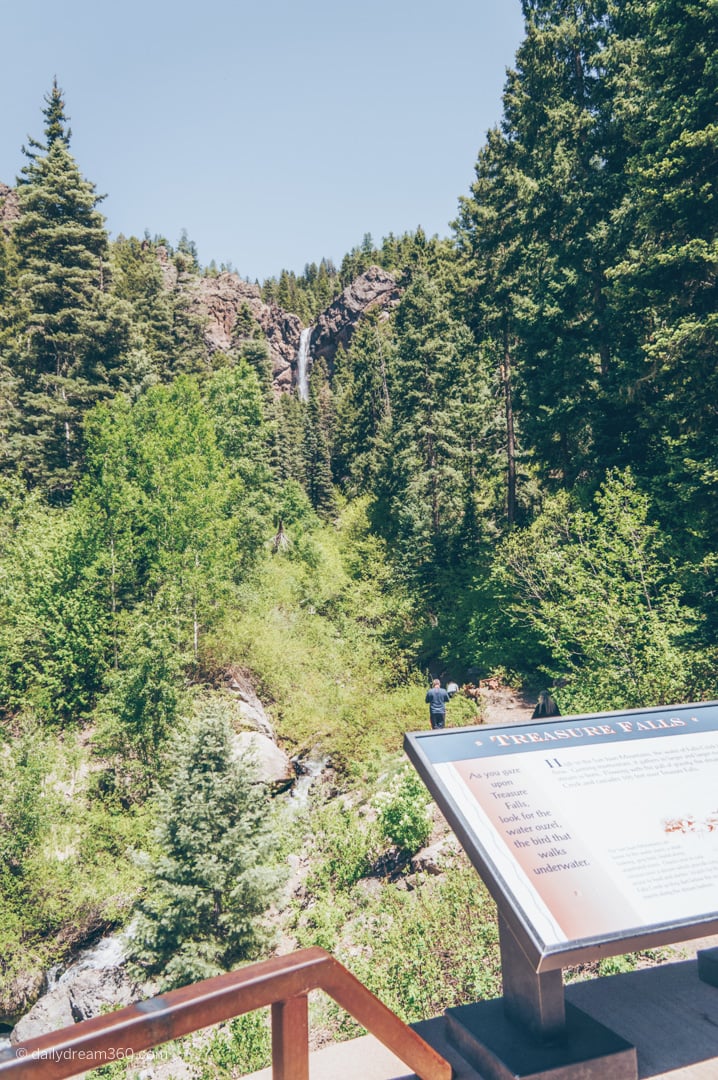 There is a dirt trail that winds up the forested hill with an elevation gain of over 300 ft. The trail walk will take anywhere from 45 minutes to an hour, depending on your skill level.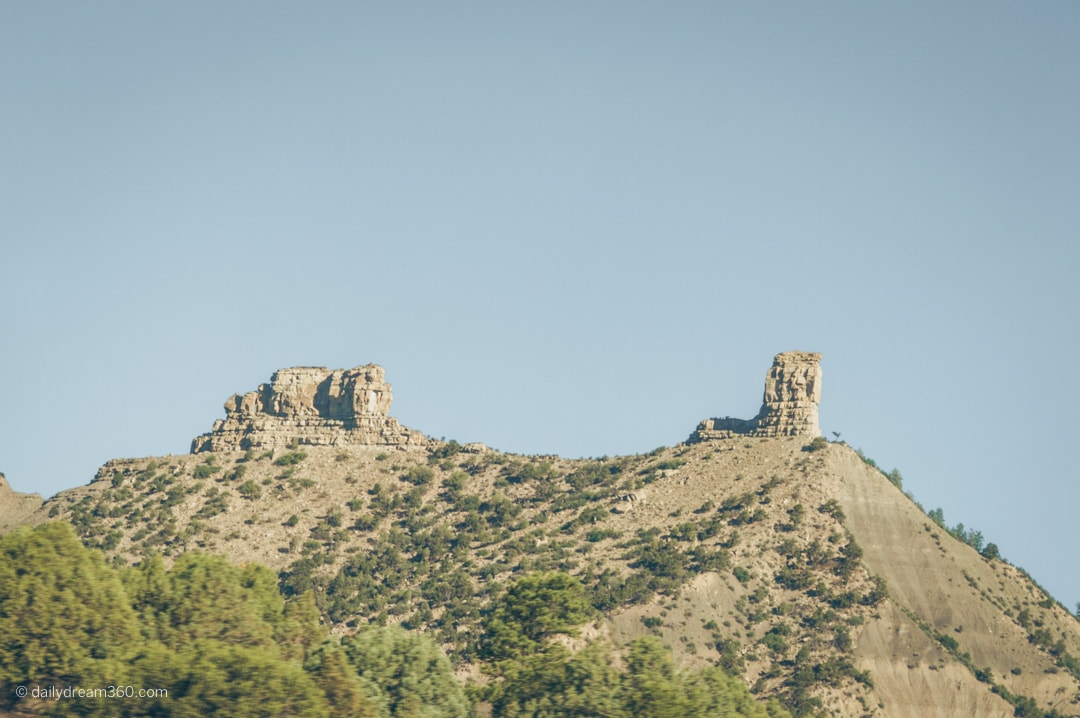 Chimney Rock
In 2012, Chimney Rock was designated as a National Monument. Located in the San Juan National forest this monument pays tribute to the Pueblo Indians who inhabited the area.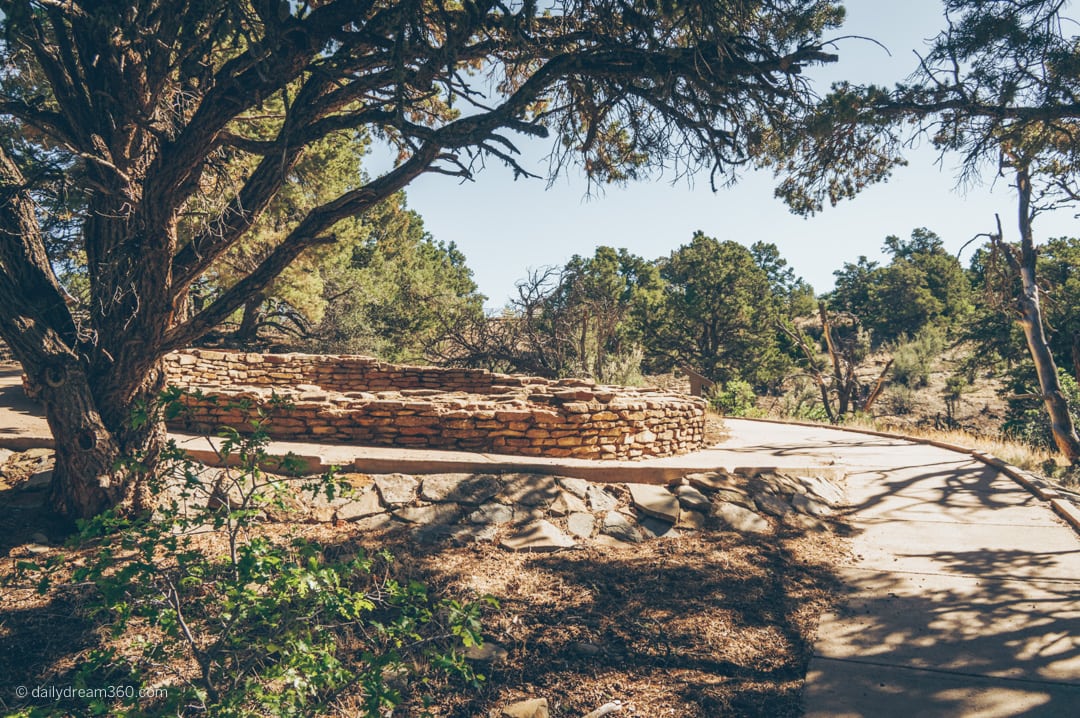 There numerous trails from beginner level (paved and wheelchair accessible) to more advanced natural trails. It was a lovely morning excursion on our way to Mesa Verde and the stories we learned on our walking tour tied into our trip to Mesa Verde National Park.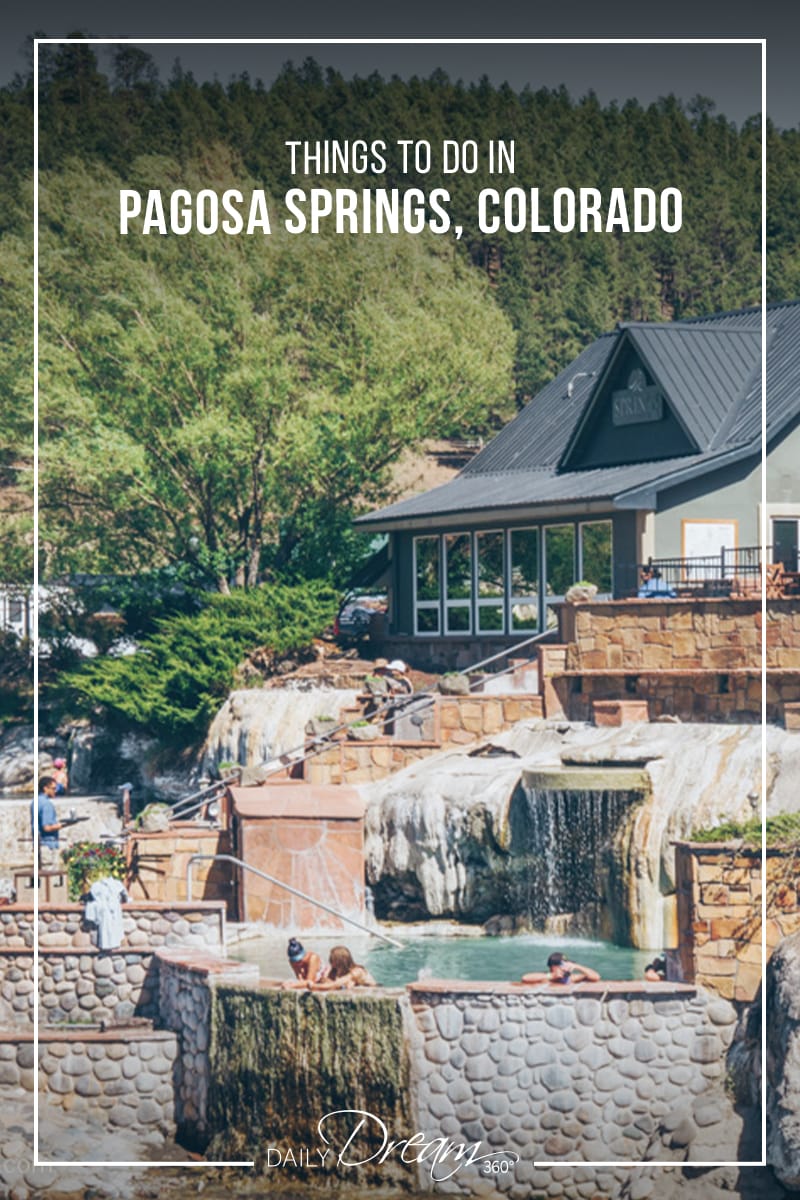 Travel assistance provided by Colorado Tourism on a familiarization trip which was part of the IPW Conference.