This article may contain affiliate links. Clicking on or purchasing products we recommend through a link may earn a small commission. Read our disclosure and privacy policy page for details. *COVID-19 TRAVEL ALERT – Travel recommendations offered on this site are not to encourage you to travel against travel advisories.
When Columbia first reached out to me several years back offering to give me a winter jacket, I had no idea what to expect. I was a city girl that didn't get out much in winter. I have purchased a few more items for my winter outerwear and have two Columbia Omni Heat jackets, Omni heat boots, snow pants and mittens.
Dream it.
I am not a skier or winter person per se, but since I started writing this website, I discovered that winter travel is more than a beach vacation in the Caribbean. The trick for me was finding the right outerwear, and Columbia Sportswear had just what I needed to be super warm and cozy during my winter trips.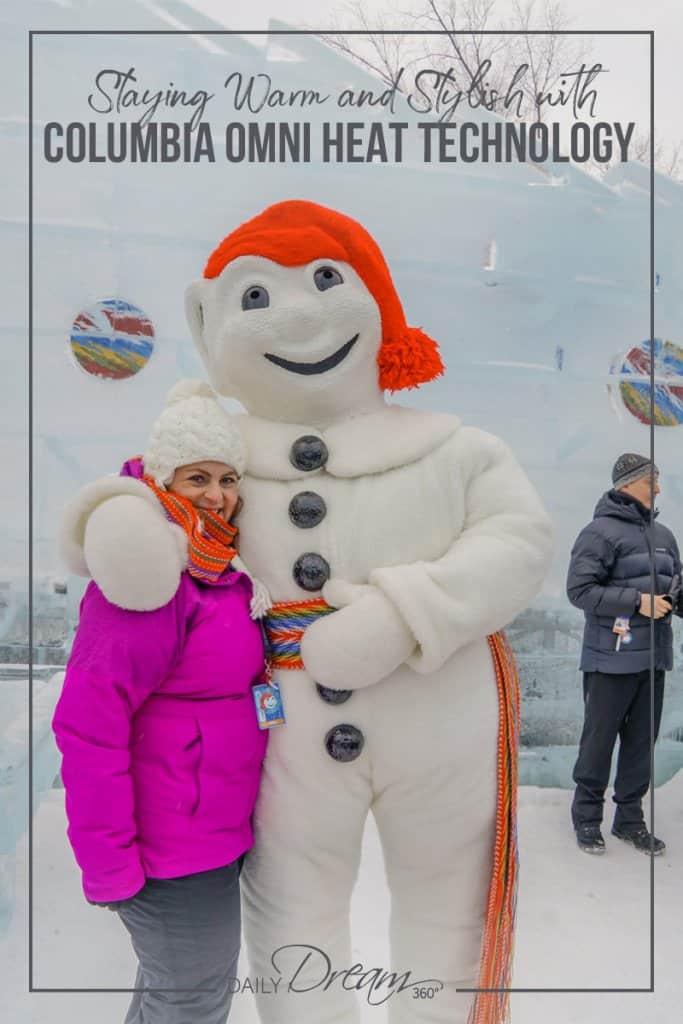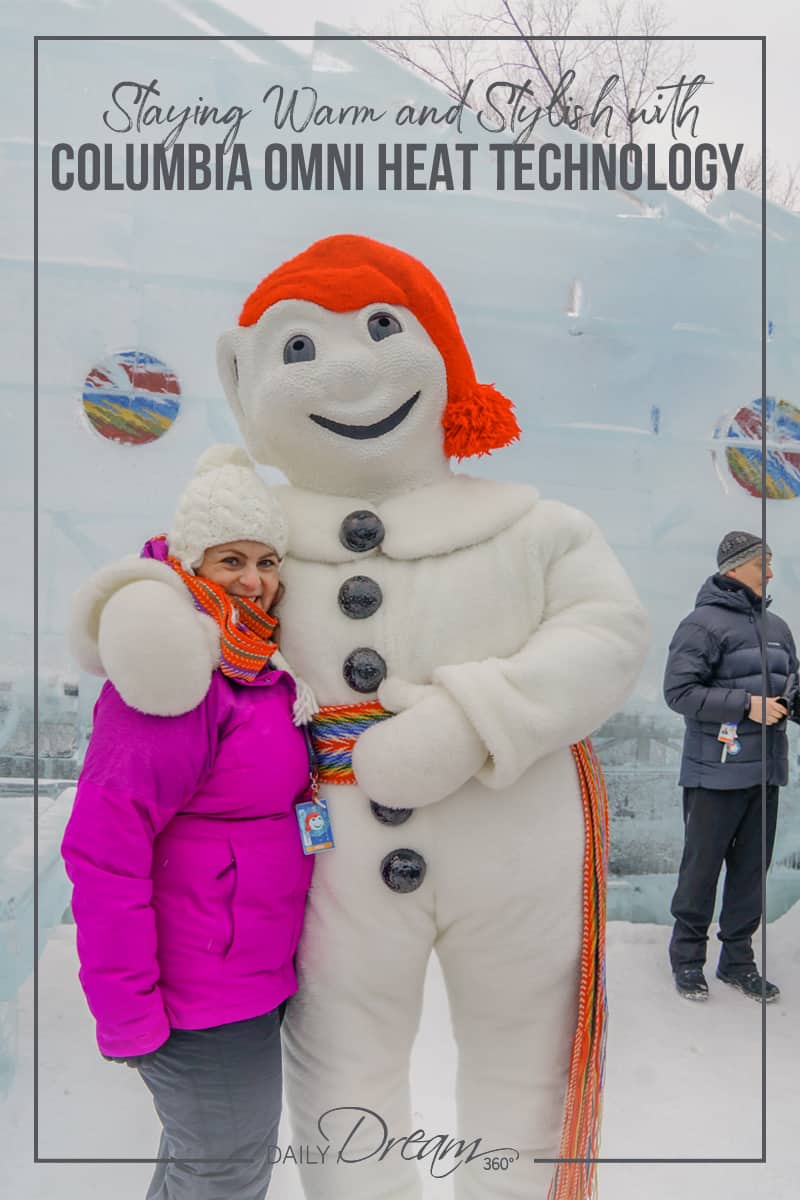 Plan it.
What is Omni Heat Technology?
Columbia's Omni Heat thermal reflective lining is a breathable warming technology that helps regulate your body temperature with little silver dots that reflect and retain the warmth your body generates.
Does Omni Heat Technology Work?
I loved my first Omni Heat ski coat so much that I bought the Omni Heat snow pants, boots and mittens. In addition, this year I purchased a second longer Omni Heat jacket to add to my winter wardrobe.
This Omni heat-reflective jacket is thinner and lightweight but still keeps me warm during the winter season here in Toronto.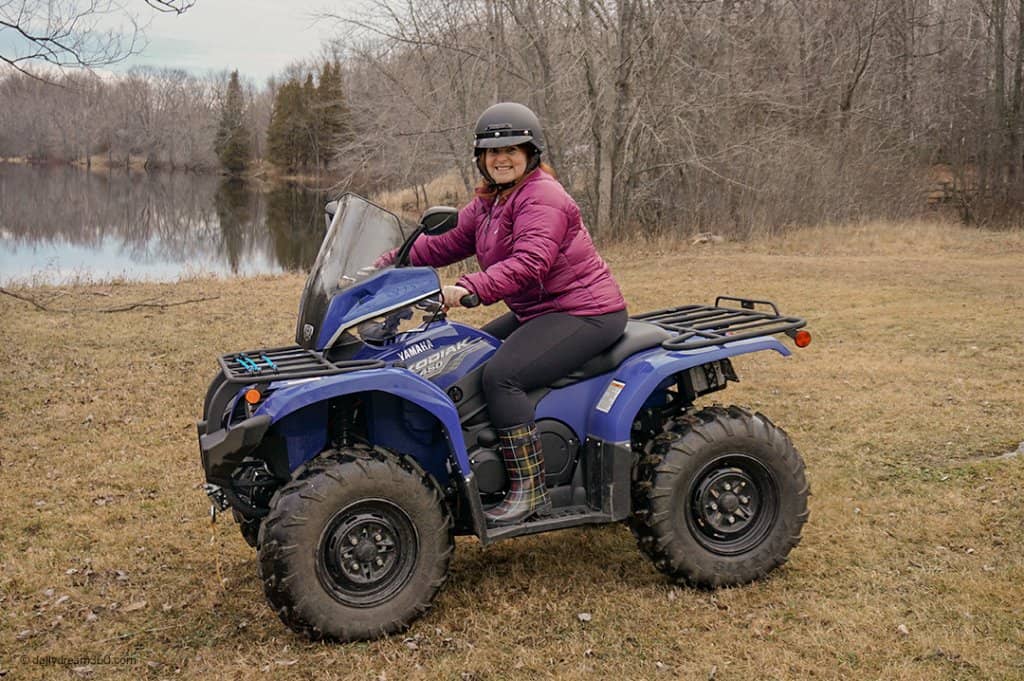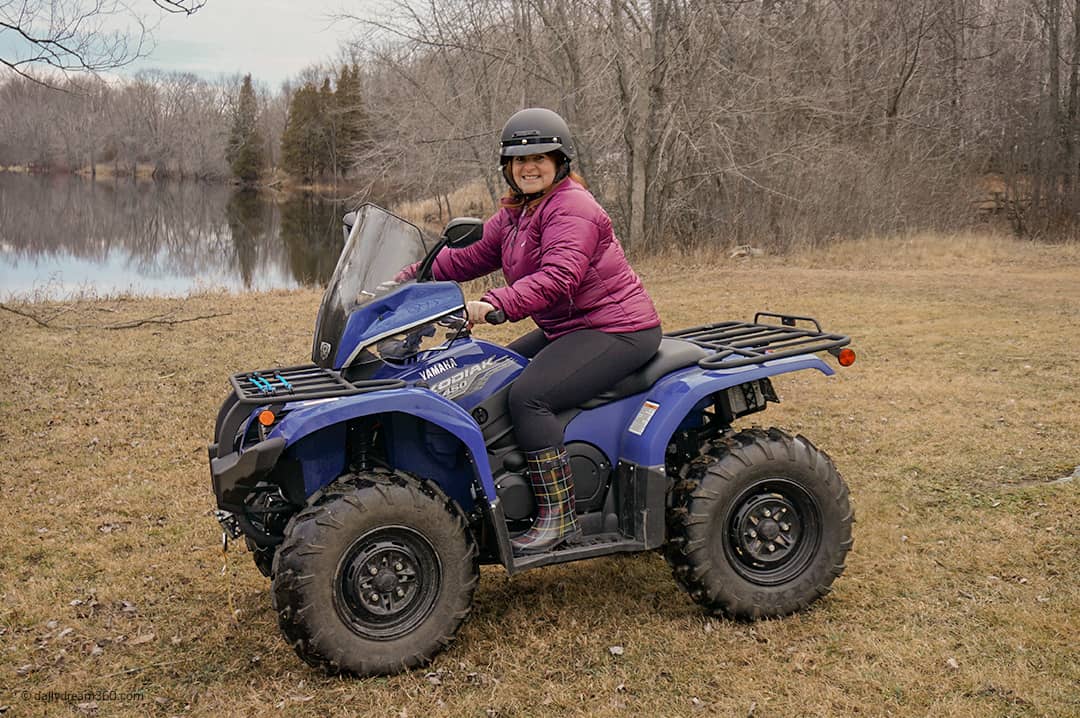 In What Temperatures Does Omni Heat Technology Work?
I asked this question in the Columbia store as the company no longer puts the temperature range for its Omni Heat jackets on the labels. They explained that the Omni Heat technology uses your body heat to keep you warm, dry and comfortable so the temperature varies from person to person.
However, that said, even the thinner Omni heat jackets work in sub-zero temperatures. For extreme sub-zero temperatures, I recommend the 3-in-1 interchange jackets which use the Omni heat reflective technology in the inner coat and add an extra layer of wind and rain protection with the outer layer.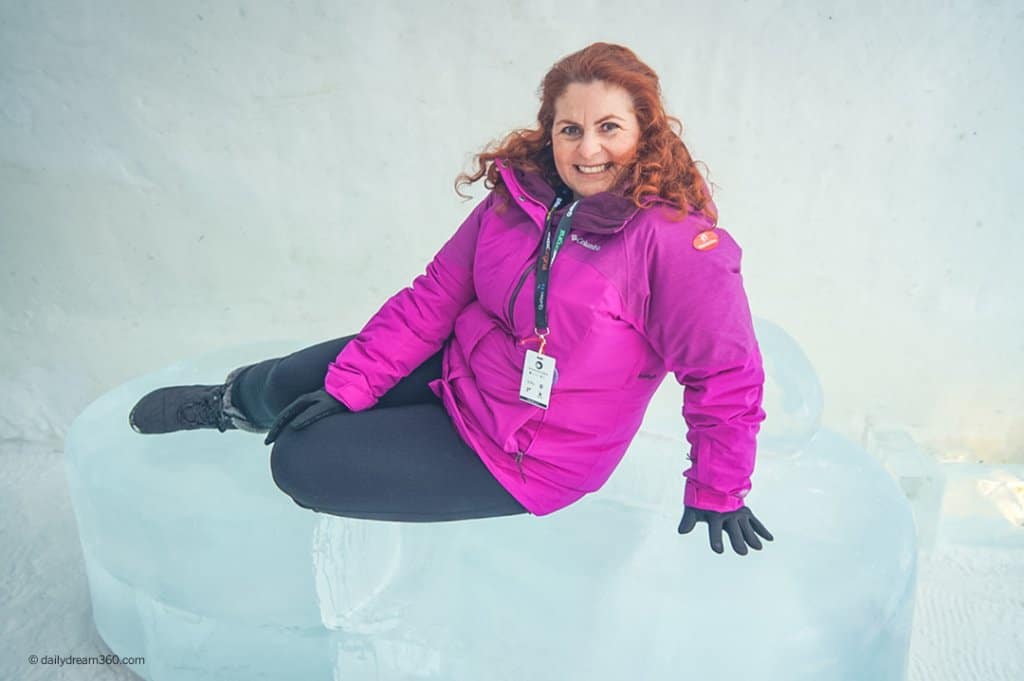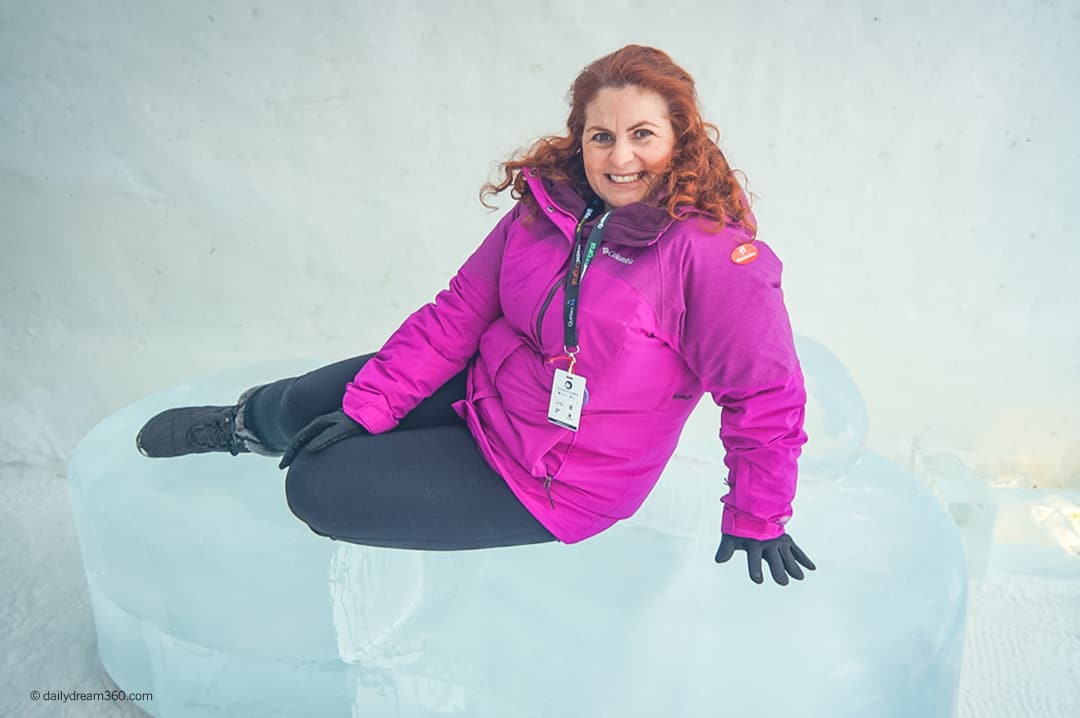 Live it.
My Columbia Omni Heat Winter Outerwear
Women's 3-in-1 Columbia Omni Heat Jacket
I love this 3-in-1 winter coat, and I have received so many compliments about it I lost count. Great for all the different weather from fall to spring! The inside thermal liner unzips from the shell to create its jacket. It is a darker purple colour and is the perfect fall coat.
When winter finally arrived, the outer shell was great to wear on a nature hike when the weather was still around 0 degrees Celsius.
But the real test of this coat for me came on my trips to Quebec during the winter. Quebec is known for its frigid winter, and the temperatures dropped well below -10°C at times. I didn't feel a thing! With snow falling all around, I walked the city without worrying about the temperature at all!
The outer coat has many little pockets too. I know the front zipper meant for ski passes, but for me, it was a great place to slide my iPhone, which fit inside comfortably. On the left-hand sleeve, there was another small pocket, which was great for storing some extra Kleenex, my hotel key and my Chapstick.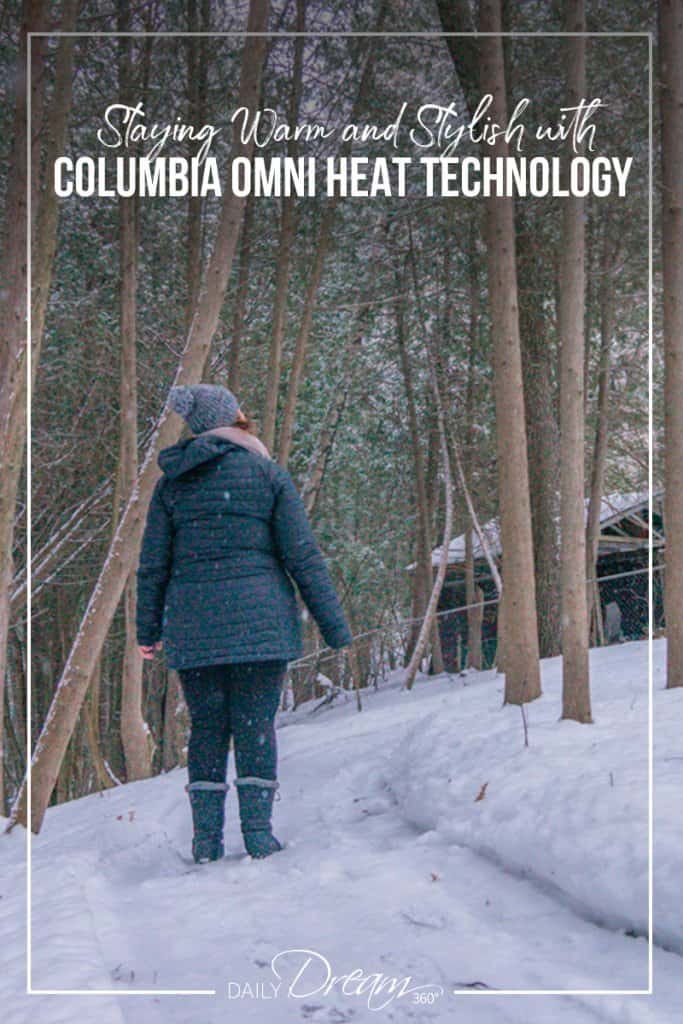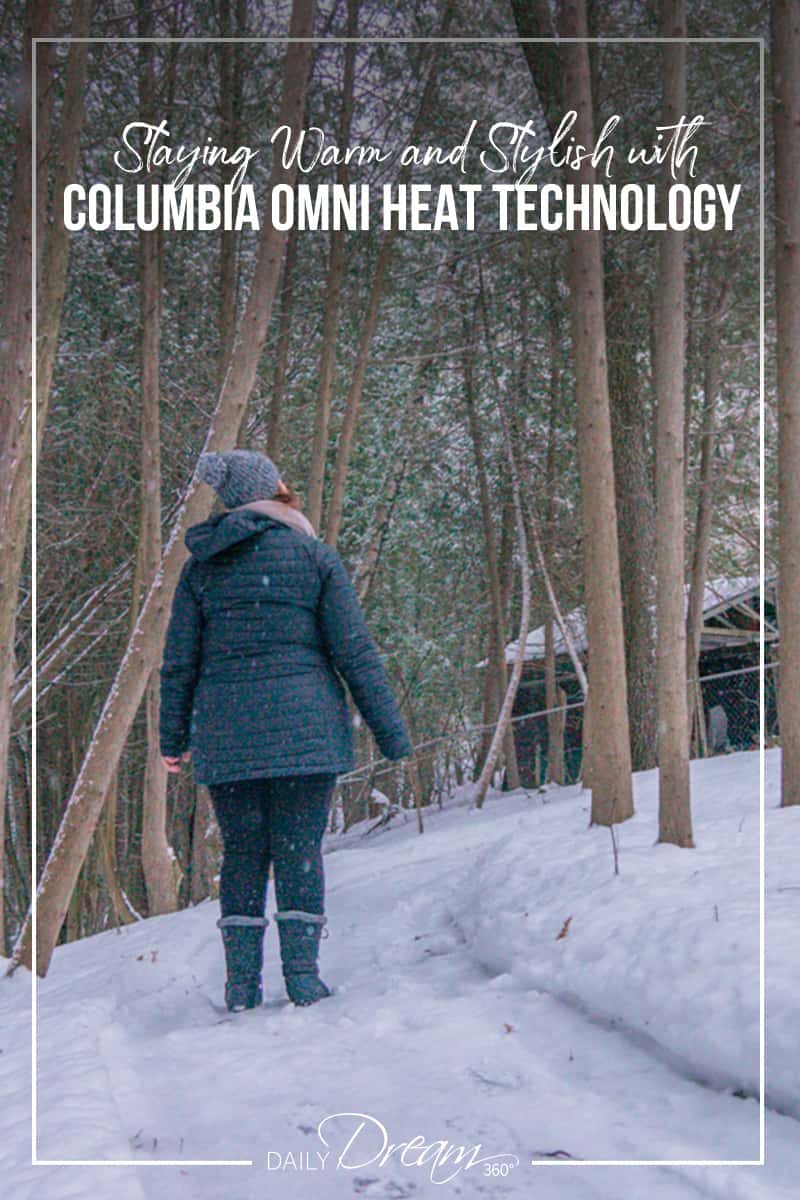 Women's Columbia Longer Omni Heat Jacket
This thigh-length Omni Heat jacket is very thin and lightweight. As temperatures dropped during this forest retreat, I found that it was able to keep me warm and comfortable.
The mid-length Columbia coat has a hood and 2 zippered pockets. I love how the cuffs have extra fabric to seal your arms from cold sneaking through.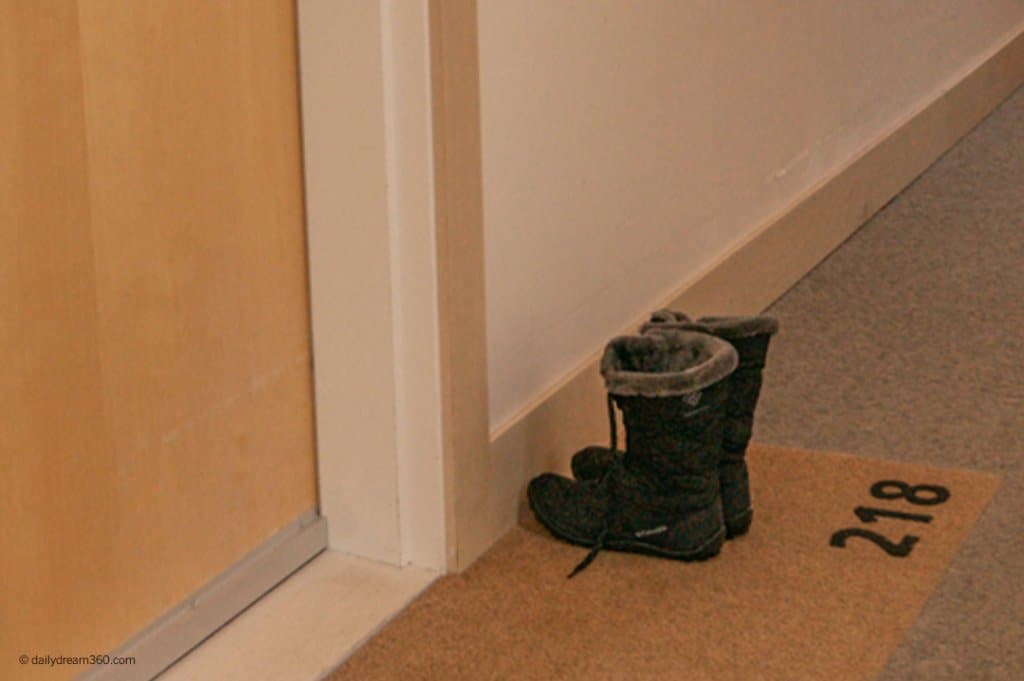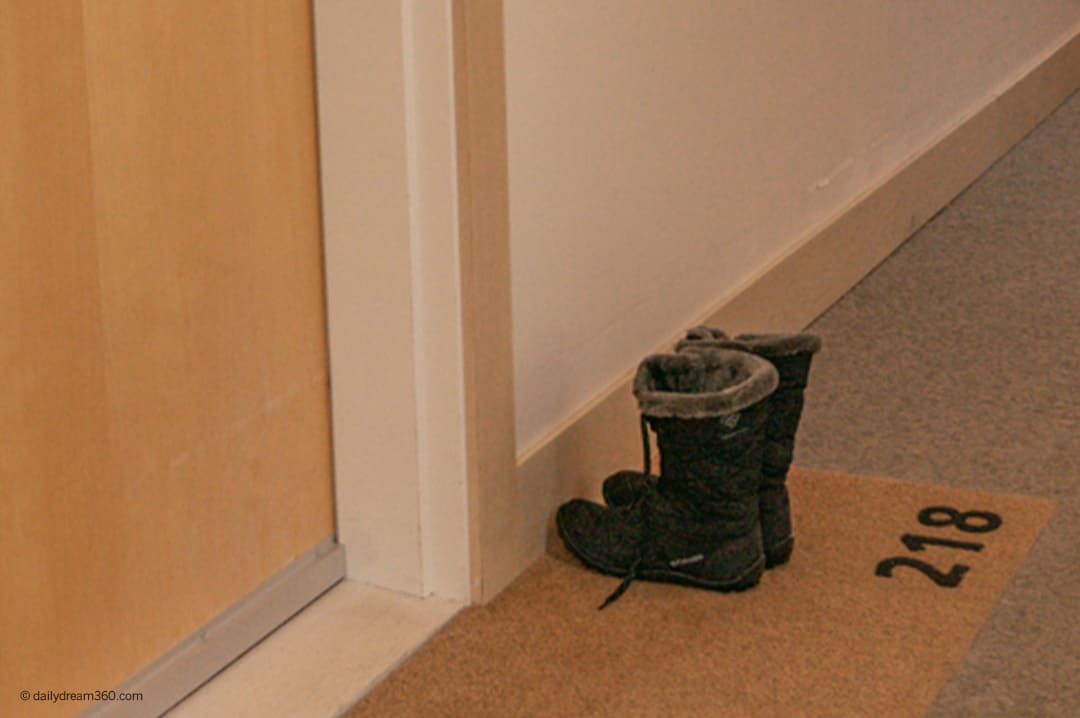 Women's Minx Columbia Omni Heat Boots
My stylish leather boots were not going to keep me warm on a winter day with temperatures dipping below -25 degrees Celsius and with wet slushy streets and deep snow. The Columbia Minx boots are waterproof and lined with a faux-fur, so they are super warm. I didn't have to double up my socks once the entire weekend!
These Omni Heat Boots are Made for Walking!
I also have to mention that in Quebec City, I walked a lot! In fact, for four days, I walked over 20,000 steps a day, on snow, icy sidewalks, on hilly roads and the snow-covered fields of the Winter Carnival. These Omni Heat boots were super comfortable; I had no blisters and could have kept walking in them without any concern.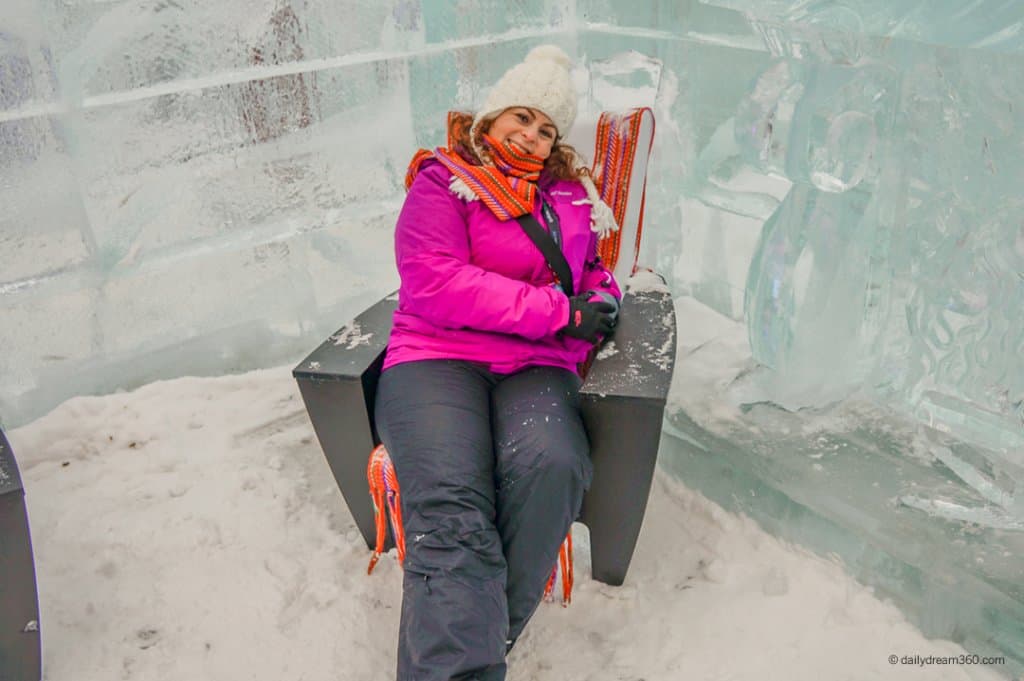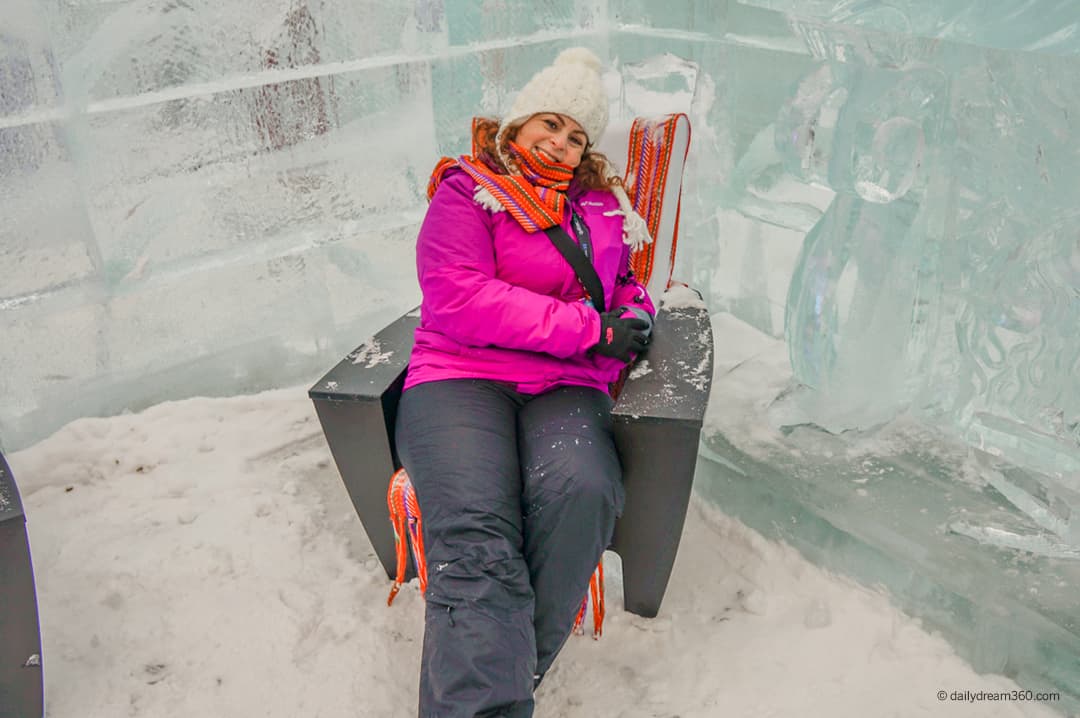 Columbia Omni Heat Snow Pants
As someone who doesn't engage in in-depth winter activities like skiing or snowboarding, I didn't have a reason to buy snow pants. I wondered around in k-way pants during really cold winter travelling, and it just didn't keep me warm. On a sightseeing trip in Port Stanley, Ontario, where the temperatures did dip to the -20 area, I came back to my hotel room with red cold legs even with several layers of thermal clothing under those pants.
I decided that for winter trips to Quebec, I would take advantage of some Boxing Day deals and buy a pair of Columbia Omni Heat snow pants. Best investment ever! They are not overly bulky and keep me warm without getting overly hot. With a pair of thermal underwear and yoga pants underneath, I found the Omni Heat snow pants kept me warm all day long.
Mix and Match Your Columbia Outerwear Colours
The great thing about Columbia is that all their men's and women's clothing is available in multiple colours. Colour schemes are consistent throughout all their clothing products, so if I wanted to be all fuchsia from head to toe, my snow pants came in both the same colour as my jacket's inner liner (deep purple) and the outer shell (bright fuchsia). While I love pink and purple, I thought a head-to-toe ensemble might be too much, so I settled on a black pair of winter pants!
Plus the I received lots of compliments about the colour of my coat and how it popped against the white backgrounds of the Ice Hotel and the Carnival. Winter wear is bulky and doesn't exactly make you feel great, but every time I wear my winter gear, I hear someone remark on the beautiful colour, and I think that "pretty in pink" feeling.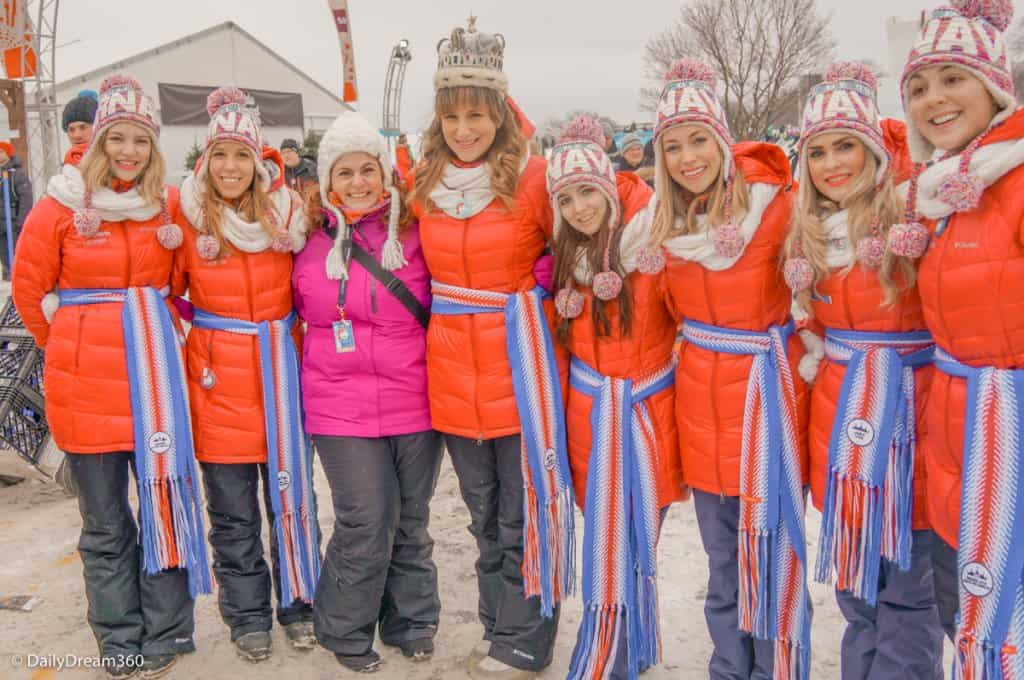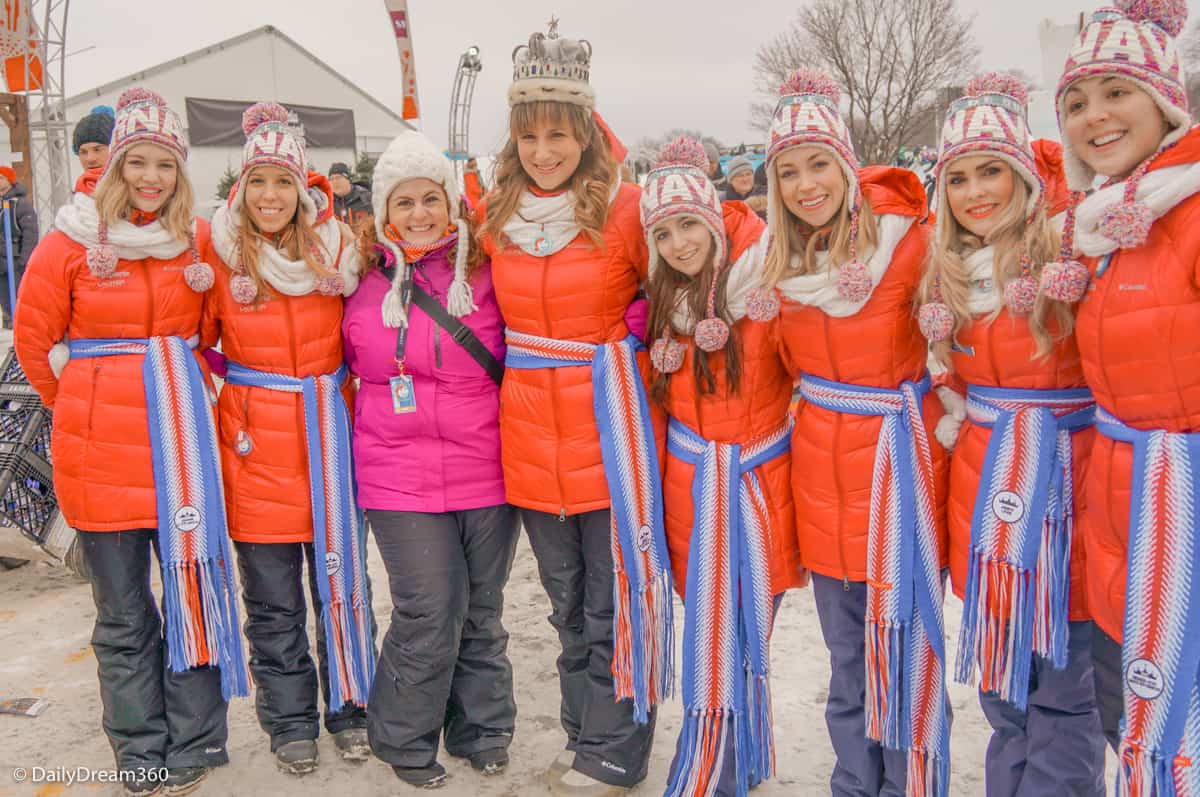 Even the Quebec Winter Carnival Queen and all her Duchesses were sporting winter looks by Columbia!
Columbia Omni Heat Mitten
To complete my ensemble, I bought a pair of Columbia mittens in the same colour as my outer jacket. These were great to keep my fingers warm on the frigid days. I also wore a pair of sleek black Omni Heat gloves (with touch screen compatibility) as a liner so I can remove the mittens but still be able to operate my phone and camera efficiently.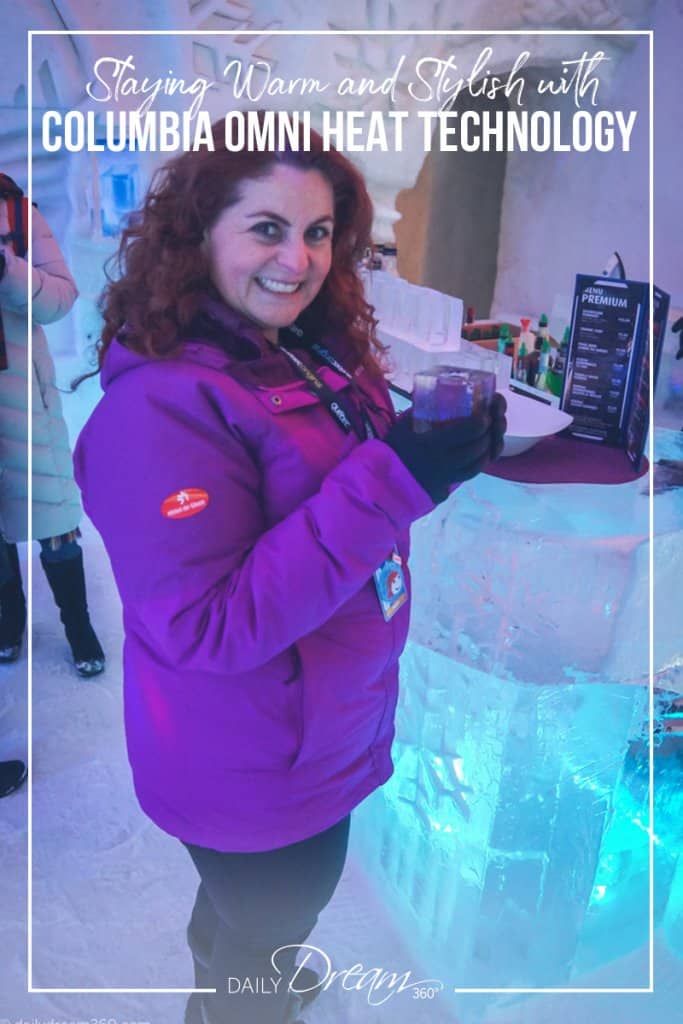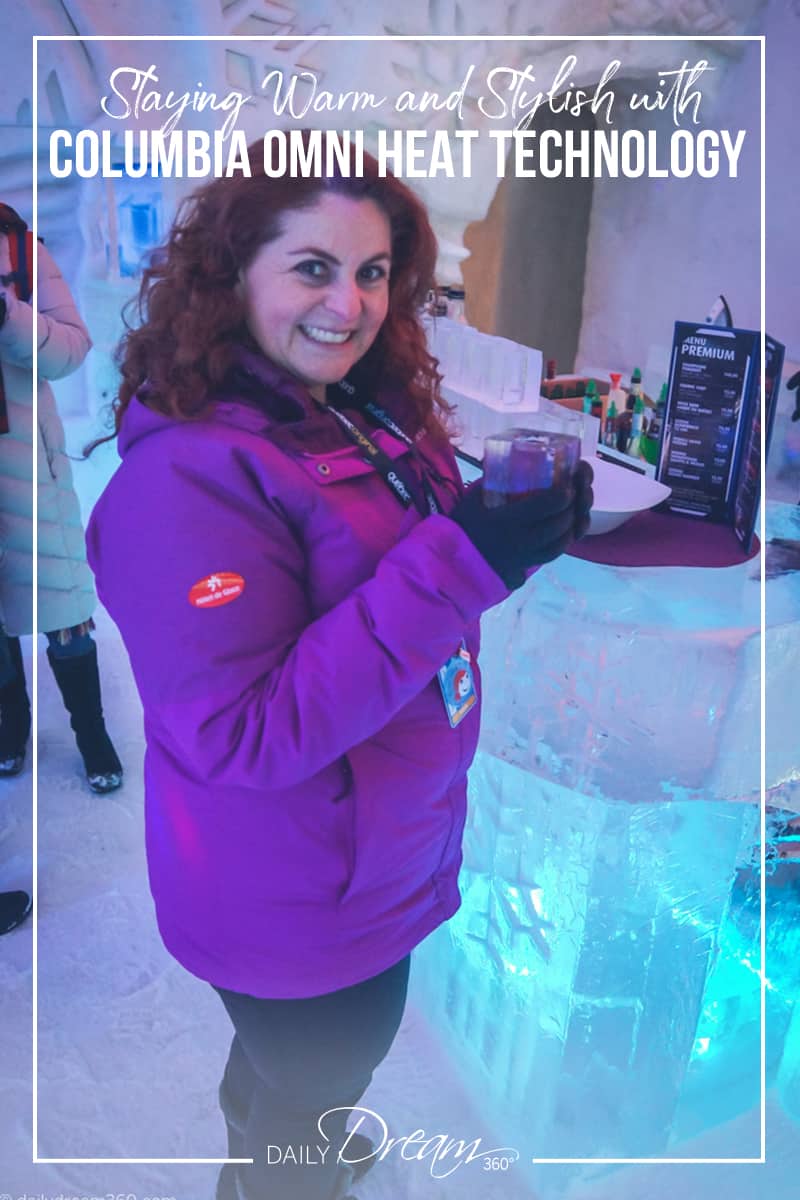 Tips for Dressing for the Winter
Remember the three-layer rule for your winter wardrobe:
First Layer: thermal layer, best to use wick-away or breathable material. Do not use cotton as your first base.
Second layer: regular winter clothing, the stylish clothing everyone sees but still keeps you warm.
Third layer: your winter outerwear including jacket, snow pants and boots.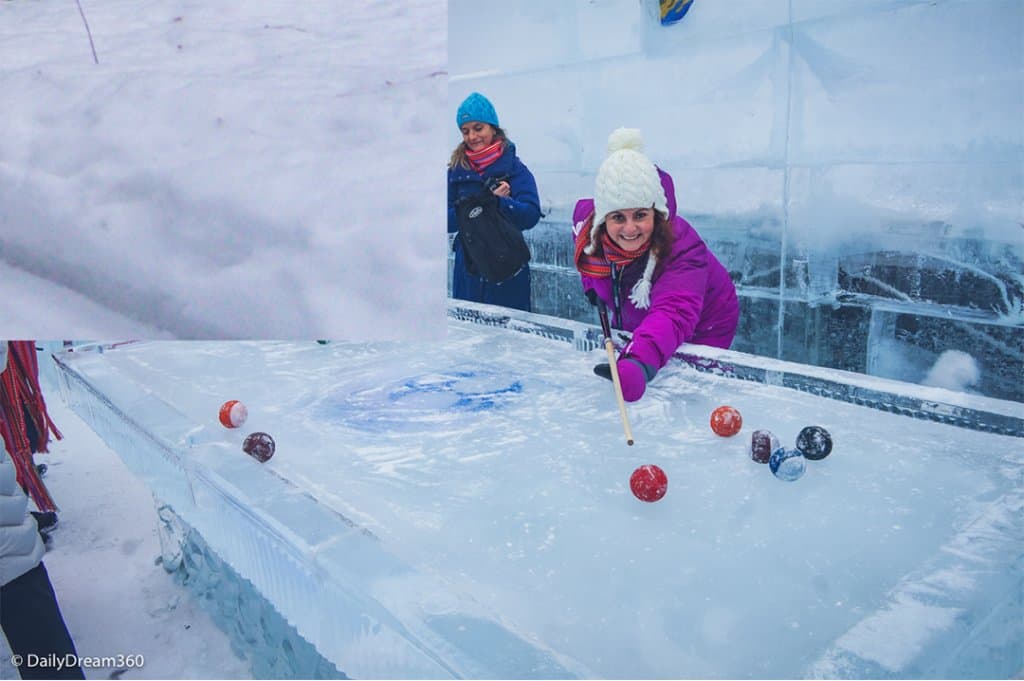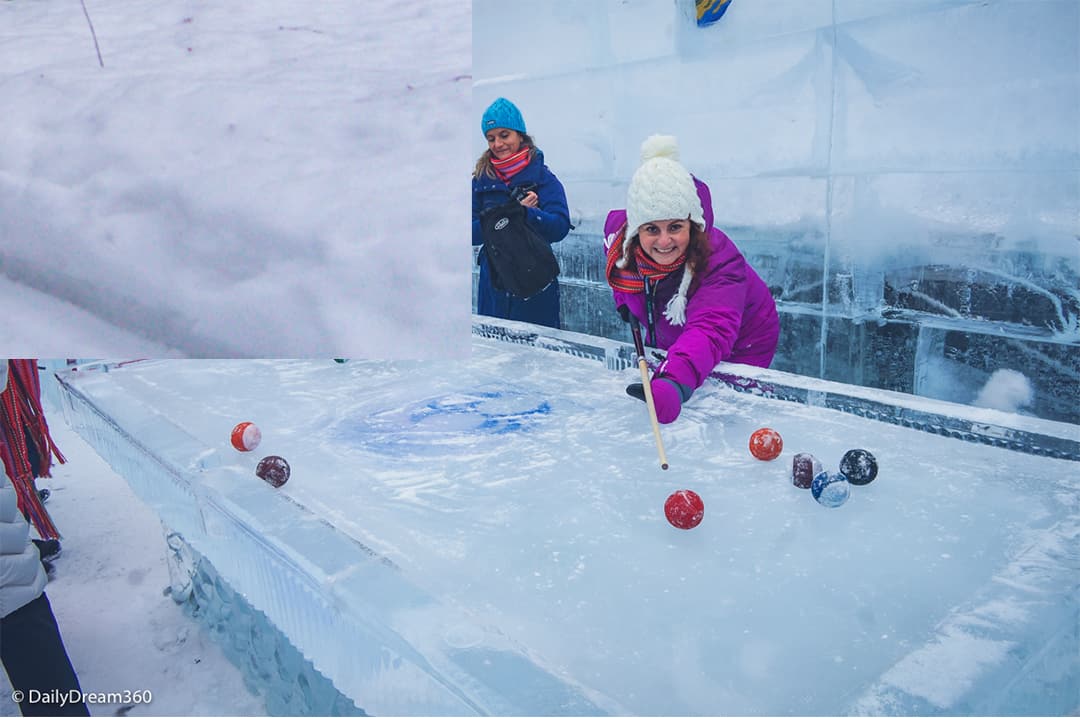 For your Outerwear layer:
Choose a Winter coat and snow pants with thermal linings for staying dry and warm on extra cold days and during snowy activities.
Winter boots must be waterproof, have good treads and withstand cold temperatures with a thermal lining like Omni heat.
A good hat and boots should be a priority; keeping the heat from escaping from your feet or head is essential.
Mittens are great for keeping fingers from being frost-bitten, wear thinner thermal gloves inside the mittens to keep your hands warm when playing with a camera or phone.
Read More: Stylish Winter Packing List – 7 Days | Winter Carry-on Only Packing List
I did not receive compensation for this post. I received a Columbia In-Bound 650 Jacket for review purposes and all other products purchased on my own. The opinions in this post based on my experience.