This article may contain affiliate links. Clicking on or purchasing products we recommend through a link may earn a small commission. Read our disclosure and privacy policy page for details. *COVID-19 TRAVEL ALERT – Travel recommendations offered on this site are not to encourage you to travel against travel advisories.
Reaching your dreams is about intention. It involves setting goals, tracking new habits and productivity. To make this easier, I have put together a list of agendas and planning journals on the market with different goal planning approaches. This post compares and lists the best goal setting planners to help you live your dreams.
Dream it.
The Best Goal Planners and Agendas 2022
For years, I have been using a goal-setting planner to help me work through business goals, personal goals, and organize my life. There is something so powerful about writing things down and seeing your week laid out in front of you.
In 2020 I used the Cleverfox Premium Weekly planner for the first time. It had a different layout in a weekly format with habits and goals on one page. While there are many excellent copycat goal-setting journals available out there, I narrowed down this list of the best goals setting planners to a specific set that meets multiple criteria and that I based on personal experience.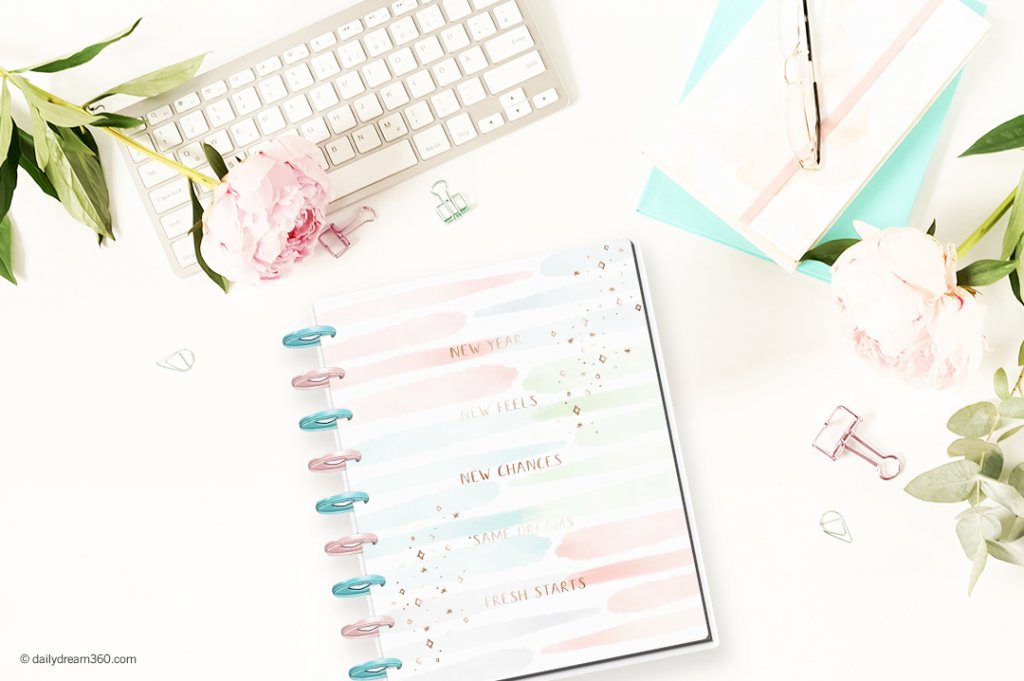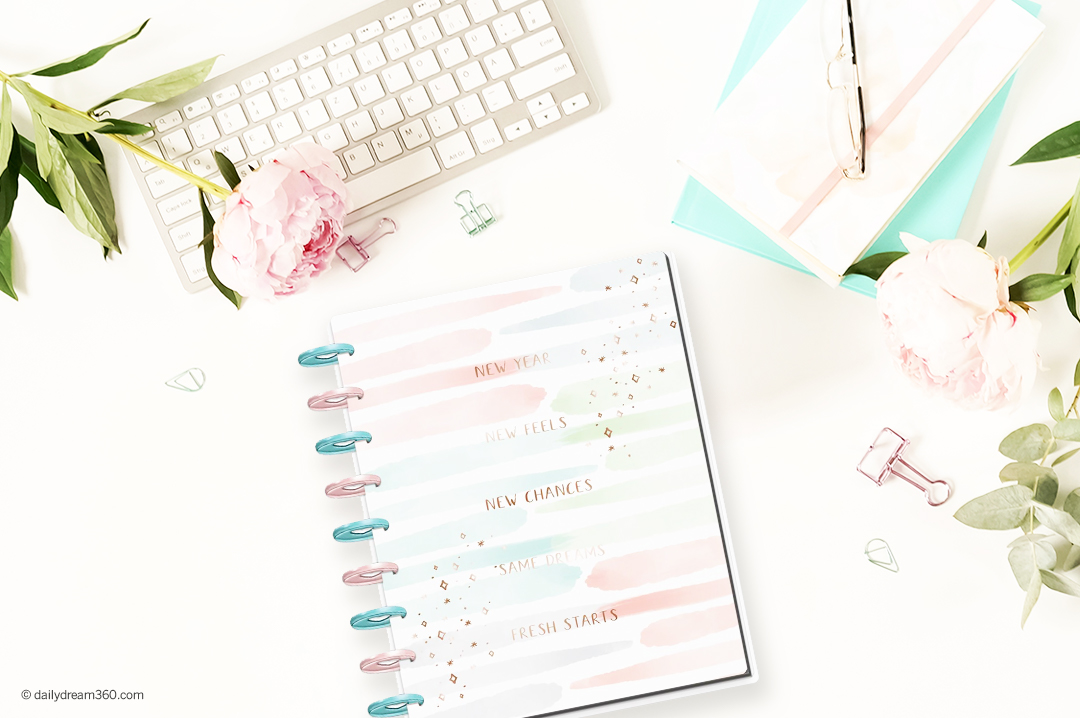 Plan it.
Create a Personal Plan with the Right Goal Planner
A long time ago, lost in a job I hated and desperate to turn my life around, I find myself seeking the advice of life coaches. After several orientations, I realized they were too expensive, but all promoted one crucial fact – you need a personal plan.
What is a Personal Plan and Why do you need one?
Those of you who run businesses know that every business needs a business plan. In the same way, a personal plan can help you analyze your current situation and skillset, help you write down goals, and map out a plan to achieve them.
Personal plans involve assessing your strengths, weaknesses, opportunities and threats, also known as a SWOT analysis. There are also time management evaluations, writing goals and setting actions to help you achieve those goals.
Taking Your Life into Your Own Hands
These goals you set in a personal plan involve everything from finances, health and wellness, personal relationships, small businesses or careers to managing everyday things in your life. So how does a goal-setting planner help you do this?
Read more: How to Create Your Dream Life + Mind Map Download
How Writing Things Down Helps
Many life coaches and productivity experts have proved that you are more likely to achieve an objective when you write it down. Therefore, having room to scribble ideas and think out loud is far more effective than using an app or digital source.
Even in your office, there is often a whiteboard or paper easel to jot down notes from the meeting, takeaways, or parked ideas. A written planner is like your notebook of ideas, goals, wins and losses.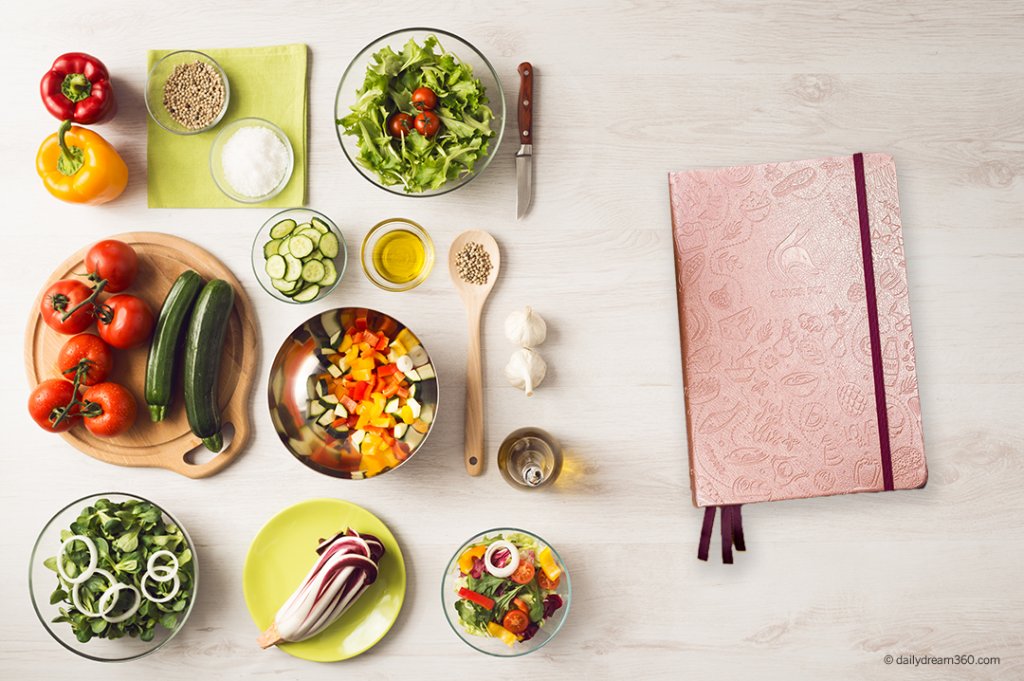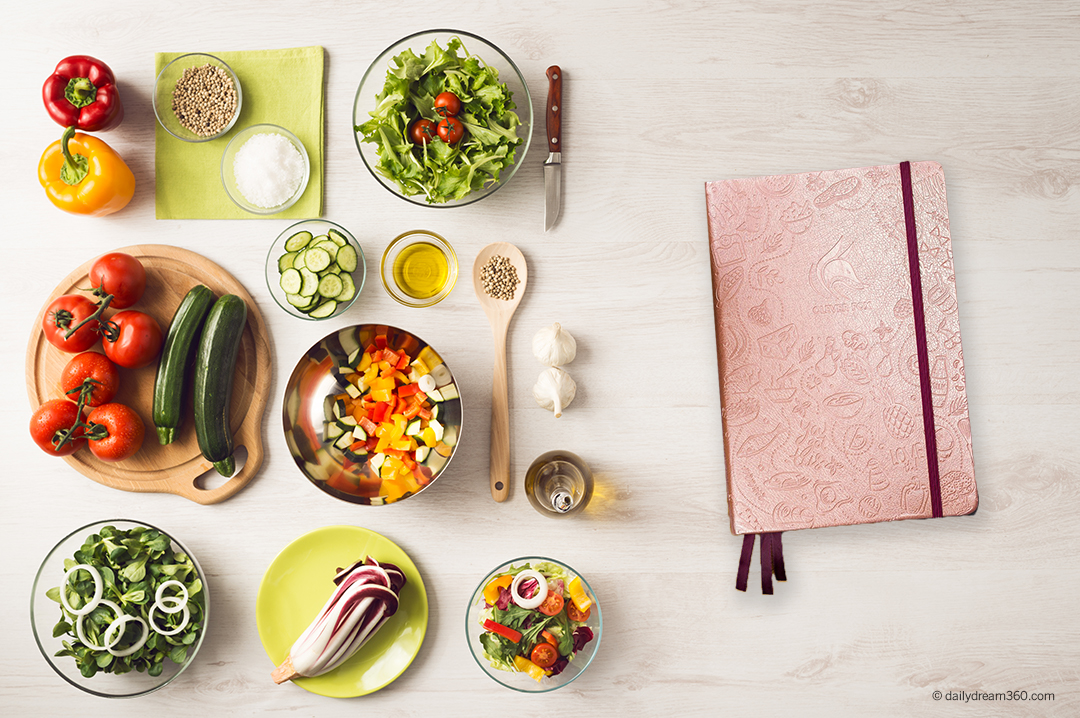 How to Choose the Best Planner for Goal Setting
You might want to evaluate how much tracking and goal setting you will be doing. Making a daily commitment to filling in details may be too much for you, for example. You may want to track many things and use stickers and decorative elements like a scrapbooker, or you may want a spot to jot down plans and keep track of quickly.
Choosing between the best planners out there, you have to ask what options do they have for me, and how will I use them? These are the features available in the best planning journals.
Daily or Weekly Versions
Dated vs Undated planners
Compact or Large Size
Hourly Slots and Agenda Features
To-Do Lists
Doodle and Scribble areas
Habit Tracking
Long-term and Yearly Goal Setting
Regular check-ins and Reviews
Daily or Weekly Goal Setting and Tracking Options
How you will choose to track your days can be laid out in a daily or weekly layout. Standard layouts provide space for each hour of the day, goals for the day, habits to keep etc. Weekly plans put the entire week in front of you but still provide space for the above. Most planners layout the main pages in a daily or weekly format and include a monthly overview page to see the entire month and set monthly goals.
Daily trackers are great for people who are very busy and have many hourly appointments to track. Weekly trackers are great for those who don't have too many meetings each day and can't commit a lot of time to fill in the planner daily. Pro versions or large 8.5 x 11 sized planners are for serious goal setters looking to map out their plans.
Read more: How to Set Goals and Achieve Them with Free Goal Tracking Worksheet
Dated or Undated Goal Setting Planners
If you are like me, you like to start your goal planner at the start of the new year. However, a student may prefer an academic planner that follows the academic calendar and starts in September. For others, who want to start right away, an undated version allows you to fill in your start date might be the better approach.
I found that using a dated planner was best for me as it kept me accountable for filling it in more regularly, and it became like an old school day timer where my schedule sits in front of me.
Hourly Agenda to Help See How You are using your Time
One of the best exercises I did with a life coach during their orientation was to create a schedule outlining how I spent every hour of my day. It showed me where I had no choice about time management like commute time, time at the office and where I had wiggle room to fit in workouts, writing time and other priorities. Eventually, it also led me to change my schedule to allow more time for my goal action items.
Regular Status Reviews
A planner that forces you to take stock of the week or month is also valuable — checking in on how you are feeling, what worked and what didn't help you make the adjustments needed to move toward your goal. They can also help you see when you are moving backward away from them.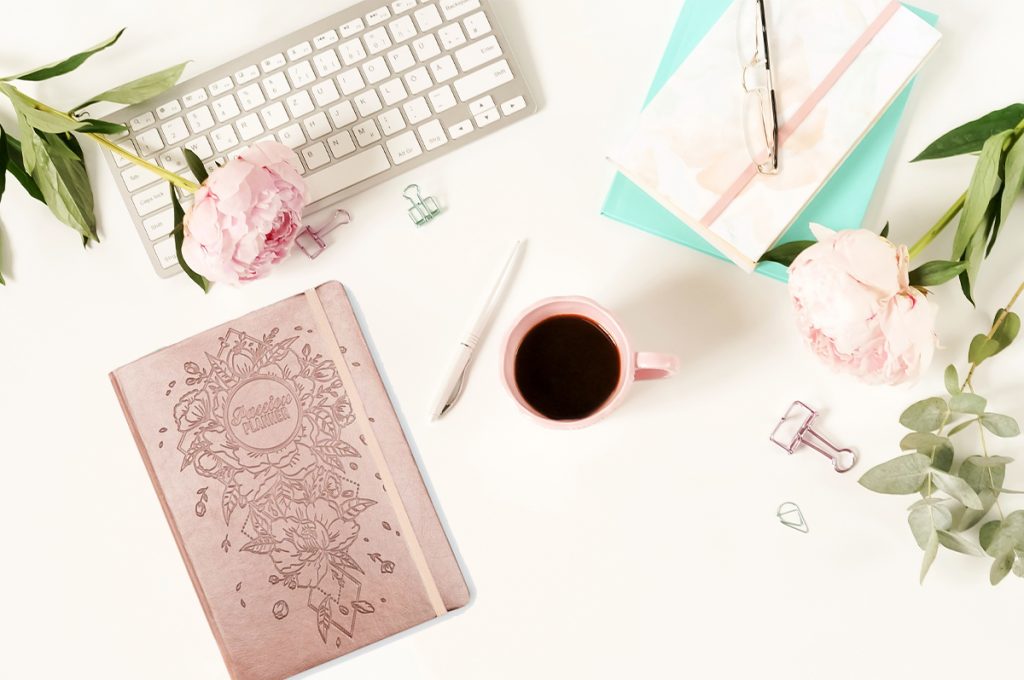 Live it.
The Best Goal Planners 2022
I've put together a description of each planner below, the available options and how they layout goal setting in their journals to help you decide which approach will work better for you.
Passion Planner – Great All Around Goal and Time Planner.
My first goal-setting planner was a passion planner, and I loved it because it allowed me to test the waters before I made a purchase. You can download a PDF version of the planner first and use it for a few weeks to see if it is the right planner for you. The only reason I stopped using it was they discontinued the compact version of the planner.
In 2020, they brought back the compact version and now offer three sizes for their planner: Small (5.8″ x 8.3″), Medium (6.9″ x 9.8″) and Large (8.3″ x 11.7″).
Going back to Passion Planner for 2022
In 2022, I will be using the Passion Planner again, my third year with this planning journal, and I'll explain why. What works so well with Passion Planner is its layout. The dated version, in particular, works so well because of its layout. You start with a mind map dump to help figure out your priority goals. A monthly calendar overview enables you to see the entire month ahead, and then it moves into weekly pages.
Each weekly layout includes Monday – Sunday layouts with hourly slots from 6:30 AM – 10:30 PM. There are places for a personal list, work list and a blank space to jot down notes, inspiration or doodle. At the end of each month, you'll have a monthly reflection where you can analyze how things went and sent your intention for the next month.
If you'd like to take your passion planner on your tablet, there is now a digital version of the planner, which works with notes apps. I believe (as do many life coaches and successful people) that writing things down and having them in front of you helps to keep goals top of mind.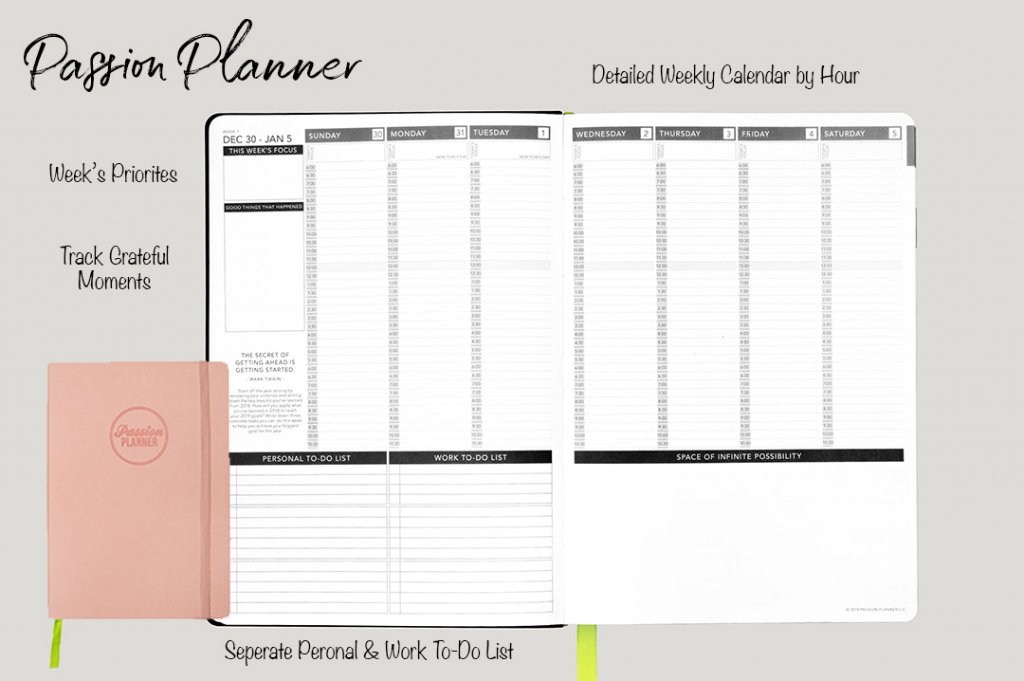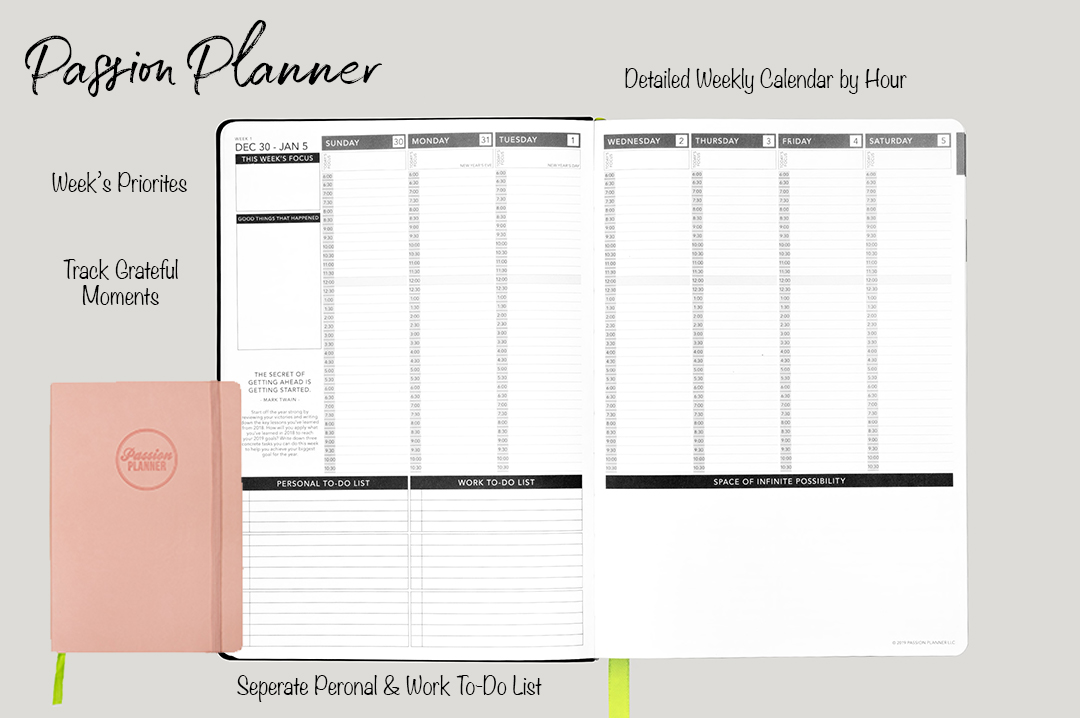 Types of Passion Planners Available
Digital Planner (new)
Daily Planner (new in 2020) 
Weekly Planner
Features:
Three sizes
Sunday or Monday weekly start date
Limited colours
Easy to follow layouts
Ability to download printed forms and try them before you buy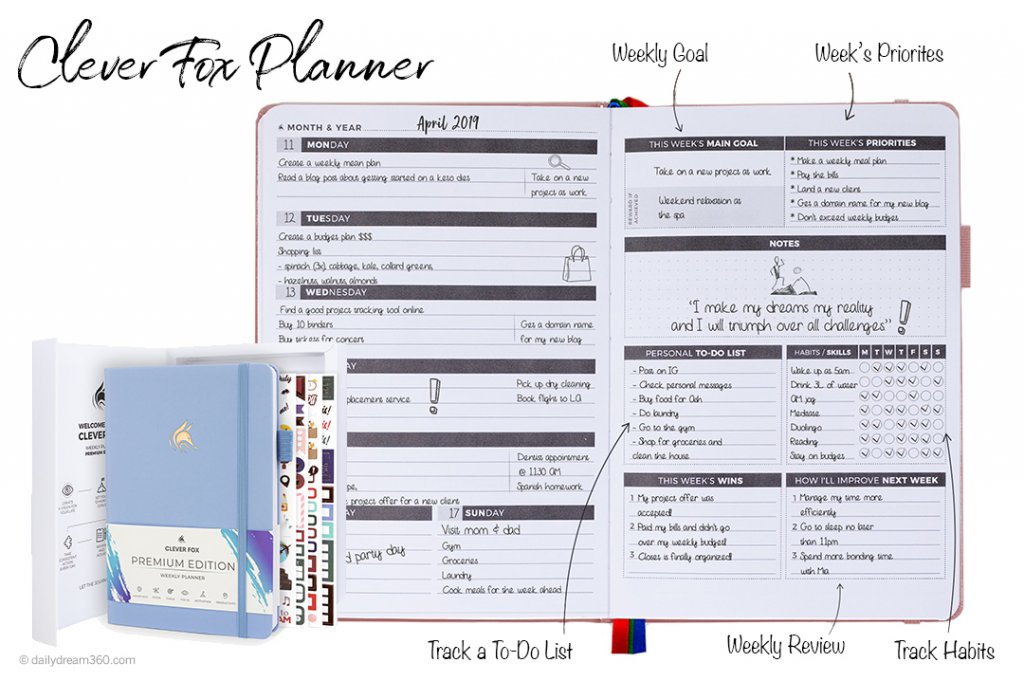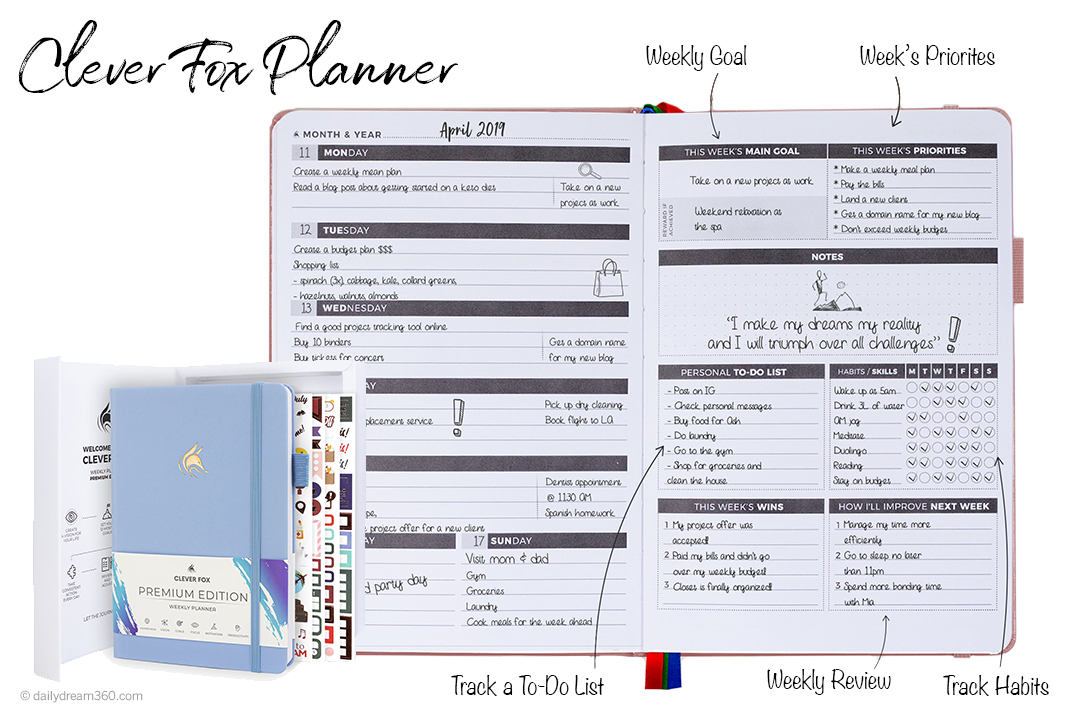 Clever Fox Planner – Great for Habit Tracking
Clever Fox was my choice for the best goal setting planner in 2020. I fell in love with the layout of the weekly Clever Fox planner. It has limited space to track essential notes for each day of the week and sets an entire page for writing the weekly goal, priorities, personal to-do list, habit tracking and a blank space for notes. Each week also has sections to review weekly wins and what you can do better the following week.
I like making lists and tracking activities, and I thought this is a brilliant layout to get the most goal-setting features displayed on one open page of the planner. The goal planner also came with several sticker sheets and a manual on best tracking practices and the planner's best use.
Here's the truth about how I used the planner. Yes, 2020 was a challenging year for many, but I still did have my planner open on my desk each week. What didn't work for me is this undated format. It groups all the Monthly calendars, all the weeks and then the follow-up reflections, which means you have to stay on top of these things.
Had this been a dated version, this might have worked better as the monthly, weekly and reflections are correctly inserted at the appropriate time to remind you to fill in the reviews and adjust your goals as needed.
I also found that I didn't always fill up the habit tracker, and I missed the hourly slots as well, especially when I found myself procrastinating during the darkest moments of the year. It was one of the big reasons I switched back to Passion Planner.
Types of Clever Fox Planners Available
What sets Clever Fox planners from other planners on the market is the number of planners available. They have the right model and size options for any tracking.
Daily (include a monthly overview as well)
Weekly (include a monthly summary as well)
Food Planner (New 2020)
Budget Planner
Bullet Journal Notebooks
Blank Notebooks
Features:
Size 5.8″ x 8.3″ (except pro planner, which is 8.5″ x 11″)
Available in dated and undated options
Multiple colours
Easy to follow layouts
Stickers included
The Happy Planner: Great for Scrapbooking Fans
In my second year of planning, I thought I would take it to the ultimate level. I used a Happy Planner for my goal setting and found that it just wasn't for me. The first issue was how bulky it was and heavy. It was not something I could travel with and stick in my purse. That said, the bigger size of this goal planner left me lots more room to jot down things and use stickers to express myself. The idea is that I found I did not do this every week. I had no time for labels and needed more space to outline goals.
If you are creative and looking to layout a customizable multi-layered organizational tool, then you might love the Happy Planner and all its beautiful accessories. From customizing covers, the rings that attach them to finding the right inserts to track either daily, weekly, budget-oriented goals, health and wellness goals etc.
Types of Happy Planners Available
Undated
Dated
Boxed Kits
Available in new skinny size, classic or big.
Features:
Available themes include Fitness and wellness, Dreamer, Business, Budget
Add and remove pages easily
Customizable pages, stickers and accessories
Panda Planner – Good for Short Term Goal Planning
Panada Planner is a popular goal-setting journal, which is why I put it on my list; however, I could not wrap my head around it. What confuses me about Panda Planner is its approach. Some of their planners are meant to be only six months worth if used regularly? What does this mean? Perhaps for those not committed to using their goal planners daily or weekly, these versions are the best approach.
I found their layouts confusing and not at all valuable for goal setting and tracking. However, they have spots for setting goals for the day, showing scheduled tasks and an end of day review.
Types of Panda Planners Available
Weekly 12-month planner
Classic Daily Planner (but not 12 Months)
Pro (8.5″ x 11″) size
Features:
Multiple colours
Undated pages with 3 to 6 months available depending on use
Great for non-committed trackers
GoGirl Planner: Good Planner – limited options
Similar to the Clever Fox Planner above, the GoGirl Planner offers a weekly format with space on one side of the open page to track appointments and then to the right set priorities, to-do lists, habit tracking and doodle.
Goals, vision and focus modules are placed in pages at other points in the planner vs on the weekly or monthly views. Having these sections available each week is really about your preference for repeating goals and seeing them in front of you each day or week.
Types of GoGirl Planner Available
Weekly Planner (with a monthly view)
Features:
Undated
It comes in multiple colours
Stickers included
5.3″ x 7.7″
3 Coloured ribbon bookmarks
Choosing the best goal planner to achieve your goals is really about the type of things you want to track, how committed you are to writing things down, and what kinds of priorities you want to measure. What's important is reviewing your goals regularly and adjusting your plans when life gets in the way.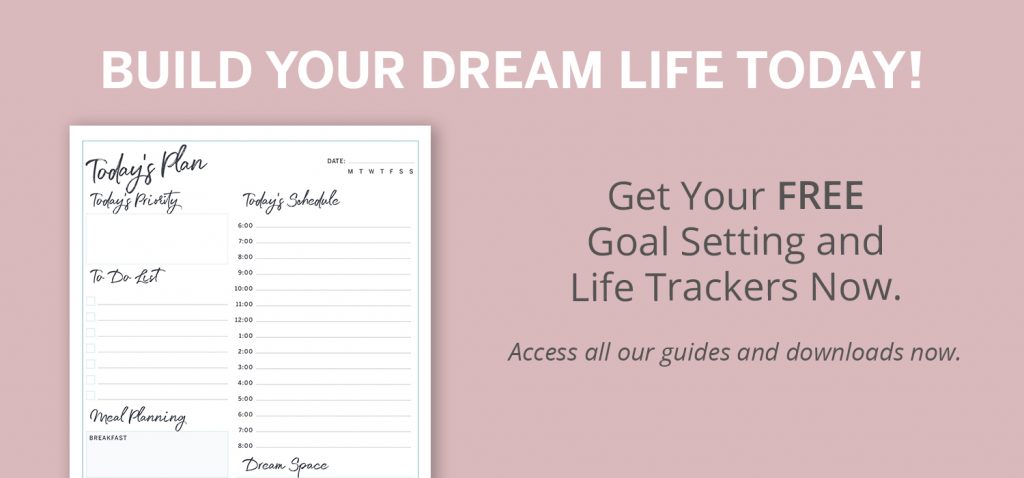 Download your goal setting tracker and other free printables and guides we share on our downloads and resources page. Sign up for our newsletter to get access now.