This article may contain affiliate links. Clicking on or purchasing products we recommend through a link may earn a small commission. Read our disclosure and privacy policy page for details. *COVID-19 TRAVEL ALERT – Travel recommendations offered on this site are not to encourage you to travel against travel advisories.
Are you looking for a healthy keto-friendly snack? Try baking up some crispy seasoned kale chips in the oven or the air fryer. Find your favourite seasoning and enjoy this salty and healthy snack without any guilt. I had to share this seasoned kale chips recipe because it is just so easy to make!
Dream it.
If you're planning a trip that involves a pool, lake, or beach of any kind and you don't want to buy a special waterproof camera or action camera, then a waterproof pouch for your phone could just be the solution you are looking for. Most of us have replaced our cameras and choose to travel with our phones and while there are some water-resistant models out there, protecting your phone with a waterproof pouch could save you a costly repair or replacement.
Let me begin by saying this is not a substitute for potato chips. Kale chips will never accomplish that. But that salty and bitter taste of kale and its ability to cook up into a crisp make this a delicious salty snack.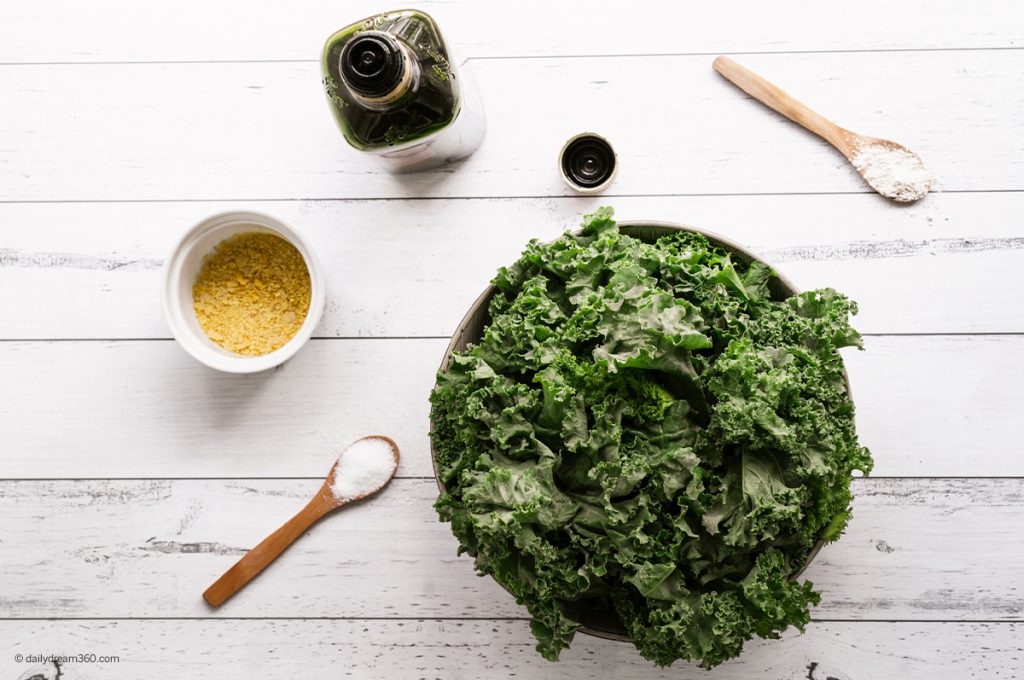 Plan it.
How to Make Seasoned Kale Chips
Making kale chips is super easy. You begin by removing the big leaves from the thicker stems. You can do this with a knife or with your hands. The goal is to create bite-size pieces to create one flat layer on a baking sheet.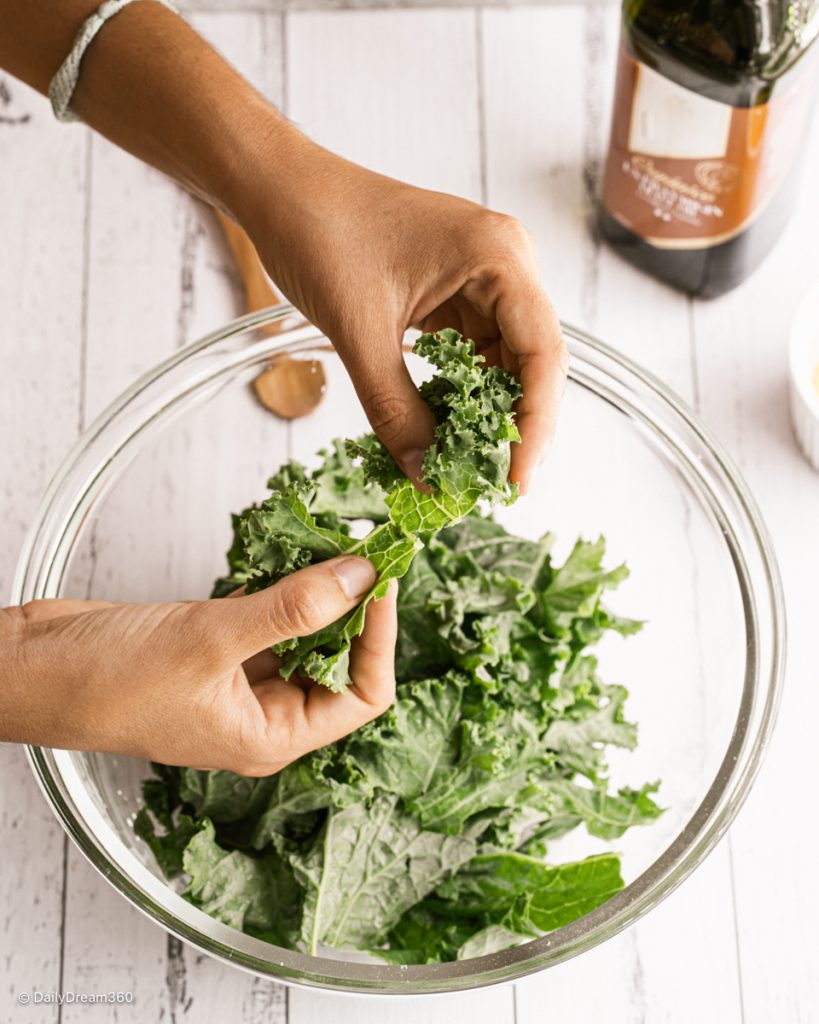 Best Seasoning for Kale Chips
There is no one perfect seasoning for kale chips. I've made them with seasoned salt, garlic powder and even everything but the spice seasoning. The key is to lightly mix the kale in oil or spray the olive oil on thinly and then toss the kale with your favourite seasoning.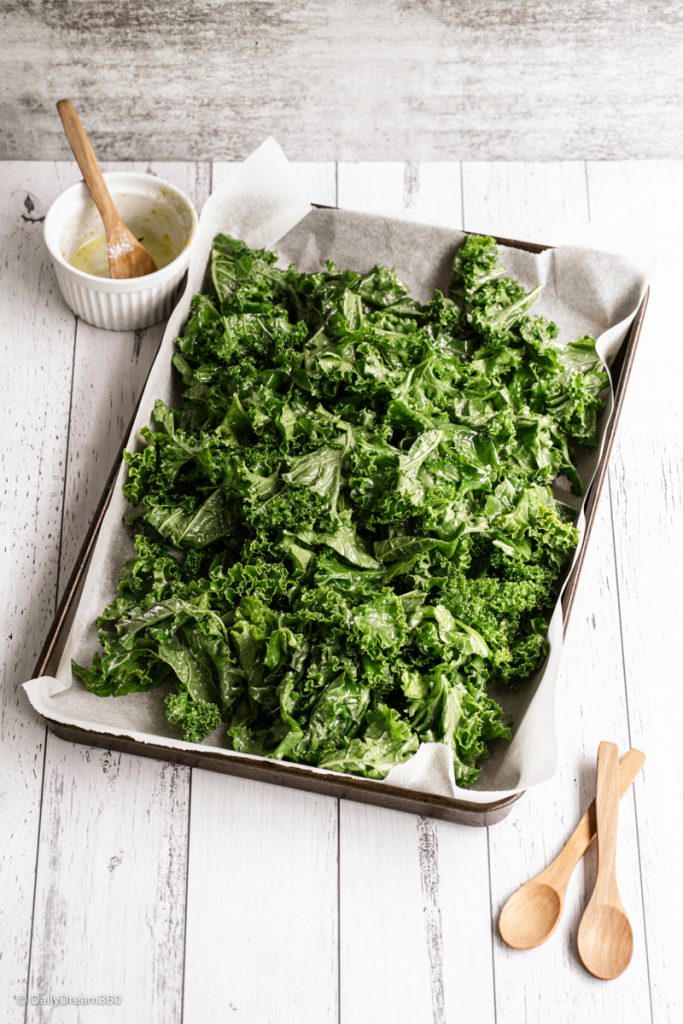 Making Kale Chips in the Oven
The trick with kale chips is that some of the kale pieces will brown and burn quickly, so you have to keep your eye on them when they are baking. Remove smaller pieces that crisp up quickly before they brown too much.
Air Fryer Kale Chips
When using an air fryer, you'll find the kale cooks up even faster. Air fry the kale chips at 375 degrees F (190 C) for 4 to 5 minutes. Like the oven method, I recommend checking on them at the 3-minute mark to remove smaller pieces that might have cooked quickly.
Whether you are baking or air frying, your kale lays it out in one layer with little overlap. This flat layout is another crucial step to making good kale chips.
Live it.
Kale chips are such an easy way to make a crispy vegetable chip that melts in your mouth. It will give you the feeling of crunching on a chip and the salty taste you may be craving. Try different seasoning to mix it up!
For more healthy snack recipe ideas visit our recipe page here.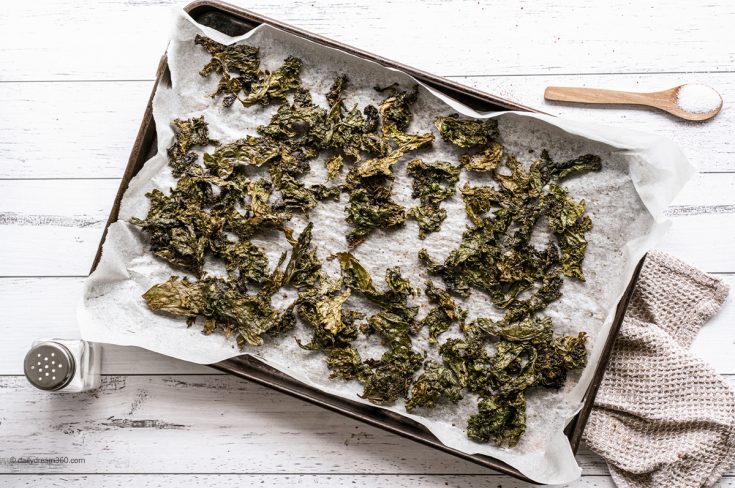 Keto-Friendly Seasoned Kale Chips Recipe (Oven Baked or Air Fryer)
Looking for a healthy keto-friendly snack? These seasoned kale chips can be made in the oven or the air fryer. Find your favourite seasoning and enjoy this salty and crispy snack without any guilt.
Ingredients
1 bunch of kale
1 tbsp olive oil
½ tsp garlic powder
1 tbsp nutritional yeast (optional)
¼ tsp salt
Instructions
Preheat oven to 225 degrees F (107 C).
Rinse and dry kale.
Remove stems and rip them with your hands into bite-size pieces.
In a small bowl mix oil with garlic powder and salt.
Add kale to a large mixing bowl and drizzle with the seasoned oil. Toss thoroughly to combine, using hands to distribute the oil and seasonings evenly.
Spread the kale over a large baking sheet, ensuring the kale touches as little as possible to help them crisp while baking.
Bake for 15 minutes.
Remove already crispy kale if needed, for them not to burn while the rest is still baking. Bake for 5-10 minutes more, or until all kale is crispy and very slightly golden brown. Watch closely as it can burn easily.
Remove from oven and let cool. The chips will get even more crispy once out of the oven.
Serve immediately.
Store leftovers in an airtight container at room temperature for up to 2 days.
Notes
You can choose different seasoning blends like seasoned salt, everything by the bagel spice and other spice blends.
Nutrition Information:
Yield:
2
Serving Size:
1
Amount Per Serving:
Calories:

105
Total Fat:

7g
Saturated Fat:

1g
Trans Fat:

0g
Unsaturated Fat:

6g
Cholesterol:

0mg
Sodium:

318mg
Carbohydrates:

8g
Net Carbohydrates:

0g
Fiber:

3g
Sugar:

1g
Sugar Alcohols:

0g
Protein:

4g
The information contained in this website is for general information purposes only and is not meant to substitute professional dietary advice or treatment. Please see our Nutrition Disclaimer for details.