This article may contain affiliate links. Clicking on or purchasing products we recommend through a link may earn a small commission. Read our disclosure and privacy policy page for details. *COVID-19 TRAVEL ALERT – Travel recommendations offered on this site are not to encourage you to travel against travel advisories.
Why is mattress shopping as stressful as buying a car? How do you buy a mattress during a pandemic when stores are closed? Are you considering a bed in a box? I have details from my recent experience buying a mattress. Here is what you need to know about buying a mattress in a box online.
Dream it.
In this post, I will go through all the research and information that came up as I tried to figure out what mattress I should buy, narrowing down my search to Casper, Endy and Zinus.
As a combination sleeper, so I chose mattresses that were not too soft and offered good support for the back but still allowed me to sleep on my stomach. I was also very budget conscious in my choices and was looking for the most affordable mattress in a box that was available in Canada.
Jump down to my top three or continue to review everything you need to know about buying a mattress in a box.
Benefits of Buying a Mattress in a Box Online
I live in a condo, so when buying furniture, I have to consider the delivery time, reserving the condo elevator with the padded walls, so I don't get in trouble with the management office. I live alone, so if it is too hard to put together, lift or move, that will be a problem.
There seems to be a significant surge in mattress in a box companies here in Canada. I started researching and realized there are many benefits to buying a mattress in a box, which includes:
No sleazy sales tactics
Risk-free sleep trials – can return if they are not right for you
Ease of delivery – no condo elevator booking required
Ease of setup – single woman, and I had no issues doing it myself
Affordability – there are mattress options for every budget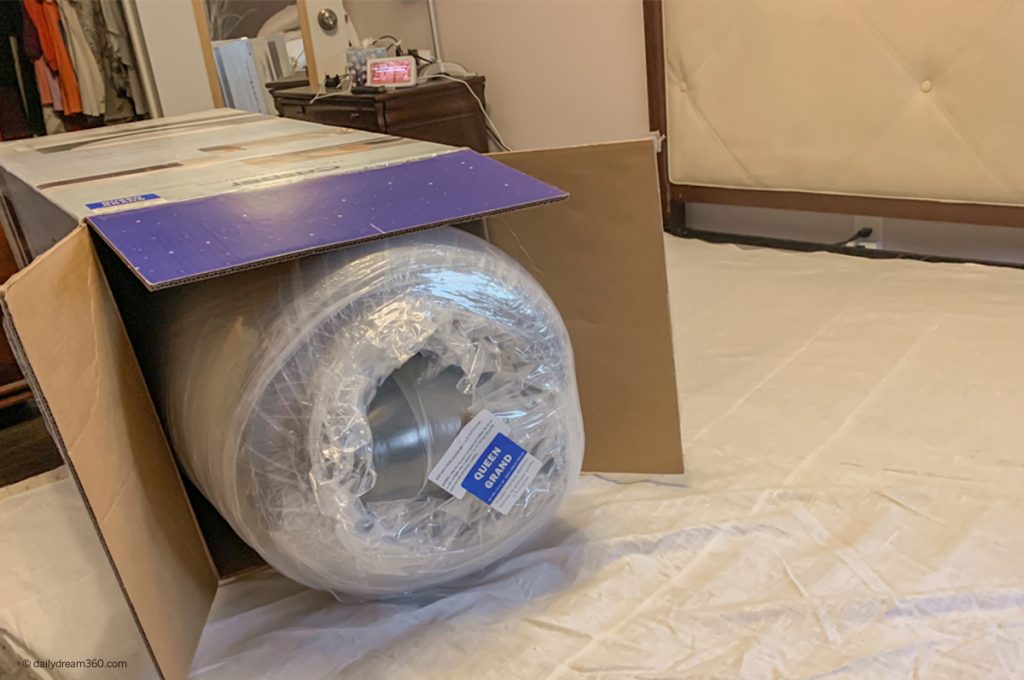 Plan it.
What You Need to Know About a Memory Foam Mattress in a Box
Several things came up in my research when I was choosing a mattress in a box include:
Types of mattress in a box available
Bed in a box construction and materials
Bed frame needed for a memory foam mattress
What is the best mattress in a Box for your sleep position
The mattress unboxing and off-gassing smell
Types of Bed in a Box Mattresses
Most memory foam mattress companies sell a variety of mattresses at many price points. When considering buying a mattress in a box online there are one of two kinds:
Foam Only
Foam and Spring Hybrid Mattresses
Memory Foam Only Mattresses
These mattresses usually have layers of different types of memory foam inside. Cheaper memory foam mattresses have only one layer, while more expensive models will have a support layer, a comfort layer, and a more plush top layer.
Foam and Spring Hybrid Mattresses
The latest trend in the mattress in a box category is a combination of memory foam layers and encased springs as the mattress's support or bottom layer. These hybrid bed in a box mattresses are more expensive but might be a better option for you, depending on your sleep type.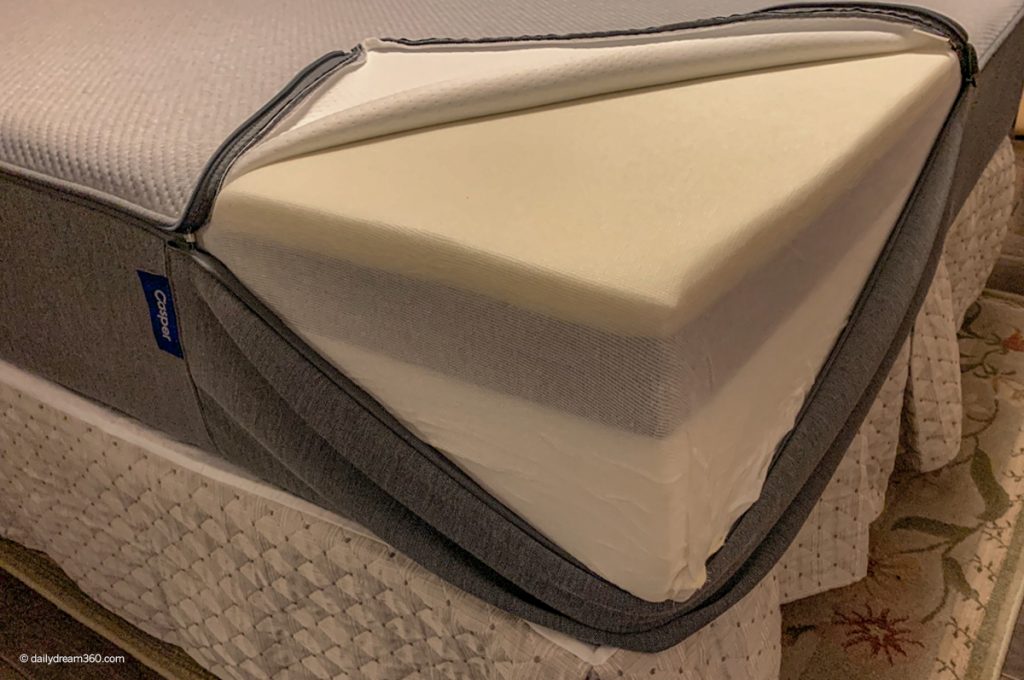 Bed in a Box Construction and Materials
There are some things you will need to consider when buying a memory foam mattress.
How much does it cost – is the mattress within your budget?
The number of foam layers in the mattress?
How deep is it?
What is the mattress firmness?
What materials used in the mattress construction?
Is it certified by the CertiPUR-US® program?
What is Mattress in a Box Made of?
Most mattresses are made of different types of memory foam. The foams' firmness varies, as do the various mattress heights. These memory foam mattresses are then compressed, wrapped in plastic and rolled for shipping in one box.
What You Will Need Before You Buy Your Mattress in a Box Online
Best Bed Frames for Mattress in a Box
Your mattress-in-a-box only needs a platform or slatted bed frame. 
Does the Memory Foam Mattress Need a Box Spring?
One of the conveniences of buying a mattress in a box is that you don't need a box spring. You will notice that many mattress companies sell a foundation that will fit into a traditional metal bed frame.
The difference between a box spring and a mattress foundation is simple. The box frame has springs inside whose purpose was to absorb a spring mattress's weight so it will last longer.
A foundation, however, doesn't have springs. It is usually just a wooden box with a platform or slats for the mattress to sit on. The decision to use a mattress foundation for your bed in a box is usually to add height to the bed if you want it further up from the ground or use a basic bed frame without slats that need a foundation to hold the mattress.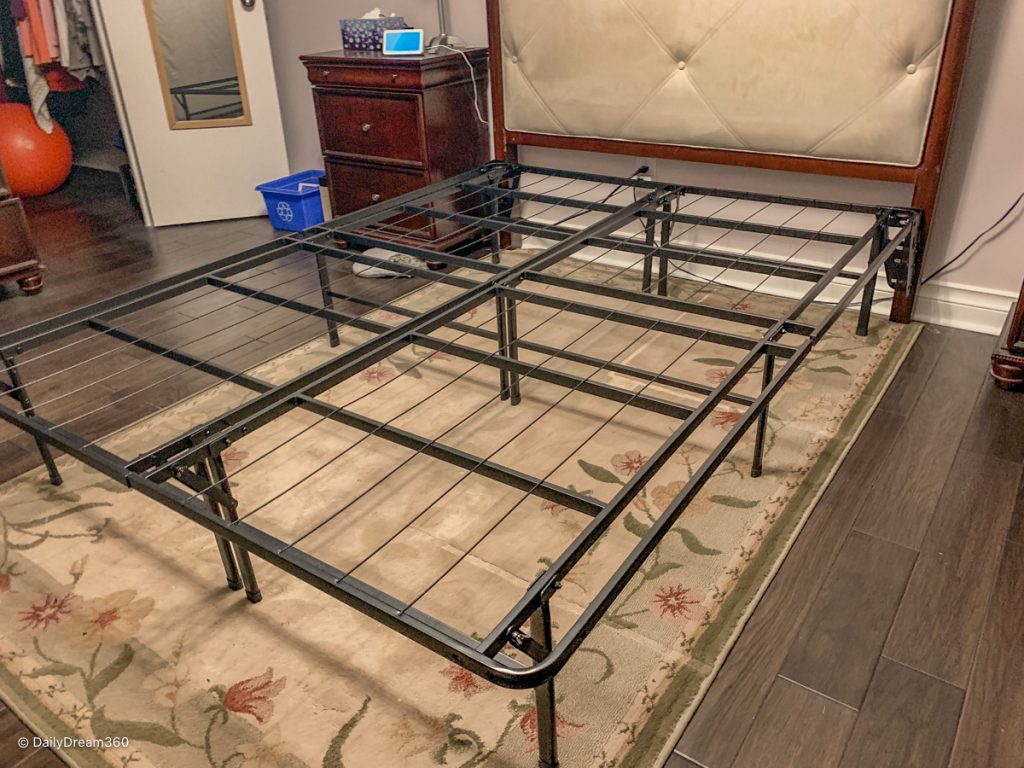 The Zinus Smart Frame
I had a wood platform frame I purchase a few years back from Wayfair, a piece of garbage; the wood was fragile, and after building this monster, I knew it wasn't going to last long. I added extra support, but I knew I made a terrible choice. This platform bed frame, like many others, is lower to the ground, and I found that it hurt my knees to bend down to get in and out of bed.
I had been eyeing a frame from Zinus, which I found on Amazon for a long time. The Zinus Smart Frame is metal and meant to act as both frame and mattress foundation. The frame comes in one box, and my Queen size frame came in two pieces, which I attached with two screws provided.
Setup: Unfold the legs, tighten the supports and insert two screws to attach the two sides with two screws provided.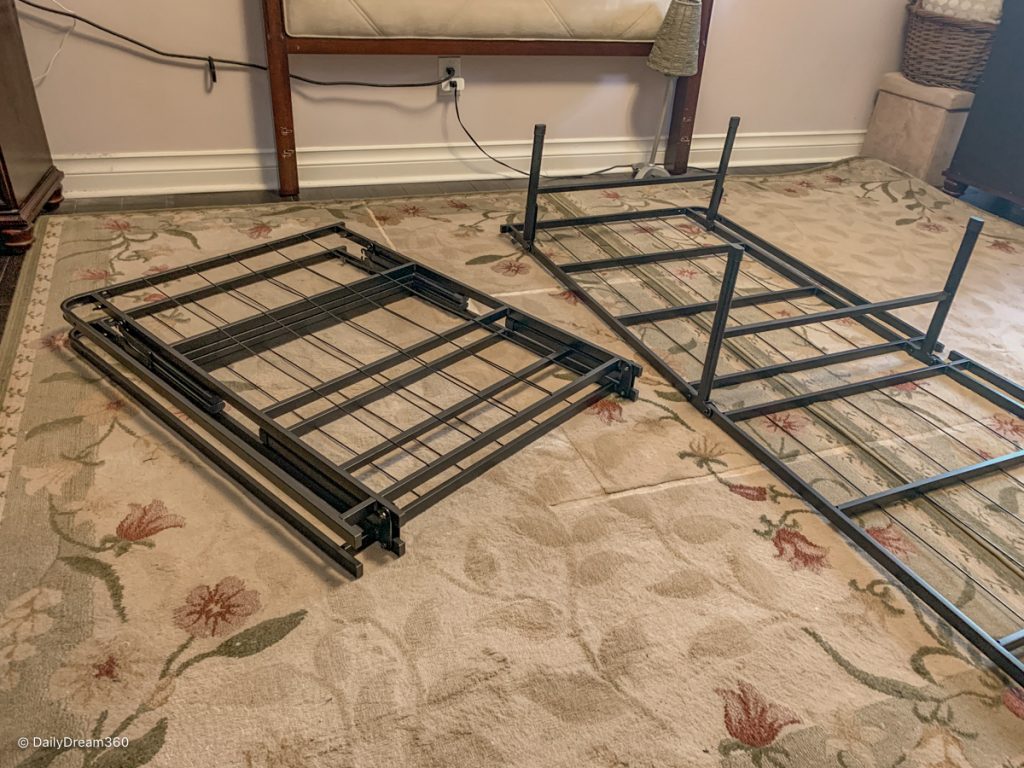 Here are some of the things I love about the Zinus Smart Frame:
It comes in three weights/strengths heavy, deluxe and standard
Three different frame heights, 14, 16 and 18 inches
Available for Narrow Twin, Twin, Twin XL, Full, Queen, King, California King mattresses sizes
Easy to set up
Delivered in one box
No squeaking, no noise
Underframe storage space
Attach a headboard (using additional headboard attachment)
Amazon Prime next day delivery
I have an old, very heavy wood headboard, and using the additional headboard brackets (sold separately), I struggled a bit attaching the headboard to the frame. Had I had an extra pair of hands, this might have been easier.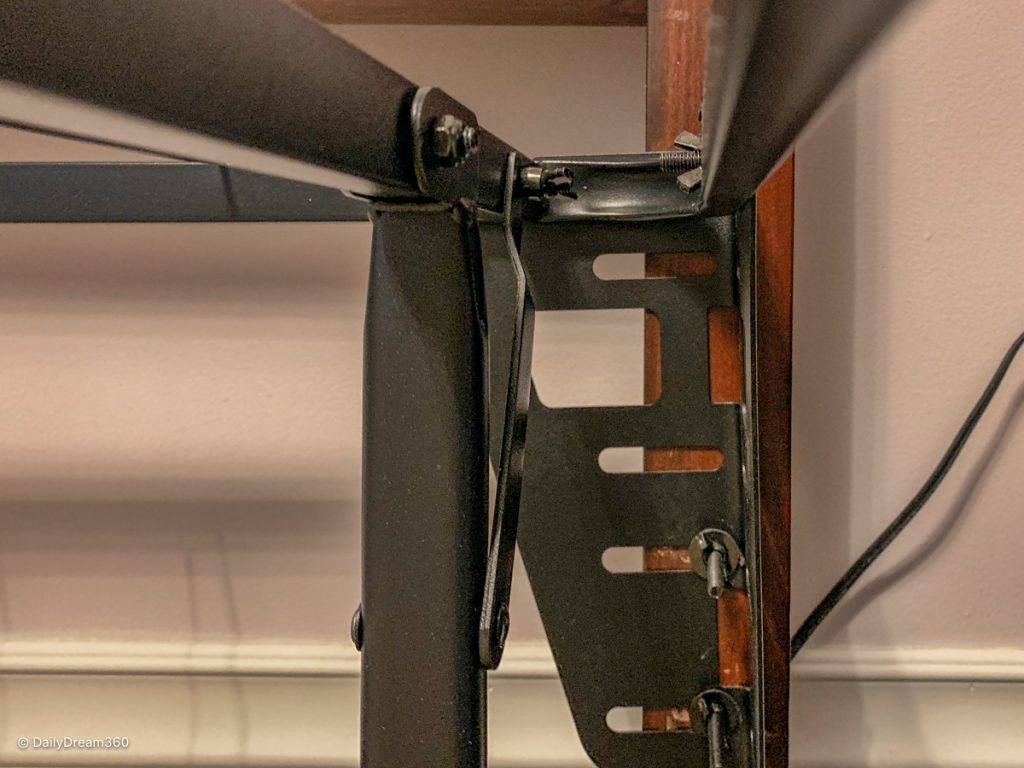 Eventually, I was able to line up the holes in my frame with those of the headboard bracket, but the 14″ Zinus Frame didn't line up. Once I tightened the provided screws, and after putting the mattress on the frame, it held up well.
I wish Zinus had better instructions or measurements on which of their frames would be the perfect fit, depending on where your headboard's holes are located. But it has worked out for my setup.
What is the Best Memory Foam Mattress for Your Sleep Position?
Another consideration you will need to review is: what is your sleep position? Do you sleep mostly on your back, stomach, side, or are you a combination sleeper? This is where I spent the most time researching. Every time I found a mattress that sounded good, had good reviews and an excellent reputation, I then had to figure out if it the right mattress for my sleep type.
I am not a mattress or sleep expert, but I want to share Sleepopolis.com as a great place to research individual mattress brands. They have an in-depth analysis of mattress construction, how it responded to various sleep positions, the mattress firmness and more.
I narrowed down my search to three mattresses, and I share them below. The budget was a significant factor for me, so finding affordable options that also got a thumbs up on my sleep positions was also a bit of a rabbit hole of research.
What is Mattress in a Box Off-Gassing?
One of the things you should know before purchasing a mattress in a box is that most of these memory foam based mattresses have foams containing chemicals and fire-prevention agents. When the mattress is unboxed and begins to expand, these chemicals are released, causing a "new mattress" chemical like smell known as off-gassing.
Is Foam Mattress Off-Gassing Dangerous?
I could not find any instances where memory foam mattresses caused illness, or that stated this off-gassing is dangerous in any way. In my research, most reported that the amount of chemicals released is low and similar to those in your fabric refreshers or cleaning products.
What You Need to Know About Foam Mattress Off-Gassing
I wanted to mention this smell because after opening my Casper Select mattress on the first day, I found the odour was relatively strong. So if you are chemical or scent sensitive, this might not be the right product for you.
If you consider purchasing a foam mattress, you will want to leave time for this process. You may need to let your mattress air out before you can sleep on it. It didn't seem to matter which company or mattress I researched; all the reviews share experiences of a strong smell as the mattress inflates and afterward.
How Long Does Off-Gassing Last?
Some say their new memory foam mattress smells lasted a few hours, some 1-2 days, and others said weeks; if you can air out the mattress for some time outside or in a garage, that will help.
For me in my condo, I had to open the windows, I had an air purifier running in my room, and the smell was powerful in the first 24 hours and slowly dissipated a few days afterward. I did sleep on my mattress one day after I unboxed it. There was still a new mattress smell, but it didn't irritate me.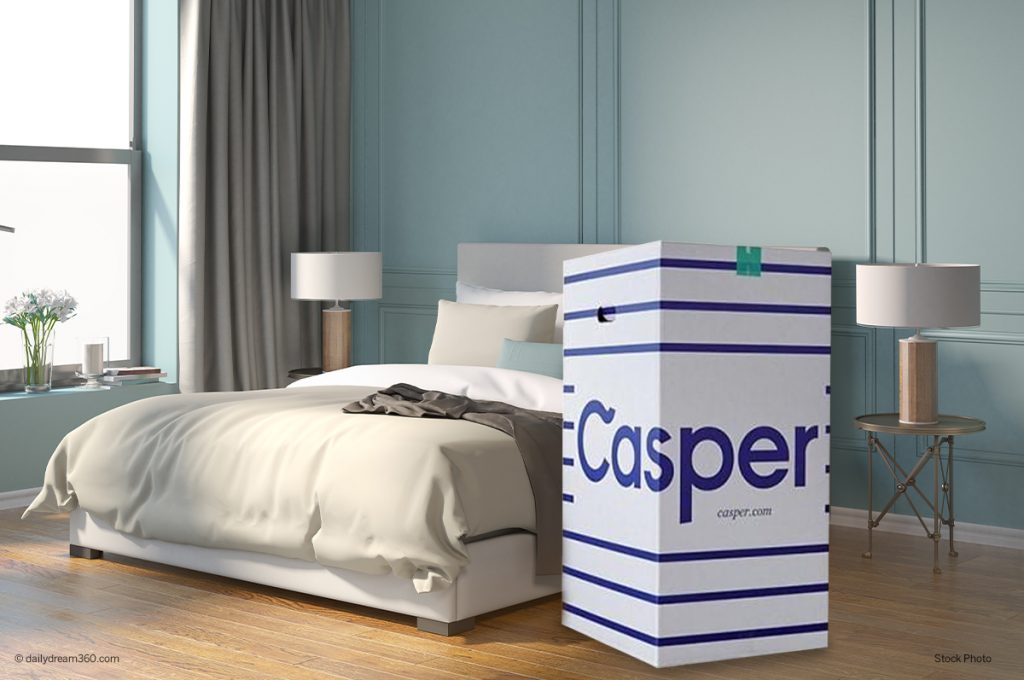 Live it.
My Top Three for Best Mattress in a Box Canada
Casper Select – Available at Costco Canada – My Choice
Casper Select is a 4-layer memory foam mattress unique to Costco Canada and the US. I will share a review of my order, unboxing and experience in a future post shortly.
The funny thing is, I had completely forgotten that I had seen a Casper mattress at Costco. I assumed this mattress was the 1-layer affordable Casper memory foam mattress, given the price point was under $800 CDN. However, when I started digging, I discovered that if you are going to buy a Casper Original mattress, you may want to look at purchasing it at Costco.
There is not a lot of information available on this "Casper Select" mattress. As far as reviews, it is pretty much what you see on the Costco website. Upon further digging, I found some interesting threads on Reddit.
The Online Rumors: I have not at the time of publishing this post confirmed this with Casper. I want to reiterate this is a RUMOUR only, but it makes sense.
The Costco Select is a 4-layer memory foam mattress, and if you read the online threads, it is believed to be an older model of the Casper Original. In 2020 when Casper announced its new mattress lineup, the Original became a 3-layer mattress.
Comparison of Casper Select vs Casper Original
The Costco Select
The 2019 Casper Original
Amazon CA | Amazon US
The Current Casper Original
4 layers of foam
12″ high Zip-off cover
4 layers of foam
12″ high Zip-off cover
3 layers of foam
11″ high Cover is not removable
Given the price point and the fact that this is a 4-layer memory foam mattress and Casper's reputation – it sold me on the Select. I also have to say that knowing that Costco will take back the mattress if I don't like it with their super easy questions asked return policy also really helped with my decision.
Again I don't know if this comparison of the select and older Casper Original models is accurate or not, but seeing as Casper has been on my dream list since I got one of their pillows.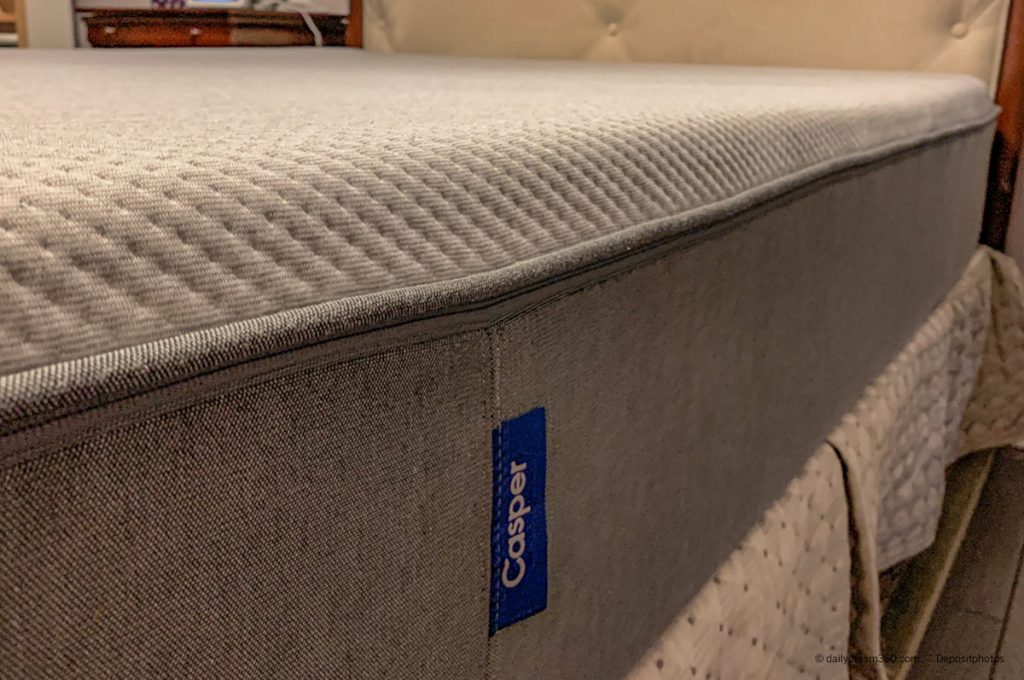 About Casper
Casper is a US-based company that designs its products in California. However, Casper has opened a factory in Canada which produces several mattresses for the Canadian market. Casper has also created a Canadian headquarters in Canada.
Casper also sells:
Bed frames
Bedding (sheets, duvets, blankets)
Read More: How to Pick the Best Pillow for Combination Sleepers
Other Casper Mattresses to Consider
Casper now has four mattress models to choose from, which I have listed from most firm to softest:
Model Casper Original
Casper Hybrid
The Casper Wave
Casper Nova
Where to Buy Casper
Casper mattresses can be purchased on their website or at the following:
Endy Mattress – Runner up
I did not choose Endy because it is on the softer side, according to mattress reviews. Sleepopolis scored Endy at a 6.5 on their firmness scale. However, Endy ranked very high for combination and stomach sleepers, which is why it was high on my list.
I was pretty much neck and neck between Casper and Endy from the beginning of my search, like many Canadian buying a bed in the box, will find themselves. However, when I discovered Casper Select at Costco – that pretty much ended my search.
About Endy
Endy is a Canadian based company that manufactures and ships its memory foam mattresses across Canada. Endy has a one-size-fits-all approach to selling its mattress from its online-only store.
Where to Buy Endy
At the time of publishing this post, Endy had one mattress on the market. It also is only available for purchase from the Endy website. Some Endy bedding products are available for sale from Indigo.ca.
Zinus Mattress – Amazon (US + Canada) – Best Budget-Friendly
One of the most popular choices for Bed in Box mattresses in the budget-friendly or cheap memory foam mattress category is Zinus. Available on Amazon with free-next day delivery for Amazon Prime members, Zinus was at the top of my research list for a long time because of the many positive reviews and its low price.
I ultimately chose Casper because of the technical reviews on the sleep type and softness of the mattress. Sleepopolis gave the Green Tea mattress a score of 5 out of 10, which is on the softer side. Sleepopolis also said that Zinus was probably not a great option for stomach sleepers.
While the price and favourable reviews had me considering it – once the Casper Select came into my sights, I had to go with the firmer – higher quality brand even though it was a higher price.
About Zinus
Zinus is a South Korean company that has grown offices around the world. They launched their first bedding products in 2004 and have since grown to offer a mattress in a box product and easy-to-assemble bed frames and sofas.
Where to Buy Zinus Products
Zinus products are available on Amazon US and Amazon CA. They sell numerous mattresses in various thicknesses and most at price points under $500. You will also find a variety of bed frames and sofas also shipped in an easy assemble one box format.