This article may contain affiliate links. Clicking on or purchasing products we recommend through a link may earn a small commission. Read our disclosure and privacy policy page for details. *COVID-19 TRAVEL ALERT – Travel recommendations offered on this site are not to encourage you to travel against travel advisories.
In my search for low sugar healthy recipes, I discovered the world of plant based eating. I wanted a low sugar cheesecake and happened upon this no-bake mini vegan cheesecakes recipe.
Dream it.
I'm a big believer in healthy and easy to make. I love to try new things, and this vegan cheesecake recipe seemed like something I can put together quickly.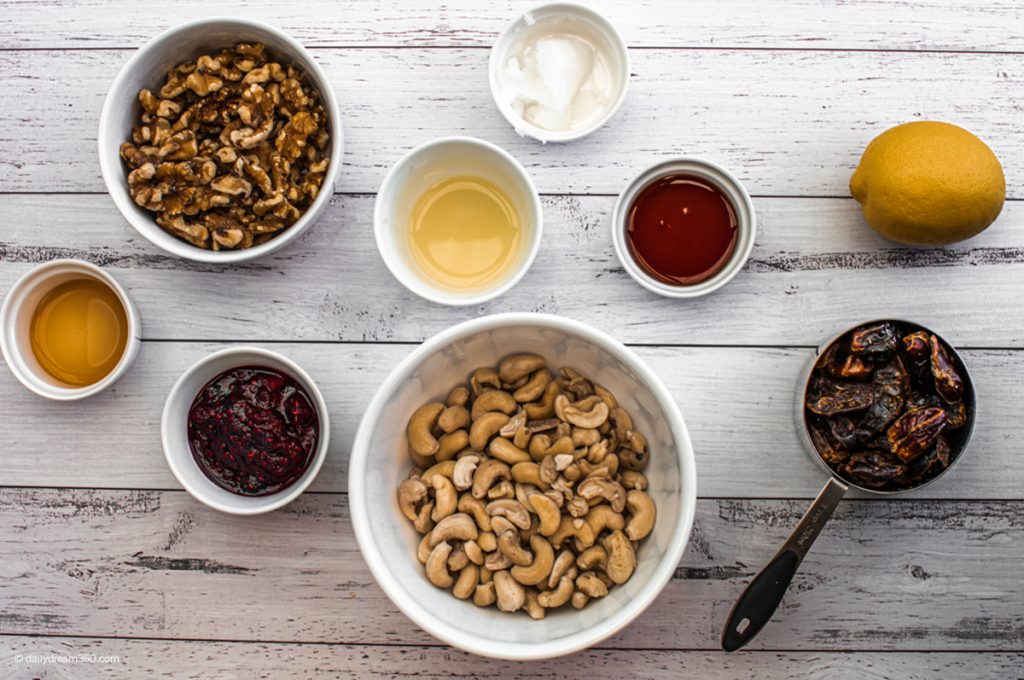 Plan it.
Easy No-Bake Vegan Cheesecake
Once you create the crust and filling mixtures assembling these cheesecakes is very simple. Squish the dates and walnut crumbs into the base and add the filling on top. Most of the prep work for this recipe is combining the crust and packing and preparing the pan.
Mini Cheesecakes Sweetened Your Way
This no bake vegan cheesecake recipe calls for Maple Syrup or Agave Nectar; however, you can substitute many sugar-free sweeteners. Walden Farms has a few flavours of sugar-free maple syrup to choose from that make a great alternative.
What You'll Need to Make this Recipe
You can use a small food processor or magic bullet to whip up the ingredients. The crust and filling, however, must be done separately. Most of the recipes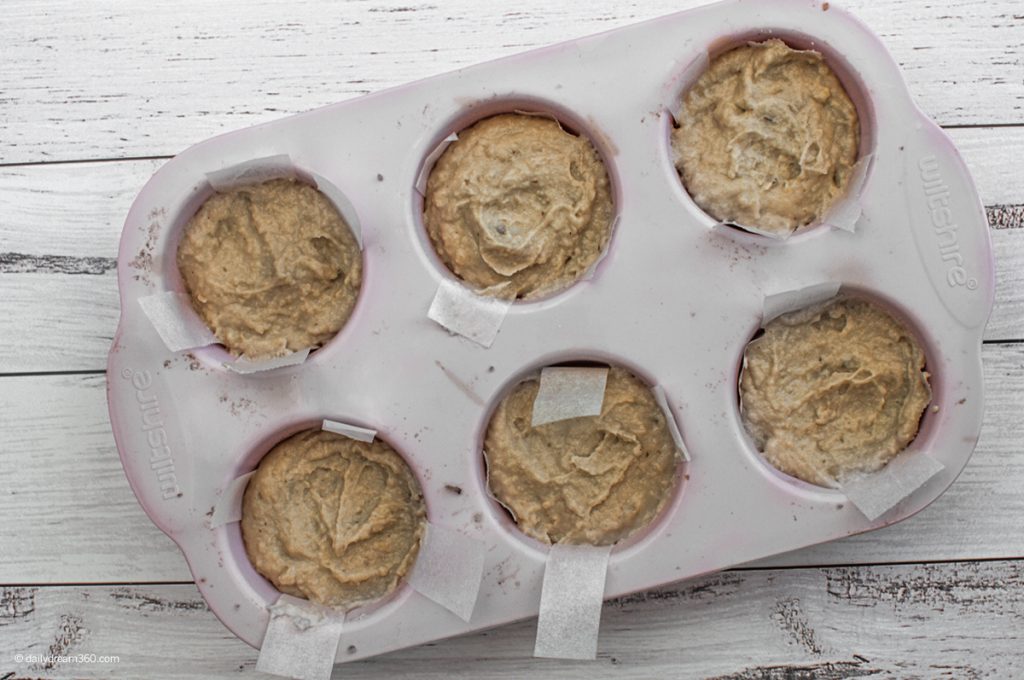 Mini Vegan Cheesecakes Are the Perfect Portion
These mini vegan no-bake cheesecakes are a great addition to your holiday or special occasion entertaining. They are the perfect portion for a healthy dessert bite. They are also quite pretty and will compliment any dessert tray.
Live it.
These no-bake mini vegan cheesecakes are easy to make. Blend the base and topping ingredients, assemble in the pans, and freeze. See more healthy dessert recipes here.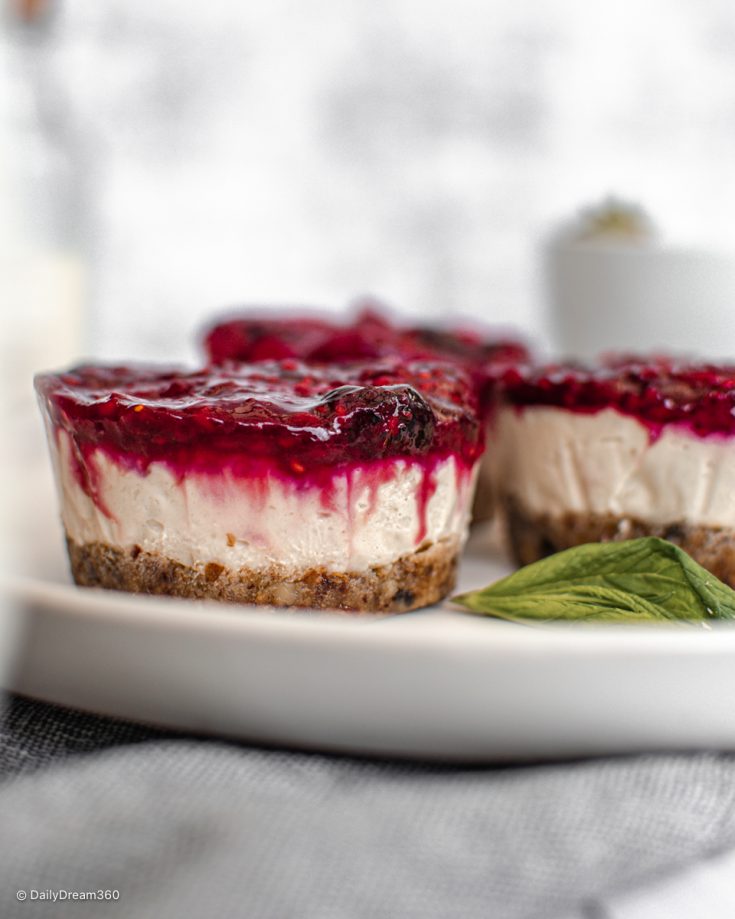 Yield:

60
Easy to Make No-Bake Vegan Mini Cheesecakes
Total Time:
4 hours
20 minutes
These no-bake mini vegan cheesecakes are easy to make. Blend the base and topping ingredients, assemble in the pans, and freeze.
Ingredients
Crust
1 cup raw walnuts
1 cup dates
 
Filling
1 ½ cups raw cashews (soaked overnight, or boiled for 20 minutes)
3 tbsp pure maple syrup or agave nectar
1tsp vanilla extract
1 tbsp lemon juice
¼ tsp salt
1 tbsp melted coconut oil
¼ cup full fat coconut milk
 
Jam Top
½ cup of 3 berries jam (or the one you like the most) - choose sugar-free if needed
Instructions
Add nuts to a food processor and process them into a meal. Add dates (if they aren't soft, soak them in hot water for 10 minutes and then rinse well. Blend until a loose dough forms – it should stick together when you squeeze a bit between your fingers.
Lightly grease a 6 muffin tin (not necessary if you're using a silicone tin. To make removing the cheesecakes easier, cut strips of parchment paper and lay them in the slots. This creates little tabs that make removing them easier to pop out once frozen.
Next scoop in heaping tablespoon amounts of crust and press with fingers. Set in freezer to firm up.
Add all filling ingredients to a blender and mix until very smooth. For the coconut milk, I like to scoop the "cream" off the top because it provides a richer texture. But if yours is already all mixed together, just add it in as is. If it won't come
together, add a touch more lemon juice or agave or a splash more coconut milk liquid as the liquid should help it blend better.
Divide filling evenly among the muffin tins. Leave some place to pour the jam. Tap the pan a few times to release any air bubbles.
Add the jam on top of the filling, until all the surface is cover.
Finally cover with plastic wrap and freeze until hard – about 4-6 hours.
Once set, remove the cheesecakes very slowly. They should pop right out.
Notes
Keep in the freezer for up to 1-2 weeks. You can set them out for 10 minutes before serving to soften, but I liked them frozen as well.