This article may contain affiliate links. Clicking on or purchasing products we recommend through a link may earn a small commission. Read our disclosure and privacy policy page for details. *COVID-19 TRAVEL ALERT – Travel recommendations offered on this site are not to encourage you to travel against travel advisories.
A room with an extraordinary view raises the bar. When I walked into my room at the Hilton Quebec City, I know my mouth was hanging wide open. In front of me was the most spectacular view of Quebec City.
Dream it.
If you're planning a trip that involves a pool, lake, or beach of any kind and you don't want to buy a special waterproof camera or action camera, then a waterproof pouch for your phone could just be the solution you are looking for. Most of us have replaced our cameras and choose to travel with our phones and while there are some water-resistant models out there, protecting your phone with a waterproof pouch could save you a costly repair or replacement.
Snow topped historical buildings are iconic scenes when visiting Quebec City, but for me, it was the dream view from my hotel room. Like a painting I have seen many times in my geographic studies of Canada there, it was: The Chateau Frontenac and all the historic buildings of Quebec staring back at me.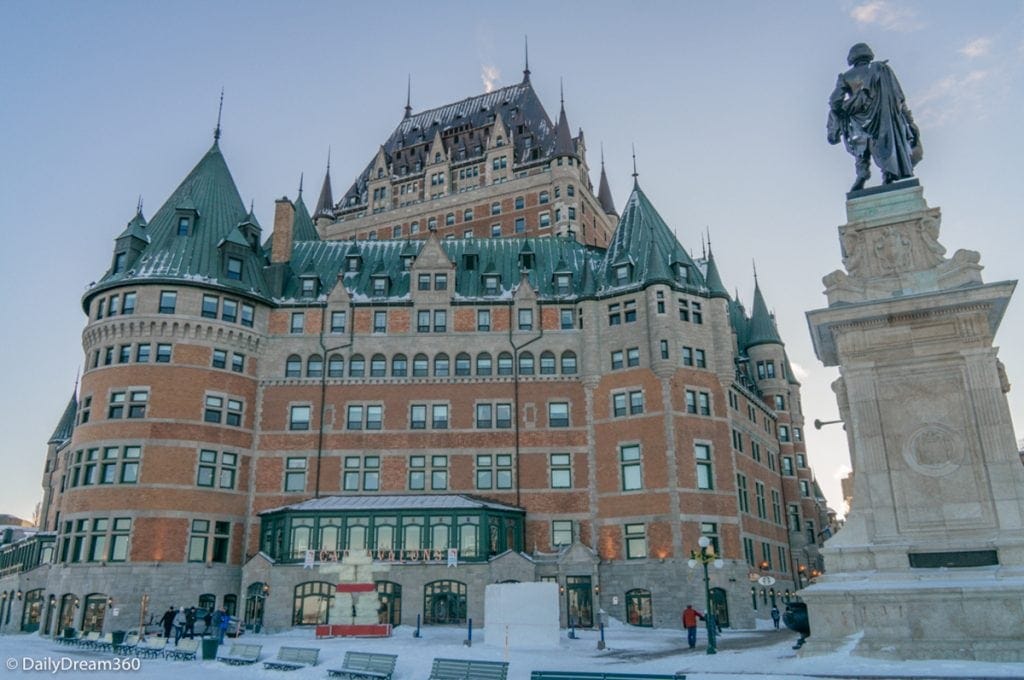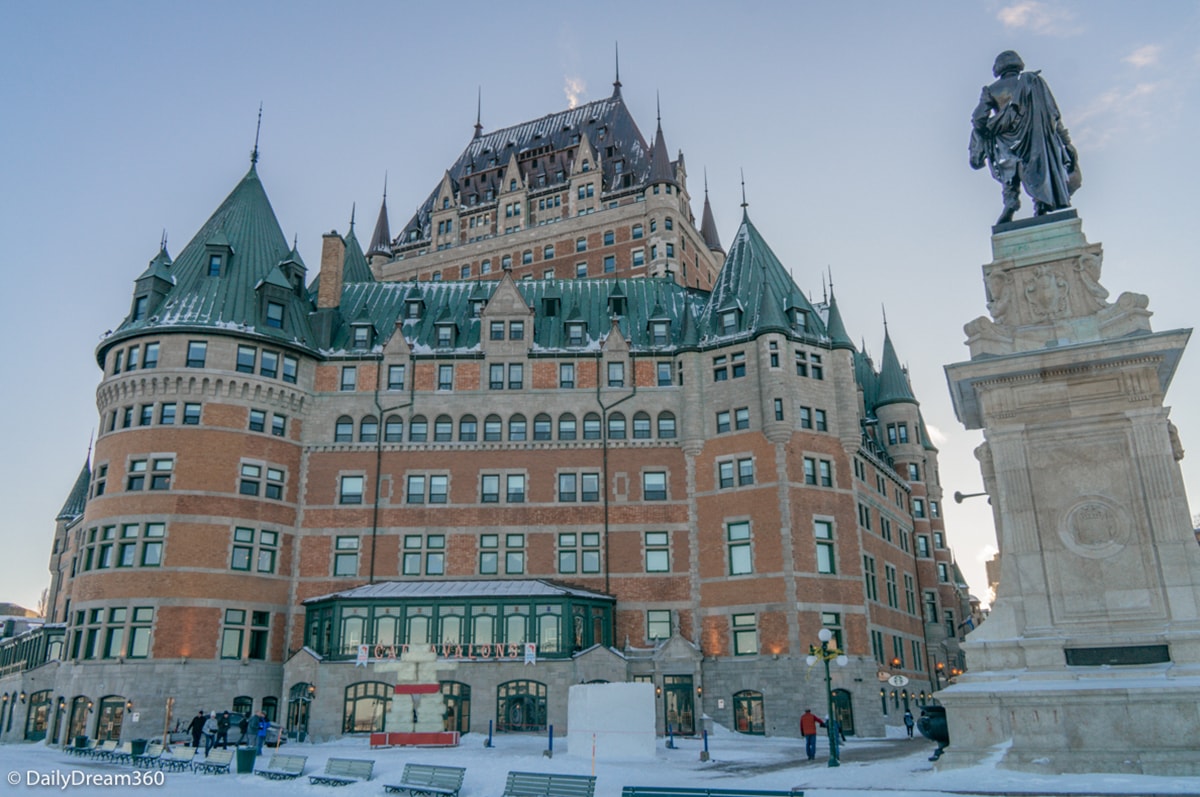 Plan it.
Planning a Trip to Quebec City in Winter?
As someone that has travelled to Quebec City during winter several times now, I have several suggestions for things to see in the area. I explored the old city and its many attractions and put together a detailed itinerary of things to do.
Read more: Things to do in Quebec City in Winter.
I recommend planning a trip to visit the Quebec City Ice Hotel, which you can do during a day trip. There is a tour of the hotel which explains its constructions and lets you peek into the many rooms. Each year the hotel is constructed with a new theme, so it is a unique tour every year.
Read more: Stay the Night or Explore The Quebec City Ice Hotel Tour.
Another top-rated attraction which you can pair with the ice hotel visit is a relaxing afternoon at the Scandinavian Spa. They have many indoor saunas, outdoor hot and cold pools all set in a beautiful winter wonderland.
Read more: Nordic Spa Experience at Siberia Station Spa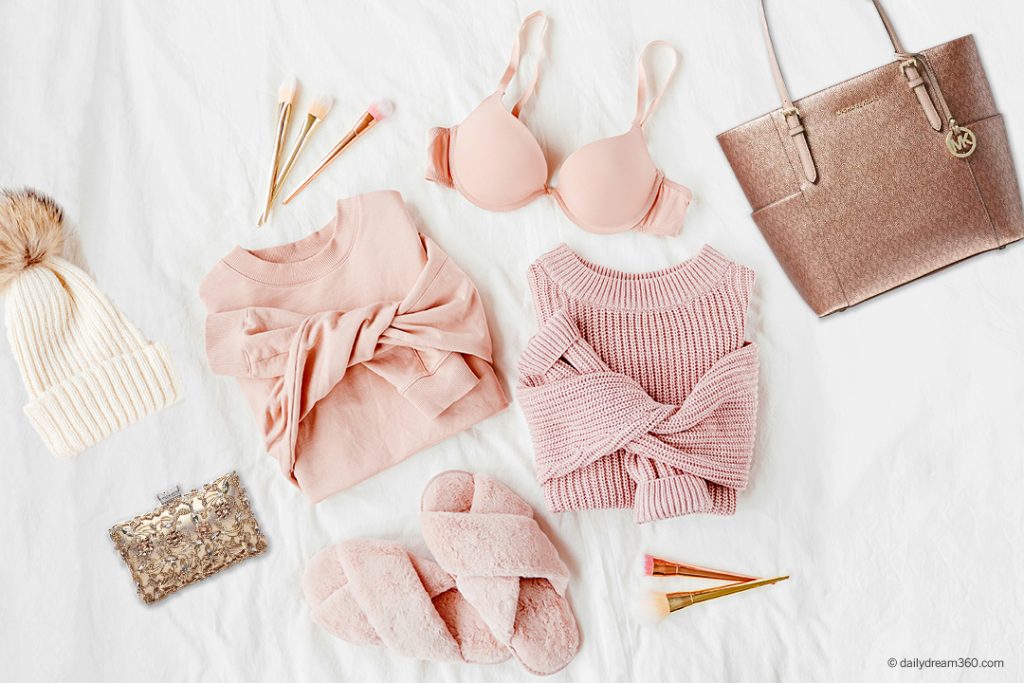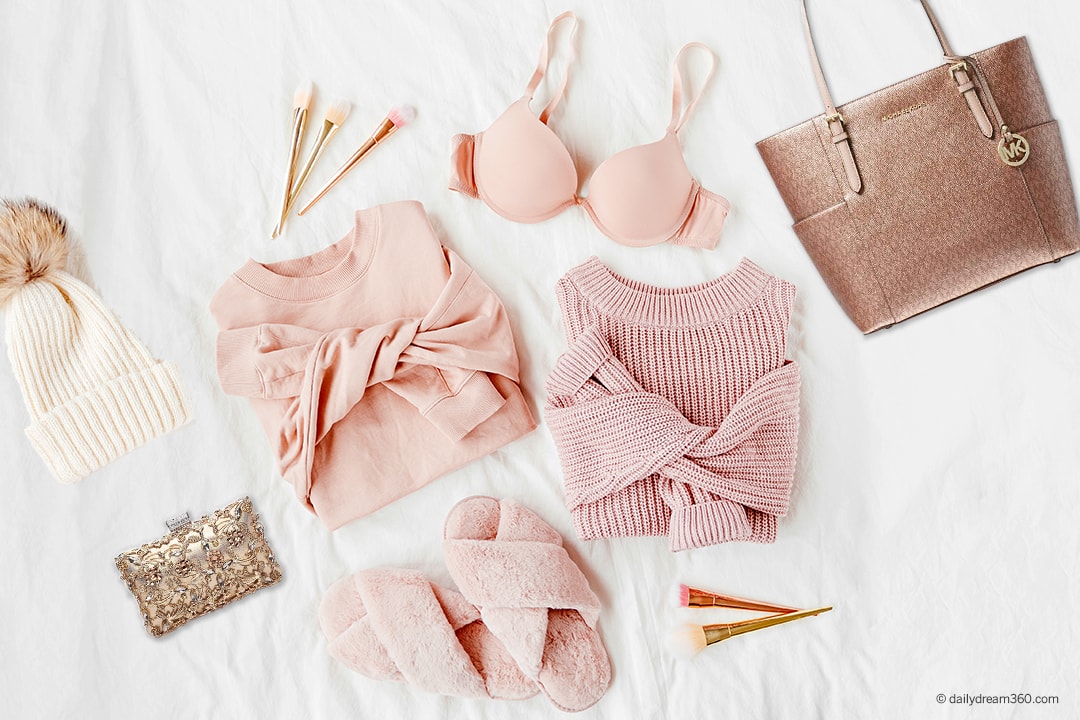 Packing Tips For Your Quebec City Winter Vacation
Don't let the weather forecast deter you from planning a winter getaway in Quebec. Packing for winter is all about having the right gear and the critical three-layer rule.
First Layer – Intimates and thermal layer
Second Layer – Winter Clothing
Third Layer – Outwear Protection from the Elements
Read more: Winter Carry-on Packing List | 7-day Winter Packing List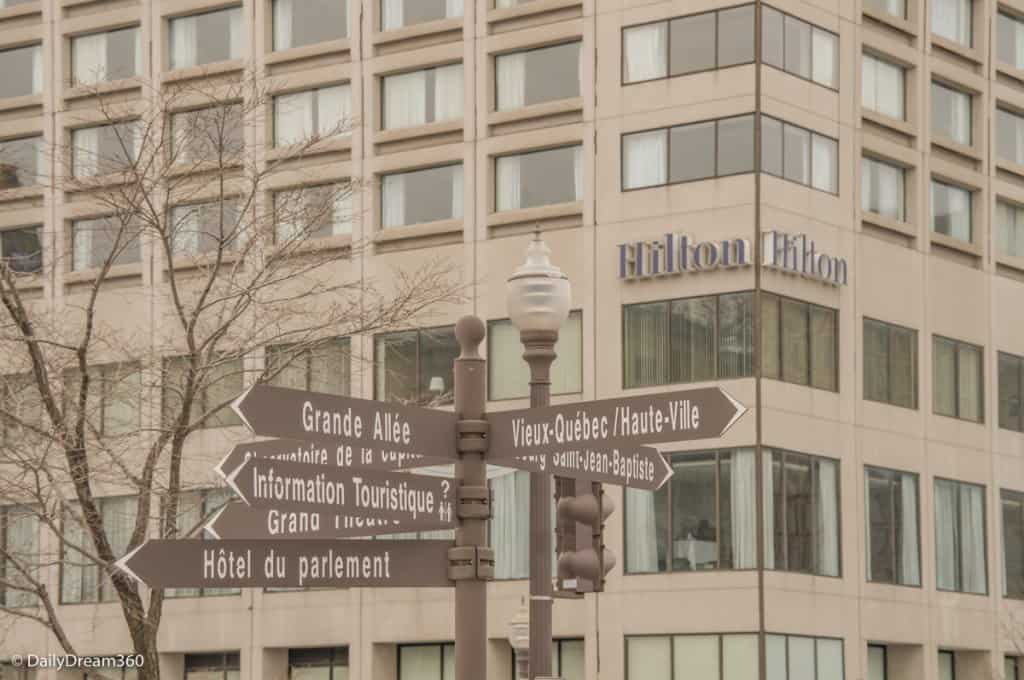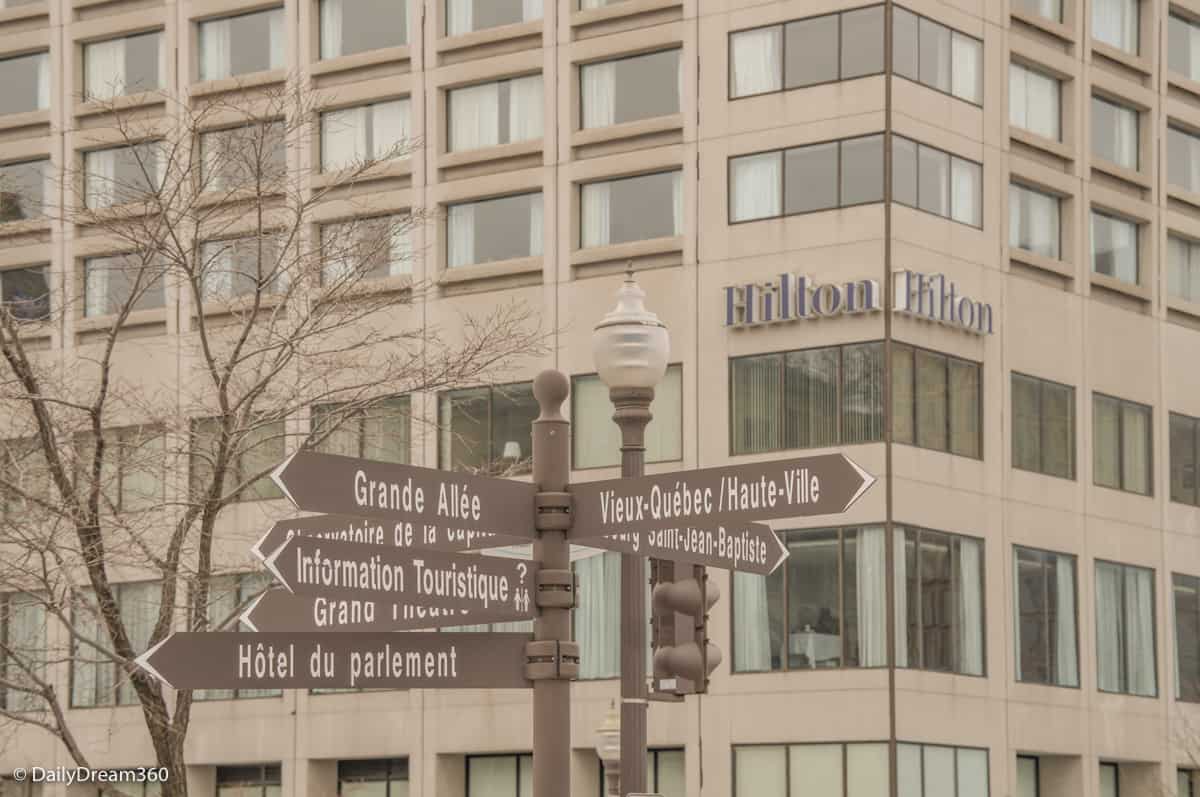 Live it.
Hilton Quebec City Dream Views and Steps from Everything
The Hilton Hotel Quebec City offered the perfect location for my stay during Carnival de Quebec celebrations. In fact, in addition to my spectacular view of the old city, I could see Bonhomme's Ice Palace from my room.
Great Location Hilton Quebec City
I did plenty of walking that weekend in Quebec, but this hotel's location allowed me to cover so much. From the well-known shopping street Rue Saint-Jean, the Old City of Quebec, Chateau de Frontenac, Quebec City Winter Carnival attractions and even some nightlife on Grand Allée, it was all just steps in either direction. It was like placing the hotel in the epicentre of it all.
Check Rates: TripAdvisor | Expedia | Hotels.com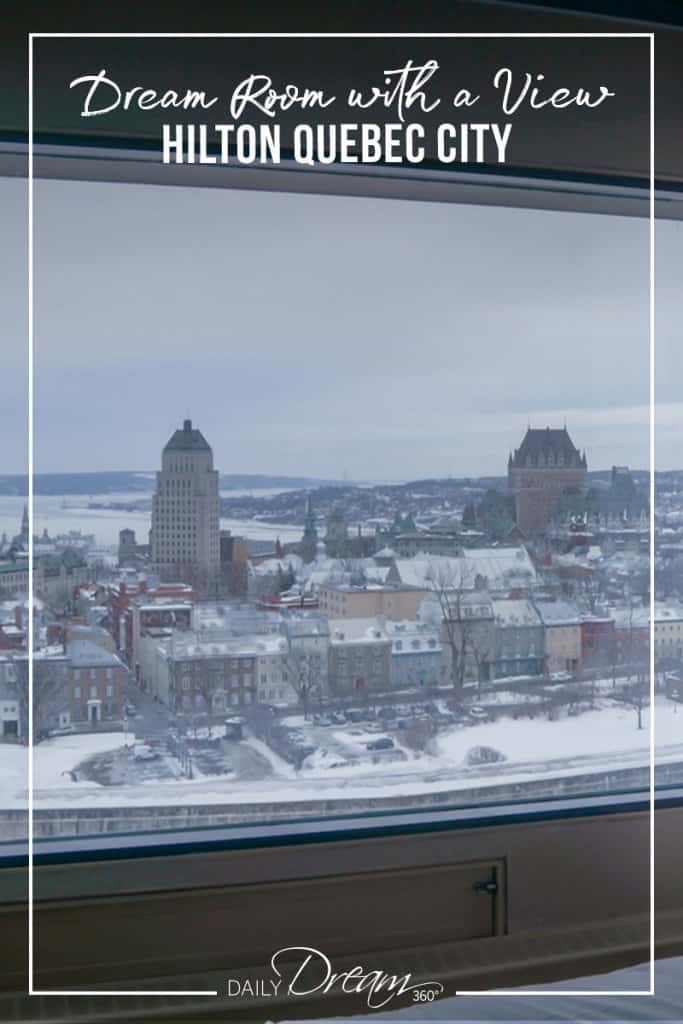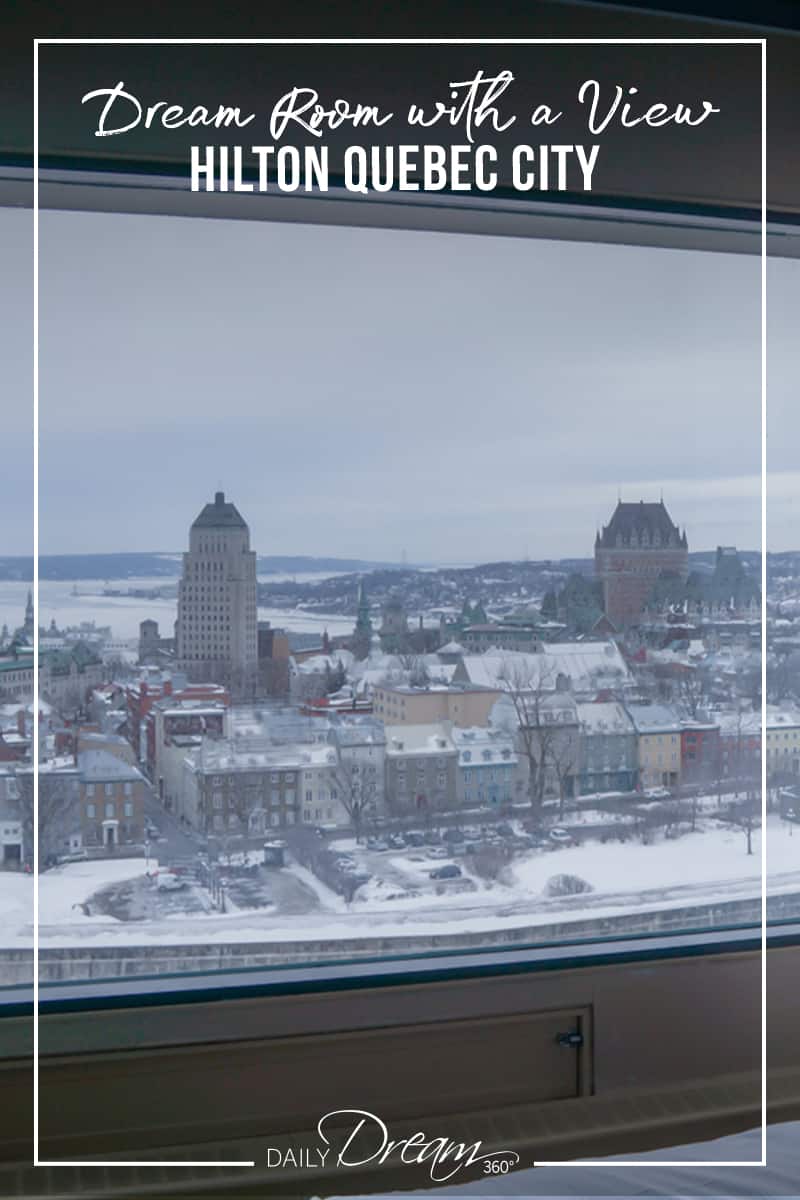 Hilton Quebec City Old City View King Room
My room was a standard business room with a spectacular view of the Old Quebec City district. The room was a perfect size and had all the amenities I needed.
King size bed
Executive Desk and Ergonomic Desk Chair
Drawers and closet space
Good lighting
Alarm clock radio
Coffee machine
Safe
A renovated bathroom included beauty products like soap, shampoo, conditioner and body cream.
You can read more reviews on the Hilton Quebec City at TripAdvisor.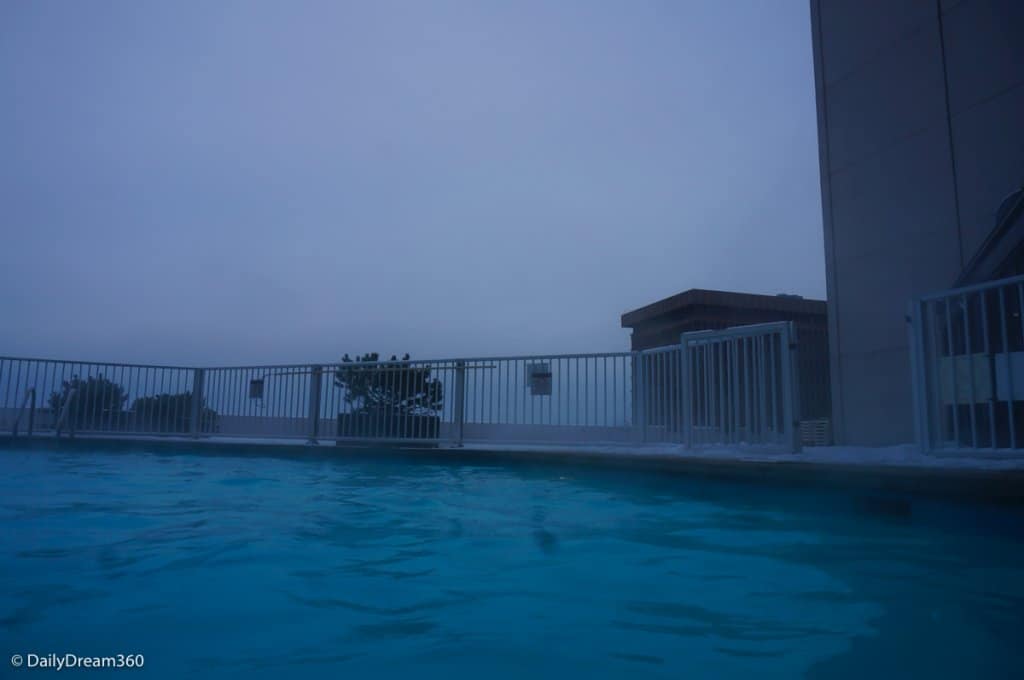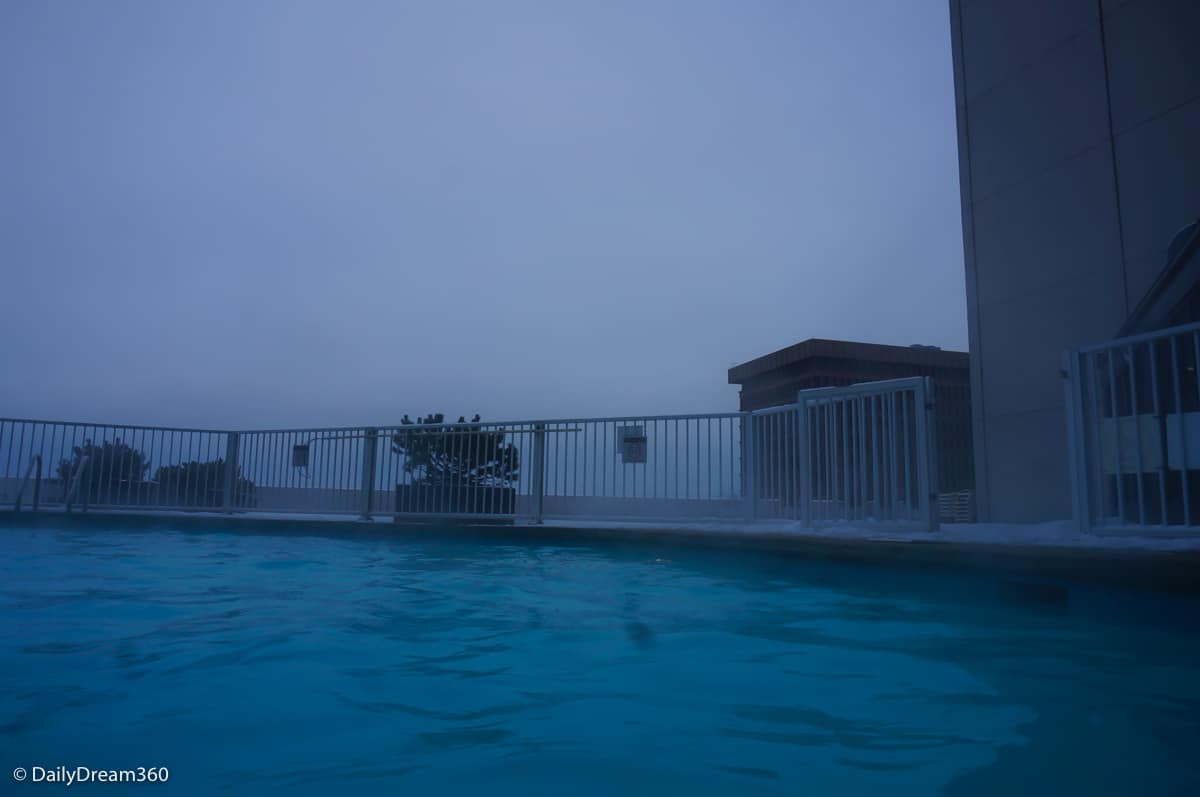 Fitness Facilities and Outdoor Pool
A first for me was a morning swim in the heated outdoor pool, the first time I swam in an outdoor swimming pool in the dead of winter. Steam rose from the heated water, and the pool patio was covered in snow. It was a great way to prepare for my visit to the Siberian Station Scandinavian Spa just outside the city.
Outdoor heated pool Hilton Quebec City
If an outdoor swim in the heated pool is not appealing, there is also a fitness facility filled with cardio machines and weights. However, during my stay, it was always full even early in the morning.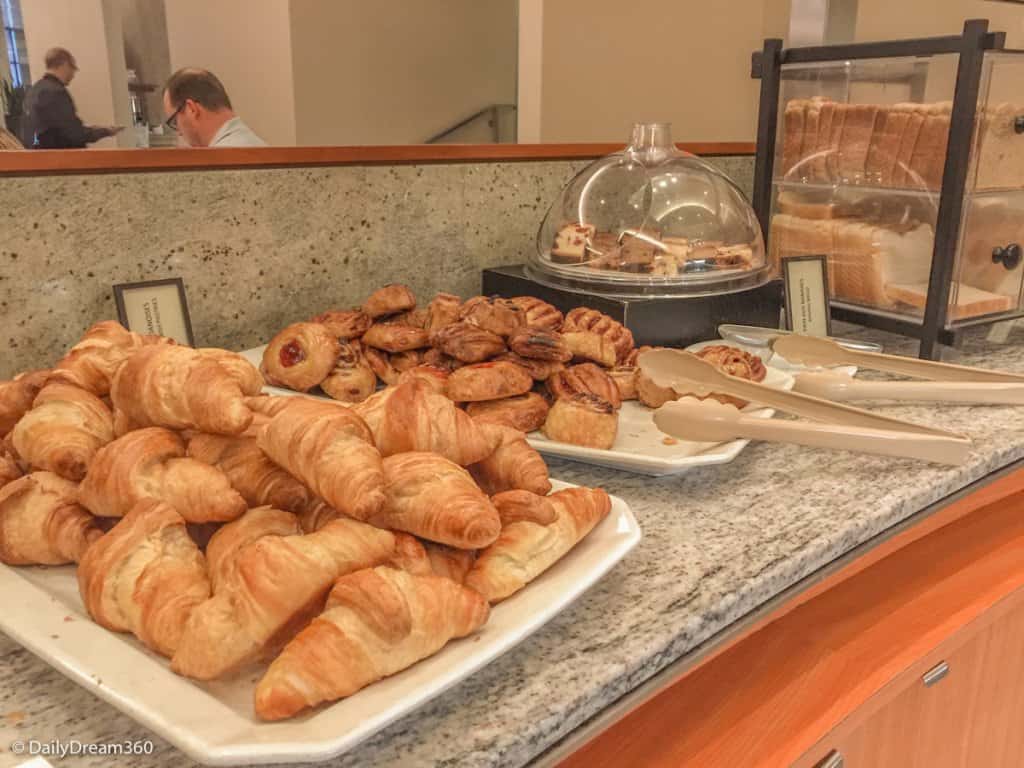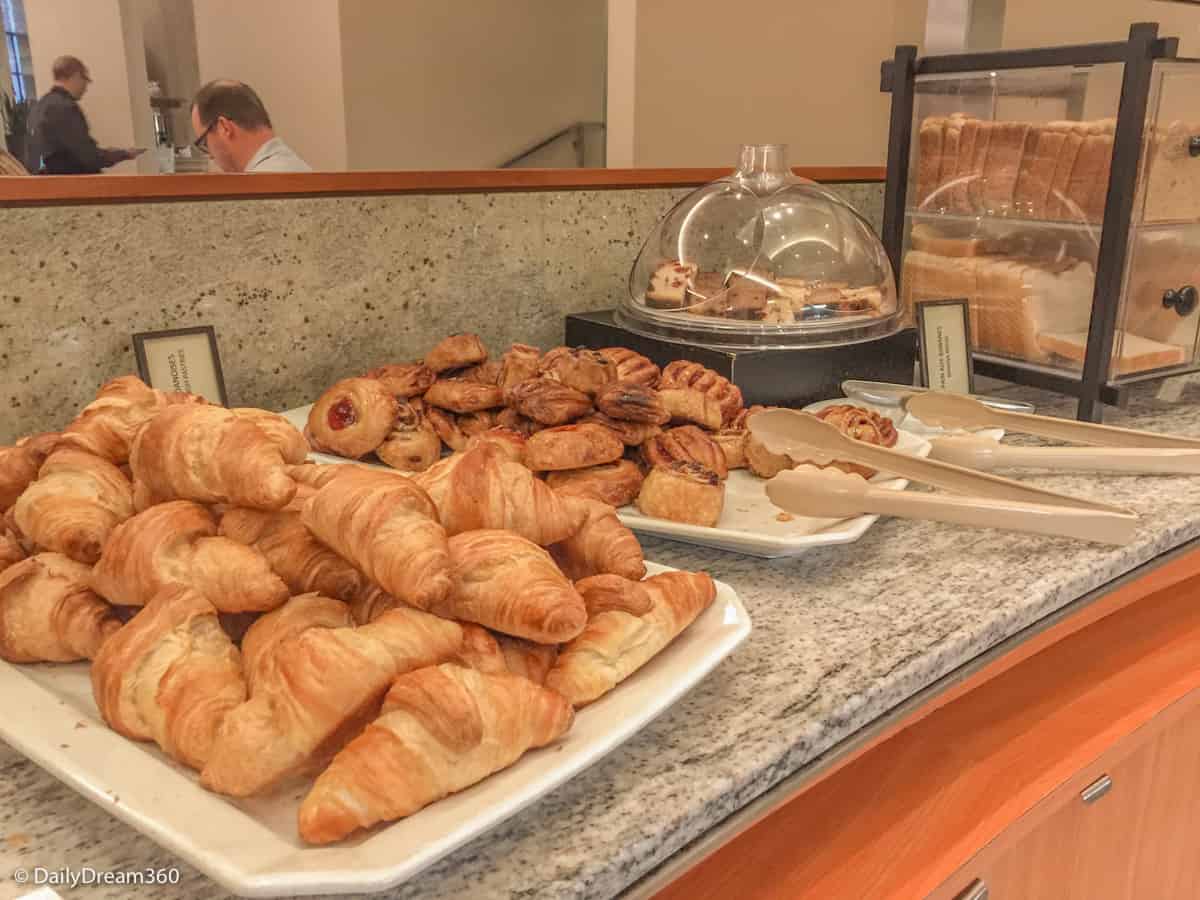 Breakfast Buffet at Hilton Quebec City
I have to admit I enjoyed the food and dining in the city of Quebec, but my room included a visit to the breakfast buffet, and I did take advantage of it. The staff was pleasant and offered to make me custom eggs vs. the eggs available in the hot meal. There were also lots of fresh fruit, yogurt, cheese and pastries.
Read More: Places to Eat in Quebec City.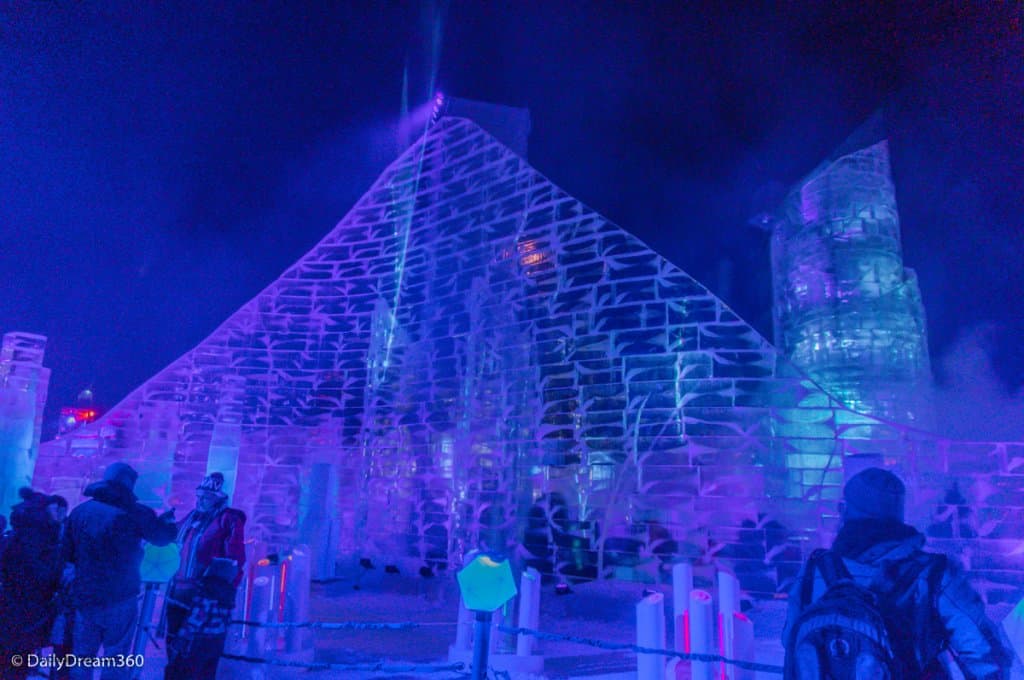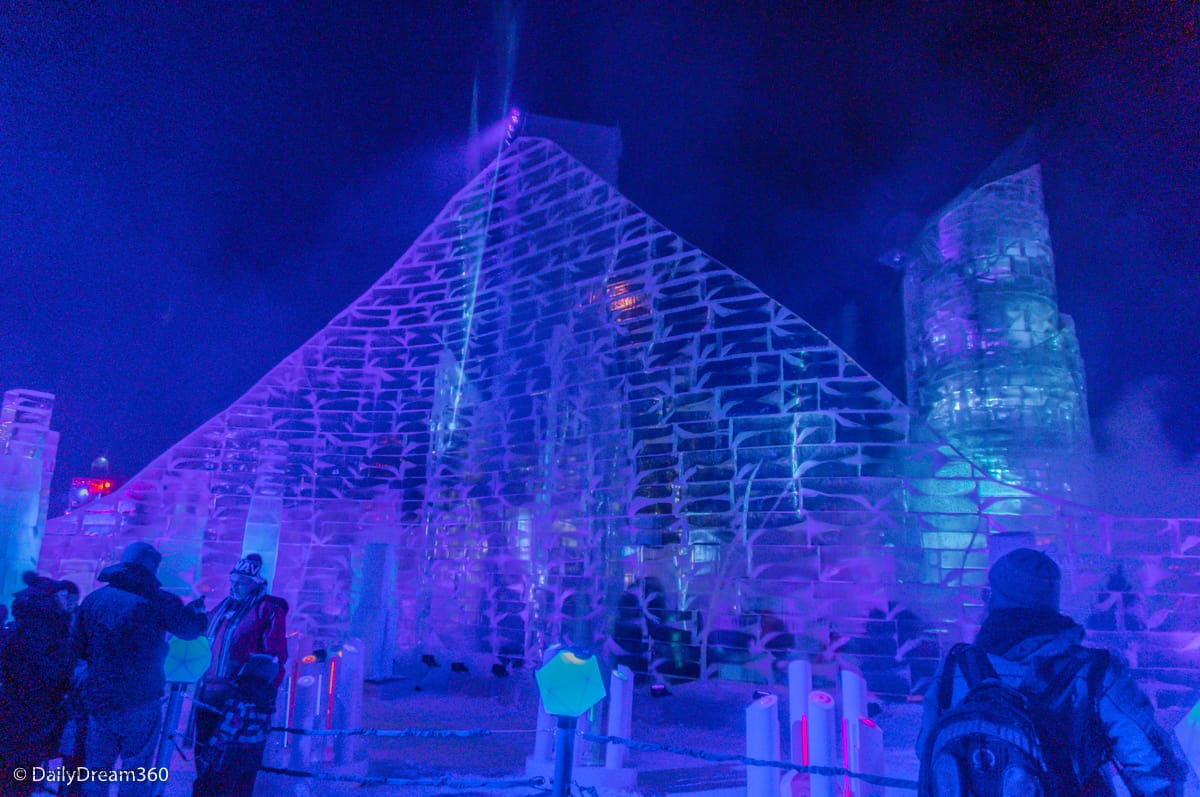 Hilton Hotel Perfect for Quebec Winter Carnival
During my stay, I visited the Winter Carnival site many times. The proximity of the hotel to the festival attractions and Bonhomme's Ice Palace was perfect as it allowed me to go back to my room throughout the day and warm-up or drop off shopping purchases.
Read more: 10 Things to Do at the Quebec Winter Carnival.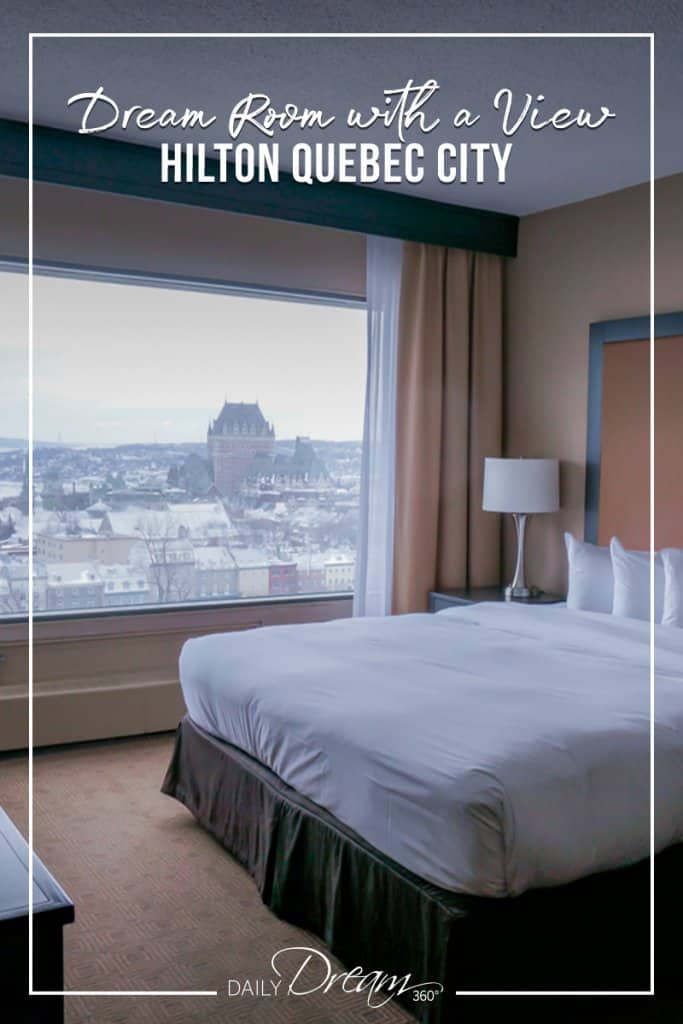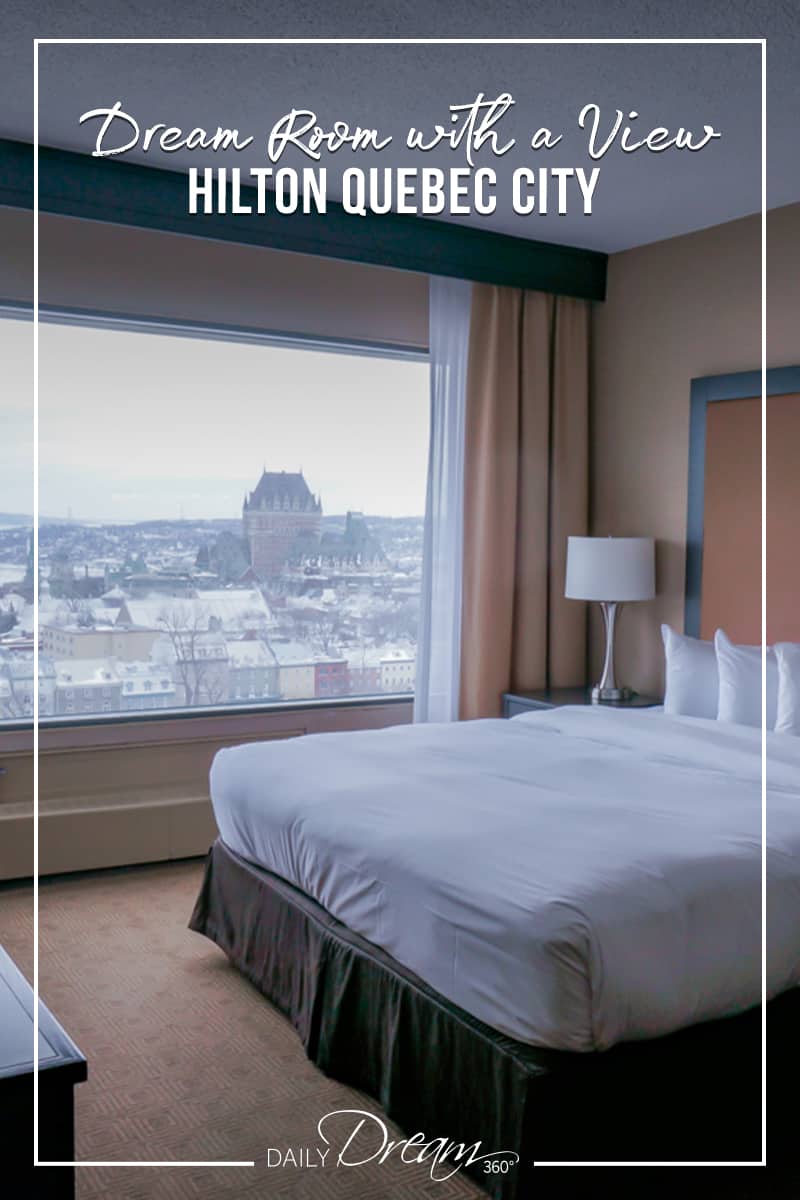 Travel assistance provided by Tourism Quebec, Quebec Region, and the Hilton Quebec City on a media hosted press trip. The opinions expressed in this article are my own.