I've made a few trips to Quebec City during winter and each time I find myself in search of more things to do and see. In this post, I've put together a list of 10 things to do on a dream trip during winter in Quebec City.
10 Things to do on a Trip During Winter in Quebec City
If you are lucky enough to explore Quebec City during their annual Winter Carnival, you'll find the city magically transformed into a winter wonderland filled with special events and fun Winter Carnival celebrations. For more on what not to miss during the carnival see 10 Things to Do at the Quebec Winter Carnival.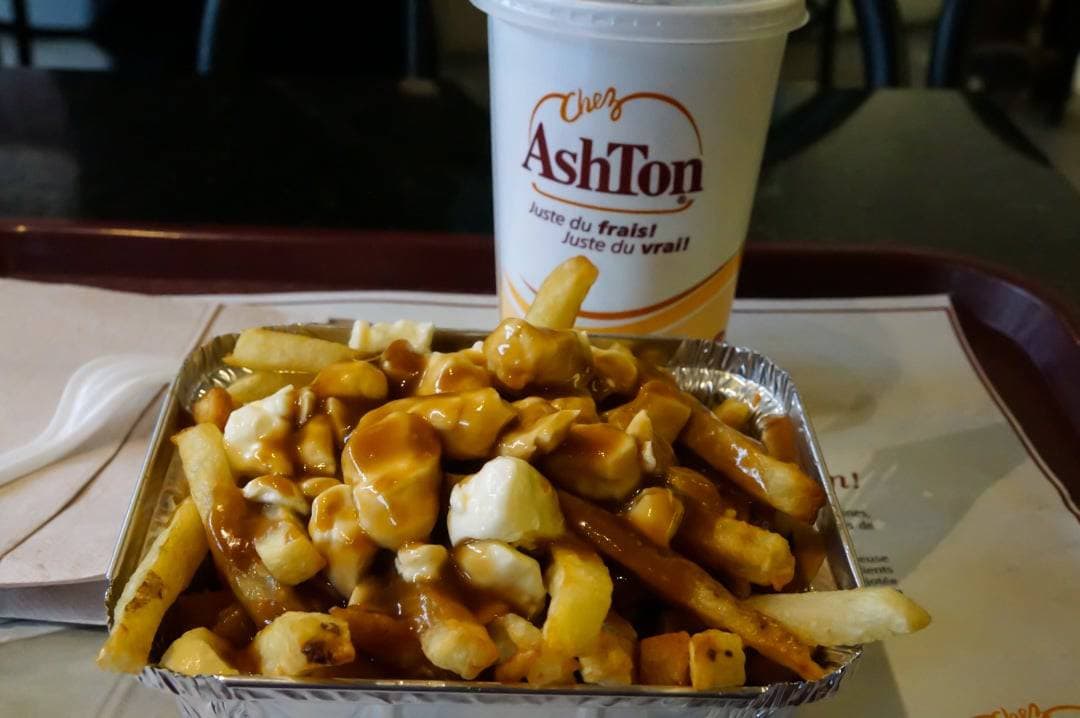 1. Eat Poutine
There is no shortage of restaurants serving variations of this Quebec speciality dish: French Fries layered with cheese curds, and hot gravy poured over top. Many restaurants have developed their unique dishes adding toppings like bacon, sausage and veggies. For a fast food pick me up, hit one of the Chez Ashton locations in the city, or keep an eye on your restaurant menu for Poutine dishes as an appetizer or main course. When in Quebec Visit Chez Ashton for Poutine
Read more: Great Places to Eat in Quebec City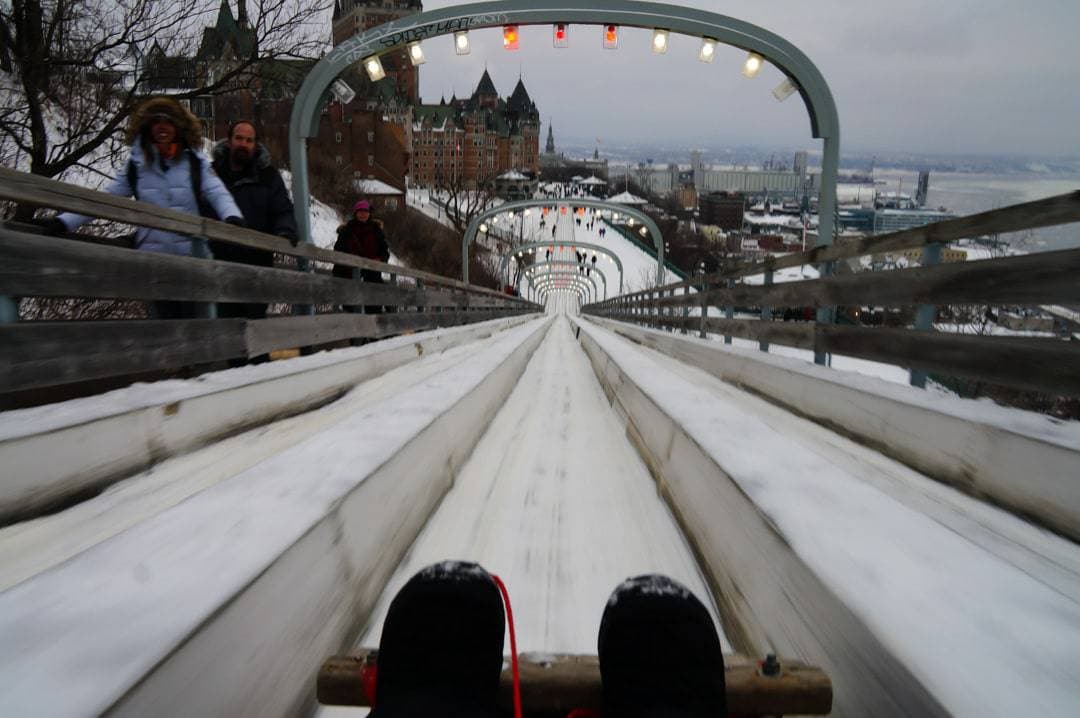 2. Ride the Famous Quebec City Toboggan Ride
Make your way behind the Chateau Frontenac to the Dufferin Terrace where you will see the Famous three sled run. Be sure to take a ride on and prepare for the thrill of hitting speeds 70 KM. The only challenge is lugging the heavy wood sled up the steep hill, but it is all downhill from there. The traditional toboggan ride is open from December to March weather permitting.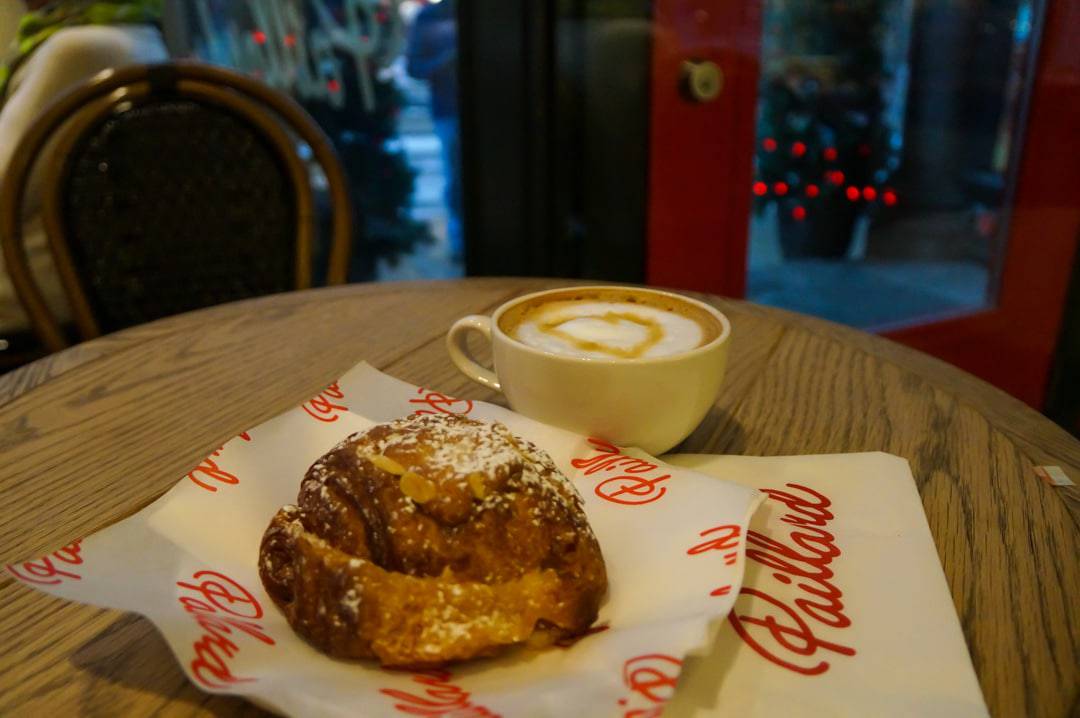 3. Eat French pastries
Visit one of the many bakeries and cafes in the old city and enjoy a delicious French pastry. In the old city, spots like Paillard are great for grabbing lunch or just a coffee and sweet treat. There is no shortage of cafés and bakeries to choose from throughout the old city so be sure to stop at one during your stay.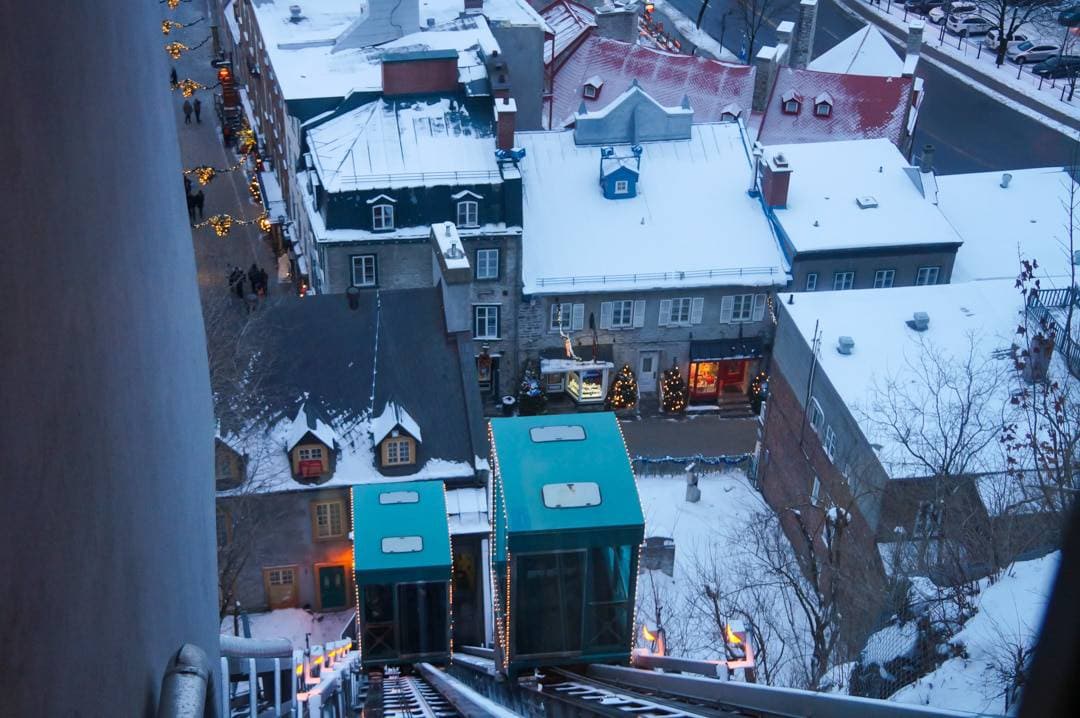 4. Ride the Funicular down to the Stroll through the Ville de Quebec
Petit Champlain quarter is my favourite spot in the city especially, during Quebec's Winter Carnival. Decorated with twinkle lights and covered in snow it's like a European village. Head down with the Funicular and explore all the little shops and cafés.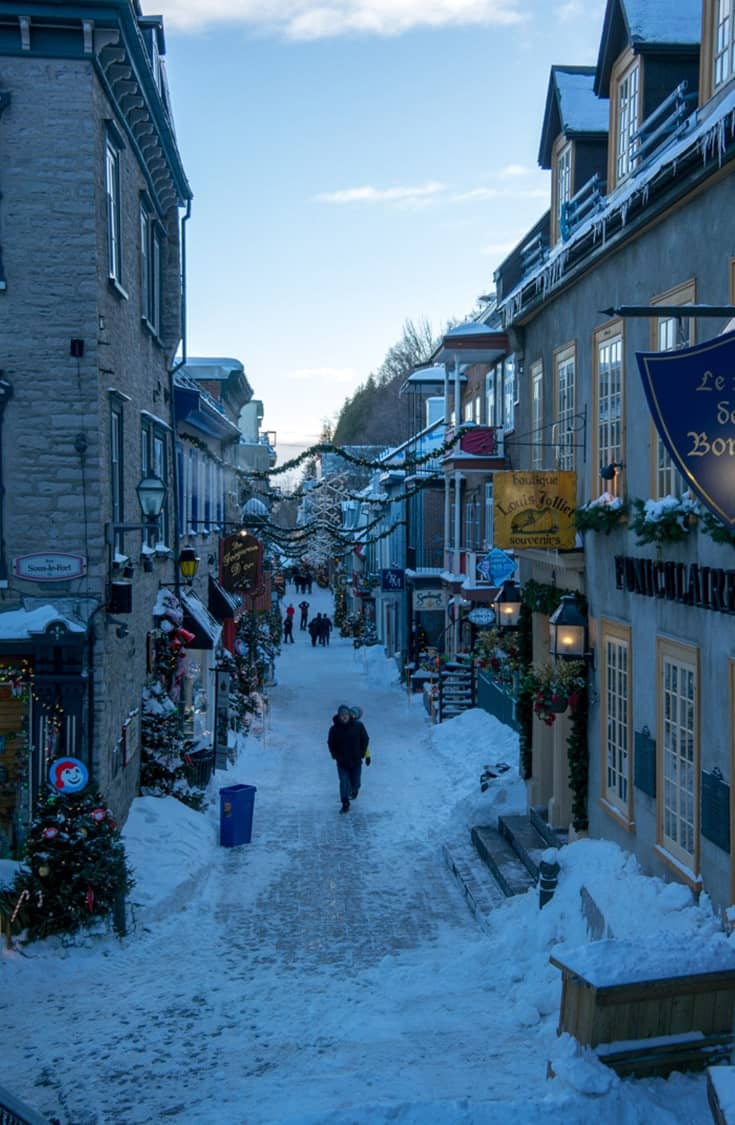 During carnival Christmas decorations and ice sculptures can be found throughout the entire city, but in Petit Champlain, it just has an even more magical vibe. This is a must stop in Quebec City no matter what time of the year.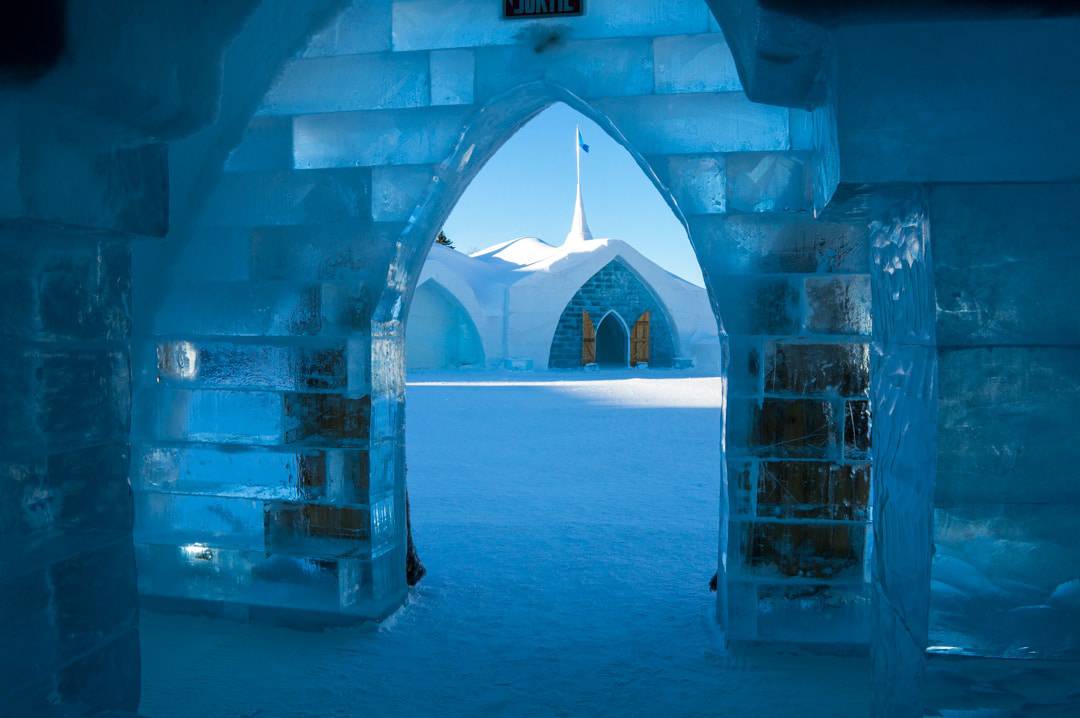 5. Visit the Ice Hotel
Also outside Quebec City at the Valcartier Village is the Quebec City Ice Hotel. Families will love its new location amongst the snow tubing and winter activity park. Those brave enough to stay at the Ice Hotel will have the option to warm up inside one of the rooms at the Valcartier resort. You don't have to stay at the hotel you can take a day tour instead and marvel at the construction, the ice decored rooms and of course have a drink in an ice glass at one of the ice hotel's ice bars. For more details see this post Dream Inside the Ice Walls of the Quebec City Ice Hotel.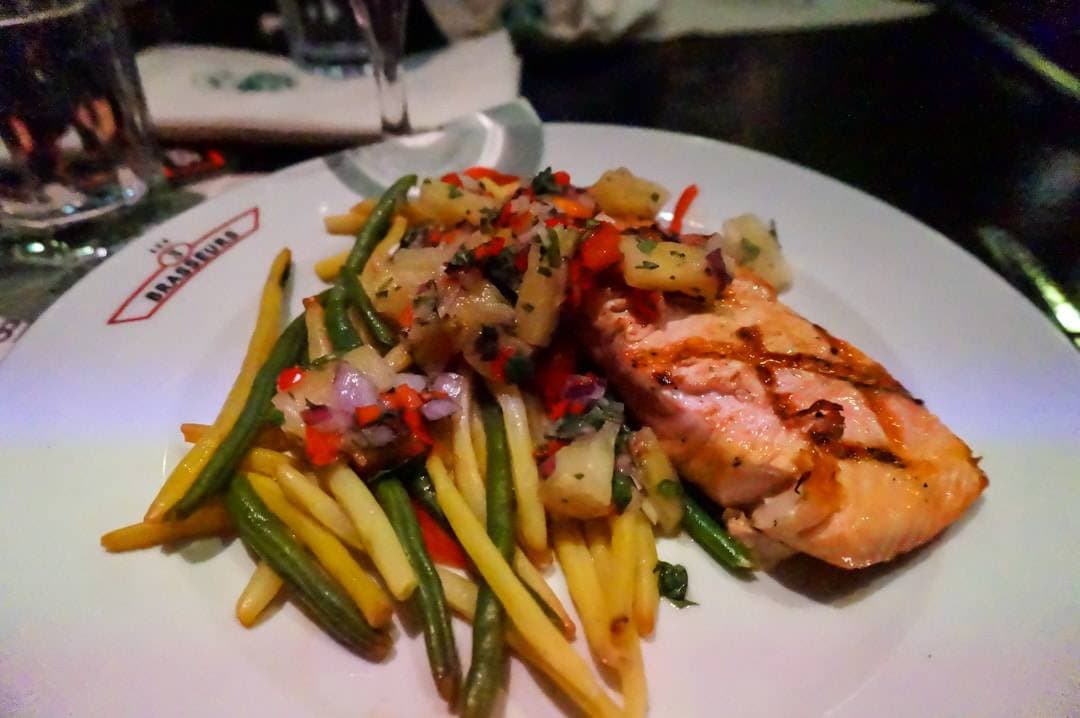 6. Splurge on Dinner at one of Quebec City's Restaurants
There is no shortage of Quebec City restaurants for all budgets. From craft brewers like Les 3 Brasseurs, Quebec original cuisine at La Bûche restaurant to fine dining at Bistro Tournebroche, take a walk through the old city and Petit Champlain village and explore your options.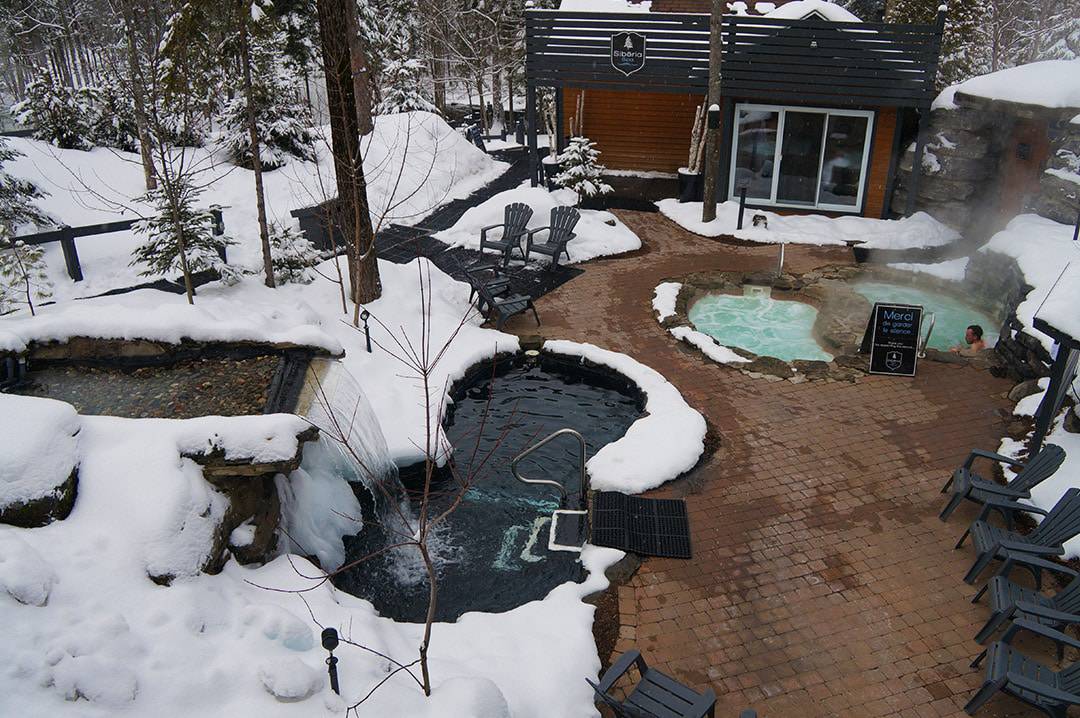 7. Relax at the Scandinavian Spa
Visit the Siberia Station Spa for a relaxing escape. This outdoor Scandinavian Spa is located just outside Quebec City and features hot and cold water pools, saunas and relaxation spaces amongst a beautiful winter forest scene. For more details see our post: Winter Relaxation at Siberia Station Spa Quebec City.
8. Snowshoe or Cross Country Ski at the Plains of Abraham
Rent a pair of snowshoes or cross-country skis and hit the trails at Quebec's (National park) the Plains of Abraham. This historic site is a magical open space for those seeking to immerse themselves in nature. Most Quebec hotels will be happy to help make the arrangements, or you can rent skis and snowshoes on site.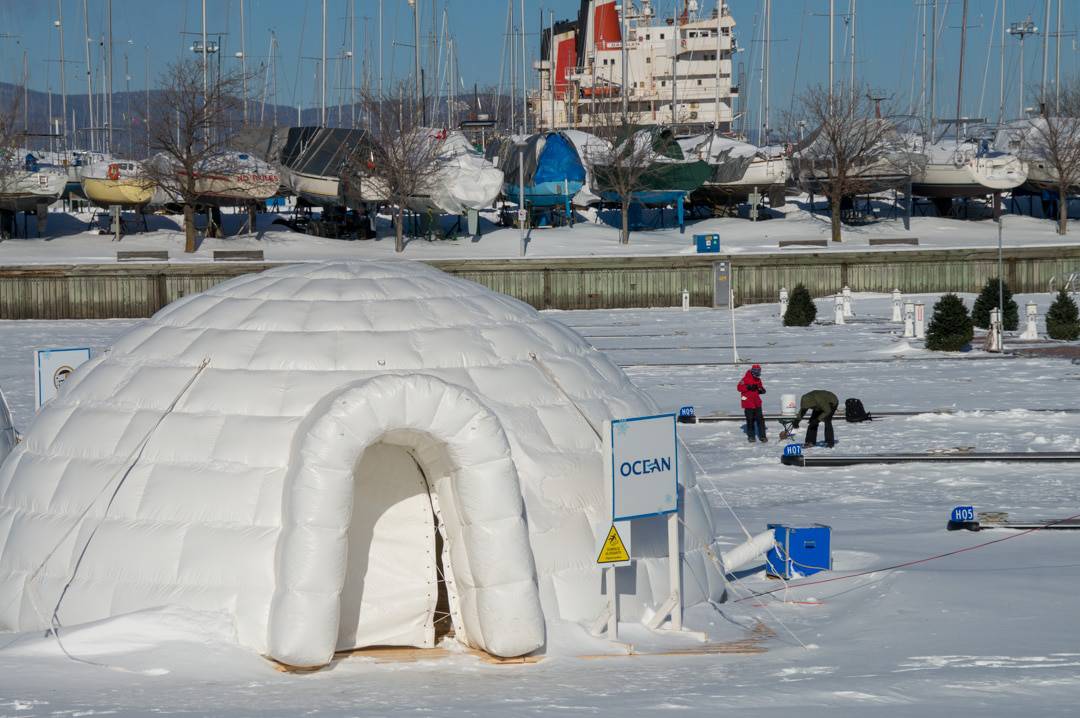 9. Ice Fishing at Village Nordic in the Old Port
Located in the Old Port of Quebec each winter you'll see the blow-up igloos pop up at the Village Nordic. There children and adults of all ice fishing levels will find some unique opportunities to catch some fish. The team Village Nordic will take care of drilling the holes in the ice and provide the gear you need, and the rest is up to you and little luck.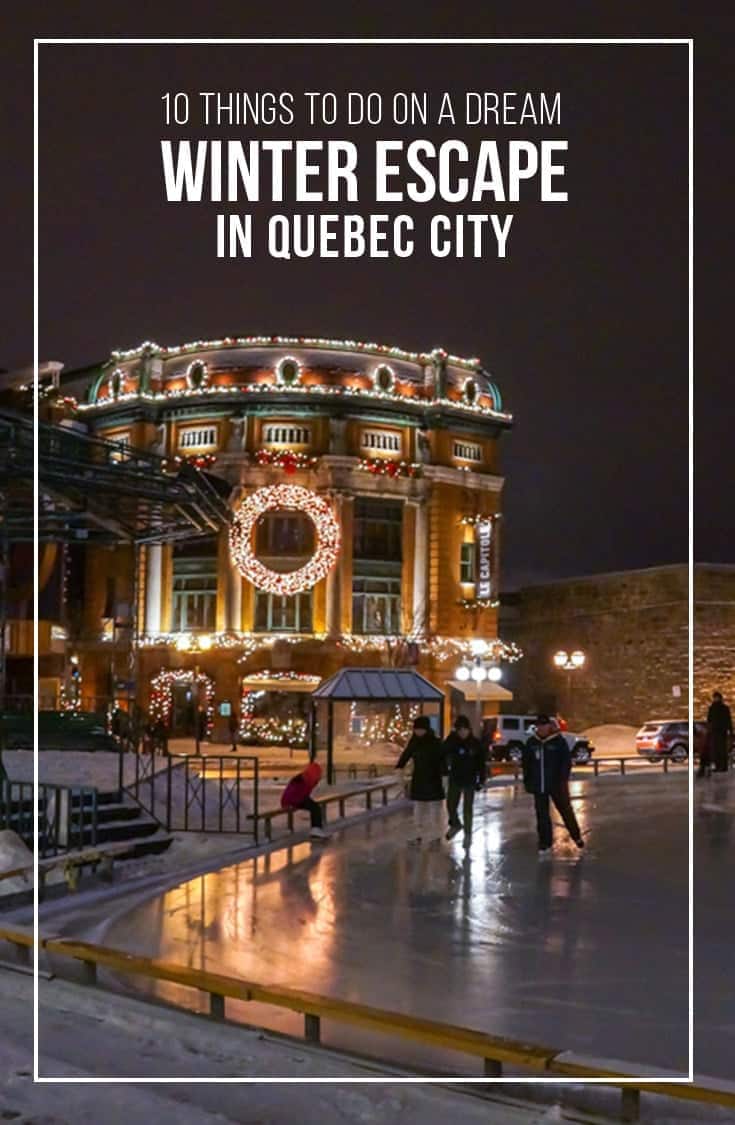 10. Ice Skating in the city
Rent some skates and enjoy a lovely ice skate on the rink inside the old city walls. The Place D'Youville skating rink located across from Porte Saint-Jean and the Capitole de Québec is a beautiful scenic rink in the old city. Be sure to dress warmly and head there at night to enjoy the twinkle lights and ambience of old Quebec.
Planning a Winter Getaway in Quebec City? Check out these posts for ideas on where to stay during your visit:
Disclosure: Travel assistance provided by Tourism Quebec on a number of media press trips. The opinions in this post are my own. This page may contain affiliate links. Clicking for additional information or to make a purchase may result in a small commission. For more information read our disclaimer.