This article may contain affiliate links. Clicking on or purchasing products we recommend through a link may earn a small commission. Read our disclosure and privacy policy page for details. *COVID-19 TRAVEL ALERT – Travel recommendations offered on this site are not to encourage you to travel against travel advisories.
I have to pinch myself to make sure it is happening. I'm sitting in my room at the Fairmont Chateau Frontenac. Since I was a little girl, I've wanted to stay in the "castle on the hill." That's what I thought it was back then when we came to Quebec City on a family vacation. As I grew older, it became that luxury hotel I would dream of staying in, until now.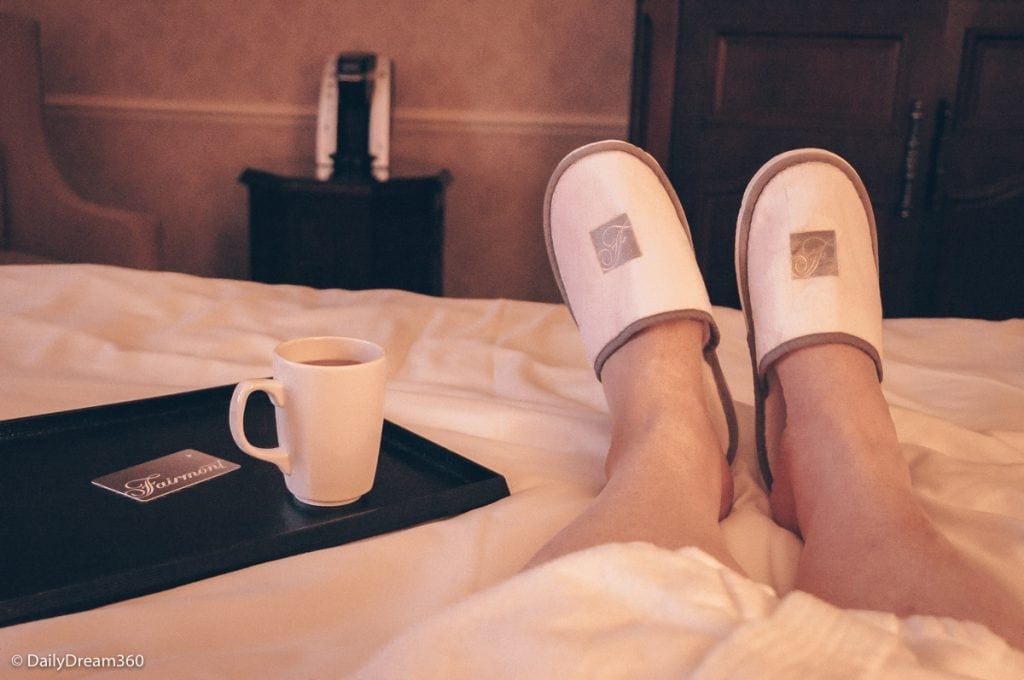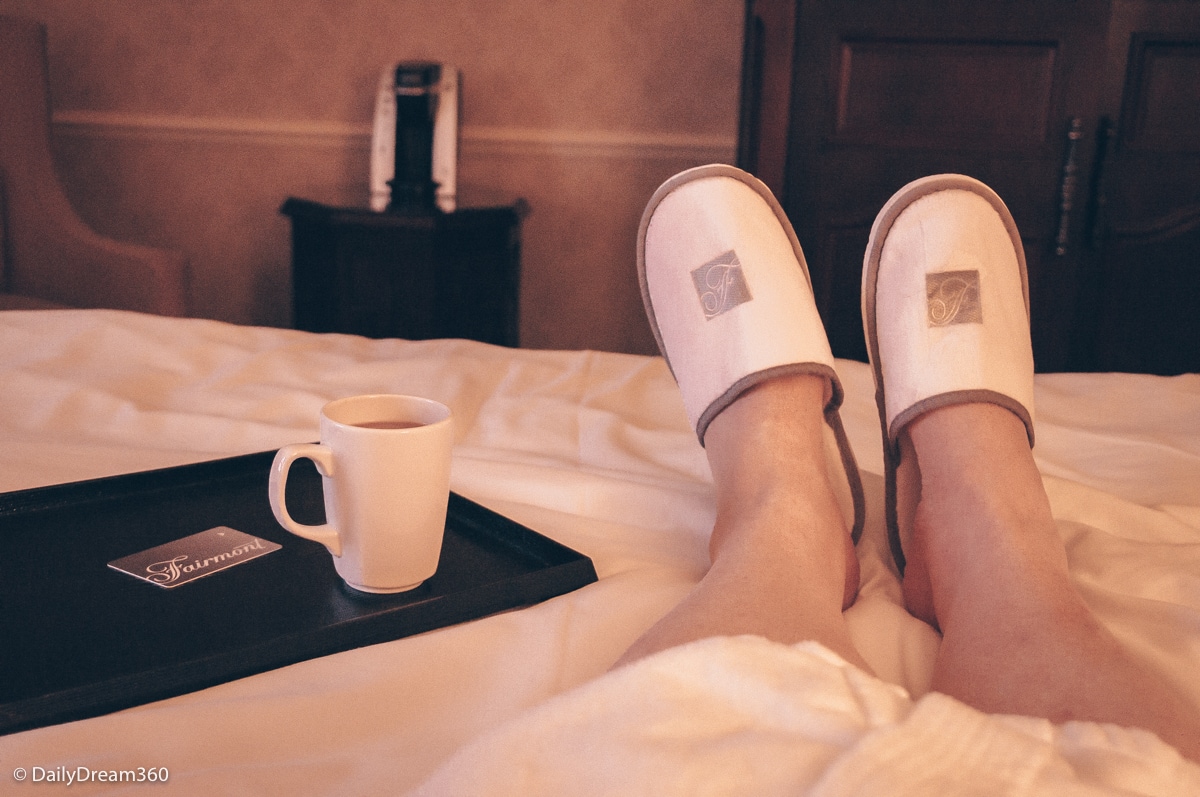 Dream it.
If you're planning a trip that involves a pool, lake, or beach of any kind and you don't want to buy a special waterproof camera or action camera, then a waterproof pouch for your phone could just be the solution you are looking for. Most of us have replaced our cameras and choose to travel with our phones and while there are some water-resistant models out there, protecting your phone with a waterproof pouch could save you a costly repair or replacement.
Luxury hotels are on many of our bucket lists, but Chateau Frontenac has a special place in many Canadian hearts. The historic landmark on the hill inside Old Quebec is something we admire in photos or while walking by it when exploring the city.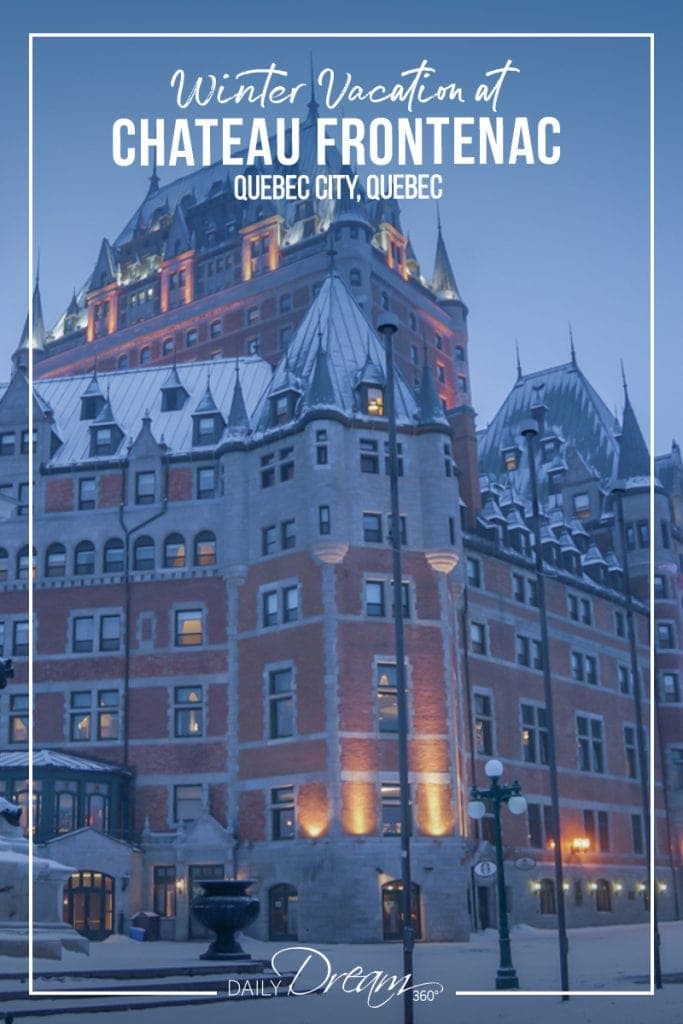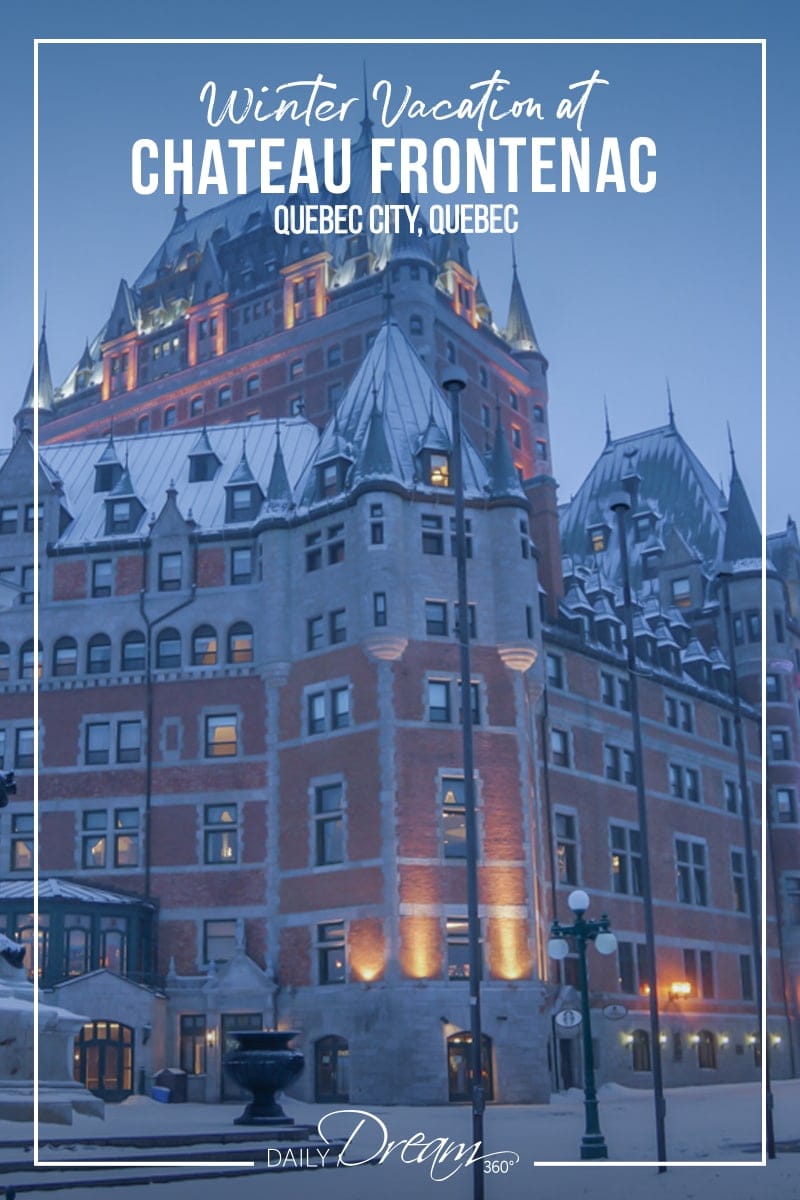 It's hard not to be in awe of it either. Initially built in 1892, the historic chateau-style hotel has undergone many expansions and renovations throughout its more than 125 years in operation.
Plan it.
Getting to Quebec City
Quebec City By Air
Depending on where you are departing, you will likely fly to Quebec City via Toronto Pearson (YYZ) or Montreal's Trudeau International Airport (YUL). Both will fly you into Jean Lesage International Airport (YQB) in Quebec City.
Quebec City By Train
You can also travel to Quebec City by train. US passengers can take Amtrak trains, which run through Toronto and Montreal. In Montreal, you can transfer to a Via Rail train, which travels directly into Quebec City's train station located in the old city.
Quebec City By Car
You will likely arrive in Quebec City either via New York City or Montreal. From Montreal, you will follow Autoroute 20 or 40 (which is more scenic), and the drive will take you approximately 3 hours.
From New York City, follow Interstate 91 to the Canadian Border and then take Autoroute 55 to Autoroute 20, which will take you into Quebec City.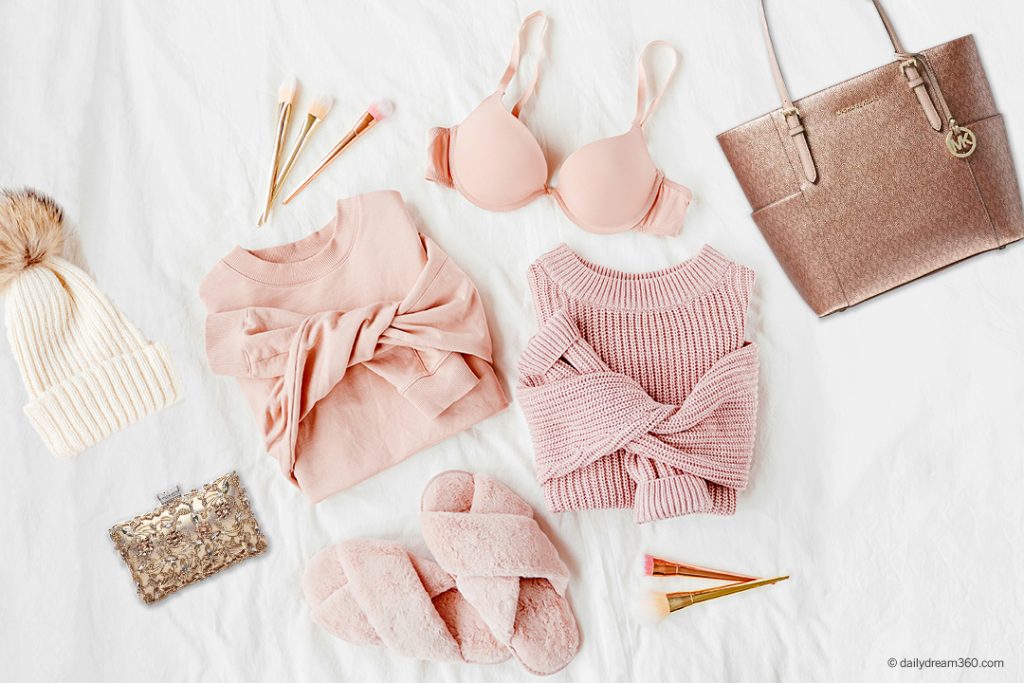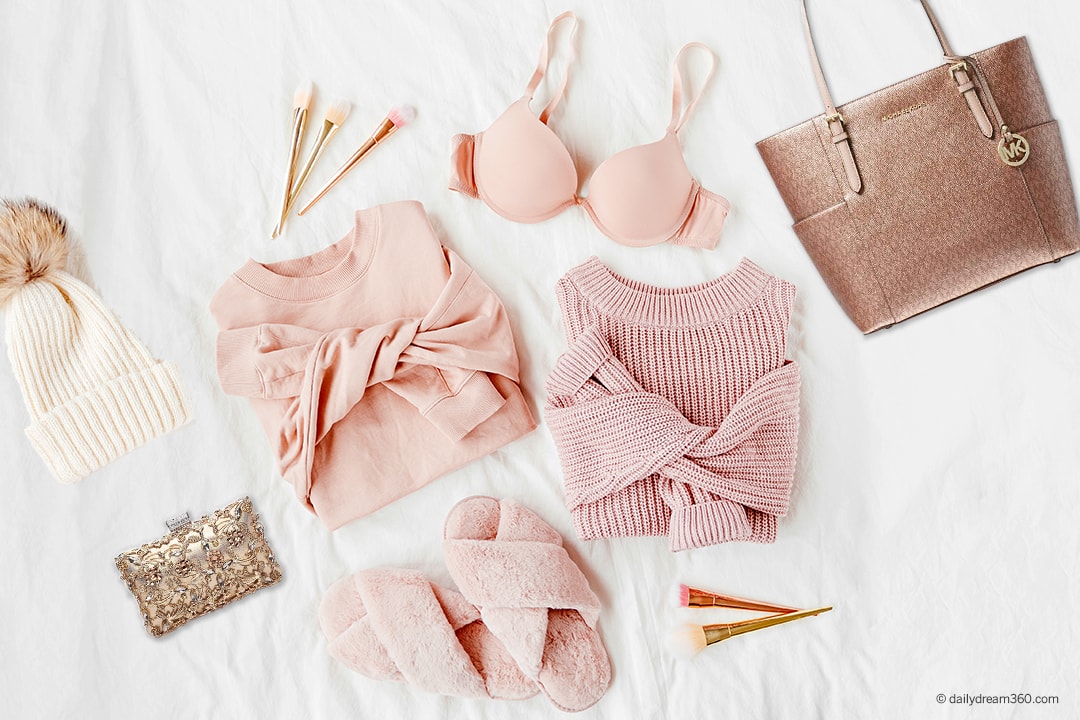 Packing List for a Quebec City Getaway
I had all the creature comforts you would expect from a Fairmont Hotel, a luxury robe, slippers and great toiletries; however, packing for a winter getaway in Quebec requires the right clothing.
Read one of our stylish winter packing list posts or visit our Winter Fashion- Inspired Amazon Store: Canada Store | US Store.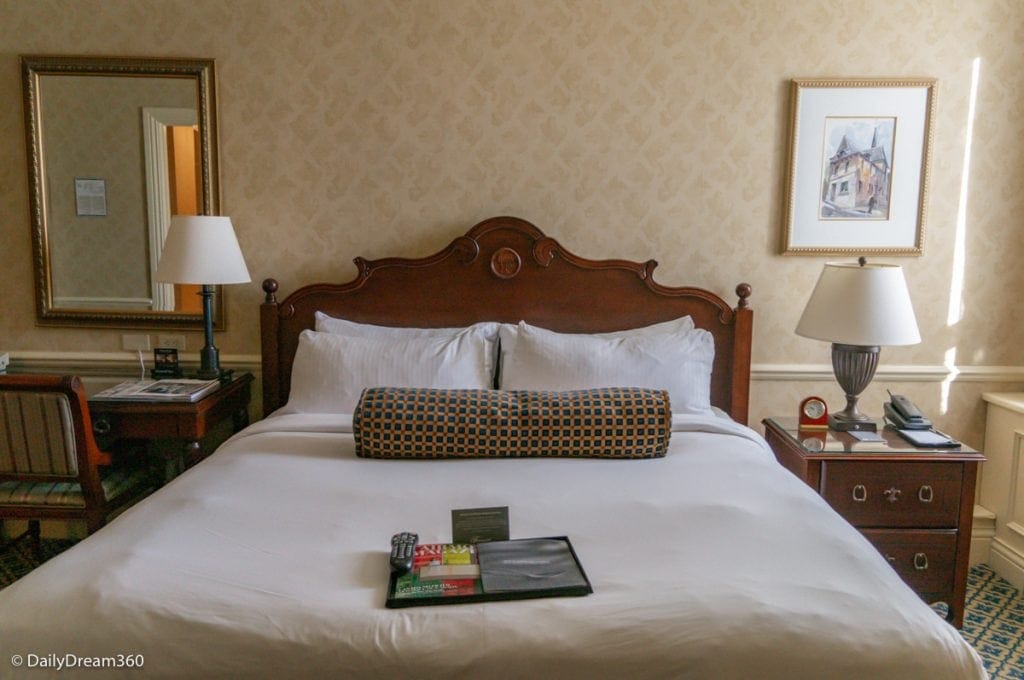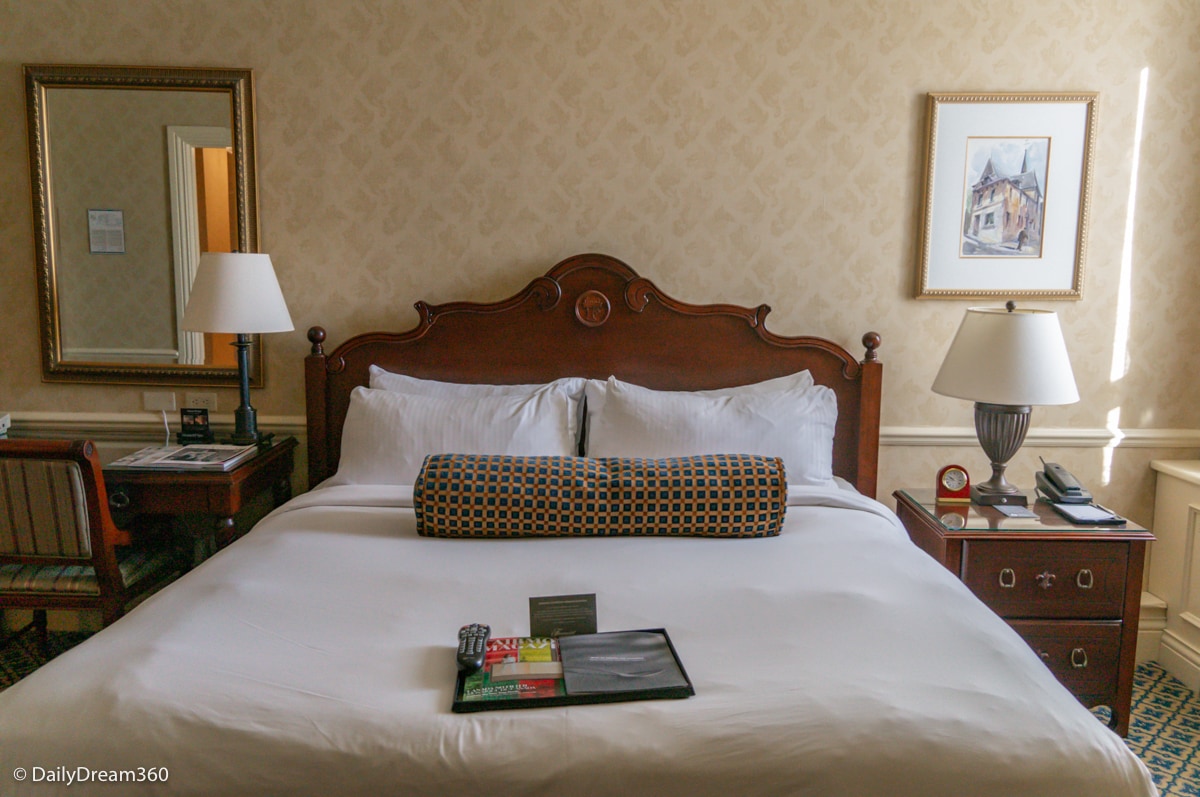 Live it.
Winter Vacation at the Fairmont Chateau Frontenac
Chateau Frontenac King Room – River View
On the sixth floor of the sprawling hotel was my cute little room overlooking the St. Lawrence River. The standard King room was everything I needed to warm up after exploring the old city on a crisp winter day.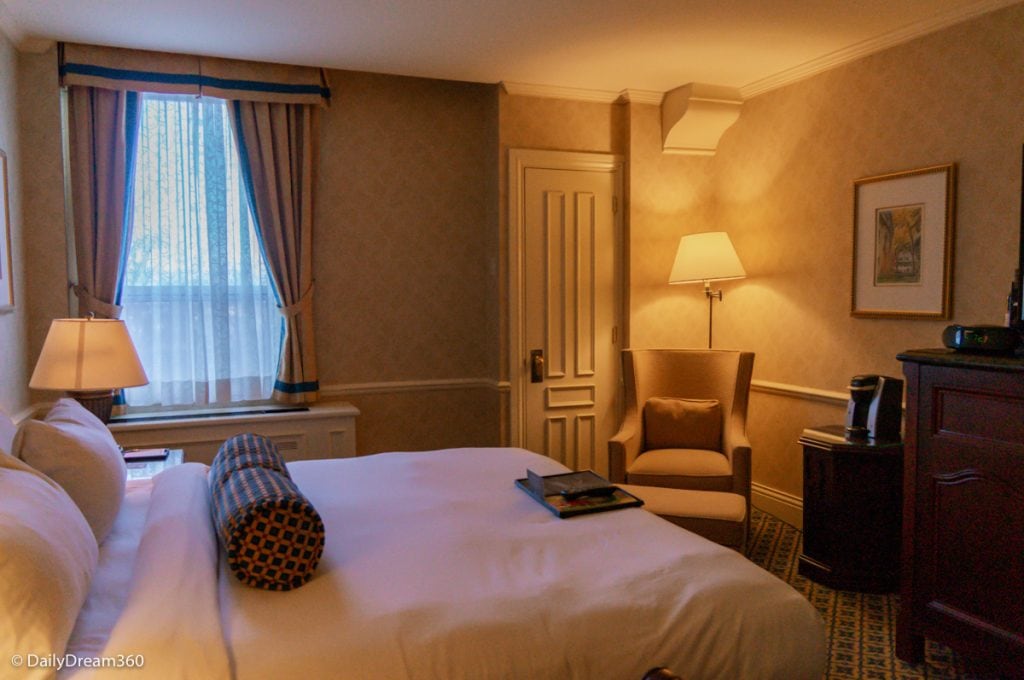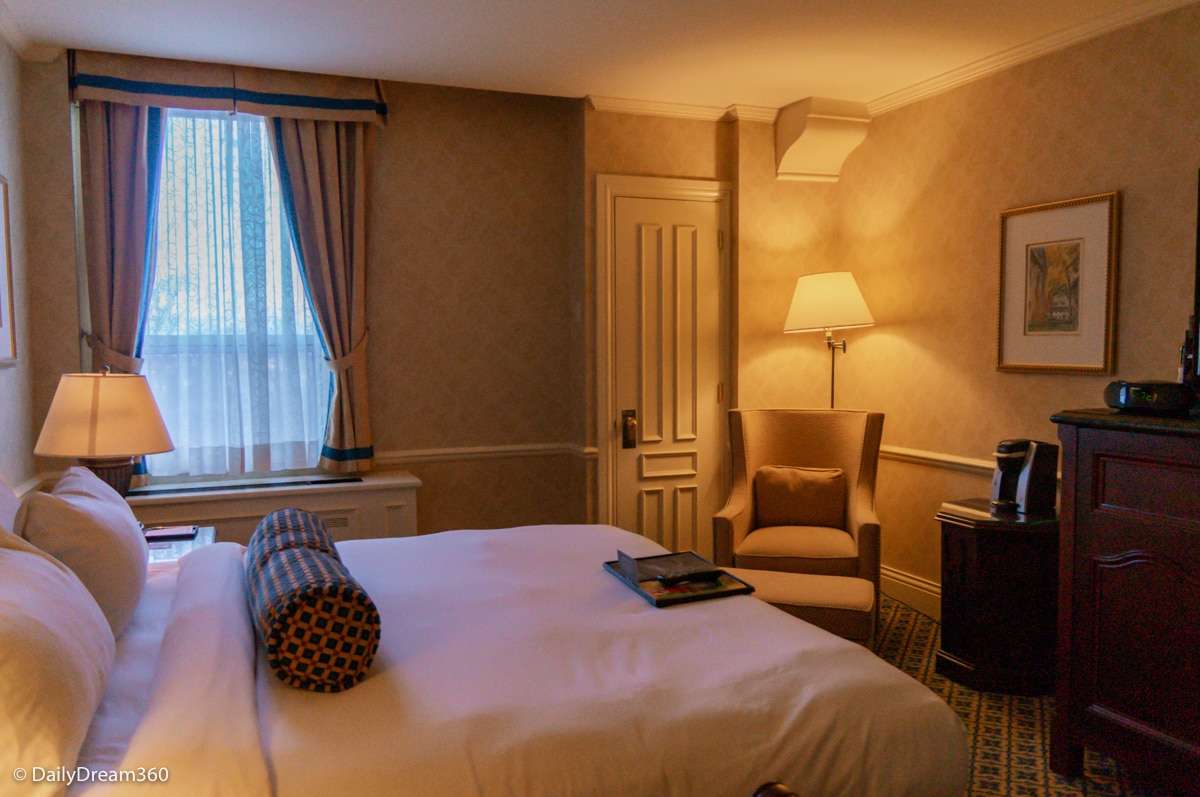 The room had the following amenities:
King bed
Large desk
Chair and ottoman
Keurig coffee machine
Closet with robes
Safe
Minibar ($)
Snack bar ($)
Water ($)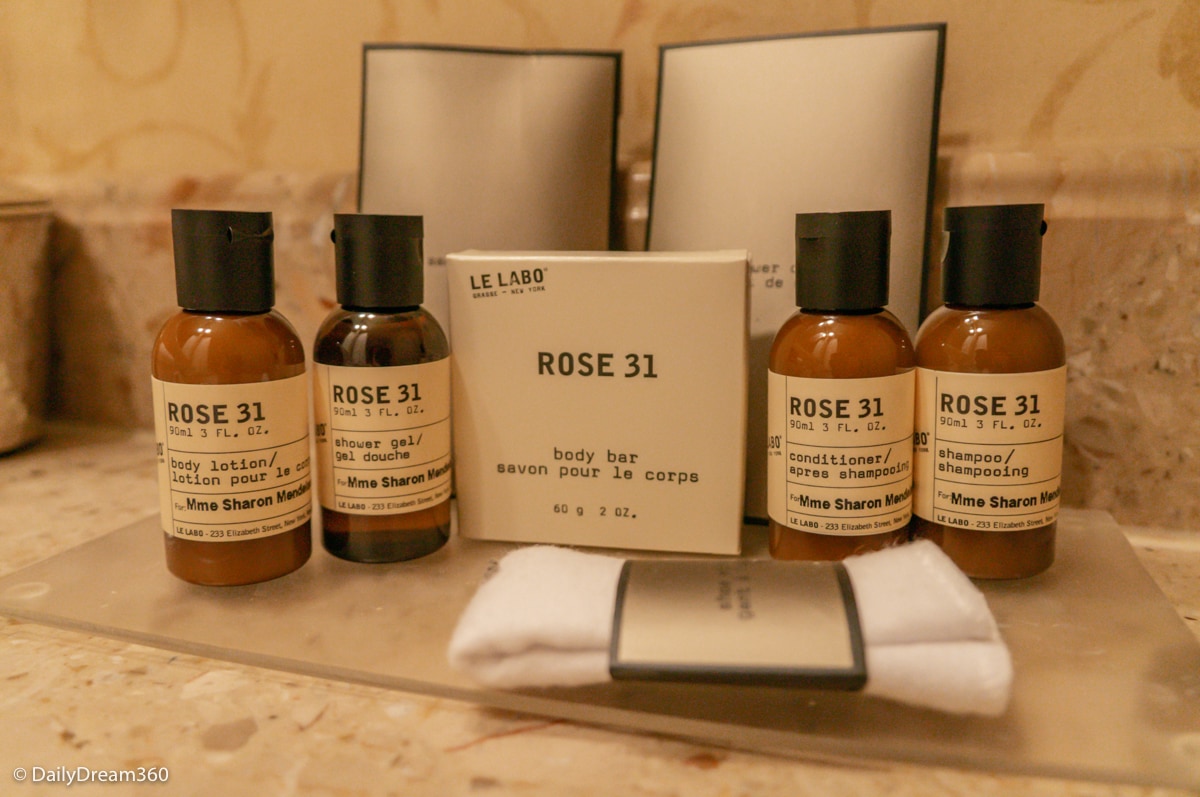 As a VIP guest that weekend, I got a little surprise in the personalized Rose 31 Toiletries in my room, but guests can expect the same toiletries during their stay. It was careful not to worry about what toiletries were in the room since I was travelling carry-on only. I love these products, and there was no need to pack any of my toiletries on this trip.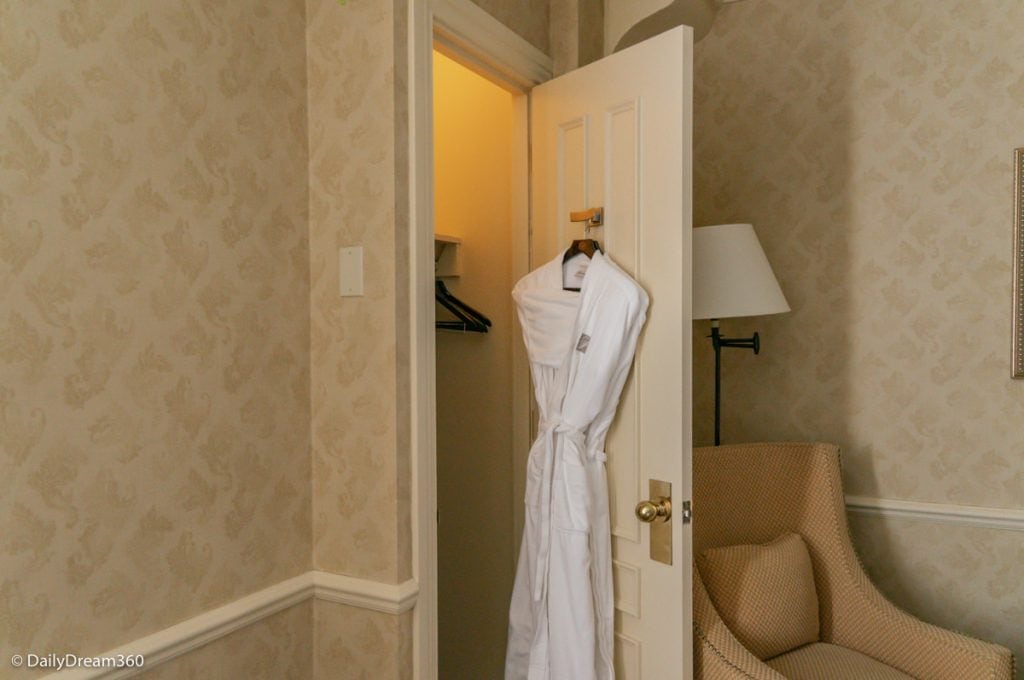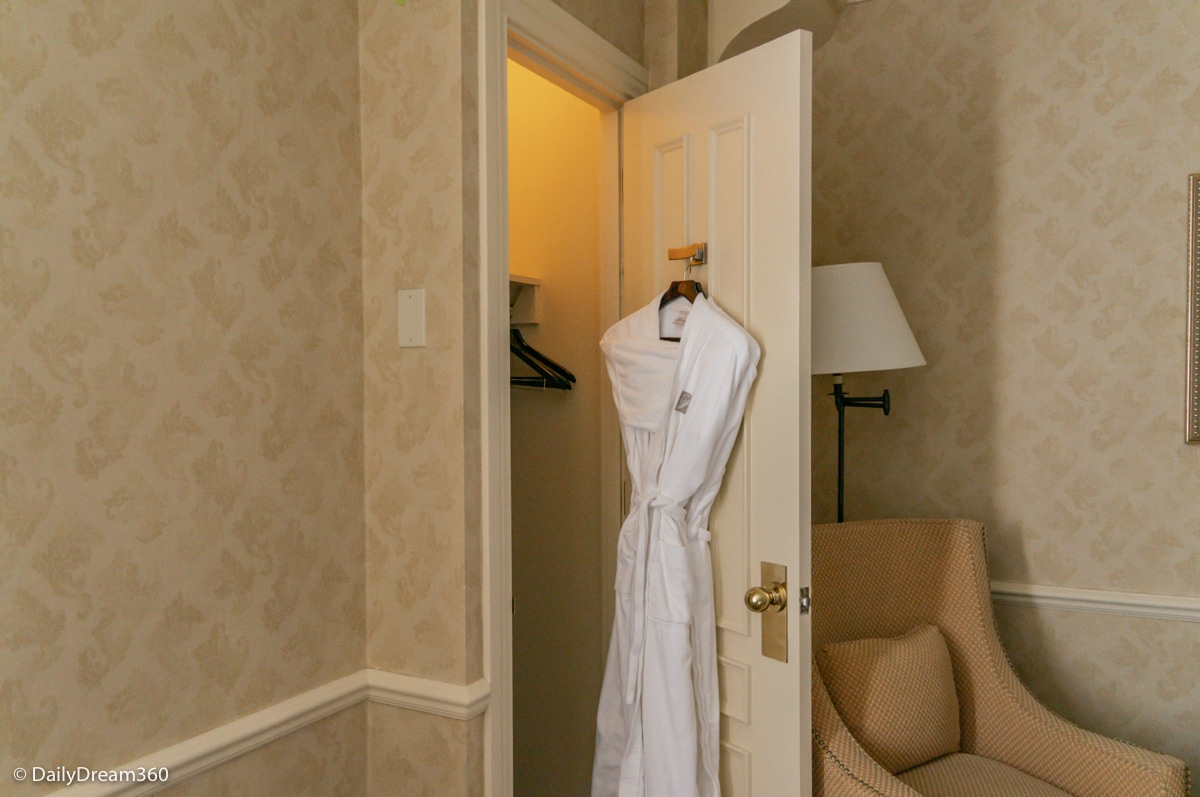 I found the location of the closet was a bit odd, across the room by the window. Inside the closet was like a refrigerator, so I didn't keep my clothes hung up in there because they were too cold.
I also found the room to be quite dark even when all the lights were turned on. I know the lack of modern features is part of the mystic of staying in a chateau, but other than lights and a cold closet, the room was quite comfortable.
Want more information? Check out more reviews for the Fairmont Le Chateau Frontenac on TripAdvisor here.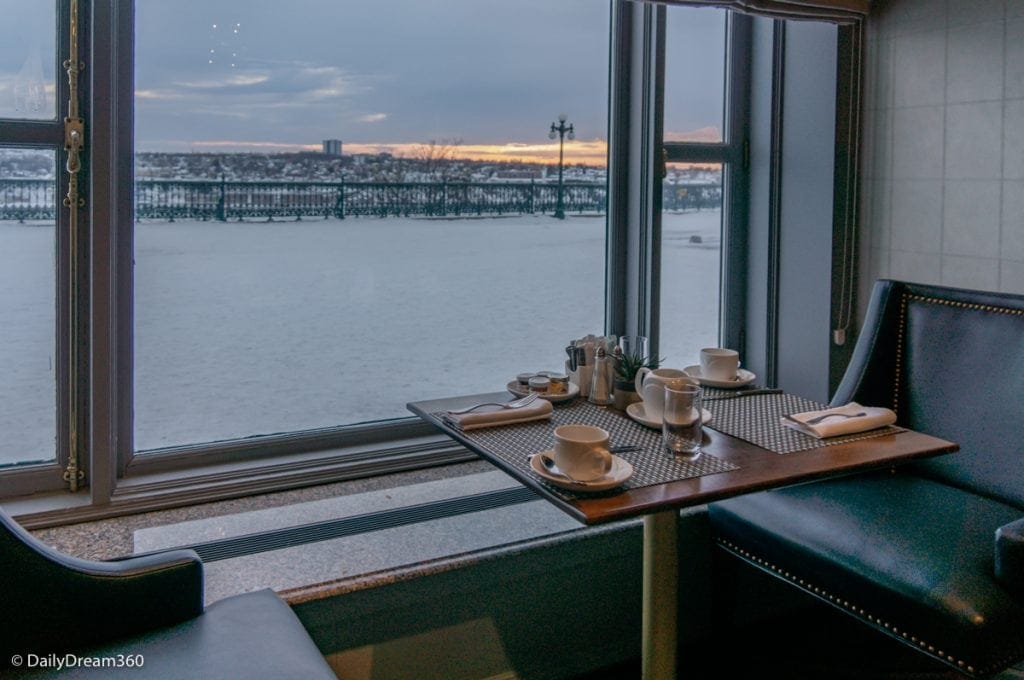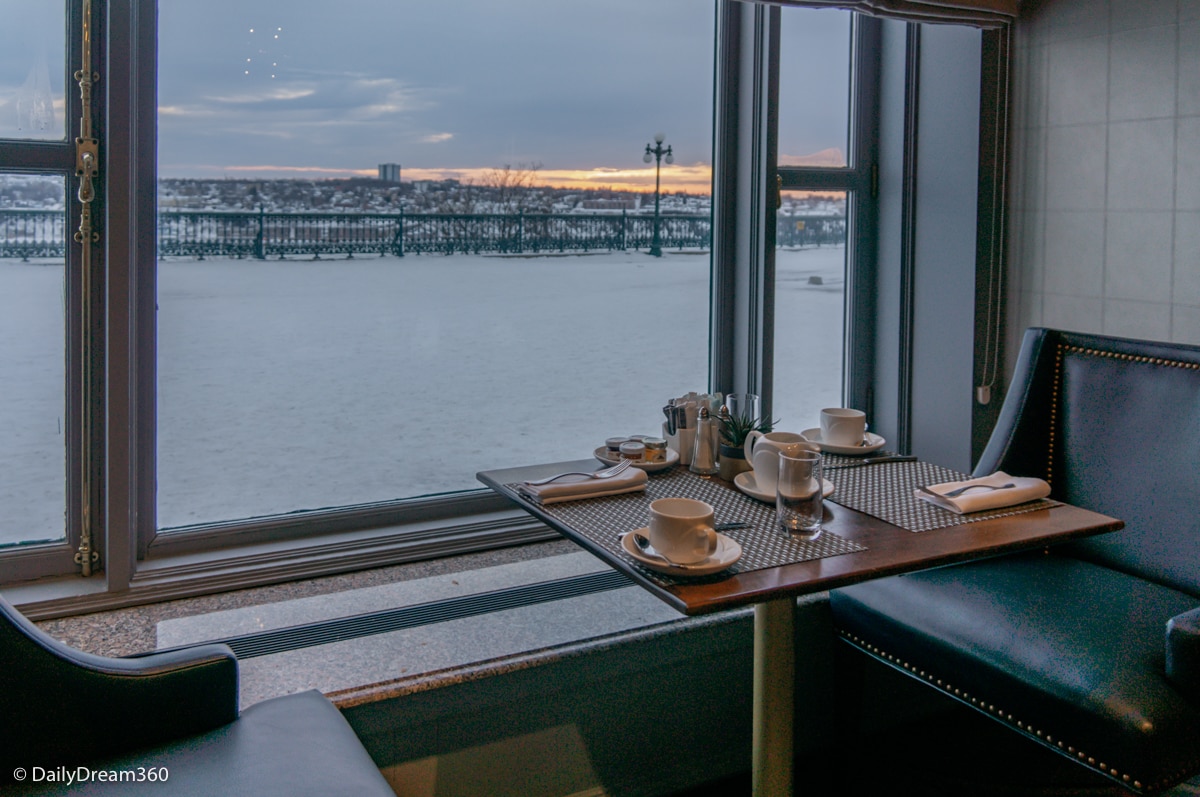 Dining at the Fairmont Le Chateau Frontenac
Dufferin Room – Breakfast
I enjoyed breakfast at the Dufferin room both days during my stay. It was just so convenient to head downstairs vs bundling up in all my winter gear and heading outside. The Dufferin Room features either an A-la-carte or buffet breakfast options. I just hit the buffet, which had plenty of variety. Many healthy and not so healthy options were available including, eggs Benedict, an omelette bar, sausages, bacon, cheese, veggies, fruit, cereals and of course, fresh pastries.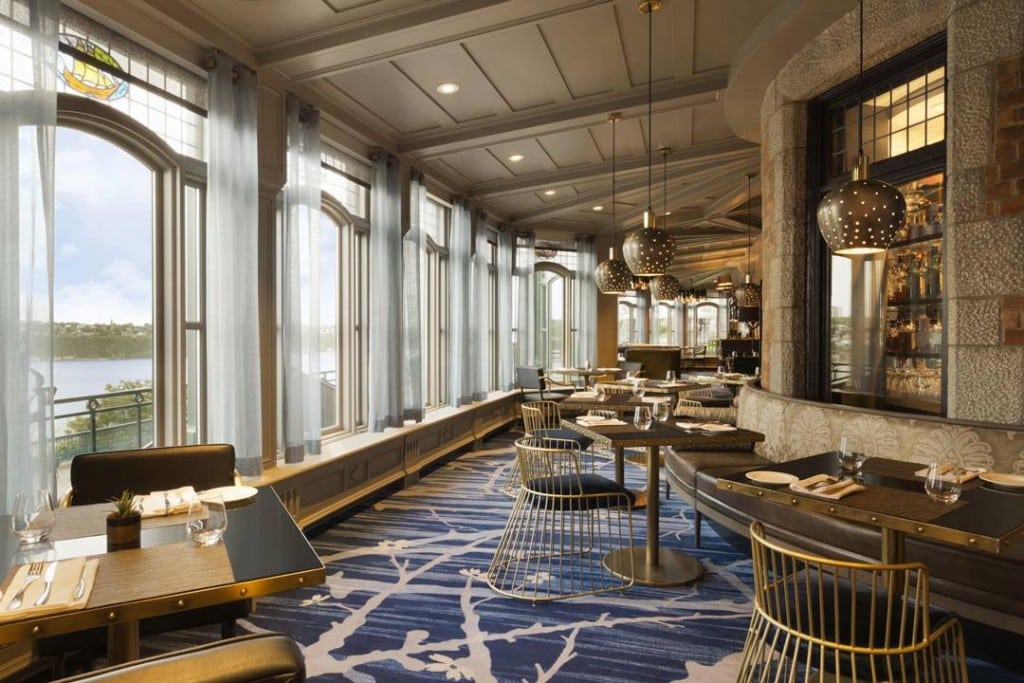 Bistro Le Sam
If you are looking for a little nightcap before heading to bed, the Bistro Le Sam was a great place to stop for a drink and late-night nibbles. It had some pretty magnificent views of the St. Lawrence River, so I'm sure it would have been an excellent spot for lunch too.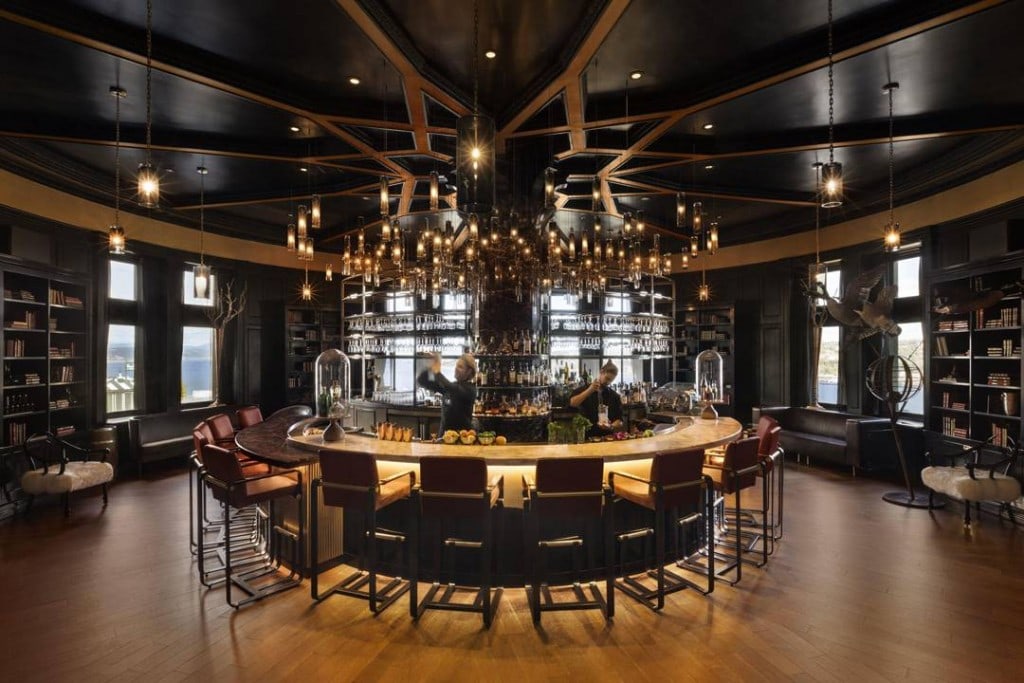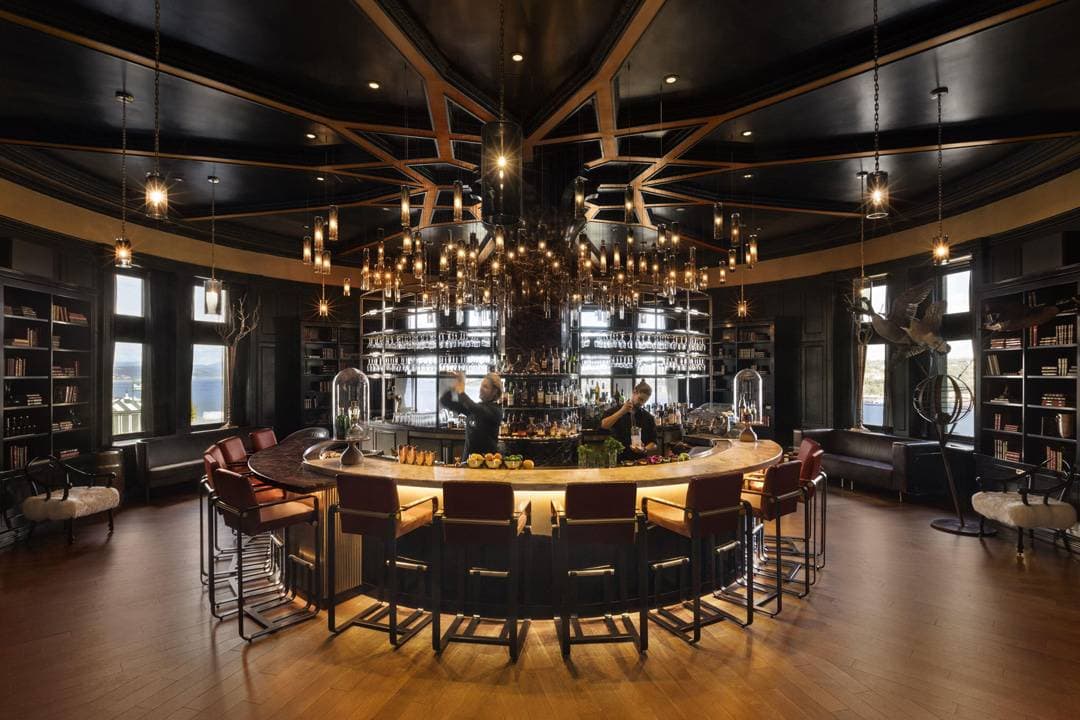 1608 Wine and Cheese Bar
I walked by the bar so many times and couldn't get a good enough shot (without bothering hotel guests), so I borrowed one from the team at the Fairmont Le Chateau Frontenac. The 1608 bar is a cool spot to stop for a drink, although Quebec has no shortage of place to eat and drink. That said, during winter, sometimes you don't want to bundle up in all your gear, and a little beverage at this bar will certainly not disappoint!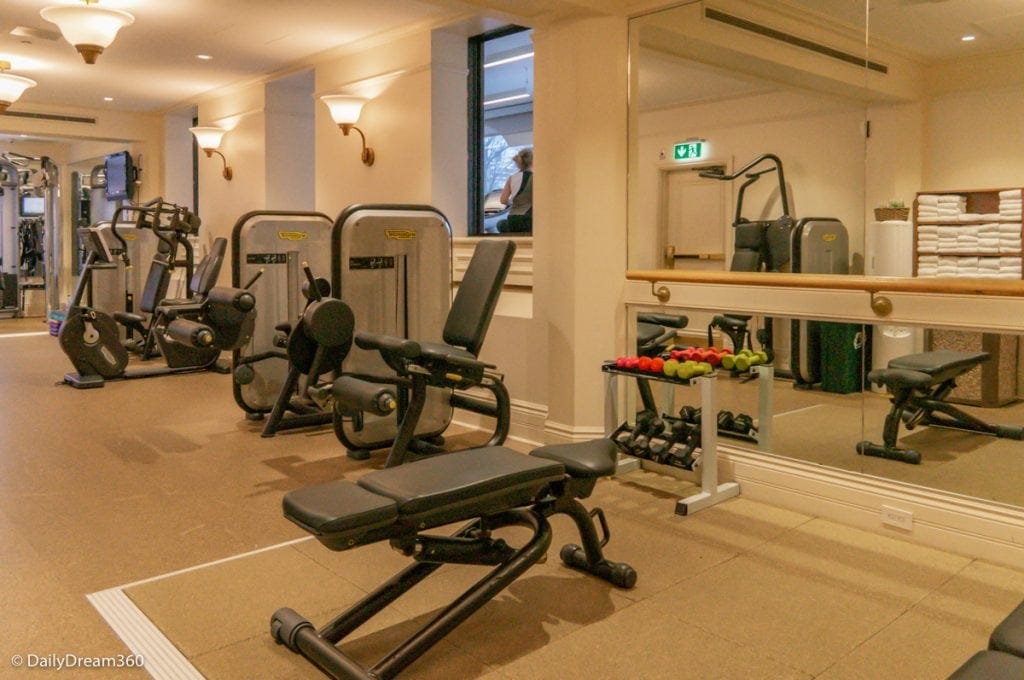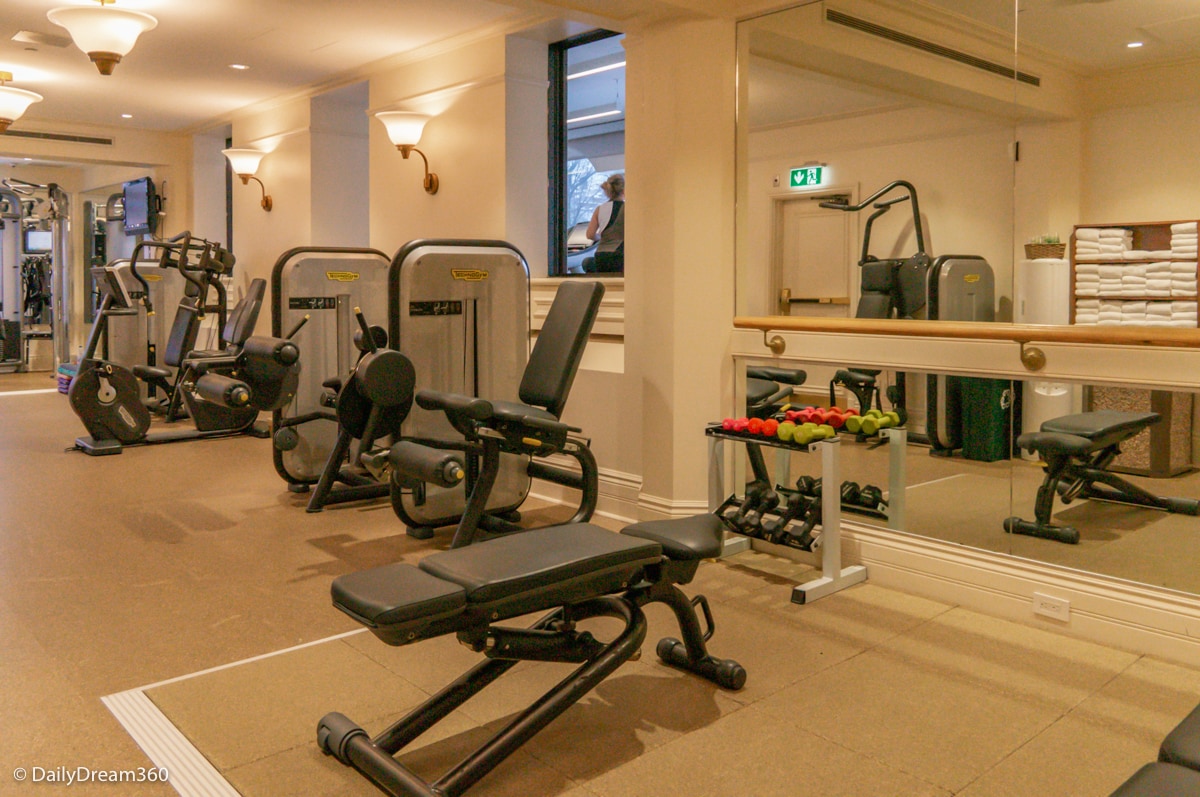 Other Fairmont Chateau Frontenac Amenities
Moment Spa
I am a bit disappointed I didn't have a chance to get a treatment at the spa. It was just down the hall from my room on the sixth floor. The spa was recently renovated along with the pool and fitness facilities and would have completed my Quebec City winter vacation at Chateau Frontenac. It gives me an excuse to come back again.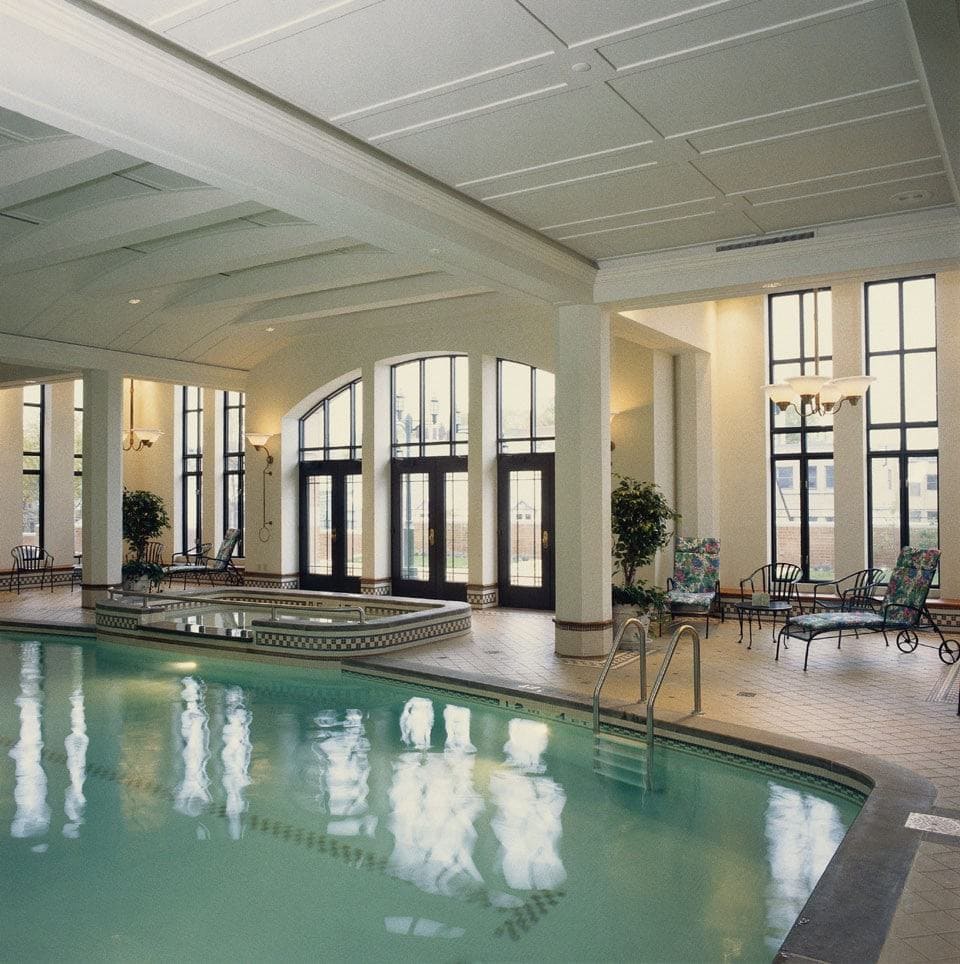 Pool & Fitness Facilities
Located on the sixth floor across from the Moment Spa, the hotel features a large indoor pool and hot tub. For those planning to visit the hotel in the summer, there was a large terrace too. The fitness facilities were also excellent with many cardio machines, free weights, and there were fruit and water available at the towel station.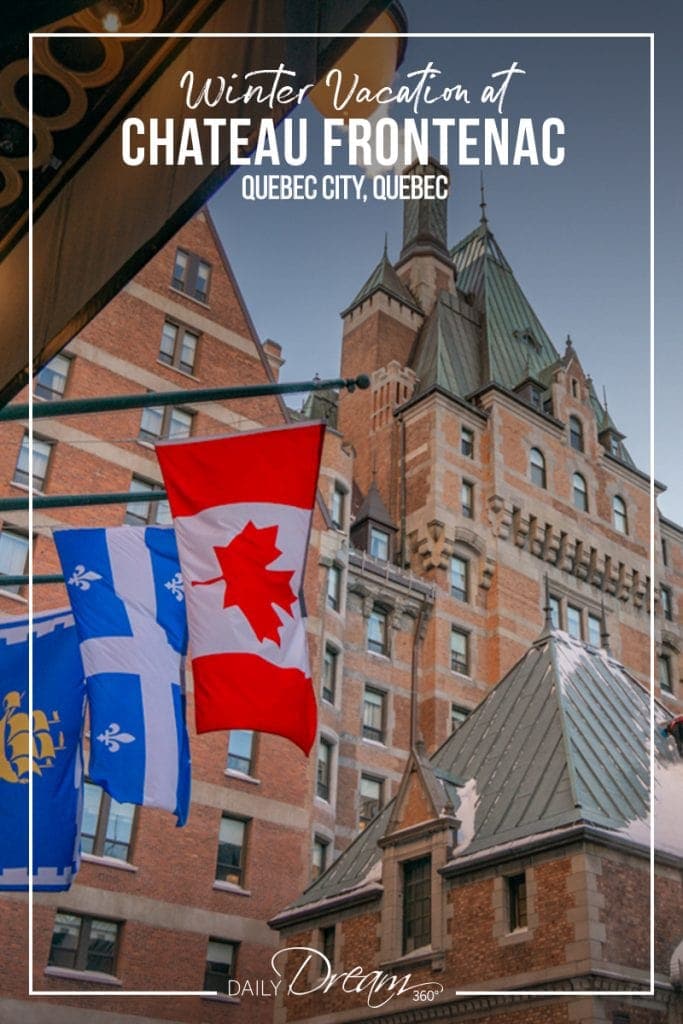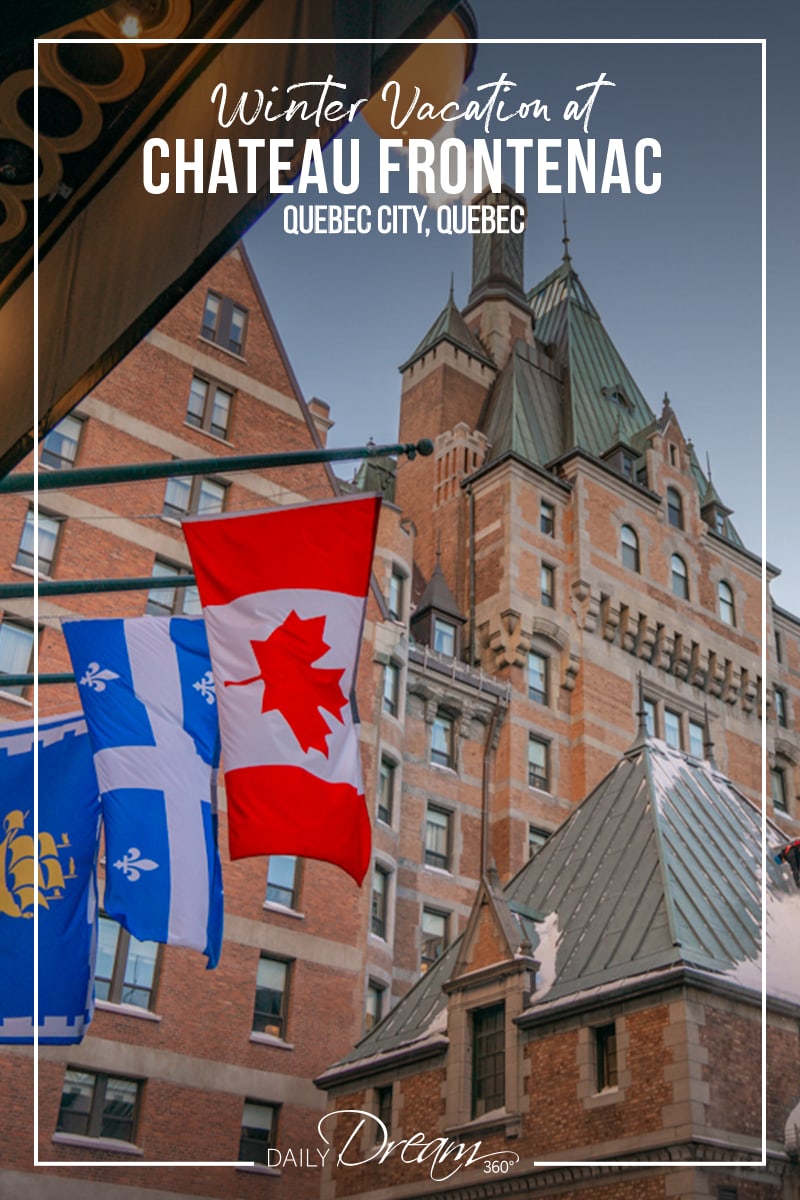 Fairmont Chateau Frontenac Location
If you are planning a trip to Quebec City, no matter the time of year, the location of the hotel is just perfect. Steps from the funicular, which takes you down to the little village filled with boutique shops, restaurants and cafes. It is also in the heart of the Old Quebec and all its attractions including:
Quebec Parliament Building
Old City
Funicular of Old Quebec City
Quartier Petit-Champlain
Port of Quebec
Quebec Aquarium
Plains of Abraham (Battlefields Park)
The Citadel
Quebec-Levis Ferry
Museums National Historic Sites
A winter vacation at the Fairmont Chateau Frontenac in Quebec City includes luxury hotel accommodations, great dining and a superior location close to all that is happening in the old city.
Read More: Where to Eat in Quebec City.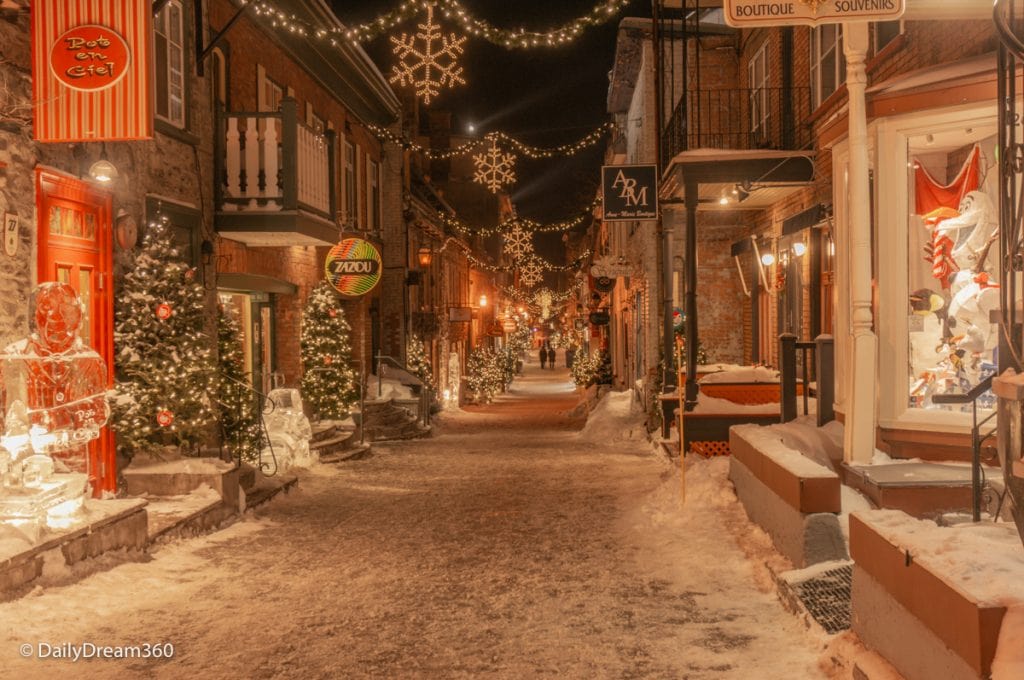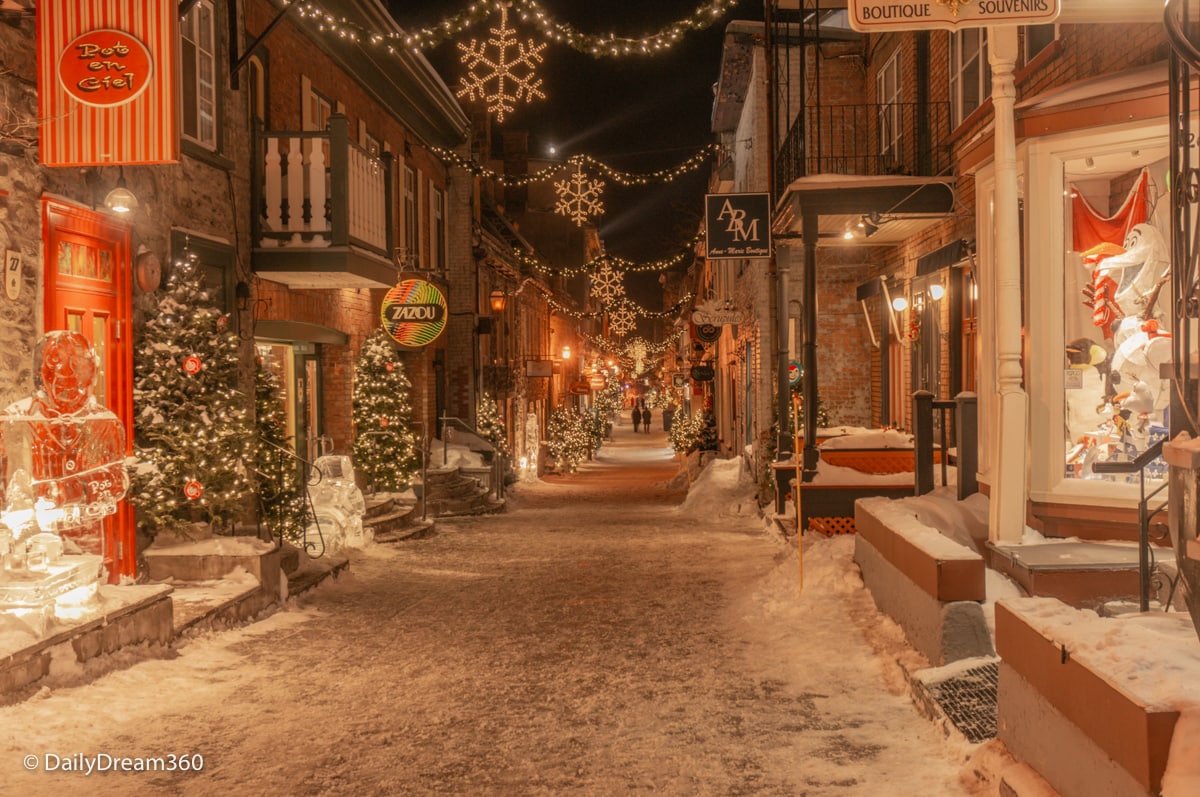 Chateau Frontenac and the Quebec City Winter Carnival
I've been to Quebec twice during its annual Winter Carnival celebrations and being in the right hotel during this time of year is vital. On my first trip, I stayed at the Hilton Quebec City (see our review of the Hilton Quebec City here) located just outside the city walls and was steps from everything. I'm happy to report that the Chateau Frontenac is also a great hotel in Quebec City during Winter Carnival. Again I was just steps from Bonhomme's Palace and all the winter fun.
Winter Carnival celebrations are located throughout the old city and just outside the old city walls. They are very accessible from the hotel, just up the street and outside the old city walls. A straight walk up Rue Saint Louis (where the hotel is situated) will take you to Bonhomme's Ice Palace, and a few steps further, you will be inside the Carnival grounds for all the fun activities. See this post for more fun from Winter Carnival: Childhood Dreams Come True at Quebec City Winter Carnival.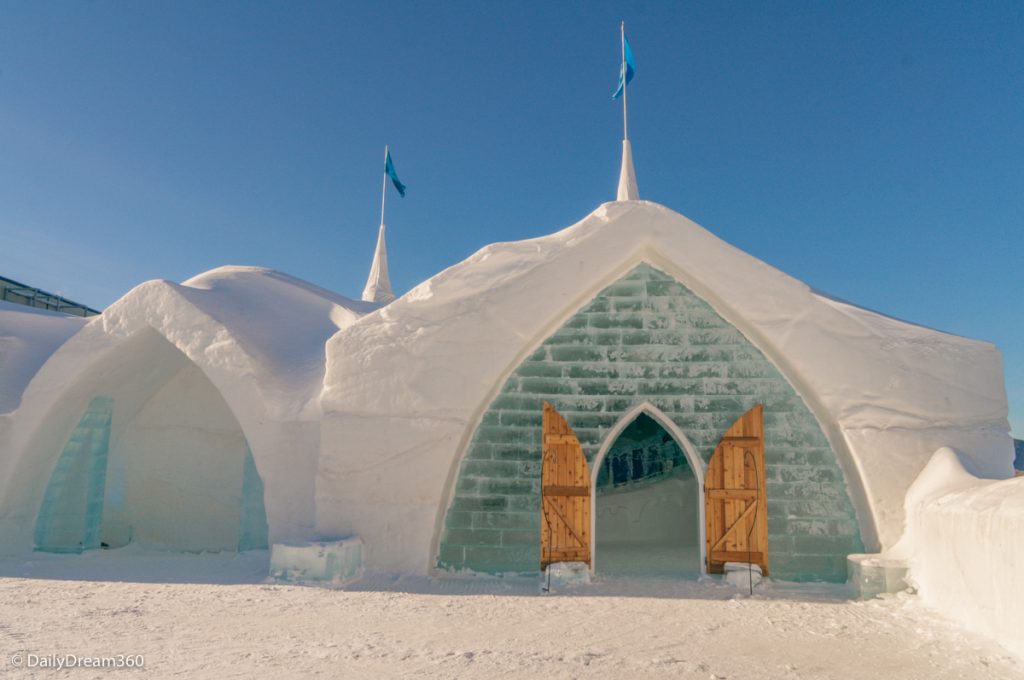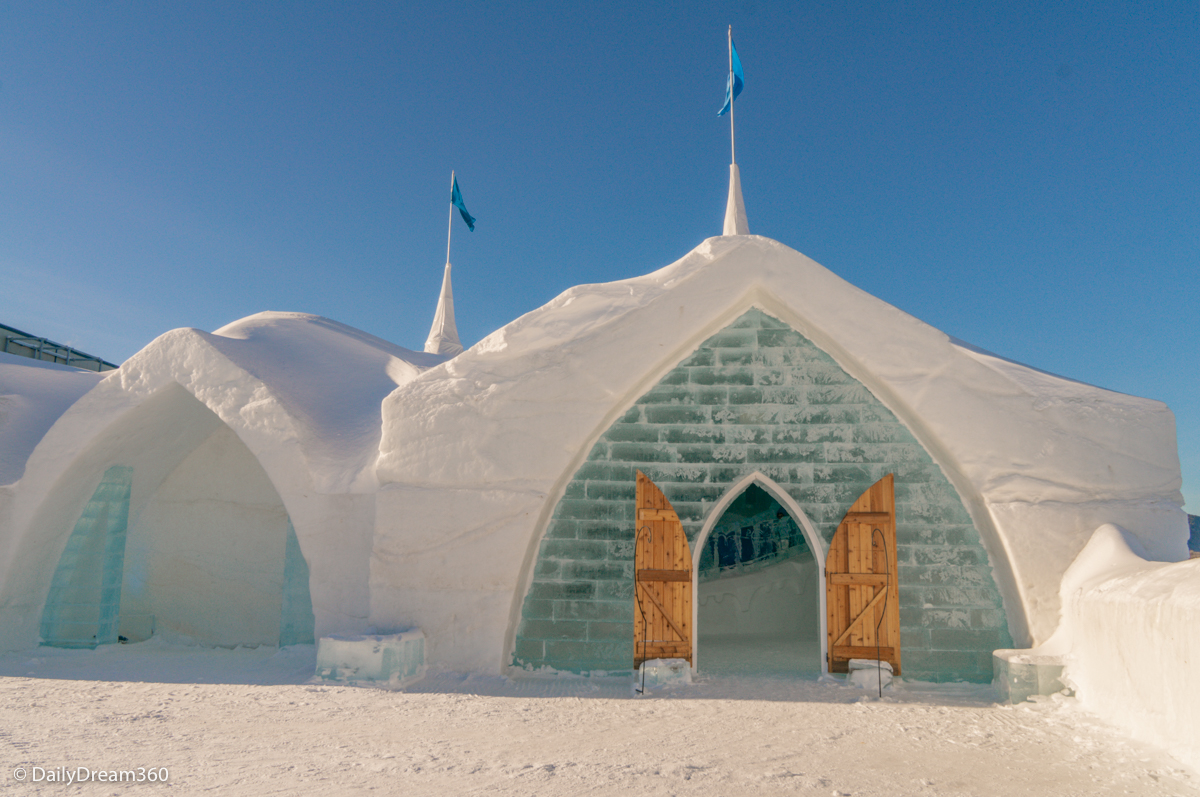 Winter Activities to Book From the Hotel
Other winter excursions I encourage you to look into or arrange with the Chateau Frontenac's concierge include: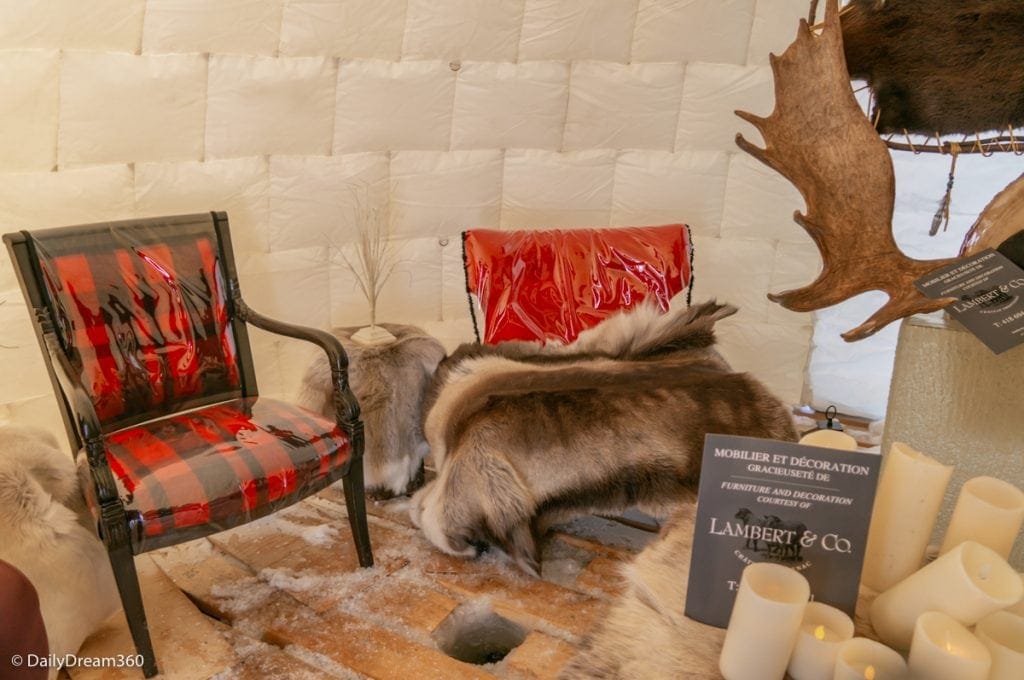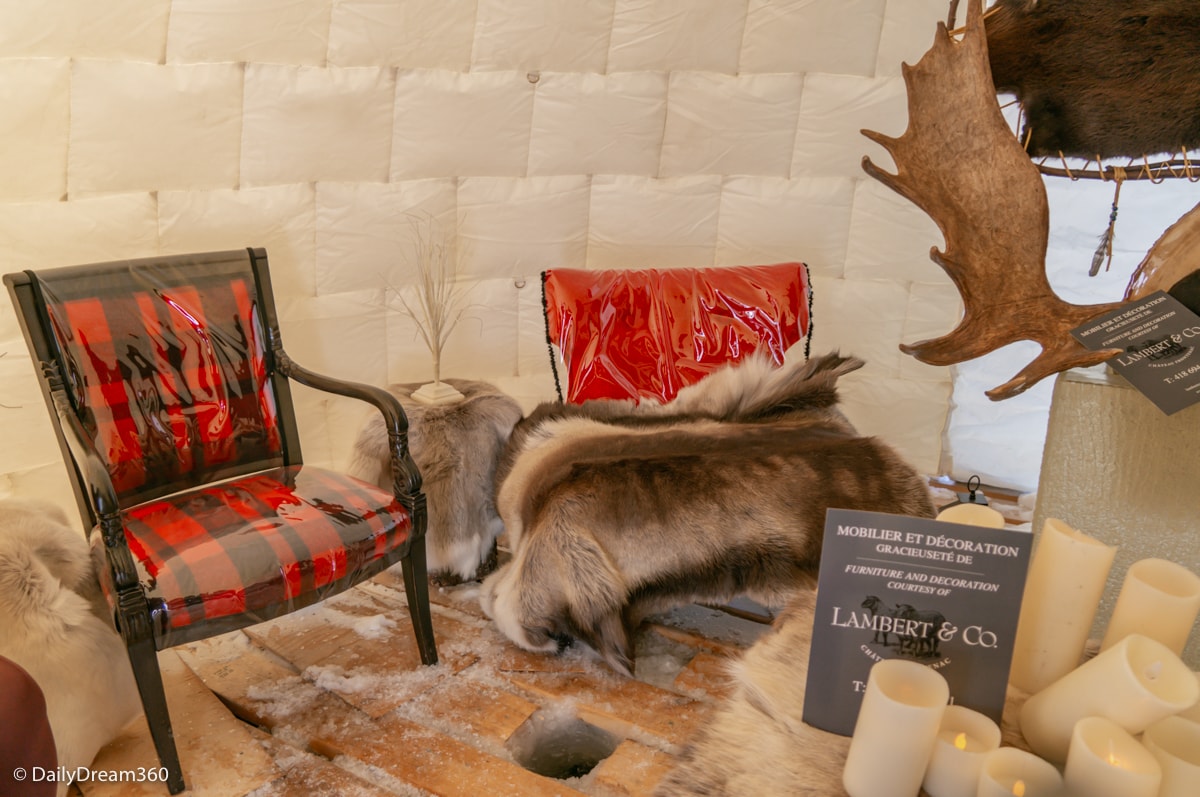 Luxury Ice Fishing Fairmont Style
Visit the Village Nordic and be sure to ask for the Fairmont Ice fishing igloo. Luxury ice fish in this cozy space filled with furniture and warm furs, blankets and a heater.
Inside Ice Fishing Fairmont Chateau Frontenac Igloo
I've had a few winter escapes in the province of Quebec here are a few other ideas for your trip planning:
A winter escape at the Fairmont Chateau Frontenac in Quebec City includes luxury hotel accommodations, great dining and a superior location close to all that is happening in the old city.
Read More: Planning a Dream Canadian Winter Getaway.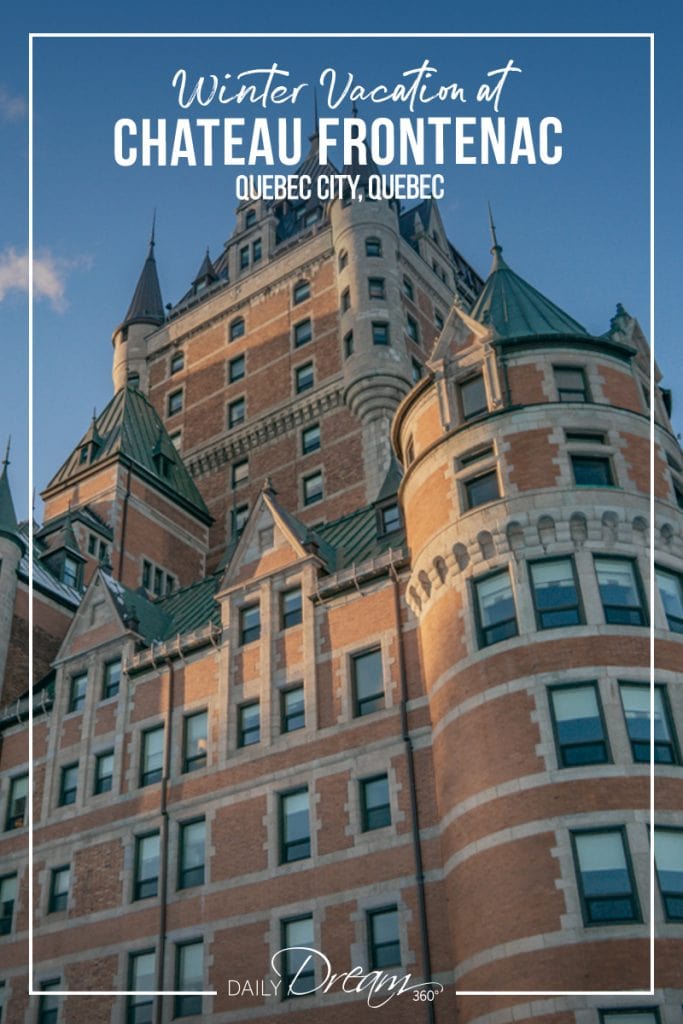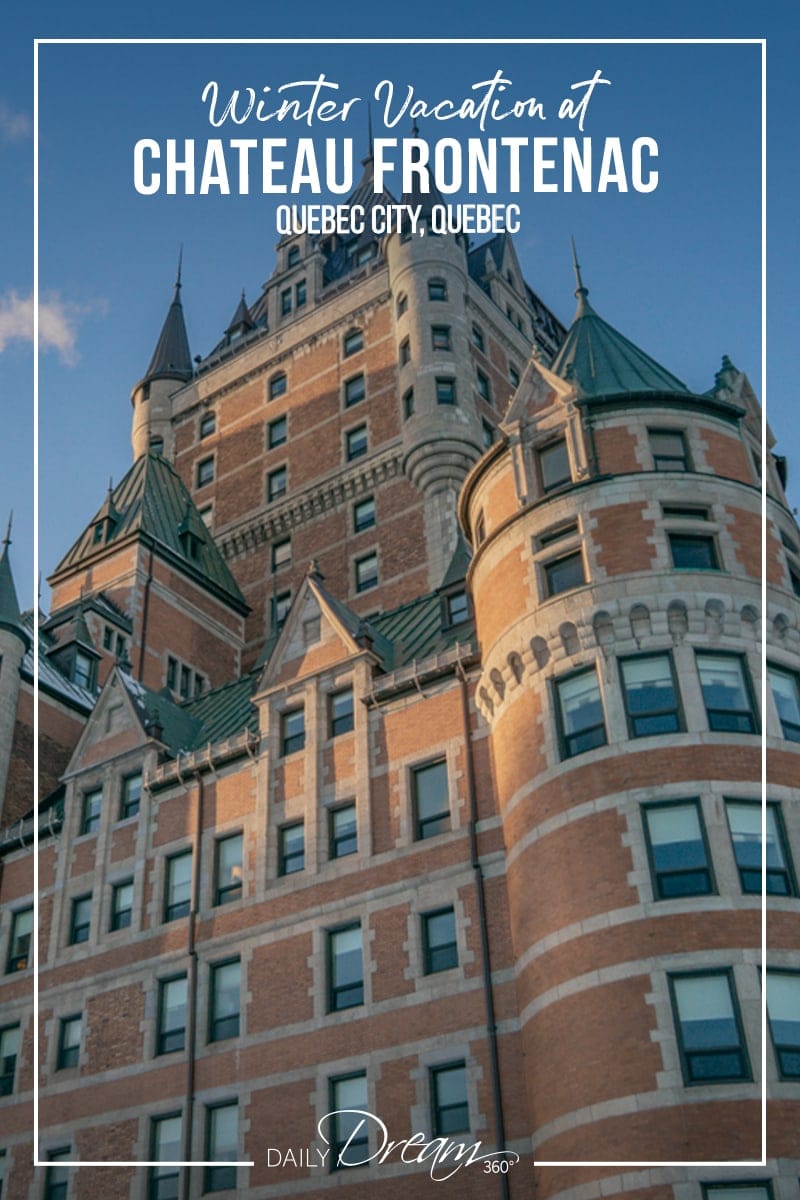 Travel assistance for this article provided by Fairmont Le Chateau Frontenac and Tourism Quebec on various individual media press trips.