Want an easy winter escape where you can enjoy skiing, a little art, fine dining and stay at a luxury hotel? It's easy! Head up to Charlevoix Quebec and stay at the Fairmont Le Manoir Richelieu hotel.
Fairmont Le Manoir Richelieu Quebec
Located on the shores of the St. Lawrence River in the tiny community of La Malbaie Quebec, a short 20-minute drive to Mont Grand-Fonds ski hill and steps from Casino Charlevoix there was plenty to do and see on my recent winter getaway.
My River Room Fairmont Hotel Room
I was given the Fairmont VIP treatment with a spectacular view of the St. Lawrence River outside my window and a comfortable hotel room with a Queen sized bed.
The room, was all about modern luxury amenities, with plenty of storage and closet space, a lounge chair and a small desk.
I was surprised to see personalized toiletries in the room. Great products too, no need to pack your own if you are staying here.

Fairmont Manoir Richelieu Amenities
These fire displays in the great hall on the main floor of the resort were kind of cool. Of course, they are not real fire, but it was fun to watch people sticking their hands and heads into them trying to catch the perfect selfie.
Other hotel features I loved was the massive sports complex with indoor and heated outdoor pool and all the fitness equipment I could ever need on vacation.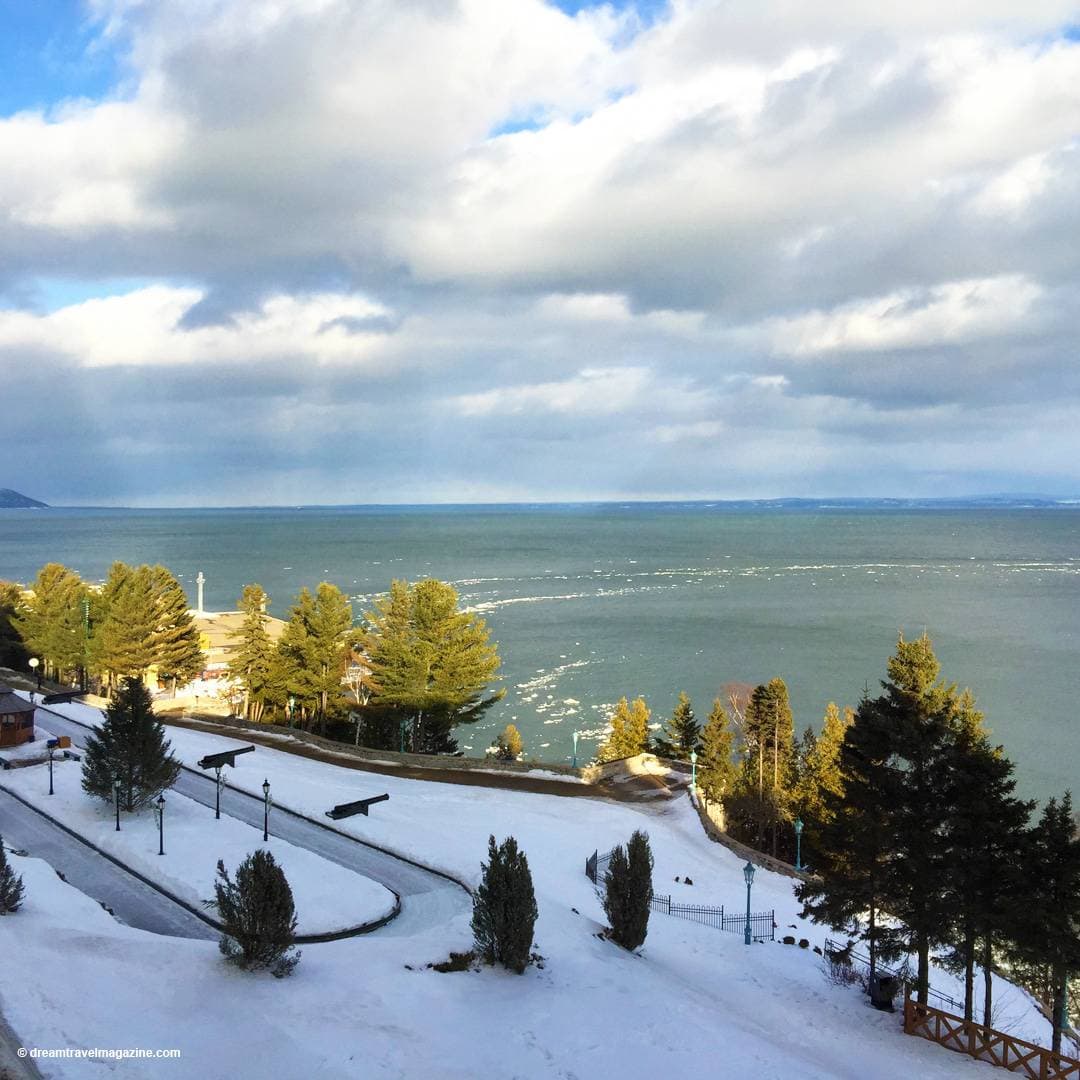 Outdoor Skating Rink
Like many hotels in the Charlevoix region, the Fairmont Le Manoir Richelieu has a beautiful outdoor skating rink overlooking the St. Lawrence River. We had warm winter weather during our stay in Charlevoix and, the ice surface was a little soft, so I missed out on a breathtaking skate at the hotel.
Spa de Manoir
Be sure to stop by the spa for a special treatment during your stay. The Spa's relaxation room is an experience itself with visual sensation pods, loungers with warm throws and an inviting fireplace.
Dinner at Le Table et Terroir
We had dinner at Table et Terroir another Charlevoix restaurant committed to sourcing local ingredients. In fact, many of the restaurants in the region are part of a unique food trail all encouraging the use of locally grown ingredients.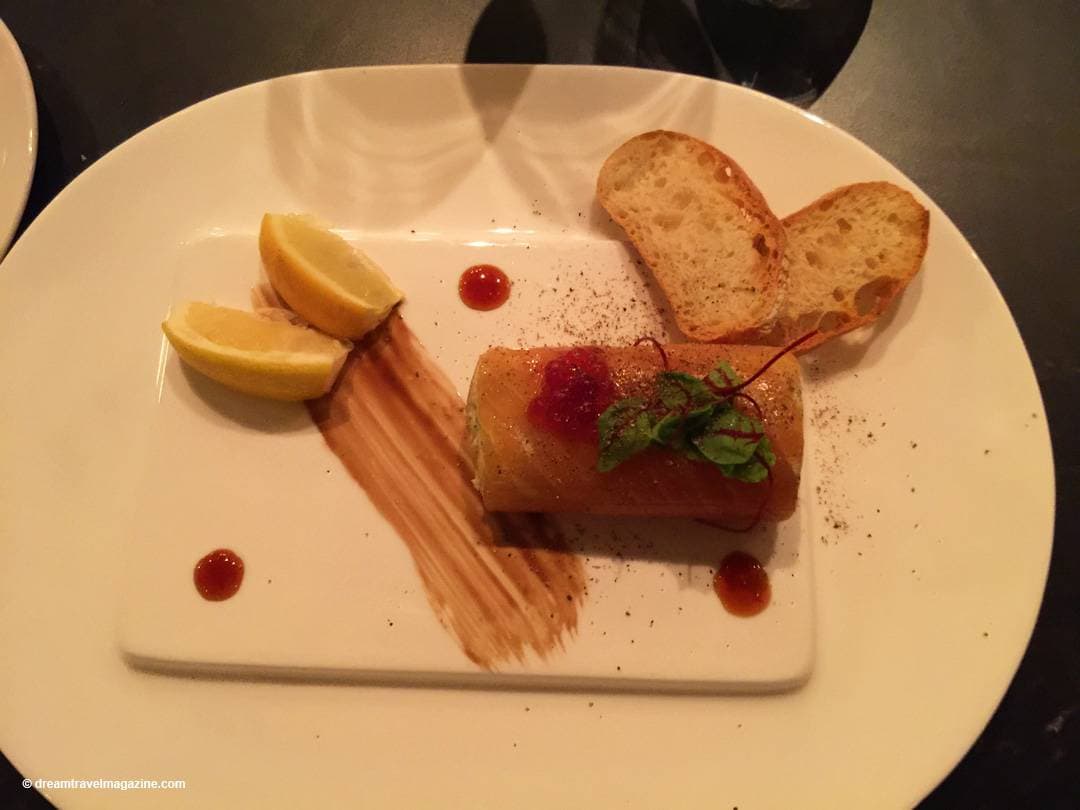 For my appetizer, I had this Salmon Cannelloni stuffed with an avocado and crab mixture.
My main dish was the Sablefish served over grilled vegetables.
For dessert, I just couldn't make up my mind, so I had the chef bring every kind of dessert he makes. Just kidding, we received this impressive selection of tasty treats during our special media dinner.
You can read more reviews on the Fairmont Le Manoir Richelieu on TripAdvisor.
Charlevoix and the Fairmont Manoir Deep History
One thing I loved about my stay in Charlevoix was how everywhere I seemed to go there was a story or a collaboration amongst businesses. From the history of the hotel to its locally sourced menus, there is a commitment to the community across this region that just inspires. The Manoir building itself dates back to 1899 and is an important and cherished part of La Malbaie's history. Inside the hallways of the grand hall and the lounges throughout the main floor are many original artefacts and paintings which many hotel guests don't even notice. Ask for a historical walk through the building, and you may discover the wooden chair you were sitting on in the lobby doubles as a potty!
Visit Charlevoix's History Museum
Talk to the hotel concierge about getting a lift to the local museum. It was just a five-minute drive from the hotel and I loved learning about the history of this agricultural town of Le Malbaie. I was impressed that such a small community could have such a lovely collection on display. From photos, paintings and interactive displays to precious artefacts from the region's vast history.
For more tips on where to ski, shop and eat in Charlevoix Quebec check out these posts:
A Luxury Winter Escape: Guide to the Best of Charlevoix Quebec.
This is What a Luxury Winter Escape Looks Like at Le Germain Hotel Charlevoix
Travel assistance provided by Tourism Quebec and Tourism Charlevoix. As always the opinions expressed in this post are my own.