This article may contain affiliate links. Clicking on or purchasing products we recommend through a link may earn a small commission. Read our disclosure and privacy policy page for details. *COVID-19 TRAVEL ALERT – Travel recommendations offered on this site are not to encourage you to travel against travel advisories.
All around me were mile-high trees covered in snow. I was in awe of this quiet beauty as I made my way across the rubber-lined path towards the first building. With just my bathing suit, a terry cloth robe and my flip-flops to protect me from Quebec's cold winter, I walked slowly and calmly through the snowy winter scene. It was my first time at an outdoor Scandinavian spa and what better place to have my first experience than during the heart of winter at the Siberia Station Spa near Quebec City.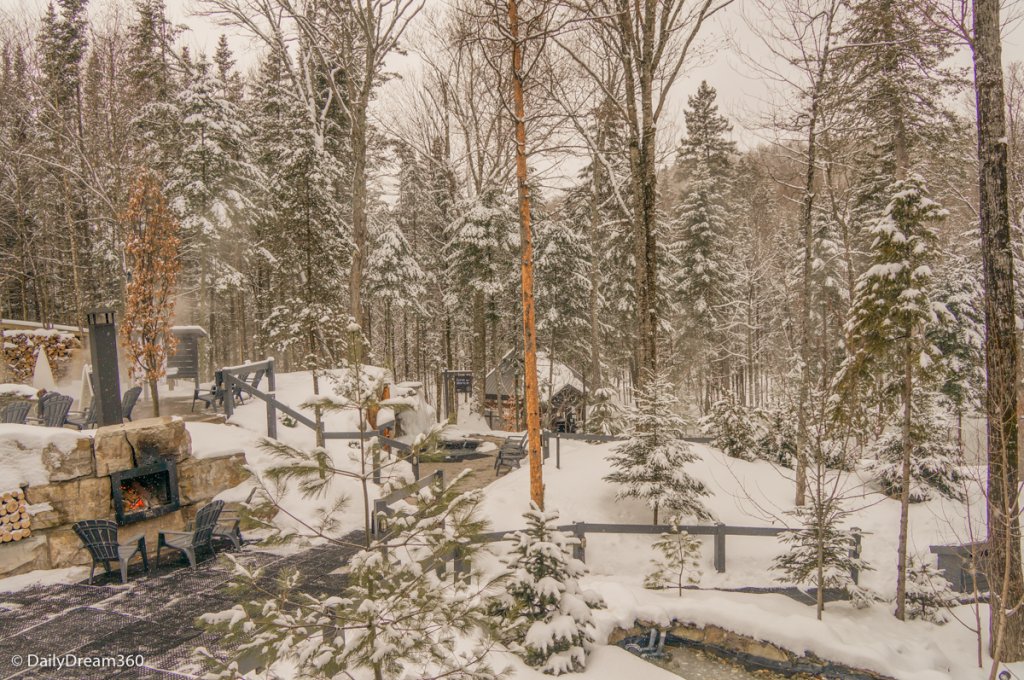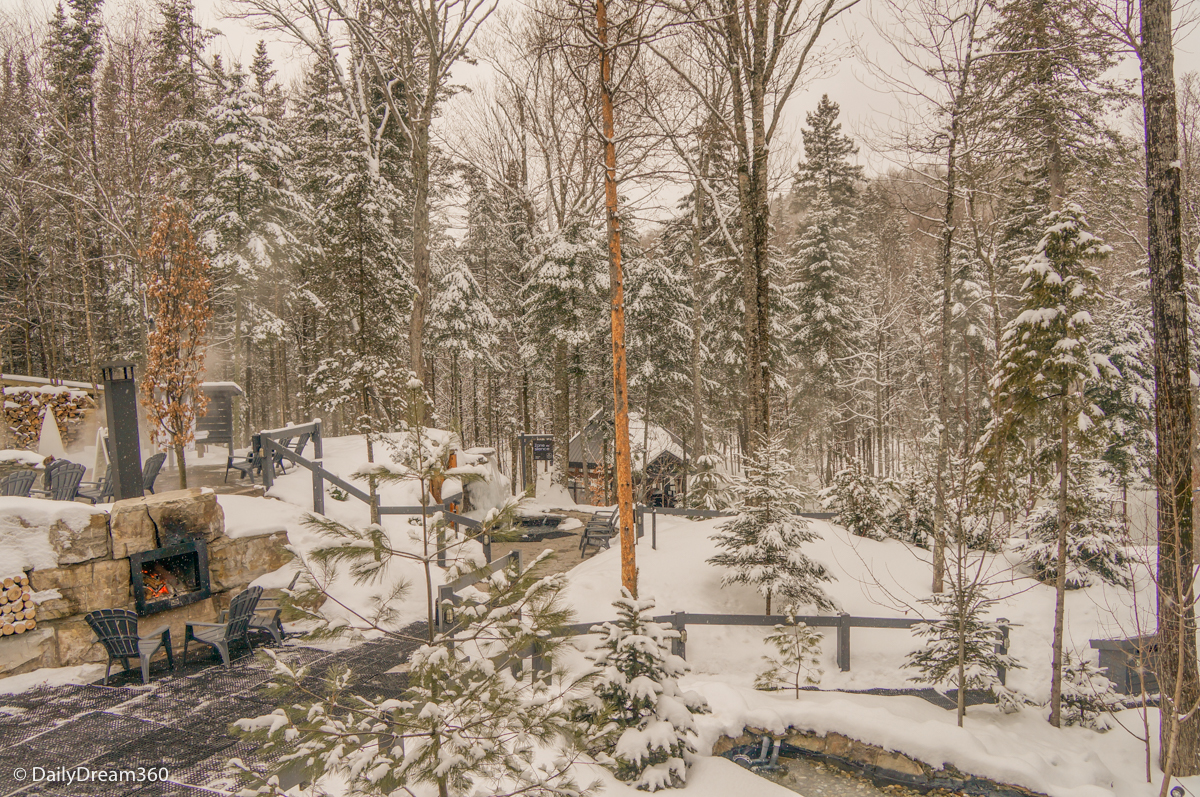 Dream it.
If you're planning a trip that involves a pool, lake, or beach of any kind and you don't want to buy a special waterproof camera or action camera, then a waterproof pouch for your phone could just be the solution you are looking for. Most of us have replaced our cameras and choose to travel with our phones and while there are some water-resistant models out there, protecting your phone with a waterproof pouch could save you a costly repair or replacement.
Scandinavian Spa Quebec City A Winter Vacation Must
I can't imagine a trip to Quebec City in the Winter without a visit to this beautiful winter escape. Just the scenery was enough to put me into calm relaxation.
Benefits of a Scandinavian Spa Cycle
Relax and soothe joints and muscles
Improve digestion
Boost the immune system
Detoxify the body through sweating
Improve circulation and metabolism
Promote a relaxed feeling and help you sleep better
Improve respiration and breathing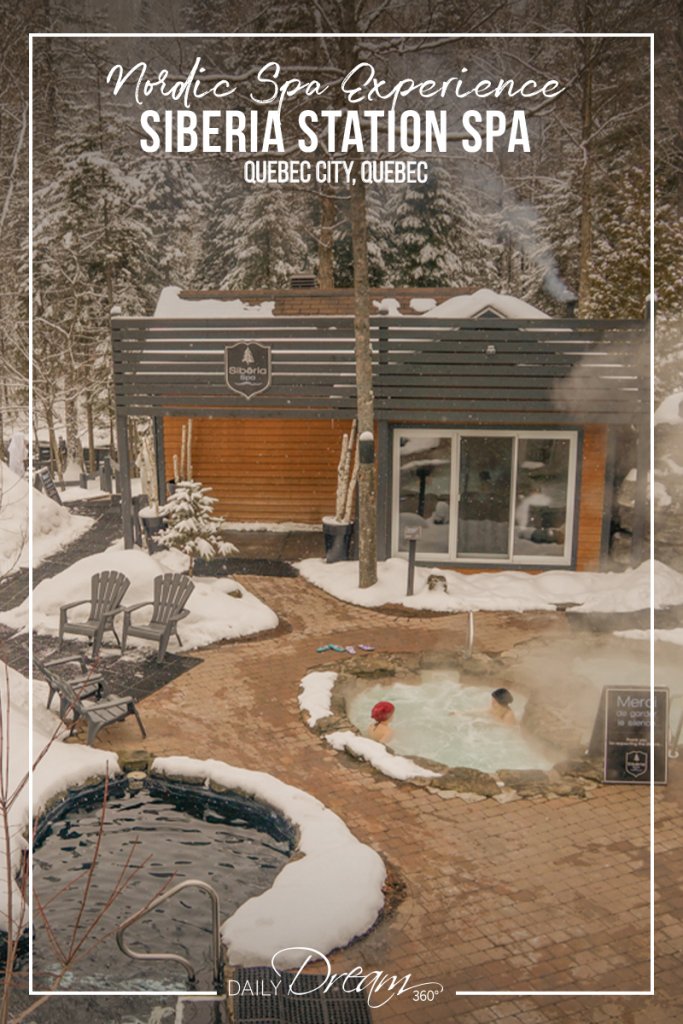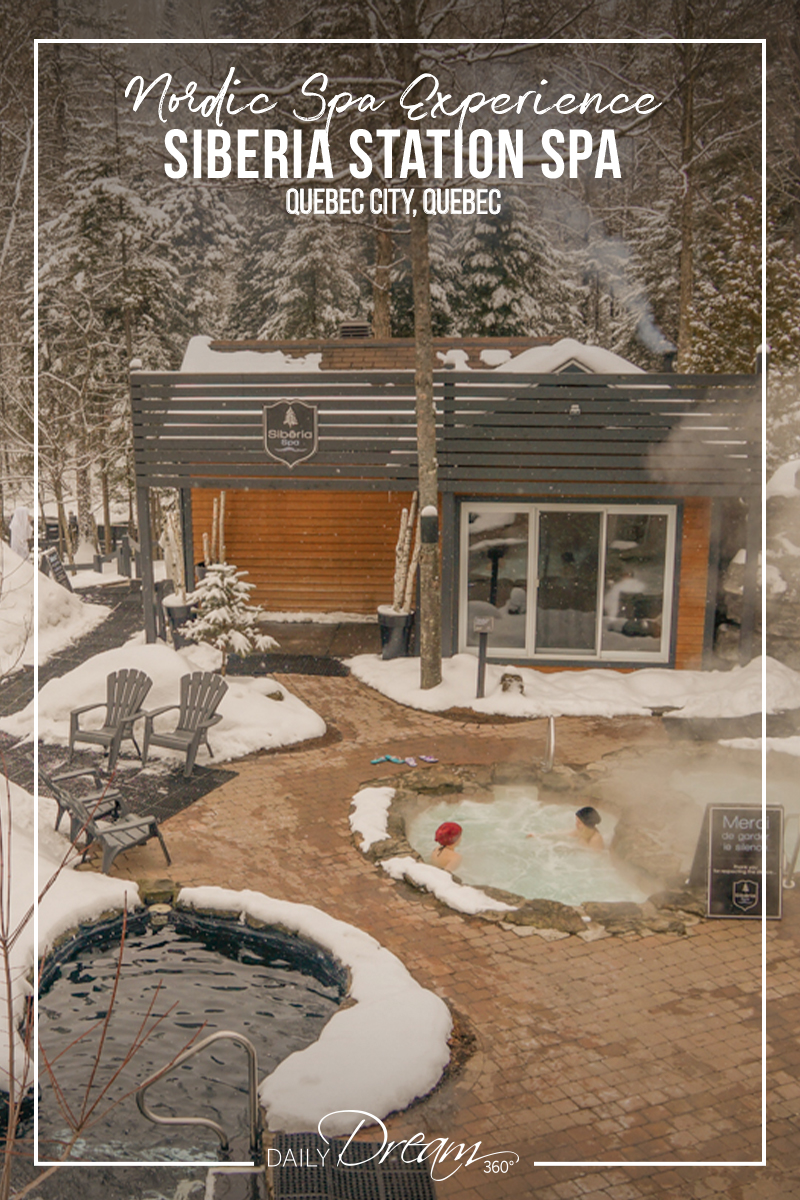 Plan it.
The Scandinavian Spa Cycle – What to expect
The concept of a Scandinavian spa is alternating between hot, cold and rest treatments to promote intense relaxation. These treatments are said to eliminate toxins, relax your muscles and reduce stress.
There are various sauna rooms, hot pools, cold pools and therapeutic relaxation rooms to help you move through your cycle. Just remember hot, cold and relax then repeat.
Getting to the Siberia Spa Quebec
Located approximately 40 minutes from Quebec City, follow the Autoroute 73N/QC-175 N out of the old city. You can also take an Uber or taxi from your hotel to the spa.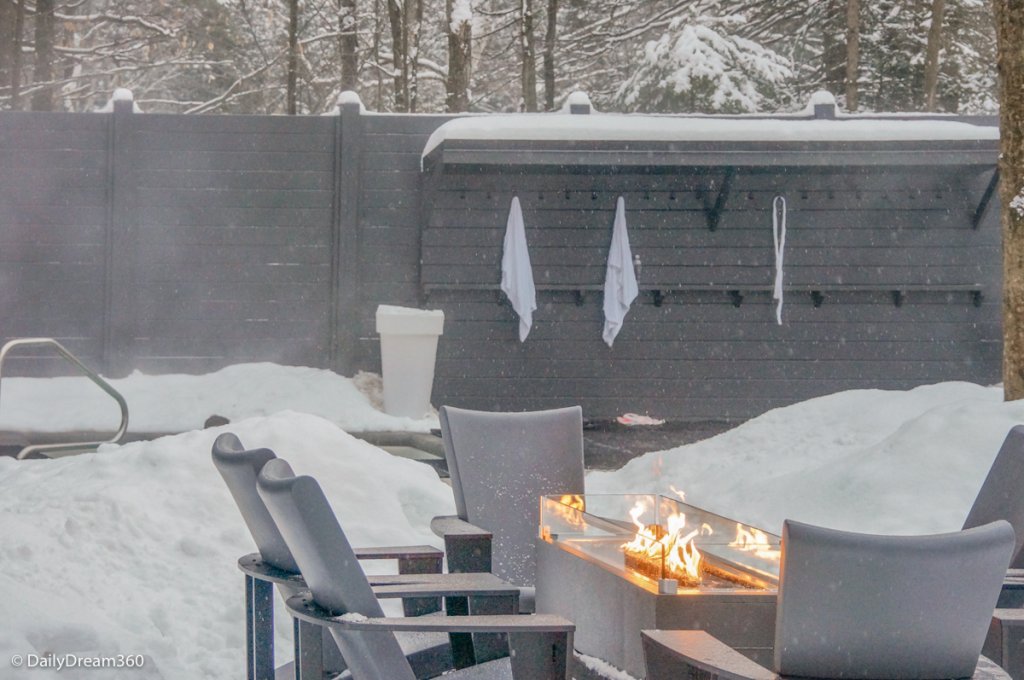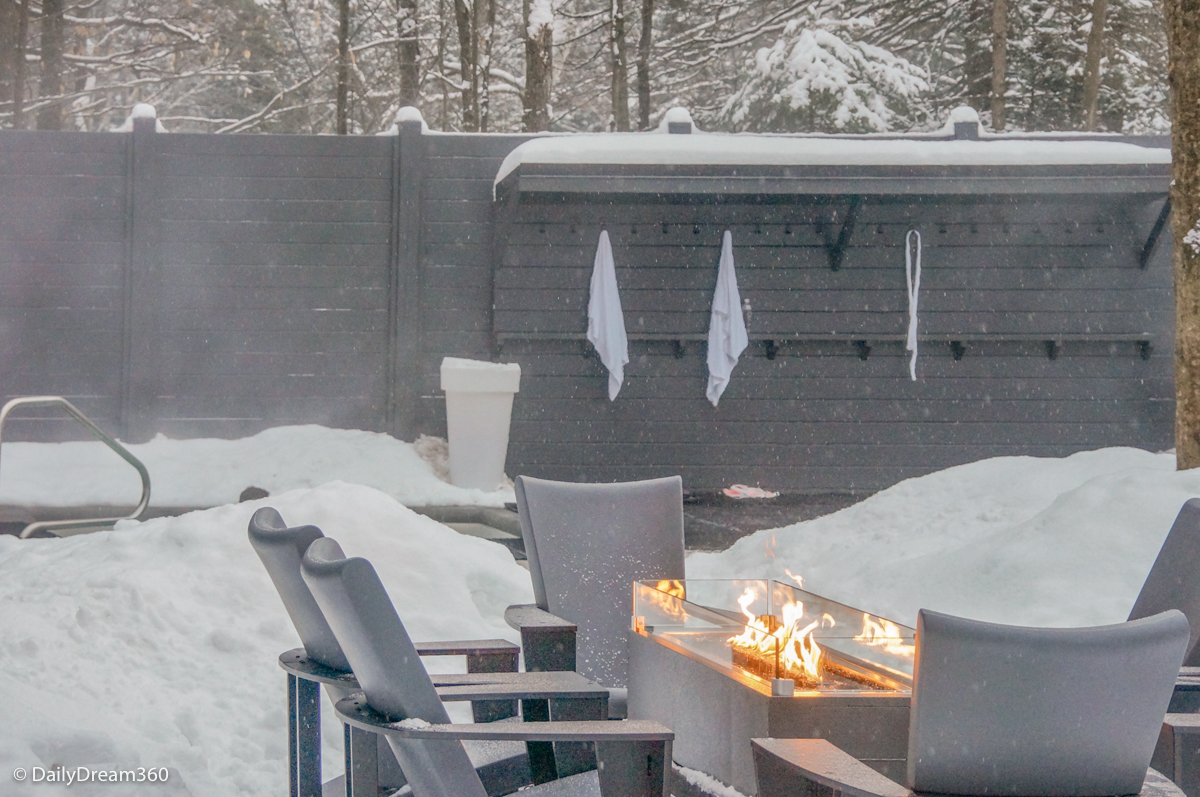 Tips for Visiting Scandinavian Spa in Winter
Pack Flip Flops
I suggest packing a pair of flip flops to bring with you to avoid having to purchase them at the Spa.
Read more: Reasons to Travel with a Good Pair of Flip Flops
Stay Hydrated
As you will be putting your body through several cycles of hot, cold and rest and most of us stay longer in the heated areas than the cold water treatments, you'll want to make sure you stay hydrated. Pack a reusable water bottle and refill it when you can.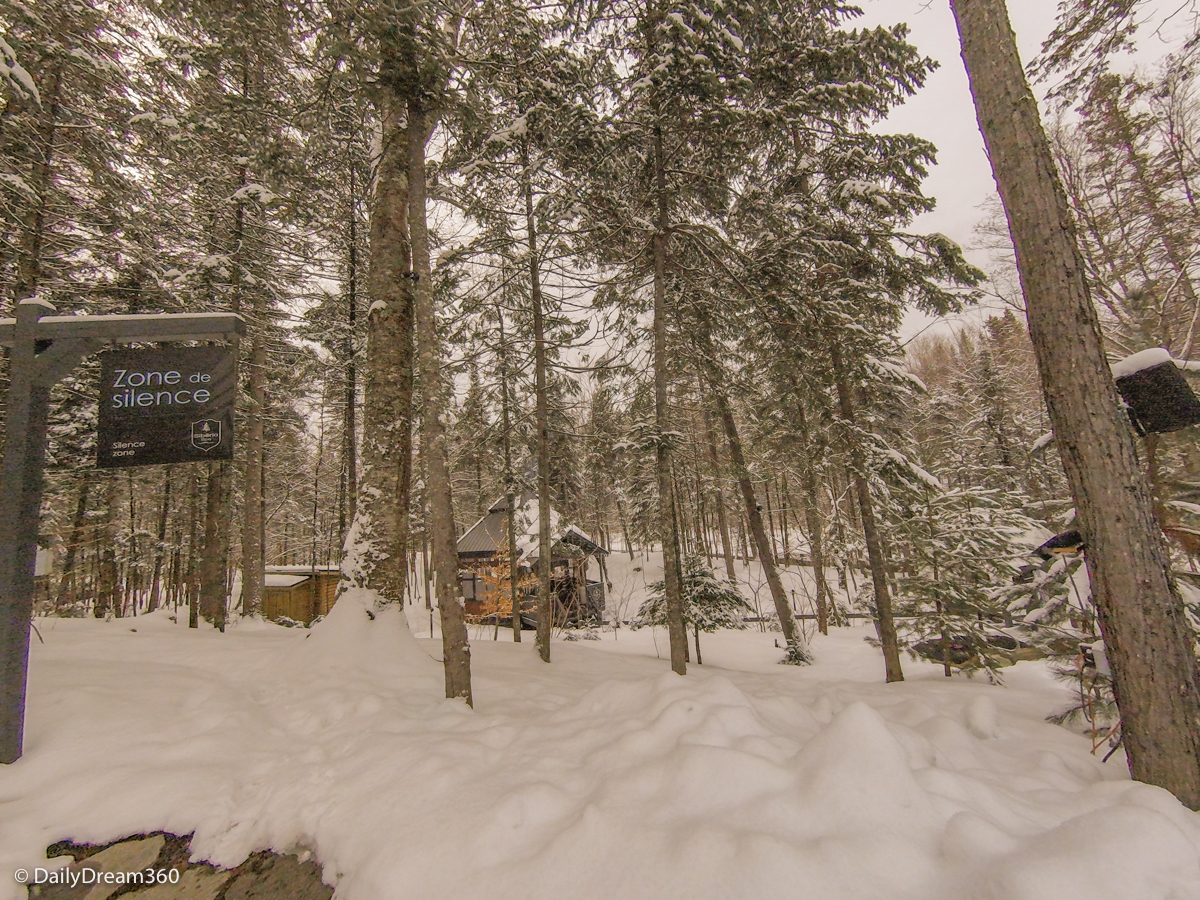 Respect the Rules
Much of the spa area is in quiet zones, especially the relaxation rooms. Take note of the quiet regions which do not allow any talking and be respectful of others using the treatment areas.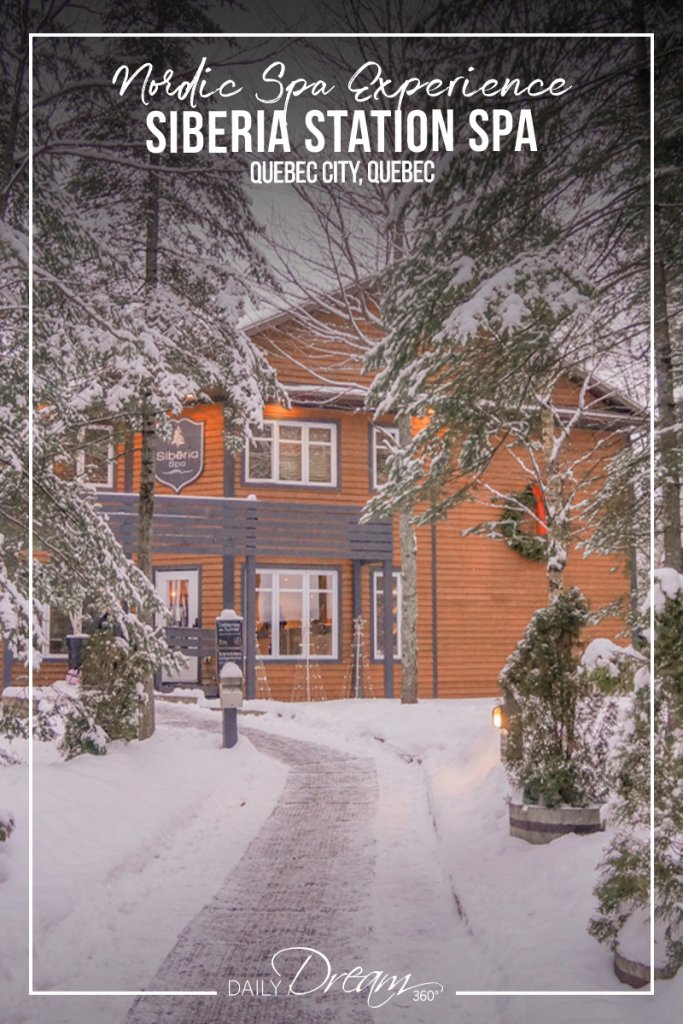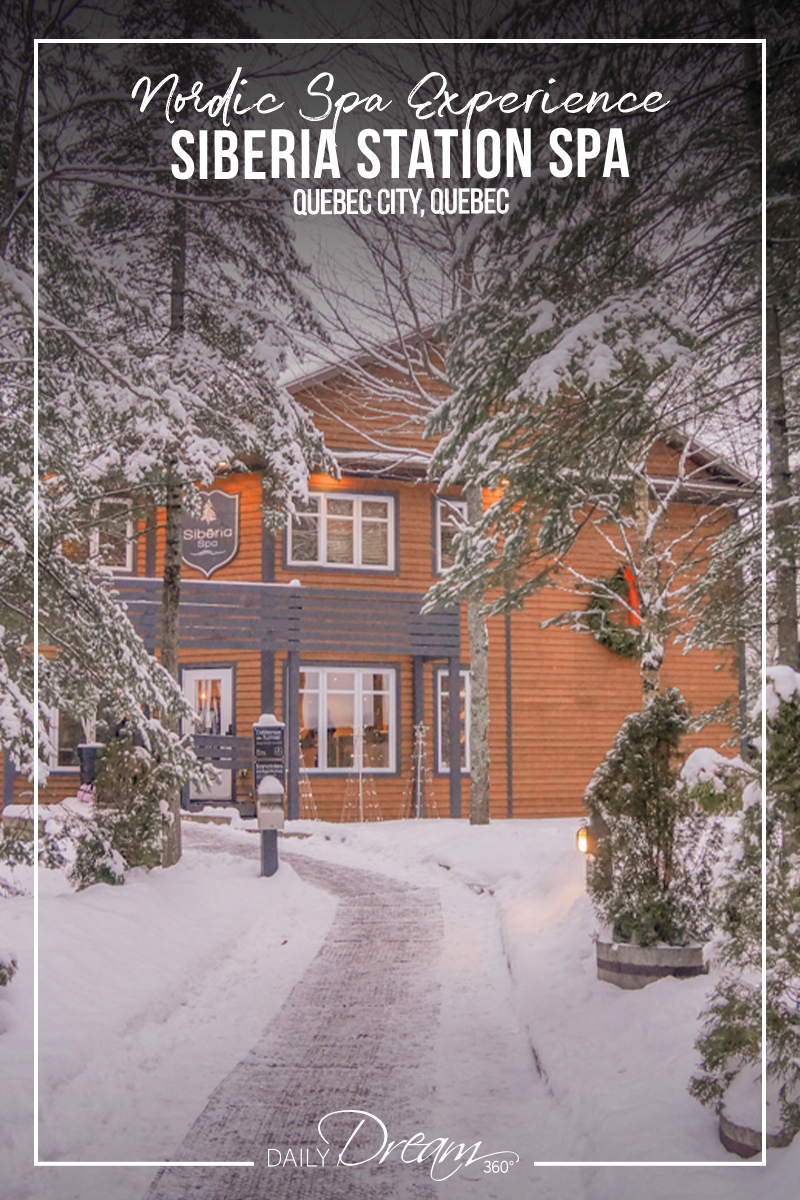 Live it.
The Siberia Station Spa Quebec City
In the first building, a steam room, I entered a corridor lined with hooks filled with spa robes. I found an empty hook, placed my robe and towel on it and opened the door. Inside was thick and hot citrus smelling steam.
I could only see traces of people's shadows through it but noticed an empty spot on the marble bench. Sitting quietly, I felt the sweet smell working on my sinuses like a "Vicks VapoRub" treatment. I began to relax as my body heat rose.
In my head, I thought I don't want to leave this room. I was worried about the walk outside with snow-covered everything around me after being all hot and pleasant in this steam room. So I took a deep breath, and braced myself and got up as the heat began to be too much to take. I put on my robe, grabbed my towel and opened the door to cold winter outside.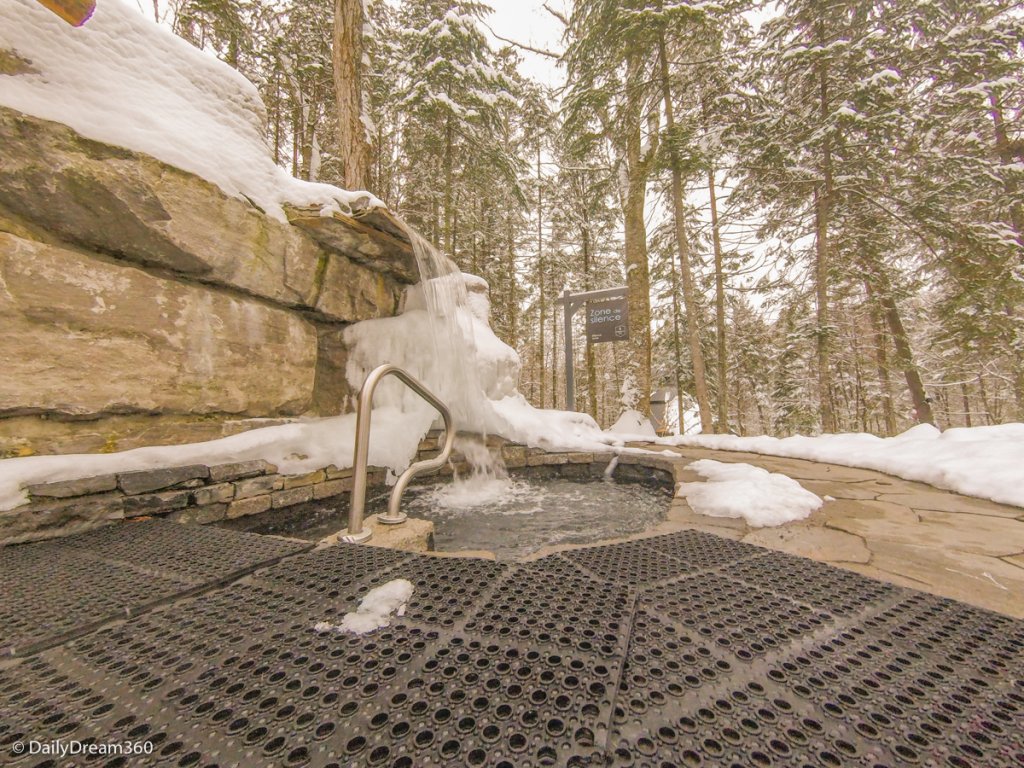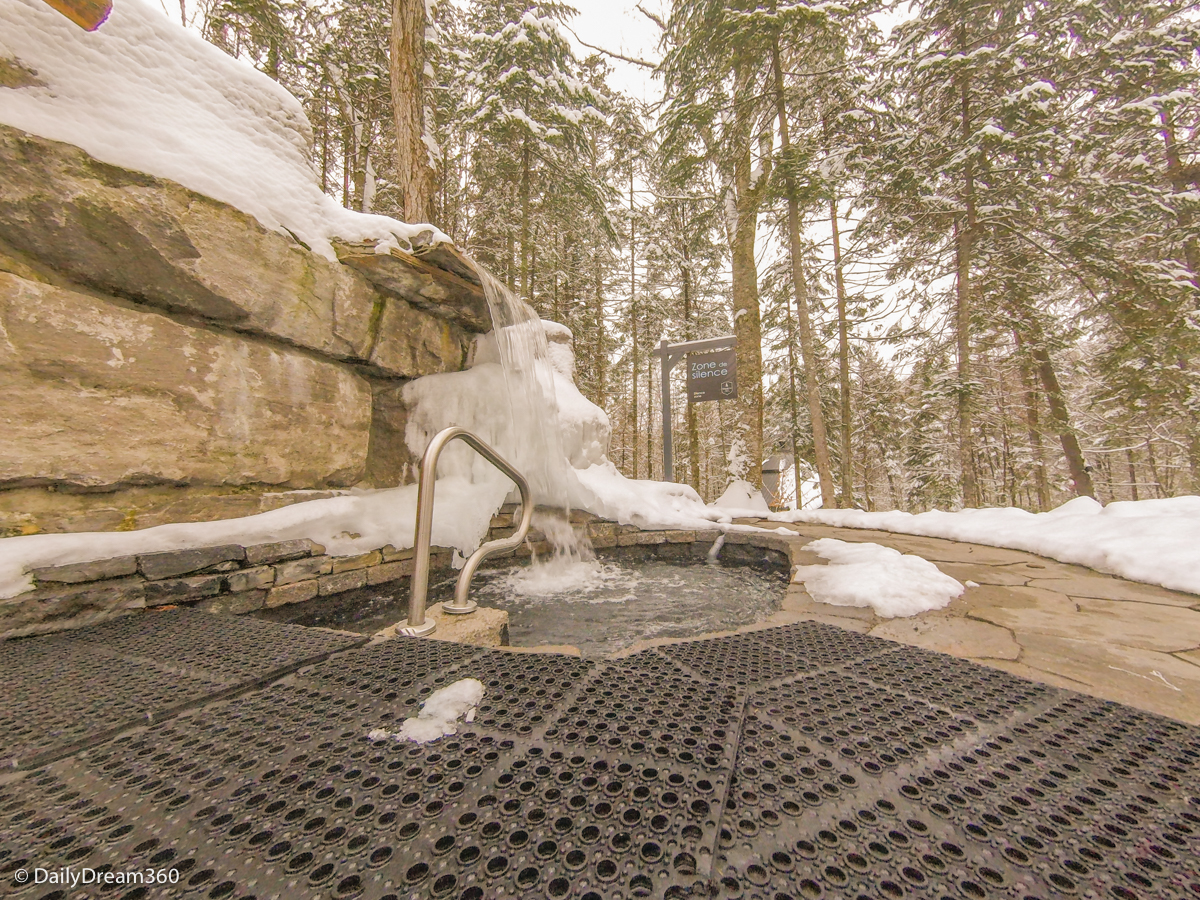 Winter Nordic Spa Experience in Canada
I'm not going to lie, I felt the cold, but I calmly walked the path to the next station. I walked by the fireplace with chairs around it and the hot tub with steam floating above it and made my way to the wall where I hung my towel and robe again.
From hot treatment to cold treatment, that was the process. So I walked over to the small hot tub like pool with the waterfall and braced myself for the extreme cold! The ice-cold water stung me as I quickly turned my body around under its freezing grip. I got down in the pool about halfway, did a quick spin in the waterfall and promptly jumped out.
The next stop was a relaxation stop – but I made a quick walk over to the hot tub and slowly dipped inside. At first, the hot tub was almost too much to take after the shocking cold waterfall, but I found myself forcing my way into the pool to get my body temperature back to normal.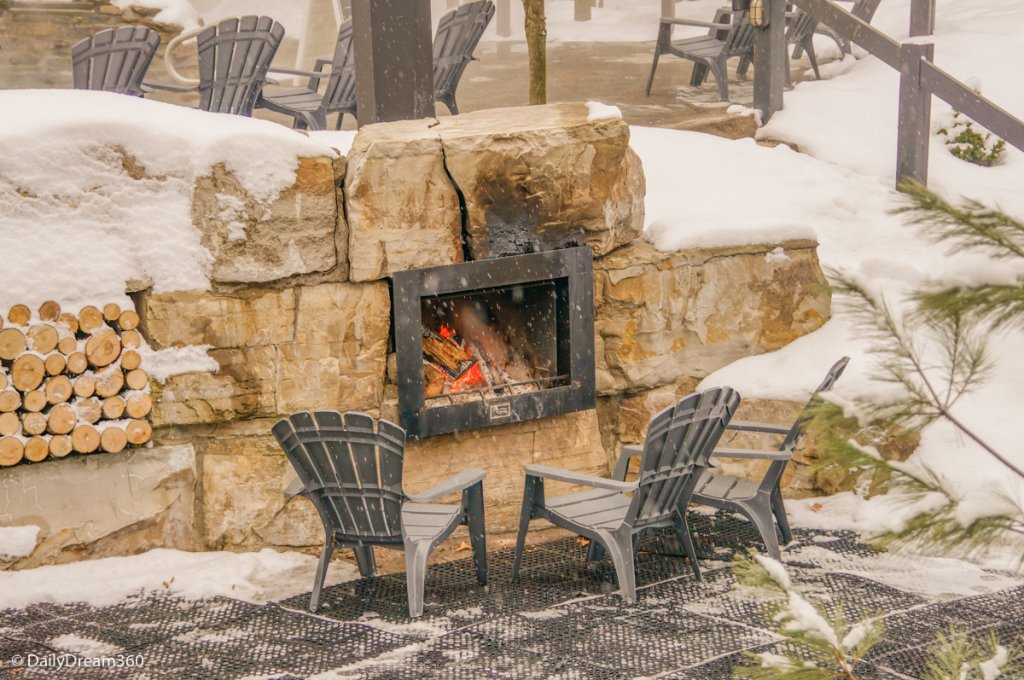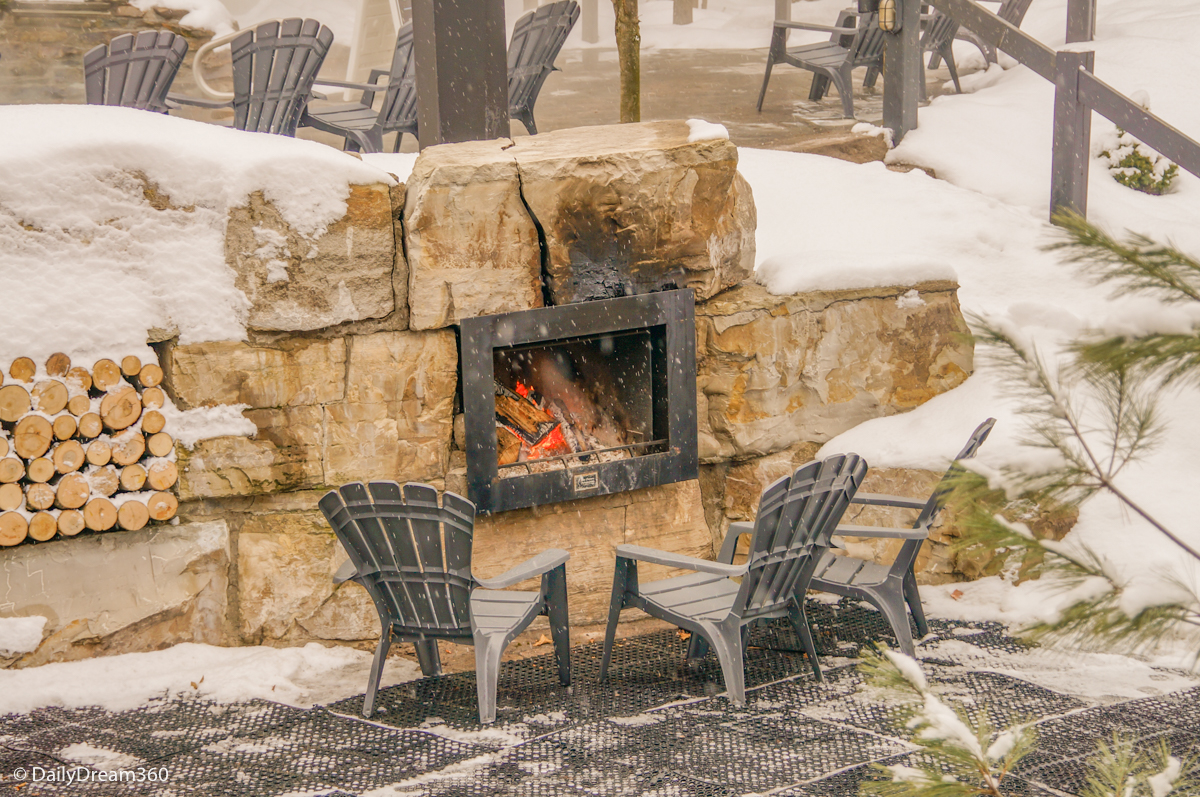 Winter Nature at the Scandinavian Spa
For an entire afternoon, this was my quiet winter escape. Walking from station to station, the peaceful sounds of nature soothing my soul and my body. Above me, trees lined with now gently floating in the breeze.
My favourite relaxation stations were the warm yurt buildings, which had wood fires burning. There were cocoon-like hammocks where I had to force myself not to drift off to sleep.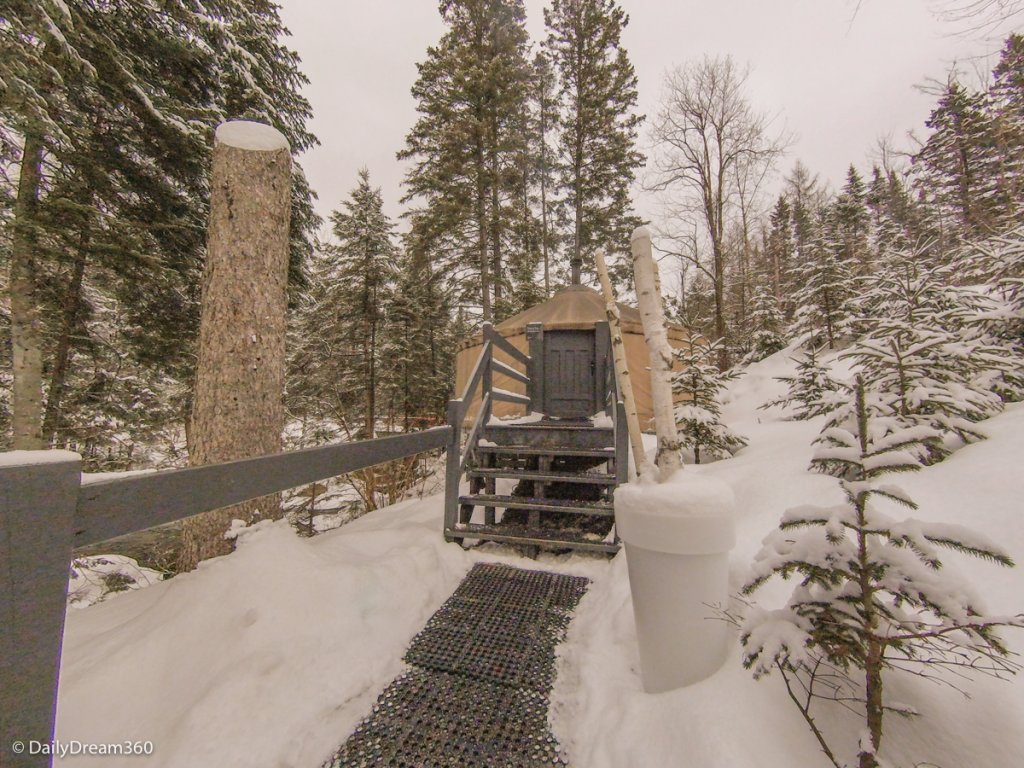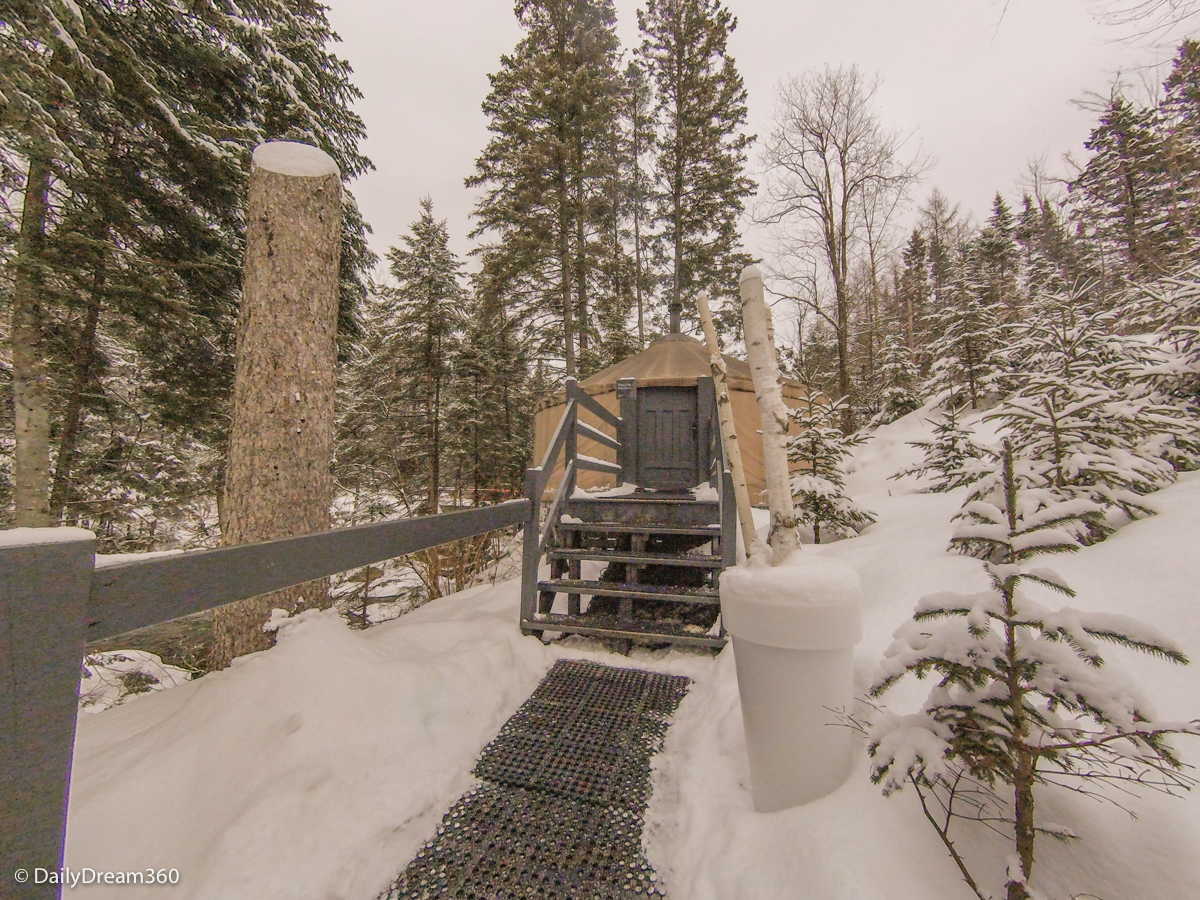 Siberia Spa Open Year Round – But Winter is Amazing
The Siberia Spa Quebec is open year-round, but I am so glad that I got to experience it in winter. It was not as scary and cold as I imagined it would be. Calmly walking the paths through the forest and dipping between hot and cold treatments and then winding down in the warmth of a relaxation room was heaven.
How is it that Canada isn't covered with these spa experiences, our beautiful winters providing this breathtaking escape. I imagine these trees in fall with their coloured leaves, and I could see why people spend a day at the Scandinavian spa.
See more reviews for the Siberia Station Spa.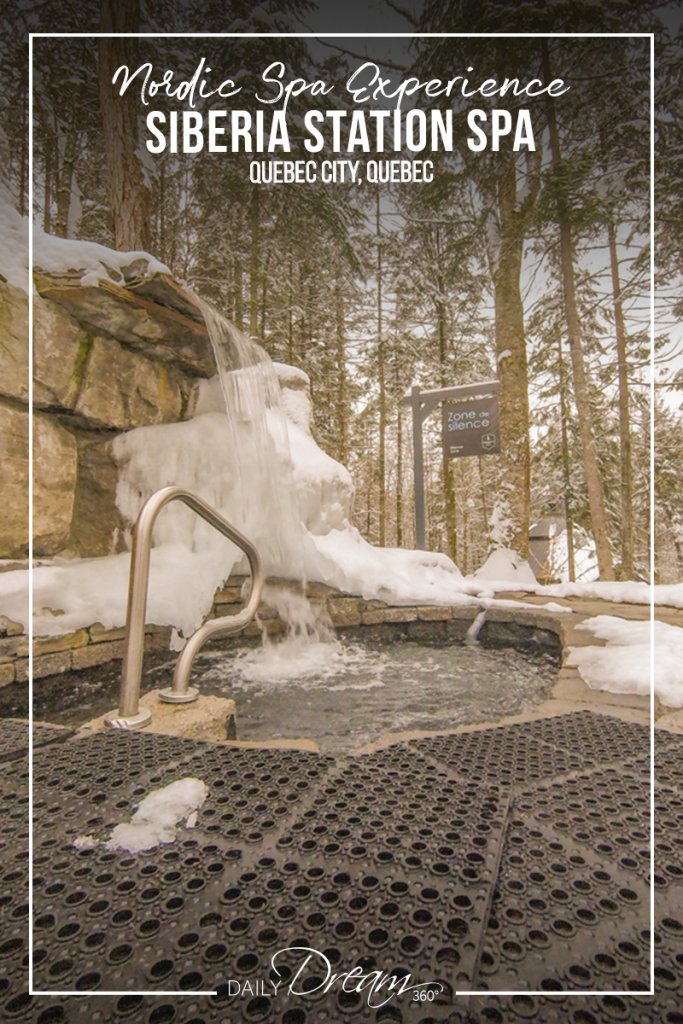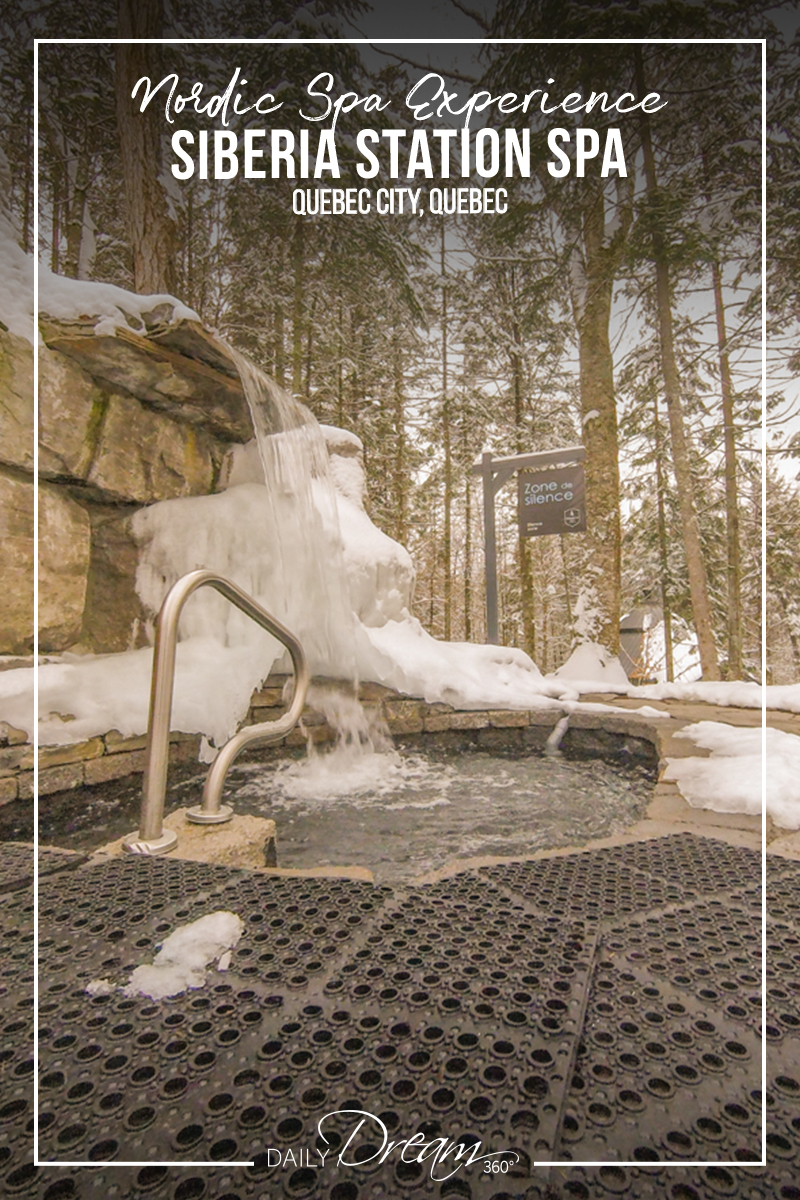 Looking for more things to do and see in the Quebec City region? Check out these posts:
Travel assistance was provided by Tourism Quebec, Quebec Region and the Siberia Spa on a media press trip.