I've stayed at many different types of hotels depending on my vacation or business needs. Sometimes you need an inexpensive hotel, sometimes you splurge on luxury and other times you pick the hotel because of its amazing location. During my winter stay in Haliburton I was fortunate to stay at the Pinestone Resort which proved to be the perfect location for our weekend activities.
Pinestone Resort Haliburton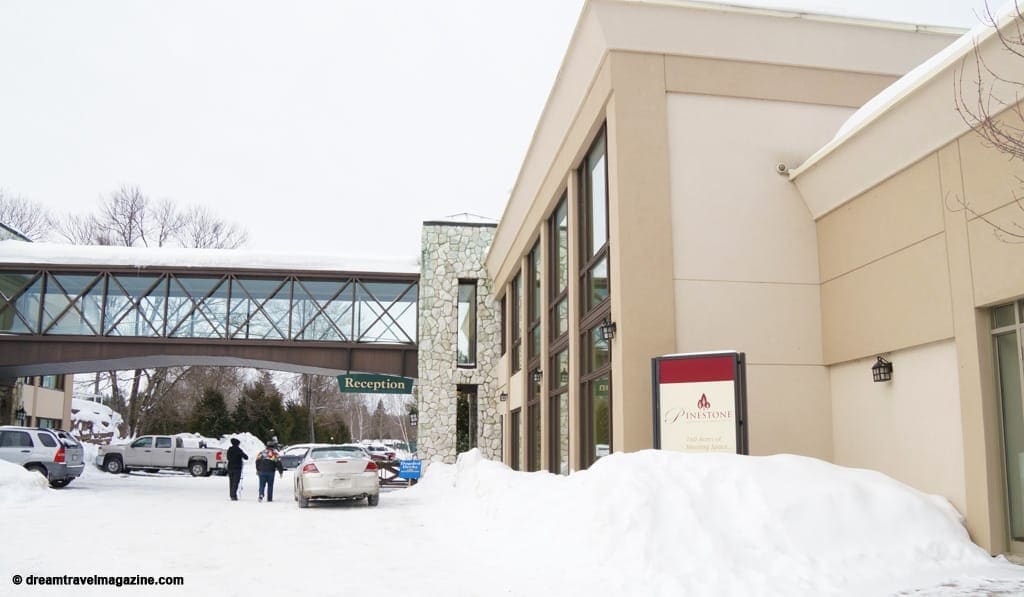 Pinestone Resort Haliburton Hotel – Close to Everything
Waking up to a winter snowfall I breathed a sigh of relief knowing that everywhere I was driving was close to the hotel. Haliburton a 4 minute drive, Winterdance Dog Sledding a 45 minute drive and snowshoeing a 15 minute drive. The Snowmobilers all staying at the resort also agreed. Right on the snowmobile trail this hotel is very popular with them.

The Pinestone Room
We had a standard room in the main building of the hotel. Two queen sized beds, a table with two chairs and a chaise lounge. Very cozy room with a great view of the hotel grounds including the pond that was frozen over and covered in fresh snow. Quite beautiful!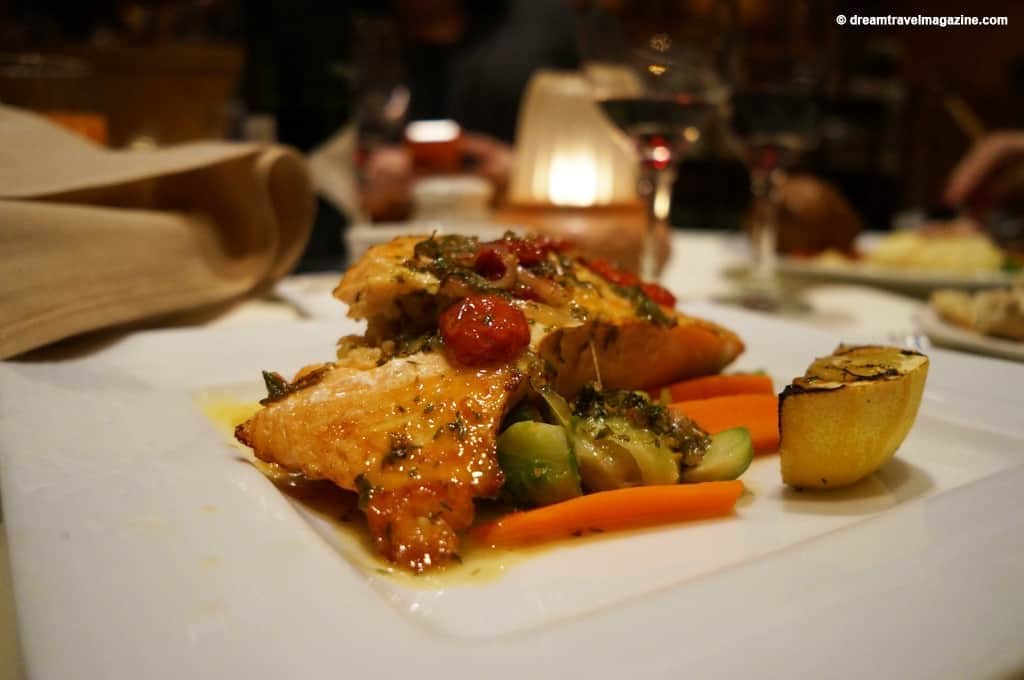 The Food
We enjoyed a breakfast buffet in the morning which included eggs, bacon, fresh pastries, yogurt and cereal, served in the main dining area of the hotel. We also had dinner which included this fish dinner. If you are in the area I highly recommend visiting Rhubarb Restaurant a cottage chic fine dining restaurant which was a quick 15 minute drive from the hotel. If you want more casual fair then check out my post on some of the local restaurants in the Haliburton region!
Rent a Cabin or a Room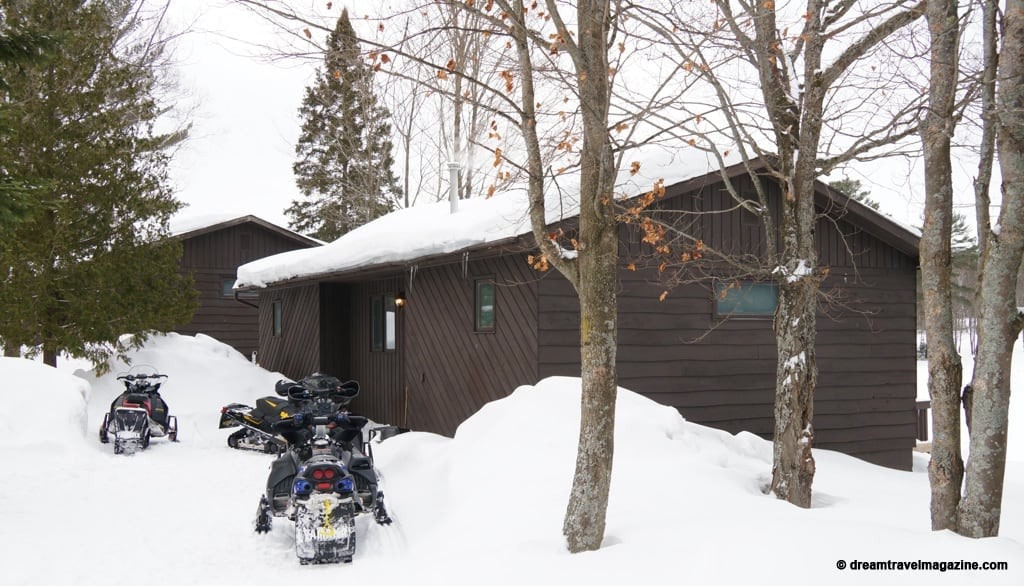 The Pinestone Resort features a number of cottages on the property if you want a winter cottage experience. Many of the cottages were filled up with snowmobile enthusiasts and those attending the annual dogsled races which was held on the Pintestone resorts grounds. The hotel is very dog-friendly!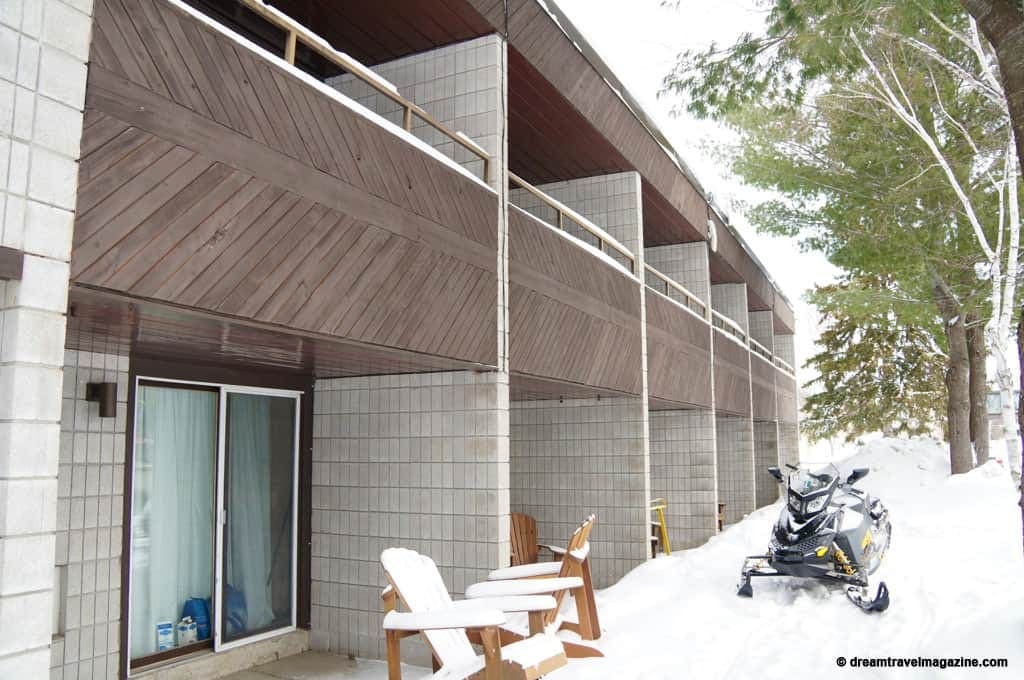 The only unfortunate part of this hotel is that it is not located on a lake or body of water. The grounds are beautiful and there is an indoor and outdoor pool, nice trails to walk or cross country ski and a golf course for warmer months. For our stay the Pinestone Resort in Haliburton was the perfect central location for all our weekend activities!
Travel assistance proved by Ontario's Highlands Tourism Organization, however the opinions expressed in this post are my own.