This article may contain affiliate links. Clicking on or purchasing products we recommend through a link may earn a small commission. Read our disclosure and privacy policy page for details. *COVID-19 TRAVEL ALERT – Travel recommendations offered on this site are not to encourage you to travel against travel advisories.
When I think about planning an Ontario winter weekend getaway, I always think about Viamede Resort. Located just outside of Peterborough in the Kawarthas, the resort has a dreamy getaway vibe all year round, but in winter, its pure magic.
A Winter Getaway at Viamede Resort
The trees on the property and the building rooftops were all covered in snow, setting up the scene for a magical winter fairy tale. As I drove up, I know my mouth was hanging open as I took it all in. I noticed the new roofs, some building additions but the familiar scene of this resort sitting magically in front of the large lake with trees surrounding the property was still the same.
Just parking the car I started to feel relaxed knowing that Viamede would be the perfect host for this winter escape.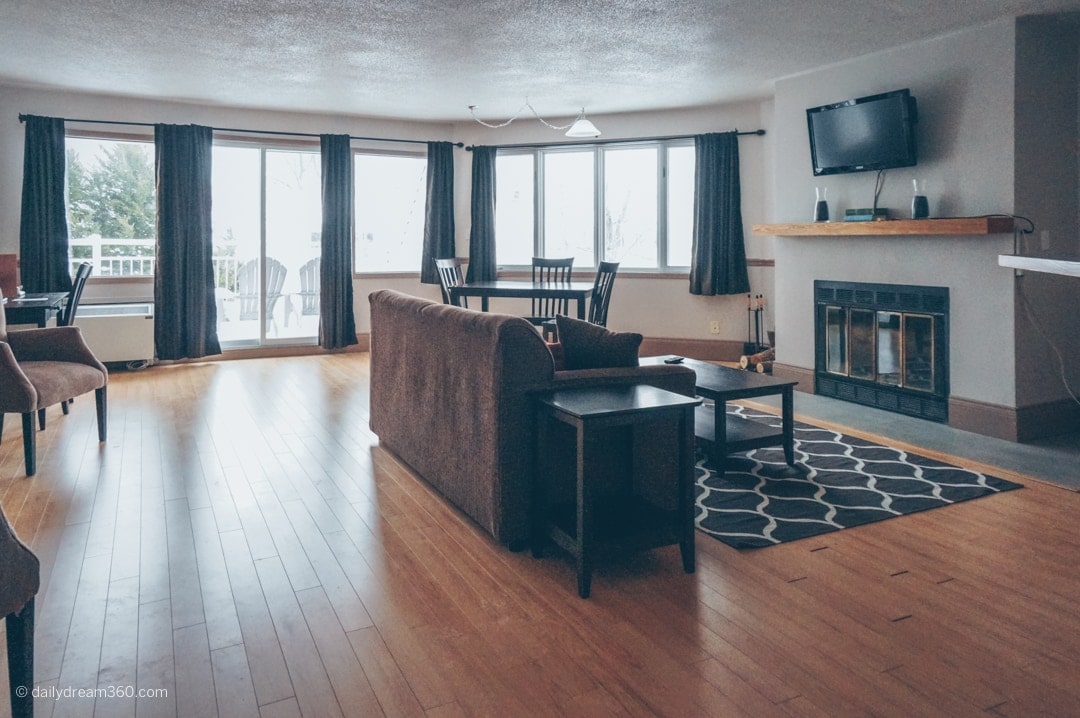 Viamede Resort One Bedroom Suite
There are a few different room types available at the resort, but I loved my little suite which had a real fireplace, a small kitchenette and an ample open living space.
Living Room
My suite was huge for little old me, but I didn't mind one bit. I entered into the door and was expecting a little room and walked into a vast grand main living room, with a kitchenette, desk, sofa, fireplace and small table and chairs.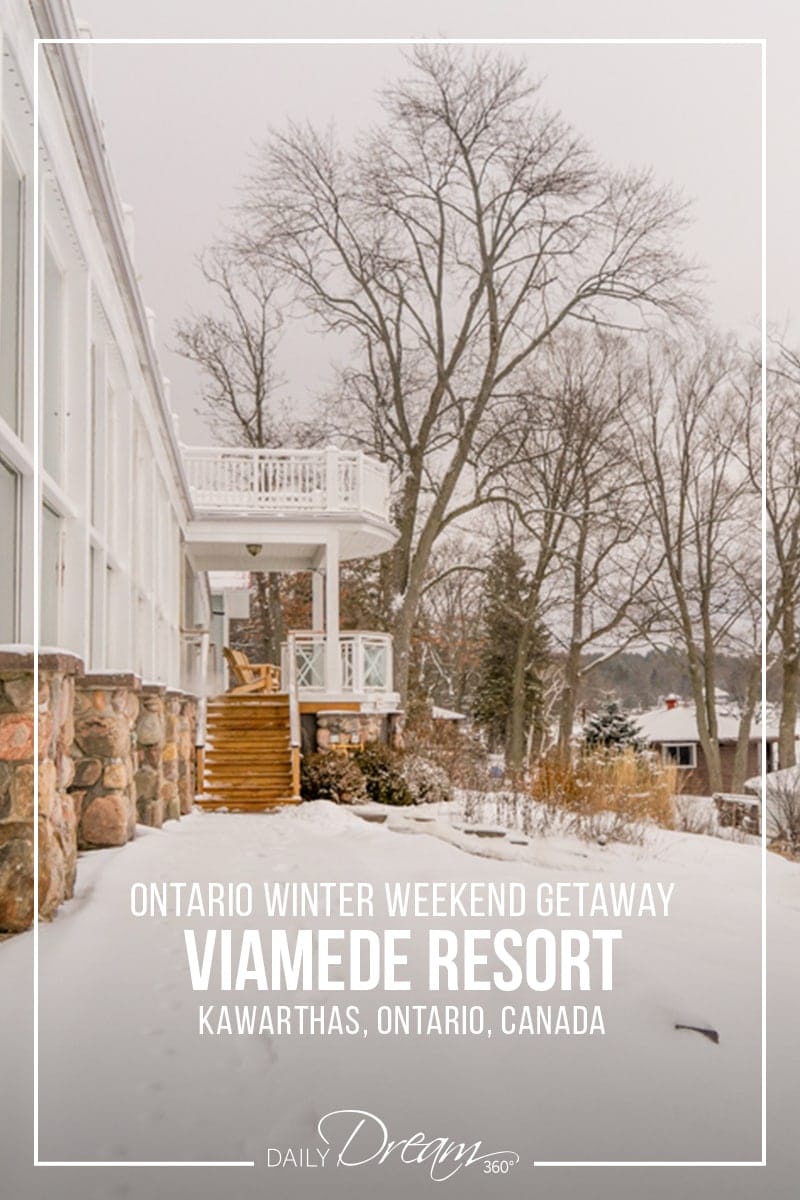 A few things I noted that could be improved, when I walked in with my wet, snowy boots, there was no rubber mat to put my shoes on, just a small carpet right in front of the door. I also struggled a bit with the closet door which wouldn't open over the carpet that was placed in front of the door.
Room included:
King size bed in the bedroom
corner air-jet tub in the bedroom
kitchenette with coffee maker, sink, and refrigerator
comfortable living/dining room with fireplace (wood burning)
flat screen TV
private walk-out balcony
Bedroom
The bedroom is also spacious with a large king sized bed and a jacuzzi tub. There was a television in the bedroom and the main sitting area. There were also two-night stands and a chest of drawers for clothing. The only hanging closet, however, was in the main sitting area by the front door.
Most of the suite appears to have undergone renovations except the bathroom. It can use some love. The resort provides lots of towels and soap, shampoo and conditioner which are located in the bottles attached to the wall.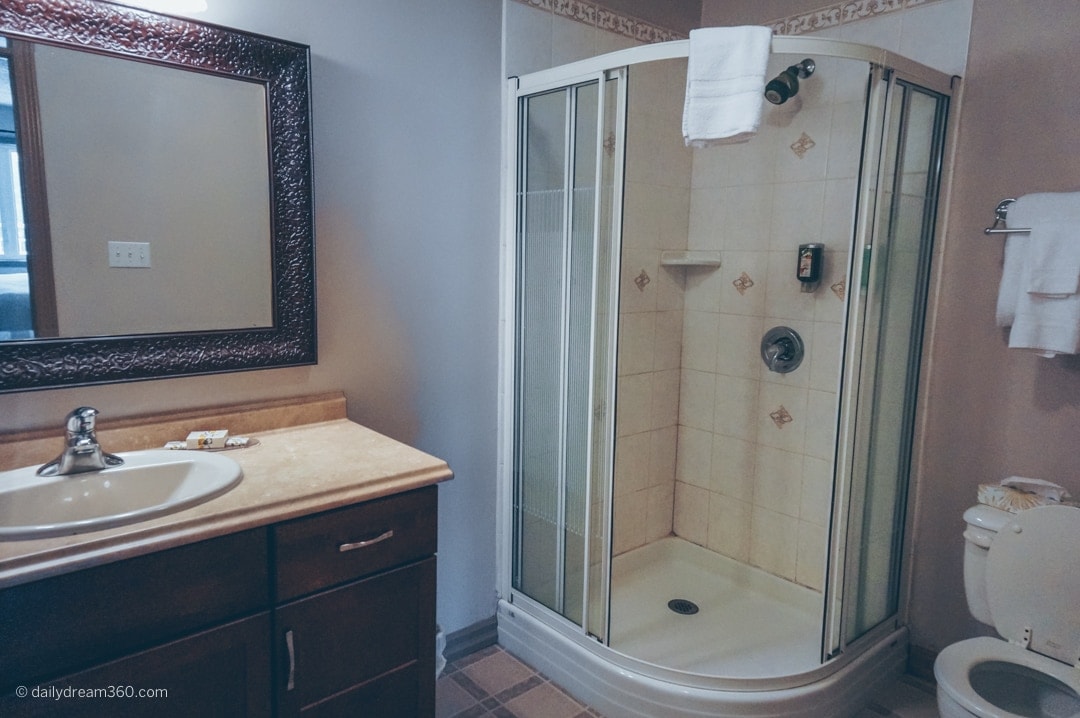 Since I arrived early in the afternoon on Friday, I decided to get a fire going in the fireplace. It is a real treat for me to have a wood fireplace to sit in front of as I live in an apartment in the city.
Enjoy the Suite's Amenities
In creating the fire, I realized a few things: there should be instructions for lighting the fire in the room. I had one little cube lighter and a pile of wood, no newspapers and no instructions. So I knew to check that the flute was open, but there was a fan on the side of the fireplace, and I didn't know if I should run it or not.
Also, the room had no paper towel; the small kitchenette has a microwave, sink and coffee maker. There were no glasses, cutlery etc., so you will have to bring these items on your own if you are planning to use the kitchenette. Or you can ask the front desk to provide you with some they will be happy to help.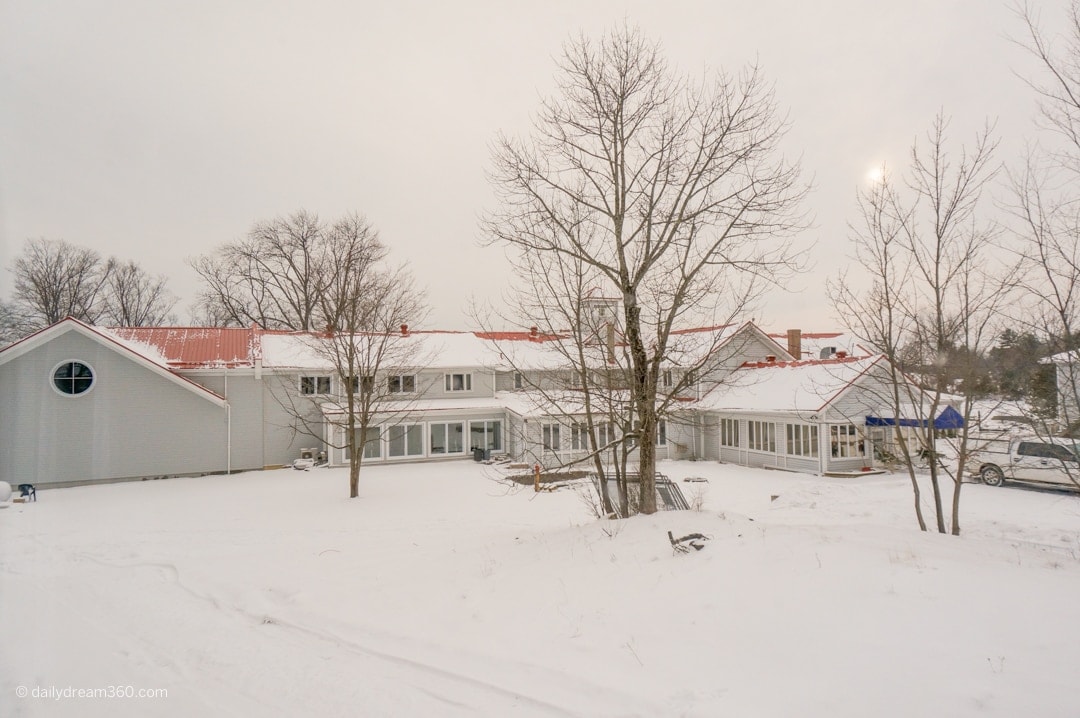 Viamede is Perfect for Romantic Couples Getaways in Ontario
If you are looking for a romantic escape, the setting here will no doubt deliver, but in addition, the resort is filled with amenities and activities perfect for couples. That said, for those of us single girls, I assure you that girls getaways are also great here.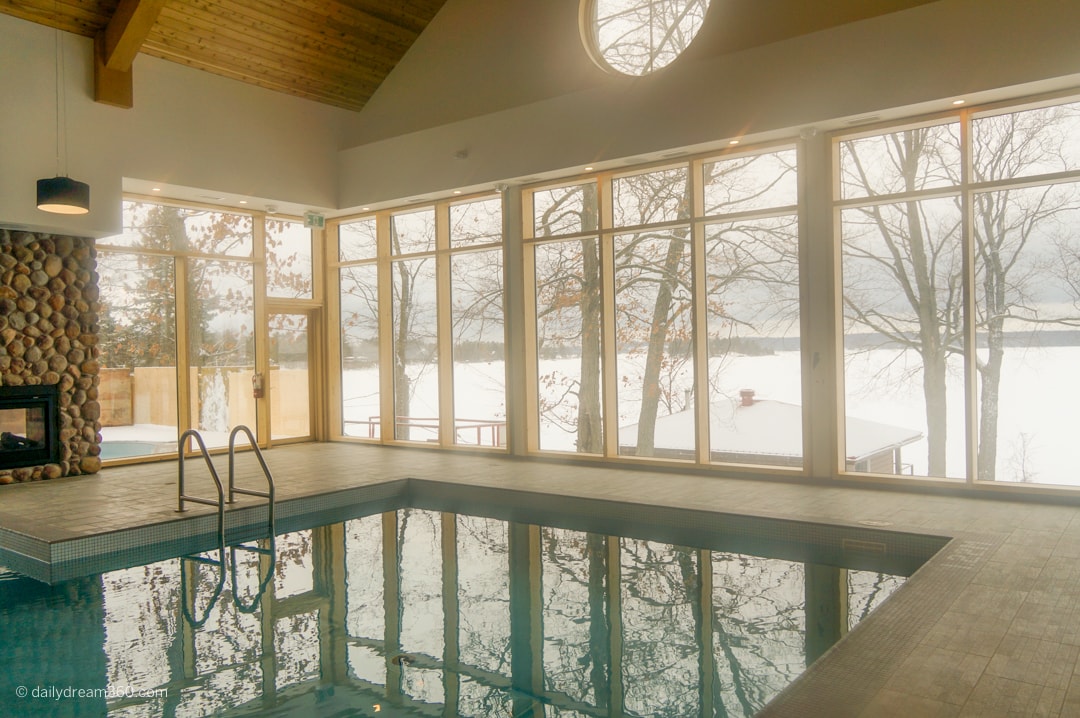 Viamede Resort Amenities
Viamede Swimming Pools
I love the addition of the impressive fitness facility and an indoor/outdoor pool. Inside is a relaxing and tranquil place to swim with a magnificent view of the lake. For those who want that swimming outdoors in winter feeling there is a small swim out to the outdoor part of the pool.
What I like about this indoor/outdoor pool, is that the majority of it is inside so during the cold weather you can still get a great swim in, and there is plenty of room for kids to play. You stay toasty warm while swimming, however, if you want to swim out, there is a small area where you can go outside and have that magical feeling of swimming outside in the winter.
During summer stays you can enjoy the outdoor pool overlooking the lake.
Read more: Viamede Resort Gets Better With Age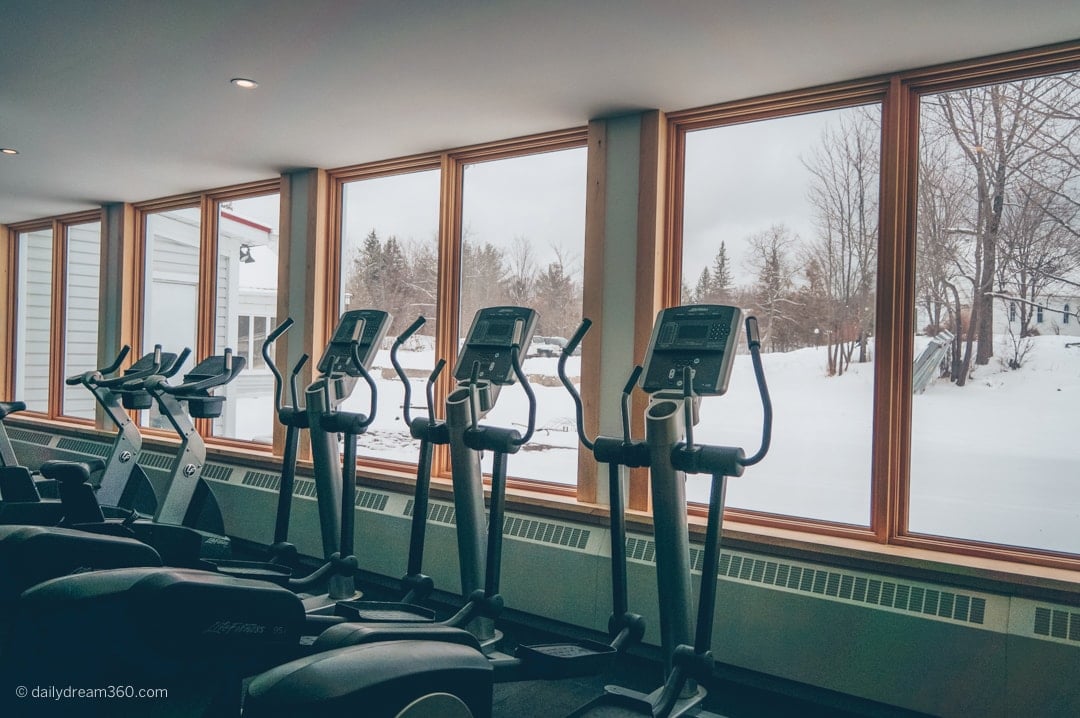 Viamede Resort Fitness Room
Another welcome feature of the new expansion is this excellent fitness room with all the cardio and weight machines you could ever want from a hotel fitness facility. Also, you can join in on one of the weekly scheduled classes in their fitness room which includes a weekly yoga class. All of these classes and facilities are included in the regular resort rates which is one of the reasons why I love this resort, they make sure there are lots of activities (winter, spring, summer or fall) to participate in or they let you do your own thing.
The resort also has excellent space for Yoga and meditation. Check the schedule for Yoga sessions at the resort.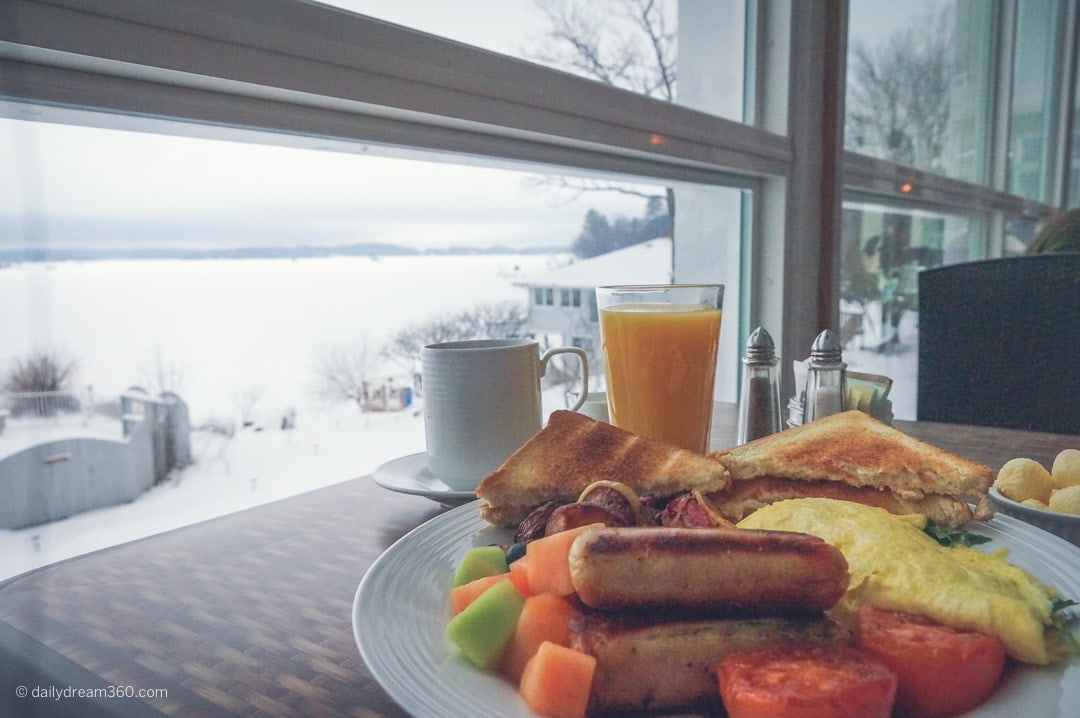 Dining at Viamede Resort
Breakfast is included at Viamede Resort
The main dining area serves the Viamede Resort breakfast with a large sunroom where most of the tables are situated next to large windows with a great view of the lake. In summer they served a buffet-style breakfast, and in winter you could order from their breakfast menu which included options like, eggs, pancakes, waffles, yogurt, bacon and sausages.
I had an omelette breakfast including toast, Viamede's sausages, fruit and grilled tomatoes. I will never get tired of the view when enjoying breakfast at this resort (any season).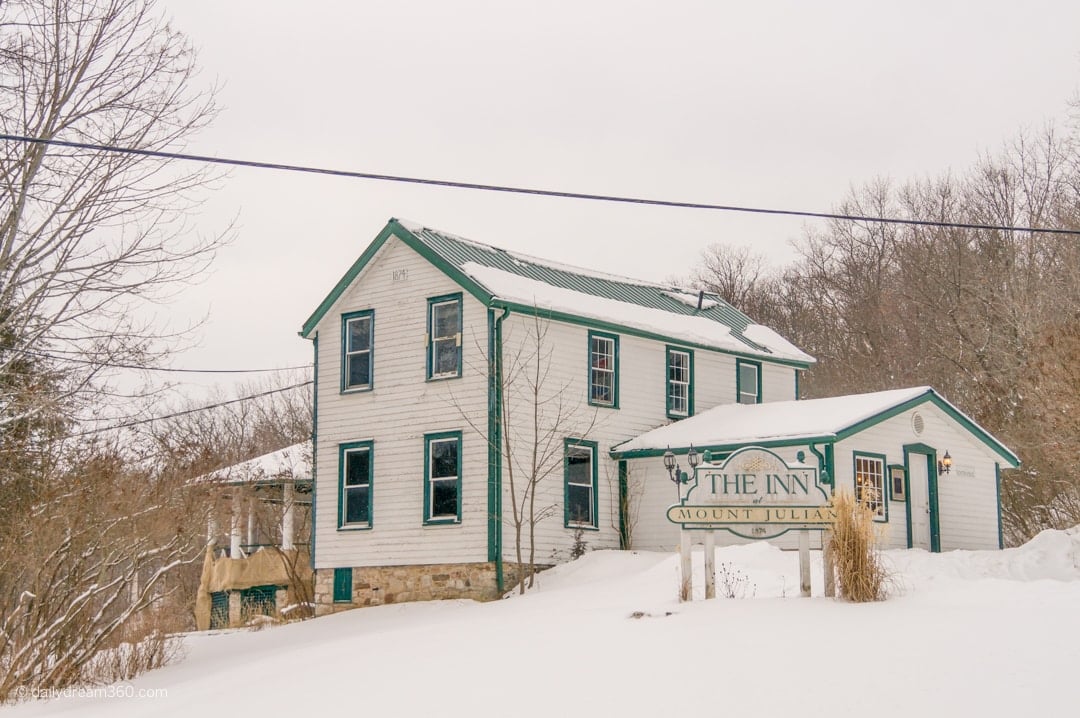 Tasting Menu at Mount Julian
This dinner was an experience all on its own, so I wrote a separate post, needless to say, it was pretty epic. If you are planning a winter escape at Viamede be sure to splurge on a tasting dinner with wine pairings.
Read more: Viamede Resort Inn at Mount Julian offers Epic Tasting Menu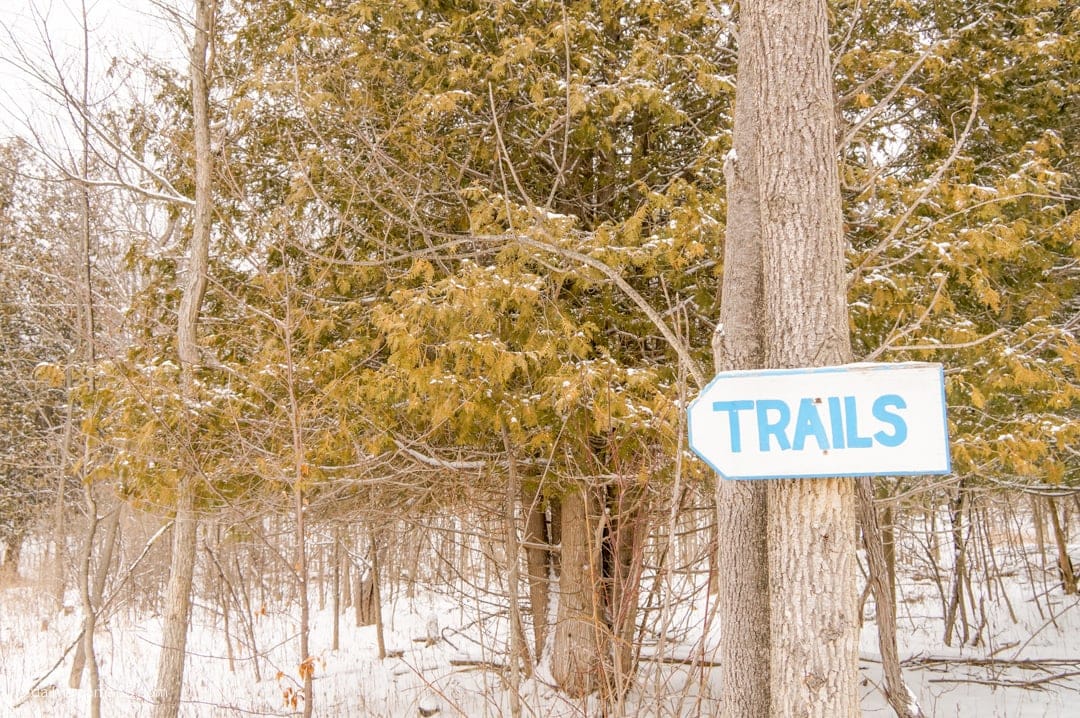 Viamede Resort Winter Activities
Viamede Resort continues to add new and fun activities, all year long. Be sure to check their events menu on the website to plan your stay. These special activities are included in the price of your stay. During my weekend I took part in a trail walk, a cooking class and whisky tasting.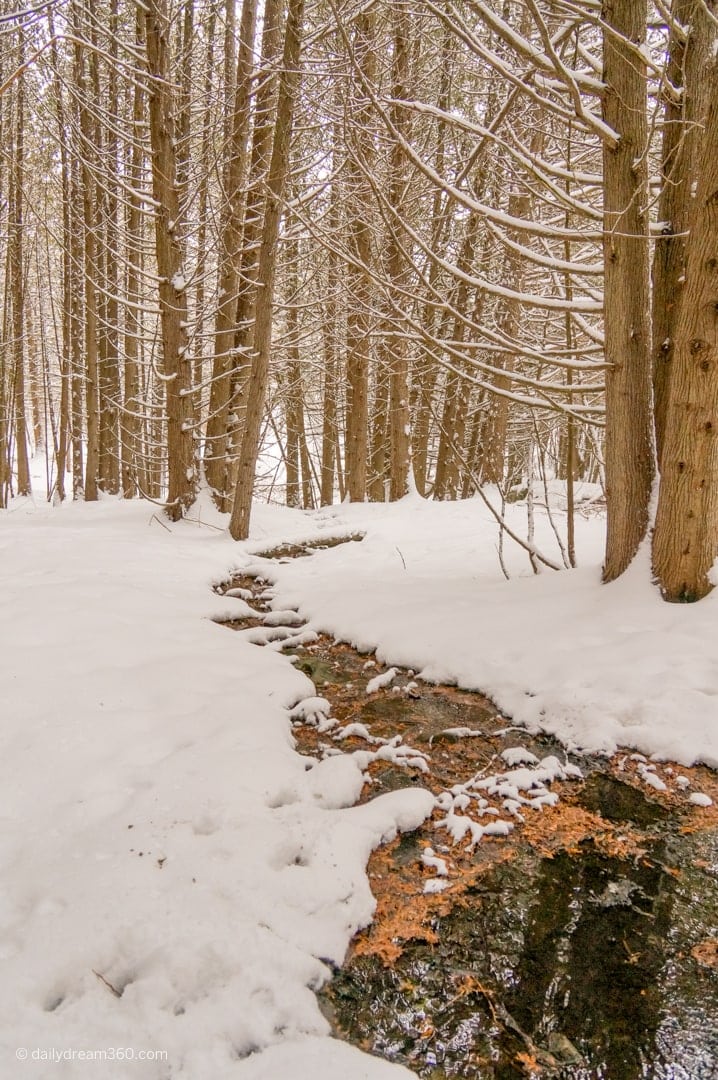 Walking through the Trails at Viamede
For those who love nature walks the Viamede Resort will not disappoint. They have trails for walking, which are connected to the provincial snowmobile trails, and they offer snowshoeing, cross-country skiing along their many kilometres of trails. There is even a frisbee golf course on the site.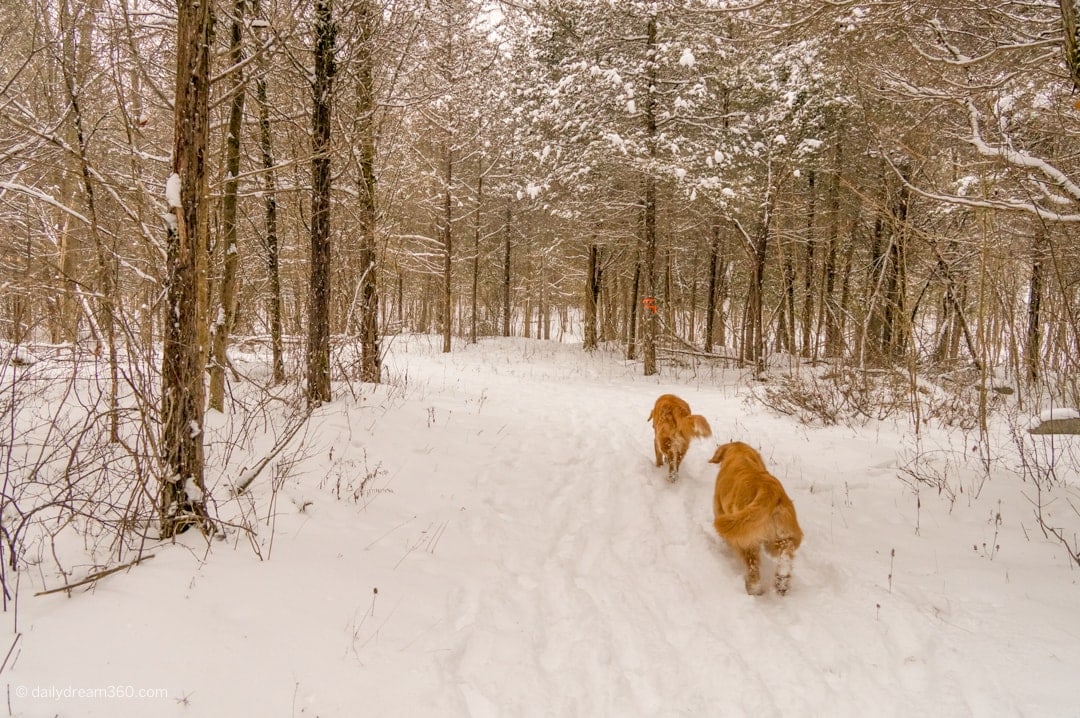 We were joined by the Viamede dogs Daisy and Toby on our 3 KM nature walk in search of the great Oak Tree. The resort is very pet-friendly, and they donate $10 to the Ontario Golden Rescue for every dog that stays here.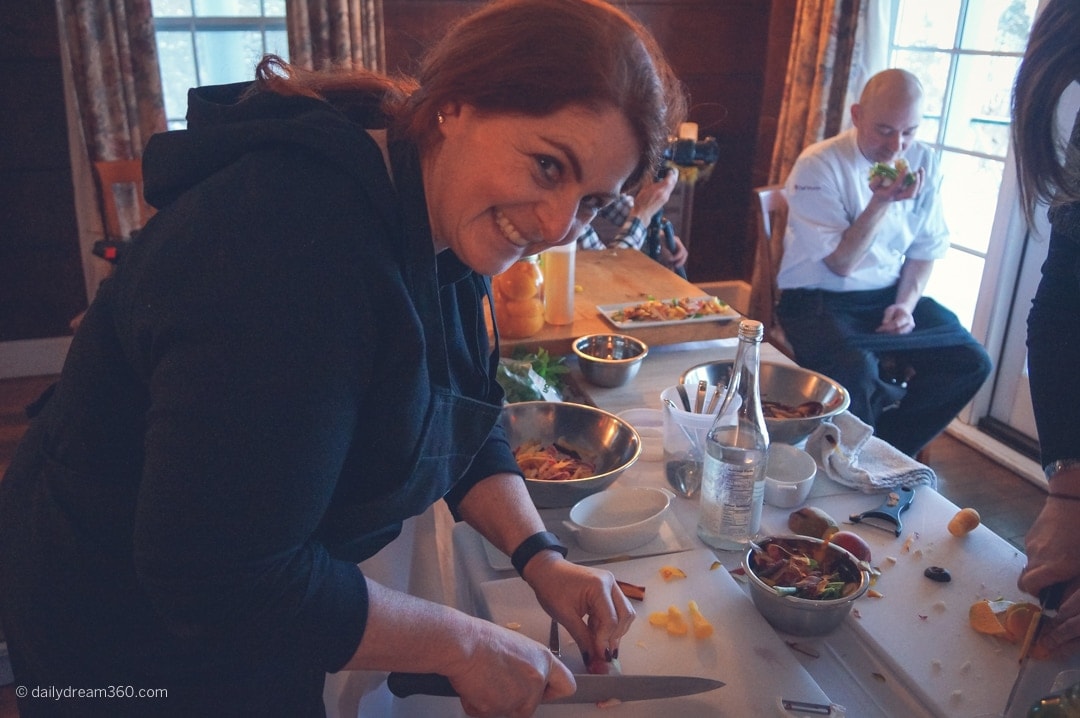 Cooking Class with Viamede's Chef
In the summer you can take a trip with Chef to the local farmer's market and buy groceries for your cooking class held later in the day. Located at the Inn in Mt. Julian there was a full table set where each of us had a space to work with the chef as we prepared a series of recipes.
Our demonstration included a winter salad recipe, and then we went to work chopping, slicing and grating root vegetables in our salads.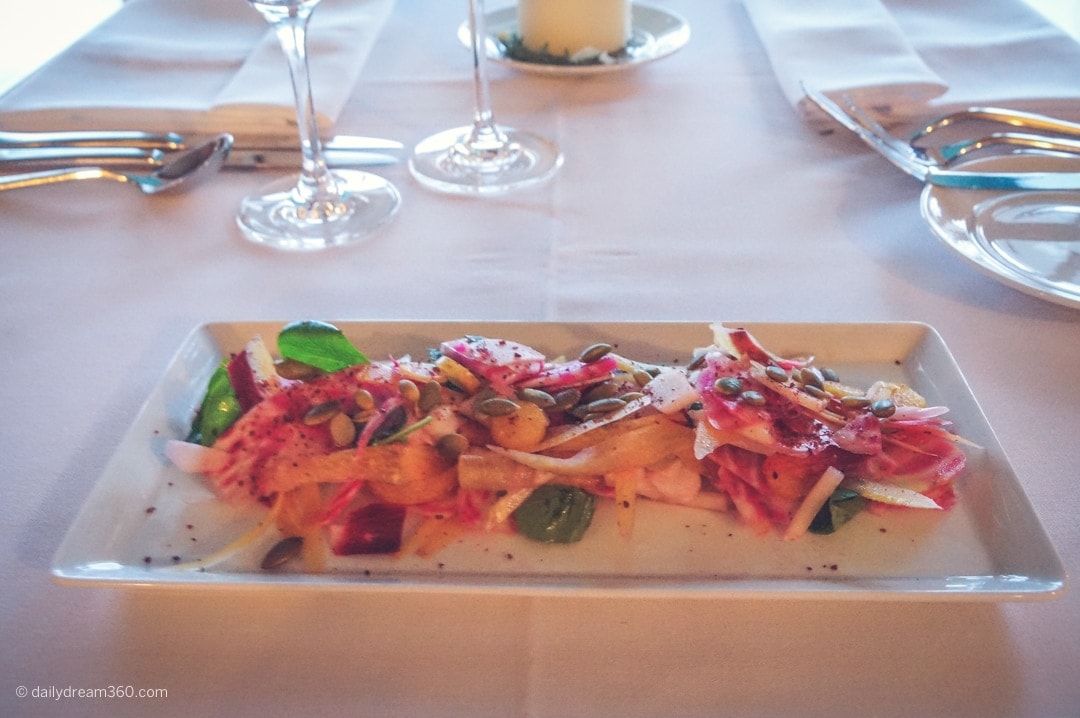 We also learned how to fry up sunfish! A local company has figured out a way to de-bone the tiny little critters and chef serves them up on the Viamede menu.
Following our main course demonstration, we learned how to make this simple peach cream dessert, with preserved peaches, meringue pieces and Crème fraîche.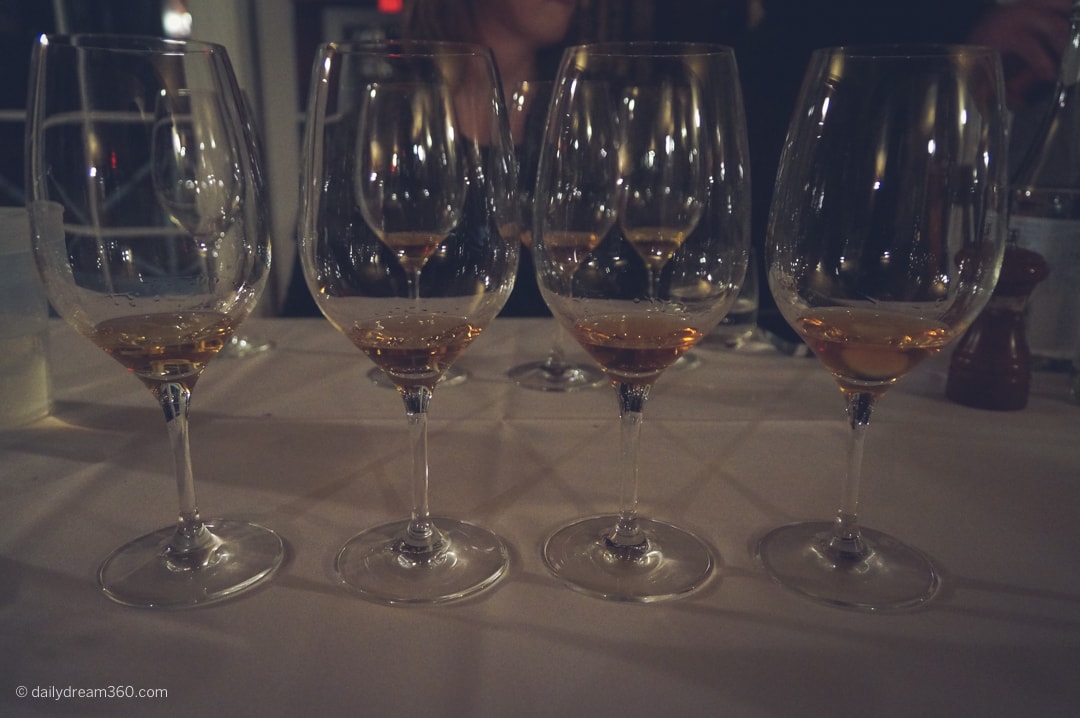 Whisky Tasting with Viamede's Sommelier
After our cooking class, we were treated to a whisky tasting with the Inn at Mount Julian's Sommelier. I learned so much on the different types of whisky, the history of the spirit and was fascinated by his knowledge during the entire tasting.
We sampled: Irish whiskey, Crown Royal, Bourbon, Auchentoshan Scotch Whisky and Andberg. For me, each glass was filled with liquids that burned, burned more and then at the end they just tasted like fire and were too toxic for my tastes which are not great whisky taste buds.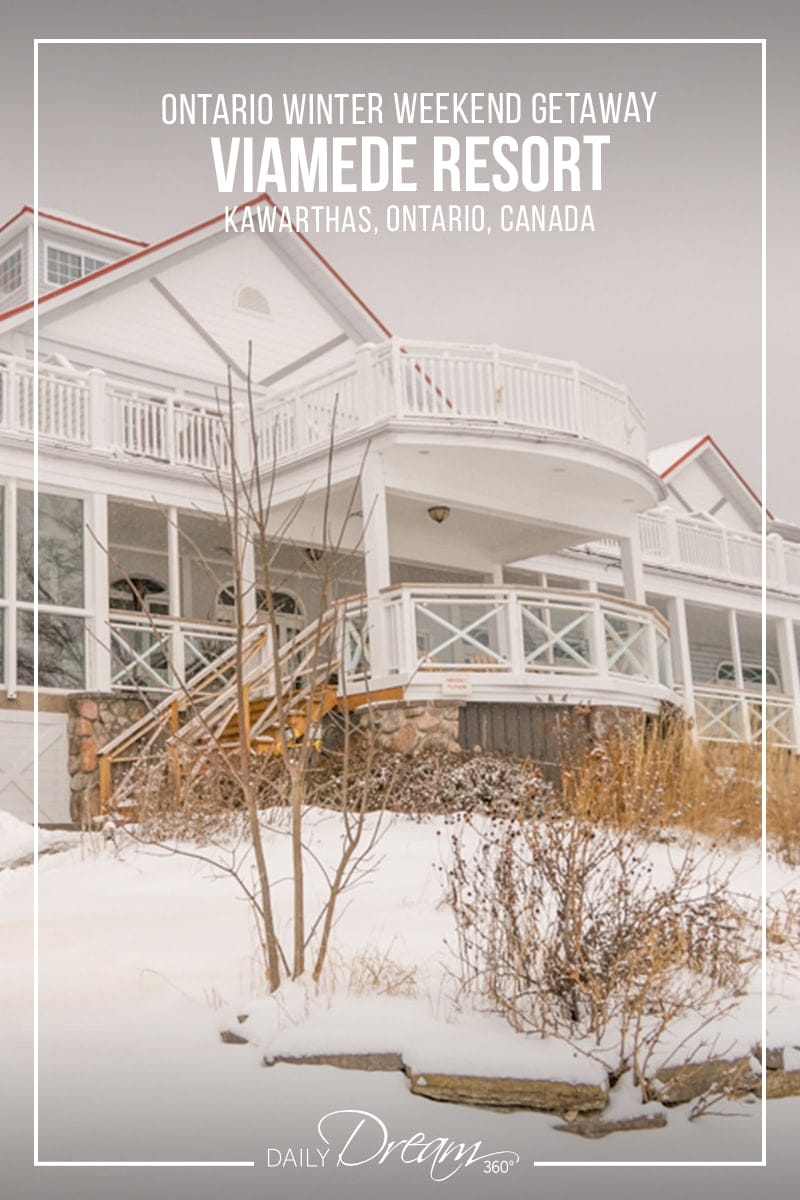 Viamede Offers Year-Round Weekend Getaways Ontario
I've been to Viamede resort three times now. Twice in the summer season and on this winter escape. Each time I visit there is something new, something renovated and the weekend is familiar but with different activities to take part in.
Read more: Tips for Planning a Dream Canadian Winter Getaway
Sign up for the Viamede Resort Oak List – Get Deals!
A final word! If you stay at the resort, they will ask you if you'd like to be members of their Oak List. This monthly newsletter is packed with news and exclusive deals for its members so if you don't mind getting one email per month (or less). You can sign up for the newsletter at Viamede's website and receive some exclusive deals for planning your getaway!
We were guests of the Viamede Resort during a media FAM trip, but as always the opinions in this review are my own.