On a recent road trip through the Haliburton Highlands region of Ontario I had the pleasure of stopping by at Rhubarb Restaurant. Located on Mirror Lake in Haliburton,on the corner of HWY 35 and 118 this is a must stop fine dining destination if you are in the Minden or Haliburton area. I don't write about food and dining often on this site, but I loved this restaurant so much I just had to share it with you all. It's always a great highlight on a trip, when you come across a location that has it's own unique experience. Rhubarb, did just that, it offers a fine dining menu in a chic restaurant with a cottage vibe.
Rhubarb Chic Cottage Vibe
Is "Chic Cottage" a type of interior decorating style? Well it should be. Your first impression as you walk into the doors you are greeted with a warm welcome, like that of walking into a cozy cottage. Wood panel decor, little country touches and welcome notes to remind you that you are part of the family.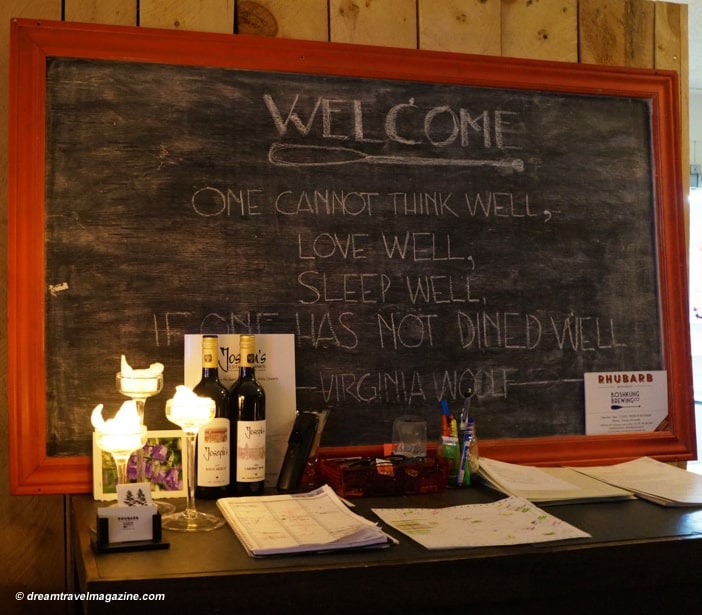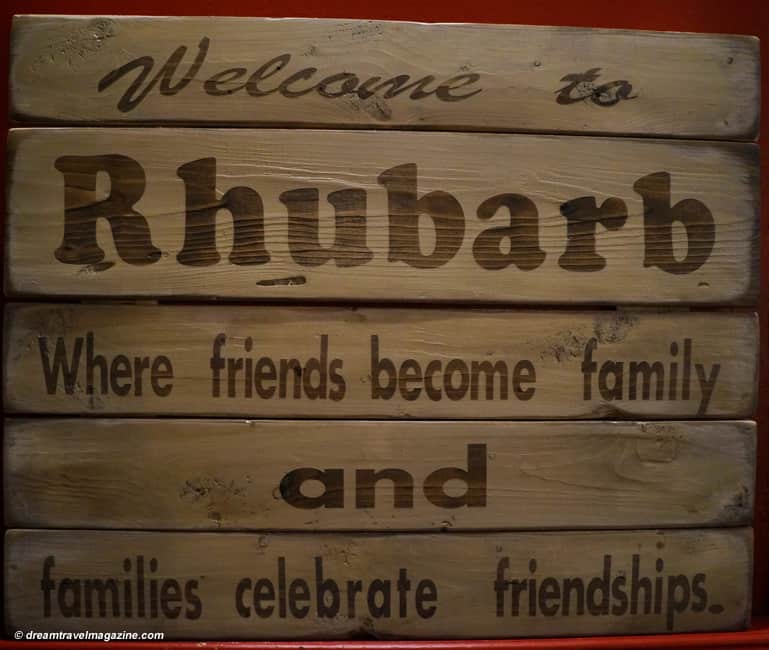 Then we were taken to our table and the elegance of the place started to show itself. Beautiful, candle lit tables, luxurious lighting features, a first class bar and lounge area, all contribute to its fine dining atmosphere.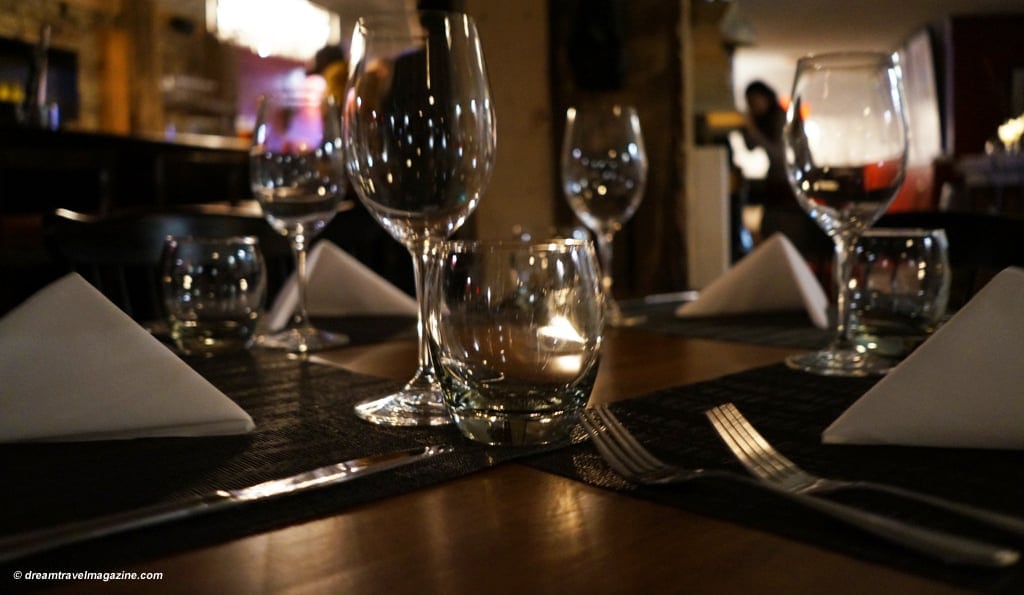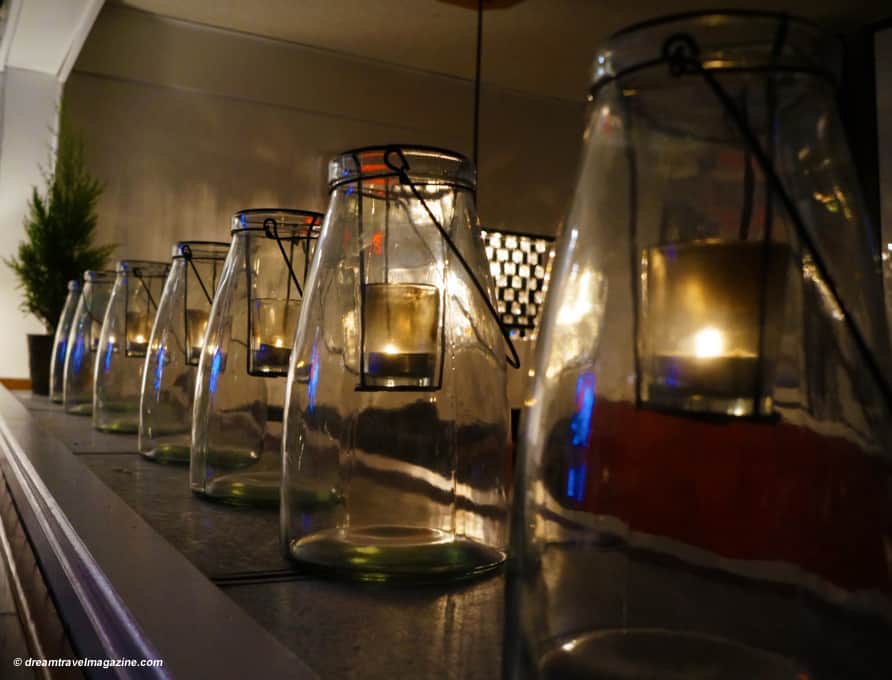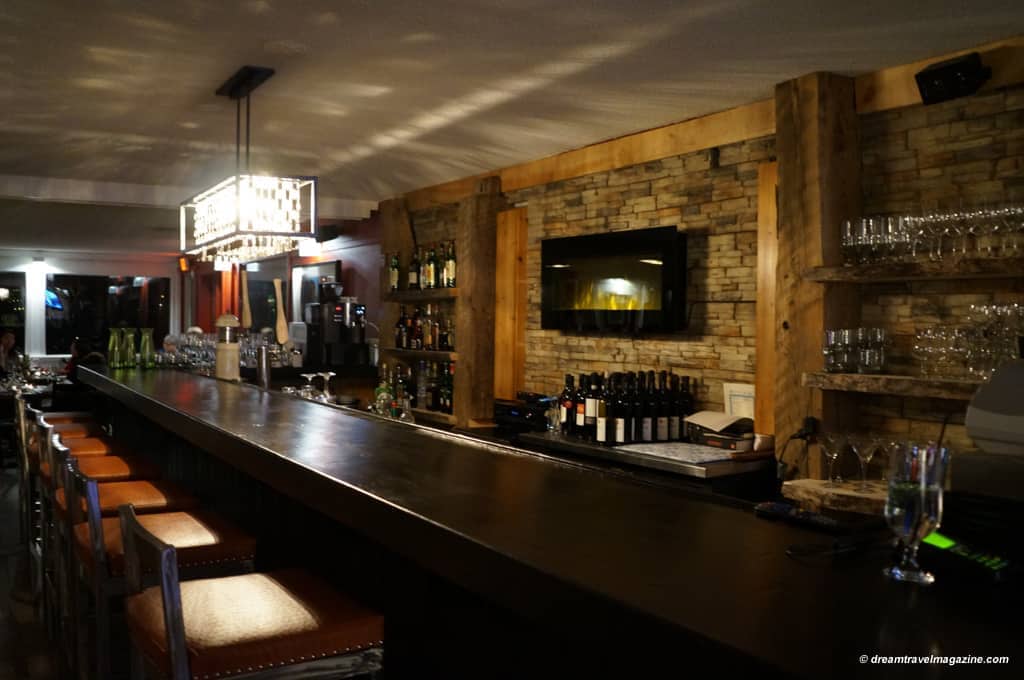 The Restaurant – It's Really About the Food
Of course the decor and location are just a small feature of the equisite Rhubarb Restaurant. It really is all about the food! The restaurant features a wall of home made preserves to choose from and an impressive selection of wines.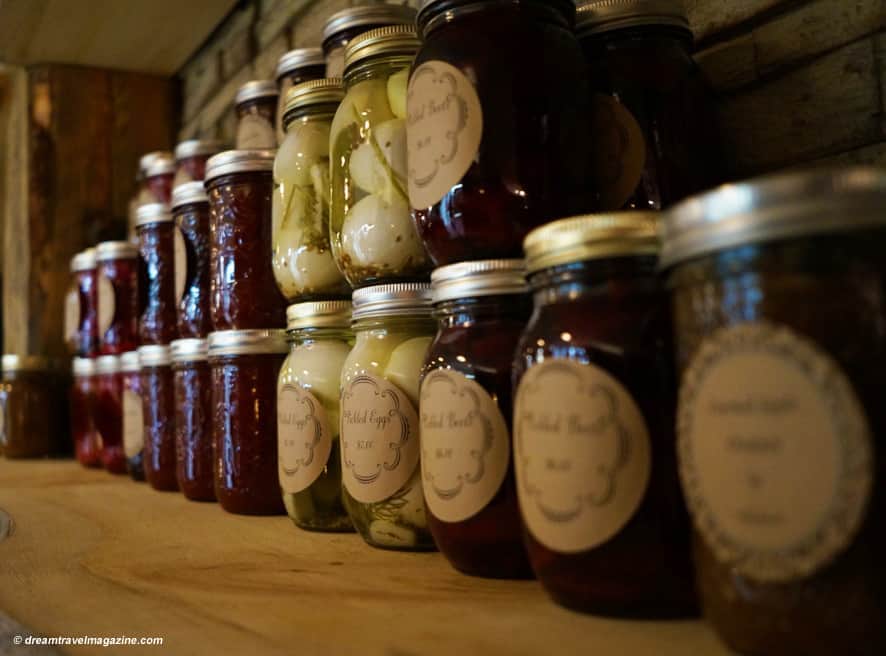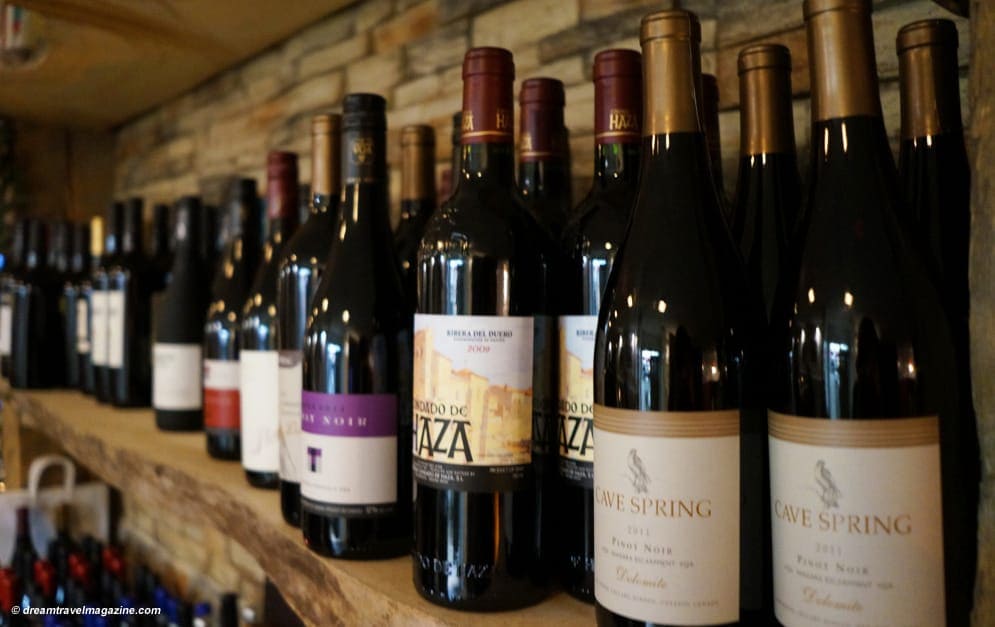 The menu features a seasonal sampling of Rhubarb favourites and daily specials prepared by the chef. The food is beautifully styled and plated. The appetizers included this tasty crab cake with seared scallops, tomato jam and capers, which could easily serve as a main course, but why would you not sample as much as you can from this impressive menu?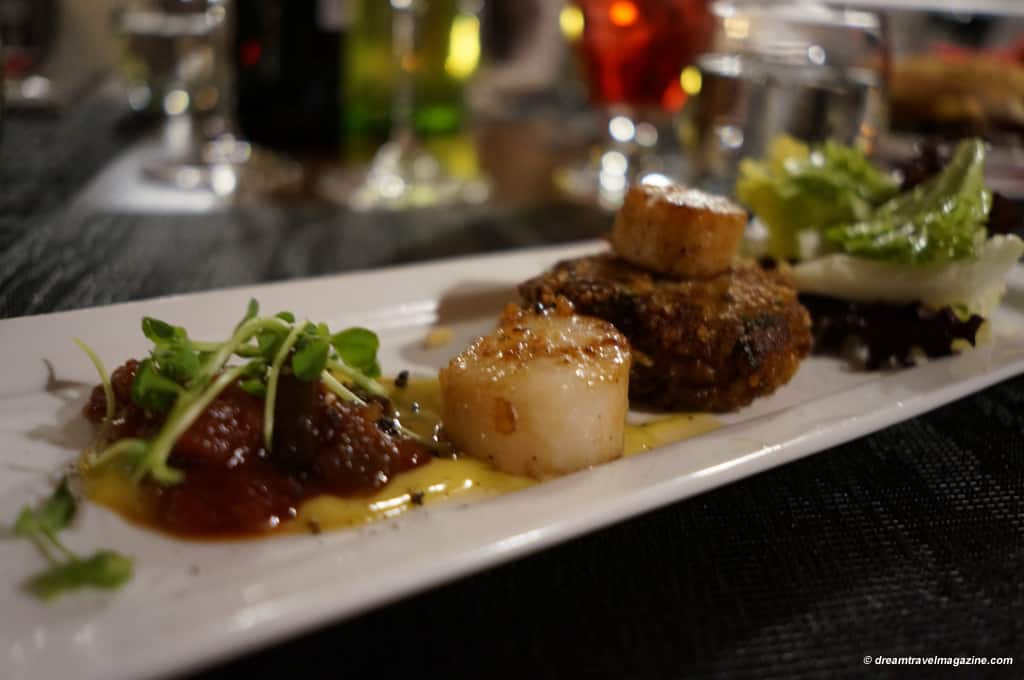 I followed my appetizer with seared pickerel with an herb and panko crust, roasted potato and seasonal vegetables. It was easy to make these photographs look like professionally taken food shots as everything came out hot, glistening and ready for its close up!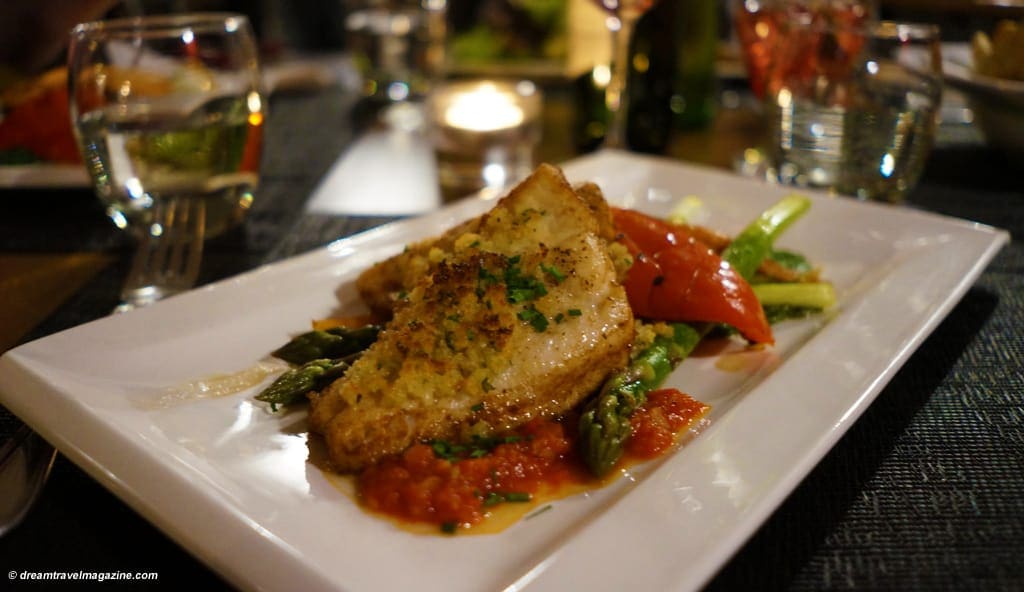 Of course we couldn't stop there! When you are enjoying your atmosphere and food so much you just have to have dessert. So we were given a choice of desserts and I (as I often always do) went with this chocolate gooey dream!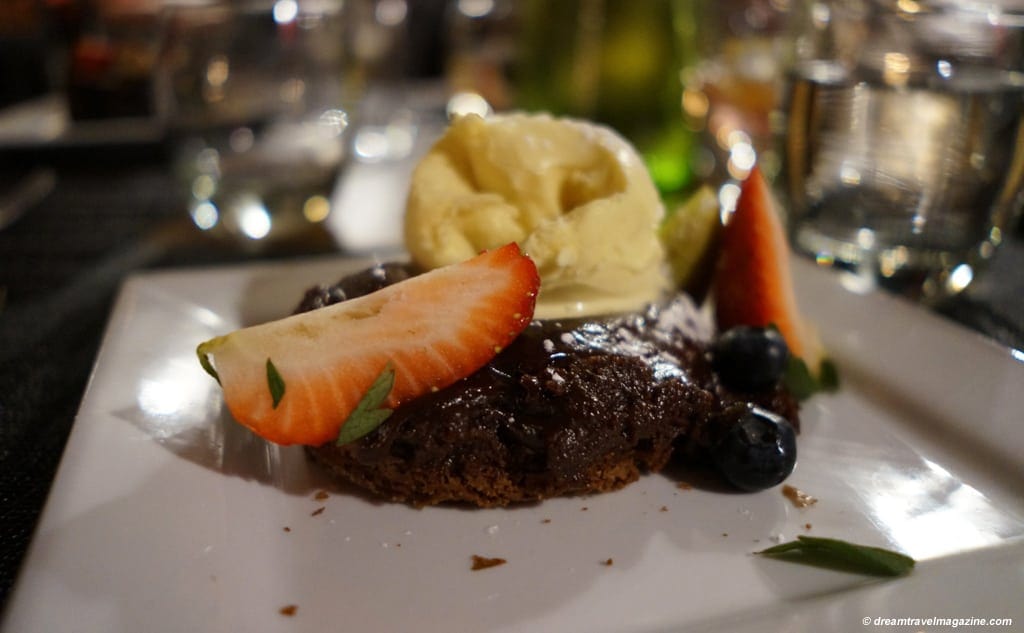 So if you are looking to fancy up your stay at the cottage, or enjoy a fine dining experience on your next visit to the Minden or Haliburton area, then may I suggest you stop by Rhubarb Restaurant. The staff will make you feel right at home and as their welcome sign says, friends become family and family celebrates friends. A motto this restaurant truly exemplifies in both its food and its atmosphere.
Rhubarb Restaurant
9201 Hwy 118 Minden Ontario
Corner of Hwy 35 and Hwy 118 in Carnarvon, Ontario
Former location of: "That Place in Carnarvon"
Reservations are recommended.
Email: [email protected]
Phone: 705-489-4449
Facebook: facebook.com/rhubarbhaliburton

 This experience at Rhubarb Restaurant was sponsored by the Ontario's Highlands Tourism Organization, however the opinions expressed in this post are my own.