This article may contain affiliate links. Clicking on or purchasing products we recommend through a link may earn a small commission. Read our disclosure and privacy policy page for details. *COVID-19 TRAVEL ALERT – Travel recommendations offered on this site are not to encourage you to travel against travel advisories.
When someone tells me they are planning a trip to the Haliburton Highlands region in Ontario, I always say you have to go to Rhubarb Restaurant. There are lots of great restaurants in this region, but by far my favourite is Rhubarb which I discovered on a girls winter weekend getaway in the area.
Rhubarb Restaurant's Chic Cottage Vibe
Is "Chic Cottage" a type of interior decorating style? Well, it should be. Your first impression as you walk into the doors you are greeted with a warm welcome, like that of walking into a cozy cottage. Wood panel decor, little country touches and welcome notes to remind you that you are part of the family.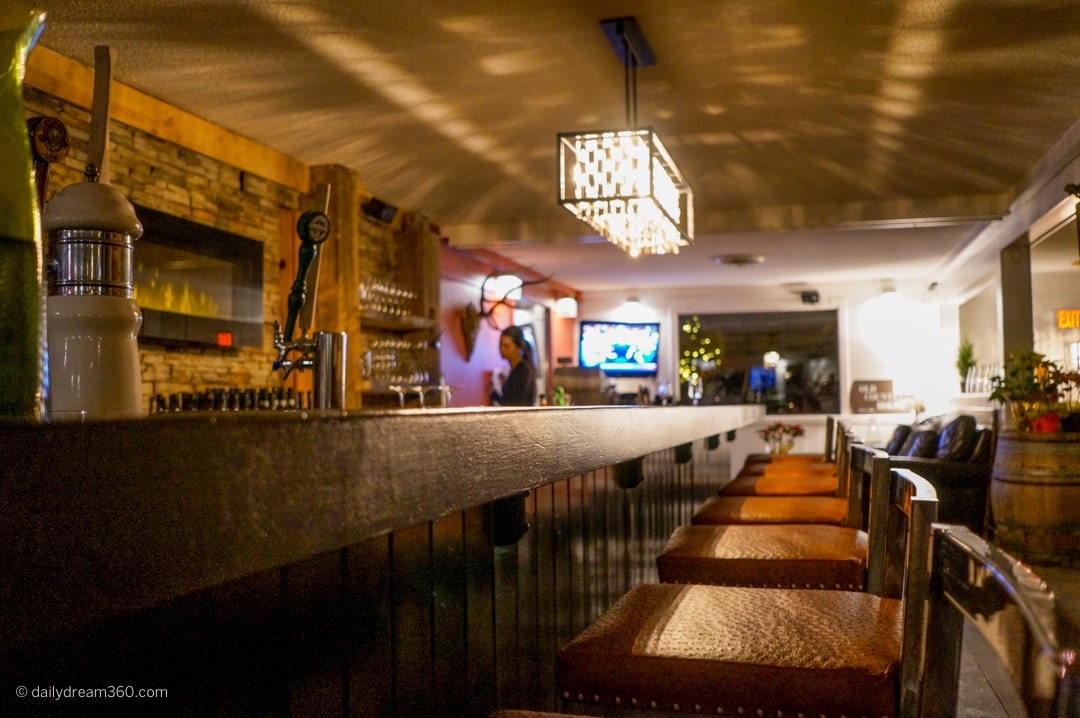 Even the table and the elegance of the place started to show itself. Beautiful, candlelit tables, luxurious lighting features, a first class bar and lounge area, all contribute to its elegant dining atmosphere.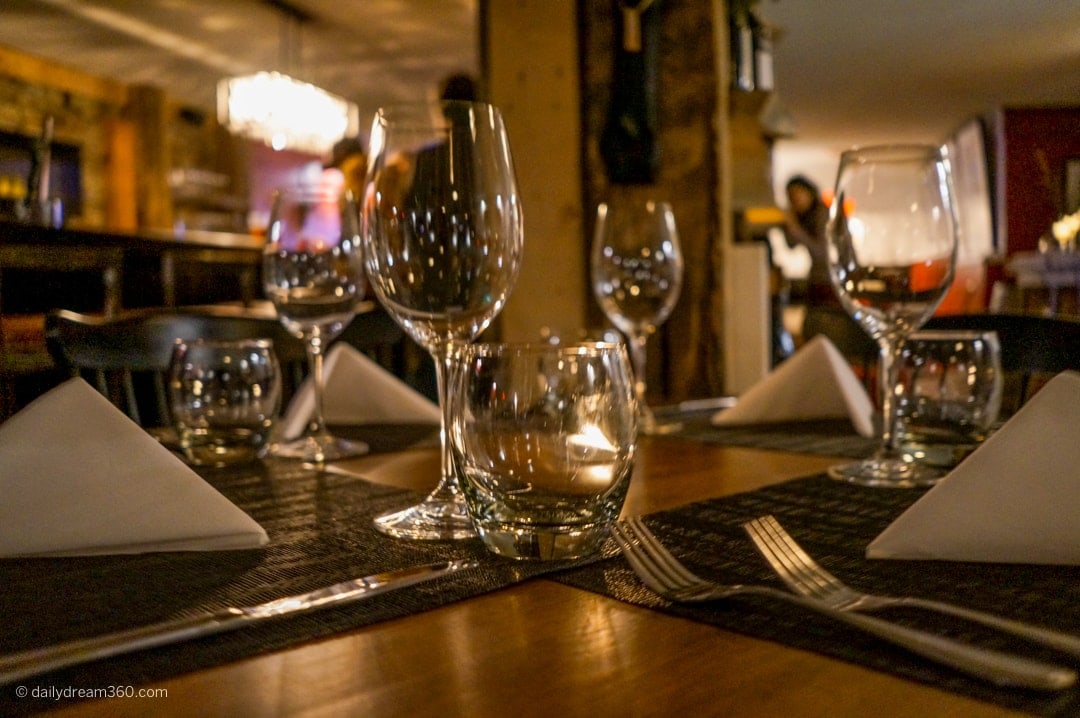 The Restaurant – It's Really About the Food
Of course, the decor and location are just a small feature of the exquisite Rhubarb Restaurant. It is all about the food!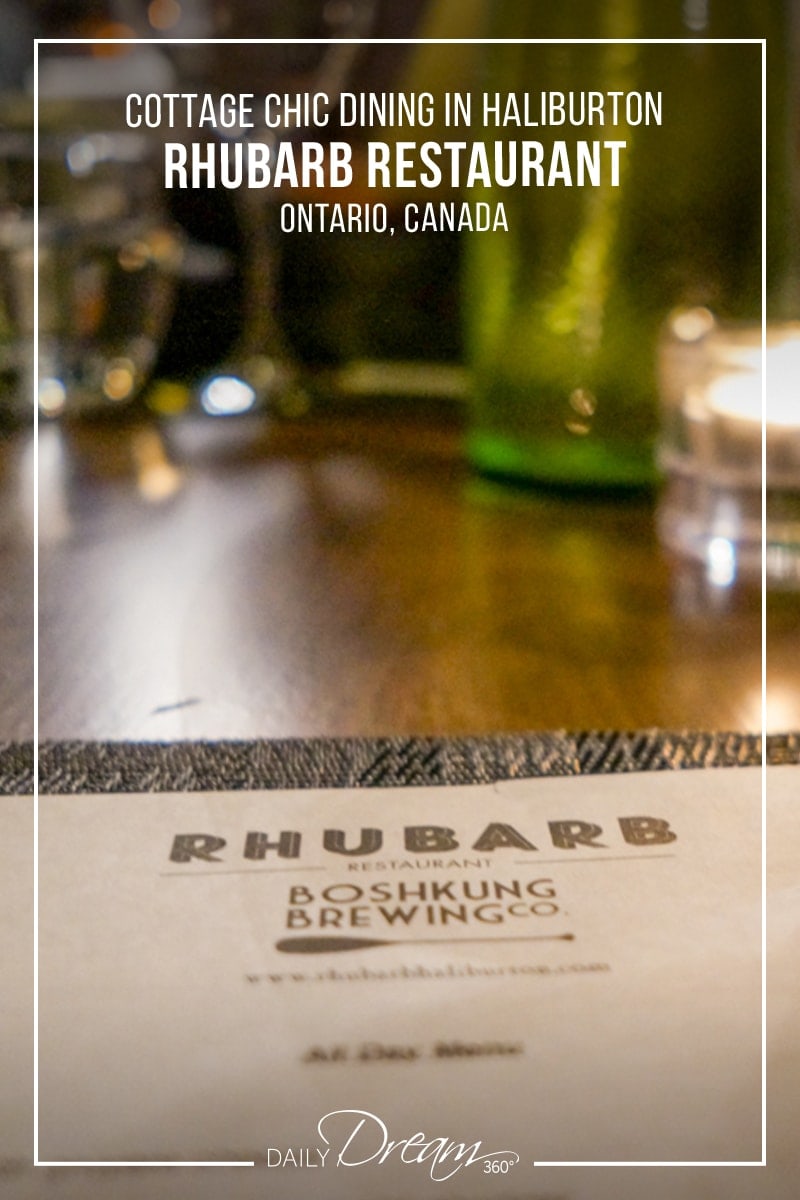 The restaurant features a wall of homemade preserves to choose from and an impressive selection of wines.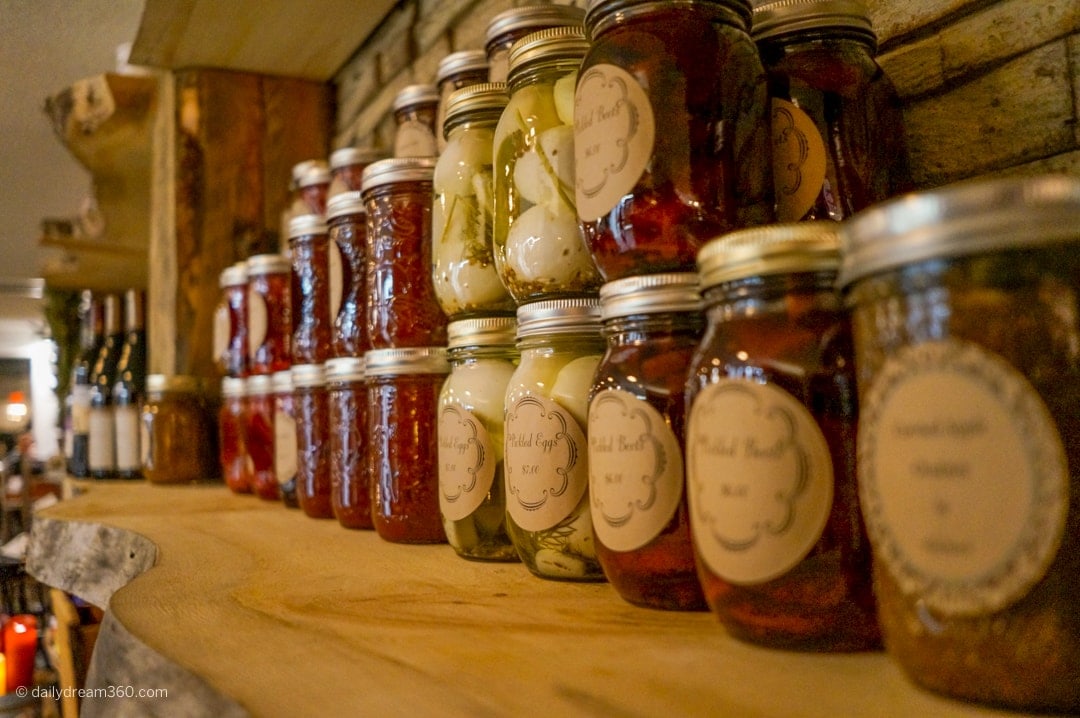 The menu features a seasonal sampling of Rhubarb favourites and daily specials prepared by the chef. The food is beautifully styled and plated.
The appetizers included this tasty crab cake with seared scallops, tomato jam and capers, which could efficiently serve as the main course, but why would you not sample as much as you can from this impressive menu?
I followed my appetizer with seared pickerel with an herb and panko crust, roasted potato and seasonal vegetables. It was easy to make these photographs look like professionally taken food shots as everything came out hot, glistening and ready for its close up!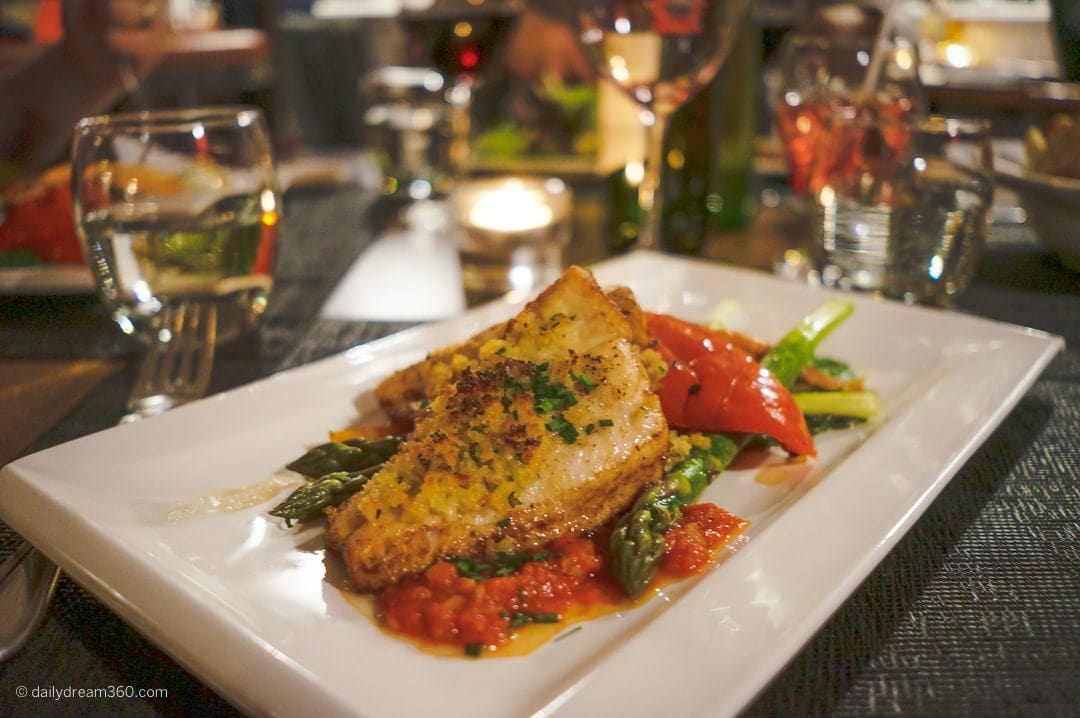 Of course, we couldn't stop there! When you are enjoying your atmosphere and food so much, you just have to have dessert. So we were given a choice of desserts, and I (as I often always do) went with this gooey chocolate dream!
So if you are looking to fancy up your stay at the cottage, or enjoy a beautiful dining experience on your next visit to the Minden or Haliburton area, then may I suggest you stop by Rhubarb Restaurant.
The staff will make you feel right at home, and as their welcome sign says, friends become family and family celebrates friends. A motto this restaurant truly exemplifies in both its food and its atmosphere. Facebook: facebook.com/rhubarbhaliburton
More from Our Haliburton Winter Weekend Getaway
For more trip-planning ideas see these posts from our Haliburton Weekend experience.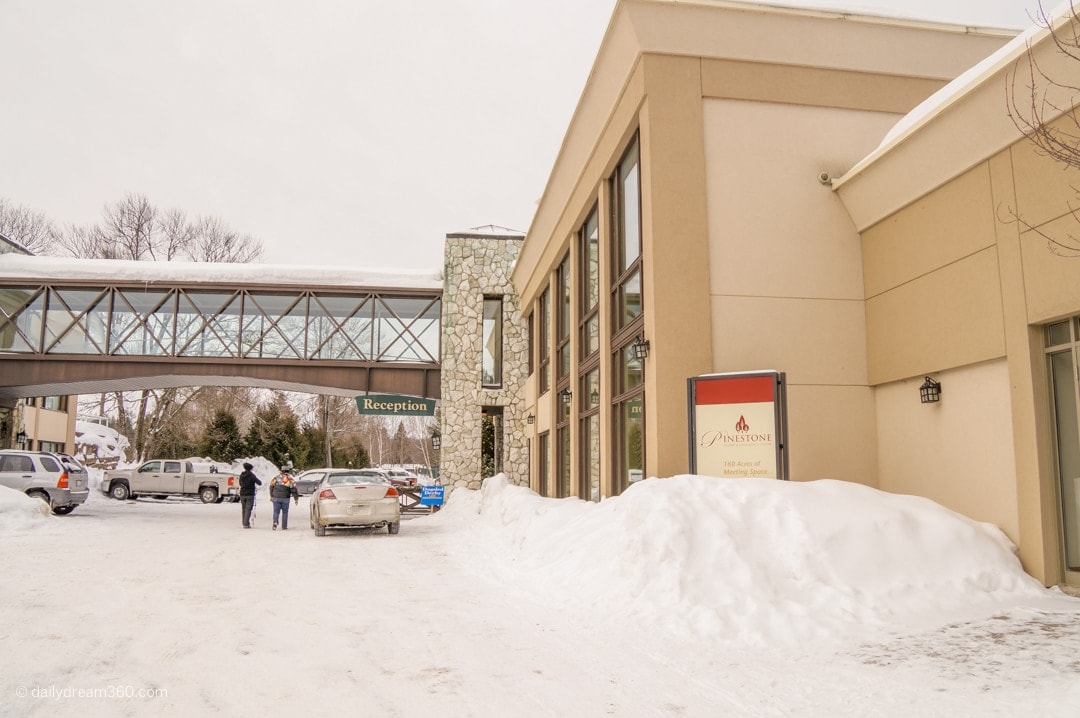 Where to stay in Haliburton
Pinestone Resort and Conference Centre
We stayed at the Pinestone Resort in Haliburton during our winter getaway. It was the perfect location near the town and was central to all our winter activities that weekend.
Read reviews: Our Review 
Are you looking for more Ontario Winter Getaway ideas?
Check out these posts, on more Ontario winter getaways and experiences we have taken.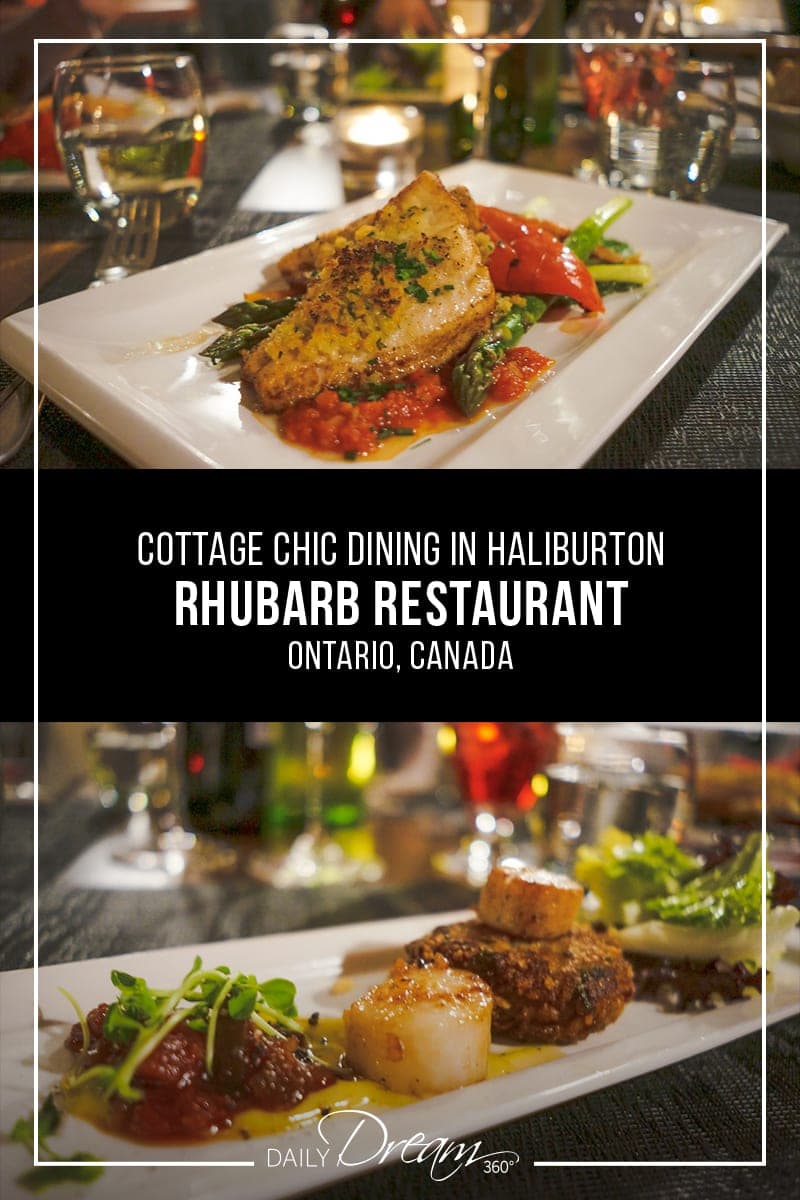 Travel assistance was provided by Rhubarb Restaurant and Ontario's Highlands Tourism Organization on a media FAM trip.