This article may contain affiliate links. Clicking on or purchasing products we recommend through a link may earn a small commission. Read our disclosure and privacy policy page for details. *COVID-19 TRAVEL ALERT – Travel recommendations offered on this site are not to encourage you to travel against travel advisories.
Are you hibernating during winter or seeking out winter getaways in Ontario? During a weekend road trip to Haliburton with my girlfriends, we decided to enjoy winter in a way we've never experienced before. We chose to add dog sledding in Ontario to our bucket list.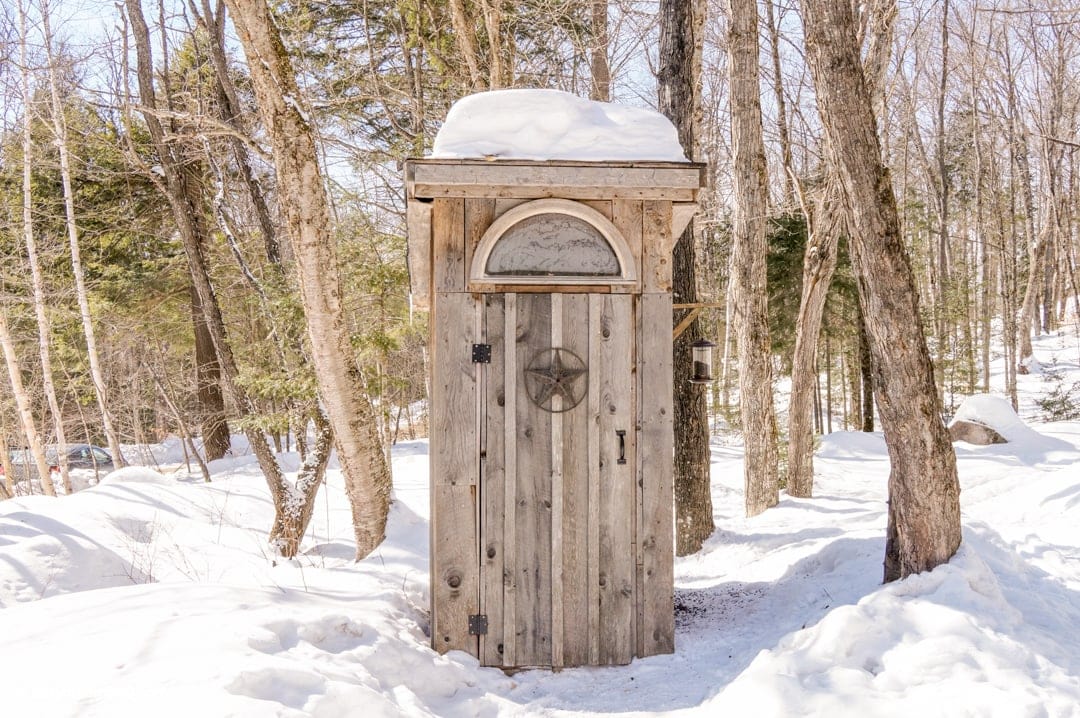 Haliburton Winter Getaway and Dog Sledding in Ontario
After a conversation about "unusual winter girls getaways," we joined Ontario's Highlands on a media trip to discover the Haliburton region of Ontario. The first winter activity on our itinerary was dogsledding with Winterdance Dogsled Tours.
Like many of you, I have a list of dream experiences that I would love to do in my lifetime, and Ontario dog sledding was one of them. However, with Winterdance tours you don't just ride the dogsled you drive it too!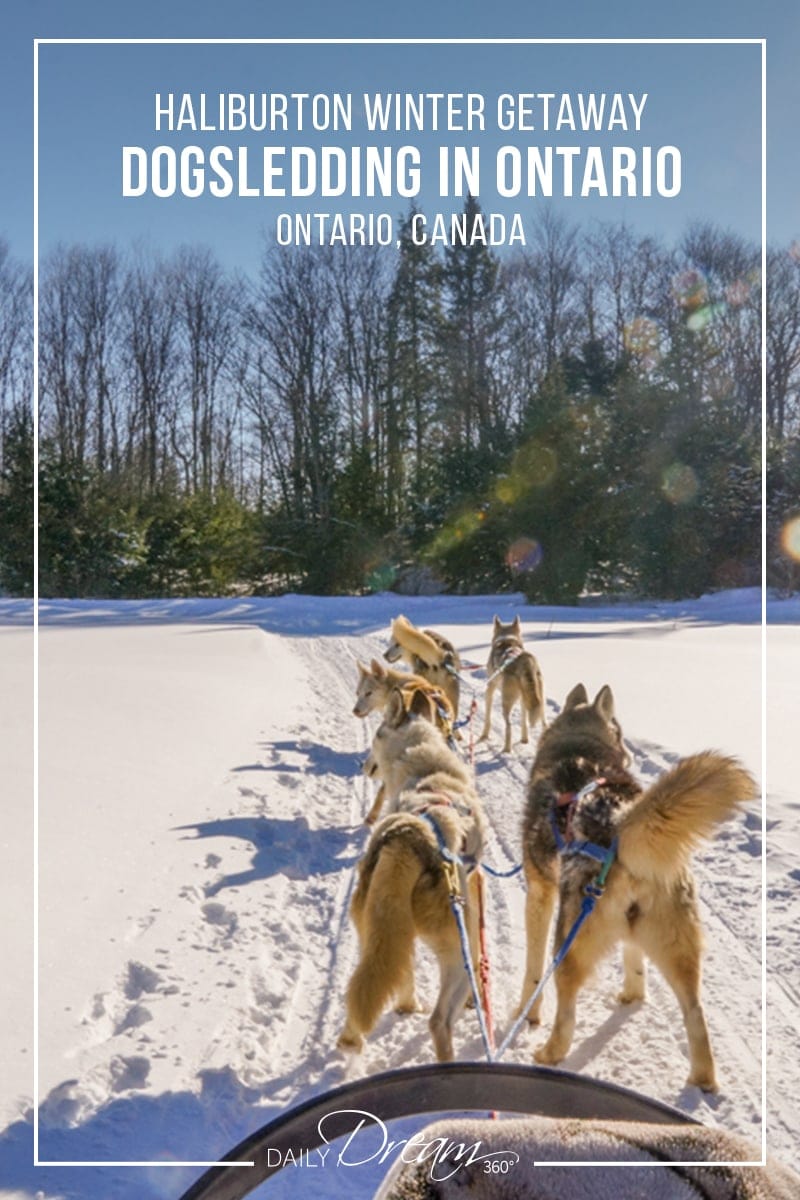 About Winterdance Dogsled Tours, Haliburton
After a three hour drive from Toronto, we arrived at our destination: a small trading hut and an outhouse. There were large trucks parked in front and a slide that read "ssshhh dogs sleeping."  
Winterdance dog sled tour company run out of the Haliburton Highlands region in Ontario. We met them on a trail in the forest next to Algonquin Park. You can take a 2-hour, 1/2 day or full day tour with them.
Tips before Taking a Dog Sled Tour
While Winterdance provides all the equipment, it is vital that you prepare for your dogsledding experience, which means having the right winter gear. The most important tip in preparation for a dog sled tour is to dress for the season.
Read more: Carry-on Only Packing List for a Weekend Winter Escape
Wear a warm winter coat or ski jacket, snow pants and functional winter boots. For winter clothing remember the three-layer rule:
First Layer: Insulation and Intimates
Second Layer: Fashion and Warmth
Third Layer: Outerwear
Read more: Staying Warm and Stylish in Winter Gear by Columbia Sportswear
Inside the trading post, we met our guide Mike and signed some waivers, while outside the dogs began stirring and whimpering in their beds.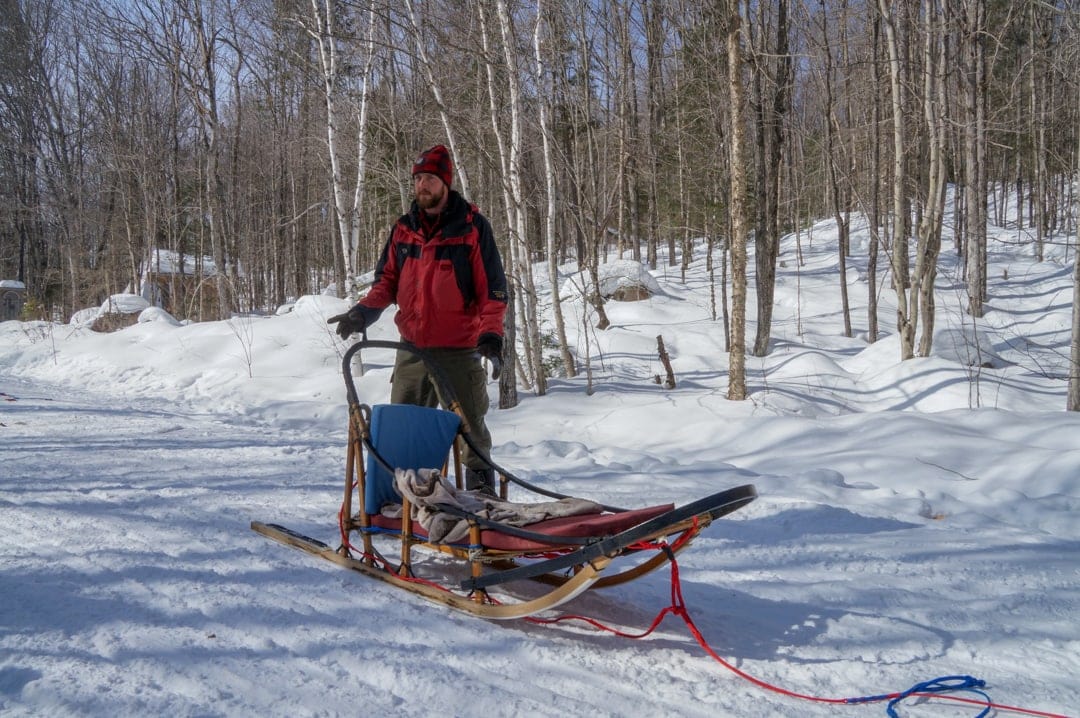 Dog Sled Briefing with our Winterdance Guide
As the group gathered to get a 101 lesson on dog sledding from our guide Mike, the dogs' excitement kept building.
We learned that these purebred Siberian Husky's are born to run and if they get loose of their harness or you let go of the sled they will run, far and fast and have the day of their lives on the trails.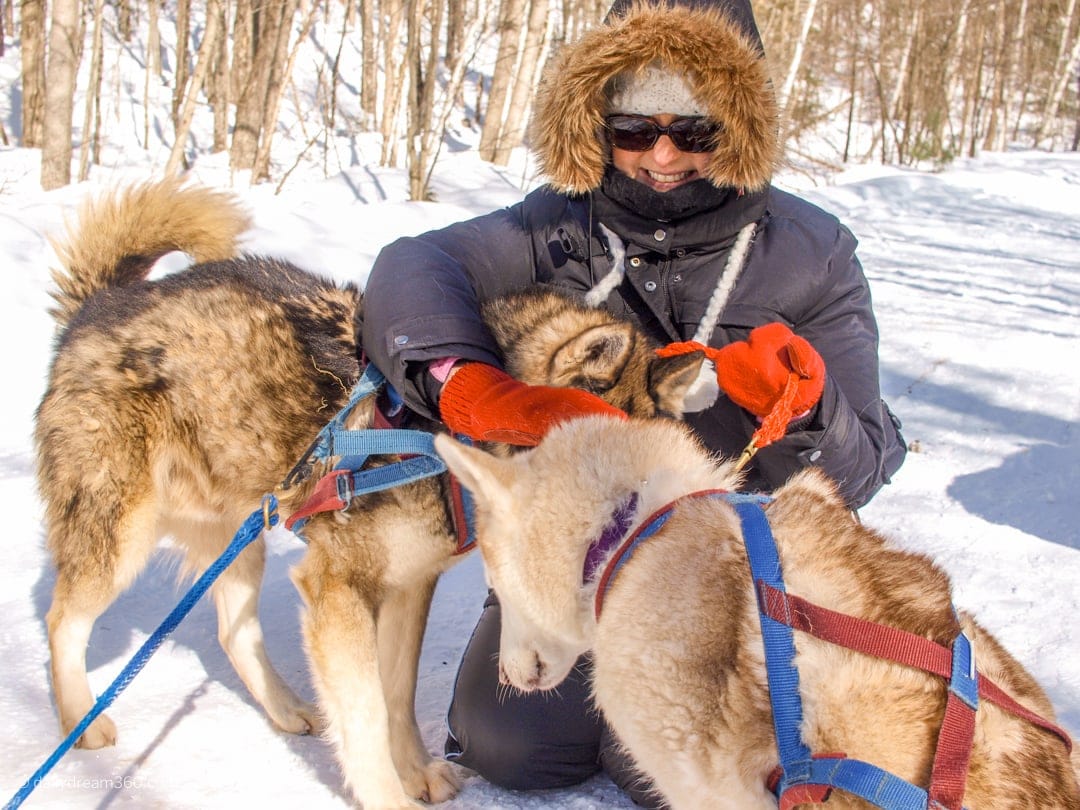 Immediate note to self: do not let go of the sled and remain on the brake when the sleigh stops. Each sled had a team of five dogs harnessed to the rope and each dog had its own personality and level of experience with dogsledding. Some were champion race dogs, while others were trained for tours.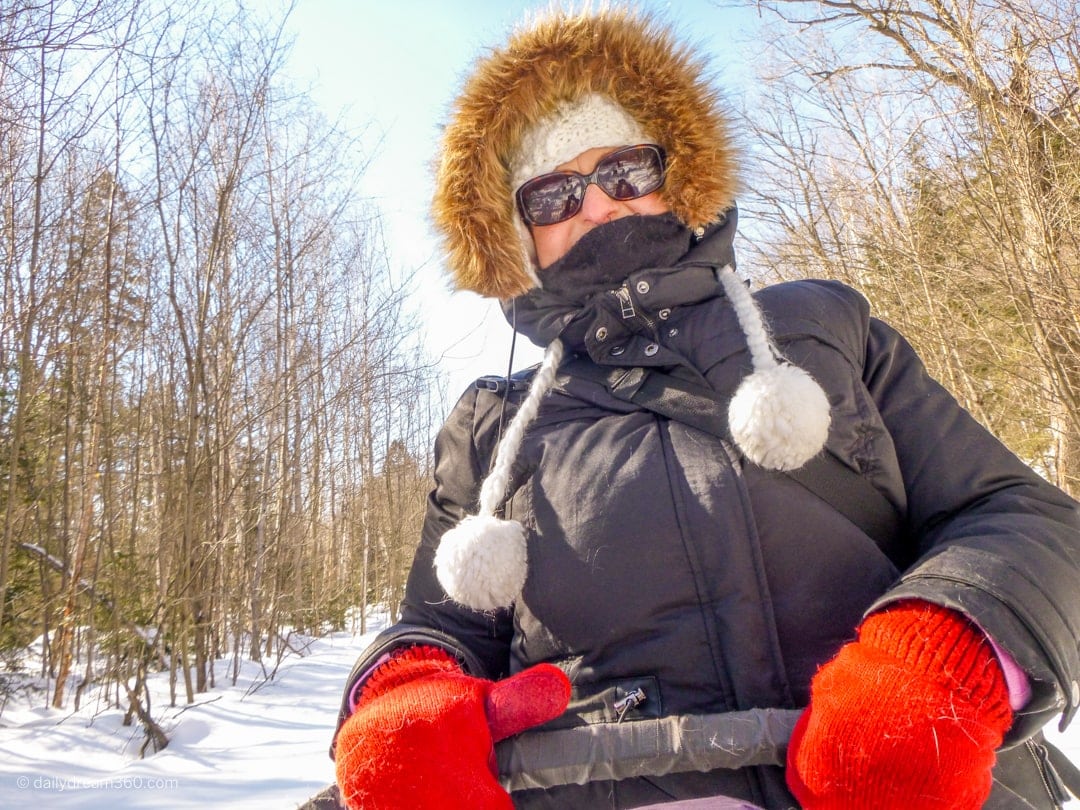 The dogs were brought out, and we were encouraged to give them lots of love and affection. Our lead dogs were Zeus and Suzie, and I had the pleasure of getting acquainted with them before I took the driver's stance, while my friend Mary trusted my new dogsled driving skills in the passenger seat.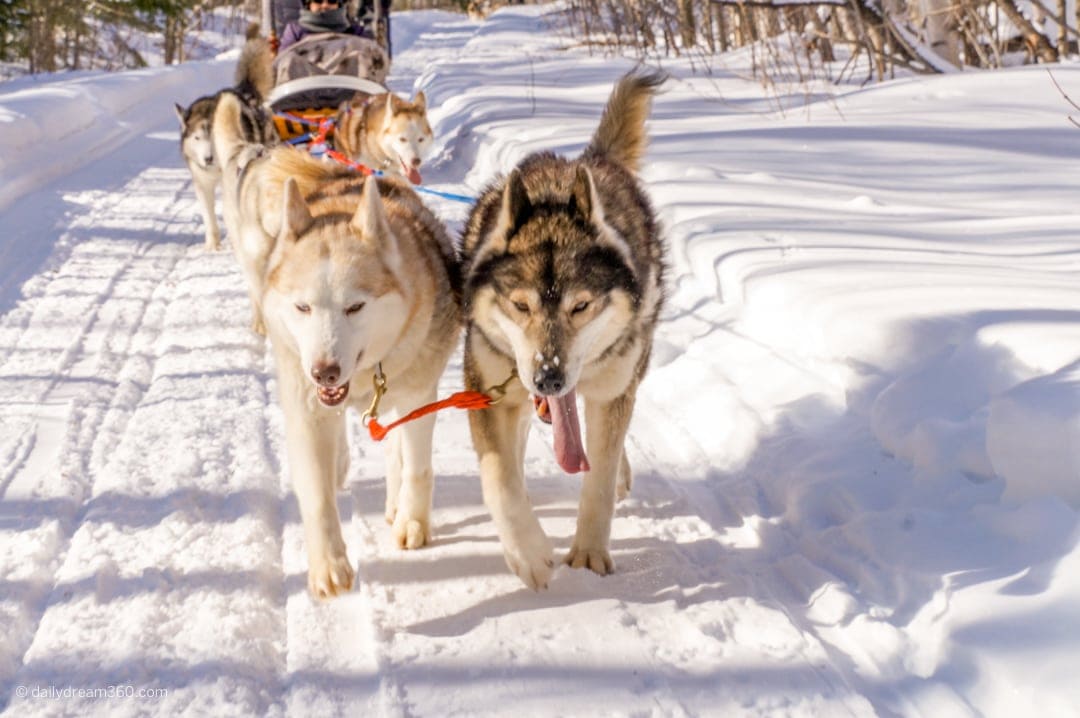 Dog Sledding the Trails for the First Time
At the start of the trails were a series of starts and stops as we familiarized ourselves with the brake and the dogs stopped for a potty break or two. There were a few hills with more starts and stops and then the calm and serene drive through the picturesque trails began.
Surrounded by trees, under a clear blue sky and the most bright sunshine, we rode quietly through the snow.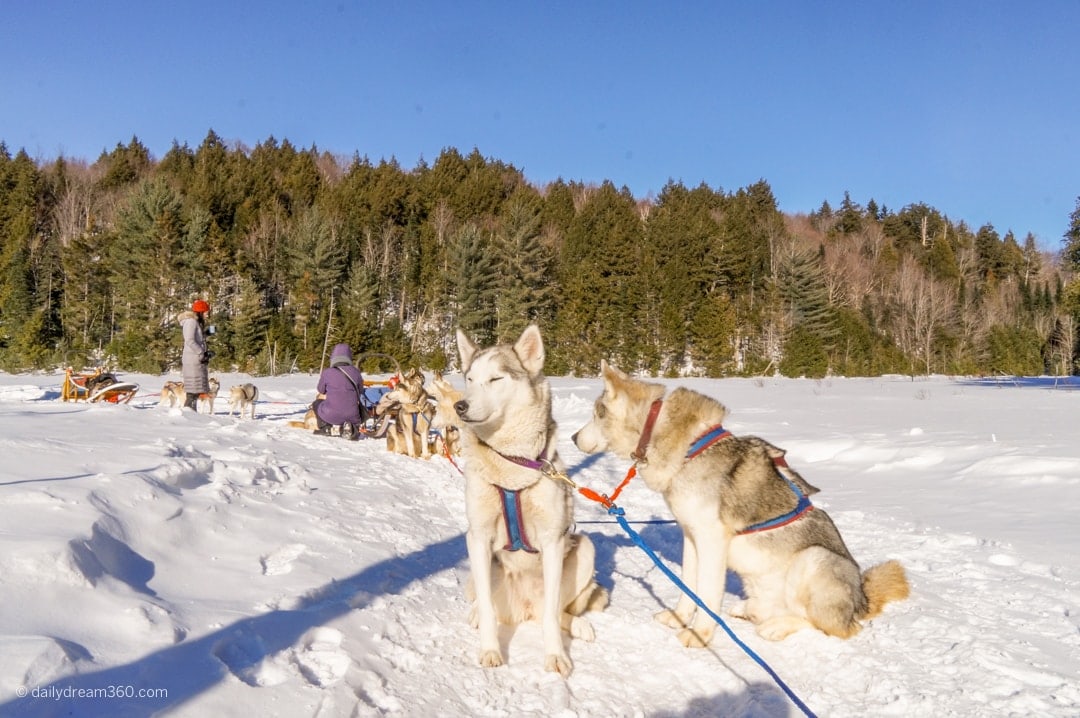 Ontario Dog Sledding – Snack Break
Eventually, we made our way out to a clearing where Mike helped us park the sleds for a short break. Mike made hot chocolate with marshmallows and offered us a tasty baked treat.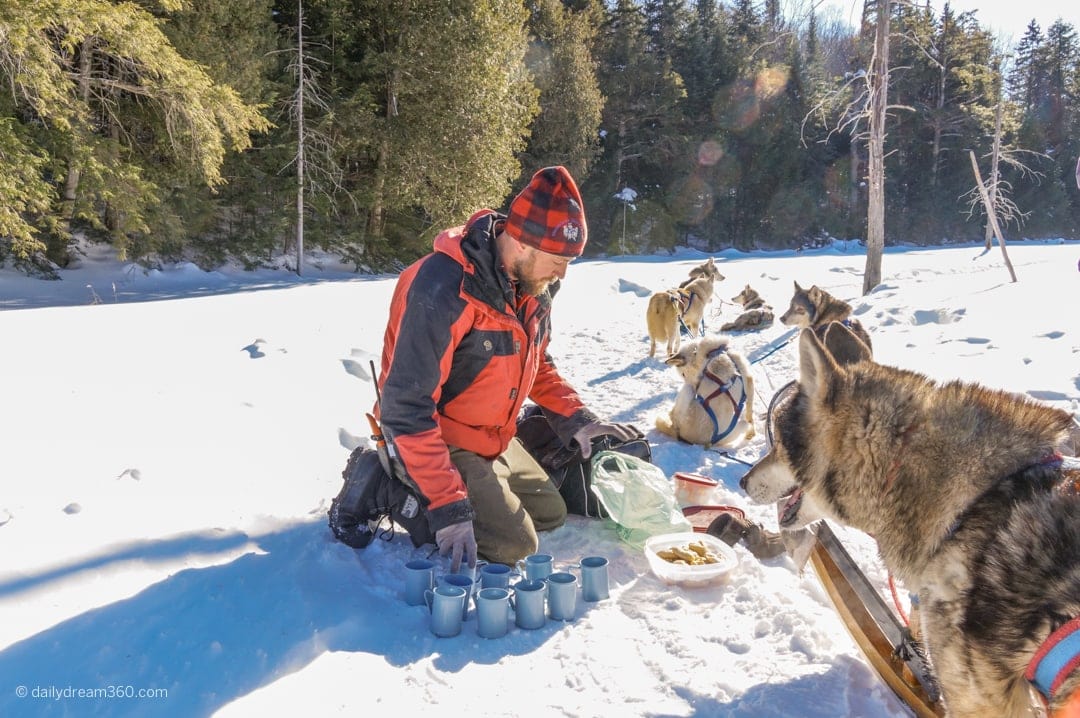 During the break, it was our job to keep the dogs busy and make sure they were not chewing through the ropes. It was another opportunity to share some dog love.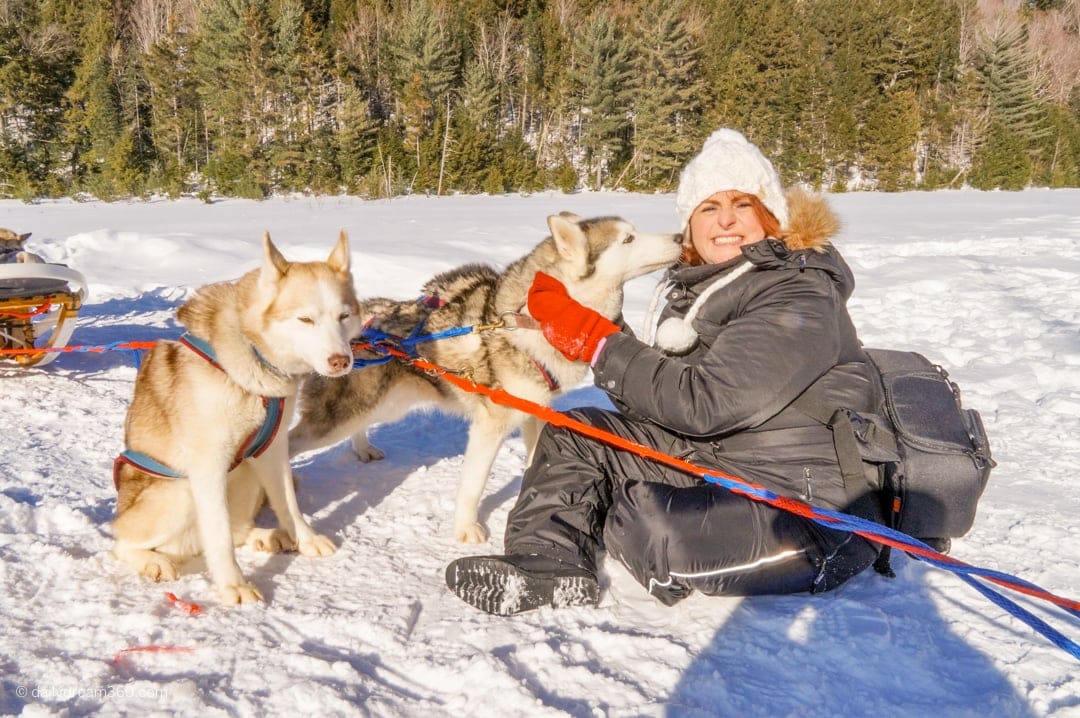 Final Half of our Ontario Dog Sledding Tour
The Winterdance dogs are creatures of routine. As soon as we finished our snack, they started to get excited for their little doggy snack and the run home. They jumped with excitement and voiced their eagerness to hit the trails!
On the ride back to the start of the trail, I rode in the passenger seat, covered in a blanket and taking pictures of this excellent experience. Mike, our guide was driving behind me. He told me more about our lead dogs and how proud they were of their racing medals. Some of the dogs are professional (and famous) sled racing dogs who participated in races like the Yukon Quest.
I can't imagine riding through the forest on a thousand-mile quest with the dogs, but I did get a short two and half hour glimpse into this experience of solitude in the most serene, relaxing and picturesque environment.
This tour was the perfect way to discover the trails in the Ontario Highlands region and check dogsledding off my bucket list.
Our Haliburton Winter Weekend Getaway
For more trip-planning ideas see these posts from our Haliburton Weekend experience.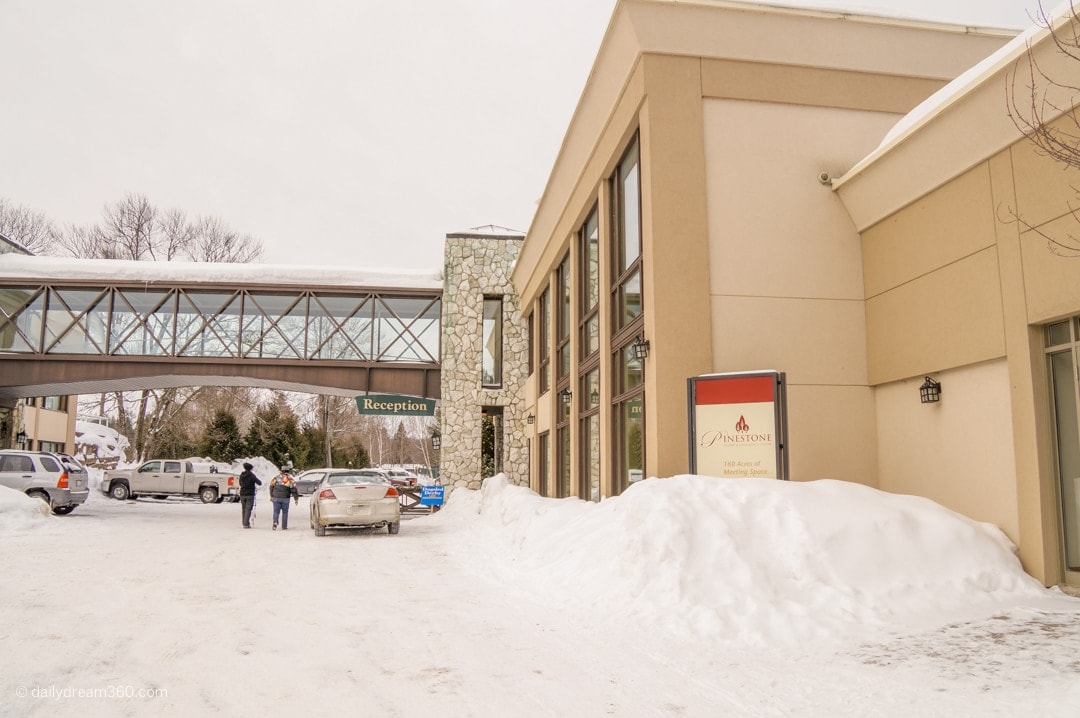 Where to stay in Haliburton during your Winter Getaway
Pinestone Resort, Haliburton
We stayed at the Pinestone Resort in Haliburton during our winter getaway. It was the perfect location near the town and was central to all our winter activities that weekend.
Read reviews: Our Review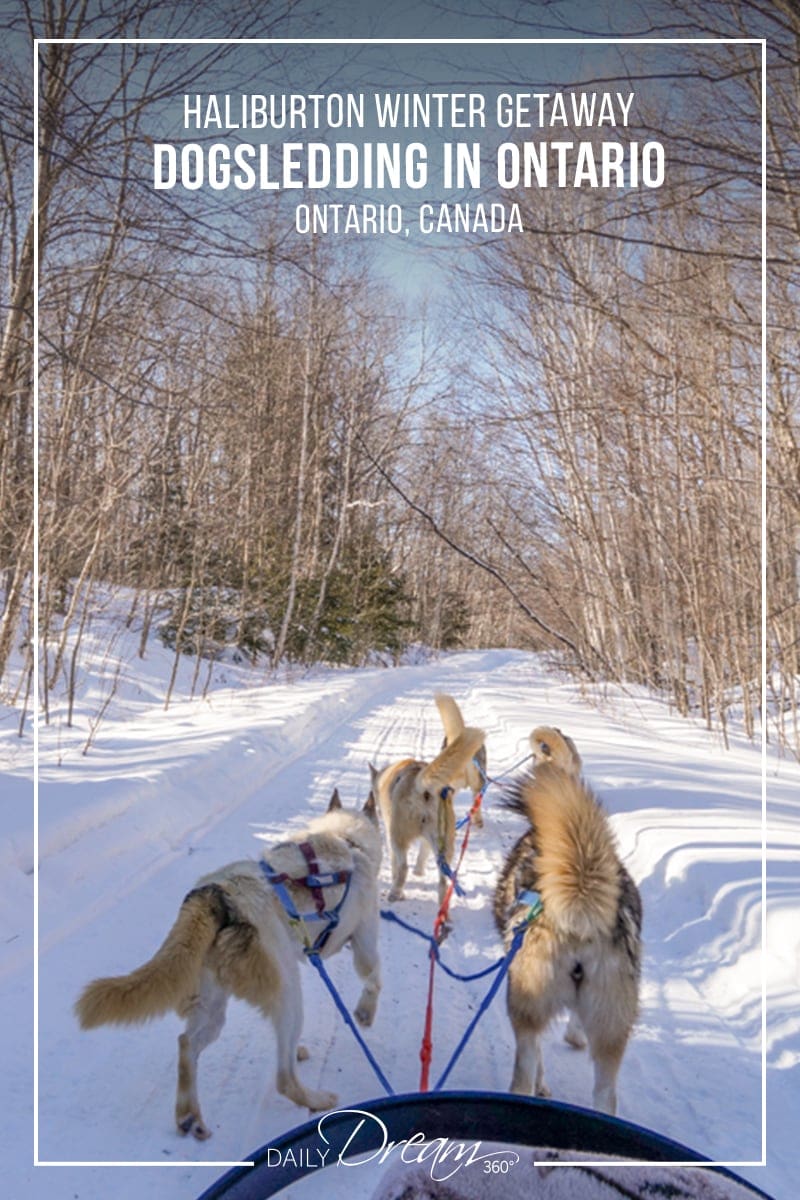 Are you looking for more Ontario Winter Getaway ideas?
Check out these posts, on more Ontario winter getaways and experiences we have taken.
Travel assistance provided by Winterdance Dogsled Tours and Ontario's Highlands Tourism Organization, on a media FAM trip.